Brussels isn't just the home of the "French" fries, waffles, beers and chocolate: it's a stunner of a city with a ton of history wedged in between its winding cobbled streets. Gothic architecture juts up from the Belgian capital in a literal smorgasbord of fascinating fun.
However, whilst you're exploring this European capital city and its historic best-bits, there's a chance you might fall foul to something that is a more than just a little bit of a problem for visitors to Brussels: pickpockets. Also, there have been terrorist attacks in recent years. Being the EU capital city, Brussels is a target.
If you ever wanted to know how statistically safe Brussels is, or just wanted to know what the deal is with the safety on this city's public transport, we're happy to say that you've come to the right place!
You're about to delve into a truly in-depth safety guide to Brussels where you'll find important information as well as insider's safety tips for just about anyone, from solo female travellers to families, so everyone can travel smart here and stay safe in Brussels.

Unlock Our GREATEST Travel Secrets!
Sign up for our newsletter and get the best travel tips delivered right to your inbox.
How Safe is Brussels? (Our take)
With all its Art Nouveau architecture, famous fountains, famous food, and lots of beer besides, Brussels is most certainly a European capital you should be considering on your hit list.
However, this walkable city doesn't come without its issues. We're talking petty crime. Everything from con artists to pickpockets roams the streets around busy tourist sites and transport hubs.
The crime rate, in general, may well be low, but there are definitely things you can do to avoid being targeted by petty criminals (we've got tips for you later!). Brussels boasts a few sketchy areas that you might want to steer clear of at night time.
There's also a threat of terrorist attacks. Public transport and busy areas have been (and therefore could be) targets.
All that said, Brussels is a pretty small city of around 1 million inhabitants. Crime is generally pretty low and easy to avoid. Let's get down into the nitty-gritty!
There is no such thing as a perfect safety guide, and this article is no different. The question of "Is Brussels Safe?" will ALWAYS have a different answer depending on the parties involved. But this article is written for savvy travellers from the perspective of savvy travellers.
The information present in this safety guide was accurate at the time of writing, however, the world is a changeable place, now more than ever. Between the pandemic, ever-worsening cultural division, and a click-hungry media, it can be hard to maintain what is truth and what is sensationalism.
Here, you will find safety knowledge and advice for travelling Brussels. It won't be down to the wire cutting edge info on the most current events, but it is layered in the expertise of veteran travellers. If you use our guide, do your own research, and practise common sense, you will have a safe trip to Brussels.
If you see any outdated information in this guide, we would really appreciate it if you could reach out in the comments below. We strive to provide the most relevant travel information on the web and always appreciate input from our readers (nicely, please!). Otherwise, thanks for your ear and stay safe!
It's a wild world out there. But it's pretty damn special too. 🙂
Is Brussels Safe to Visit? (The facts.)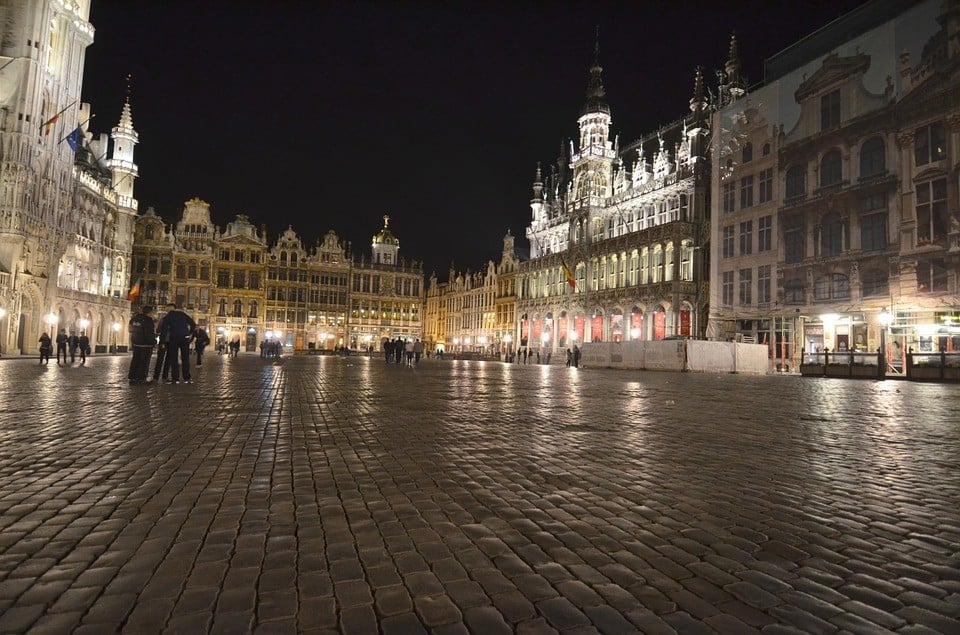 Brussels is basically (but not actually) considered something of a "capital of Europe" since it's where a load of the EU buildings are located; NATO buildings, European Commission and foreign embassies abound, too. However, there is still crime here.
In 2018, most of the crime in Brussels occurred in the City of Brussels – the very centre of the capital. Grand Pace, Quartier Nord, Mantonge as well as the Porte de Hal and Brabant have the highest crime rates.
Overall, however, crime, in general, has fallen by around 20% in Brussels over the past decade; that's with an increase of 15% of the population.
Having said that, compared to the second largest city of Belgium, Antwerp, Brussels has 20% more crime.
2016 brought difficulties for the city, and the country as a whole, as terrorist attacks occurred during this year. But this hasn't deterred tourists from visiting: in 2018 tourist numbers increased by 2.2% on the previous year.
Finally, if you look at the good ol' Global Peace Index, Belgium sits happily at 18st (out of 163 countries) – that's between Mauritius and Slovakia.
Is it Safe to Visit Brussels Right Now?
At the moment, Brussels is safe to visit.
However, it's important to note that demonstrations occur quite frequently in the city. These happen mostly around the Schuman area and near transport hubs. Usually, these are peaceful, but there can be incidences of violence; they can also cause travel disruption around the centre of the city. It's best to stay away from demonstrations and big gatherings.
It's sad to say also that repeated, coordinated terrorist attacks (the most recent being in November 2018) have affected the city. These have occurred at the Brussels Zaventem Airport, as well as the metro and Brussels Central Station.
The heightened risk of a terrorist attack means that you should be vigilant, and understand what you should be doing in the event of one taking place.
Because of this, security operations by the police can take place at short notice. The public has been asked not to share these operations on social media, for obvious reasons.
On the whole, however, Brussels is safe to visit right now. It's just important to be aware of the issues currently facing the city (like anywhere).
ALWAYS sort out your backpacker insurance before your trip. There's plenty to choose from in that department, but a good place to start is Safety Wing.
They offer month-to-month payments, no lock-in contracts, and require absolutely no itineraries: that's the exact kind of insurance long-term travellers and digital nomads need.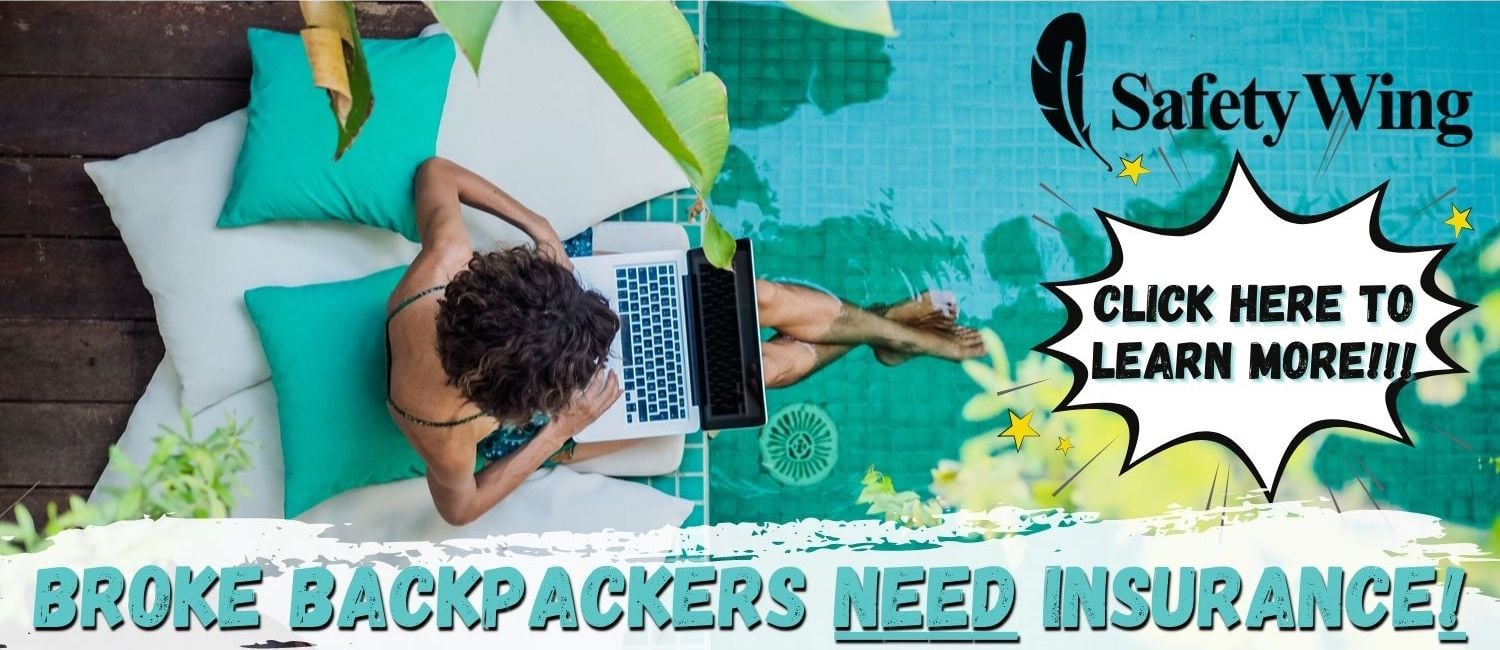 SafetyWing is cheap, easy, and admin-free: just sign up lickety-split so you can get back to it!
Click the button below to learn more about SafetyWing's setup or read our insider review for the full tasty scoop.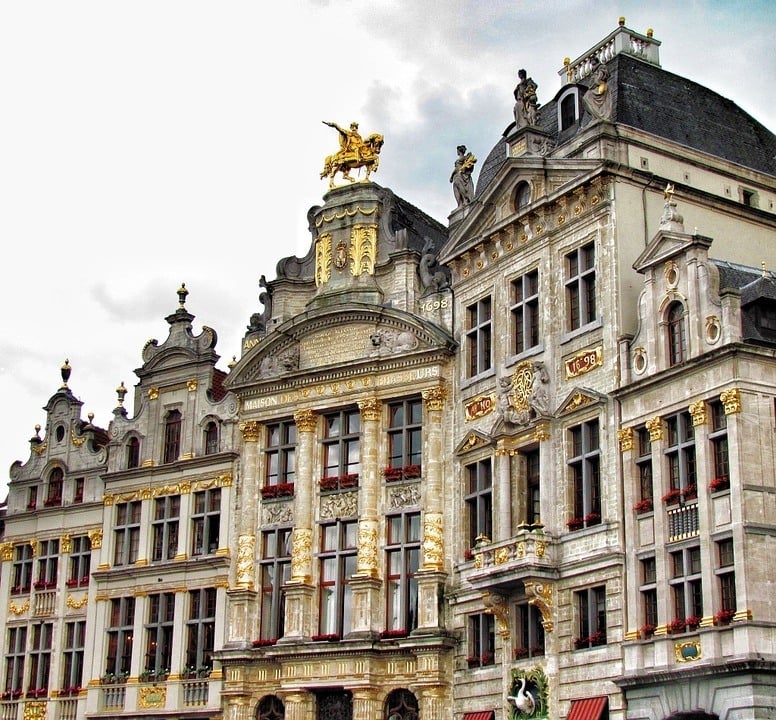 Brussels is generally a safe place to visit. It's as safe as other European capitals, if not safer, but it also faces the same sorts of issues that many other places face as well. Pickpocketing, scams, distraction techniques by con artists and petty criminals mean that your trip could end turning sour, so we've put together our best safety tips for travelling to Brussels so you can enjoy your time here totally trouble-free.
Leave your valuables at home – everything from flashy watches to wads of cash is safer in your room… or in your money belt.
Don't carry all your important stuff either – take copies of passports/IDs, and limit the amount of credit/bank cards you carry.
Be careful around big railway stations – especially late at night – it is crawling with people who want to rob your stuff!
Avoid stations like Brussels Gare du Midi/Zuid Station (the Eurostar Terminal), as well as Gare du Nord and Schuman; petty criminals operate at these places in particular.
Other places should be avoided at night – Brussels North, Annessens, Schaerbeek, St Josse, Anderlecht, Marollen, Malenbeek – all dodgy after dark.
Watch out for distraction techniques – asking for directions, high-fiving you, pretending to 'tackle' you (i.e. football), throwing things on the ground – it happens a lot.
Keep aware of overly friendly people – something, they are not actually friendly.
Careful of your luggage on high-speed trains – don't leave stuff on the racks; it's known to disappear just before the train leaves.
Post-nightclub fights do happen – it can get pretty rowdy. Keep yourself to yourself and don't hang around: head home!
Try to blend in with what you wear – if you stand out as a tourist you will be more of a target.
Be aware of your surroundings at ATMs – keep a note of who might be watching you.
Avoid taking cash out of ATMs at night – it becomes a significantly sketchier task so best to avoid.
Know where you're going – Brussels may well be easily walkable, but there are still a lot of streets. Best not get lost and find yourself in the wrong part of town (see points 4 and 5) at the wrong time of day. Make sure you know where to stay in Brussels before you book your accommodation.
Keep belongings close to you – dangly bags, phones in back pockets, SLRs round necks – all easy to snatch
Put bags under the table between your legs – even in restaurants, not just on the terrace. Things can get stolen.
Get yourself a sim card – having data on your phone can make travelling around (and enjoying) a city much easier to do
Learn some French (or Dutch) – most people speak French in Brussels, some speak Dutch (well, Flemish). A lot of people will understand English. But it's still nice to have some of the local lingo down, if not just for restaurant menus!
Be careful of what taxis you get – more on that later!
Use public transport to get home after dark – walking could be dodgy.
If you're worried about terrorism… – visit the Belgian Crisis Centre website for more information
So there are a few tips on how to stay safe in Brussels. The most you'll likely have to worry about is pickpockets; these pests are notorious for stealing people's cash in the capital, so making sure that you don't stand out, that you're not carrying all your precious belongings, and that your stuff isn't easily steal-able are all things you should be doing. Travel smart – that's the bottom line here, people.
Keeping your money safe in Brussels
Just about the most annoying thing that can happen to any world traveller is losing money and nobody wants that – ever. It's a great way to put a dampener on a trip and it can even put a stop to your travel plans.
In Brussels, there's a definite worry of having your cash-pinched by a pickpocket. These things really can happen here. With that in mind, there's one simple solution we'd like to share: money belt.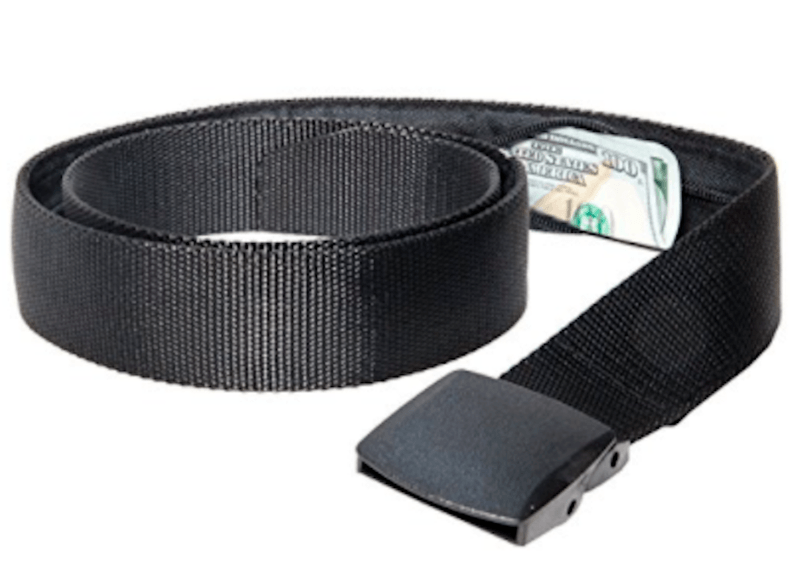 Start googling though and you'll find a literal ton of choices to wade through, some ok, some not ok, but most of them pretty complex and just not what we'd call economical. The Pacsafe Money Belt is our best bet. It's affordable, it looks and acts like a belt, and it's sturdy – what more could you ask for out of a money belt!
It's affordable, it's rugged and sturdy, it's simple – just one zip pocket conceals your hard-earned money! Easy.
In Brussels, there are pickpockets and petty criminals to watch out for. Even if you end up letting your guard down for just one moment (it can happen, no matter how well prepared and street smart you are) the best thing for it is a money belt. It's honestly the most simple way to not have stuff – namely money – stolen from you. Keep your cash in a money belt and keep your pockets free of steal-able stuff.
If you need a little more room for your passport and other travel valuables, have a look at a full-size money belt that tucks under your clothes instead.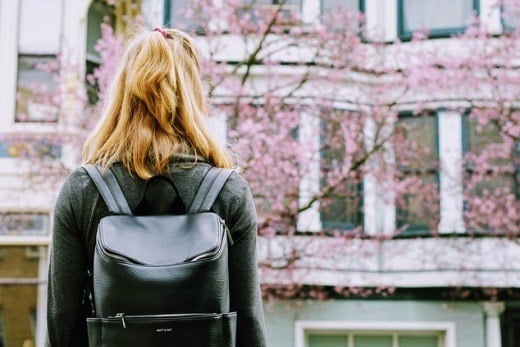 Travelling solo is pretty awesome. You get to grow as a person, challenge yourself and see the world while you're doing it. Sounds like a blast, right? Add to that the opportunity to meet some cool people and it can be an amazing experience. It's not all roses, though.
Sometimes the 'solo travel blues' can rear its ugly head – a combination of getting lonely and jaded with time spent by yourself in different countries. Brussels is a safe city to explore, but here are some tips for solo travellers in Brussels to make it safer and to keep you grounded.
Make sure you pick well-located accommodation. Be careful of hostel descriptions saying they're "centrally located" – it may be "central", but it may also be in a sketchy part of town (especially at night). Definitely do your research when it comes to social hostels, hotels, and guesthouses.
Read reviews of hostels and places that you're thinking of staying. Read comments that have been left by other solo travellers to see if it's really all that good for people travelling by themselves. This is the best way to find something that's best for you.
Take a walking tour around the city. Brussels is pretty small, so a walking tour will be a nice way to get to know what's going on. Not only is this going to be a cool way to get to know the city streets, but you may also get chatting with some fellow travellers. Always good if you end up on a walking tour organised by your hostel!
Walk around the city instead of taking the Discover Brussels card. Purchasing it means that you can travel across the entire network for 48 hours, however, it's not worth buying. You can walk around the city easily. And when you do need to use public transport, it'll most likely be one journey each day – at night!
Research what you want to see and do when you're in the city. You might end up leaving a little deflated if you just hit up the top sights, so read around for the best things to do in Brussels.
For authentic recommendations on what to do in Brussels, ask locals. The staff at your accommodation is a good place to start. Most likely they'll know some hidden gems and off the beaten track things you could be getting up to in the Belgian capital.
Use one of the Villo! bikes. You can pick these short-term rental bikes up from one of the 180 stations located around the city and pedal it around to your heart's content; it's a pretty good way to get around!
Don't forget to keep in touch with people back home. Not only is this a good way to stay grounded and in touch with the real world, but it's also safer if your friends and family know what your travel plans are, i.e. where you are and what you're up to.
Don't be a dummy and pack all your cash and bank cards into one bag; if that goes missing, you're stuffed. Spread your valuables around, don't lose them, and you may even want to consider bringing an emergency credit card – just in case, you know. For your cash, take a money belt.
Finally, Brussels is a fun place to party, but try not to get too wasted – it can be pretty dangerous doing that. Not only can the city's drinking and partying establishments get pretty rowdy after closing time, but being completely drunk isn't a safe way to get yourself home. It means that you'll be putting yourself into (sometimes stupid) situations you wouldn't be in otherwise.
Don't let the pickpockets and petty crime put you off visiting Brussels: it's a fun city to explore. You may be doing it by yourself, but the city is small and walkable, so you'll be getting to wander around at your own pace without having to worry if anyone else in your group is getting hungry. That being said, there's no one else to watch your back, so keep your common sense intact, keep in touch with people, and stay safe!
Is Brussels safe for solo female travellers?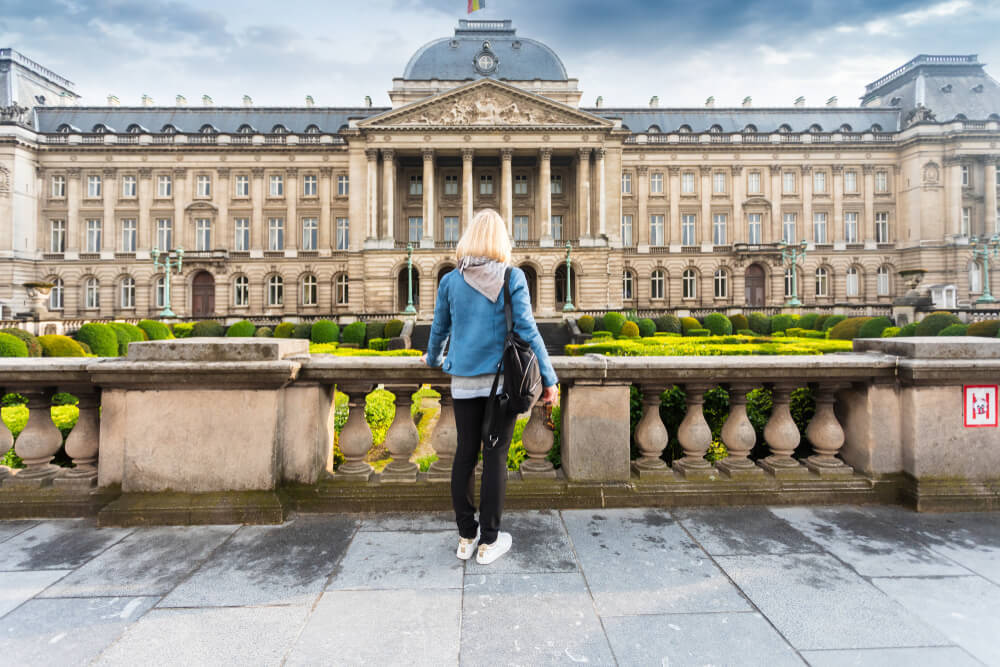 Like a lot of places in Europe, Brussels is safe to travel as a solo female traveller. However, you'll probably still have some concerns about your trip to the city. What are you going to do? Who are you going to meet up with? Will you be lonely? All these worries (and more).
To help you out we have got together a list of our best tips for solo female travellers in Brussels. It may be a safe city, but travelling by yourself has its own issues; travelling by yourself as a woman comes with even more risk, too, but don't you worry – we've got it covered.
Book yourself into accommodation that's good for solo female travellers. The best way to do this is to read reviews that have been written by other solo female travellers. If they're positive and favourable, it's probably a decent place to stay. Book yourself into a female-only dorm and get chatting with other like-minded people; you may find yourself a drinking buddy!
Be open-minded when it comes to getting to know other people. Ask other solo female travellers if they want to go grab a coffee, go visit a cool restaurant, whatever. You'll be surprised just how easy it is to meet other people who are in the same boat as you.
Other than hostels, other good places to meet solo female travellers include Facebook groups like Girls Love Travel. Get yourself on the group and see if anybody else is in Brussels the same time you are.
Don't be afraid to join in the social activities at the hostel or accommodation you're staying at. Get involved in pub crawls and walking tours, of course, but also don't shy away from chilling out in the social areas to meet and mingle with other travellers staying there.
You don't need to worry too much about what you wear in Belgium, let alone Brussels. However: pickpockets will target people who look like tourists. So take a look around you and see what the local ladies are wearing. Try to follow suit, rather than wandering around in activewear and walking shoes.
Know how to get home if you're heading on a night out. The Red Light District near Gare du Nord, for example, is a hotbed of sex workers and drugs and is not the ideal place for a solo female traveller to be wandering around lost after dark. If in doubt, get a taxi.
Don't walk around poorly lit areas at night time. In fact, you might just want to avoid walking around at night at all. With this in mind, don't blindly follow your Google Maps route home – it could take you on a sketchy shortcut. Stick to the main streets.
Ignore and move on if you stumble across groups of men who might catcall. Maybe more likely to happen at night time, and more than likely in some of the city's sketchier areas.
Keep an eye on your drink – drink spiking can happen, so keep hold of it. To be extra safe, don't let strangers buy you drinks.
Like in most other European cities, you're going to be generally pretty safe as a solo female traveller. Then again, being a female traveller, you will have other risks to watch out for – as you would anywhere. The thing to remember here is common sense.
That means just doing things you would do at home: not falling for scams in the streets, not getting chatting to weirdos in the streets or out at night, not walking home through dodgy areas after dark… All this and more are things you probably already do at home anyway.
Watching out for any potential dodginess aside, you're going to have an awesome time in Brussels. It's a fun city to explore since it's easy to wander around. However, it's still a city and cities can get lonely. Make friends with fellow travellers, meet up with people, enjoy.
Is Brussels safe to travel for families?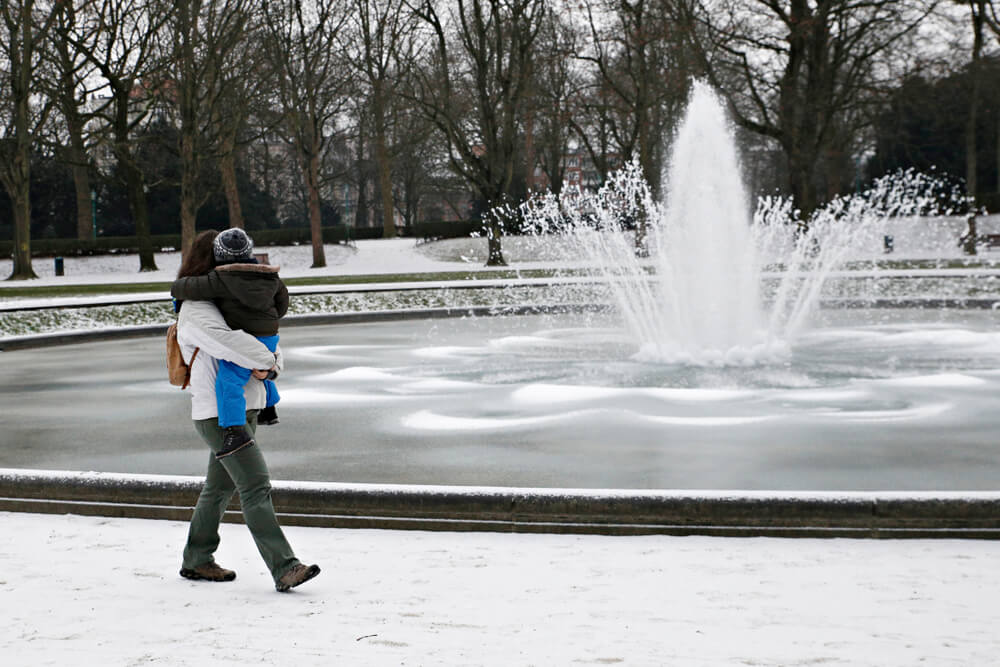 Brussels is very used to families visiting and, as a result, is a safe place for families to travel.
First things first: you can often find family rooms at hotels in Brussels. That's a pretty handy thing, but even handier is the fact that younger children quite a lot of the time stay for a reduced rate, which is awesome – especially if you're on a budget.
There's also plenty to get up to that will keep your kids entertained whilst you're there, too. Start with the famous peeing statue, Manneken Pis and look out for his daily outfit changes, which are all on display at the Museum of the City of Brussels.
Other things to keep you (i.e. your children) out of trouble is the Museum of Natural Science – there's a ton of information here, and dinosaurs. What small person doesn't like dinosaurs?
Being a chocolate-y city, there's chocolate making workshops to get involved with. Maybe you won't want to do this with your kids actually, because they may go insane.
There's a lot of cool medieval buildings to generally enchant you and your children though, which is always nice. Another plus is that, unlike other "pretty" European capitals like Paris or Rome, Brussels is much more chilled out and much less stressful; the pace of life is less frantic and there are fewer people around, making it an easier place to take children.
If you're planning on going out of season (not summer), Brussels will be even quieter. Just make sure you wrap up warm.
You won't have to worry, at all, about picking up things like nappies, formula, baby food, any other children-based supplies; it's a family-friendly city and there'll be shops everywhere selling this kind of thing.
One thing to note: children in Brussels are pretty well behaved. You won't see many kids running around screaming, so you may want to limit how much your own children do that.
It's also probably not a very good idea to take your own pram with you. Cobbled streets and steps don't make for a very pram-friendly environment, so you may want to don a sling if you're planning on taking a toddler.
Basically, Brussels is 100% safe to visit with children, no doubt about it.
Is it safe to drive in Brussels?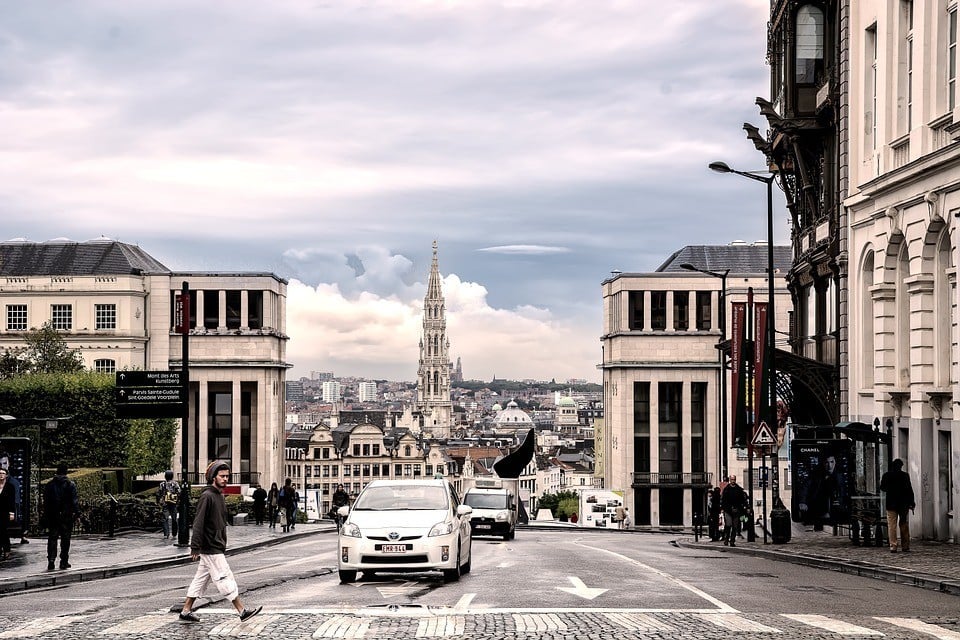 It may be safe to drive in Brussels, but we wouldn't say it's a great idea.
Unless you're planning on a road trip driving in Brussels will end being a pretty pointless and very expensive exercise. It can get jammed with traffic, there's a bit of speeding, lots of one-way streets and parking is pricey; those are just a few reasons.
More alarmingly, the road-related death rate in Belgium as a whole is almost double that of the UK.
If you do end up renting a car and driving yourself around you need to be really careful of where you park your car. You need to basically not keep anything valuable in your car – like, ever. Break-ins are not uncommon and thieves have sometimes even grabbed valuable-looking stuff from cars through open windows at traffic lights, so keep those rolled up! Make sure you also purchase solid rental insurance before you hit the road.
You also need to be aware that the city has a low-emission zone in the centre, which limits what sort of vehicles – and how many – can actually enter the "zone".
Traffic can be very speedy in the city. There's that to watch out for, but then again you shouldn't speed yourself. There are a lot of unmarked speed cameras and the fines, if you're caught, are pretty dang steep.
Trams (which we'll talk about in a bit) take priority over other traffic. Not stopping for trams is dangerous. If a tram stops, you stop.
You're not allowed to drink alcohol and drive, obviously, and using your phone whilst driving is stupid too – as well as illegal.
What we're saying is that driving in Brussels isn't worth it. It can be scary, unsafe and end up costing you a lot of money. There's a perfectly good public transport system in place so, if you're planning on staying in central Brussels, then don't bother with your own wheels.
Cycling in Brussels
Brussels is a beautiful city, which is best discovered by bicycle. You can decide your own tempo and ride wherever you want. Lots of Brussels citizens are skipping their car or public transport. Riding your bike through the city, to work or just to meet up with friends has almost become the new trend.
But is it safe? Generally speaking, riding your bicycle is pretty much the fastest and safest way to get from A to B. Of course, there are always exceptions, but if you stick to the rules, the worst-case scenarios become really unlikely.
Especially with the rise of the e-bikes, wearing a helmet has become one of the most important precautions when cycling around the city. Technically, this is not mandatory, but you're better off safe than sorry.
Brussels has developed a well-connected bike lane network. There are a couple of panoramic paths that you don't want to miss out either. To get more information about the bicycle map and traffic rules, you can check out the City of Brussels page.
There are two ways to get your hands on a bicycle:
rental shops: choose your type of bike and explore the city. This comes in handy when visiting the city for the first time since your rental can give you an introduction and tips.
bike-sharing: there are over 300 bike stations in Brussels, and all you need to do is download an app, find a bike, pay online, and you're good to go. You'll pretty much find them around every corner.
Is Uber safe in Brussels?
Uber exists in Brussels and it is, like Uber around the world, safe.
It works the same as it would in any other country, connecting you with a driver in mere seconds. You can pay through the app, track your journey, and all the other useful stuff that makes Uber so beneficial.
There's nothing more to say other than to reiterate that Uber is safe in Brussels… and much cheaper than taxis.
Are taxis safe in Brussels?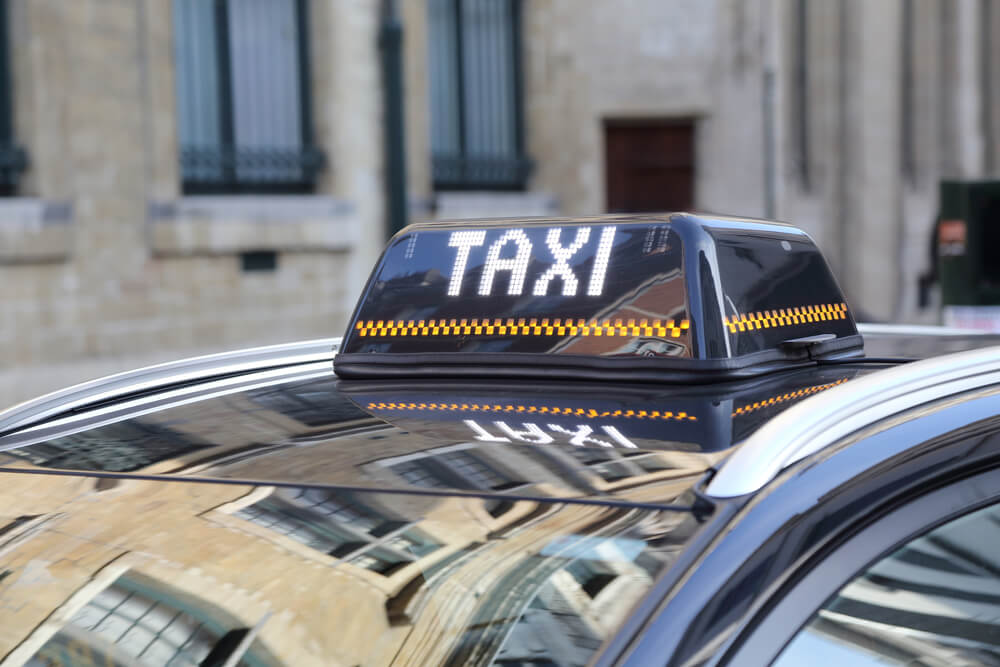 We're not going to lie: the taxis in Brussels are some of the most expensive in Europe.
On top of that, the only "safety" issue you're going to have with them is being overcharged – even more!
The base fare for taxis in Brussels isn't that expensive, really (2.40 Euros): it's the price per kilometer (1.80 to 2.70 Euros) that really racks that meter up, and that's without mentioning additional surcharges for things like luggage and waiting time.
Licensed taxis are usually black, or white, and will have a "TAXI" sign on the roof.
The taxis should always use the meter – and you should always pay the price that's on the meter! No questions!
You can find taxis at taxi ranks outside places like train stations, big hotels and top sights like the Grand Palace. Alternatively, you can ask at your accommodation for the number of a reputed minicab company.
Another thing: the taxi drivers in Brussels have a bit of a reputation for being slightly aggressive and driving a little too fast. If you've had a driver that you've been really dissatisfied with, you can report them; just make a note of their 4-digit taxi ID and you can make a complaint about them.
Mostly the taxis in Brussels are safe, just sometimes the drivers are a little bit unscrupulous.
Is public transportation in Brussels safe?
Hands-down the public transport is the best way to get around Brussels. It's quick, cheap and efficient – for the most part.
Safety-wise, there are some issues with pickpockets around some of the major stations, but generally, it's pretty safe.
The metro was opened in the 1970s and encompasses 6 lines. However it doesn't actually cover that much ground, so using the metro alone isn't actually the best way to get around the city. It opens from 5:30 am till midnight during the week, 6:30 am till midnight.
Buses, on the other hand, are a pretty all-round decent way to get around the city – especially considering that it goes to places that the metro just doesn't reach. They're especially good if you want to traverse Brussels after dark: night buses run on Friday and Saturday from 12:15 to 3 am.
There are loads of them, they arrive every 30 minutes and they cover many of the city's main streets. If you're worried about any rowdy behaviour on the bus (which can happen) just sit close to the driver.
Then there's the tram system. It's got quite a claim to fame: Brussels' tram lines, all 17 of them, make up one of the largest tram networks in the world.
It's open from 6 am till midnight, runs past many of the city's top attractions, and runs over as well as underground.
Trains are a good way to travel around Belgium as a whole. In fact, you may arrive in Brussels on a train (if you've caught the Eurostar, for example). If you arrive at the Eurostar Terminal, definitely be aware of your belongings and surroundings; this area of town really isn't the nicest and is known for pickpockets operating in and around the station. Be careful of your baggage, too, and don't fall for distraction techniques.
To sum up: Brussels' public transport is safe. However, your money may not always be safe, so ensure vigilance especially in busy stations.
Bum bags aren't just for Adidas lads and super dads!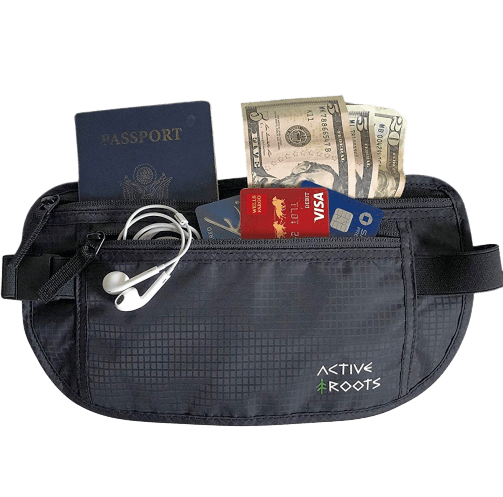 Seriously, once you enter the travel belt life, you never go back. You can NEVER overstate just how useful having all your most important valuables right around your waist is.
A full-sized travel belt stays tucked under your shirt and keeps your valuables – documents, passport cash, headphones, lip balm, illicit goodies 😉 – organised and on-hand for moment's notice.
Hide Yo' Money!
Is the food in Brussels safe?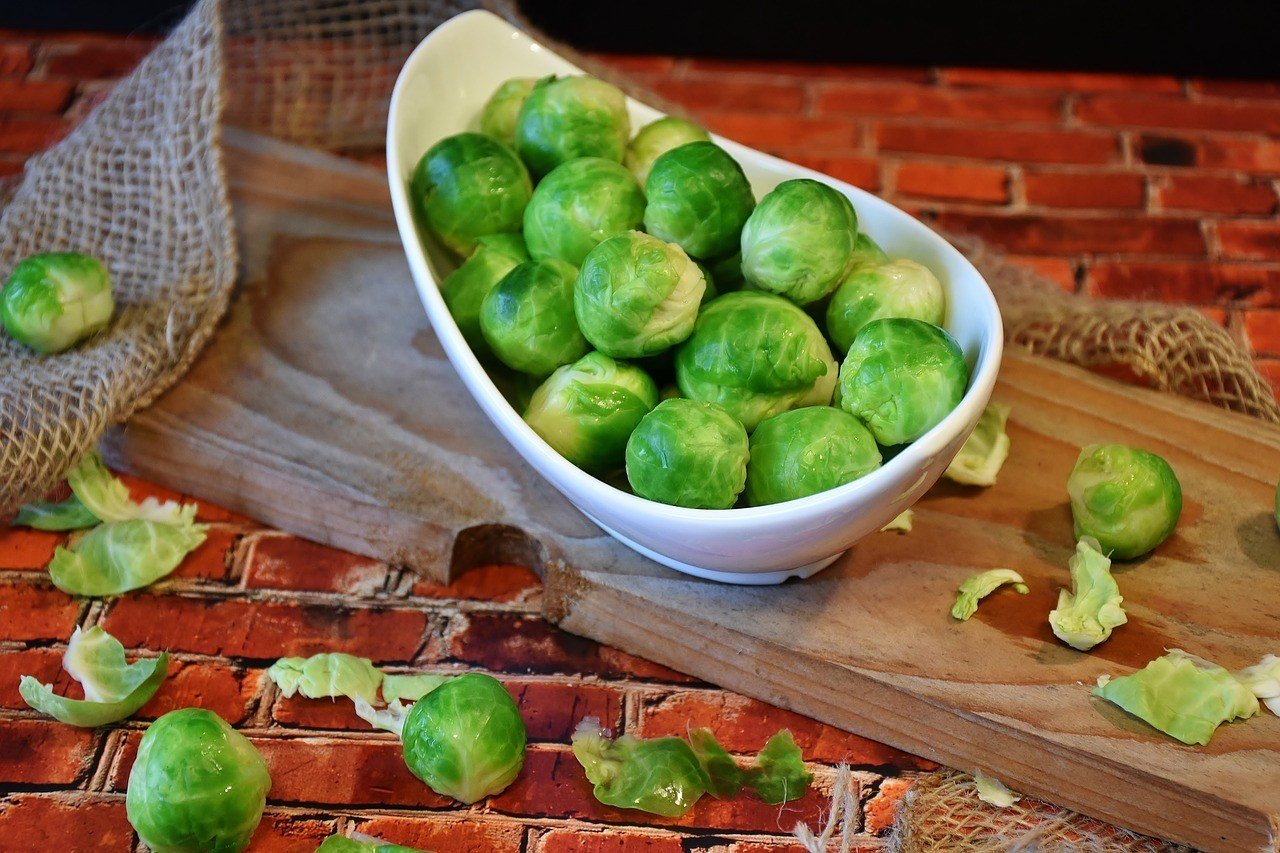 French fries, mussels, beer, chocolate, waffles: these are some of the tastiest, most iconic treats that will be in store for you if you plan on heading to Brussels anytime soon. Chocolate fiends, however, should make a beeline straight for Neuhaus, a 150-year-old chocolatier.
More chocolate can be found at Sablon; all the major chocolatiers of the city have a shop here. You can't subsist solely on chocolate alone, even though we wish you could, so here are some pointers for exploring the culinary scene of Brussels whilst keeping your tummy safe.
Do not go to the Rue de Bouchers. We repeat: do not. This is where you'll find some of the worst restaurants in Brussels. Weirdly, they're all geared towards tourists, but they're all so bad – we just don't get it. They're overpriced, the owners are pushy, and the food is really not up to standard.
With that in mind, really do steer clear of tourist traps. If you head to a restaurant boasting an extensive menu, in English, with someone outside trying to get you in, it's most likely you're about to enter a tourist trap. These are more about making money than actual good food.
If you are going to try local food, then go somewhere that's actually busy with local people. A good way to tell if they are locals is to listen: if they're speaking English, it's probably for tourists. The best thing about local spots is that you get to experience an undiluted experience of eating in a city.
As we said, moules frites (mussels and fries) is something you have to try. However, they're not available all throughout the year. Eat them in season, between September and February. Don't eat any dodgy mussels whose shells haven't opened properly in the cooking process (this means they were already dead before cooking). You do not want to get ill from seafood: it's nasty.
Hit up the waffle shops. Keep it simple: less is more. Steer clear of all the whipped cream and various toppings you can get – this is for tourists – and opt for a classic, minimalist waffle for the real taste. The tourist versions are called gauffres and sometimes you get a mini Belgian flag stuck in them for extra tackiness. You can get the real local ones from small waffle buses parked on the streets.
Go for food that's cooked hot and fresh; the street food in Belgium, in general, is amazing, but make sure you eat from a clean-looking stall where you can see stuff being cooked before your very eyes. The thing about pre-cooked food, on the other hand, is that you just don't know how long it has remained unsold.
Make sure that you wash your hands. Exploring a city can make your hands deceptively dirty, so do make sure you give 'em a scrub before you eat – especially if you're eating with your hands.
There you have it, folks! There is a whole lot of tasty food for you to stuck in to in the Belgian capital. If you are really worried about where you are going to eat, then we would recommend reading some reviews of top-rated places to eat in Brussels on sites like TripAdvisor.
Other than that, food hygiene is pretty good in Brussels. Just make sure that you really do avoid tourist traps, not just they're low-quality everything and not "real" Belgian food, but also because they are expensive. Eat local, go where locals go, and you'll love it here.
Can you drink the water in Brussels?
Of course! The tap water in Brussels is safe to drink.
It's actually pretty good – as far as tap water goes, we mean. That said, it does contain higher levels of lead than it should do – that's because of all the old pipes. It's an old city, after all.
However, that's only in 2% of 900 water samples. If you want to stay extra safe, or don't like the taste, use water filters to fill up your refillable bottle where possible (at your hotel or hostel) or if you're really paranoid, you could always buy bottled water. Read our in-depth review of the best travel water bottles here if you decide to buy a refillable bottle.
For the most part, however, it's good to go – drink the water in Brussels and be merry.
Is Brussels safe to live?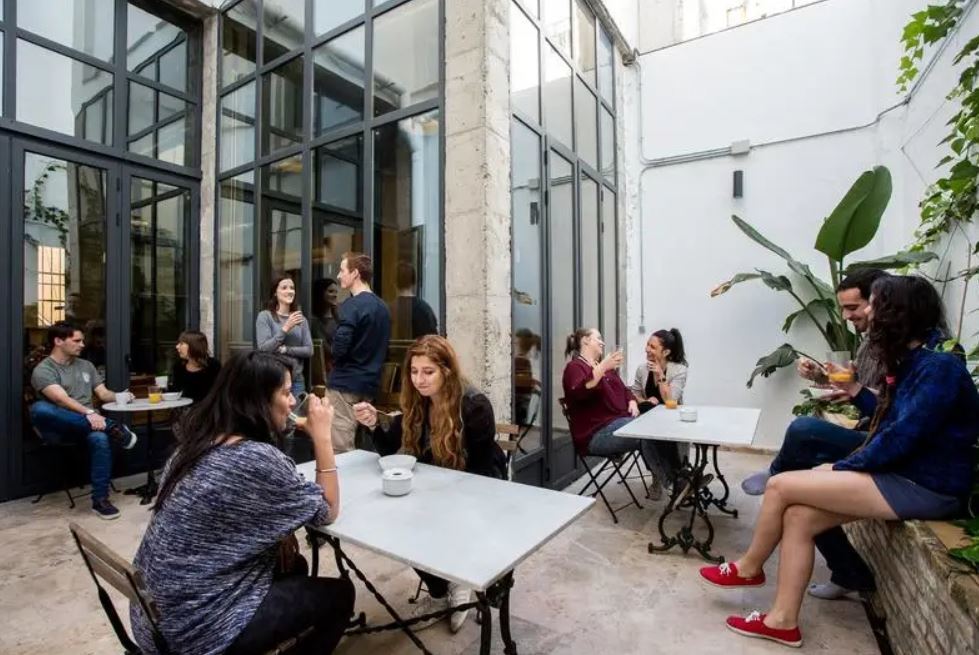 Brussels is a pretty safe city to live in. Being a sort of unofficial hub for Europe in general, there's a pretty international mindset here that's generally quite welcoming of outsiders.
That being said, some outsiders aren't very friendly – as proven by some of the terrorist attacks that have taken place within Brussels over the past few years. Obviously, there is a threat of terrorism, but it's nothing you can do much about: just go about your daily business as you would and as Belgians do.
Another thing that makes it a little bit of an unsafe place to live in is the traffic. The streets are often clogged, parking is a mess, and – as we mentioned – the road-related deaths in Belgium are pretty high.
When it comes to specific areas in which to live in Brussels, we would recommend Place Jourdan. This is a fun, friendly neighbourhood with its own little neighbourhood square; locals go about their errands, there are a lot of bakeries, a Sunday market. Place Jourdan is a quiet, safe place to live in Brussels.
However, if you are looking for something more exciting and diverse, check out the neighbourhood of Schaerbeek. There is a mix of cultures as well as architecture here, complete with things like banks, parks, great food, and good housing options.
The safest neighbourhoods overall though are to be found in Uccle, Ixelles and Woluwe Saint Pierre; each one boasts fewer than 500 crimes reported per year. That sounds pretty safe to us.
Despite the high alert for terrorist attacks, Brussels is a safe place to live. There may be the risk of something happening, but this is the case in many European countries, and living your life in fear wouldn't be a good way to go about things.
The best course of action is to just be sensible. There are, of course, areas to be aware of at night, too; chances are you won't actually be going anywhere near them after dark, so you'll avoid the petty crime that can occur.
As with all things, research is key. Talk to expats before you make the move, get local knowledge on good estate agents – things like that. As far as problems are concerned, there are no more or less than occur in other big, European cities.
The Future of the SIM Card is HERE!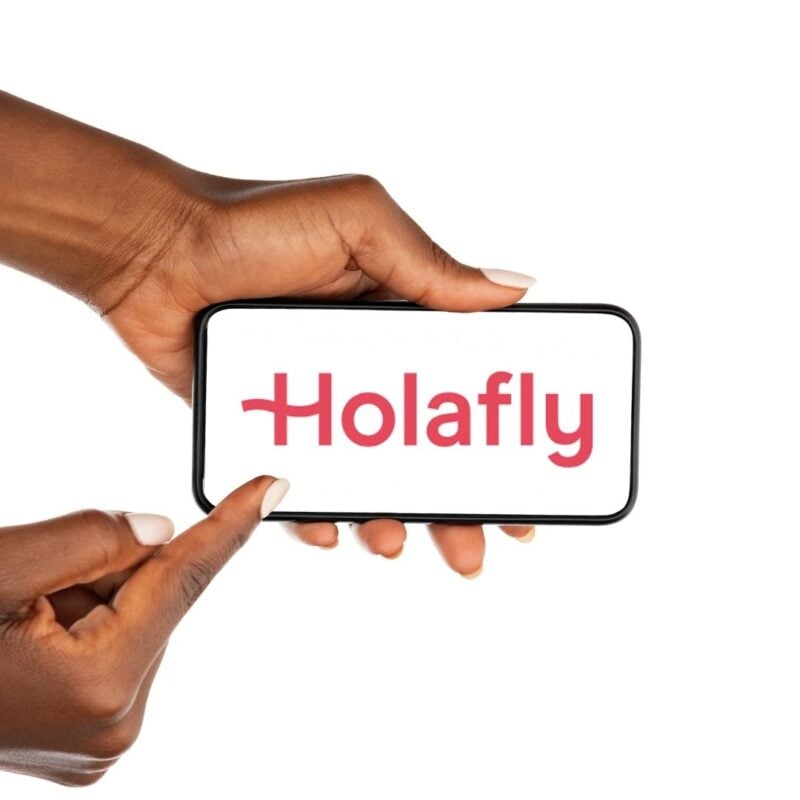 A new country, a new contract, a new piece of plastic – booooring. Instead, buy an eSIM!
An eSIM works just like an app: you buy it, you download it, and BOOM! You're connected. It's just that easy.
Is your phone eSIM ready? Read about how e-Sims work or click below to see one of the top eSIM providers on the market and ditch the plastic.
Grab an eSIM!
How is healthcare in Brussels?
Belgium boasts a state-run healthcare system which is apparently one of the world's best. Most of it, as you'd expect, is to be found in the capital.
That means you shouldn't have to worry too much if something happens to you whilst you're in Brussels. A lot of staff at hospitals will speak English and will give a high standard of care.
If you have an emergency in Brussels, dial 100; an ambulance will come to collect you and will take you to A&E.
If you are an EU citizen you should have your EHIC card on you at all times – just in case. That's because the healthcare system in Belgium, though state-run, is not free. Non-EU citizens will have to pay, of course, so you should definitely make sure you travel with health insurance or good travel insurance.
Pharmacies are frequent throughout the city; most of these operate normal working hours, but there are a fair few 24-hour options, too. The best bet for finding a good pharmacy is to ask the staff at your accommodation, who will more than likely be able to direct you to the nearest one.
At pharmacies, you can buy a bit of over the counter medication, and get advice from the pharmacists themselves, but you won't be able to receive a prescription; for that, you need to see a doctor.
To see a doctor, for minor complaints and ailments, you can go to a walk-in centre or clinic. You don't have to make an appointment, but you will have to wait; the time you wait will depend on how urgent or severe your case is. Note: you will have to pay upfront in cash at one of these walk-ins/clinics – better head to the ATM beforehand!
FAQ about Staying Safe in Brussels
Here are some quick answers to common questions about safety in Brussels.
Final thoughts on the safety of Brussels
Though there may be sketchy neighbourhoods, a bit of petty crime, and even with the small threat of terrorist attacks, there honestly is nothing else to say apart from this: Brussels is safe. It's safe to visit and you could even live there safely if you felt like it. Belgium itself is statistically one of the world's safest countries; it's up there with the top 20 most peaceful, according to 2019's Global Peace Index.
Brussels, however, is where most of Belgium's crime happens – it's the capital city, so of course, there is going to be more crime here than in other parts of the country. Look at any European city: on the whole, it's going to be considered safe. Then look at its capital: more often than not, it will have more of a reputation for being "rough" or "sketchy" or "dangerous", which is only true for some areas in Brussels.
The best way to keep safe in the Belgian capital is to not be oblivious to your surroundings. Know that distraction techniques occur, that crowded areas like tourist sights and transport hubs attract petty criminals, that a terrorist attack could happen. Visiting Brussels without a care in the world and not considering any danger is likely to lead to it; be aware, travel smart, use common sense and you're likely to avoid it.
Disclaimer: Safety conditions change all over the world on a daily basis. We do our best to advise but this info may already be out of date. Do your own research. Enjoy your travels! Some of the links in this post are affiliate links which means we earn a small commission if you purchase your insurance through this page. This costs you nothing extra and helps us keep the site going.
---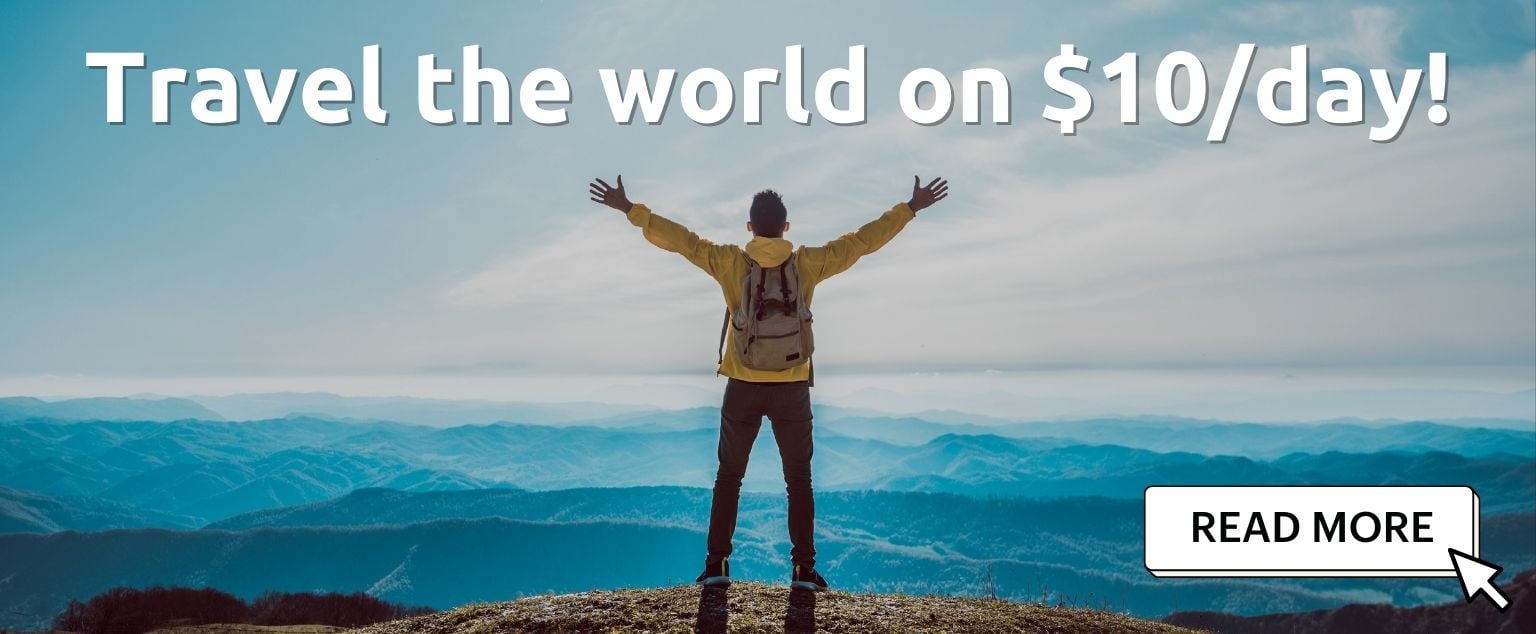 And for transparency's sake, please know that some of the links in our content are affiliate links. That means that if you book your accommodation, buy your gear, or sort your insurance through our link, we earn a small commission (at no extra cost to you). That said, we only link to the gear we trust and never recommend services we don't believe are up to scratch. Again, thank you!