Nestled in a dreamy corner of Africa, lies a small but mighty land boasting sand, sea and copious amounts of tea. 
Sublime scenery. Unforgettable hospitality.
Tunisia is a special, special place. 
Lush forests disappear South into the stillness of the Sahara, flanked by a coastline of pristine beaches and fascinating islands.
Home to a unique blend of North African and Mediterranean cultures, surreal archeological sites and access to the desert on a budget, Tunisia is a broke backpacker's dream. 
Navigating this cultural and physical landscape may appear tricky, but with a few tips and tricks, you'll have all the tools you need to venture off and explore this tasty slice of North Africa, which is exactly what you'll find in this backpacking Tunisia travel guide.
…The desert calls! 
(And any Star Wars fans, do add an extra week…)
Why Go Backpacking in Tunisia?
Being honest, visiting Tunisia hadn't crossed my mind, until I found myself heading down Italy and wondering what to do next.
As it turns out, Tunisia is home to the world's most magnificent front doors. If this isn't enough, behind those doors, live the most fantastically friendly people: nowhere else have I felt such a universally-warm welcome.
My main tip for backpacking Tunisia is to be open to adventure: you never know where the day may take you, and that is part of the beauty of travelling here. I could fill this guide exemplifying the kindness of Tunisian people, but that's best discovered yourself.
So don't think twice: book that ferry or flight, and head to North Africa. Chats with locals over tea will capture your heart, and the Saharan landscape will take your breath away. I guarantee you that budget backpacking Tunisia will leave you wanting to return.
Best Travel Itineraries for Backpacking Tunisia
If you have a week or even less to explore, there's good news: the desert dream is remarkably accessible. You'll have time to set forth across the countryside, to and from Tunis in the North.
A month would allow you to cover both the wide range of historical sites and natural beauty spots on offer pretty extensively.
Either of these itineraries will ensure you experience the best of Tunis, the tranquillity of the south, and immerse yourself in Tunisia's rich history.
However, don't be afraid to construct your own route. Using these itineraries as a guide, but sporadically wandering off, would be a juicy way to explore.
Plus, have a go on various modes of transport during your trip. Trains, buses and louages (don't worry, all will be explained…), each deserve their place on a Tunisian adventure.
You may even find yourself hitching a lift on a tractor, if your heart so desires…
A word of caution: Tunisian summertime is VERY warm, particularly in the desert. Some tours may not operate from June to August, so if you're set on the Sahara, the summer months are best avoided.
1 Week in Tunisia: A Descent to the Desert…
Most travellers will arrive in Tunis, either by air or sea.
Wander the vibrant capital and suburbs: Sidi Bou Said is a beautiful seaside town, with buildings of white and brilliant blue. Carthage, an ancient capital, is home to a remarkable span of ruins from days of former glory. Both are a short metro ride from Tunis.
To reach the Sahara, take a louage (shared minivan) down to Douz for a sandy excursion. From here, experience a night in a traditional Bedouin camp.
Make time for a visit to the extraordinary Kairouan and the Great Mosque, founded over 13 centuries ago.
Return to Tunis for most onward travel options. It's probably around this time you'll be thinking about when your next Tunisian adventure might be.
That's one week, and no less than THREE different Unesco World Heritage Sites!
1 Month in Tunisia: A Legendary Loop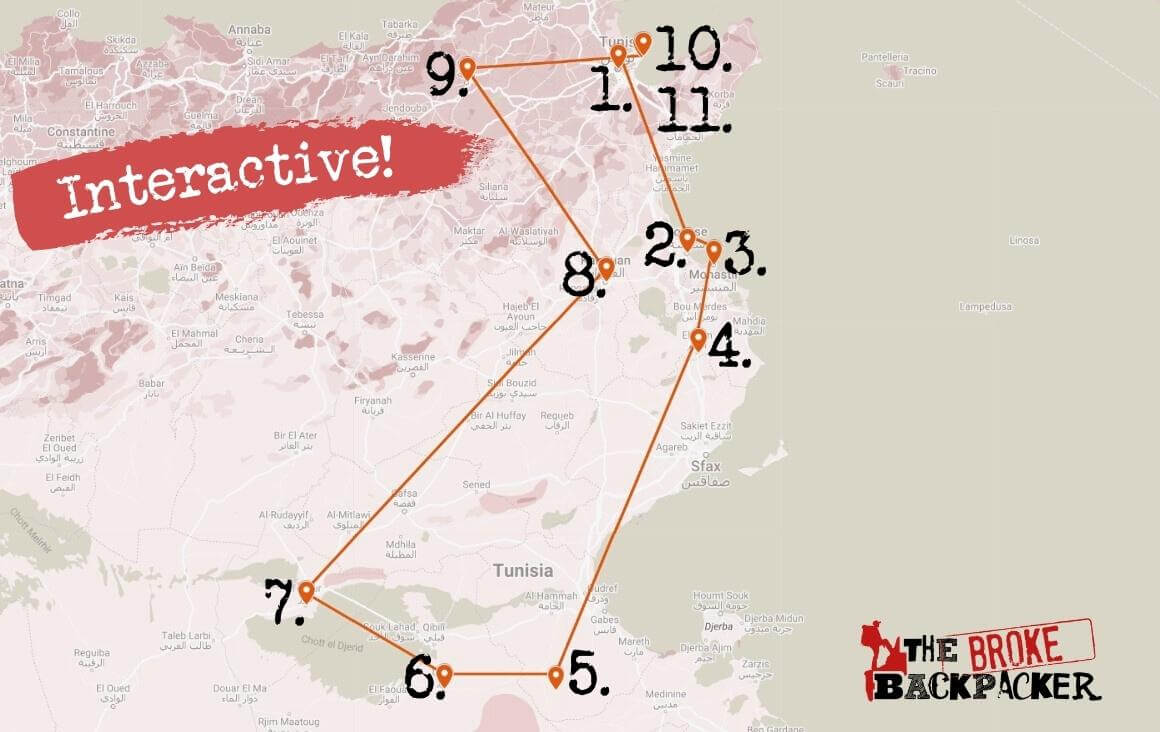 For those with longer on the road, the range of historical sites and natural wonder on offer could fill a month or more.
This itinerary forms a loop from Tunis, hugging the coast through the beachside hangouts of Sousse and Monastir, and the marvellous Amphitheatre of El Jem.
Explore the southern region's Berber culture of Matmata and Douz, and of course, the Sahara itself.
Check out Touzeur and the abandoned villages nearby. Then head North to magical Kairouan and its Great Mosque, on the way to Sousse for another medina wander.
Finally, spend a couple of days in the Beja governorate for some scenic sights and a glimpse into life in Antiquity. (Plus pomegranates. And if it's October, a festival celebrating pomegranates.)
Return back to Tunis to round off the circuit with a mooch around Carthage and ridiculously attractive Sidi Bou Said.
Best Places to Visit in Tunisia
These are the backpacking Tunisia destinations that you just shouldn't miss…
And if you can – do take your time. Tunisia is a fantastic place to slow travel.
Backpacking Tunis
Tunis is a marvellous blend of old and new.
Get lost in a maze of alleyways in the medina, explore the souks and shop for souvenirs, before settling into a rooftop cafe for sunset. For a capital, Tunis is very walkable, and locals will help you in the right direction.
Check out the Bardo Museum, brimming with Roman mosaics, and the Zitouna Mosque, (although non-Muslims aren't able to enter inside).
The Royal Mausoleum Of Tourbet El Bey is one of the most incredible sights I've ever seen. Ushered inside from a quiet side street, we entered a network of rooms covered in intricate Ottoman decoration. Here, many Husainid Dynasty rulers are laid to rest in marble tombs.
Also, be sure to make time for a trip out to these 'suburbs', easily reachable from the heart of Tunis:
In Carthage, the archeological ruins of a powerful trading empire are not to be missed. On a very affordable ticket, you can access seven fantastic sites including the Roman Villas and the Baths of Antoninus (my personal favourite.)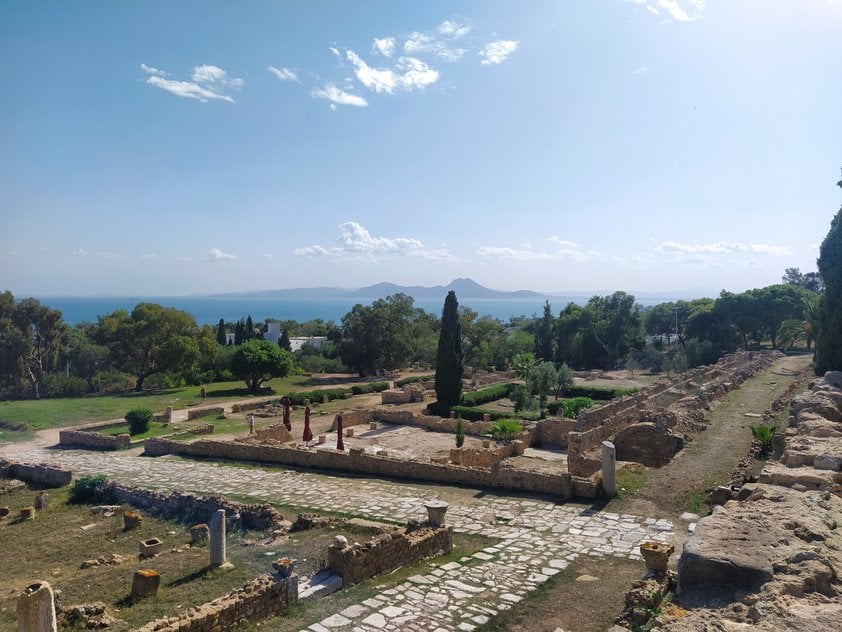 Nearby Sidi Bou Said is genuinely stunning. It's a beautiful seaside town, with buildings of white and brilliant blue, where you can enjoy panoramic views for lunch. Peruse the decorative doors found throughout the town, then head to the beach and paddle board through the sunset (rentals available from 'Lucky Boy's.')
If you're after some weekend nightlife, head to Gammarth! You'll find what feels best described as a little 'clubbing village', with a super friendly atmosphere. There's an awesome selection of bars and clubs pumping music from reggae to hard rock. And it's right by the beach, so you can round the night off with a swim if you feel so inclined.
Backpacking Douz
Douz, a.k.a. 'the gateway to the Sahara,' is a town set amongst palm trees, and a former stop on Trans-Saharan caravan routes. Today, it's the ideal launching point for desert trips.
In Douz itself, you can pick between luxury hotels and simple camps, tailored to your budget. You'll find options to continue south by camel, jeep, quad bike and more. Even taking to the skies with some 'ultralight flying' is a possibility.
Heading into the desert, you'll look out over the vast Chott El-Jerid, the largest salt pan in the Saharan.
Most travellers will opt for an overnighter in the desert, an excellent way to appreciate both the natural beauty of the environment, and gain insight into traditional Bedouin life. Dig into some cous-cous and settle in by the campfire for a truly magical experience.
Backpacking Gabes and Matmata
Gabes is a pretty unique place, home to one of the last remaining coastal oases in the world. Unless coastal oases are your thing (sincerely hoping there's an enthusiast out there), the biggest attraction to the area is the Berber village of Matmata.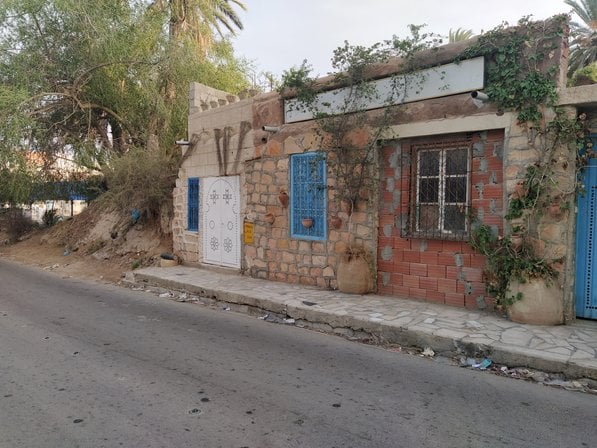 Explore the 'troglodyte' houses, cave dwellings, and discover why Matmata has made its way into two editions each of both Star Wars and Call of Duty. There's a compact but informative museum behind Hotel Sidi Driss (a.k.a. the Lars Homestead).
Backpacking Kairouan
Kairouan is a must-see focal point of ancient Tunisia. It's a majestic town of great importance, both in Tunisia and the Islamic world. Built in 670AD, the Great Mosque served as an epicentre of worship and education for centuries to come, and today is home to the oldest surviving minaret in the world. It is a truly impressive masterpiece.
Shopkeepers to the West side of the Great Mosque have rooftops with fantastic views over its courtyard (some may expect you to buy a souvenir in exchange for the benefit).
Kairouan has long been famous for its sublime craftsmanship, making it Tunisia's carpet capital. You can find some incredible pieces for very reasonable prices, their designs rich in symbolism. Keep an eye out for the Kairouan Cross.
Like in Carthage, a single ticket grants access to a range of sites. A highlight of these was the Mosque Sidi Sahbi, with its endless beautiful artistry.
Note: Louages directly to Tunis are available, but onward travel to El Jem requires a change in Sousse.
Backpacking El Jem
Introducing the Rome Colesseum's cooler cousin: the Amphitheatre of El Jem.
This small village was once home to gladiatorial battles of epic proportions, with crowds of 35,000 marvelling at the spectacle.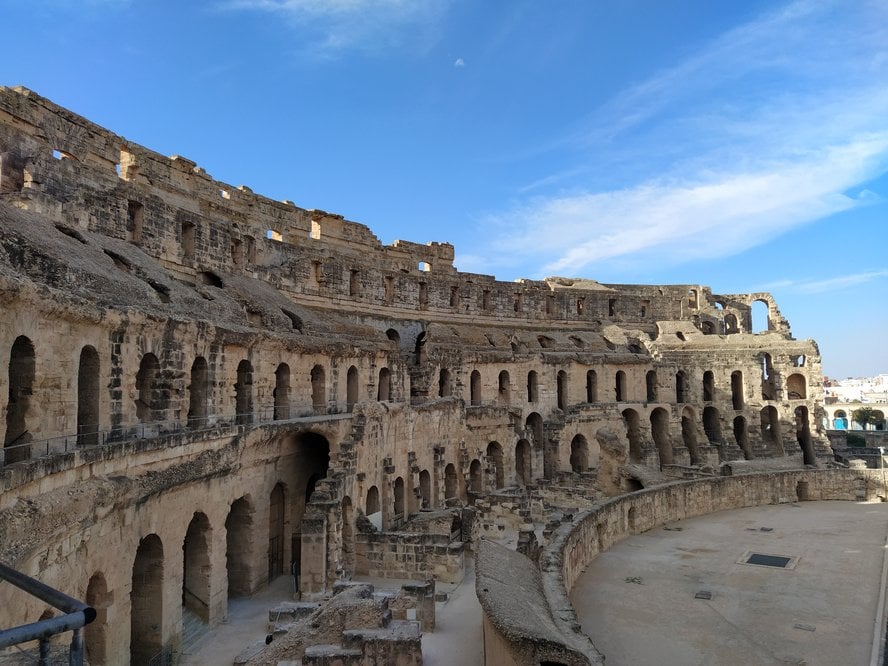 Spend some time exploring its underground network of tunnels and 'beast cages'. You'll be pretty much free to roam all over one of the biggest amphitheatres on Earth.
There's not a lot else to do except chill out in a nearby cafe and enjoy watching the camels roll on by. For the Amphitheatre alone, El Jem is undoubtedly worth a visit.
(Note: El Jem is on the direct train line between Tunis and Gabes, but onward travel to Kairouan by louage requires a change in Sousse).
Backpacking Sousse
Sousse is fascinating: you'll find an exemplary medina (another UNESCO World Heritage Site) and some stupendous front doors.
Check out 'Bab El Gharbi' – the Western Door to the medina – and 'Souk el Caied', an historic area of the market.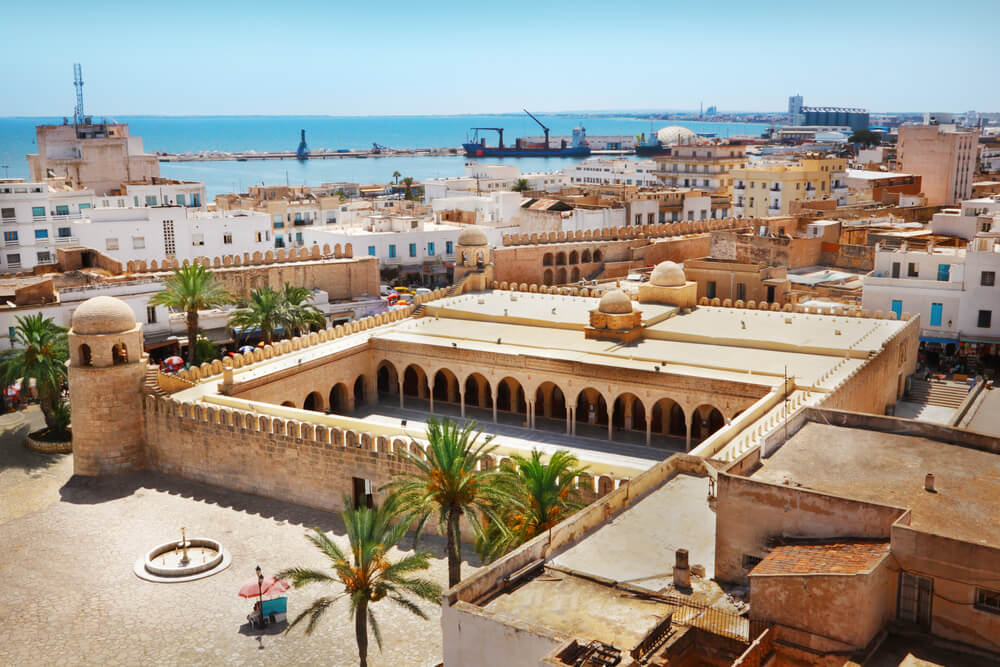 The Ribat of Sousse contains an inscription from the year 821, with impressive towers and walled construction. It's a rather novel place, being an early Islamic city with a coastal kasbah (fortress) to protect it from piracy in the Med…
You may come across some very friendly 'tour guides' around the medina. I seem to recall ending up in a factory surrounded by thousands of Tunisian police jackets. Just be clear if you do not wish to pay for guiding services.
Backpacking Monastir
Monastir is an absolute gem of the Tunisian coast.
Pristine beaches reach far from the town, with ample sun to bask in. While home to a range of excellent holidaying provisions, Monastir is an ancient city. Its colossal ribat dates all the way back to the 9th century, vital in protecting the peninsula from oncoming enemy ships. Nowadays it's just the occasional rogue pedalo from Sicily.
Lounge on the beach, sample the seafood, and stroll the marina, admiring the yachts. Make time for the Habib Burguiba Museum and the mighty mosaic collection there. And if you've ever seen Monty Python's Life of Brian, some parts may seem familiar.
Backpacking Beja Governorate
I've called this section Beja Governorate, because while Beja itself is pretty interesting, it's the surrounding areas within reach from the city that are especially special.
Dougga was inhabited across periods of Berber, Roman and Arab control. It's an unbelievably well-preserved example of life long-gone; like visiting a great aunt and finding tins of beans from a previous century, but on steroids (the ancient artefacts, not your aunty). Explore the city ruins on foot, taking in the forum, baths, arches, marketplace and much, much more. You could try hitching; most visitors take a taxi from Beja or Tunis.
Beja Bridge is a much younger but still impressive structure, stretching between hilltops in the rolling countryside. Again, hitching here would definitely be an option, lying just 10km outside o Beja city.
Half an hour northeast of Dougga, you'll find Testour.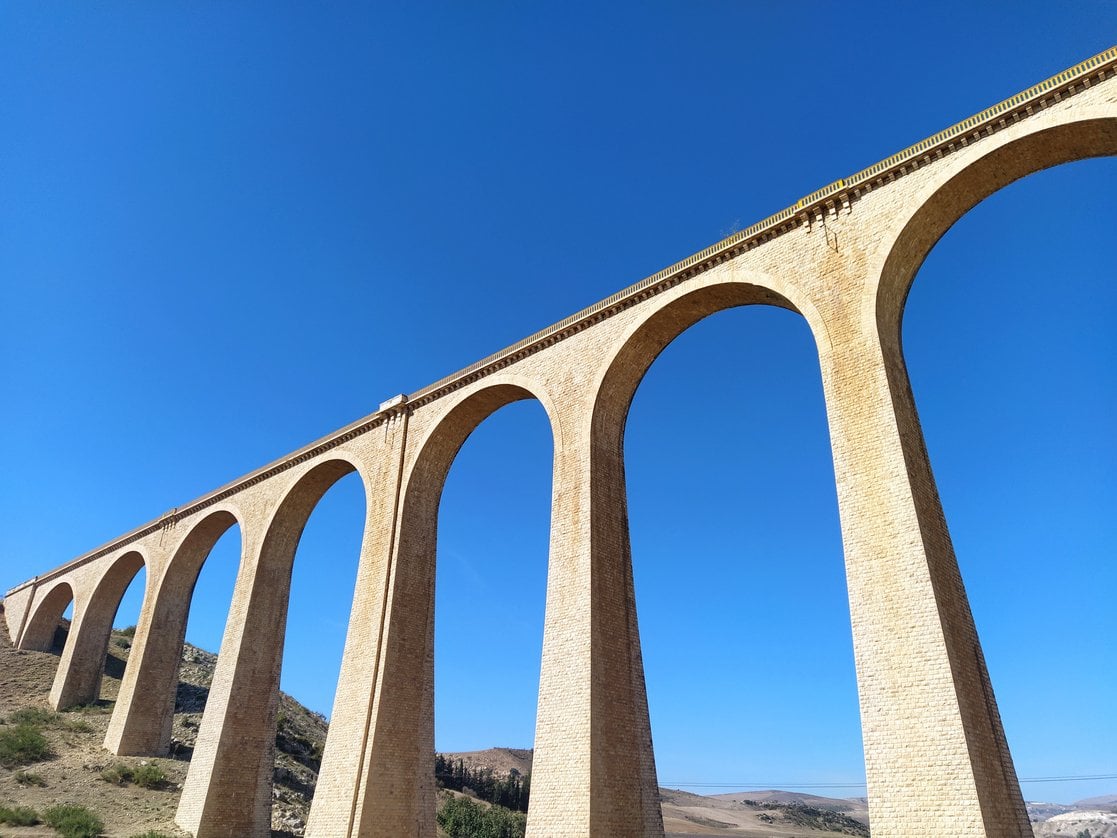 This small town, oozing Spanish influence, is set in the hills against a wonderful green backdrop. If you're lucky enough to be here in October, you may just catch the annual Testour Pomegranate Festival, which has placed the town firmly on the pomegranate map (if such a thing exists).
A Side Note for Star Wars Fans…
I'll be honest, sci-fi is not my forte. But when I showed this list to a mate who knows his ewoks from his lightsabers, he seemed suitably impressed.
Tunisia is home to many Star Wars filming locations that fans can visit, including:
Mos Espa – Located near Tozeur, this is where the slave quarters in Episode I: The Phantom Menace were filmed.
Ksar Ouled Soltane – This fortified granary near Tataouine was used as a backdrop for the slave quarters in Episode IV: A New Hope.
Matmata – The underground Troglodyte homes of Matmata were used as the filming location for Luke Skywalker's childhood home on the planet of 'Tatooine' in Episode IV. (The planet itself was inspired by the Southern city of 'Tataouine', its name adapted by Lucas.)
Medenine – The town of Medenine served as the filming location for the exterior of the home of Anakin Skywalker in Episode I.
Onk Jemal – This salt lake near Tozeur was used for the podrace scenes in Episode I.

These locations offer fans a chance to immerse themselves in the world of the Star Wars saga and experience the unique Tunisian landscapes that contributed greatly to the films.
Getting Off the Beaten Path in Tunisia
In Tunisia, I would urge you to venture boldly, to places Google Maps' Street View hasn't made it to. Conveniently, this is practically everywhere.
As an underrated paradise for off the beaten path travel, getting off the tourist track is easy as. I'm convinced Tunisia would be an ideal country for hitchhiking around; walking through the countryside in Beja Governerate, I had all manner of vehicle (and animal) driver stop for a chat and offer a lift.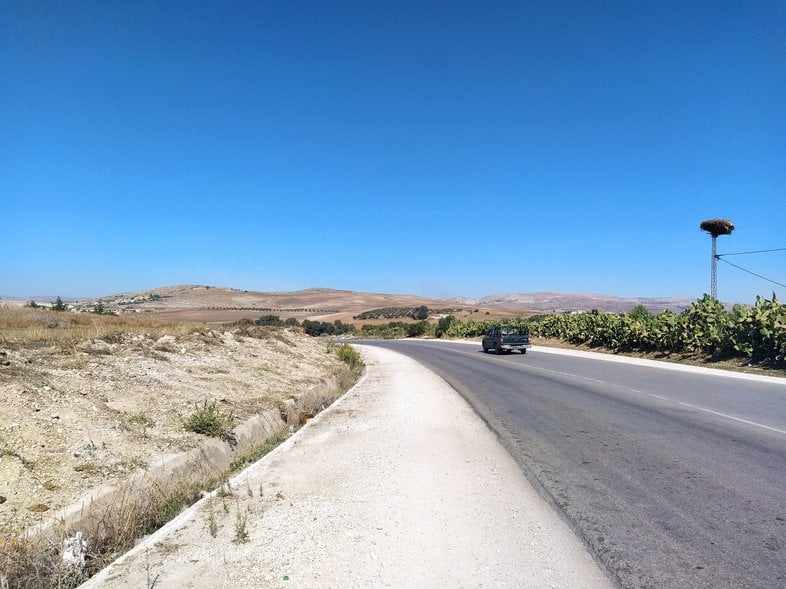 Bikes, tractors, cars, donkeys; getting off the beaten track is Tunisia is one mighty adventure.
You could try catching a train to a 'random' stop between well-known destinations, or scouting out cool places on longer louage journeys. People from more rural spots are likely to be super keen to show you their hometown, with unrivalled Tunisian hospitality.
Top Things to Do in Tunisia
Don't visit Tunisia without checking off these must-sees…
1. Sleep in the Sahara!
Embark on a dreamy adventure into the heart of the Sahara. Spend an afternoon under the Saharan sun, or get stuck into a multi-day getaway. Sleep in a Bedouin-style tent or outside, under the stars. Whether you opt for a camel, jeep, quad bike or your own two feet, it's bound to be an unforgettable foray amongst the dunes.
2. Visit The Amphithreatre of El Jem
It's like the one in Rome but different.
The Amphitheatre of El Jem is a sight to see. Marvel at the superbly preserved infrastructure that has stood the test of time, surviving seventeen centuries to be here today. It's not hard to envisage scenes of immense scale and ferocity, when reading about the gladiators and animals battling here for the purpose of entertainment.
3. Dig into some Tunisian cuisine
Tuna. Harissa. Olives. Three inescapable tenets of Tunisian life. Whether or not these flavours tickle your fancy, you're guaranteed to find some downright incredible dishes on any Tunisian menu. Sampling a range of local delicacies across the country is a pastime worthy of your hard-earned Dinar.
4. Wander aimlessly around Tunis Medina
Go and get lost. With over 700 monuments in the medina arena, you're bound to stumble across something remarkable. The area is a composite of souks, mosques, mausoleums and more, guaranteed to satisfy your intrigue.
5. Lay eyes on the Great Mosque of Kairouan
Wandering and chatting your way through Kairouan, you naturally pick up on a sense of stature surrounding the place. The town is incredibly symbolic for Muslims, held as the fourth most holy city in Islam. For those that are unable to make it to Mecca itself, seven trips here is considered equivalent. Laying eyes on the Great Mosque is truly special.
6. Explore Sidi Bou Said and Carthage
In most cities, a day in the 'suburbs' may not sound too invigorating. Tunis is different.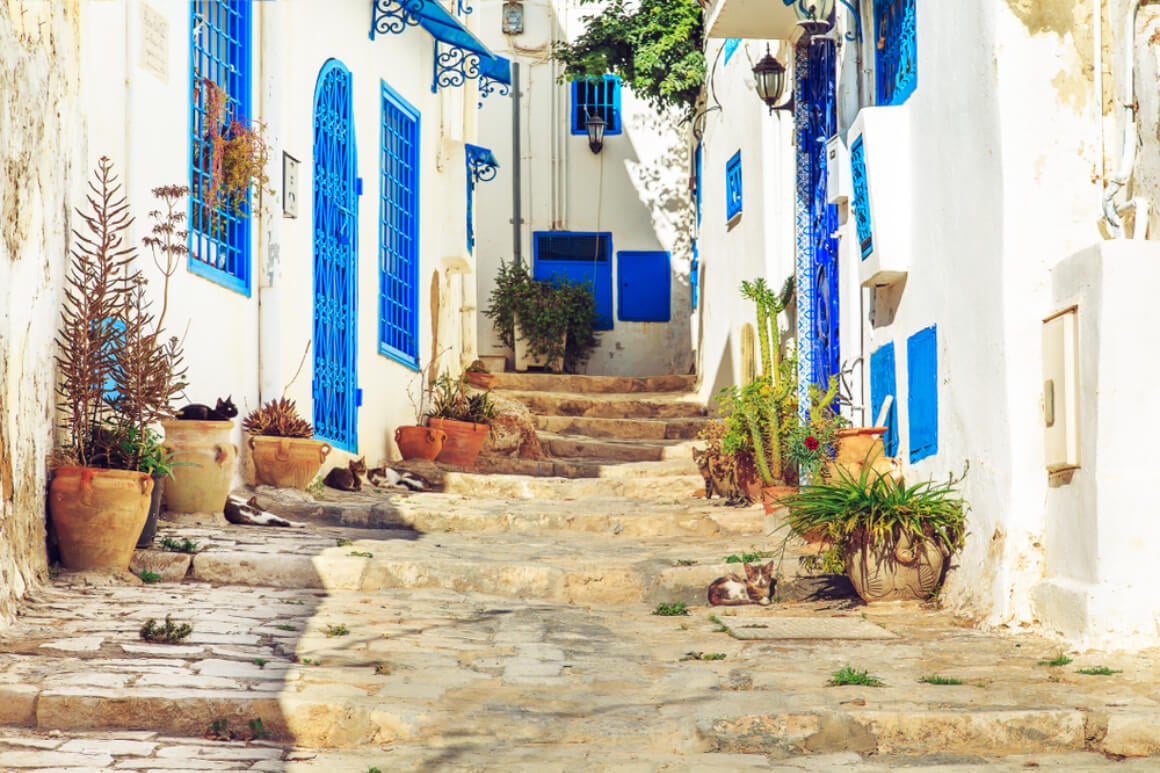 Sidi Bou Said is as picturesque as anywhere, a maze of blue and white houses, overlooking a tremendous beach for both paddleboarding and cotching. The ruins of Carthage are rather awesome and not to be missed. Take the TGM for a top day out.
Backpacker Accommodation in Tunisia
Now, when it comes to budget accommodation in Tunisia, there's not a huge hostelling scene…
However, it is incredibly encouraging to see two BRAND NEW abodes appear on Hostelworld in early 2023 in Tunis and Djerba – here's to hoping this is the start of a hostelling revolution in Tunisia.
Outside of these places, you'll most likely be scouting out a guesthouse of your liking, many of which are very affordable.
We're not talking Asia cheap, but there are certainly options around for Broke Backpackers.
And for the occasional 'cheat night', upping the budget slightly will unlock some magnificent places to stay…
Backpacking Tunisia Travel Guide
Destination
Best Hostel/Guesthouse
Why Visit!
Tunis
Nomads Hostel Tunisia
Brand spanking new hostel! Super clean and extremely welcoming.
Auberge El Medina
Beautiful hostel in the heart of historical Tunis. Very popular and friendly environment.
Djerba
Wostel Djerba
Another newly opened hostel that looks superb. Support this awesome new venture in lovely Djerba!
Gabes
Maison Fatma (Toujane)
OK, not in Gabes itself, but in the region, lies this special, special place to stay.
Extremely homely, in a traditional Berber village.

Monastir
Sea View Apartment
Beautiful whole apartment by the beach! Excellent value, especially when shared.
Sousse
Hotel Paris
Superb budget option, near the ribat. Very clean with a rooftop terrace!
Kairouan
Hotel Sabra
Very basic accommodation, but I loved this place. Spend the evening outside sipping tea, overlooking city walls. Offline – just turn up.
Tunisia Backpacking Costs
Tunisia is an underrated gem for cheap and incredible adventures!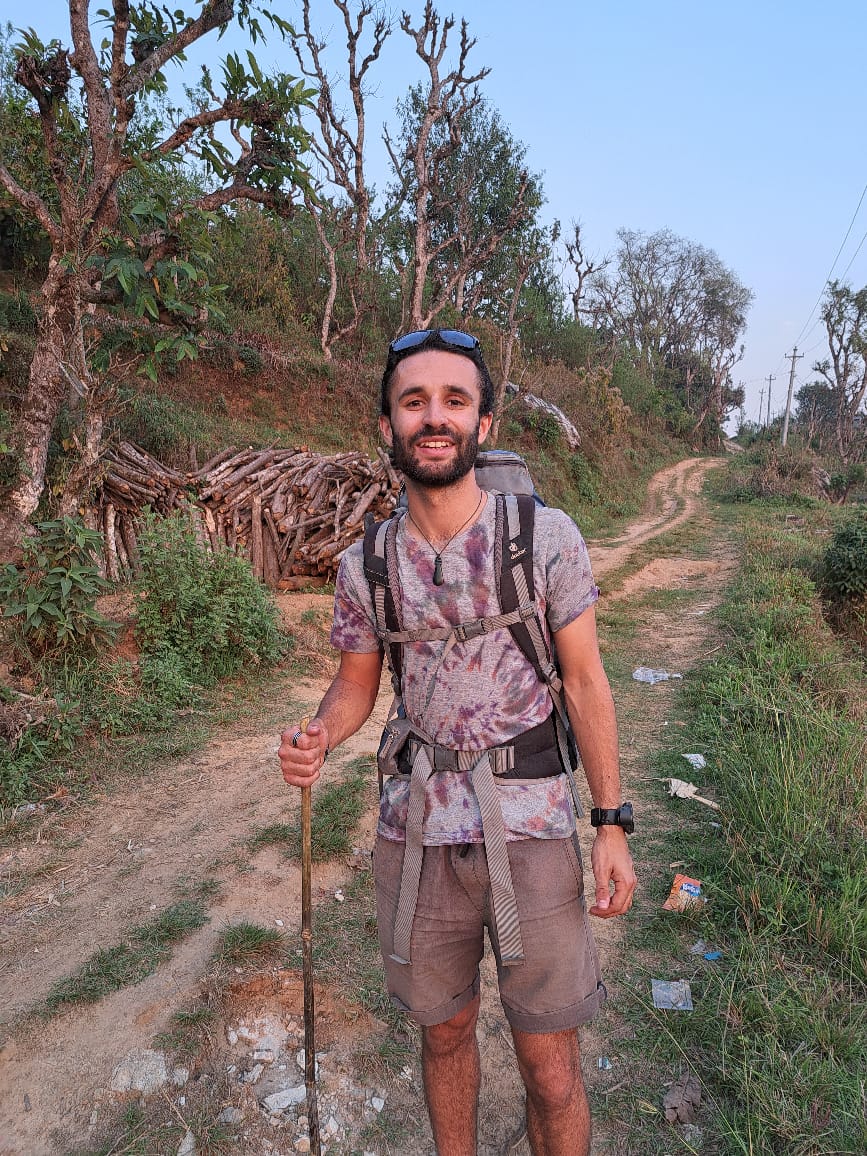 Particularly when you consider its proximity to Western Europe, costs for all backpacker basics are very reasonable. If you know where to look, there is some splendid food available for super low prices, and taking the louage won't set you back a great deal.
Budget accommodation may sometimes appear elusive, but there are very cheap options around. Seek, and you shall find.
Tickets to main attractions are also extremely good value. You can be amongst some of the most incredible archaeological sites in the world, for less than the price of a Starbucks.
If you're ever feeling like 'splashing out', sampling an upmarket eating establishment will absolutely not break the bank and there are some pretty fancy options.
Plus, if you want to go the whole hog and throw in some hitchhiking, couchsurfing or camping, you really could explore Tunisia on a shoestring budget…
A Daily Budget in Tunisia
A Daily Budget in Tunisia

| Expense | Broke Backpacker | Frugal Traveler | Creature of Comfort |
| --- | --- | --- | --- |
| Accommodation | $5-$15 | $15-$25 | $25+ |
| Food | $4-$9 | $9-$20 | $20+ |
| Transport | $1-$4 | $4-$15 | $15+ |
| Nightlife Delights | $0-$5 | $5-$15 | $15+ |
| Activities | $0-$8 | $8-$18 | $20+ |
| Total per day: | $10-$41 | $41-$93 | $93+ |
Money in Tunisia
To get your first plate of cous cous, you're going to need to get your hands on some Tunisian Dinar. At the moment, one Dinar is worth approximately 3 US dollars.
You may see the abbreviation DT, occasionally TD, or TND. Same thing; these are all references to the local dinero.
For some prices, particularly on the low end, you'll see a number followed by several zeros. This is just to show the 'milim' (thousandth) denomination for extra precision. Don't panic, that chapati omelette is still an absolute bargain.
There's also a coin in circulation with THIRTEEN flat sides. As far as I can tell, only the Czech Republic can claim to match it. Some excellent coinage to be found in Tunisia.
You can't take Dinar out of the country though, so enjoy examining them while you can.
ATMs are pretty easy to find, but charge a few dollars for withdrawal, so it's best to take out reasonably large chunks at a time. Otherwise, you can exchange currencies without much hassle (US dollars being the most simple).
For all matters of finance and accounting on the road, The Broke Backpacker strongly recommends Wise – The Artist Formerly Known as Transferwise! Our favourite online platform for holding funds, transferring money, and even paying for goods, Wise is a 100% FREE platform with considerably lower fees than Paypal or traditional banks. But the real question is… is it better than Western Union?

Yes, it most certainly is.
Travel Tips – Tunisia on a Budget
As seen in the daily budget above, you could spend quite a hefty sum in Tunisia, living a life of absolute luxury.
Rest assured, however: with a few tips and trips, you'll be able to keep expenses very low if that's a priority, and have an unforgettable adventure.
In fact, I strongly believe that following any of these, at least on occasion, will lead to a much richer travel experience than splashing out on fancy hotels every night.
Eat local street food. Street food is incredibly affordable if you know where to look. We're talking lunch for less than a dollar. Rest assured, you won't being going hungry. Seek out the likes of chapati omelette, leblebi, and brika (more on these to follow).
Hitchhiking. Don't get me wrong, the louages, buses and trains are very well priced. But for an extra dose of both adventure and savings, Tunisia would be awesome for thumbing lifts. I recall turning down many offers because I was enjoying walking. It certainly seemed catching a ride wouldn't take much waiting in a lot of places.
Couchsurfing. There are no less than 60,000 hosts listed on Couchsurfing within Tunisia! You're likely to make new mates and be treated extremely well as a guest, while keeping costs down.
Workaway. There are some beaut looking Workaways in Tunisia. Most involve helping out for a few hours a day in exchange for a bed and board, while garnering unique insight into everyday life in Tunisia.
Why Should You Travel to Tunisia with a Water Bottle?
As travellers, we have a joint responsibility to reduce the environmental impact of our excursions, and plastic waste is one of the biggest problems facing countries across the globe.
While local water quality has improved greatly in Tunisia, for peace of mind, travelling with a water filter is a wise move. There's no better option than the Grayl Geopress: this water bottle and filter system removes all manner of threat, including viruses and heavy metals – no mean feat.
It'll last for years, reduce plastic waste, and save you money. The Grayl Geopress is a sound investment for any intrepid adventurer.
Save $$$ • Save the Planet • Save Your Stomach!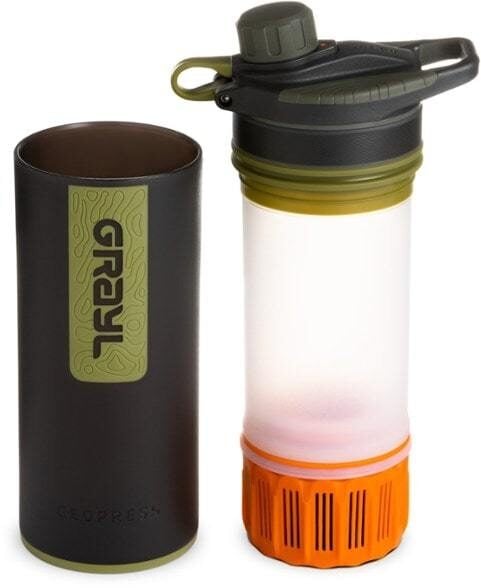 Drink water from ANYWHERE. The Grayl Geopress is the market's leading filtered water bottle protecting your tum from all the waterborne nasties. PLUS, you save money and the environment!
Single-use plastic bottles are a MASSIVE threat to marine life. Be a part of the solution and travel with a filter water bottle.
We've tested the Geopress rigorously from the icy heights of Pakistan to the tropical jungles of Cuba, and the results are in: it WORKS. Buy a Geopress: it's the last water bottle you'll ever buy.
Buy a Geopress!
Read the Review
Best Time to Travel to Tunisia
Beach lovers are in for a treat: there's an abundance of sunrays to be sought in Tunisia, and swimmable water temperatures for most of the year. Just don't accidentally backstroke into Libya.
The best times for a Tunisia trip are probably around the fringes of summer. Spring and early Autumn mean the North is still very pleasantly warm and beach days are comfy, while the desert isn't stiflingly hot, like in the peak of Summer.
In fact, most desert excursions won't run from June to September; the heat around this time does not sound remotely enjoyable. You'd be sweating like (insert favourite unacceptable innuendo). Plan accordingly to fulfil any Saharan dreams.
The months from October to May inclusive are optimal for Tunisia trips, if you want to have all options on the table during your travels.
What to Pack for Tunisia
You won't need to add anything too out of the ordinary to your backpacking packing list.
On the clothes front, just pack some stuff that's both loose and cool (temperature-wise; I'm not here to judge on fashion.) Tunisia is liberal compared to other Arabic nations, but it's a good idea to make an effort to dress more conservatively – outside of Tunis especially – with some long sleeves and trousers.
Also throw in a warm layer or two for a night amongst the Saharan zephyr.
As always, investing in some trusty gear will improve life on every backpacking trip, and last ages. Here's a pick of the bunch:
Somewhere to hide your cash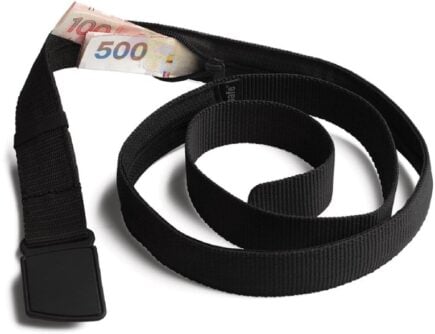 Somewhere to hide your cash
Travel Security Belt
This is a regular looking belt with a concealed pocket on the inside – you can hide up to twenty notes inside and wear it through airport scanners without it setting them off.
A travel water bottle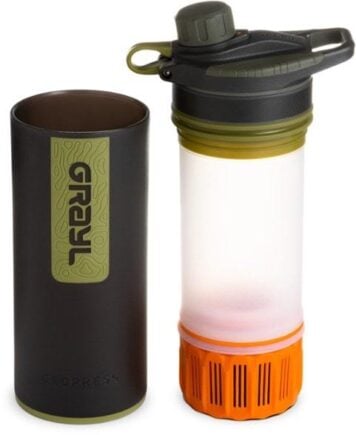 A travel water bottle
GRAYL Geopress Filtered Bottle
Having a filtered water bottle means you can drink from just about any source. The GRAYL Geopress is hands-down the most effective one we've ever used as well!
For those unexpected messes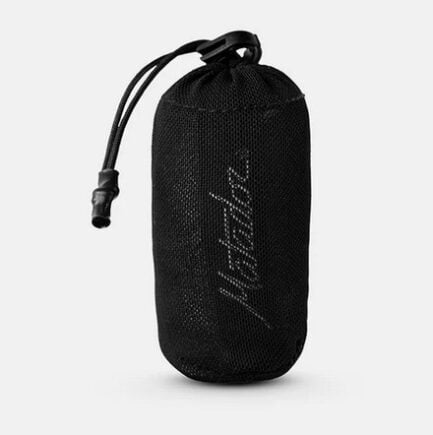 For those unexpected messes
Microfiber Towel
Hostel towels are scummy and take forever to dry. Microfibre towels dry quickly, are compact, lightweight, and can be used as a blanket or yoga mat if need be.
When the power goes out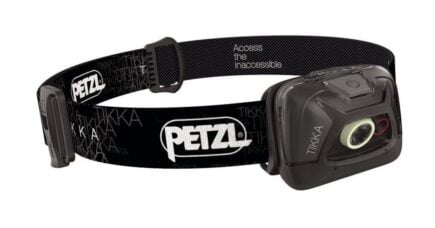 When the power goes out
Petzl Actik Core Headlamp
A decent head torch could save your life. If you want to explore caves, unlit temples, or simply find your way to the bathroom during a blackout, a headtorch is a must.
Sleep anywhere
Sleep anywhere
Camping Hammock
Taking a tent backpacking is not always practical but hammocks are lightweight, cheap, strong, sexy (chicks dig hammocks), and allow you to pitch up for the night pretty much anywhere.
To stay a clean backpacker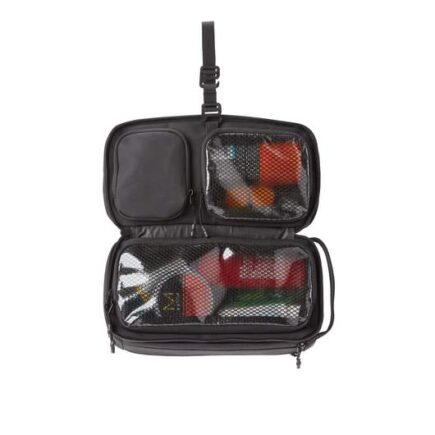 To stay a clean backpacker
Hanging Toiletry Bag
I always travel with a hanging toiletry bag as it's a super-efficient way to organize your bathroom stuff. Well worth having as it helps to have quick access to all your stuff.
Staying Safe in Tunisia
Yes – there are some regions best left alone – but on the whole, Tunisia really feels safe to travel.
I consistently felt the Tunisian people were always there to help, and never felt at risk.
Tunisia was the catalyst for the emergence of the Arab Spring in 2011, and heralded as a relative success story from this period of immense change.
However, 2015 saw three tragic incidents occur, when terrorist shootings in Sousse and Tunis led to a significant loss of life. Since then, much work has been done on improving safety and security, and thankfully nothing like the tragedy of 2015 has occurred in the aftermath.
It's important to contextualize terrorism risk. Even countries like the United Kingdom have not escaped terrible incidents over the last decade. Personally, I believe Tunisia is a safe country to travel to, and the overwhelming majority of trips to Tunisia will be filled with kindness and a very warm welcome.
Be a bit sensible and follow your usual travel safety tips, though: the borders with Libya and Algeria should be avoided, as should the vicinity of any protests.
Sex, Drugs, and Rock 'n' Roll in Tunisia
Tunisia may not be the first place that springs to mind when you think of wild nights out.
While a relatively new development, there is an excellent party scene in Tunis. Many young Tunisians like to go out on the toon. My mate even found her way to a desert rave, which looked highly exuberant…
Being a predominantly Muslim country, most people don't consume alcohol. It is available for sure, but there are restrictions, and we should make efforts to be cognizant of cultural norms. As such, alcohol sales are restricted on Fridays in most places, and during Ramadan.
Cannabis is the most commonly used drug, but laws are tight – as of a few years ago, something like a quarter of all prisoners were being locked up for drug offences. Personally, I'd avoid the drug scene while in Tunisia, but if you do decide to risk it great caution should be urged.
Tunisia is forging an accommodating compromise, whereby tourists and locals can drink their way through the witching hour if they so please, with a tea or cool lager.
But just remember to be respectful. Tunisia is a very welcoming country, and really quite liberal compared to other Arabic societies, so let loose and have a blast with the locals, but be mindful in your jollification…
Getting Insured BEFORE Visiting Tunisia
Now, it may not be the most thrilling part of trip planning, but getting properly insured BEFORE travelling is a wise addition to any backpacking to-do list.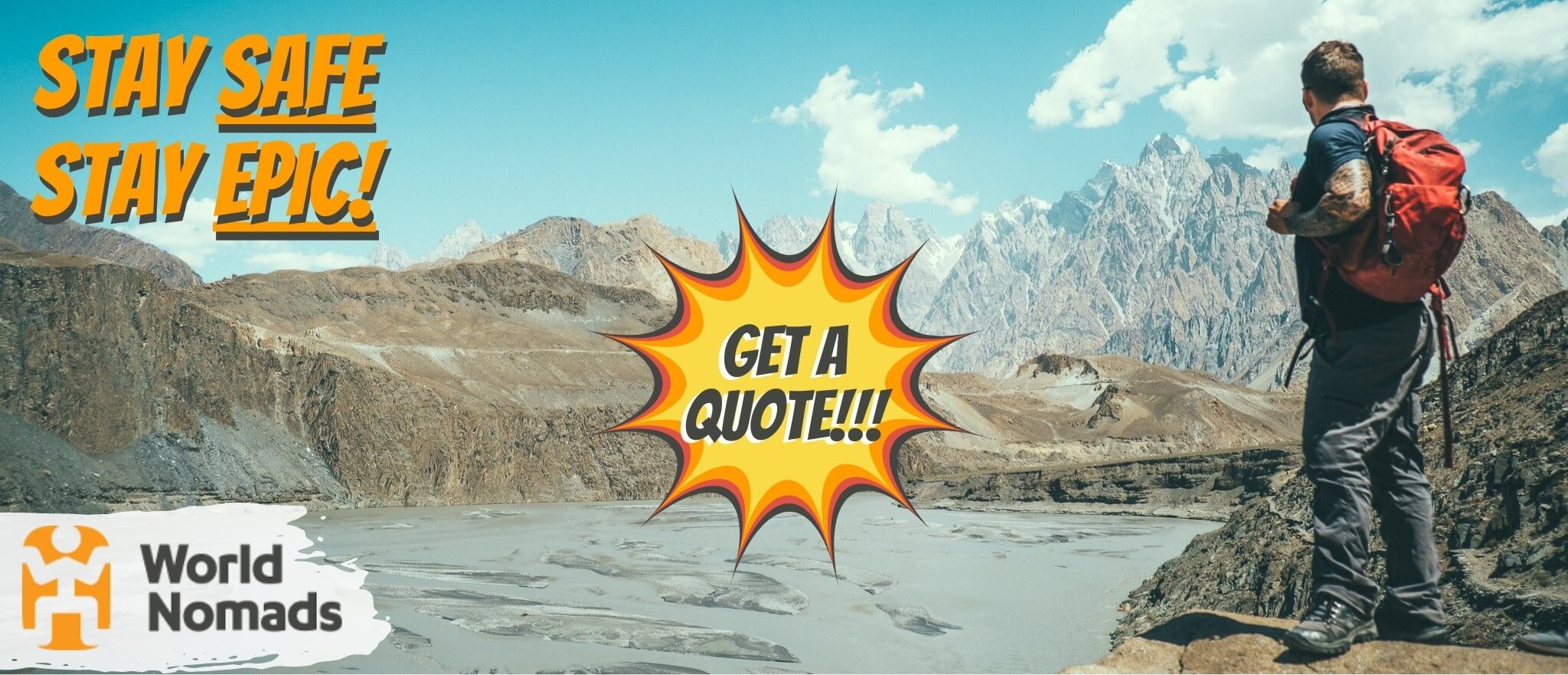 World Nomads' mission is to support and encourage travellers to explore their boundaries. They offer simple & flexible travel insurance, and safety advice to help you travel confidently.
They've been doing it since 2002 – protecting, connecting, and inspiring independent travellers just like you.
Get a quote below or read our in-depth review!
World Nomads provides travel insurance for travelers in over 100 countries. As an affiliate, we receive a fee when you get a quote from World Nomads using this link. We do not represent World Nomads. This is information only and not a recommendation to buy travel insurance.
How to Get Into Tunisia
Tunisia is very well connected by air, with flights running every day from across Europe and beyond. Most flights will go into Tunis Carthage airport, but there are also options to fly directly into the likes of Monastir, Djerba and Sfax.
Another great option is to sail from Europe across to Tunis – there are several options from Italy (Palermo, Genoa, and Salerno) and France, with 5 weekly crossings departing from Marseille.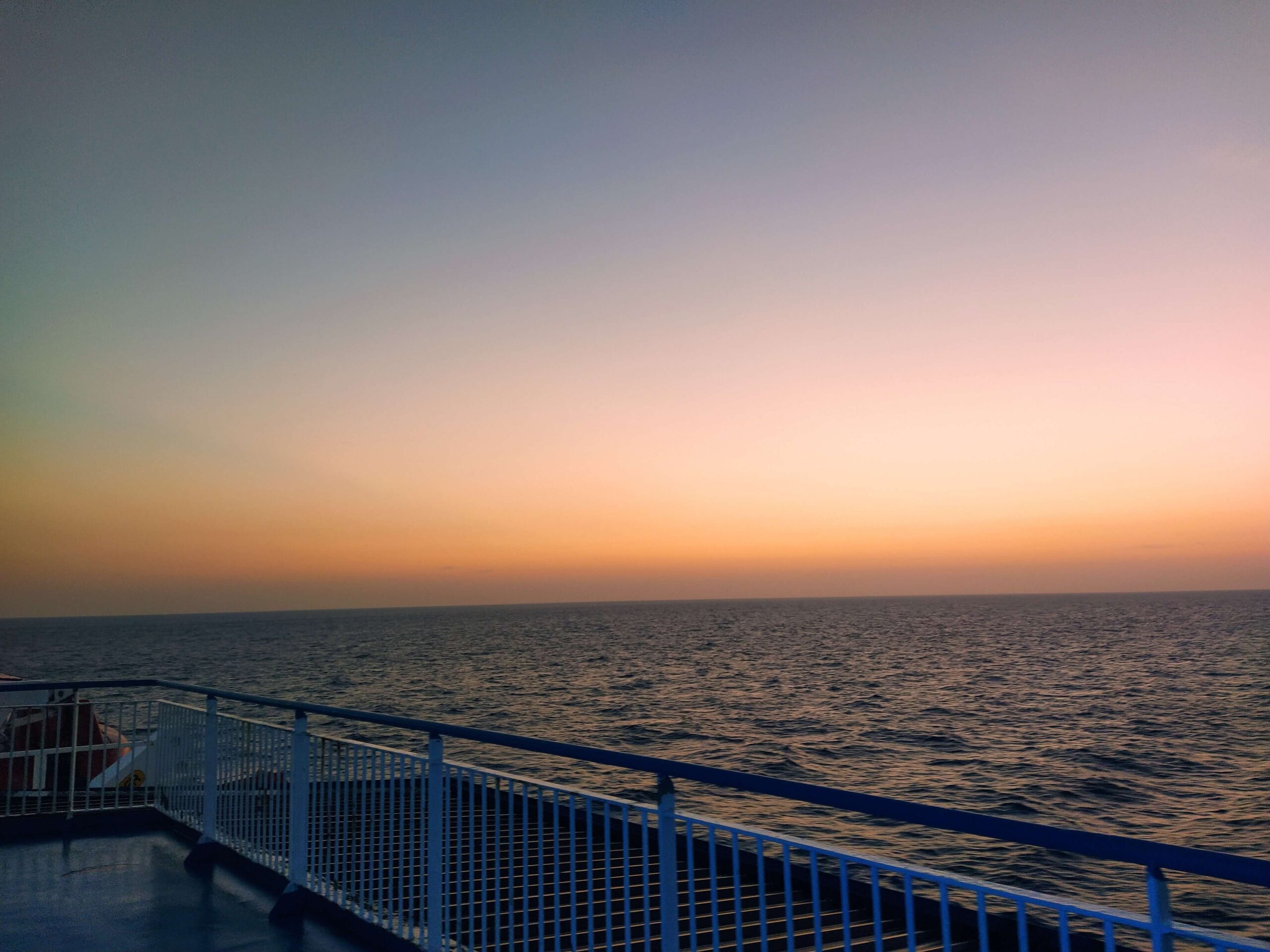 Don't expect a luxury cruise liner, but voyage by boat is a very exciting way to arrive in North Africa. It's affordable – especially for budget backpackers who don't fork out on a cabin – and tickets can be booked online.
(One word of advice – don't turn up late for check-in. To no avail, a good-natured Tunisian policeman called the ferry captain, who replied: "you know how you have a Plan A and a Plan B? Well, it's now time for Plan B." Next boat leaves Wednesday…)
Entry Requirements for Tunisia
More dreamy news – travellers from most countries can receive a visa on arrival, free of charge!
Check your government's travel guidance for relevant details, but for lots of travellers, the Tunisia visa on arrival is valid for three months!
The government also recently announced the removal of all Covid-19- related requirements, such as proof of vaccination or recent testing.
Apparently going through passport control at Tunis Airport isn't the most pleasant experience, but stay strong. It'll all be worth it.
Officially, you need to provide an address for your initial stay on arrival, but it's luck of the draw whether this is questioned. I'd just recommend having the address of a hotel lined up to provide if requested.
Forget boring accommodation… book yourself an EPIC STAY!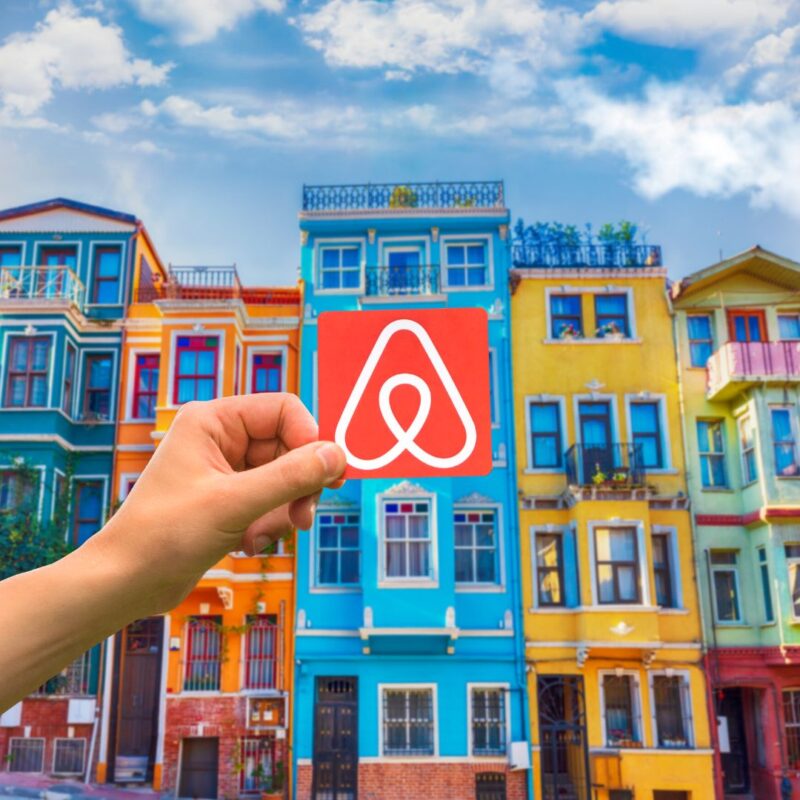 Why stay in a naff hotel when you can stay in a cosy, stylish local house instead? And for half the money too!
Stay somewhere EPIC and save your hard-earned dollars — from houses to barns to castles and caves, there is an Airbnb for every occasion!
Book an EPIC Stay
How to Get Around Tunisia
Trains, camels, quad bikes, to name a few. Tunisia has some brilliant transportation, the shining star of which is undoubtedly the louage. Read on for the low-down on how to plan your trip…
While journeys may take a smidgen longer than planned, and/or be a bit toasty, the locals in Tunisia will make sure you get to wherever you're heading.
Travelling By Louage In Tunisia
I genuinely loved these. So bloody much.
In most Tunisian towns and cities, you'll find a building or area, full of minivans. These are louage stations.
Every day, hundreds of these vans ferry people back and forth between settlements, forming a network that links nearly all areas of the country together.
You turn up at the station and buy a ticket, at the ticket counter. (In smaller places, it may be an individual roaming between vehicles, or in the louage itself.) The big stations may appear rather Byzantine, but there are signs showing the destination of each louage, and you'll be helped on your merry way.
One thing to note: the driver will wait until all seats on the van are filled before setting off. This is usually pretty quick, but can take a while on routes-less-travelled.
On longer forays across the country, you'll likely have a break for some grub. These pitstops in potentially more remote places were super cool experiences. When travelling with Tunisians, friendliness, warmth and good food abounds.
As you'd expect, not all towns are connected directly by louage. For example, to travel between Kairouan and El Jem, one must change first in Sousse. Ask around at the station for optimal routing choices.
Travelling By Train In Tunisia
Train travel in Tunisia is superb.
You can see the landscape changing in real-time as you venture down the coast, and tickets are good value.
In Tunis, the 'TGM' runs from the city centre to La Marsa, with stops at places like Carthage and Sidi Bou Said en route. This is a fantastic way to get around the capital, and makes the suburbs easily accessible for day trips. Tickets are extremely cheap, and come in the form of a little blue paper slip.
It may be useful to visualise your travel options in Tunisia, so click here for a map of the railway network run by SNCFT, and here for the timetables of scheduled departures. Advance warning, however: do not expect Japanese-style punctuality. On longer journeys in particular, you may end up hanging around for a while with delays, but just settle in with some snacks and watch the world go by.
And if delays do cause you any difficulty, locals will help you out. For example, arriving late in Sousse, a gentleman asked where I was headed. He insisted I share his taxi, which he rerouted for a drop-off at some budget accommodation, and refused point blank to accept any monetary contribution for the trouble. True hospitality.
During your Tunisia trip, taking to the railways at least once is a must.
Use Bookaway to find the best deals on transport – buses, planes, trains, and ferries. It'll save you a load of time when organising transport and you'll probably nab an EPIC DISCOUNT too!
Book your transport on Bookaway NOW. Get the best price for the best ride… then use those savings to buy the best feed in town!
Book Your Transport Here!
Onwards Travel from Tunisia
Unfortunately, onward travel by land from Tunisia is rather limited by its proximity to unstable neighbouring Libya…
Tunisia's only other border, shared with Algeria, has reopened since Covid, but all travel to this area is advised against by most governments.
If you'd like to continue on an African Odyssey, there are reasonably cheap flight options available across the North, to Morocco or Egypt, perhaps Mauritania or even beyond.
Where to travel onwards from Tunisia? Try these countries out!
Working and Volunteering in Tunisia
Volunteering is a brilliant way to have a positive impact while on your travels and immerse yourself in real Tunisian life. You're likely to make special connections, help drive real change, and save money. Helping out on a locally-led project can be a real win-win situation for both volunteers and hosts.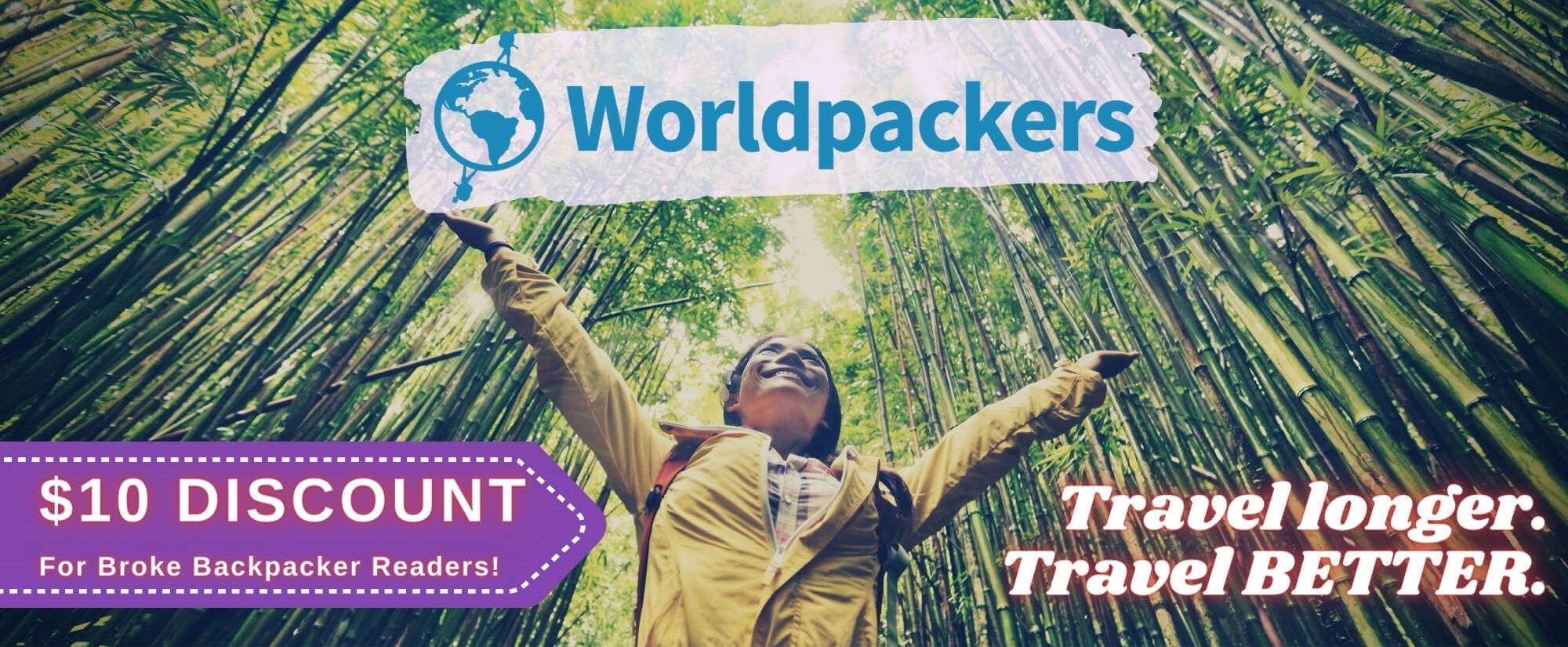 Worldpackers: connecting travellers with meaningful travel experiences.
Tunisian Culture
Tunisian culture is a unique intermingling of Mediterranean, Arabic, and African influences. Being predominantly Muslim, Islam plays a large role in everyday Tunisian life, as does the value of family.
The region, originally inhabited by Berber tribes, has had parts ruled by Phoenicians, Romans, Arabs, Ottomans and French, to name a few. It's been home to cities of trade for vast empires, numerous bloody wars, and was mainly Christian for centuries before transitioning towards a Muslim society. The result today is an incredibly rich cultural landscape.
You'll find an eclectic range of sights to see, food to sample, and people to learn from. Many of the ruins in Tunisia beautifully showcase what life might have been like in a civilisation so different from our own. The best examples are in Carthage and Dougga, the latter a supremely preserved settlement from Berber, Roman and Punic times.
In terms of cuisine, Tunisians proudly hang on to the spicy legacy of their Arab influence. Seriously, you may want to ask them to go easy on the harissa. Seriously. That stuff can cause damage.
By wandering around practically anywhere in Tunisia, you can sense the history of the place. The large mosaics, intricate weavings on carpets, and decorative front doors all point to its illustrious past. In addition, Tunisian life is underpinned by a culture of hospitality and goodwill, that you're bound to uncover.
Simply get stuck in: delve into the history, artwork, poetry and music. There's a quite magical heritage to be found practically everywhere.
Useful Travel Phrases for Tunisia
Learning a bit of the language (Tunisian Arabic) can be useful before your trip…
Hello = A – sleh – ma
Goodbye = bi – sle – ma
How are you? = le – be -ss?
Good, thanks! = le – be – ss!
Yes = ay / naam
No = la
Please = aish – ik
Thank you = aish – ik
Sorry = asif (from male) asifa (from female)
No problem = mush mushkil
I would like = n' Hib
I would not like = ma n' Hib-sh
Can I have___ = mumkin ___
Where is ___? = Way-n ___?
 Excuse me = sa – maH – nee
What to Eat in Tunisia
Tuna.
Olives.
Harissa.
Can't lie, I'm usually not a huge fan of two-thirds of that set. But somehow, in Tunisia, it just works. There's some sensational grub to dig into.
Of course, this ingredient list isn't exhaustive, but you'll find these quite a lot throughout the Tunisian culinary scene. Harissa is a paste, blended from a range of spices and herbs including chilli, garlic and cumin,. UNESCO names it as part of Tunisia's 'Intangible Cultural Heritage': it's very, very popular throughout the land.
Like so many other things in Tunisia, the cuisine has been sculpted by numerous cultural influences from its history. The main features, however, are hearty stews, some grilled meats and vegetables, and a healthy dose of spices.
Do your insides a favour, and ask for a modest allocation of harissa for your first outing, and work your way up from there. Sadly, I could never hack it like the Tunisians, but it was still bloody delicious.
Street food stalls are a top place to investigate the local delicacies, and are super cheap. Given the variation in climate and culture, Tunisian food can change greatly between regions, so asking locally for pointers in the right direction on the menu can be fruitful.
Look out for some of these popular options below which are certainly worth sampling, but don't be afraid to get stuck into some untranslatable soup or seemingly improbable flavour combination. It may well become a firm favourite.
Popular Dishes in Tunisia
Cous-cous: A Tunisian and North African staple, made of steamed semolina. Usually served with stewed meat, vegetables (and of course, some harissa.)
Lablabi: Another staple. Chickpea stew, heavy on the garlic and cumin, topped with egg and bread. Can be an acquired taste. 
Kafteji: A hearty dish packed with fried vegetables, sometimes topped with fried egg and/or merguez (Maghrebi lamb sausage). And harissa. Obviously.
Brik: Very popular, often an appetiser. Thin pastry encasing some kind of filling in a triangular formation. Cheese, egg, meat, tuna. It varies. 
Ojja: This is a top, top feed. Hearty, thick, soupy, tomato-based dish with eggs and vegetables. Often served with merguez. And harissa.
Chapati Omelette: Chapati, but not as you know it. Thick, round pieces of bread, served warm and fresh, hugging an omelette. IMHO, the best cheap lunch in the land.
A Brief History of Tunisia
I'll keep it brief, but this section could have been encyclopaedically long. With a rich history that spans thousands of years, there's a lot to be uncovered.
This land has seen the rise and fall of whopping great empires, and its history is evident in its diversity.
Rewind a long way.
Tunisia is inhabited by Berber tribes, but later becomes part of the Phoenician Empire, a powerful city-state to rival Rome.
During the Roman era, Tunisia flourished as a province of the Empire. The grandeur of Roman ambition is in full view at the ruins of Dougga and El Jem's imposing colosseum.
In the 7th century, Tunisia came under Arab rule, and Islam became the dominant religion. The medinas of cities like Tunis, Sousse, and Kairouan boast beautiful examples of Islamic architecture, such as the Great Mosque of Kairouan, one of the oldest mosques in Africa.
In the Middle Ages, Tunisia was a centre of learning and trade. It housed influences from various cultures, including Arab, Berber, Ottoman (whose empire was at the reigns for a few hundred years) and Andalusian. The medina of Tunis showcases the fusion of different architectural styles, with narrow alleys and intricately designed doors.
Next to arrive were the French, who conquered in the late 1800s. Tunisia gained its independence from France in 1956 and has since developed a unique modern culture, while preserving its rich history. (As a result, a great deal of the population speak French, so if you can remember any from school days, you'll be cruising). The markets are known for their souks, where you can find traditional crafts and spices.
The Arab Spring
The modern history is no less dramatic. The Tunisian Revolution started in 2011 following street vendor Mohamed Bouazizi tragically setting himself alight, while standing in traffic outside the local governor's office.
Protests against widespread corruption and inequality grew into a historic uprising. The revolution led to the overthrow of the authoritarian regime and president, sparked similar protests in other Arab countries, and is considered a catalyst for the Arab Spring.
Chatting to Tunisians throughout the country, you will get a real sense of the depth and variety of history that contributes to their completely unique identity.
DON'T DIE OUT THERE! …Please 🙂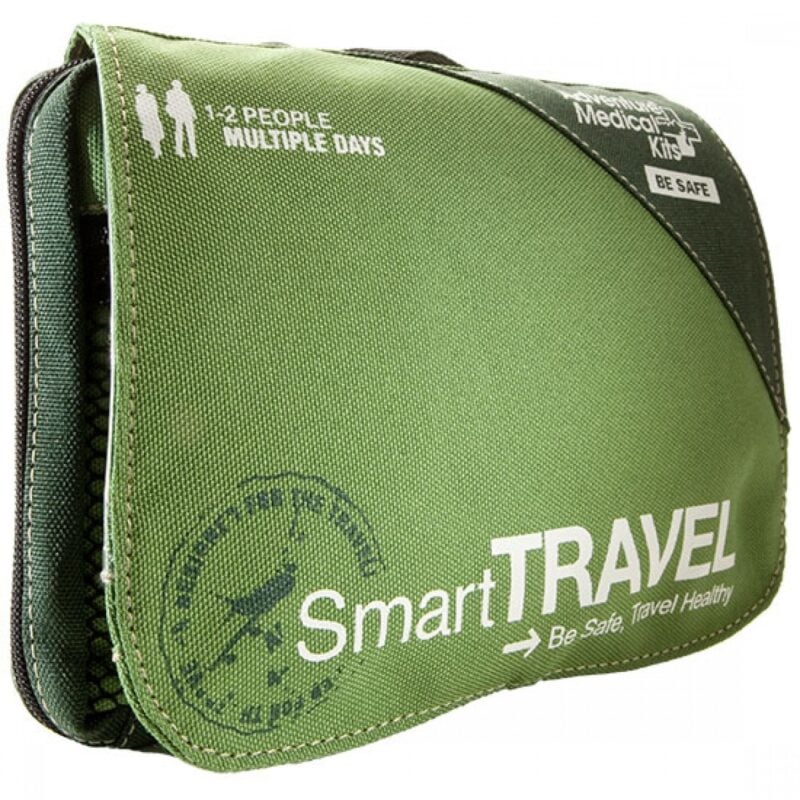 Things go wrong on the road ALL THE TIME. Be prepared for what life throws at you.
Buy an AMK Travel Medical Kit before you head out on your next adventure – don't be daft!
Buy on REI
FAQs About Backpacking in Tunisia
Final Advice Before Visiting Tunisia
On the road, I've met a handful of other travellers who found themselves in Tunisia. They all agreed: it's a criminally underrated destination, made to measure for budget adventuring.
Remember to be respectful on your exploration! In visiting North Africa, we're fortunate to be welcomed and experience a culture that may be very different from life back home.
Travelling amidst things like Ramadan requires an adequate dose of cultural sensitivity; in fact, Eid celebrations induce a superb atmosphere to get stuck into. Rest assured; if any questions pop up, just ask. Exploring with a positive attitude soon be repaid with great kindness and warmth.
You may go for the desert and the beach, but want to return for the people. The hospitality on display throughout Tunisia is truly special.
If you're somehow still on the fence, honestly, just do it!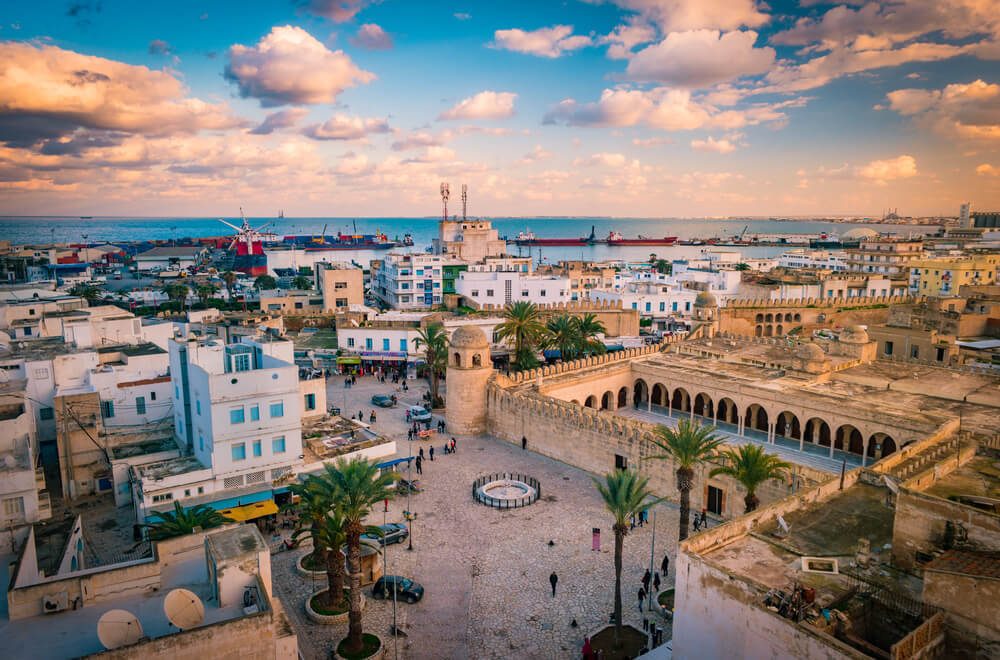 This guest post was contributed by Ciaran Nye, an intrepid traveler who is fond of camping in rogue spots and covering long distances on foot. With a dismal sense of direction, it's often in circles. You'll find him currently wandering about central Nepal finding bats, forest fires, and chicken-sacrificing priests.
---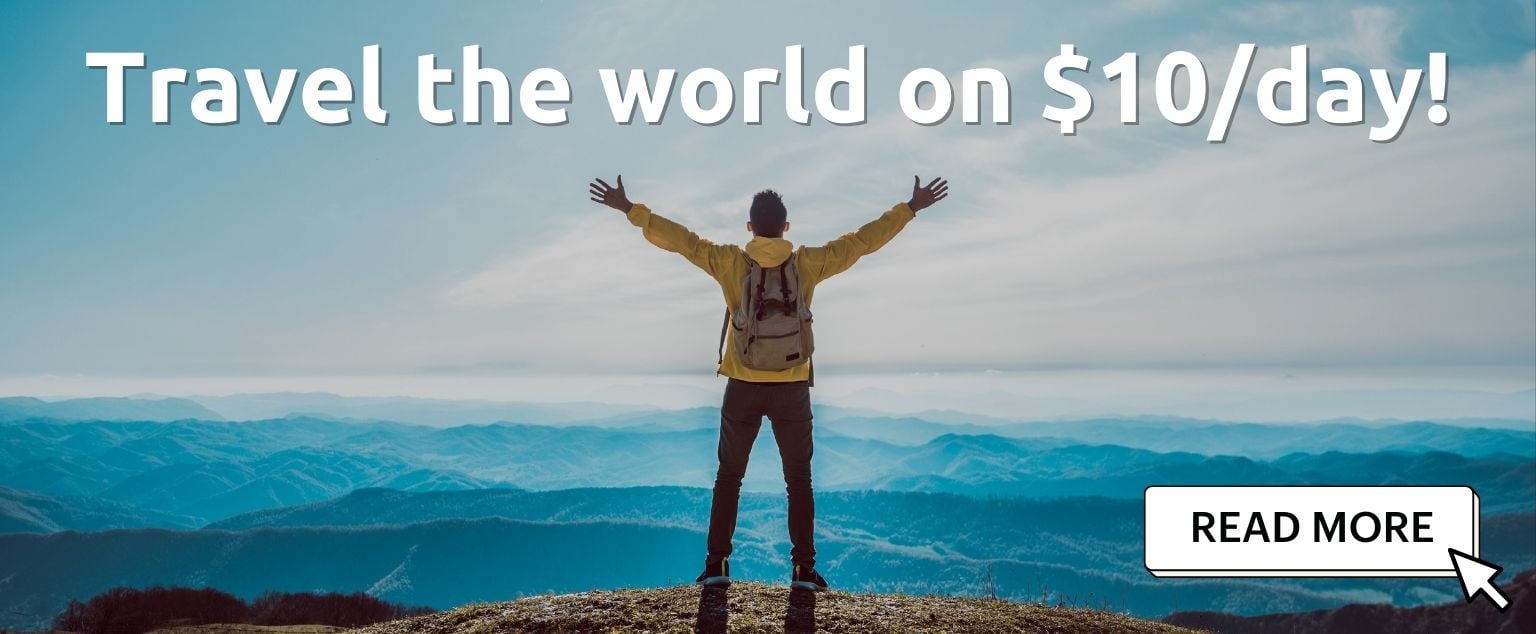 And for transparency's sake, please know that some of the links in our content are affiliate links. That means that if you book your accommodation, buy your gear, or sort your insurance through our link, we earn a small commission (at no extra cost to you). That said, we only link to the gear we trust and never recommend services we don't believe are up to scratch. Again, thank you!