Monaco is one of the worlds smallest countries but also one of the richest. Monaco is all about the high life. There's the famous casinos, the Grand Prix, the yachts – the general feeling of money and high rollers that get associated with this principality.
Certainly, if you have a lot of money, you are going to find a whole lot of things to do in Monaco. However, visiting Monaco doesn't have to be about gambling, eating in fancy restaurants, not paying your taxes, or trying to secure a ticket for an expensive F1 race. In fact, if you're more in it for the culture and the history, and you want to learn more about that, then you're in luck: Monaco is more than its reputation lets on.
With that in mind, we have decided to create this guide to the best off the beaten track things to do in Monaco. There's a lot that you can find out about the heritage of Monaco and the Monegasque people who live here. And, it doesn't have to cost you a whole lot of money, or lead to you losing it all at a casino! No matter your budget, whether you're here as a couple or a family, we've got you covered.

Unlock Our GREATEST Travel Secrets!
Sign up for our newsletter and get the best travel tips delivered right to your inbox.
Top Things to Do in Monaco
From exploring the old town to scoping out the local markets, these are the top things to do in Monaco.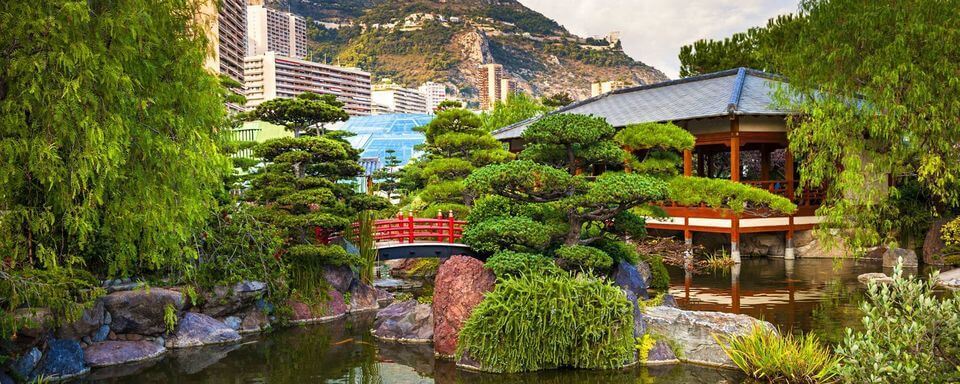 Monaco might be known for its high rollers and well-heeled visitors, but there's a side to this tiny principality that's a lot more historic than all of that stuff. So if you're looking for some history here, ambling around the Old Town has got to be one of the things to do in Monaco that should be top of your to-do whilst you're in town.
Monaco's Old Town dates back to the 6th century (when it was a colony of Ancient Greece) and is known as "Le Roche" – or The Rock – this is where you'll find winding old alleyways and picturesque views, surrounded on three sides by the Mediterranean Sea. The Place d'Armes is the central market square and is a good place to start your wanderings.
2. Peer into the Prince's Palace of Monaco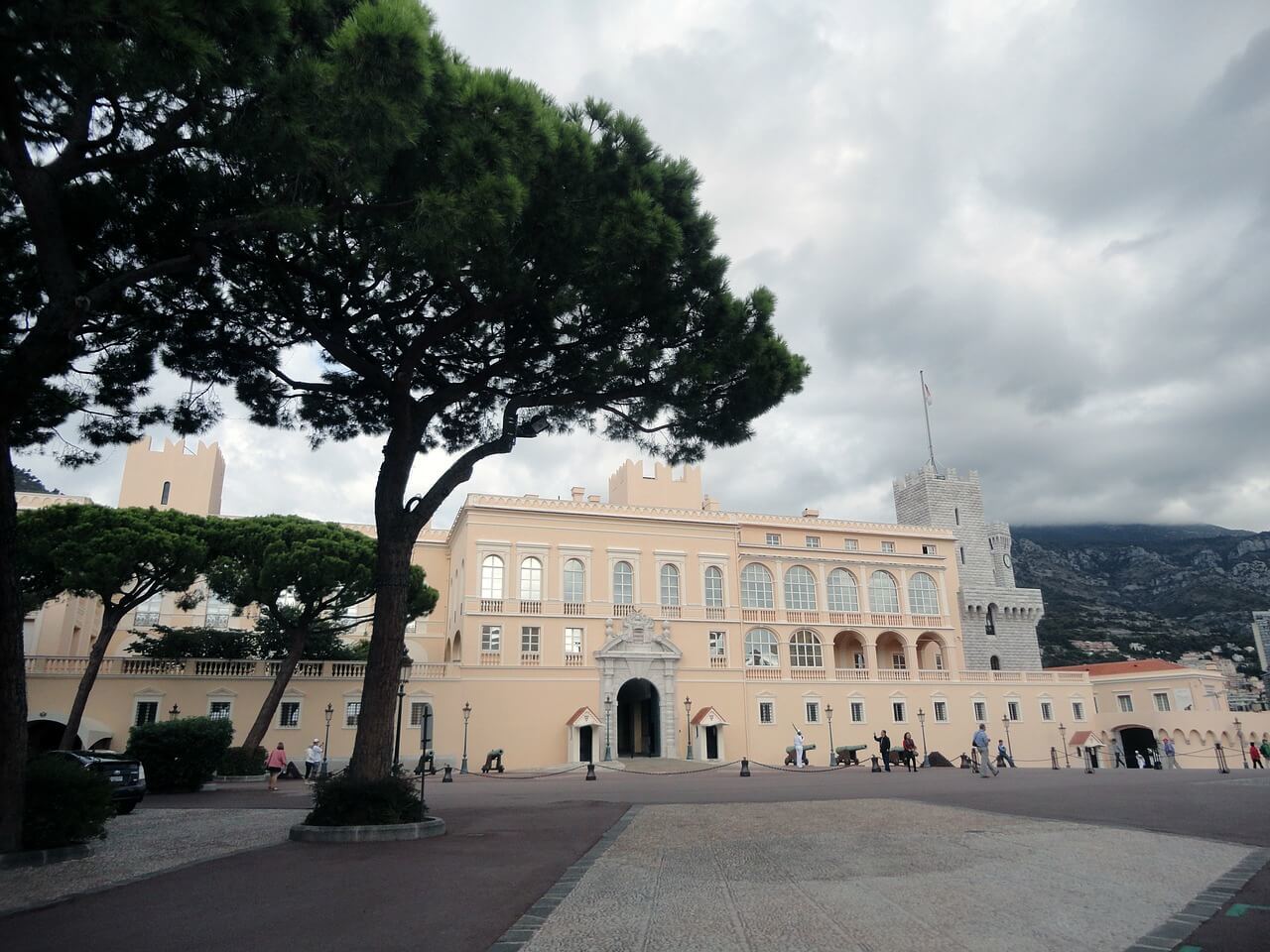 The official residence of the sovereign Prince of Monaco, the grand Palace of Monaco was built in 1191 as a Genoese fortress. Over the years all sorts of architectural styles have been used to renovate and add on to the old fortress, resulting in a decadent, mainly Renaissance style majestic palazzo (palace).
Though it's open to the public during the summer months, the palace is still a fully working palace of the Monegasque ruler. Though it's pretty to look at from the outside, stepping inside and seeing the grandeur of the stately rooms here is most definitely one of the most unmissable things to do in Monaco.
FIRST TIME IN MONACO
Beausoleil
The best place to stay in Monaco is… not in Monaco. Specifically, it's Beausoleil, whose streets basically lead into Monaco, being the next town over. This French town is where you can stay a stone's throw from the principality and at a snip of the price, too.
Places to visit:
Stumble across the grand and imposing architecture of Sanctuaire Saint-Joseph, with its opulent stained glass windows
Hungry? Then you should eat your fill of some very delicious Portuguese fare at O Cantinho da Saudade
Walk up the Escalier du Mairie and snap some pics of the neo-classical Mairie de Beausoleil (Beausoleil Town Hall)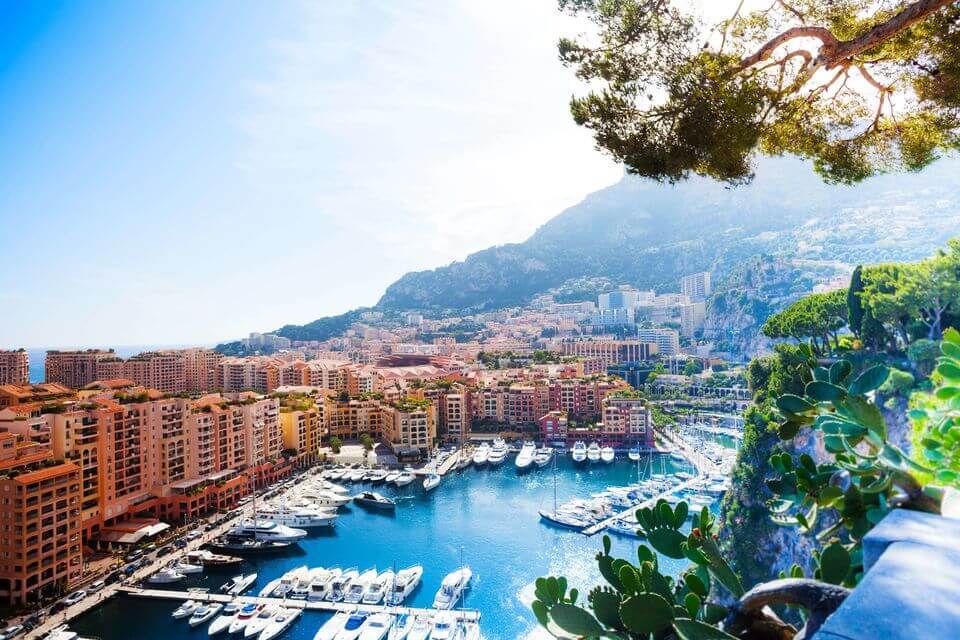 Marche de la Condamine, or Market Condamine, was opened in 1880 and is still a working market hall. To this day, locals and visitors alike come to sample some of the Monegasque specialities of the area. Open every day, there are around 20 different traders to seek out, each one selling various goods, alongside florists and fresh produce.
It's easily one of the best things to do in Monaco – because where best to start learning about a country than by visiting its market? There's even a seating area (warmed during the winter months). So, you can find a spot to eat the local treats you've picked up on your market meanderings, such as fougasse, socca and pissaladieri.
4. Cool off at the Jardin Exotique de Monaco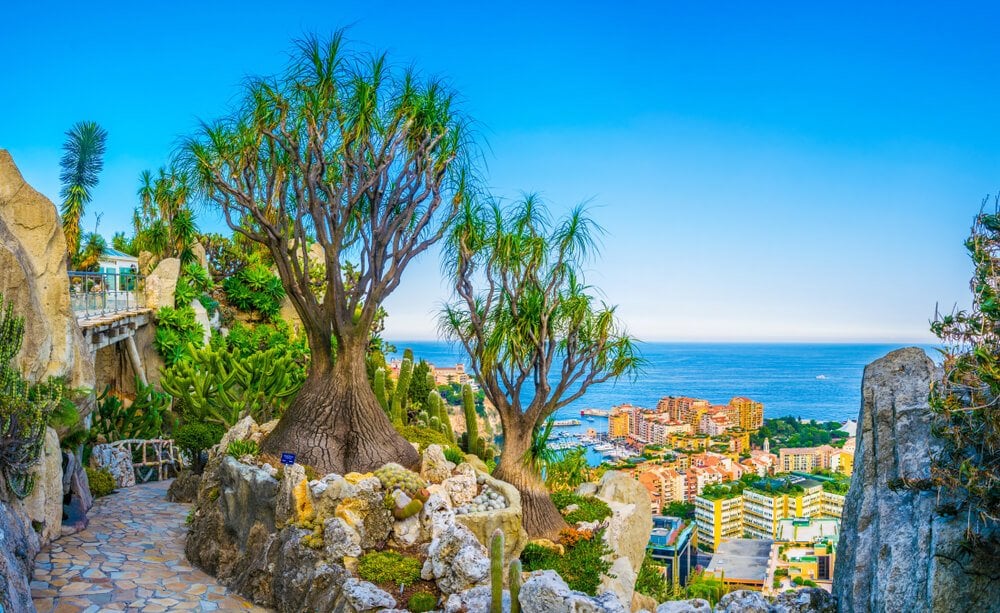 Who doesn't love a good garden? Especially one as beautiful as the aptly named Jardin Exotique de Monaco. This botanical garden (first opened to the public in 1950) has a cliffside setting and is, fittingly, filled with all sorts of exotic plants – think succulents and palms: a greenery-loving Instagrammers dream.
Though walking around the garden is one of the top outdoorsy things to do in Monaco, there's also a little slice of history located in the Jardin Exotique de Monaco, too. Namely, that's the Museum of Prehistoric Anthropology, created after the director of the gardens discovered a grotto filled with ancient human remains. Pretty cool, we'd say.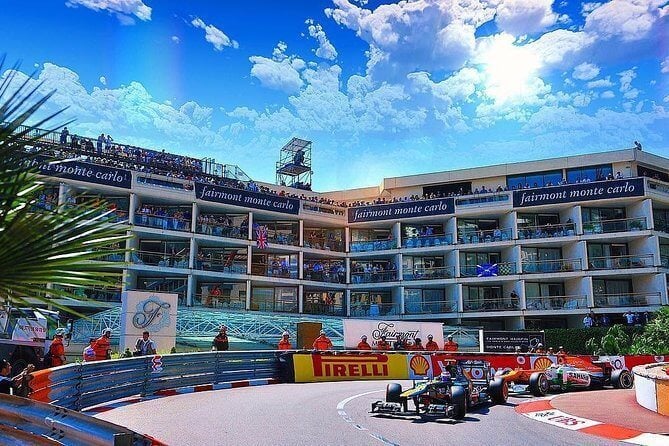 Monaco is definitely famous for a few things – gambling and yachts being a couple of those. But where money goes, F1 usually comes with it somewhere along the line. The Circuit de Monaco is not only famous for being in Monaco, but is a picturesque street circuit that – every May, during the Grand Prix, sees cars zip around the pretty harbour.
It's possible, for one of the more off the beaten track things to do in Monaco (no pun intended), to walk the track of the Circuit de Monaco – purportedly one of the most difficult in the world. Doing this you'll get to hit up spots like the ridiculously ornate Monte Carlo Casino – where the cars pass by during the race. You'll also see one of the most tricky corners of the circuit, the Fairmont Hairpin curve.
6. Be amazed by the yachts in the old harbour
We've got you exploring the F1 heritage of Monaco, but another definitive part of this tiny nation is checking out the super-yachts in the old harbour. This is a regular billionaires' carpark (sort of), where the very (very) rich choose to dock their vessels during the summer months on their Mediterranean cruisings. It's mad!
Obviously more of a thing to do in Monaco in summer, the sight of all the mega yachts in the harbour – which has been used throughout the centuries – is something you definitely don't see every day. Fun fact: This place was even used as a James Bond filming location in the 1995 film, GoldenEye.
Small Pack Problems? 😉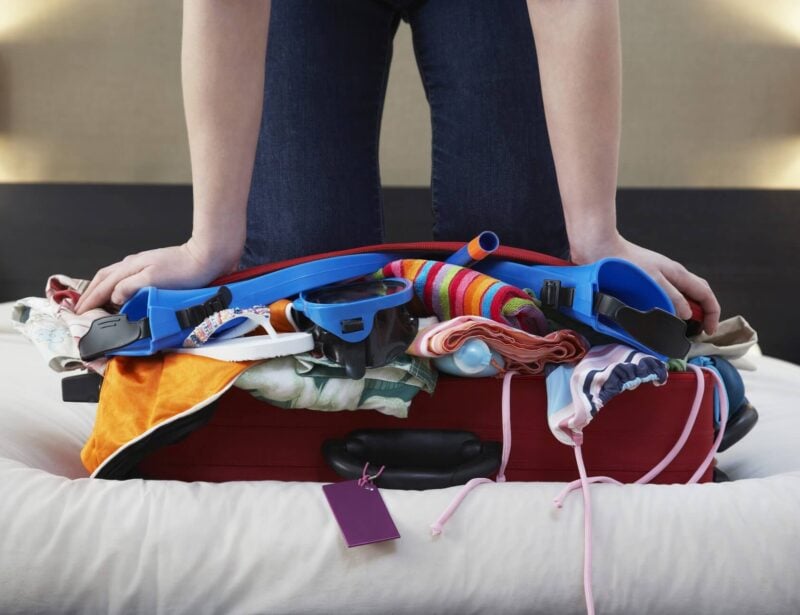 My missus travels with all her clothes in ziplock bags: don't be like my missus. UP YOUR PACKING GAME!
Packing cubes for the globetrotters and compression sacks for the real adventurers – these babies are a traveller's best kept secret. They organise yo' packing and minimise its volume too so you can pack MORE.
Or, y'know… you can stick to ziplock bags.
View Our Fave Cubes
Or Check Out the Sacks!
Unusual Things to Do in Monaco
Once you've seen the yachts packed with Oligarchs, you'll no doubt be wondering what's next right? Well let's check out the more unusual things to do in Monaco.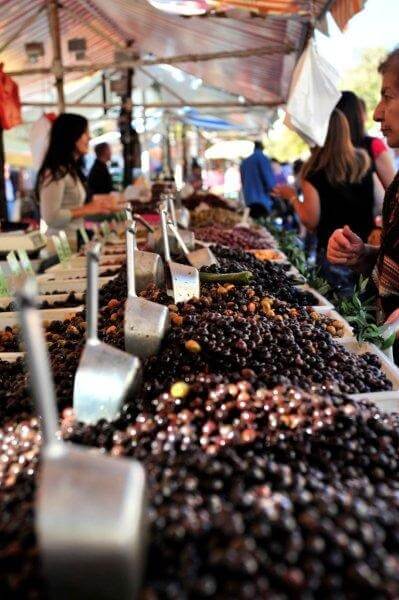 Probably one of the most unusual things to do in Monaco is to… take a day trip out of Monaco. People come here because, well, it's Monaco, but little does the casual visitor know just how close they are to Italy here. The extreme northwestern Province of Imperia is easily reachable from Monaco and it's here – on the same stretch of the "Riviera" – that you'll find Ventimiglia.
Though a pretty town all by itself, Ventimiglia is known for its amazing market. In fact, the open air market here is frequently cited as one of the best on the Riviera. Just half an hour from Monaco by train, if you've got more time, make the hour journey to San Remo – further east – for yet more market action. If you're a fan of markets, you'll love this day trip from Monaco.
8. Visit the Princess Grace Irish Library
Princess Grace Irish Library was opened by Prince Rainier III in 1984 to honour the late Princess Grace Kelly's Irish roots. It isn't just any old library, however, and is in fact made up of Grace Kelly's own personal collection of Irish literature (as well as some American sheet music for good measure).
With rare editions of Irish heavy hitters such as Joyce (the first edition of Ulysses, for starters), as well Beckett and Shaw. Even if you're not looking for off the beaten track things to do in Monaco that involve books, don't worry: the building itself has some rich interiors, with dark wood furnishings and chandeliers. There's even a Fabergé egg!
9. Stroll the Sculpture Path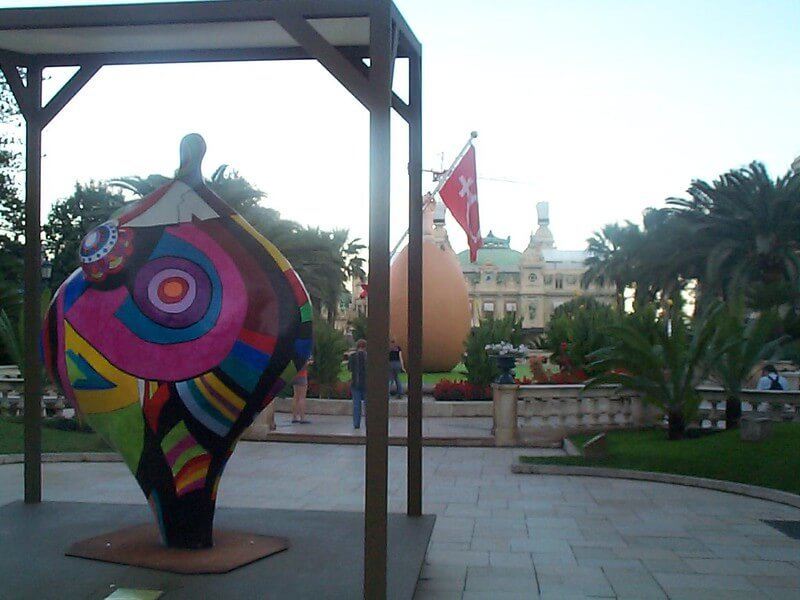 Surprisingly, or maybe unsurprisingly, there's a lot of sculpture going on in Monaco. A public art initiative of current reigning monarch Prince Albert II, the tiny country has been acquiring famous pieces of art in sculpted form for a few years now. Many of them are on display along the Chemin des Sculptures – or Sculpture Path.
Discovering all of the sculptures you possibly can is definitely one of the more cultures things to do in Monaco – great if you're a fan of art, obviously. There are many famous pieces to be found here, the highest concentration of which are in the Fontvielle. For starters, there's "Adam & Eve" by famed Columbian artist Fernando Botero and "The Fist" by Cesar Baldaccini, amongst others you'll find here.
Safety in Monaco
Despite what a lifetime of Bond films may suggest, Monaco is a very safe place. It's one of the safest places to visit in Europe and has a very low crime rate. Visitors are unlikely to be affected by any sort of street crime or theft whilst they're in the country. It has a reputation of being "the safest square mile in Europe" – and walking around the streets at night by yourself even feels safe.
However, that doesn't mean that crime doesn't exist. Pickpockets have been known to make their way from France to operate in Monaco, but the penalties for petty theft in Monaco are more severe than in France for the same crime.
Thefts do, however, occur at Nice airport (France) and trains to and from Monaco; so keep your belongings close to you. People have also had bags stolen when loading them into rental cars.
Take care swimming too far out to sea and watch out for jellyfish, which can be nasty. This means you should heed warnings on beaches, such as looking out for red flags and listening to lifeguards.
Other than that, you should be fine – just don't lose too much of your hard earned money in casinos and don't walk around in beach clothes (or barefoot) anywhere other than the beach!
Read our tips for traveling safely before you fly and always get travel insurance. Check out our roundup of the best travel insurance.
Travel with peace of mind. Travel WITH a security belt.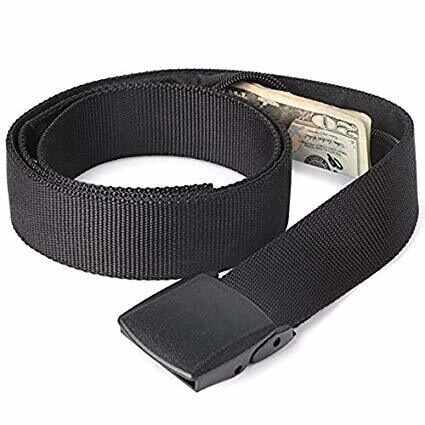 Get your cash stashed with this awesome Pacsafe money belt. It will keep your valuables safe no matter where you go.
It looks exactly like a normal belt except for a SECRET interior pocket perfectly designed to hide a wad of cash or a passport copy. Never get caught with your pants down again! (Unless you want to.)
Hide Yo' Money!
Things to Do in Monaco at Night
Monaco is at its most glamorous and opulent after dark. Check out these awesome things to do in Monaco at night.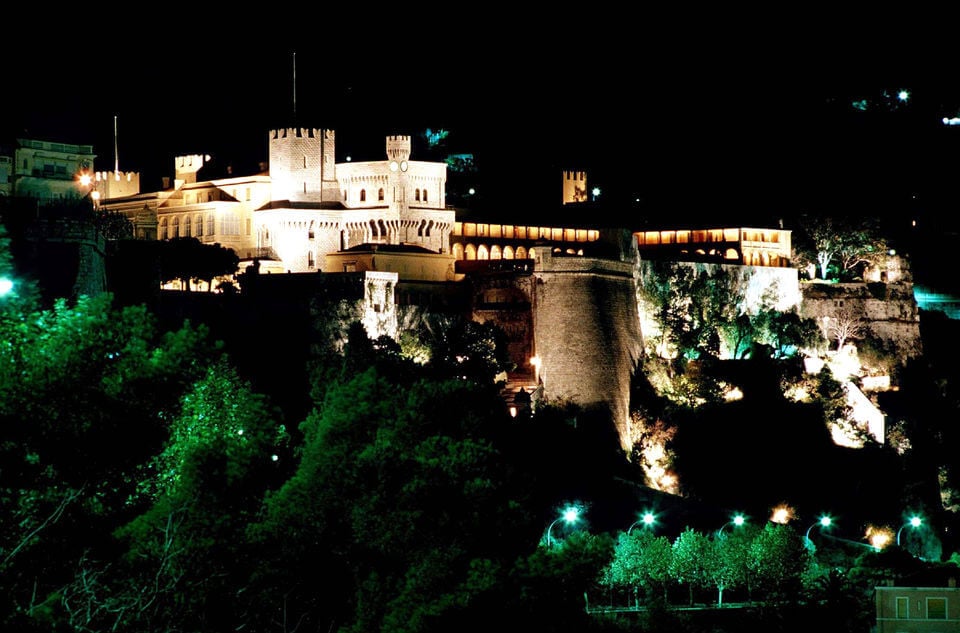 Most definitely one of the best things to do in Monaco at night, is to actually get a view of the city lights after dark. This actually involves getting out of the principality itself. One of the best places to see Monaco at night is the neighbouring French town of Eze; set high in the hills, the views from here are nothing short of amazing.
But don't miss out on Eze itself. It's a charming medieval town, which is particularly charming during the evening too. But to get the most out of it, make sure to head on up to Eze on a mini day trip from Monaco in the late afternoon, so you can spend some time exploring the palpable history of this little village.
11. Hit up the casinos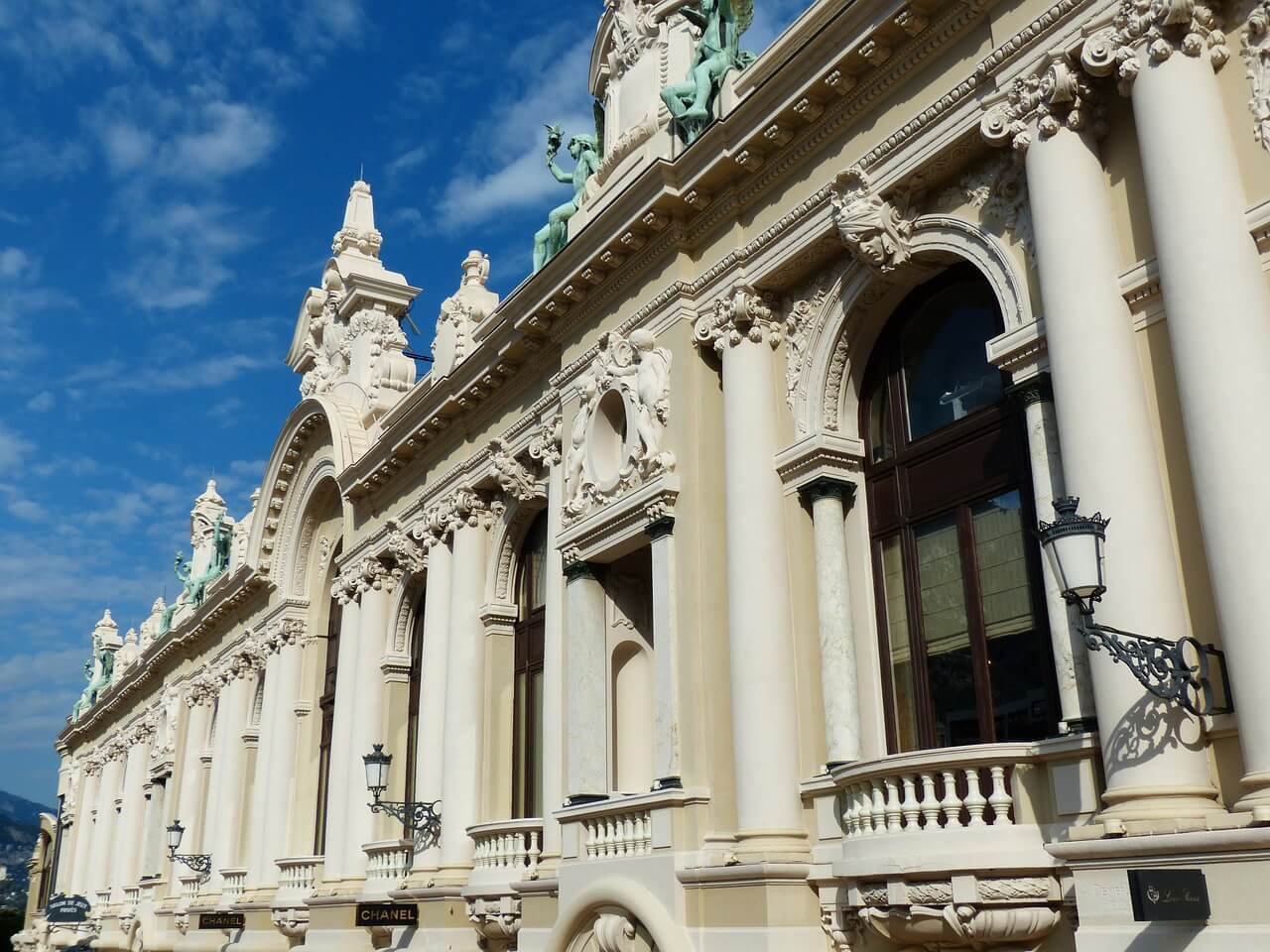 Finally we come to the casinos. Monaco is well known to be a capital of gambling and there are, of course, a number of places where you can either lose or win money. Most famously of all is the palatial Monte Carlo Casino (more on that later), but there are other spots that constitute on the top things to do in Monaco at night.
Sun Casino is another good option, with a touch of Vegas to the place and less of a strict dress code than other casinos (read: more fun). Another alternative is the well known Casino Café de Paris, with its Paris Metro-style sign and Art Deco meets sci-fi vibes; you have to show your passport to get in. Finally, there's the stylish and over the top Monte Carlo Bay Casino. Take your pick.
Where to Stay in Monaco – Beausoleil
Need somewhere to stay in Monaco? In case you haven't been invited to stay as a guest on the Yacht of a Saudi price, then check out our hand picked accommodation suggestions below.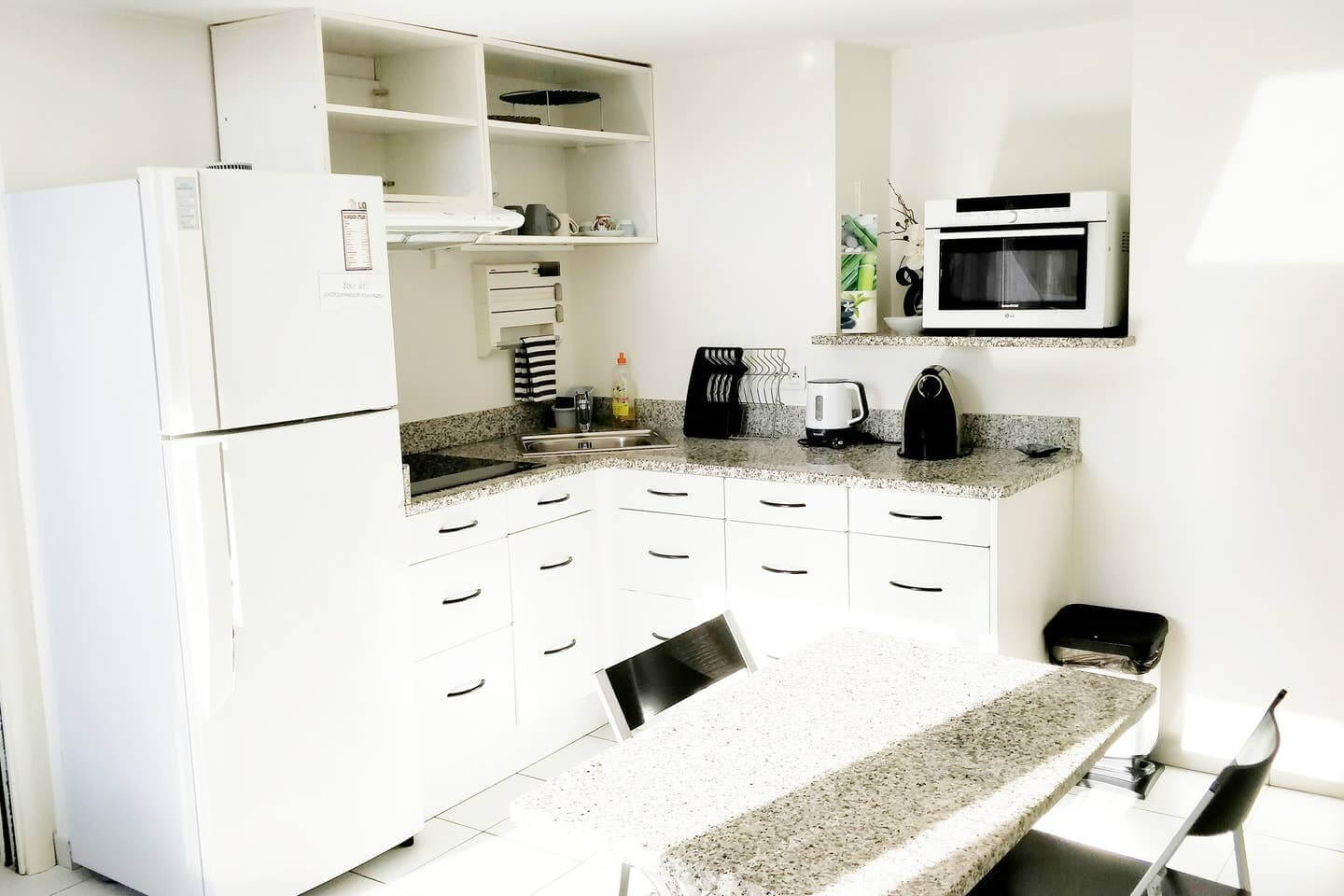 Set on the top floor of a six storey building in Place de la Cremaillere on the Beausoleil-Monaco border, this 25 square metre studio may be compact, but it is very affordable. The location is pretty amazing: walking just a couple of minutes, you will be across the border in Monaco standing outside the Monte Carlo Casino. With its clean, contemporary interiors and comfy furnishings, you'll have a cosy stay.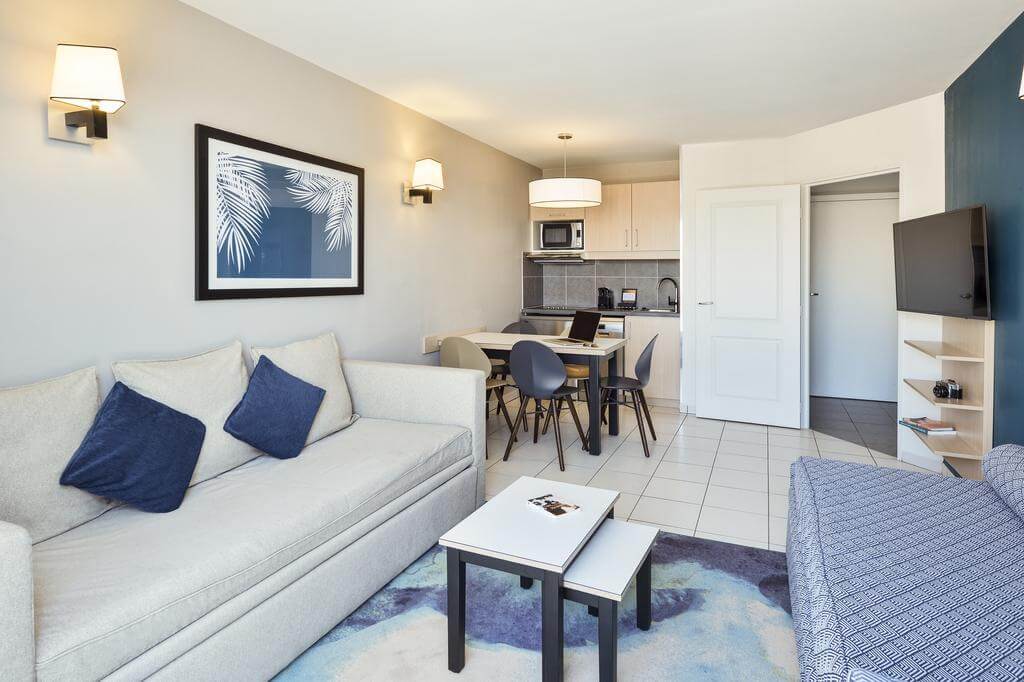 Just across the border in Beausoleil, and a 5 minute walk to the Monte Carlo Railway Station, these laid back lodgings make a visit to Monaco an affordable dream for independent travellers – or anyone on a budget. With 78 fully equipped, self catering flats of different sizes (from studios to big apartments), there's something for everyone here. Think kitchens, laundry, cleaning services and seating areas.
Romantic Things to Do in Monaco
Great weather combined with opulent splendour make Monaco one of the most romantic destinations in Europe. Check out this list of the most romantic things to do in Monaco.
12. See a show at the Monte Carlo Casino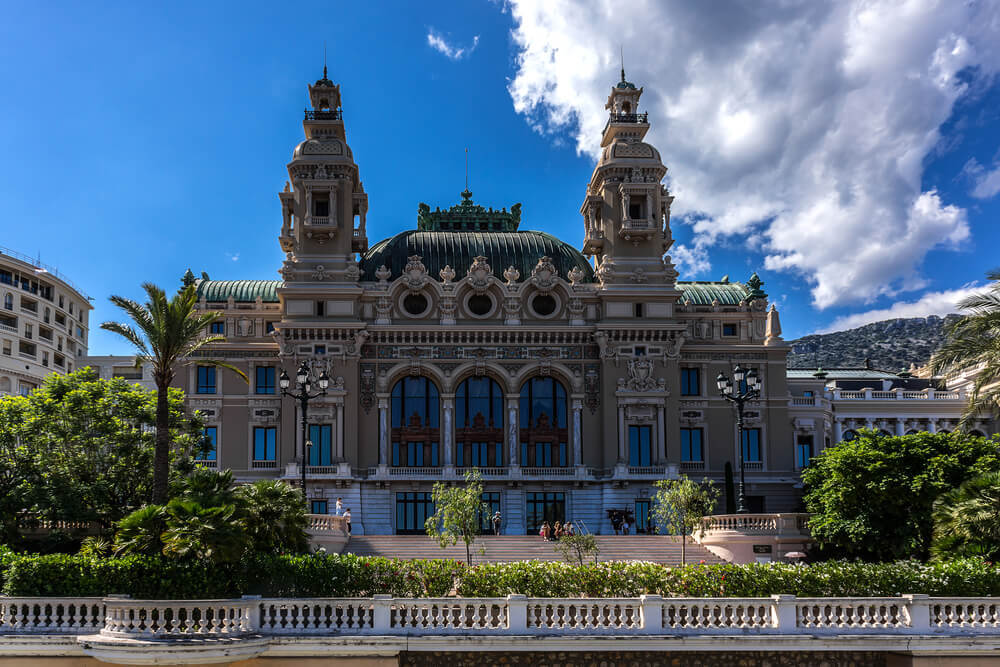 Opening its doors in 1863, the very grand Monte Carlo Casino is by far the most famous and most elegant of all Monaco's casinos. Owned in part by the Monegasque royal family and the government, the casino isn't only a place where you can try your hand at a little poker or baccarat – it's also where you can catch a show. Specifically, it's at the Grand Theatre du Monte Carlo (a replica of the Paris Opera House).
So if you're in town with your partner and you're looking for a cool thing to do in Monaco for couples, you should really consider booking to see a show at this opulent venue. There's all sorts of stuff put on here, from the Cirque du Soleil to musical performances and ballets. Check the schedule and book ahead. We know it's expensive, but it's a pretty romantic, yolo thing to do.
What could be more of a romantic thing to do in Monaco than heading out on a private boat and sailing along the French riviera? There's nothing quite like floating around on a boat in the Mediterranean sea just off some of the most picturesque, gleaming, rich cities in the south of France.
Though you can rent a boat, getting yourself a guide who'll be able to take you on a private boat tour is probably the best way to do things (find a reputable company online with good reviews). Most likely you'll get to pass by famous cities such as Antibes and Cannes, amongst others, as you live the high life for an afternoon. Not cheap, but hey: it's Monaco.
Best Free Things to Do in Monaco
Alas, finally it's time to give your wallet a hard earned break! In case you lost everything at the casino or that tax man finally caught up with you, let's check out the best free things to do in Monaco.
14. Enjoy the Museum of Old Monaco
This small but charming museum has no admission fee, which for us makes it one of the top free things to do in Monaco. It's an interesting place to explore alright, but the beautiful architecture of the historic building in which it's located makes it even more worth your time. If you're at all interested in culture, this is definitely a spot to hit up.
Set up in 1924 to uphold the heritage, language and culture of Monagesque people. (Though not in everyday use, the Monagesque language is still taught in schools). In the museum itself, you'll find paintings that illustrate Monaco's past, as well as ceramics and even traditional costumes and dress from days of yore. Open June – September, 11am to 4pm.
Is This the Best Daypack EVER???
15. Explore the stunning Saint Nicholas Cathedral
Built in 1875, Saint Nicholas Cathedral – or simply Monaco Cathedral (or less simply, Cathedral of Our Lady Immaculate) – is a Roman-Byzantine style structure built with stones sourced in La Turbie. A beautiful, starkly white building by itself, there is more reason to visit the Cathedral than simply for the architecture. It's more significant than just that.
It's here where past princes of Monaco have been laid to rest (as well as Princess Grace, too). Inside, then, you will find that there are suitably princely decorations and interiors: an ornate altarpiece dating from 1500; a white, Carrara marble throne; and a grand, old organ. Fun fact: It's built on site of the 13th century, previous Saint Nicholas Cathedral.
Books to Read in Monaco
A Moveable Feast — Fancy having a look into what life was like for expats living in Paris in the 1920s? If you yearn for the Golden age of the Lost Generation like I do, this Ernest Hemingway classic is a must read.
The Little Prince — Few novels have been as inspirational as "The Little Prince" by Antoine de Saint-Exupery. Now one of the most famous literary works of the 20th century, TLP is a true classic. Follow the tale of the Little Prince as he discovers the universe and learns lessons about life and love.
Satori in Paris — Satori in Paris is a rollicking autobiographical account of Jack Kerouac's search for his heritage in France and lands the author in his familiar milieu of seedy bars and all-night conversations. This book is one of ol' Kerouac's last novels.

Our GREATEST Travel Secrets…
Pop your email here & get the original Broke Backpacker Bible for FREE.
Best Things to Do in Monaco with Kids
Yes kids are too young to gamble and the decadent glamour of Monaco is probably wasted on them. But, it is still a great place to bring the kids as we shall show you!
If you're visiting with children, catching a hop on hop off bus is a bit of a lifesaver. Not only will it save you valuable time walking between attractions and monuments, but it will save little legs from getting too tired. This one is a win win, easily making it one of the best things to do in Monaco with kids.
Another plus about riding the bus around Monaco is, well, it's a double decker bus. That means your kids will get to sit up the top and watch all the old buildings go by and, more importantly, be on a bus – kids love that stuff! The hop on hop off bus in Monaco also comes with an audio guide which gives you an insight into what you're looking at.
17. Have a splash about at Rainier III outdoor swimming stadium
Officially titled Rainier III Nautical Stadium, this outdoor swimming pool is part of a sports related complex in Port Hercules. It makes for a surprisingly affordable thing to do in Monaco with children. With a heated (27 degrees Celsius), saltwater, Olympic sized swimming pool – complete with diving board and slide – it's a perfect place to spend fun family time.
This place is clean, the staff are friendly, there's a snack bar and you can even get yourself a sun lounger to use as a base for the day (plus parasol) – all on the backdrop of the multi-millionaire yachts in the harbour. Bonus: this place turns into an ice skating rink in the winter months!
Day Trips from Monaco
See? There's many more things to do in Monaco than just sitting around in casinos all day and night, or going on yachts (though, if you had a million Euros to spare, you'd be doing those things too). But let's be honest: Monaco is small. Luckily France is just on just next door; Italy is a hop, skip and a jump away; and there are some pretty cool day trips from Monaco you could be embarking on. Such as…
Mention is situated around 10 kilometres east along the coast, close to the Italian border, and is known as "the Pearl of France". Formerly part of Monaco until the 19th century, its warm Mediterranean climate, as well as its charming gardens (for which it is famous), majestic mansions and lemon groves. Making a day trip from Monaco to Menton is something you should definitely think about.
There are a load of historic buildings to admire, from the Baroque basilica – dating back to 1619 – as well as the piece of art that is the Menton Town Hall, and the market hall dating back to 1848. If you're just looking for a beach day, then don't worry because Menton has plenty of beaches. If you're visiting during February there's a lemon festival featuring food and parades.
Home of the movie extravaganza that is Cannes Film Festival, it's an easy day trip from Monaco to the French Riviera town. Cannes is just 38 kilometres to the west – about an hour by car or an hour and 20 minutes on the train. The resort town is no stranger to the rich and famous, being a high end destination with sandy beaches, beach bars, upscale shopping and decadent hotels to choose from.
If all that sounds a bit too expensive for you, then make your way to Le Suquet – this is Cannes Old Town. Walk up the winding streets here to the Forville Food Market, as well as the Notre Dame de L'Esperance; it's also up in this more historic, charming district of the famous city that you'll get great views of the bay. There's something in Cannes for everyone – you just have to wander to find it.
Save $$$ • Save the Planet • Save Your Stomach!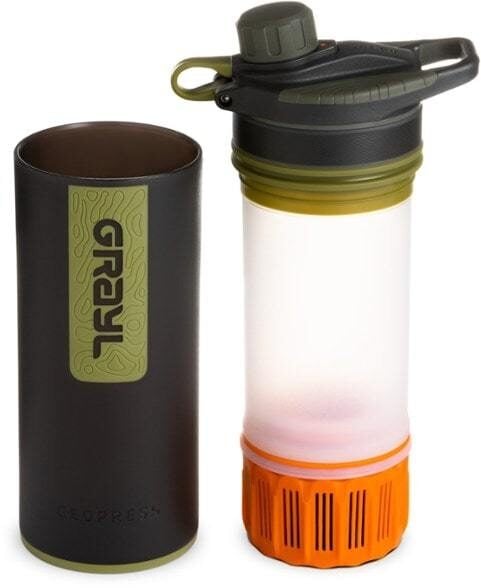 Drink water from ANYWHERE. The Grayl Geopress is the market's leading filtered water bottle protecting your tum from all the waterborne nasties. PLUS, you save money and the environment!
Single-use plastic bottles are a MASSIVE threat to marine life. Be a part of the solution and travel with a filter water bottle.
We've tested the Geopress rigorously from the icy heights of Pakistan to the tropical jungles of Cuba, and the results are in: it WORKS. Buy a Geopress: it's the last water bottle you'll ever buy.
Buy a Geopress!
Read the Review
3 Day Monaco Itinerary
Do you ever have so much that you plan to do in a destination that you wonder how you're going to fit it all in? Us too. We know – the struggle is real. But to help you plan your trip wisely and come up with the most concise, efficient and fun-filled schedule ever for your upcoming trip, we've created this 3 day Monaco itinerary. You don't have to rush around seeing everything – just choose wisely!
Day 1 – Royal Monaco
Start off your time in Monaco by stepping back in time at its Old Town. Here you will get to see sights like the historic Town Hall, the Chapelle Visitation, and be wowed by the amazing architectural feat that is the Musee Oceanographique de Monaco, embedded in the cliffs; there's also the Palais de Justice to marvel at too. Basically, you can spend a long time exploring this district.
Stop off for a coffee and a bite to eat Boutique Costa Monaco, where you can sit a la terrasse with a coffee and a pastry. From there it's a 10 minute stroll to the still-used Prince's Palace of Monaco; take a tour of the palace, see the actual throne room, and see an exhibition about Prince Rainier III and Grace Kelly. 15 minutes on foot from here is the un-touristed Princess Grace Irish Library.
It's time for lunch; eat at L'Auore with great views and rustic interiors. From there you can make your way to Saint Nicholas Cathedral, just a stone's throw from your lunch stop. You might just be able to catch a service (remember to dress appropriately if you go inside the cathedral). Evening entertainment means a show at Monte Carlo Casino, after which you can dine at the casino itself.
Day 2 – Chilled Monaco
First things first, your second day in Monaco starts with a trip to the very local Market Condamine; it's an authentic side to the tiny country that visitors and tourists don't usually see. There are plenty of places to sit down and eat the snacks that you've bought during your wanderings around the market. From here it's about a 10 or 15 minute walk to the Jardin Exotique de Monaco.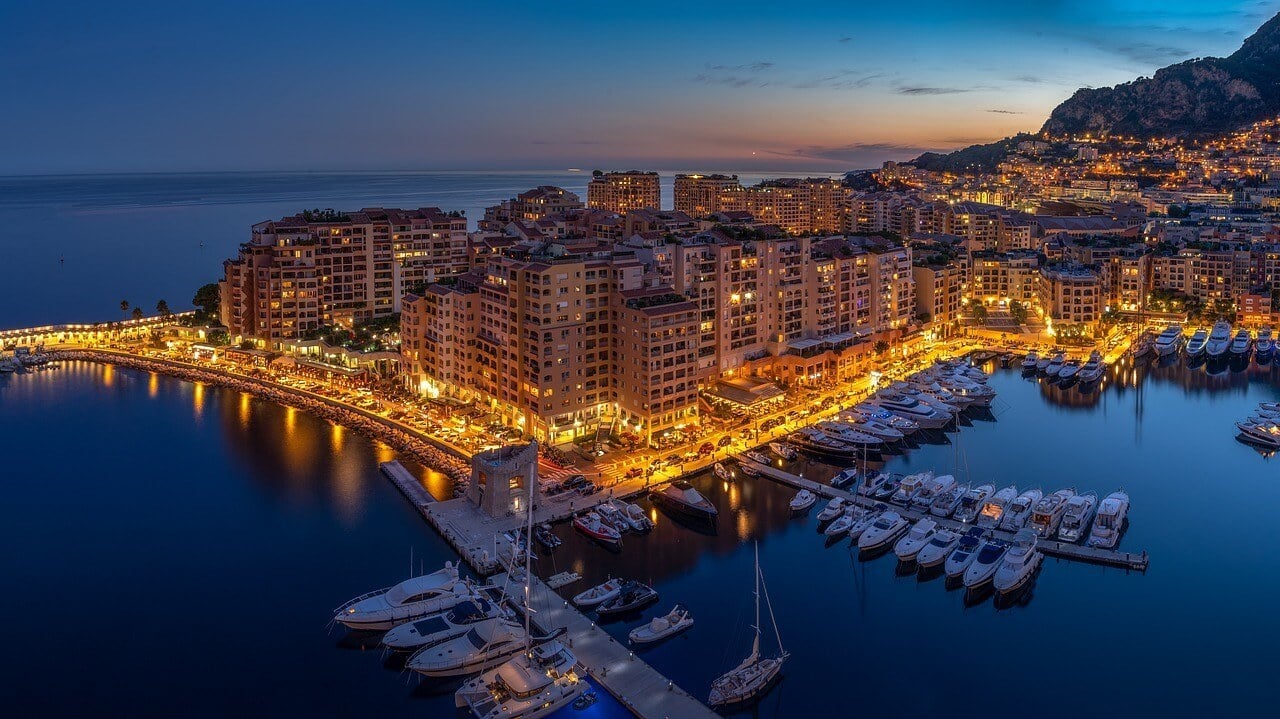 Here you can wander around the caves to cool off, soak up the succulents, snap pics of the amazing sea views, and visit the Museum of Prehistoric Anthropology to see who used to live here a few thousand years ago. It's a surprising destination where you can easily spend a couple of hours meandering through the nature here. By now it's definitely time for lunch, so let's do that, shall we?
Begin by making a beeline for Prince Rainier III Nautical Stadium. Nearby you'll see Le Nautic, along the harbour, where you can get a bite to eat. Head into the "nautical stadium" (i.e. outdoor pool) for a leisurely afternoon – in the winter, you'll be ice skating here! When evening falls, it's time to find somewhere for dinner; the Brasserie de Monaco, close by, is a great place for eating and drinking.
Day 3 – Modern Monaco
Your third day in Monaco begins by heading on over to Chemin des Sculptures. There's a restaurant along here called Le Barbagiuan, a homely locals' spot that serves up breakfast from 7:30am. Continue to stroll along the sculptures here and enjoy this artsy thing to do in Monaco. Once you're done with the sculptures, make your way to the Old Port where you can be amazed by the yachts.
Make sure that you walk up to the Fort Antoine Theatre, an open-air theatre set in an old fort dating back to the 18th century (there's also a sun bathing spot up here if you want to chill for a while). Though modern Monaco is everywhere to see in the principality, it's interesting to see how the Monegasque people of today are trying to preserve their culture: see this at the Museum of Old Monaco.
It's a 10-minute walk from the Fort Antonie Theatre, but along the way, you can stop at Creperie du Rocher for an affordable bite to eat. Right near there is the Museum of Old Monaco where you can learn all about the traditions and culture of the people of Monaco. Head to the Casino Cafe de Paris for some gambling action – eat opposite at Cafe de Paris Monte Carlo, which is a decent dinner spot.
Don't forget your travel insurance for Monaco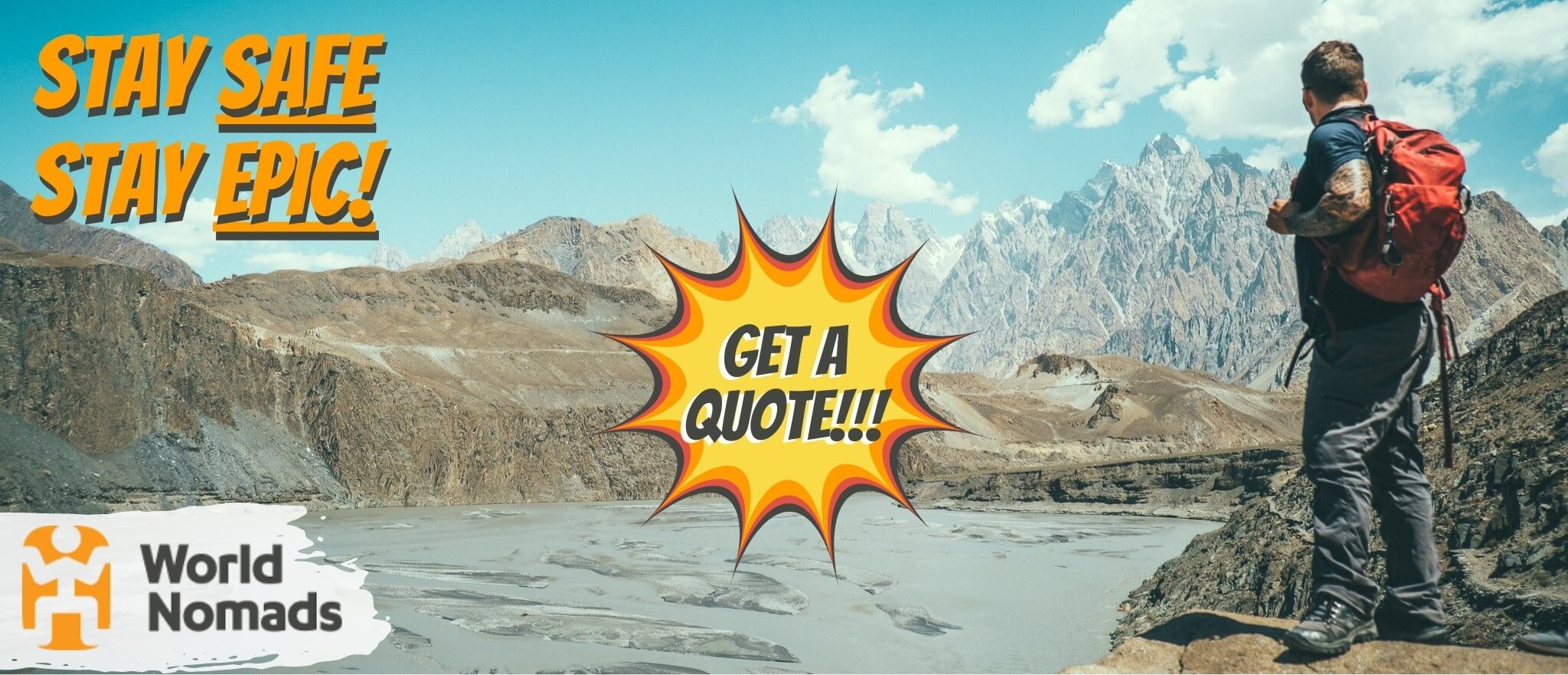 World Nomads' mission is to support and encourage travellers to explore their boundaries. They offer simple & flexible travel insurance, and safety advice to help you travel confidently.
They've been doing it since 2002 – protecting, connecting, and inspiring independent travellers just like you.
Get a quote below or read our in-depth review!
World Nomads provides travel insurance for travelers in over 100 countries. As an affiliate, we receive a fee when you get a quote from World Nomads using this link. We do not represent World Nomads. This is information only and not a recommendation to buy travel insurance.
FAQ on Things to Do in Monaco
Here are some quick answers to common questions about what to do and see in Monaco.
Conclusion
Monaco may come with a reputation that doesn't exactly make it seem like a budget-friendly place for independent travellers. Nothing could be further from the truth though you don't have to spend a bomb on a trip to Monaco and there's definitely some cool, off the beaten track things to do in Monaco that'll keep you interested.
With everything from a library dedicated to Irish literature and an affordable heated pool that becomes an ice rink in winter, there's a lot more to Monaco than people think: there's plenty of stuff to uncover here for the curious visitor.
---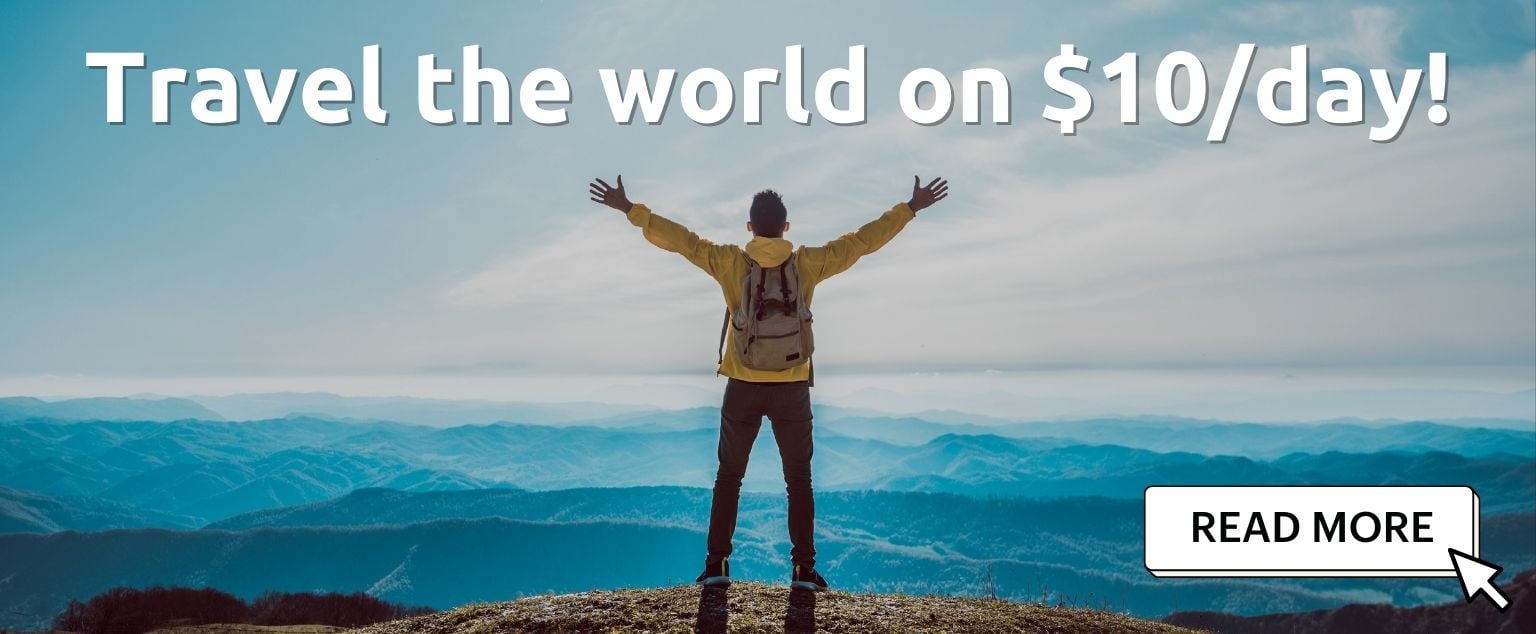 And for transparency's sake, please know that some of the links in our content are affiliate links. That means that if you book your accommodation, buy your gear, or sort your insurance through our link, we earn a small commission (at no extra cost to you). That said, we only link to the gear we trust and never recommend services we don't believe are up to scratch. Again, thank you!