Is the stress of modern life becoming too much? Do you constantly find yourself drained of time and energy? It might be high time for you to unplug, disconnect and go somewhere serene, not to mention free from distractions.
Somewhere like Peru.
Peru is one of the most spiritual countries in the world and is home to numerous sacred sites such as the Sacred Valley and Machu Picchu, so it's no wonder that Peru is fast becoming a top place for yoga retreats.
From the jungles of the Amazon rainforest to the colonial city of Cusco and the high peaks of the Andean Mountains, Peru is blessed with stunning vistas and a deep sense of spiritualism that makes it the right location for healing and transformation.
If you're not sure how to choose or where to look for a yoga retreat in Peru, then don't worry, because this guide has everything you need to know.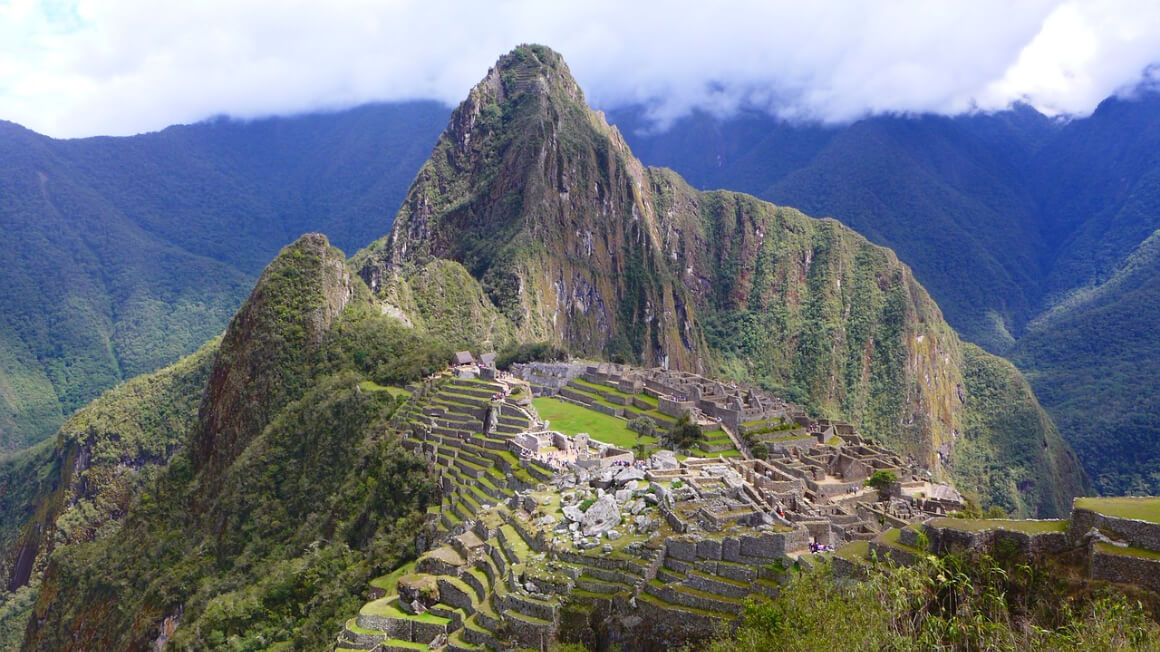 Why Should You Consider a Yoga Retreat in Peru
Juggling a career, relationships, and working on self-improvement can easily leave people more stressed out than anything. It's no wonder a lot more people are seeking serenity, rejuvenation, and time alone one their travels.
A yoga retreat gives you the chance for introspection and contemplation. It gives you the opportunity to pause and focus on what really matters to you. Most of the time you realize that the things you are stressing about aren't even important at all.
You'll have time for calm, silence, and even for your creativity to flow.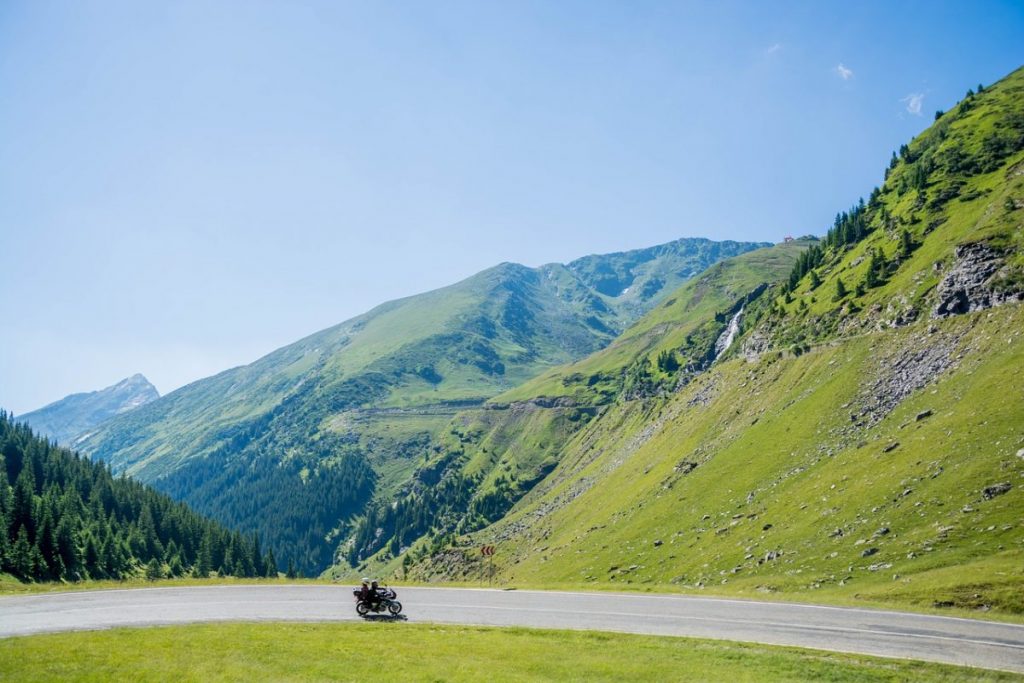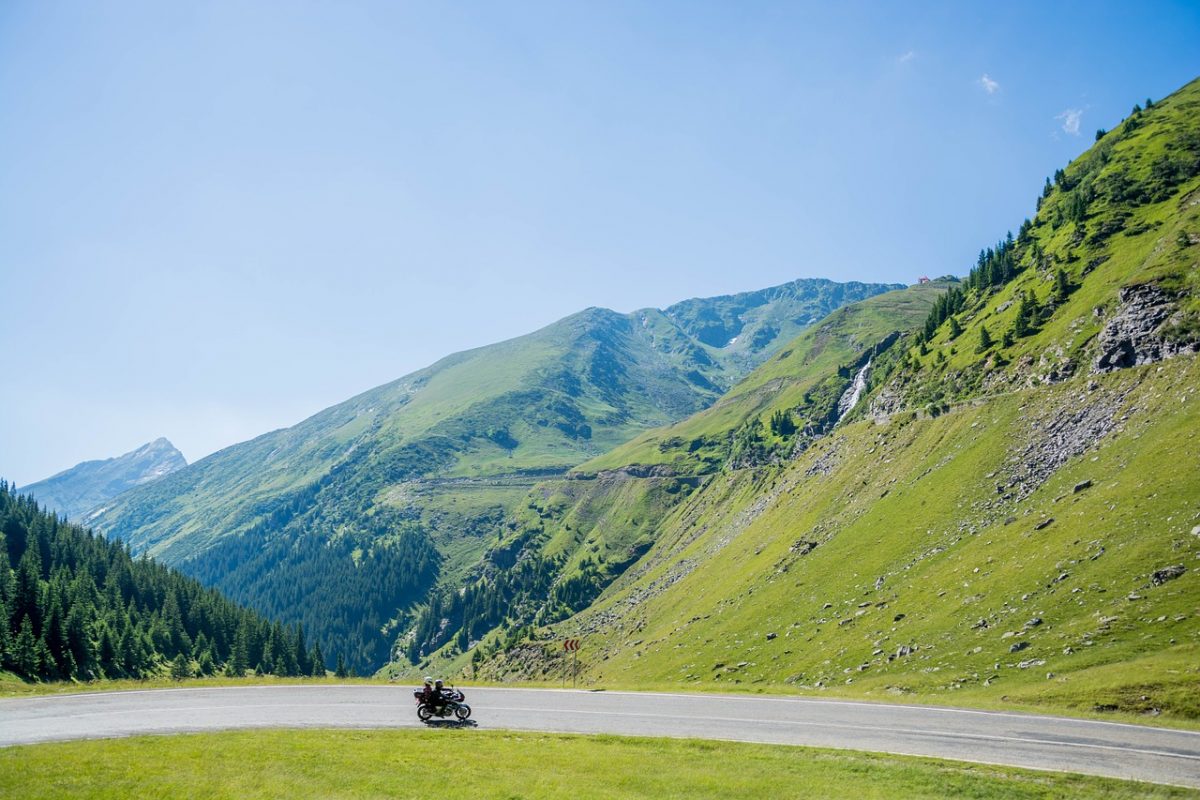 Peru yoga retreats are as varied as the landscape, so there's always one that ticks all your boxes. Want to do the warrior pose while facing the beach? How about the extended side angle while in the mountains? The choices are endless.
You'll find a sense of clarity, learn to manage stress, have deeper relationships, and connect to nature while attending a yoga retreat in Peru. It will bring about a positive change that you and others will notice.
Once you're traveling in Peru, you'll find the country's beauty and yoga practices life-changing. In fact, you might just stay longer than planned.
What Can You Expect from a Yoga Retreat in Peru?
Yoga retreats in Peru might offer different things for yogis and non-yogis but they do share some similarities.
First, retreats are located in some of the most peaceful and majestic locations. You'll be surrounded by the beauty of Mother Nature whether you're engaging in meditation or doing your asanas.
While you're trying to find your balance and a sense of calm, you get to nourish yourself with delicious and authentic Peruvian food and although most dishes are vegetarian, they cater to different diets. If you're after cleansing, you'll even be served a special detox diet.
Offerings vary from one retreat to another but in Peru, it's common for traditional practices to be incorporated with yoga to bring about substantial results. Expect coca leaf reading, cleansing ceremonies, meditation, and rituals performed by Shamans.
Of course, a trip to Peru is not without adventure too during breaks where you can let your hair down and have some fun. These come in the form of excursions, massages, spa treatments, wellness sessions, and a variety of other activities such as swimming, hiking, and snorkeling.
Being a spiritual sanctuary and a place that has a deep respect for the Earth, it is not unusual to find that eco resorts abound in Peru that practice sustainability.

Unlock Our GREATEST Travel Secrets!
Sign up for our newsletter and get the best travel tips delivered right to your inbox.
How to Choose the Right Yoga Retreat in Peru For You
With the variety of yoga retreat options, it's easy to get lost in a sea of choices. While I can help you narrow the list of retreats to consider, you must ask yourself what you want out of the retreat and what you are willing to do to achieve your goals.
Once you know exactly what it is you're looking for, you'll be able to find an experience in Peru that you will remember for all the right reasons. Most retreats have a set of activities planned every day. However, these activities can easily be changed or swapped for something else more suitable for you.
If you're traveling to Peru for some sightseeing too, it would make good sense to find a retreat that's near some of the most visited sites and attractions, such as Cusco.
If you'd also like to fit a few days of surfing into your itinerary, choose a retreat that combines both yoga and surfing by one of the best beaches in Peru.
There's no shortage of Peru yoga retreats, you just have to be careful in making your choice so that you have the best experience and get the most bang for your buck.
Location
Peru is a country that boasts stunning scenery and it's common for retreats to be set in the most breathtaking locations. All you need to do is pick a retreat that's near places you want to visit and activities you want to do.
If you've been wanting to visit Machu Picchu, you can opt for retreats that are located nearby. If you want to breathe in the fresh air and be surrounded by mountains, a retreat in the Andes would be ideal.
If you're into water sports and just chilling on the beach, you might want to head to the yoga and surf meccas in the northwestern part of the country.
The retreats in the Amazon jungle offer simplicity, seclusion, and a chance to be surrounded by wildlife and thick foliage. No matter what kind of retreat you're looking for, you'll find them in the best neighborhoods in Peru.
Practices
Being a deeply spiritual place, yoga retreats in Peru involve a wide array of practices aside from yoga and meditation, and we'll cover some of the most popular.
Temazcal is a cleansing ceremony that involves entering a sweat lodge made from volcanic stone that produces steam. Herbs such as sage are used to aid the cleansing process.
Another practice that is distinct to Peru is the use or consumption of Ayahuasca, a plant-based psychedelic that is brewed. The brew has been used by indigenous tribes as a traditional spiritual medicine for thousands of years. It's believed to aid in self-discovery and anger problems.
Sacred cacao ceremonies have also been used for healing and ritual purposes for more than three millennia and are believed to help calm thoughts, open the heart, increase vibrational frequency, and inspire the mind. It is seen as a powerful medicine that offers potential for inner growth and self-reflection.
Solar flower baths are outdoor flower baths under a velvet night sky. Flower baths not only help heal minor scrapes and scratches, but it also offers pure bliss too.
Lastly, another traditional ceremony brought down from the Andean mountains is despacho. It is a ceremonial offering of prayers and intentions to Pachamama or Mother Earth.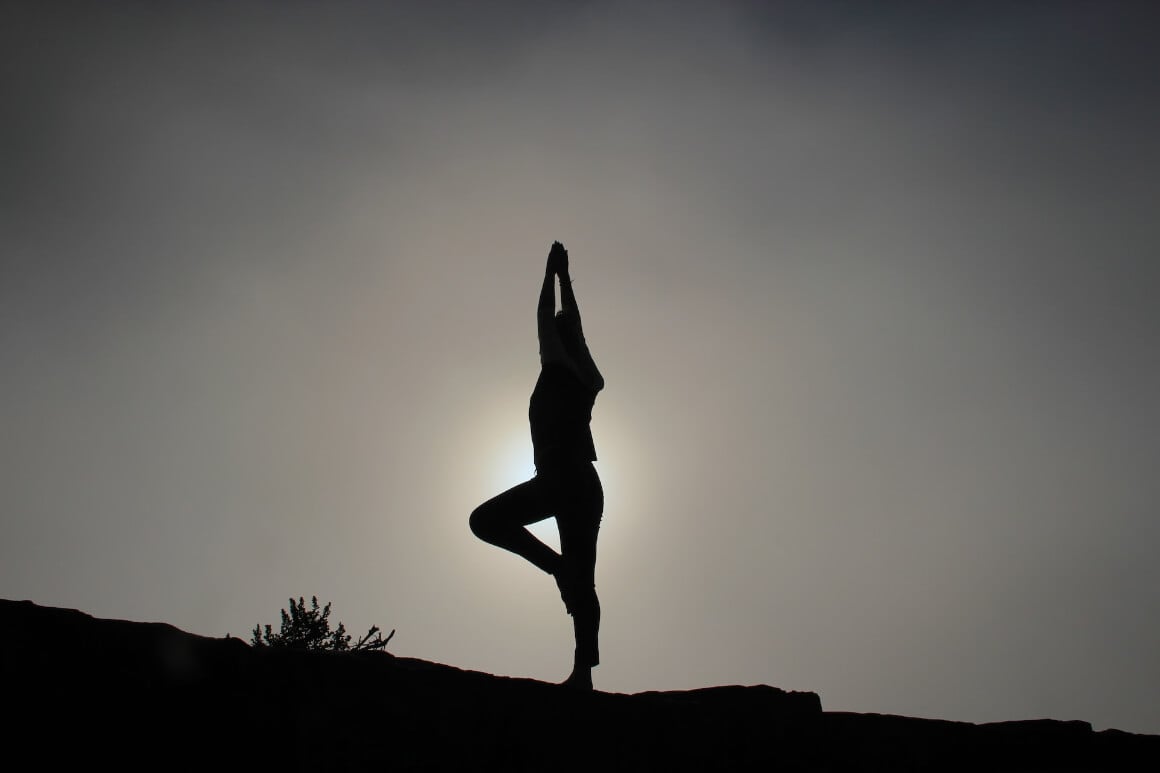 Price
Yoga retreats come with different price tags and the price tag is dependent on a few factors such as location, duration, and accommodation. The longer the retreat is and the swankier the digs, the more expensive you can expect it to be.
More isolated retreats, such as those located in the Andes or in the middle of the jungle tend to cost more. Because of their isolation, there are more expenses to reach those places.
The food served during the retreat can easily up the price too. Most retreats serve vegan or vegetarian food consistent with the pursuit of a healthier mind and body. However, those that serve fresh cold pressed juice and buffet meals are sure to cost more.
Perks
Going on a yoga retreat in Peru comes with a lot of perks. Aside from deepening your knowledge of the practice, you get to feast on nutritious food that will nourish your body and your soul.
What separates one retreat from the other is the perks. These are other offerings outside of the yoga practices included in the price. You'll find a range of activities such as hiking, surfing, swimming, or cooking. What better way to indulge in things you love doing, right?
Some retreats also have excursions to ancient sites, or take their yoga practice outside overlooking stunning panoramas. They may also bring in locals so you can get to know the people and the culture better.
Of course, some pampering is needed too and a retreat that offers massages and spa services is definitely on the luxury end.
Duration
You need not worry if you are a busy individual who only has a few days to spare because yoga retreats in Peru have various durations. Some have a strict schedule that must be followed while others allow for some flexibility.
On average, retreats last for five days to a week and that's more than enough time to reconnect to Mother Nature, rejuvenate yourself, and find inner peace.
You can stay for a quick sesh of a couple of days or fully immerse yourself in the practice and join a retreat that lasts a month. The decision solely rests on how much time you can spend.
10 Best Yoga Retreats in Peru
Ready to transform into a better version of yourself, mentally, physically, and spiritually? Not long now before your journey starts but first, let's check out the best yoga retreats in Peru.
Price: From $1,290
Location: Tarapoto, Peru
Set in a gorgeous private nature conservation project, this five-day yoga retreat includes daily yoga classes, talks about nutrition, a complimentary half-hour Reiki session, and plenty of time for observing local birds and monkeys, relaxing, and swimming.
Find inner peace by practicing yoga, meditation, and pranayama; eating right, and connecting with nature.
You will be getting off the grid and spending your nights sleeping in rustic wooden bungalows complete with 'tambos' or mosquito nets.
Nourishing and delicious vegetarian meals are prepared and served three times daily. Some of the fruits served even come from the trees on the property.
A private lagoon is waiting for you to dive in during lull time and you can walk along the trail of the protected forest and get acquainted with the wildlife.
Price: From $1,800
Location: Cusco, Peru
What better way to let go of what was and start anew than a yoga retreat that helps you dive deeper into your inner self and your healing process while surrounded by the Andes mountains?
Cusco, Peru has long been believed to be a center of consciousness and awakening and there are only a few places on Earth such as Cusco that can help deepen your spiritual practice.
Aside from practicing Hatha, Nidra, Restorative, Vinyasa, Yin, and Acro yoga, you can expect to participate in a variety of ancient rituals and ceremonies that include shamanic drumming, flower baths, shamanic breathwork, Temazcal, and Coca leaves.
High-quality, vegetarian dishes using produce grown in local gardens are served throughout the retreat. During breaks, plenty of ancient sites are waiting to be explored.
Month to month payments, no lock-in contracts, and no itineraries required: that's the exact kind of insurance digital nomads and long-term traveller types need. Cover yo' pretty little self while you live the DREAM!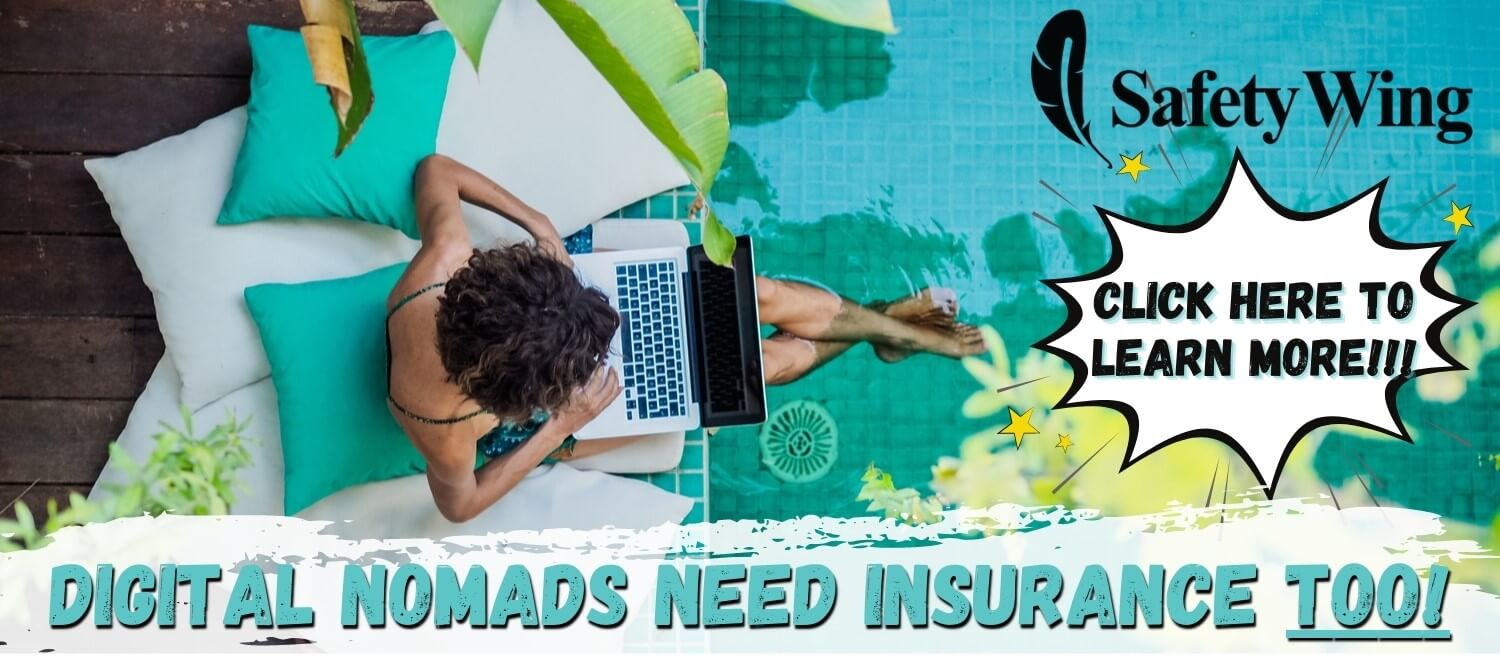 SafetyWing is cheap, easy, and admin-free: just sign up lickety-split so you can get back to work! Click the button below to learn more about SafetyWing's setup or read our insider review for the full tasty scoop.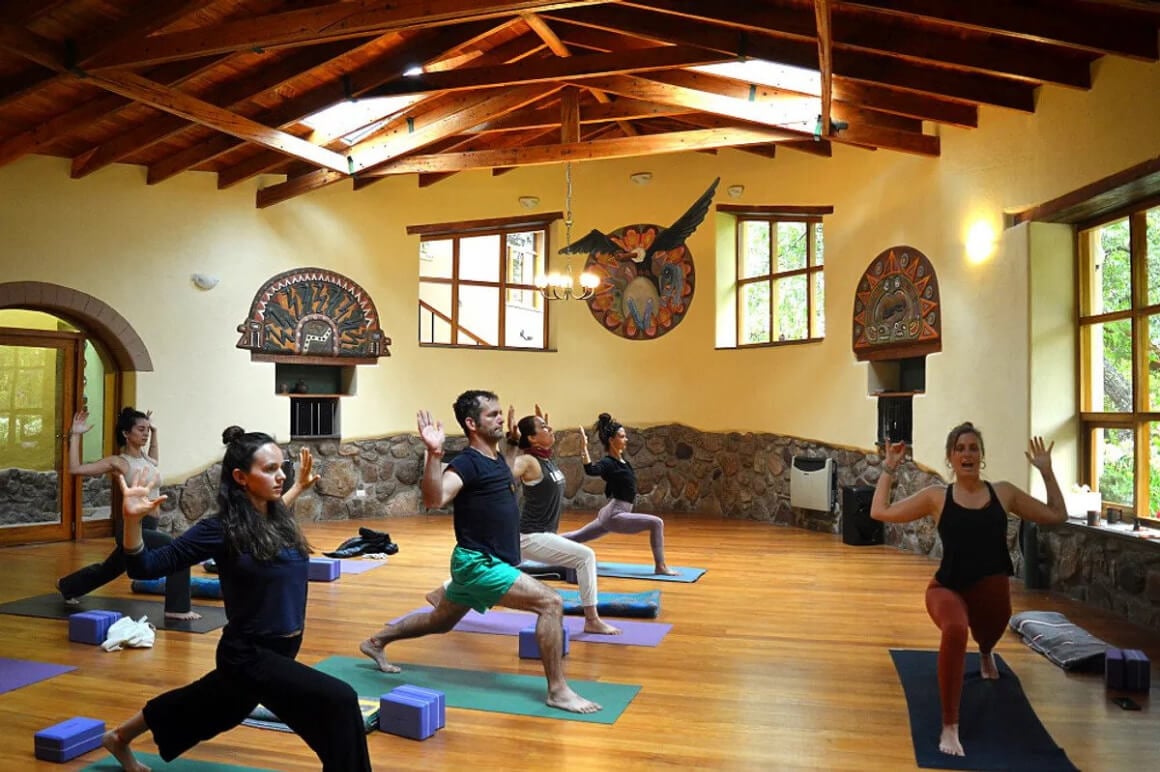 Price: From $2,270
Location: Urubamba, Cusco, Peru
Set in the heart of the sacred valley of Willka T'ika, the region's yoga center, this luxury wellness yoga retreat combines authentic ancient healing practices and yoga for those who are seeking to reconnect with Mother Earth's healing energies.
Suitable for yogis and non-yogis alike, expect to participate in daily yoga classes with different styles, mindful activities, and therapeutic treatments. For nourishment, you can look forward to farm-to-table organic vegetarian meals and fresh cold-pressed juices.
You'll experience powerful Andean ceremonies that will bring about positive changes physically, mentally, and spiritually too.
A wide variety of local activities are waiting for you to try during breaks and you'll walk away rejuvenated after your time in the Andes.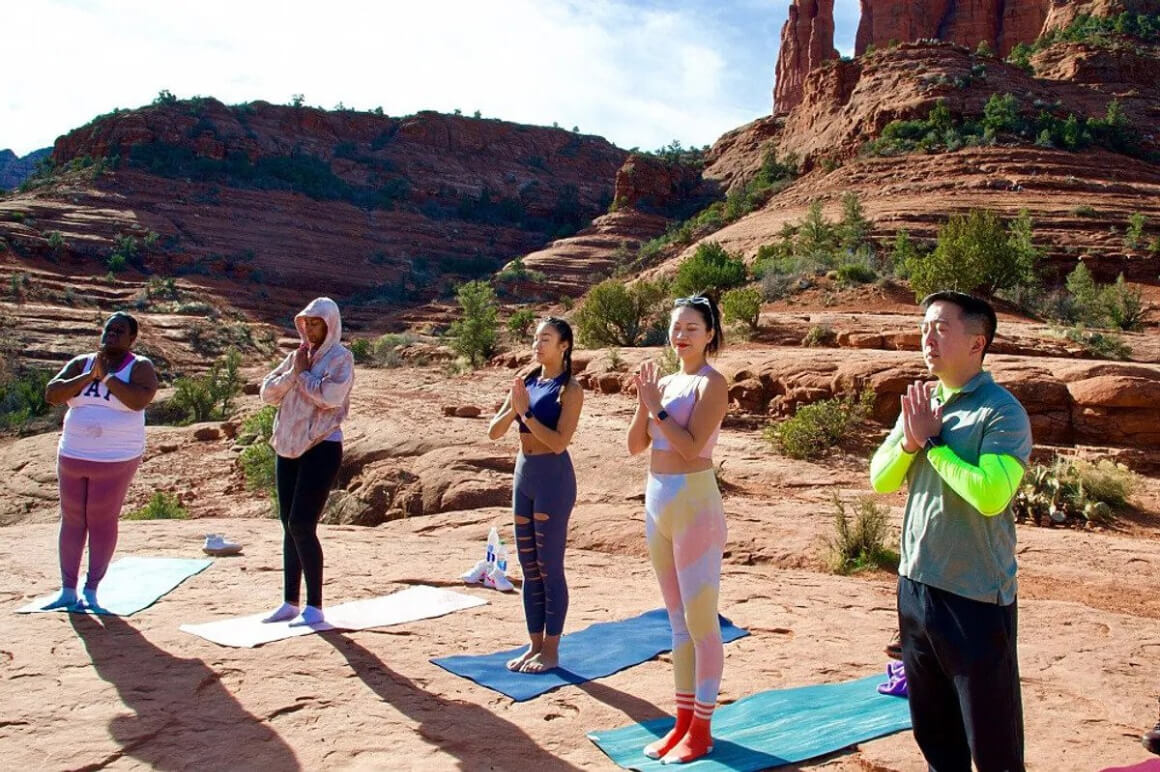 Price: From $2,399
Location: Machu Picchu, Cusco, Peru
Go on a journey for your mind, body, and soul in a place considered by many to be sacred on this seven-day yoga retreat in Machu Picchu.
Participate in classes of General, Sivananda, Restorative, Hatha, Tantra, and Vinyasa yoga while embarking on a spiritual journey to the ancient city of Machu Picchu.
Considered one of the most sacred places on Earth, you will engage in meditation, participate in a variety of ancient ceremonies, meet like-minded individuals, reconnect with Pachamama and enjoy delicious vegan food.
Without a doubt, this is the perfect opportunity to give yourself that well-deserved break, visit a World Heritage site, and set off on the adventure of a lifetime that involves hiking the tropical Inca jungle and stopping by majestic waterfalls.
Price: From $795
Location: Talara Province, Piura Region, Peru
If being near the water and yoga make you happy, this is the best yoga retreat to join. You'll have seven full days to practice your asanas and learn kiteboarding with the help of experienced and certified instructors.
The retreat is located just a few meters from a secluded beach giving you an ideal place to completely stay away from the crowd while enjoying water sports and the beach at the same time.
In the mornings you can chill at the beach or explore the area and see giant turtles in their natural habitat.
Included in the package are six gourmet breakfasts served daily, transportation to the beach, airport transfers, and all gear necessary for the lessons.
Forget boring accommodation… book yourself an EPIC STAY!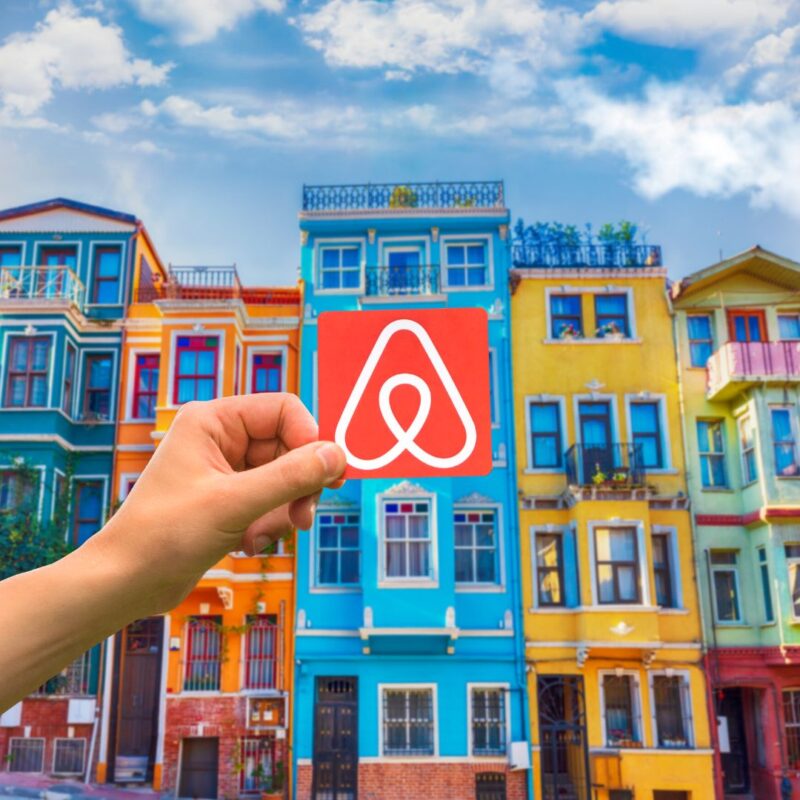 Why stay in a naff hotel when you can stay in a cosy, stylish local house instead? And for half the money too!
Stay somewhere EPIC and save your hard-earned dollars — from houses to barns to castles and caves, there is an Airbnb for every occasion!
Book an EPIC Stay
Price: From $1,190
Location: Iquitos, Peru
Surrounded by virgin rainforest, you will hear the soothing sounds of the jungle when you go to sleep and wake up to birdsong for the entirety of the retreat.
This well-being retreat will help you revitalize and unwind. You'll become a happier and healthier version of yourself. Get ready to embrace results that can change your life.
Days begin with a sunrise yoga session, followed by a healthy and hearty breakfast. You'll participate in a flower bath ceremony, meditate, and have a personal interview with a shaman.
During evenings you can look forward to night jungle walks or just chilling and playing songs by the bonfire.
Three daily meals are provided with unlimited fruits. Those participating in shamanic ceremonies will be provided with a special cleansing diet.
Price: From $3,295
Location: Lima, Peru
This retreat lets you have a truly Peruvian experience, from hiking the Inca trail, exploring the city of Lima, feasting on fantastic Peruvian dishes, and of course, practicing yoga and finding balance with your friends.
Accommodation will be at JW Marriott in Cusco and Lima when not camping along the Inca Trail during your hike.
You can look forward to five morning Hatha yoga sessions apart from sightseeing and hiking adventures.
A few package inclusions are a cooking class in Lima and going on tours of Cusco and Lima, hiking the Inca trail, and a trip to the local market where you'll buy ingredients for your cooking experience with a local chef.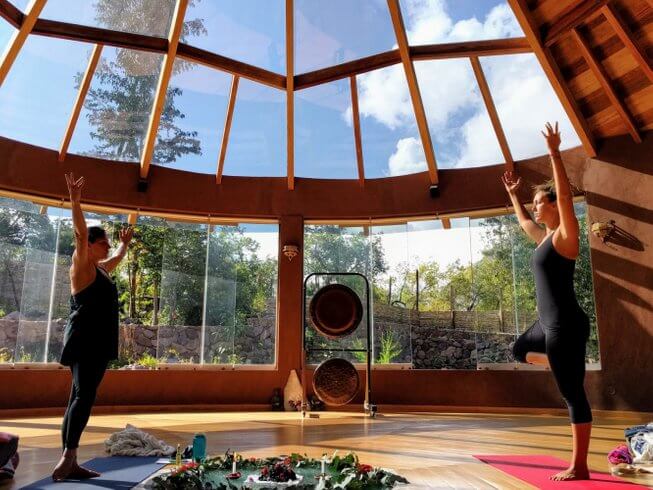 Price: From $1,800
Location: Cusco, Peru
Participate in an integrative program that includes Qi Gong, yoga, meditation, energetic healing, and classes on plant medicine.
Expect a deep dive into yoga and ancient shamanic traditions that will bring about positive changes in your life.
The retreat is located in an eco-friendly lodge made from local materials. You'll be surrounded by fruit trees, the sound of hummingbirds, waterfalls, and lush flower gardens.
Feast on delicious vegetarian cuisine while enjoying the stunning views of the surrounding islands and mountains. Indulge in your spiritual growth in this secluded oasis and practice your poses at the private Yoga Maloka temple.
Release the traumas of your past, let go of self-limiting beliefs, and gain clarity during this retreat, but of course, you need some relaxation too and that comes in the form of optional hikes or massage sessions and cultural excursions to sacred sites.
Is This the Best Daypack EVER???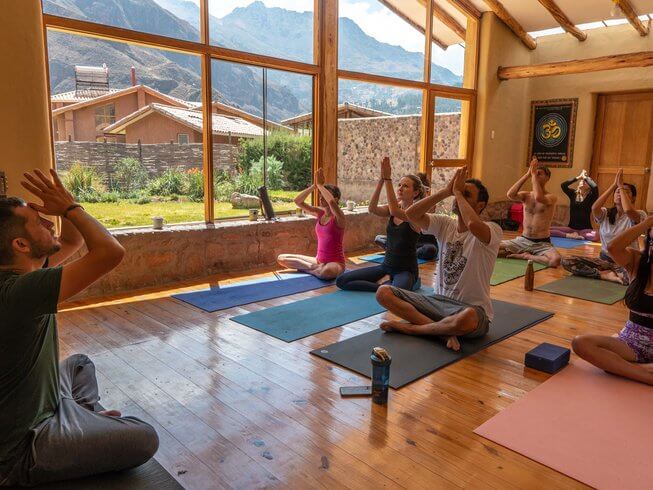 Price: From $2,800
Location: Pisac, Peru
Suitable for yogis who aim to teach yoga, this 22-day retreat combines traditional yoga practice with Andean cosmovision teachings.
From the mat to the mountains, you will experience inner journeys to yourself and engage in outdoor activities such as guided hikes to Andes communities.
This retreat takes place in the heart of the Sacred Valley at the feet of Apu Intihuatana, an archaeological site. While meditating and practicing yoga, you'll be surrounded by majestic mountains.
Vegetarian meals with vegan and other options are served throughout the program, except on Sundays, A few excursions included are Temazcal, Shamanic experience, and pilgrimage to a sacred site. Optional spa treatments, massage, and sauna are available at an additional cost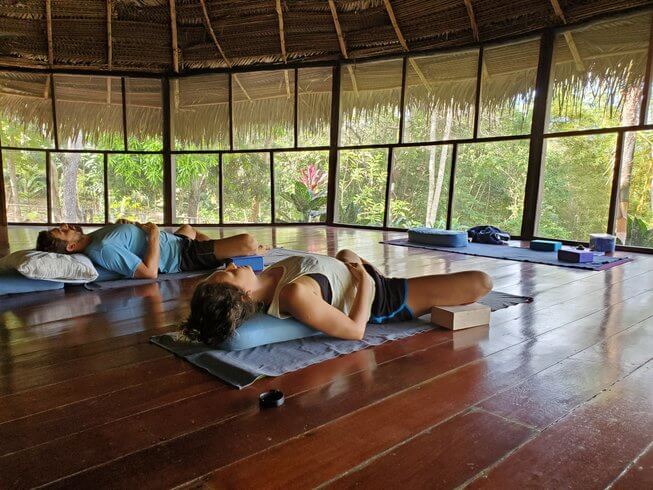 Price: From $1,190
Location: Tarapoto, Peru, 22200
Go on a journey of self-discovery and explore the wonderful world of healing.
Tambo Ilusión is easily accessible and located less than 20 minutes away from the airport. The nature reserve is in the rural area of Tarapoto where the Amazon and the Andes meet resulting in specular scenery.
Learn how to manage stress, heal yourself, and channel your energy to help others. Use Reiki, the simple, non-invasive, and holistic healing system to heal with your hands.
Participate in gentle yoga with guided meditations, indulge in healthy vegetarian meals, have a thermal bath, and go on a sunset stroll with a mare and one of the instructors for your Reiki Attunement process.
Walk away feeling empowered, refreshed, and inspired.
Don't forget insurance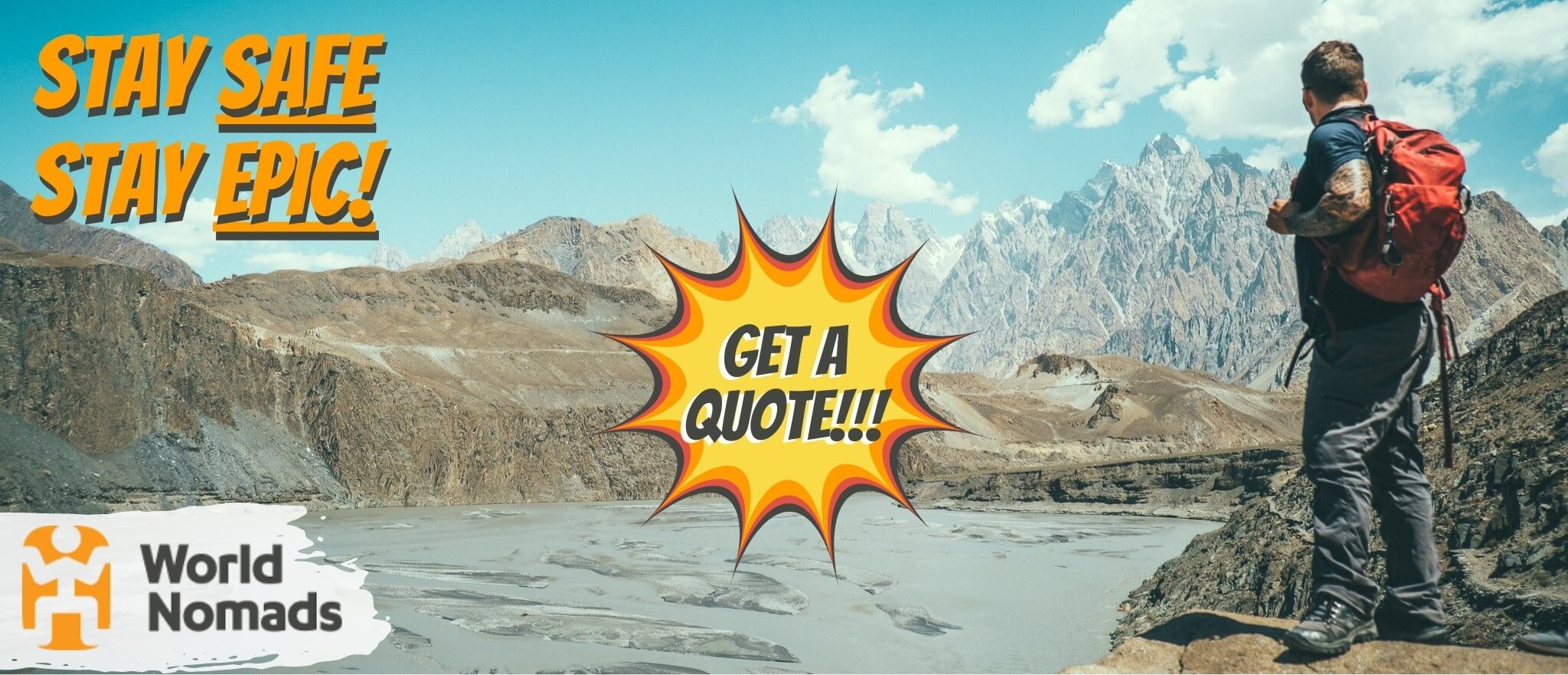 World Nomads' mission is to support and encourage travellers to explore their boundaries. They offer simple & flexible travel insurance, and safety advice to help you travel confidently.
They've been doing it since 2002 – protecting, connecting, and inspiring independent travellers just like you.
Get a quote below or read our in-depth review!
World Nomads provides travel insurance for travelers in over 100 countries. As an affiliate, we receive a fee when you get a quote from World Nomads using this link. We do not represent World Nomads. This is information only and not a recommendation to buy travel insurance.
Final Thoughts on Yoga Retreats in Peru
Aside from having some of the most spectacular landscapes and amazing sites such as Machu Picchu and the Amazon jungle, Peru is also a land of mysticism and spiritual elements, making it the perfect location for a transformative and life-changing yoga retreat.
Whether you're just looking to get away from the demands of the modern world for a few days or are looking to deepen your practice and feel a stronger connection to Pachamama, you'll find something that suits your needs in Peru.
Ready to start your self-improvement journey? Give yourself the gift of exploration, refinement, and rejuvenation by hopping on the next place to Peru.
---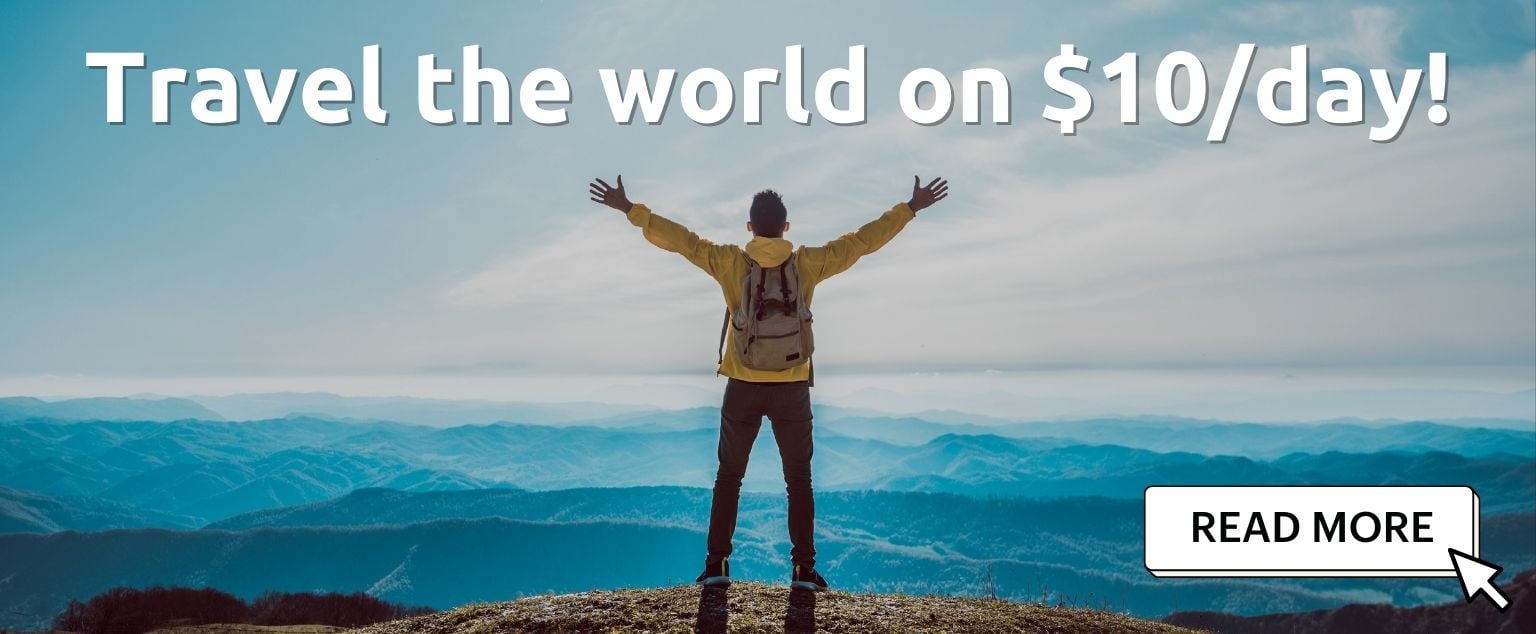 And for transparency's sake, please know that some of the links in our content are affiliate links. That means that if you book your accommodation, buy your gear, or sort your insurance through our link, we earn a small commission (at no extra cost to you). That said, we only link to the gear we trust and never recommend services we don't believe are up to scratch. Again, thank you!