Home to the world-famous Machu Picchu, Peru is on the bucket list of many travellers! Whilst the Incan monuments are impressive, there's so much more on offer across the country. With the Amazon Rainforest, Andes Mountains and Pacific Ocean beaches all within its borders, the country is packed with natural beauty. It is also a major culinary hub in Latin America. Recent years have shown a rise in eco-tourism in Peru.
Such a vast and diverse country can be tricky to wrap your head around. Most tourist guides focus on the headline attractions, but what if you want to really get to know the country? There are so many fantastic destinations awaiting you if you steer just slightly off the beaten path.
That's where we come in! We've figured out the eight best places to stay in Peru, and categorised them based on what they are good for. We don't beat around the bush – some of the most touristy places are that way for a reason and have their charms. We have also, however, included a few of our more unique recommendations.
So let's go – vamonos!

Unlock Our GREATEST Travel Secrets!
Sign up for our newsletter and get the best travel tips delivered right to your inbox.
Quick Answers: Where is the Best Place to Stay in Peru?
Map of Where to Stay in Peru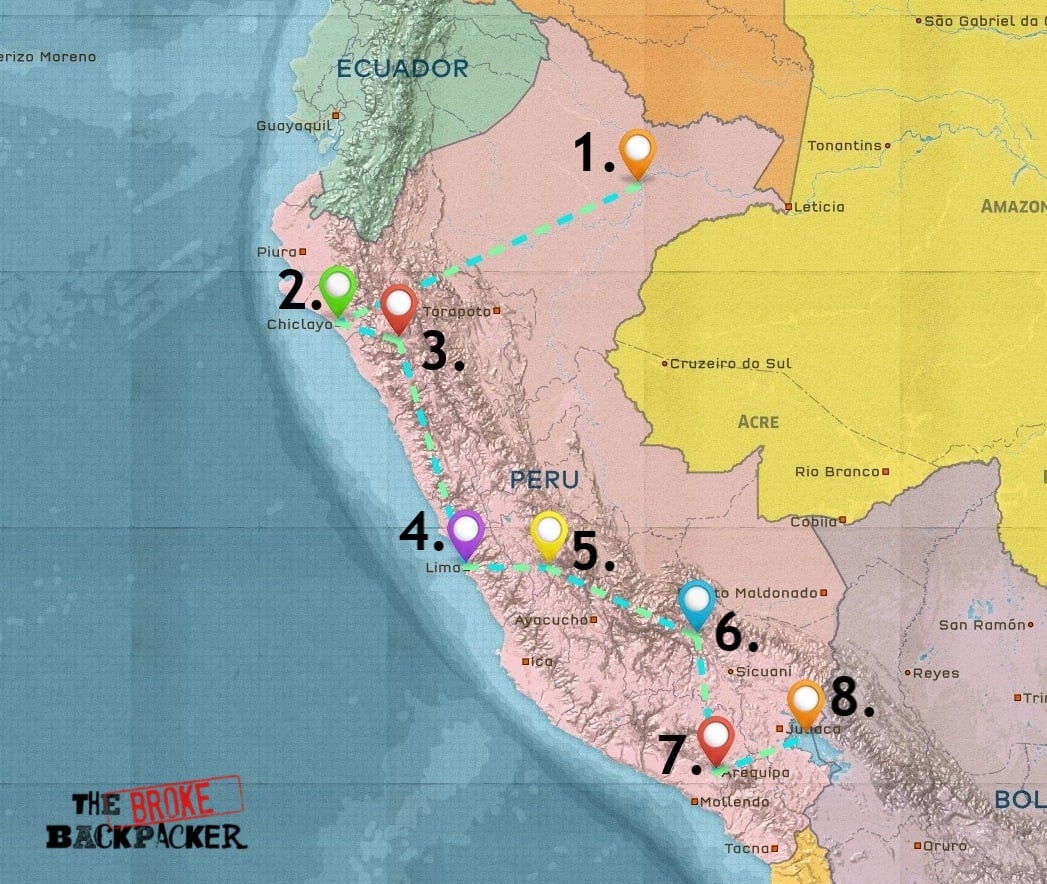 Cusco – Overall Best Place to Stay in Peru
Once the capital of the Incan Empire, Cusco is essentially one big UNESCO World Heritage Site spread out across an entire city! This is where you will find day trips to Machu Picchu and the Sacred Valley of the Incas – as well as plenty of old attractions in the city centre itself. If you want to learn about pre-Colombian life in South America, Cusco is a great spot.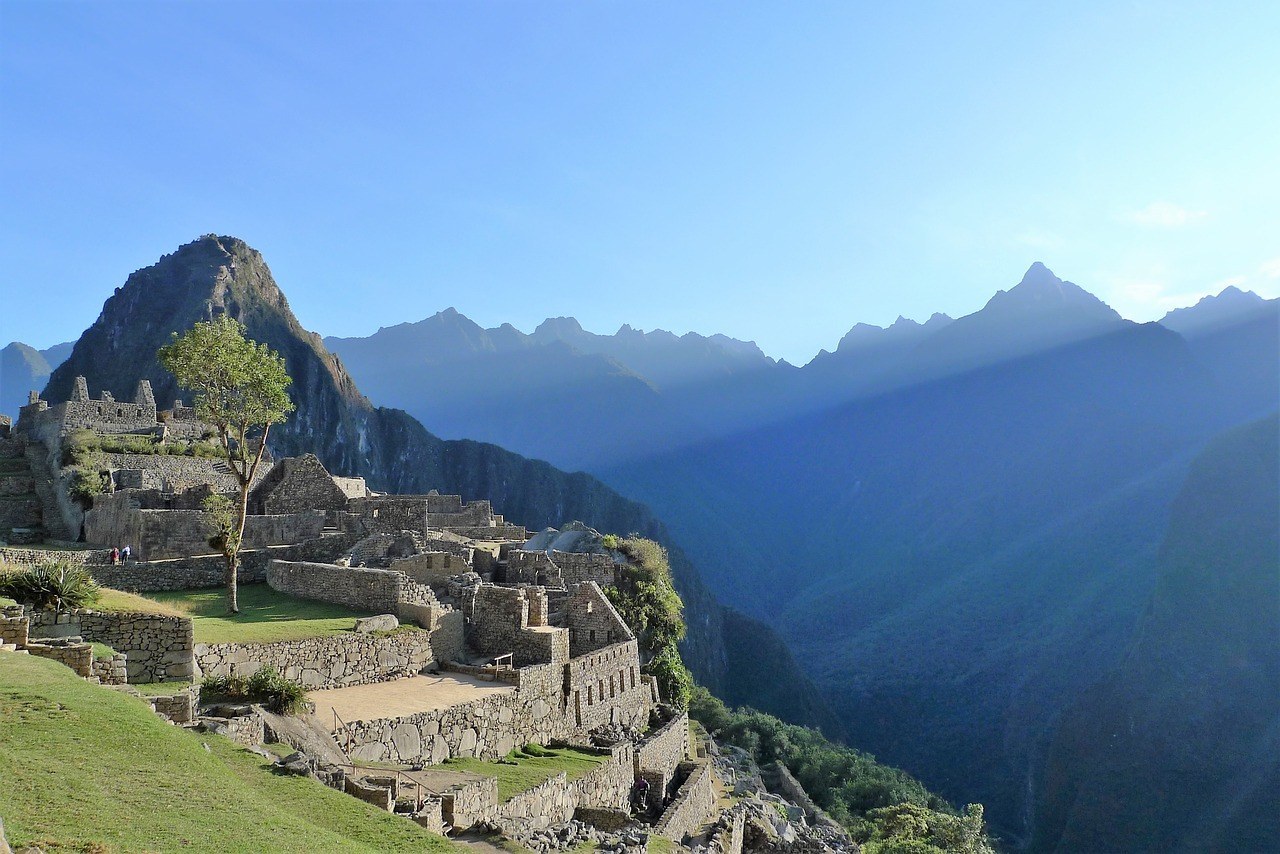 Whilst Cusco is easily the most touristy place in Peru, we count this as our overall best pick because it's really the only part of the country you can't miss out on. There are loads of backpacker accommodations and it's also where you'll find Peru's best hostels. Even if you don't choose to base yourself here, you should set aside a couple of days to get to know the area.
If you are staying for a longer period of time, we recommend getting the Cusco Tourist Ticket to save money on entrance fees. As the busiest tourism destination, Cusco has direct links to every Peruvian city.
Best Places to Stay in Cusco
The city centre is small and compact, so we recommend staying there for your first time. It's also where most of the tour companies are based. If you want to be closer to the archaeological sites, Sacsayhuaman is a little further out and slightly cheaper. All areas are well connected by public transport. We also recommend staying at one of Cusco's hostels if you need to keep the accommodation costs low.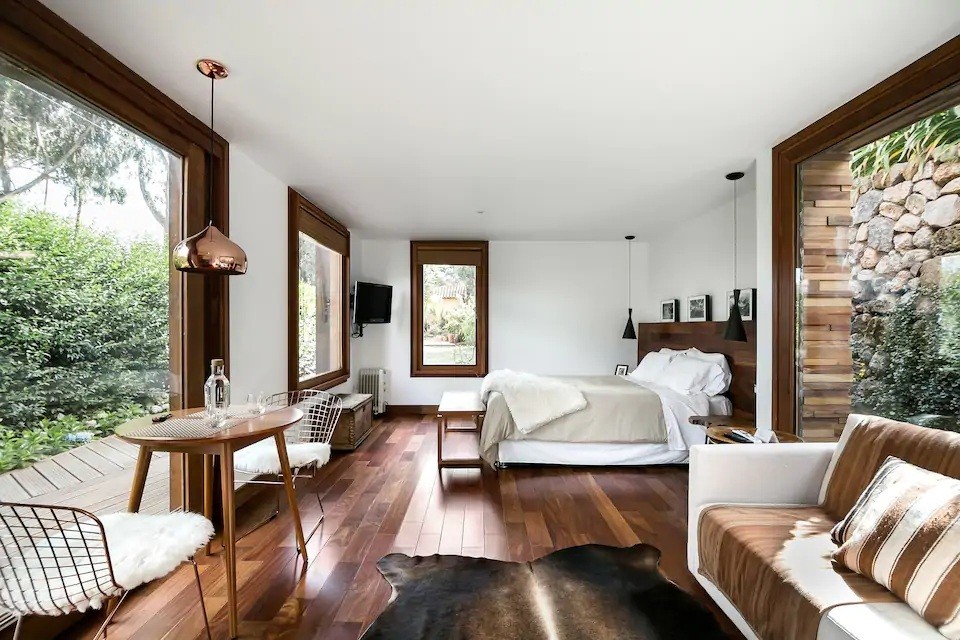 This gorgeous one-bedroom cabin is only stone's throw away from Sacsayhuaman Archaeological Site. This is perfect for hitting all of the main attractions in Cusco! There is a spacious garden where you can unwind and sip a glass of wine or two on the decked area. The bathroom and kitchen are modern, with a rain shower and marble worktops.
Alongside the very budget-friendly rate, Pariwana Hostel Cusco offers some great extras to ensure you have a comfortable stay. They provide a complimentary breakfast every morning, as well as tours of Cusco and on-site activities. Pariwana Hostel is so popular with backpackers that it was named one of the best hostels in the world at the 2020 Hostelworld Awards.
Ramada might be known as a pretty standard hotel chain elsewhere in the world – but their Cusco offering is on another level! It is housed within a renovated mansion from the 1600s. The interior decor compliments this with classic furnishings. The city centre is only a two-minute walk away, keeping you close to all of the biggest sights.
If you want a truly amazing experience, we recommend staying at an eco-lodge just outside Cusco to experience the beautiful mountains in the area.
Arequipa – Best Place to Stay in Peru for Families
Nicknamed the White City because of its whitewashed buildings, Arequipa is the second most popular destination in Peru. It offers a laid-back alternative to Lima and Cusco, making it a great spot for families. Whilst caution should be taken everywhere in Peru, Arequipa has a safer atmosphere, letting you relax a little bit more.
Arequipa is a great example of mestiso culture – which is the blending of indigenous and Spanish colonial cultures. The city centre architecture is perhaps the best symbol of this, and has now been awarded UNESCO Human Heritage status! Arequipa is also notable for the three volcanoes that loom over the city, creating a unique landscape. If you're a backpacker on a budget, you'll love the affordable hostels in Arequipa!
Whilst we don't recommend Nazca as a place to stay, Arequipa is a great alternative. There are plenty of tour companies in the city offering trips to the Nazca lines. Arequipa also enjoys direct connections to Cusco and Lake Titicaca.
Best Places to Stay In Arequipa
Arequipa feels safer than other cities in Peru, but as always we recommend checking Arequipa's neighborhoods further before committing to staying in them. The City Centre has a good police presence, and is home to most of the major attractions. Most hotel receptions and accommodation owners will be happy to advise you on the safest places to visit.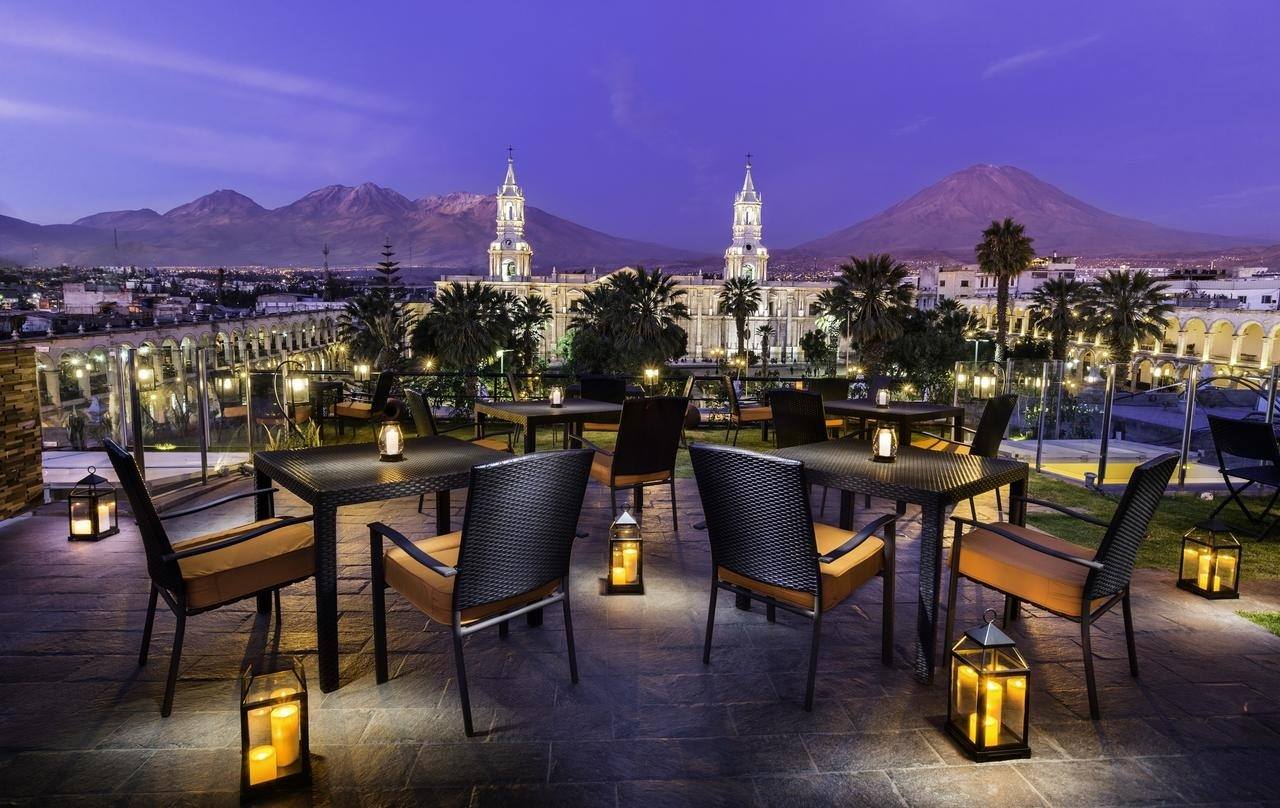 This gorgeous apartment comes with a roof terrace with mesmerising views across the city and nearby mountains. It can sleep up to six guests across three bedrooms – perfect for families of all sizes. It is located in one of the safest neighborhoods in the city, giving you extra peace of mind. They also offer big discounts for long term guests – great for groups of digital nomads!
Best Hostel in Arequipa: Econunay
Peru is a major hub for eco-tourism – and this hostel is a must for those with an environmental conscience. It has a laid-back atmosphere, in keeping with Arequipa as a whole. The small bar offers Peruvian cocktails, plus some international options if you ask nicely. They also have both indoor and outdoor social spaces. Breakfast is included in the rate.
Like all of our options in Arequipa, this hotel truly stands out for its great views of the city! The rooftop terrace is the perfect place to kick back and relax after a day of exploring the city. Rooms are quaint and comfortable, borrowing from the colonial style of interior design. It is within walking distance of many tour companies – perfect for families that want some help exploring the country.
Lake Titicaca – Most Romantic Place to Stay in Peru for Couples
Straddling the border between Peru and Bolivia, Lake Titicaca is an area of astounding natural beauty in the south of the country. For couples, Lake Titicaca offers a peaceful retreat away from the hustle and bustle of the big cities. It is also the highest body of water in the world, so definitely one for the bucket list.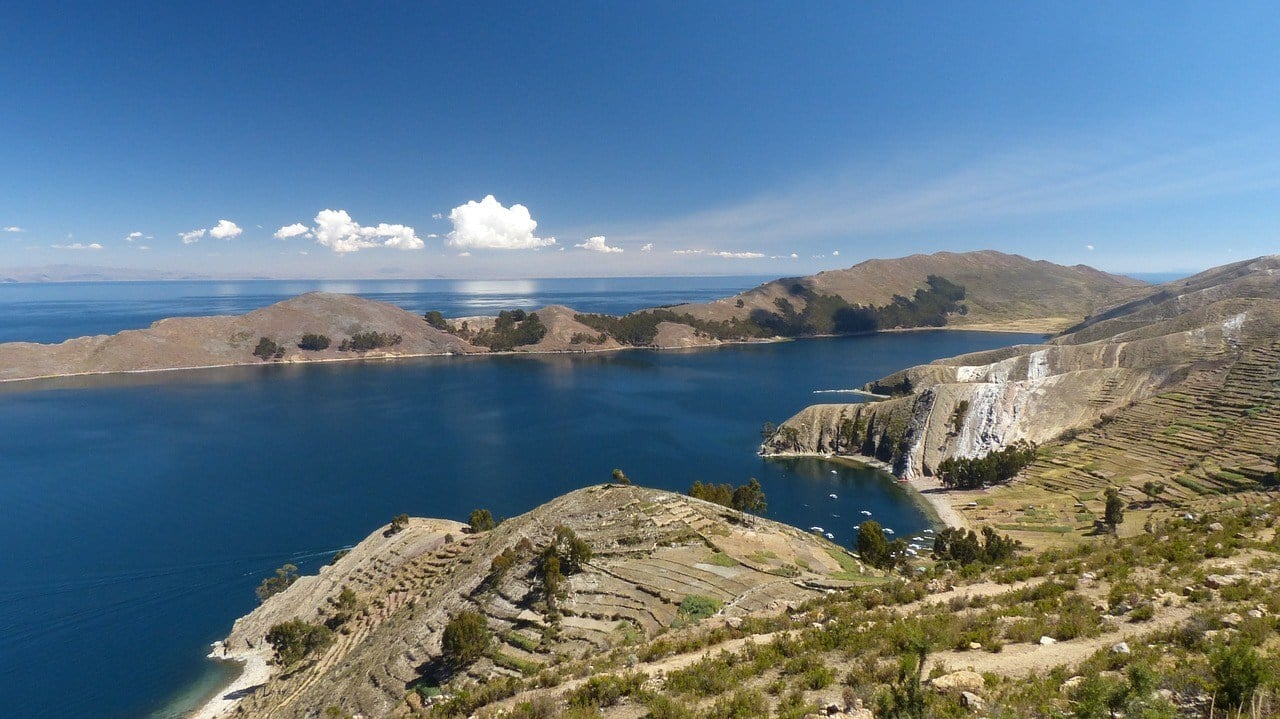 Perhaps the most famous attraction in the area is the Floating Village. These man-made islands are home to a number of locals, with regular tours every day. We recommend taking a camera to make sure you get that perfect Instagram shot!
The border location makes Lake Titicaca a major stopover point for those travelling between Peru and Bolivia. Most of the hop on hop off bus services include a stop here, so if you're taking a longer trip we do suggest spending a couple of days here.
Best Places to Stay in Lake Titicaca
Puno is the only city in the Lake Titicaca region – and therefore home to the best accommodation! There are plenty of tour companies for those that want to explore other parts of the lake, and hiring a car is a good option for experienced travellers.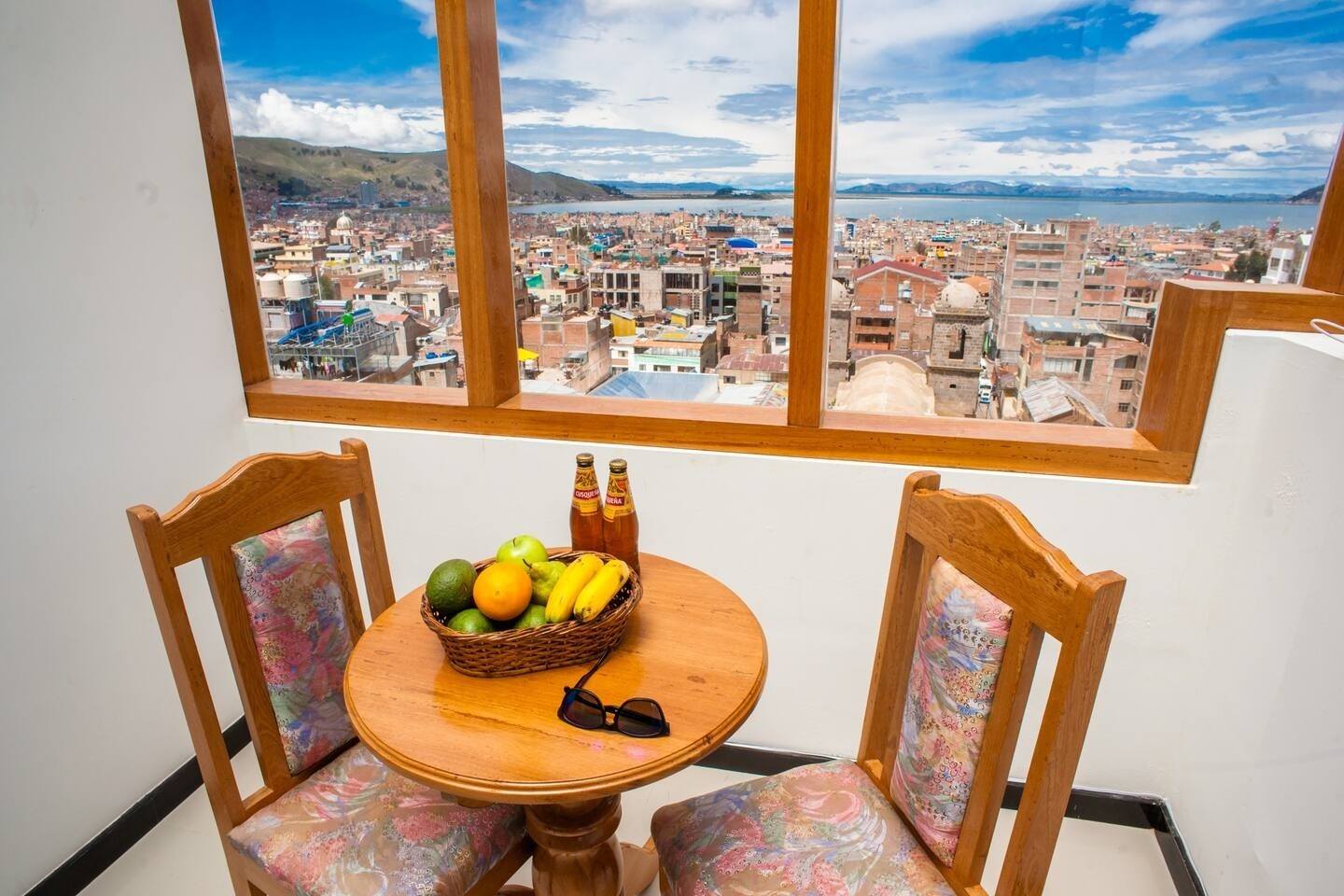 Best Airbnb in Lake Titicaca: Lake Views
This one-bedroom apartment comes with a gorgeous kitchen with views of the lake and surrounding township! The quiet nook is surrounded by windows, with a small table where you can enjoy a peaceful breakfast. The ceiling window also gives you unbeatable views of the sunset every evening. It is only a short walk from central Puno.
Another great accommodation for views, Casa Andina has a huge garden with a balcony overlooking the lake. It comes with a private decked bridge that leads to the waterfront, and the front desk are experts in local tourism services. The on-site restaurant is known for its excellent seafood, and they provide a tasty breakfast buffet every morning. It comes with the best reviews in the area – many of which are from couples.
Best Hostel in Lake Titicaca: Bothy Backpacker
This hostel is somewhat basic, but has bright and colourful interiors that will make you feel right at home. They provide pancakes for breakfast every morning – the perfect way to get ready for a day of exploring the Lake Titicaca area. For couples that don't mind staying in a hostel, they have some very well priced private rooms. Guests are also given discounts on local tours.
Bothy Backpacker is one of our favourites in Peru but they're not taking guests right now. We're not sure if they're closed for good but we hope they'll come back soon.
Is This the Best Travel Pack EVER???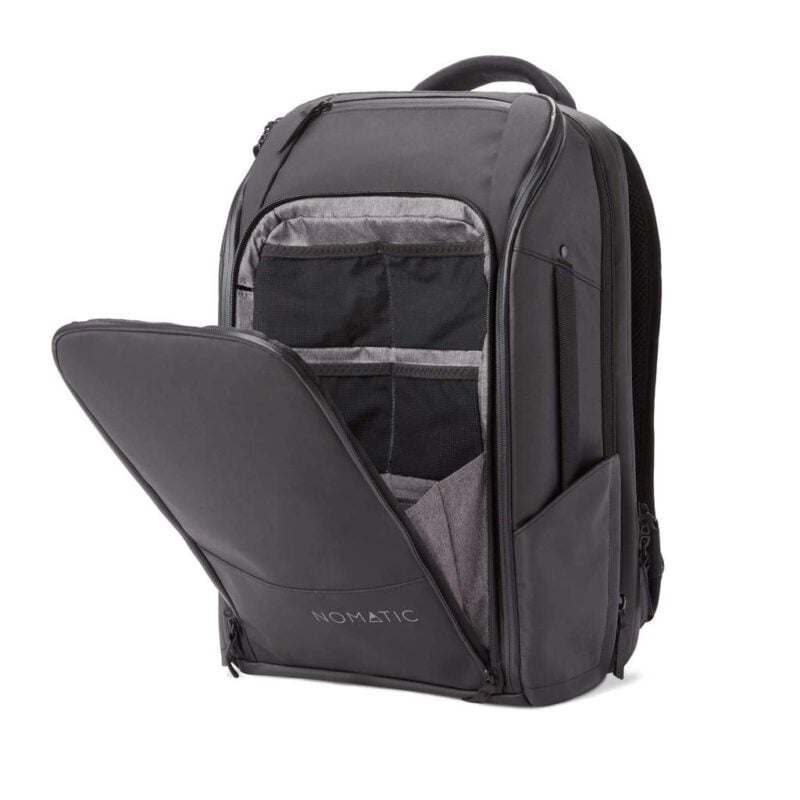 Chiclayo – Coolest Place to Stay in Peru
Up on the Northern Coast of Peru, Chiclayo is growing in popularity among tourists heading to the South American country. Often considered a smaller Lima, Chiclayo benefits from the great nightlife and culinary scene associated with Peru's metropolitan areas without the stifling crowds. This easily makes it one of the coolest places to stay in the country!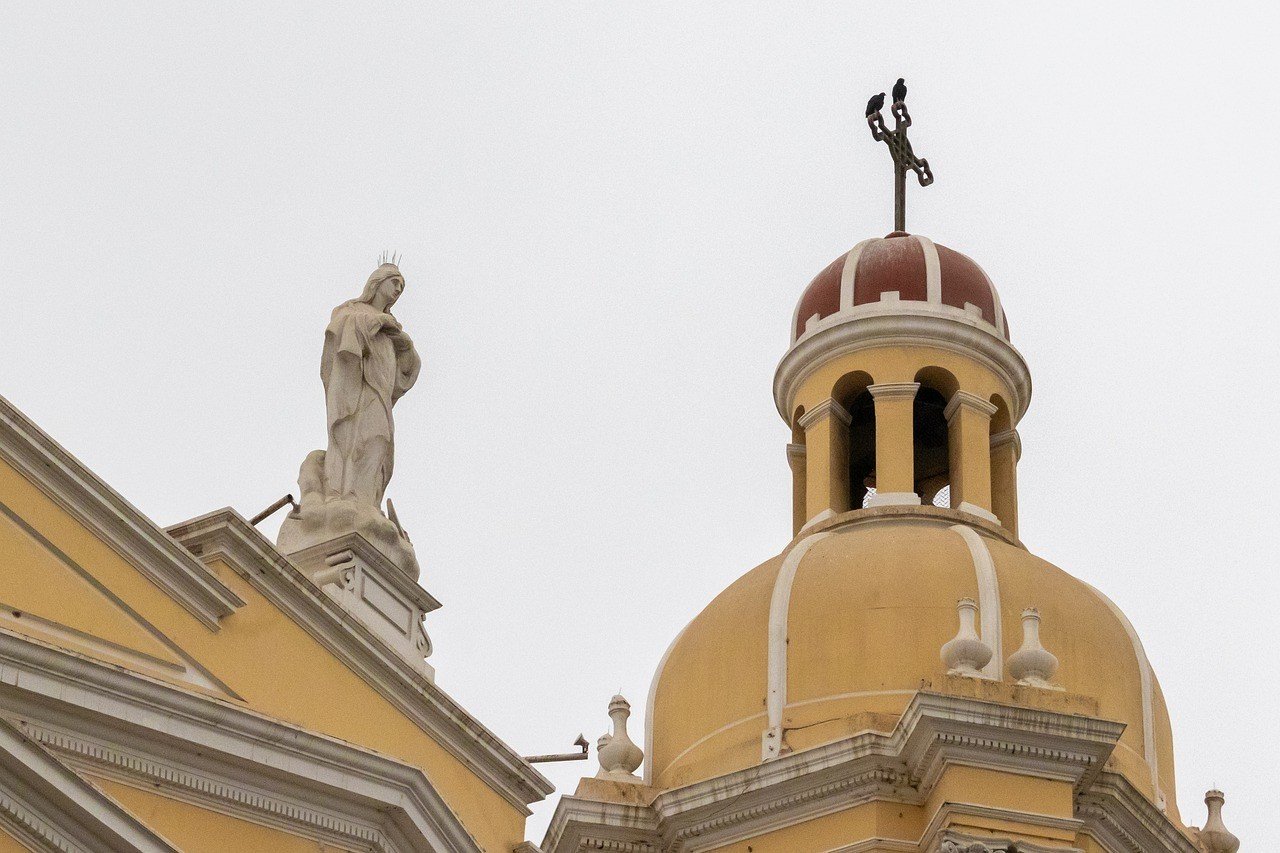 Plazuela Elias Aguirre in particular burst with life in the evenings – making this a great spot for some unique nightlife. Chiclayo provides a fascinating insight into colonial culture, with some interesting architecture in the city centre. It is also well known for its bustling markets where you can sample local ingredients.
Chiclayo is on the coast, so there are some great beach towns worth visiting nearby! It is also well connected to Cajamarca, and benefits from daily services to Lima. If you can, aim to spend at least three days here to truly soak up the unique atmosphere.
Best Places to Stay in Chiclayo
Despite having a small population, Chiclayo city centre is well spread out. You will need to hop on a taxi to get around – with Tico being the most reliable brand. Your hotel can also help you book these.
For a bit more of an upgrade, this hotel is right in the heart of the city. The largest municipal park is only a short walk away, as well as a whole host of delectable restaurants. There is a bar on-site offering a wide selection of beer, wine and spirits. The continental breakfast spread can be delivered to your room in the morning if you need some extra time in bed.
Best Airbnb in Chiclayo: Comfortable and Quiet
Chiclayo is a little off the main tourist routes, so AirBnB accommodation can be quite basic. This apartment, however, comes with fantastic reviews from previous guests. The host has superhost status, meaning they have been chosen for their excellent service and maintenance standards. With two bedrooms, this is great for small groups and families. The shopping centre and cathedral are a short walk away.
Comfortable and Quiet is one of our favourites in Peru but they're not taking guests right now. We're not sure if they're closed for good but we hope they'll come back soon.
Best Hotel for Backpackers in Chiclayo: Kullayki Piruw
There aren't any hostels in Chiclayo – but this two-star hotel is a great alternative for those on a budget! Despite the low star rating, it has positive guest reviews and a good range of services available. It is a little bit out from the city centre, but has great transport links and a peaceful surrounding neighborhood. An American style breakfast is included.
Kullayki Piruw is one of our favourites in Peru but they're not taking guests right now. We're not sure if they're closed for good but we hope they'll come back soon.
Lima – Where to Stay in Peru on a Budget
Lima is the nation's capital and – with over 8.5 million people – by far the largest city in the country. If you're arriving by plane there's a good chance you will land here, so why not take a few days to get to know the Peruvian capital? Despite its size, it isn't the most touristy city – so prices are very much reasonable in the area.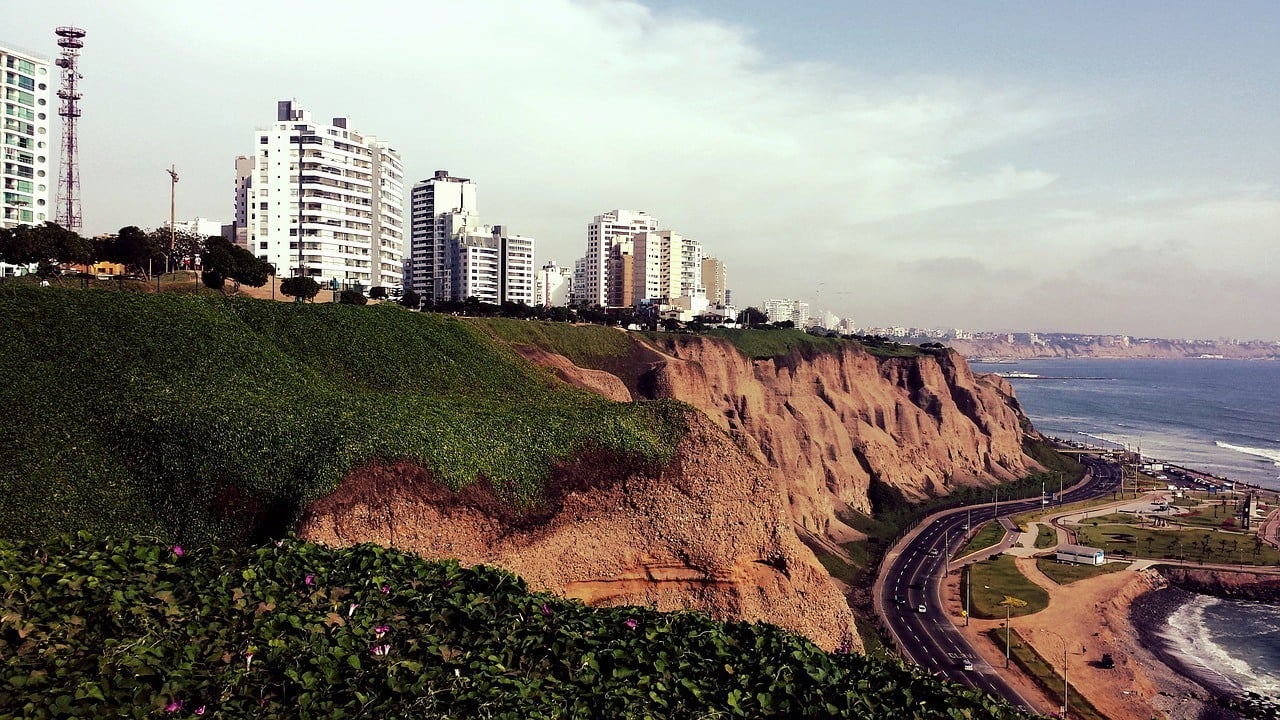 Lima is a large and eclectic city! There are some great destinations on the coast, but if you head towards Miraflores you will find some of the best culinary destinations in the world. You can eat well for much less in this city than you would spend for basic meals in North America or Europe.
As the capital, Lima is well connected to all of the major destinations in Peru. It is located right in the centre of the coast, so journey times are pretty much the same wherever you are heading towards. Lima has an abundance of museums and art galleries in the city centre, providing a great overview of the country.
Best Places to Stay in Lima
Lima is not only a varied city in terms of attractions – you also have to consider the safety of different neighborhoods. Like North American cities, Lima City Centre is a no-go area in the evenings. It has some great attractions during the day, but we suggest picking a hotel elsewhere in the city. Miraflores is our favourite, and is well connected to the city centre.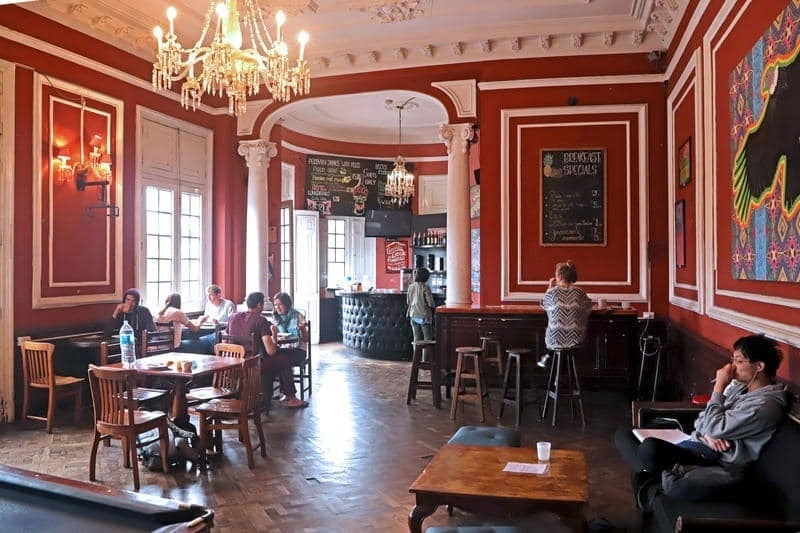 This beautiful apartment has great views across the city from the balcony, with a small table for enjoying coffee in the morning! The balcony is attached to the living area with French doors, letting in plenty of light. The entire apartment is minimalist in design – but comes with interesting examples of indigenous art.
1900 Backpackers Hostel is the perfect place to socialise with other travellers in Lima! They offer a wide range of activities, including ceviche making classes and tours of the city. It is in the city's main creative district, with the largest art gallery located right in front of the hostel. They provide free breakfast, cheap beer and laid-back vibes.
This gorgeous three star hotel is an excellent option for budget travellers that want a little extra privacy during their stay! Right in the heart of Miraflores, it is close to some of the best restaurants in the country. It is also close to the coast, giving you some great views of the city skyline.
The Future of the SIM Card is HERE!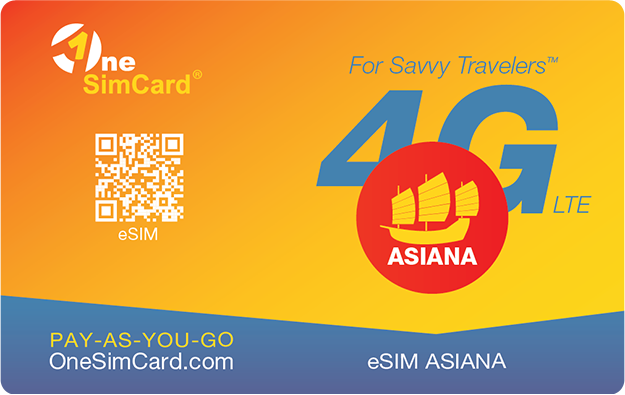 A new country, a new contract, a new piece of plastic – booooring. Instead, buy an eSIM!
An eSIM works just like an app: you buy it, you download it, and BOOM! You're connected. It's just that easy.
Is your phone eSIM ready? Read about how e-Sims work or click below to see one of the top eSIM providers on the market and ditch the plastic.
Buy an eSIM!
Iquitos – One of the Most Unique Places to Stay in Peru
Whilst many people forget that Peru is home to a section of the Amazon rainforest, it is one of the biggest parts of the country! Loreto is the Amazonian section of Peru, and Iquitos is its capital. Iquitos is the largest city on earth that doesn't have a road connection.
This lack of immediate connection makes it a popular destination for those wanting to escape life for a little bit. There are roads within the city itself, and it has a surprisingly colourful nightlife scene. Iquitos is a real melting pot of cultures.
So if you can't drive in – how do you get there? Most visitors opt to arrive by plane from Lima or Cusco – but there is also a boat that sails down the Amazon! This takes you onwards to Colombia or Brazil where you can explore deeper into the rainforest.
Best Places to Stay in Iquitos
The city centre of Iquitos is home to most accommodation options, and gives you a good starting point for exploring further. The river itself is only a short walk away, and motocarros (small tuk tuk style motorbikes) offer cheap rides to further destinations. Stick with tour groups if you want to explore the forest itself.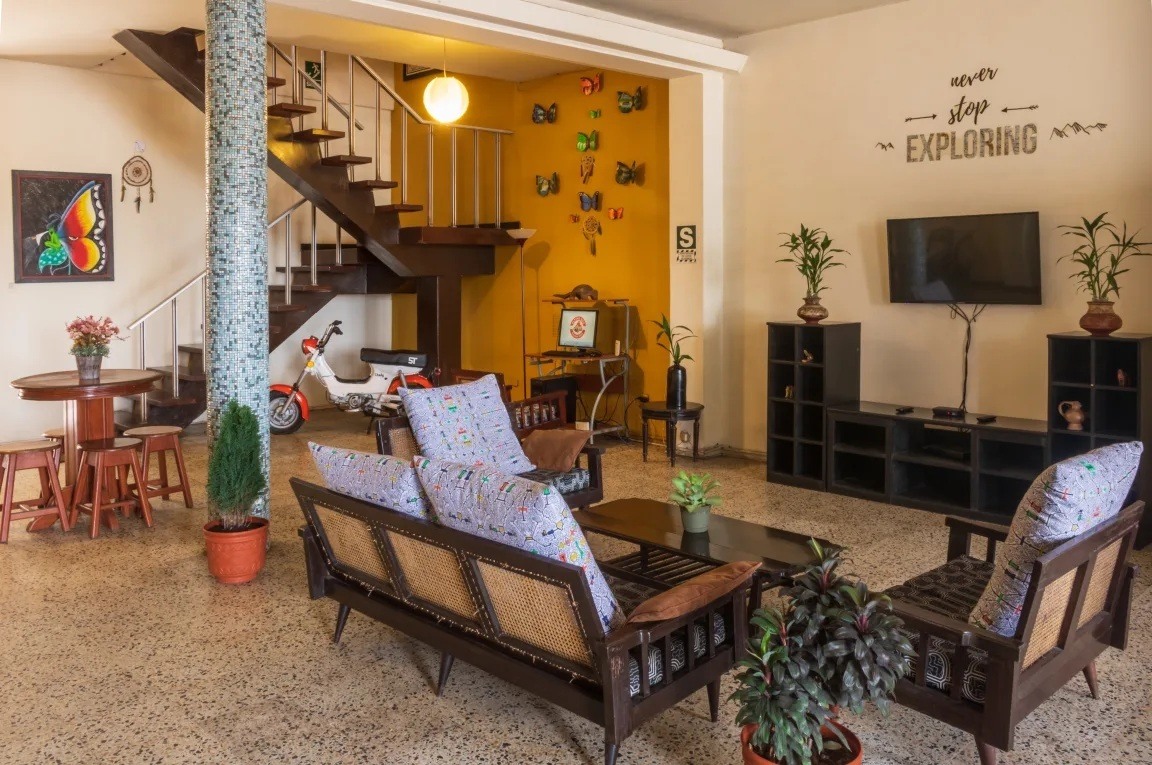 Whilst this hostel is also nestled in the rainforest area, it also has a social ethos that keeps you connected. The river is only a short walk away, as is the main nightlife area. Rooms are bright and flamboyant – giving the entire property a welcoming feel. Reviewers love how friendly and helpful the staff are, and they can even connect you with cheap tour providers.
This modern hotel might seem somewhat basic – but it comes with the best reviews for hotels in Iquitos! It is only a stone's throw from the riverfront, and a complimentary breakfast is included in the rate. Rooms are comfortable with modern furnishings, and a few of them even come with views of the town.
Best Airbnb in Iquitos: Jungle Home
This stunning AirBnB is certainly the most unique pick in this guide! Surrounded by Amazonian plantlife, this quaint getaway is perfect for those that want to escape society for a little bit. It is still within walking distance of central Iquitos if you need a little taste of civilisation. There isn't, however, any WiFi – ideal if you just need to switch off for a few days.
Jungle Home is one of our favourites in Peru but they're not taking guests right now. We're not sure if they're closed for good but we hope they'll come back soon.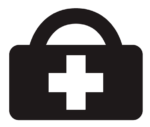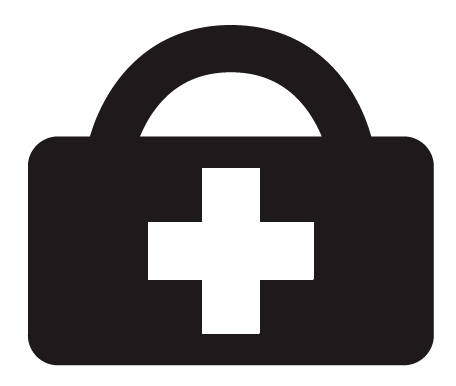 Peru is a very fun place and one could easily get carried away while visiting. It's important to remember that no country is perfect though.
Read our safety guide for Peru before planning your trip so you will be extra prepared when you arrive.
Save $$$ • Save the Planet • Save Your Stomach!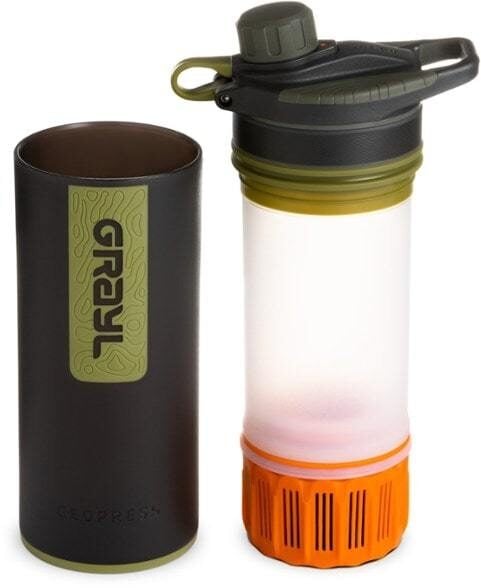 Drink water from ANYWHERE. The Grayl Geopress is the market's leading filtered water bottle protecting your tum from all the waterborne nasties. PLUS, you save money and the environment!
Single-use plastic bottles are a MASSIVE threat to marine life. Be a part of the solution and travel with a filter water bottle.
We've tested the Geopress rigorously from the icy heights of Pakistan to the tropical jungles of Cuba, and the results are in: it WORKS. Buy a Geopress: it's the last water bottle you'll ever buy.
Buy a Geopress!
Read the Review
Huancayo – Where to Stay in Peru for Adventure
Peru really is just one big adventure destination – but we love Huancayo for the off-the-beaten-path feel! Surrounded by mountains, Huancayo has plenty of great hiking opportunities. It is also home to some of the best glacier tours in the country, as well as some horse riding opportunities.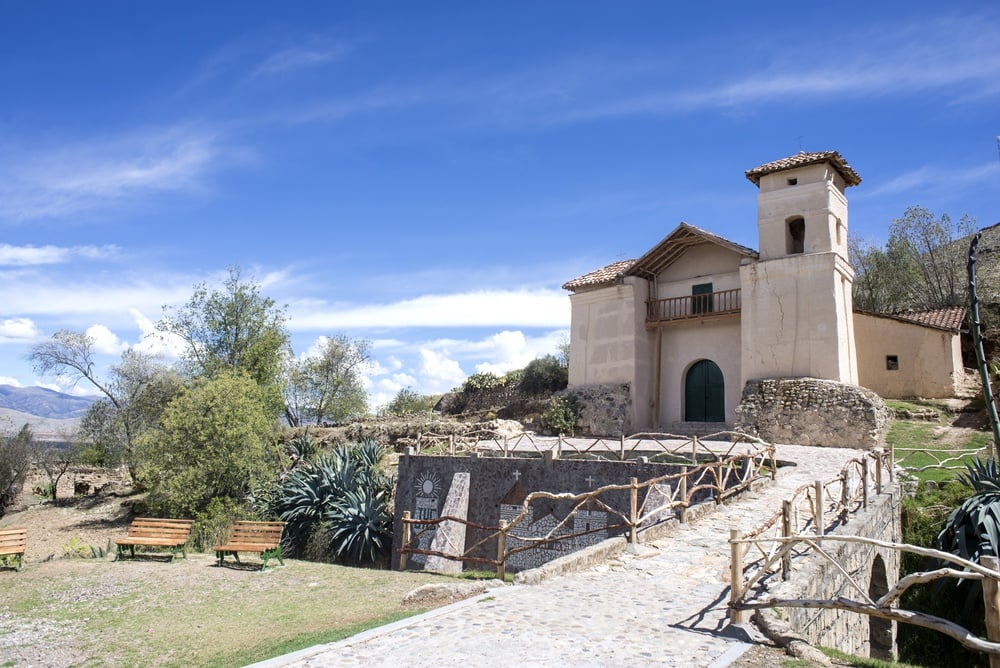 Huancayo holds claim as one of the oldest cities in the country. Formerly home to the Wanka Civilisation, the nearby Tunanmarca ruins house over 3000 buildings that are still well preserved to this day. As a relatively unknown destination, Huancayo is also inexpensive – making it a great option for the adventurous budget travellers backpacking through Peru.
Best Places To Stay in Huancayo
Huancayo is a small city, and staying in the city centre is great if you just need a base to explore from. If your focus is on the ruins, head closer to the Tunanmarca area. There are also some interesting villages on the outskirts with unique cultures of their own.
Mini-apartments are a popular way to save money in Peru. They are similar to studios, but the bedroom is almost always separate from the other spaces. This is one of the best rated in Huancayo – and the superhost that runs the property has years of experience.
If you want a few more frills added in, Hotel de Turismo is worth spending a little extra. It comes with modern furnishings and an excellent on-site restaurant. A complimentary buffet is provided every morning with plenty of Peruvian treats on offer.
Best Hotel for Backpackers in Huancayo: Hostal Orlak
Huancayo doesn't have any hostels, but this super-basic hotel is perfect if you just need somewhere cheap to lay your head at night. It comes with great reviews, so you can be sure you will enjoy a comfortable stay despite the great price. Their single rooms are popular with backpackers in the area – though they also have rooms that sleep up to four people.
Hostal Orlak is one of our favourites in Peru but they're not taking guests right now. We're not sure if they're closed for good but we hope they'll come back soon.
Cajamarca – Great Destination in Peru for Foodies
Back in North Peru, Cajamarca is another excellent destination for those looking for something more off-the-beaten-path! Whilst Lima is home to some great Peruvian restaurants, Cajamarca is well known across the country for its dairy – especially cheeses, which are often regarded as the best in Latin America.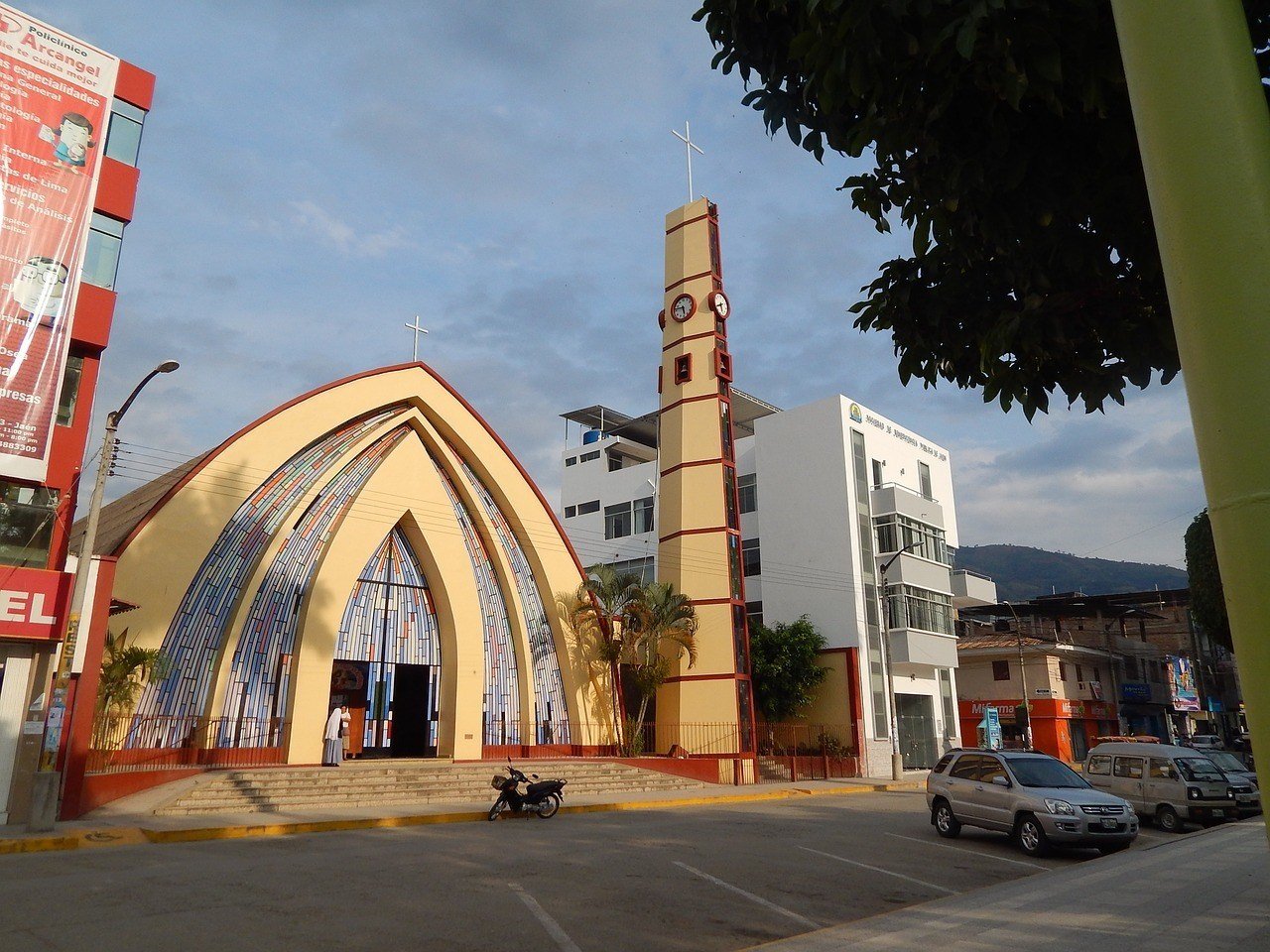 Foodies will also enjoy exploring the chocolate on offer in Cajamarca. The area is also known for its hot springs – though the best ones are just outside of the town itself. Nevertheless, there are some great tours out to these springs if you want to kick back and let someone else do the planning.
Best Places To Stay in Cajamarca
Cajamarca is a very small town, so most of it can be navigated on foot. It also sits at a very high altitude, so take extra precautions for your own health. Alcohol and caffeine are generally advised against when visiting a town this high.
Only a hop, skip and a jump away from Plaza de Armas, this AirBnB takes you right to the heart of the action in Cajamarca! It can sleep up to four people across two rooms – but the low costs mean it is also a good option for smaller groups. The highlight of this apartment is the spacious kitchen, which comes with everything you could possibly need for a short stay.
Cajamarca used to be somewhat off the beaten path – but it is now slowly becoming a major party destination in Peru! This hostel is a fantastic place to meet fellow travellers before heading out into the city. They have a huge bar and restaurant area, with regular events and deals on throughout the year.
Another great Wyndham option, this hotel is located right on Plaza de Armas – perfect for hitting the main party spots in the city. Their Costa del Sol chain is popular across the country with Peruvians and tourists alike. It comes with a swimming pool, as well as an extensive fitness suite.
Top Places To Stay in Peru
Peru is a large country with a huge variety in terms of accommodation! For apartments and hostels, we recommend sticking to the cities. Some of the accommodation in the more rural areas is basic, but they can also save you money.
Airbnb Plus properties are hand-selected by the website for their gorgeous design and excellent service! Lima and Cusco are the only cities in Peru with these apartments. This minimalist dream in the heart of Lima is our favourite. It is located in the main culinary district in the city, and the coast is only a short walk away.
As the seventh-best hostel in the world in 2020 (according to Hostelworld), this naturally had to take the top spot. With affordable rooms, great social facilities and a few added extras to sweeten the deal, it's easy to see why this hostel is so popular. Whether you want to dance, cook or learn about Cusco, they also have great activities throughout the week.
Lima is packed with great hotels – but with excellent views and outstanding guest reviews, this takes our top pick for accommodation in the country! Arequipa is a famously laid-back city, and this hotel perfectly epitomises that. The rooftop terrace lets you soak up the atmosphere – and the bar has an ambient vibe. All of the rooms are kitted out in traditional furnishings – and some even come with volcano views.
Books to Read While Traveling Peru
Below is a list of books set in Peru to read on the down days. Even the greatest adventures backpacking in South America need off-days:
The Lonely Planet, Peru – It is my belief that Lonely Planet has sold out over the years. However, their Peru guide does have some helpful practical information.
Inca Kola: A Traveller's Tale of Peru – Inca Kola is the funny, absorbing account of Matthew Parris's fourth trip to Peru. His bizarre holiday through Peru takes him among bandits, prostitutes, peasants and riots.
Turn Right At Machu Picchu: Rediscovering the Lost City One Step at a Time – This book is about what happens when one unadventurous adventure writer tries to recreate the original expedition to Machu Picchu by Hiram Bingham III. The writer has never even slept in a tent before.
The Peru Reader: History, Culture, Politics – The Peru Reader is a gut wrenching tale of the Spanish Inquisition andprovide travelers with a thorough introduction to the country's astonishing past and challenging present.

Our GREATEST Travel Secrets…
Pop your email here & get the original Broke Backpacker Bible for FREE.
Don't Forget Travel Insurance for Peru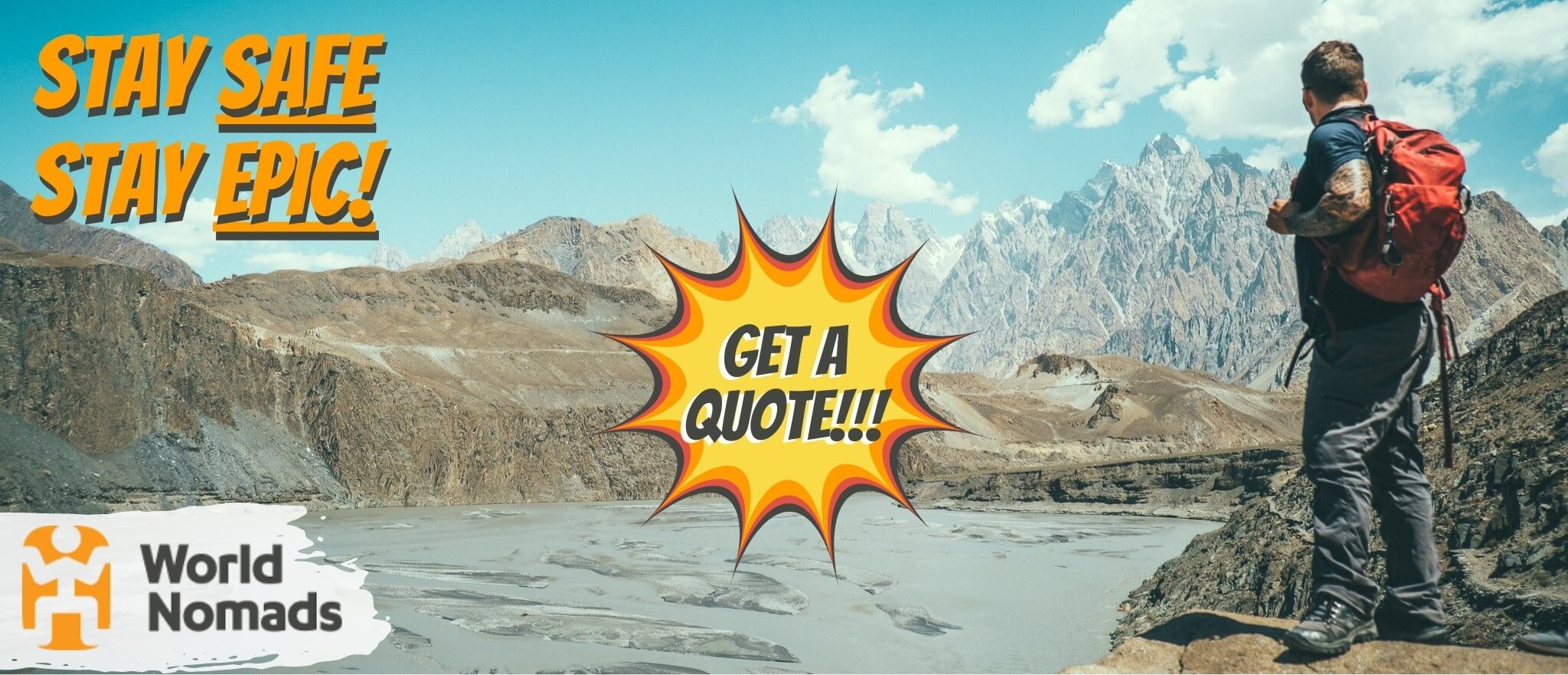 World Nomads' mission is to support and encourage travellers to explore their boundaries. They offer simple & flexible travel insurance, and safety advice to help you travel confidently.
They've been doing it since 2002 – protecting, connecting, and inspiring independent travellers just like you.
Get a quote below or read our in-depth review!
World Nomads provides travel insurance for travelers in over 100 countries. As an affiliate, we receive a fee when you get a quote from World Nomads using this link. We do not represent World Nomads. This is information only and not a recommendation to buy travel insurance.
Final Thoughts on Where To Stay in Peru
We don't like to play favourites when it comes to countries – but there's a good reason Peru is one of South America's biggest destinations! Alongside stunning UNESCO World Heritage Sites, it also has plenty of culinary highlights and world-class adventure activities. Eco-tourism is booming in Peru, giving visitors the chance to connect with nature.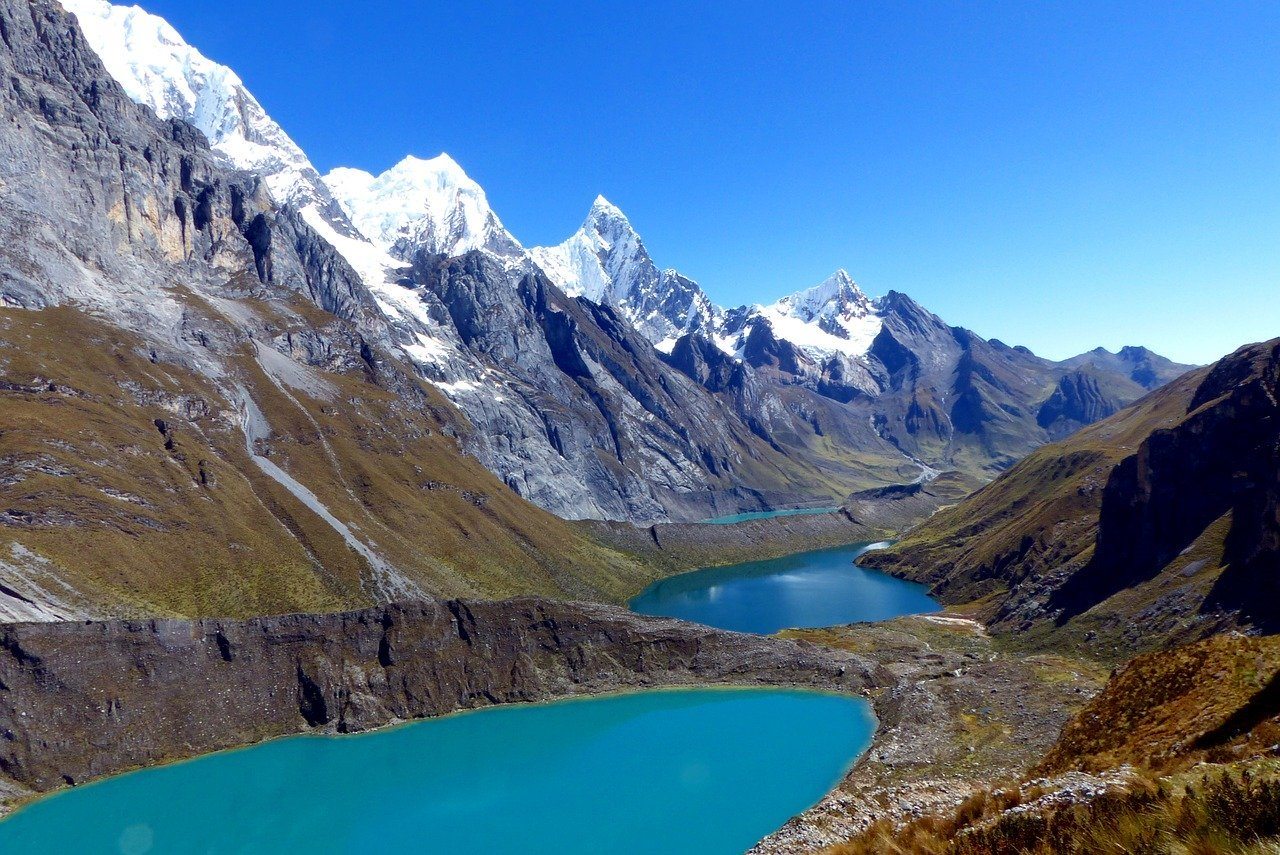 In terms of the best place to stay, our personal pick is Arequipa! Known as one of the more laid-back destinations in the country, it is well connected to the busier destinations and very budget-friendly. If you just want a good base from which to explore, you can't beat Arequipa.
That being said, your own preferences will influence where is the best for you overall. Peru is a diverse country with a lot to offer, so you're sure to find something to suit your own tastes.
Did we miss anything? Let us know in the comments!
---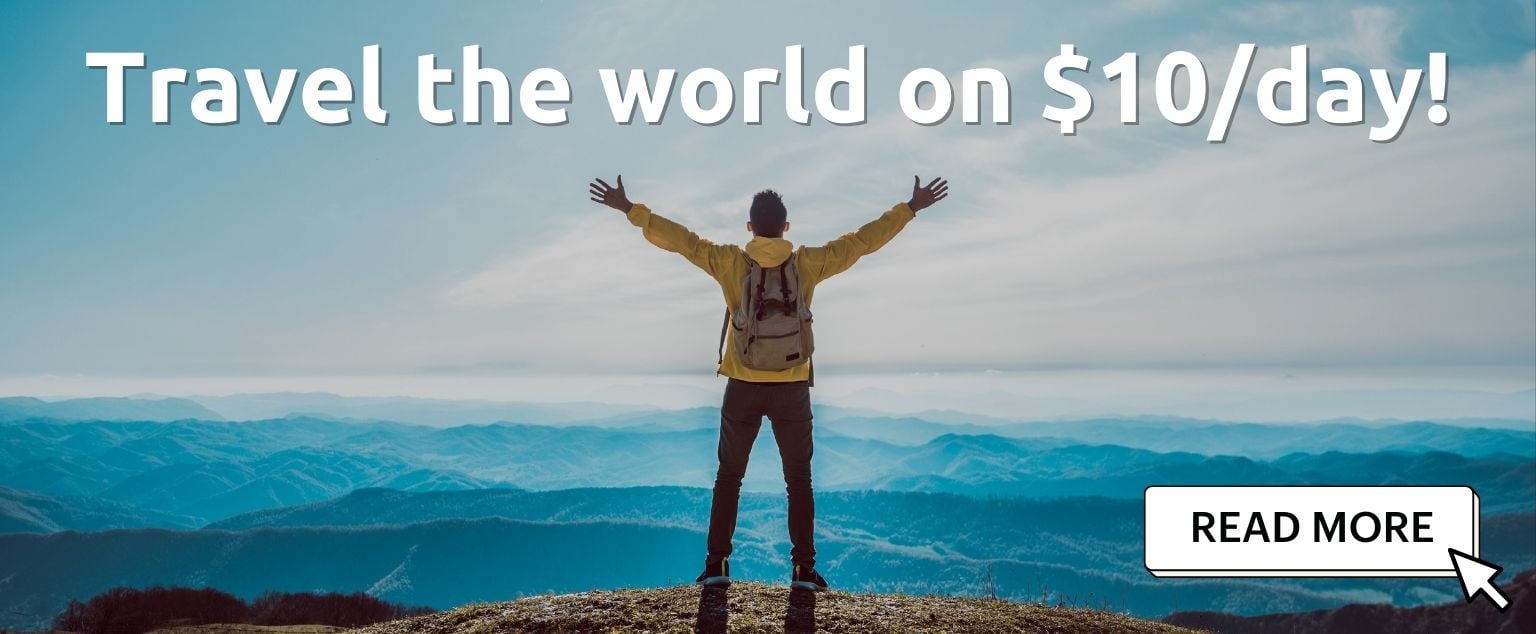 And for transparency's sake, please know that some of the links in our content are affiliate links. That means that if you book your accommodation, buy your gear, or sort your insurance through our link, we earn a small commission (at no extra cost to you). That said, we only link to the gear we trust and never recommend services we don't believe are up to scratch. Again, thank you!