Like a lost Peruvian puppy dribbling on the sidewalk, are you too searching for where to stay in Lima?
Then COME ON IN!
The exclusive Berlin station security wake up call has given me a new perspective on maintaining dignity on the road, hence I have collected a brilliant array of accommodations to prevent the same happening to you.
So whether you're looking for a luxury hotel with an outdoor swimming pool, complimentary breakfast and a hot tub, or something akin to a bench in Lima airport, I've got you covered. The Peruvian capital has a historic centre, a sweet stretch of Pacific Ocean, and nightlife that could leave even Elton John snoozing in a supermarket dumpster. A top place to be.
Let's see what a stay in Lima, Peru has to offer!
Backpacking through Peru and fancy a bit of Lima? Trust me to find you an awesome place? Then take a look at my top 3 picks in this brilliant Peruvian city!
One of the top luxury hotels in town, the Country Club Lima offers guests an outdoor pool, spacious rooms, and a world-class fitness centre. The English Bar is famous for its award-winning Pisco Sour, and the hotel's flagship restaurant, El Perroquet, is considered near the top of the Peruvian gastronomic food chain. If you are in for world-class service, this is where you will find it.
Stunning sea-view Peruvian duplex anyone? Seamless check-in plus doorman makes this terraced beauty a wondrous place to stay. Plus it's in one of the best neighbourhoods in town – Miraflores. Wi-Fi, smart TV, great kitchen, and room for up to four guests. If you want luxury, then this is your calling…
As one of the best hostels in Lima, this rooftop terrace and hot tub toting stay is sure to get you excited about your time in Peru. 2 minutes from the centre of Miraflores, and located in a really safe neighbourhood, there is a bar, and mediocre fitness facilities too. With friendly staff and 6-bed rooms, this hostel gets a big thumbs up!
Lima is big. As one of the largest cities in the Americas, it sprawls over a huge swathe land. To get around, jump on the Metropolitana, an extensive bus service with it's own lanes!
The Centro Historico is the cultural heart of the city. The entire district is a UNESCO Heritage Site and it's where you'll find all of Lima's old architecture: Plaza de Armas, Government Palace, Convent of San Francisco, and lots of colonial mansions.
Miraflores is the district most frequented by travelers, as it has the highest concentration of hostels and a range of hotel options. It's one of the safest areas in the city too! If you're backpacking through Lima, you'll want to head to Miraflores. It's the liveliest!
Barranco is Lima's bohemian district. This is where you'll find writers, musicians, poets, and playwrights hanging out, perfecting their craft over a cup of coffee. The nightlife scene is lively and there's always something going on.
San Isidro has 'swank', and is where Lima's elite reside. This neighborhood is home to the Lima golf club, some bougie cocktails, and high-end fashion. It's also home to two famous archaeological sites, Huaca Huallamarca and Huaca Santa Cruz. Definitely a top place to stay in Peru.
Pueblo Libre is a sleepy residential district with a much slower pace of life than Miraflores or the Historic Center. It still has its own charms, such as the former home of Simon Bolivar – the liberator of South America – which has been turned into the National Museum of Archaeology, Anthropology and History of Peru. This district is also home to the oldest tavern in Lima, the Taverna Quierolo.
Okay, let's get a little more comfortable with some of the best neighbourhoods that currently exist in the Peruvian capital. Places where even your mid-range hotel is instagrammable, and the best beaches in the country look comparatively unattractive…
#1 Miraflores – Where to Stay in Lima for the First Time
Miraflores is the traveller hub of Lima. That's why it's our recommendation for where to stay in Lima for the first time. It's one of the safest areas in the city as it's a more upscale district.
Miraflores is famous for its location right on the coast. There are plenty of restaurants both trendy and inexpensive, street-side cafes serving great coffee with a side of people watching, and shopping. This is where you'll find the highest concentration of hostels in the city.
There's also a massive park called Parque Kennedy aka Cat Park as its famous for its feline inhabitants. It's a popular place where people congregate as it's surrounded by restaurants, bars, hostels, coffee shops, and a movie theater.
Dropping you right into the mixer, we have this super cute bed and breakfast. Only 5 minutes walk from playa Redondo and Larcomar, this hotel comes with a delicious breakfast, and is perceived as much more reliable than various flaky accommodations. If you want something that won't break the bank, but will put you exactly where you want to be, this is it!
As we've counted it as the best Airbnb in the city, using a little set theory, it must also be the best Airbnb in Miraflores, right? Seaviews, top-tier location, and some serious bohemian vibes make this a fantastic place to stay. While sadly there is no outdoor pool, there is a flat-screen TV, a kitchen, fast wifi, and a doorman!
Selina is our favourite place to stay in Lima as a whole, and they've earned that position by having a big, beautiful space and outfitting it with comfy yet economical dorms and private rooms. But that's not nearly all Selina has to offer!
Selina hosts frequent tours and events. If you stay there, you can use their yoga room or cinema. And you can even opt to stay in a full apartment if you decide you're not leaving for a while!
The Pariwana Hostel is one of our other favorite hostels in Lima. They have everything a traveler could need. The location is within walking distance of the coast and all the best things to do in Miraflores.
In addition to all the freebies, they also have a restaurant onsite serving up the best Peruvian dishes as well as a funky bar with daily happy hours. You'll be ready to come back before you even leave! This is defintely where to stay in Miraflores Lima for backpackers.
Top things to do in Miraflores
Join an epic surf adventure, the top way to take advantage of Lima's seaside location.
Take in the ocean views while strolling along the Boardwalk.
Steal a kiss at the Parque del Amor (Park of Love). Just make sure you know them first (that would be ideal).
Shop til you drop at Larcomar – an open-air shopping mall built into the cliff overlooking the sea.
Put yourself out there and join a small group walking tour, with a pisco sour tasting element! Nothing better than a tour when everyone is a little buzzed.
Watch the paragliders flying around over the Malecon and join them if you dare.
Grab a board and ride some waves at one of two surfing-friendly beaches, Makaha beach and Waikiki beach.
Visit the ancient pyramid at Huaca Pucllana, the only remaining pre-Inca ruins,
Impress your friends and family with your gifts of amazing souvenirs from the artisan markets.
Eat to your heart's content at the numerous restaurants on offer – Peruvian food is truly the best.
Get some culture by attending a play or art opening at The Centro Cultural PUCP.
Visit a museum! There's The Place of Memory, Tolerance, and Social Inclusion, the Ricardo Palma Museum, and the Amano Pre-Columbian Textile Museum.
Explore the area on two wheels as a solo adventure or with a bicycle tour.
Put on your dancing shoes, grab a cocktail, and party til the sun comes up.
Taste the delicious, Peruvian craft beers on tap at BarBarian Brewery and Lupulo.
#2 Centro Historico – Where to stay in Lima on a Budget
This is right at the heart of the city's historic core and it's where you'll find the more important places in Peru. The most famous places are the Plaza de Armas, Government Palace, Convent of San Francisco, and various mansions from colonial times.
Thanks to these historical landmarks, the center of Lima is a UNESCO World Heritage Site.
If you're a history buff then this is the area of town for you. It's also our recommendation for where to stay in Lima on a budget as the accommodation options are less than other areas of the city.
There are also cheap restaurants serving lunchtime menus for travellers on a budget. The restaurants nextdoor in China town have Peruvian-Chinese buffets that are so large, you won't need to eat again for the rest of the day.
Note: It's important to note that this isn't the safest area of Lima. At night, it's best to stick to the main square and the streets immediately surrounding it.
Ooh, swimming pool, fitness centre, and more importantly, snacks paired with craft beers. With two restaurants, fantastic skyline views, and a top location in the city centre you can really get your culture in staying here. There is a top buffet breakfast, and the Pisco sours are class.
How about an apartment in the very very centre of the action? Located in a beautiful colonial building in the main Lima square, this apartment has room for 4 guests, a kitchen and a great living space. The location is by far the best feature of this apartment, so get out and use it (of course, the apartment is cool too).
Another top hostel in Lima, the 1900's Backpacker hostel cultures a super friendly atmosphere, and works hard to provide activities that are great for making buds. Surfing, yoga, and free walking tours are all on the cards! I'm sure you're uninterested, but they have a bar too.
Top things to do in the Centro Historico
Admire the historical architecture surrounding the Plaza de Armas (Plaza Mayor).
Join a free walking tour and explore all the sites while learning about the history.
Watch the changing of the guard at the Government Palace where the president lives.
Visit the San Francisco Monastery to take the tour of the Catacombs where the remains of 25,000 human skeletons are arranged in an artistic fashion.
Take photos of the baroque-style architecture and gilded alters at these historic churches and convents: Cathedral Basilica of Lima, Basilica and Convent of Santo Domingo, Archbishop's Palace of Lima, Basilica and Convent of Nuestra Senora de la Merced.
See how the fabulous people lived by checking out the numerous mansions or casas: Casa Aliaga, Casa de Osambela, Casa de la Riva
Indulge your inquisitive side by taking a guided tour of the historic centre's coolest attractions!
Learn about torture devices at the Museum of the Inquisition.
Delight your tastebuds in Chinatown by trying Chifa – a combination of Chinese and Peruvian food – a favorite cuisine amongst locals.
Pull up a bench and people watch at Plaza San Martin.
Learn the history of Peru's delicious cuisine at the Museum of Peruvian Gastronomy.
#3 Barranco – The Coolest 'Hood and Best Nightlife
Barranco is by far the coolest place to stay in Lima. It's also our top choice for where to stay in Lima for the nightlife.
From the early 1900's to the 1960's, Barranco was the hangout for Lima's artists, musicians, poets, and writers and that bohemian vibe can still be felt today.
Just wandering the streets of Barranco delights all the senses with the street art murals, incredible restaurants, cozy cafes, and plenty of live music.
Aside from the nightlife, Barranco is a great place for an afternoon stroll. The district is centered around the central square and it's a great place to watch artists and creative-types hard at work on their craft. Once you've had your fill, follow the Bajada de los Banos to the beach below.
This is our top recommended hotel for where to stay in Lima. The newly renovated Casa Republica Barranco is the kind of place that keep guests returning again and again.
Set in a 1920s mansion, they offer private rooms with a desk and free WiFi. There's a delicious buffet breakfast and the staff will make you feel more than welcome for the duration of your stay.
Decorated by Peruvian artist Ale Grau, with a touch of modern art and spectacular photos of my favorite places in Peru. The apartment has everything you need for a very comfortable and safe stay in Lima. From a large terrace, a delicious bed, Spanish shower, air conditioning, speed internet, and smart TV, to a perfectly equipped kitchen for culinary art lovers! The apartment also has smoke and monoxide detectors.
Bohemian vibes on tap? Try this 1914 gem-turned-hostel! With a gorgeous breakfast, a top Barranco location and free Wifi, it is hard to go wrong with a stay here. There is an on-site bar/restaurant/ cafe, but you can just wonder into town if you fancy something different. Laundry service gets a top rating too!
Top things to do in Barranco
Head to the Plaza de Armas in the center of Barranco and watch artists painting, writers writing, musicians busking, and friends hanging out.
Try to hold your breath while you cross the Bridge of Sighs (Puente de los Suspiros).
Join one of the many walking tours and learn the history and the stories behind some of the street murals.
Try the Lima ultimate Peruvian food tour, a brilliant opportunity to get in touch with local cuisine and people!
Enjoy a slow-brew coffee and slice of white chocolate & passion fruit mousse pie at Tostaduria Bisetti.
Sip on the delicious beers at Barranco Beer Co.
Wander down the Bajada do los Banos towards the beach stopping at the bars and cafes along the way.
Get yourself pumped by going sandboarding! The best way to enjoy the desert…
Take in the personal collection of Mario Testino at his museum – the most accomplished fashion photographer in South America.
Enjoy a delightfully healthy farm-to-table meal at Las Vecinas.
Grab a tasty cocktail in one of the many colonial mansions turned into a boutique bar. Ayahuasca is a personal favorite and comes highly recommended by locals.
Admire the impressive collection at the Museum of Contemporary Art.
#4 Pueblo Libre/San Isidro – Where to stay in Lima with Family
These two districts are where to stay in Lima with a family as they are both very quiet and safe.
San Isidro is just north of Miraflores. It's a very upscale district where most of Lima's elite reside. There are plenty of upscale shopping malls, restaurants, golf clubs, and tennis courts.
Posh travelers will feel right at home amongst the classy cocktail bars serving classic Pisco cocktails and boutique clothing shops selling threads you can't find anywhere else.
San Isidro also boasts some lovely parks, such as Bosque del Olivar and two archaeological sites, Huaca Huallamarca and Huaca Santa Cruz.
Pueblo Libre is a relaxed residential district that is just as safe and quiet as San Isidro, but without the expensive price tag. Simon Bolivar, the man who liberated much of South America, lived in Pueblo Libreand.
His colonial mansion is now home to the National Museum of Archaeology, Anthropology and History of Peru. Pueblo Libre is also home to the Larco Museum which is famous for its erotic pottery exhibition representing every sex act you can imagine.
The colonia houses the most parks in the city. It has a much slower pace of life compared to Miraflores or Centro. It's perfect for those looking to relax and take in the sights and sounds.
Best Hotel in San Isidro: Aku Hotels
Aku Hotels provide spacious, comfortable rooms at a reasonable rate considering the price of most other hotels around it. The value is great as a buffet breakfast is also included in the room price.
They have a terrace perfect for relaxing after a long day of sightseeing. Plus, they have a fitness center where you can work off all that amazing Peruvian food!
3 bedrooms, 5 beds, 1.5 baths. What more could you want? Ah yes, a hydromassage shower and for Mr. Fernando to water the garden three times a week. All this and more at this brilliant San Isidro property. There is a fantastic living area, comfortable beds, and free Wi-Fi.
This a slightly smaller hostel, which is great for getting to know people! Good vibes, foosball and free breakfast produces a lot of very happy youngsters. Don't fall in love with it, because people tend to do that when they're travelling, and and then they get sad when they have to return to being an accountant/bar staff/management lackey. Enjoy!
Top things to do in Pueblo Libre and San Isidro
Sip on a cocktail and chow down a delicious pork belly sandwich at the historic Antigua Taberna Queirolo – a tavern built in 1880.
Try not to giggle like a middle school student when you visit the erotic pottery exhibition at the Larco Museum.
Embark on one of the best day trips of your life to the Huacachina Oasis, accompanied by sand-buggying, sand boarding, and a trip to the mini-Galapagos!
Browse the impressive collection at the National Museum of Archaeology, Anthropology and History of Peru – the oldest museum in Peru.
Stroll amongst the multitude of olive trees that grew from only 3 saplings brought over by the Spanish in Forest el Olivar.
head to the port, and then out on Sea lion excursion to the Palomino Islands
Enjoy a traditional Peruvian meal in an old, beautifully restored manor house at El Bolivariano.
Admire the Cruz del Viejero (cross) placed by Franciscan monks in 1672.
Spend an afternoon in Surquillo District playing in the Ghost Train Park – a playground made of recycled materials in the ruins of an abandoned project for an electric train/
Marvel at the interactive exhibitions plus learn something new about time travel, evolution, and the human body at the Parque de la Imaginacion.
Visit the zoo and botanical gardens inside Parque de las Leyendas.
ALWAYS sort out your backpacker insurance before your trip. There's plenty to choose from in that department, but a good place to start is Safety Wing.
They offer month-to-month payments, no lock-in contracts, and require absolutely no itineraries: that's the exact kind of insurance long-term travellers and digital nomads need.
SafetyWing is cheap, easy, and admin-free: just sign up lickety-split so you can get back to it!
Click the button below to learn more about SafetyWing's setup or read our insider review for the full tasty scoop.
Here's what people usually ask us about the areas of Lima and where to stay.
Lima can be overwhelming. This is a massive city and it's not easy to get around, but with the help of this guide, it doesn't have to be difficult to figure out where to stay in Lima.
To reduce travel time and save a few extra travel-bucks, use this guide to help you pick the neighborhood that best suits your travel needs. Should you need more inspiration, here are 10 cool things to do in Lima!
Just to recap, our top hostel recommendation is Pariwana Hostel Lima due to their delicious free breakfast, clean dorms and private rooms, a bar with a daily happy hour, free lockers, and an incredible staff.
If you've spent some time in Lima and are wanting to explore the surrounding areas, there are some stunning eco-lodges in Peru that offer a unique stay close to nature.
Have you been to Lima and think we missed something? Let us know in the comments below! Cheers!
If you want to be fully prepared for your trip, make sure you check on the safety in Peru too. Avoid unneccessary troubles and you'll have a blast!
Do you own an awesome hostel, hotel or apartment? Want to be featured in our list? Email [email protected] to find out how.
---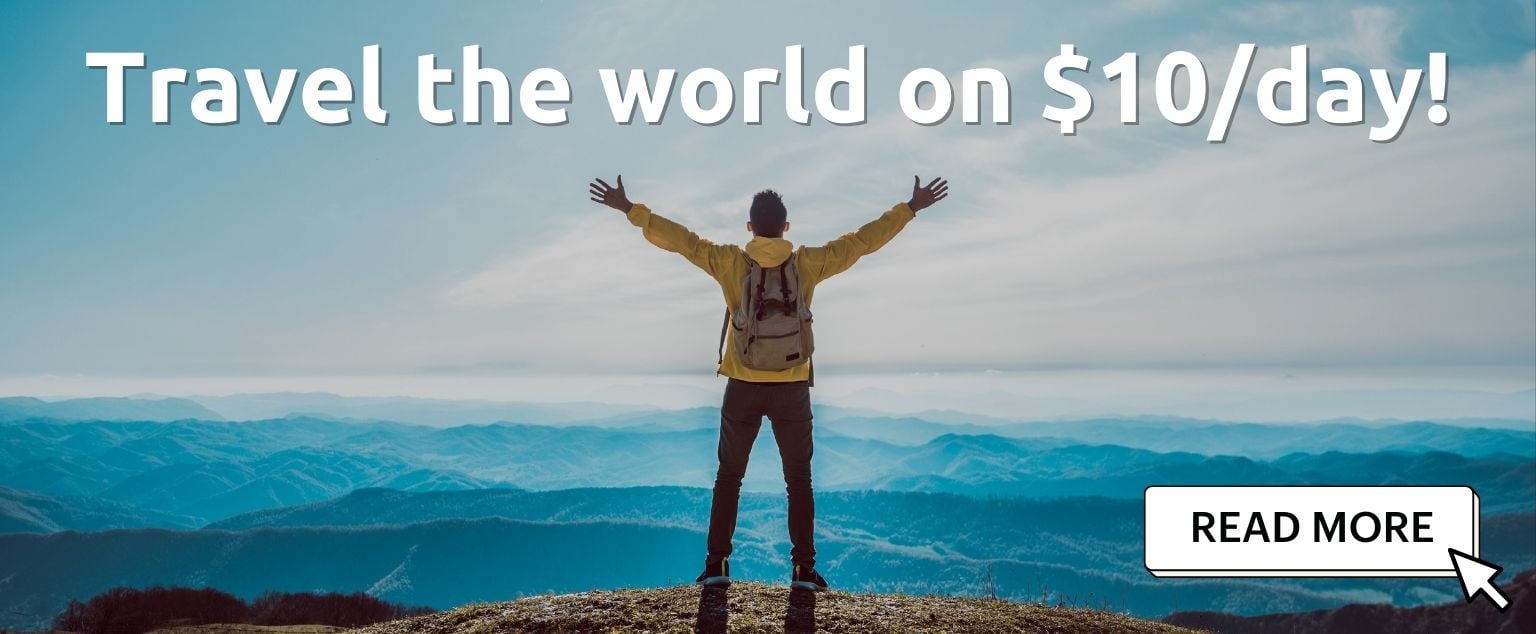 And for transparency's sake, please know that some of the links in our content are affiliate links. That means that if you book your accommodation, buy your gear, or sort your insurance through our link, we earn a small commission (at no extra cost to you). That said, we only link to the gear we trust and never recommend services we don't believe are up to scratch. Again, thank you!