For travellers to South America, Peru offers some of the most exciting and diverse experiences. Many come to the Andean country to see the ancient city of Machu Picchu and explore the Inca sites of the Sacred Valley. There's also the Amazon rainforest, which can be accessed from Iquitos and Puerto Maldonado, while the highest navigable lake on earth, Titicaca, sits in the southwest corner.
All of these attractions make for exciting aspects to a trip, but there's more! Peru has a 1,500-mile coastline so it makes sense that you'll find some awesome beaches too! Whether you want to hang at the beach as a break between exploring ruins, or just want to spend time surfing, swimming, and chilling out, it's definitely worth taking a trip to the best beaches in Peru.
In this post, we'll look at a few of the Peru beaches that are worth a visit. We've covered a wide range of travel tastes; some beaches will suit wild party-goers and others will be ideal for the more introverted types. Let's take a closer look at 7 of the most impressive beaches in Peru!

Unlock Our GREATEST Travel Secrets!
Sign up for our newsletter and get the best travel tips delivered right to your inbox.
When To Go to Beaches in Peru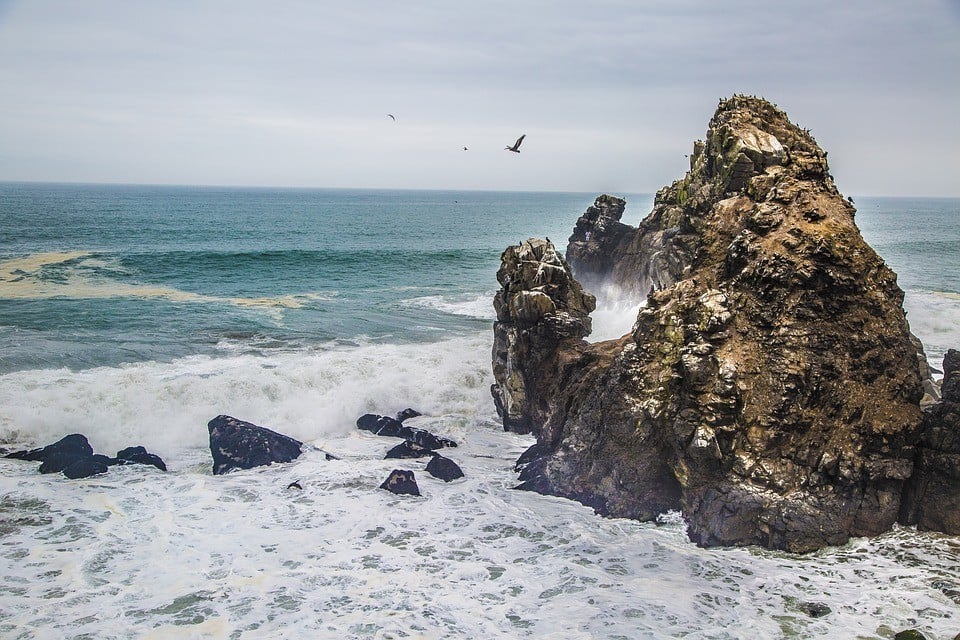 Since Peru is so big, it's not easy to nail down the best time to visit its beaches. That's because all the beaches on our list are dotted along the country's extended coastline. However, we can still give a basic guide on when to go to Peru – and since it's almost always sunny, there's never really a bad time to visit.
The sea is mostly cold, except for the beaches in the far north of the country, where the El Niño equatorial currents warm the waters. The beaches here are the best beaches in Peru for swimming, and December to March is when the water will be at its warmest.
Further down the coast, the water gets colder. The beaches close to Lima are also good from December to March. Pretty much at any point during the rest of the year, the sea will be too cold to swim in, and you'll be lucky if the sun comes out during these times!
Most Popular Beach in Peru | Miraflores Beach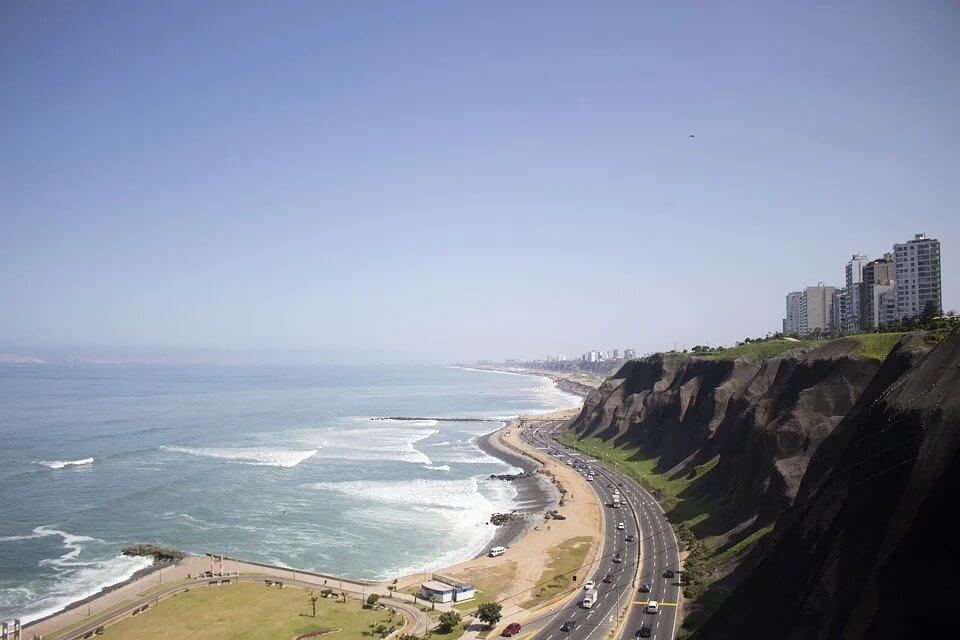 Who It's For: Beach bums who want to stay in and around the capital, Lima. Enjoy the delights of the city while having the option of surfing and paragliding.
Don't Miss: The amazing culinary scene in Lima's Miraflores District.
While it might not be the prettiest beach in Peru, its location in the capital ensures that it's one of the most popular. Miraflores is one of the most exclusive districts in Lima, and its a hit with backpackers in Peru. As a result, its beach has plenty surrounding it to keep you entertained. It's not all about what's nearby the beach though; why not take a surfing lesson or go out paragliding in the Pacific Ocean? This beach can get quite cold, so you might need a wetsuit if you're going in!
This comfortable house in Bohemian Barranco can accomodate up to 5 guests. It's great for groups of friends who need space for their surfboards!
Keep your costs down with this hostel right in the centre of Miraflores. Daily activities make it easy to meet other travellers and find people to hit the beach with!
Ten minutes from Lacromar and five from Parque Kennedy, El Carmelo is a stylish budget hotel that won't break the bank. You'll even get complimentary breakfast
If you're willing to splash out in Miraflores, this is the sort of beautiful apartment you can expect. Choose between cooking in the kitchen or enjoying one of the nearby restaurants.
Larcomar
One of the coolest spots in Miraflores, this open-air mall has several great places to eat with sea views. There are a few western shops, too. [image credit]

Huaca Pucllana
You don't need to go to Machu Picchu to see epic ruins in Peru. This pre-Inca temple is the most popular archaeological site in the capital.
Parque Kennedy
Set back from the beach, this park is home to more than 100 cats, which are protected thanks to an initiative from Lima's council.
Go Biking and explore Peru
One of the most popular ways to see Miraflores and Barranco is by bike, so grab one and take a tour of the coolest spots with a local.
Learn to Surf
Never had a go at surfing before? Change that with an awesome beginner lesson with a patient and professional Peruvian instructor.
Learn How to Make Ceviche
No matter which restaurant you go to in Peru, you'll see ceviche on the menu. Learn to make it yourself in a home in th
Best Beach in Peru For Swimming | Punta Sal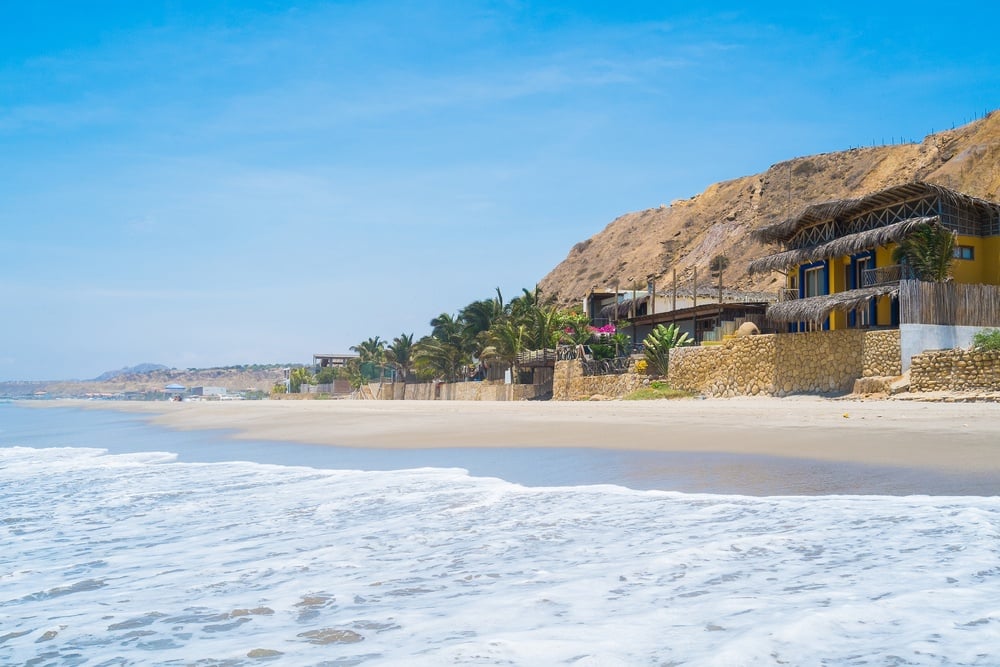 Who It's For: Exhausted travellers who have just crossed over from Ecuador will welcome the palm-fringed paradise beach of Punta Sal.
Don't Miss: Spending the whole day in the calm, warm waters of Punta Sal before enjoying a seafood dinner under the stars.
Not only is this beach great for swimming thanks to the calm waters, but it's also heated by the El Niño current, making it one of the best beaches in Peru. Once you're done with your dip, what a gorgeous beach you have to explore! The sand is warm and soft on your feet and with a 6.5 km stretch of beach, Punta Sal is the longest beach in the country. So if you're looking to find some space for yourself, it shouldn't be too hard to do here!
This shared room in a local cottage will have you experiencing a slice of true Peruvian beach life. Your friendly host family will help you find the best things to see and do in the area.
This guesthouse offers a budget hut for the night. If for some bizarre reason, you can't be bothered to head to the beach, there's a swimming pool on-site too.
With views overlooking the Pacific Ocean, Hotel Smiling Crab has a restaurant that serves delicious Peruvian dishes, as well as some international ones. There's a kids pool, so it's great for families.
Stay in a bungalow near the beach to enjoy the slow pace of life that Punta Sal offers. An excellent spot for rest and meditation away from everything!
La Pirámide del Mar
Enjoy some delicious home-cooked seafood at this beachfront restaurant. You won't find ceviche as fresh as this! [image link]
National Parks and Reserves
There are two areas nearby where you can hike and see wildlife – the Reserva Nacional de Tumbes and Parque Nacional Cerros de Amotape.
Learn How to Cook Peruvian Food
Head to nearby Mancora where you can learn how to cook Peruvian food at this culinary class with a local.
Small Pack Problems? 😉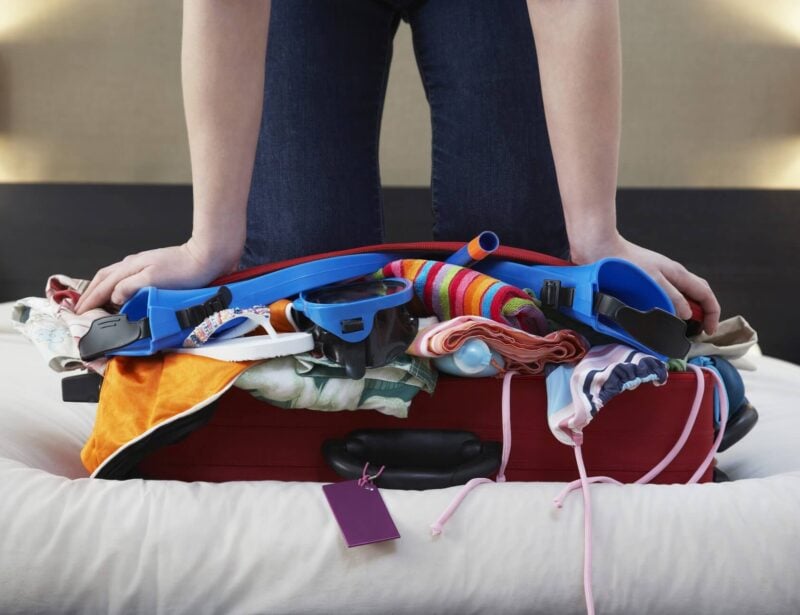 My missus travels with all her clothes in ziplock bags: don't be like my missus. UP YOUR PACKING GAME!
Packing cubes for the globetrotters and compression sacks for the real adventurers – these babies are a traveller's best kept secret. They organise yo' packing and minimise its volume too so you can pack MORE.
Or, y'know… you can stick to ziplock bags.
View Our Fave Cubes
Or Check Out the Sacks!
Most Beautiful Beach in Peru | Huacachina Oasis
Who It's For: Party goers will love the electric atmosphere around this stunning natural oasis.
Don't Miss: Smashing through the dunes on an all-terrain vehicle before stopping off for a spot of sandboarding.
One of the most stunning natural sites in Peru, Huacachina is a must on travellers' itineraries. The area around the oasis is full of bars and it's also where you'll find the best party hostels in Huacachina. Not interested in drinking and dancing the night away? Well, it's still well worth a visit. In the surrounding dunes, you can enjoy dune buggy rides, sand-boarding, and counting the stars during the night. It's just 5km from the town of Ica, so if you can't find accommodation here, don't worry too much!
Though it's not in the immediate surroundings of Huacachina Oasis, it's very close. This private B & B offers a swimming pool and is also a great place to explore the town of Ica.
You've got your pick of the party hostels when it comes to staying in Huacachina! Banana's Adventure is the highest rated – though don't assume you'll get too much sleep at any of them.
While you won't want to swim in the oasis itself, Hotel Curasi's pool is a lovely place to cool off after a day exploring the dunes. Couples who want a romantic stay will love this boutique hotel.
With a swim-up beach bar, this Airbnb offers a great chance to glamp in Huacachina. When you're not in the pool, chill out in a hammock and check out your social media on the free Wi-Fi.
Paddleboats on Huacachina Lake
While the waters of Huacachina oasis were once blue, they're not so sparkling now. While swimming is a no-no, it can still be nice to take a boat out on the lake.
Huacafuckingchina
While there are several restaurants and bars around Huacachina, this one's name makes you sit up and take notice more than any other! [image link]
Tacama Vineyard
Want to know more about the history of pisco and Peruvian wine? Check out the nearby Tacama – the oldest vineyard in South America!
Crash Through San Dunes
Crash through the dunes and try the most popular sport near Huacachina with a sand buggy and boarding experience.
Camp Out in the Desert
Want to count the stars after sampling a delicious Peruvian dinner? Forget hostels and hotels and camp out in the desert!
Enjoy a Day Trip
Not sure how to navigate Peru's public transport system? See Huacahina and Ica on this day trip from Lima.
Best Beach in Peru for surfing | Lobitos Beach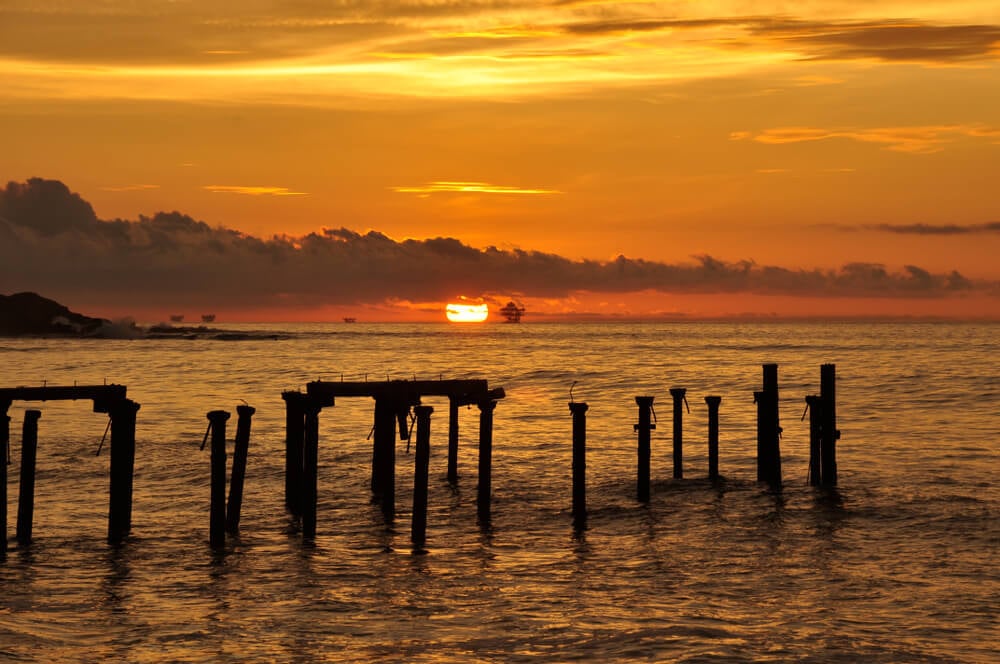 Who It's For: Surfers will love Lobitos Beach – no matter their level. The swell can be eight feet or higher!
Don't Miss: The abandoned Victorian mansions are an interesting insight into Lobitos' complex past.
Previously owned by a British oil company, Lobitos is lined with former expats' houses. It's also home to the first cinema in South America – in an area where Peruvians weren't actually allowed. The oil rigs off the coast are a reminder of the past but the oil company has since left and it's been colonised by surfers… who are a bit friendlier. Lobitos is one of the best beaches in Peru to catch waves, but learning about the local area's history is interesting too.
If you have the chance to stay in a treehouse, you're not going to pass that up. Right on the beachfront, there's a kitchen and a private bathroom for you to use at your leisure.
One of the few backpacker's hostels in El Lobitos, this is a great place to meet fellow surfers and travellers. When you're not at the beach, chill out in a hammock.
This beachfront bed and breakfast not only offers views of the sea, but a BBQ area too. If you're travelling Peru with their own transport you will be delighted with the free parking.
Looking for your very own private wooden cabin in Lobitos? You've just found it. There's no hot water – but you won't need it as this place gets extremely hot!
El Ancla Lobitos
Fill up on a good, cheap meal at the popular local hang El Ancla. [image link]
Lookout points
There are a number of points on the beach where you can look out to the old British oil rigs.
Learn to Cook Peruvian Food
Want to learn how to cook Peruvian food? Of course you do. Nearby in Mancora, you'll find this awesome cooking class. And it's pretty cheap, too.
Is This the Best Daypack EVER???
Another Great Beach for surfers in Peru | Huanchaco Beach
Who It's For: Seafood lovers can chow down on a plate of ceviche in the spot where it was first made (allegedly). It also has great waves for surfing making it one of the best beaches in Peru.
Don't Miss: Nearby site Chan Chan – the largest city made out of earth in pre-Columbian America.
The laidback beach town of Huanchaco is near to the third-largest city in Peru – Trujillo. Swap the city's fumes and noise for a chilled-out afternoon (which could easily turn into a fortnight) on this awesome beach in Peru. As well as surfing and being the birthplace of Peru's national dish, ceviche, there are some pretty awesome historical attractions on your doorstep. See signs of pre-Inca cultures at Chan Chan and the Huacas del Sol y La Luna – evidence of the Moche civilisation.
Groups of friends or family who are hitting Huanchaco to surf will love this convenient room with space for four guests.
A large, friendly hostel right by Huanchaco Beach. Start your day the right way with some sunrise yoga before catching some waves on your board.
Close to the main square, this budget hotel is a great base for your Huanchaco adventures. There's a terrace and a shared lounge where you can chill out.
This country house has space for up to 6 guests. Not only is it a comfy place to sleep, but the fully-equipped kitchen means you can keep your costs down.
Chan Chan
This incredible UNESCO World Heritage Site is one of the most impressive pre-Incan ruins left in Peru. It's best seen with a guide, who will tell you all about the civilisation that made this unusual but incredible citadel.
Restaurante Big Ben
Enjoy some delicious fusion food at Restaurante Big Ben. We recommend the ceviche!
Jungle Bar Bily
Head to the best bar on the beach for some beers and cocktails.  [image credit]
Learn To Surf
Enjoy some of the most incredible surf spots in Peru on this five-day surfing tour, starting in Huanchaco.
Tour from Trujillo
See all the pre-Incan sites surrounding Huanchaco – including Chan Chan and the Sun and Moon Temples.
Tour Around Trujillo
Visit the mansions and churches of Trujillo, the third-biggest city in Peru.
Quietest Beach in Peru | Paracas National Reserve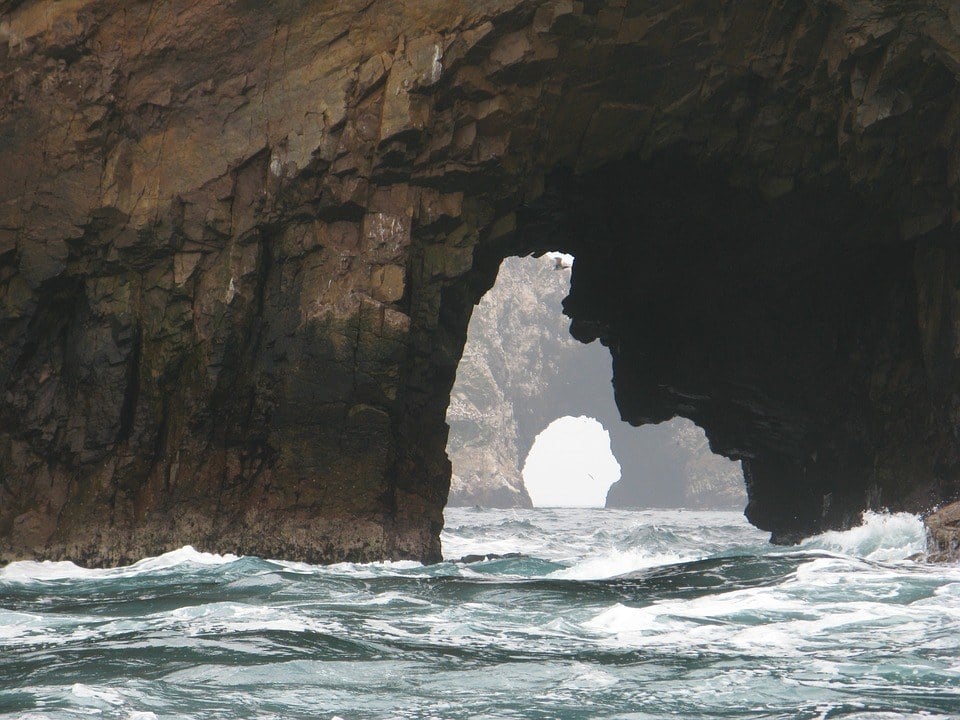 Who It's For: Anyone who is looking for their breath to be taken away by these stunning empty beaches.
Don't Miss: The Ballestas Island Bird Sanctuary. They're known as the "Poor Man's Galapagos".
Many of the beaches in Paracas are so quiet that they don't even have names. The most popular in the area is Playa Roja, which gets its name from the red sand on the shores. It's about 3.5 hours south of the travel hot spot of Lima, so it's doable as a day trip from there. Better yet, stay in nearby Ica or Huacachina and spend time getting to know the area and seeing the huge amount of marine life that lives here.
A private room in a local homestay is a great way to get an authentic experience when staying in Paracas. You've got a view of the garden too!
Use this friendly backpackers hostel as a base for your Paracas adventures. Meet fellow travellers and have a few beers or chill out in your own hammock with a good book.
Best Hotel near Paracas National Reserve – San Agustin Paracas
Get epic views of the sea from this hotel's outdoor swimming pool. A tasty buffet breakfast is included in your room rate!
Groups of family and friends travelling to Paracas will be delighted with this cottage which sleeps up to 10 guests!
Inti-Mar
Enjoy some of the best seafood on Peru's Pacific coast. It's a working scallop farm as well as a restaurant! [image credit]
Punta Arquillo
Get epic views of the Paracas Coast from the Punta Arquillo clifftop lookout.
Paracas Candelabra
You don't need to head to the Nazca lines to see geoglyphs. The mysterious Paracas Candelabra is thought to be older than Jesus Christ!
Ballestas Island Boat Tour
Take a boat tour out to Ballestas Island, where you'll find sea lions and penguins!

Take Kitesurfing Lesson
Take your first steps into kitesurfing with local instructors. This is one of the best spots in South America for it!
Go on Paracas National Reserve Private Tour
See where the mountains meet the sea and get off-the-beaten-track with this comprehensive tour of the Paracas National Reserve.
Best Party Beach in Peru | Máncora Beach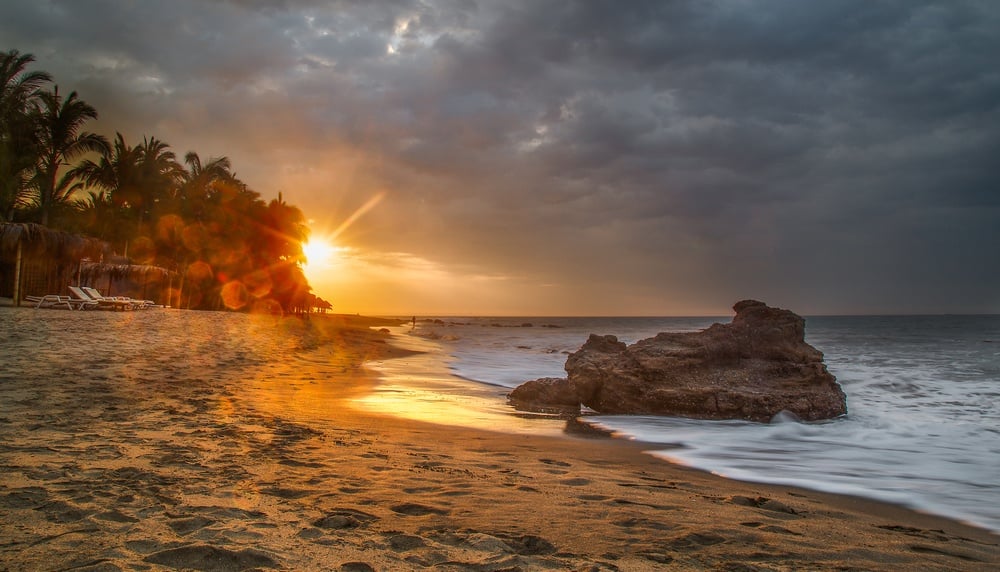 Who It's For: Solo travellers who want their first stop in Peru to be full of fun and frolics and Máncora's legendary party beaches!
Don't Miss: Loki. The beach bar hosts the biggest parties in Máncora, enjoyed by locals and tourists alike. It's a hostel too, but there are better options if you actually want to sleep.
Maybe it's just a release of energy after getting over the border from Ecuador, but Máncora is a real party town. And the best place for parties? Right on the beach. This part of Peru gets more sunny days than Arizona, so make sure to bring your suntan lotion and these other beach essentials. Despite the town having a small population, there are lots of restaurants, bars, and cafes where you can nurse your hangover.
Want to keep your costs down and have an authentic experience? Ditch the hostels and try a homestay. This one is welcoming and comfortable.
Famously known across Peru for their huge parties and sociable events, the Wild Rover is one of several party hostels in Máncora. There's a poolside bar that offers super cheap drinks… Irish style!
This cool boutique hotel is a little more upmarket than Máncora's party hostels. It's great for travellers who have had a stressful crossing from Ecuador and want to treat themselves.
Ecolodges are all the rage in Peru, and this is the best one in Máncora. Spread out in a king-sized bed or soak up the sun on your private terrace.
La Sirena d'Juan
Widely regarded as the best restaurant in Máncora, enjoy tasty seafood here or sip on one of the experimental cocktails whilst looking out over the sea. [image credit]
Mancora Lighthouse
This small red and white historical landmark is worth a trip just for the views out over the bay.
Plaza Máncora
Chill out here in the shade if the sun is a little too much for you on the sand. You'll meet the reptilian residents if you're lucky.
Learn to Cook Peruvian  Food
Learn to cook and cure your hangover at the same time with a delicious Peruvian cooking class.
Don't Forget Travel Insurance for Peru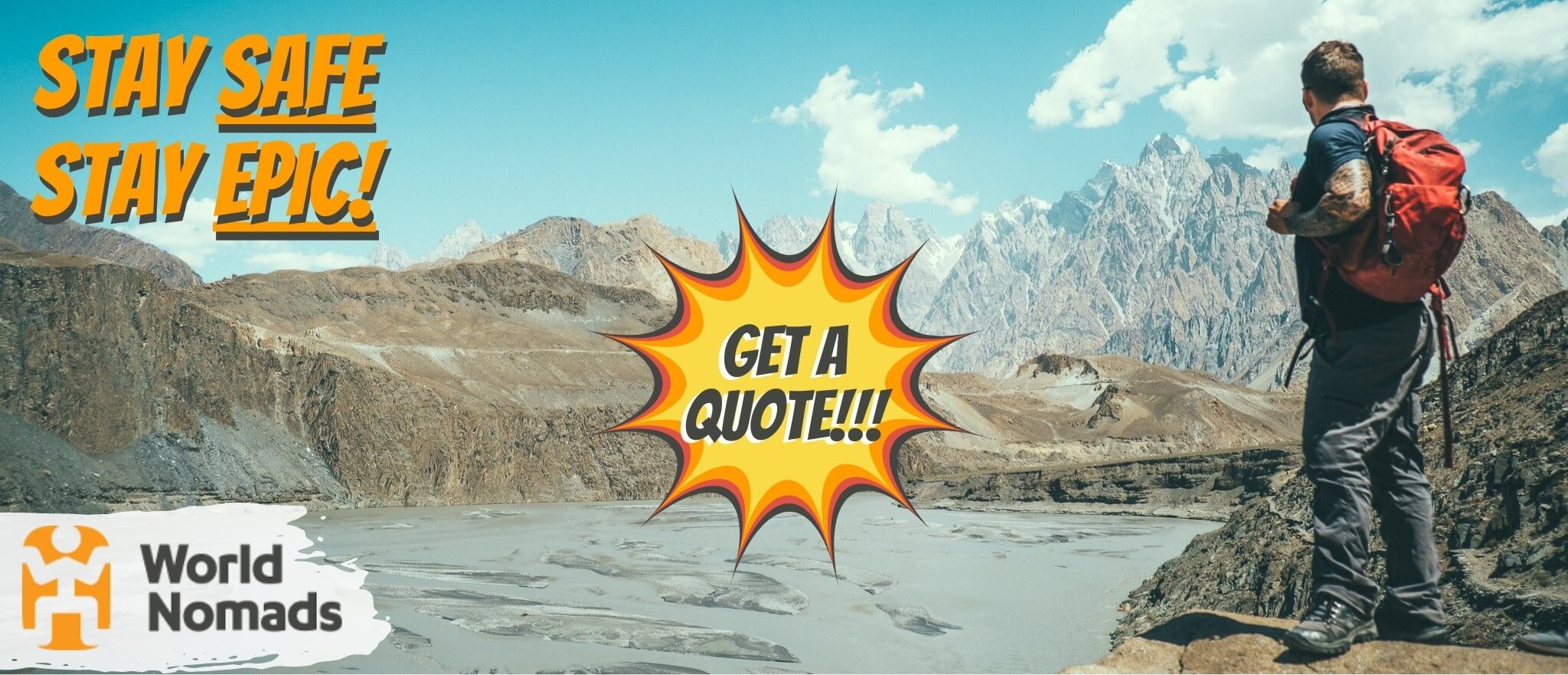 World Nomads' mission is to support and encourage travellers to explore their boundaries. They offer simple & flexible travel insurance, and safety advice to help you travel confidently.
They've been doing it since 2002 – protecting, connecting, and inspiring independent travellers just like you.
Get a quote below or read our in-depth review!
World Nomads provides travel insurance for travelers in over 100 countries. As an affiliate, we receive a fee when you get a quote from World Nomads using this link. We do not represent World Nomads. This is information only and not a recommendation to buy travel insurance.
Peru Packing List
Somewhere to hide your cash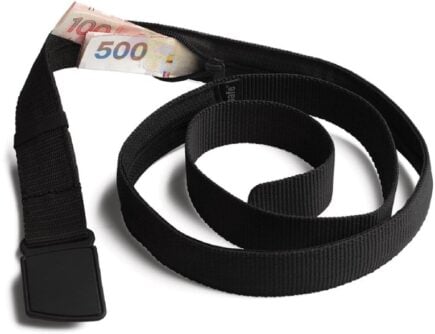 Somewhere to hide your cash
Travel Security Belt
This is a regular looking belt with a concealed pocket on the inside – you can hide up to twenty notes inside and wear it through airport scanners without it setting them off.
A travel water bottle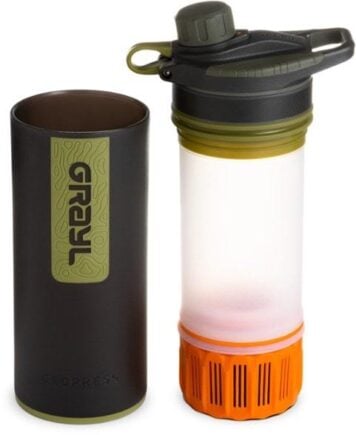 A travel water bottle
GRAYL Geopress Filtered Bottle
Having a filtered water bottle means you can drink from just about any source. The GRAYL Geopress is hands-down the most effective one we've ever used as well!
For those unexpected messes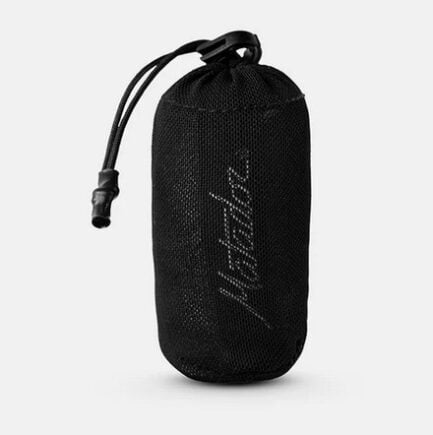 For those unexpected messes
Microfiber Towel
Hostel towels are scummy and take forever to dry. Microfibre towels dry quickly, are compact, lightweight, and can be used as a blanket or yoga mat if need be.
When the power goes out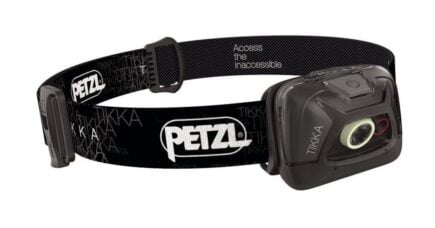 When the power goes out
Petzl Actik Core Headlamp
A decent head torch could save your life. If you want to explore caves, unlit temples, or simply find your way to the bathroom during a blackout, a headtorch is a must.
Sleep anywhere
Sleep anywhere
Camping Hammock
Taking a tent backpacking is not always practical but hammocks are lightweight, cheap, strong, sexy (chicks dig hammocks), and allow you to pitch up for the night pretty much anywhere.
To stay a clean backpacker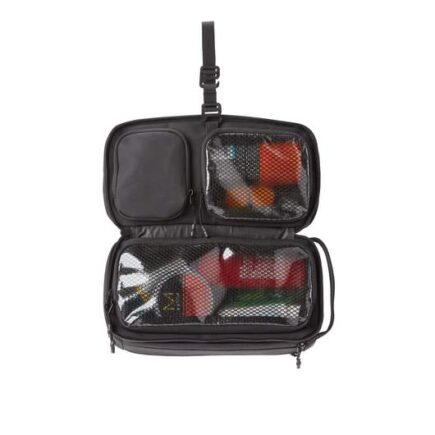 To stay a clean backpacker
Hanging Toiletry Bag
I always travel with a hanging toiletry bag as it's a super-efficient way to organize your bathroom stuff. Well worth having as it helps to have quick access to all your stuff.
Final Thoughts on the Best Beaches in Peru
Now that you've seen seven of the best beaches in Peru, you're probably drawing up your itinerary.
If you're planning to stay around the capital, then Miraflores Beach will allow you to mix city life with surfing whilst kicking back on the sand. Fancy getting off-the-beaten track? Paracas National Park and its wild coastline might be more up your alley. What's certain is that everyone should head to Huacachina once in their lifetimes – how many times are you going to get the chance to visit a genuine oasis!
When it comes to a vacation, Peru is one of the top destinations to visit in South America. And while you can enjoy surfing, swimming, and relaxing on the sand, make sure to plan plenty of time for both your beach adventures and cultural activities like exploring Cusco and the food scene of Lima. We hope you have an incredible trip to Peru!
---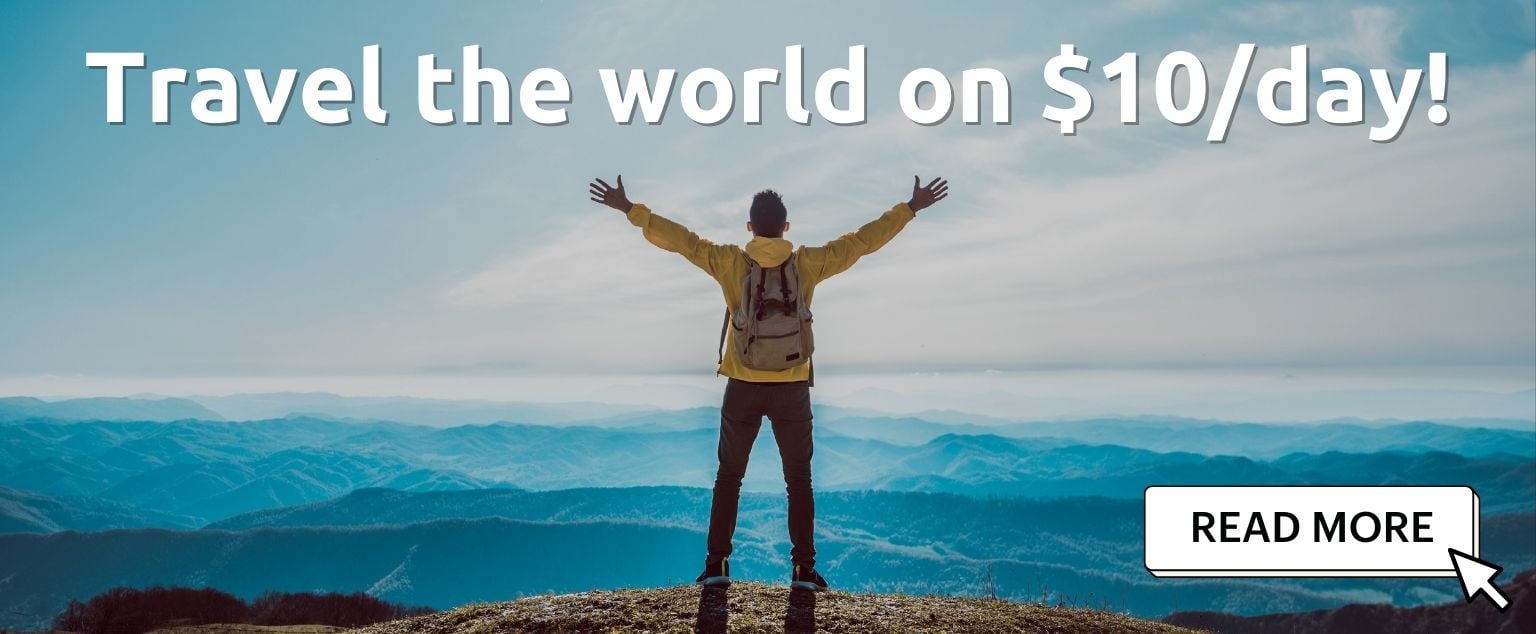 And for transparency's sake, please know that some of the links in our content are affiliate links. That means that if you book your accommodation, buy your gear, or sort your insurance through our link, we earn a small commission (at no extra cost to you). That said, we only link to the gear we trust and never recommend services we don't believe are up to scratch. Again, thank you!