In this Lima travel guide, I am going to cover everything you need to know about Backpacking Lima.
Often overlooked by travellers who jet straight for Machu Picchu, Lima is a vibrant city with plenty to see and do to warrant sticking around for a few days.
After all, nearly a third of Peru's population calls the capital city home. Obviously, there's something cool going on in this massive city of 10 million!
Lima is a sprawling city composed of 43 different districts. The metropolitan area of Lima stretches from north to south for about 80 km along the Pacific Ocean. It also stretches inland for 40 km to the Andes Mountains. Because of these natural borders, further expansion of the city is difficult.
Of course, there's always room to go up, and that's precisely what you'll see in this city that's constantly adding high-rises to its skyline.
There is indeed a lot of development going on in the 3rd largest city in the Americas, but the historic centre has been well-preserved. In fact, it even received UNESCO World Heritage status.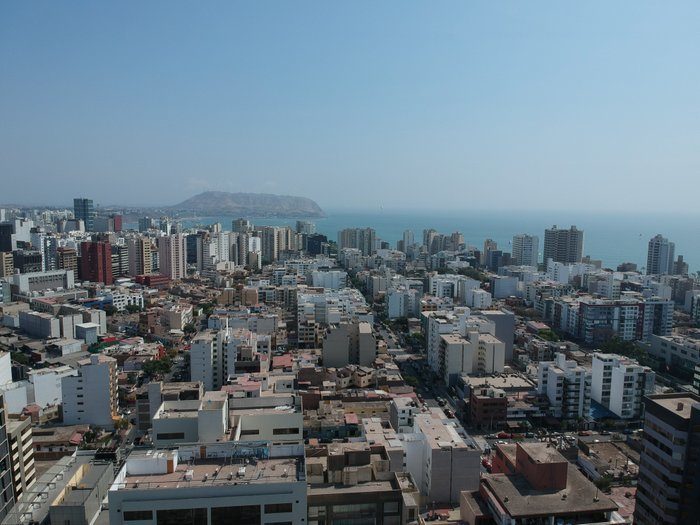 Known as the "City of Kings," Lima's historic centre was founded in 1535 by Spanish conqueror Francisco Pizarro. For many years, it reigned supreme as the most important city of the Spanish dominions in all of South America.
Exploring the plazas, admiring the architecture, and visiting the cultural institutions of this area is a major highlight of backpacking Lima.
It's not all old churches and museums in Lima, though. This is a city on the coast with tall cliffs and big waves, so a bit of paragliding and surfing is also in order here. Even if you're not into extreme sports, you can enjoy a leisurely stroll or bike ride along the city's gorgeous cliffside Malecon.
We can't talk about the capital of Peru without mentioning the mouth-watering Peruvian cuisine. From simple street vendors to world-class restaurants, there's something good to eat around every corner in Lima.
Your taste buds are in for a real treat when you sit down for a tasty plate of ceviche paired with a Pisco Sour.
If you're ready to make the most of your trip, read on for a massive Lima travel guide, full of tips on where to stay, the top things to do, money-saving tactics, and so much more.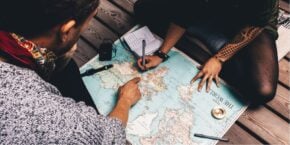 Heading Off-Grid? • Download This Guide as a PDF!
Sign up to The Broke Backpacker's EXCLUSIVE VIP AREA below and download our top backpacking guides as PDFs – go offline with peace of mind!
Lima is one of those cities that can either be great or horrible for your budget. It all depends on your tastes and where you stay. It's definitely a more budget-friendly destination than other South American capitals like Buenos Aires or Santiago.
Those looking to backpack Lima on the cheap can get by on a budget of as little as $25-30 a day. To do this, you'll need to score a super cheap dorm bed, stick to local joints for eating, cook for yourself, and focus mostly on the free/cheap activities in the city.
If you up that budget to around $50-60 a day, you'll be able to get a private room in a hostel or even a sweet place on Airbnb (assuming you have a friend or partner to split the cost).
This increased budget also allows you to do things like visit some museums, rent a bike for a few hours, and go out for a couple of drinks of at night.
Below, I breakdown the average daily costs in Lima, so you can see how far your money can go.
Lima Daily Costs
Dorm bed in a hostel: $8-12
Small basic room for two: $25-30
Airbnb in a private apartment: $35-45
Single ride on the Metropolitano Bus: $0.75
Airport Express Bus: $8
Larco Museum: $11
Catacombs Tour: $2
Local restaurant for lunch: $4-5
Cup of coffee: $1-2
Local beer in a bar: $2-3
Lima Budget Backpacking Tips
My wife often calls me a cheap-ass, but I prefer to think of myself as a budget-savvy traveller. I'm always looking for ways to get more bang for my buck, and I don't see anything wrong with that! Here are a few of my best tips for backpacking Lima on a budget.
Free breakfast and a kitchen: No matter where you are in the world, it's always nice to have free breakfast and/or a kitchen you can use. Eating out three times a day can really drain your budget!
Stick to public transport: While it's not great, public transportation in Lima is good enough to get to where you need to go. Riding the Metropolitano bus costs less than $1 and they have their own lane to avoid the worst traffic jams. Just steer clear of it during rush hours!
Find the menu del dia: Most local restaurants in Lima serve a menu del dia (menu of the day) where you get the main course, a soup, a drink, and usually even a dessert. It only costs $3-4 and will keep you full for hours.
Do free stuff: Walking on the Malecon, sitting in a park, searching for street art, checking out the colonial buildings in the city centre – none of these activities costs a single sole.
Pre-game hard: Whether it's at your hostel or a good Happy Hour, you'll definitely want to do some solid pre-gaming if you want to go out in Lima. Catch a buzz before you go out and you won't have to spend too much on drinks at the bar.
Why You Should Travel to Lima with a Water Bottle
Plastic washes up on even the most pristine beaches… so do your part and keep the Big Blue beautiful
You aren't going to save the world overnight, but you might as well be part of the solution and not the problem. When you travel to some of the world's most remote places, you come to realise the full extent of the plastic problem. And I hope you become more inspired to continue being a responsible traveller.
Plus, now you won't be buying overpriced bottles of water from the supermarkets either! Travel with a filtered water bottle instead and never waste a cent nor a turtle's life again.
Save $$$ • Save the Planet • Save Your Stomach!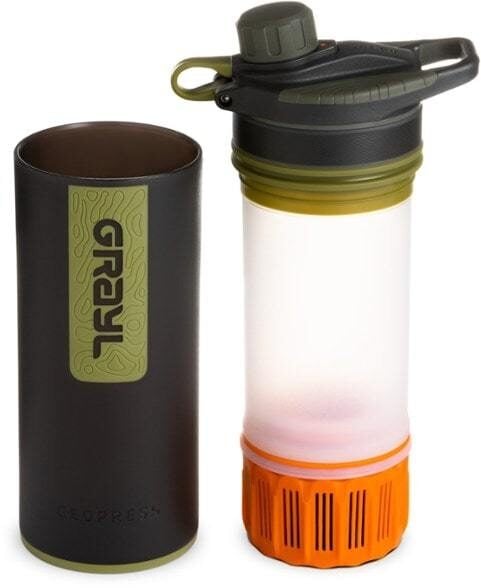 Drink water from ANYWHERE. The Grayl Geopress is the market's leading filtered water bottle protecting your tum from all the waterborne nasties. PLUS, you save money and the environment!
Single-use plastic bottles are a MASSIVE threat to marine life. Be a part of the solution and travel with a filter water bottle.
We've tested the Geopress rigorously from the icy heights of Pakistan to the tropical jungles of Cuba, and the results are in: it WORKS. Buy a Geopress: it's the last water bottle you'll ever buy.
Buy a Geopress!
Read the Review
Deciding where to stay in Lima may seem like a difficult task. In a massive capital city with over 10 million people. There are some rough patches, so you definitely don't want to muck up your accommodation.
Here's the cliff notes version of that post for the TL;DR crowd – Miraflores is the top choice for first-time visitors. The Historic Centre is good for those on a budget who prefer a more local vibe. Barranco is the hip spot with solid nightlife options.
We spent a month in Miraflores and enjoyed the convenience of life there, but if I was just passing through for a few days I'd personally recommend Barranco instead.
Lima has some amazing hostels that are perfect for backpackers. To save you time, I've gone ahead and narrowed it down to the top three hostels below; these include the best overall hostel, best party hostel in Lima, and best hostel for solo travelers.
If you want to get away from the hustle and bustle of the city, there are some eco-lodges in the surrounding towns that offer a unique stay close to nature.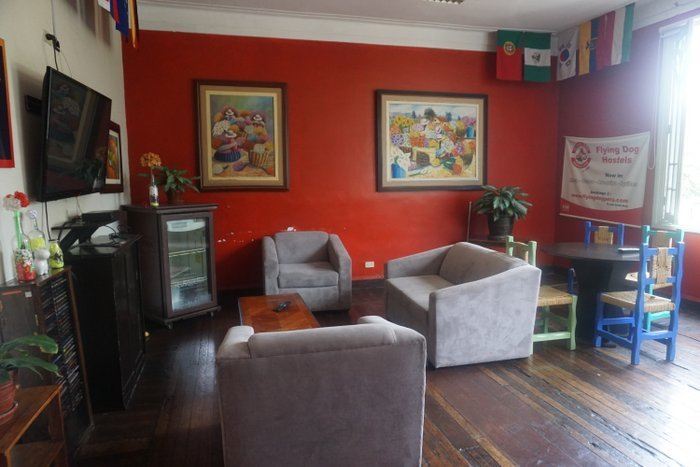 Selina is an experience in itself! Not only does it count with the basics (comfy dorms and private rooms, a community kitchen), it has an onsite cinema room and yoga room! It's also pet-friendly and hosts frequent tours and events that are perfect for meeting fellow travelers. In fact, everything about this place is designed with meaningful connections as the priority.
The community (it's more than just a hostel) is well-situated in the Miraflores neighborhood. This is the perfect jumping-off point to explore the city!
There are tons of great hostels in Lima, and we couldn't leave out Pariwana. With their free breakfast and free coffee all day, you'll be primed and ready for exploring the Peruvian capital.
Once you come back, you can chill out on their terrace or play foosball, ping-pong, and even arcade games. Their Funky Bar is also the perfect place to pre-game before going out on the town. This hostel really has it all!
Best Hostel for Solo Travellers in Lima – The Point
The Point opened its doors back in 2002 and lays claim to being the first true backpacker hostel in Peru. They strive to create a blend of a party hostel and a laid-back place to meet fellow travellers.
Located in Barranco, this hostel is an excellent home base to explore the city's hippest neighborhood. Hang out at their bar to make friends with your hostel mates, and then join the resident nightlife guide to go out after hours.
This modern, stylish apartment is located in the bohemian seaside district of Barranco. It's has one bedroom with a pull-out couch in the living room, making it big enough for 3 guests.
The kitchen is full equipped with everything you'd need to whip up a meal and it has a balcony. Plus, the building has a gym, a pool, a beautiful garden, and a laundry room. It's our top Airbnb recommendation for where to stay in Lima!
Best Party Hostel in Lima – Hostel Kokopelli
If you're looking to party in Lima, then Hostel Kokopelli is where you'll want to lay your head. Their lively rooftop bar is the perfect place to get the party started.
They're cooking up tasty pizzas, whipping up tasty cocktails (at backpacker prices no less), and rocking out with live music. After a big night out, you'll be happy to crash in a super comfy bed. Even the dorm beds have curtains so you can block out the daylight and sleep in a bit!
Hostel Kokopelli is one of our favourites in Lima but they're not taking guests right now. We're not sure if they're closed for good but we hope they'll come back soon.
As a bustling capital city, there are tons of things to do in Lima. Here's a list of the top ten things to do in Lima that includes a bit of culture, history, adventure, nightlife, and more.
1. Go on a Walking Tour
In my humble opinion, the best way to get to know a city is to join a walking tour with a knowledgeable guide. The great news for Broke Backpackers everywhere is that there are now free walking tours in major cities all over the world, and Lima is no exception.
Your best bet for a free walking tour of Lima is with Inkan Milky Way. Their guides are all indigenous Peruvians and are licensed to lead tours.
You can join their free walking tour of central Lima every day except for Sunday at either 11 AM or 3 PM. Get to know the city and make new friends at the same time – it's a win-win!
2. Explore the Catacombs
At the end of the free walking tour, you'll find yourself in front of the Monastery of San Francisco. While it's nice to admire this baroque-style cathedral from the outside, most people come here to take a guided tour of the catacombs inside.
3. Feast on Peruvian Cuisine
After doing the digital nomad in South America thing for seven months, I can say without a shadow of a doubt that Peru has the best food in the region. In fact, the contest is not even close. Be prepared to have your taste buds wowed when travelling here!
One of the top things to do in Lima is just sampling the delicious Peruvian cuisine. From ceviche to lomo saltado to aji de gallina, it's all amazing.
There are lots of fancy and expensive restaurants, but Broke Backpackers will want to find local joints offering a menu del dia (menu of the day) to save some soles.
4. Museum Hopping
Lima is home to some excellent museums, so checking out a few of them should be high on your list. The most popular is probably the Larco Museum, which is home to an impressive collection of pre-Colombian artifacts.
This includes a bunch of erotic ceramics, which are sure to leave you giggling like a schoolgirl.
5. Chill Out in the Cat Park
I always love hanging out in local parks to take a break from sightseeing. When exploring Miraflores, make sure you spend some time in Parque Kennedy. While it is in fact named after former US President John F. Kennedy, this park is more well-known for its feline inhabitants.
Take one quick stroll around Parque Kennedy, and you'll quickly see why most people refer to it as the "Cat Park." Nobody knows exactly where they came from, but there are tons of adorable kitties here.
A local non-profit helps to feed the cats, spay & neuter them, and find suitable adopters.
6. Visit Ancient Ruins
Believe it or not, you can visit ancient ruins right smack in the middle of this mega-city. Huaca Pucllana is an ancient temple built of adobe bricks around 500 AD.
It's located right in Miraflores, so you don't need to travel far to get there. Guided tours are included with your visit, so you'll actually learn something without having to pull up a Wikipedia page.
7. Walk or Cycle the Malecon
The most scenic area of Lima is definitely Miraflores. This coastal neighborhood is actually located on the cliffside high above the Pacific Ocean. It's here that you'll find the city's Malecon, which is a long stretch of parks and gardens with amazing views off to the side.
Taking in the scenery along the Malecon is definitely one of the top things to do in Lima. It's a great place to walk or jog, and there are also plenty of bikes for rent along the way.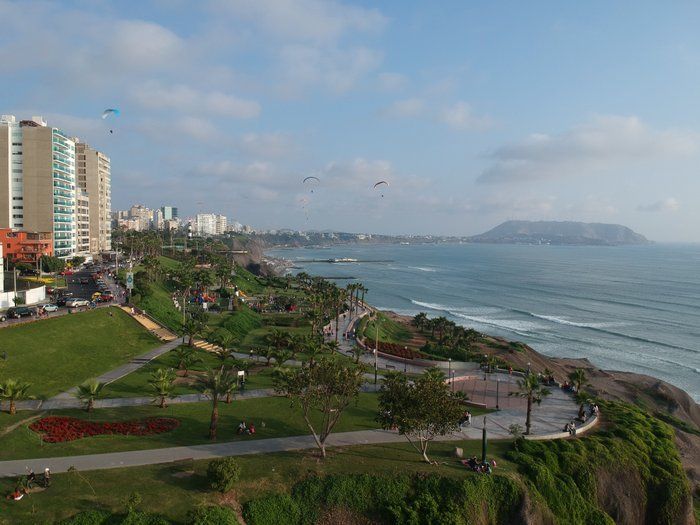 8. Fun Above or in the Water
While the views are great alongside the Malecon, they're even better above it. Sign up for a paragliding adventure and soar high above the Costa Verde. If you'd rather be in the water, Lima is a popular spot for surfers too. Just be sure to wear a wet suit, as the water can be seriously frigid.
9. Hang Out in Barranco
If Miraflores is a bit too fancy and trendy for you, then head a bit south along the coast to Lima's bohemian enclave of Barranco. This area is popular with artists, poets, musicians, and increasingly with backpackers. Here you'll find some amazing street art, funky shops, and some awesome bars.
10. Party Like a Limeño
People from Lima (Limeños in Spanish) like to have a good time, plain and simple. The old adage of work hard, play hard rings true here. Go out any night of the week, and you'll find bars bustling with people enjoying a few drinks with friends.
When the weekend arrives, people really turn it up here. The most authentic places to party like a Limeño are the hidden bars known as peñas.
These are basically all-night, Pisco-fueled dance parties. Of course, there are also plenty of bars with live bands or DJs jamming out until the wee hours of the morning as well.
Is This the Best Daypack EVER???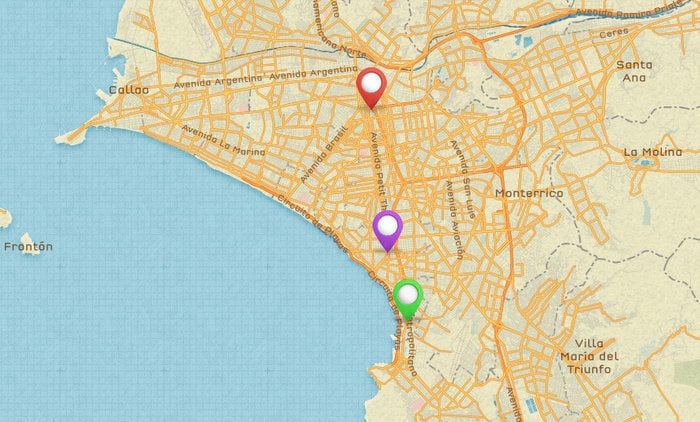 Day One in Lima: Exploring El Centro
Regardless of where you're staying, your first day spent backpacking Lima should be spent exploring the city's historic centre. While you can certainly DIY, I highly recommend singing up for the free walking tour instead.
These tours run from Monday-Saturday at both 11AM and 3PM. They'll even help you get there from Miraflores if you take the early tour.
First up on the walking tour is a visit to the city's Plaza de Armas. Located near the banks of the Rimac River, this site had strategic and spiritual significance for the Incas. When the conquistadors showed up in 1535, they decided to keep this location as the centre of the new city.
The square features a beautiful fountain and is surrounded by important landmarks such as the Lima Cathedral and the Governor's Palace. You won't have time to go inside the cathedral on the walking tour, so you can return on your own afterward.
Palace tours need to be booked in advance, but you'll get to see the changing of the guard ceremony for free if you're on the earlier tour.
Continuing on the walking tour, you stroll down pedestrian streets, admiring the architecture as you hear stories of Lima's past from your guide. The tour winds down at the Monastery of San Francisco, which is famous for its catacombs. Since you're already here, you might as well go in and check it out!
It's estimated that around 75,000 people were buried here, and many of the remains are displayed in interesting patterns. If you're not claustrophobic or squeamish, you can join a group to explore the catacombs. Tours last about an hour and cost $2.
One great thing about being in the city centre is the abundance of local restaurants. Be sure to ask your guide for some recommendations before finishing the walking tour so you can go grab some legit Peruvian food for lunch.
Find a restaurant that has a menu del dia and fill up for just a few bucks before continuing your exploration of central Lima.
After lunch, I recommend taking a stroll along the pedestrian-only Jiron de la Union. It's a great place to do some people-watching, and there are plenty of cafes along the way if you need to give your feet a rest and get a little caffeine jolt.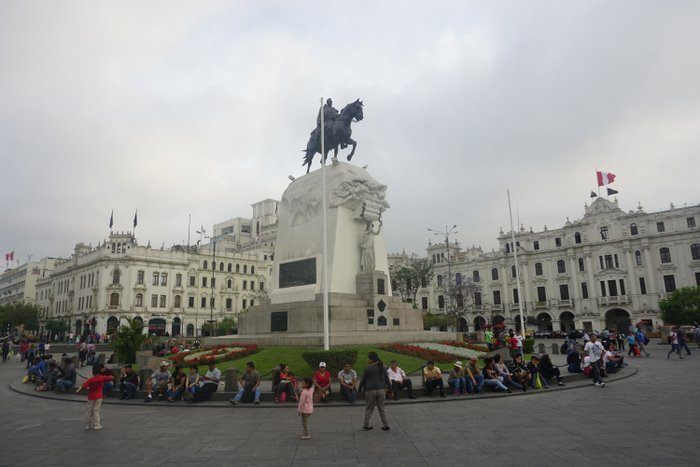 If you're staying in Miraflores or Barranco (which you should be), you'll want to get the hell out of dodge before rush hour hits. Try to get on the bus by 4 at the latest to avoid being squished like a sardine for the trip back towards the coast. Otherwise, you'll have to keep yourself entertained here for a few hours.
After that busy day, you'll probably want to head back to your hostel to chill for a bit and get ready for a night out. The good news is that most backpacker hostels in Lima have great common areas or even rooftop bars. Many of them even host special events at night or organize pub crawls, so be sure to check out what's going on.
For night one in this Lima travel guide, I suggest starting it properly with some ceviche and Pisco Sours. This is your first night out, after all!
We spent about five weeks in Lima, and I think I honestly had this pairing about fifteen times. You really can't go wrong with Peruvian ceviche and a good Pisco Sour.
What you choose to do from here is entirely up to you, amigos. On a night out in Lima (especially on a weekend), the world really is your oyster. Hit up one of the craft breweries, find a dive bar with a live band, or get dressed up and hit the clubs.
This city likes to party, so go for it if you do, too!
Day Two in Lima: Miraflores
After taking in the sights of the historic centre, it's time to check out the Miraflores area on day two in this Lima travel guide. Walking around here, you'll quickly see why one of Lima's nicknames is the Garden City. Before we get to that, though, it's time so see some ancient ruins.
If you're staying at one of the countless backpacker hostels in Miraflores, it's just a short walk over to Huaca Pucllana. This great adobe pyramid was built around 500 AD during the time of the Lima Culture, a pre-Incan civilization. It was built for the priests – who were the governing rulers – to express their authority.
They operate tours in English and Spanish, which are included in the price of your ticket. While these aren't the most impressive ruins, for just $2 you might as well check them out and learn a bit of history. Plus, it's just cool to see Lima preserving an ancient pyramid amidst all the urban sprawl that surrounds it.
From the ruins, you'll probably want to stop somewhere for lunch. You have a ton of options in Miraflores, so take your pick. In our month there, some of my favourite lunch spots included Sabor y Vida (vegetarian), La Lucha (amazing sandwiches), and La Casa del Ceviche.
After lunch, head down to the Malecon – a long promenade full of parks that sits on the cliffside looking out at the Pacific Ocean.
To explore all that the Malecon has to offer, you may want to consider renting a bike for a couple of hours. There are quite a few places that rent them out, so keep your eyes peeled.
One of the highlights of the Malecon is the Parque del Amor (Park of Love). This park dedicated to lovers features the famous sculpture El Beso (The Kiss) as well as colorful mosaic walls. As you might imagine, it's a popular spot for young Peruvian couples to come get frisky.
The cliffside location plus the windy conditions make the Malecon the perfect place for paragliding. They operate 365 days a year, with the most ideal conditions usually happening between 12-5 PM. Just show up and sign up if you want to give it a try. It costs about $75 and includes a video you can take home.
Heading north up the Malecon, you'll pass by the lighthouse where you can stop to take in the views of the beautiful Costa Verde (Green Coast).
Walk another 10-15 minutes past a couple of other parks and you'll arrive at the aptly named Buenavista Cafe. It really is a great view here, and a good spot to stop for a drink.
In the other direction, you'll find the Larcomar shopping mall. I'm usually not a fan of shopping malls whatsoever, but even I have to admit this one is pretty cool. From the street level, you don't even realize it's there. That's because it's actually built into the cliff!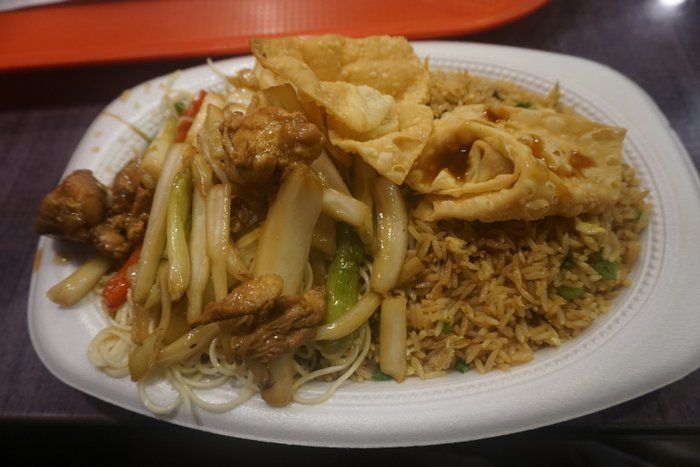 Unless you want shitty American chain restaurants or overpriced Peruvian food for dinner, however, I would recommend skipping out on eating at Larcomar.
There are plenty of better, cheaper places around Parque Kennedy. One thing you've got to try while backpacking Peru is Chifa. It's basically the Peruvian style of Chinese food, and it's pretty damn good.
If you didn't hit one of the breweries on your first night in town, go ahead and check one or two out tonight. My personal favourite is BarBarian. They've got some fantastic brews, cool art on the walls, and they usually play great tunes.
Day Three: Choose Your Own Adventure
Those first two days in Lima covered some serious ground, so on the third and final day of this Lima travel guide, I'm leaving it up to you. How you spend day three in Lima really depends on your interests and the weather. Here are a few options you might want to consider.
If you're in the city during the summer months (January-March), you might want to take your last day to hit the beach to chill out or possibly do a bit of surfing.
Just walk down the stairs from the Malecon to find Playa Waikiki where you can sign up for surf lessons if you're a total noob or just rent a board and wet suit if you don't need the lessons.
While Lima is not going to win a "best beaches in the world" award any time soon, there are a few playas along the coast where you can plop down under an umbrella, crack a cervesa, and enjoy some sun and sand. Though to really find nice beaches in Peru, you're going to have to get out of the city.
If it's not exactly a nice day out (Lima seems to be perpetually cloudy and gray), you might want to hit a museum instead. The most popular choice in Lima is definitely the Larco Museum. It's about a 20-minute cab ride from the heart of Miraflores, but well worth the trip.
For starters, the museum is home to thousands of pre-Columbian artifacts and is a great place to visit if you're interested to learn more about Peruvian history and culture.
Then there's the room full of "ceramo-porn" – a bunch of X-rated ceramic pots portraying all kinds of dirty stuff. The Spanish conquistadors were mortified when they found this stuff, but I'm sure you'll get a kick out of it!
Even if it's not a great day outside, you should spend your last afternoon in Lima exploring the hip neighborhood of Barranco. It's just south of Miraflores and has way more a bohemian vibe about it than its more trendy and upscale neighbor.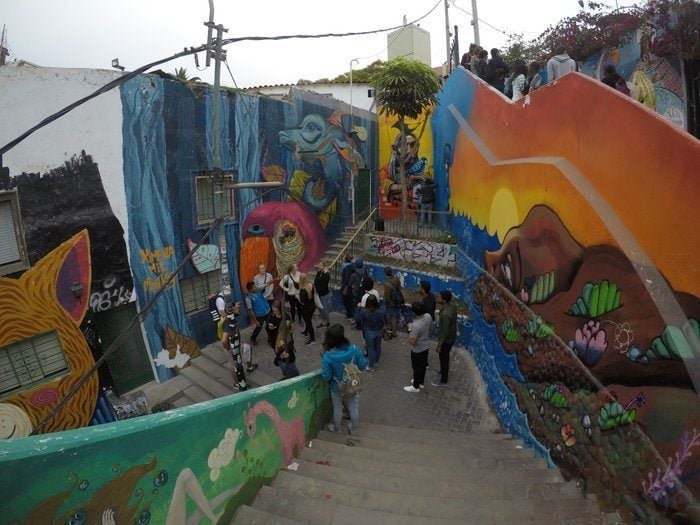 I highly recommend signing up for a free walking tour of this area that runs every day at 11 AM and 4 PM. On the tour, you'll check out the main square, some amazing street art, a nice view of the cliffside, and the famous Bridge of Sighs.
Once your tour wraps up, you've got plenty of options for where to eat and drink in the area. Be sure to check out Barranco Beer Company, which has some excellent craft brews on tap.
When you're ready for dinner, head to the local favourite Canta Rana. Of course, I'm going to once again recommend ceviche and Pisco Sours. It's such a winning combination that's really hard to beat, but they have other Peruvian classics if you want something different.
After dinner, just walk right across the street to the awesome Ayahuasca. No, this is not a psychedelic ceremony with a Peruvian shaman – just a kick-ass bar and a great place to wind down your three days in Lima.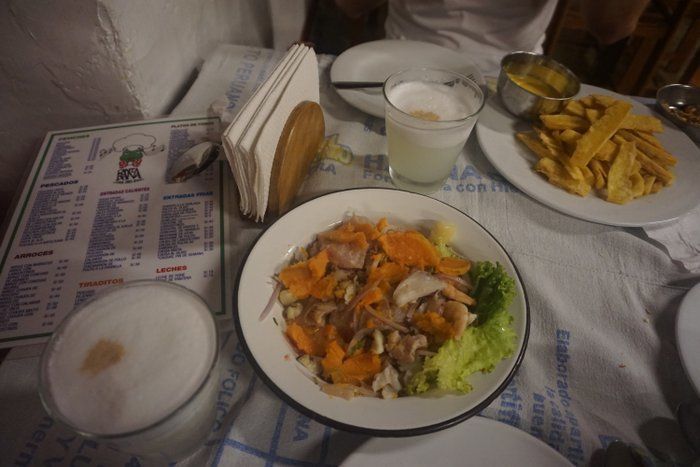 Lima off the Beaten Path
It's really not that hard to get off the beaten track in Lima. For starters, a lot of travellers to Peru skip right over the capital city and make a beeline for Machu Picchu. You will see way more tourists in Cusco than you will in Lima, that's for sure.
To be honest, though, you don't want to get too off the beaten path here. This city definitely has its rough edges, especially in the centre.
I definitely recommend wandering a bit outside of the Plaza de Armas to see more of downtown Lima, but it's probably not the best idea after dark, especially if you've got a nice phone and camera on you.
Even in backpacker central, aka Miraflores, it's really not that hard to escape the crowds. When we stayed there for a month, we loved just wandering around the side streets a few blocks away from Parque Kennedy. You'll find a lot of cool cafes, restaurants, and bars, most of which are only frequented by locals.
Speaking of locals, Peruvians are super nice people. Especially if you speak Spanish and you are outgoing, it's not that hard to quickly make some friends here.
Strike up conversations with people or search on websites like Couchsurfing to hook up with locals who might be up for taking you to their favourite places.
Best Walks in Lima
In a massive city that's plagued by never ending traffic jams, you'd think that Lima is a terrible place to walk around. While that's true for much of the city, there are still plenty of places where you can enjoy a pleasant stroll.
The Historic Centre – In addition to the Plaza de Armas, there are quite a few pedestrian-only streets in downtown Lima. Whether you sign up for a walking tour or just make your own, this is a fun area to explore on two feet.
Forest El Olivar – The "Olive Grove" is a huge park just north of Miraflores. It's a popular spot for locals to come hang out on their day off and a really nice spot for a stroll.
El Malecon – I've already mentioned it a few times, but here it is again. The Malecon in Miraflores is probably the best place to go for a walk in Lima. There are several parks along the way where you can stop to rest if you want.
Barranco – Barranco is a smaller, cooler version of the city centre. Walk around with your camera to snap some photos of the street art, the views, and the architecture.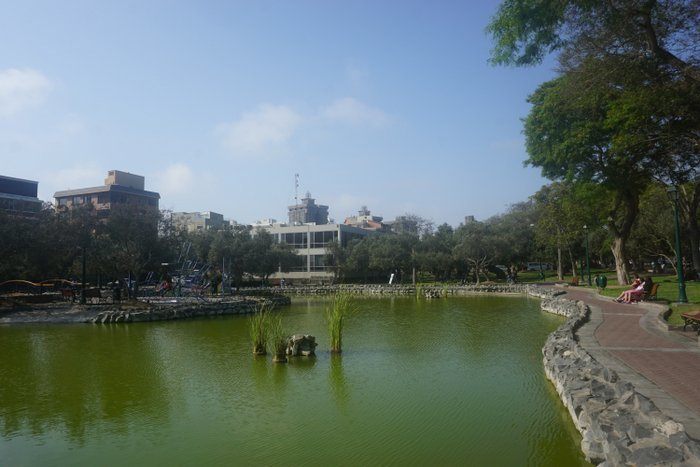 Best Time of Year to Visit Lima
The best time to visit Lima is probably between January and March. These are the warmest, brightest months in the city. December and April are both pretty good as well, but keep in mind that prices and crowds increase around Christmas, New Year's, and Easter.
February might be the best month to visit Lima, but it's the only time of year that the Inca Trail is closed. If you're headed to Machu Picchu and hoping to trek, you won't want to end up in Lima in February.
Basically, the best time to go to Machu Picchu is the worst time to go to Lima. You're going to end up with less than ideal weather in one or the other, so it might as well be Lima.
From May to November, the city seems to be perpetually covered in a thick, misty fog. Locals call this la garua, and I call it shitty weather.
Even when we stayed in Lima for the whole month of December, the pesky la garua lingered for a few weeks. We had a rooftop pool and the weather was only nice enough to use it once or twice in a month. Talk about a bummer.
Getting in and out of Lima
If travelling by air, you'll get to Lima via the Jorge Chavez International Airport (LIM). It's a very well-connected airport, with direct flights to destinations all over Latin America as well as several to the US, Canada, and Europe.
The airport is about an hour drive to Miraflores. This can be an expensive cab ride, especially if you jump in one operated by the crooks who hover around the arrivals area. I recommend skipping out on haggling with cab drivers or navigating the local bus. The Airport Express Lima bus will get you to Miraflores for just $8 and they even have WiFi and USB charging ports.
If you're travelling overland around Peru, there are plenty of options for buses. There are a few different bus stations in Lima with buses heading to all points in the country – one for those headed north and another for southbound buses.
One word of warning about bus travel in Peru is that many bus companies are known for unsafe practices and highway robberies are not uncommon.
If you're like me and prefer a little peace of mind and comfort during your travels, I strongly recommend you go with the Peru Hop bus. These professional buses have a ton of options to get you around Peru and even into Bolivia.
We took the Peru Hop bus from La Paz all the way to Lima with several stops in between and had an amazing time. With the free tours, discounts on hostels, and awesome guides, I'd say it is well worth the extra money compared to dangerous chicken buses.
Read our guide to taking the Peru Hop bus to learn all about it and plan your trip.
How to get around Lima
One shitty thing about Lima is the lackluster public transportation. There is one metro line operating here, but it's unlikely to be of any use to you as a traveller. When backpacking Lima, you'll probably rely on the Metropolitano bus system, your own two feet, and an occasional Uber.
The Metropolitano bus connects Miraflores with the historic centre, so this is your best bet for getting between the two. It's super cheap ($0.75 per ride), but you'll need to put a deposit down to get a card first. The buses have their own lane, meaning they can avoid the city's notoriously awful traffic.
That being said, they can also be excessively crowded. Avoid the bus between 7-9 AM and 4-7 PM or even a bit later. We once waited until almost 8 PM to catch the bus and we were still packed in like sardines! Be sure to keep your valuables somewhere safe. A wallet hanging out your back pocket is no bueno on a crowded Lima bus.
There are lots of horror stories out there about travellers getting ripped off and even mugged by taking cabs in Lima. As such, I never took a single one in a month there. Uber is available and is quite affordable, so that's a much safer bet.
If you're staying in Miraflores, you might want to consider renting a bicycle for a few days. At the very least, get one for a day to ride up and down the Malecon. There are a few rental shops there and prices are reasonable from what I recall.
Use Bookaway to find the best deals on transport – buses, planes, trains, and ferries. It'll save you a load of time when organising transport and you'll probably nab an EPIC DISCOUNT too!
Book your transport on Bookaway NOW. Get the best price for the best ride… then use those savings to buy the best feed in town!
Book Your Transport Here!
Safety in Lima
If you spend most of your time in Miraflores/Barranco and just head to the centre during the day, Lima is a pretty safe place.
Generally speaking, as long as you keep a low profile you'll be fine. The second you slap on a Rolex and bust out your shiny new iPhone X, you become a target. If you look like a Broke Backpacker, nobody will think it's worth the time and effort to mug you!
Just like you would in any big city, keep an eye on your valuables when riding public transportation or when walking in crowded areas. Blatant theft against tourists is rare here, but pickpockets are savvy and ever the opportunists. Don't make yourself an easier target than you already are just by being a gringo.
As I mentioned above, there are a lot of reports of foreign tourists getting robbed by taxi drivers. While I'm sure there are plenty of honest, hardworking taxistas in Lima, that's not something I'm willing to risk.
If you need a cab, use Uber or have your hostel call a reputable one for you. Don't go flagging one down on the side of the road, especially if you have a bunch of expensive gear on you.
I'm a happily married dude, so this didn't concern me, but those who are single and ready to mingle should be aware of Lima's notorious peperas.
These are ladies who usually work in groups to seduce gringos out at the bar and then promptly spike their drink and rob them. There are male peperos out there as well, so ladies should also beware. Just never leave your drink unattended or accept one from some random person.
Get Insured before Backpacking Lima
Traveling without insurance would be risky so do consider getting good backpacker insurance sorted before you head off on an adventure.
I have been using World Nomads for some time now and made a few claims over the years. They're easy to use, professional and relatively affordable. They may also let you buy or extend a policy once you've started your trip and are already abroad which is super handy.
If there's one insurance company I trust, it's World Nomads.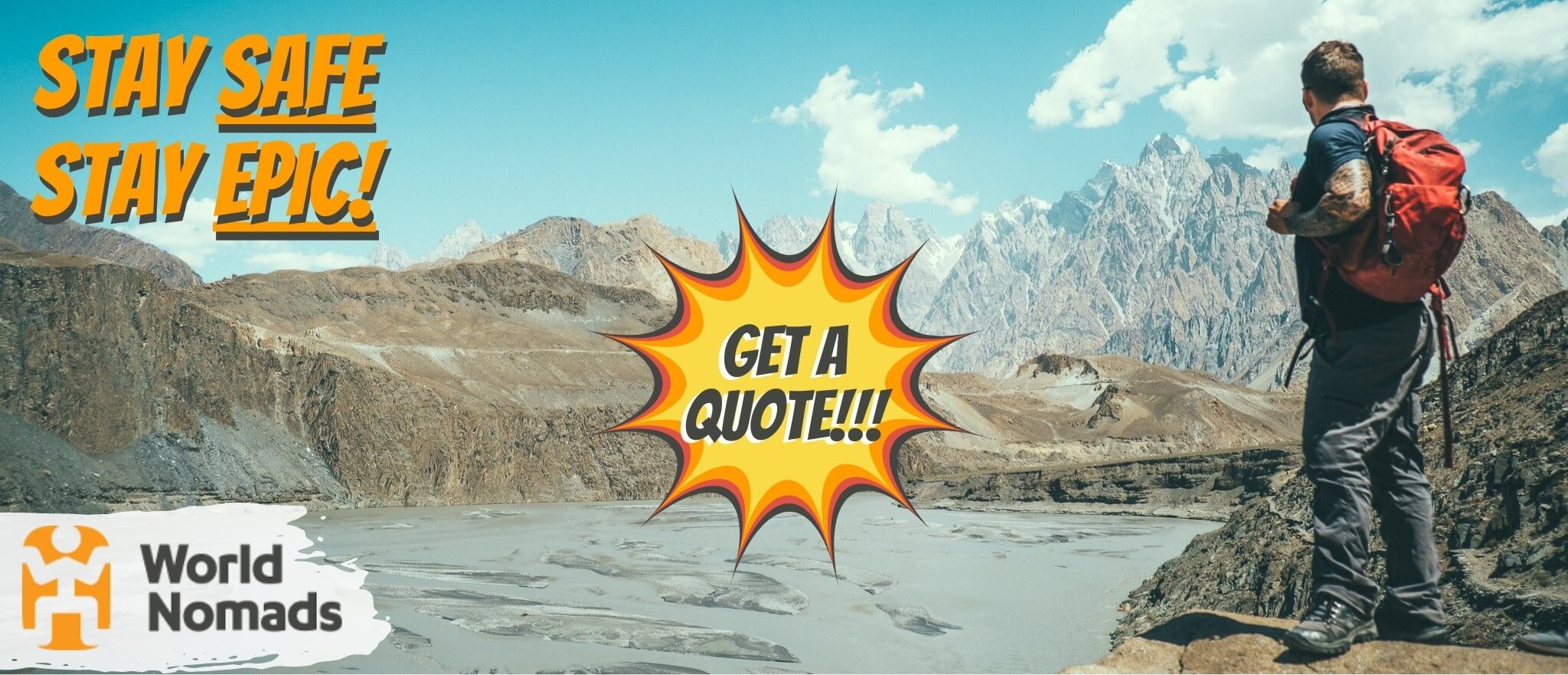 World Nomads' mission is to support and encourage travellers to explore their boundaries. They offer simple & flexible travel insurance, and safety advice to help you travel confidently.
They've been doing it since 2002 – protecting, connecting, and inspiring independent travellers just like you.
Get a quote below or read our in-depth review!
World Nomads provides travel insurance for travelers in over 100 countries. As an affiliate, we receive a fee when you get a quote from World Nomads using this link. We do not represent World Nomads. This is information only and not a recommendation to buy travel insurance.
Lima Accommodation Travel Hacks
If you're looking to score free accommodation in Lima, your best bet is to check Couchsurfing or find a work exchange gig on Workaway.
There are plenty of excellent and budget-friendly hostels here as well, so backpacking Lima doesn't have to cost a fortune. For ease of travel to and from the airport and other points of interest, it's best to base yourself in Miraflores. Barranco isn't too much further, but you'll definitely spend a bit more time and money getting to and from there.
Wherever you stay, make sure they at least have free breakfast or a kitchen where you can prepare your own. This will definitely save you some cash on a daily basis.
Many hostels in Lima also have their own free tours or nightly events. Staying in a place that does this helps you stretch your budget even further. It's also a great way to meet people!
Eating and Drinking in Lima
This wouldn't be a comprehensive Lima travel guide without talking about Peruvian food!
One of the best parts about backpacking Lima is being able to indulge in the fantastic Peruvian cuisine around every corner. Seriously, Peru has the best food in all of South America.
Assuming your hostel has free breakfast, you'll only have to eat out two meals a day. Only one if there's a kitchen at your place and you don't mind grocery shopping and cooking. That being said, you didn't come all the way to Peru to eat spaghetti, people.
My strategy in Lima was to always find a great menu del dia spot for lunch. The menu changes every day, so you can even go back to the same place over and over again if it's good. You'll get a soup, main course, drink, and dessert and only spend $3-5 depending on the place.
While you're in Lima, be sure to try ceviche, aji de gallina, and lomo saltado. Those are all delicious Peruvian classics. If you're adventurous, snack on some atichuchos (grilled cow hearts), a local favourite.
There are some really, really nice restaurants in Lima. We were never able to fit any of the top-tier ones in our budget, but it might be worth going for if you're a real foodie.
The most famous is probably Central, which has been high on the Top 50 list in the world for years and consistently wins best in Latin America.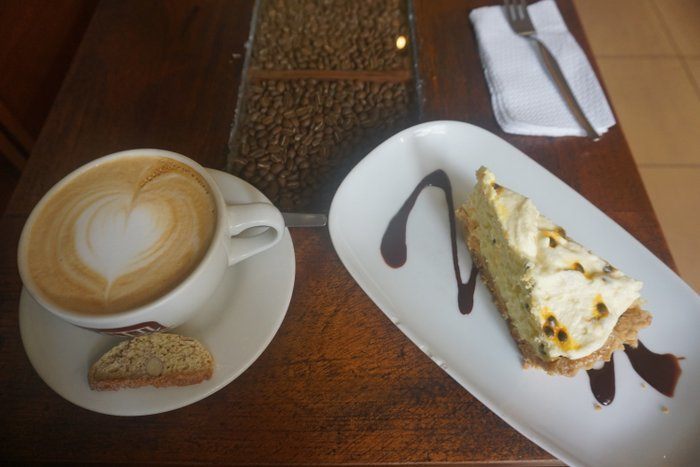 Coffee snobs will be happy to hear that there are plenty of excellent cafes in the Peruvian capital. If you're a digital nomad or just someone who loves a good cup of coffee and fast internet, be sure to check out our guide to the best cafes and co-working spaces in Lima.
It's not hard to find fresh squeezed juices or smoothies here for when you need something healthy. One popular local drink you should try is chicha morada, which is made by boiling purple corn with pineapple, cinnamon, clove, and sugar.
As far as adult beverages go, you've got lots of options in this city that loves to booze. Mass-produced Peruvian beer is everywhere and it's not half bad, but there are quite a few craft breweries for when you need something that tastes more like beer than water.
When it comes to the hard stuff, Pisco is the drink of choice in Lima. The most famous cocktail is definitely a Pisco Sour, but you don't really drink those all night. It also mixes just fine with Coke or ginger ale for more slam-able party drinks.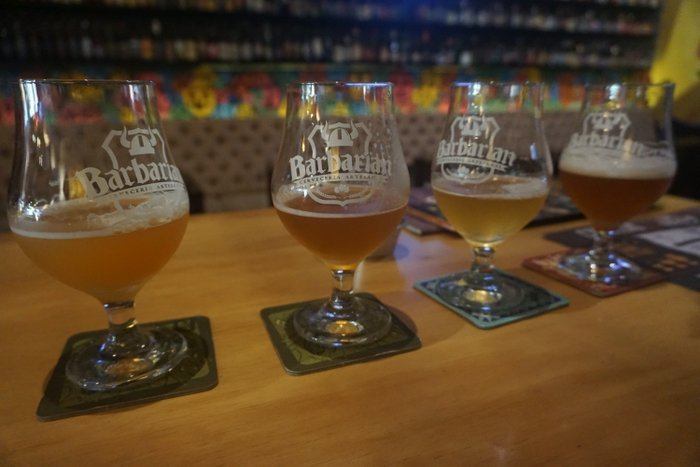 Nightlife in Lima
When we stayed in Lima, we were up at 5:30 AM pretty much every day to work, so I'm not the best guy to ask about nightlife. That being said, we did go out on a few occasions and I did some research on nightlife in Lima just for you guys!
Most of the nightlife in Lima is concentrated in the Miraflores/Barranco areas, which is great because that's probably where you'll be staying.
There are craft breweries, wine bars, music venues, discos, dive bars, you name it. No matter your style or tastes, you can find something to do on a night out in Lima.
One thing to understand about the nightlife in Lima is that it starts really, really late. People here really don't "go out" until around midnight, so if you start pre-gaming at 5 in the hostel you won't even make it to the party! Pace yourself, amigos.
If you're staying in Miraflores, you're sure to end up on the Pizza Street at least one night. This small pedestrian street is full of pizza restaurants, which turn into rowdy bars and dance clubs after dark. You're sure to be offered drugs and/or sex on this street, so proceed with caution.
I have to say that the coolest bar we went to in Lima was Ayuhuasca in Barranco. This place looks like a freaking mansion and it is packed full of party people on the weekends. I wonder how many shaggy-haired backpackers have shown up at this place hoping to embark on a psychedelic journey with a shaman only to find a bunch of well-dressed Peruvians pounding Pisco drinks…
For the true Peruvian experience, you'll have to seek out a peña. These are venues where people gather to eat, drink, and dance the night away to traditional Peruvian folk music. Sometimes they're in a restaurant, and sometimes they're in someone's house – any place can be a peña, really.
Your best bet to experience this is to head to Don Porfirio in Barranco. They're only open on Friday nights and there will be a line out the door, but it's worth the wait for such a unique nightlife experience.
Books to Read on Lima
Reading about a place you plan to visit is always fun. It gets you more excited for your trip and you learn something in the process. Below are 5 books and guides to add to your Lima reading list:
Lonely Planet Peru – Having the massive Lonely Planet guide on Peru is a great thing to have on your trip to Lima.
Lima Travel Guide: Insider Advice from Expats in Peru – It's always good to get advice from expats before travelling to a city. That's exactly what you get in this awesome guide to Lima.
Lima (Rough Guides Snapshot Peru) – For just $2, this e-book featuring the 80-page section on Lima from the Peru guide is a steal. It will definitely come on handy during a trip there.
Turn Right at Machu Picchu – Since I'm sure you're going to Machu Picchu on your trip, this is a fun book to read. A writer tried to re-create the original expedition that re-discovered the ancient city and then wrote this humurous story about his adventure.
Volunteering in Lima
Long term travel is awesome. Giving back is awesome too. For backpackers looking to travel long-term on a budget in Lima whilst making a real impact on local communities, look no further than World Packers. World Packers is an excellent platform connecting travelers with meaningful volunteer positions throughout the world.
In exchange for a few hours of work each day, your room and board are covered.
Backpackers can spend long periods of time volunteering in an awesome place without spending any money. Meaningful life and travel experiences are rooted in stepping out of your comfort zone and into the world of a purposeful project.
World Packers opens the doors for work opportunities in hostels, homestays, NGOs and eco-projects around the world. Broke Backpacker readers get a special discount of $10 – just use this discount code BROKEBACKPACKERand membership is discounted from $49 a year to $39.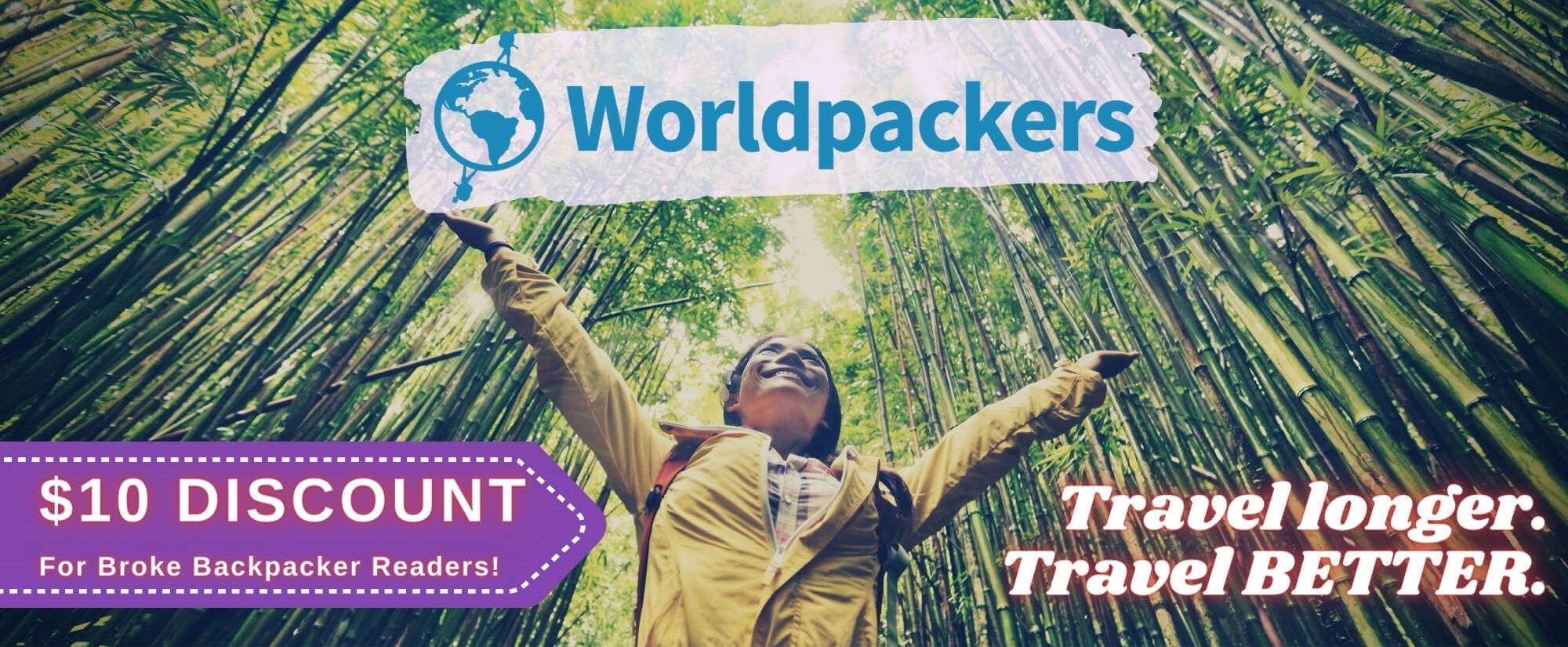 Worldpackers: connecting travellers with meaningful travel experiences.
Make Money whilst Backpacking Lima
Want to stay in Lima longer? We've taught English in Peru before and have sussed out everything you need to know in this guide to teaching in Peru.
Teaching English online is another great way to earn a consistent income—from anywhere in the world with a good internet connection. Depending on your qualifications (or your motivation to obtain qualifications like a TEFL certificate) you can teach English remotely from your laptop, save some cash for your next adventure, and make a positive impact on the world by improving another person's language skills!
It's a win-win! Check out this detailed article for everything you need to know to start teaching English online.
In addition to giving you the qualifications to teach English online, TEFL courses open up a huge range of opportunities and you can find teaching work all over the world. To find out more about TEFL courses and how you can teach English around the world, read my in-depth report on teaching English abroad.
Broke Backpacker readers get a 35% discount on TEFL courses with MyTEFL (simply enter the code BACKPKR), to find out more, please read my in-depth report on teaching English abroad.
Whether you are keen to teach English online or looking to take your teaching game a step further by finding a job teaching English in a foreign country, getting your TEFL certificate is absolutely a step in the right direction.
Being a Responsible Backpacker in Lima
Reduce your plastic footprint: Perhaps the best thing you can do for our planet is to make sure you do NOT add to the plastic problem all over the world. Don't buy one-use water bottles, the plastic ends up in a landfill or in the ocean.
Check out our post on how to be a responsible backpacker.
---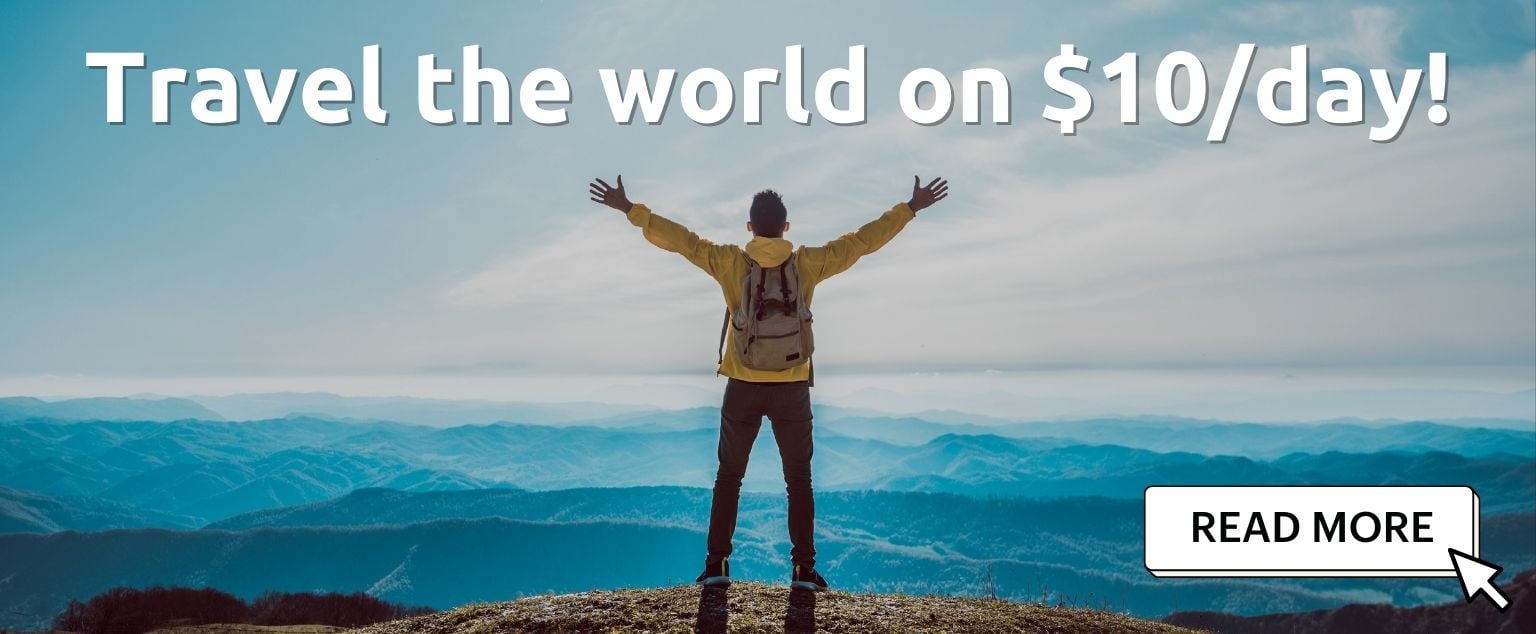 And for transparency's sake, please know that some of the links in our content are affiliate links. That means that if you book your accommodation, buy your gear, or sort your insurance through our link, we earn a small commission (at no extra cost to you). That said, we only link to the gear we trust and never recommend services we don't believe are up to scratch. Again, thank you!