Once you've unfurled your camping chair and cracked open a fresh bevvy, the work is over. Whether you're heading to a neighbourhood BBQ, Burning man, or just out in the woods, bringing a camping chair with you allows you to stop and stay awhile.
An unsung hero of life outdoors, a great place to sit makes all the difference in the world. We can't all set our sights on a stump to stow our rump – if you spend enough time outside, you'll be glad to have a place to unwind.
Camping is all about getting in touch with the simple life, but that doesn't mean you can't leave any room for comfort on your next trip. It's easy to take a seat for granted until you set out for the weekend without one.
A great camping throne will be one of the most versatile tools in your closet. These chairs will always fit in the car and help out on a fishing trip, at a festival, or just a breezy night in the backyard.
That adaptability is why it's essential to take your time and fully scour the market for your next camping chair. Even if you're shopping for a specific trip or camping style, you should leave room for improvement. No camping chair could make our list without showing excellent durability, so your next chair will be coming along for the long haul.
So, your chair should be open to improvement and pack in the necessary value to grow alongside your life outdoors. To help take a load off, this buying guide will cover the gambit of chairs, big and small.
Whether you want a mini option you can throw in a backpack or the latest and greatest in portable reclining technology, we've got the best camping chairs on display.
Quick Answers – Check Out These Camping Chairs
#2 Best Budget Camping Chair – REI Camp X
#8 Most Compact Camping Chair – REI Flexlite
#9 Best Fold Up Camp Chair – GCI Freestyle Rocker
Choosing The Right Camping Chair
The good news is, choosing the right camping chair isn't as complicated as agreeing on a new living room set. Still, there is no clear-cut number one option. Each camping chair on our list uses a different blend of the following factors to make up its claim to the throne, and it's up to you to place the crown. 
Decide where you sit on the scales and match your demands with the right support system. 
Comfort
If you don't love sitting in it, it's a waste of money. Period. It doesn't matter if you have the most compact, lightest camping chair out there; you won't bring it with you if it brings an awkward fit. 
Sitting back is all about getting comfortable. No trip starts, or hike ends until you're off your feet for the day, so look for chairs with four support corners to bring on the repose. 
Decide what comfort means to you. Some people just need a stable spot for their bums, while others want head/armrests to take the load off. While backpacking chairs have gone a long way, no backcountry option will support like a car camper. The further away you can take your chair from the parking lot, the less comfortable it will be.
Weight
Weight isn't as crucial for camping chairs as it is for backpacking options, but there's still a limit. You should be comfortable carrying your chair up to one kilometre from the car.
Remember, it will likely never be the only thing you're bringing with you. An 8-kilo chair may be acceptable on its own but would be too much to cart alongside a heavy cooler.
The heaviest two-person chair on our list tips the scales at 7 Kilos, but most of our favourite chairs stay well south of 5 kilograms. If you plan to take your chair far from the car or on overnight hikes, keep your search to options less than 1 kilo.
Longevity
This is the one word necessary to justify spending a splash of extra cash on your camping chair. In one six month stint, I broke through two pairs of low-quality lightweight chairs that just couldn't hold up to daily use.
 At the end of the trip, it was clear I would have saved money by investing in a more expensive chair off the bat. The most likely place for your camping chair's to fail is the connection points between the lightweight main materials and the poles.
Look for chairs to reinforce critical areas and use a high-quality material whose name you can pronounce to give an extra five years of comfort a seat at the table.
Bells and Whistles
Unless you're taking your chair into the backcountry, a cupholder should be considered a bare minimum. Anything beyond a cosy place to store your beverage and four legs of stability for both your bum and your back brings a particular flash to your chair.
Seat Height
Higher chairs may get you a few dirty looks from people sitting behind you at outdoor concerts but are far more comfortable for spending the day in than a seat barely ten centimetres off the ground. 
Seats with a high seat height and lengthy backrests are only suitable for car camping. They make the difference between a chair comfortable for an hour and one comfortable all afternoon. 
Best Overall Camping Chair
Best Overall Camping Chair
Kijaro Dual Lock
> $
> Breathable back mesh
> Under-arm organiser
Best Budget Camping Chair
Best Budget Camping Chair
REI Camp X
> $
> Cheapest camping chair options
> Mesh backing and durable joints
Best Camping Chair For Relaxing
Best Camping Chair For Relaxing
NEMO Stargaze Recliner
> $$
> Super comfortable
> Automatic reclining and swinging capabilities
Comfiest Camping Chair
Comfiest Camping Chair
Yeti Trailhead
> $$
> Unbeatable build quality
> UV rated fabric coating
Lightest Camping Chair
Lightest Camping Chair
Helinox Chair Zero
> $
> Can fit in your water bottle pocket
> Durable footholds
Best High Back Camping Chair
Best High Back Camping Chair
Big Agnes Big Six
> $
> High back and wide option
> Heavy end of ultralight chairs
Most Compact Camping Chair
Most Compact Camping Chair
REI Flexlite
> $
> Square-shaped stool
> Affordable chairs
Best Fold Up Camp Chair
Best Fold Up Camp Chair
GCI Camping Chair
> $$
> Lovely mesh material
> Folds up nicely
The Best Camping Chair For All Occasions
While we'd love to tell you there is one chair to rule them all, each occasion dictates a different throne. We'll look at camping chairs, big and small, that dominate their weight class and fill out the details to provide a great place to sit. 

Do You Want to Travel FOREVER??
Then pop your email address in below and we'll send you a FREE copy of 'How to Travel the World on $10 a Day!' – make travel your LIFE.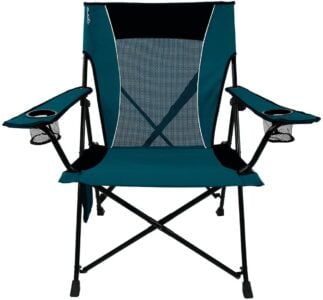 Kijaro Dual Lock is our top pick for the best overall camping chair
Specs
Price – $70
Weight – 4.26 KG
Ranging in subtle shades of Cayman Blue Iguana to Red Rock Canyon, this monotone chair squats and pops no matter the scenario. The extra foldability offered by Kijaro's solid joints helps the chair hold firm through the breeze and deploy in a jiffy. 
One press turns the buckled frame into a hip level camping chair perfect for a festival weekend or some good ole' fashioned sitting around in the woods. 
Back in the land of the living, The breathable back mesh stays cool on the asphalt, and the under-arm organiser keeps your keys safe while you focus on having a good time. 
+Pros
Two cupholders and an organisational pouch help this chair keep it all in one place
Durable polyester drys fast and can handle a few bumps and bruises
-Cons
Kijaro isn't known for producing the lightest and most compact camping chairs out there
A jack of all trades is a master of none
#2 Best Budget Camping Chair – REI Camp X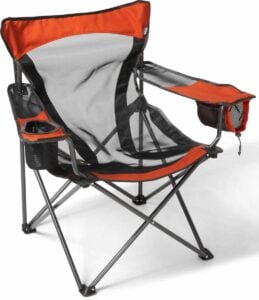 For best budget camping chair, checkout REI Camp X
Specs
Price (USD) – $50
Weight – 3.26 KG
Large and in charge, this bonafide budget bonfire assistant is all you'll ever need out of a car camping chair. REI makes their living churning out everyday camping hits like this, using their industry domination to pay dividends. 
This chair consistently ranks as one of the cheapest camping chair options, but that doesn't mean it's cheaply made. Great materials and a thoughtful design help support your squat in style. Rain or shine, the mesh backing and durable joints will help you and your two favourite drinks get into it. 
Low-end chairs are always a gamble, but Rei takes the guesswork and makes saving money a no-brainer. 
+Pros
If you don't plan on walking far, you'll never need another camping chair
Mesh backing lets a cool breeze flow
-Cons
Large cupholders make for wobbly steinie's
Sits low to the ground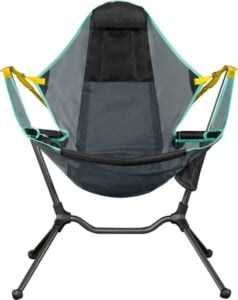 Our top pick for the best camping chair for relaxing is NEMO Stargaze Recliner
Specs
Price (USD) – $250
Weight – 2.86 KG
Just wait until Lazy-boy gets a whiff of this. Take the day off and spend it in this super comfortable camping chair. It comes at an incredibly high price point for a camping chair, but it backs up that beefy budget by redefining a camping chair. The chair holds firm with solid, padded armrests, but unlike these other lame stationery options, that's not all. 
The Stargazing specialist can also recline down to provide a new way to lay in the backcountry. The chair has automatic reclining and swinging capabilities that give your back some much-needed freedom of movement. 
Nemo isn't afraid of tearing up traditional outdoor design and starting fresh. This recliner turns everything on its head by offering multidirectional sitting and staying (relatively) mobile.
+Pros
Absolutely incredible combination of low weight and comfort
Practical enough to serve as an everyday piece of furniture
-Cons
Makes the woods look like a cyber cafe
If you're in the trees, you may be better off with a hammock
Meet the best 2 seater, Kelty Discovery Low-Love Seat
Specs
Price (USD) – $140
Weight – 7 KG
There aren't many more adorable things than a luggable love seat. Whether you're roasting chestnuts over an open fire, combining body heat to stay warm under the Friday night lights, or just sitting around watching the dogs roam free, bring along this chair built for two. 
Unlike two-person tents, this chair doesn't actually mean one plus a dog. It's comfy enough to stretch out, and each arm provides a cupholder. Kelty kept things compact and made sure the chair could collapse down inside its own manageable carrying case. Many more oversized chairs come with a bag, but not many fold up as nicely as this one. 
+Pros
A more compact carrying size than some 1 person camping chairs
7 kilo's certainly isn't light, but considering you could do a lot worse considering the extra seat
-Cons
No middle armrest options
Too large to fit inside a backpack
The best present of all… is CONVENIENCE!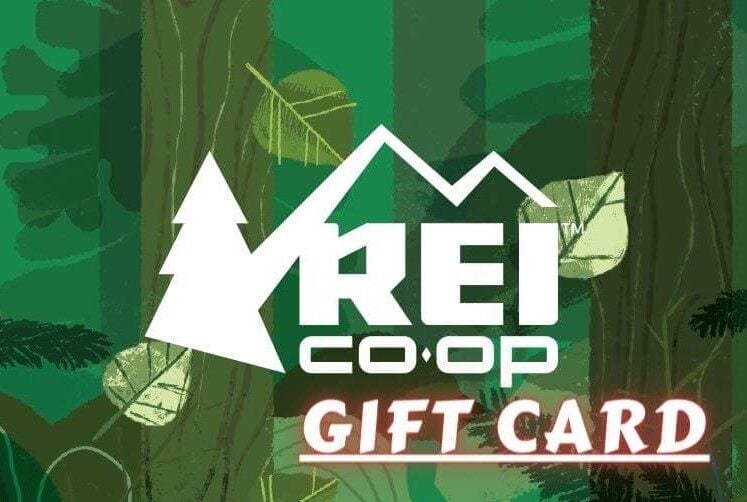 Now, you could spend a fat chunk of $$$ on the WRONG present for someone. Wrong size hiking boots, wrong fit backpack, wrong shape sleeping bag… As any adventurer will tell you, gear is a personal choice.
So give the adventurer in your life the gift of convenience: buy them an REI Co-op gift card! REI is The Broke Backpacker's retailer of choice for ALL things outdoors, and an REI gift card is the perfect present you can buy from them. And then you won't have to keep the receipt. 😉
Buy on REI!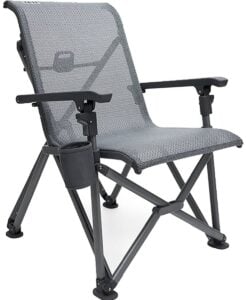 For comfiest camping chair, checkout Yeti Trailhead
Specs
Price (USD) – $300
Weight – 5.9 KG
Confident enough to fit in with the patio furniture and mobile enough to fit in the back of any trunk, you may never leave the house without your new favourite camping chair ever again. People often swear that most high-end camping chairs sit the same way, and then they spend an afternoon at the trailhead. 
The folding chair collapses into a narrow carrying case that can be slung over your shoulder or worn like a backpack. Still, the chair is slightly too heavy to take too far from the nearest parking lot. 
Once you make camp, the chair pops out in a hurry, and you can sit back and soak it all in. Thanks to their unbeatable build quality, Yeti's products always demand a high price. In this comfy camping chair, They thought of everything, down to UV rated fabric coating, to survive the test of time. 
+Pros
Get cozy with a loved one or support the whole family up to 225 kilos
The best camping chair on the market for spending the day in
-Cons
300$ for a camping chair that's restricted to car camping
Helinox Chair Zero is one of the lightest camping chair
Specs
Price (USD) – $130
Weight – 0.45 KG
On the opposite end of the scale is our favourite backpacking chair. You could fit six of these into your pack before you reach the weight of many camping chairs. The chair zero can fit in your water bottle pocket and unfold into a suitable chair kilometres from the nearest parking lot. 
You won't find any of the same comforts as larger camping chairs, that's not what the Helinox is aiming for. It's a full-on backpacker, using tent pole style foldability to save valuable space. That results in a chair you can truly take anywhere. 
+Pros
The best camping chair for hike-in camping, or day-hikes with lunch breaks
Durable footholds stay steady on uneven, rocky terrain
-Cons
Not much more than a stoop
Tent-pole style backpacking chairs that save weight at all cost can break quickly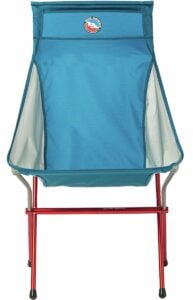 Big Agnes Big Six is our top pick for the best high back camping chair
Specs
Price (USD) – $190
Weight – 1.45 KG
This chair puts the Big in Agnes by taking a typical backpacking chair and stretching things out. Spartan hikers and minimalists no doubt love the weightlessness of a tiny chair, but sometimes we could all use a bit more cushion at a camp. This high back and wide option make sure we don't need to choose. 
While it's certainly on the heavy end of ultralight chairs, it's still a breeze to carry a kilometre or two, and it provides much more value than a typical 3-cornered tent-pole design. Big Agnes makes it easy to treat yourself to a splash of comfort next time you head into the backcountry. 
+Pros
Adds a headrest and wide legs that can reach the quads
Sits high and brings stability to the backcountry
-Cons
Heavy for a backpacking chair, too barebones for a car camper
The chair's high sides can start to hug your arms awkwardly
#8 Most Compact Camping Chair – REI Flexlite
Meet the most compact camping chair, REI Flexlite
Specs
Price (USD) – $70
Weight – 0.77 KG
An extra .3 kilometres heavier than the lightest camping chair on our list, the Flexlite adds a few precious grams to expand its camping chair to four corners. The square-shaped stool unfolds in two steps and brings camp anywhere. You can easily fit this camping chair in a day bag or fanny pack.
This extra weight also manifests at a lower price. The affordability of this camping chair makes it easier to overlook a few flaws and appreciate the simplicity of this option. While it's not the most comfortable chair you can take into the woods, it's all you need to enjoy a weekend outside. 
+Pros
Affordable chairs are always better off protected by REI's stalwart return policy
Somehow feels right both at the crag and in the parking lot
-Cons
It can be hard to justify lugging this kind of weight on longer backpacking expeditions
No pockets, cupholders, or frills of any kind

Unlock the The Broke Backpacker's GREATEST Travel Secrets!
You pop your email here, and we promise to send you only travel content that's actually relevant — sounds like a pretty good deal to us!
Final Thoughts on Camping Chairs
These durable camping chairs can easily fit in the car's trunk and help take a load off. Once the tents or tables are set up and the grills on, the right camping chair provides the cherry on top and allows you to sit down and appreciate your time outside.
 As you can see from our list, no one camping chair style fits every adventure. Modern models cover all sorts of grounds, ranging from plush comforts that rival the living room to ultralight backless beauties. We didn't even touch on kids camping chairs, that's another ball game.  
Now the choice is yours. The best camping chair is actually a combination of a few different sizes, so just like the three bears, you can have chairs large, medium, and small. Of course, if it were up to us, we'd have one of every style of gear waiting for us at home, but nobody has the garages and wallet with enough free space for everything. 
Choose wisely now, and you'll be sitting and pondering in style for decades. 
---
Thanks for reading – that was fun! 😀
We bring you epic FREE content!
Find out how YOU can help support us.
We're a big site with a big team and this job isn't always easy. But we do it because we love it – we love providing epic and free content. We love the knowledge that our content keeps you adventuring. We don't ask for money, but if you'd like to find out how you can help the site in more organic ways, click the button below.
Thank you for your support 🙂
---
Bye for now, but not forever!
If you want MORE top-tier Broke Backpacker content like this, then sign up for our weekly newsletter below to get the latest and greatest!
And for transparency's sake, please know that some of the links in our content are affiliate links. That means that if you book your accommodation, buy your gear, or sort your insurance through our link, we earn a small commission (at no extra cost to you). That said, we only link to the gear we trust and never recommend services we don't believe are up to scratch. Again, thank you!