Arriving at the fisherman's dock in Koh Lanta, there is no trace of the electrifying fury of Bangkok's high-voltage futurism, yet surprisingly, somehow we have landed in early 90s middle America. Vintage Ford pickup trucks fueled by jerry cans of gasoline, stuffed in the trunk with the odd chicken (and child) are lining up on the one paved street, rattling in front of tin roof shacks selling cigarettes, fishing line and warm cans of Coke. Eager but polite drivers in flip flops suck on Marlboro cigarettes and pass you earnest smiles, until they reel in a passenger.
I find trustworthy eyes in a man with twisted jeans and a toothy smile, and perch myself on sacks of rice in his trunk, as he drives down dirt trails, listening to K-Pop on the Blaupunkt car stereo system. Ricketing down towards the first of the main beaches, appropriately titled 'Long Beach', off a main causeway, I notice a plump woman at a lime-green painted stall selling peppered mango. It's on this 20 minute drive that I slowly become inebriated by the mellow vibe of this island, cushioned far away from the moon party mayhem on Koh Phangan, or the deserted honeymooning on Koh Mook. Life on Koh Lanta is like having a Piña Colada for breakfast: frothy and tranquilising, alluring you into a sense of relaxation only to sneak up on you with its mischievousness.
The truck pulls down a dusty sidepath, past one nearly empty karaoke bar, and another premises promising happy smokes and happier times. Once my feet hit the sand, the colour of pineapple rind, I can't help but throw off my well worn Converse and spend the rest of my five nights on the island like almost everyone else, barefoot. Matt, the keeper of the Chill Out House, is a shock of beach bleached hair, and musical Somerset accent. It's here I meet my Lanta family, which I would dip in and out of over the next week, in a carousel of activities.
First there was Diana, the nomadic yoga teacher (is there really any other type?) with Mermaid length locks and a book by Thich Nhat Hanh permanently anchored under her tanned arms. Erik, the tall and broad Swedish bartender is brooding and pensive, but pours a mean Mai Tai, and is excellent company for card-games and philosophical musings under starshine and lamplight.
Days would start like this: a climb down bamboo ladders from our bedroom cabins at breakfast, brushing teeth tiredly in a queue at the water fountain, before nursing ground coffee from ceramic mugs and stretching on the patio. Mornings would seem long and were preserved for activity. It's my first morning here that I attempt to ride a scooter for the first time, sheepishly asking the 80 year old Thai gentleman, who spends his days cherishing and maintaining his fleet of mopeds, for a quick lesson before I speed off to the South. 'It's the opposite of what you think', is his only advice, one that confounds me as I veer and crash into a turning onto the main road only 200 meters away from my starting point, scraping my leg under the heavy scooter and blistering the ridge of my foot on the scolding engine.
Fortunately, I make it to the next beach, a deserted cove, only housing an artfully placed splintered log, presumably for sitting, contemplating and meditating. I soothe my poor foot in the salty seawater, praying that the saline cleans the wound more than the open water infecting it, and find myself in awe that on either side, as far as I can see, there isn't a single soul in sight.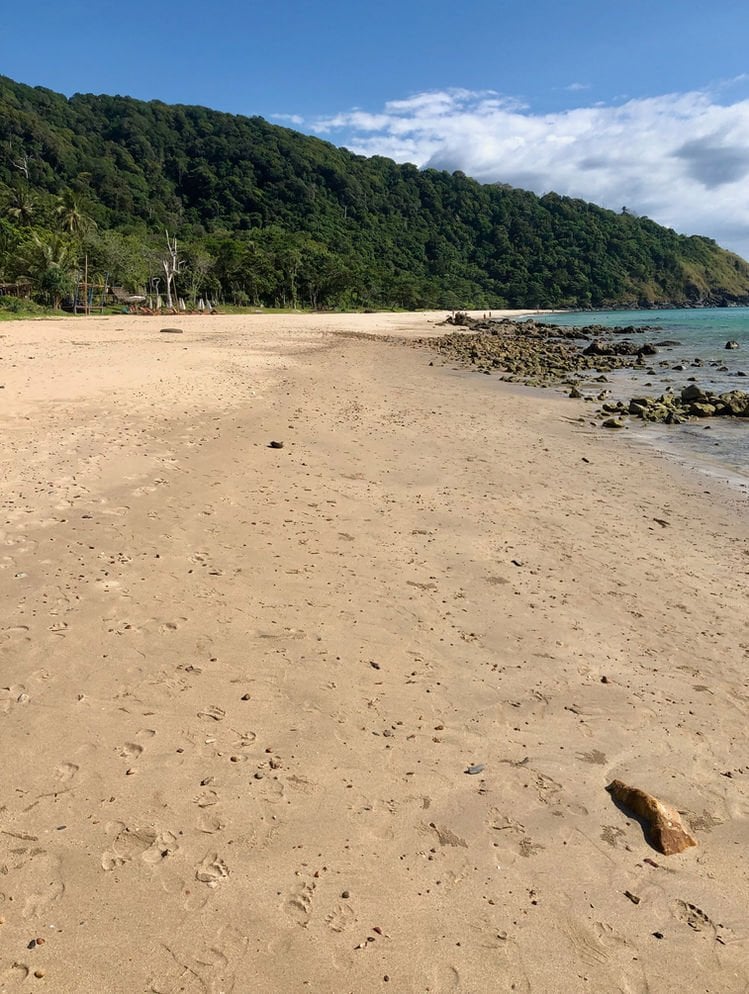 On days that I decide not to slice my skin open, there are sunrise swims and breathing workshops, followed by post-lunch naps in cord hammocks under canvas shade, sleeping off elbow sized avocado and tropical slaw wraps from the market stall, run by a nimble-fingered old man called Mr Wu who also sells weed. Apparently, there's a lot of multi-tasking jobs here. After dodging the midday sun, we do nothing but simply sit. Palm trees sigh and swing and foreheads collect dew as Diana and an American DJ called Pat discuss Deepak Chopra's 'Spiritual Secrets of Success'. I sit, too sedated to brush off the sand collecting on my legs, half watching British and German backpackers toss a frisbee, until the Sunset shows up to sing its song. As Matt assured us daily – the sunsets here really are to be gazed at. Soft, impressionist strokes of candy floss pink, sliding along unbroken slices of burnt tangerine. The longer I gaze, the dimmer the background buzz of friends catching up over cold cans of 'Chang' becomes, along with all the mental baggage that failed to be deposited at Heathrow.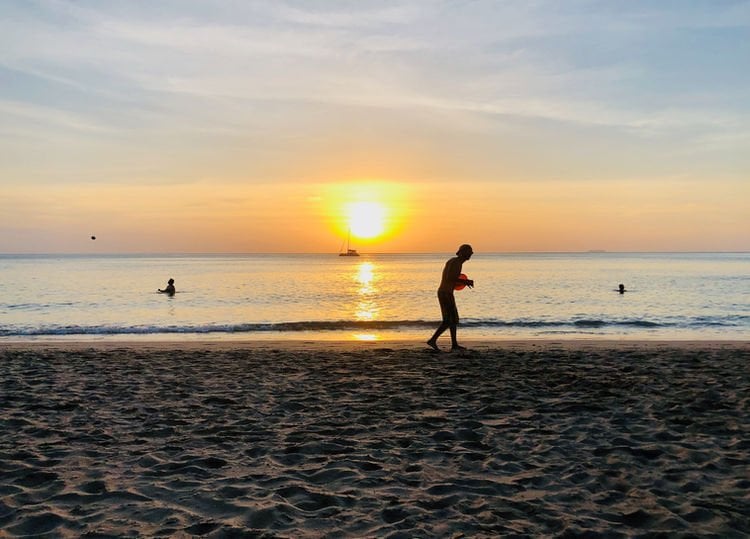 After dark, we dine at 'Mama's' – at least that's what we call it, there is no sign – it's a restaurant run out of a single hotel room on the beach, plates being scurried out of a tiny window frame. It's run by a gently-spoken mother from Chiang Mai, and is where I try Penang curried noodles for the first time. Fiery red chilli sizzles out from smooth peanut sauce slathered on long, flat rice noodles with sesame fried tofu and holy basil. Patrick wants to dissect the situation with his girlfriend at home, while I'm too busy cleaning my plate to dole out any dating advice.
Walking along the beach after sunset, the serene lapping of star-lit waves is accompanied by the background cosmic funk and disco gently wafting outwards from boomboxes stacked up in small, straw-covered beach bars. Glow in the dark paint and sand-covered floors beckon tiny clusters of midnight movers and shakers. Diana, Erik and I decide to hedge our bets and share a couple of mushroom 'happy' shakes from a neon-painted, butterfly bedazzled stall. We wait, hearts racing in anticipation of psychedelic visions, but we settle for tiny giggles, and observations about the crimson rings encircling the cratered moon, or magical trails left behind by possibly imagined shooting stars. Patrick bares his bum and pitter patters out into the balmy waters, entertaining himself (and us) with backflips and handstands in the shallow water, as we lay supine, heads resting on each others chests.
As we traipse back to sleeping quarters, out on the sideroad, young Thai men switch from playing bartenders to rockstars (or is it vice versa) at the lonely karaoke spot, drumming marijuana infused beats on makeshift kits and strumming island guitar strings over covers of Nirvana and Kings of Leon. With waist length hair, arms and fingers decorated with metal bands and chunky gemstone rings, they beckon and sing into the quiet night, leaving the few merry visitors to either cut a rug or watch with a Mona Lisa-smile from the sides, intertwined in their lover's arms.
And this is Lanta. Where everything, and almost nothing, seem to happen in equal measure.