You might know it as Jo' burg or Jozi as the locals do, or you may just know it by its full name of Johannesburg. Although in the past the city hasn't been the most tourist-friendly place, all that's changing. Now is a great time to visit as the city is still in the process of an urban renaissance. South Africa's largest city boasts lots of culture and history which you can see in galleries and museums. Some neighbourhoods are embracing the coffee culture and cool restaurants are springing up all over the place. So, there's something for when you're feeling less active too.
In this post, we'll take a look at the best places to visit in Johannesburg. Hopefully, it'll help you make a clear and detailed plan of your trip. With a packed Johannesburg itinerary, you'll really be able to make the most of your vacation and won't waste any time bored and searching for things to do!
Need a place quick? Here's the best neighborhood in Johannesburg:
BEST AREA IN JOHANNESBURG
Newtown
Newtown is a bustling neighbourhood located in Johannesburg's Inner City. Set at the heart of the metropolis, this neighbourhood is where you'll find many of Johannesburg's top tourist attractions as well as important art galleries, museums and historic landmarks
Places to visit:
Explore a world of science, math and technology at Sci-Bono Discovery Centre
Spend an afternoon people watching in Mary Fitzgerald Square
Enjoy a night of drinks and live jazz at Niki's Oasis
These are the BEST Places to Visit in Johannesburg!
Johannesburg is BIG and there's lots to discover, but before you board that plane, be sure to check out where to stay in Johannesburg. We've put together our top picks for accommodation and the best areas to explore!

Unlock Our GREATEST Travel Secrets!
Sign up for our newsletter and get the best travel tips delivered right to your inbox.
#1 – The Apartheid Museum – Possibly one of the most important places to visit in Johannesburg
Learn about the history of South Africa
Read and listen to real human stories from the most shameful time in the country's history
One of the most important and sobering points of interest in Johannesburg
Why it's awesome: A sobering reminder of South Africa's not too distant past, the Apartheid Museum can't be missed off anyone's Johannesburg itinerary. Photographs, films, and personal accounts document the apartheid era, creating a sobering and thought-provoking experience for the visitor. You'll witness an emotional journey as you head along South Africa's path to democracy, seeing decades of oppression. The country is still recovering from the Apartheid era, and this museum gives an excellent account of what happened, and how South Africa is likely to move forward.
What to do there: Such an important museum requires at least two hours of your time, but more if you can give it. Learning about the rise and fall of the Apartheid era can be a chilling experience, but like many museums around the world that deal with tragedy, it actively encourages it from happening again. The museum is a non-for-profit organisation and relies on donations and sponsorships to continue spreading its important message. If you've enjoyed your visit to Johannesburg's most important museum, any donation will be welcomed!
#2 – Gold Reef City – Easily one of the most fun places to check out in Johannesburg
Theme park and historical exhibits from the Gold Rush days
Take an underground tour of a gold mine
One of the best attractions in Johannesburg for families
Why it's awesome: One of the most interesting things about Gold Reef City is that it's actually a former gold mine! It was closed in 1971 though, and a theme park was built in its place. The giant wheel at the theme park is the perfect place to get a fabulous view of the city skyline and Soccer City. It's more than just a theme park though, there's also a petting zoo, mini-golf, and a casino for the adults. This is one of the best Johannesburg vacation ideas as there's so much to do!
What to do there: Where to start? Well, if you travel to Johannesburg with the kids, they'll probably twist your arm to head to the theme park. There are rides for all ages – think spinning teacups and Ferris wheels, all the way up to white-knuckle rollercoasters. Mini-golf is a good way to get competitive too! One thing you can't do at any regular theme park is a tour of the former goldmine. It used to be one of the richest gold mines in the world before its closure and heading down the mine is a cool experience. You can also enjoy exploring the recreations of buildings and businesses from that time!
#3 – Lion Park
See more than 80 lions throughout the park
Wildlife conservation area that protects Transvaal lions
One of the coolest attractions in Johannesburg to take the kids
Why it's awesome: If you want to see lions when you travel to Johannesburg but don't have time to get out to Kruger National Park, then there's an alternative! The family-friendly Lion Park is the perfect place to get up close and personal with these magnificent beasts. In fact, there are around 80 in the 500-acre park, including rare white lions! It's not just lions either, visit the park to see jackals, hyenas, painted hunting dogs, and antelope. Don't worry, they're all kept in separate enclosures!
What to do there: If you're passionate about animals and wildlife, you can't miss a trip to Lion Park. It's one of the best places in Johannesburg to visit as a family too! The kids will love having the chance to cuddle a lion cub, feed a giraffe by hand, and take a stroll along the cheetah walk. You can do a self-guided tour, but even better is a guided game drive through the park. On that, you'll have the chance to see ostriches, zebras as well as other animals already mentioned. You can also have a go at river rafting and night time feeding adventures at Lion Park!
#4 – The Maboneng Precinct – One of the nicer places in Johannesburg to sightsee!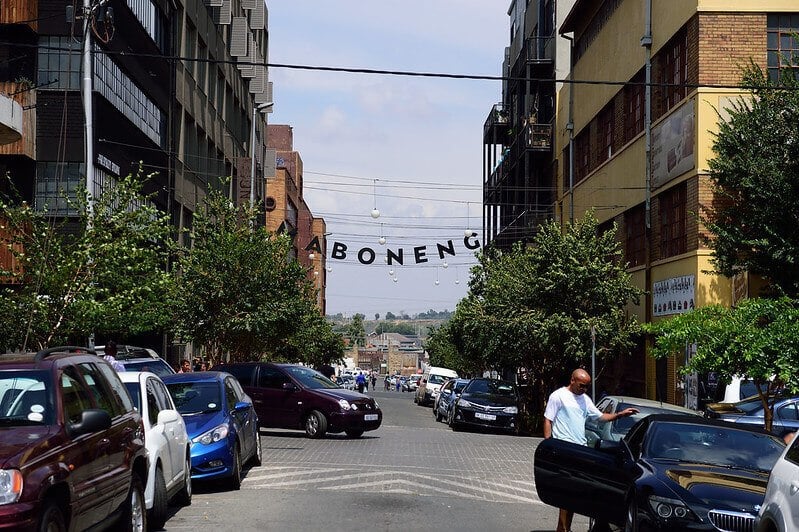 Formerly a run-down neighbourhood
Nowadays, one of the best examples of an urban renewal project in the world
Home to some of the best places to eat in Johannesburg
Why it's awesome: If you're interested in urban renewal projects, don't miss heading to one of the best places in Johannesburg: The Maboneng Precinct. The name means "place of light" and while it may not have been in the past, it certainly is now. This hipster-friendly area is one of the coolest spots in town, and it's got everything you'd expect from a big city in a single district. There are restaurants, bars, cafes, hotels, entertainment venues – all in a charming residential area.
What to do there: As well as what we've already written, this Maboneng Precinct is a great place for art lovers to enjoy while in the city. The warehouses have been transformed into galleries and studios, and you can even buy some of their artwork if you think it'd make a nice decoration at home! There's an independent cinema too, a great place to catch a movie, and a community centre where you can find out more about the people and the area. Maboneng Precinct boasts some of the best places to eat in Johannesburg too!
#5 – Walter Sisulu National Botanical Gardens – A beautiful and scenic place to check out in Johannesburg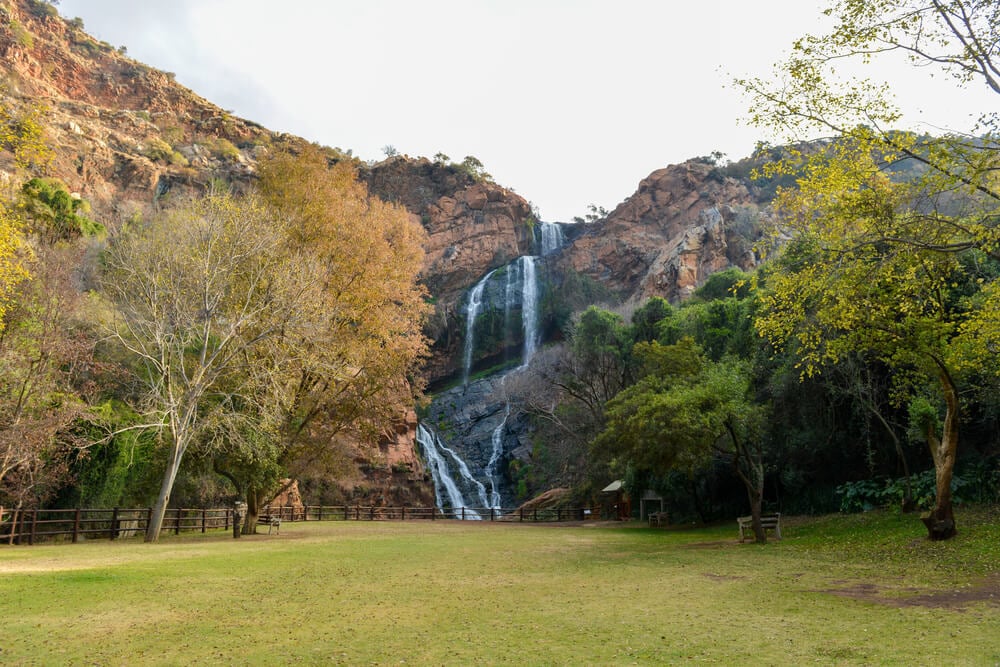 A tranquil and peaceful wilderness area on the outskirts of the city
Escape the hustle and bustle of city centre Johannesburg
One of the best places in Johannesburg to disconnect from everyday life
Why it's awesome: South Africa is a big country and there are only 9 national botanical gardens across the whole nation. Walter Sisulu is one of those and it's definitely worth taking a trip to the edge of the city to visit. As well as the usual trees and plants you'd expect from a botanical garden, this one has red rock cliffs and the picturesque Witpoortjie Waterfall. It's the perfect escape from the busy city!
What to do there: There are some great hikes you can take advantage of in Walter Sisulu National Botanical Gardens. The Fern Trail is a particular favourite! There are a number of cool ways to see animals in the garden too, especially in the bird and butterfly garden. No prizes for guessing which animals call that home! If you're a keen twitcher, you may even be lucky enough to spot a black eagle. Don't forget your camera as that will make for a really impressive photo! Even if you don't spot an eagle, the Gardens are one of the best places in Johannesburg for photographers, as the landscapes are gorgeous.
#6 – Constitution Hill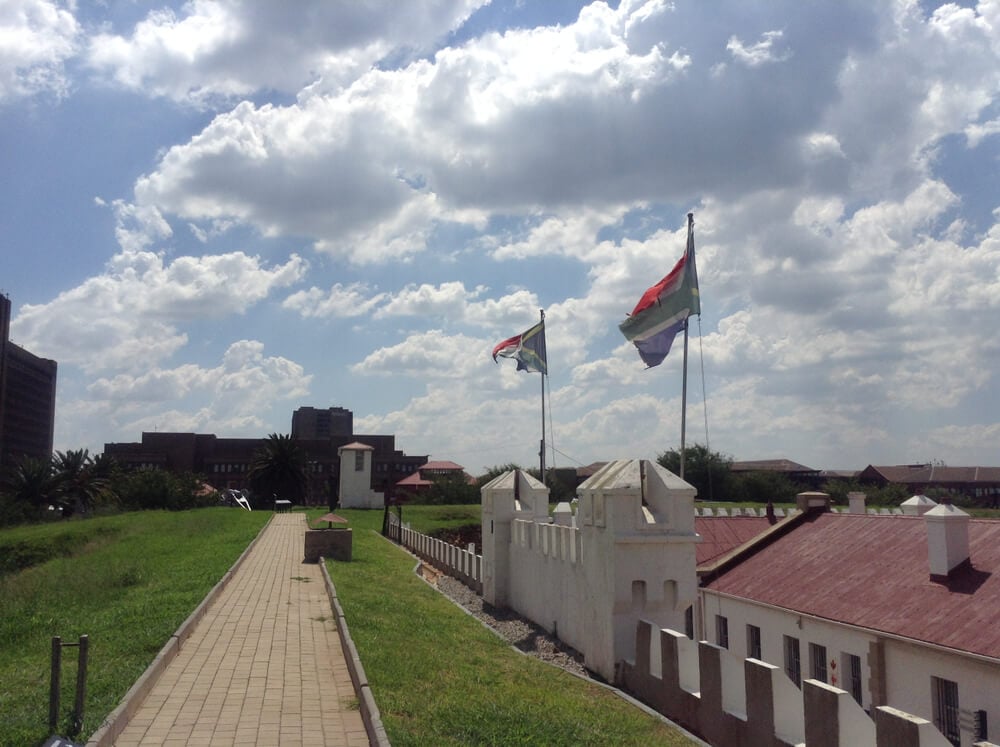 Get another insight into South Africa's history from visiting the former prison
Amazing city views and great photo opportunities
Take a guided tour to learn more about this fascinating place
Why it's awesome: What to Nelson Mandela and Mahatma Gandhi have in common? They were both held at The Fort – the prison on Constitution Hill known for holding political prisoners, passive resistors, and just general common criminals. Unfortunately, they were treated terribly which is part of the reason that this place has such a fearsome reputation. The Court is still located on the hill and you can actually attend hearings and watch the country's judicial processes. If you're less into the legal and penal side of things, you can always enjoy views of the most recognisable landmarks in Johannesburg from here.
What to do there: There are three museums to explore on Constitution Hill to get an insight into not only this place's brutal past but South African history in general. These are the Number Four, the Old Fort, and the Women's Gaol. The exhibits here are like those of the Apartheid Museum, in a way that they make you think and really stir up emotions. You can take a guided tour of Constitution Hill if you want to get deeply into with the judicial system and history of South Africa.
#7 – The Cradle of Humankind – One of Johannesburg's coolest historical sites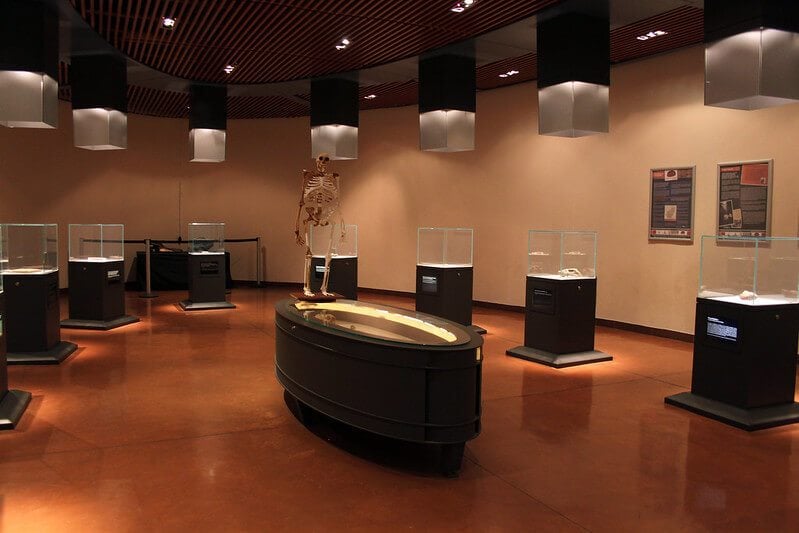 A UNESCO World Heritage site
One of the coolest and most interesting day trips from Johannesburg
The location of some of the oldest hominid fossils ever found
Why it's awesome: It's an hour out of the city, but this place is a Johannesburg must-see. The oldest hominid fossils ever found are in this 180-square mile site, and this may just be the location that the human race originated from! It's so important that UNESCO has labelled it a World Heritage site, as its one of the world's most important paleo-anthropological sites. Human-like skeletons found here date as far back as 3.5 million years ago, which is pretty mind-blowing. Don't miss this off your Johannesburg itinerary!
What to do there: If seeing skulls that date back more than 2 million years doesn't quite pique your interest, we're not sure what will. However, there are some other cool attractions that are worth seeing at the Cradle of Humankind! The Maropeng Visitor Centre is the place to see exhibits and really learn about the place, but there are some great natural attractions on site too. Want to go into an underground cave system? Then the Sterkfontein Stalactitic Caves are the perfect place for you. 6 interlinked chambers 40 metres below the earth may not be great if you're claustrophobic, but they're certainly fascinating! An underground lake is also found here. Several tour companies offer day trips to this Johannesburg must-see.
#8 – Neighbourgoods Market – A must-see for foodies
One of the most popular markets in Johannesburg
Saturday lunchtime market with over 100 food choices
Home to some of the best places to eat in Johannesburg
Why it's awesome: As little as ten years ago, many tourists would have had absolutely no reason to go to the once dilapidated Braamfontein Area. However, Neighbourgoods Market has transformed all that and it's one of the real hotspots in Johannesburg! Every Saturday, the area comes alive with the smells of food from all over the globe, the sound of live music, and the general great atmosphere of this cool hipster haven. Whether you want gourmet food, flavourful street food, or a quality coffee, this is the place to be. A real foodie heaven, Neighbourgoods offers some of the best places to eat in Johannesburg!
What to do there: Well, since this is one of the best places to eat in Johannesburg it would be rude not to snap up some tasty dishes. Although you'll be welcomed into Neighbourgoods market, this place was initially set up for locals and it's the perfect place to make new friends and get chatting to people who call the city home. The rooftop market is not only a great place to eat, but for shopping too. You'll find independent designers and local craft stalls here too, so it's a great place to pick up some souvenirs! You could even stay nearby in one of Johannesburgs best hostels.
#9 – Top of Africa
The tallest building in Africa
Get excellent panoramic views across the whole of Johannesburg
See the city's unusual topography and geography
Why it's awesome: Incredibly, Johannesburg is the only city of its size that is not located near a major water source. You may not know this before you ascend to the Top of Africa, but you will notice it from the observation deck! The Top of Africa name is very apt, as it's at the top of the Carlton Centre, the tallest building in Africa. When it was constructed in the early 1970s, it was the tallest building in the southern hemisphere!
What to do there: The Top of Africa is a great place to get stunning views of Johannesburg and the surrounding area. As well as noticing the lack of nearby water source, you'll probably note the world's largest urban forest here too. Once you've finished at the observation deck, head down into the Carlton Centre. It may not be the luxury hotel that it once was, but it still has a shopping centre on-site where you could pick up some souvenirs!
Is This the Best Daypack EVER???
#10 – Collectors Treasury
Africa's largest used and rare book shop
Try and find a space that isn't occupied by a book!
One of the best places in Johannesburg for readers and bibliophiles
Why it's awesome: This family business was set up above a garage in 1974 but has had to move since then due to stock size. Incredibly, at Collectors Treasury, there are over 1 million used books! Some of them are standard run of the mill books, but some are really rare and cool. You could spend ages getting lost here among the towering piles and walls lined with books. A Johannesburg must-see for readers!
What to do there: You don't have to be interested in reading or books to visit Collectors Treasury. It does help though! This unusual and intriguing store also collects maps, vinyl records, photographs, and a whole host of other memorabilia from days gone by. You don't have to buy anything to enjoy the store, just drink in the atmosphere and step back into the past when most modern-day electronics weren't even thought of!
Get insured for your trip to Johannesburg!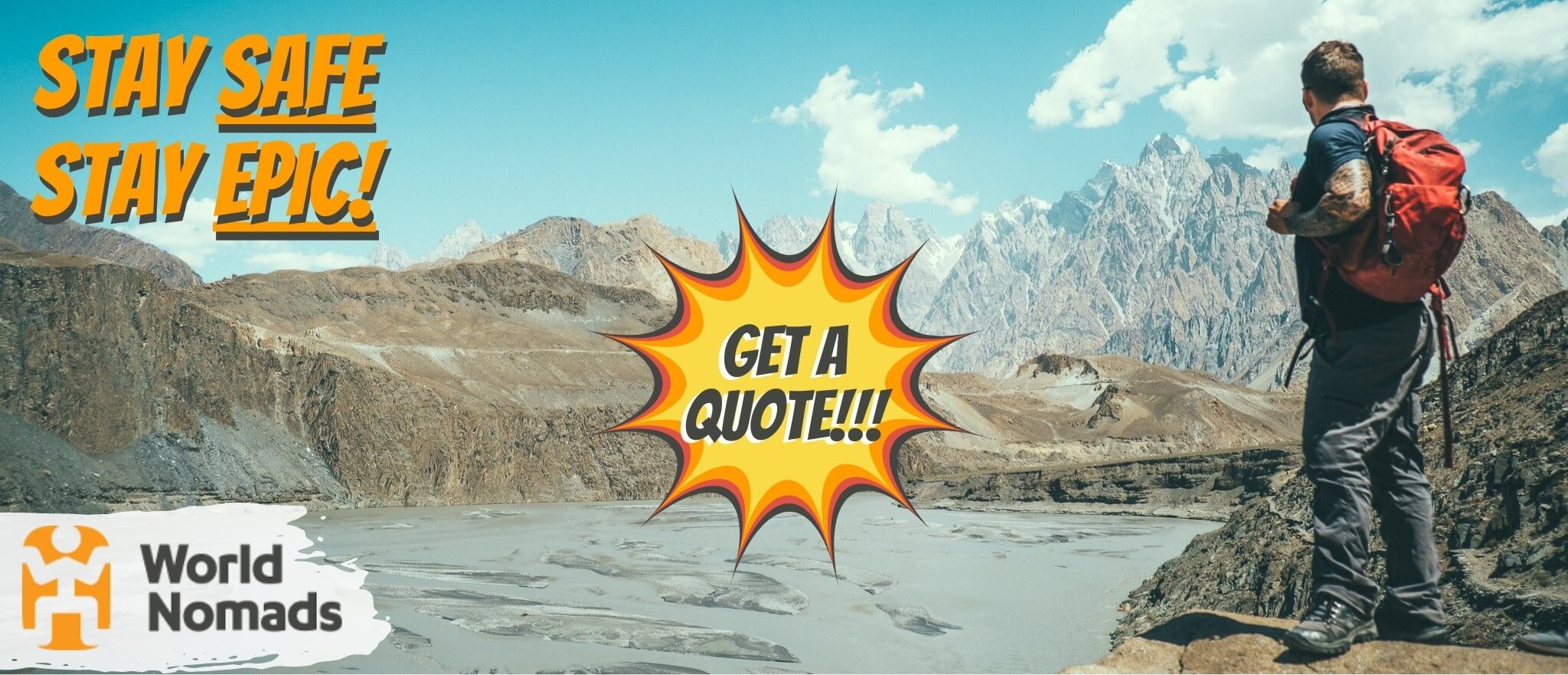 World Nomads' mission is to support and encourage travellers to explore their boundaries. They offer simple & flexible travel insurance, and safety advice to help you travel confidently.
They've been doing it since 2002 – protecting, connecting, and inspiring independent travellers just like you.
Get a quote below or read our in-depth review!
World Nomads provides travel insurance for travelers in over 100 countries. As an affiliate, we receive a fee when you get a quote from World Nomads using this link. We do not represent World Nomads. This is information only and not a recommendation to buy travel insurance.
FAQ on the Best Places to Visit in Johannesburg
Find out what people want to know about the best places to visit in Johannesburg
Final Thoughts
So, that concludes our list of the best things to do in Johannesburg. We hope that you've found our list useful and informative and it really helps with your upcoming vacation! We also hope that now you've a bit of an idea about the best neighbourhoods in Johannesburg, you'll find the perfect place to stay.
After reading our list, you'll probably have realised that there are a number of cool landmarks in Johannesburg. Whether you're heading there to sample the food and drink scene, head out to some natural attractions, or just learn about South African history and culture, you can do all that when you explore Johannesburg!
All that's left is for us to wish you a fantastic holiday. And don't forget to keep a copy of our best places to visit in Johannesburg list at hand throughout your vacation!
---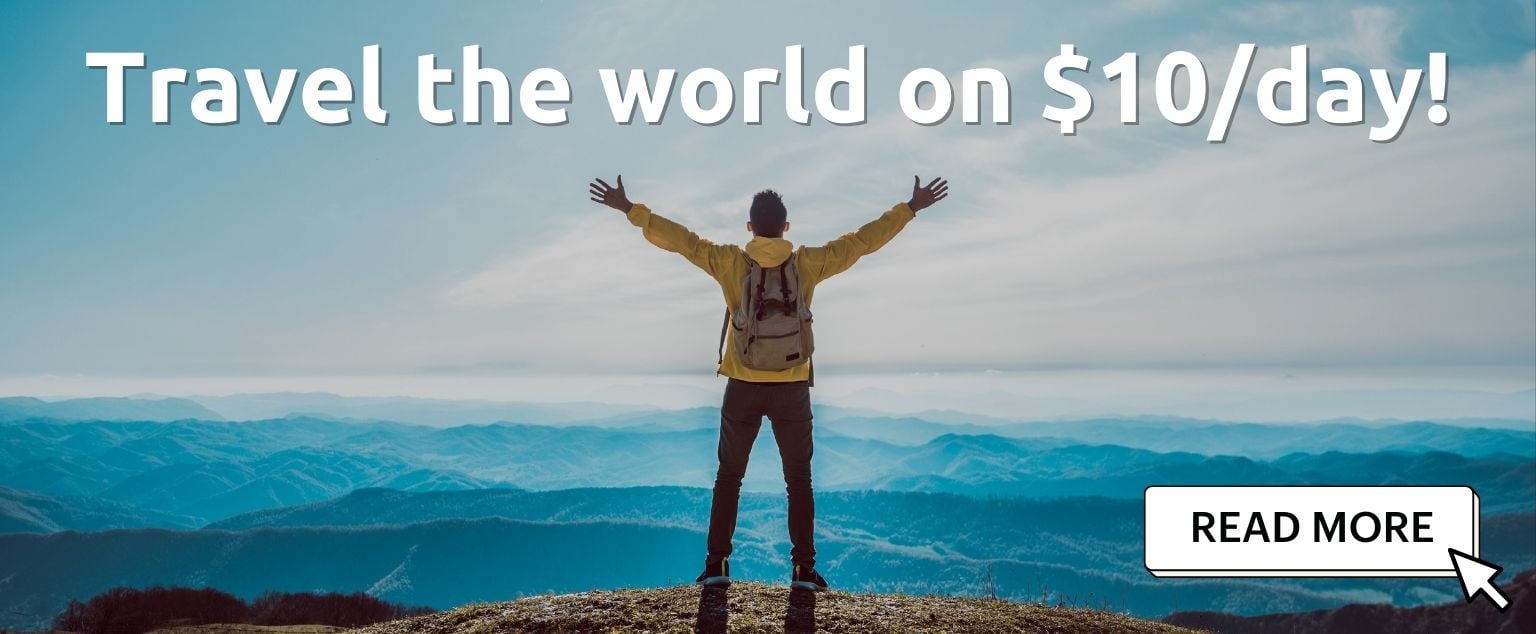 And for transparency's sake, please know that some of the links in our content are affiliate links. That means that if you book your accommodation, buy your gear, or sort your insurance through our link, we earn a small commission (at no extra cost to you). That said, we only link to the gear we trust and never recommend services we don't believe are up to scratch. Again, thank you!