Welcome to my REI FLASH 45 REVIEW!
Even before its major re-launch in 2016, the REI brand had developed a reputation for high-quality gear at entry level prices, and that doesn't change with the men's Flash 45 backpack.
Specifically designed as the ideal all-around weekend backpack for adventures of all sorts – whether a long train journey or 48 hours of wild camping – the REI Flash 45 can lay claim to being one of the best backpacks of its kind.
But is the REI Flash 45 the best backpack for you and your backpacking adventures? That's exactly why I've written this REI Flash 45 review!
By the end of this review, you can be sure I will have questioned, teased, and tested the REI Flash pack to its extremes, seeking out cons as much as pros, so you'll know if this backpack is the answer to your prayers!
Let's get right to it…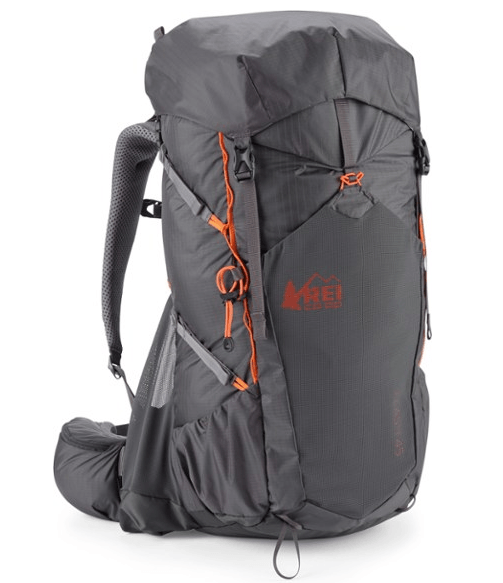 Quick Answer: The REI Flash 45 is for you if…
You're a keen weekend adventurer
An internal support frame is a must
You're after a bag with external pockets and attachment loops
You want a hydration compatible backpack
Weight is an important consideration
Sustainability is important to you
You don't mind draw-string closures
The REI Flash 45 is the brand's contribution to the need for great, adventure-ready weekend backpacks.
Its internal steel framework may add a little weight – though the pack still weighs under 3 lbs – but with its shoulder straps and hip belt, provides the right level of structural support for all-day wear without ever becoming cumbersome.
The spirit of outdoor adventure is also aided by the eight external pockets – which are incredibly useful for storing all manner of small items that would end up lost in the main compartment – attachment loops for ice axes or similar tools of the adventuring trade, and the pack's compatibility with hydration systems.
The Flash 45's nylon Oxford material is also bluesign approved, meaning the production of this bag aims to be as sustainable as possible – an increasingly important consideration with all kit purchases.
That said, there are points which may mean the REI Flash 45 is not the backpack for you.
Winter is coming… WARM UP!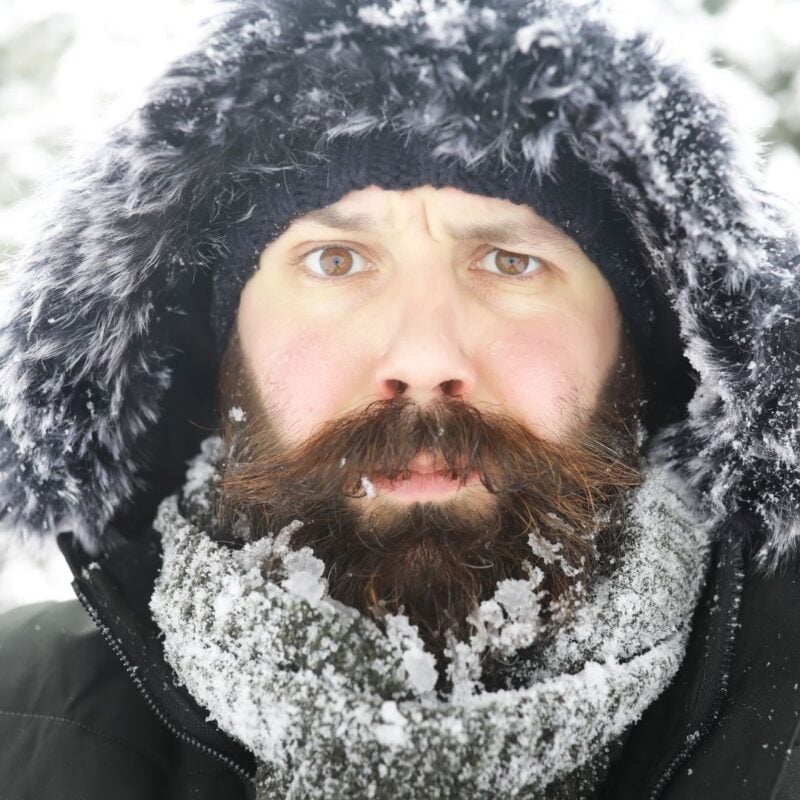 Get up to 50% OFF when shopping gear for the winter on REI.
Warm up for the holidays and SAVE on outdoor gifts all the way through Dec 18!
View on REI
Quick Answer: The REI Flash 45 is not for you if…
You want a backpack with integrated rain cover
You want a simple feature-free backpack
You don't like internal metal frames
You're heading out on months of hard travel
Security is a major concern
Although this REI hiking backpack is made with ripstop nylon and nylon Oxford fabric, making it tear resistant and water resistant, it doesn't include an integrated rain cover. This means the Flash 45 is not really suitable for parts of the world used to receiving sustained periods of heavy rain.
The REI Flash 45 is also probably not the best choice for you if you prefer a simple pack comprising nothing but a main compartment, because of its internal support frame, external pockets, and attachment loops.
And if you're heading out on a period of travel longer than an extended weekend, you'll probably find the REI Flash backpack too small in volume for your requirements. Also, the draw-string closure may be a drawback to some users who prefer the option of securely locking their packs.
However, I think the majority of weekend adventurers will find the features of the REI Flash 45 positive rather than negative, as I continue to detail below.
With enough space to fit anything you might need to pack for a weekend away without spending hours deciding exactly what IS essential, the REI Flash 45 is the perfect men's grab and go pack.
With features that hikers and other outdoor enthusiasts will expect – such as a hip belt and compression straps – this pack is just as suitable for a few days in the country as it is on the busiest of city transport systems.
So let's check out what exactly the REI Flash 45 has to offer in more detail!
REI Flash 45 Size and Fit
While I'm focusing this review on the Flash 45 as a single pack, it's worth noting that the REI Flash backpack actually comes in three different sizes. There's an (only slightly) smaller 43-liter version, the middle of the pack 45-liter, and an (again only slightly) larger 47-liter backpack.
"Why the narrow size range," I hear you asking? It's all to do with getting exactly the right fit for you! The smaller 43-liter Flash backpack is intended for men with a torso of 18-inches and waist size of 30-40 inches. The Flash 45 is the best fit for men with a torso of 19 inches and waist circumference of 32-42 inches, and the larger 47-liter version fits men with a 20-inch torso and waist of 34-46 inches.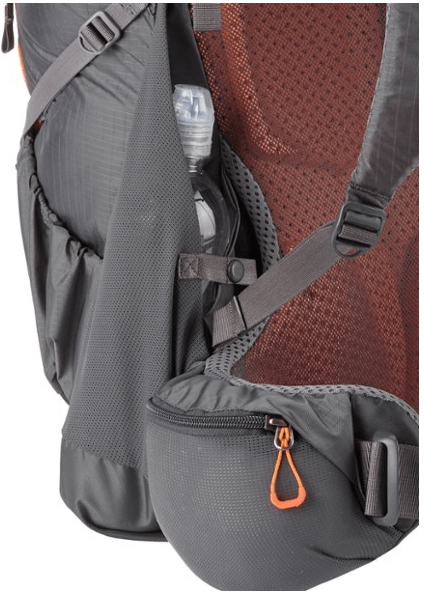 Key REI Flash 45 Highlights
As a backpack orientated towards the adventure market, you won't be surprised to learn that each 'version' of the REI Flash 45 comprises well-padded shoulder straps which are adjustable at the top and bottom for a personalized fit.
The hip belt has been contoured in three dimensions to ensure it provides users the support they expect while still remaining comfortable, without rubbing or chaffing. You'll also find the mesh side pockets intended for water bottles brought forward on the hip belt, so that users can reach for refreshment without having to take the pack off their shoulders.
The mesh material extends to the area of the pack that comes into contact with your back in order to improve ventilation and breathability, while compression straps help keep loads balanced and in place throughout the day.
Length and weight of the REI Flash Backpack
What do the different volumes do to the size and empty weight of the REI Flash 45?
Each increase in size adds an inch to the overall length of the Flash backpack, making for a more comfortable fit from shoulder to hip, while the extra volume also adds an ounce – just an ounce – in weight, so that while the 43-liter version weighs 2 lbs 7.5 ounces when empty, the Flash 45 comes in at 2 lbs 8.5 ounces, and the 47-liter just an ounce more than that!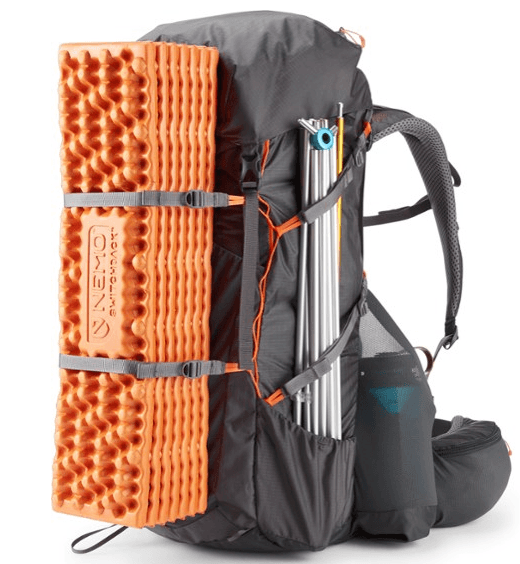 Flash 45 Storage and Organizational Features
In addition to its main compartment, the REI Flash 45 has a range of handy storage and organizational features, as we'll now see.
I've already mentioned the mesh pockets designed for water bottles, and the fact they are pushed as far forward to the hip belt as possible to stop you needing to remove the bag completely to take a swig of water.
These mesh pockets also boast snap closures, so however slim your water bottle, you can be sure it'll be held in place and won't move about as you do.
The Flash 45 also manages to squeeze in shallow elasticated side pockets to support the ends of hiking poles or carry trail snacks. It has a large, breathable mesh pocket on the front of the pack, ideal for storing items you might need to access quickly, such as a rain cover.
But the organizational features don't stop there, oh no! Each side of the hip belt comprises a good-sized zippered pocket, and there's a further exterior zippered pocket incorporated into the pack's closing lid or brain!
And don't forget that the Flash 45 has attachment loops on the front for the easy lashing of hiking poles, ice axes, or similar tools too!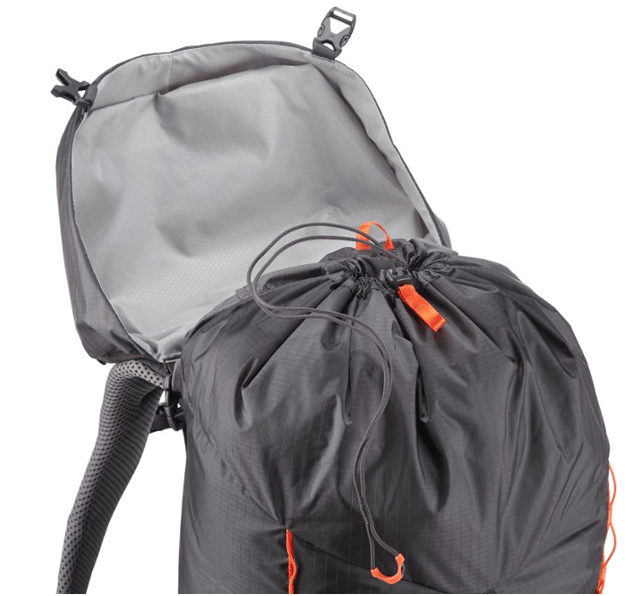 Making use of the Flash 45 Sternum Straps and Hip Belt Adjustments
For the best fit, you don't just need to adjust the shoulder straps of the Flash 45, but also its sternum strap and hip belt. Both are incredibly easy to tighten to the desired hold, and clips make them equally easy to release quickly when removing the pack.
The sternum strap has the additional advantage of running up and down a track so it can be positioned in EXACTLY the right position for you and your body. One downside to this track system is that the strap can be very difficult to reattach should it be accidentally pulled off – by airport baggage handlers, for example, as has happened to me in the past.
Price of the REI Flash 45
The REI Flash backpack will set you back $159.
Is this a good price? My quick answer: yes!
To get a full-sized backpack for a price like this is very reasonable indeed, with similarly-styled packs by other outdoor brands coming in at easily double the REI Flash price point.
Does this mean you're getting half the quality of the REI's competitors? Here's another quick answer: no, it doesn't! And when you bear in mind you'll be able to use this pack season after season, the REI Flash 45 just gets cheaper and cheaper!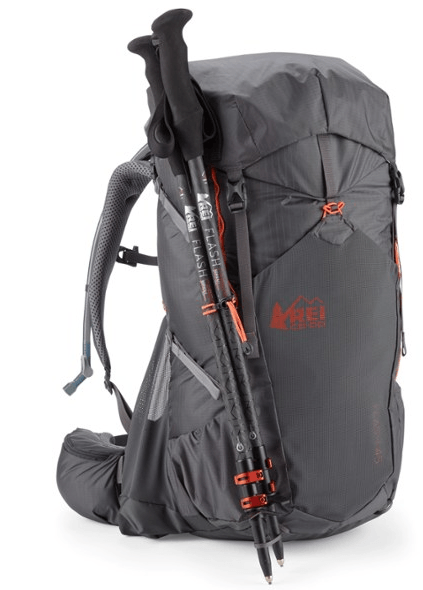 Does the REI Flash 45 Come with a Rain Cover?
Although the REI Flash 45 is made of water-resistant nylon Oxford fabric, which is more than good enough to keep your kit dry through a light shower, it unfortunately doesn't come with an integrated rain cover. To ensure the total protection of your kit whatever the weather, you'll need to splash out on a little additional kit.
The good news? REI sells rain covers that will fit the Flash 45 for as little as $25, meaning you don't have to cancel weekend plans should the weather look less than peachy!
I am a personal fan of the Osprey rain covers as they seem to work better in my opinion.
Is the REI Flash 45 Compatible with Hydration Reservoirs?
Absolutely! In addition to the snap closure bottle pockets I've already highlighted as very well-thought-out features, the REI Flash 45 is also compatible with Osprey hydration reservoirs.
What does this mean in practice? Well, the REI Flash backpack includes a sleeve or liner within the pack's main compartment which is specifically intended to store water bladders (though they can be very useful for a small laptop or tablet computer too) in the smallest possible space.
The REI Flash 45 vs. the Competition
How does the REI Flash 45 stack up against the competition? Firstly, I'll check out the internal competition from other REI backpacks, before comparing the Flash 45 to the Osprey men's Talon 44.
If you have your eye on an REI brand backpack, it's well worth considering whether the Flash 45 is the best for you. How does it compare to the REI Traverse 32, for instance, given both packs are targeted at similar markets?
As you've probably already guessed, the Flash 45 is 10 liters larger in capacity than the Traverse 35 – while interestingly, the $139 Traverse is roughly half a pound heavier when empty.
This may come down to the presence of an integrated rain cover on the Traverse – absent from the Flash 45 – given both backpacks comprise an internal steel support frame, have eight exterior pockets in addition to the main compartment, are compatible with hydration systems, and are top-loading packs.
Really, you have to ask yourself, what do I value most? Is it an additional 10-liters capacity, or a rain cover I can buy separately in any case? The answer seems obvious to me – 10 extra liters and the Flash 45 every time!
And what about external competition from the likes of Osprey, another highly respected outdoor brand? Comparing the REI Flash 45 to the similarly-sized Osprey Talon 44, I think the Flash backpack comes out very well.
To start with, the recommended retail price of the REI comes in around $30 less than the Talon 44 – ideal perhaps for purchasing that missing Flash rain cover.
As both these packs are designed with hikers and backpacking in mind, they both include the padded and adjustable shoulder straps, sternum strap, and hip belt common with this type of pack, and also include zippered pockets on the hip belt.
The Flash 45 seems to beat the Talon when it comes to refreshment, given that the Talon lacks the extra external snap closure water bottle pockets of the Flash. However, the Talon boasts an 'external' hydration sleeve for water bladders in the back panel, which makes accessing hydration systems a little easier than if it sits in a sleeve in a perhaps heavily-loaded main compartment.
The other main difference between the Flash 45 and Talon 44 is the Talon's zippered sleeping bag access at the bottom of the pack – a useful addition no matter what you store and carry in your backpack.
Then there's the hard to beat Osprey All Mighty Guarantee, which REI is yet to match as a brand despite its 100% customer satisfaction guarantee. While REI allows its customers to return and replace its outdoor gear for whatever reason within a year of purchase, Osprey's All Mighty Guarantee guarantees the company will repair damage and defects to its products whether they were purchased one or thirty years ago (or more). And if they can't repair it, Osprey will replace it as best they can, like for like.
I think you'll agree with me that the REI Flash 45 stands up very well against its nearest competition, whether that's from other REI products or one of the market's top brand names.
Cons of the REI Flash 45 backpack
Though it stands up well against the competition, as we have seen, all products come with some cons. I've already mentioned a couple of the cons of the REI Flash 45 in passing. Here, I lay them out for consideration, since understanding any potential negative is just as important for a successful backpack purchase as knowing how brilliant a pack's features may be!
Flaw #1: Lack of Rain Cover
I know I keep coming back to this again and again, but seriously? Water resistance just isn't enough for anyone looking to get out and about in the wild for a couple of days, where shelter is difficult to come by and good weather far from guaranteed. And though you can buy separate rain covers at reasonable prices, should I really have to when I'm already purchasing a pack that lies within the backpacking and hiking range?
Flaw #2: Sternum Strap Runs on a Track
The minute adjustability of a sternum strap that runs on a vertical track is a great idea in theory; however, in practice, this system does have its downsides. For instance, it's relatively easy to pull one or both sides of the strap from the track – and very (very) difficult to refit.
(The alternative would either be a fixed position strap, which isn't great for adjustability, or a loop/eyelet system like some other packs, which also limits adjustability, so I get there's no easy answer!)
I also think the sternum strap would be more comfortable if it were made up of a wider webbing than it is.
Flaw #3: Weak Mesh Pockets
Although I really like the mesh water bottle pockets and large mesh pocket on the front of the Flash 45, the mesh does feel a little thin. I can't help worrying that with rough handling – such as pulling out a rain cover in a hurry – it could easily tear.
How to Choose the Best Backpack
First and foremost, you need to find a backpack that fits YOUR body size and shape. Everyone is different, and not every backpack will suit every person. While some people are lanky, giving them a long, slim torso, others are bulkier, with a slightly shorter and wider torso. Thankfully, the fact that the REI Flash 45 comes in three alternate sizes means you've probably got this covered already.
Then you need to pick a backpack that fits your needs. Although this sounds obvious to say the least, it might not be so easy if you plan to use your backpack as your main source of baggage for a range of trips over months and years. However, ask yourself how long most of your trips last – are they one or two night affairs, or longer more extended trips of a working week or more?
On average, a 20 – 50 litre capacity backpack is about right for a shorter trip, while five or more nights (particularly in the depths of winter) will require a backpack that could well balloon up to a capacity of 80 litres. Another noteworthy point is the fact that the larger the volume of your backpack, the heavier it will be when empty, from 1.5 – 4.5 lbs for a smaller capacity backpack to over 6 lbs for an 80 litre version.
Tips for Achieving the Perfect Backpack Fit
Make sure the suspension is right. What does this mean? It's all about how the hip belt, shoulder straps, sternum strap, and back panels fit your body. For instance, the hip belt should sit snugly on top of the hip bone, to take 80% of the backpack's weight, while shoulder straps should be level with one another (check this out in a mirror or have a friend to hand) and should be adjusted so there's minimal gap between the backpack and your back.
Meanwhile, the sternum strap should be tight enough to keep the backpack steady but is not intended to take the backpack weight, while as already mentioned, the back panel should be flat against your back. To aid ventilation, a backpack with air flow channels in the back panel, or a panel made with more breathable mesh, are best.
Finally, consider what you like in a backpack. Do you like lots of external pockets? Are zipper closures important to you? What about internal divisions, or a sleeping bag pouch? Do you need compatibility with a hydration reservoir system, or compression straps to hold everything in? The more features a backpack will have, the heavier its empty weight will be, so you need to balance the potential requirements for a feature with this fact. Ask yourself, do you ACTUALLY need that feature?

Our GREATEST Travel Secrets…
Pop your email here & get the original Broke Backpacker Bible for FREE.
Final Thoughts on the REI Flash 45 Backpack Review
All good reviews must come to an end, and this REI Flash 45 review is no different!
What have I learned in reviewing the Flash 45? Here's the lowdown.
The REI Flash 45 is a very reasonably priced backpacking and hiking pack for anyone seeking out a comfortable way of carrying their kit for a weekend away, for hours at a time if necessary.
Comparing very well with its nearest competitors when it comes to price and features, the Flash backpack offers users all the features a backpacker will be looking for. An internal frame, padded shoulder straps, and hip belt, and adjustable sternum strap are all there to ensure an ideal fit, alongside three different sizes of the backpack.
Then there's the eight different external pockets, including snap closure water bottle pouches, for storing those little extras, and an internal sleeve in the main compartment for use with water bladder hydration systems.
All in all, though the REI Flash 45 does have its minor flaws as I've highlighted – and don't we all – I think the Flash pack is a thoroughly trustworthy backpack that will see you through many a weekend adventure. So put that REI membership card to good use and grab yourself this epic backpack for your next adventure.
What is our final score for the REI Flash 45? We give it a rating of 4.5 out 5 stars!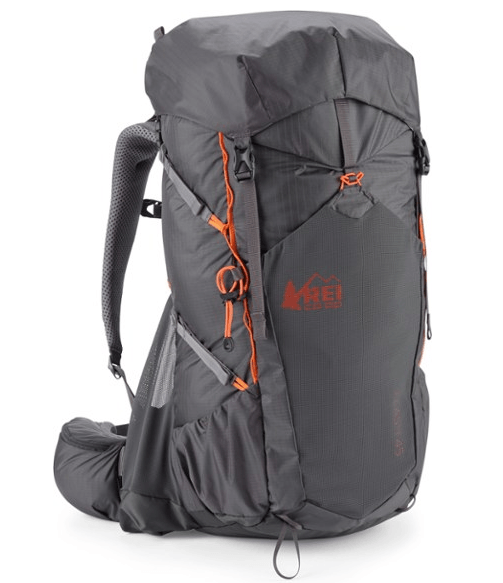 ---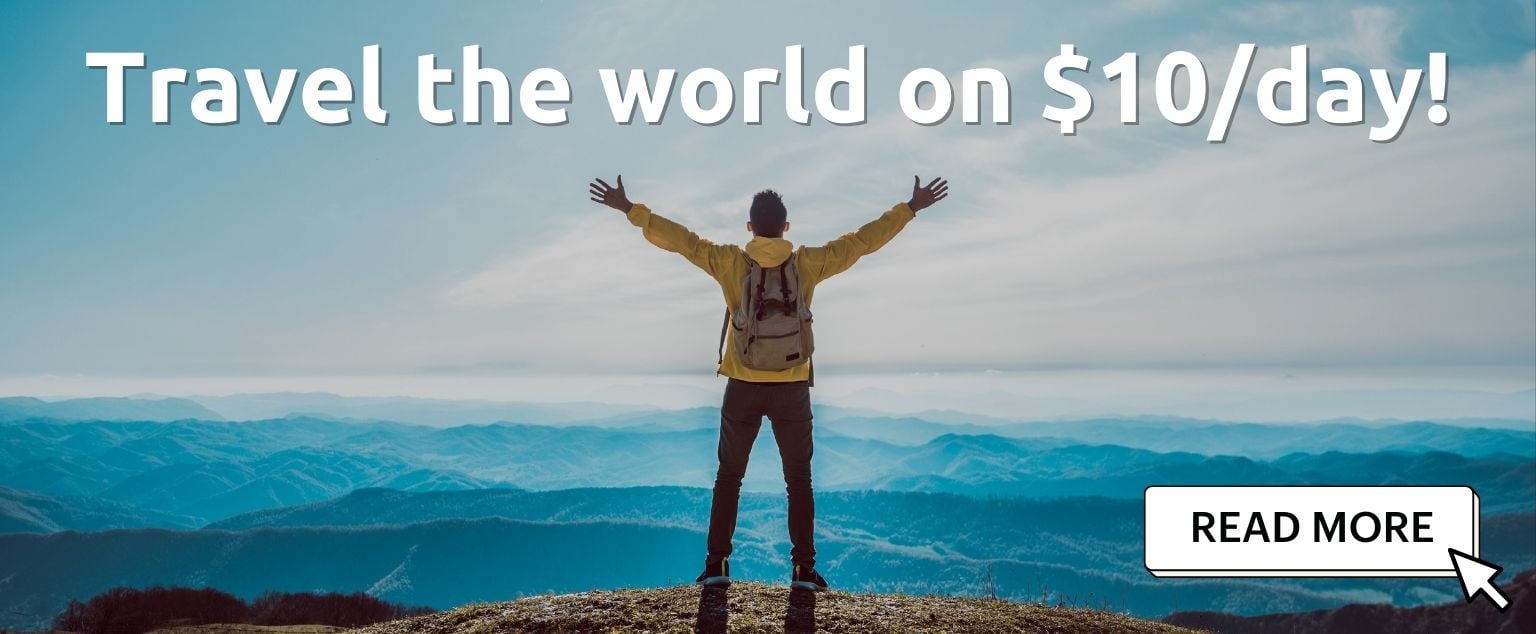 And for transparency's sake, please know that some of the links in our content are affiliate links. That means that if you book your accommodation, buy your gear, or sort your insurance through our link, we earn a small commission (at no extra cost to you). That said, we only link to the gear we trust and never recommend services we don't believe are up to scratch. Again, thank you!