Marseille is France's second city and the so-called capital of the South. It is a sun-scorched Mediterranean, veritable dream of history, food and cool culture ranging from fine art to street art.
A lot of tourists make their way to this bastion of the French Riviera each year. And, yes, of course there are a load of things to do in Marseille that are firmly on the tourist trail. However, if you're arriving in the city as an independent traveller or backpacker who isn't really interested in, well, doing what every other visitor is doing – putting in the research to find the city's hidden gems is time-consuming.
And that is where we come in. We have created this guide to the best off the beaten track things to do in Marseille to make sure that your trip is as rewarding as it can be. From taking trips to former prison islands, going to see nearby fields of lavender, and hanging out in hipster bars, we've made sure that our guide has something that is going to suit just about any kind of traveller. So let's do this!
Top Things to Do in Marseille
Visiting France and headed to Marseille? and knowing where to start can prove tough. This is why we have listed the Top Things To Do in Marseille.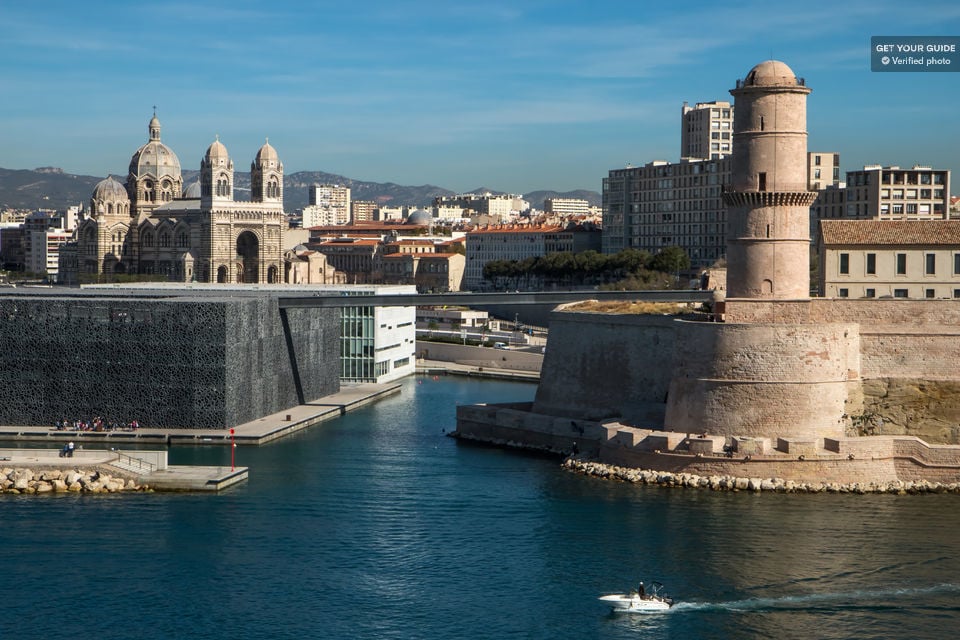 The Museum of European and Mediterranean Civilisations is as good a place as any to start your journey in Marseille. Opened in 2013, this brand new museum charts the history and culture in the Mediterranean (and Europe, if you couldn't tell from the name), and how it spread throughout the continent.
Located next to the 17th century Fort Saint-Jean, this modern cube of a building is made up of two levels with various exhibitions on show, as well as an auditorium for talks and lectures. It's up there, apparently, as one of the 50 most visited museums in the world and has an impressive collection of over 350,000 objects.
2. Take a trip to Château d'If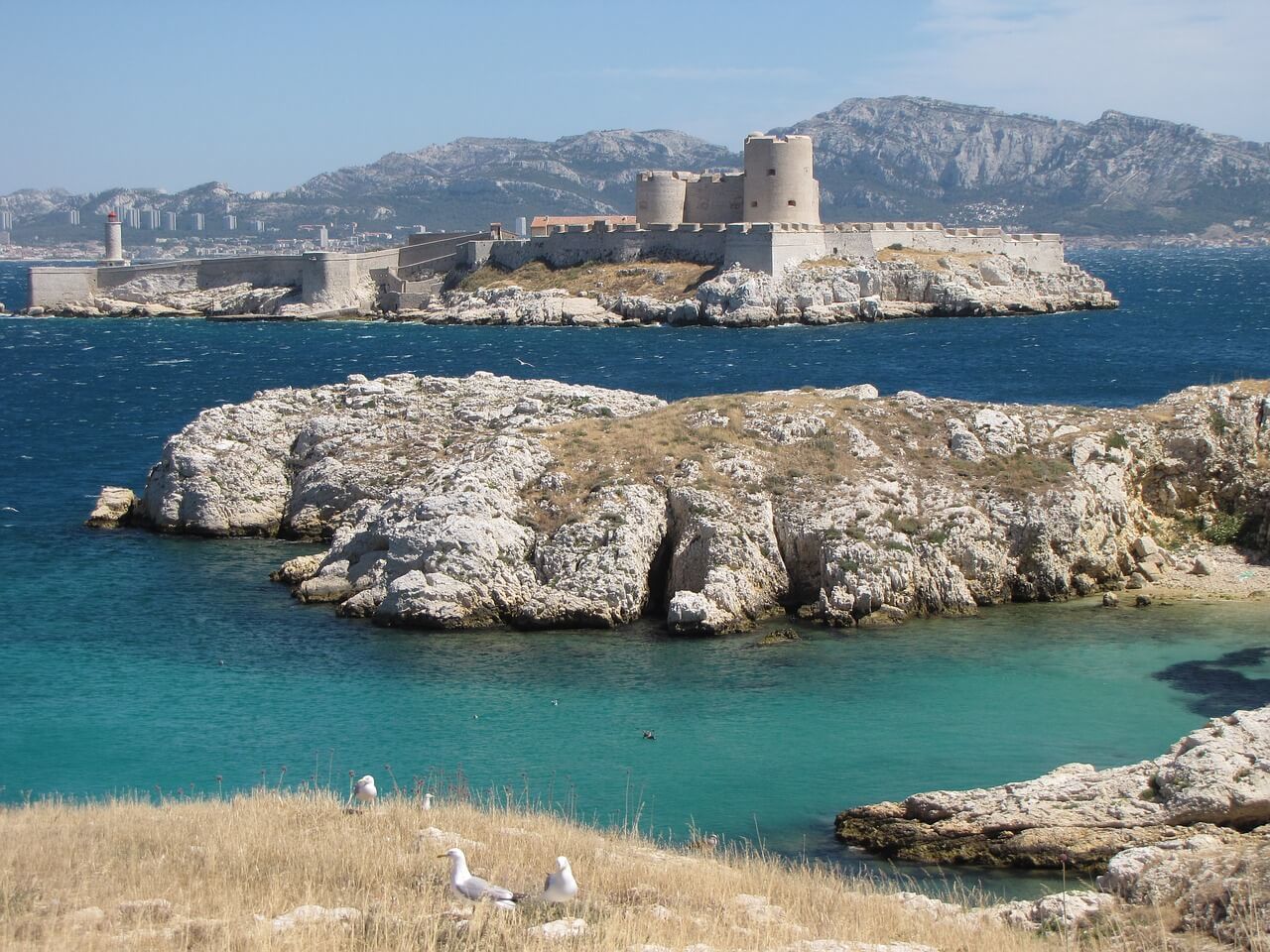 Château d'If is a fortress in the sea, just off the coast of Marseille. Well, it's not in the sea, but rather on an island in the archipelago of Frioul in the Mediterranean Sea. Naturally, this interesting island setting automatically makes it one of the best things to do in Marseille: it looks super cool.
Formerly a prison – which was the setting of the Count of Monte Cristo – Château d'If is just a short boat ride from the mainland, after which you can enjoy exploring the dungeons here. You can get there via a ferry from Marseille. Be sure to check information from the Tourist Information Centre about the boat times.
FIRST TIME IN MARSEILLE
Vieux Port
The Vieux Port may not be the "centre" of Marseille, but it's this coastal area of this equally coastal city where you'll find a lot of the life of the city. With plenty of locals – as well as tourists – wandering this area.
Places to visit:
Old Roman Road and Ancient Greek Walls of the city in the Port Antique Park
Maison de l'Artisanat et des Metiers d'Art
Vieux Port a la terrace at the preeminent ice cream parlour that is Glacier Marina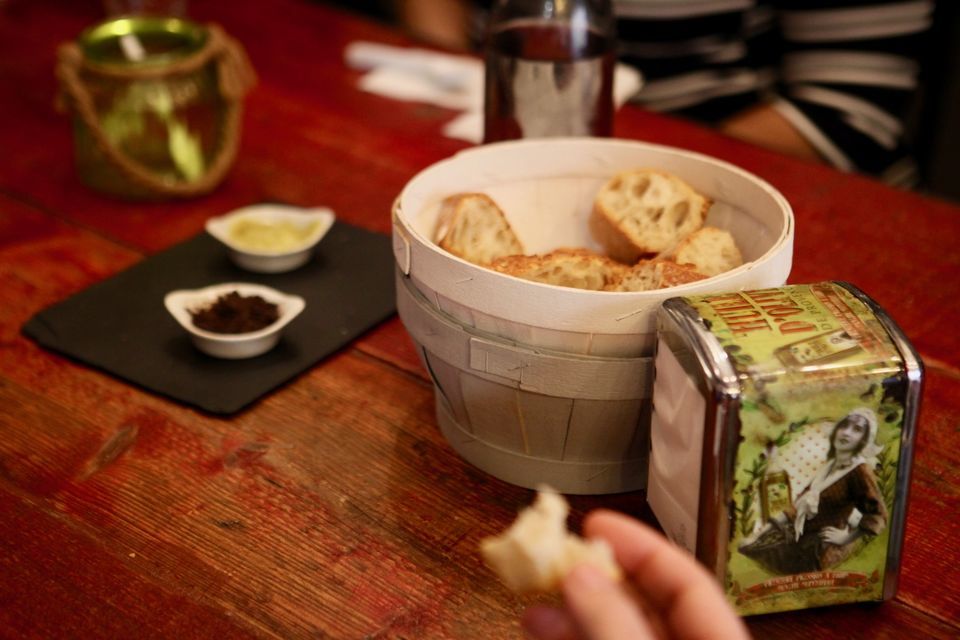 The French practically invented food and Marseille is very well known as a foodie city. One of the absolutely unmissable things to do in Marseille, is explore the culinary delights and gastronomic treasures of the city.
With a diverse culinary landscape, Marseille has influence from the rest of France, Italy, Spain and North Africa, making it pretty fascinating. One of the more famous dishes you can try here, Bouillabaisse – a four course meal consisting of fish soup followed by the fish that were used to make the food; a good place to try is the famous Chez Fonfon.
4. Go Greek at Le Panier
Le Panier is the so-called Greek district of Marseille. This neighbourhood was built on the original site of Massalia which is where Marseille was born over 2,500 years ago by Ancient Greek seafarers and traders. La Panier is therefore the oldest district of the city.
Located in the streets behind the townhall, Le Panier – which means "breadbasket" in French – might not have any original Hellenic architecture, but the atmosphere is still there. Place de Lenche sits atop an ancient Greek agora or market square where thousands of years ago locals would have watched the world go by.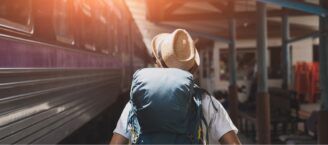 Unlock the The Broke Backpacker's GREATEST Travel Secrets
Sign up for The Broke Backpacker Newsletter to receive weekly tips on how to travel on a budget + a FREE copy of The Backpacker Bible!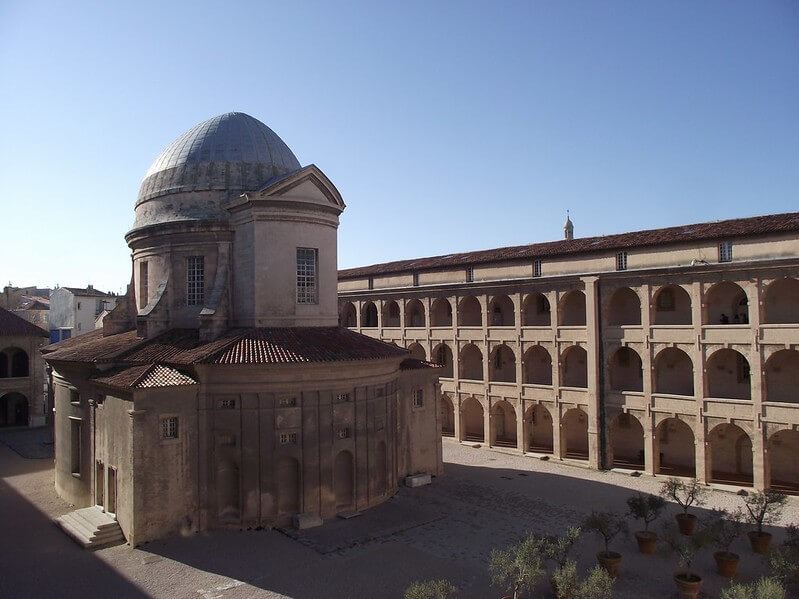 If you want to lear about Marseille in antiquity, then get yourself over to the Museum of Mediterranean Archaeology. As you might imagine, this informative museum has all sorts of amazing art and artifacts from the millennia-old civilisations that have called the Mediterranean home over the years.
There's things from Cyprus, Greece, the Cyclades, Eritrea, Rome; there are Celtic objects here, and the 2nd biggest collection on Ancient Egypt in France complete with sarcophagi. If you're a history buff, this is definitely one of the top things to do in Marseille: you could spend hours here, no doubt about it.
Noailles is a market area in the middle of Marseille. But this isn't just any old, regular, run of the mill market, no, this is one of those quintessential marketplaces that makes you feel like you're going back in time. Think cobbled alleyways crammed with stalls of the city's frenetic daily market. It's that sort of place.
So, fittingly, the Noailles area is most definitely the place to come for a wide range of pretty much, um, everything! Here you can be browsing for things like fabrics one minute, and munching on tasty street food like kebabs the next. It's a genuinely fascinating place to explore, making for one of our favourite things to do in Marseille, if you couldn't tell already.
Is This the PERFECT Travel Pack???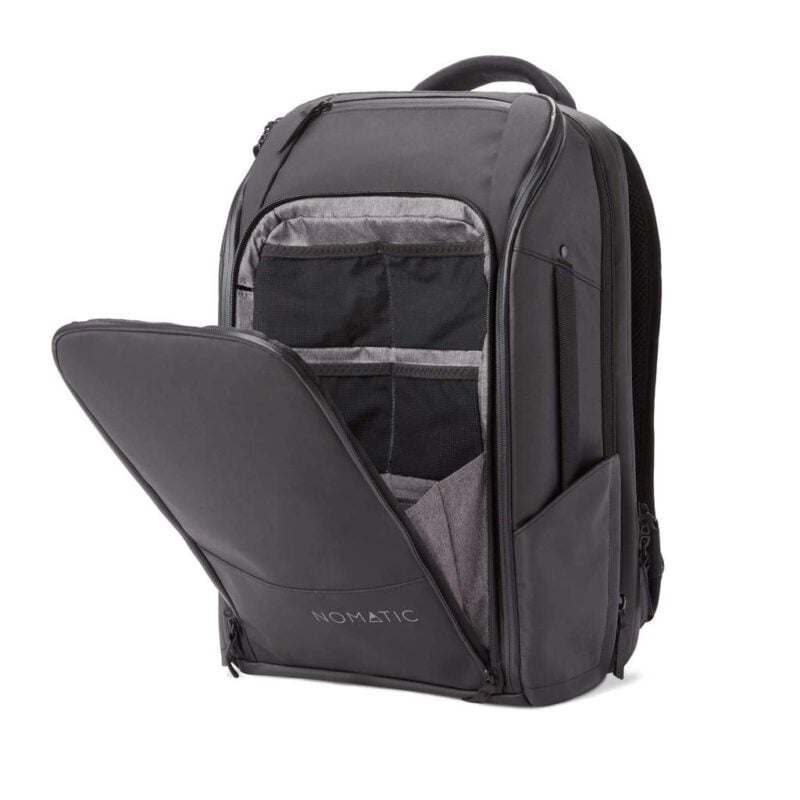 Unusual Things to Do in Marseille
Marseille is a city of back streets teeming with sub-cultures. Let's take a look at some of the best unusual things to do in Marseille.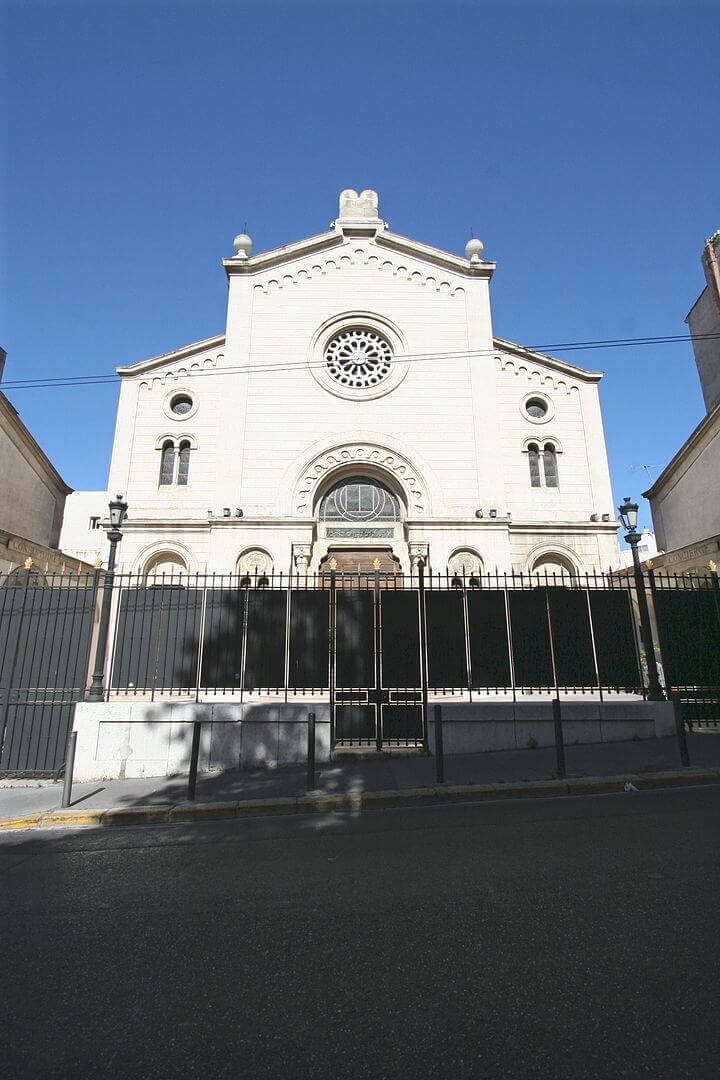 Marseille has a rich, Jewish history dating back over 1,000 years. In fact, the Jewish population of Marseille makes up just under 10% of the entire population of the city.
Accordingly, there are a load of interesting things to do in Marseille to find out about that heritage. One of those things includes checking out some of the city's 40 synagogues. The oldest and grandest of these is the Grand Synagogue de Marseille, which dates all the way back to 1864, and is decorated with marble floors and ornate chandeliers. It's a beautiful and even moving place to visit.
8. Hang out at Friche Belle de Mai
If you're looking for a hipster thing to do in Marseille then you should definitely think about adding Friche Bell de Mai to your itinerary. Set in a former tobacco former, this cultural centre and creative hub is a prominent venue that plays host to a whole range of interesting things.
There's vegetable gardens, experimental art, music events, cinema screenings, dance, screenings, and even a skate park to name just a few of the things that go on here. Spanning generations and backgrounds, Friche Belle de Mai is an all-encompassing arena of culture and definitely makes for one of the most off the beaten track things to do in Marseille if you want to see a different side to the city.
9. Find out about the "Radiant City" and Unite d'Habitation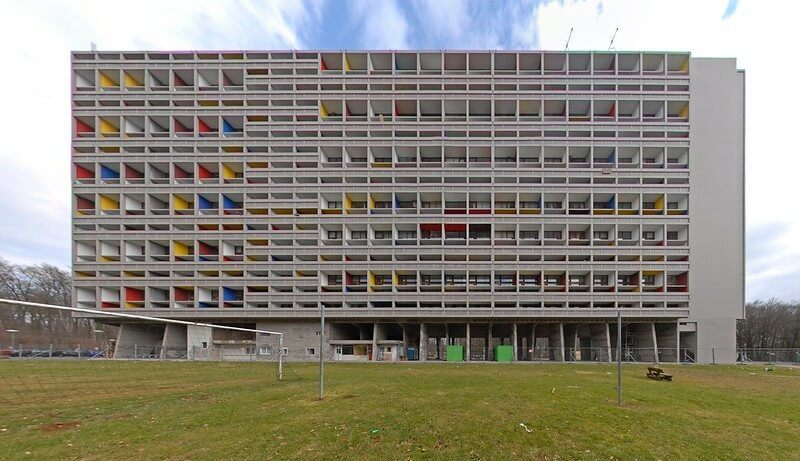 Imagine living in an apartment block designed by none other than the world famous French architect Le Corbusier?! Well, in this particular spot in Marseille, it's even easier to imagine it because it's here that you'll find "Radiant City", one of the architect's more famous residential projects.
Built in 1959 in Brutalist-Modernist style, seeing the Radiant City – which exemplifies Le Corbusier's design principle of unite d'habitation – is most definitely one of the coolest, most off the beaten track things to do in Marseille. Tip: Catch the Line 2 metro to Rond-Point du Prado; you can even ask for a tour at the Tourist Office in Marseille (available in French and English).
Safety in Marseille
Marseille has a bad reputation for crime and safety. However, tourists generally don't have too much worry about as they are unlikely to visit the "problem" areas of the city.
Still, are obviously a few precautions you should take. Theft from cars, bag snatching and pickpocketing – that sort of thing – does happen here. You might want to invest in a money belt to be extra careful (we'd recommend the Active Roots Security Belt).
Watch your belongings when you're travelling around on the metro and avoid wearing anything too flashy; be vigilant around Saint-Charles especially and watch out for distraction techniques. We'd recommend leaving your expensive jewellery, gold watches and other valuables at home – wearing it will just single you out as a potential target.
It sort of goes without saying, but we will say it anyway: avoid randomnly walking around by yourself at night time, especially if that's along roads that are poorly lit or void of people. This can be pretty risky and put you at risk of being a victim of crime.
Read our tips for traveling safely before you fly and always get travel insurance. Check out our roundup of the best travel insurance.
Things to Do in Marseille at Night
Nights in Marseille are long & warm. From drinks to movie's, there is a lot do in Marseille at night.
10. Go for drinks at L'Unic
If you really want something cool to do in Marseille at night, and a bar is what you're looking for, then the unique L'Unic should be the place to go. This quirky bar with a great ambiance is situated right near the Vieux Port area and boasts live piano music, eclectic decor and a colourful, lively atmosphere.
L'Unic, true to it's name, certainly doesn't hold back in terms of how it looks or sounds: it's not trying to be anything other than fun. So if you want somewhere with good service, drinks that aren't overpriced, and that's pretty much always fun for all sorts of ages of people, you should come here.
11. Watch a movie at Videodrome 2
An old-school-style video store with a difference, Videodrome 2 haven't shut down as many video stores and rental shops have been forced to do all over the world. Instead, they've turned into bar-cinema-bistro bonanza; heading here is definitely one of the coolest things to do in Marseille at night.
It's a simple matter of paying 3 Euros for an entry ticket. You'll then get treated to a viewing of some funky arthouse film or another, get to sample a few beers, or whatever other drink you feel like. Food is also available.
12. Catch a show at Le Moulin
This ain't the Moulin Rouge, guys. Le Moulin is actually a live music venue set inside a cinema dating back to the 1950s – and it's pretty cool. The venue plays host to all sorts of artists, from local indie acts and alternative bands to more established acts. And what's more, the sound is pretty good.
This is a must-do thing in Marseille if you're in the city and you're a music fan. All you have to do is check the schedule online to see who's playing and then purchase yourself a ticket (from 9 Euros). FYI all they serve at Le Moulin is beer and soft drinks – no wine or spirit mixers here, folks.
Where to Stay in Marseille
Looking for a specific place to stay? These are our highest recommendations for places to stay in Marseille.
Vertigo Vieux Port is a beautiful hostel located in an old building in the Old Port area itself. It's the coolest hostel in Marseille, for sure: there's funky decor all over the place and comfy, cool places to hang out. A great affordable option with an awesome location to match, you're going to love staying here especially if you're travelling solo. Bonus: there's a free breakfast included in the nightly rate.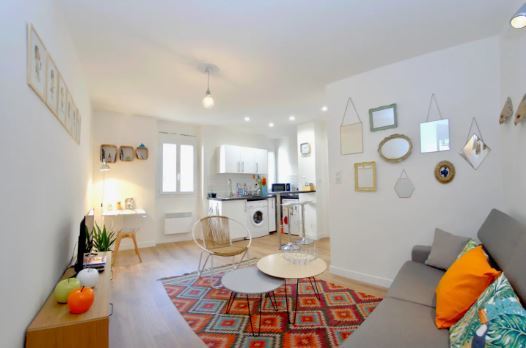 Compact, but with everything you need for a comfortable stay, this top Airbnb in Marseille is a super affordable and budget-friendly option. There's a small kitchen, a sofa bed, a modern bathroom, and cute decoration going on here. The location, in walking distance to pretty much everything you want to see, is pretty great too. For those on a budget, it'd be hard to say no to this cool Airbnb!
Situated just opposite the Saint-Charles train station, the Hotel Terminus Saint-Charles is a classic, clean and comfy modern hotel for a comfortable stay in the city. Easily the best hotel in Marseille for anybody on a budget, there are a lot of perks to staying here; not only is it in easy walking distance to loads of places (the Old Port is just a stone's throw from here), but there's a free breakfast on offer, too.
Romantic Things to Do in Marseille
Marseille is definitely a pretty romantic city. For the lovers out there, we have lovingly selected the best romantic things to do in Marseille.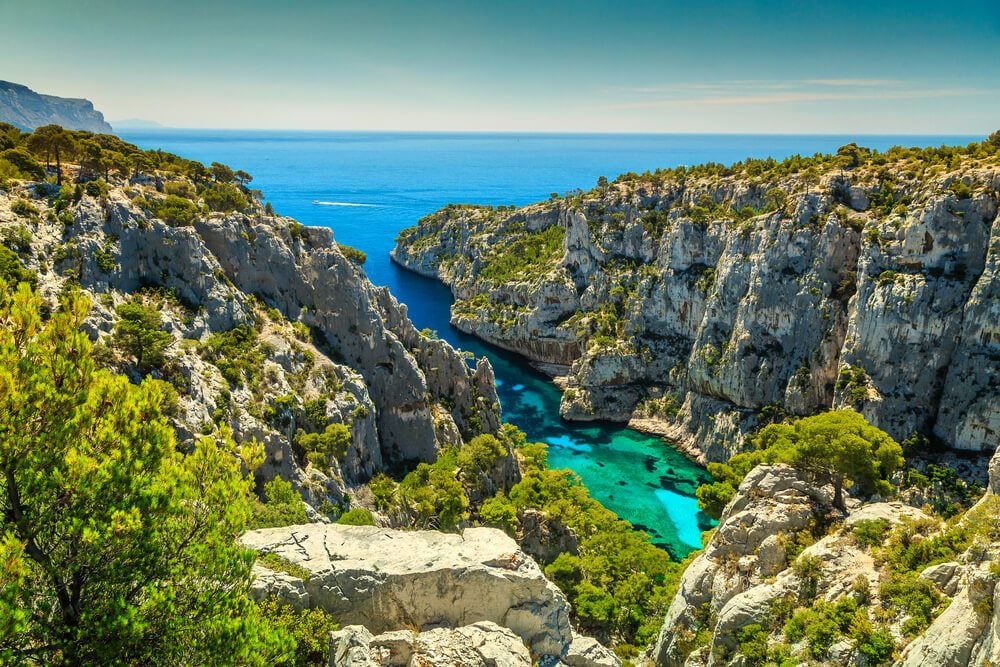 Calanques National Park is a gem of a place to visit in Marseille. Just a short bus ride from the city itself, the national park is all about its limestone cliffs and sparklingly blue waters. Needless to say, it's pretty stunning and is quite literally one of the best romantic things to do in Marseille. If you're here with your partner, we can highly recommend the dreamy views and vistas of the Calanques.
Leave your flip flops at home and make sure you wear some good footwear here. There are numerous trails to stroll around here, which we think is definitely one of the best outdoorsy things to do in Marseille. From there you can continue along to the Calanque de Morgiou for a more exciting hike complete with spectacular views.
14. Go shopping along the Canebière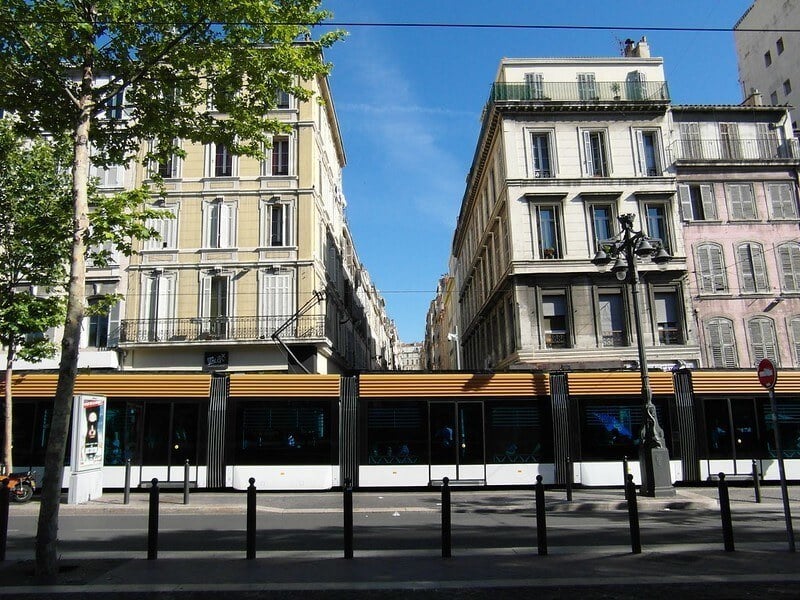 For one of the best things to do in Marseille for couples, strolling along the Canebière has got to be up there. This old school, high-end shopping district runs from the Vieux Port to the Reformers Quarter. The name Canebière comes from the provincial dialect "canabiera", which in turn comes from Latin, cannabis, named for the hemp fields which used to grow in the area.
Canebière became a haven for well-heeled travellers from the late 19th to the mid 20th century, with a whole lot of boutiques, luxury hotels and music halls. Today it's retained at least one of these luxurious reputations: that of its shopping. Needless to say, you and your partner will love exploring this area.
Do You Need Travel Insurance?
Don't forget to sort your travel insurance! We've put together a roundup of Travel Insurance for backpackers – check it out here, or if you're low on time, get a quote from World Nomads, our favorite travel insurance provider.
Getting an estimate from World Nomads is simple – just click the button or image below, fill out the necessary info, and you're on your way!

Best Free Things to Do in Marseille
The best things in life are free right? Well sometimes and our list of the best free things to do in Marseille will nicely demonstrate that you don't always need cash to get your kicks.
15. See the splendour of the Basilique Notre-Dame de la Garde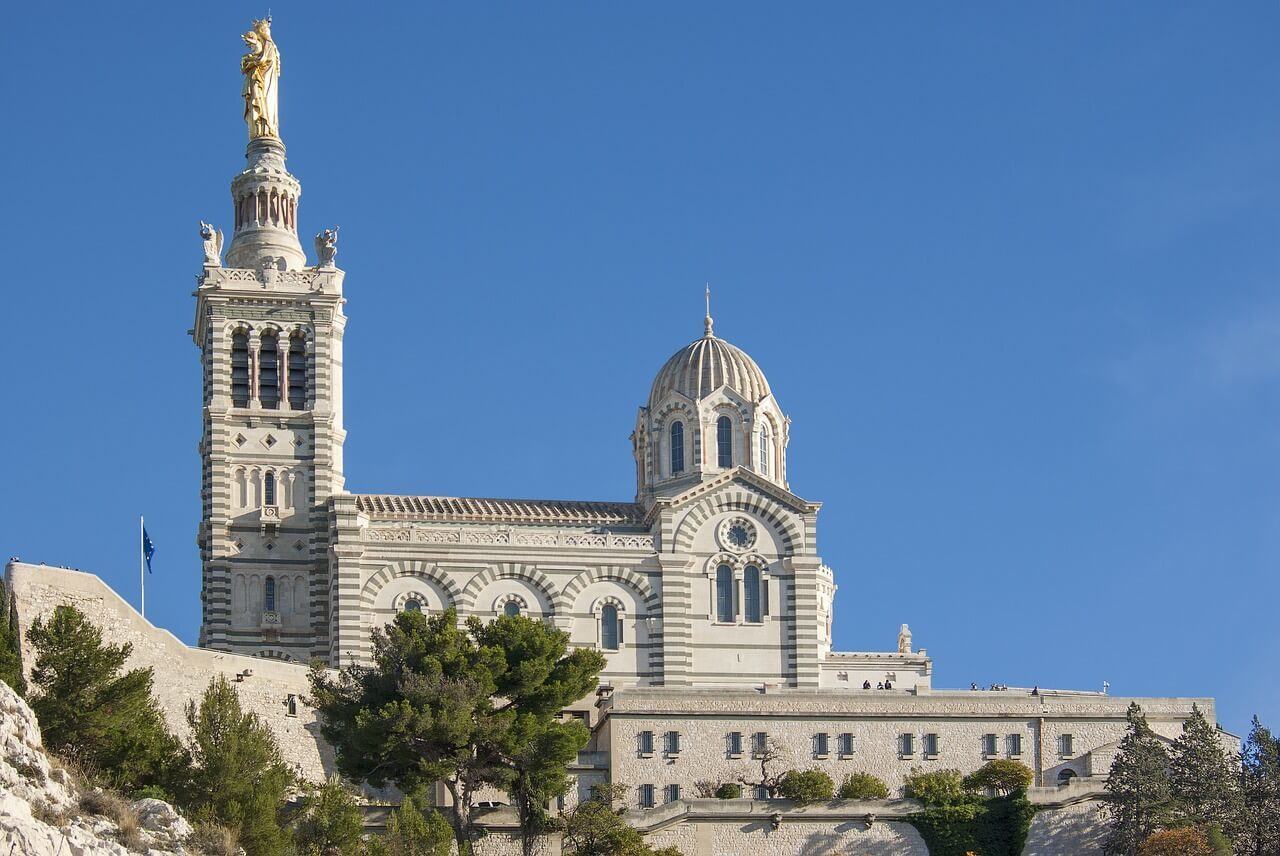 Basilique Notre-Dame de la Garde was built in 1864 and is an impressive building to see in Marseille. Situated atop the foundations of an ancient fort, this religious site features marbles, mosaics, a double staircase and a whole load of other opulence. It's splendid, excessive decoration make it a cool thing to do (or see) in Marseille for anyone interested in pretty buildings.
You can wander inside too – for free! Make sure to look up when you do venture in: the opulence continues in the form of frescoes, decorative arches, and yet more mosaics. This beautiful church is the most visited site in Marseille; it's also visible from many spots around the city, making it a veritable icon of Marseille.
Marseille is no stranger to street art and is, in fact, a hub of street art in France. There's a vibrant scene going on here and going on the hunt for it is one of the top free things to do in Marseille. No question about it since, well, you won't have to pay any money to go looking for it yourself.
There are a bunch of spots around town where you can find some famous examples of the vibrant murals. Cours Julien is a bohemian area with a lot of funky murals painted over many of the buildings and a lot of stencilled art. You'll see stuff by the renowned French artist C25 – typified by his mascot, Monsieur Chat – as well as Italian artist Alice Pasquini (who tags with "Alice") and many more besides.
In case you do feel like paying some money, then there are organised street art tours that will show you the best works and provide some insightful context.
17. Hang out in the Palais Longchamp
If you're on a budget and you're looking for free things to do in Marseille, then look no further than Palais Longchamp. Specifically, it's the gardens you'll want to see here. Located in the 4th arrondissement, the surrounding Longchamp Park is the place to hang out and stroll around when the weather is nice in Marseille.
This 19th century public space comes complete with gardens and water features galore and is so charming that you'll find it difficult to not feel like you've been transported back to another time completely. It's all surrounded by stunning architecture, too, so if you like the sound of that, then you should put this one on your to-do list when you're in Marseille.
Books to Read in Marseille
The Backpacker Bible – Get it for free! Learn how to ditch your desk and travel the world on just $10 a day whilst building a life of long-term travel with an online income. To inspire and help the next generation of Broke Backpackers, you can now grab 'How to Travel the World on $10 a Day' for free! Get your copy here.
A Moveable Feast — Fancy having a look into what life was like for expats living in Paris in the 1920s? If you yearn for the Golden age of the Lost Generation like I do, this Ernest Hemingway classic is a must read.
The Little Prince — Few novels have been as inspirational as "The Little Prince" by Antoine de Saint-Exupery. Now one of the most famous literary works of the 20th century, TLP is a true classic. Follow the tale of the Little Prince as he discovers the universe and learns lessons about life and love.
Satori in Paris — Satori in Paris is a rollicking autobiographical account of Jack Kerouac's search for his heritage in France and lands the author in his familiar milieu of seedy bars and all-night conversations. This book is one of ol' Kerouac's last novels.
Best Things to Do in Marseille with Kids
It's easy to forget this but even the French were children once. So don't worry, there are loads of amazing things to do in Marseille with kids!
18. Travel around on bikes together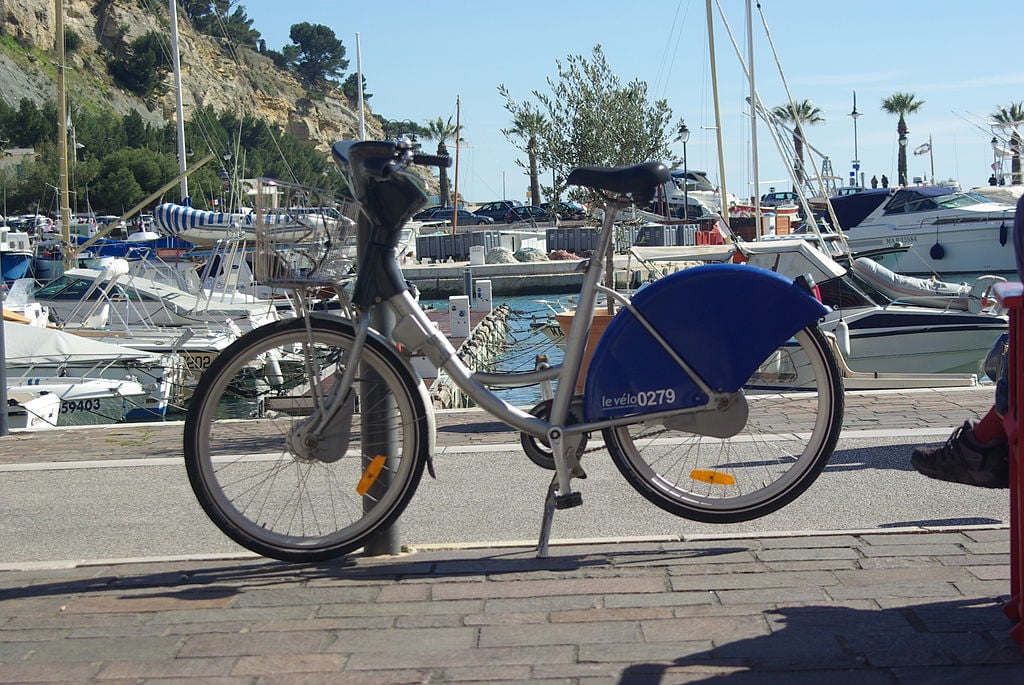 Not far from Marseille is the charming town of Cassis. If you're in town with your family and feel like taking a nice day trip from Marseille, then we suggest you get a few e-bikes and see what the town has to offer.
E-bikes are a great idea because it means your children's legs (and yours!) won't get tired as you pedal around, checking out the best sights and attractions of Cassis. Marvel at the dramatic coastline and the fishing village aesthetic and have a memorable family day out. What more could you want?
19. Ride the Les Petits Trains de Marseille
One of the best things to do in Marseille with kids has to be taking a ride on the fun little train that is Le Petit Train de Marseille. This train arrives every 30 minutes and takes you and your little ones on a journey along the coastline.
It's definitely one of the best ways to get around town. You'll go from the Vieux Port all the way to the stunning 19th century basilica, seeing the highlights of Marseille pretty easily without having to drag your small children with you as you try to tick things off your to-do list. (An especially good thing to do in Marseille in summer when it's hot.) Bonus: Children under 3 get to ride free of charge.
Other Things to do in Marseille
In case you need more ideas and inspiration, we have it. Here are some other things to do in Marseille.
20. Check out the Mirror Pavilion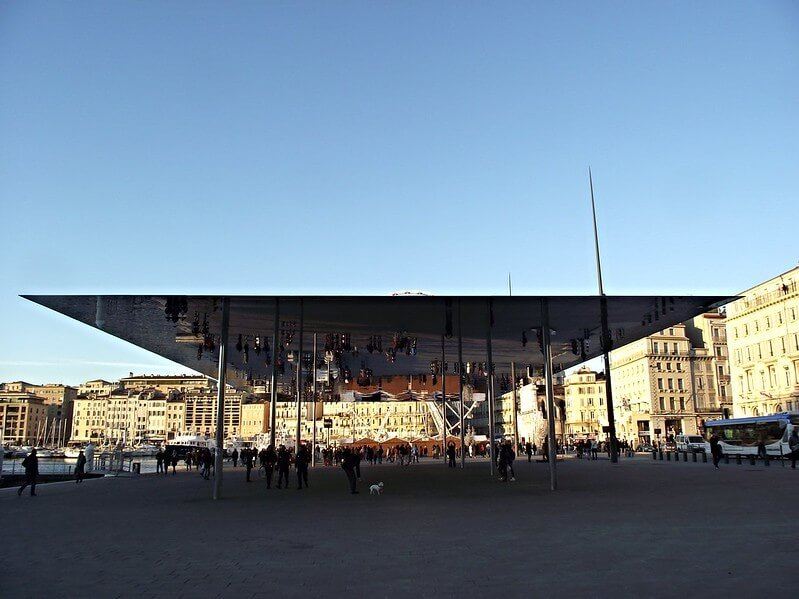 Looking for cool things to do in Marseille? Well, we suggest you go and check out the aptly named Mirror Pavilion. Designed by architecture firm Foster + Partners, this huge, polished stainless steel mirror suspended above the promenade in the Vieux Port area.
40 metres long, this rectangle of reflection makes for some pretty trippy photos of people walking upside down – sort of referencing Anish Kapoor's "Cloud Gate" in Chicago, USA. Whatever you think of it, whether it's "just a tourist spot" or a skilled piece of design and architecture, there's no doubt that visiting the Mirror Pavilion is still one of the cooler things to do in Marseille. If only for the 'gram.
21. Make some time for the MAC (Museum of Contemporary Art)
Marseille's Museum of Contemporary Art – or MAC for short – is a funky art museum where you'll get to see a whole lot of modern masterpieces. Featuring work from the 1960s up to the present day, if you're a fan of contemporary art it'll definitely be one of your favourite artsy things to do in Marseille.
Though it's small, this place is super interesting and isn't just about what you'd expect as "modern art"; there are different exhibitions held here, such as ones inspired by hip hop, and also screenings of arthouse movies and documentaries. Tip: If you're a student, make sure you bring your ID because it's free for you to get in.
22. People-watch at Hotel Dieu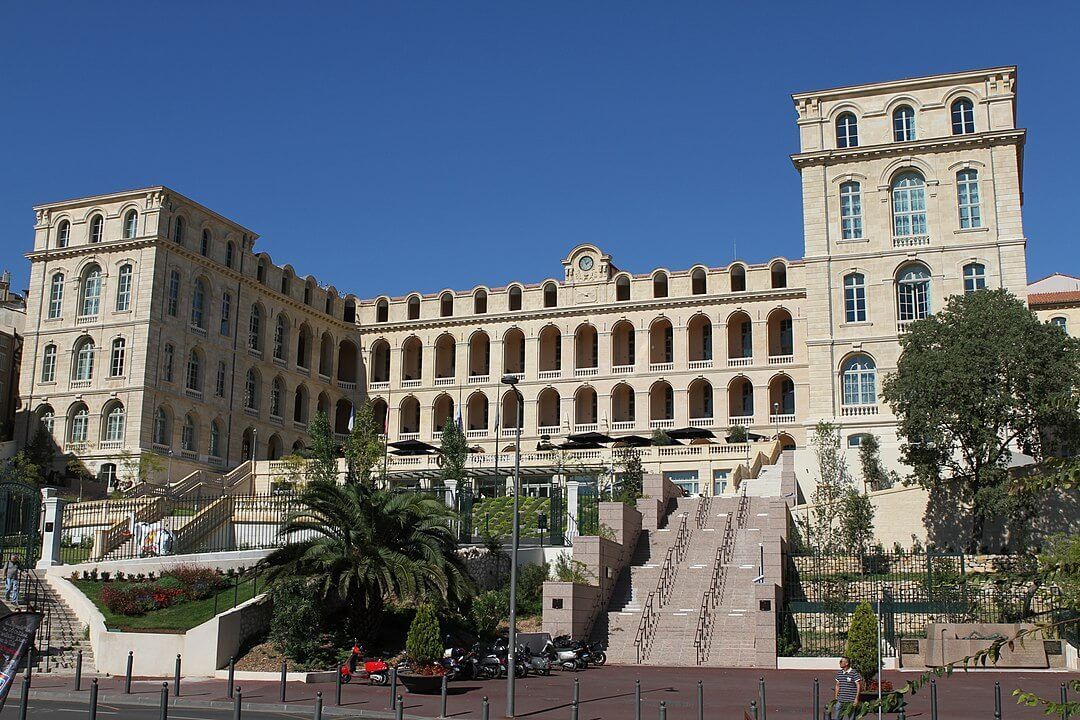 Hotel Dieu may be known today as a branch of InterContinental Hotels, but this historic hotel was once a hospital. In fact, the current building, though formerly a hospital itself (and a very beautiful one at that) sits on the site of an even older hospital that was in operation from 1188! That's pretty old.
Whilst staying at the hotel is ridiculously expensive (like an American hospital), going to check out the exteriors alone is one of the top things to do in Marseille. There are two restaurants in the hotel itself, both of which are Michelin-starred affairs, so if you feel like splashing out to see the interiors and eat some amazing food, then you can totally do that as well.
23. Sip a coffee at Minoofi Bakery
Probably one of the most quintessential things to do anywhere in France, let alone Marseille, is to simply sit with a coffee – and some tasty patisserie level treats – and watch the world go by. One of the best cafes in Marseille for this purpose has to Minoofi Bakery.
This is everything you want out of sweet treats in Marseille. We're talking tasty pastries, magnificent macaroons, beautifully baked breaded items that will go very well with your cup of coffee; they also do delicious lunches if you're feeling a little more hungry. Eat and sip your coffee in their charming seating area for a great way to start your day, or for a pick me up later on in the day.
Day Trips from Marseille
So there you go, people: a bunch of cool stuff to do in Marseille. But whilst there are literally so many things you could be doing in this city, if you're here for more of a long term thing, you may want to head out and explore the surrounding area – this is the French Riviera after all. To give you an idea of the sort of stuff you could check out on the doorstep, here are a couple of great day trips from Marseille.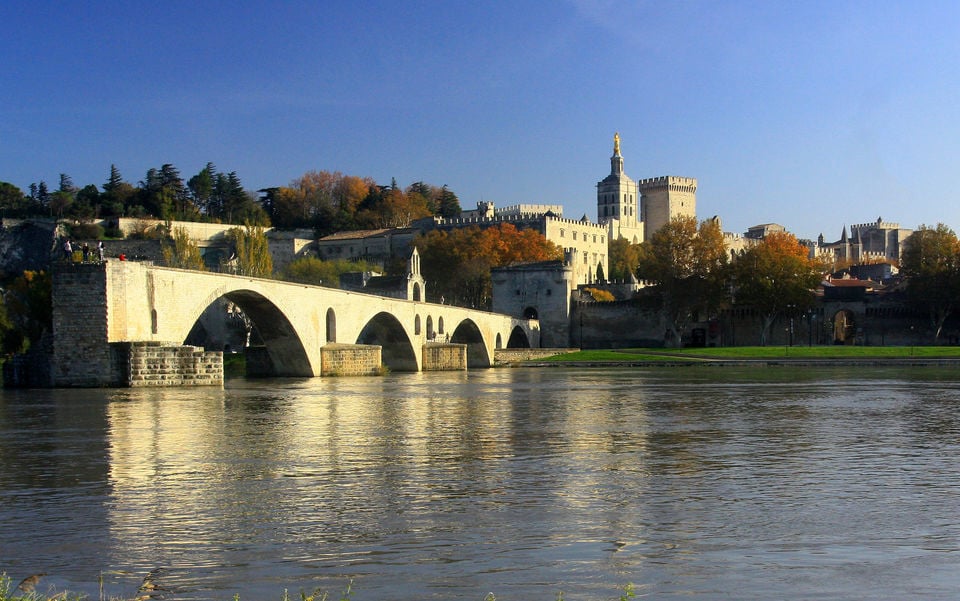 Avignon is also known as the Papal City – that's because from 1309 to 1377 it was (instead of the Vatican City) the home of the Catholic popes. And it's a very easy day trip from Marseille: just a 40 minute train ride or an hour and a half by car. In this storied medieval city, you can see sights like the Pont d'Avignon, Avignon Cathedral the Musee du Petit Palais and the Jardin des Domes.
Probably one of the most interesting things you can learn about here is just why this place became the home of the Popes. Spoiler alert: they were fleeing the corruption of Rome in the 14th century, but obviously you can learn more about it when you get to Avignon and start wandering around this historic city. Personally, I'd be fascinated to learn just how corrupt Rome was that even the Catholic Church had to flee!
So why not take a day trip to Avignon?! In terms of food, confit duck, pork charcuterie and steak tartare are all very tasty in this city!
Just north of Marseille, you will find Sault. This town may seem pretty unassuming and is an attractive, laid back place to wander around – especially when compared to Marseille itself. But it's famous for being more than just a nice looking place: it's often touted as the lavender capital of the world. And to be fair, there is a lot of lavender going on here, which they distil for use in soaps and perfumes.
Upon arriving in Sault on a day trip from Marseille (which should take you 2 hours or so by car), you'll be greeted with rolling valleys of lavender. It's not just for tourists to take pictures of from afar, not at all – you'll get to walk through these purple fields. There's actually a 5 kilometre circuit you can stroll around to get right in amongst the purple carpet of flowers, which takes around 90 minutes. Pretty cool.
3 Day Marseille Itinerary
Now that you have everything you could need when it comes to planning a trip to Marseille, the next step is to put it all into an order. There's nothing quite like a well-planned vacation to make sure you fit in everything you want to do. However, we know how tricky and time consuming it can be to narrow all that stuff down, so we have come up with this handy 3 day Marseille itinerary to help you out!
Day 1 – Cool Marseille
You should start your first day in Marseille by making your way to Friche Belle de Mai. This cultural centre and creative hub opens from 8:30am and makes for a nice spot to enjoy a bit of breakfast; head up onto the rooftop and see the city from up high with a coffee and pastry in hand. After exploring the various spaces and exhibitions on show here, it's time to move on.
You'll be heading over to Cours Julien to see if you can spot some street art; it's around a half an hour walk from Friche Belle de Mai. Spend some time trying to spot some street art and graffiti by some of France's most famous urban artists. Escaliers du Cours Julien, a colourful set of stairs with walls daubed in colourful art, is a good place to start your journey.
This hipster area of Marseille is a good spot to wander around for the afternoon, so have a spot of lunch to break up your day at Boteco Brasil for some delicious Brazilian fare, and then carry on exploring the interesting Cours Julien neighbourhood. Once evening sets in, go catch a film and check out the record collection at Videodrome 2, ideally with a couple of beers and some food, too.
Day 2 – Historic Marseille
Le Panier is your morning destination for your second day in Marseille. First things first, however, you should grab yourself some breakfast, so start your day at La Samaritaine. Then begin exploring the oldest area of Marseille, complete with interesting backstreets, the intricate and chaotic Noailles marketplace area to wander around. It's one of the best things to do in Marseille, hands down.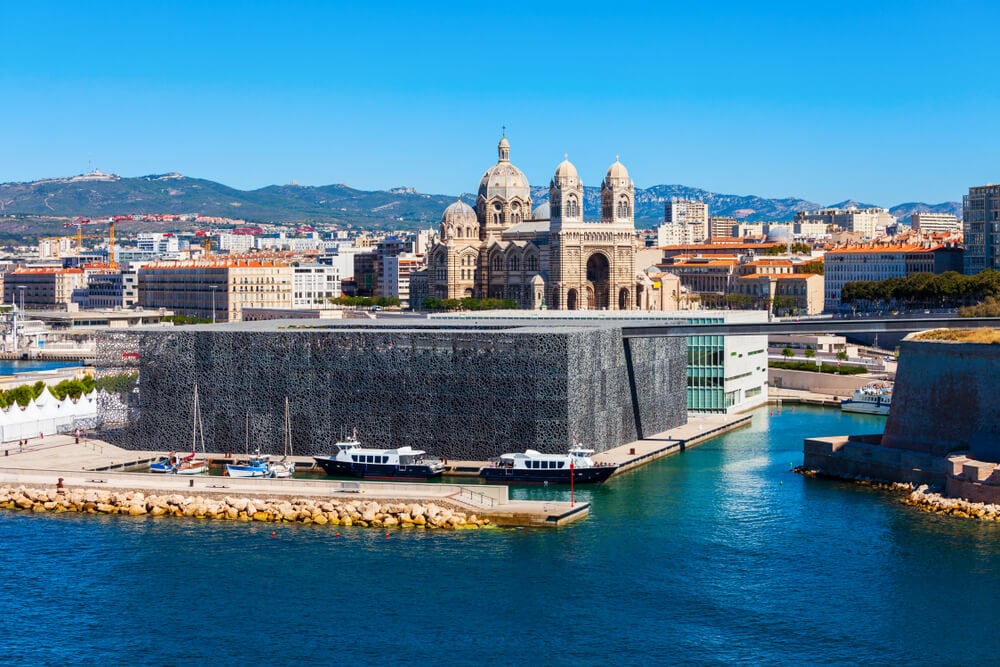 After you've had your fill of getting lost down cobbled alleyways, it's time to move on – this time you'll be making a beeline for the Museum of European and Mediterranean Civilisations. This shiny new museum is full of information about how Mediterranean culture spread throughout the area and the wider European continent. Interesting stuff.
Next, head up to Basilique Notre-Dame de la Garde. It's got amazing views. However, if you don't feel up to the hike it's totally possible (and also fine) if you want to take the Petit Train; these depart from the Vieux Port every half an hour. It's inexpensive. After gawping at the basilica and soaking up the vistas, catch a show at historic Le Moulin for your evening entertainment.
Day 3 – Chilled Marseille
Your third day in Marseille begins with an adventure, well, a short ferry ride, over to the infamous Château d'If. You can catch the ferry over from the Vieux Port. Enjoy a relaxing morning exploring the chateau itself, complete with tidbits of interesting history and even dungeons to see. Cool. Once you're back on dry land, you'll be right in the middle of the Vieux Port ("Old Port") area.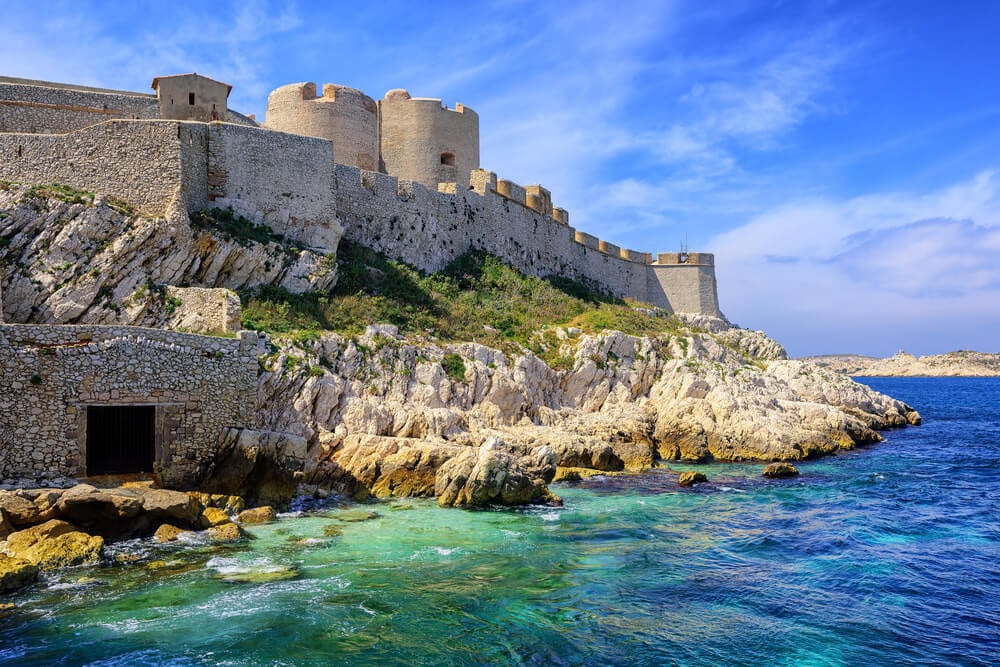 Grab yourself something to eat – a baguette, or such like – from the Patisserie Sylvian Depuischaffray. Take your food items and sit and watch the world go by before exploring the Vieux Port area; it's here that you will find the cool bit of architecture and design taht is Mirror Pavilion. Make sure you snap some weird upside-down pictures of people taking pictures of this attraction and move on.
It's time to hang out in Palais Longchamp; hop on the metro or walk for around 40 minutes. Delight in the stunningly designed gardens here and become bemused at the faux animals in the former zoo (at least no actual animals are being harmed, right?). Then it's dinner time: go to Chez Fonfon to try bouillabaisse. Continue your night with more drinks at the very lively L'Unic for fun times.
More Great Resources
Conclusion
There are plenty of touristy things to do, and there are also a whole lot of non-touristy things to do in Marseille. It's a very lived in kind of city, not the sort of place that's only for tourists; suitably there's a whole load of stuff here that's perfect for backpackers and independent travellers. Street art, trendy coffee shops, creative hubs, lively bars, cool art galleries – it's all here and ready to be explored.
Whether you're visiting Marseille with your family, you're here to sample the nightlife, or if you and your partner are looking for couple-y things to do here, you're bound to find something awesome to fill your time within this fun coastal city.
---
Find out how YOU can support the site.
We work hard to put out the best backpacker resources on the web for free! It's all about helping out our tribe of awesome backpacker readers (that's you!). Please visit the link to find out how you can help keep the site going 🙂
For the sake of transparency, some of the links in our content are affiliate links. This means that if you book your accommodation, buy a piece of gear, or sort your insurance through our link, we earn a small commission at no extra cost to you. We only link to stuff that members of the Broke Backpacker team has actually used and never endorse products or services that are not up to scratch. Thanks for your support!