Canada, USA, Australia, New Zealand and the UK – what do these countries all have in common? Nature, good food and booze! But there is also the heavy elephant in the room – the cost. There is no denying that travelling around the UK is expensive. In Scotland glasses of wine can set you back £3-5 in comparison to Hungary where a large can be bought for under £1. One tip that every wise budget travel writer like Will (The Broke Backpacker) will stress is to pick your destinations wisely. However, why should you miss out on the 500 miles of castles, whisky, and those dreamy turquoise beaches of the Scottish Highlands? I, Gemma from Two Scots Abroad, am here to share my secret on how to enjoy the increasingly popular, North Coast 500 road trip on a tight budget. Your itinerary will have you leaving from the Highland capital, Inverness, to the cute fishing villages and stunning beaches found along winding roads of Scotland's north.
Booking your Scottish Highlands Accommodation
Yes, you can sleep in a castle in the Highlands and no they are not actually that frightfully expensive so if you do want to splurge for a night sleeping like royalty it is possible. However, there are many cheaper options for budget travellers which won't hurt the sporran on your kilt.
Hostels in the Highlands
There is lots of choice for hostels in the city of Inverness and if you like craft beer you should check out the cool Black Isle Bar and Rooms. For a full guide to options for Inverness and North Coast 500 accommodation including hostels and hotels, see here, the following offers a taster…
From Torridon on the majority of hostels in the Highlands are run by the Scottish Youth Hosteling Association all of over the Highlands some of which are set in historic buildings, others are pretty much on the beaches and the rest in the bigger villages where there is more of a nightlife.
The Torridon Youth Hostel sits under the peak of the Liathach Mountain making it an ideal spot for hikers.
The Gairloch Sands Hostel is the oldest of the SYHA hostels, the building used to be a hunting lodge. Gairloch is where many Scots used to go on their childhood holidays. This is a great stop for those who want to take a boat tour to whale spot.
The Ullapool Youth Hostel sits on the waterfront and is smack bang in the centre of live music, bars, and restaurants.
Achmelvich Bay Hostel is where you want to be but it sells out fast so you have to be quick. This hostel boasts of views of the Achmelvich Bay's turquoise waters, and rightly so.
Most of the SYHA hostels are family and pet-friendly making them a great option for all of the family, including your furry babies.
There are a few hostel options in the northeast towns of Thurso but options finish here and visitors either move to campsites or onto B&Bs.
Fort William is also a great spot to include in your itinerary, and these epic cabins and lodges offer some of the best views of the Scottish Highlands.
Consider our campsites
There are beautiful campsites all over the Scottish Highlands and many of them on the west coast are located at our beautiful beaches. Ones of particular interest include Mellon Udrigle, Clachtoll and Scourie. The campsite at Durness (Sango Hills) sits on the striking edge of the country but it is very exposed, the weather is obviously something you have to consider but we've got your back covered (literally!) in our North Coast 500 packing guide. This list also includes how to repel our blasted Scottish enemy – the midges. These winged biting beasts do cause a bit of annoyance from the month of April until winter. Applecross is insanely beautiful but the midges are wee terrors during the summer at this spot.
If you would prefer to spend time in one of the larger villages, which offers options for eating, drinking and live music, Ullapool has a campsite too.
Wild camping is legal in Scotland and we saw a few tents on the grassy front of Shieldaig. You do have to check out the 2017 byelaws though.
Getting to the Scottish Highlands
Getting to and around the north is going to take up the bulk of your budget. Transport in Scotland is not cheap and the quality and efficiency are really quite embarrassing. The cheapest option is our bus service, Megabus. As long as there is no one eating cheese and opinion crisps, playing their gadgey rave music or talking on their phone, the 4 hours (ish) journey should be relatively pleasant. Edinburgh, Glasgow and Aberdeen have routes to Inverness and tickets can be booked online a couple of months in advance. Megabus advertises fares for £1, prices are more commonly under £20 one way.
There are also train links from all of Scotland's major cities. Single journeys can be found for under £50. Price, times and routes can be seen here.
Then what do you do when you get to Inverness? This is where public transport becomes an issue. The best option is to hire a car (naturally this can be done from any of the Scottish cities and most airports too). Car hire gives you flexibility and independence. A road trip to Scotland is a good idea.
Depending on how far in advance you are booking your trip, your Scottish Highlands itinerary is most likely tied up with which accommodation is available! This road trip has blown up in the past year, firming putting Scotland on the map and rightly so. However, this makes using the limited public transport in the Highlands quite difficult. I strongly advise hiring a car to make the best of your trip.
The main reason to you want to be in charge of driving is because the roads are fun!
Tips for driving in Scotland
Since you will be driving on single track roads it is vital that you use the passing places. These are small spaces at the side of the road you pull into to let other transport past
Fill up with petrol (gas) when you can. There are surprisingly many petrol stations on the road but it's better to be safe than sorry. It is not advisable to be stranded in the Scottish Highlands as you phone signal and 4G will be patchy (mostly non-existent, welcome to the countryside!)
Add your daily itineraries to Maps on your phone before you set off. Before you leave your accommodation/WiFi/4G each morning load that day's map and you will have directions for that journey. It is against the law to use your phone while driving in Scotland, so invest in a mobile phone car holder (your hire car should have one if not, request one).
Look out for the brown tourist signs. There are no official road trip boards which baffles me since it's such heavily marketed campaign but the original brown tourist boards are good support for getting you from village to village.
Enjoy the ride. Seriously, this scenery is breathtaking. The Bealach na bà road to Applecross is particularly interesting and terrifying!
Stock up at the shops
If you are hiring a car and staying in self-catering accommodation you want to stock up on food, snacks and drink in Inverness before you set off. The further north you go the higher the prices are. However, since you will be driving for days or even weeks you will need to refuel (petrol and food!). You will find large supermarkets at Ullapool on the west coast, Thurso, Wick, Tain and Dingwall on the east. Lidl is your cheapest supermarket but is only available on the east coast. Eating out is expensive; you can expect to pay around about £15 for a steak pie main meal in Ullapool or £9 for a small langoustine lunch at the Applecross Inn (it is massive and worth every penny). The logistics of transporting food north is one reason for this increase in price. Budget saving tip – purchase a good water bottle, fill it up at your accommodation before you leave for your journey. Our Scottish tap water is not only safe to drink, it's delicious!
The Scottish Highlands is a road trip worth budgeting for, holidaymakers get to drive along extremely scenic roads, past castles, beaches and Highland cows! Although like many destinations in the United Kingdom it is not the cheapest of holidays but the experience will be worth every pound. Oh, we don't use the Euro by the way, and we accept English notes, it's just England that doesn't accept our Scottish money. Cue Scottish rage!
---
Biography
Scotland travel bloggers, Gemma and Craig, are full time workers with a life-long travel habit. Flirting with 30 and let loose on the world! Check in at Two Scots Abroad for travel tips, quips, and pics that please. Go on, MAKE TRAVEL HAPPEN.
Website Facebook Twitter Instagram Pinterest
---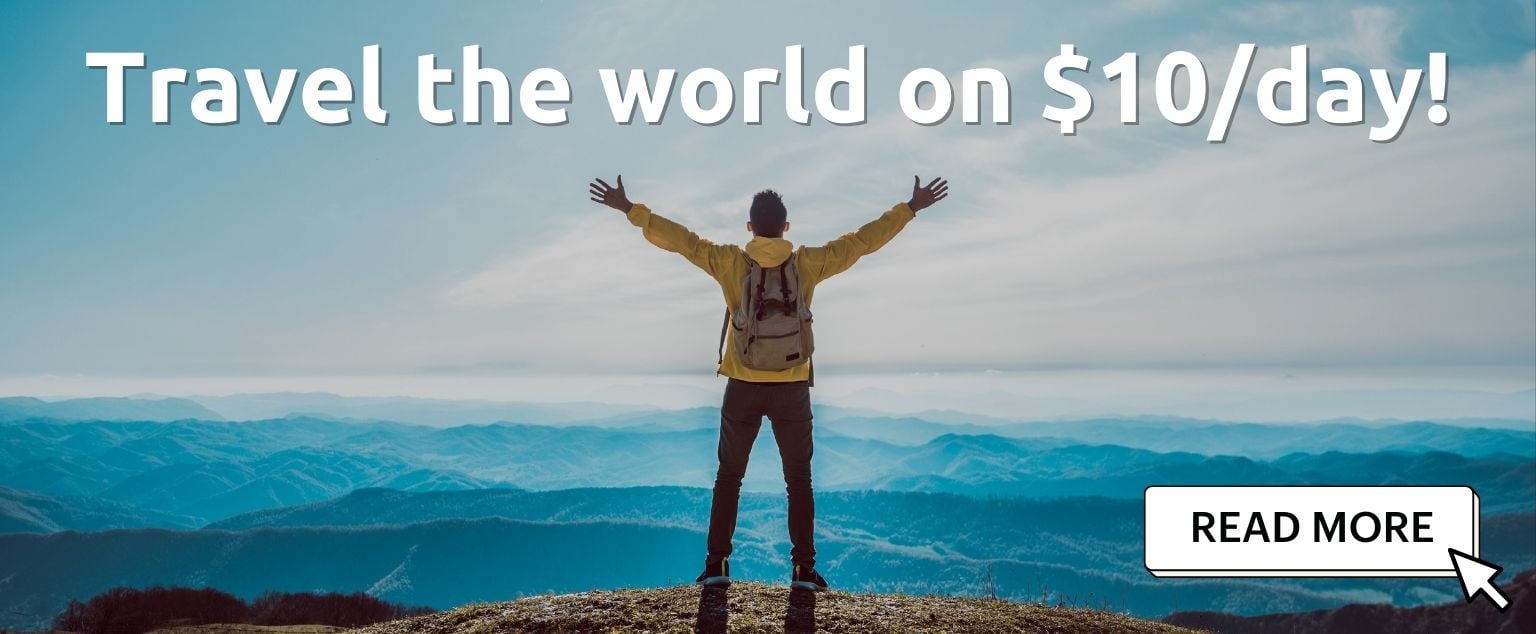 And for transparency's sake, please know that some of the links in our content are affiliate links. That means that if you book your accommodation, buy your gear, or sort your insurance through our link, we earn a small commission (at no extra cost to you). That said, we only link to the gear we trust and never recommend services we don't believe are up to scratch. Again, thank you!