Ok, fellas, so here's the thing… while we nomads like to keep things super simple and laid-back while we travel, sometimes stepping our outfit up a notch is necessary given certain occasions.
Enjoying the local cultural scene is part of the travel experience, and it doesn't always involve flip-flops and hiking pants. You don't want to miss out on experiencing upscale restaurants, clubs, bars, or special events because you don't have the proper attire to pass the dress code.
The best way to be prepared for a big night out in a capital city or for business travel – while packing light – is to invest in a smart, lightweight men's travel blazer. There's a lot to choose from, but you'll want to go with something versatile and durable that fits your needs.
Here, we've put together a list of our top recommendations to help you find the best men's travel blazer that suits your style.
Prepare to get fancy…
Quick Answer: These are the Best Men's Travel Blazer of 2022
Best Travel Blazer for Digital Nomads
Best Travel Blazer for Music Festivals
Best Travel Blazer for Backpacking Europe
Best Classic Wool Travel Blazer
Best Vintage Travel Blazer
Winter is coming… WARM UP!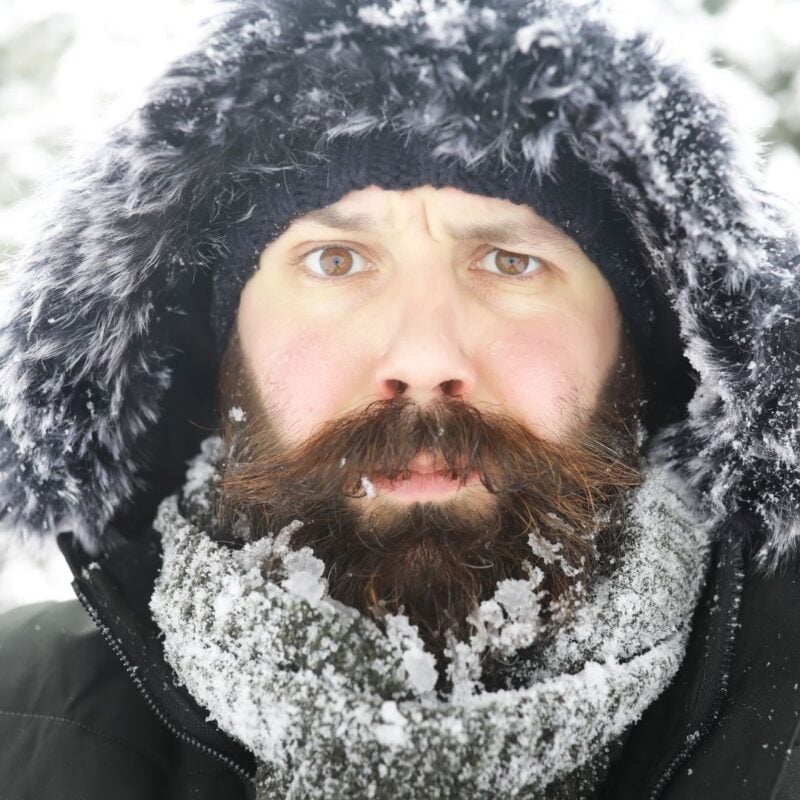 Get up to 50% OFF when shopping gear for the winter on REI.
Warm up for the holidays and SAVE on outdoor gifts all the way through Dec 18!
View on REI
#1 – Best Travel Blazer for Digital Nomads
The best travel blazer for digital nomads on our list is Haggar Men's Smart Wash Performance Blazer
Specs
Material: polyester/wool
Best Use: travel/business
Weight: Mediumweight
Security Pocket: yes
As a digital nomad, you make your living on the road. But not being tied down to an office doesn't mean you don't need to have smart apparel on hand to pull off a snazzy business look should the need arise. The Haggar Men's Smart Wash Performance Blazer looks sharp and professional while catering to the needs of a nomadic lifestyle.
The fact that it's low maintenance is a huge selling point. The polyester/wool blend packs down easily and makes it resistant to stains and wrinkles – meaning you won't find yourself needing to make frequent trips to the dry cleaners. The elegant navy color pairs well with anything from jeans to slacks. It adds just the right amount of chic to any outfit for business or pleasure.
You'll have plenty of space to carry your mobile phone and other personal items, with a button-tab pocket and two interior utility pockets. Stash valuable items that you don't want to lose safely in the zippered interior security pocket.
Plus, there are three exterior pockets, so you won't have any trouble carrying around all your business and travel gadgets everywhere you go. If you're willing to splurge a bit for a high-quality, versatile travel blazer you'll feel comfortable doing business in, it's worth the money.
Pros
Lots of storage
Made of durable, hassle-free fabric
#2 – Best Travel Blazer for Music Festivals
Top pick for best travel blazer for music festivals is Mogu Men's Blazer Slim Fit Sport Coat
Specs
Material: cotton/polyester
Best Use: travel/party
Weight: lightweight
Security Pocket: no
Who said you have to go to a formal or business event to wear a spiffy blazer? You can also use a travel blazer to make a statement and have some fun. If your travels involve a music festival where psychedelic experiences are likely to ensue, spice things up by sporting a turquoise, lemon yellow, or hot pink blazer.
If those colors don't appeal to you, not to worry; there are 22 to choose from. If you have your heart set on a green or orange blazer, those are available too! You can have any color under the sun with this slim-fit sport coat. If the music festival you're attending is slightly more subdued – say a classical music festival – there are less flashy colors available, like black or navy blue.
Not only can you use this travel sport coat at music festivals, but it can easily be reused during any other part of your trip; because of its slim fit, it pairs well with t-shirts, shorts or pants, and a dress shirt. Depending on how crazy you want to get with the color, you'll likely find a variety of occasions to add this lightweight travel blazer to other outfits. And – depending on your destination – wearing a burgundy or pink blazer on a regular night out may just fit in with the latest fashion trends.
Pros
Available in 22 colors
Has 2 small sizes so can also fit younger, middle school-aged students
Budget-friendly
Cons
Very slim fit may be restricting for stockier builds
Chest pocket isn't a real pocket
#3 – Best Travel Blazer for Backpacking Europe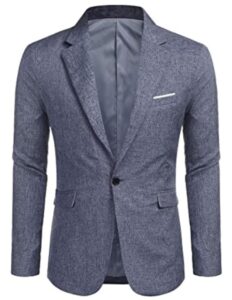 COOFANDY Men's Casual Suit Blazer is one of the best travel blazer for backpacking europe
Specs
Material: cotton/polyester
Best Use: travel
Weight: lightweight
Security Pocket? yes
While we respect the typical backpacker's desire for comfort and utility, we highly recommend having at least one fashionable outfit on hand if you're backpacking through Europe. Some of the world's most fashionable cities are found in Europe – Milan, Paris, London, to name a few – and, overall, sloppy-looking clothing is not the European way.
While you don't have to look runway ready to fit in, sticking out as a "typical tourist" isn't advised. Not only does it make you a target for opportunistic pickpockets searching for unsuspecting outsiders, but it may keep you from access to higher-end or trendy hotspots that you'd like to check out. Europe has tons of cultural offerings – from super casual to more refined – and you'll want to be aptly prepared.
This casual sport coat is the best travel blazer for backpacking Europe because it looks stylish and polished without breaking the bank. It's also practical, with a real chest pocket, two front flap pockets, and an inside pocket to stash away more important items.
It's lightweight and minimalist, so it will easily pair with jeans, a simple tee, and casual shoes. It adds just enough style to give you that little bit of pizazz you need for any venue or event you encounter on your European travels.
Pros
Inexpensive
Lightweight and versatile enough to pair with all clothing
Looks higher quality than it is
Cons
Needs to be drycleaned
Thinner than an average sportscoat due to quality of material

Do You Want to Travel FOREVER??
Pop your email in below to get a FREE copy of 'How to Travel the World on $10 a Day!'.
#4 – Overall Best Men's Travel Blazer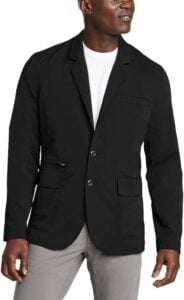 Eddie Bauer Men's Ultimate Voyager Travel Blazer is our top pick for overall best men's travel blazer
Specs
Material: 100% Polyester
Best Use: travel/business
Weight: lightweight
Security Pocket: yes
What we love about this travel sports coat is how rugged and comfortable it is without sacrificing style. Not only is it odor-resistant and wrinkle-resistant – making packing in limited-capacity travel bags a non-issue – but it's also has a water-resistant finish for ultimate versatility. The final look is polished and refined – everything a savvy traveler could want.
This travel blazer was definitely designed with the avid traveler in mind. Every detail is functional and travel-friendly, from the interior zip pocket for organizing travel documents to the zip compartment that includes a media port. It's the perfect all-in-one solution for a lightweight travel blazer that will serve you well for day excursions and pass any fancy nighttime dress code requirements.
There isn't much that we don't like about it. Eddie Bauer makes top-quality items for travelers, and their travel blazer is no exception. It hands-down gets the #1 spot on our best travel blazer list.
Pros
Has a close-to-body, active fit to accommodate mobility and style
Works for travel and casual business needs
Includes a detachable throat collar fastener
Doesn't require drycleaning
Cons
Wrinkle-resistant but not wrinkle-free
#5 – Best Classic Wool Travel Blazer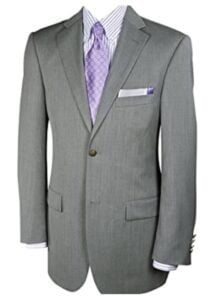 Meet the best classic wool travel blazer: Paul Fredrick Men's Classic Fit Wool Travel Blazer
Specs
Material: wool
Best Use: travel/formal event
Weight: year-round
Security Pocket? yes
If you're looking for the most wrinkle and stain-resistant fabric for your ideal travel blazer, then wool is the way to go. Made of 100% wool, this two-button blazer will suit all your travel needs without needing much cleaning and maintenance while on the road.
It definitely fits the bill for a more classic, refined look that can be worn in all seasons. Wool is great because the fibers naturally help you regulate your temperature. It's breathable like cotton, making it comfortable in warmer weather. It's also insulating, so this travel blazer will also keep you warm in colder temperatures. If you're a frequent traveler year-round – whether for business or pleasure – a wool travel blazer is worth considering.
If you're on the lookout for a classically styled blazer for traditional events like a wedding, a formal dinner party, or important business travel, this is a solid choice. It's available in five classic colors – one of which is a marine blue if you want to spice up the color.
Another bonus is that the Paul Fredrick travel blazer is as practical as it is timeless. There are two front flap pockets and four inside pockets, giving you plenty of space for travel documents and personal accessories. If you travel a lot in all types of weather, this wool travel sport coat is a winner.
Pros
Made of 100% wool that is odor, wrinkle, and stain resistant
Great value for money
Stocked with pockets
#6 – Best Vintage Travel Blazer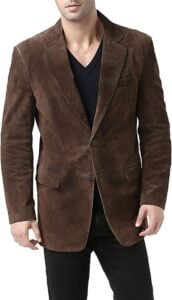 Our pick for the best vintage travel blazer is BGSD Vintage Men's Suede Travel Blazer
Specs
Material: suede leather
Best Use: travel
Weight: lightweight
Security Pocket? yes
If vintage is the way you roll, be sure to check out this BGSD suede travel blazer. Reasonably priced and made of 100% leather, you can easily use this sports coat for a wide variety of travel occasions – from a night out in a trendy cosmopolitan city to a casual business meeting.
It has two deep front pockets that will easily fit essential personal accessories. There's also an inside pocket to secure travel documents or other important items. This makes travel comfortable and convenient because you have space to keep everything you need on your person – no extra carrying accessories needed.
The distressed brown leather is a classic color that pairs well with anything. It's easy to dress up for more elegant events or business or keep casual for daytime excursions.
For an all-around classically cool travel blazer, this one won't disappoint.
Pros
Made of 100% leather
Value for money
The best present of all… is CONVENIENCE!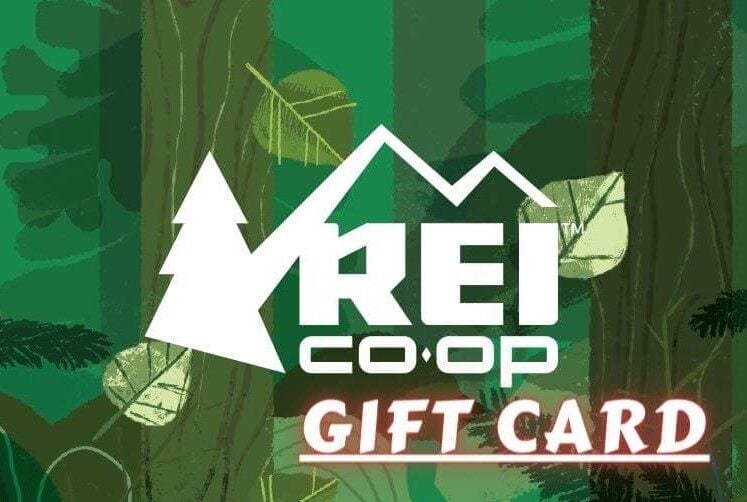 Now, you could spend a fat chunk of $$$ on the WRONG present for someone. Wrong size hiking boots, wrong fit backpack, wrong shape sleeping bag… As any adventurer will tell you, gear is a personal choice.
So give the adventurer in your life the gift of convenience: buy them an REI Co-op gift card! REI is The Broke Backpacker's retailer of choice for ALL things outdoors, and an REI gift card is the perfect present you can buy from them. And then you won't have to keep the receipt. 😉
Buy on REI!
How To Choose the Best Men's Travel Blazer
While we believe that the best travel sports coat choices we've presented above cover pretty much any traveler for any purpose, you may choose to keep looking around for a lightweight travel blazer that suits you better. If you do, we'd like to give you these things to consider to help you choose the best men's travel blazer when doing your shopping research.
Materials
One of the main things to figure out is what material is best for the travel blazer for you – depending on your needs and travel style. If your priority is low-maintenance in terms of washing, wool may be your best bet.
Wool is the most ready-to-wear as it requires the least amount of washing due to its natural odor, stain, and wrinkle-resistant properties. Just keep in mind that a wool travel blazer will need to be dry cleaned.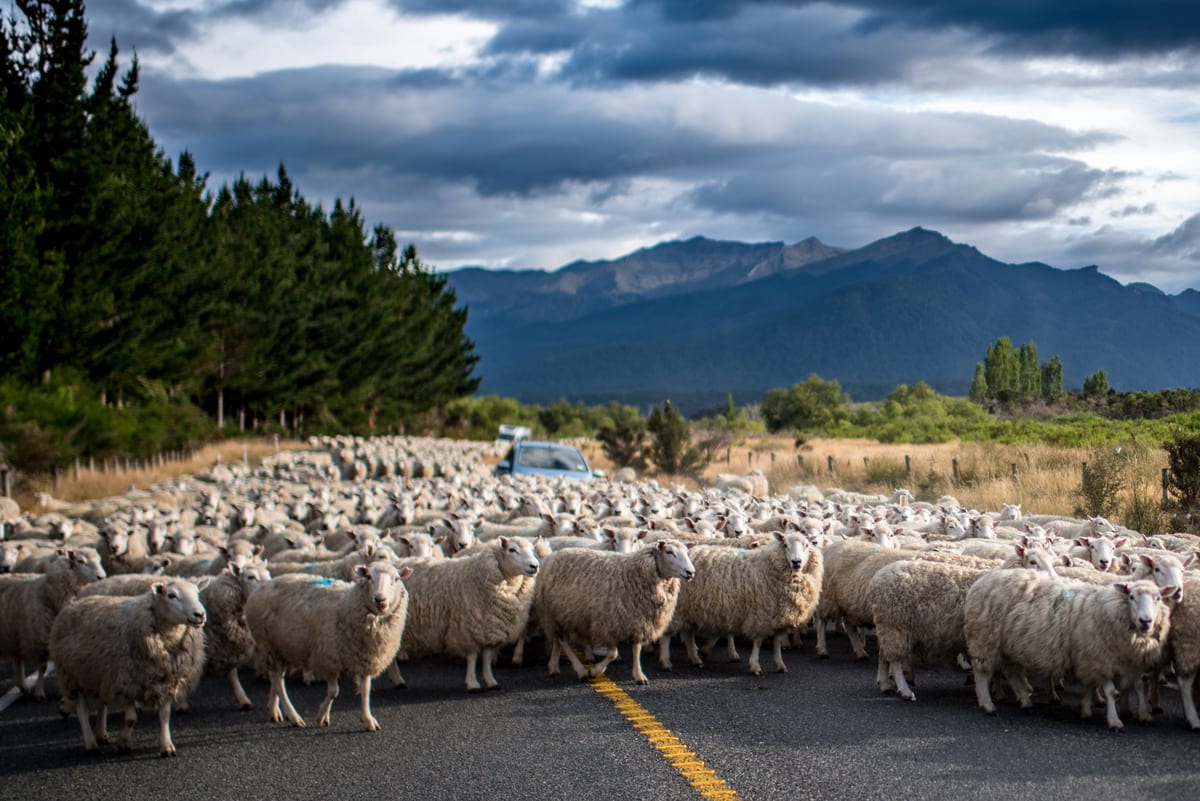 If you want to avoid dry cleaning completely, nylon is a better choice. Nylon is extremely resilient, making it a good choice for more rugged conditions. It's not the typical material you'll find in more traditional blazers, and it's probably a material you think of for windbreaker or rain jackets. Because it's water-resistant, finding garments for travel outerwear is helpful for unpredictable weather or for more versatile use.
Then there's polyester. Polyester is a very lightweight, quick-drying material that is very wear-resistant, which is why it's what most sports clothing is made of. It's usually not considered the most high-quality material for more formal wear, but it's the material of choice for keeping the costs of items lower. If you're looking for the most inexpensive travel blazer possible, polyester will be your best bet.
Price
A good question to always ask yourself when shopping around for the best travel blazer is: how much do you want to spend? Thin materials – like polyester and cotton blends – will be the cheapest. For a lower price, you'll likely have to sacrifice more advanced features like ample pocket space, zipper pockets, and quality.
If you want your travel blazer to be long-lasting and have all the bells and whistles of a top-notch travel garment, consider investing more money. A higher-quality travel sports coat will cost you more, but if you intend to use it for a long time, it will be worth the upfront investment.
Function
Consider what you need a travel blazer for. Is it a one-off purchase to wear to a music festival, or is it a blazer you intend to use for business trips on the road? For a more professional function, you'll want to carefully consider how the blazer looks – making sure it doesn't look too "cheap" or ill-fitting.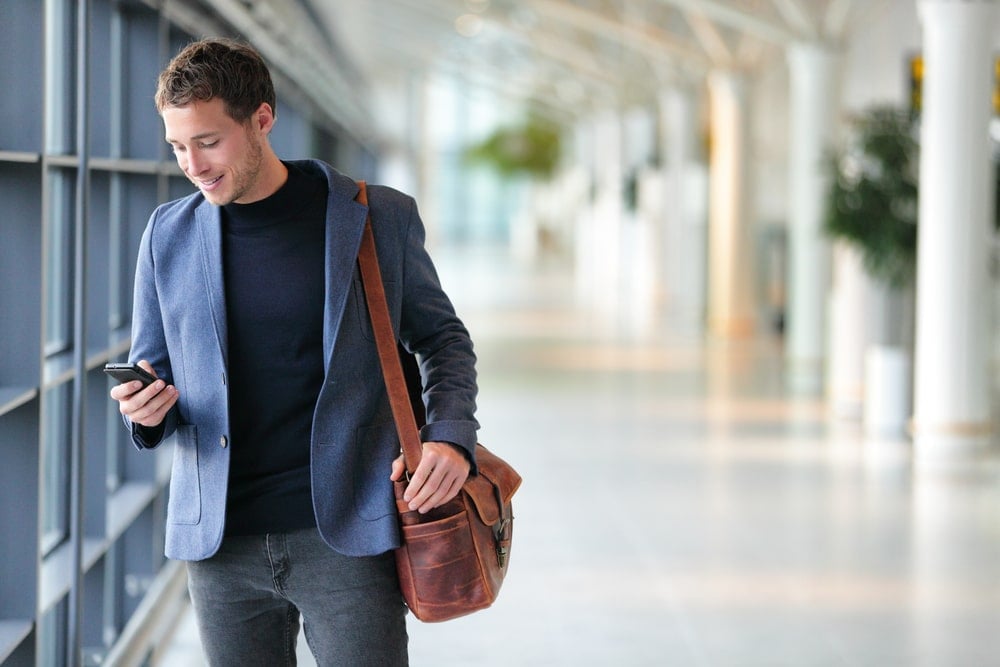 If it's to look good out on the town, you can choose a less traditional style. It should look sharp but could have a more vintage look or an edgier look. If it's a travel blazer you intend for many nights out on the town in many different cities worldwide, consider paying more for the one you like best.
If it's for one or two nights out for a specific trip, you probably don't need to worry as much about the quality and durability of your chosen travel blazer.
Pockets and Storage
How important are pockets and storage space to you? If you like to travel with your travel documents and personal accessories on you at all times, be sure that your travel blazer selection has ample pockets. An inside security pocket is highly recommended for stashing away more valuable belongings.
Packability
Since this garment is meant to serve you well during travel, you need to check out how well the garment packs away. Is it bulky, and will it take up a lot of space, or does it fold down compactly? Does it pack well if it's folded up, or will it arrive a wrinkled mess if it isn't packed in a certain way – like on a hanger in a garment bag? For business travelers, this might be okay.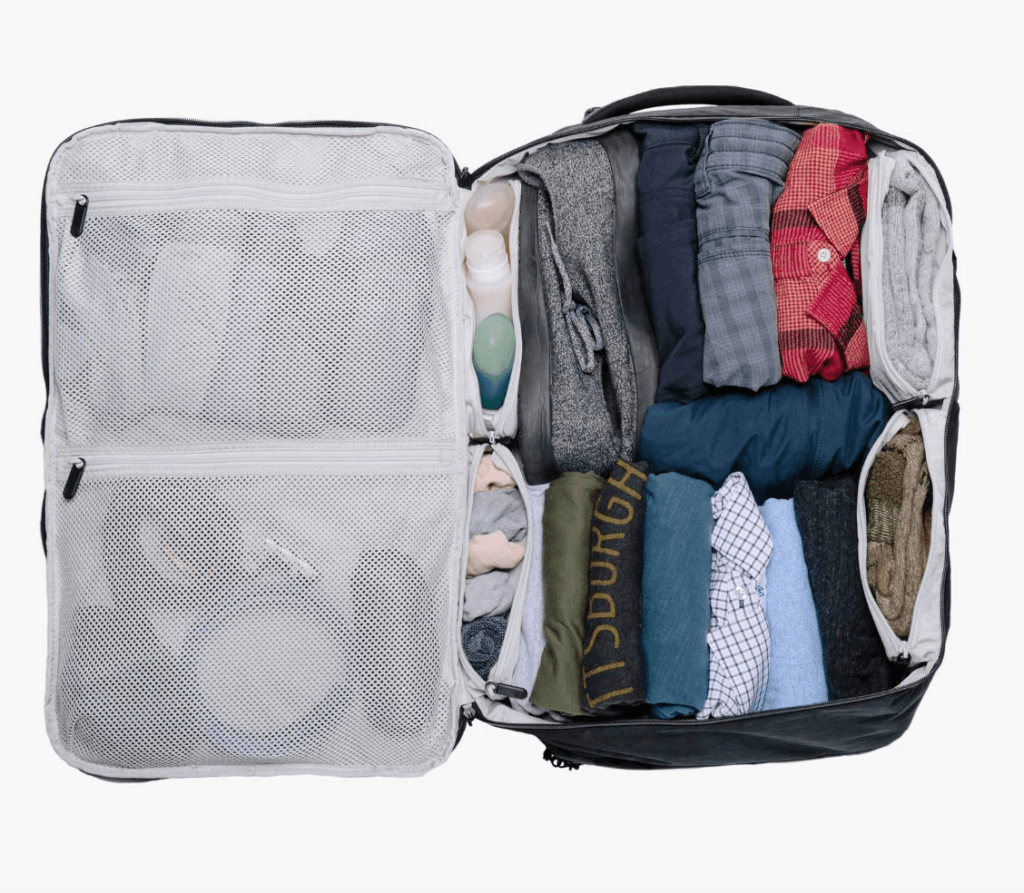 Keep in mind that if you're a backpacker, your travel blazer will be tucked into a compact pack with a bunch of other items where space is limited. You'll be better off choosing a travel blazer that packs down easily and is as wrinkle-resistant as possible.
Keeping your garments low-maintenance will help make your travels much easier and hassle-free – especially if you're staying in hostels, as most don't offer services that involve an iron or clothes steamer!
FAQ about the Best Men's Travel Blazers
Still have some questions? No problem! We've listed and answered the most commonly asked questions below. Here's what people usually want to know:

Our GREATEST Travel Secrets…
Pop your email here & get the original Broke Backpacker Bible for FREE.
Final Thoughts
Ok, guys, that was your rundown of our top recommendations for the best men's travel blazers. We hope you found this helpful and that you'll keep our tips on how to choose the best travel blazer in mind if you choose to keep shopping around.
If you're stuck, we'd again like to recommend the Eddie Bauer Men's Ultimate Voyager Travel Blazer. It really is the best overall travel blazer out there.
Remember that a sports coat doesn't need to be a stuffy, old-fashioned item; if thoughtfully selected, it will be a travel garment that will serve you well. And if you do business on the road or just want to pretend for a night out that you are not just a scruffy backpacker – be sure you have the appropriate attire to look polished and professional when needed.
Stay sharp, fellow travelers!
---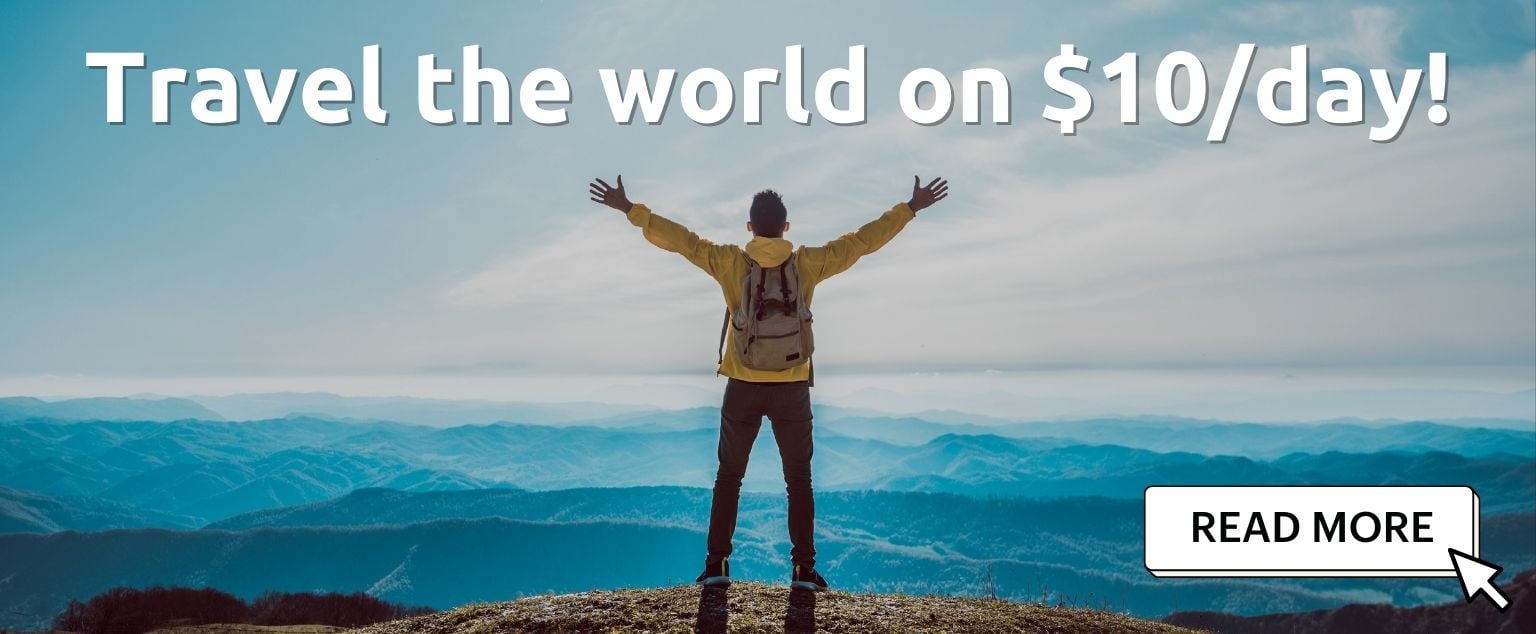 And for transparency's sake, please know that some of the links in our content are affiliate links. That means that if you book your accommodation, buy your gear, or sort your insurance through our link, we earn a small commission (at no extra cost to you). That said, we only link to the gear we trust and never recommend services we don't believe are up to scratch. Again, thank you!