If there is ever a time to have a trustworthy watch, it's when traveling. A great travel watch can save your ass time and time again. Journeys of all kinds rely on being in the right place at the right time – to catch a flight, meet up with a guide, claim that restaurant reservation, or check in to a hotel.
Though other bits of gear, like smartphones, have usurped the role of the watch for many in everyday life, with changes in time zone and attempts to get away from the constant demands of working life, there's still no single item more useful to the modern traveler than a good watch.
Besides, in certain places, you want to reduce how often you're pulling out your phone. A travel watch can keep your smartphone from getting snatched in busy urban areas, where it's all too common.
Here we bring you what we believe are the very best travel watches to keep you on schedule!
Quick Answer: The Best Travel Watches
BEST MEN'S TRAVEL WATCH
BEST MEN'S TRAVEL WATCH
Casio G-Shock Gravity Master
Price > $$
> Protective body
> Water resistant to 200 m
BEST WOMEN'S TRAVEL WATCH
BEST WOMEN'S TRAVEL WATCH
Timex Women's Ironman Transit
Price > $
> Durable on the go
> Follows two time zones
MOST ATTRACTIVE TRAVEL WATCH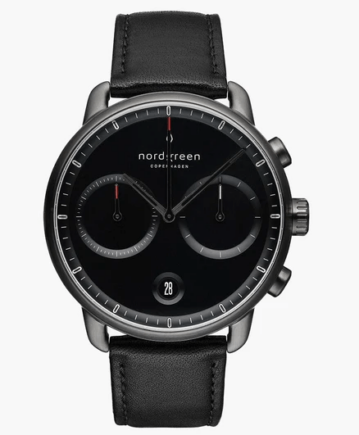 MOST ATTRACTIVE TRAVEL WATCH
Nordgreen Pioneer
Price > $$
> Quality Build
> Interchangeable Straps
BEST WATCH UNDER $500
BEST WATCH UNDER $500
Suunto Traverse Alpha GPS Outdoor Watch
Price > $$$
> GPS tracking and route finding
> Web connectivity
BEST WATCH UNDER $100
BEST WATCH UNDER $100
CIVO Men's Digital Sports Watch
Price > $
> Large digital display
> Daily and date alarms
BEST ANALOGUE TRAVEL WATCH
BEST ANALOGUE TRAVEL WATCH
Tissot Seastar 1000
Price > $$$$
> Luminous hands
> Large face
BEST DIGITAL TRAVEL WATCH
BEST DIGITAL TRAVEL WATCH
KDM Multifunctional Sports and Military Watch
Price > $
> Leather strap
> Protective body
BEST TRAVEL WATCH FOR HIKERS
BEST TRAVEL WATCH FOR HIKERS
Samsung Galaxy Watch
Price > $$
> In-built GPS
> 4-day battery life
BEST SMART WATCH FOR STAYING FIT WHILE TRAVELLING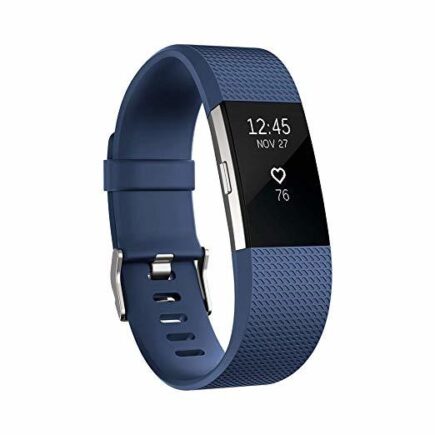 BEST SMART WATCH FOR STAYING FIT WHILE TRAVELLING
Fitbit Charge 2
Price > $$
> Measures heart rate without chest strap
> GPS connectivity
BEST TRAVEL WATCH WITH GPS
BEST TRAVEL WATCH WITH GPS
Garmin Fenix Chronos
Price > $$$$
> TracBack GPS feature
> Activity monitor
Best Travel Watch for Men
Ladies & Gents, It's Time to Step Your GEAR Game Up. 😉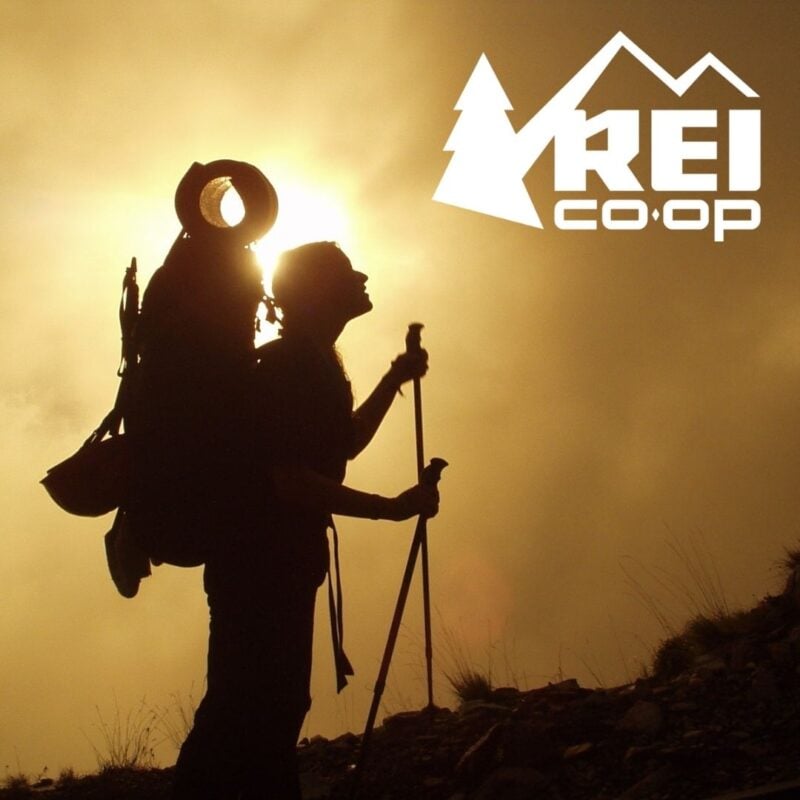 REI is one of America's biggest and most-loved outdoor gear retailers.
Now, for just $30, get a lifetime membership that entitles you to 10% OFF on most items, access to their trade-in scheme and discount rentals.
Join REI Today!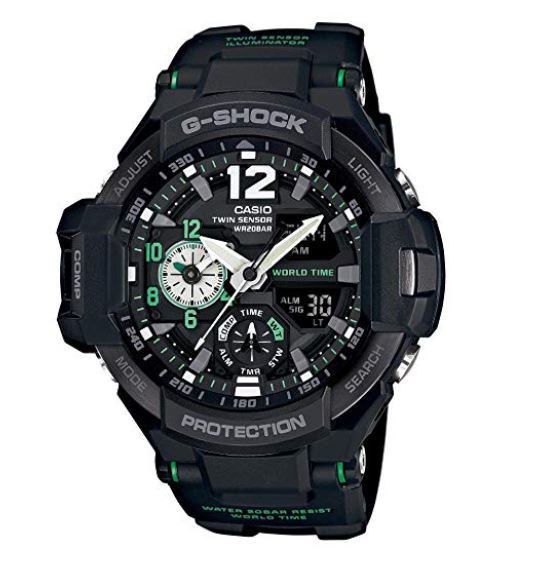 The Casio G-Shock Gravity Master is a serious travel watch for serious travelers. What makes it so great? First off, the microchips and inner workings of the G-Shock Gravity Master are encased in a body that protects from sudden shocks such as dropping or knocking, centrifugal forces, and vibration. Then there's the fact this watch is water resistant down to 200 meters, meaning evening scuba diving is an option with this watch. Finally, techies, in particular, will love the fact that the G-Shock Gravity Master will automatically synchronize to your time zone when you reach a destination – using a combination of GPS and radio waves. How cool is that!
Pros
Protective body
Water resistant to 200 m
Automatic synchronization to time zone
Calendar
Cons
A little bulky for some
Analogue-digital display
Imported from US for UK customers
52 mm diameter
Is the Casio G-Shock Gravity Master for me?
If you're a frequent traveler or you simply struggle with working out time zones when you do, the Casio G-Shock Gravity Master is definitely the travel watch for you! Not only does it use GPS technology to ensure it's always synchronized to the correct time (even taking account of daylight saving time!), its hard protective body and impressive level of water resistance mean you'll never find yourself without a functioning watch when away.
Best Travel Watch for Women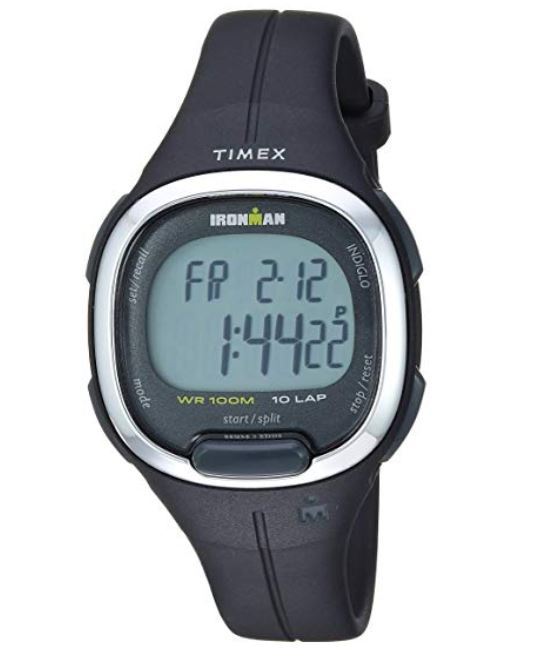 The Women's Ironman Transit by Timex offers a great blend of functionality and style. The relatively large digital display makes it super easy to check the time while moving, whether you're on a busy underground train or scaling a mountain on a rope harness. The resin case means it will resist knocks, while the strap is durable and easily cleaned. The clock itself has the option of two different time zones, so you can keep a clear idea of the time at home, and a customizable alarm, which is always a useful feature while traveling. What's more, it's also water resistant to a depth of 100 meters! What more could you want?
Pros
Durable on the go
Follows two time zones
Alarm
Water resistant
Cons
Resin strap
Simple buckle closure
No automatic synchronization of time zones
Digital display
Is the Timex Women's Ironman Transit for me?
The answer is undoubtedly yes! Its stylish modern design of smooth lines and molded resin certainly means it looks the part, while the ability to follow two time zones, the customizable alarm, and water resistance down to 100 m also means it acts the part! It may not have some of the bells and whistles of other travel watches on our list, but we still love it!
Most Attractive Travel Watch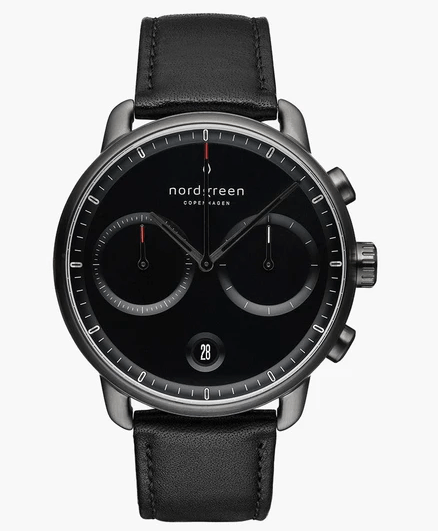 Not every travel watch has to feature James Bond level gadgets and gizmos. The Nordgreen Pioneer is an industry leader when it comes to producing quality minimalist watch designs that are fit for your days exploring cities and nights on the town. A big selling point for this watch is that you can easily change out the bands if you are feeling like a different look/color (bands sold separately).
The combination of sleek specs like the domed Sapphire crystal face and Japanese quartz make for a watch that you will be using for many years to come. In addition to being a sexy travel watch – the Nordgreen Pioneer also is a great everyday watch. 
Pros
Minimalist design
Comes with Steel Case
Water-Resistant
Scandinavian Made
Cons
Extra Watch band colors not included
No smart technology
No automatic synchronization of time zones
No alarm feature
Is the Nordgreen Pioneer for me?
If you are looking for a no-frills watch that looks much more high-end then the price reflects, this is the watch for you. As mentioned, the Pioneer is not just a travel watch – and it is classy enough for use in a professional setting as well as when you are not on holiday. 
Best Travel Watch Under $500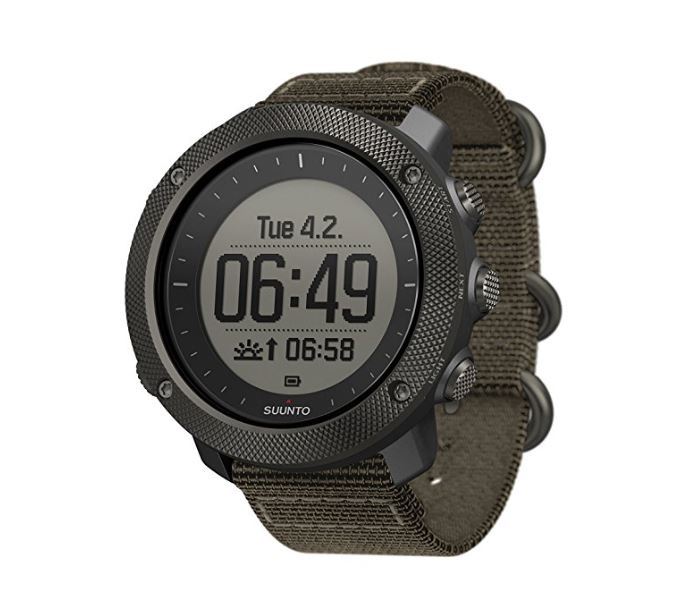 Just scrapping under the $500/£390 mark at its full recommended retail price, the Traverse Alpha GPS Outdoor Watch gives the widest array of features for a travel watch under $500. Tested to military standards by the Finnish firm, this watch has endured freeze-thawing, rain, submersion, sand, dust, and 14 other tests and come out the other side unscathed thanks to its superb build quality. Military grade GLONASS GPS technology means your location is pinpointed within a couple of meters, with tracking, route, and POI navigation all available in real time. You'll never be lost again! If that wasn't enough, this watch also boasts sunrise and sunset warnings, pressure information, and the ability to share your adventures on the web, whether you're hunting in the depths of the woods, or sitting snugly in a city center café.
Pros
Tested to military standards
GPS tracking and route finding
Real-time weather information
Web connectivity
Cons
Requires USB charging
Nylon strap
Digital display
Not touchscreen
Is the Suunto Traverse Alpha GPS Outdoor Watch for me?
You don't have to be a hardened adventure to see the benefits of the Traverse Alpha GPS Outdoor Watch by Suunto. If you've ever got hopelessly lost in a foreign city you'll really appreciate the real-time GPS tracking and route finding functions, while its web connectivity will ensure you can stay in contact with friends and family while away too!
Want to compare this watch to other awesome outdoor models? Check out our EPIC review of the best outdoor watches.
Best Watch Under $100
We think the CIVO Men's Digital Sports Watch is simply a bargain for what it offers! Deep within the inner workings, you'll find (if you were ever to look), a movement by Japanese watchmakers Citizen, and a battery meant to last three years. On the outside, you have a large, easy to read, digital display with backlight for nighttime jaunts. There's not only a daily alarm to get you up on time, but also a date alarm so you won't miss your flight home. Simply elegant in black, you won't have any problem matching this to your look, while a 12-month warranty provides peace of mind!
Pros
Great price
Trustworthy internal workings
Large digital display
Daily and date alarms
Cons
Only water resistant to 50 m
Not great for slim wrists
Plastic dial window
No second time zone function
Is the CIVO Men's Digital Sports Watch for me?
You don't have to be counting the pennies to think that the CIVO Men's Digital Sports Watch is a great buy for what it offers. For an incredible price, you get a trustworthy automatic Japanese made movement, and an easy to read digital display alongside two different alarm functions and a nice look. Brilliant!
Best Analog Travel Watch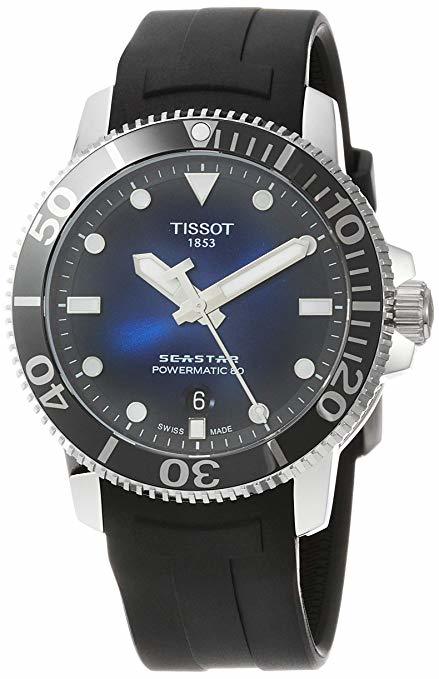 Although aimed at the diving market, the Swiss-engineered Tissot Seastar 1000 is just as functional as a general analogue travel watch. The large face makes it easy to read the luminous dials even in the low light of an aircraft cabin or a candle-lit restaurant, while maintaining enough style to ensure you won't feel embarrassed at wearing it even at more formal occasions. The tough body will keep it safe from knocks, while the resin strap is comfortable and easy to keep clean. As you might expect, the Seastar 1000 also has an impressive degree of water resistance too – safe down to 300 m!
Pros
Large face
Luminous hands
Stylish
Water resistant to 300 m
Cons
Analogue
No alarm
Lacks GPS features
Not as tough as the Casio G-Shock Gravity Master
Is the Tissot Seastar 1000 for me?
Having been making watches for more than one and a half centuries, Tissot is clearly doing something right! Their Seastar 1000 is no exception, with this analogue travel watch bringing a touch of class to the proceedings. But more than just having a pretty face (very literally) its also functional thanks to luminous hands and water resistance to 300 m.
Best Digital Travel Watch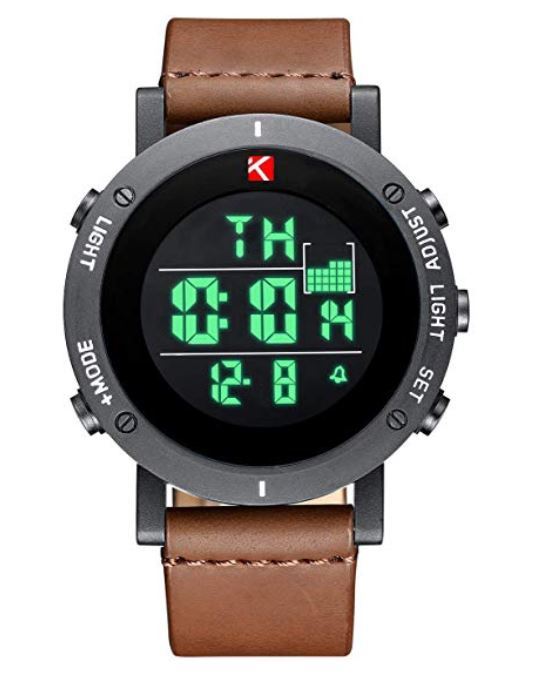 From the best analogue travel watch to the best digital watch of our reckoning with this number from KDM. It can be argued whether the best digital watch should be as simple as possible or as feature heavy as possible – we've sided with simple. But simplicity doesn't mean you're laying aside reliability – the KDM is based around a Japanese-made movement and battery for precision timing. The time/date display, auto calendar, alarm, and backlight are matched nicely by the real leather strap, and protected by the stainless steel case and German-made high hardness mineral glass!
Pros
Japanese movement
Alarm
Leather strap
Protective body
Cons
Lacks features of other digital watches we've covered
Not suitable for submersion
No analogue dial
Some customers mention build issues
Is the KDM Multifunctional Sports and Military Watch for me?
If you're after a digital watch that can tell you exactly where you are at any given time and what the weather is likely to be in the next couple of hours, we'd recommend the Suunto Traverse Alpha GPS Outdoor Watch, however if you're looking for a simple digital display with which to tell the time, this KDM watch will be perfect for you!
Best Travel Watch for Hikers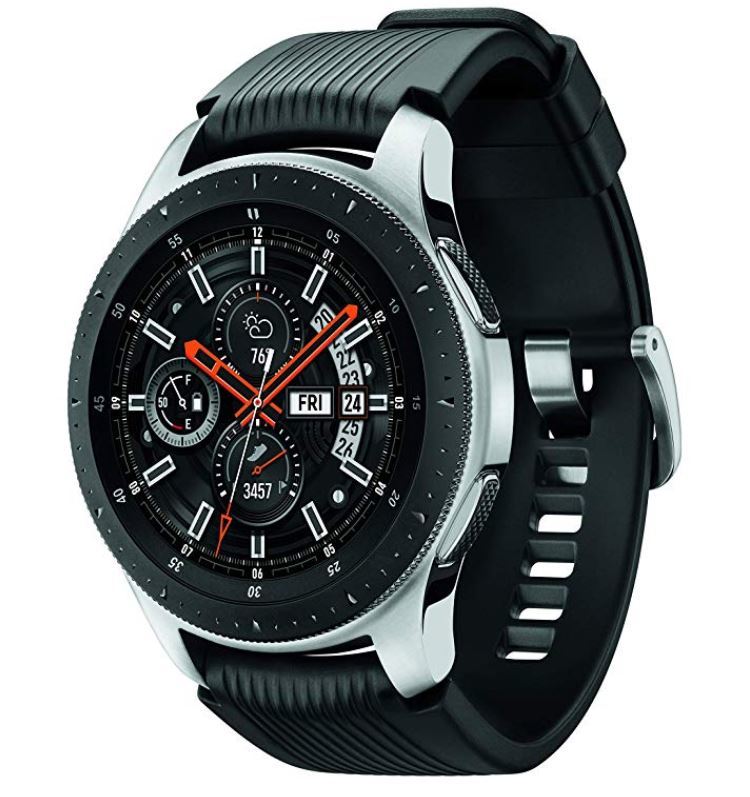 It's a fact of life that tech has encroached into the world of hiking as much as other sports and activities, and while a paper map and physical compass is always a good idea, a lot of the hard work of route finding can be made simple with a watch such as this Samsung Galaxy offering. As well as keeping you connected with calls and messages straight to your wrist to keep you hands-free, the Samsung Galaxy also automatically (yes, automatically) detects movement and activity and monitors it for you. This watch also has in-built GPS, so you can follow pre-planned routes or find a short cut home on the move effortlessly!
Pros
Lets you stay connected hands-free
Automatically detects and monitors activity
In-built GPS
4-day battery life
Cons
Requires regular charging
Water-resistant to only 50 m
Resin strap
Weighs 300 g
Is the Samsung Galaxy Watch for me?
If you're an Apple fan, look away now…While a smart watch may not be the obvious choice for hikers, the Samsung Galaxy watch does in fact make a fine travel watch for hikers. Why? Because you can stay connected, have your activity monitored without even having to touch a screen, and have the safety and security of GPS route finding as well!
Best Smart Watch for Staying Fit while Travelling
Market leaders are market leaders for a reason, and the Charge 2 by Fitbit remains to our mind the best smart watch for staying fit while traveling. The smooth lines of the Charge 2 monitor your heart rate from your wrist – meaning no unwieldy chest strap for starters. Its all-day activity tracking measures distance, steps, and calories among other metrics, and can remind you to move if you've remained still for longer periods. Finally, with its GPS connectivity, you can see real-time stats in addition to your current location and route!
Pros
Stylish look
Measures heart rate without chest strap
All-day metric measurement
GPS connectivity
Cons
Requires regular charging (every 4+ days)
Additional accessories cost extra
Touch screen scratches quite easily
Two-year warranty
Is the Fitbit Charge 2 for me?
Staying fit while traveling used to be difficult to monitor, what with the change in routine (and the added calories that undoubtedly come with many types of travel!). Then the Fitbit Charge 2 came along, with the possibility to record metrics from heart rate to steps taken without issue, alongside the brilliant functionality of GPS connectivity.

Do You Want to Travel FOREVER??
Pop your email in below to get a FREE copy of 'How to Travel the World on $10 a Day!'.
Best Travel Watch with GPS
You've got to love GPS, don't you? Endlessly useful in your home town and abroad, its certainly saved us from all manner of potential pitfalls! The Garmin Fenix Chronos is a masterly GPS-enabled travel watch, with a tracking log for pinpoint accuracy and its 'TracBack' feature that helps users head back the same way you've come. But as well as GPS functionality the Fenix Chronos has ABC (or altitude, barometer, and compass) functions, and will record and monitor your activity levels, whatever sport or activity you're undertaking. All this, smart phone connectivity, and a battery life of up to eight days make this the best travel watch with GPS for us!
Pros
TracBack GPS feature
Altitude, Barometer, and compass readings
Activity monitor
8 day battery life
Cons
Leather strap
Water resistance to just 100 m
Has a traditional look some users may not like
Requires USB charging
Is the Garmin Fenix Chronos for me?
If you're regularly traveling, looking for the very best of travel watches with GPS, we think you've probably found it with the Garmin Fenix Chronos! The 'TracBack' feature will be really useful for many, while more seasoned adventures will love the ABC functionality too!
Best Minimalist Travel Watch
The Nomatic's combination of ageless elegance and simple minimalist design makes their watch a hands-down winner. Their travel watch, just like the Nomatic travel bag, is extremely versatile; it can be used whether you're traveling for work or pleasure, and when roughing it or in the highest-end resorts – without looking out of place.
There are currently three different faces to opt between to show a little of your personality: black on black, silver on white, or black on white; and the additional choice of a black or tan leather strap. The Swiss-made movement makes it more than reliable, when its also water resistant down to 30 meters, has a handy day/date display, and a lifetime warranty too boot!
Pros
Great look
Versatile
Swiss-made movement
Water resistant
Cons
Presently only one overall style
Analogue
No alarm
Intended for men
Is the Nomatic for me?
If you're after a pared-back but classy travel watch which you know you can rely on while on the move the Nomatic is the perfect choice for you. With a style that looks great in any situation, the quality leather strap and Swiss-made movement are sure to mean this watch will last and last.
Best of the Rest
Detroit's Shinola has a growing legion of fans on both sides of the Atlantic, and travelers old and new will be sure to fall for the Runwell too. This analogue watch has a traditional look, complete with a real leather strap, while ensuring a large face to ensure the clock face is easy to read whatever the light levels. The sapphire crystal window is scratch resistance, which is obviously ideal when traveling, and the watch is also water resistant down to 50 m – more than deep enough for a swim in the hotel pool!
Pros
Beautifully styled traditional look
Leather strap
Scratch resistant sapphire crystal window
Water resistance to 50 m
Cons
Imported from the US for UK customers
Luminous hands but no backlight
Not for budget travelers
No GPS functionality
Is the Shinola Runwell for me?
The style-conscious traveler will be very happy to be seen wearing the Shinola Runwell, as a result of its phenomenal looks and literally crystal-clear analogue display. But this watch isn't just style over substance, with durability built in with the leather strap, scratch resistance, and water resistance. When looking for a traditional and trustworthy watch, the Shinola Runwell is a great option!
The Seiko Divers Automatic watch comes with a stainless steel bracelet style strap that slips over the hand to close. The 21 jewels used in its analogue movement ensure accuracy, and although this is an automatic movement – rather than a battery-powered one – it has a power reserve of 40 hours, meaning you can forget to wear it for an entire day without having to manual wind the watch on to restart it. The face incorporates a very useful day and date window, that will surely stay clear as a result of the scratch resistant Hardlex crystal glass. The fact it's a diver's watch also means it boasts water resistance to a depth of 200 m.
Pros
21 jewel movement
40-hour power reserve
Scratch resistant Hardlex crystal glass
Water resistant to 200 m
Cons
Automatic movement
Metal bracelet style strap
No GPS functionality
Intended as a men's watch
Is the Seiko Divers Automatic for me?
If you're an experienced diver you'll be probably looking for a more sophisticated divers watch than that offered by the Seiko Divers Automatic. However, for mere mortals, this watch reaches the right balance between everyday practicality and specialization. Accurate and tough, we can't see the Seiko Divers Automatic letting you down!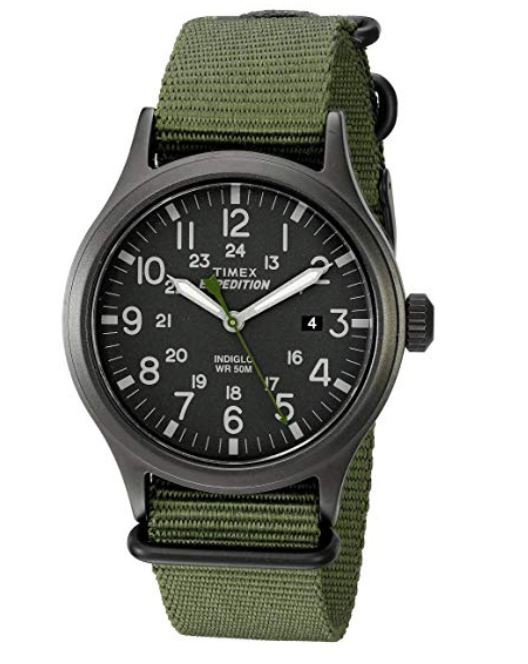 The Timex Expedition Scout offers an analogue face with both twelve- and twenty-four-hour time settings, and accuracy you know you can trust. This rugged outdoor watch is protected by a durable body that is guaranteed to be water resistant down to a depth of 50 m and has the added feature of an 'Indiglo' light-up watch face. There's also a quick date window on the face so you'll never lose track of the time or date, while the classic yet contemporary look will have to check the time far more than is actually necessary!
Pros
12 and 24-hour dial settings
Accurate
Water resistant to 50 m
Indiglo light-up dial
Cons
Analogue watch
No alarm
Lacks different time zone settings
Date but no day window on face
Is the Timex Expedition Scout for me?
Forget those tempting added features of other watches in our review, the Expedition Scout is a good 'solid' watch that will see you through while always looking fresh and up to the minute thanks to its classic looks.
The brother of the Suunto Traverse Alpha GPS Outdoor, you might consider the Core the more basic (and also cheaper) of the two watches, but that's not to say the Core is not a fantastic travel watch in and of itself. Though it obviously doesn't match all the Traverse Alpha GPS Outdoor's incredible functions – such as being military grade – this unisex watch still has a lot of flash features of its own! Its barometric altitude measurements, depth gauge, and weather warnings make it an ideal companion in the Alps if you're hiking, snowshoeing, or skiing, where its tough enough to do the job thanks to a metal casing. Comprising aluminium, it keeps the watch light, while it has a battery life of up to a year, meaning you have little worry over when it's going to need its next charge!
Pros
Dedicated mountain watch
Cheaper than the Traverse Alpha GPS Outdoor
Detailed altitude and depth measurements
Lightweight
Cons
Water resistant to just 30 m
No GPS tracking
Too large for some wrists
No different time zone settings
Is the Suunto Core for me?
Avid skiers and mountaineers are the target market for the Suunto Core, and they are undoubtedly the group of people likely to get the most benefit from wearing the Core thanks to its barometric data, altitude graphics and depth gauge. The rest of us will just have to make do with having a pretty cool watch on our wrists!
North Edge brings us this travel watch which is water resistant to a depth of 100 m, meaning you can check out its analogue-digital face pretty much anywhere you choose – from a city centre café to a shipwreck on a coral reef! The large backlit dial makes it easy to read the time too, while the mineral glass mirror surface is resistant to scratches and the body protective against knocks and bumps. This clever little watch is also capable of monitoring steps with its pedometer, and calculating calories burnt, as well as offering users the ABC of altimeter, barometer, and compass too!
Pros
Trusted brand
Analogue-digital face
Water resistant to 100 m
ABC functions
Cons
Intended for men only
No GPS tracking or route finding
Stainless steel strap
Not the longest battery life when heavily used
Is the North Face Dive and Sports Watch for me?
This dive and sports watch by North Edge should definitely find its way onto your shortlist for best travel watch, combining traditional analogue looks with the benefits of digital technology. It has great features for anyone who likes to get outdoors, from mountains to seabed, making it a good all-round travel watch!
Look at the full list of what the Lad Weather Sensor Master III can track and you'll feel like you've got NASA monitoring your every move, calories, highest peaks, lap speed, total distance…. We could fill up this entire space just listing them! So this watch by Lad Weather certainly meets the need of anyone who likes (or needs) to record data while travelling. What also makes it a great travel watch is the fact it is preset with 59 city time zones, can provide a weather forecast for your location, has two daily alarms, AND is water resistant to 100 m – far deeper then you'll ever head unless scuba diving!
Pros
Fantastic data collection
Preset city time zones
Weather forecasting
Water resistant to 100 m
Cons
Overly complicated for some travellers
Large dial face
Thermometer function can be affected by body heat
Plastic dial window
Is the Lad Weather Sensor Master III for me?
Greatly improved over the Sensor Master I, the Sensor Master III is a phenomenal travel watch by Lad Weather. Having clearly absorbed customer feedback from the previous models, this travel watch is both well protected against physical damage and packed full of very useful monitoring and forecasting data!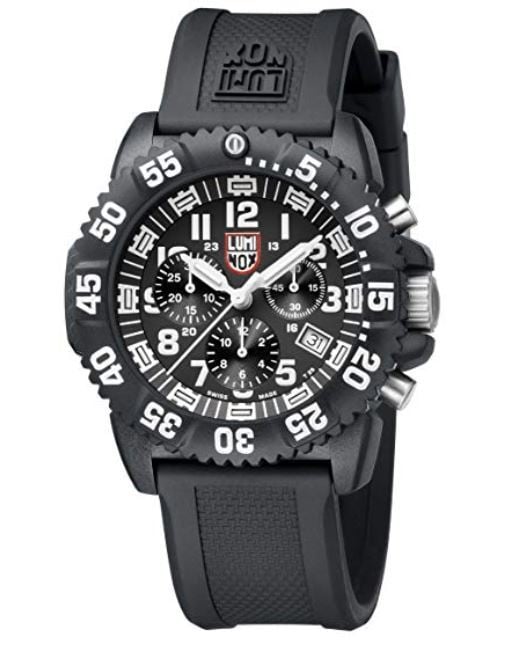 And finally… we bring you the Luminox Navy SEAL Colormark, and unbeatable travel watch when it comes to durability! Comprising an incredibly light carbon compound case, this analogue watch has been tested to 20 atmospheres of pressure, has a window made from tempered mineral glass, and has the added protected of a double-gasket security crown. The large numbers on the face make it easy to read in all light levels, although the in-built Luminox light technology will provide constant night lighting for up to 25 years! The Swiss-made movement comes with a two-year guarantee against faults, providing added peace of mind!
Pros
Very light on the wrist
Durable
Added Luminox light technology
Swiss-made movement for precision
Cons
Imported from US for UK customers
Analogue rather than digital
Large bezel numbers can confuse with time
No different time zone settings
Is the Luminox Navy SEAL Colormark for me?
If it's good enough for the Navy SEALs its good enough for us, right? As you would expect from a watch made for military personnel this Luminox is as tough as old boots and you'd have to really go out of your way to damage it – great news for all travellers! It also has a Swiss-made movement for accuracy, and innovative lighting technology for checking the time in the dark.
The best present of all… is CONVENIENCE!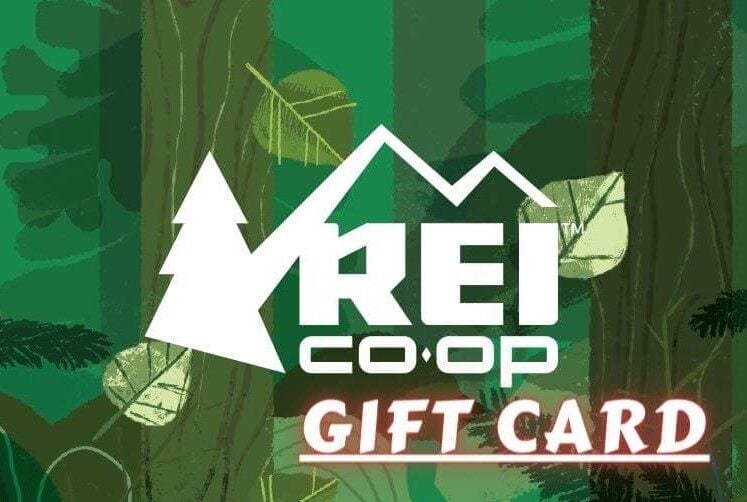 Now, you could spend a fat chunk of $$$ on the WRONG present for someone. Wrong size hiking boots, wrong fit backpack, wrong shape sleeping bag… As any adventurer will tell you, gear is a personal choice.
So give the adventurer in your life the gift of convenience: buy them an REI Co-op gift card! REI is The Broke Backpacker's retailer of choice for ALL things outdoors, and an REI gift card is the perfect present you can buy from them. And then you won't have to keep the receipt. 😉
Buy on REI!
FAQ about the Best Travel Watch
Still have some questions? No problem! We've listed and answered the most commonly asked questions below. Here's what people usually want to know:

Our GREATEST Travel Secrets…
Pop your email here & get the original Broke Backpacker Bible for FREE.
Never Miss a Flight Again!
There we have it – the very best of the best when it comes to travel watches. Whether you prefer a simpler analogue watch, want a digital watch with GPS tracking and route-finding, or are happy with a travel watch that looks stylish whatever the backdrop, we're sure you'll find your next travel timepiece among these fantastic watches!
---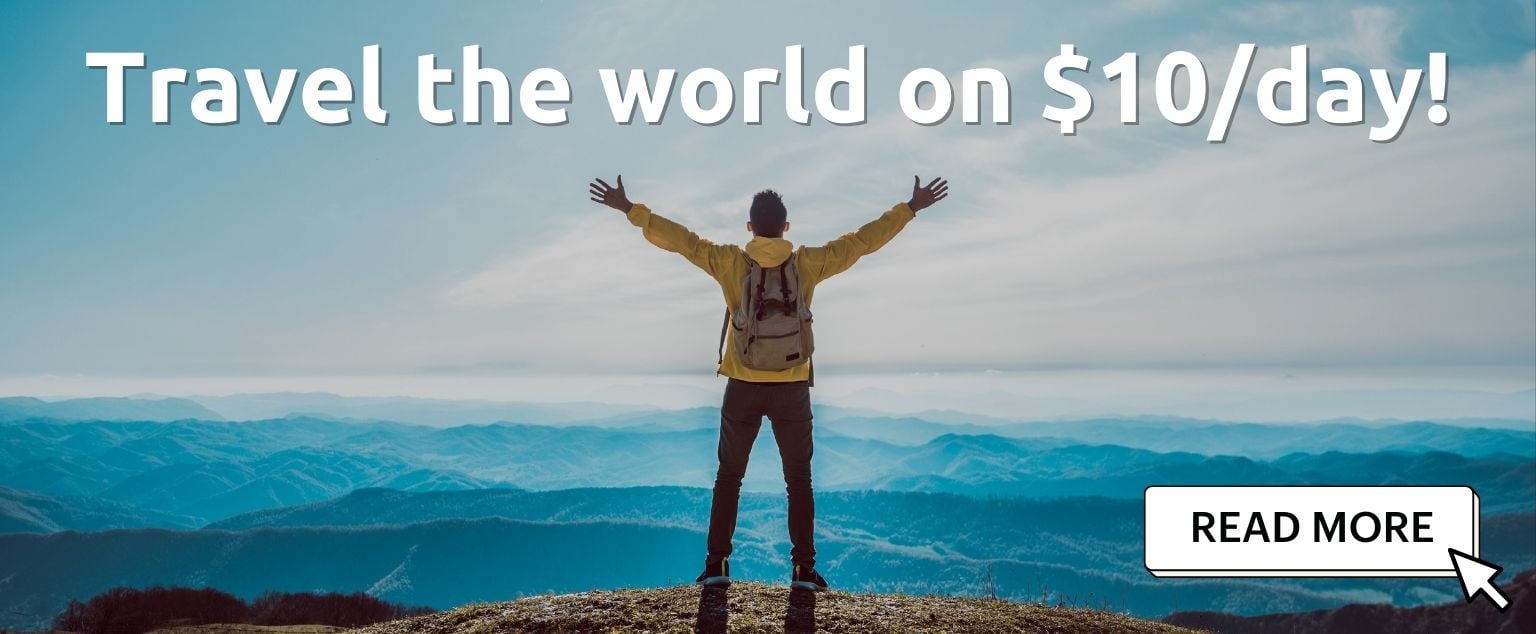 And for transparency's sake, please know that some of the links in our content are affiliate links. That means that if you book your accommodation, buy your gear, or sort your insurance through our link, we earn a small commission (at no extra cost to you). That said, we only link to the gear we trust and never recommend services we don't believe are up to scratch. Again, thank you!