Small island paradises are excellent fun! It's kind of in the name really… 'paradise'. Sounds utterly delightful.
Enter Saint Lucia: "The Helen of the West Indies". The days of being passed between the French and the British like the only lighter at a party have long since passed and now Saint Lucia stands as something all of her own.
And she is glorious.
So perhaps you should rent a villa in Saint Lucia. Why? I'll tell you why:
Why not?
Villas in Saint Lucia bring all the expected goodness of a villa on an island of paradise: slow days spent meandering the beaches and vistas so beautiful photoshop can't do them justice. Hell, find yourself a good rental in Saint Lucia and you may just never leave! Would that be so bad?
So, let's find you that perfect place to stay in Saint Lucia! Using my long-term traveller Spidey Sense for picking a choice spot, I've rounded up the best villas in Saint Lucia (enclosed within). Sorted for travellers of all types, somewhere in here is your next Caribbean holiday.
Let's see if you leave.
In a Hurry? Here's a Peek at our Favorite Saint Lucia Villa
FIRST TIME IN SAINT LUCIA
Condo in the Heart of Rodney Bay
This villa right on Rodney Bay is the perfect mid-range option for vacationers who want access to all the amenities and attractions of the bay. Your beautiful condo will be just a short jaunt away!
Places to visit:
Bay Gardens Beach Resort
Beautiful Snorkeling Sites
Reduit Beach
Is this amazing villa booked for your dates? We've got your back with our other favourite properties below!

Unlock Our GREATEST Travel Secrets!
Sign up for our newsletter and get the best travel tips delivered right to your inbox.
OVERALL BEST VILLA IN SAINT LUCIA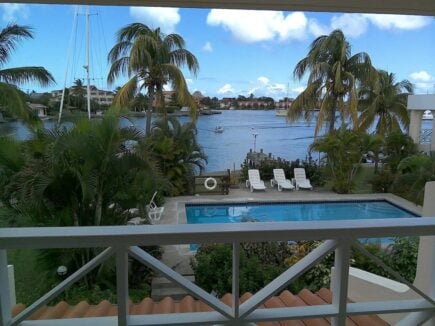 OVERALL BEST VILLA IN SAINT LUCIA
Condo in the Heart of Rodney Bay
> $
> 6 Guests
> Beach gear provided (incl. snorkelling equipment)
> Choice location!
TOP CHEAP VILLA IN SAINT LUCIA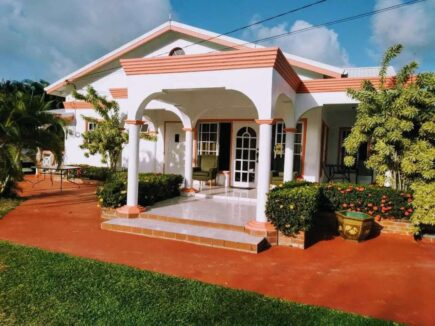 TOP CHEAP VILLA IN SAINT LUCIA
Sunny Palm Beautiful One Bedroom Villa
> $
> 2 Guests
> Free laundry
> 24-hour assistance
ALL-INCLUSIVE VILLA IN SAINT LUCIA
ALL-INCLUSIVE VILLA IN SAINT LUCIA
Brigand Hill
> $$$
> 10 Guests
> Everything
> Everything!
BEST LUXURY VILLA IN SAINT LUCIA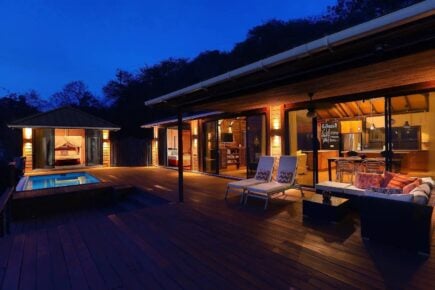 BEST LUXURY VILLA IN SAINT LUCIA
Villa Pierre: Lifetime Memories
> $$$
> 6 Guests
> Coffee machine (awesome)
> Extra pampering services available
BEST VILLA FOR A GROUP
BEST VILLA FOR A GROUP
La Batterie: Beautiful Island Villa
> $$$
> 6 guests
> Fully staffed (incl. nightwatchman)
> Outlook on the Pitons
The scope in the variety of short-term rentals in Saint Lucia is huge and the villas are no different, so let's start with the commonalities.
Most villas in Saint Lucia are designed in a typical Caribbean architectural style. This means open spaces for plenty of airflow. It also means you'll be flatting with birds, lizards, and other wholesome critters! It's a regular Snow White experience (with a tropical theme).
Location-wise, there are heaps close to the beach. They're not always strictly 'beachfront', but they're generally close enough to hit the waves without much premeditation. The exception is when you're staying in the hills but that just means the view is gonna be extra special!
Amenities are generally pretty tight but even in the cheapest listings, at least one air-con unit was standard. Generally, in the bedroom. That's something you really want to look out for when picking a short-term rental in Saint Lucia – it gets real humid.
Outside of that, you'll find a wide selection of villas ranging from nice-basic to luxury-for-the-1% and from intimate-for-two to proverbial mansions. Factoring in the location is important, however, taking thought as to whether you'll be budgeting it on local buses, hailing cabs, or renting a car (a common choice for holidayers in Saint Lucia). Many villa hosts even offer some form of transportation or car rental for some extra Caribbean dollaridoos.
Otherwise, it's on you to decide where you're aiming at. You can head for the tourist bubbles, the local beaches, or – my personal favourite – the glory of the Pitons. I'm a mountains guy and, my god, those peaks are yummier than the villas.
Renting a Villa in Saint Lucia
So, what's the deal? Why go and rent a villa in Saint Lucia? Aren't swanky hotels the bee's knees
Nay. Haven't you heard? Villas are where it's at!
Hotels are stuffy, more suited to leathery-skinned vacationers blowing their kid's inheritance on bubbly and crabmeat. Villas are to feel at home: the luxury of idyllic travel combined with the feeling of being at home-away-from-home.
Kitchen, private bathroom, checking that you shut the fridge and turned off the stove before heading out for the day: it's nice to be home. It's even better when you're home is a luxury pad on a remote tropical island – yay!
Short-Term Villa Rental in Saint Lucia
So how do you go about getting a rental in Saint Lucia? You can stick with the standard of Booking.com but it isn't necessarily the best choice for villa-esque accommodations – not by a long shot.
House-sharing-renting hybrid platforms are where I'd say you're gonna nab the sexiest deals (and the most reliability). Airbnb is the top-dog (with good reason – these are some of our favourite Airbnbs in St Lucia) but you'll find some vacation homes unique to Homeaway too. There's also VRBO, who appeal a lot to the American "vacation" crowd.
Doesn't matter though because I've scoured all of them for the most fabulous short-term rentals around Saint Lucia! Prices vary wildly, and I've made efforts to choose both budget choices and ludicrously expensive choices in this roundup, but you're looking at $60-$400 for a good villa in Saint Lucia without hitting the insane end of the luxury spectrum.
Oh, and for short-term rentals, it's better to book well in advance, ESPECIALLY for high-season. One month minimum or you'll be finding a serious lack of options available. There'll be none showing up in town!
Long-Term Villa Rentals in Saint Lucia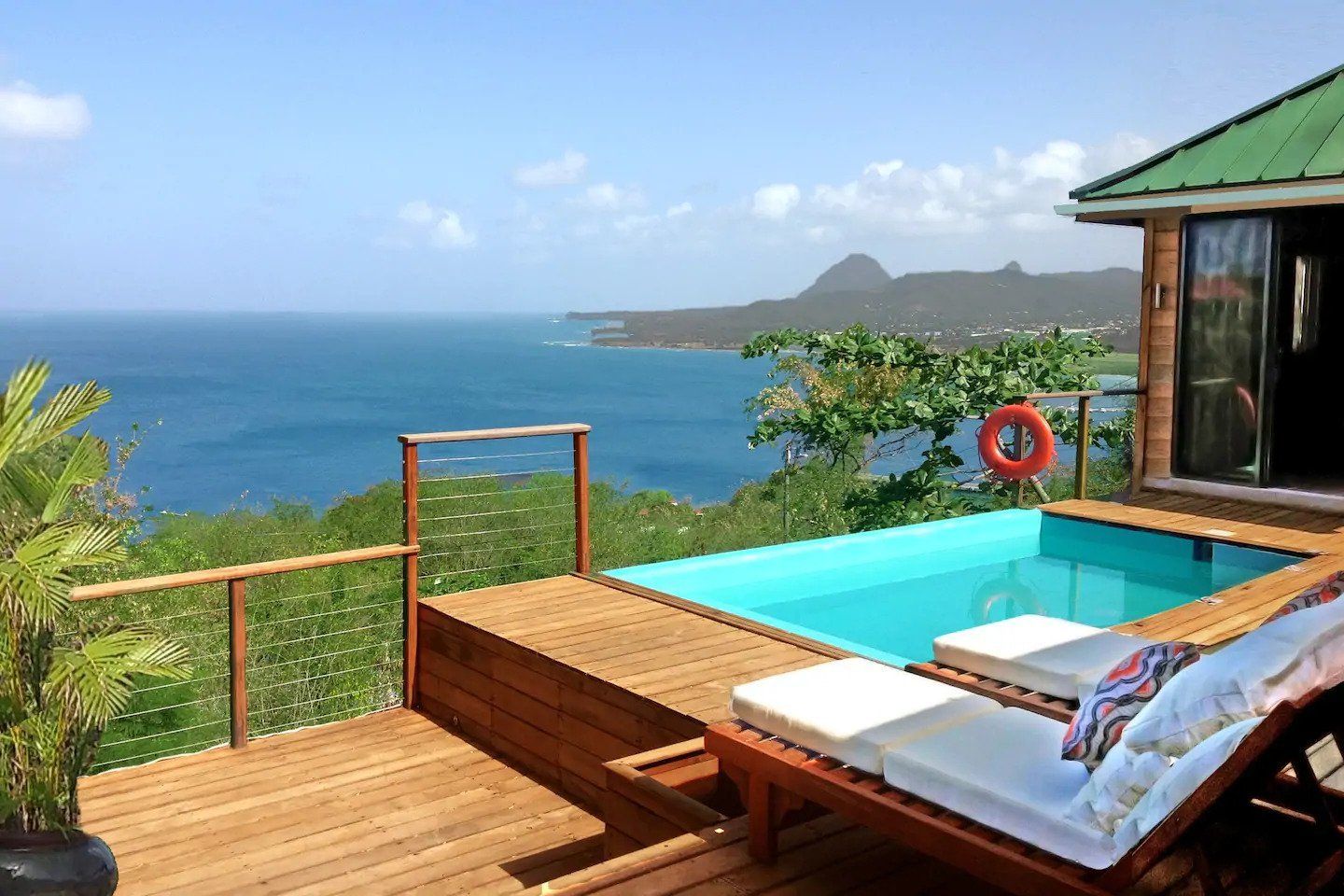 If you're thinking more about the long-game (told ya ya'd dig it), Airbnb is still your best bet. Many Airbnb listings offer a discount on long-stays and booking an Airbnb for a month or two is certainly not uncommon.
For long-long-term, the next best bet is to contact a local real estate office and find out what options are available. Or there is one final, more strategic alternative.
Once you've gotten to know the property owner after staying for a bit you can organize to rent the villa directly and maybe even haggle a better price while you're at it! (If you got game.)
That said, this method usually works best if you've stayed at the property previously and built a rapport with the host. There's also an increased risk of being ripped off inherent for both the renter and rentee so discretion is advised with this method.
The Top 11 Villas in Saint Lucia
Right! You ready for this hot serving of yumminess? Open wide because here comes the 11 best villas in Saint Lucia!
$
6 Guests
Beach gear provided (incl. snorkelling equipment)
Choice location!
First up, it's not a condo; more like a villa-townhouse hybrid. The price is cheap (relative to the more luxury villas in Saint Lucia) and the location is absolutely bang-on – right on the marina in Rodney Bay!
Everything you'll need is right by (shops, groceries, nightlife) and the beach is only a stroll away. The place is super comfortable too with two ensuite bedrooms decked with air-con and, of course, a pool for when the beach ain't cutting it. It's the perfect rental in Saint Lucia for anyone who still wants that private holiday feeling while being front-and-centre at the island's most tourist-friendly area.
$
2 Guests
Free laundry
24-hour assistance
To start, it's cheap! Need more? How about cheap and beautiful! Far removed from the tourist feel of Rodney Bay, this Saint Lucian villa is in a spot of its own close to Soufriere and some of the most mind-bogglingly beautiful nature Saint Lucia has to offer.
The caveat of this cheaper villa is that there's no pool nor total privacy from guests at the other villas (though still a completely private space). The upside is the value: a delectable view, a pimped-out home with all the trimmings, and a truly gracious host! It's perfect as a cheap choice for solo travellers or couples who prefer the more local side in their adventures (for the best adventures).
Budget Tip: Dorms in Saint Lucia start from $35USD per bed. They're the cheapest (but maybe also the rarest) accommodation on the island. Search for hostels in the area!
All-Inclusive Villa in Saint Lucia – Brigand Hill
$$$
10 Guests
Everything
Everything!
What's an all-inclusive villa? I'm not 100% on what it should include, so I just included everything – WABAM! What's included?
A private beach? Yup. A private banana plantation? Why not?
A maid, chef, and caretaker? You betcha! A butcher, baker, and candlestick maker? Probably, if you ask ahead.
Brigand Hill is a private jungle mansion (priced appropriately) that still remains close to Saint Lucia's attractions. It's a supreme choice for a luxury villa in Saint Lucia for those who prefer less locality and more pampering on their holidays.
$$
2 Guests
Private deck and pool
Dat view
What do couples like? Sex with jaw-dropping views, yeah? Voila!
The villa is dope: it's a total honeymoon dream. The amenities are superb – everything you need and more – and the deck is something else entirely. There's even a goddamn BBQ!
Rodney Bay's offerings are only a walk away, albeit up and down a hill. That's ok though because you guys can just hold hands and talk about how much you love each other's fragrances or something. This one is for the lovestruck in Lucia!
$$$
6 Guests
Coffee machine (awesome)
Extra pampering services available
Ready to make some worthwhile lifetime memories as opposed to all those completely mediocre memories you've been making thus far in your life? In the lap of Lucia's luxury, it doesn't get much better than this. Secluded and a day trip from the island's biggest tourist draws, Villa Pierre offers a place to lay back and be pampered: luxury spaces, nearby local beaches, cable TV, and chef and massage services available at an extra cost, and all manner of other goodies.
It's relatively far from the tourist stuff, secluded in a more local section of the island, but with enough places to venture to and nature to explore should you ever actually choose to leave the premises of this Saint Lucia luxury villa rental. This one is for the folks with cash to splash and are looking for that dreamy little Caribbean escape.
Is This the Best Travel Pack EVER???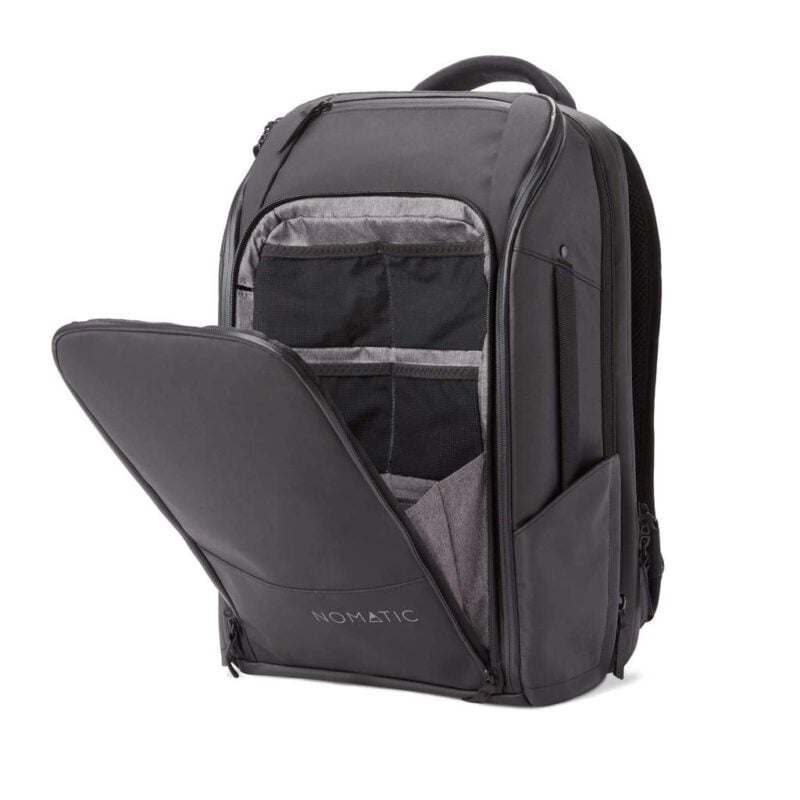 Over-the-Top Luxury Villa in Saint Lucia – Viceroy Sugar Beach
$$$$
8 Guests
Infinity pool
A butler
Obscenely pricey doesn't even begin to cut it; with my entire life savings, I could afford one night. I don't have this much money, you probably don't have this much money, but out there somewhere is someone with this kind of disposable income and this is the villa in Saint Lucia for them!
From the sound system to the alfresco shower, everything is designed (by award-winning architects) to meet the tastes of those with fiendishly expensive tastes. I mean, hell, here are some of the extra services: childcare, chef, driver, spa treatment, restaurant concierge. Dude, this place is another planet… by the beach!
Best Villa in Saint Lucia for Families – Cherry Blossom Villa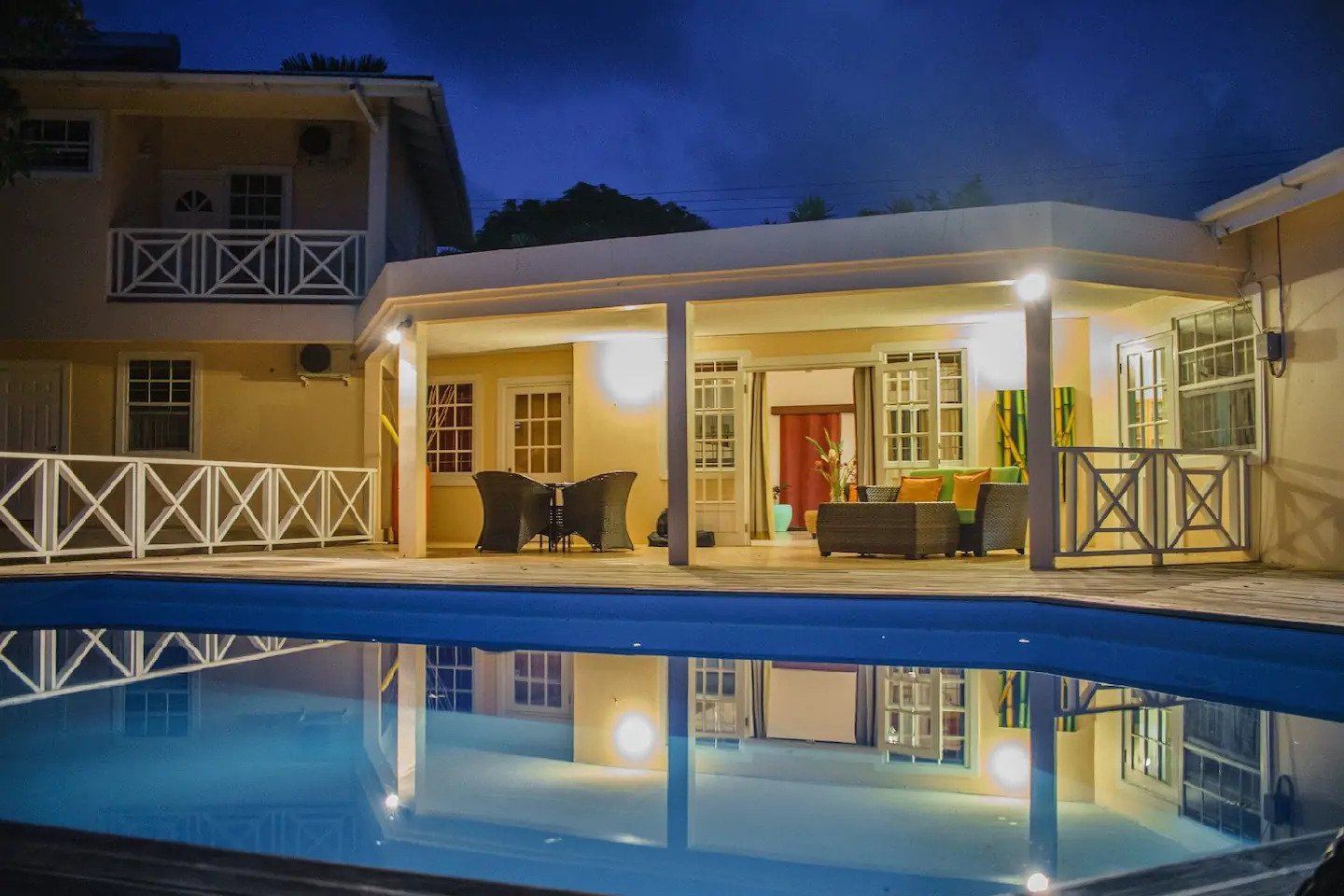 $$
8 Guests
Outdoor area
Safe
For families seeking a holiday rental in Saint Lucia, that means something big with enough goodies to keep the rugrats entertained. Cherry Blossom is a spacious villa that is also equipped with a number of safety features: gated property, remote entry, first-aid kit, and fire safety gear. It's also got a high-chair and cot for the little-little ones, and extra beds can even be ordered for an additional fee for bigger families.
Other features the kids (and adults) will enjoy include a TV, BBQ, outdoor yard space, and a coffee machine! Ok, that last one is just for you – don't feed gremlins caffeinated beverages. It's also close to Gros Islet and Rodney Bay meaning tropical adventures with the family!
$$$
6 guests
Fully staffed (incl. nightwatchman)
Outlook on the Pitons
Sleeping six comfortably – seven if someone takes the loft – the rooms can also be made with single beds on request. For groups splitting the cost of swanky Airbnbs, that's perfect! No more sleep farts on your best mate.
You're in the Soufriere area which means stunning vistas anytime and all the time but this one is next-level. You're looking right at the Pitons… like, you can just sit on your deck and literally stare at them all day! Past that, it's a gorgeous Caribbean-designed home surrounded by spectacular nature, gardens, all-round lushness, and friendly staff, Whatever you and you homeslices get up to, it'll be bangin'.
$
2 Guests
Jacuzzi
Excellent location
Rodney Bay, as I said before, is one of the most tourist-accommodated areas in Saint Lucia smashed with attractions nearby, beautiful beaches, and plenty of things to do. There are heaps of awesome options for villas in Rodney Bay but this one has a jacuzzi so, umm, no-brainer, right?
It's a studio apartment overlooking the marina and absolutely perfect for a pair. (Jacuzzi, remember?) Super close walk to everything around, fully equipped with everything that makes a home, and did I mention the jacuzzi?
$$$
8 Guests
Mega-roomy
Free shuttle services available
For bigger groups looking for a rental in Rodney Bay, Sun West brings the spaciousness and brings it in droves. Three levels, two decks, window walls… spend the days exploring Rodney Bay's fineries and then nights crashing out in luxury.
It's already pretty close to the Bay's goodies but public transport nearby makes it even easier. Or just organise a shuttle with the host – he's a wizard on what to do in Saint Lucia. I mean, he'll even supply you with a local cell just because… it's too easy!
$$
2 Guests
Ferry-accessed villas
Seasonal discounts available
When considering where to stay in Saint Lucia, Marigot Bay offers a much more low-key alternative to Rodney Bay. Still tourist-friendly, Marigot is arguably even prettier than Rodney, but much more chill.
So for chill, here's a perfect villa in Saint Lucia. There's no road access – only by ferry ($20 for a weekly ferry pass) – so it's nothing but relaxation in the hills over the bay and, bonus, it's quiet!
There are still restaurants and other venues nearby but it pays to stock up on groceries before you arrive. There's still heaps to do, however: the beach is just a walk down the hill and the hosts are able to hook you up with a whole heap of tours and organised activities.
FAQ about Villas in Saint Lucia
Here's what people usually ask us when they look for vacation homes in Saint Lucia.
Final Thoughts on Saint Lucia Villas
A neat little package of accommodations right across the island! (And all in a delicious tropical flavour.) The villas around Saint Lucia are dope whether they are moderately priced or require refinancing your house to afford.
There's something for everybody and anywhere you go, the view is gonna be delicious.
So… any last thoughts before choosing your short-term rental in Saint Lucia? Yeah, give some serious consideration as to your method of getting around; convenient public transport is a plus and many villa vacationers even opt for a car rental instead.
And anything else? Na – have a blast and dress like a pirate. Or not. But if I was going to Caribbean islands, I'd dress like a pirate…
Pirates are cool.
---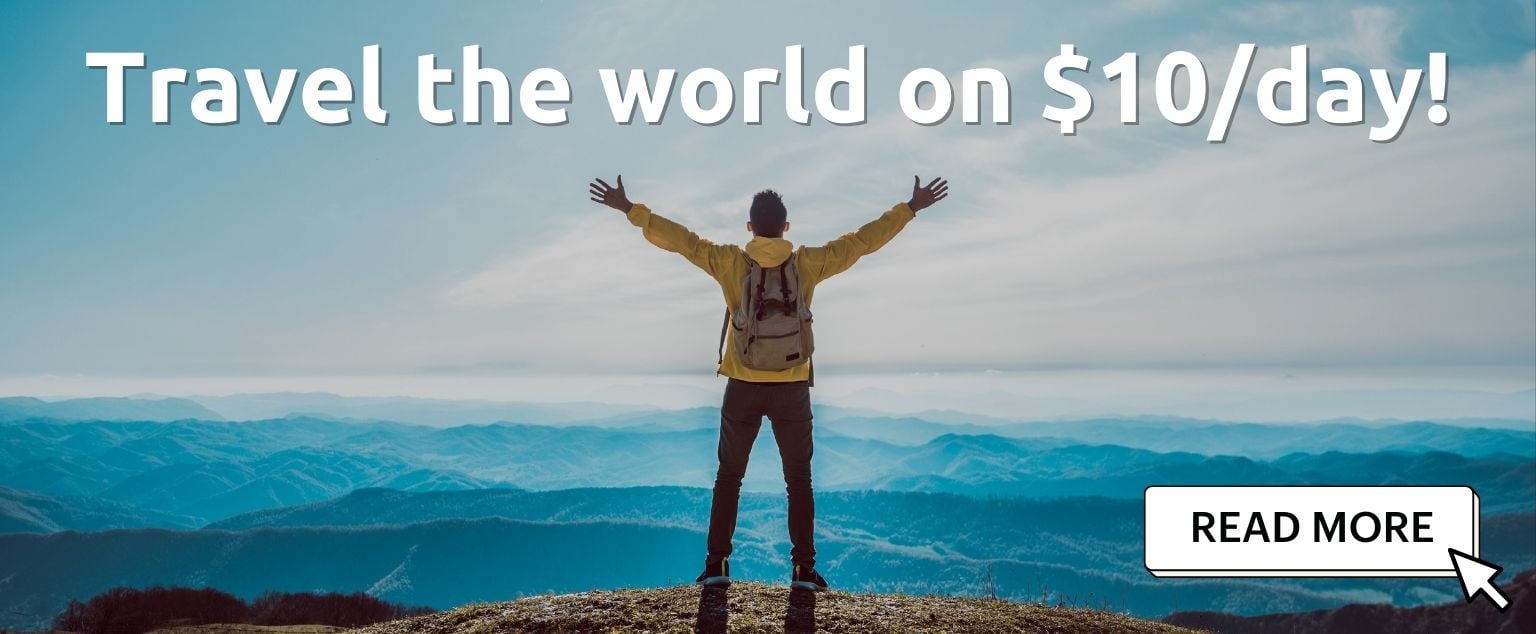 And for transparency's sake, please know that some of the links in our content are affiliate links. That means that if you book your accommodation, buy your gear, or sort your insurance through our link, we earn a small commission (at no extra cost to you). That said, we only link to the gear we trust and never recommend services we don't believe are up to scratch. Again, thank you!