The Louisianan capital city of Baton Rouge may not be as famous as its brother city New Orleans and receives a fraction of the visitors. However, those who do venture here will soon find a varied mountain of history to learn about, epic heritage buildings to marvel at, and an amazing legacy of Cajun and Creole food to munch on!
There are actually plenty of things to do in Baton Rouge. US tourists have been visiting the city for decades. For independent travellers and backpackers, however, it might be a little harder to get off the beaten track and see a more interesting side to the city.
And that is exactly why we have decided to put together this guide to the very best unusual things to do in Baton Rouge. Sure, seeing all the tourist hotspots is all well and good, but if you've got a bit of time in the city, you'll want some more stuff to do than just the norm. Thankfully there's a lot more to this city than meets the eye, cool bars, intriguing history, culture and art to discover, so let's check it out…
Top Things to Do in Baton Rouge
So what are the Top Things to do in Baton Rouge? Well, the State buildings and sampling the delicious, Creole/Cajun cuisine is as good a place as any to start.
Before you head off, do some research on where to stay in Baton Rouge. There's no need to end up miles away from the hotspots you want to explore!
1. Visit the old Louisiana State Capitol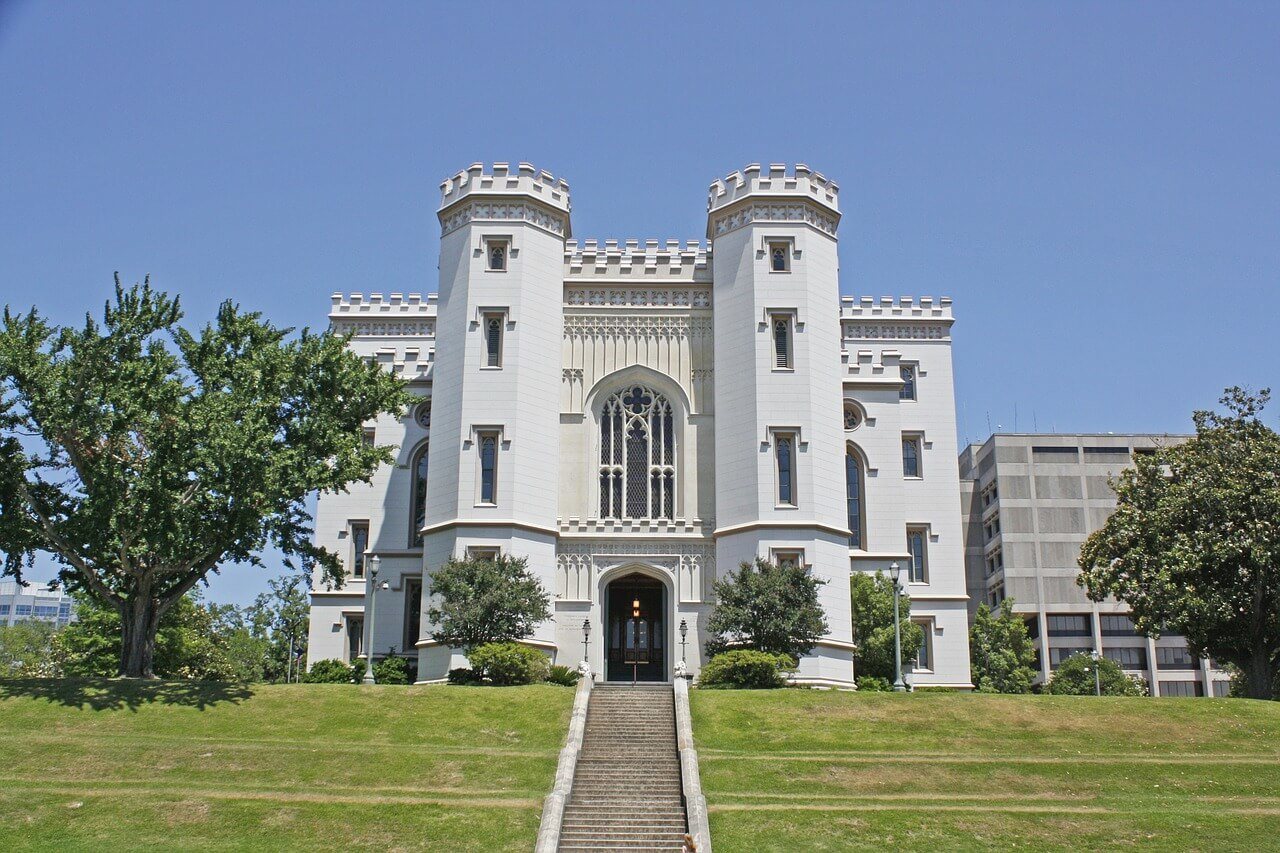 One of the best ways to start your time in Baton Rouge would be to head over to the old (former) Louisiana State Capitol.  Known as State House, but locally called "The Castle" for obvious reasons this is a pretty cool thing to do in Baton Rouge. It was built in 1929.
Not only is it shaped like a, well a castle, but it also comes complete with some pretty awesome stained glass windows, spiral staircases and domed stained glass ceilings, too. And for the bonus, there's the Political Museum to wander around, which is free to enter. Tip: The building itself is open from 10am til 4pm.
2. See an old plantation at Magnolia Mound Historic Home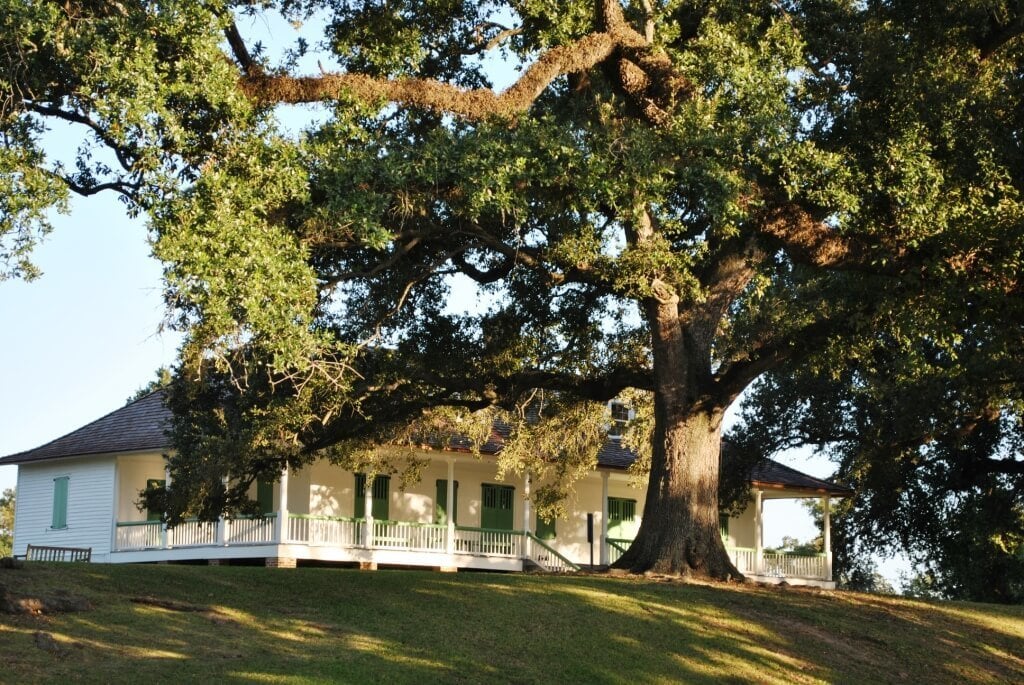 Another heritage building now in the form of Magnolia Mound Historic Home. Built in 1791, this is located just one mile south of Downtown and is one of the coolest things to see in Baton Rouge – especially if you like the idea of seeing a beautiful building steeped in history.
The house was home to James Hillin who lived there with his family and six enslaved Africans. Eventually, the plantation would hold over 50 slaves. After the Civil War, the house fell into disrepair, but was taken over by the city and has been preserved to show off the original architecture. It's a good place to come to understand the important & complex history of this region and the goings-on in the house itself.
FIRST TIME IN BATON ROUGE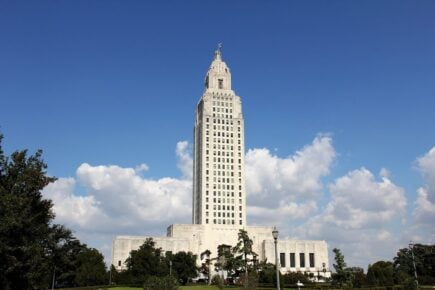 Baton Rouge – Downtown
Why wouldn't you stay in Downtown? It's easily the best area to stay in Baton Rouge. There's a number of reasons for that, firstly the transport, secondly being close to pretty much everything you're going to need, but mostly because this is where everything is – in good balance.
Places to visit:
Check out the United States military history and wander around the Pentagon Barracks Museum
Go for a stroll along the paths of the Louisiana State Capitol Park
Admire the architecture and learn about firefighting history at the Old Bogan Fire Station
3. Wander around the Arts District
Situated around Government Street, the Arts District of Baton Rouge is awash with galleries and creative spaces. Spending a whole afternoon here, dipping out of different galleries and theatres, is very easily done and is definitely one of the top artsy things to do in Baton Rouge.
Whilst you're here, there are a few specific destinations that you should hit up. Check out Ann Connelly Fine Art, Baton Rouge Gallery, The Contemporary Art Gallery and The Foyer. That's only naming a few of the cool spots in Baton Rouge's Art District that you should be visiting!.
What is the One Item Every Traveller NEEDS???
There is one item every traveller NEEDS. Some travellers don't even know they need it, but those travellers need it more than anyone.
What is this forgotten essential of the backpacker-life? SPOILERS! Guess you'll just have to click the button to find out. 😉
Find Out What It Is!
4. Get your fill of Cajun and Creole food
Owing to the cultural history of Baton Rouge (the name itself is of course French), the Louisiana state capital is famous around the world for its Cajun and Creole food. There are accordingly, some amazing local restaurants to get to know here, where you can get stuck into traditional Louisiana fare. We'll give you just a few…
Jubans is a mash-up of Cajun and Creole cuisine, Eliza Restaurant is a stylish and contemporary place known for its Creole food and Cecilia Creole Bistro is a swanky spot with an authentic and classic Creole menu. Then, Rice & Roux is a local spot that's a hit with pretty much anyone who visits. Needless to say, eating your way around the city is one of the best things to do in Baton Rouge.
5. See a show at Shaw Center for the Arts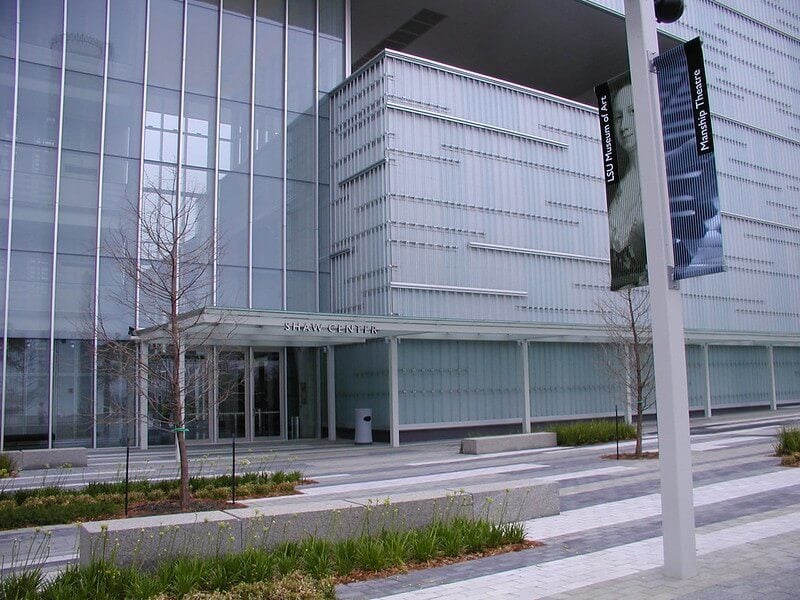 Located in Downtown Baton Rouge, the Shaw Center for the Arts is a mix of different creative things to do, making for one of the best artsy things to do in Baton Rouge. There's an art gallery here, where you can catch different exhibitions of fine and contemporary art. There's a theatre, a leafy park to stroll around, and even a rooftop sushi restaurant.
The Manship Theatre is where you can watch live performances, featuring just about everything you can think of: classical concerts, musicals, drama, comedy, you name it.
6. Learn about naval history at the USS Kidd
Another top sight in Baton Rouge located in the Downtown area, the USS Kidd is a World War II era American Fletcher class Destroyer. It doesn't do much destroying today, and is instead docked tranquilly on the banks of the Mississippi River after earning 12 battle stars during World War II and then the Korean War.
The USS Kidd was saved from being scrapped and was towed to its current location in 1982. Climb aboard and explore the ship for one of the more interesting, off the beaten track things to do in Baton Rouge. Tip: You can even camp out on deck for an even more unique way to soak up the naval history of this ship!
Small Pack Problems? 😉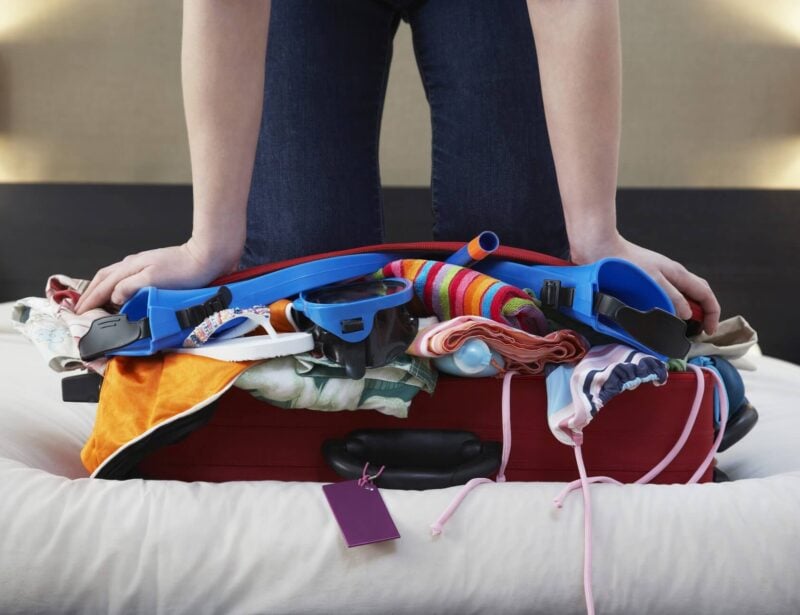 My missus travels with all her clothes in ziplock bags: don't be like my missus. UP YOUR PACKING GAME!
Packing cubes for the globetrotters and compression sacks for the real adventurers – these babies are a traveller's best kept secret. They organise yo' packing and minimise its volume too so you can pack MORE.
Or, y'know… you can stick to ziplock bags.
View Our Fave Cubes
Or Check Out the Sacks!
Unusual Things to Do in Baton Rouge
There is a lot to do in Baton Rouge. If you are looking for something a little more of the beaten path, then these unusual things to do in Baton Rouge will help you get started.
7. Hear the blues at Teddy's Juke Joint
Louisiana is regarded as the birthplace of the blues, so for one of the more quintessential things to do in Baton Rouge, you should definitely head to Teddy's Juke Joint. Not only will you get to hear some awesome blues at this joint (open 365 days a year because blues doesn't get a day off), but we have it on good authority that the red beans and rice they serve up here is pretty tasty.
It's a welcoming place that's been going for 40 years, situated – in fact – in the very same house in which owner Teddy Johnson was actually born. Now that's pretty cool.
8. Sample a slice of Louisiana Russian Cake
Louisiana Russian Cake: what is it? Well, also known as "Creole Trifle" this is a traditional dessert that's been known for well over 100 years, dating back to 1872. It was named after the visiting Russian Granduke Alexis Alexandrovich Romanov was presented with such a cake at Mardi Gras.
And, to be honest, it sounds like our kind of cake. It's made out of scraps of confectionery and other tasty baked goods (muffins, sweet pies, cookies, you name it), all moistened up and pressed together into a cake form. Sample a slice of this amazing goodness at Baum's Bakery and tell us it isn't one of the best things to do in Baton Rouge.
9. Shop for vintage goods
If you're looking for something a little more off the beaten track to do in Baton Rouge, then we recommend exploring the city's whole slew of shops, stores and boutiques dedicated to all things vintage, retro and antique.
For some luxe French antique furniture, you should go to Fireside Antiques in the upscale shopping area of Perkins Rowe. Alternatively, you can pick up some more affordable stuff along Government Street at places like The Pink Elephant Antiques and Aladdin's Lamp Antiques.
Safety in Baton Rouge
Baton Rouge experiences above average crime rates and the city does have some deeply entrenched problems. That said, this rarely effects tourists and there is no need for excessive concern.
As with any urban area, you should take care of your belongings. Don't make it obvious that you're carrying valuables or money, and don't leave your bag lying around. In a similar vein, you should avoid walking around by yourself at night and especially avoid poorly lit and/or deserted streets.
In general, however, you're going to be fine here exploring the most popular attractions and even night spots in town… it's all about using your common sense.
Read our tips for traveling safely before you fly and always get travel insurance. Check out our roundup of the best travel insurance.
Travel with peace of mind. Travel WITH a security belt.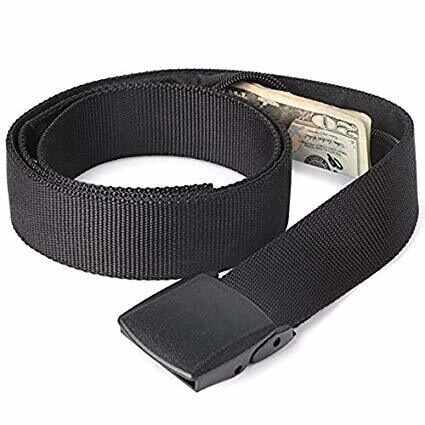 Get your cash stashed with this awesome Pacsafe money belt. It will keep your valuables safe no matter where you go.
It looks exactly like a normal belt except for a SECRET interior pocket perfectly designed to hide a wad of cash or a passport copy. Never get caught with your pants down again! (Unless you want to.)
View on REI!
Things to Do in Baton Rouge at Night
Baton Rouge is pretty lively after dark. From Juke Joints to restaurants, there are a lot of things to do in Baton Rouge at night.
10. Catch a view at the new Louisiana State Capitol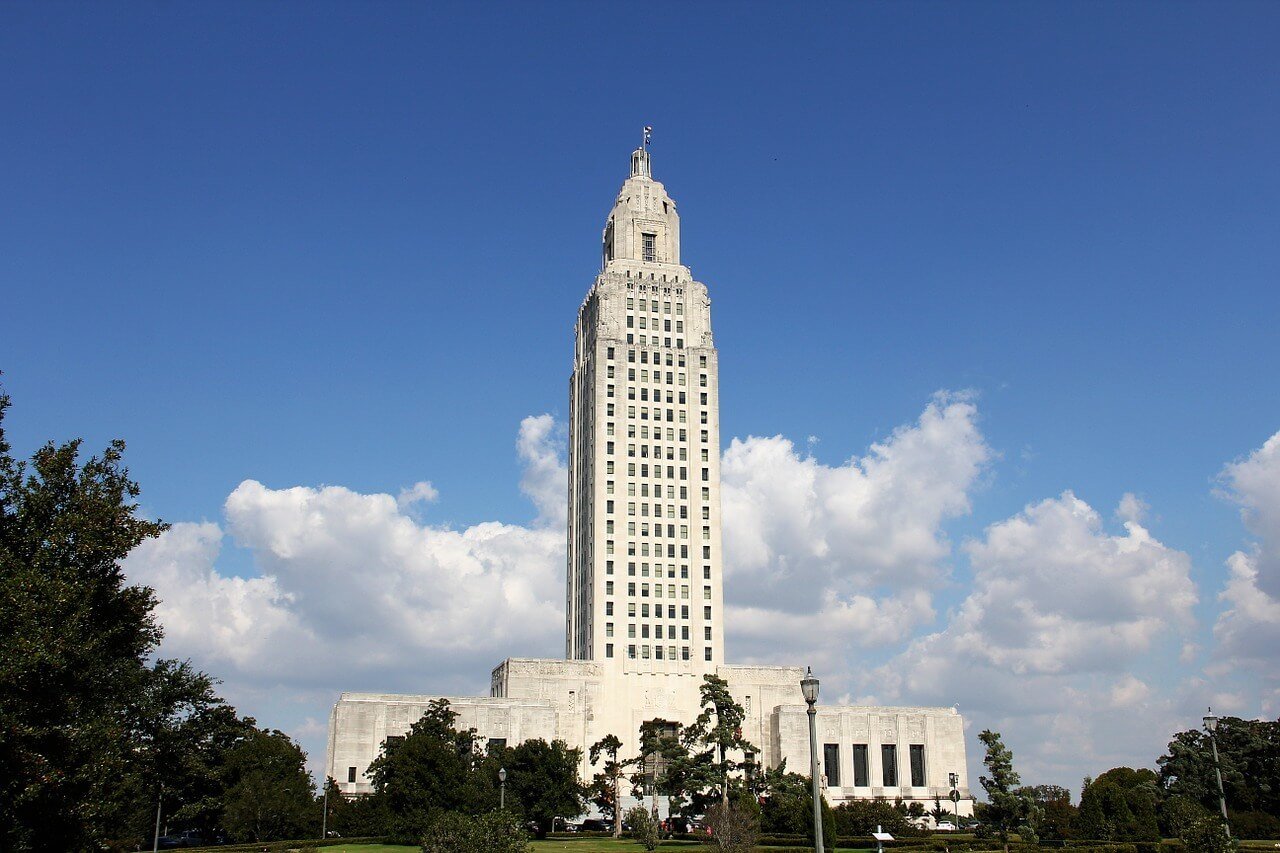 There's the old Louisiana State Capitol, you know, the one that looks like a literal castle, but then there's also the new Louisiana State Capitol, which doesn't look like a castle at all, isn't that new, and is the current seat of the Louisiana State Government.
Dating back to 1932 this impressive, old school skyscraper boasts 34 floors and you know what that means: views! For one of the best things to do in Baton Rouge at night, you should head up to the Observation Deck on the 27th floor at a height of 350 feet to get a vista of the city lighting up at night. Come for sunset and stay for the glittering city skyline. Amazing.
11. Go for a drink
If you're looking for a top thing to do in Baton Rouge at night, Baton Rouge has a whole load of different bars, drinking holes, and others establishments.
For one of the classic hipster things to do in Baton Rouge, hit up the trendy Radio Bar, which is set in an old industrial building and serves up tasty cocktails. MidCity Beer Garden is a more swish affair, whilst Hayride Scandal is a cosy, comfortable spot for quiet cocktails. There's loads more besides: just follow your nose.
Where to Stay in Baton Rouge – Downtown
Need to know where to stay in Baton Rouge? Well read on.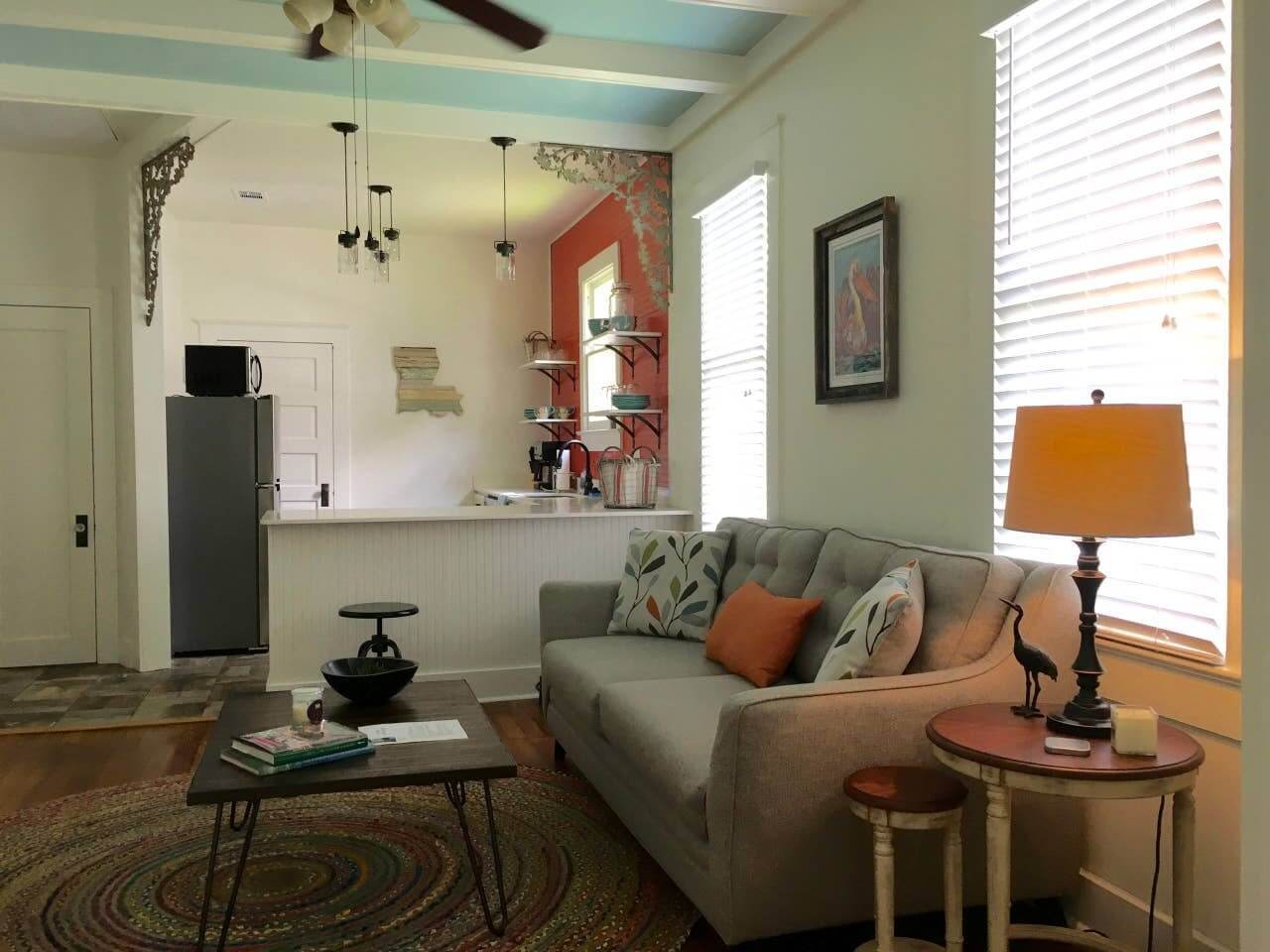 Staying in this top Airbnb in Baton Rouge means you'll get the whole run of a bungalow. It's super cute as well, very nicely decorated, and boasts enough room to sleep up to six people. You can sit out on the front porch and watch the world go by, cook yourselves up a meal in the modern, well-equipped kitchen, or chill out in the cosy lounge. You honestly won't want to leave this place – it's that nice!
This is a clean and contemporary hotel with well thought out design and very helpful staff. One of the best things about this budget-friendly hotel in Baton Rouge, however, is its amazing location: situated just by the river, getting around town is super easy. There's free parking onsite, as well as a gym for guests to use and a restaurant for evening meals. You'll even get the massive bonus of a free breakfast!
Romantic Things to Do in Baton Rouge
If you are visiting Baton Rouge with your other, then check out this epic guide to the romantic things to do in Baton Rouge.
12. Stroll around the Botanic Gardens at Independence Community Park
If you are in the Louisiana capital with your partner and you're looking for something romantic to do, then we would suggest that you head to the Botanic Gardens at Independence Community Park and go for a stroll together. (Bonus: it's free and open to the public every day until sunset).
Formerly part of the Goodwood Plantation, the land was given to the city in 1976. Since then it has been lovingly crafted into a huge space that boasts different gardens to explore including the Sensory Garden, the Rose Garden, the Louisiana Iris Garden and the Butterfly Garden. Walk hand in hand, lose yourselves on the many walkways, and enjoy this little slice of beautiful nature.
13. Browse local markets together
Are you and your partner into walking markets? Or Organic food? How 'bout checking out local produce and getting a few snacks from local food vendors? Then checking out what markets are on offer here has got to be one of the best things to do in Baton Rouge for couples. And there are a few that should be on your list.
First of all, there's Red Stick Farmer's Market, which is named after the city (Baton Rouge = Red Stick) and is open on Fridays from 7am. It's an open air market filled with all sorts of locally grown produce; you can also expect homemade pies and artisanal cheeses. There's also the Baton Rouge Arts Market, which takes place on 5th and Main the third Saturday of each month, from 8am to 12pm.
Best Free Things to Do in Baton Rouge
Blown on your money on (wo)men and liquor?! Then writer a blues song and lament about it! Or, check out these awesome free things to do in Baton Rouge.
14. Take a stroll around Spanish Town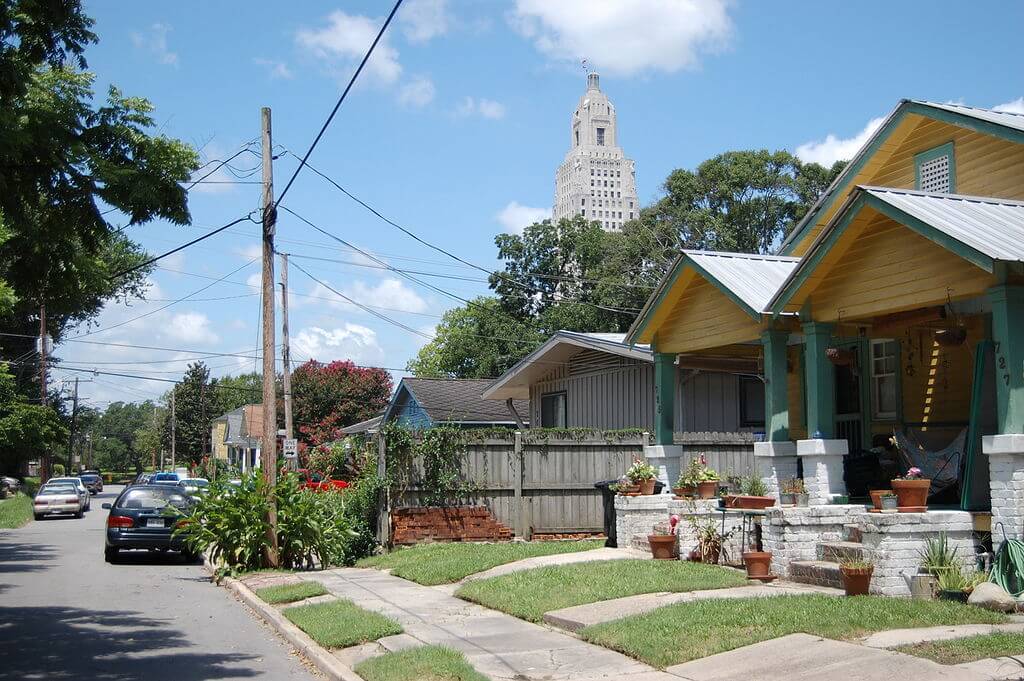 Commissioned in 1805, Spanish Town is officially the oldest neighbourhood in the city. Today the houses here date between 1823 to 1975 and exploring them makes for a veritable walk through time. This is definitely one of the best free things to do in Baton Rouge. (Spot the pink flamingos around the neighbourhood – it's Spanish Town's mascot).
The oldest house here is the Pino House, which is the oldest house still standing in the district. There's also Potts House and Stuart-Dougherty House, which have old-timey building styles that anybody with a camera and strong love of architecture will definitely want to snap a few pics of. Bonus: The area boasts the biggest Mardi Gras parade in the area.
Is This the Best Daypack EVER???
15. Marvel at Saint Joseph Cathedral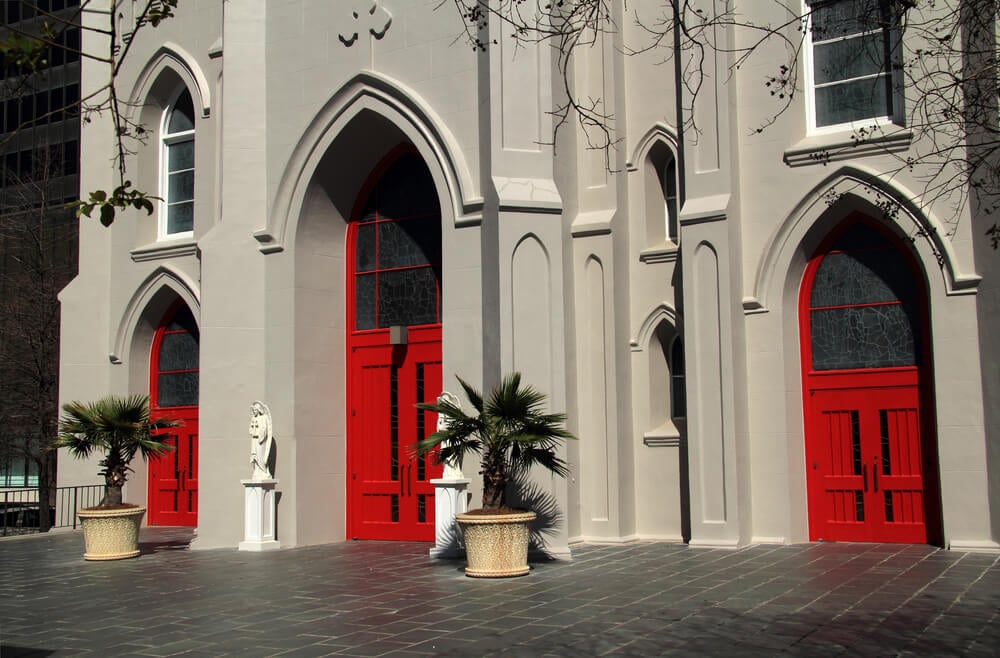 Baton Rouge's soaring Saint Joseph Cathedral is located in the Downtown area and is a historic monument, with spires that pierce the sky and a spotless white exterior. Dating back to 1853, it isn't just an old building – this church is still very much in use and can be wandered into and explored (quietly, please) free of charge).
If you feel like getting the full experience of the cathedral and hearing the old organs, too, then we'd recommend heading here for a Sunday Mass. All in all, paying a respectful visit to Saint Joseph Cathedral is definitely one of the best free things to do in Baton Rouge, without a doubt.
Books to Read in Baton Rouge
Sometimes a Great Notion – A tale of a hardheaded Oregonian logging family that goes on strike, leading the town to drama and tragedy. Written by PNW legend, Ken Kesey.
Walden – The transcendental masterpiece by Henry David Thoreau that helped modern Americans rediscover nature and her beauty.
To Have and To Have Not – A family man gets involved with the drug smuggling business in the Key West and ends up in a strange affair. Written by the great Ernest Hemingway.

Unlock the The Broke Backpacker's GREATEST Travel Secrets!
You pop your email here, and we promise to send you only travel content that's actually relevant — sounds like a pretty good deal to us!
Best Things to Do in Baton Rouge with Kids
If you are headed to Baton Rouge with the whole family, then the kids will need something to keep them occupied. This is why we compiled this list of the best things to do in Baton Rouge with kids.
16. Visit an actual swamp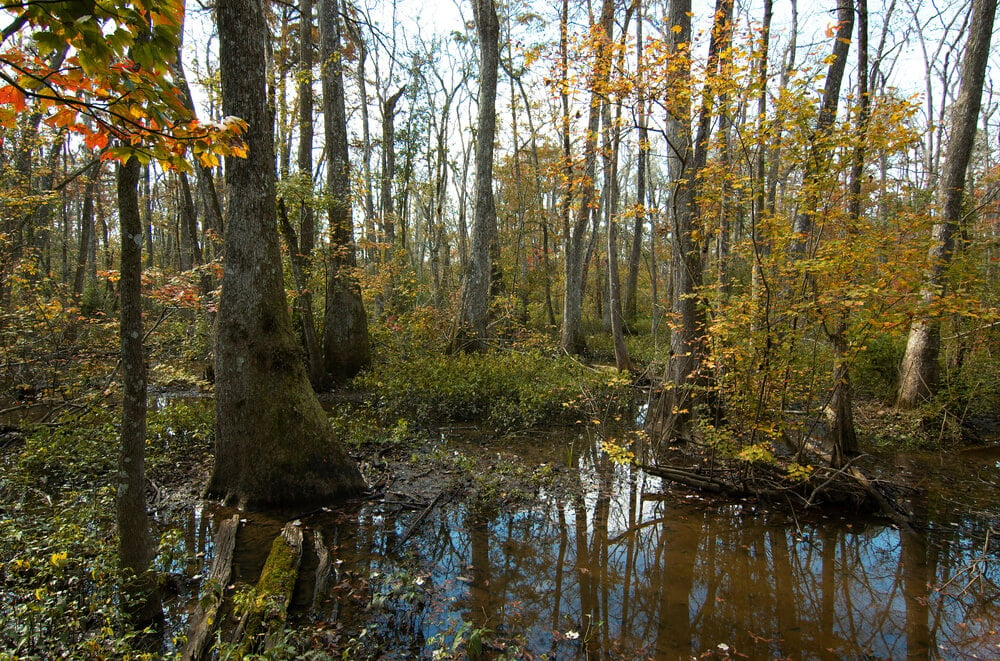 Louisiana is famous for its swamps and there is one right inside Louisiana itself. That's right: BREC's Blue Bonnet Swamp Nature Center consists of 103 acres of recreational swamp and is conveniently located in South Baton Rouge.
There are plenty of walking trails that go through the woodlands and swamp.  Kids will love exploring the swamp landscape and seeing if they can spot one of the many critters that call this swamp home. This one of the best things to do in Baton Rouge with kids.
17. Have fun at the Knock Knock Children's Museum
The clue is in the name: Knock Knock Children's Museum is most definitely one of the best family-friendly things to do in Baton Rouge. Unlike some of the drier, more information-heavy museums scattered throughout the Louisiana capital, Knock Knock Children's Museum is a hands-on, fun-filled, interactive space.
Open from 10am to 7pm, you and your children will get to embark through a total of 18 different zones at this award-winning museum, all suitable for ages between 0 and 8 years old. It's all about learning through play and you'll be bound to have a blast when you take your children here.
Day Trips from Baton Rouge
There are a lot of things to do in Baton Rouge but if you're spending a little longer in the city than just a few days, you may want to get out and explore the surrounding area. In order to give you a little help getting your expedition off to a head start, we are sharing with you a couple of the best day trips from Baton Rouge. Here they are…
Visit the home of Tabasco Sauce
If you're a fan of Tabasco Sauce and you ever wondered where it came from, don't worry: you can actually get to the home of Tabasco Sauce on a day trip from Baton Rouge. The place? It's called Avery Island and it's located in Vermilion Bay. The Tabasco Brand Pepper Sauce was founded here in 1868 and has since, obviously, become a world-famous brand and household name.
But there's a lot more to Avery Island than learning about production at the Tabasco Sauce Factory. You can also explore coastal marshes, subtropical flora and fauna, walk through the Spanish moss at Jungle Gardens, and even see a Buddhist temple. Fun fact: Avery Island is actually the top of a rock salt deposit thought to be taller than Mount Everest, formed from an ancient sea bed pushed up to the surface.
Take a hike at Tunica Hills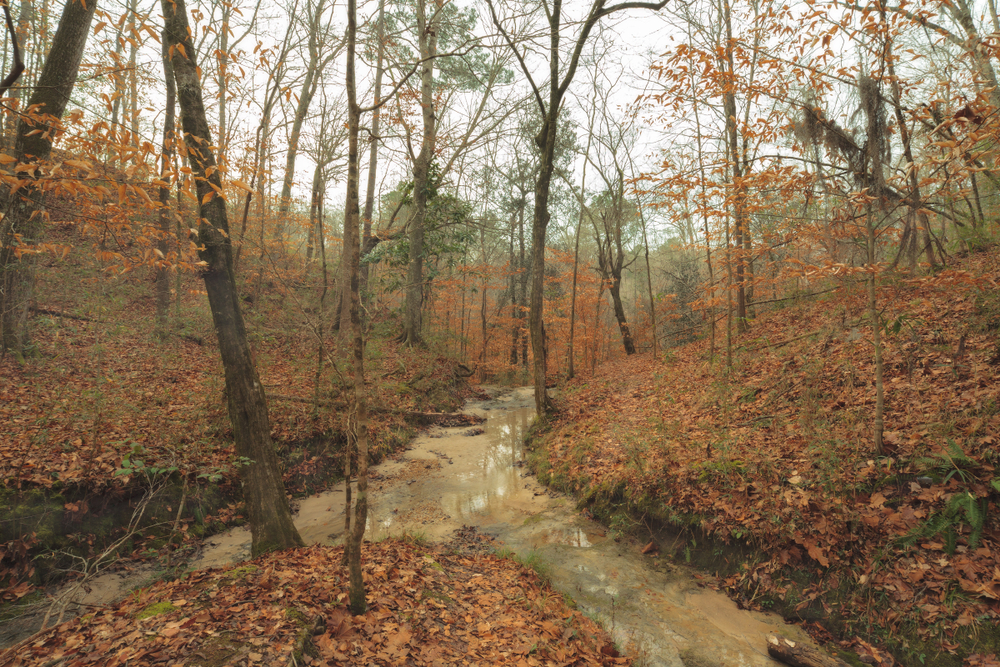 Just an hour's drive to the north of Baton Rouge by car, the Tunica Hills are a great place to go if you feel like getting out into nature. There are a total of three hikes you can embark on if you want to explore the wilderness here, titled A, B, and C, each of them cutting through the 6,000 acres of rolling hills and wooded areas here. It's home to all sorts of interesting animals and other wildlife, too.
Hiking in the Tunica Hills you can see wild turkeys, white-tailed deer, rabbits, squirrels, chipmunks and migratory birds, amongst other things. There's also a waterfall that you can attempt to find here on a day trip from Baton Rouge. Tip: All trails are marked and can be accessed via the Old Tunica Trace Road. There's also an easy Nature Trail, less half a mile in length (good if you've got children with you).
Save $$$ • Save the Planet • Save Your Stomach!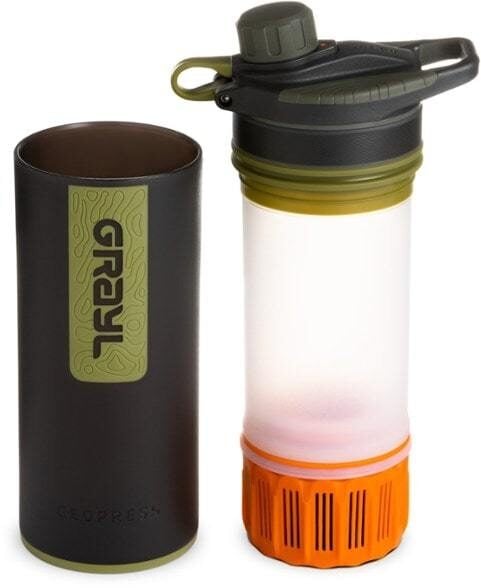 Drink water from ANYWHERE. The Grayl Geopress is the market's leading filtered water bottle protecting your tum from all the waterborne nasties. PLUS, you save money and the environment!
Single-use plastic bottles are a MASSIVE threat to marine life. Be a part of the solution and travel with a filter water bottle.
We've tested the Geopress rigorously from the icy heights of Pakistan to the tropical jungles of Cuba, and the results are in: it WORKS. Buy a Geopress: it's the last water bottle you'll ever buy.
Buy a Geopress!
Read the Review
3 Day Baton Rouge Itinerary
The next step to planning your trip to Baton Rouge is to figure out exactly how you're going to fit all those things to do – and those day trips – into just a few days of visiting. Even if you can't fit it all into your time, narrowing down the selection can be tricky. With that in mind, we've come up with this very handy 3 day Baton Rouge itinerary, to help your schedule run as smoothly as it possibly can.
Day 1 – Historic Baton Rouge
First of all, you should start your first day in Baton Rouge with a trip to the Old State Capitol. Marvel at the unusual structure that locals call "The Castle" (and rightly so), and step inside to have a browse around the museum; don't forget to take snaps upwards of the incredible stained glass atrium. After this, it's time to make your way over to the Magnolia Mound Historic Home.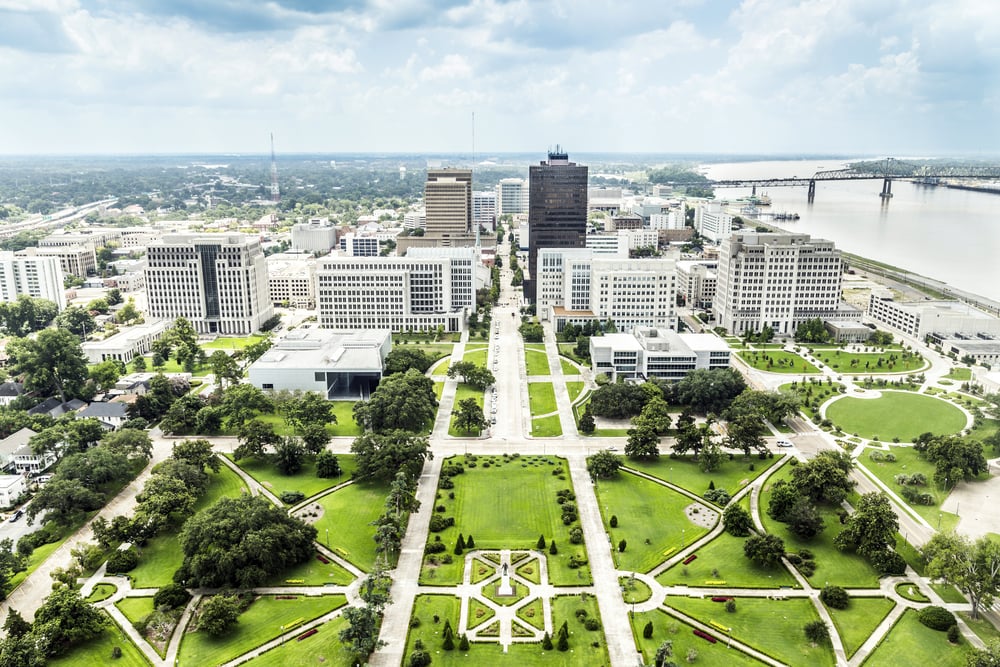 To get there you can either take the number 47 bus (takes half an hour) or drive a mere 6 minutes. Spend some time looking at the 18th century architecture and learning about the not-so-nice but important history of the former plantation; for a small fee, we would say it's worth getting a tour. After this, make your way back into town where you can visit the amazing 19th century Saint Joseph Cathedral.
Before that, however, on the way back into town, you might want to reflect on your time at Magnolia Mound over a spot of lunch at the 1941 institution that is Louie's Cafe. Drive 10 minutes (30 minutes on the bus) to the cathedral and marvel at the architecture before heading off for an evening of drinks, some dinner, and some live blues at the friendly and old school Teddy's Juke Joint.
Day 2 – Creative Baton Rouge
Day two in Baton Rouge begins with a trip to the wonderful Red Stick Farmer's Market. Here you will get to peruse the locally produced, fresh goods and pick up anything you might feel like picking up. Fuel with a breakfast of crepes and croissants at Goyaya's Coffee + Crepes, of course. After that, you can continue your day of artsy things to do in Baton Rouge at the city's Arts District.
It's a 12 minute drive from the market to the Arts District. Once you're here, you'll find that it's very easy to spend a long time indeed simply wandering around exploring all the different galleries on offer here. We'd recommend checking out The Foyer, the Baton Rouge Gallery, and any others here that might take your fancy. After this, it's time to hop on over to the Shaw Center for the Arts.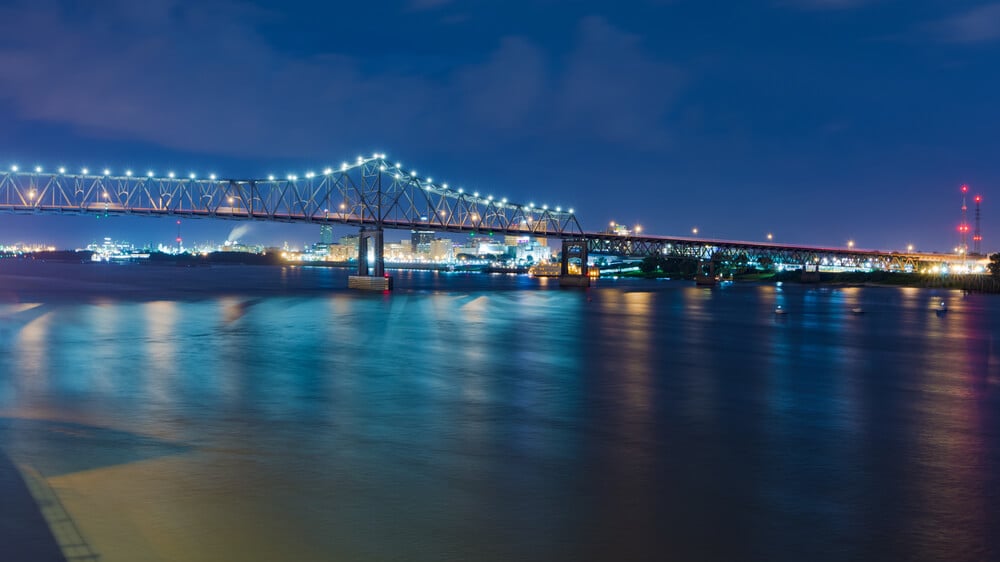 This is a simple matter of a 12 minute drive back to the Downtown area. If you're hungry, don't worry – there's a sushi restaurant, Tsunami Sushi, on the rooftop. Step inside the art museum and check out the different exhibits going on here; it closes at 5pm, so you've got plenty of time. Dinner? Go to Eliza Restaurant for Creole food (there's a happy hour if you want some early drinks).
A family restaurant now in its third generation, Frank's has claimed to serve  "the best homemade biscuits in the world" since 1964, and most locals don't disagree. With so many affordable homestyle meals to choose from, this food is guaranteed to satisfy you and the family. Being a family-operated restaurant, Frank's main goal is to serve Cajun food that makes their customers feel like family. Though Frank's offers menus for any meal, breakfast is one Baton Rouge residents rave over. Have a seat at the bar for a beverage or snag a table near the kitchen and enjoy the wonderful smells of Cajun cooking.
Day 3 – Classic Baton Rouge
Start off a day of classic Baton Rouge goodness at city institution Frank's, which serves up a great selection of mean homestyle meals, including what they claim to be the "best homemade [breakfast] biscuits in the world" (you should try 'em). After that, drive 15 minutes to the new Louisiana State Capitol. It's from the 27th floor of this 1930s building that you can get some pretty cool views of Baton Rouge.
Next, get yourself over to Spanish Town. It's very easy to walk here from the State Capitol, so we'd suggest you do that. Spend your time wandering around this pretty historic district admiring (and taking plenty of pictures of) its old, pretty buildings. If you need a pick me up you can always pop into Cafe Mimi. After this, it's time to head over to the amazing BREC's Blue Bonnet Swamp Nature Center.
Take an easy stroll in this easily accessible ecosystem (open til 5pm), which you can reach via a quick 15 minute drive; see if you can spot some wildlife and enjoy being amongst this slice of nature before heading back to town for the evening. Start off at MidCity Beer Garden for some classic bar food and beer, move on to cocktails Hayride Scandal, then finish up at the hipster Radio Bar. Have fun!
Don't forget your travel insurance for Baton Rouge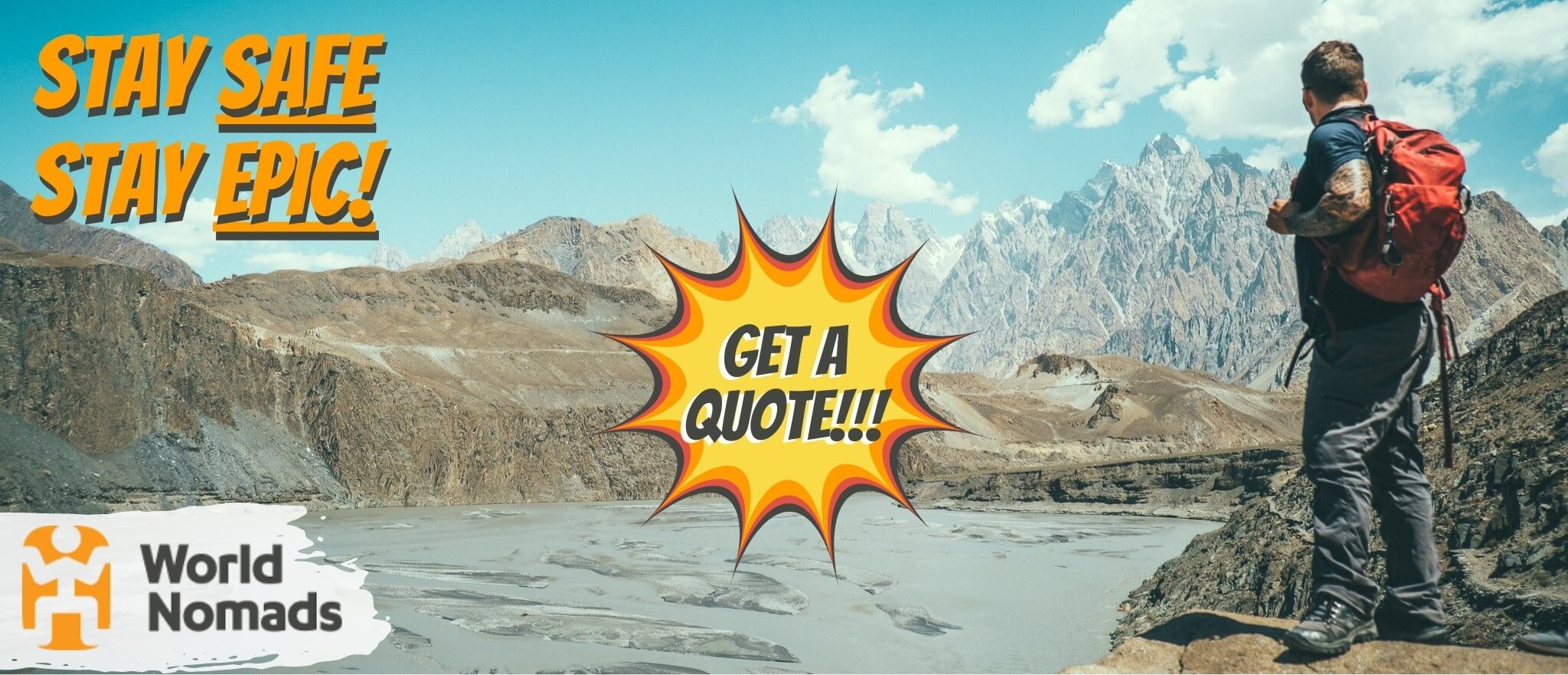 It's good to get lost sometimes, but it's also good not to get too lost. There are people that want you home in one piece.
There's one travel insurance provider The Broke Backpacker trusts for all his wildest shenanigans… World Nomads!
Click the button below to get a quote on your insurance or read our in-depth review of World Nomads' coverage. And then… let the shenanigans begin. 😉
FAQ on Things to Do in Baton Rouge
Here are some quick answers to common questions about what to do and see in Baton Rouge.
Conclusion
Baton Rouge might not be number one on your list of places to visit in the USA, but it should certainly be on there. Any foodie will love exploring the culinary landscape of the Creole and Cajun legacy left in this city, any music fan will love seeing the blues played in a local bar. Your inner history buff would love the museums and buildings and any nature-lover will love the swamps and forests on the doorstep…
See? There's plenty of off the beaten track things to do in Baton Rouge that have nothing to do with mass tourism, so you won't need to worry about being in crowded places with people taking pictures. So, take it easy and discover Baton Rouge's hidden gems for yourself.
---
Thanks for reading – that was fun! 😀
We bring you epic FREE content!
Find out how YOU can help support us.
We're a big site with a big team and this job isn't always easy. But we do it because we love it – we love providing epic and free content. We love the knowledge that our content keeps you adventuring. We don't ask for money, but if you'd like to find out how you can help the site in more organic ways, click the button below.
Thank you for your support 🙂
---
Bye for now, but not forever!
If you want MORE top-tier Broke Backpacker content like this, then sign up for our weekly newsletter below to get the latest and greatest!
And for transparency's sake, please know that some of the links in our content are affiliate links. That means that if you book your accommodation, buy your gear, or sort your insurance through our link, we earn a small commission (at no extra cost to you). That said, we only link to the gear we trust and never recommend services we don't believe are up to scratch. Again, thank you!