Sacramento is the capital of California and home to everything from some great eats to a surprisingly creative community. The obvious draw, of course, is the Gold Rush heritage but there is a lot more to this under-rated destination.
Dating back to 1849, the California Gold Rush left its mark on the city and today there are loads of things to do in Sacramento that point back to its history. Old Sacramento, with its heritage buildings, and tons of museums, make it a pretty interesting place to explore. But getting off the tourist trail isn't the easiest thing in the world.
To help you discover some local gems, we've put together this epic guide for the best unique things to do in Sacramento. Think getting to grips with its hipster community and getting away from its museums. We've cherry-picked only the best activities for you in Sacramento to make sure you get the best out of this cool city.

Unlock Our GREATEST Travel Secrets!
Sign up for our newsletter and get the best travel tips delivered right to your inbox.
Top Things to Do in Sacramento
1. Sail past the history of the city on a boat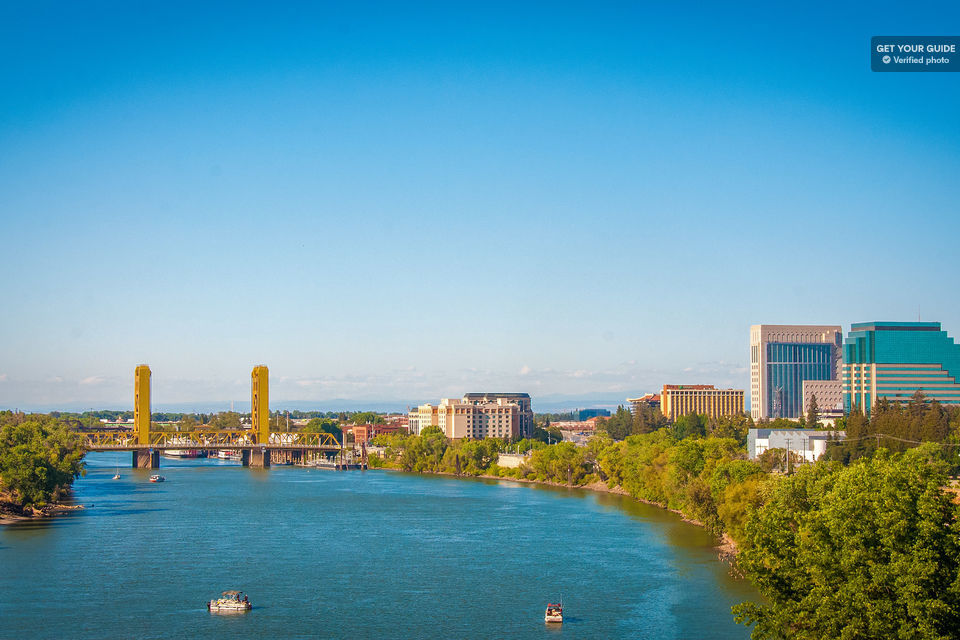 Sacramento has a pretty famous river. It's called the Sacramento River, which is kind of obvious. But from this river you can see a different side to the city. Take in the beauty of the old buildings, the weirdness of its newer ones (like the pyramid-shaped Ziggurat, possibly the coolest office building we've ever seen). Oh, and if you get yourself some local knowledge you can also learn some history.
A cruise along the river from one of many boats just waiting for your business is one of the best things to do in Sacramento to kick things off.
2. Sample the city's delicious food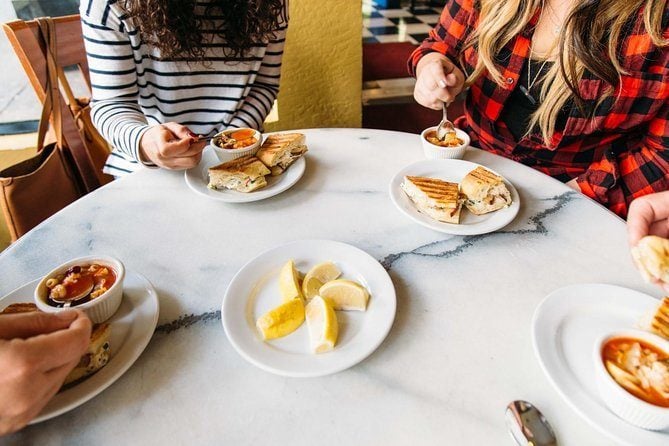 Once you've seen the river, it's time to go get something to eat. Eating your way around the city is one of the best things to do in Sacramento, especially in the Downtown area. A much more tasty way of sampling the city's history, there's Mexican influence (hello, tacos), good old American classics (eat brandy-fried chicken from Firestone), even Japanese food (try tantan-men at Shoki Ramen House) – and even a LOT of locally produced cheese and wine.
In fact, Sacramento is pretty famous for its wine. You should try it. Maybe not too much though. For dessert, go to Mahoroba Bakery for their incredible Kobe cream buns, or Magpie Cafe for some carrot cake cookies.
FIRST TIME IN SACRAMENTO
Downtown
Bustling nightlife, tons of culture, parks to stroll around and plenty of monuments to see, there's no denying that Downtown Sacramento is the place to be when you visit this Californian city. Not only that, but staying here means you'll be pretty much perfectly placed to explore what the city has to offer, what with those transport connections. It's right next door to the hip Midtown, too.
Places to visit:
Amble along Old Sacramento Waterfront District and find a bite to eat
Take a break in Capitol Park and marvel at the Neo-Classical State Capitol Building
Learn all about the state, its people and its history, at the California Museum
3. Discover the arty side of the city
For one of the more hipster things to do in Sacramento, you should definitely be hitting up the Midtown Arts District. This part of town is all about the zany creative scene. Think colourful murals and cute little galleries filled with all sorts of local art from local artists.
This is a good way to get your Instagram gallery filled with the quainter side to Sacramento and get to see a slice of how the locals do things round these parts. It's not just about the art though: the architecture here, very pretty and very Victorian, is definitely worth your time, too.
4. Get your geek on at the California State Railroad Museum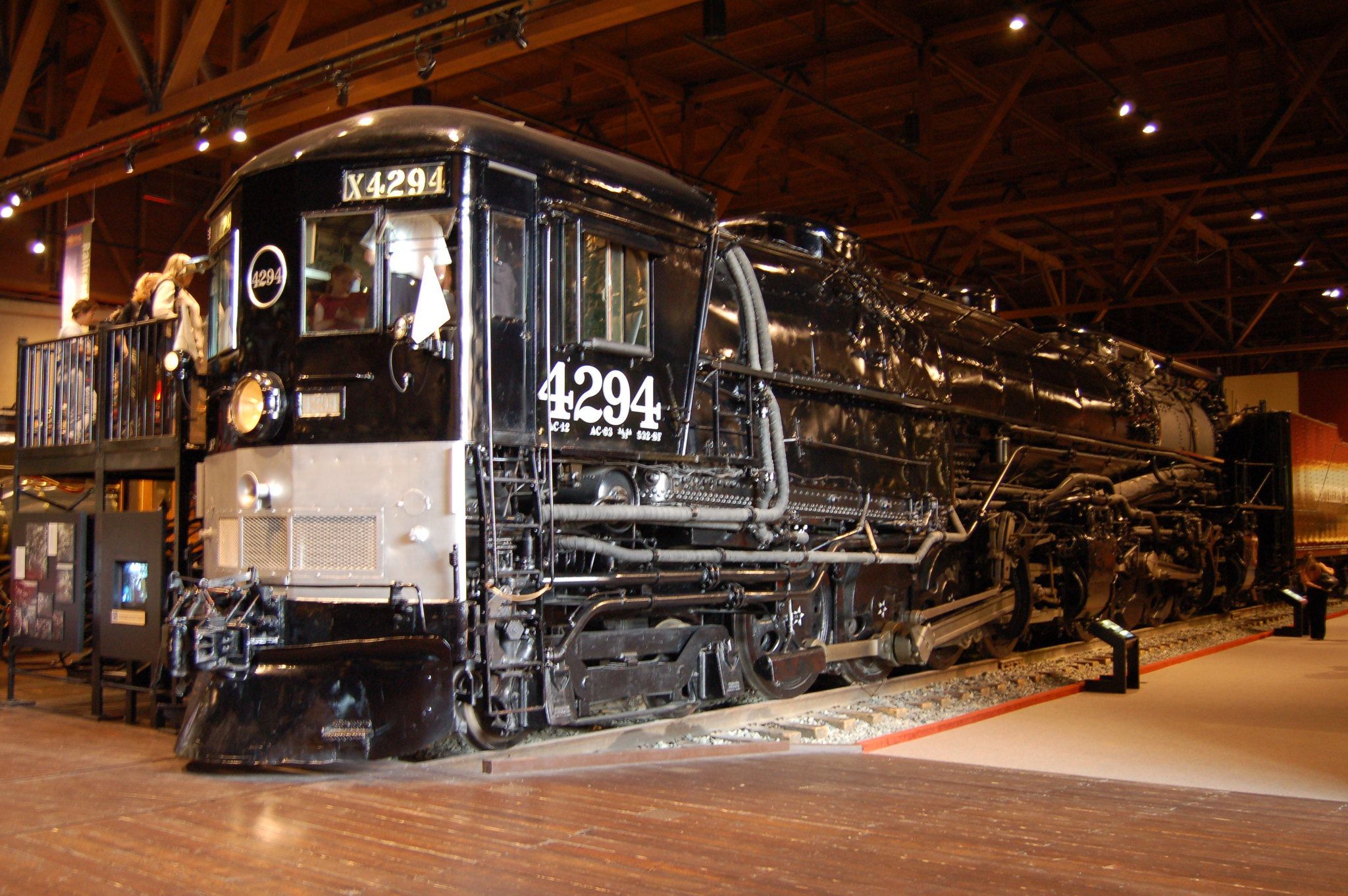 Calling all train geeks (and history fans)! The California State Railroad Museum is the place for you. Dating all the way back to the Gold Rush times of the mid-1800s, trains were a BIG deal in Sacramento, helping to bring prospectors and workers in, and gold out of the Californian capital.
It's one of the best things to do in Sacramento because at the museum you actually get to see some of the old trains themselves – 21 to be precise. Get your camera ready and prepare to snap away at some very cool vintage trains, guys. As you can tell, we're secretly (or not) very, very into this one.
5. Cycle around Sacramento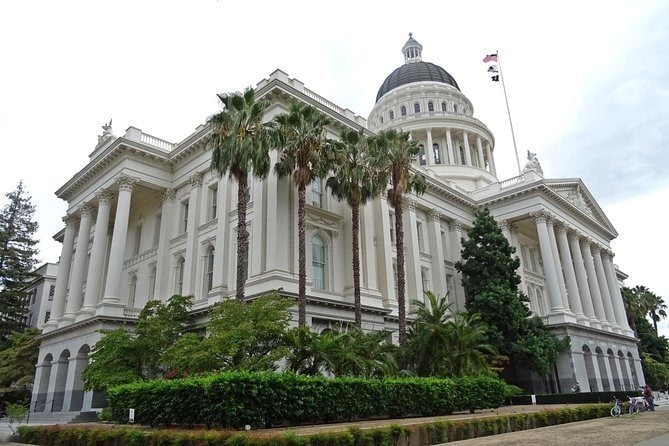 Sacramento is a very bike-able city. So what better way to see the sights going on here than getting around with pedal power? There's a bike share scheme called Bike The Tower near the iconic Tower Bridge which is where you should go first. Get your bike and away you go. Hit up the California State Capitol Museum, cycle through the State Historic Park, pass by the Theodore Judah Monument, enjoy the riverside pathways.
It's an easygoing, outdoors-y thing to do in Sacramento and one that will help you lap up all the sights in an afternoon. Easy.
6. Spend Saturday night on a train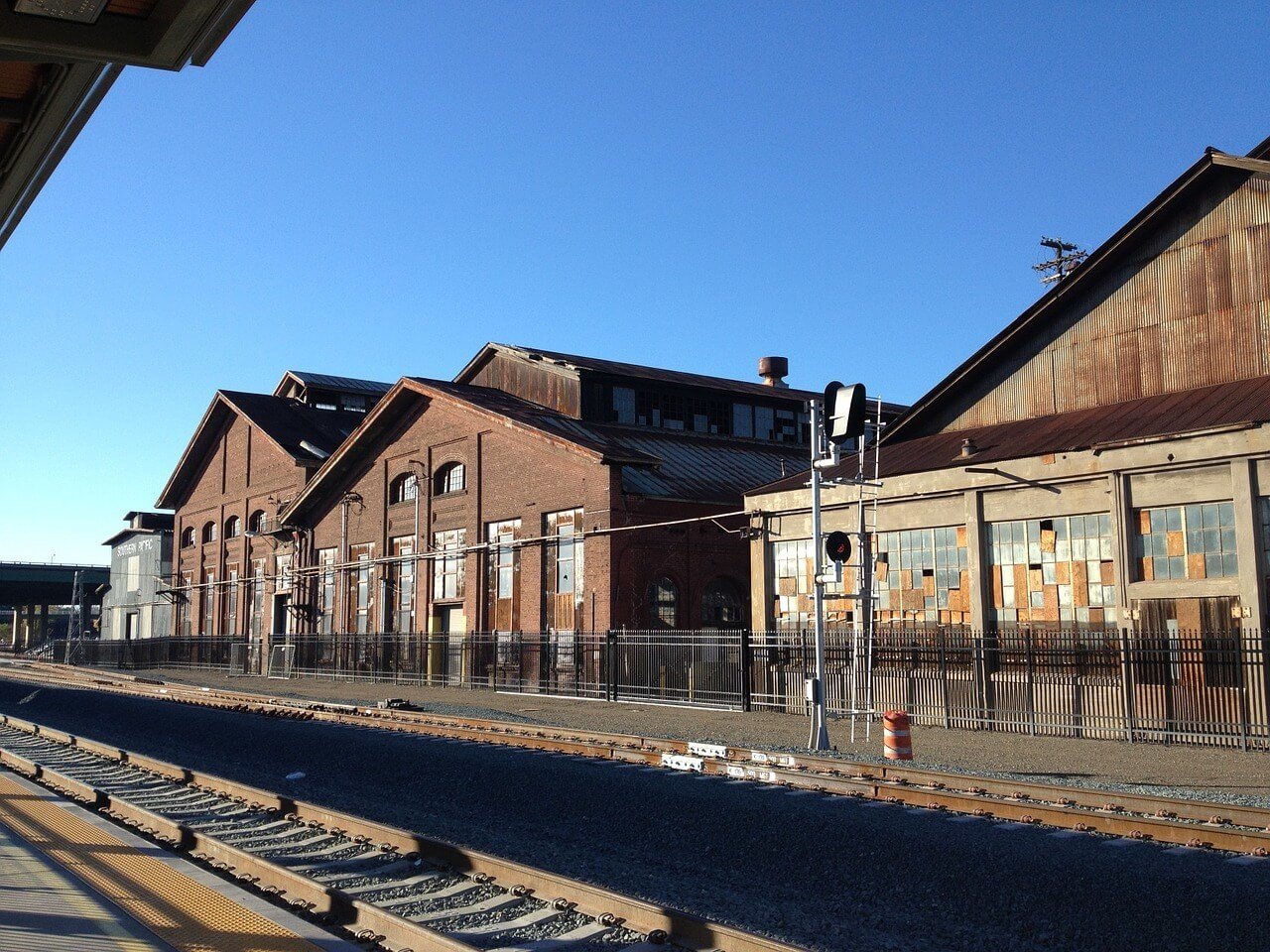 The great American railroad and Sacramento are deeply entwined. Riding a train is all well and good, but the Sacramento Beer Train is a much, MUCH funner way of doing this. Head out west from Sacramento on a 2 and a half hour train ride, making sure you drink plenty of beer… and some food is probably a good idea, too.
You can gaze out the window thinking of the prospectors of past times, all to the sound of bands playing live music. It's a pretty unusual thing to in Sacramento, but a FUN way to experience, um, train travel!
Small Pack Problems? 😉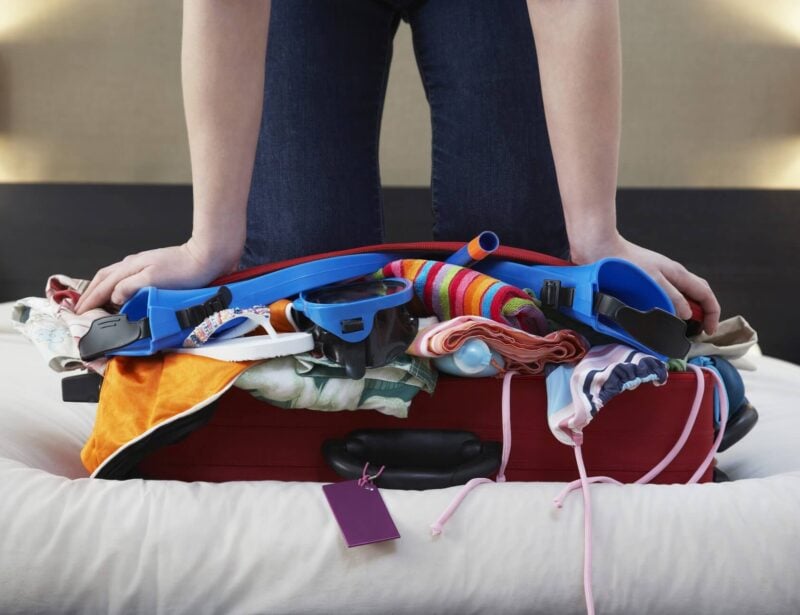 Wanna know how to pack like a pro? Well for a start you need the right gear….
These are packing cubes for the globetrotters and compression sacks for the real adventurers – these babies are a traveller's best kept secret. They organise yo' packing and minimise volume too so you can pack MORE.
Or, y'know… you can stick to just chucking it all in your backpack…
Get Yours Here
Read Our Review
Unusual Things to Do in Sacramento
7. Hit the hair-raising white waters of the Middle Fork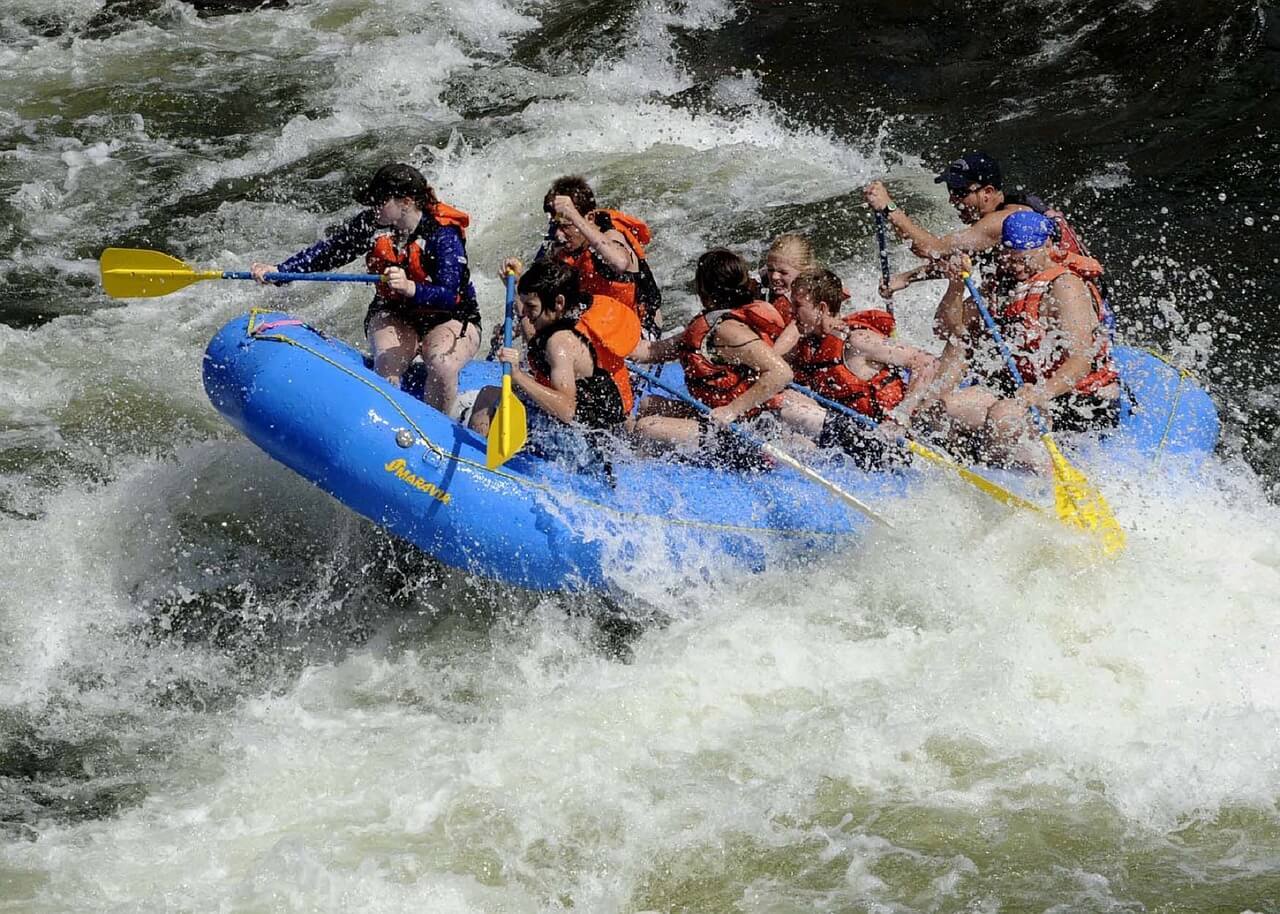 The Sacramento River isn't always a peaceful waterway perfect for a cruise. Not at all. 35 miles east of the city, things get pretty dang hairy, in fact. There's some amazing white water rapids going on at Middle Fork, all surrounded by wilderness, making for one of the most adventurous things to do in Sacramento. Pass through the Tunnel Chute, a rollercoaster of a rapid, and take a breather in calmer stretches.
Even if you've never tried this before, try it here! There's companies out there who'll cater for you so never fear. One of the more terrifying outdoors-y things to do in Sacramento, you'll feel a sense of achievement once you've done this – believe us!
8. Track down the Spirit of Sacramento
The Spirit of Sacramento is this very cool old paddle steamer. Once a US Army boat, its owner was once none other than John Wayne (he even used it in the 1955 movie Blood Alley), before being used for river tours. Today it's shored up on land following a fire, which kind of sucks, but it's still cool to see. Track it down off the Garden Highway along the river and you'll see it, just sitting there. Makes for some spooky photos if the weather's right, too.
This is one non-touristy things to do in Sacramento.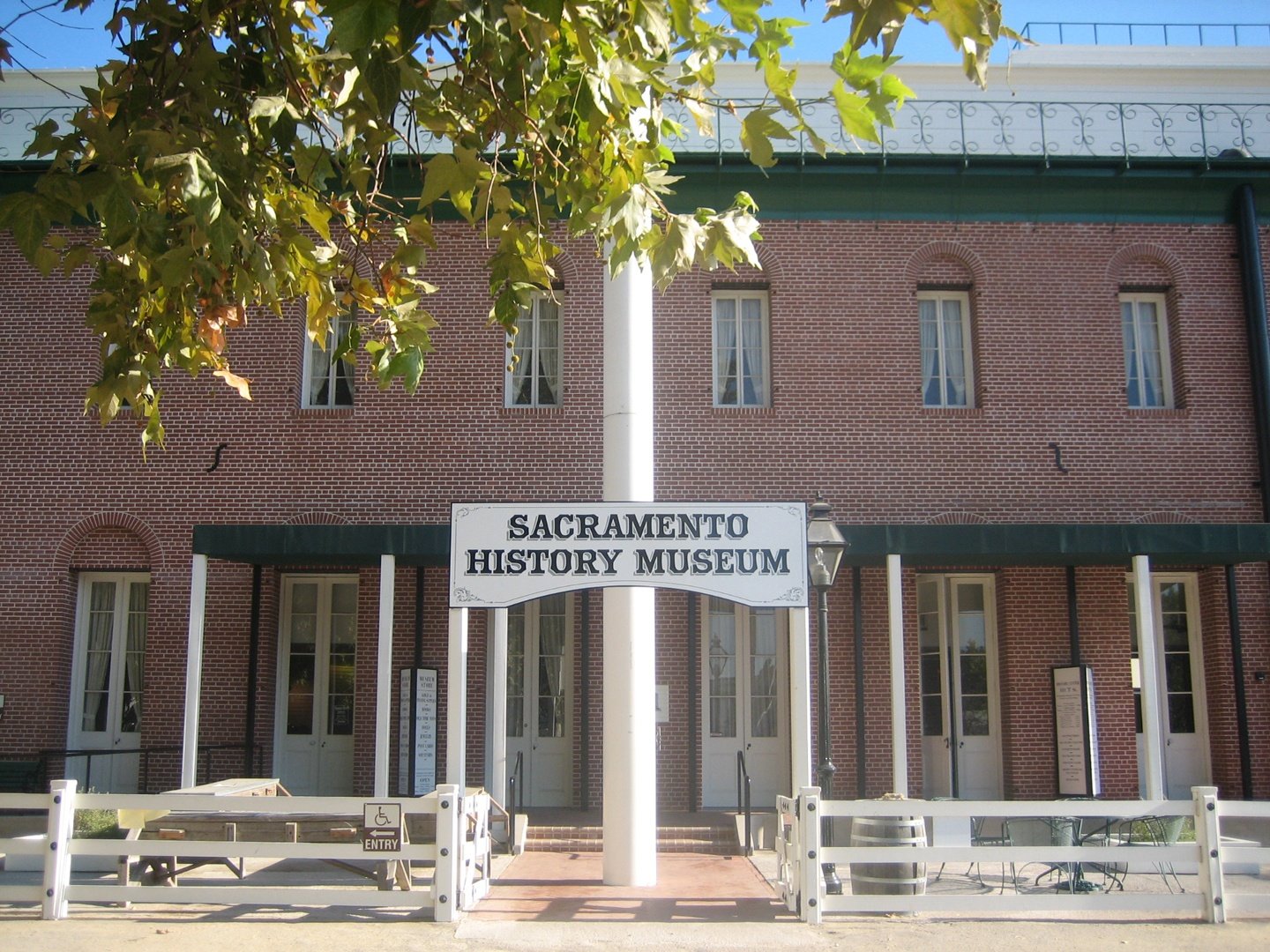 Um, so, yeah… The weird thing about Sacramento is that it was, um, raised. We mean, back in the 1860s and '70s the powers that be literally thought it would be a good idea to jack up the floors of the city because it kept on flooding.
This is a good idea, if a bit drastic. However, what it's left is a secret subterranean world that's ripe for exploration. It's one of the most unusual things to do in Sacramento, that's for sure. Underneath buildings, under sidewalks, it's awesome. Visit the Sacramento History Museum to find out more (and get a guide who knows what they're talking about).
Safety in Sacramento
Surprisingly, Sacramento is a pretty safe city. In recent years it's actually had a decline in crime meaning there's not too much to worry about when visiting this city
The usual common sense stuff still applies though. Don't leave things on show (especially on a cafe table or in a rental car) and don't carry valuables around with you. Investing in a money belt would be a good idea for any traveller.
Be careful of the heat! Summers here can be mega hot, so cover up and stay in the shade as much as you can. And if you plan anything adventurous, know the safety precautions – lifejackets on boats and all that sorta stuff. For the most part, though, you'll be fine. Read our tips for traveling safely before you fly and always get travel insurance. Check out our roundup of the best travel insurance.
Travel with peace of mind. Travel WITH a security belt.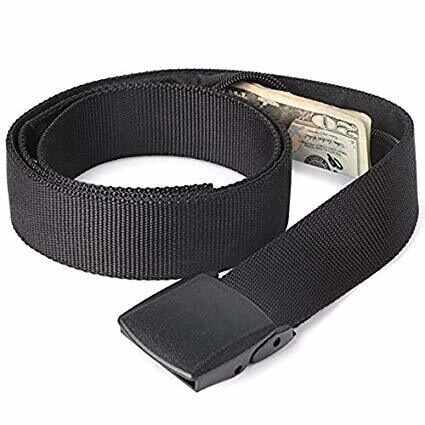 Stash your cash safely with this money belt. It will keep your valuables safely concealed, no matter where you go.
It looks exactly like a normal belt except for a SECRET interior pocket perfectly designed to hide a wad of cash, a passport photocopy or anything else you may wish to hide. Never get caught with your pants down again! (Unless you want to…)
Hide Yo' Money!
Things to Do in Sacramento at Night
10. Get crazy on a booze cruise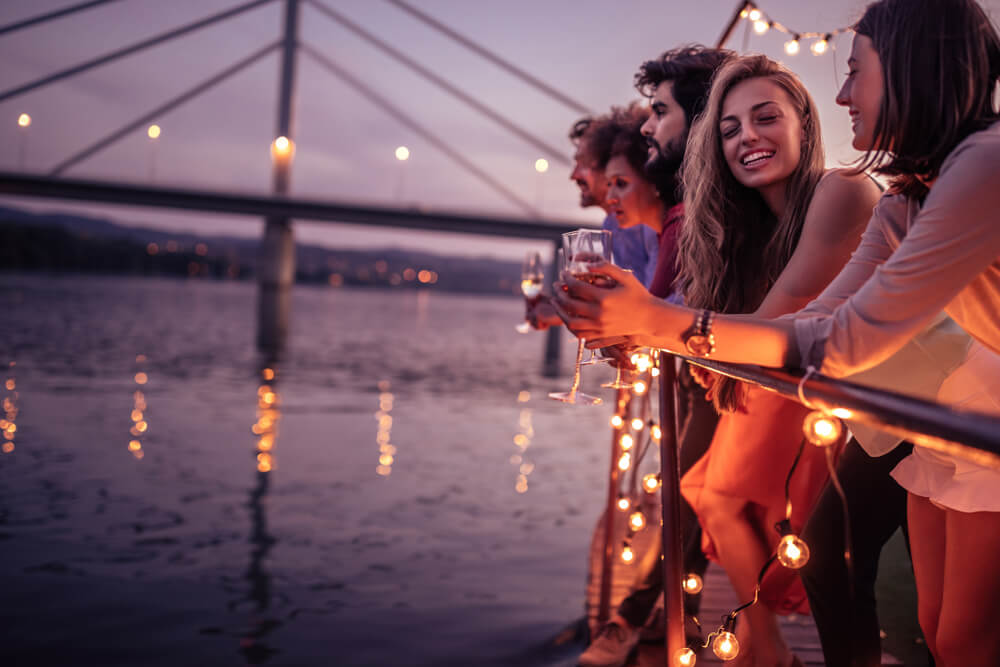 As if getting loaded on a train wasn't enough, now you can get loaded on a boat!
A cruise along the Sacramento River might be pretty interesting in itself, but if you're the sort of person who likes their boats to be full of booze, then this one's for you. One of the more fun-filled things to do at night in Sacramento, we'd say this is a good option if you're travelling to Sacramento with a group of friends. Choose the right boat (Rock The Yacht, specifically, from L Street Dock) and your good times will be soundtracked by DJs. Watch the glittery city lights, make merry, be back in time for more drink. Or maybe dinner. Pretty awesome, we say.
11. Spend the night painting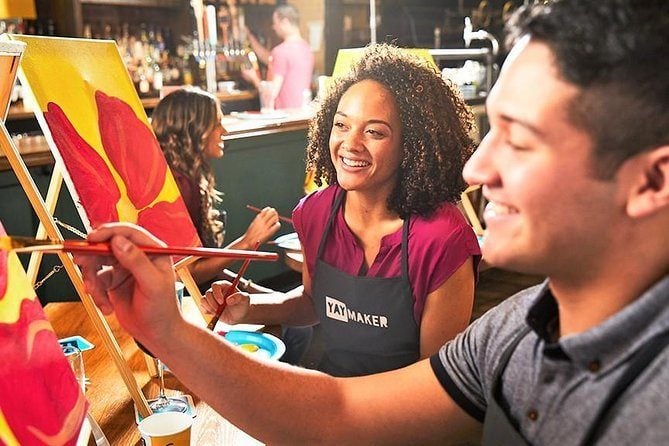 Sacramento is a pretty city. There's old buildings, that picturesque river, and a lot of creative people here who try encapsulate it all in their art. It's pretty cool and makes the city one that's more than just its history. To really FEEL that side of the city, for something unique to do in Sacramento at night join Yaymaker for an evening of painting.
It's set in a bar, which is even better. Go by yourself and make friends, go with a partner, or go with mates. Whatever you do, you get to take home your masterpiece at the end. Ah, drinking and painting… Just like a real artist.
Where to Stay in Sacramento
Sacramento has some really great accommodation options. Whether you're looking for some luxury hotels, budget hostels, or motels in Sacramento on the outskirts, there's something for everyone in this city.
Check out my recommendations for where to stay in Sacramento.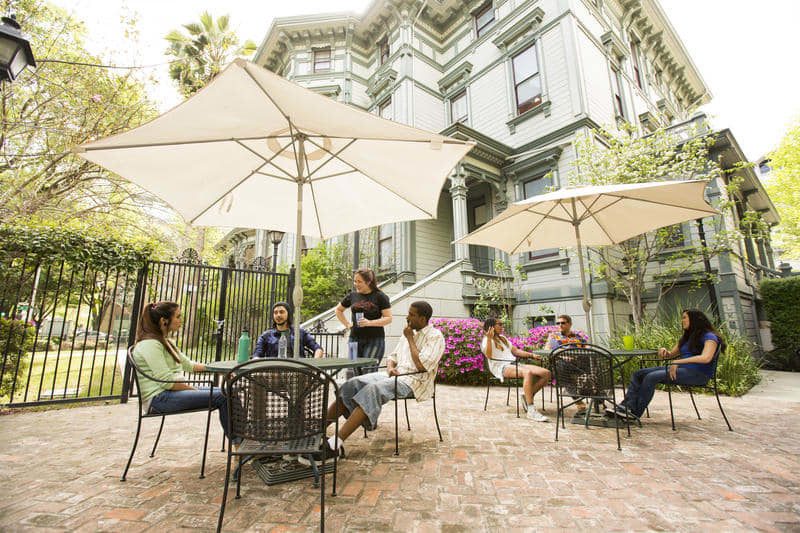 An absolute steal for such a central location, HI Sacramento Hostel isn't just about the convenience – it's set in a beautiful old building, for starters. It's the sort of place that will exceed your expectations of just what "hostel" means these days. You'll feel like royalty staying here, whether you're playing pool or chilling on the outdoor terrace.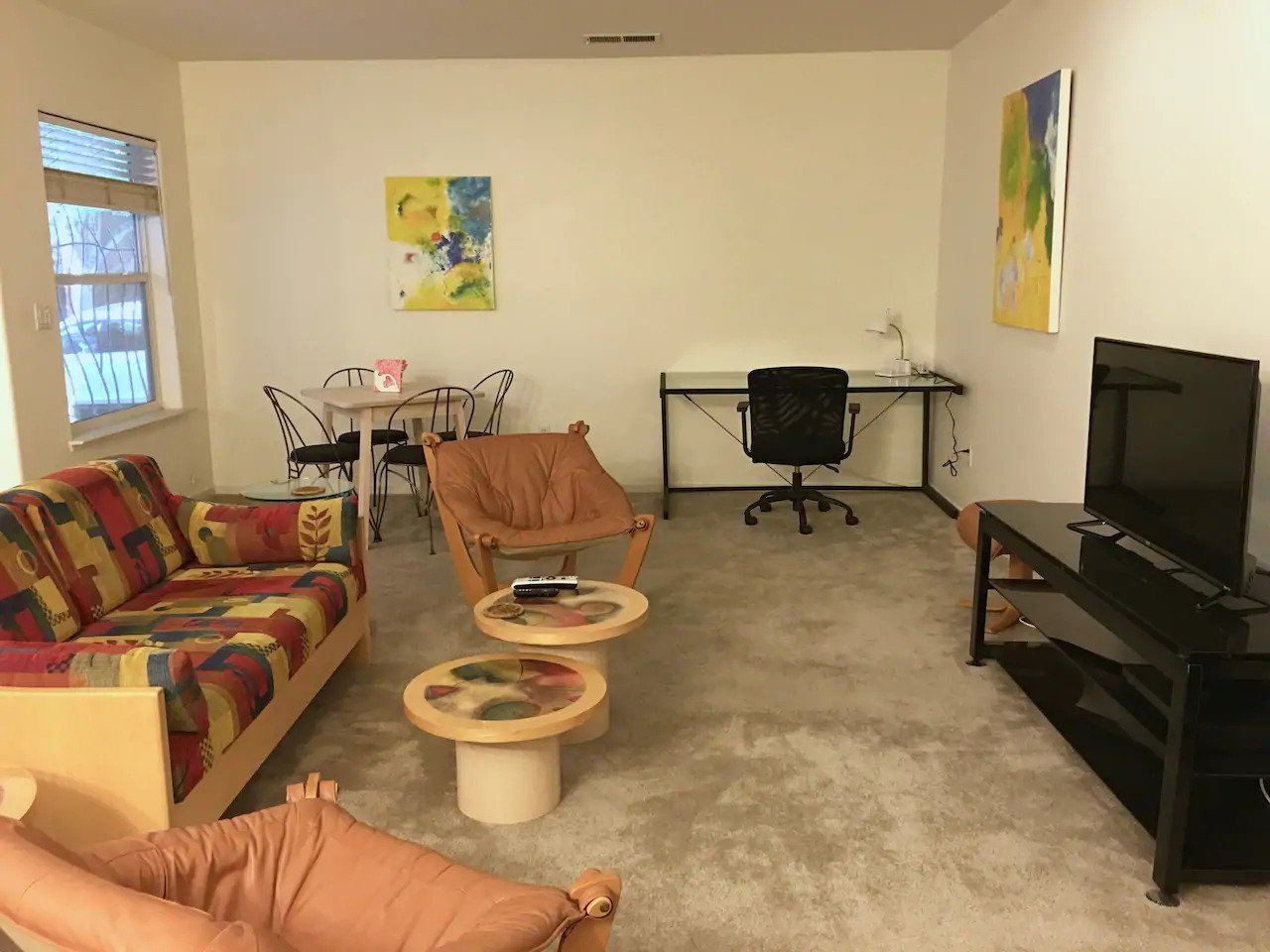 The owners are called Pam and Jim (hello, The Office US fans), which is the first good sign. The second great thing about this studio apartment is how spotlessly clean it is. It's completely private and set across one whole level of Pam and Jim's actual house, so they'll be on hand to help you out. It's a stone's throw from Capitol Parking and there's even free parking. Sleeps 3 people if needed.
One of the cheapest hotels in the Downtown Sacramento area, which is crazy considering it's set on a converted old paddle steamer, the Delta King Hotel has an awesome location – on the actual river! A unique place to stay in Sacramento, rooms are spacious, polished, comfortable and come with amazing views of the river. The elegant restaurant here comes with options of eating out on the deck. Nice!
Romantic Things to Do in Sacramento
12. Take a stroll along the Riverside walk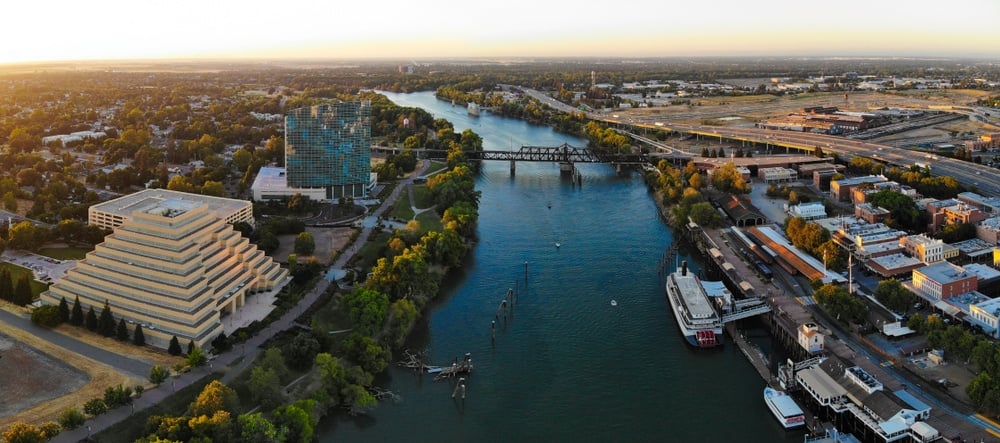 What could be more of a romantic thing to do in Sacramento than to take a stroll along the river? Along the trail, there's tons of sculptures to discover, one of the most eye-catching of which is Subtile. Like a giant disco ball crossed with trees – or maybe clouds – this baby is made out of 34,000 mirrors and reflects the sun in all sorts of weird ways. It's super cool, and it's just one of the many awesome sculptures that'll you'll be snapping photos of for your artsy Tumblr.
13. Spend the day at a wine ranch
Sacramento is famed for its wine, so for a great day trip from Sacramento, head to one of its wine ranches – like Harney Lane, for instance.
This fifth-generation, family-run ranch is the place to come if you and your partner are all about wine tasting and devouring organic food. One of the more un-touristy things to do in Sacramento, here you'll get to meet the family that's been running the show since 1900 and eat all the of their tasty food, which they produce themselves. The grounds are pretty beautiful too, we have to say, so take yourselves along for a breath of fresh air from the city if nothing else.
Best Free Things to Do in Sacramento
14. Hit up an old hardware store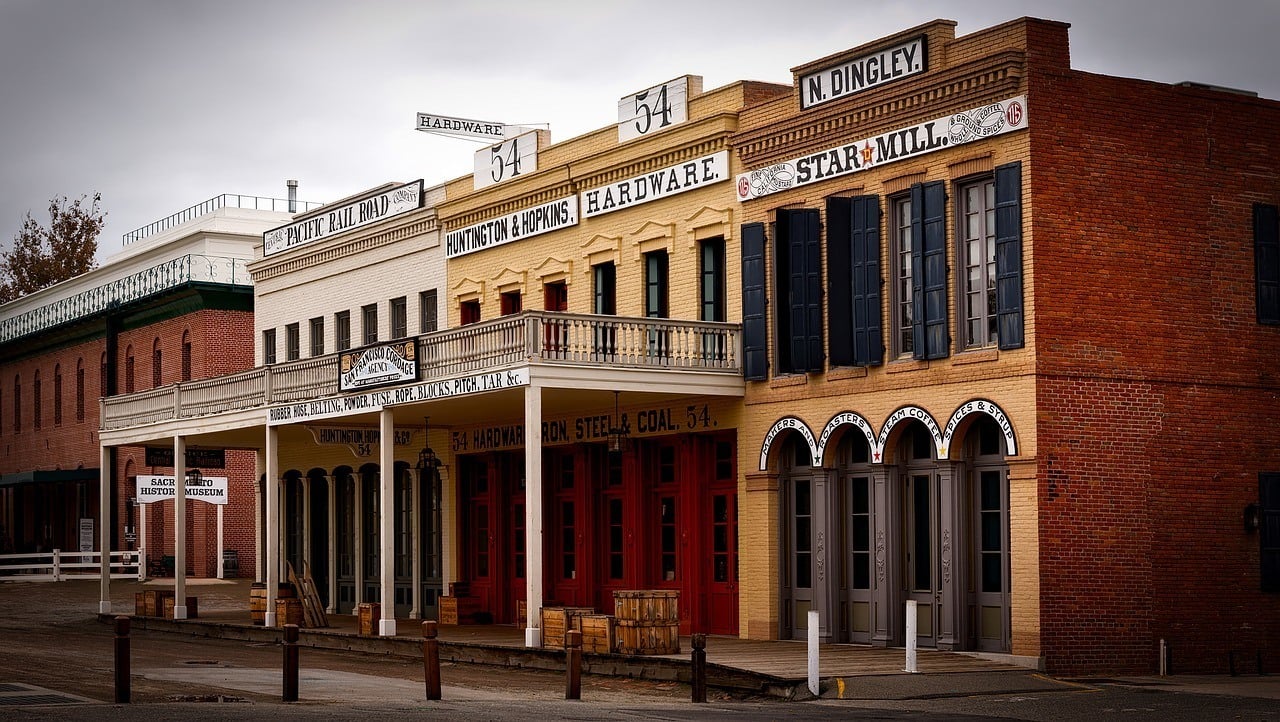 Ok, so this doesn't sound like the most exciting thing to do in Sacramento, but stay with us here. This is Huntington & Hopkins Hardware Store and is about as cool and old-timey as any store gets. This is a National Historic Landmark and has been basically preserved as it was at the turn of the 20th century. It's one of the best free things to do since, well, it costs nothing to go and gawp at all the antique tools and old-days interiors of this place. One for Instagram, for sure.
And if you do feel like shelling out some money, there are some pretty quirky souvenirs to pick up here.
Is This the Best Daypack EVER???
15. Learn to Latin dance at the Waterfront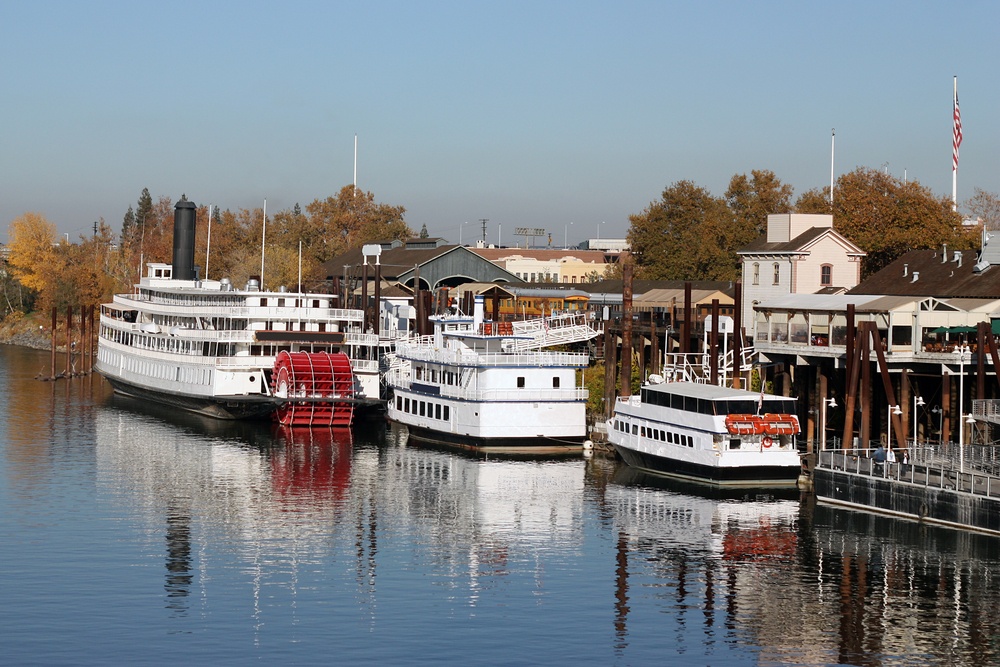 Sacramento is packed with Latin culture. It's pretty much everywhere, and you'll find it in everything from the food to the traditional music to the name of the city and the State it is in! But instead of eating yourself silly, which you can do anytime, why don't you learn a spot of Latin dancing? It's one of the best things to do in Sacramento by yourself (mainly if you're brave – or like dancing).
Head to the Old Sacramento Waterfront at 6pm for a once-monthly extravaganza of Latin dancing like bachata and salsa, courtesy of Dance on the Edge. Then everyone heads off to a local beer garden to get chatting. A top free thing to do in Sacramento – though you will have to pay for the beers afterwards!
Books to Read in Sacramento
Here are some of my favorite books to read in USA:
Sometimes a Great Notion – A tale of a hardheaded Oregonian logging family that goes on strike, leading the town to drama and tragedy. Written by PNW legend, Ken Kesey.
Walden – The transcendental masterpiece by Henry David Thoreau that helped modern Americans rediscover nature and her beauty.
To Have and To Have Not – A family man gets involved with the drug smuggling business in the Key West and ends up in a strange affair. Written by the great Ernest Hemingway.

Our GREATEST Travel Secrets…
Pop your email here & get the original Broke Backpacker Bible for FREE.
Best Things to Do in Sacramento with Kids
16. Learn all about safety at the mini town of Safetyville
If there's anything cuter than kids doing adult jobs in a mini version of Sacramento, then we want to see it. For now, Safetyville is our jam. If you're looking for things to do in Sacramento with kids, this one will honestly entertain them for hours – and it will be super cute for you to see, too.
It's all about teaching children all about safety, basically. There's a miniature everything, from a McD's to the State Capitol Building and high-rise offices. One of the more unusual things to do in Sacramento, this is a family-friendly, educational day out that's going to be a blast for all involved.
17. Go to Talk Like a Pirate Day at Fairytale Town
Another town just for children! Visiting Fairytale Town is one of the best things to do for families in Sacramento. There's a load of stuff here like a petting zoo, a cafe (the Dish and the Spoon Cafe, in fact), gardens, and loads of themed areas from your favourite fairytales – Jack and the Beanstalk, Humpty Dumpty, the usual suspects.
Probably something more for children old enough to put on an accent, or old enough to appreciate one, Talk Like a Pirate Day is a particularly fun way to spend the day at Fairytale Town. You will probably have to talk like a pirate though, so practise your best 'aarggh' and go for it. "Never grow up" is their slogan. We agree.
Day Trips from Sacramento
The capital of California may be a pretty nice city to spend your time, but guess what? There's a lot just on the doorstep that makes day trips from Sacramento both very doable and very, very worth it. If you're wondering exactly what sort of day trips those might be, then you're in luck – we've selected a couple of our top picks for you to think about.
Spend the day tasting wine in the Napa Valley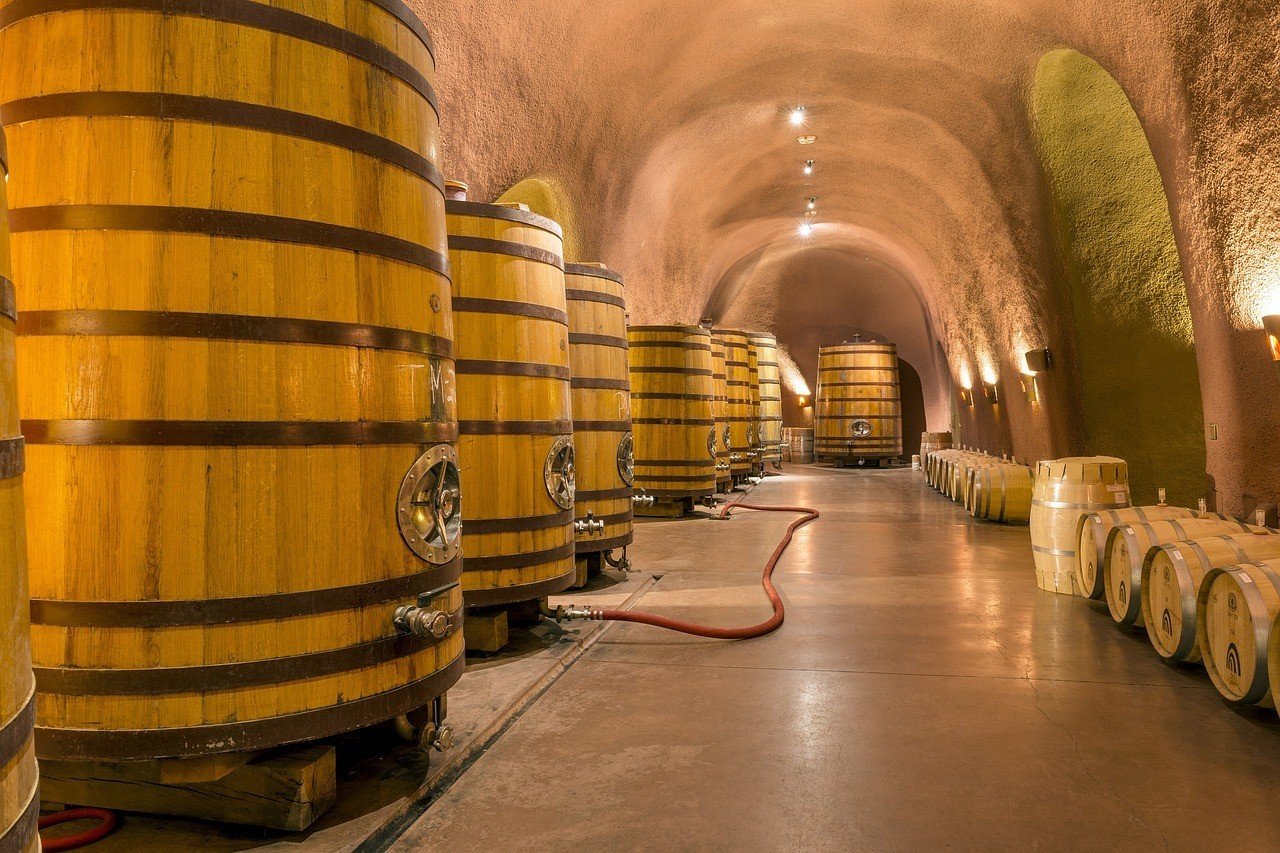 Napa Valley is already famous. It needs no introduction. With its rolling hills and wineries, this is where you can come for just about everything from scenic views, wine tasting and some truly delicious food. The journey from Sacramento to Napa Valley takes just an hour and twenty minutes if you decide to go by Greyhound bus, but if you have your own wheels? It's just an hour's drive away.
Napa town itself is the place to start. Dating back to the late 18th and early 20th centuries, there's the scenic Riverfront Promenade, dotted with cafes and eateries, and a vibrant arts scene. Make sure to check out the Oxbow Public Market and pick some tasty cheese whilst you're there (we're serious – there's some good stuff on offer here).
Not on a shoestring budget? Then the historic winery of Domaine Carneros is totally worth it. The tasting room here is unreal (good cheeseboards). If you're driving, maybe not a good idea – take a bottle home instead.
Explore what San Francisco has to offer
Another easy day trip from Sacramento is a visit to San Francisco. Simply drive for around an hour and twenty minutes or take the Greyhound bus direct (2 hours) and you'll arrive in this iconic coastal sprawl of a city. There's tons of things to do in San Franscico, but the most famous areas of the city are the first places you should hit up first. We're talking Alcatraz, the Mission District and Golden Gate Bridge.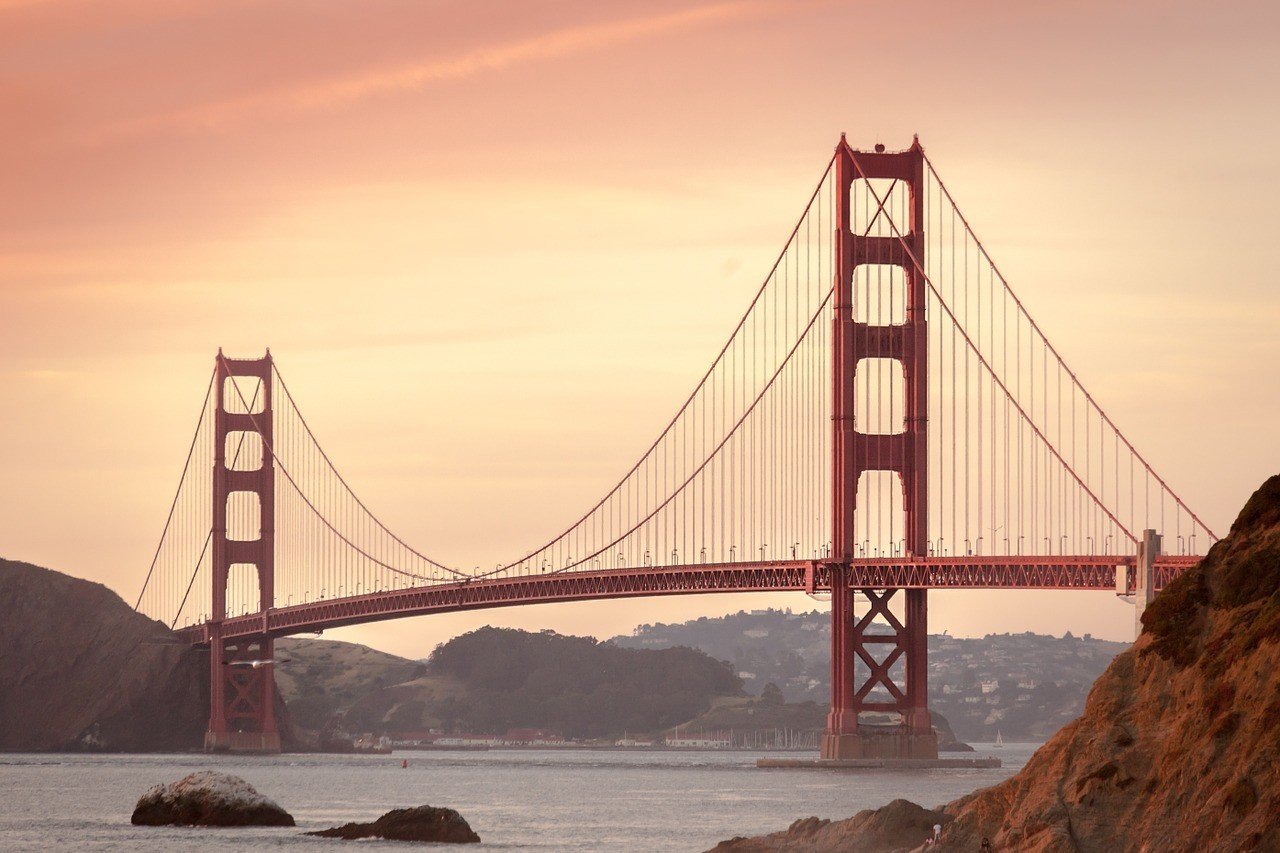 If you're looking for lunch, head over to Fisherman's Wharf or Pier 39. But if that feels like it might be too busy (or too seafood heavy) for some, then there's always Chinatown. San Francisco's Chinatown is undoubtedly awesome. Round up your day at Twin Peaks in the middle of San Fran to get views of the city from on high; beer and pizza with a glittering night view of the city isn't a bad thing at all!
Save $$$ • Save the Planet • Save Your Stomach!
Drink water from ANYWHERE. The Grayl Geopress is the worlds leading filtered water bottle protecting you from all manner of waterborne nasties.
Single-use plastic bottles are a MASSIVE threat to marine life. Be a part of the solution and travel with a filter water bottle. Save money and the environment!
We've tested the Geopress rigorously from the icy heights of Pakistan to the tropical jungles of Bali, and can confirm: it's the best water bottle you'll ever buy!
View on REI
Read the Review
3 Day Sacramento Itinerary
There's a ton of stuff you can pack your days with. If you're worrying about how to fit it all in (and how it's going to fit in with your plans of doing absolutely nothing) – don't worry. We've figured it out for you.
Day 1
For your first day in Sacramento, get to grips with the city by exploring it from the water. Near the iconic Tower Bridge (definitely take a few snaps) hop on a boat at the Riverfront Dock and you'll spend the day floating along the Sacramento River, spotting the buildings from the comfort of the water instead of pounding the pavements all day. An easy first morning.
For lunch, because you must be hungry by now, head to Railroad Fish & Chips. Don't worry if you don't feel like fish or seafood: the burgers here are also good. Enjoy on the patio and gawp at the river views. From here, walk through Old Sacramento – enjoying the historic buildings along the way – along Front Street till you get to the Sacremento History Museum.
Open till 5pm, you can spend all afternoon delving into the history of the Californian capital. It's also here that you'll get to learn about the kooky "raising" of Sacramento; pay a little more to get a guided tour of the city's underground history. Head back to your hotel, freshen up, shower, do whatever you need to do, then it's time to head out again.
Round up your day with dinner along the river. It's a particularly nice spot at night, lit up as it is. We recommend Rio City Cafe, complete with delicious dishes, outdoor patio and tasty cocktails – all with a view of the river.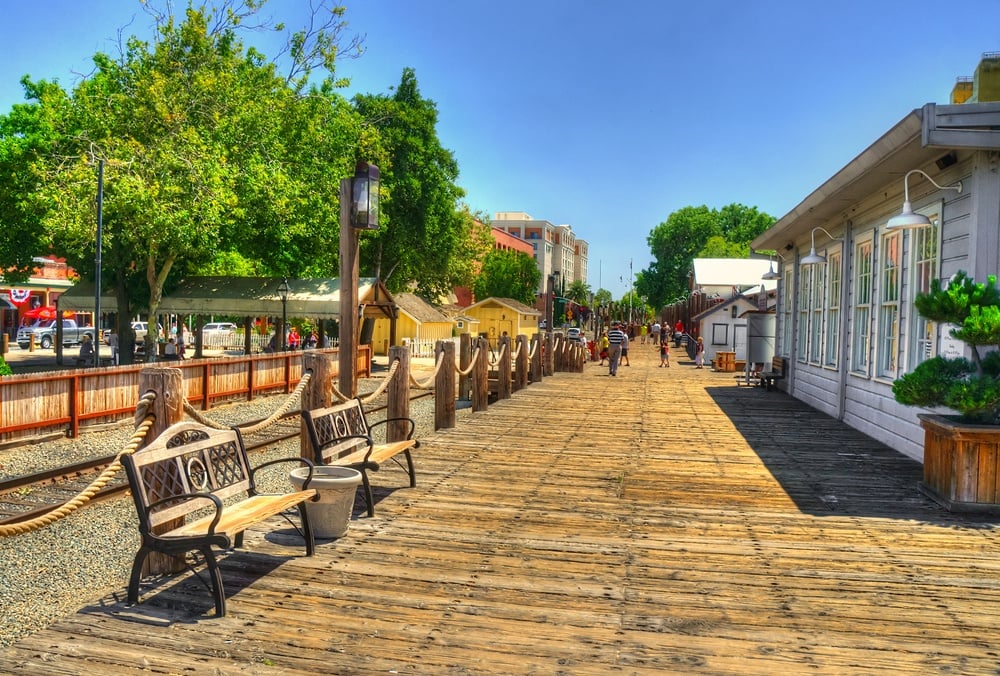 Day 2
Ok, folks, get ready for a day of learning about the railroads. Opening its doors at 10am, your first stop is the California State Railroad Museum. Spread across two storeys, you'll get to hop onto old steam engines, take snaps of some antique trains, and learn all about how the railways played a part in the city's history. It's an impressive collection and you may end up spending longer here than you thought!
There are a bunch of eating options nearby if food is what you want. But if you just feel like a coffee, there are plenty of cafes in the historic neighbourhood surrounding it, like Streamers, for example. Take your pick – you can't go wrong, really. Walk off your meal, or use the energy from that coffee, and take a stroll around nearby Old Sacramento River Park. Soak up the atmosphere, people-watch, chill out.
Finish the day as you started it: on a train! In particular the Sacramento Beer Train is a very good way to round up a day. The name basically says it all, but there's also live music and great food. Organise the train ahead of time to avoid being disappointed, and you'll get to see the sights as the train puffs along the river as you drink your various beers. Sounds good to us.
Day 3
Sacramento, believe it or not, is actually pretty famous for its city-wide cycling loop. So since you've been doing a lot of sitting down so far (on a boat, on a train, etc.), why not try sitting down on a bicycle instead? Get some exercise in and grab a city bike from Sacramento's Bike The Power bike share scheme. Or you can rent a bike from Practical Cycle and head on a tour – whatever suits you.
It's a good way to pack in all of the city's historical sights and monuments, especially when they're a little further afield. You'll cycle past the State Capitol Building, through the State Historic Park, along the riverfront, and through the trendy Midtown district. Dump the bike and enjoy a spot of lunch in Midtown at Federalist Public House: good pizza to be had here.
Then you can spend the rest of the afternoon exploring the hipster-fied streets and old industrial buildings of Midtown. Dip in and out of galleries like the Tim Collom Gallery and stop for a coffee at Pete's Coffee or the very cool LowBrau. Since you're probably in the artsy mood by now, head to Sacramento River Cats for a night of painting (and drinking) hosted by Yaymaker.
If after you're done painting your masterpiece you feel that the night is still young, never fear: there's some good nightclubs and loads of other bars to choose from in the vibrant Midtown (i.e. the English-style Streets Pub and Grub).
Don't forget your travel insurance for Sacramento
ALWAYS sort out your backpacker insurance before your trip. There's plenty to choose from in that department, but a good place to start is Safety Wing.
They offer month-to-month payments, no lock-in contracts, and require absolutely no itineraries: that's the exact kind of insurance long-term travellers and digital nomads need.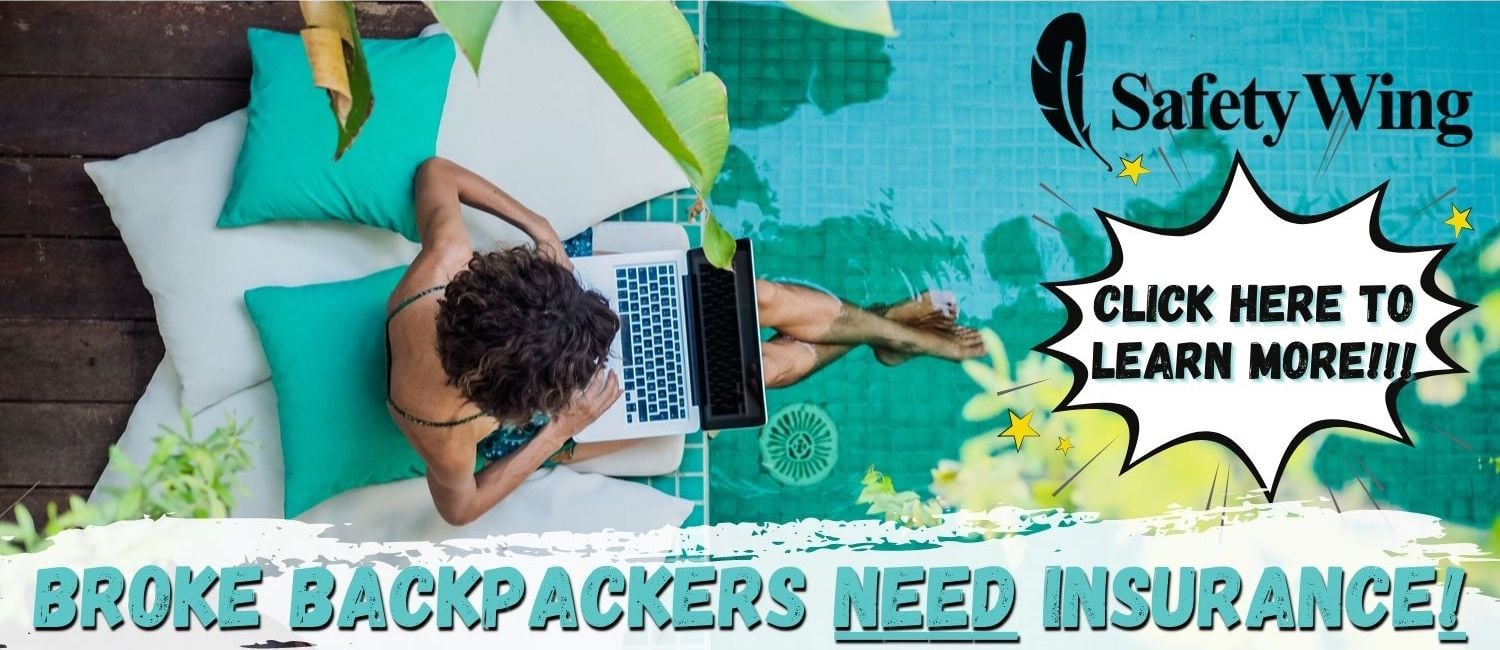 SafetyWing is cheap, easy, and admin-free: just sign up lickety-split so you can get back to it!
Click the button below to learn more about SafetyWing's setup or read our insider review for the full tasty scoop.
FAQ on Things to Do in Sacramento
Here are some quick answers to common questions about what to do and see in Sacramento.
Conclusion
Sacramento isn't an obvious destination, but it's still packed with a load of interesting things to see and do. The Gold Rush stuff is definitely the draw, but you should stay for the artsy stuff, the awesome food, the chance to get out into nature and to try some of this city's famous, delicious wine. You may be looking for off the beaten track stuff to do in Sacramento, or you may be with your family looking for kid-friendly activities. Whatever it is, we've made sure that our guide has tons of stuff to keep you entertained in the Californian capital.
---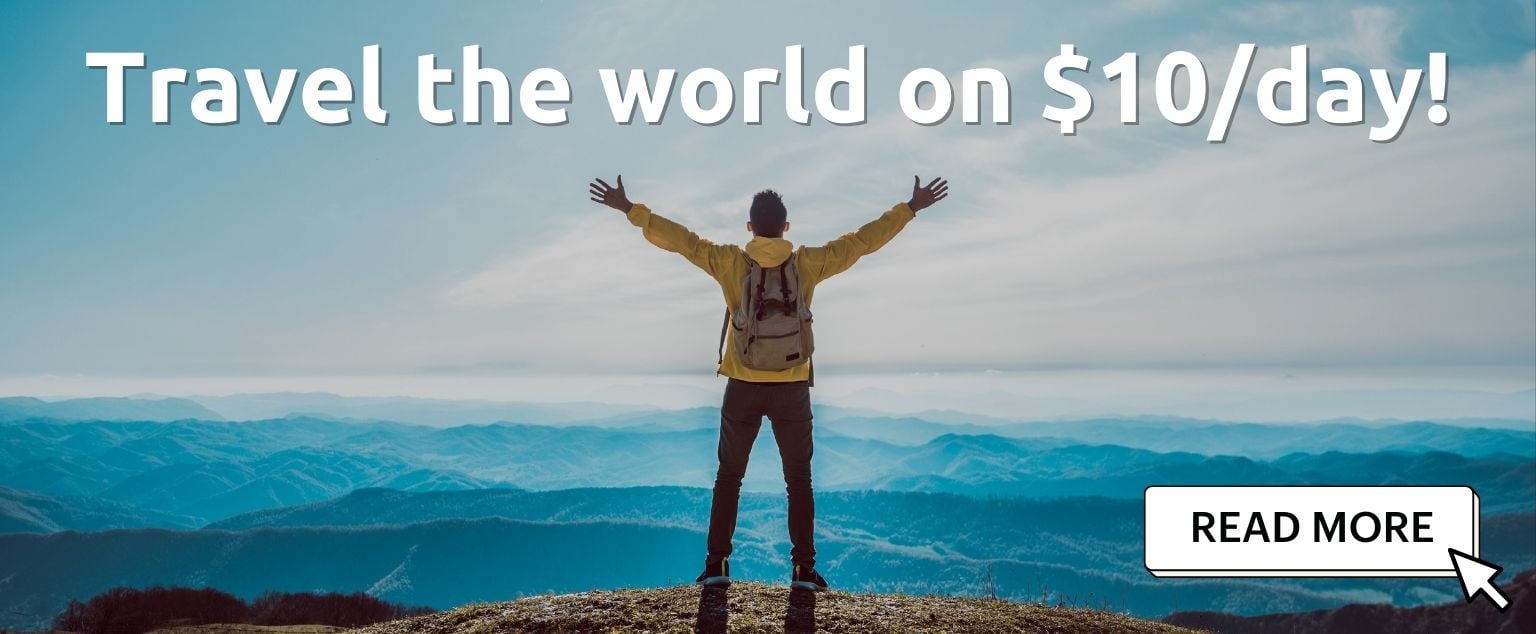 And for transparency's sake, please know that some of the links in our content are affiliate links. That means that if you book your accommodation, buy your gear, or sort your insurance through our link, we earn a small commission (at no extra cost to you). That said, we only link to the gear we trust and never recommend services we don't believe are up to scratch. Again, thank you!