If you're a food lover you're in for a real treat! Venezuela is not only a place with amazing nature and an ideal destination for backpackers on a budget, but this South American country has an outstanding culinary tradition perfect for any foodie traveller. Traditional Venezuelan cuisine has European, African and Native American influences that make its dishes unique.
Since there is a bit of food shortage at the moment you may be wondering what do Venezuelans eat?  Well the locals have had to improvise and cook simpler versions of their traditional dishes, but that doesn't mean the food is not delicious!
Around the world, Venezuelans prepare yummy treats for the world to try. Here is my take on the best Venezuelan food. I acknowledge that my perspective is shaped by my gringa background and experiences with limited Miami food trucks. Nonetheless, I invite you to indulge in these favorites of mine with an open palate and mind!
If you are backpacking Venezuela, chances are you will come across lots of Venezuelan foods. You will soon find out arepas are the ultimate dish. Any Venezuelan restaurant you walk into will PROUDLY sell you a yummy arepa. If you ask me they are way better than Colombian arepas…
Arepas are these sort of small corn flour patty filled with a variety of ingredients. Beans, cheese, rice, pork, eggs… My favorite time to eat arepa is for breakfast with eggs, cheese and avocado but you can eat them as a main dish or as a side for lunch or even dinner!
Yeah, arepas might well be the most famous Venezuelan food, but when it comes to a truly patriotic meal, Pabellón Criollo is the quintessence of Venezuelan culture. As baseball is the national sport, Pabellon Criollo is the Venezuelan national food.
It consists of super juicy shredded beef, spicy rice, and black beans. Also, to really get that Venezuelan flavor, you can serve it with plantains or a fried egg on top. It is mouth-watering! I give this meal a 10/10 for an AMAZING taste profile.
Reina Pepiada is a variation of an arepa truly made for a princess. It translates in Venezuelan slang to "Polka-Dotted Queen" or "Curvy Queen" in honor of Susana Duijm, Miss Universe of 1955. Venezuelans take pride in their beautiful women, and this arepa is dedicated to the beauty queens!
The main ingredients of Reina Pepiada are avocado, and shredded chicken. You can enjoy them at any time of the day, but my favorite time to eat them is definitely breakfast (I am a huge avocado lover). I think it is complemented really well with a fresh glass of orange juice.
Pan de Jamón is a delicious holiday treat, typically prepared during Christmas and New Year's. It translates directly to "Ham Bread." If you are wandering the streets of Venezuela, chances are you will find it at most bread stores during the months of November and December. This dish makes an excellent appetizer.
While there are various versions of Pan de Jamón, my family and I prefer to make it with ham, turkey, bacon, raisins, and olives. It pairs perfectly with red wine. This meal really is the highlight of the holidays for me.
Another favorite of mine is Tequeños. This Venezuelan snack brings a South American twist to the universally loved cheese sticks. Tequeños combine fresh cheese with bread, accompanied by a creamy dipping sauce. You can also incorporate turkey or bacon for a heartier flavor.
Tequeños are suitable for any time of the day, though I particularly savor them around lunchtime. Empanadas are another popular Venezuelan bread-based dish.
Hallacas are a cherished holiday dish I can't resist. If you're familiar with tamales, a staple in Mexican cuisine, you'll find hallacas strikingly similar. The key distinction, however, lies in the wrapping: Hallacas are wrapped in banana leaves, whereas tamales are typically wrapped in corn leaves.
A traditional Hallaca is made with corn dough bursting with a savory stew of shredded beef, enhanced by delightful additions like raisins and olives. And guess what? In Venezuela, these culinary delights grace our tables mainly in December, making them the ultimate festive treat. Their seasonal appearance, in my opinion, makes every bite ten times more special!
Cachapa resembles a cheese taco and is made with sweet corn flour, a few different cheeses (queso de mano and mozzarella), and butter. Its texture might even be compared to a pancake. Imagine sweet and savory becoming friends and mixing into this dish. YUM.
I've tried several versions and let me tell you, all of them are delicious. It's best served with nata, a spreadable cream made with heavy cream, lemon juice, and salt. Try it and you will love it—guaranteed!
There's no better way to combat the heat than with a refreshing Colita! This beloved Venezuelan soda is a delight for my taste buds. It's incredibly invigorating, with a flavor reminiscent of cream soda but with a cherry aftertaste.
You can spot Colita at many Venezuelan restaurants and food trucks, depending on your location. In the US, it's slightly pricier due to its import from Venezuela. However, if you stumble upon Colita in Central or South America, you're likely to find it priced at just $1 — the perfect accompaniment for your arepas!
.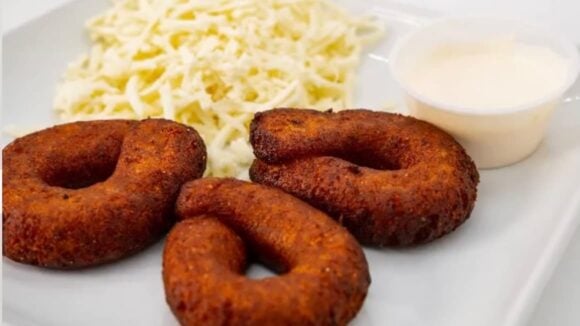 Venezuelan snacks are generally NOT healthy but who doesn't like deep-fried stuff? Especially when it involves cheese! This Venezuelan snack has some sweet and salty flavors to please every palate. Made with cornmeal and plantains, mandocas are a breakfast classic in Venezuela.
After all, who needs healthy when you can have delicious instead? They are shaped like a weird pretzel and served with butter or queso blanco cheese (or both).
Mandocas are super rich and filling, so only a couple of them will keep you going for most of the day!
I have a HUGE sweet tooth that Quesillo always seems to satisfy. Quesillo is a spongy dessert prepared with eggs, milk, caramel, and love. In my house, we would make this dessert for special occasions and birthdays.
Quesillo is very similar to Flan. The difference between the two is that the Venezuelan recipe uses the whole egg instead of just the yolk, making it even creamier and less watery. Quesillo has a texture similar to pudding, just firmer and more consistent. Additionally, it has a delicious caramel sauce on top that makes my mouth water just writing about it.
Growing up in the states, my mom tried to feed me as much Venezuelan food as she could to keep me close to our culture. I learned how to make my first arepa by age 10 and am a huge enthusiast when it comes to Latin food. My all-time favorite dish has to be Pan de Jamón, a puff pastry holiday dish.
Although you will get the best variations of these dishes in Venezuela, the amazing global community in 2023 means you can probably find a Venezuelan restaurant not too far from where you are at. I was even wandering the streets of Bali and eating arepas!
Although Venezuela isn't the safest to visit right now, we can honor the Venezuelan spirit by eating the cuisine! If you are up for the challenge, you can always put your culinary abilities to the test and try to make your own Venezuelan dish!
What is your favorite traditional Venezuelan food? Let me know in the comments!
---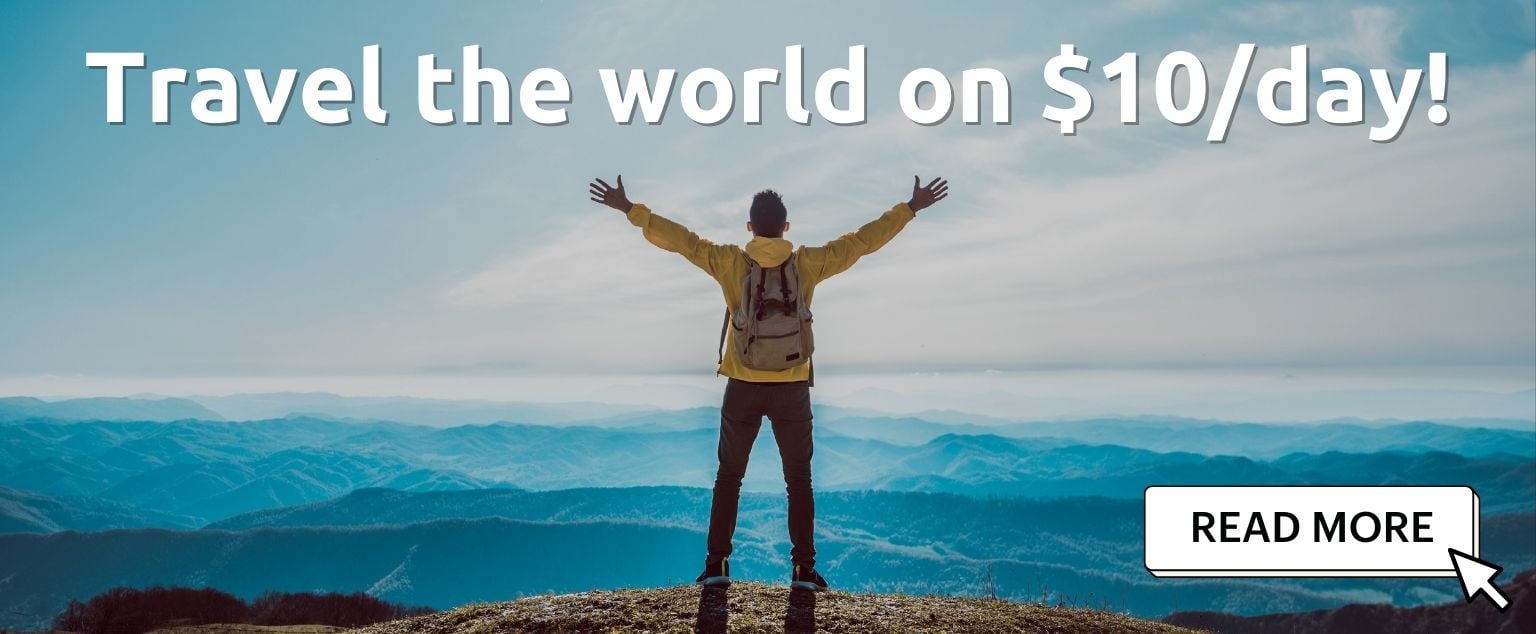 And for transparency's sake, please know that some of the links in our content are affiliate links. That means that if you book your accommodation, buy your gear, or sort your insurance through our link, we earn a small commission (at no extra cost to you). That said, we only link to the gear we trust and never recommend services we don't believe are up to scratch. Again, thank you!