Ohio is often overlooked in favor of more popular destinations like Virginia or Chicago, but this central midwest state is full of surprises! With a diverse landscape and fascinating historic sites, Ohio is perfect for a vacation off the beaten tourist path.
Whether you're just passing through or staying long-term, finding unique accommodation in Ohio is a great way to make the most of your trip. Forget about cramped hotels next to noisy highways; instead, check out some of the best cabins in Ohio for a relaxed and memorable vacation!
I understand that planning all the details of a trip can be stressful, which is why I'm here to simplify your life. In this guide, I'll be showing you what you can expect from cabin rentals in Ohio, as well as listed my favourite Ohio cabins for every traveler's budget and vacation style.
Let's get started…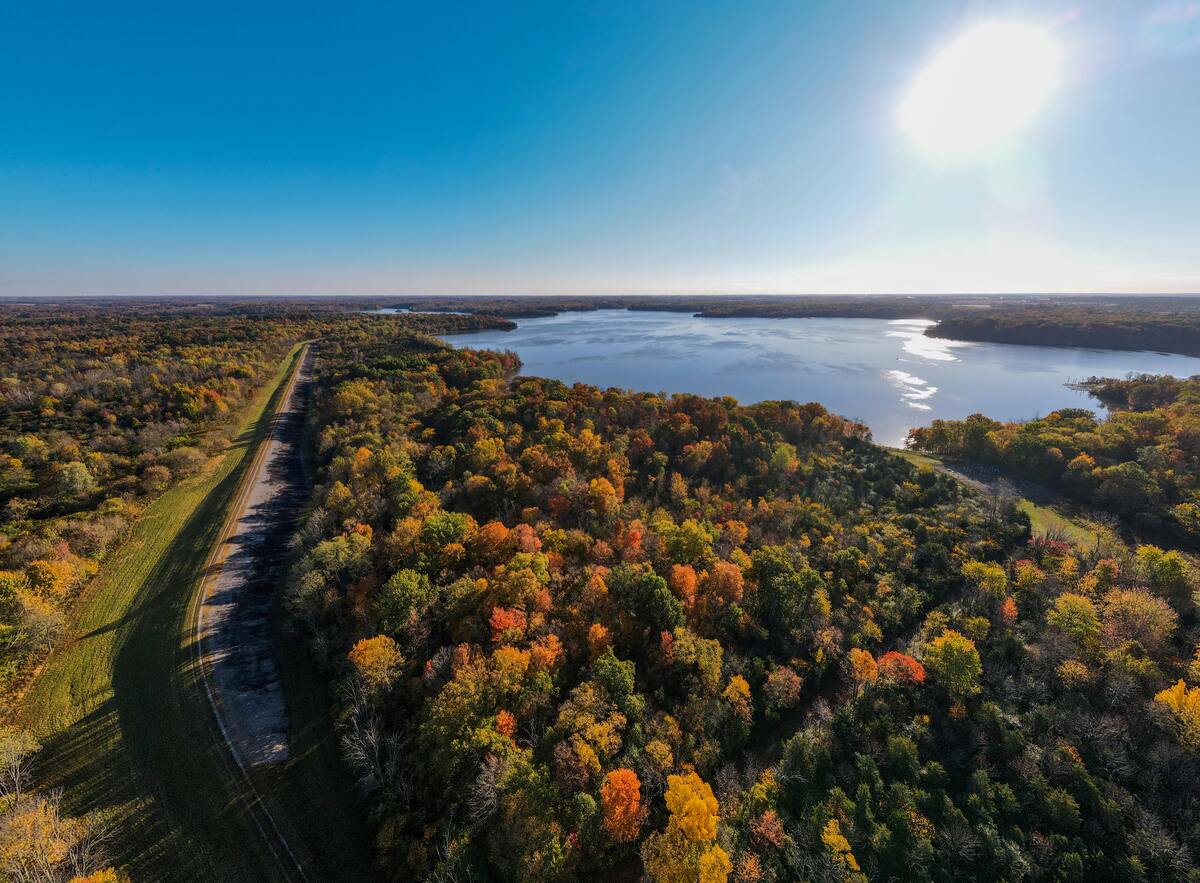 In a Hurry? Here's Where to Stay in Ohio for One Night
FIRST TIME IN OHIO
The Roundabout Cabin
If you're in search of a one-of-a-kind vacation in Ohio, then look no further than the Roundabout Cabin. The singular round design, artistic stonework, and huge wrap around windows make it stand out amongst other top cabins.
Places to visit:
Gladys Riley Golden Star Lily Preserve
Shawnee State Park
Boneyfiddle Commercial District
Is this amazing Ohio Cabin booked for your dates? I've got your back with my other favorite properties below!

Unlock Our GREATEST Travel Secrets!
Sign up for our newsletter and get the best travel tips delivered right to your inbox.
Staying in a Cabin in Ohio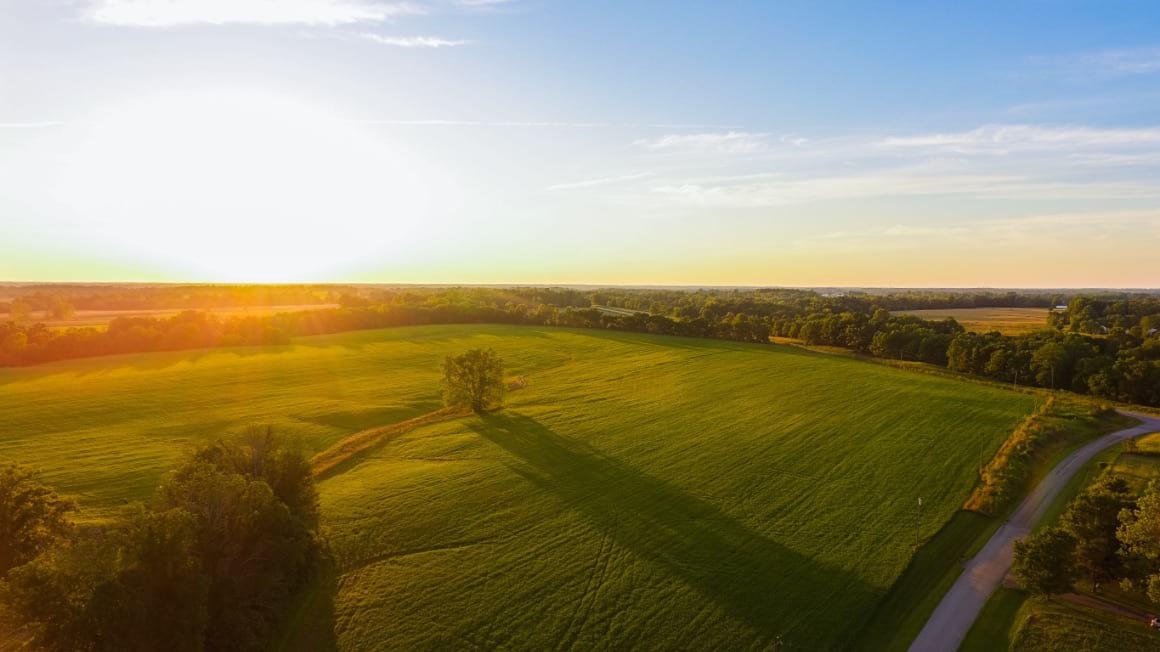 Cabins fit right in with the scenery of rolling hills and forests which make up much of Ohio. Many of the best cabins and spots to stay in are located in Amish country. If you hope to visit some local farms, antique shops, and wineries, you'll be in the right place.
Outdoor enthusiasts will be happy to hear that many cabins in Ohio are close to parks and hiking trails. Even if you're not a hiker, the cabins are a peaceful retreat where you can relax and reconnect with nature.
Cabins come in all different shapes and sizes. Whether you're traveling solo or with a couple of energetic kids, you'll find plenty of options to choose from!
I highly recommend having a car to hand when visiting Ohio, in fact, I recommend taking an Ohio road trip! Most cabins are located outside of city limits where there is little or no access to public transportation. Cabins will usually have plenty of parking space on-site where you can safely keep your vehicle throughout your stay.
What to Look for in a Cabin in Ohio
There's lots of variation in terms of price and amenities when it comes to cabins. You'll want to keep an eye out for these when picking a place to stay.
Depending on how much of a retreat you want, you can find cabins that are totally unplugged with no electricity or running water. On the other end of the spectrum, you'll also find luxury cabins in Ohio. These will feel more like a private resort – you'll even find loads of cabins with hot tubs!
You can always count on having a secluded getaway and a private atmosphere at a cabin. If there's a particular park or town you're hoping to visit, it's a good idea to check out what cabins are available in the nearby area.
If you're having a hard time narrowing down your options when looking at cabins in Ohio, you can use search engines like Airbnb to select properties that meet your specifications. This way you can filter your search results to fit your needs; like whether a cabin has Wi-Fi, is child-friendly, or has air conditioning for hot summer months.
Overall Best Cabin in Ohio
Overall Best Cabin in Ohio
The Roundabout Cabin
> $$
> 2 Guests
> Full-wall windows
> Patio and fire pit
Best Budget Cabin in Ohio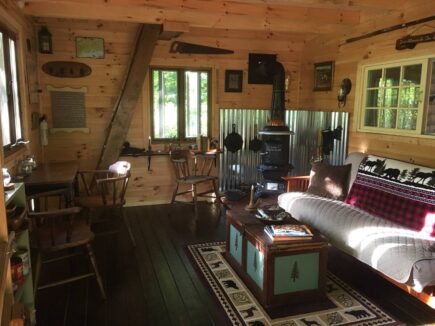 Best Budget Cabin in Ohio
Arrowhead Ridge Off-Grid Cabin
> $
> 2 Guests
> 4×4 camping jeep provided
> Off-grid "camping" experience
Best Cabin for Couples
Best Cabin for Couples
Cozy Retreat Studio Cabin
> $$
> 2 Guests
> Hot tub
> 40-private acres
Best Cabin for a Group of Friends
Best Cabin for a Group of Friends
Sweet Peace Cabin
> $$
> 6 Guests
> Hot tub
> Close to Athens
Over-the-Top Luxury Cabin
Over-the-Top Luxury Cabin
The Ledge at Lost Cavern
> $$$$
> 6 Guests
> Huge panoramic windows
> Hot tub
Best Cabin for Families Visiting Ohio
Best Cabin for Families Visiting Ohio
Deer Run in Hocking Hills Area
> $$
> 4 Guests
> Hot tub
> 55-acres (with a fishing pond!)
Best Cabin for Backpackers
Best Cabin for Backpackers
The Triangle: A-Frame Cabin Retreat
> $
> 1-4 Guests
> Yoga mats provided
> Blackberries and raspberries
The Top 15 Cabins in Ohio
Ready to dive into my top picks for awesome Ohio cabins? Each of these properties combines the beautiful natural scenery of the Buckeye State, along with rustic charm for the ultimate Ohio getaway.
Full-wall windows
Patio and fire pit
If you're in search of a one-of-a-kind vacation in Ohio, then look no further than the Roundabout Cabin. The singular round design, artistic stonework, and huge wrap around windows make it stand out amongst other top cabins.
The top attractions of Portsmouth, including the Southern Ohio Museum and the Floodwall Mural, are just a short drive away. There are also plenty of trails and paths for you to walk and enjoy the natural scenery nearby. Spend evenings relaxing by the fire pit, stargazing, and listening to the peaceful sounds of the bordering creek.
This is one of the most unique cabins you'll find, thanks to its slanting rooftop, detailed design, and hidden location. Enjoy beautiful views from the huge wrap-around windows, stay comfortable with modern amenities, and get close to nature out by the campfire.
4×4 camping jeep provided
Off-grid "camping" experience
When you're looking for an extra level seclusion getaway, this budget-friendly cabin hits the spot. The is one of the most secluded cabins in Ohio; it's only accessible by a 4×4 jeep (which is provided), so you can really escape into nature.
Basic camping necessities like propane and cooking pots are provided to make your off-grid experience a bit easier. The cabin is a great base for hiking adventures, but it's also the perfect spot to relax. Kick back, read your favorite book, play cards, and soak up the peace and quiet.
Do note that this is super rural, so while it's great for budget travelers, it's probably not the best for backpackers in the USA.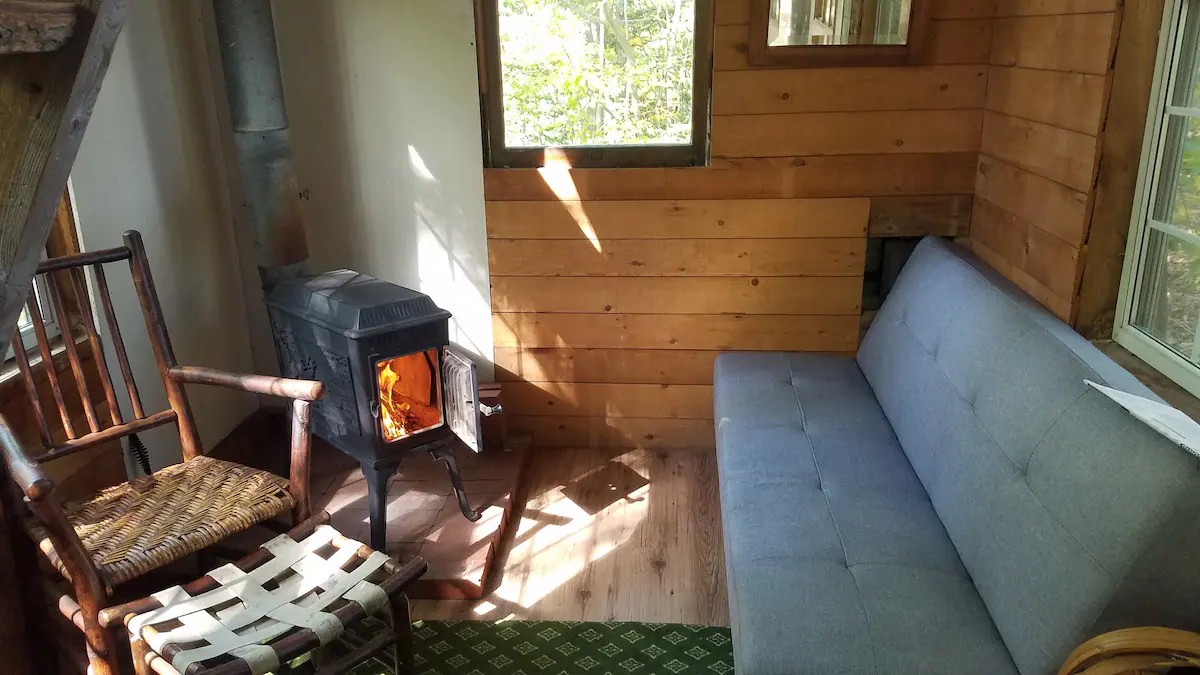 Indoor fireplace
Overlooks Grand River
This rustic cabin on the Grand River is an idyllic spot where you can truly unplug from the daily grind. Designed for budget travellers who aren't afraid of roughing it, there's no running water or electricity (although it is generator-ready).
With miles of trails practically right out the front door, you'll have plenty of places to explore during your stay. The cabin has a grill and fire ring for cookouts in the evening where you can unwind and feast. The Harpersfield Metropark is just a two-minute drive away, which is popular for fishing, kayaking, and canoeing.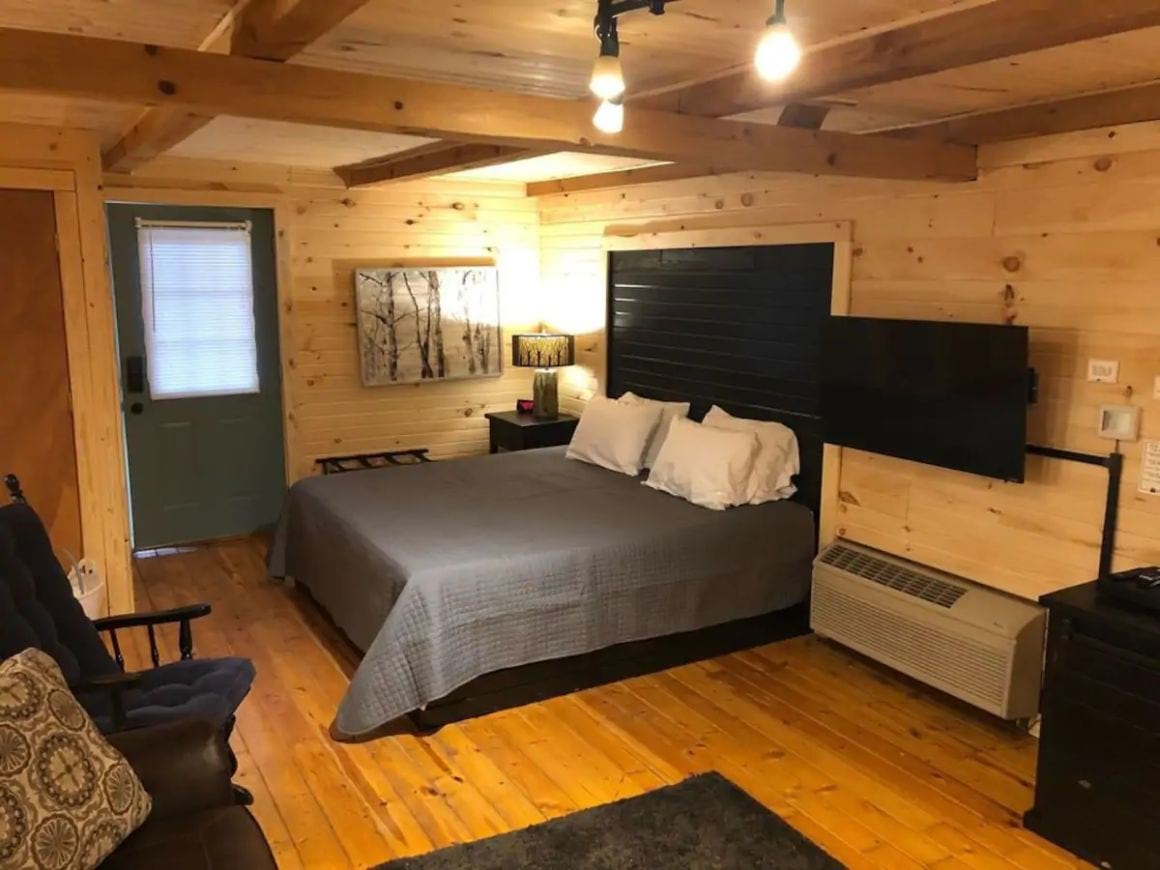 This cozy cabin perfectly combines modern comforts and rustic woodland charm. The 40 privately-owned acres give you plenty of privacy, and there are some peaceful nature hikes winding through the woods and Lake Logan around the area.
The attractions and shops of Logan are a short drive away, but I won't blame you if you spend all your time at the cabin. Relax in the hot tub on the covered deck, have dinner around the campfire, or curl up and watch your favorite movie by the wood burning fireplace.
An Eco-Friendly Traveller NEEDS an Eco-Friendly Backpack!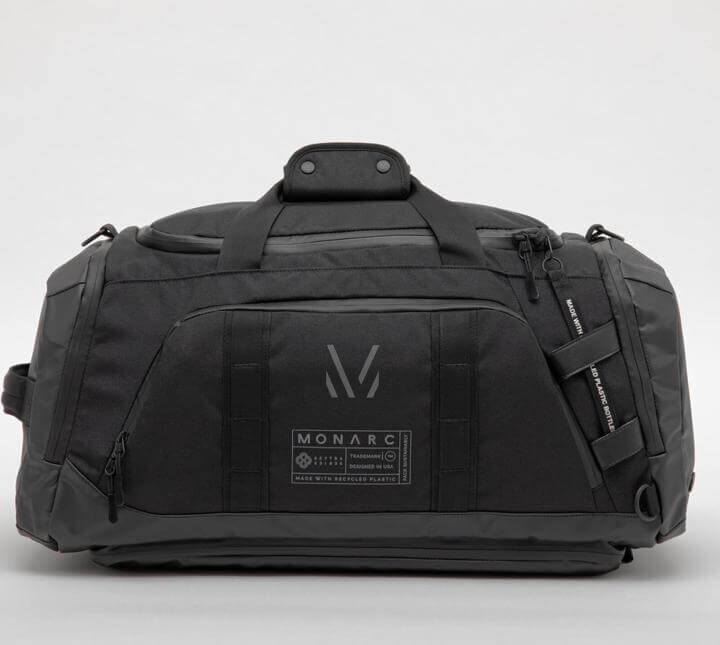 50 recycled plastic bottles – that's what goes into every Monarc Settra: the world's MOST SUSTAINABLE backpack.
Whether you're rocking duffel mode or backpack mode, if you're a traveller that gives a flying hoot about their environmental impact, then there's only one backpack you should consider – the plastic-negative Monarc Settra.
Learn More Now!
Best Cabin for a Group of Friends – Sweet Peace Cabin
Ideally situated just a short drive from the college town of Athens, this wooden property is great for groups and family vacations. Not only are the basic home comforts provided, but this cabin even has a hot tub overlooking the large property!
This place is a great home base to explore nearby wineries, take scenic walks on the Ohio River, or discover the streets of Athens. For days when you just want to relax, there's a hammock and outdoor shaded patio. And, let's not forget the campfire for evenings of telling stories and roasting marshmallows.
Huge panoramic windows
Hot tub
Combining modern industrial design with rustic log cabin furnishings, this is one of the most luxurious cabin rentals you'll find! It's got a stunning location on 24 private acres, and plenty of luxury amenities. These include a large hot tub, indoor fireplace, and a TV and board games for rainy days.
Staying here, you can discover the state parks around the cabin or travel slightly further to explore the Hocking Hills State Park and Hoching Hills area hiking trails.
When you're in need of a break, the cabin is the best place to relax. It has all the creature comforts of home, like a fully-equipped kitchen, a BBQ grill, and a fire pit with outdoor seating where you can sit under the stars.
Hot tub
55-acres (with a fishing pond!)
Planning family vacations can be a challenge when you don't want to be stuck in a cramped hotel room. Thankfully, there's this awesome cabin in the Hocking Hills region near Hocking River! It provides homey amenities, as well as a stunning 55-acres with a fishing pond, a BBQ grill, and a hot tub.
The cabin's rustic charm is combined with modern touches, like a satellite TV and a DVD player that will help to keep kids entertained on rainy days. Attractions and sites around Lake Logan are only a short drive away, or perhaps you just want to spend all your time soaking up the peaceful energy at the cabin.
Kayaks provided
Picnic area
Providing so much more than a base to enjoy on your family vacation, Cedar Chapel Cabin also has a lake with 2 kayaks and a canoe provided! There's also a picnic area with a BBQ grill, and a huge yard where kids can run around and play.
Fill your days with fishing adventures, check out nearby hiking trails near Cedar Falls, or explore the shops in the Amish towns nearby. The cabin is fitted with a big kitchen so you can easily cook homemade meals. Then, spend evenings playing board games with your loved ones.
Yoga mats provided
Blackberries and raspberries
This cozy A-frame cabin is located in the village of West Farmington in the heart of Amish country. It's one of Ohio's best cabins if you're backpacking the USA on a budget and looking for a local experience and retreat in nature.
The cabin is a quaint and cozy spot for a solo traveler but can fit up to four people. Days can be spent biking on the Western Reserve Greenway or antique shopping in town. Back at the cabin, you can pick wild berries growing right outside the front door and relax around the campfire.
Best Cabin for a Weekend in Ohio – Creekside Cabin
Hot tub
Grill and fire pit
If you need a weekend to get away from it all, this charming creekside B&B cabin in Ohio is a perfect choice. Just six miles from Winesburg, you'll be in the heart of Amish country and close to antique shops, hiking trails, and wineries.
There's a well-equipped kitchen for when you'd rather stay in and make your own meals – the ingredients for a continental-style breakfast are kindly provided! The hot tub on the deck is a calm spot to relax and enjoy the peace and quiet of nature after a day of exploring.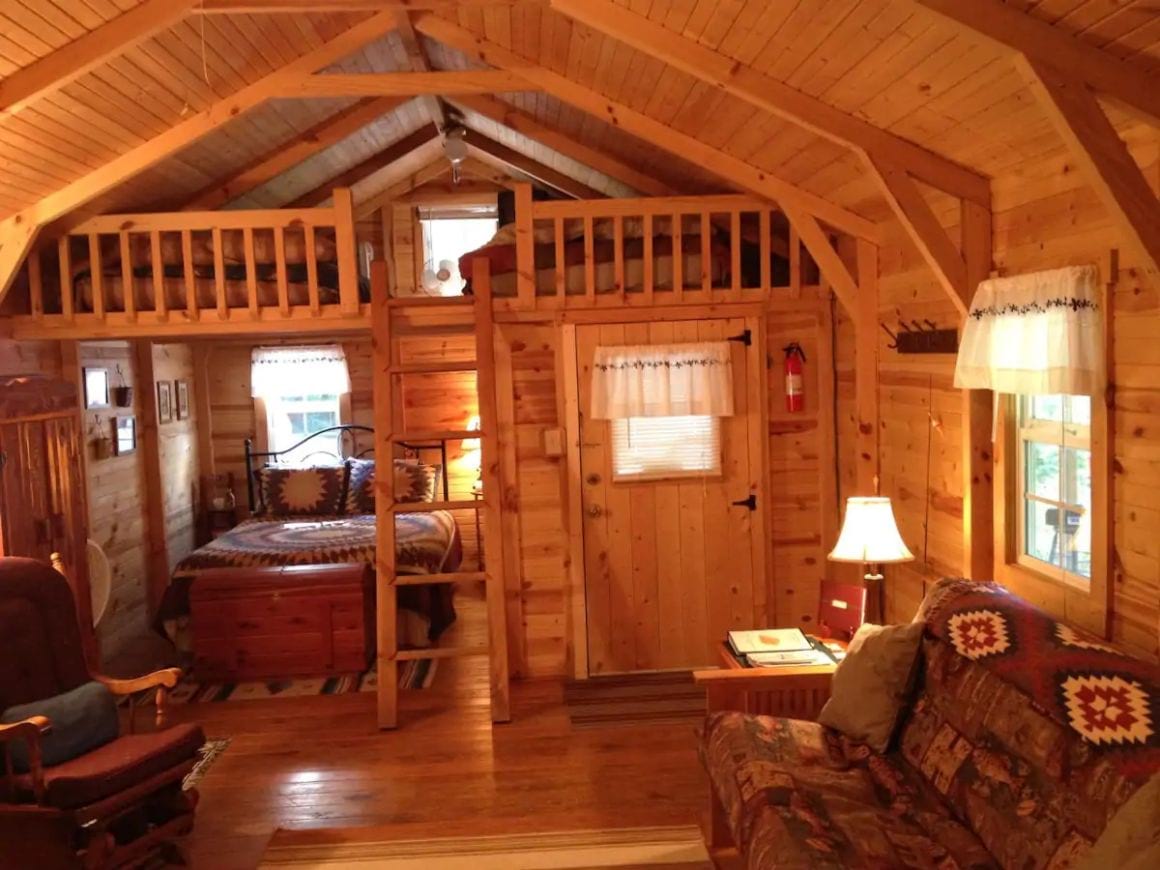 Private dock
Books and games
The rustic decorations and picture-perfect location by Eagle Creek make this one of Ohio's most quintessential vacation cabins. You'll be close to hiking and biking paths, and the water by the dock is deep enough for kayaking, canoeing, or pontoon boating.
When you're in the mood to explore, the nearby towns have great antique shopping opportunities, and several wineries are just a short drive away. On lazy days you can stay entertained with the books, games and satellite TV at the cabin.
Huge windows
Screened porch
Luxurious and jaw-droppingly beautiful, this stunning cabin in Ohio practically guarantees you an incredible vacation experience. Situated on 38 private acres in the heart of Amish Country, it's the perfect escape if you need a break from city life.
The huge windows covering all levels of the house and double-deck ensure that you'll always be able to enjoy the view of the treetops. If you want to head out to explore, charming local restaurants and antique shops are just a short drive away.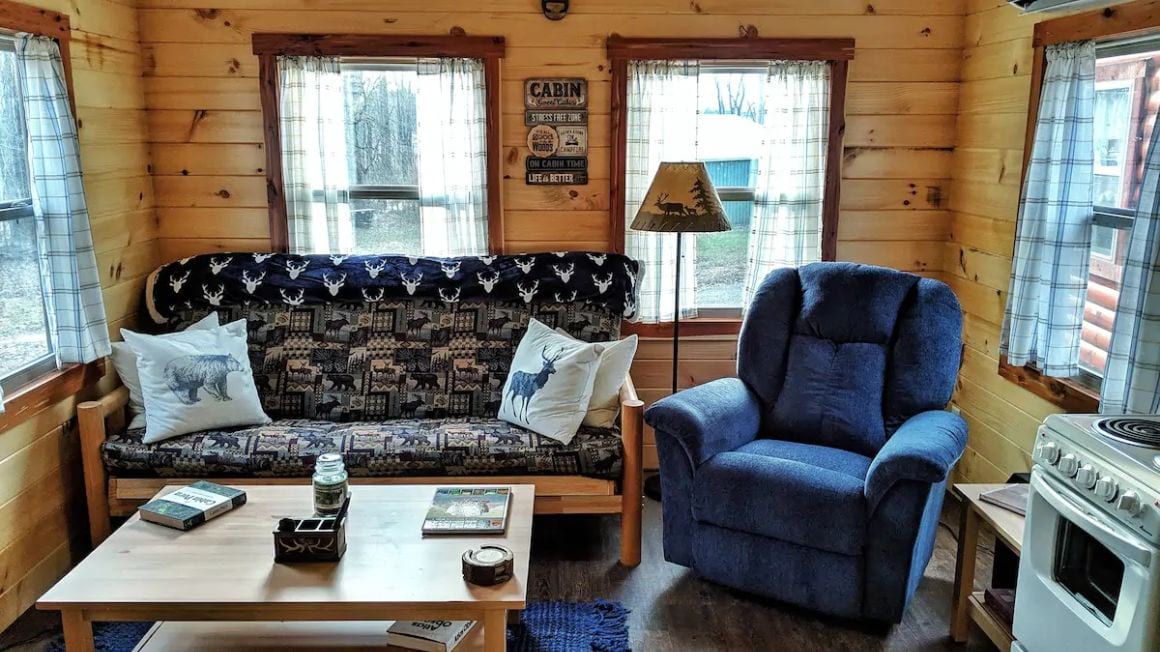 Access to trails
Fire pits
If you're looking for the best cabin in Ohio for a solo retreat, then Maple View is the perfect pick. Cozy, well-furnished, and totally private, you can enjoy the rustic charm and natural surroundings. You'll also get creature comforts like Wi-Fi, a TV, and modern kitchen appliances.
There are miles of trails to be explored starting right at the cabin, and you can find restaurants and shops just a 10-minute drive away. Spend your afternoons sprawled out in the hammock with your favorite book, and warm up by the campfire once the sun goes down.
Two-person jet tub
22 feet in the air
Looking for amazing honeymoon accommodation? This cabin gives you endless views of the forests, while also providing all the modern comforts you could wish for.
The rustic furniture, beautiful hardwood design, and luxury king-sized bed ensure that you can relax in style. Nearby there are local Amish towns and hiking trails to explore, and there's a pavilion by the pond where you can hang out to enjoy the natural scenery.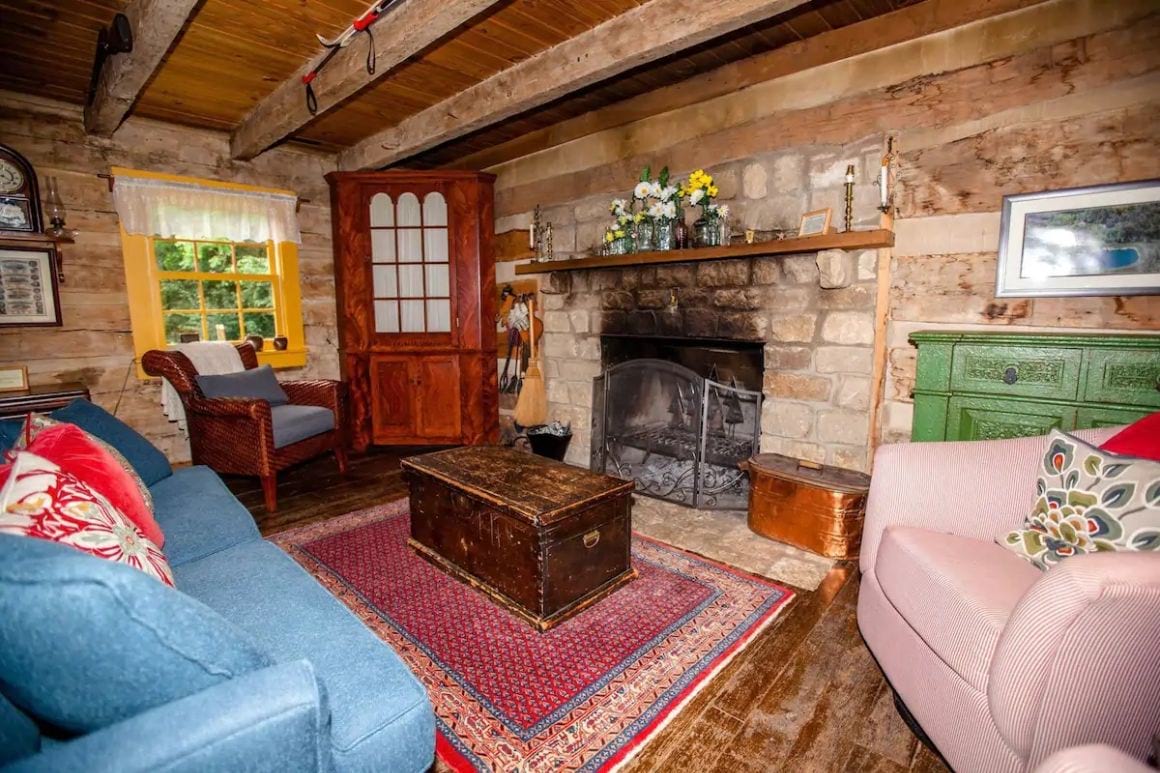 On a working farm
Hot tub
This little log cabin perfectly embodies everything an Ohio cabin should be. Plus, it's located on a working farm, so you'll have the chance to experience some of Ohio's rural farm country.
On-site there's a pond where you can go boating, a hot tub to relax in at the end of the day, and a fire pit for evenings roasting marshmallows. Nearby there are lots of hiking trails, as well as the Erie bike trail that you can explore with the two bikes provided at the cabin.
FAQs About Cabin Rentals in Ohio
Here's what people usually ask me about unique vacation rentals such as cabins in Ohio…
Don't Forget Your Ohio Travel Insurance
ALWAYS sort out your backpacker insurance before your trip. There's plenty to choose from in that department, but a good place to start is Safety Wing.
They offer month-to-month payments, no lock-in contracts, and require absolutely no itineraries: that's the exact kind of insurance long-term travellers and digital nomads need.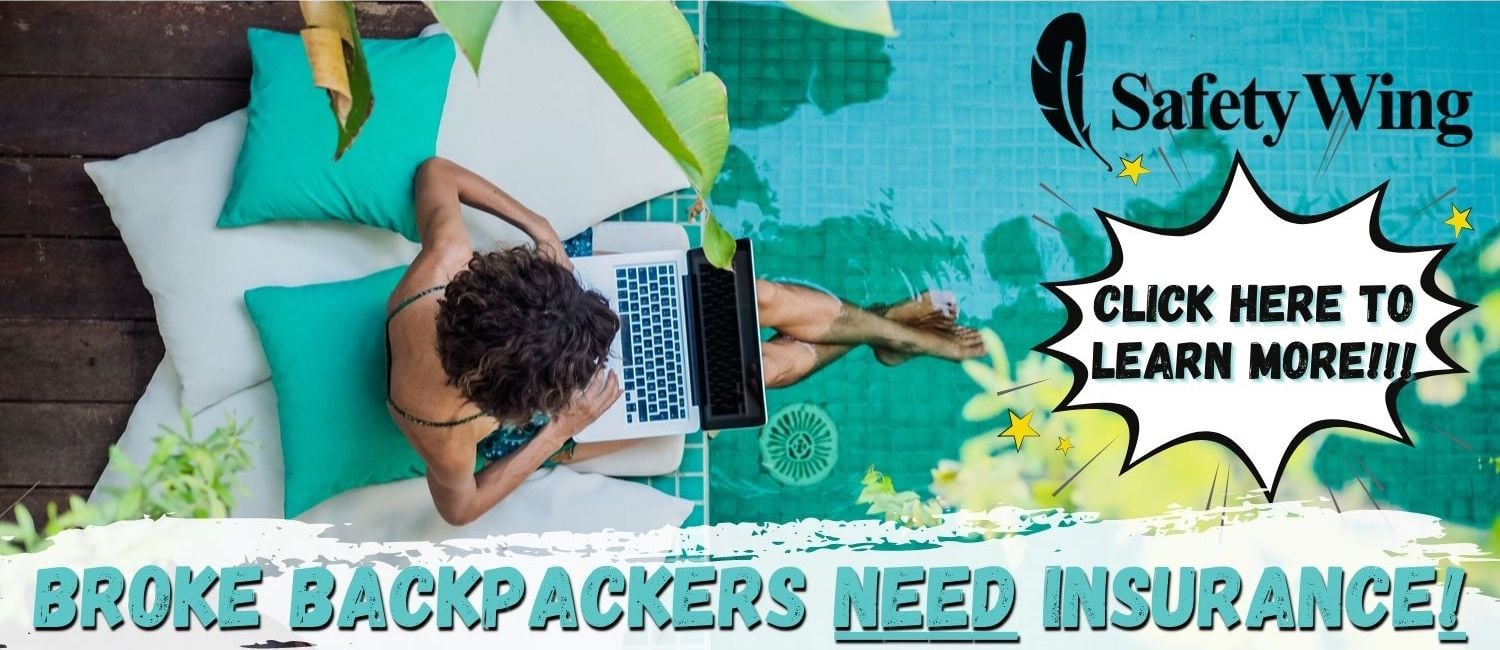 SafetyWing is cheap, easy, and admin-free: just sign up lickety-split so you can get back to it!
Click the button below to learn more about SafetyWing's setup or read our insider review for the full tasty scoop.
Final Thoughts on the Best Cabins in Ohio
With Ohio as your next destination, I am sure your delight knows no bounds. If there's anything that can increase your excitement tenfold, it is finding amazingly unique cabin rental in Ohio, and I hope my list makes your work easier for you.
Ohio is, without a doubt, one of the most beautiful states in the USA, and there's only one way you can enjoy the serene and awe-inspiring nature of this place, by staying close to it.
Fortunately, there are plenty of secluded log cabins in the woods, on the mountains, and right beside the incredibly beautiful and wild creeks and lakes. Whether you are a backpacker or a family planning a vacation, this list has charming and rustic cabin getaways for everyone.
---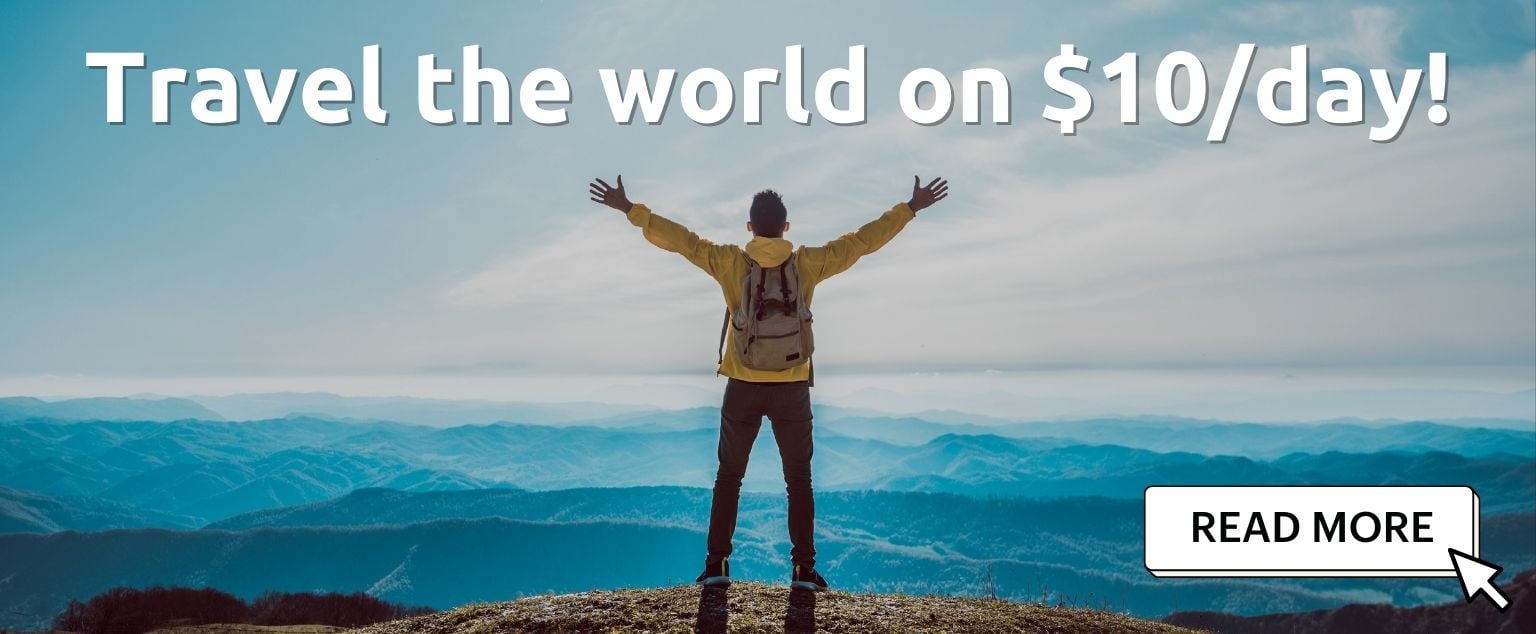 And for transparency's sake, please know that some of the links in our content are affiliate links. That means that if you book your accommodation, buy your gear, or sort your insurance through our link, we earn a small commission (at no extra cost to you). That said, we only link to the gear we trust and never recommend services we don't believe are up to scratch. Again, thank you!