Spring is right around the corner and it's about time to start thinking about getting outdoors again. The snow will melt and you can (almost) hang the jacket back in the closet. When the weather starts to warm up and the days get longer, there are many different ways we can enjoy the outdoors such as camping, hiking or sitting in the back yard with a beer.
But today though, we're going to dive into some of the best cycling routes the USA has to offer.
We're going to check out some of the best bike cities, road cycling trails, and mountain biking tracks the US has. Even if you're not an expert-level rider, we included some trails that'll have you excited to hop on your bike and see what the sport is all about.
So, get ready to get saddled and off we go!
Why 2023 Is The Year Of The Bike
For many Americans, at least my fellow pre-2000's adults, can remember how great it was getting our first bicycle. Going outside and trying to figure out how to balance just right, many of us taking to training wheels to try and speed up the process to two-wheeled freedom. But I have good news for you, enjoying a ride around the town on your bicycle doesn't have to be a distant memory, and we have a good feeling 2023 will be the year of the bike.
Unlike when I trail run and ask myself "why the hell am I doing this" continually after mile 3, biking can feel more fun and allow you to explore more of the great American outdoors in the same amount of time. Biking can also feel like less of a workout, with everyone always looking for the next fad diet or new get-fit-quick workout routine, this is something you can do every day and watch the results slowly reveal themselves over time.
Adult obesity in the United States has reached epidemic levels, increasing by over 10 percent in the past 20 years with adult obesity prevalence reaching a high of 41.9 percent in 2020. Biking is a great way to jumpstart you taking back your health, and beyond your initial investment in a bike, the only thing biking costs you is some time out of your day. So to summarize; biking is great for your health, great for the environment, and a fun activity.. what're you waiting for?
Best Cycle Routes In The USA
Below is my list of some of the top cities to bring your bike to and get riding. I've included everything from road cycling to mountain biking trails, as well as a couple of bike-friendly cities. Most places also offer options for all skill levels of riders, so beginners and experts alike will enjoy all these places have to offer. So, here's my list of the best road cycling, mountain biking, and bike cities the USA has to offer!
1. Moab, Utah
Moab consistently ranks year after year as one of the top places in the USA to break out either the mountain or road bike and explore on two wheels. Utah is already considered one of the most beautiful states in the USA, including five national parks, so it's no surprise it tops our list when it comes to cycle routes in the USA.
While you could ride your road bike around and take in the massive red rock features, Moab is best explored via a mountain bike. Moab's 'claim to fame' if you will is probably the Slickrock Bike Trail, attracting a staggering 100,000+ riders every year. This roughly 11 mile trail has some of the best views Moab has to offer on a bike, though be warned, this is a rather technical trail considered difficult by many, so know your limits before trekking all the way out here.
For the more moderate rider, don't fret just yet, Moab has a trail for every level of rider. The Bar M Loop is a beautiful trail that still lets you get your feet, or rather tires, wet that isn't too difficult. I would recommend starting with this one, then taking on some more difficult terrain in the area if you're up for it.
2. Bentonville, Arkansas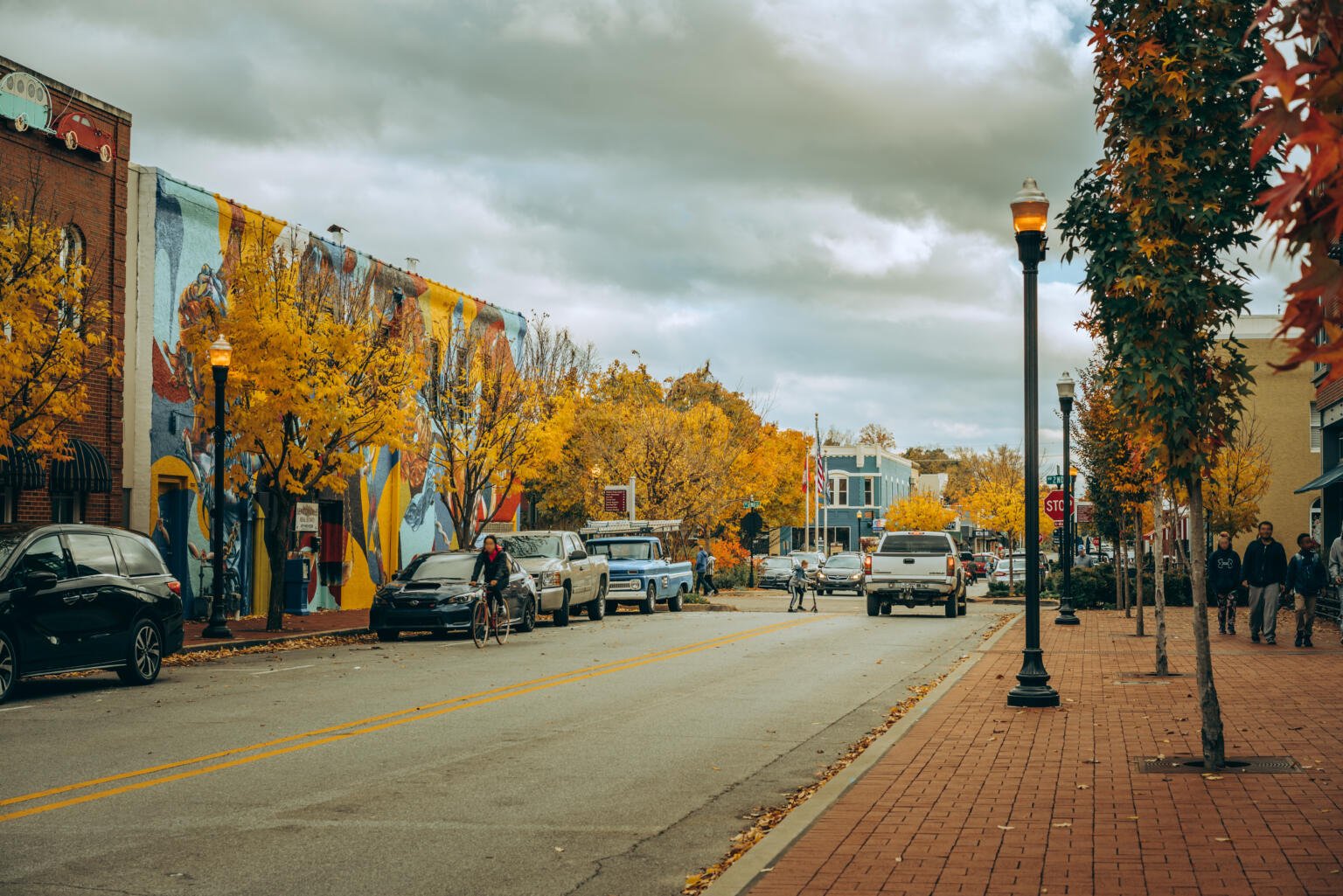 Having lived in the Northwest Arkansas area for almost six years, I can attest that this place has some of the best mountain biking in the country. Northwest Arkansas-based company Walmart has graced the region with their deep pocketbooks, investing heavily into mountain biking and paved multi-purpose trails. I am admittedly biased when it comes to loving this part of the country, but I would never lead you awry my friends.
Bentonville offers over 28 miles of mountain biking trails, with the most popular being a 23-mile day ride called Slaughter Pen & Blowing Springs Trail. Linking together the more popular trails in the area, this ride is a good sampler plate of what all the area has to offer.
If you're looking for some smoother terrain, you can head about 35 minutes south of Bentonville to the funky little town of Fayetteville. While it boasts its own system of mountain biking trails, Mt. Kessler Park is home to one of my favorite paths in the region, a 45.8-mile paved trail spanning from Fayetteville to Bella Vista. The trail zips by all the must-see stops in the area, giving you a good mix of city and rural Northwest Arkansas.
3. Big Sur, California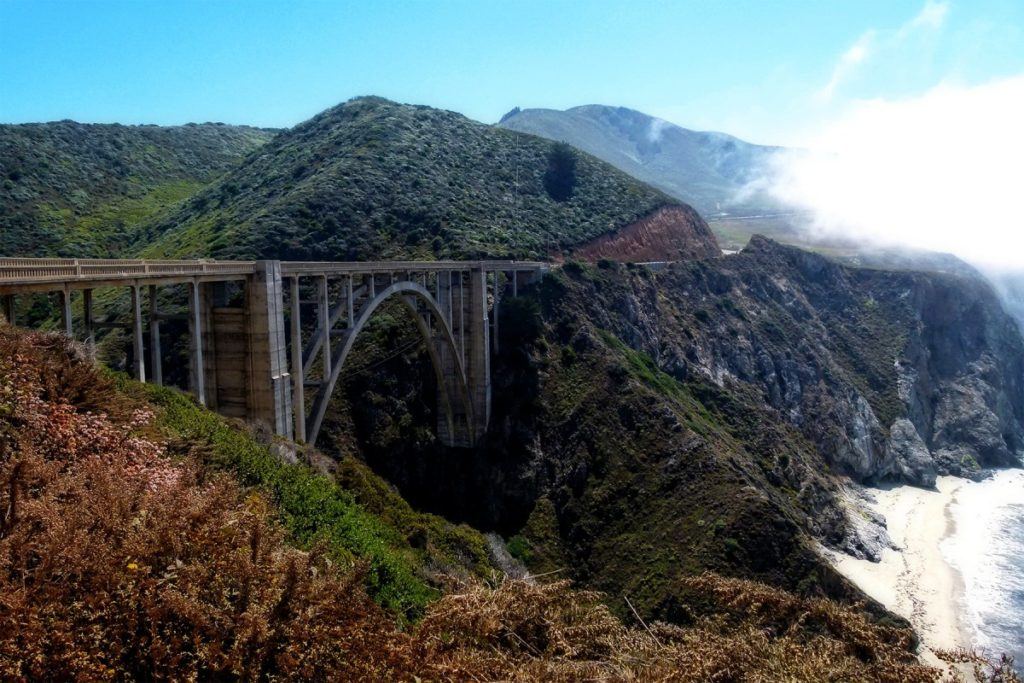 Biking Big Sur is a bucket list-worthy ride you won't want to pass up. Big Sur is made up of a 90-mile stretch of coastline from San Simeon to Carmel, giving you one of the most, if not the most scenic ride on the entire West coast.
There are also plenty of stops along the way for food and water refills, and though you could knock this entire stretch out in a day, I definitely recommend breaking this into 2-3 days (or more if you can) to fully take in the ride and scenery. There are also a few state parks and plenty of other places to stay along the way, making this a great bikepacking trip (or bikebnbing trip) if you desire.
I personally cycled down Big Sur and it was amazing, although I advise caution as RV's can be a bit dangerous to cyclists. With the tight turns and steep street grade, remember not all RV drivers have as much control and agility as you, so ride respectfully and cautiously.
4. Crater Lake, Oregon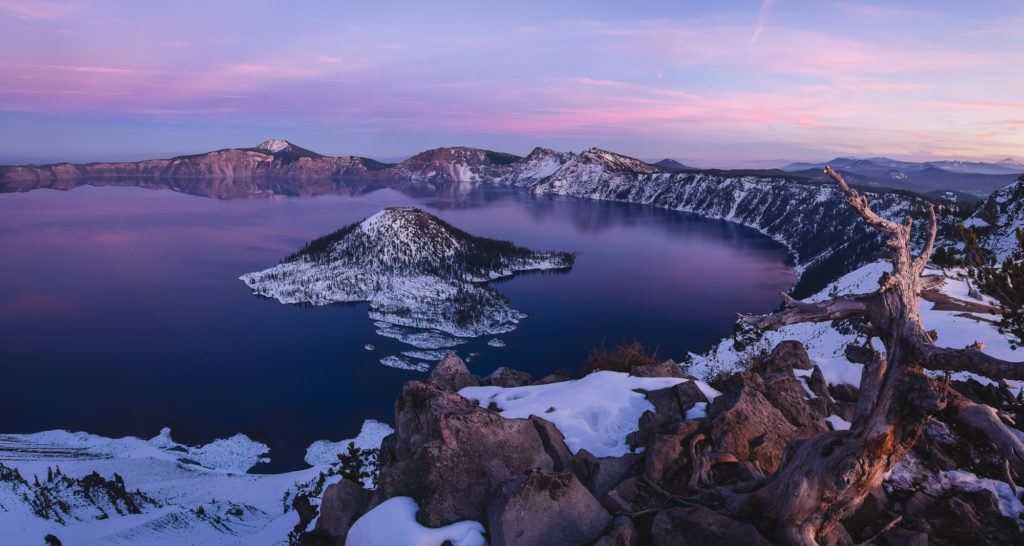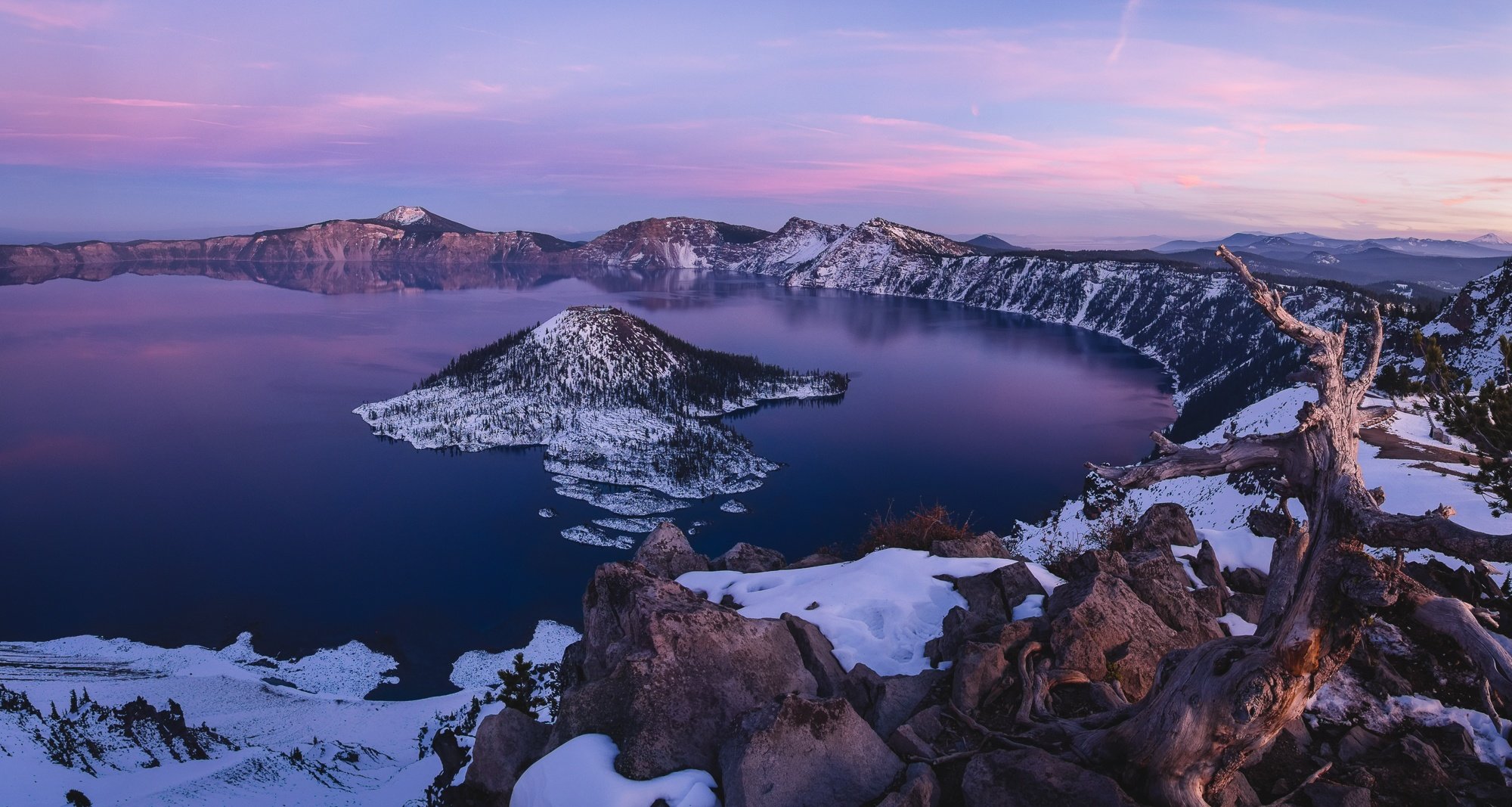 Oregon is home to some of the most diverse landscapes in the USA, with everything from oceanfront views to Mt. Hood. But one of the areas they really shine is the biking community, considered the second most bike-friendly state in the United States.
Oregon is home to just one National Park (surprising I know), Crater Lake National Park located about 2.5 hours south of Bend, OR. The park features a 33-mile Rim Drive with beautiful views of Crater Lake and the surrounding landscape. Most times throughout the year you may face some heavy traffic while biking the rim, but if you can hold off visiting until September the East Rim closes the drive to motor vehicles on the 9th and 16th. You can check out more at Ride the Rim if you find yourself in the area in the Fall!
5. Denver, Colorado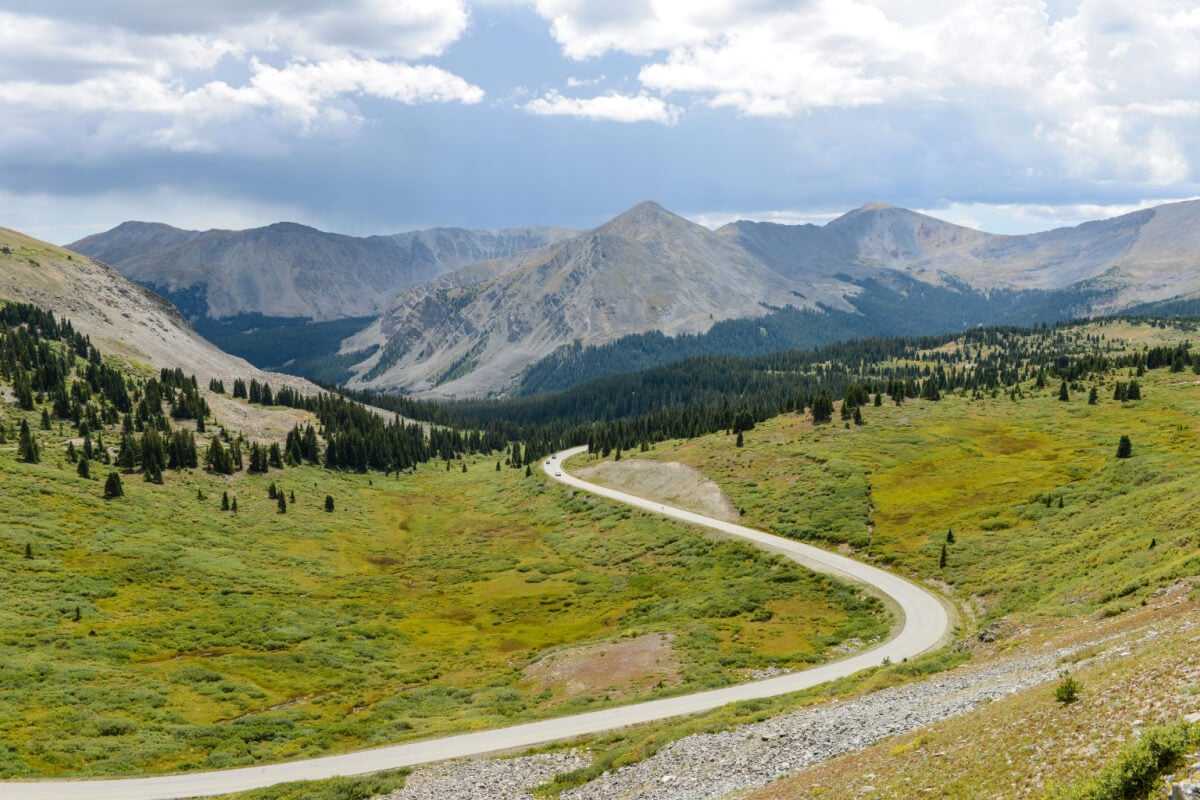 If city exploration is more your thing, or you've always fantasized about what it would be like to travel around in a true bike city, then look no further. Denver, Colorado is home to over 196 miles of on-street bike lanes with more being built every year, allowing you to zip just about anywhere around the city without fighting auto traffic.
With Denver being nestled up against the Rocky Mountains, mountain biking enthusiasts won't be short of some amazing trails less than an hour away from the city. Colorado as a whole has some of the top cities in the US for mountain biking for all skill levels, so if you had to pick one state off this list to explore, this would be my vote.
6. Yosemite National Park, California, USA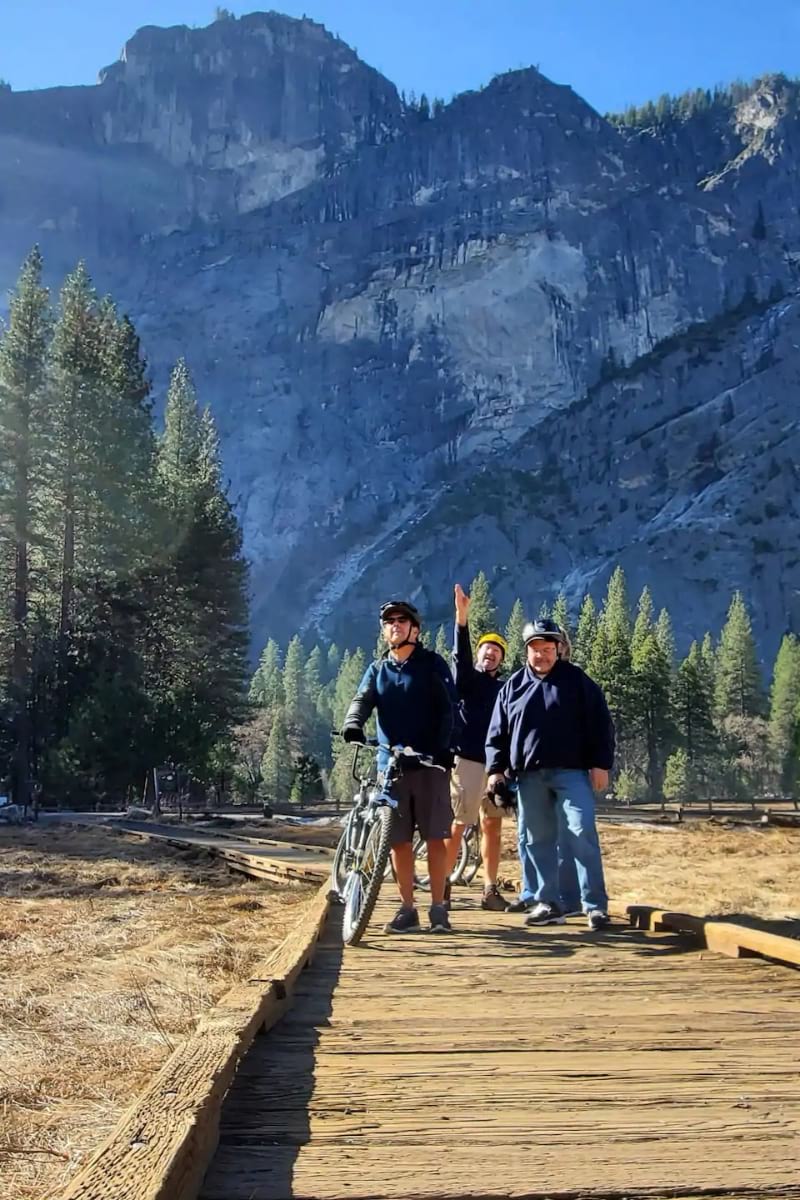 Of all the national parks I've been able to experience, Yosemite is one of the most magical. Surrounded by a forest of pine trees and sheer face granite walls, it's a place better experienced than described.
With over 12 miles of paved bike trails in Yosemite Valley, you can cruise through the scenery and see more of the park if you're time is limited. You can also ride bikes safely throughout the parks main paved roads, just keep an eye out for other cars as there is no protected bike lane. Yosemite offers bike rentals in Curry Village, Yosemite Village, and Yosemite Valley Lodge, as well as a free Bike Share Program in Yosemite Valley giving you up to 2 hours to explore the valley by bike. (Heads up, the bike share program runs from late-Spring to mid-October depending on the season that year)
There are some mountain biking trails outside the park, but within Yosemite National Park limits, off-road riding and mountain biking are prohibited, so don't say I didn't tell you so.
7. Acadia National Park, Maine, USA
Maine is one of my favorite coastal cities in the USA, offering lush forests, quaint port cities, and over 500,000 acres of state and national park land. Acadia National Park offers 45 miles of bike carriage roads and bridges built from 1913 to 1940, so you'll feel like you've been thrust back in time while riding along.
I would recommend visiting around Mid-October, with Acadia offering some of the best Fall Colors around. If you have the time to spare you should really try to spend a few days and take in all the park has to offer, with so much rich history you could spend a week here and not even scratch the surface. Acadia is also home to some really cool historic Airbnb's and rentals you should look into before booking your stay.
8. Arizona Trail, Arizona, USA
No roundup would be complete without mentioning one of the ultimate bikepacking trails the USA has to offer, the Arizona Trail. Starting at the US-Mexico Border, this trail follows over 800 miles of deserts and forest and takes about 21 days to complete. With a total ascent of almost 65,000 feet, this multi-day trail is not for the faint of heart. You'll pass through Tucson, Phoenix, Flagstaff, and the Grand Canyon along the way, letting you experience the best of Arizona with views few could experience on anything but a bike!
For those up to the adventure, the best time to take this on is around Spring before the sun puts the entire area under a heat lamp and makes the ride pretty brutal (not to mention dangerous). So grab your mountain bike and check off this bucket-list-worthy trip.
9. Duluth, Minnesota
Heading up to the most Northern spot on this list, Duluth, Minnesota has been making a name for itself when it comes to biking. Minnesota was named the 5th most Bicycle Friendly State in the country by The League of American Bicyclists for 2022, which comes as no surprise considering Dultuh alone is home to over 100 miles of mountain biking trails.
For road biking, I would recommend checking out the Gitchi-Gami State Trail, providing roughly 33 miles of paved trail at the moment, though the state plans on continuing the trail to stretch 86 miles. With sweeping views of the North Shore of Lake Superior, Duluth made sure not to let the mountain bikers have all the fun.
Duluth is also home to one of Minnesota's top mountain biking events, the Bike Duluth Festival (Taking place July 7-9th 2023) featuring events for all skill levels to enjoy, as well as activities for non-riders and kids. Duluth maintains pretty moderate temperatures over the summer too, making this one of the top places to escape to on those hot summer months for some fair weather biking.
10: Haleakala National Park in Hawaii, USA
Haleakala National Park is the only place I've included that's not in the lower 48 states, but the list would truly be incomplete without it. This Hawaiin National Park is home to some of the most breathtaking, and challenging, routes the USA has to offer. With everything from relaxing rides down the coastline to the most intense elevation climbs in the world, the islands offer something for all types of riders.
Starting with road biking, you can bike through the District of Ka'u for 73 miles, experiencing some of the best scenery the islands have to offer. This ride does have over 5,600 feet in elevation gain, so be sure you're in decent shape before attempting to tackle this.
For all my mountain bikers out there, you'll want to hop an island over to Oahu, the top spot for the sport of all the islands. Some of the most epic trails can be found in Pupukea-Paumalu Forest Reserve, offering singletracks for all types of skill levels and riders. If I had to suggest one singletrack, you can't go wrong with Kammieland Trail, a moderately technical track with amazing views of the ocean and forest.
What Gear Do You Need?
The type of gear you need will greatly depend on the type of rider you are. For someone wanting to bike-pack around, you'll obviously need some extra gear to spend the night comfortably, whereas for a quick afternoon ride you may able to slip by with just some water and a granola bar. Alas, here's a quick list of gear that will get you outside enjoying this beautiful weather in no time.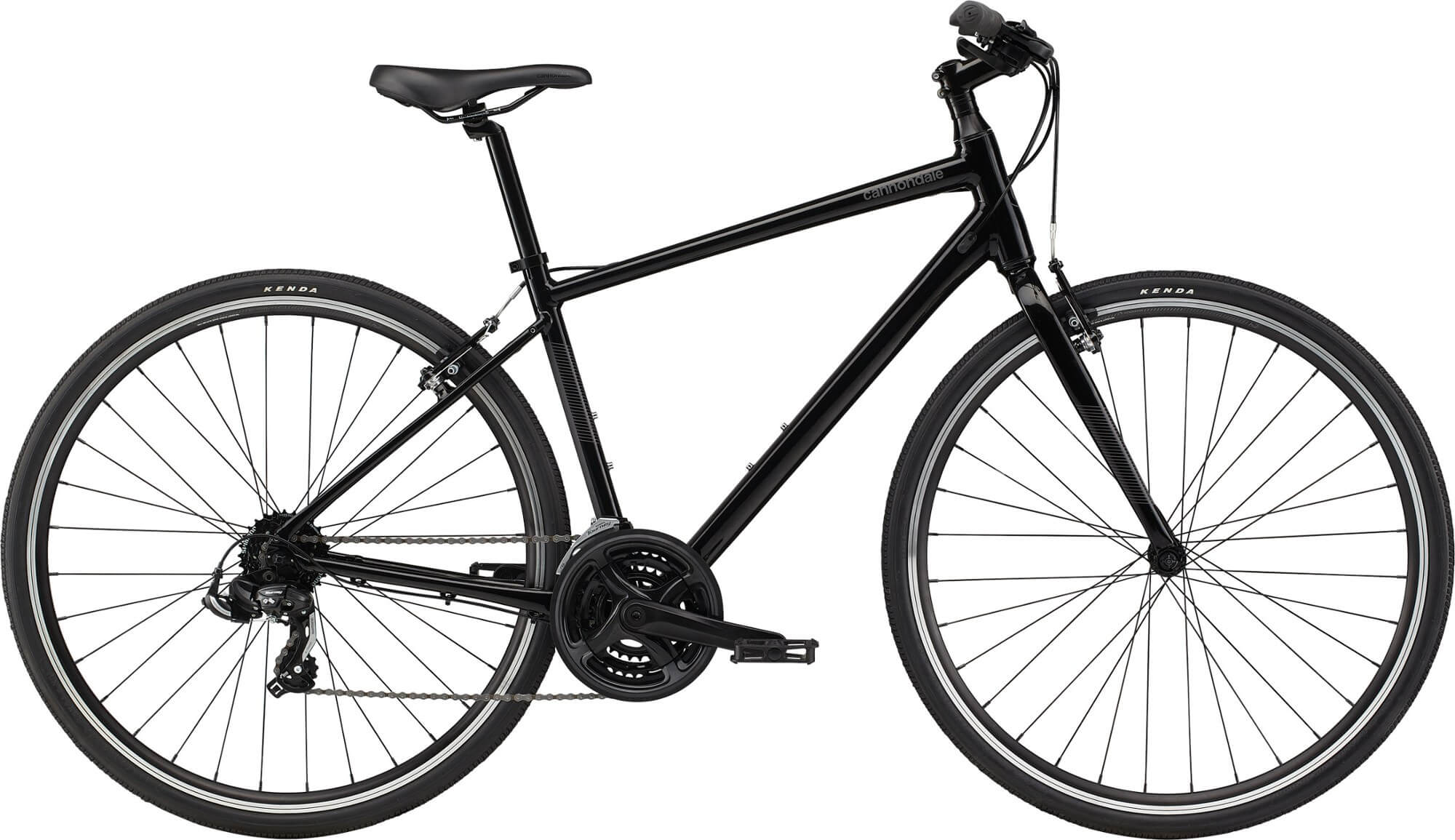 Cannondale has earned a reputation as one of the most trusted and dependable bike brands on the market. The Quick 6 Bike is no exception, boasting a lightweight aluminum frame and 7-speed drivetrain, this bike is a great option for a recreational bike to help you zip around town. This bike is ideal for city rides and short multi-day road trips, though we wouldn't recommend it for mountain biking due to its lack of front and rear suspension.
If you purchase the bike through REI, you'll also receive their Coast-to-Coast Support, including 1 year of free adjustments, in-store assembly, free flat tire repair and more.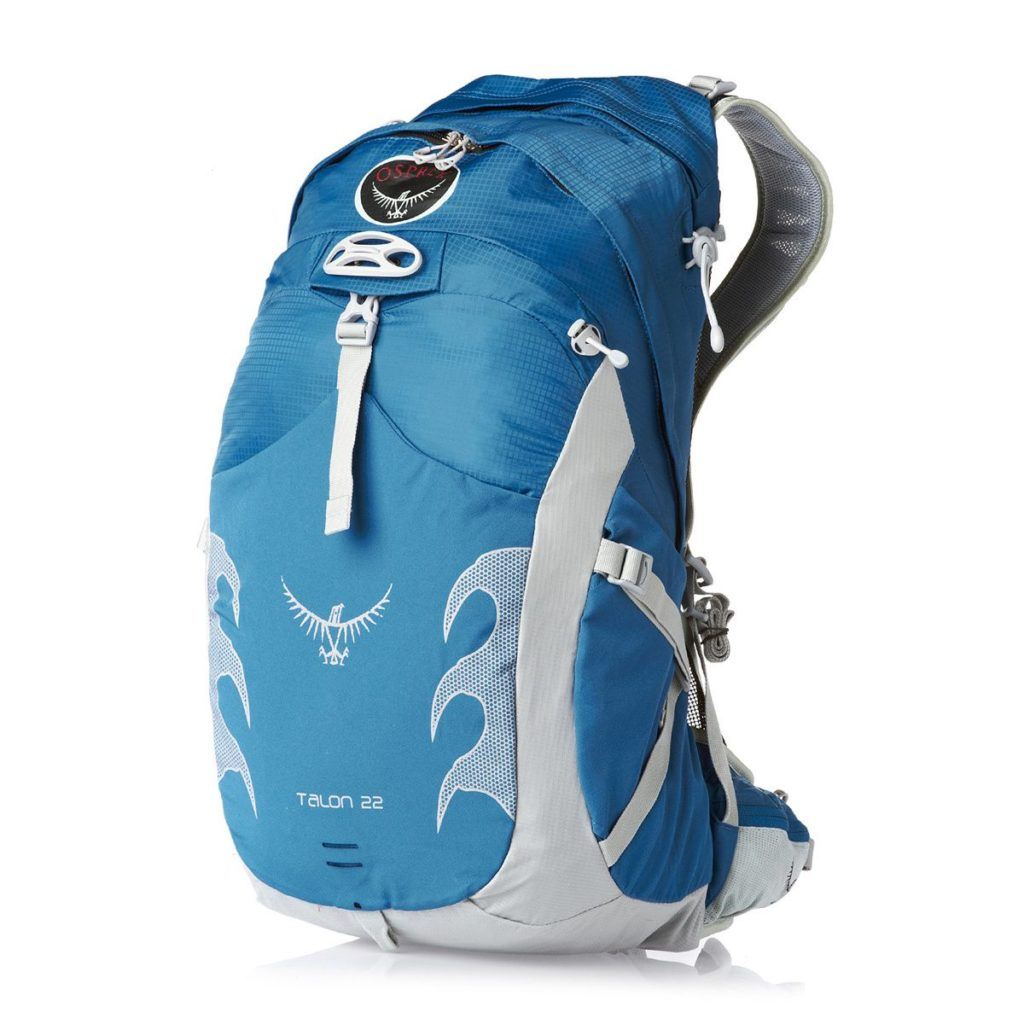 I'd be lying if I said Osprey isn't one of my go-to brands for anything backpacks, and the Osprey Talon 22 is the perfect compliment to your day-pack needs. I won't get into how amazing their All Mighty Guarantee is, though just saying that out loud I got a warm and fuzzy feeling inside.
The Talon 22 pack is the perfect size to bring along on your next bike ride, finding a nice balance between weight and packability, you'll be able to bring along everything you need for a day ride without feeling the weight shifting around at every turn. This pack also features an external hydration bladder sleeve so you won't have to pull off and unscrew your bottle every couple of miles.
Specifically for biking, the pack includes a LidLock bike helmet attachment to store your helmet, as well as a blinker light attachment to give you a little extra safety and visibility when biking later in the evening. The $160 price tag may seem steep, but this bag will likely last you the rest of your little adventuring life, so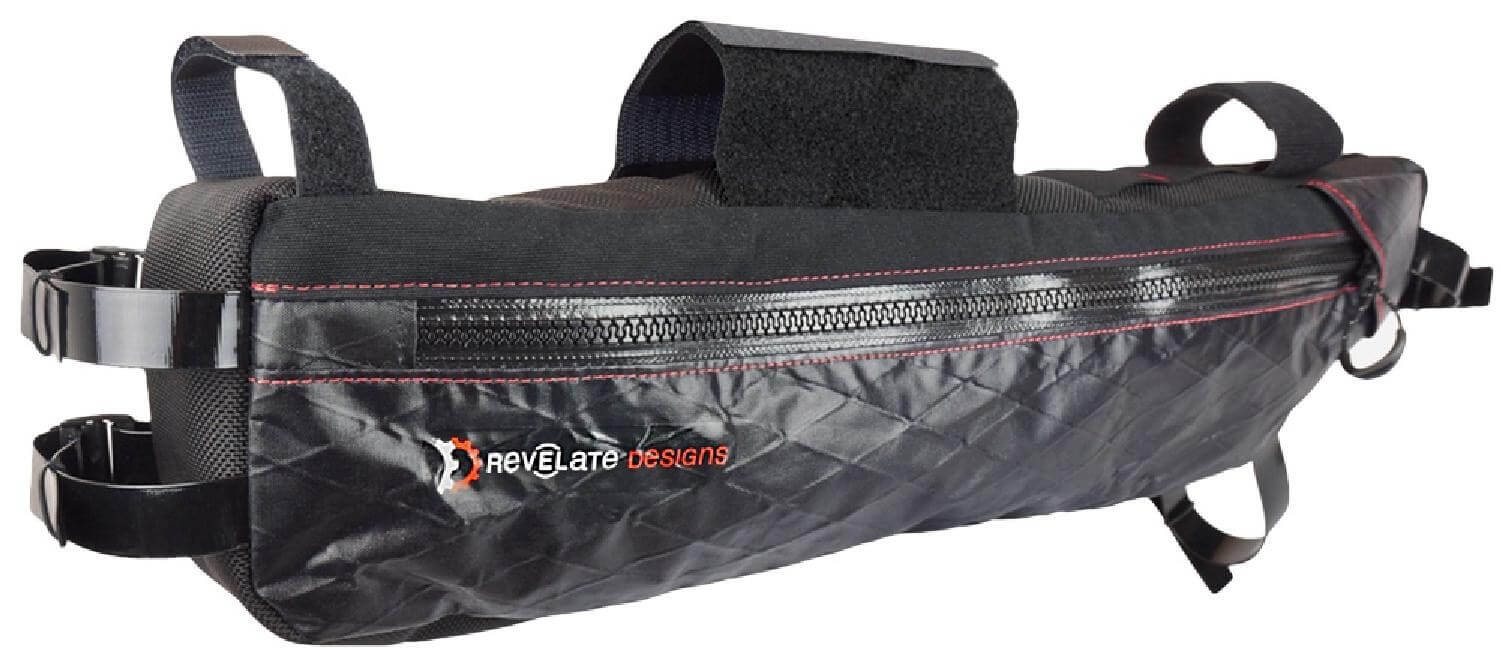 When you're attempting to throw everything you need for an extended ride or multi-day bikepacking ride onto two wheels, you'll find you run out of places to stuff shit pretty quick. Revelate Designs crafts durable, waterproof frame bags that will keep your belongings dry inside, especially when the trail you're buzzing down has less-than-ideal conditions.
They also offer different sizes and capacities to fit whatever bike frame or needs you may have. Personally, I toss one of these bad boys on to keep my tools in, keeping the extra weight off my back and somewhere handy when needed.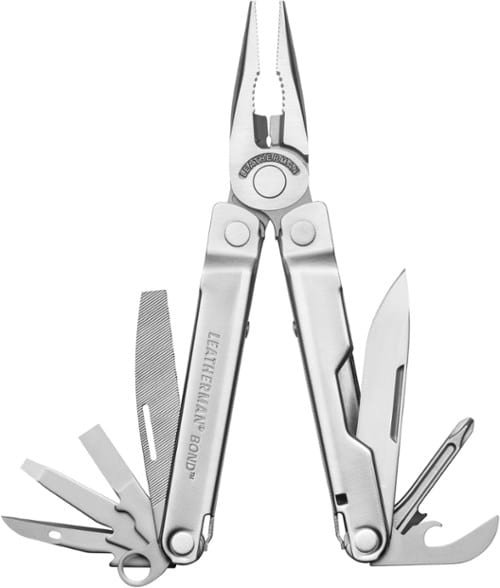 It's a good rule of thumb when biking anywhere under any conditions to bring along a small repair kit in case the need arises. The Leatherman packs all those things you would need into one compact, durable multi-tool.
As someone who's personally smacked a rock with their rear derailleur, it was a life (or rather, a long walk) saver, allowing me to use the pliers and bend it back to allow me to make it the rest of the way home. So it's safe to say this thing has earned itself a permanent spot in my pack no matter the occasion.
What's the first rule of Bikepacking Club? Well, believe it or not it's to tell everyone about your bikepacking adventure you just planned.. but the second rule is to ALWAYS bring enough water. Grayl has your back on trail, offering 24oz of purified water no matter where you are. Protecting you from viruses, bacteria, chemicals, and whatever else wants to put a fork in your adventure (bike pun, take it or leave it), this bottle takes care of it all.
The bottle can filter 24 fl. oz. in just 8 seconds, so you'll be drinking water from the puddle you just found with a clear conscious. The bottle can also withstand drops from up to 10 feet when full of water, making it a great companion for whatever you may throw at it on the trail.
Final Thoughts
Bikepacking is a fun, and in many cases more adrenaline-inducing way to explore nature and get around. Hopefully this list helped inspire you to get outside and get active with Spring right around the corner, or maybe even showed you a place or two you never thought to explore on a bike! Either way, the US offers a vast array of landscapes and terrain to be explored however you please, so we can guarantee you'll have a great time wherever you wind up.
Thanks for checking out my list of the top places to hop on a bike in the USA, if you want to dive deeper into the world of backpacking, we may be able to help you out there too. Happy trails!
---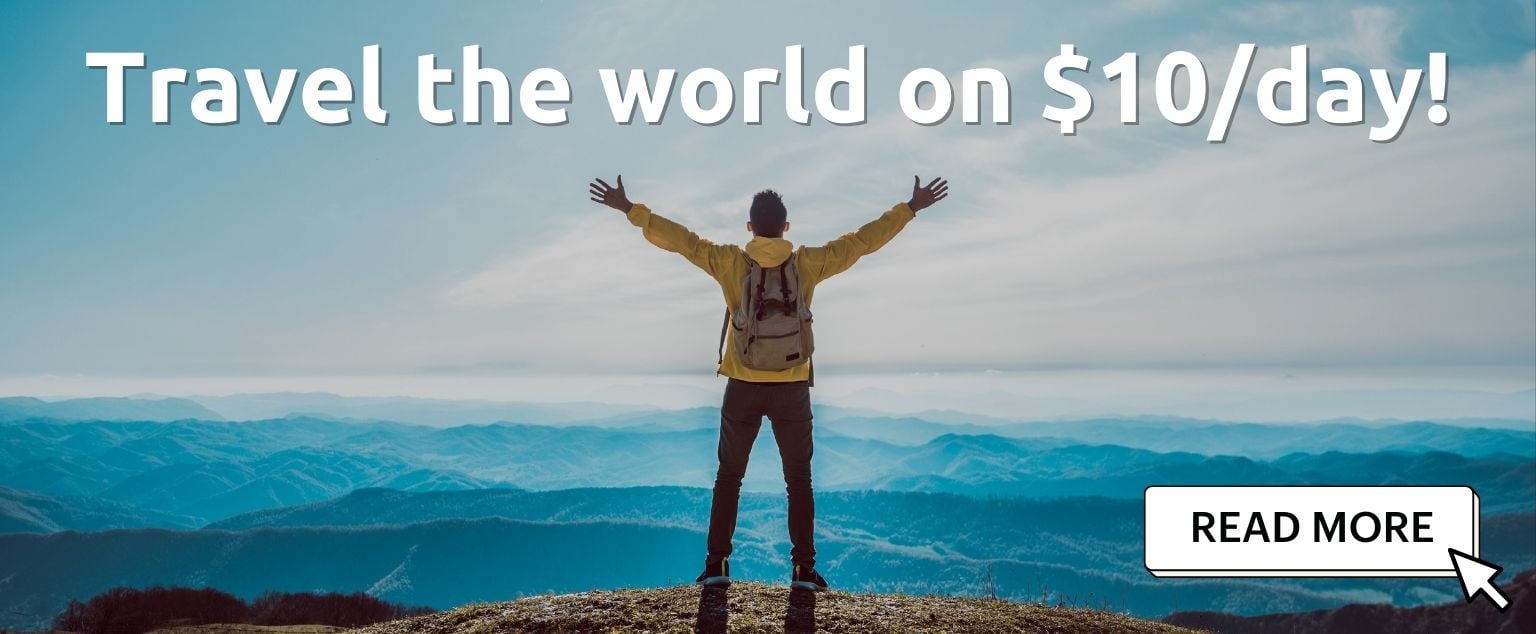 And for transparency's sake, please know that some of the links in our content are affiliate links. That means that if you book your accommodation, buy your gear, or sort your insurance through our link, we earn a small commission (at no extra cost to you). That said, we only link to the gear we trust and never recommend services we don't believe are up to scratch. Again, thank you!