There are many different ways to see the world. If you feel the need for speed and wind in your face then motorbiking across the great highways may do it for you. If you are feeling flush, then perhaps sailing the seven seas on a luxury cruise liner is the way to go. And heck, if you are feeling (certifiably) eccentric, then why not traverse the skies in your very own hot air balloon (just stay away from American airspace or risk being shot down yeah)?!
On the other hand though, if you feel like punishing yourself, then maybe you want to see the world by sweating and panting across the streets of its great cities by running some of the world's greatest marathons!
In this post we are going to look at some of the best marathons in the world. We may even throw in a few half marathons for those of use not quite ready to run the full gauntlet.
What Makes a Marathon Great?
Some of you may well be thinking to yourself "But 26m miles is 26 miles – marathons all suck! equally!" but you would be wrong. The fact is that running 26 miles on a treadmill would be punishingly boring (as well as physically punishing), but, running through a classic, beautiful city buoyed by cheering crowds is actually pretty freaking amazing! The truth is that some city marathons take in beautifully curated routes that pass by ancient wonders and landmarks of civilization whereas others just take in a whole lotta road.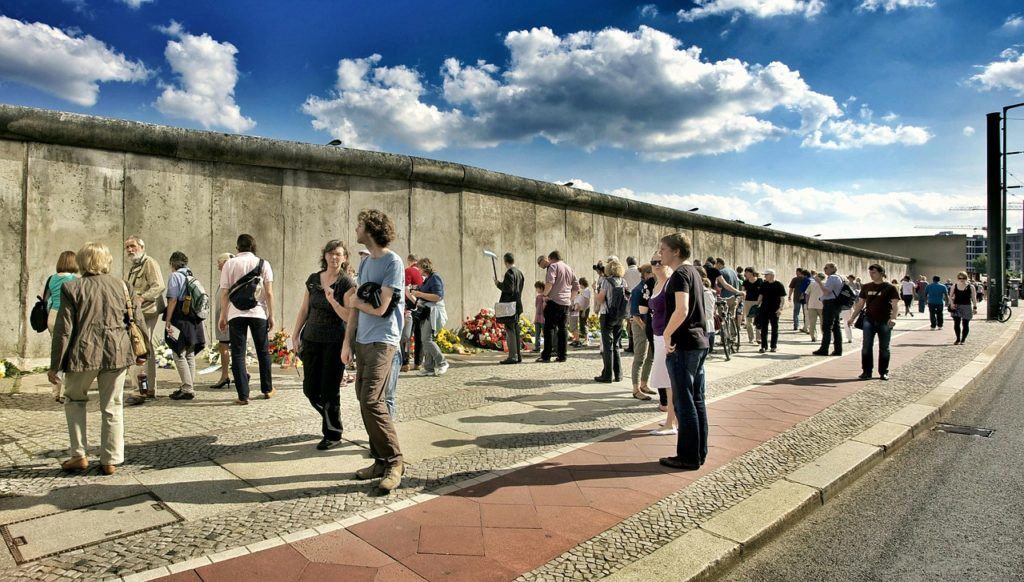 For this post we have included marathons that both have amazing routes and also provide good sightseeing and relaxation opportunities on prep days and rest days.
So strap on your sneakers and let's get started shall we?
The Best Marathons on Earth
From Berlin to Boston, our contributors have pounded some serious pavement running and taken part in the globe's most exciting marathons races. We have taken all of that experience and distilled it into this list of the greatest marathons in the world.
London Marathon
When Is it? – 23rd April 2023
Now approaching its 40th year, the London Marathon is perhaps the world flagship marathon race and each year attracts thousands of visitors from all over the world who came to traverse the great capitals tarmac. The race takes in many of the great capital's great wonders including along the River Thames, across Tower Bridge, Big Ben and even Buckingham Palace.
Berlin Marathon
When Is it? – 24th September 2023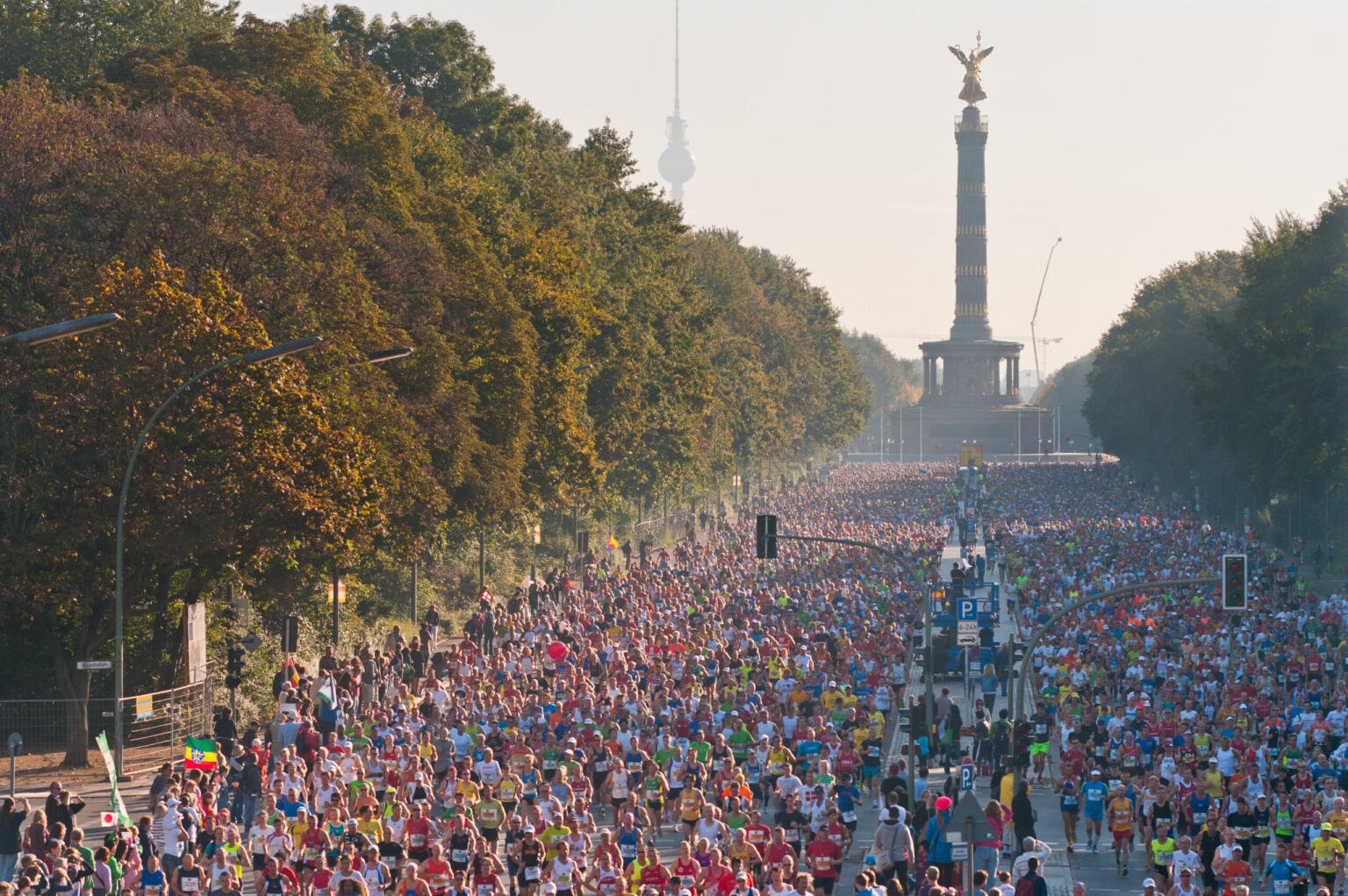 So far we have included a few fast races on this list but this one is next level! The Berlin marathon is where world records are made and the calibre of the 40,000 runners is high! The route takes in both the old west and east Berlin, traces the remnants of the world and climaxes on the Brandenburg gate. The only thing more exhausting than running the Berlin marathon is a Berlin weekender in the city's legendary techno club.
Boston Marathon
When Is it? – 17th April 2023
Perhaps I am biassed on account of my own Irish heritage but Boston is one of the US's great, and hugely under-appreciated cities. The Boston Marathon is a fast one and takes in some of New England's great heritage sites. Of course, for many the Boston Marathon will forever be synonymous with the tragic and terrible atrocity of 2013 but rest assured, nothing will ever dampen the resolve and spirit of Boston's marathoners.
Kilimanjaro Marathon
When Is it? – 26th February 2023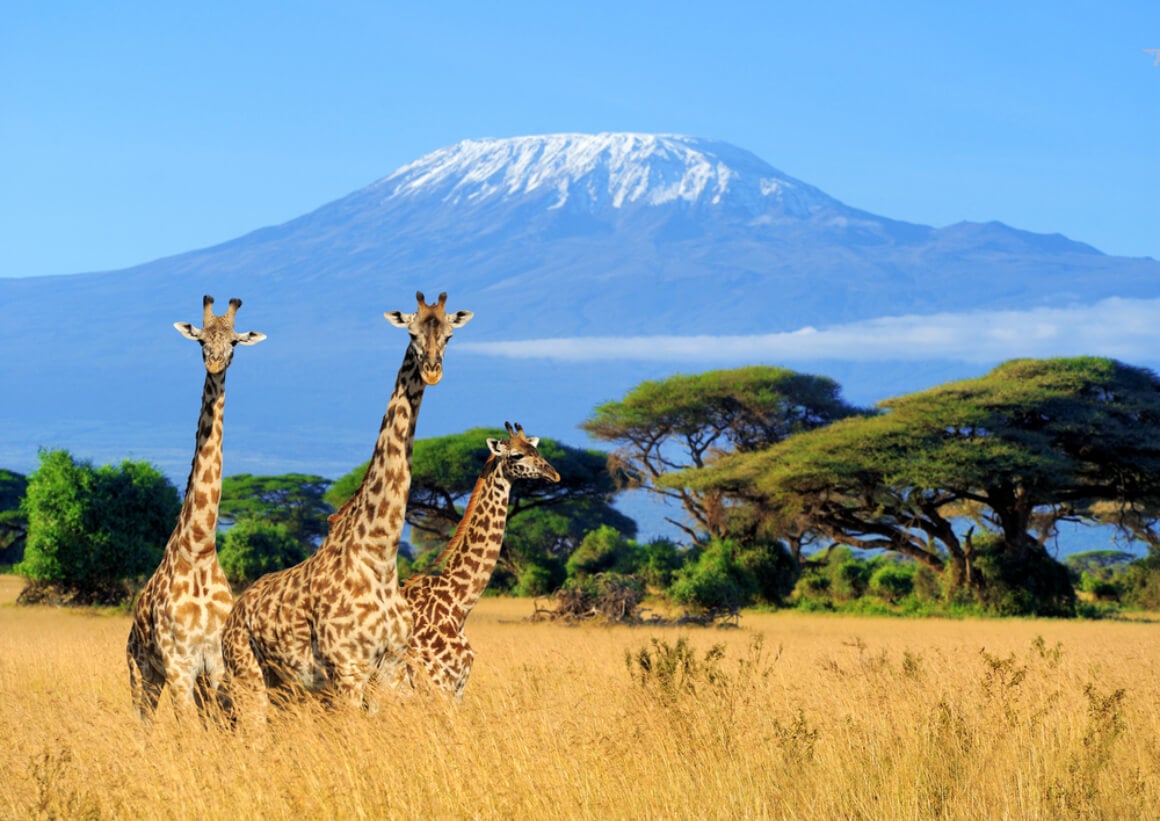 Ok, while running up Kilimanjaro would be pretty hard even for serious marathoners the good news is that this is not how the Kilimanjaro Marathon world and, running along the lowlands at the mountain's base taking in the view is doable with the tight preparation. The weather does get hot and the halfway point is steep so maybe don't pop your marathon cherry on this one?
Marathon of Marrakech
When Is it? – 28th January 2024
While the incredible, desert city of Marrakech does get painfully hot during summer, the climate is much milder in January and makes for quite pleasant marathon weather. The Marathon of Marrakech is still in its developing stages and consequently is one of the world's smaller races. Expect a no frills infrastructure but much lower participant numbers and a flat race that takes in the old medina and sweeping views over the snow capped Atlas mountains.
The Great Wall Marathon
When Is it? – 18th May 2024 (2023 postponed for COVID related reasons)
For an absolute once in a lifetime experience then perhaps consider taking the 5000 + steps that constitute the Great Wall Marathon from Beijing and into the Chinese rural countryside. As you can image, there isn't loads of width along the wall and there are a LOt of steps so this is not a fast marathon at all. Still that just gives the runners more opportunities to take in the stunning vista's.
Big Sur Marathon
When Is it? – 30th April 2023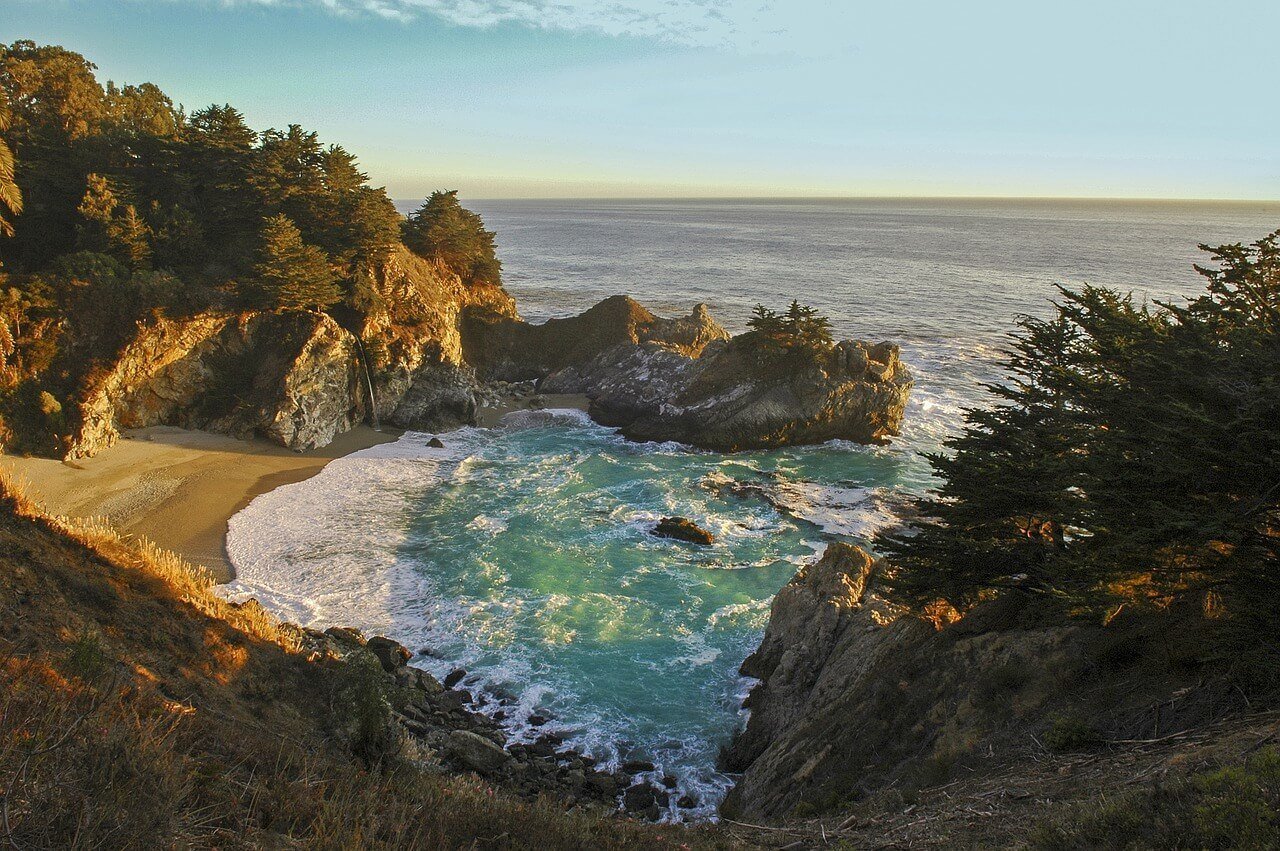 California's Big Sur is one of the US's great road trips and the Highway that straddles the rugged shoreline has passed into legend as one of the world's greatest driving experiences. However, while cruising down Big Sur in an RV or Cadillac is cool, running the route is a true once in a lifetime experience. The route crosses Bixby Bridge and follows the coastal road all the way down. Note that the race is limited to 4,500 participants and slots fill up incredibly fast.
Ladies & Gents, It's Time to Step Your GEAR Game Up. 😉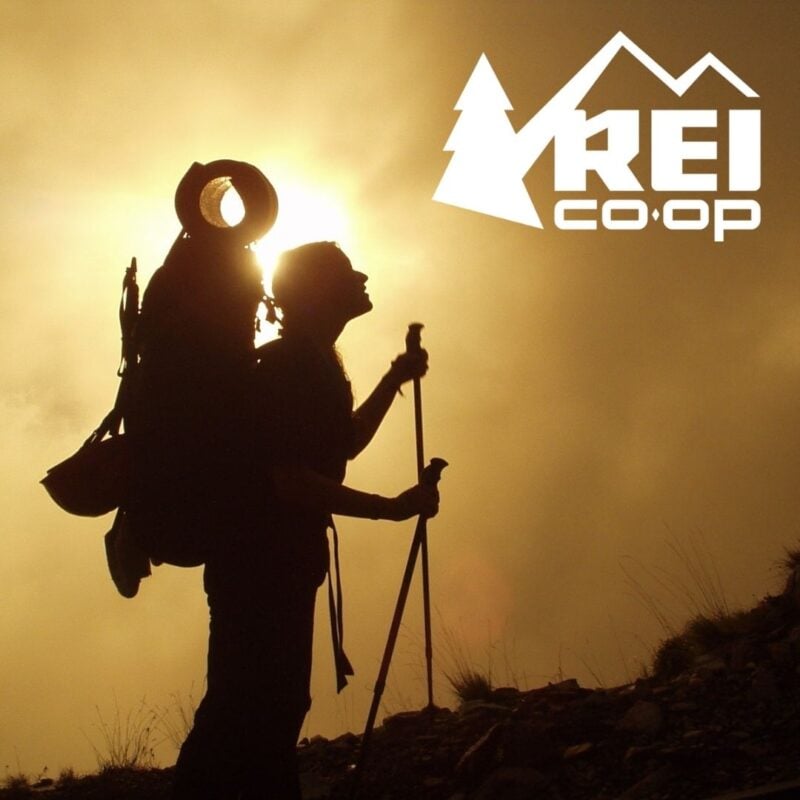 REI is one of America's biggest and most-loved outdoor gear retailers.
Now, for just $30, get a lifetime membership that entitles you to 10% OFF on most items, access to their trade-in scheme and discount rentals.
Join REI Today!
Niagara Falls International Marathon
When Is it? – Not announced yet
Niagara Falls is one of the world's most striking borders and attracts thousands of visitors each year. Well, the Niagara Falls marathon offers participants the chance to cross that border in style (so do get your visa, passport and papers in order) along with a select 1,500 other enthusiasts. The race starts in Buffalo, then over International Peace Bridge, Ontario for 18 miles on Niagara Parkway and then finally a stunning finish at the edge of The Falls itself.
Midnight Sun Marathon
When Is it? – 17th June 2023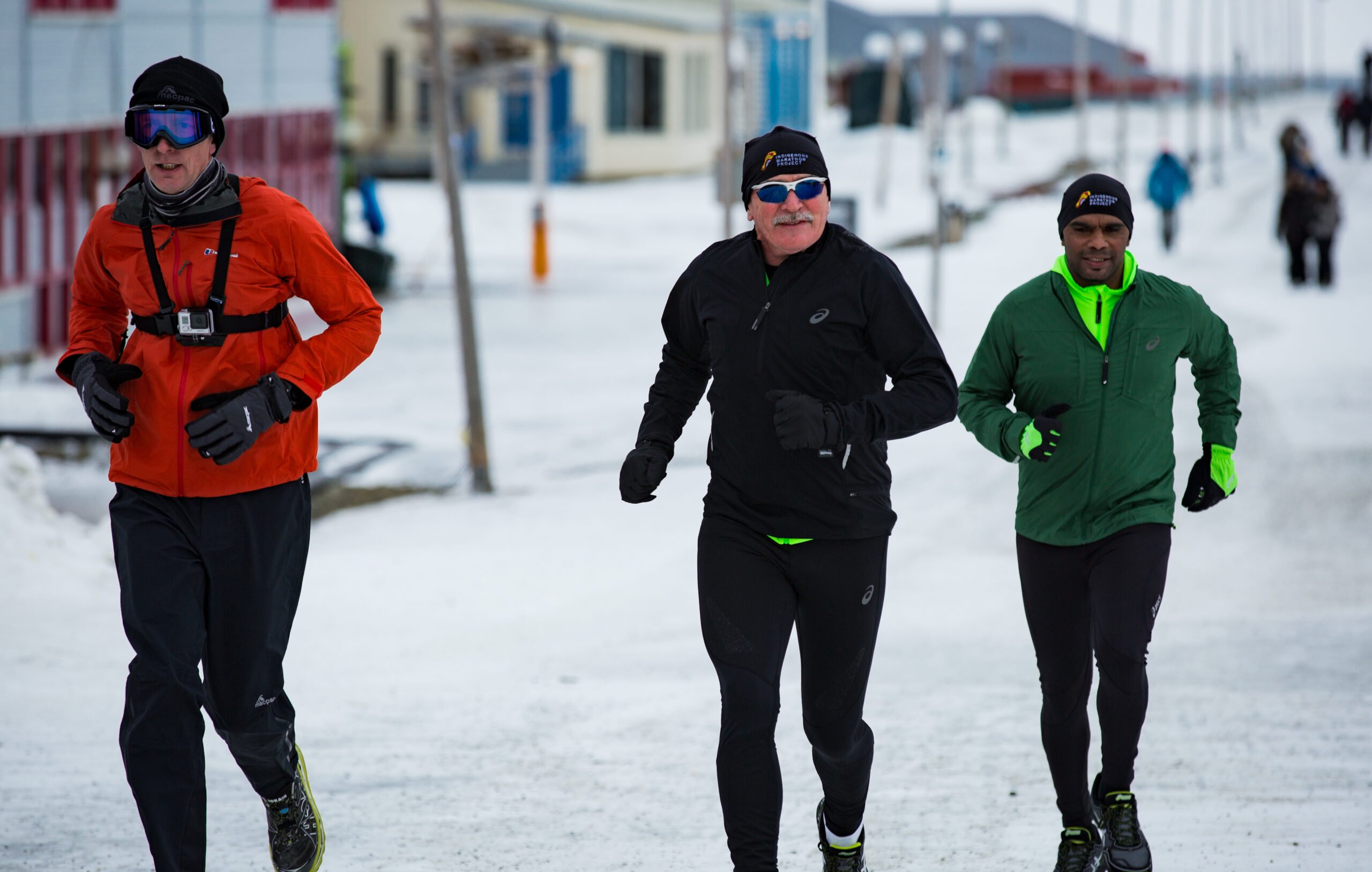 Now for a really special one, the Tromso Midnight Sun Marathon takes place at the Northernmost tip of Norway during the peak of its summer. You may know that during summer the sun never sets this far North and as such, this marathon begins at 20:30 in the evening and runs through the night. It does get a bit cool but you should be OK as long as you keep moving! The route takes in the postcard-pretty town of Tromso as well as its gorgeous Fjords.
The Athens Atlas Marathon
When Is it? – 12th November 2023
And finally, we start where it all began. You presumably know that the idea of a Marathon dates from Ancient Greece (and the mythical battle of Marathon) . The Athens Atlas marathon is 13,000 strong and is a real tough one – it takes in some serious hills, some battered old streets, but ends at the stunning Paratenon where democracy was born. If you do make it to the end, then there are plenty of delicious, hot Souvlaki on hand to help you replenish that calorie debt.
Preparing For a Marathon
Running a marathon is not quite so easy and does take some serious preparation. In this section we will take a brief look at how to train, and shop, for 26 mile run.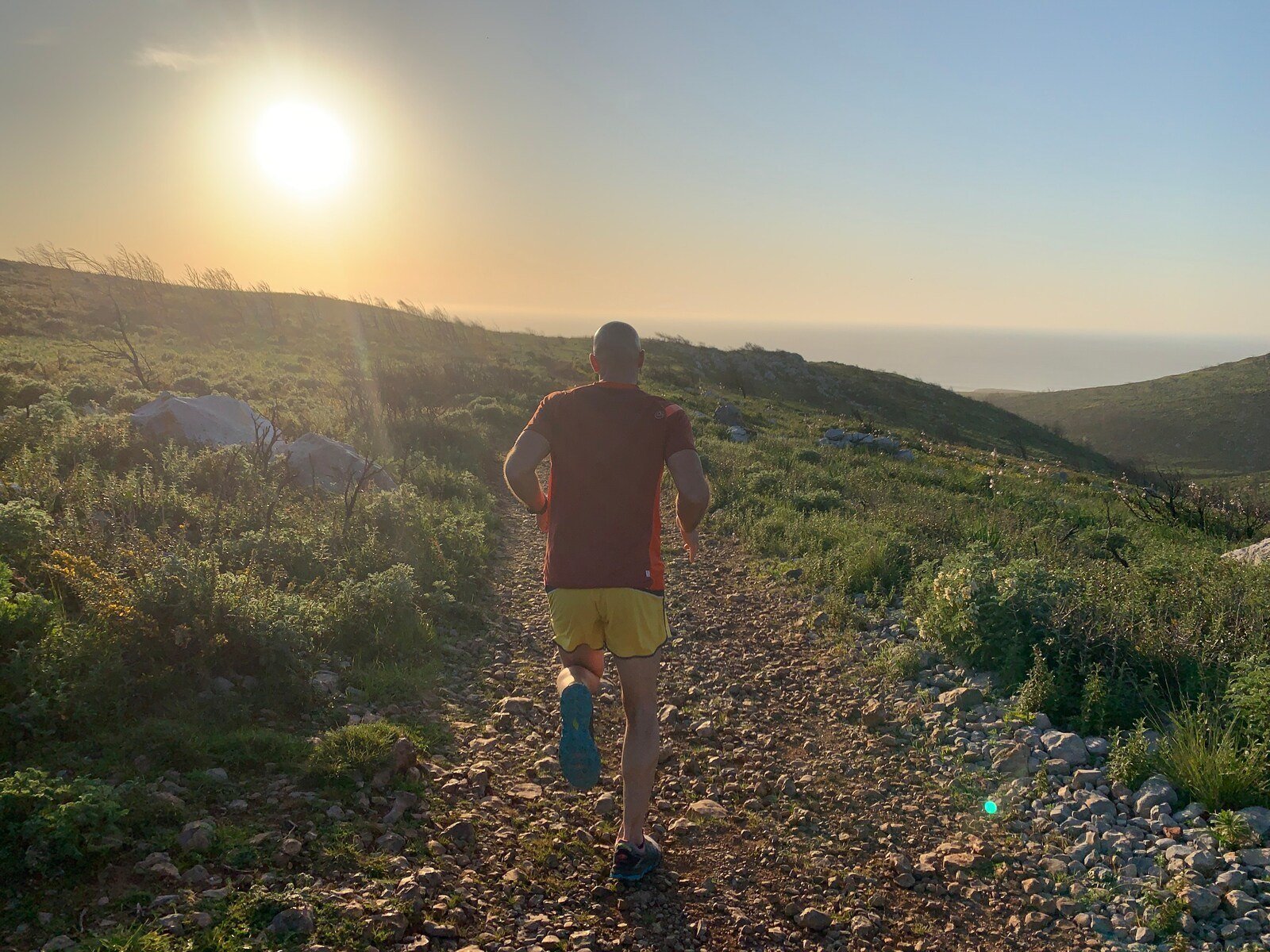 How To Train For a Marathon
If you haven't been all that active recently, then getting up from the couch and heading straight towards your nearest marathon may not be the best idea. In fact, running 26 miles takes some serious preparation and even those runners who are comfortable with a 10k will need to take a few months building up.
As this is ultimately a travel and outdoors blog, it would be highly disingenuous of us to try our hand at armchair coaching our readers towards marathon glory but we will tell you now, ideally you want 4 full months to prepare. For more detail and info from a highly qualified source, we refer you to REI's excellent how to train for a marathon guide.
Getting The Right Gear
The good news is that you really don't have all that much gear to get into long distance running and you probably already have some of it to hand. I mean, as a bare minimum you just need a pair of running shoes, some shorts, maybe a vest, and a water bottle to get started.
However, what we will say is that running and preparing for a marathon means putting in some serious miles and so we highly recommend getting some high quality, specialised, road ready running shoes that properly support and protect your feet. While you can run in any old sports sneakers, there is a risk that running long distances repeatedly in suboptimal footwear could lead to all kinds of injuries. You may even need to buy a few pairs as they do wear down over long distances but your feet and knees will thank you for spending the money here.
Choosing the right running shoes is not simply a case of picking the most expensive, top rated brand but instead, you need to identify what kind of running sneaker suits your personal running style. You can do this by completing a short "gait test" (or gait analysis) at a running and sports store. Once you know the kind of shoe you need, head over to REI's running store and pick the ones that you think take your fancy. If you need to know our recommendations then these are our top picks;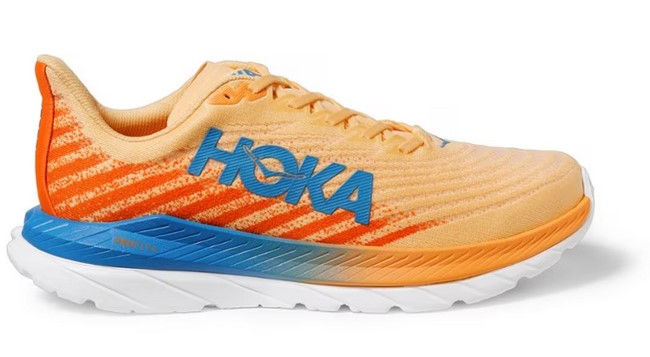 Weighing just 1ib 4.oz these light but supportive running shoes will have you marathon ready in no time. The Hoka Marc 5 utilise stripped back, single-layer creel mesh uppers and Lay-flat gusseted tongues and articulated heel collars are constructed for a comfortable fit.
Finally the PROFLY™+ stacked midsoles feature an all-new lightweight, resilient, responsive foam directly underfoot with rubberized EVA below.
These ultralight womens running shoes may not have enough support for them, but for more experienced, resilient runners offer a bare-foot feel while providing enough to get you through a 26 mile slog.
The Ultralight midsole foam virtually disappears underfoot and is 15% lighter than the previous version. The breathable mesh uppers and ultra-plush tongues enhance comfort and of course the Extended crash pads at the heels and increased rubber coverage provide durability.
Another piece of indispensable running gear (at least for me) is a proper running jacket. Basically, if you are training for a marathon then the 4 months of training will mean you are going out across seasons and in a variety of different weather conditions.
The Norvan Hoodie from Arc'teryx (arguably one the best pro-level outdoor and adventure gear brands on earth) strikes the perfect balance of being breathable yet weatherproof, light yet warm and odour resistant. Arc'teryx gear does not come cheap but their jackets are worth every dime.
Running is seriously thirsty work. Setting off for a run without a water bottle to hand is a folly so make sure you stay hydrated by packing a good, ergonomic handheld water bottle with you. There are plenty of models out there and you could just buy one on Amazon for $5. However, not all water bottles are created equal so if you want a piece of gear that will last then check out this 16 fl oz piece from Amphipod that comes with a fantastic outer pocket that can hold your phone.
The very clever soft bottle also means that the Hydraform expands and contracts depending on how full or empty it is.
Final Thoughts On The Best Marathons In The World
We get that right now you may not feel ready to run a full 26 miles and that's fine. But we just hope that this post gave you the inspo to lace up your running shoes and get out there! And remember, if you need any running gear then head over to REI and check out their extensive range of shoes, jackets, shorts and water bottles!
---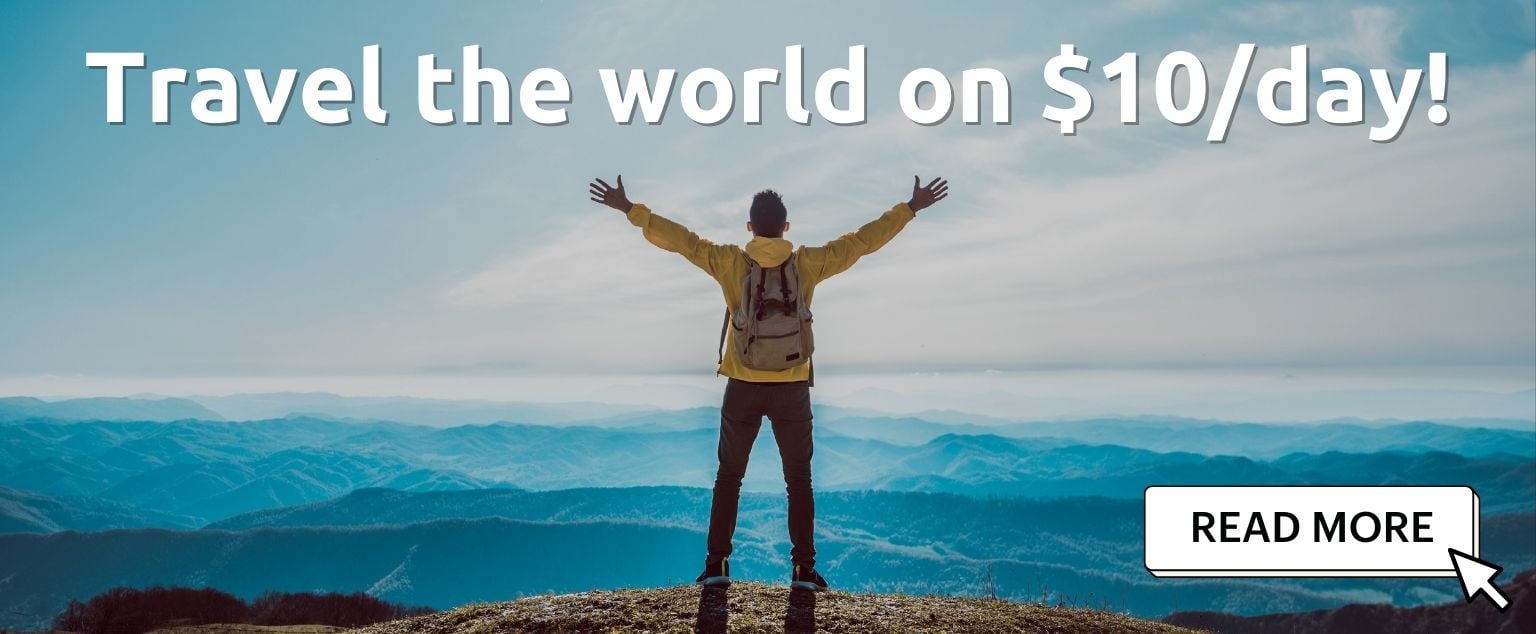 And for transparency's sake, please know that some of the links in our content are affiliate links. That means that if you book your accommodation, buy your gear, or sort your insurance through our link, we earn a small commission (at no extra cost to you). That said, we only link to the gear we trust and never recommend services we don't believe are up to scratch. Again, thank you!