Kota Kinabalu is a Malaysian coastal city of stunning variety.
Where else can you find a cosmopolitan city center, traditional culture and charm, an array of beachy island paradises, and a series of stunning national parks and mountain ranges, all in the same small region?
First off, the city itself is large enough to be modern and hip, but not so developed as to diminish its charm. It's simply overflowing with opportunities to connect with traditional Malaysian culture. Visit the city's numerous museums, temples, night markets or festivals, and sample a huge variety of Malaysian delicacies, including fresh seafood, noodles, and exotic fruits. And as if that's not good enough, the local people are kind, warm, friendly, and hospitable.
Secondly, just off the coast, you'll find a group of nine sunny islands, where you can drown your troubles in the aqua-blue seawater and powder-fine sand. Some islands are large and well-developed, while others have been scarcely touched, making for excellent snorkeling or scuba diving.
Finally, head inland for an hour or two, and you'll encounter some of the most breathtaking mountain ranges to be found anywhere in Southeast Asia. Flora and fauna abound in these rural regions, usually side-by-side with numerous authentic Malaysian villages, which are actually quite accessible for tourists to visit.
The options in this city are quite overwhelming, so I created this 3-day Kota Kinabalu itinerary with care and with much love. I hope it checks all the right boxes for you!
A Little Bit About This 3-Day Kota Kinabalu Itinerary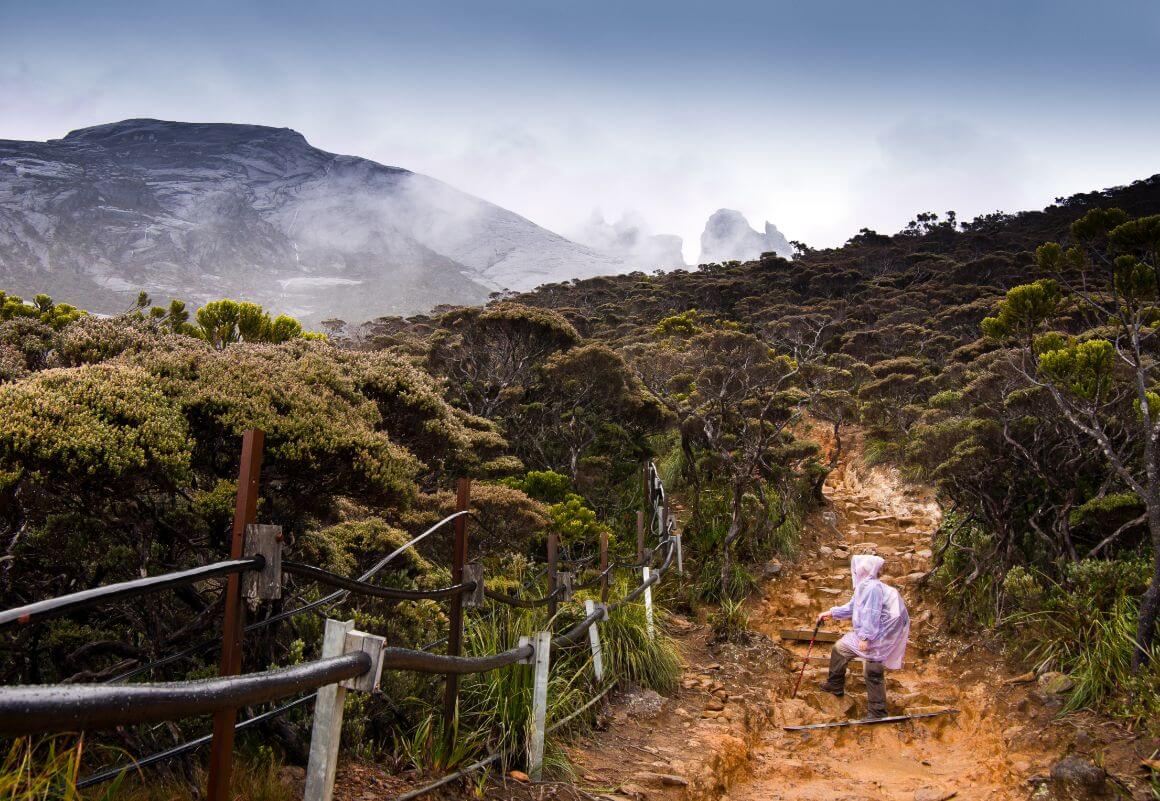 Each day on this itinerary has a distinct theme. On day one, you'll be going through the main city area, checking out some of the most iconic and well-known landmarks. Day two, you'll go island hopping through the waters of the blue Pacific before returning to the city for a night out. And on day three, you'll get your hands dirty exploring the more rural side of the region.
Perhaps this goes without saying, but I wouldn't recommend trying to visit Kota Kinabalu in one day or even two days. There's simply too much to see, and too much variety. It would be one thing if there was a lot to see and it was all largely the same thing — that might be doable. But because Kota Kinabalu has so many different types of places to visit, you're inevitably going to end up skipping something important if you're in a huge rush — either the urban centers, the islands, or the mountains. You simply can't do all three (at least not properly!) in one or two days.
That being said, I think 3 days in Kota Kinabalu is the perfect amount to at least get a consistent sampling of everything on offer here. As you'll notice in the below itinerary, you'll be busy because there's a lot to see — but there's also some downtime and some early bedtimes mixed in there as well. You won't feel like you're running yourself into the ground trying to squeeze everything in.
Definitely start thinking now about which area of the city you'd like to stay in. Each area has its own pros and cons, and transportation should be a key consideration for you. Kota Kinabalu doesn't exactly have a well-developed public transportation system, so consider staying in an area like Karamunsing, where you can walk to many of the restaurants and attractions.
Finally, if you're not in a time crunch, consider spending five days or even a week in Kota Kinabalu. This way you can follow the same general itinerary below, but you'll be able to stretch out some of the activities. For example, you could spend two days in some of the further destinations, staying overnight on one of the islands or out in the countryside near the national parks.

Unlock Our GREATEST Travel Secrets!
Sign up for our newsletter and get the best travel tips delivered right to your inbox.
3-Day Kota Kinabalu Itinerary Overview
Where to Stay in Kota Kinabalu for 3 Days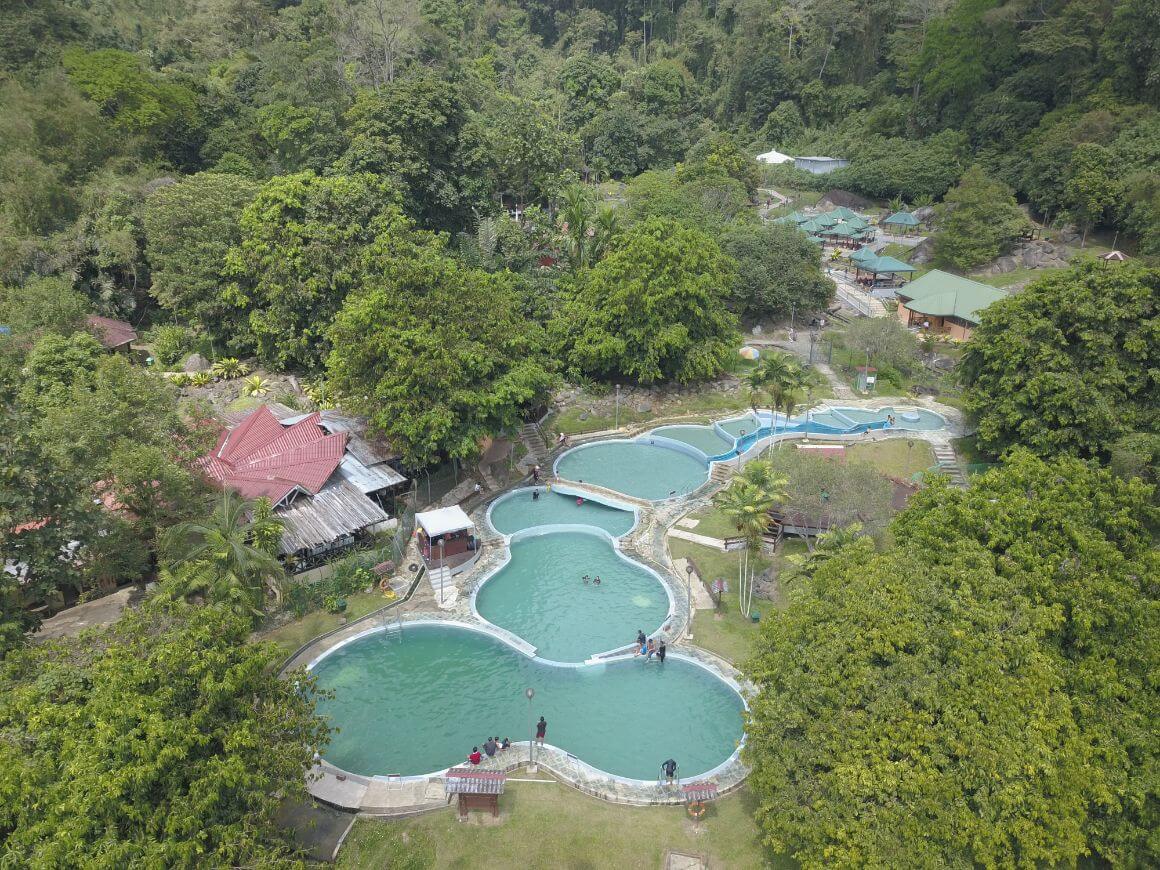 Kota Kinabalu has five main areas:
Karamunsing is the main city area, with all of the most iconic highlights.
Likas is a small, cheap area a little more to the north.
The Waterfront is, well, on the water — markets and nightlife abound here.
Dongongan is a huge rural area to the east of the city.
Tanjong Aru is a high-end, family-friendly neighborhood to the south.
Because the actual city area of Kota Kinabalu is pretty small, you'll be crossing into all of these areas throughout the course of this three-day itinerary.
In terms of the best place for accommodation in Kota Kinabalu, you really can't go wrong. Karamunsing is generally the closest to all the action, which makes it the best place to stay if you want to walk places. If you want to stay somewhere cheap, Likas is probably your best bet. If you want to be in the countryside surrounded by wilderness and nature, go with Dongongan. Do you have kids? Then check out Tanjong Aru.
Aside from those considerations, just choose your favorite hostel or hotel! If you're still deciding, my personal favorites are listed below.
This hostel is a great find in that it's really cheap and really clean. The staff is committed to making it feel like a home for their guests (hence the name), and it's located in the beautiful Waterfront area.
Best Budget Hotel in Kota Kinabalu – TOOJOU
Located near the border of Karamunsing and Likas, TOOJOU is almost as cheap as a hostel, but clearly a step above. You'll be enjoying an in-house bar, restaurant, and a rooftop terrace with excellent city views!
Best Luxury Hotel in Kota Kinabalu – Hyatt Centric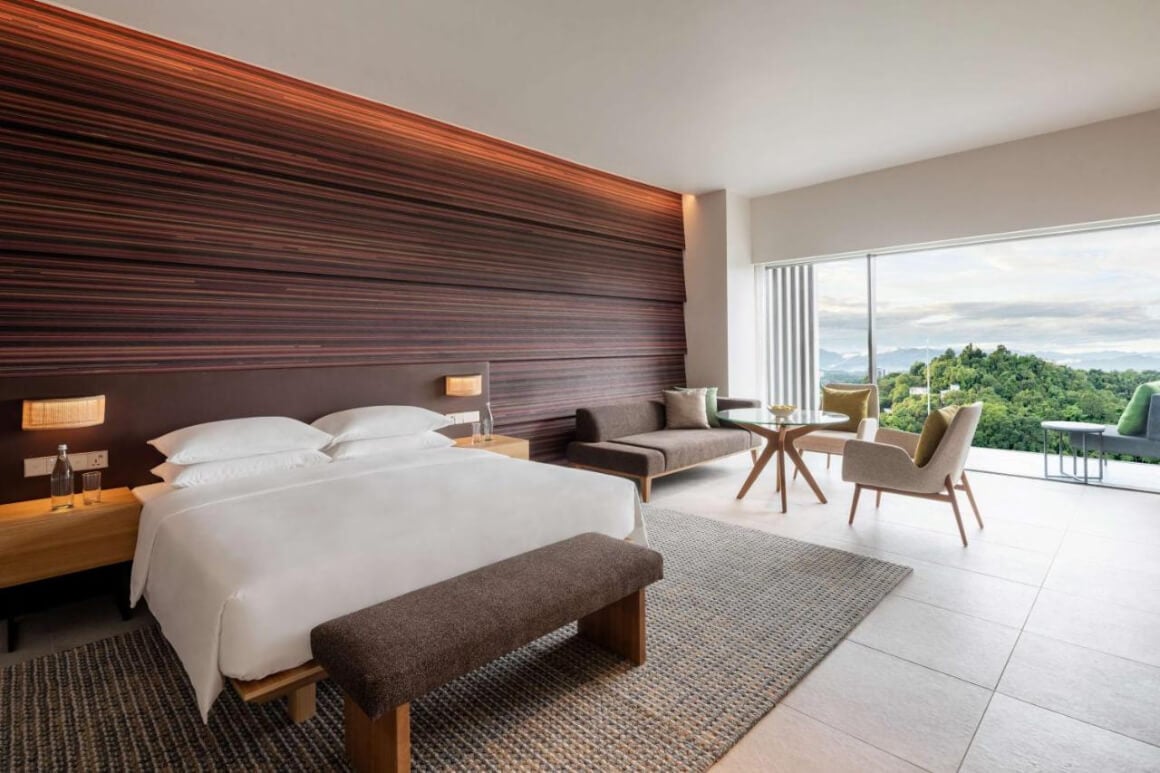 The Hyatt Centric in Kota Kinabalu is for those looking for a high-end luxury experience. Located right on the waterfront, this hotel has TVs in the rooms, as well as a fitness center and pool.
Kota Kinabalu Itinerary Day 1: City Center Highlights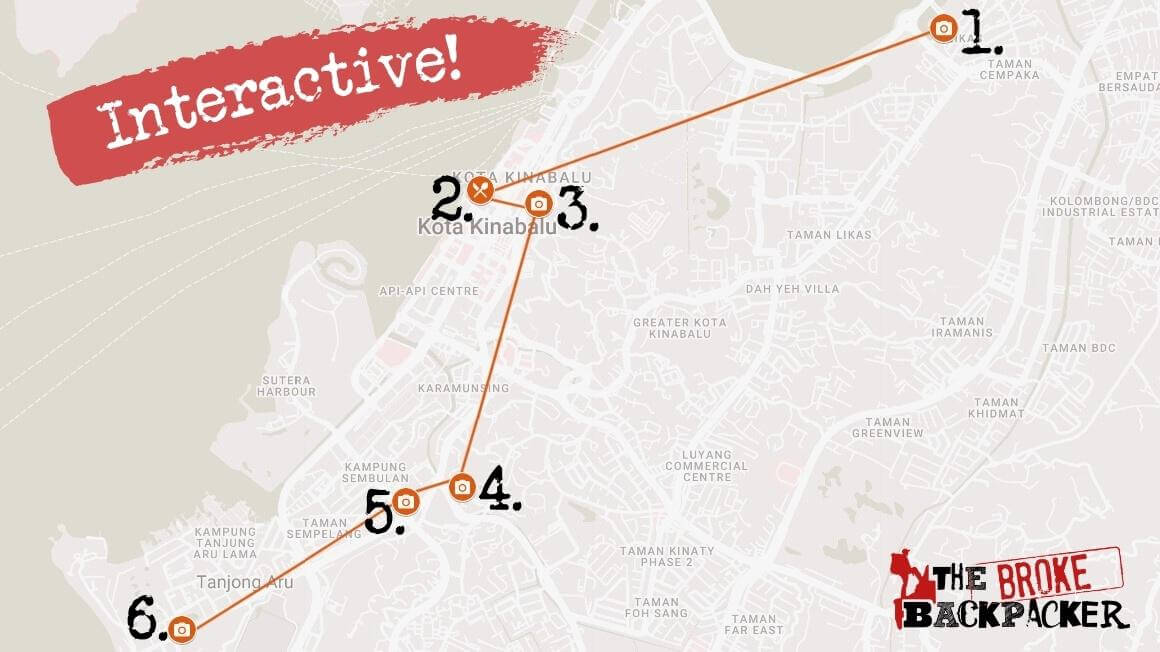 Wake up, grab a coffee and an early breakfast, and begin your time in Kota Kinabalu by exploring the most striking areas of the city center.
Every map that you see in this article includes a hyperlink to an interactive version on Google Drive. After clicking the map image, the interactive version will be opened in a new tab.
9:00 am – Kota Kinabalu City Mosque
Also known as the Floating Mosque, The Kota Kinabalu City Mosque is perhaps the most breathtaking mosque in all of Southeast Asia. And I know, that's a heck of a claim to make. But I can back it up!
First off, the Mosque is absolutely gigantic — the prayer hall can hold up to 12,000 people at once. Secondly, the Mosque sits in a serene, reflective, man-made lake. The walls are a beautiful cream-white color, with a blue and silver dome that glows golden in the dawn or twilight hours.
What might come as a bit of a surprise is that the City Mosque wasn't finished until the year 2000. We backpackers are usually used to visiting temples and mosques that are hundreds, if not thousands of years old. But don't let this fact diminish the elegance of the City Mosque — when you're there in person, you'll see that the date of construction is irrelevant in the face of something so inescapably beautiful.
The Kota Kinabalu City Mosque is open to visitors Saturday through Thursday, at these (albeit odd) hours: 8:00 am to 12:00 pm; 2:00 pm to 3:30 pm; 4:00 pm to 5:30 pm. It's closed on Fridays. Make sure you're dressed modestly before entering!
Want to Know More?
Cost: ~$1.15 for entry.
How long should I stay here? Around 1 hour.
Getting there: If you're staying in the Likas area, the Mosque should be a short walk from your accommodation. Otherwise, hail a taxi.
10:00 am – Pasar Besar (Malacca Grand) Market
Pasar Besar Market is a quintessentially Southeast Asian market. If you've never been to one of these, you're in for the experience of a lifetime!
Pasar Besar has an absolute smorgasbord of foods, from fresh fruits and vegetables to snacks, to noodles and rice, to fresh (and decidedly un-fresh) meats, and even street food stalls. Upstairs, there's an actual food court if you're feeling hungry (maybe you skipped breakfast!) I recommend just sampling some local snacks from the vendors on the first floor.
The best thing about Pasar Besar Market is the no-holds-barred cultural authenticity you will experience. It's quite chaotic, and you'll be surrounded mostly just by local Malaysians. You'll understand that life goes on the same way here, whether there are tourists or not.
Cost: Free to enter, while street food and snacks will be somewhere in the $1-$3 range.
How long should I stay here? 1-2 hours.
Getting there: From the Kota Kinabalu City Mosque, it's a 15-minute taxi ride to Pasar Besar Market.
12:00 pm – Atkinson Clock Tower
After the craziness of the market, quickly swing by Atkinson Clock Tower.
Now, let me just be honest: the clock tower isn't exactly a wondrous feat of architecture. You shouldn't visit to be amazed by its construction, but rather its history. During World War II, Kota Kinabalu suffered a serious level of destruction, causing many wooden structures to be damaged or completely destroyed. Out of every wooden structure still standing after the devastation of the city, Atkinson Clock Tower has the honor of being the oldest, with construction finishing in 1905. And get this: it's still reliably ticking away!
Unfortunately, the clock tower is currently under renovation until September 23rd, 2023 — so if you're planning to visit Kota Kinabalu before then, take this into account.
After shooting over to Atkinson Clock Tower, grab some lunch and relax for a bit before phase 2 of the day begins!
Want to Know More?
Cost: Free!
How long should I stay here? 15-30 minutes should be plenty.
Getting there: Atkinson Clock Tower is a 10-minute walk from Pasar Besar Market.
2:00 pm – Sabah State Museum and Heritage Village
Now it's time to dive deep into the history and culture of Sabah, the huge, northeasterly region of Malaysia which contains Kota Kinabalu.
The coolest thing about the Sabah State Museum is that it's not just a museum. Of course, there's the museum building itself, which contains artifacts like brassware and ceramic pottery, as well as art galleries and Islamic history exhibits. But the grounds around the Sabah State Museum also contain a small zoo, an ethnobotanical garden, and the Heritage Village, where you can walk inside the authentic housing structures of the Sabah natives.
Whether you're a "museum person" or not, if you have even the remotest interest in history and other cultures, then the Sabah State Museum and Heritage Village is a must-see.
Cost: Around $3.40 for entry.
How long should I stay here? Around 2 hours.
Getting there: From the area around Atkinson Clock Tower, you can take a 10-minute taxi ride to reach the museum. What I recommend, however, is a nice afternoon stroll. Sure, it'll take you close to an hour, but you'll see the intimate parts of Kota Kinabalu in a way that's impossible from the backseat window of a taxi.
4:00 pm – Sabah State Mosque
I know what you're thinking: "Another mosque? For real?"
Yes, for real. Sabah State Mosque isn't as huge as the Kota Kinabalu City Mosque, but it's a stunning feat of aesthetic design. The Mosque is surrounded by numerous sturdy columns, each with a golden dome on the top. The columns are conical in shape, and connected by walls, giving the Mosque the appearance of a regal, impregnable fortress. A majestic white and gold dome sits like a holy crown atop the whole structure. Sabah State Mosque can hold up to 5,000 people, with a special women-only balcony reserved for prayer times.
The Mosque is open Saturday through Thursday, from 8:00 am to 12:00 pm, and then from 2:00 pm to 5:00 pm. On Fridays, it's open in the afternoon only. Be sure to dress modestly before visiting!
Cost: Around $2.30.
How long should I stay here? Around 1 hour.
Getting there: Sabah State Mosque is a 15-minute walk from the museum.
5:30 – Perdana Park for Sunset
Conclude your first day in Kota Kinabalu with a visit to the posh neighborhood of Tanjong Aru. Once you arrive, I recommend exploring for a bit. If you're an afternoon coffee type of person, you're in the right place!
As sunset approaches around 6:00 pm, head on over to Perdana Park. Relax among the greenery in the cooling temperatures and enjoy the spectacular orange glow as dusk settles. The park is surrounded by a myriad of eateries and cafés, making it a convenient spot if you're almost ready for dinner.
Beginning at 7:00 pm, you can catch Perdana Park's famed water fountain performances. What's a water fountain performance, you may ask? For twenty minutes at a time, the water fountain comes "alive" as the streams of water appear to dance in time with lights and music. You might have enough fun just hearing all the little kids shrieking and dancing with delight.
After enjoying the sunset, some dinner, and the water fountain show, head back to your accommodation for an early bedtime; you have a big day tomorrow!
Cost: The park is free, but dinner will be anywhere from $3-$20 per person, depending on where you choose to eat.
How long should I stay here? 2-3 hours.
Getting there: It's a 30-minute walk or an 8-minute taxi ride from Sabah State Mosque.
Small Pack Problems? 😉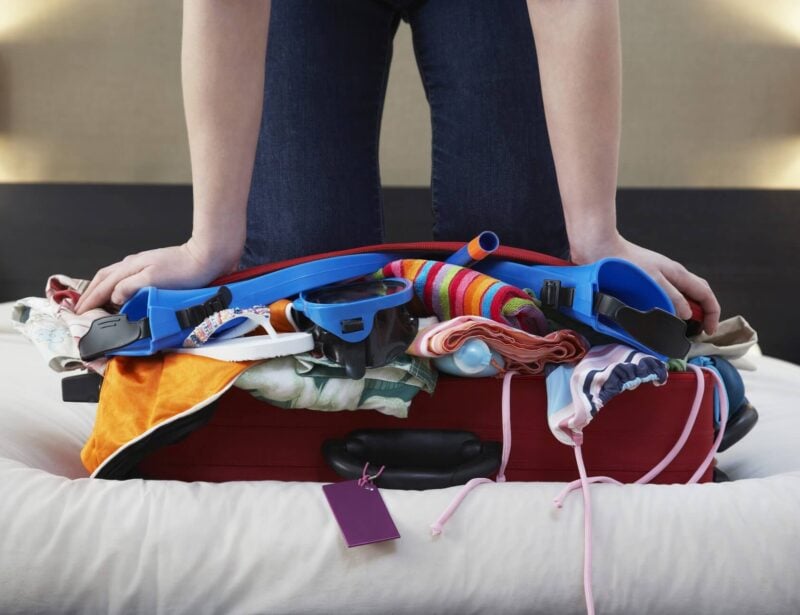 My missus travels with all her clothes in ziplock bags: don't be like my missus. UP YOUR PACKING GAME!
Packing cubes for the globetrotters and compression sacks for the real adventurers – these babies are a traveller's best kept secret. They organise yo' packing and minimise its volume too so you can pack MORE.
Or, y'know… you can stick to ziplock bags.
View Our Fave Cubes
Or Check Out the Sacks!
Kota Kinabalu Itinerary Day 2: Island Hopping
Few destinations in Southeast Asia offer the comforts of an advanced city side-by-side with islands that can be visited in a single day trip. Pack your sunscreen and beach towel, and get ready for a day in paradise!
9:00 am – Mamutik Island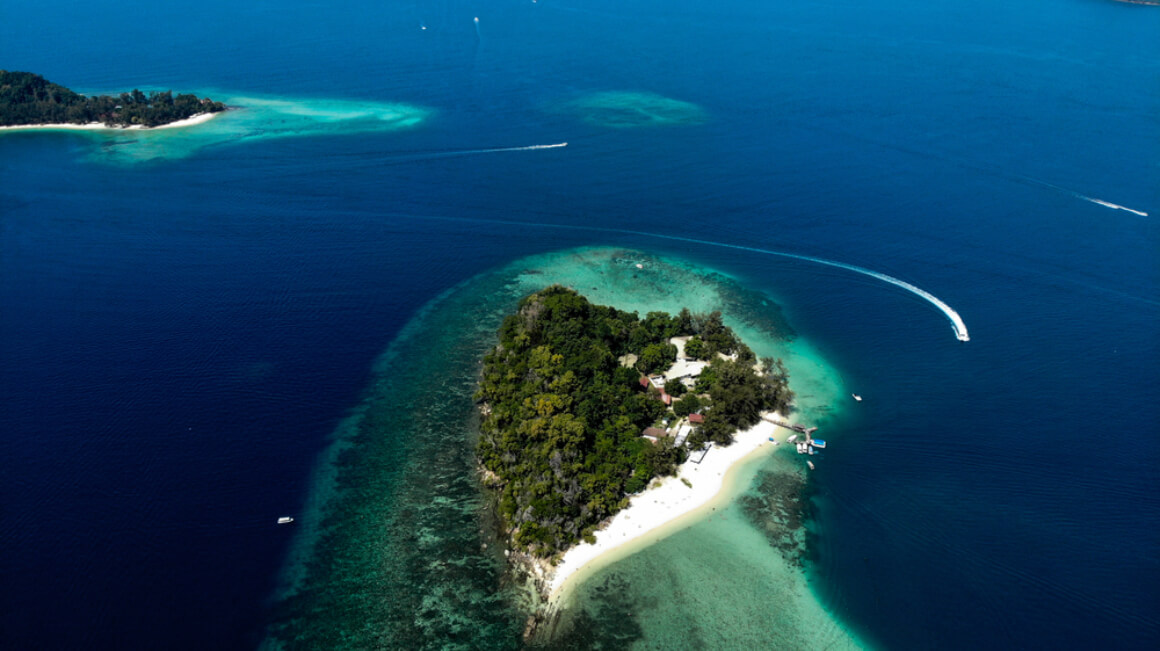 Your first stop of the day is Mamutik Island. Here are a few words to describe this island: calm, quiet, peaceful, tranquil, serene, idyllic, relaxing, blissful — I think you get the idea.
Of the five main islands off the coast of Kota Kinabalu, Mamutik is among the most natural and untouched. It's a tiny island, so there isn't that much to do once you get there. But the few things that you can do are well worth it. Lounge around on the fine, powder-white sand and read (or doze). Take a dip in the warm, crystal-clear Indian Ocean. Pack a picnic breakfast and enjoy it on the beach in the shade of the trees. And here's the best one yet: rent a mask and a snorkel, and swim through the extensive coral reefs to be found off of the island's beaches.
You can easily rent masks and snorkels for the day at the Jesselton Point ferry harbor in Kota Kinabalu.
Cost: ~$2.50 for snorkeling gear. Ferry tickets cost around $10.50 for a round-trip journey to two islands (Mamutik and Manukan) and then back to Jesselton Point.
How long should I stay here? 2-3 hours.
Getting there: Ferries leave Kota Kinabalu every 30 minutes, and each trip takes around 15-20 minutes.
12:00 pm – Manukan Island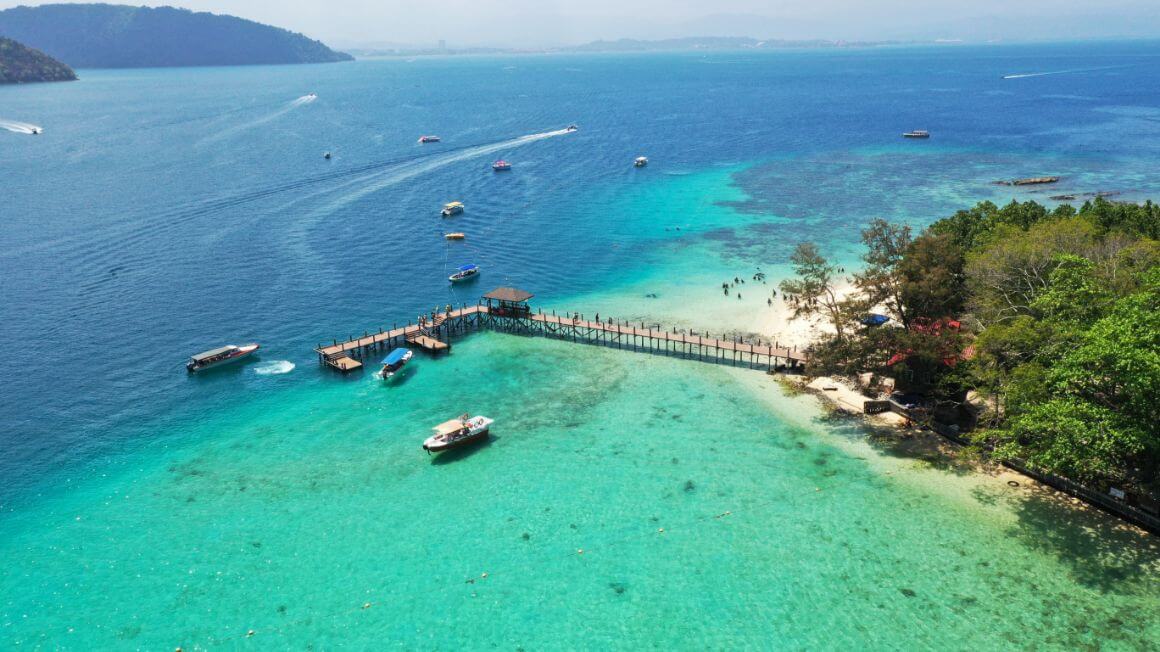 In many ways, the more-developed "big brother" to Mamutik Island, Manukan Island offers much more of a resort-town feel.
Everything you can do on Mamutik Island, you can also do on Manukan Island, though the reefs aren't likely to be quite as striking. If you're a scuba diver, you're in luck, as the island boasts its own diving center (though I would recommend allotting a full day to Manukan Island if you're planning on scuba diving). Other activities on offer include paragliding, hiking through dense jungles, and much more!
When you start to get hungry, grab some lunch from one of the numerous quaint beach bars and restaurants dotting the island. The ferries usually stop operating around 4:00 pm, so make sure you're ready to head back to the city well before then.
Want to Know More?
Cost: Manukan Island charges a conservation fee of ~$0.70 per visitor.
How long should I stay here? 2-3
Getting there: From Mamutik Island, you'll take a ferry ride back to Jesselton Point, and from there you'll depart on a 15-20 minute ride to Manukan Island.
5:00 pm – Imago Shopping Mall
Head back to your accommodation for a shower, perhaps a coffee, and maybe some aloe vera to treat any newly acquired sunburn. Once you're spruced up, head over to Imago Shopping Mall, the perfect place to break any tranquil feelings of bliss that may be remaining from your day on the islands.
If the islands off the coast of Kota Kinabalu epitomize the beauty of unspoiled nature, Imago Shopping Mall does the exact opposite. It's one of those malls that has literally everything. Pretty much all the high-end clothing brands can be found here, as well as an entire supermarket with foreign food items that tend to be difficult to find elsewhere in the city. It's clean, luxurious, and wonderfully, beautifully air-conditioned!
Even if you don't need or want to buy anything in particular, the mall is a great place to hang out with any new friends you may have made. I recommend getting dinner at one of the many restaurants in the mall, and maybe even enjoying a movie in the cinema!
Want to Know More?
Cost: Free to enter. For most well-known brands, expect to pay Western prices.
How long should I stay here? 1-3 hours.
Getting there: The mall is in the Tanjong Aru/Waterfront region, so take a taxi or walk, depending on where you're staying.
8:00 pm – Drinks at Mynt Club
Mynt Club is a high-end bar that provides a nice blend between a full-blown party atmosphere and a chill place to sip some drinks and talk with friends.
It's right in the Waterfront area, so if you sit outside, you'll enjoy a warm ocean breeze and the sound of lapping waves. Mynt Club serves any standard cocktail or alcoholic beverage you can think of, all for a reasonable price, especially if your visit coincides with happy hour. The bar has a nice live music scene with occasional hosted events and stunning ocean views from the outdoor seating deck. If you get sick of the mall quickly and get here before 6:30, you'll see that it's one of the best sunset spots in the city!
Mynt Club is the perfect place to wrap up your second day in Kota Kinabalu!
Cost: This is a top-tier bar and club, so expect to pay what you would back home.
How long should I stay here? It's up to you; how late do you want to party?
Getting there: Mynt Club is a 15-minute walk from Imago Shopping Mall.
Is This the Best Daypack EVER???
Kota Kinabalu Itinerary Day 3: Village Life
To ring in your time in the wondrous city of Kota Kinabalu, day three is going to give you a taste of rural life outside the city limits. This will be a busy day that begins with an early morning, so make sure you have everything ready (maybe including breakfast) the night before.
9:30 am – Crocker Range National Park
You won't believe that such unspoiled nature can be found so close to Kota Kinabalu city proper.
Crocker Range is the largest national park in all of Sabah, at 540 square miles. The park is characterized by a sprawling range of mountains, some rising to nearly 6,000 feet. If you're a trekker, you'll be in heaven, as the park is gigantic and there is no shortage of mountainous views to behold. You might actually feel like you're in Yosemite National Park at times. The difference, of course, is the fauna. I don't think you can find orangutans, gibbons, macaques, and tarsiers in Yosemite, though I'll be happy to be proven wrong.
At the Crocker Range headquarters, you can eat lunch, climb the observation tower, and visit the fernarium and insectarium before heading back to Kota Kinabalu.
Cost: Entry to the park is ~$4.50
How long should I stay here? 3-4 hours.
Getting there: Take the 8:00 am Tung Ma Coach Bus from Kota Kinabalu to Keningau Town, and hire a taxi from there.
2:00 pm – Monsopiad Heritage Village
Monsopiad was a fearsome warrior who became such a renowned headhunter that an entire mythical chronicle was written regarding his origins and mighty deeds.
The Monsopiad Heritage Village is named in his honor — whether that's a good thing or a bad thing is up to you to decide. Monsopiad was a Kadazan, a native of Sabah. The Heritage Village was constructed by his actual descendants, in the same location where he… hunted heads, hundreds of years ago.
The village offers a tremendously insightful look into the traditional ways of life of the Kadazan people. You'll see the buildings where the people store their rice, you'll examine rice grinders, bamboo designs, pottery, and other locally made items. You'll walk through the numerous wooden houses, each filled with fascinating exhibits. The most striking spot in the village, however, is the Siou Do Mohoing, where you can find the skulls of 42 of Monsopiad's victims. And yes, Siou Do Mohoing translates to "House of Skulls."
The Monsopiad Heritage Village offers a somewhat raw look into the realities of life in rural Sabah.
Cost: ~$10.20 for entry, including activities and a tour.
How long should I stay here? 1-2 hours.
Getting there: On the way back from Crocker Range National Park, hop off the bus in Putatan and grab a taxi to Monsopiad Heritage Village.
6:30 pm – Dinner at the Waterfront
This has been a long day, so head back to your accommodation for a quick shower and maybe a cat nap if you feel like it. Then set out for the Waterfront area for a nice fancy dinner to celebrate your final day in Kota Kinabalu. Here are three of my favorite places right on the waterfront:
Sakagura is a Japanese restaurant located in the Oceanus Waterfront Mall.
The Shamrock is an Irish pub and bar with beautiful outdoor seating.
Gusto Food & Wine specializes in Italian dishes and stunning sunset views.
Cost: $7-$15 for most meals.
How long should I stay here? 1-2 hours.
Getting there: If you're staying in the Waterfront area, it should be a short walk. Otherwise, grab a taxi.
8:00 pm – Filipino Handicraft Night Market
Wrap up your bittersweet final few hours in Kota Kinabalu with a trip to the Filipino Handicraft Night Market.
This is the perfect place to buy a souvenir for family or friends back home, as there is a seemingly endless supply of every sort of handmade item. Clothing, accessories, bags, jewelry — you name it. Some sellers here also offer food. I'm sure you'll be stuffed from dinner by this point, but perhaps a fresh tropical fruit like mango, durian, pineapple, or papaya would hit the spot nicely.
The market is open until 10:00 pm every night.
Cost: Free to enter. Prices of goods vary depending on what you buy — don't be afraid to haggle though!
How long should I stay here? 1-2 hours.
Getting there: The market is about a 10-minute walk from any restaurant in the Waterfront area.
What to Do With More Than 3 Days in Kota Kinabalu
There's so much to see and so much to do here that you could spend way more than 3 days in Kota Kinabalu and not get bored. Even just the activities listed in this three-day itinerary could easily last you a week if you do them a little more slowly and methodically.
So, if you are planning to stay longer (and you should!) here are some other must-see places.
1. Signal Hill Observatory Tower
Unfortunately closed for renovations temporarily, Signal Hill Observatory Tower is one of the best places to get a panoramic view of Kota Kinabalu as a whole. If you can't tell yet from reading this article, I love sunsets — so I feel like I have to say that this is a great place to hang out while the sun goes down.
Cost: Free!
How long should I stay here? Around 1 hour.
Getting there: Grab a taxi or walk, depending on where you're coming from. The Tower is near Atkinson Clock Tower and Pasar Besar Market.
2. Kinabalu Park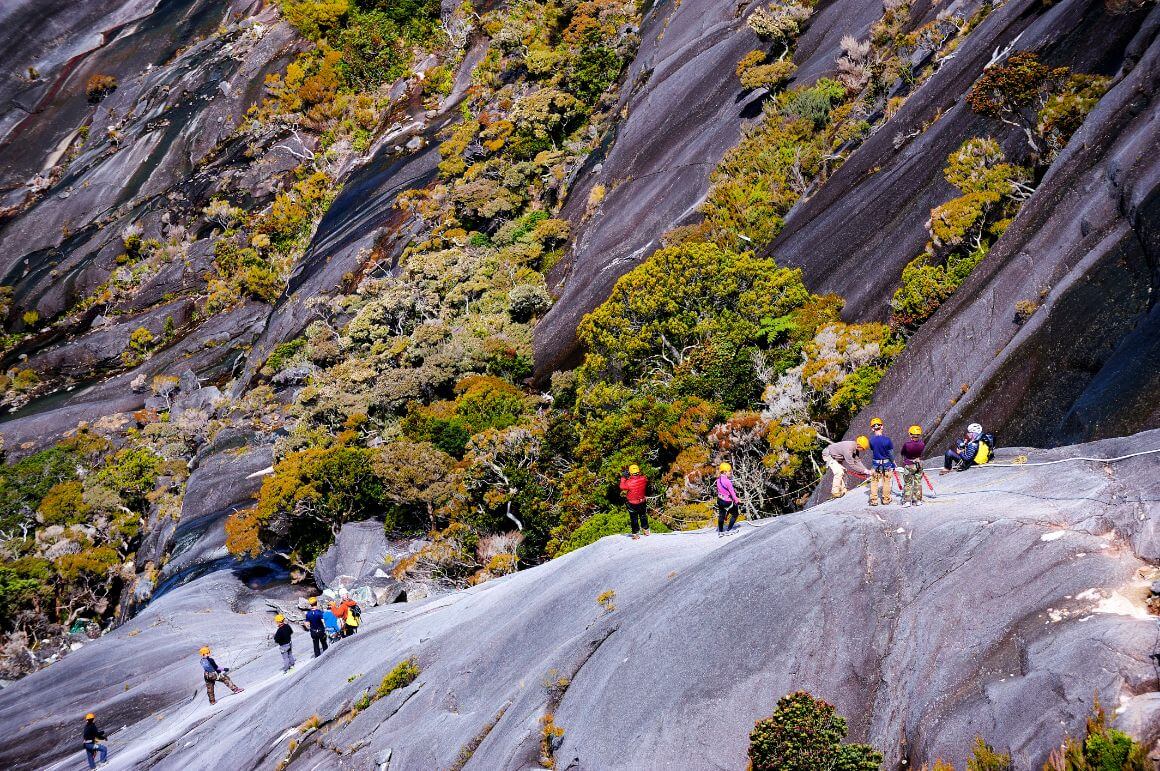 At 291 square miles, Kinabalu Park is about half the size of Crocker Range National Park — but boy oh boy, is it beautiful. Just imagine gray, rocky cliff faces, and mountaintop views that allow you to look down on the clouds. Kinabalu Park is definitely a must-see destination, but it's just too far to squeeze into a 3-day itinerary. So if you have enough time where you can dedicate a full day or two to Kinabalu Park, you won't regret it.
Cost: ~$11.30 for entry.
How long should I stay here? Anywhere from 3-4 hours to a full day or two.
Getting there: Between 5:30 am to 5:00 pm, you can catch a minivan to Kinabalu Park from Merdeka Square.
3. Aquascape Center
Aquascape Center is part aquarium, part botanical garden. It's an excellent place to go with kids. There are lush hanging vines, potted plants, outdoor fish ponds, and huge aquarium tanks with gigantic freshwater fish and live fish feedings.
Cost: Around $5.70 for adults and $3.40 for kids.
How long should I stay here? 1-2 hours.
Getting there: Aquascape Center is right in the main city area, so either walk or take a taxi, depending on where you're coming from.
Travel with peace of mind. Travel WITH a security belt.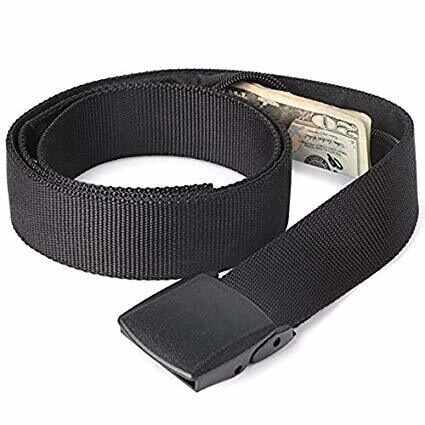 Get your cash stashed with this awesome Pacsafe money belt. It will keep your valuables safe no matter where you go.
It looks exactly like a normal belt except for a SECRET interior pocket perfectly designed to hide a wad of cash or a passport copy. Never get caught with your pants down again! (Unless you want to.)
Hide Yo' Money!
Best Time to Visit Kota Kinabalu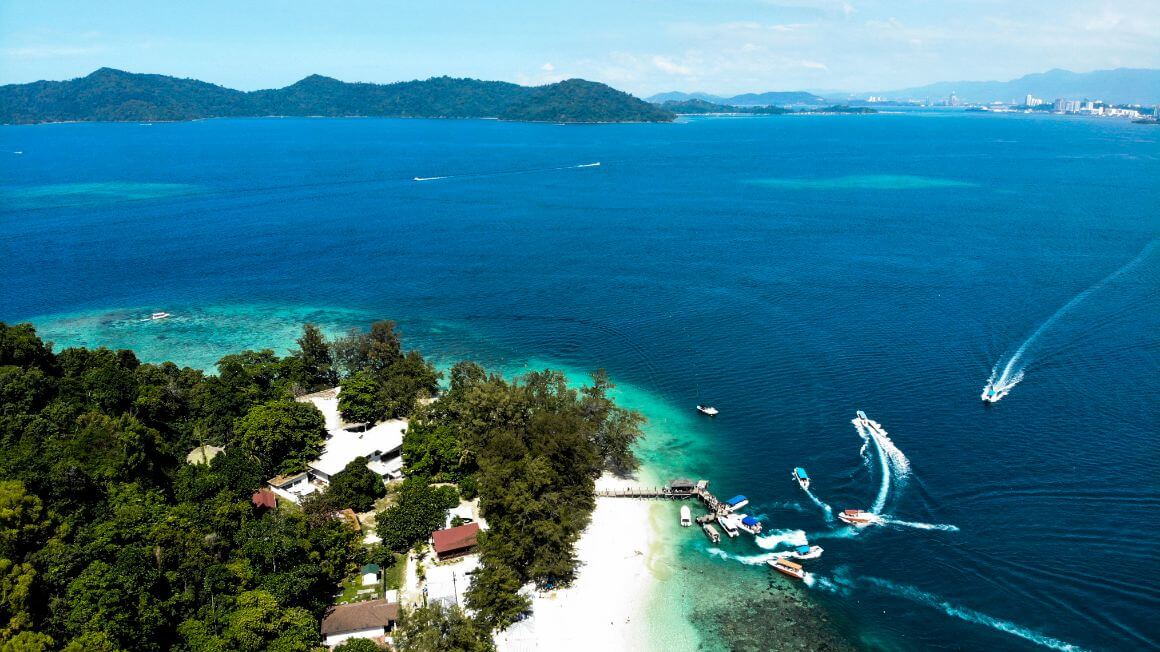 In general, Kota Kinabalu isn't as well-known as Kuala Lumpur and some of the other major cities in Malaysia. This is really a pity, as it really should be a serious priority for anyone visiting Malaysia. But lucky for you, this means you won't really have to worry too much about crowds.
Malaysia is notorious for its rain, however. By and large, October, November, and December are the rainiest months, with May also being quite… moist. So I would factor the weather into your planning much more than the crowds. The table below provides a helpful rating for the best times to visit Kota Kinabalu, based on combinations of temperatures, expected rainfall, and crowds.
Itinerary-Best Time to Visit Kota Kinabalu

| Month | Average Temperatures | Chance of Rain | Crowds | Overall Grade |
| --- | --- | --- | --- | --- |
| January | 26°C/78°F | Average | Busy | 🙂 |
| February | 26°C/78°F | Average | Busy | 🙂 |
| March | 26°C/79°F | Average | Busy | 🙂 |
| April | 27°C/80°F | Average | Busy | 🙂 |
| May | 27°C/80°F | High | Medium | 😐 |
| June | 27°C/80°F | Average | Medium | 😀 |
| July | 26°C/79°F | Average | Medium | 😀 |
| August | 27°C/80°F | Average | Medium | 😀 |
| September | 26°C/79°F | Average | Calm | 😀 |
| October | 26°C/79°F | High | Calm | 😐 |
| November | 26°C/78°F | High | Calm | 😐 |
| December | 26°C/78°F | High | Busy | 🙁 |
Show more
How to Get Around Kota Kinabalu
While Kota Kinabalu is largely an advanced city, certain areas of modern infrastructure are still only in the emergent phase. Unfortunately, public transportation is one of those areas.
Let me be clear: Kota Kinabalu has a large number of long-distance buses. If you want to go to Kota Kinabalu from outside the city, or you want to leave Kota Kinabalu to go somewhere else, you'll usually be able to find buses to all but the most remote destinations. However, as far as inner-city travel goes, the bus system is severely lacking (and the metro system is… nonexistent!) There are many reasons for this, and everyone in the city knows how beneficial a good public transportation system would be. But, long story short: you're going to have to walk, rent your own scooter/car, or take taxis everywhere. For the more tech-savvy among us, Uber, Lyft, and the Malaysian app "MyCar" are usually dependable.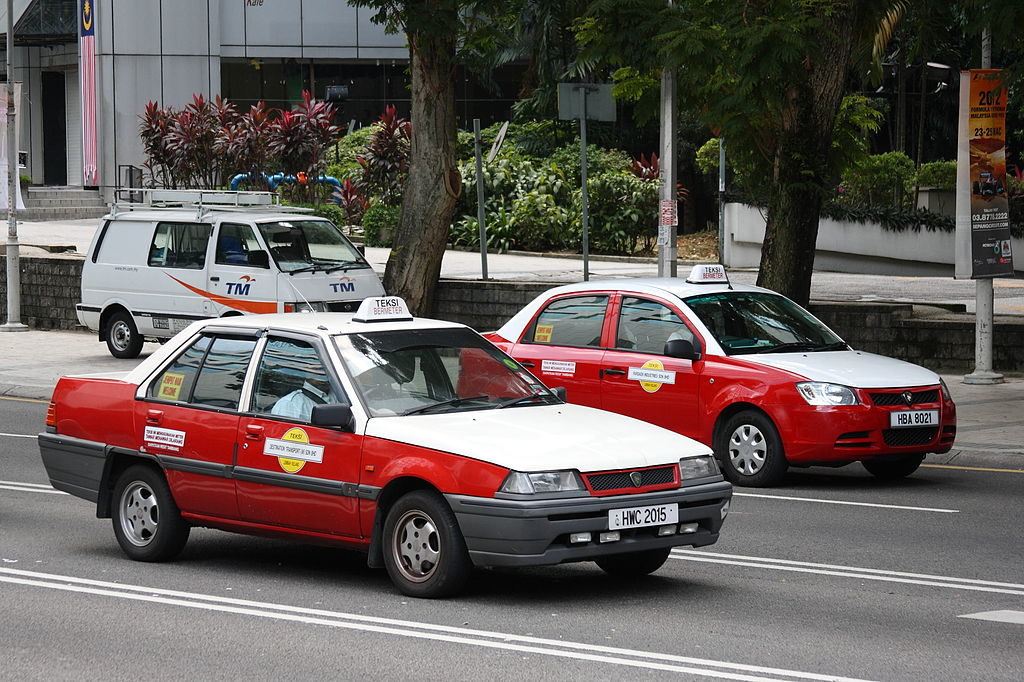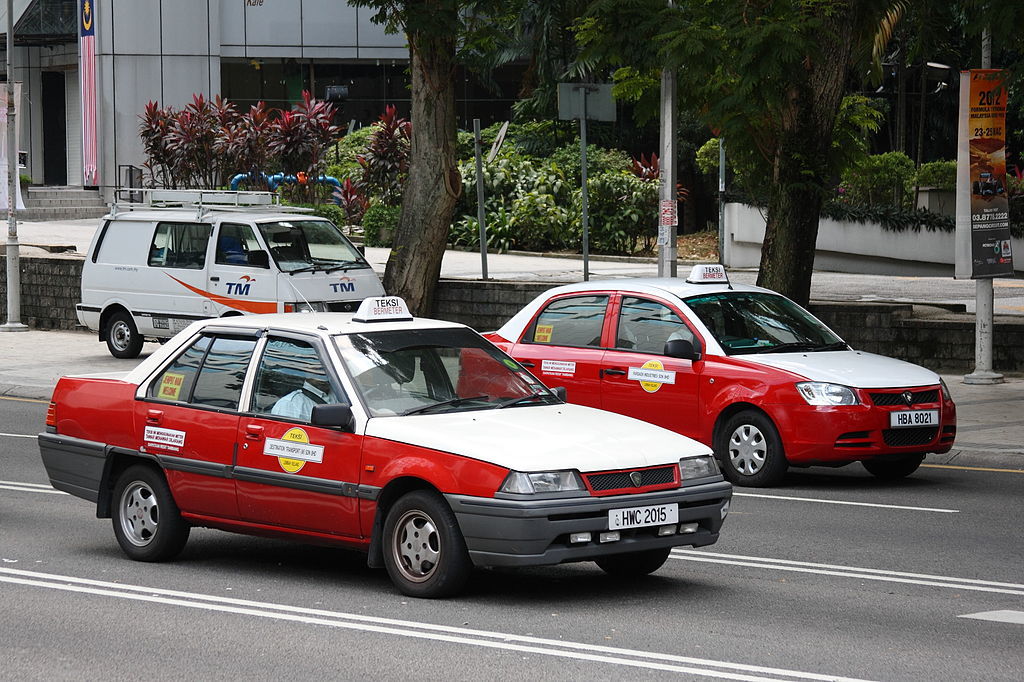 Always remember, perspective is everything. You won't be hopping on efficient buses for $0.25 as you can in Bangkok, but you're still in Southeast Asia, and nearly all prices are bound to be significantly lower than what you're used to at home. Plus, a low number of buses means a high amount of taxis, which causes a lot of competition among the drivers. And increased competition always drives down prices, so taxi costs may be lower than what you're expecting, even for Southeast Asia.
Use Bookaway to find the best deals on transport – buses, planes, trains, and ferries. It'll save you a load of time when organising transport and you'll probably nab an EPIC DISCOUNT too!
Book your transport on Bookaway NOW. Get the best price for the best ride… then use those savings to buy the best feed in town!
Book Your Transport Here!
How to Prepare Before Visiting Kota Kinabalu
Malaysia is rainy — there's no way around it. Even the "dry" seasons have at least 10 rainy days per month on average. So the first thing you'll want to make sure to bring is a good rain jacket. And if your backpack or suitcase isn't waterproof, definitely get yourself a rain cover for that puppy. Trust me on this one — getting caught in a rainstorm sounds awful, but when you can rest easy knowing everything you're carrying is safe and sound, a little rain here and there can actually be kind of fun! It's all about the mindset — and the gear.
Besides a raincoat, bring all the things you'd normally bring on a beachy summer vacation: flip-flops or sandals, sunscreen, a bathing suit, and maybe even a bucket hat or baseball cap for when the sun gets especially out of hand.
Finally, because Kota Kinabalu is surrounded by such amazing nature, you'd be remiss not to bring a pair of good hiking shoes. You don't want to be that guy trekking up a rocky mountain in Crocs, do you?
Don't Forget Travel Insurance for Kota Kinabalu!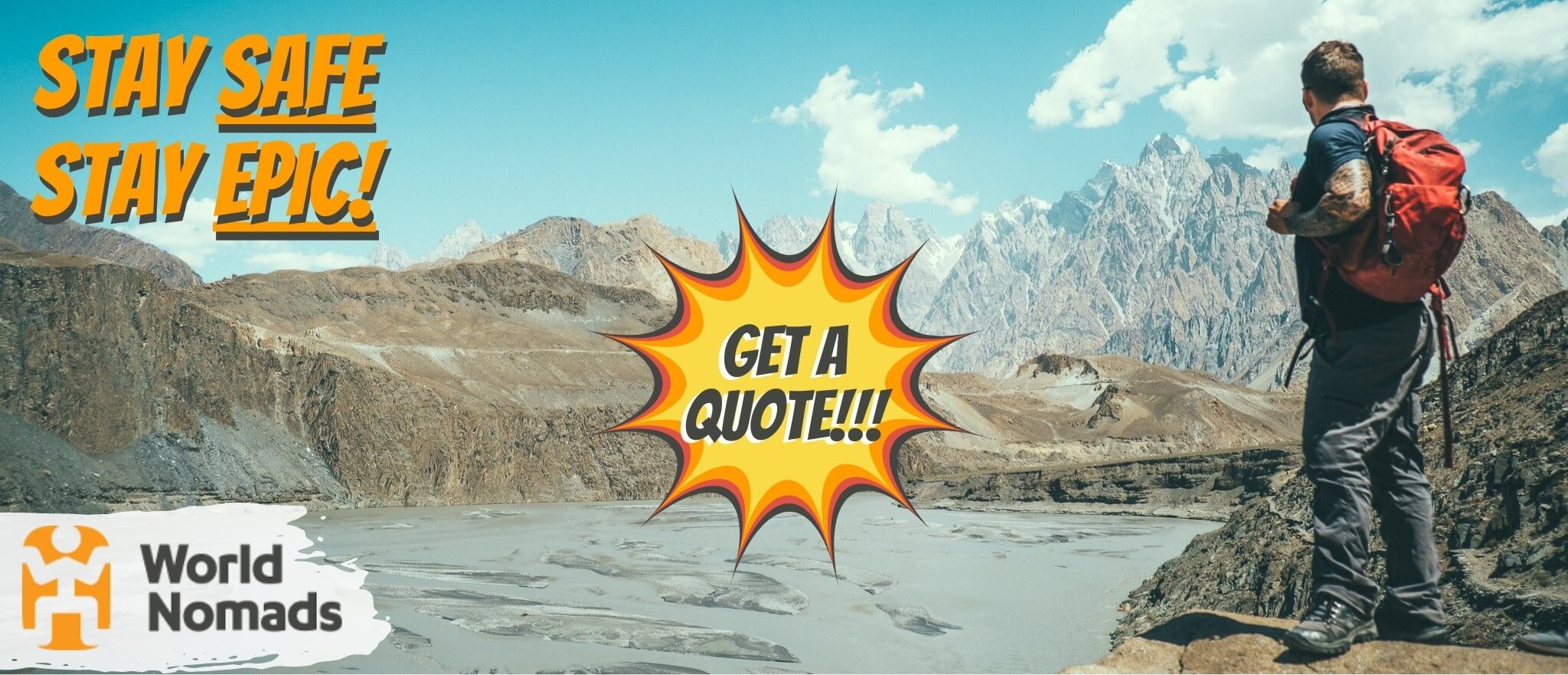 World Nomads' mission is to support and encourage travellers to explore their boundaries. They offer simple & flexible travel insurance, and safety advice to help you travel confidently.
They've been doing it since 2002 – protecting, connecting, and inspiring independent travellers just like you.
Get a quote below or read our in-depth review!
World Nomads provides travel insurance for travelers in over 100 countries. As an affiliate, we receive a fee when you get a quote from World Nomads using this link. We do not represent World Nomads. This is information only and not a recommendation to buy travel insurance.
Final Thoughts
Lucky for you, you've chosen to visit one of the most wonderfully varied places in all of Asia. I don't care if you're a city slicker, a beach boy, or a mountaineer — you're going to find lots to do in Kota Kinabalu.
Follow this itinerary for 3 days in Kota Kinabalu to a tee, or use it as a stepping stone for creating your own — it doesn't matter to me. What does matter to me is that you make the most of every moment out there, because before you know it you'll be on a plane zipping back home.
Have fun, do crazy things, meet some amazing people, and soak in the magic of this wonderful planet the way only we backpackers can!
---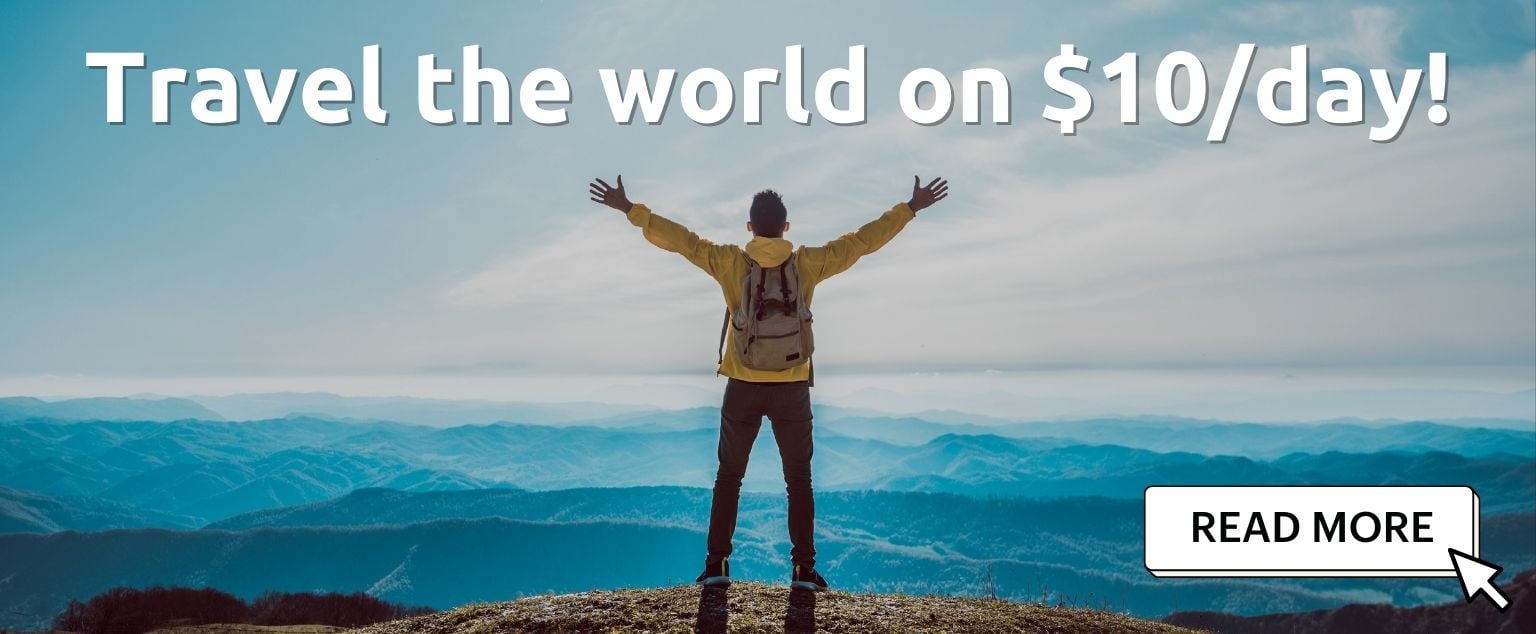 And for transparency's sake, please know that some of the links in our content are affiliate links. That means that if you book your accommodation, buy your gear, or sort your insurance through our link, we earn a small commission (at no extra cost to you). That said, we only link to the gear we trust and never recommend services we don't believe are up to scratch. Again, thank you!