The capital city of Georgia is one of the most exciting destinations in the US! This historic city perfectly blends old landmarks and important heritage sites with a bustling metro area that is full of exciting things to experience!
Atlanta is kind of the crown jewel of the South. This unique destination shows off all of the things that make this area special – from its thriving downtown area to its ground-breaking culinary scene, museums, and everything in between!
If you are planning a trip here, there are loads of unmissable things to do in Atlanta! Between the famous sights and attractions and some unique experiences, this city has plenty to offer its visitors! Here is our complete guide to the best things to do in Atlanta.
Atlanta is full of landmarks and attractions that are widely varied! Here are some of the essential things to do in Atlanta!
One of Atlanta's favorite stories is that of Dr. Martin Luther King. While in this city, be sure to follow his footsteps and learn more about this world-famous civil rights leader!
Learning about MLK is one of the most essential things to do in Atlanta! You can achieve this by visiting the interesting King Center, popping into the Ebenezer Baptist Church, visiting Freedom Hall, as well as the old headquarters of the SCLC! These destinations are within easy reach of each other, forming an area that is now known as the MLK Historic District.
Taking a stroll down the Beltline is one of the best outdoor things to do in Atlanta! This paved walkway lies on the site of the old 22-mile railway loop in the downtown area. The Atlanta Beltline is one of the largest and most diverse urban redevelopment programs in the United States!
While the entire project is still being finished, the Eastside Trail is fully complete. You can enjoy walking between well looked after gardens, parks, and art-installations here. This is a truly exciting development in Atlanta and a must-see attraction while you're in town!
For more Places to Stay, check out our full Atlanta Neighborhood Guide!
The busy Atlanta metro area may have a great deal going on, but a visit here should never overlook the important historic neighborhoods of the city! This really is a destination with a fascinating past, and it is best experienced by visiting some of the older neighborhoods.
Must-visit areas include Inman Park, Ansley Park, the Centennial Olympic Park, and the old 4th Ward. While here you can see landmark sights like Martin Luther King's home, and the former residence of Margaret Mitchell.
These areas are often best explored through a guided tour that can teach you more about the city. Seeing these neighborhoods is one of the most popular things to do in Atlanta!
When visiting Atlanta, eating is always a highlight! The capital of Georgia is famous for its exciting food scene, and one of the best places to experience this is at the Ponce City Market!
The Ponce City Market is the city's largest food hall, and it's sure to satisfy anybody's taste buds! You can taste your way through a wide range of restaurants and street food favorites in order to see why Atlanta is such a popular foodie hotspot!
Visiting the Ponce City Market is one of the hippest things to do in Atlanta, and it should be a necessary addition to any itinerary here!
The World of Coca-Cola is one of the best places to go in Atlanta for anyone after a unique museum experience! This interactive museum pays tribute to John S. Pemberton – the pharmacist who invented the famous drink in downtown Atlanta in 1886.
There are loads of exciting installations and exhibits here that honor the fizzy drink! Highlights include the 4-D theater, a manual bottling machine, and of course that tasting room with over 100 Coca-Cola varieties from around the world!
Visiting this fun museum is certainly one of the best things to do in Atlanta indoors!
6. Admire the Incredible Street Art
Taking in all of the innovative and beautifully crafted street art is one of the best things to do in downtown Atlanta! This is a creative city, and one of the best examples of how this is expressed is through the well-decorated streets!
You can visit the Atlanta Street Art Map and choose between seven tours to embark on. Each of them explores different neighborhoods, and they all offer something completely unique!
Some of the popular street art areas to take in include Cabbagetown, Edgewood Avenue, Downtown, East Atlanta, and Little Five Points. The Atlanta BeltLine Eastside trail is also included as one of the tours! This is a great way to understand the streets of Atlanta a little better.
Visiting the Georgia Aquarium is one of the best fun things to do in Atlanta! This aquarium is always a highlight to any Atlanta itinerary, and is a must for any kind of visitor!
This awesome aquarium explores the different oceans and all of the life that can be found in them! Enjoy interactive displays, an immersive 4-D theater, touch pools, and more! Whether you want to see dolphins, sea lions, manta rays, spider crabs, or just about any other sea creature, they can be found here at the aquarium! This is also one of the best things to do in Atlanta with kids.
8. Relax in the Atlanta Botanical Garden
The Atlanta Botanical Garden is a highly impressive 30-acre botanical center found alongside the city's largest public park. This is a beautiful place to spend a sunny day in the city, and visiting is one of the best things to do in Atlanta in summer!
Stroll between the various plants, flowerbeds, trees, and water features in this well-preserved garden. A popular highlight is the 600-foot Canopy Walk footbridge that is suspended 40 feet above the ground! The Japanese garden is also stunning.
The Atlanta Botanical Garden is the perfect place to slow down a little and escape the buzz of the city.
9. Celebrate American Civil Rights
If you are after a unique and interesting museum in Atlanta, be sure to check out the Center for Civil and Human Rights. This attraction opened in 2014, and it is entirely focused on both the American Civil Rights Movement, as well as the global Human Rights Movement.
The modern and beautifully designed museum consists of three floors of exhibitions. These include a look into the different fights for equality that American communities have faced in the past, and what kind of challenges still lie ahead.
10. Absorb Culture at the High Museum of Art
Now that you have experienced the raw street art of Atlanta, it's time to see a different artistic side of the city. The High Museum of Art is a highly-acclaimed gallery with a huge range of artworks on display.
You can spend hours exploring this massive art museum, admiring the many different styles and movements that are on exhibition. While the High Museum of Art displays a variety of pieces from across the globe, there is a strong focus on American photography, as well as its many visiting exhibits. This is one of the most captivating Atlanta attractions!
Not all Atlanta things to do fall under the typical tourism category! There are plenty of unique and interesting things to experience in this city. Here are some of the best unusual things to do in Atlanta.
Much of the TV series Stranger Things was filmed around Atlanta, and you can discover these many iconic locations around the city!
If you are a fan of the hit show, then this will promise to be an unforgettable experience! You can find the Palace Arcade, the Sheriff's Station, the entrance to the Upside-Down, Merrill's pumpkin farm, and loads more!
If you enjoyed watching Stranger Things, then this is one of the best things to do in Atlanta off the beaten path!
12. Visit Junkman's Daughter and the Quirky Little Five Points Neighborhood
Little Five Points is one of the most unique neighborhoods in Atlanta. Here you can find a wide range of record shops, alternative boutiques, vintage stores, and totally one-of-a-kind restaurants! For the ultimate experience here, be sure to visit Junkman's Daughter!
This big colorful shop embodies everything that Little Five Points stands for. Browse the many quirky items on sale, and absorb the unique culture! Another great destination here is the Variety Playhouse for a well-loved range of performances and concerts!
13. Wander Through the Oakland Cemetery
Visiting a cemetery may not be high up on most tourist lists of what to do in Atlanta, but this place is well worth the visit! The cemetery is a truly historic destination, with many famous graves and headstones. Beyond this, the site is beautifully maintained and cared for.
Guided tours of the cemetery are available if you would like to learn more about the interesting stories and tales around this place. Otherwise walking around the cemetery is also one of the best things to do in Atlanta alone, as you will get to explore the famous headstones and appreciate the overall peace of the place.
Atlanta is certainly considered a safe city for visitors. However, there are certain areas that are best to be avoided. These areas are far away from any regular tourist attractions (and all attractions mentioned in this guide).
As with any city, be careful when walking around at night, and always keep a close eye on your belongings. Besides taking regular caution though, Atlanta is a safe destination. Read our tips for traveling safely before you fly and always get travel insurance. Check out our roundup of the best travel insurance.
Atlanta is not just a city full of historic treasures and daytime activities – there are also some brilliant things to do here at night! Here are some of the best after-hours activities in Atlanta.
If you love beer, then Atlanta is one of the best places to be! There are a number of excellent craft breweries operating around this city – making it a top destination for anyone interested in this golden drink!
Some must-visit breweries include SweetWater Brewing, Atlanta Brewing, and Monday Night Brewing. Tours are available of these establishments during the day, while nights can be spent enjoying the city's many local beers!
15. Absorb Entertainment History at the Fox Theater
The Fox Theater is a historic gem in Atlanta! This turn of the century movie house is widely recognized by its iconic sign and stunning location. This amazing Egyptian styled venue has been providing Atlanta with some of the best concerts and performances for many years!
The Fox Theater hosts all kinds of Broadway tour stops, well-known comedians, or big bands. No matter what is going on here though, it will be sure to be an entertainment experience to remember!
For those interested in the history of the venue, tours of the theater are also available.
16. Soak Up Some Blues at Blind Willies
When in the South, catching some live blues is always a good idea! Blind Willies is one of the city's favorite live music establishments, hosting an excellent lineup of live jazz and blues each evening.
Visiting Blind Willies is one of the best things to do in Atlanta center at night! The atmosphere here is something very special – a real Atlanta experience! This is also the perfect place to visit after dinner at one of the city's many amazing restaurants.
Looking for a specific place to stay? These are our highest recommendations for places to stay in Atlanta.
There are some great Airbnbs in Atlanta. Get set up slap bang in the middle of downtown with this cool, art-deco apartment. Given its location (you literally could not be more central) this place is an absolute bargain, even more so when splitting the bill 2 ways. Perfect for those looking to enjoy the city centre day and night. This is certainly one of the best vacation rentals in Georgia.
Thanks to its great location this elegant bed and breakfast is the perfect base for your time in Atlanta. It has a number of great features, including a concierge service, a library and free wifi throughout. Each room is outfitted with modern amenities. All of this combined makes it our pick for the best budget accommodation in Atlanta.
The Hyatt Place Downtown gets our vote for the best hotel in Atlanta. It has spacious rooms, large beds, and a delicious on-site restaurant. Centrally located in the heart of the city, this three-star hotel has restaurants, bars, clubs and museums right on its doorstep.
Take a break from the downtown buzz and enjoy a romantic moment in Atlanta! Here are some of the best activities for couples to do in Atlanta.
17. Catch a Drive-In Movie at the Starlight Theater
The Starlight drive-in theater is a popular hotspot in Atlanta that has been going strong since 1949! This old-school art deco drive-in is one of the best things to do in Atlanta for couples, families, or just by yourself!
Catching a movie from the comfort of your car is a really fun experience, and is something that we hardly get to enjoy anymore. A trip to the Starlight Theater lets you experience much more than just a movie though, as there is a great retro Tex-Mex food stand, a fun weekly swap meet event, and a totally unique vintage vibe!
18. Enjoy a Picnic in Piedmont Park
Piedmont Park is Atlanta's huge green space in the city! This beautiful park is comparable to New York's Central Park, as the place is always a hub of peaceful activity! One of the best romantic things to do in Atlanta has got to be enjoying a slow picnic in this natural oasis.
Relax under a tree or next to the lake here for a memorable moment. The park is full of greenery and small wildlife, making it the perfect escape from the city! If you are lucky, you might be able to visit Piedmont Park during one of the excellent art festivals, outdoor concerts, or farmers markets that take place here!
If you are seeing Atlanta on a budget then there is no need to worry! This city has some excellent free attractions and activities. Here are some of the best things to do in Atlanta on a budget.
19. Visit the Martin Luther King Jr. Tomb
You just can't visit Atlanta without exploring the history and story of Martin Luther King Jr a little deeper. This American hero can be appreciated through a visit to his well looked after tomb. This Atlanta landmark is completely free to visit, and is well worth seeing up close!
To add on to this, free tours are available from his tomb, of the area where he grew up. For those wanting to learn more about American civil rights and the powerful story of MLK, then this is a great destination!
20. Witness Art at the Atlanta Contemporary Art Center
The Atlanta Contemporary Art Center is freely open to the public. This gallery is one of the best things to see in Atlanta if you love art but are on a budget! You can explore modern art exhibitions and admire some absolutely amazing pieces.
Atlanta Contemporary Art Center also hosts regular events, lectures, and kids events! This is one of the best places to enjoy during the day in the city without spending a cent!
21. Explore the Centennial Olympic Park
The Centennial Olympic Park provides a space for Atlanta residents to freely enjoy, hang out, and attend events. The park is a great place to visit to enjoy the fun water features, and the colorful lights.
Besides enjoying this park as one of the city's favorite public spaces, you can also attend a free event here! An absolute highlight is the free concerts that take place here every Wednesday night during summer! These are such fun events that can be enjoyed by anyone in the city!
Books to Read while Visiting Atlanta
To Have and To Have Not – A family man gets involved with the drug smuggling business in the Key West and ends up in a strange affair. Written by the great Ernest Hemingway.
Catcher in the Rye – One of the quintessential tales of growing up. Follows a young boy from Pennsylvania who runs away to New York in an open act of rebellion.
Walden – The transcendental masterpiece by Henry David Thoreau that helped modern Americans rediscover nature and her beauty.
Planning a trip to Atlanta with your youngsters? Here are some of the city's best child-friendly attractions!
22. Ponce Market Rooftop Arcade
Visiting the Ponce Market is always a must on any trip to Atlanta Georgia, but if you are visiting with children then be sure to head up to the rooftop! On top of the market is an awesome arcade with a huge range of family-friendly offerings!
Whether it is old school carnival games or flashy modern attractions, the Ponce Market Rooftop Arcade promises hours of fun! Be sure to check out the mini-golf, the Heege Tower climb, skee ball, and the classic ring toss! There is also some tasty food available to keep your children fuelled up and ready to go!
Atlanta has a thriving film industry! Amongst many productions that have been filmed here, superhero movies are some of the most well known! If your kids love the Marvel Universe and want to dive into it in real life, then why not explore some behind the scenes superhero destinations!
You can find a number of iconic movie destinations throughout the city, as well as visit some of the most famous sets! This is a great way to discover more about the exciting Atlanta film industry – and transporting yourself into these other worlds is seriously fun!
Looking for more excitement in this city? Here are some more highly-rated Atlanta activities!
24. Fernbank Museum of Natural History
Allow natural history to come alive at the Fernbank Museum! This awesome museum is not only highly educational for your little ones, but it also promises to be loads of fun! With a particularly exciting dinosaur exhibit, as well as the WildWoods and Fernbank Forest for some outdoor fun, this museum has it all!
Everyone will love wandering around here, exploring the thrilling exhibitions and fun displays.
You just have to dedicate a good portion of time during your Atlanta itinerary to eating delicious southern food! This city is famous for its cuisine – from innovative game-changers to classic old-school soul food!
Visit top foodie locations in the city like the Krog Street Market, and the historic restaurants in Inman Park are highly necessary for anyone wanting to learn more about the food here! Learning about Southern food in Atlanta is not only delicious, but it is a great way to further understand the culture and history of this interesting city!
If you want to see reach some of the best lesser-known areas in Atlanta, then one of the best ways of doing this is by bicycle! Atlanta is great for leisurely cycling around and taking in the beautiful neighborhoods and landmarks as you ride past them.
You can cycle through the Atlanta Beltline, Krog Tunnel, Inman Park, the King Historic District, the Old Fourth Ward, the Oakland Cemetery, and more! These historic places have unique things to offer, and cycling between the neighborhoods is one of the best adventurous things to do in Atlanta!
27. Absorb Some Culture at the Goat Farm Arts Center
Yes, this place used to be a goat farm once, but today it is a cultural gem in the city! This building is an impressive art complex with loads of creativity on offer! From dance studios to artists' rooms, the Goat Farm is an exciting place to visit!
Besides being able to explore the various art studios and displays on offer here, the venue also hosts regular workshops, events, and experimental art shows! There is also an excellent cafe on the premises for a relaxing cup of coffee between artistic explorations.
Atlanta may be an incredible destination in itself, but it is also the perfect base for exploring more of the surrounding area! Here are some fantastic day trips from Atlanta.
You can easily reach the beautiful Georgia wine country from downtown Atlanta. This is the perfect way to spend a day out in the vineyards, tasting some delicious and unique wines of the region!
Besides visiting some top wine farms, you can also explore the wonderfully interesting village of Helen – offering a full Bavarian experience!
If you want to escape the city, then Victoria Bryant State Park is one of the most scenic places to go to! Enjoy a day out in peaceful nature, hiking through the rugged terrain and enjoying beautiful views. You can choose between a number of park routes for hikes depending on personal preference.
Now that you know about the amazing things to do in Atlanta, it's time to start planning your trip! Take a look at our awesome 3-day itinerary.
Start your day off at the Georgia Aquarium – an excellent central point. Once you have seen all of the marine life in this amazing place, head over to the neighboring Fourth Ward District. You can spend some time wandering through the interesting shops here, especially the Junkman's Daughter, before heading to the Atlanta Beltline.
Walk along the Eastside trail admiring all of the art here. Once done, it's time to head across to the Martin Luther King Jr. Historical Park. Soak up a great deal of history here before walking over to Krog Street Market to end your day with some tasty Southern food!
Start your day at the World of Coca-Cola to get the fun going! After this, you can walk straight down to the Centennial Olympic Park. Once you have wandered around here a bit, you can grab something to eat at one of the many incredible downtown restaurants before heading over to the Oakland cemetery.
Explore the cemetery, then visit the neighboring Cabbagetown area for a street art tour. You can then walk through the historic Inman Park neighborhood, before ending the day at the massive Ponce City Market Food Hall!
Day 3 is all about seeing a little bit more of what Atlanta has to offer. Either head out on a day of wine tasting up the North Georgia Region, or consider a beautiful hike through the Victoria Bryant State Park.
End the busy day off at one of the many lively craft breweries in downtown Atlanta!
Don't forget your travel insurance for Atlanta
World Nomads' mission is to support and encourage travellers to explore their boundaries. They offer simple & flexible travel insurance, and safety advice to help you travel confidently.
They've been doing it since 2002 – protecting, connecting, and inspiring independent travellers just like you.
Get a quote below or read our in-depth review!
World Nomads provides travel insurance for travelers in over 100 countries. As an affiliate, we receive a fee when you get a quote from World Nomads using this link. We do not represent World Nomads. This is information only and not a recommendation to buy travel insurance.
Here are some quick answers to common questions about what to do and see in Atlanta.
Atlanta is undoubtedly one of the most exciting cities in the South! Its wide range of landmarks and attractions will appeal to all kinds of people, making it the perfect destination for an action-packed getaway!
Whether you come for the food, the history, the Southern culture, or the interesting museums, your visit to Atlanta will definitely not be one to forget! We hope that this guide to the top things to do in Atlanta, Georgia will help you to see the best of this wonderful city!
---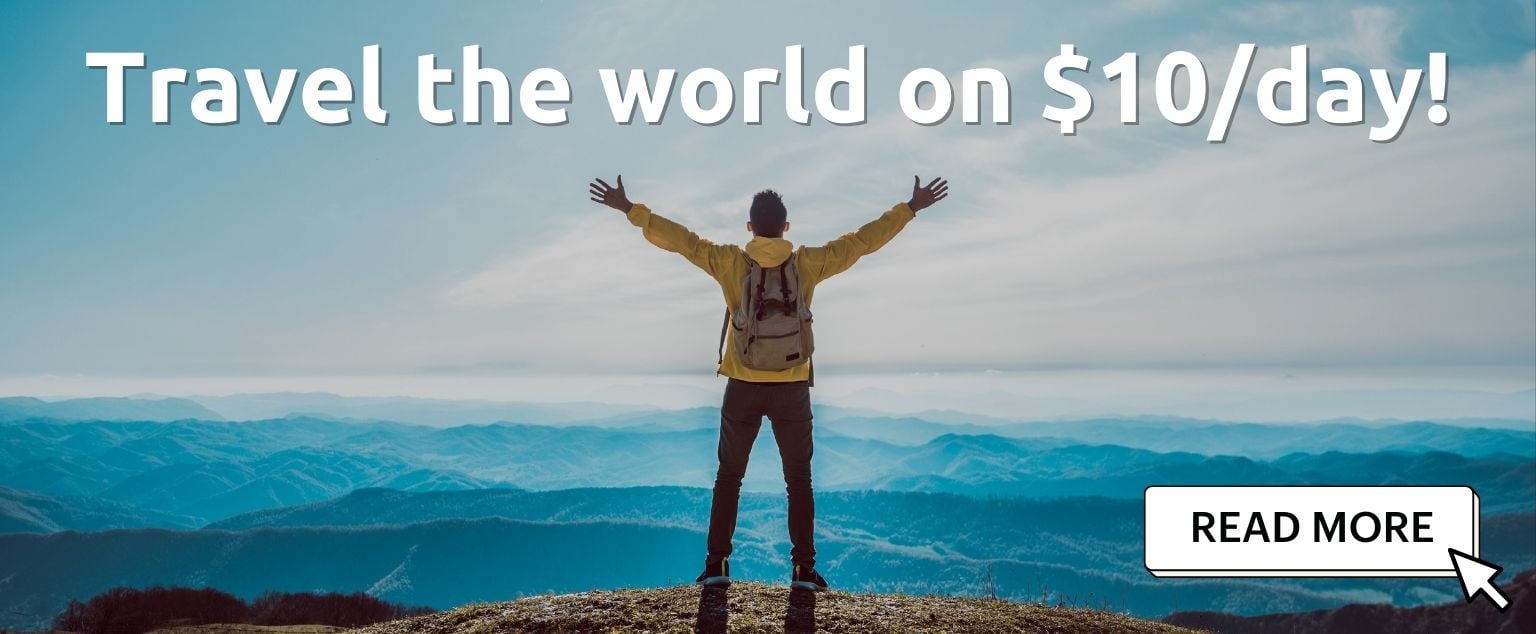 And for transparency's sake, please know that some of the links in our content are affiliate links. That means that if you book your accommodation, buy your gear, or sort your insurance through our link, we earn a small commission (at no extra cost to you). That said, we only link to the gear we trust and never recommend services we don't believe are up to scratch. Again, thank you!