Sometimes called the capital of the south and sometimes called Hotlanta, Atlanta is many things to many people. But we can all agree that Georgia's capital is an incredible place for a city break. It's a city where countless intellectual, art, and music movements began and Atlanta's rich history can be seen not only in the museums, but in the different neighbourhoods of the city!
If you find the hustle and bustle of the city a bit much, it's not too hard to step out into nature. In fact, more than a 3rd of the metropolitan area is covered by trees and parklands.
With everything going on in Atlanta, you'll need to find a place to stay. Rather than a hostel or hotel, why not find somewhere with plenty of charm and personality? There are loads of rentals in Atlanta that will make your stay memorable and fun!
Whether you want a cool downtown apartment, a private room in a local's home, or a treehouse on an alpaca farm (yes, really), there's an Airbnb in Atlanta to suit you!
So, with all that in mind, we've decided to help you out and put together this awesome list. Yep, let's check out the top 15 Airbnbs in Atlanta!
Quick Answer: These are the Top 5 Airbnbs in Atlanta
OVERALL BEST VALUE AIRBNB IN ATLANTA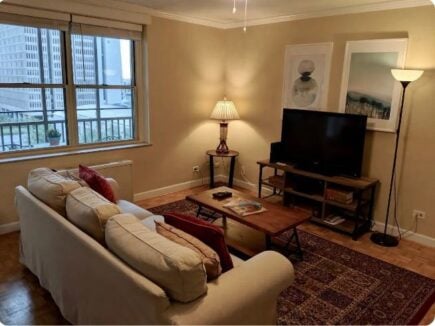 OVERALL BEST VALUE AIRBNB IN ATLANTA
Awesome flat with downtown views
> $$
> 4 Guests
> Convenient central location
> Panoramic downtown views
BEST HOMESTAY IN ATLANTA
BEST HOMESTAY IN ATLANTA
The Gallery House near the Stadium
> $
> 2 Guests
> Access to communal areas
> 4/20 friendly
BEST AIRBNB FOR COUPLES IN ATLANTA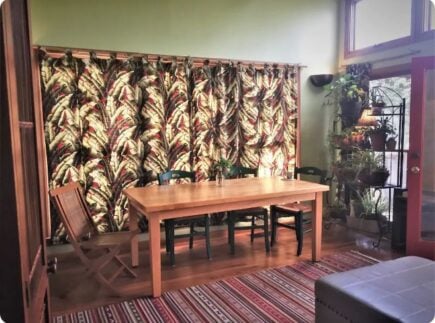 BEST AIRBNB FOR COUPLES IN ATLANTA
Urban Oasis in Historic Inman Park
> $$
> 2 Guests
> Private Entrance
> Great location
BEST AIRBNB FOR FAMILIES IN ATLANTA
BEST AIRBNB FOR FAMILIES IN ATLANTA
Guesthouse with huge outdoor space
> $
> 2 Guests
> Complimentary Breakfast
> Free passes to zoo and aquarium
BEST LUXURY AIRBNB IN ATLANTA
BEST LUXURY AIRBNB IN ATLANTA
Alpaca treehouse in Bamboo forest
> $$$$
> 4 Guests
> In a bamboo forest
> Wake up to LLAMAS and ALPACAS!
Why Stay in an Airbnb?
Local Experience: While many Atlanta Airbnbs are managed by companies, they're still locally based. Get the best recommendations for your Atlanta itinerary that you won't find in the guidebooks to make your trip truly special!
Unique properties: Airbnb has every kind of property you could think of. There's even a 'unique stays' search function, where you can find your dream property on the site.
Privacy: Whether you're travelling with the whole family or your other half, it's nice to have your very own space where you won't be disturbed.
Affordability: Airbnbs offer a lot more value for money than equivalently priced hotels. And with big group stays, you can split the cost multiple ways!
Airbnb Experiences: Choosing Airbnb isn't just about where to stay – it's about enjoying the area like a local with curated tours, too!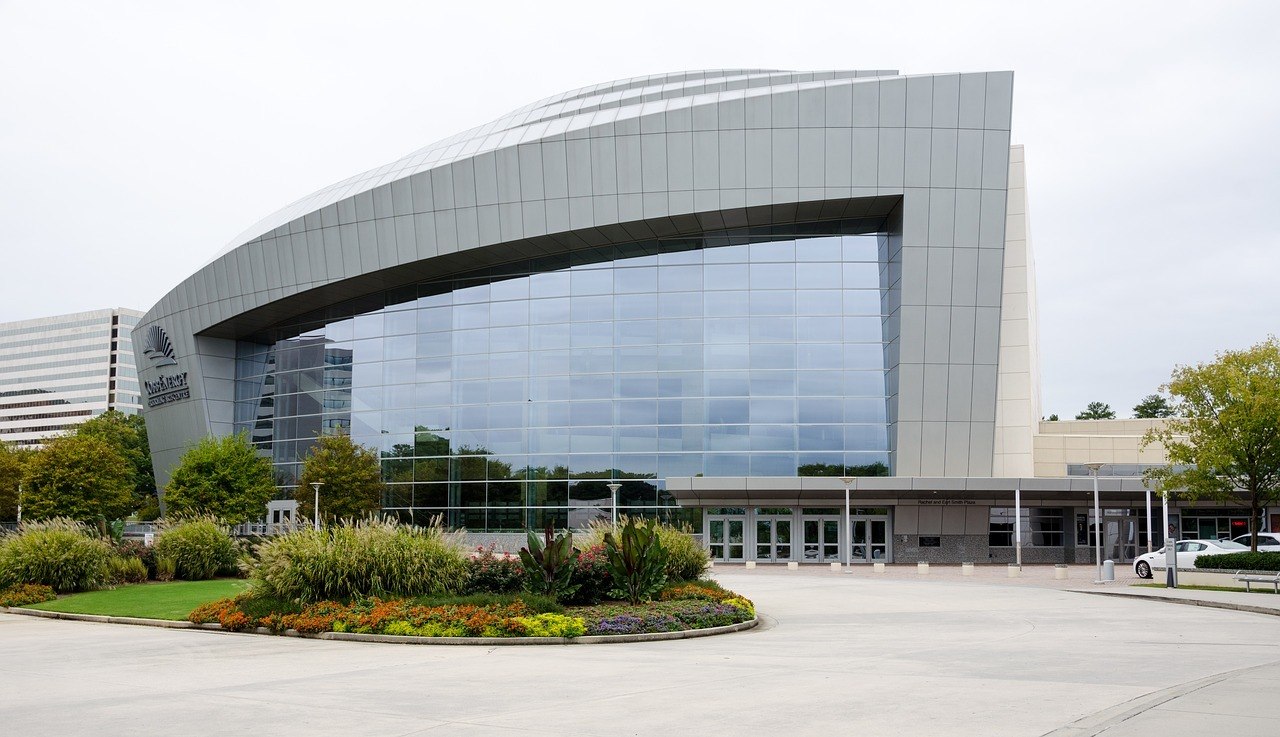 Want to keep your money safe?
You should always have emergency cash hidden on you – pick up this awesome security belt with its hidden pocket before you travel, it's perfect for hiding money, a passport photocopy.
The Top 15 Airbnbs in Atlanta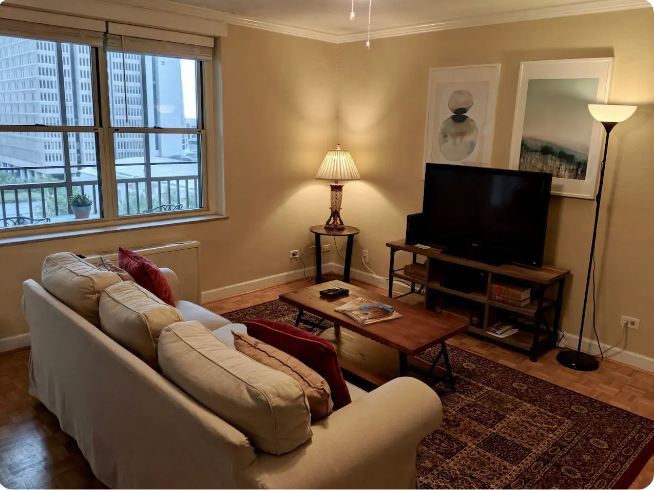 $$
Convenient central location
4 Guests
Panoramic downtown views
Let's begin with the best combination of style, value, and location in town. Yes, this Atlanta Airbnb really does have it all, including some awesome views of the city's skyline and parks. You'll get them from the patio, which overlooks Peach Tree Street, one of the hottest areas in town. If the weather's bad, or it's too cloudy to see the views, you could always head back inside and enjoy a movie or your favourite series on the 42 inch flat screen TV.
However, it's not a bad idea to just head outside – some of Atlanta's top attractions are within a stone's throw of this property.
2 Guests
Laptop friendly workspace
In a big city like Atlanta, you can end up spending a lot of money. That might even put you off visiting, but it shouldn't! That's because there's always an option to keep your costs down, and this private room in an Atlanta apartment is exactly that! There's a digital entry keypad, so you can arrive back home whatever time you like, whether you've been for a night out on the town or biked over to a GSU game! There's a laptop friendly workspace, so this is particularly handy for any digital nomads on a budget!
2 Guests
Friendly and accommodating hosts
For digital nomads whose budgets aren't as tight as the previous offering, take a look at this historic Grant Park private room. It even offers a private bathroom. It goes without saying that you get a fast Wi-Fi connection and a laptop-friendly workspace. Even better, this place is a smart home and there are plenty of security systems, so you don't have to worry about any equipment being unsafe while you're out.
Your friendly and helpful hosts have two large boxer dogs. Great if you love doggos, but perhaps not the best if you're not comfortable with large breeds!
2 Guests
Access to communal areas and facilities
If you're travelling solo, people will probably point you in the direction of a hostel. And that's fine, but we understand that they're not for everyone. After all, who wants to be in a noisy and smelly dorm?! Instead, try somewhere like this. This cool Atlanta apartment is right in Midtown, so you'll find loads awesome things to do nearby. Perfect for meeting people! If you're a little shier, not to worry. Chill out in the communal areas of the apartment and chat with your host. They might even give you some awesome recommendations of what to do nearby.
The Best Travel Backpack?!
Pssssst! Not picked the perfect travel backpack yet? The Broke Backpacker team has tried out over thirty backpacks this year! Our favourite carry on backpack is the Nomatic Travel Bag.
Read our full review!
$$$
Walking distance from Decatur Square
4 Guests
Short train ride from downtown
No matter where you stay in town, you'll find great nightlife. But one area that really stands out is Decatur, so here's our favourite Atlanta Airbnb for nightlife. It's just a hop, skip, and a jump away from Decatur Square, where you'll find some excellent bars. And it's just a short train journey into downtown Atlanta if you want to check out the main sights during daylight. The apartment isn't just great for nightlife, it's a lovely space to chill out if you're having a lazy day – take advantage of that private deck!
The great thing about Airbnb is that you can find something unusual and unique. This urban oasis in historic Inman Park certainly ticks both of those boxes, and it makes for an ideal romantic Atlanta Airbnb. There's a huge deck with views of the city and garden, while you've got the Atlanta Belt Line Trail on your doorstep. If you prefer romantic walks in the woods over bar and restaurant hopping downtown, this is the ideal spot for you. There are plenty of spots to relax on this property – the backyard seating area and patio is irrestible in the summer sun!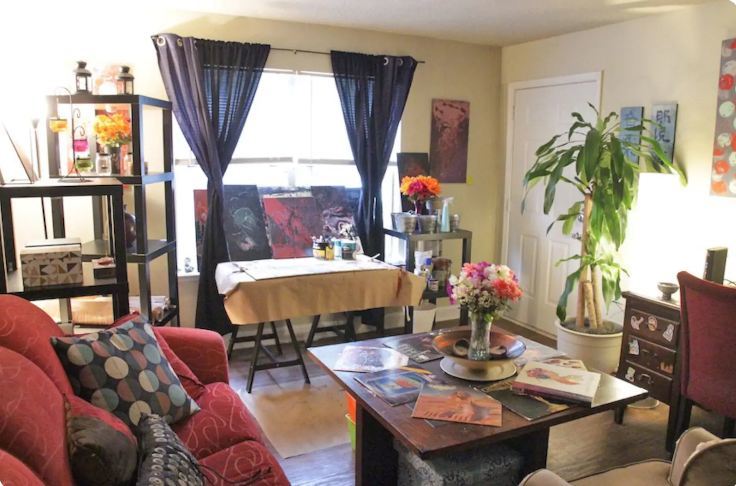 $
Access to communal areas
When you're looking to make the most of your money and looking to really get to know a city, staying with a local is a good idea. That's why we've included the best homestay in Atlanta on our list. Your friendly hosts' home is a creative space where you can often find them working on paintings or music.
They're happy for you to join in if you ask nicely. The house is also 420 friendly too! Your hosts also own 2 dogs – one big and one medium. They're pretty friendly, so you're likely to have some interactions with them in the communal areas!
There are some really awesome homestays in Atlanta so we didn't want to leave you with just one choice! This cosy queen room is right in the heart of Midtown, and there are few better locations in the city than this. Your host is a filmmaker, and you'll see that reflected in the decor of the house.
They'll also provide you with a complimentary breakfast, the ideal fuel for heading out and exploring the sights of Atlanta. Not that you've got far to go – you're just 10 minutes from Downtown! Once you get home in the evening, you might even meet the house cat!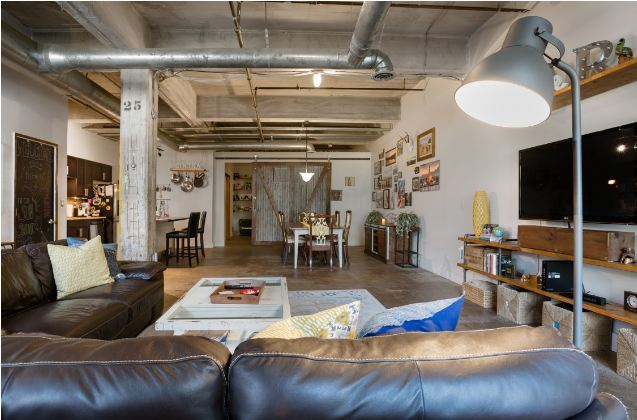 If money's not a concern for your trip, check out some of the most luxurious Airbnbs in Atlanta. This hip and historic loft is a great bet, and you can't get much better when it comes to location. The private outdoor patio is a great place to enjoy a coffee, or simply just enjoy the cool evening air. When it gets too cold, you've got a choice of admiring the original art and photography that decorates the interior or settling down in front of a movie on the 50 inch TV. Not a bad choice to have!
4 Guests
Wake up to LLAMAS and ALPACAS!
Now, let's get to not only one of the best Airbnbs in Atlanta, but one of the most wish-listed Airbnbs IN THE WORLD. Yes, okay, it's a little bit out of the centre, but we can overlook that for a TREEHOUSE IN A BAMBOO FOREST THAT'S SURROUNDED BY ALPACAS AND LLAMAS, CAN'T WE?! You'll have to be quick if you want to book this though – it's very popular.
It's hardly surprising, it's been on loads of TV shows and is a regular spot for weddings. Rest assured, if you stay here, you'll have a truly memorable experience of Atlanta!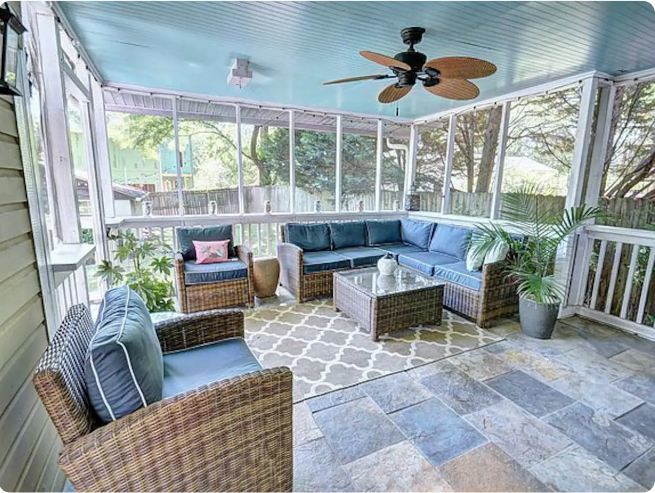 2 Guests
Free passes to zoo and aquarium
Perfectly suited to families of all ages, this awesome Atlanta Airbnb has plenty of space and is affordable if you're on a budget. And that doesn't just mean a reasonable price, you get a complimentary breakfast thrown into your rate, and free passes to Atlanta Zoo and Aquarium – $40 and $25 respectively! It really is the ideal family getaway – there's free parking if you've got your own transport, and it's pet-friendly too!
Two king beds and two sofas offer all the space you could need for you and your best friends and this excellent Atlanta apartment. Again, if you've arrived with your own transport, you've got free parking here. A handy and hefty saving! Want to rustle up a meal for everyone? That's no problem either, thanks to the fully equipped kitchen! This 1920s Atlanta bungalow is a little trek from downtown, but the warm and cosy ambience more than makes up for that.
$$
Laptop friendly workspace
Yes, we've already shown you plenty of places to stay in Midtown. Can you blame us though? It's one of the coolest spots in town! And this awesome Atlanta Airbnb just reaffirms that. It may be a private room but there's still space for up to 4 guests. Ideal for a small group of friends on a budget. If you're an outdoor lover, or you just want to go for your morning run, you'll be delighted that this place is right next to Piedmont Park. There's free laundry on offer here too, particularly useful for long term travellers who are starting to smell!
Okay, we promise that this is the last Atlanta apartment we're going to show you in Midtown Atlanta. Like the last offering, it's just across from Piedmont Park, meaning it's a great spot if you're planning to go for a picnic, a run, or just a leisurely stroll! There's even a weekly farmers' market where you can pick up some delicious produce and bring it back to your fully equipped kitchen. Tasty!
Last but not least, let's have a look at one of the best value Airbnbs in Atlanta's downtown district. It's probably the most expensive part of town, but this hidden gem shows that you don't have to break the bank to find a suitable place to stay! This area has a fast and frenetic pace, but you can properly slow that down by just watching it from the front porch!
What to Pack for your Atlanta Airbnb
Our Broke Backpacker editors have put together a shortlist of their Airbnb essentials, which you can find here.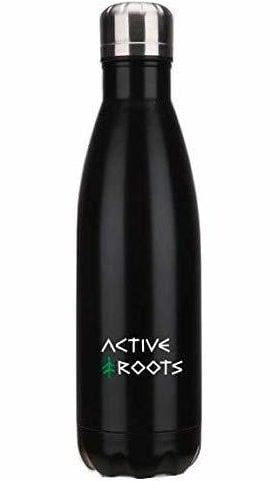 1. Active Roots Water Bottle: Most Airbnbs provide potable (drinkable) water. Have a bottle to fill up so you can take that water on your rambles instead of buying disposable plastic bottles. The Active Roots Water Bottle is great for travellers who are aware of plastic pollution and want to reduce their single-use plastic consumption – no need to buy drinks from the supermarket anymore. The stainless-steel material will keep your drinks cold or hot for up to 24 hours. Stay hydrated throughout your entire holiday with this cool bottle!
2. Reusable Shopping Bag: Getting rid of some plastic in your life might even make it a little bit better. Like the reusable shopping bag for example. There's no need to buy plastic bags at the checkout or have a massive amount stuffed in one cupboard back at home. Using the eco-friendly reusable shopping bag will make your shopping trip much more enjoyable while you're reducing your single-use plastic consumption at the same time.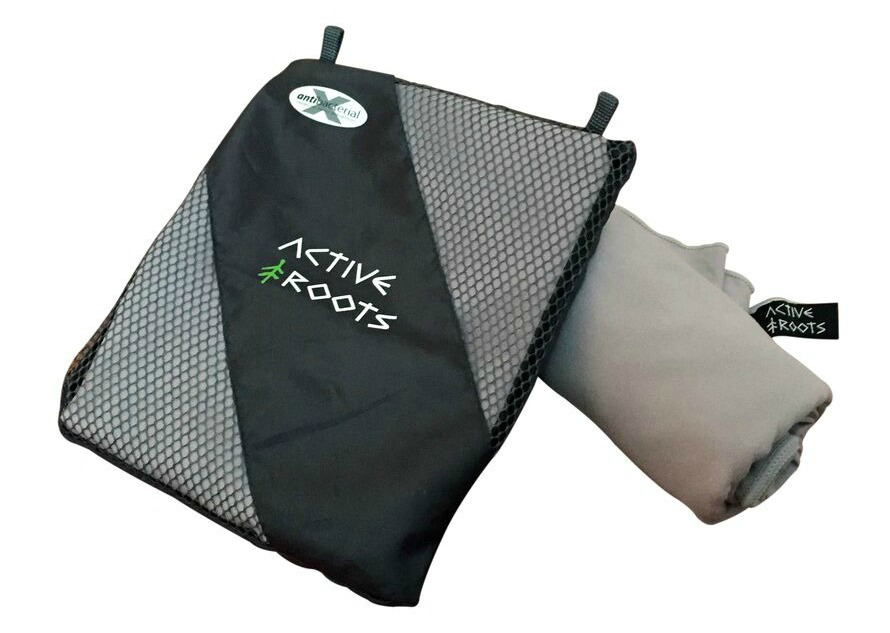 3. Active Roots Microfiber Towel: If you don't want to trust your Airbnb to provide clean towels, it's always smart to bring your own. Problem is, most towels take up a lot of space in your suitcase. The Active Roots Microfiber Towel is made of super-light material, which hardly takes up any space. Plus, it's incredibly comfortable and quick-drying. Great for a day around the pool or at the beach. The material is antibacterial, so it won't smell funny, even on long holidays.
4. Travel Blow Dryer: Most accommodations only offer the basics when it comes to bathroom necessities, and a blow dryer is usually not on the list. Bringing your own on your travels can not only save you a lot of time, but in some cases, it can even save your hair. This Mini Blow Dryers is foldable, compact and travel-friendly, meaning that it'll fit in every bag without taking up too much space. It comes with different heat settings, so you'll be able to find the perfect one for you.
5. Suitcase Locks: Protecting your belongings from opportunistic thievery isn't so hard. With these locks, no one can easily access your important items, whether you're using a suitcase or backpack. Lock the two zippers together, and only the person with the keys can unlock it. It's also very useful when your Airbnb doesn't have a safe to store valuable items.
6. Bluetooth Speaker: Music always brightens up the mood, which is why a Bluetooth speaker has to be one of the essentials in your suitcase or backpack. Whether you're at the beach, alone at your Airbnb or with friends, having something playing in the background makes the whole experience more comfortable. This waterproof speaker is perfect for any kind of holiday, with a battery that can last up to 15 hours and a sound quality that is more than amazing.
Final Thoughts on Atlanta Airbnbs
So, that's all from our list of the best Airbnbs in Atlanta! We think you'll agree that our list covers lots of different budgets, travel styles, and personalities!
Whether you want an apartment by one of the city's many parks, a pad to crash in after a great night out, or (yes, we're mentioning it again) a treehouse where you'll wake up to alpacas, Atlanta really does have it all!
If you're still deliberating on the best choice for you, take a moment and a deep breath. Now, take one more look at our favourite Airbnb in Atlanta, Awesome flat with downtown views. It's the best combination of style, value, and location!
Now that we've hopefully made planning your vacation a lot simpler, all that's left is for us to wish you an incredible trip. We hope you have a great time!
And don't forget to take out Travel Insurance for your trip! I have been using World Nomads for some time now and made a few claims over the years. They're easy to use, professional and relatively affordable. They may also let you buy or extend a policy once you've started your trip and are already abroad which is super handy.
If there's one insurance company I trust, it's World Nomads. To find out why I use World Nomads, check out my World Nomads Insurance review.
Getting an estimate from World Nomads is simple – just click the button or image below, fill out the necessary info, and you're on your way!

Yay for transparency! Some of the links in this post are affiliate links. This means that if you book your accommodation, buy a book or sort your insurance, I'll earn a small commission at no extra cost to you. I only link to stuff I've actually used and never endorse crap. Your support helps me keep the site going.