Sometimes called the capital of the south and sometimes called Hotlanta, Atlanta is many things to many people. But we can all agree that Georgia's capital is an incredible place for a city break. It's a city where countless intellectual, art, and music movements began and Atlanta's rich history can be seen not only in the museums, but in the different neighbourhoods of the city!
If you find the hustle and bustle of the city a bit much, it's not too hard to step out into nature. In fact, more than a 3rd of the metropolitan area is covered by trees and parklands.
With everything going on in Atlanta, you'll need to find a place to stay. Rather than a hostel or hotel, why not find somewhere with plenty of charm and personality? There are loads of rentals in Atlanta that will make your stay memorable and fun!
Whether you want a cool downtown apartment, a private room in a local's home, or a treehouse on an alpaca farm (yes, really), there's an Airbnb in Atlanta to suit you!
So, with all that in mind, I've decided to help you out and put together this awesome list. Yep, let's check out the top 15 Airbnbs in Atlanta!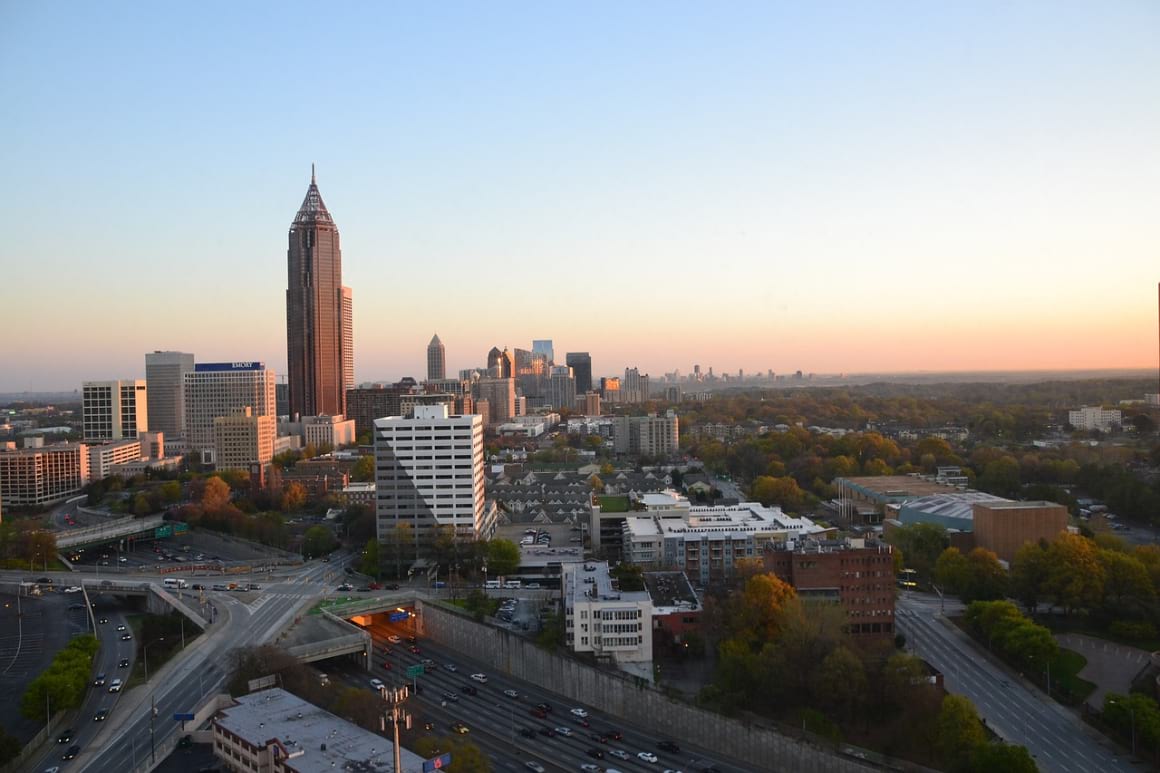 Quick Answer: These are the Top 5 Airbnbs in Atlanta
OVERALL BEST VALUE AIRBNB IN ATLANTA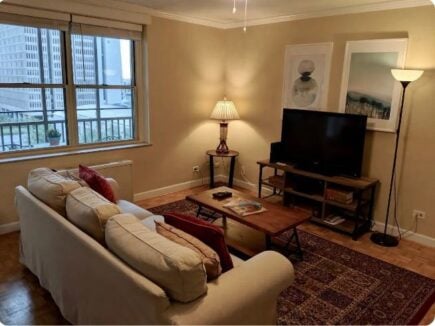 OVERALL BEST VALUE AIRBNB IN ATLANTA
Awesome flat with downtown views
> $$
> 4 Guests
> Convenient central location
> Panoramic downtown views
BEST HOMESTAY IN ATLANTA
BEST HOMESTAY IN ATLANTA
The Gallery House near the Stadium
> $
> 2 Guests
> Access to communal areas
> 4/20 friendly
BEST AIRBNB FOR COUPLES IN ATLANTA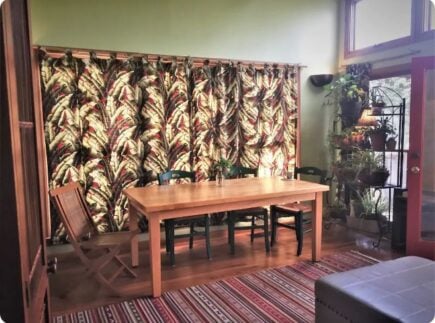 BEST AIRBNB FOR COUPLES IN ATLANTA
Urban Oasis in Historic Inman Park
> $$
> 2 Guests
> Private Entrance
> Great location
BEST AIRBNB FOR FAMILIES IN ATLANTA
BEST AIRBNB FOR FAMILIES IN ATLANTA
Guesthouse with huge outdoor space
> $
> 2 Guests
> Complimentary Breakfast
> Free passes to zoo and aquarium
BEST LUXURY AIRBNB IN ATLANTA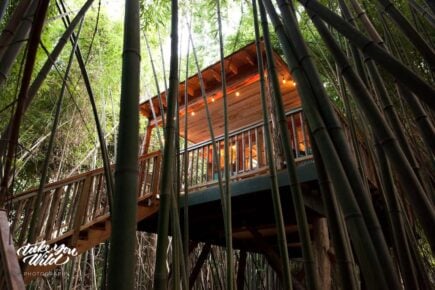 BEST LUXURY AIRBNB IN ATLANTA
Alpaca treehouse in Bamboo forest
> $$$$
> 4 Guests
> In a bamboo forest
> Wake up to LLAMAS and ALPACAS!

Unlock Our GREATEST Travel Secrets!
Sign up for our newsletter and get the best travel tips delivered right to your inbox.
What to Expect from Airbnbs in Atlanta
The best Airbnbs in Atlanta range from apartments, lofts, and studios in downtown to unique properties in the outlying rural areas. If you're looking for affordable, and comfy vacation rentals in Atlanta, this list is for you.
As with many places you'll stay while traveling the USA, centrally located properties, such as those in Downtown, will cost more than those in rural areas. However, spending a little extra means more convenience and comfort. However, if you're willing to travel a little, you can find more affordable Airbnbs in Atlanta on the outskirts of the city near Atlanta Airport or in the countryside.
Private Rooms
Private rooms are an economical way to stay in Atlanta and they are the best option for solo travelers or couples who are looking to spend as little as possible but still have space entirely to themselves. Found all over city, but mostly in the downtown district and in suburban houses.
They are usually in a shared house, either with the host or other guests, and can come with ensuite bathrooms. However, others may require you to share the bathroom with other renters. This is the most affordable option for those backpacking Atlanta.
Apartments, Lofts and Studios
Usually found in downtown, these centrally located apartments and studios are ideal for couples or single travelers although some may be spacious enough to accommodate more than six people. Private apartments are the ultimate choice for those wanting a place to yourself in a good neighborhood. Some apartments and Atlanta studios come with extra amenities that are reminiscent of hotels such as 24-hour security, pools, gyms, and sometimes a sauna.
Houses
Houses are in no short supply in Atlanta. If you want to travel to the countryside, this is the most common type of holiday home on the outskirts of the city. Charming and sometimes in a National Historic Site, most come with modern amenities that will make your stay super comfortable.
These cozy homes come in various sizes and are usually spacious and designed for families and group travelers. You might even find some unique houses on the outskirts too, such as treehouses and designer properties.
Why Stay in an Airbnb?
I can think of many reasons why you should choose to stay in an Airbnb in Atlanta, here are just a few:
Local Experience: While many Atlanta Airbnbs are managed by companies, they're still locally based. Get the best recommendations for your Atlanta itinerary that you won't find in the guidebooks to make your trip truly special!
Unique properties: Airbnb has every kind of property you could think of. There's even a 'unique stays' search function, where you can find your dream property on the site.
Privacy: Whether you're travelling with the whole family or your other half, it's nice to have your very own space where you won't be disturbed.
Affordability: Airbnbs offer a lot more value for money than equivalently priced hotels. And with big group stays, you can split the cost multiple ways!
Airbnb Experiences: Choosing Airbnb isn't just about where to stay – it's about enjoying the area like a local with curated tours, too!
Location: choosing where to stay in Atlanta is key to having the best trip. Lucky for you, Airbnbs are in the best locations.
The Top 15 Airbnbs in Atlanta
Now that you know what to expect from Airbnbs in Atlanta, let's take a look at some of the best ones!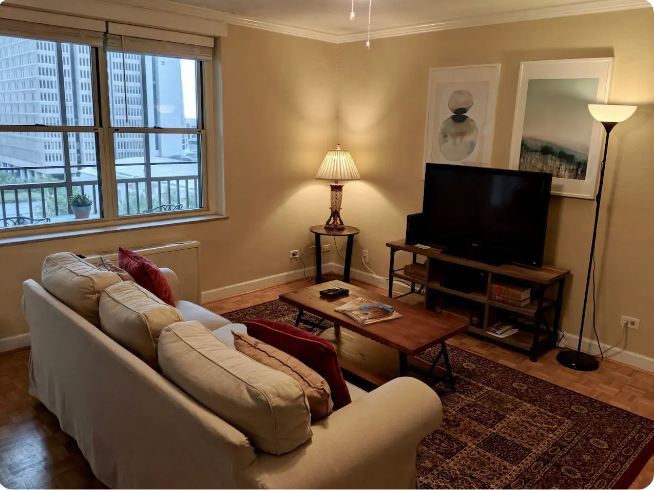 $$
Convenient central location
4 Guests
Panoramic downtown views
Let's begin with the best combination of style, value, and location in town. Yes, this Atlanta Airbnb really does have it all, including some awesome views of the city's skyline and parks. You'll get them from the patio, which overlooks Peach Tree Street, one of the hottest areas in town.
If the weather's bad, or it's too cloudy to see the views, you could always head back inside and enjoy a movie or your favourite series on the 42-inch flat-screen TV.
However, it's not a bad idea to just head outside – some of Atlanta's top attractions are within a stone's throw of this property.
$
Located on a quiet street
2 Guests
Private office space
I'm not gonna lie, this might just be the perfect private room for a solo traveler in Atlanta. You get a queen-size bed, a private bathroom, and a dedicated working space. Not only that but there's an outdoor patio and firepit you can use, too.
You'll have access to all common areas including the kitchen. You're located in a quiet neighborhood just a 15-minute drive to downtown, Atlanta Airport, and all the attractions. The place is super tidy and clean according to previous guests. Oh, and the host has a dog…great for those who love living with pets!
Budget Tip: Dorms in Atlanta start from $25USD per bed. They're the cheapest accommodation in the city. 
Perfect Short Term Rental for Digital Nomads | Amazing Tiny House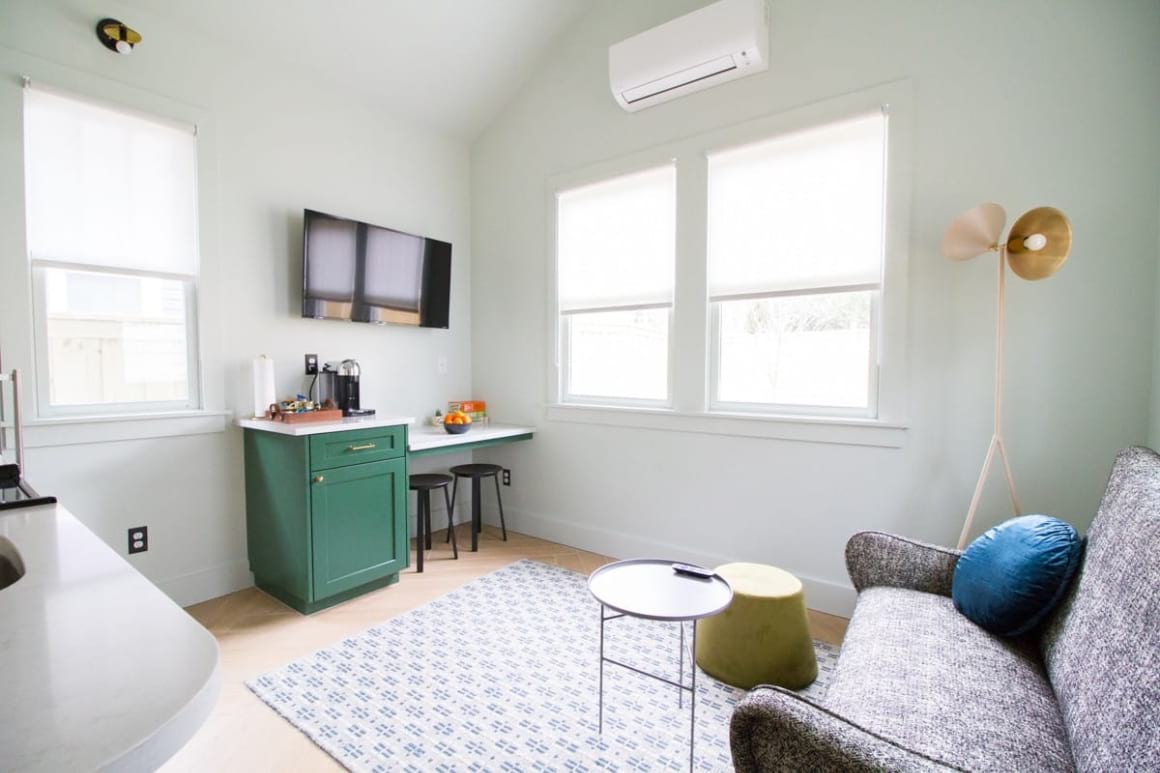 2 Guests
Charming Design (and free coffee)
When travelling as a Digital Nomad, you don't necessarily need a lot of glamour and luxury. A simple workspace and a comfy bed do the job just fine. Luckily, this Airbnb offers you the best of both worlds. You'll be living in a tiny home, which is actually not that tiny.
There's a bathroom, a living room and a small bedroom. The beautiful blend of classic and modern design is everything you need inside 280 square feet. A work desk and free wifi to get business done, as well as a flat-screen tv with Netflix and Hulu are available.
The location is ideal, with loads of attractions nearby and public transport options just around the corner.
Is This the Best Backpack EVER???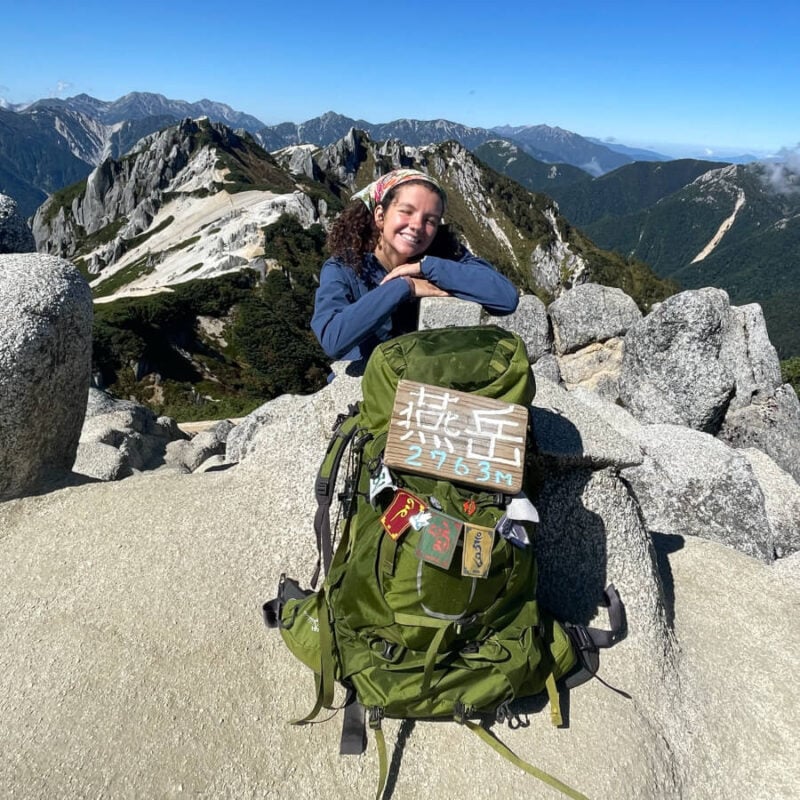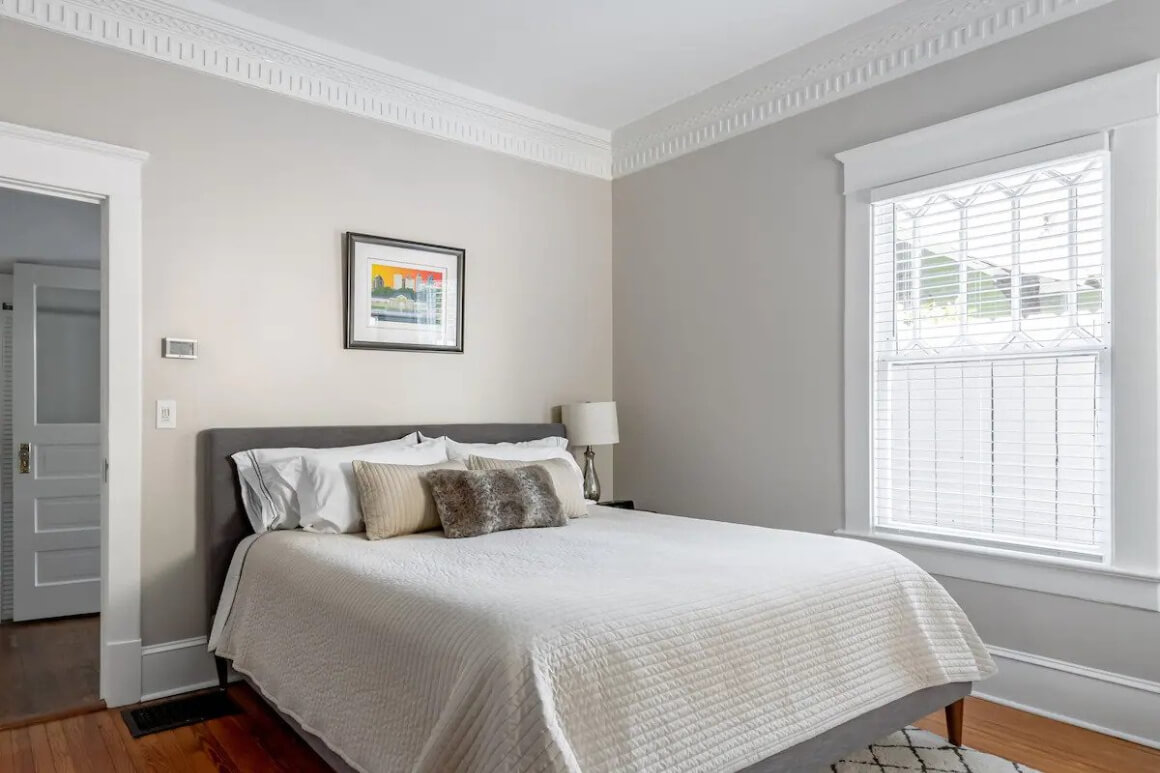 2 Guests
Access to communal areas and facilities
If you're travelling solo, people will probably point you in the direction of a hostel. And that's fine, but I understand that they're not for everyone. After all, who wants to be in a noisy and smelly dorm?! Instead, try somewhere like this.
This cool Atlanta historic bed and breakfast is right in Midtown, so you'll find loads awesome things to do nearby. Plus, you will have a king-size bed and a private ensuite.
They're perfect for meeting other travelers! If you're a little shier, not to worry. Chill out in the communal areas of the B&B and chat with your host and fellow guests. They might even give you some awesome recommendations of what to do nearby.
$$$
Walking distance from Decatur Square
4 Guests
Short train ride from downtown
No matter where you stay in town, you'll find great nightlife. But one area that really stands out is Decatur, so here's our favourite Atlanta Airbnb for nightlife. It's just a hop, skip, and a jump away from Decatur Square, where you'll find some excellent bars.
And it's just a short train journey into downtown Atlanta if you want to check out the main sights during daylight. The apartment isn't just great for nightlife, it's a lovely space to chill out if you're having a lazy day – take advantage of that private deck!
The great thing about Airbnb is that you can find something unusual and unique. This urban oasis in historic Inman Park certainly ticks both of those boxes, and it makes for an ideal romantic Atlanta Airbnb.
There's a huge deck with views of the city and garden, while you've got the Atlanta BeltLine Trail on your doorstep. If you prefer romantic walks in the woods over bar and restaurant hopping downtown, this is the ideal spot for you.
There are plenty of spots to relax on this property – the backyard seating area and patio are irresistible in the summer sun!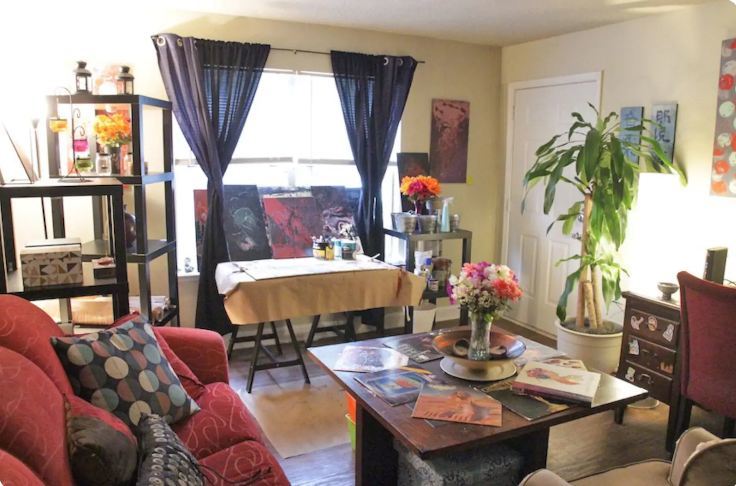 $
Access to communal areas
When you're looking to make the most of your money and looking to really get to know a city, staying with a local is a good idea. That's why I've included the best homestay in Atlanta on my list. Your friendly hosts' home is a creative space where you can often find them working on paintings or music.
They're happy for you to join in if you ask nicely. The house is 420-friendly too! Your hosts also own 2 dogs – one big and one medium. They're pretty friendly, so you're likely to have some interactions with them in the communal areas! Plus, you'll be staying close to the Mercedes Benz Stadium, perfect for football fans!
Runner Up Homestay in Atlanta | Tiny Getaway
Ever wanted to stay at a really really small house? Here's your chance! I'm not gonna lie, this tiny house is actually one of the tiniest I've seen, but it offers some great value.
Designed very efficiently, there's enough space for a comfy bed, a mini-fridge with a microwave, a fold-out desk to get some work done, and, of course, a bathroom. It's pretty much the size of a normal room, but that's what makes it so unique.
You'll be in a top location and your hosts are known for giving great advice on where to go and what to see in Atlanta!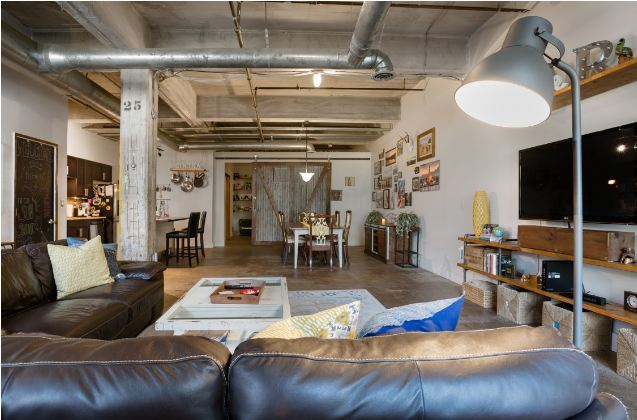 If money's not a concern for your trip, check out some of the most luxurious Airbnbs in Atlanta. This hip and historic loft is a great bet, and you can't get much better when it comes to location.
The private outdoor patio is a great place to enjoy a coffee, or simply just enjoy the cool evening air. When it gets too cold, you've got a choice of admiring the original art and photography that decorates the interior or settling down in front of a movie on the 50-inch TV. Not a bad choice to have!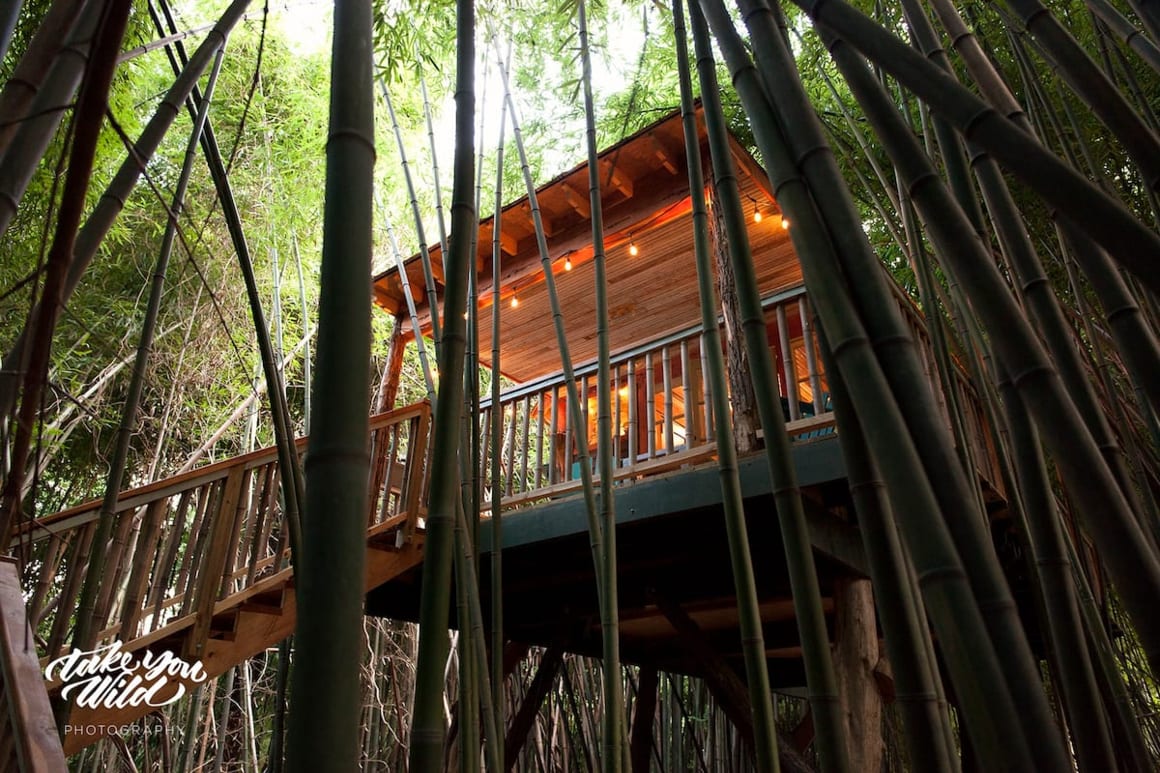 4 Guests
Wake up to LLAMAS and ALPACAS!
Now, let's get to not only one of the best Airbnbs in Atlanta, but one of the most wish-listed Airbnbs IN THE WORLD. Yes, okay, it's a little bit out of the centre, but I can overlook that for a TREEHOUSE IN A BAMBOO FOREST THAT'S SURROUNDED BY ALPACAS AND LLAMAS, CAN'T I?! You'll have to be quick if you want to book this though – it's very popular.
It's hardly surprising, it's been on loads of TV shows and is a regular spot for weddings. Rest assured, if you stay here, you'll have a truly memorable experience of Atlanta!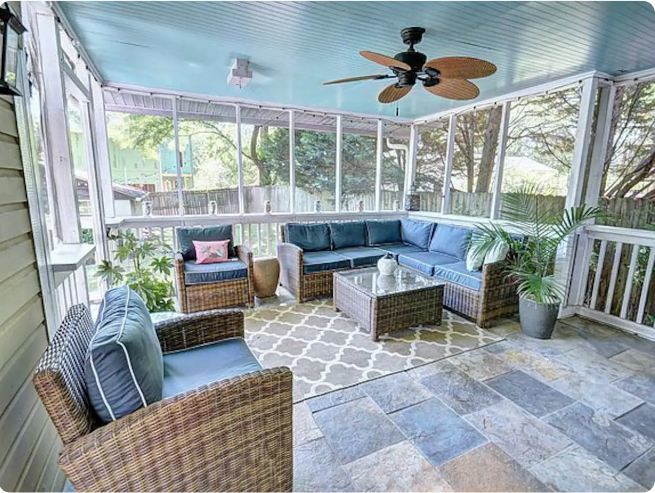 2 Guests
Free passes to zoo and aquarium
Perfectly suited to families of all ages, this awesome Atlanta Airbnb has plenty of space and is affordable if you're on a budget.
And that doesn't just mean a reasonable price, you get a complimentary breakfast thrown into your rate, and free passes to Zoo Atlanta and Georgia Aquarium – $40 and $25 respectively! It really is the ideal family getaway – there's free parking if you've got your own transport, and it's pet-friendly too!
Best Airbnb in Atlanta for a Group of Friends | Downtown Condo for 4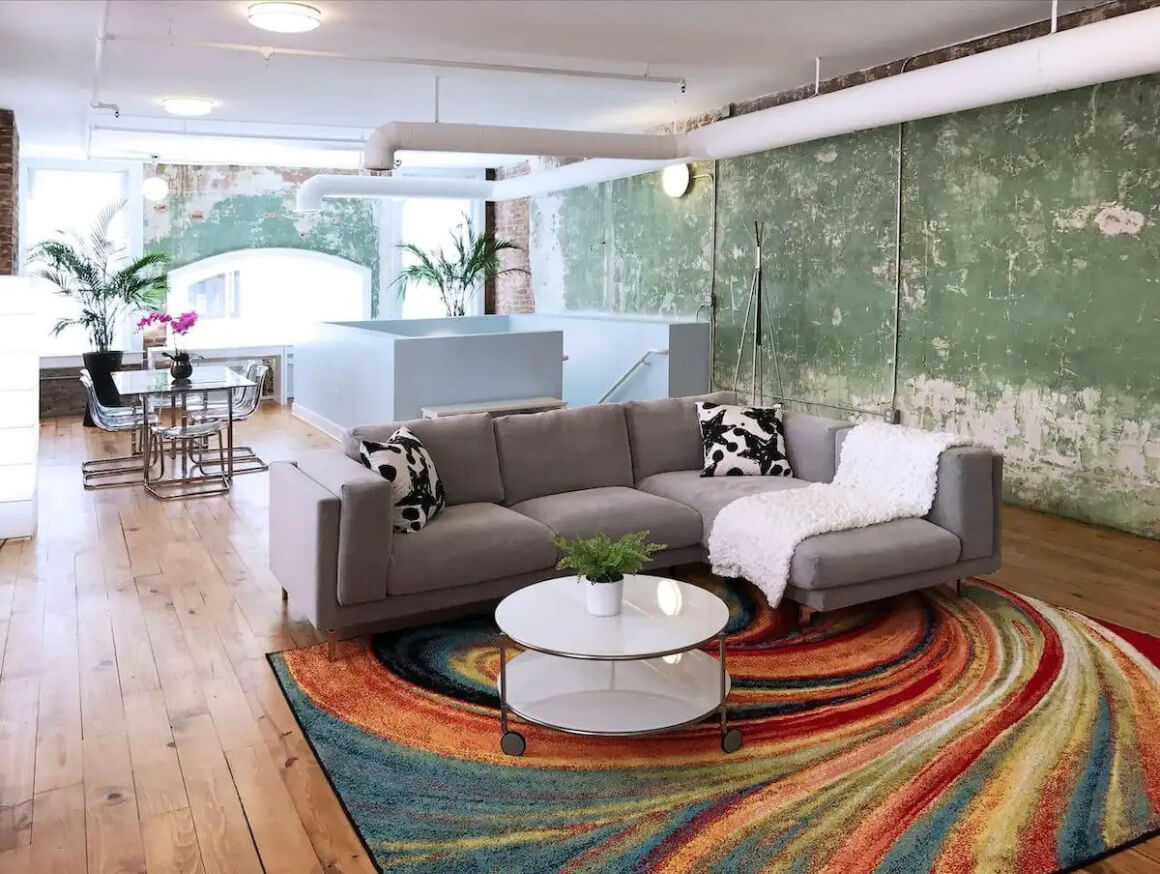 4 Guests
1500 sqft Artistic loft
Two queen beds and 1500 square feet of space could not be more than enough space for you and your best friends. This Atlanta apartment has been artistically designed and is located in an artsy neighborhood full of galleries and museums.
A handy and hefty saving! Want to rustle up a meal for everyone? That's no problem either, thanks to the fully equipped kitchen! This Atlanta apartment is located right in the heart of downtown, so you are a stone's throw away from the Martin Luther King Jr Museum and many other important attractions.
$$
Laptop friendly workspace
Yes, I've already shown you plenty of places to stay in Midtown. Can you blame us though? It's one of the coolest spots in town! And this awesome Atlanta Airbnb just reaffirms that. It may be a private room but there's still space for up to 4 guests. Ideal for a small group of friends on a budget.
If you're an outdoor lover, or you just want to go for your morning run, you'll be delighted that this place is right next to Piedmont Park. There's free laundry on offer here too, particularly useful for long-term travellers who are starting to smell!
4 Guests
Close to transport services
For those looking for an Atlanta apartment for a short stopover, you'll probably want to find somewhere close to the airport. This suite in a house in College Park is the ideal place to base yourself for one night on a layover.
Since it doesn't have a kitchen and only a few basic amenities, it's ideal for one night only. However, the price tag for four guests is way more reasonable than a hotel! And the rooms are so spacious, you'll have no problems sleeping off the jetlag here.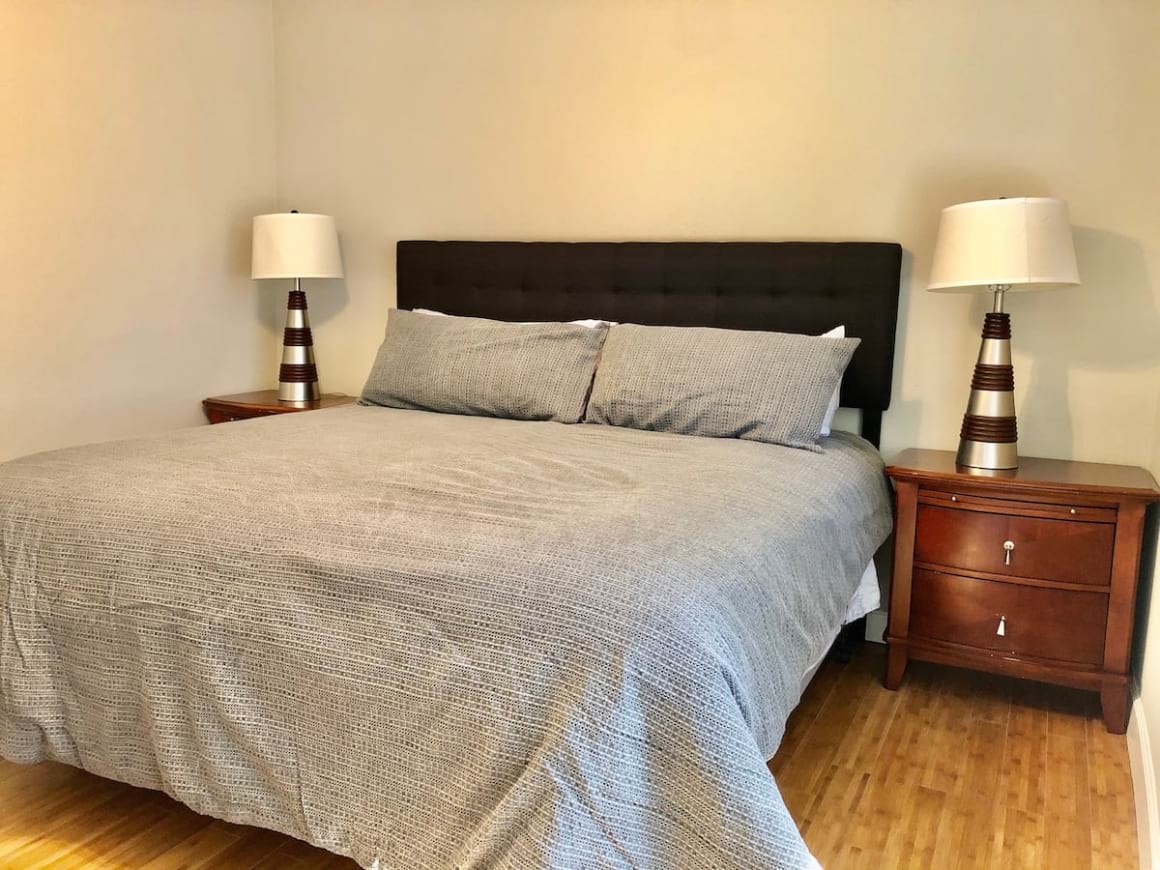 3 Guests
Access to laundry room
Last but not least, let's have a look at one of the best value Airbnbs in Atlanta's downtown district. It's probably the most expensive part of town, but this hidden gem shows that you don't have to break the bank to find a suitable place to stay.
It's not one of the absolute cheapest places in the city, but it definitely offers you amazing value. With stunning city views and a spacious living room, you'll feel super welcome as soon as you step through the door. The location in the heart of downtown couldn't be better either.
FAQs about Airbnbs in Atlanta
Here's what people usually ask me when they look for vacation homes in Atlanta.
Don't Forget Your Atlanta Travel Insurance
When you're traveling anywhere, getting prepared is important. That's why good travel insurance should always be top of the list.
ALWAYS sort out your backpacker insurance before your trip. There's plenty to choose from in that department, but a good place to start is Safety Wing.
They offer month-to-month payments, no lock-in contracts, and require absolutely no itineraries: that's the exact kind of insurance long-term travellers and digital nomads need.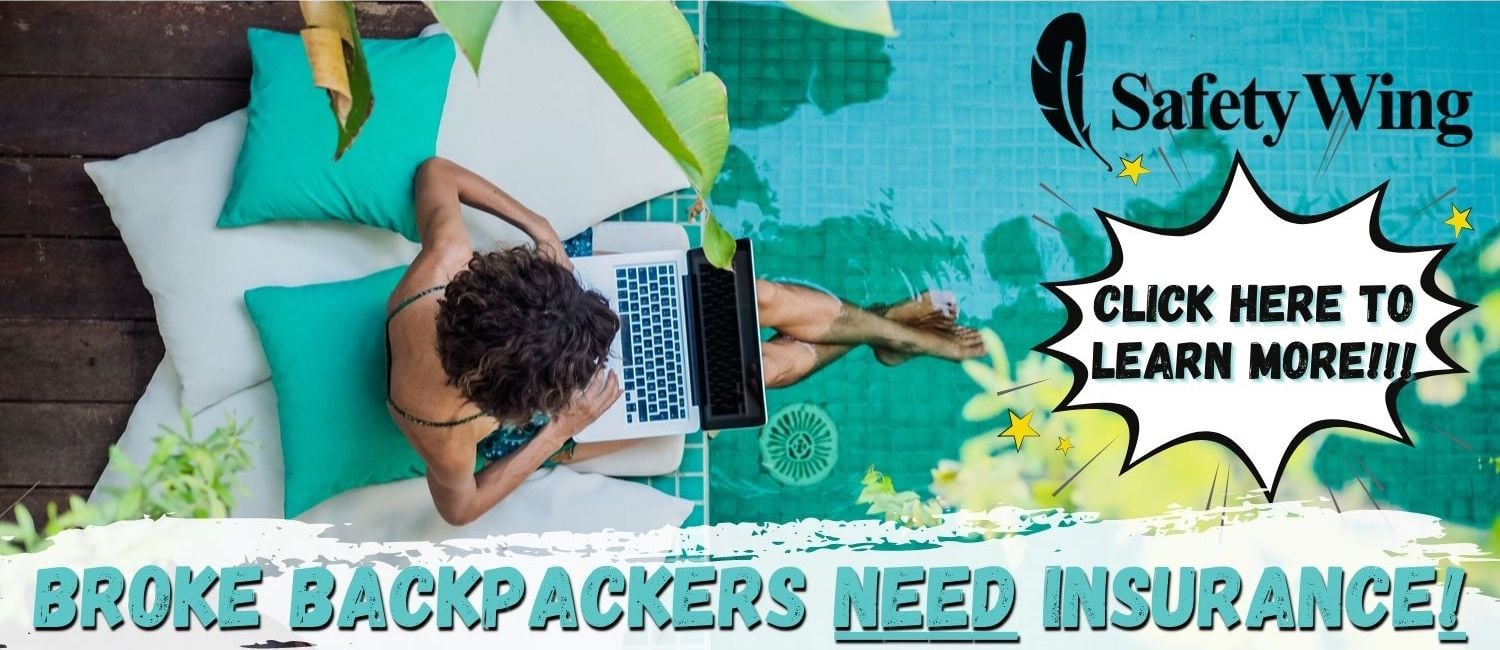 SafetyWing is cheap, easy, and admin-free: just sign up lickety-split so you can get back to it!
Click the button below to learn more about SafetyWing's setup or read our insider review for the full tasty scoop.
Final Thoughts on Atlanta Airbnbs
So, that's all from our list of the best Airbnbs in Atlanta! I think you'll agree that my list covers lots of different budgets, travel styles, and personalities!
Whether you want an apartment by one of the city's many parks, a pad to crash in after a great night out, or (yes, I'm mentioning it again) a treehouse where you'll wake up to alpacas, Atlanta really does have it all!
If you're still deliberating on the best choice for you, take a moment and a deep breath. Now, take one more look at our favourite Airbnb in Atlanta, an awesome flat with downtown views. It's the best combination of style, value, and location!
Now that I've hopefully made planning your vacation a lot simpler, all that's left is for me to wish you an incredible trip. I hope you have a great time!
---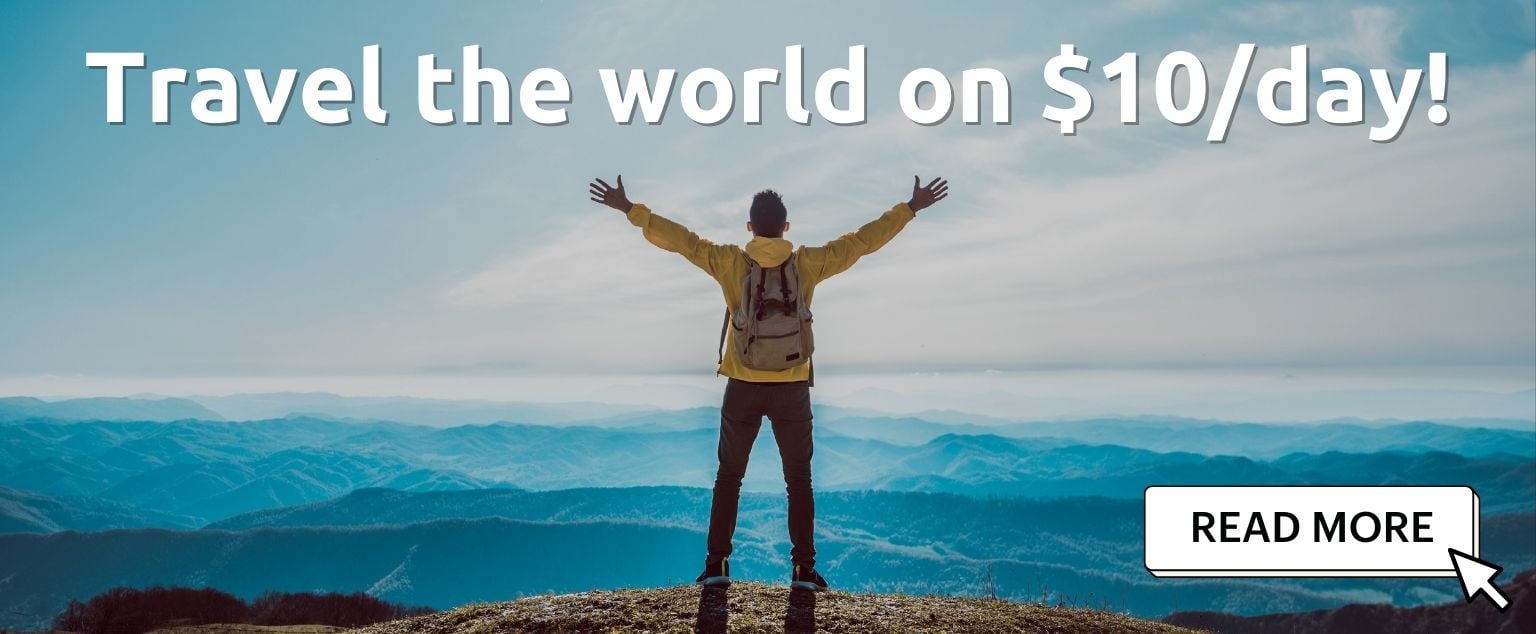 And for transparency's sake, please know that some of the links in our content are affiliate links. That means that if you book your accommodation, buy your gear, or sort your insurance through our link, we earn a small commission (at no extra cost to you). That said, we only link to the gear we trust and never recommend services we don't believe are up to scratch. Again, thank you!