The state capital of Georgia, Atlanta is famous for its Southern hospitality and traditional charms combined with a modern outlook, peaches, one of the busiest airports in the world, attractive skyline vistas, music, and sports. An alluring city where you can experience the best of the olde-worlde South and myriad terrific things to do and see, Atlanta promises to be a top travel destination.
While Atlanta has many positives and negatives, there's often one huge bugbear for locals and visitors alike: the traffic jams and congested roads. Moving around Atlanta can be a real hassle!
While we can't make the traffic disappear, we can help you to maximise your time in the city … we've compiled the ultimate list of the best places to visit in Atlanta, meaning that you can easily plan each day of your trip to avoid, as much as possible, wasting time moving from A to B. See the hotspots in Atlanta at a glance and don't lose time trying to figure out where to go next!
Spoiler alert: some of the best places to visit in Atlanta are bound to wow you!
Best places to stay in Atlanta
Best Hostel in Atlanta: Micasa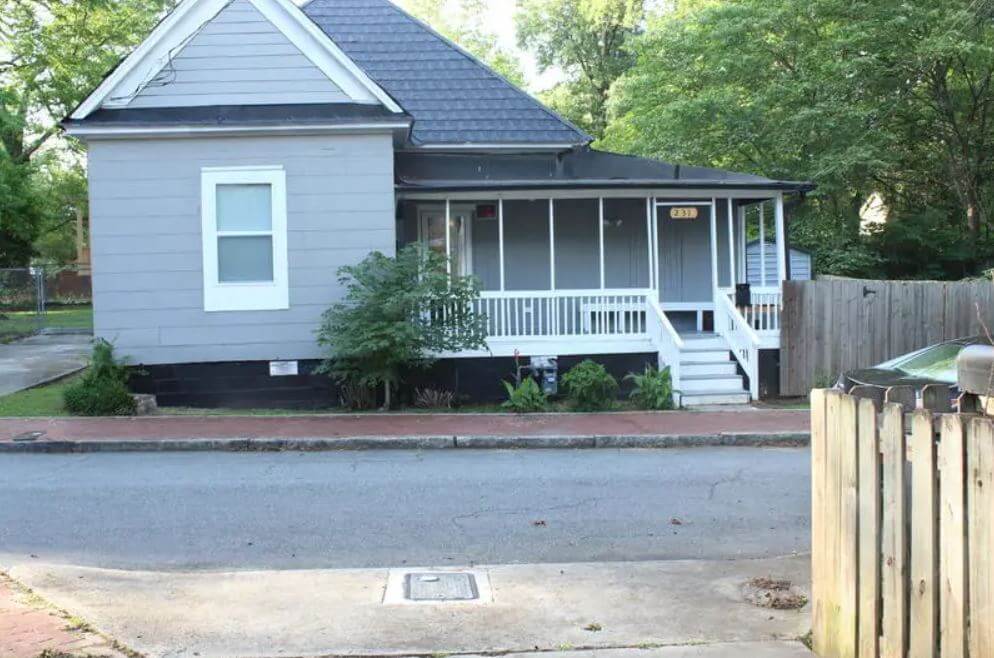 The charming and quaint Micasa guesthouse is one of the best hostels in Atlanta for anyone looking to combine comfort and good old Southern charms with a warm welcome and modern amenities. The private double rooms share bathrooms and the nightly rates are reasonable. Guests can cook their own meals in the shared kitchen and chill in the lounge. The property has laundry facilities, free Wi-Fi, and free parking. It's located in Mechanicsville, one of the up-and-coming neighbourhoods in Atlanta.
Get set up slap bang in the middle of downtown with this cool, art-deco apartment. Given its location (you literally could not be more central) this place is an absolute bargain, even more so when splitting the bill 2 ways. Perfect for those looking to enjoy the city centre day and night.
The comfortable Quality Inn Northlake has well-appointed rooms for two and four. All rooms have a private bathroom along with tea and coffee making facilities, a TV, free Wi-Fi, and a telephone. Breakfast is included in the prices and there are plenty of places to eat and drink close to hand. The hotel boasts a swimming pool and other convenient facilities include laundry services, an elevator, vending machines, and free parking. It's one of the best places to stay in Atlanta for those looking to save money without compromising on class.
Thinking about where to stay in Atlanta for home-from-home comforts with splashes of luxury? Look no further than Luxury Old 4th Ward Apartments. With one- and two-bedroom apartments, it's a top choice for groups of friends and families. Apartments are split level too, providing greater privacy for guests. Each has a bathroom, a fully equipped kitchen (complete with a washing machine and a dishwasher), a patio, and a seating area with a TV. You can unwind by the outdoor pool and cook up a storm at the BBQ. Free Wi-Fi is accessible throughout the property.
Need a place quick? Here's the best neighbourhood in Atlanta:
BEST AREA IN ATLANTA
Downtown
Downtown Atlanta is the neighbourhood at the centre of the city. It is home to the central business district as well as many of Atlanta's most notable tourist attractions, including Centennial Park and the Center for Civil and Human Rights.
Places to visit:
Enjoy a panoramic view of the city at Skyview Atlanta.
Experience the history of the famed soft drink at the World of Coca-Cola.
Indulge in southern comfort at White Oak Kitchen & Cocktails.
And after that useful information, let's find out the best places to visit in Atlanta.
These are the BEST Places to Visit in Atlanta!
#1 – Martin Luther King, Jr. National Historical Park
Possibly one of the most important places to visit in Atlanta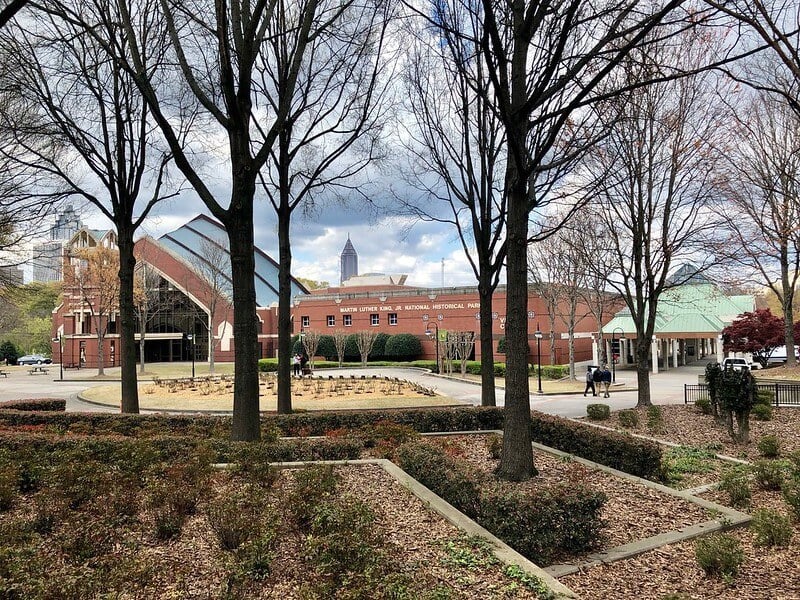 Visit the birthplace of Martin Luther King Jr.
Major attraction in Atlanta
Learn more about civil rights in the USA
Unwind in tranquil gardens
Why it's awesome: The Martin Luther King, Jr. National Historical Park is one of the most famous places in Atlanta. Made up of several buildings, the complex provides in-depth insights into the life and times of Martin Luther King, Jr. and the Civil Rights Movement. Established in 1980, the site covers 35 acres (14 hectares). The visitor centre gives information about the Civil Rights Movement in America and the site also contains a number of memorials, remembrance gardens, a church, other historical buildings, and the home where Martin Luther King, Jr. was raised. It's an Atlanta must do.
What to do there: Call into the visitor centre for an overview of the site and to learn more about the American Civil Rights Movement, significant events, and the work of Martin Luther King, Jr.. See Courage To Lead, a multimedia exhibit that provides lots of historical information. Take a free tour of 501 Auburn Avenue, an 1895-built home and the birthplace of Martin Luther King, Jr. in 1929. The home was in the King family for several generations and has a kitchen, dining room, bathrooms, bedrooms, living room, and study.
Visit Ebenezer Baptist Church, the church where Martin Luther King, Jr. was baptised and where both he and his father were preachers. Stroll along the International Civil Rights Walk of Fame and honour all those who played an instrumental role in achieving greater social justice, see the Gandhi memorial, and relax in the peaceful garden. You can also pick up gifts in the souvenir shop, which is housed in an old firehouse.
#2 – Piedmont Park
A beautiful outdoor place to visit in Atlanta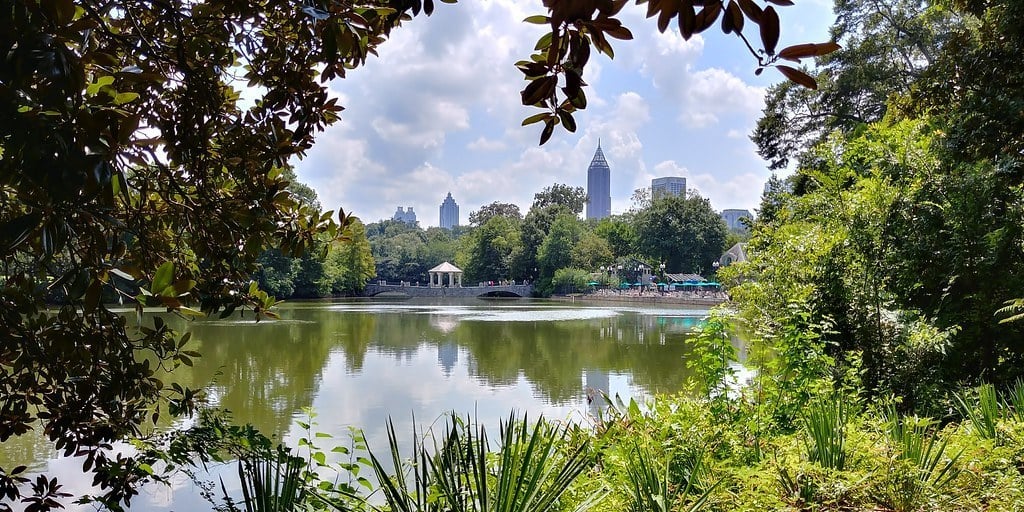 Central urban park
Various trails for walking and running
Play areas for children
Sporting and leisure facilities
Why it's awesome: The large Piedmont Park has been used for various purposes over the years, including as farmland, a country retreat, a fairground, and a sports centre. Today, it is a popular recreation spot close to downtown. The expansive park is the most centrally located park in the city. It has walking trails, lots of open spaces, play areas, sports facilities, food and drink outlets, and a dog-friendly area, complete with separate areas for larger and smaller dogs. It is also a major venue for concerts and special events.
What to do there: Call into the visitor centre when you arrive at the park to find out what facilities there are and where to find things. Wander (or, jog if you want some exercise) around the Park Loop, which encompasses the lake, meadow, and ballfields. It's 2.7 kilometres (1.7) long and is quite steep in parts. Other trails include the Lake Loop and the Active Oval. Relax next to the lake and spot nature. Pack a picnic lunch to enjoy outdoors or grab a tasty bite to eat and refreshments at one of the eateries.
Let kids have fun at the playgrounds, book a session at the tennis courts, and, if you visit in the summer months, browse and buy at the Green Market. Don't forget to check the schedule of events so you don't miss things like outdoor concerts, craft fairs, foodie events, and festivals.
#3 – World of Coca-Cola
One of the more unique places to visit in Atlanta!
Discover the interesting tale of Coca-Cola
Taste Coca-Cola drinks from across the world
Snap a selfie with the Coca-Cola polar bear mascot
View varied exhibits related to Coca-Cola
Why it's awesome: Open since May 2007, having been moved from its original location elsewhere in Atlanta, the World of Coca-Cola is a large museum that tells the story of Coca-Cola's history. One of the best places to visit in Atlanta if you want to escape the weather and spend time indoors, it is also one of the city's most popular attractions.
It can be found just a few blocks from where the local pharmacist, Dr. John S. Pemberton, created the world-famous soft beverage. Fascinating for people of all ages, the museum has various displays and exhibits as well as the chance to meet the mascot, sample the soft drink, buy unique merchandise, and more.
What to do there: Learn about the beginnings of one of the world's most famous brands and discover some of Coca-Cola's secrets and how a couple of scientists were determined to find the coveted recipe. See a simulated bottling line in action, view Coke-related memorabilia, advertisements, and packaging from different time periods, take a walk through time, try different types of Coca-Cola from across the world, and meet the Coca-Cola polar bear.
The Pop Culture Gallery reveals how fans have helped the brand to become such a global icon and the Coca-Cola Portrait Wall demonstrates philanthropic efforts by the brand. As well as the famous original Coca-Cola drink you can also discover the many other beverages made by the company, including Fanta, Sprite, and Minute Maid. Call into the gift shop before leaving to purchase some cool Coke-themed items.
#4 – The Krog Street Tunnel
One of the most incredible free places to go to in Atlanta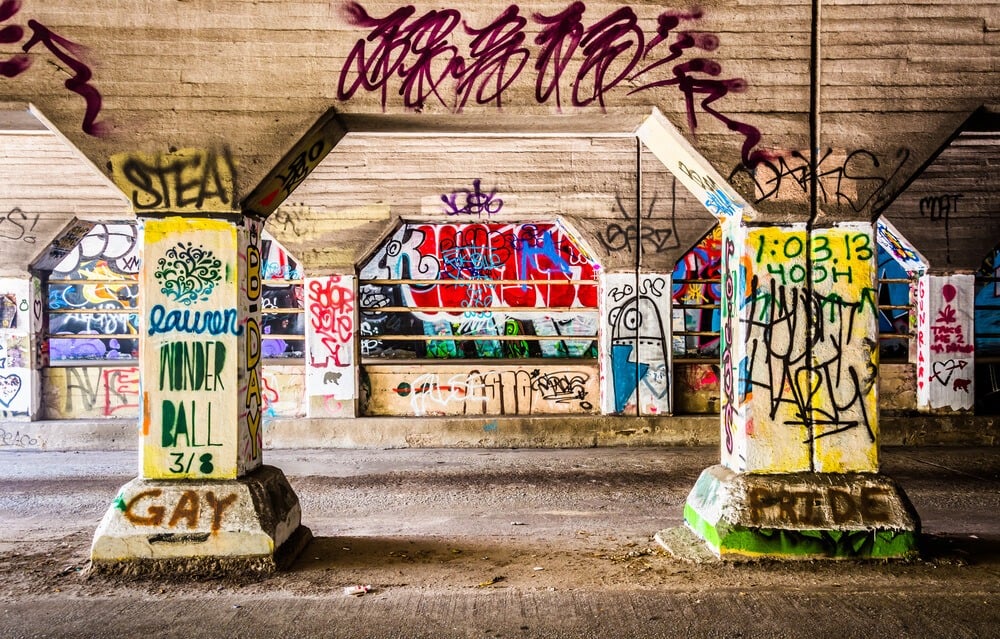 Striking street art
Colourful and interesting
No charge to admire the art
Lots of photo opportunities
Why it's awesome: The underground passageway of the Krog Street Tunnel connects Atlanta's neighbourhoods of Inman Park, Cabbagetown, and Reynoldstown. Used by both pedestrians and cyclists, the long tunnel is known for its abundance of interesting and eye-catching street art and graffiti. A public thoroughfare, it's free to descend into the tunnel and admire the art.
Interestingly, in the past, a paid event was arranged in the tunnel. Locals were upset that they wouldn't have access to the tunnel during the event and artists were annoyed that people were able to profit from their art. In protest, people gathered and painted over all of the art, rendering the tunnel drab and soulless. The walls have since come alive with colour and energy once again.
What to do there: Go underground and marvel at the vast array of artworks big and small that adorn the walls of this otherwise ordinary underpass. There isn't a patch of wall that remains bare! There are huge murals of various scenes to enjoy, spray-painted messages, including those of love, angst, and social justice, and simple graffiti tags among the diverse art. You can even keep updated with the ever-changing living art on a dedicated website. You're sure to take plenty of photographs of the cool multi-coloured scenes.
#5 – Atlantic Station
A great place in Atlanta if you love to shop!
Wide assortment of retail establishments
Plentiful places to eat and drink
Diverse leisure options
Watch a mesmerising Cirque du Soleil performance
Why it's awesome: Atlantic Station is both a neighbourhood in Atlanta and the name of a large shopping centre in the area. A top place to add to your Atlanta itinerary for shopping, dining, fun, entertainment, leisure, art, and festivals, Atlantic Station is a bustling and popular place with both locals and visitors alike. There's also something to do for all ages and it's a terrific all-weather attraction in Atlanta. The layout is a streetscape that you can wander along at leisure, and there's a park at the heart of the complex. Located in the site on an old steel mill and open since 2005, there's a cinema, a boutique hotel, diverse eateries, a skating rink, and much more.
What to do there: Explore Atlantic Station's three different areas of The District, with many shops, leisure facilities, and offices, The Commons, which mainly has homes and a pond, and The Village, which has apartments and a large IKEA outlet. Shop in the 50+ stores, each with a large and varied selection of goods. Brand include Banana Republic, GAP, H&M, Target, Bath and Body, and you can even buy merchandise from the local soccer team at Atlanta United Official Team Store.
Dine on tasty fare in one of the restaurants or cafes, with everything from quick and easy bites and pub grub to gourmet delights and fine dining. Catch a movie, go skating in the winter months, see the interesting BODIES exhibition, be dazzled by an impressive Cirque du Soleil show, and have a great time at Atlantic Station.
Is This the PERFECT Travel Pack???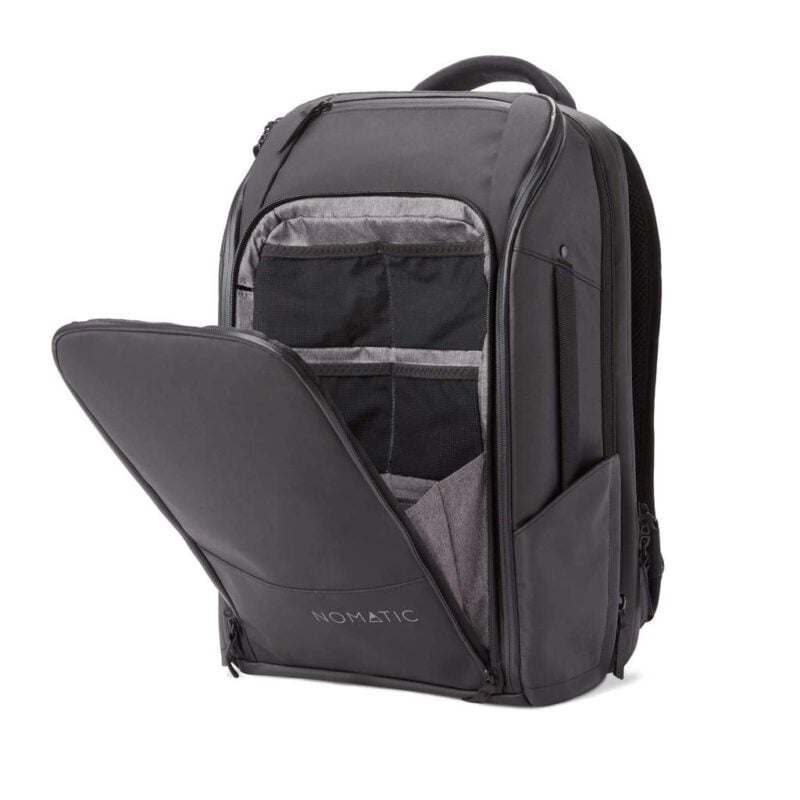 #6 – National Center for Civil and Human Rights
A fascinating educational place to visit in Atlanta
Covers all aspects of civil aspects
Connects the past and the present
Informative and thought-provoking
Unique building
Why it's awesome: Providing a bridge between the American Civil Rights Movement and the global human rights efforts and social justice programs of the present day, the National Center for Civil and Human Rights is an insightful destination when visiting Atlanta. Founded in 2007 by well-known civil rights activists, the facility aims to provide a safe and comfortable space where people can learn more about basic rights of all and be inspired and motivated to help make positive changes in their own lives and communities. The museum's building itself is unique, created by a group of award-winning designers, and it holds a number of thought-provoking and engaging permanent and temporary displays.
What to do there: Dig deeper into the past and learn more about America's historic civil rights movement, including the challenges faced by people and the positive changes that came from those times. See how the movement is connected with ongoing struggles and issues today, appreciating the connection between the past and the current human rights issues ongoing all across the planet.
Exhibits include photographs, documents, real-life accounts by different people, and a variety of artefacts. Visit the interactive Rolls Down Like Water gallery and the Spark of Conviction exhibit, with the former related to the past and the latter regarding the present. Don't miss the eye-opening display related to prejudice.
#7 – Georgia Aquarium
Awesome place to visit in Atlanta with kids!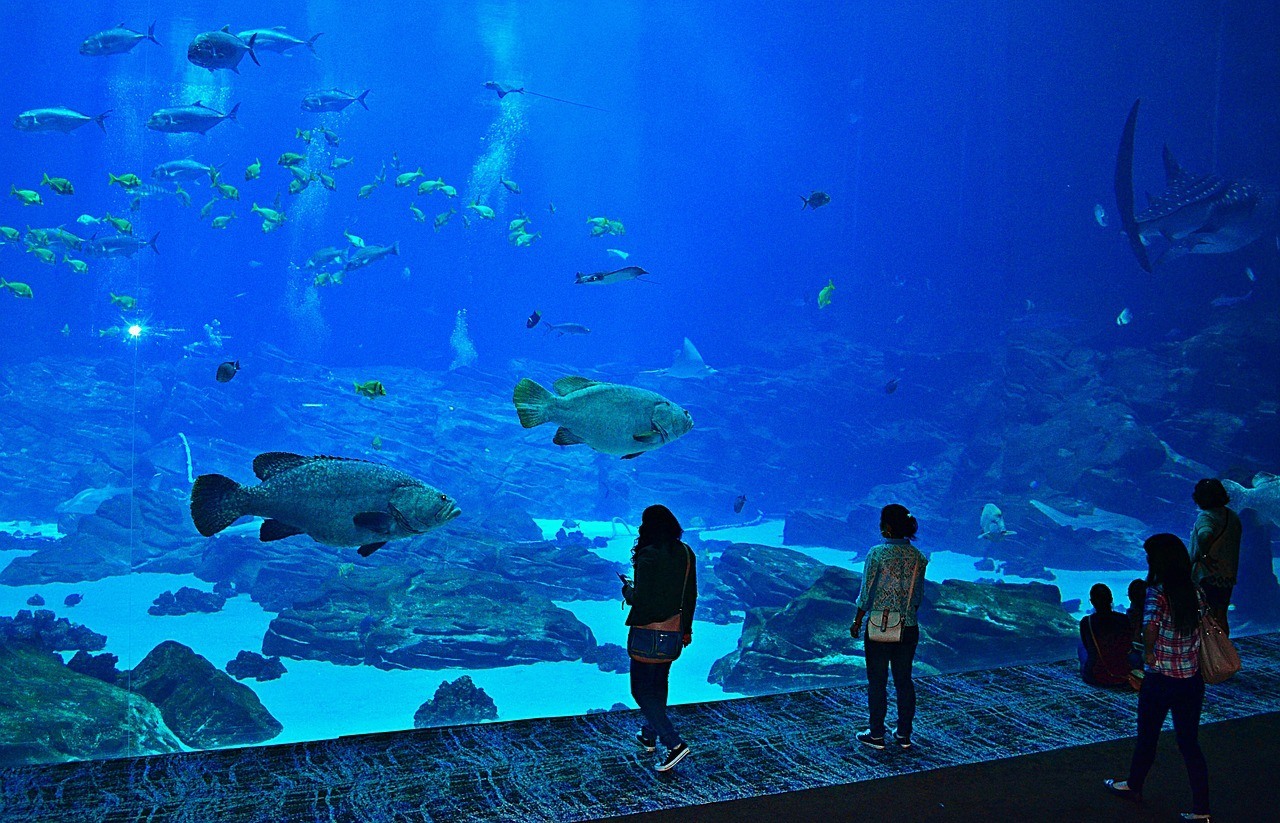 Huge aquarium with diverse creatures from across the globe
Interactive activities
Interesting shows and demonstrations
Leader in conservation and research
Why it's awesome: At one time the biggest aquarium in the world, the huge Georgia Aquarium houses several thousand examples of aquatic life, with creatures big and small from both saltwater and freshwater habitats right around the world. Open since 2005, it is among the top Atlanta vacation ideas for families. It's also, however, an incredibly popular attraction for couples and friends when they travel to Atlanta.
Some of the creatures housed in the aquarium are rare and/or endangered, and visitors have the opportunity to observe creatures at close quarters that would be very difficult to see otherwise. Both exciting and educational, the aquarium also undertakes a significant role when it comes to conservation and preservation projects, research, and awareness raising. The aquarium was featured on the popular TV show Animal Planet.
What to do there: Plan plenty of time to fully appreciate the vast collections in the aquarium and be amazed and enthralled as you make your way around the diverse galleries. At Cold Water Quest you'll find an interactive touch pool and will have the chance to learn more about water-dwelling creatures that thrive in cold temperatures. Peer into the kelp forest to spot animals like Japanese spider crabs, sea dragons, and damselfish, watch penguins, seals, and otters, and gaze in awe at the gigantic beluga whales.
As the name suggests, Dolphin Coast is where you'll find the playful and cute bottlenose dolphins. Stick around to watch the live training demos too. Discover more about freshwater environments and inhabitants at the Southern Company River Scout as you explore animals found in the rivers of the Americas, Asia, and Africa. With waterfalls and creatures like alligators, tortoises, and boas, there's definitely plenty to catch your attention.
See a huge array of other aquatic animals throughout the aquarium, including manta rays, whale sharks, piranha fish, electric eels, lobsters, clownfish, seahorses, and many more. Watch the webcams around the aquarium for better views of certain species, see animals being fed, stroll through the incredible underwater tunnel, take a behind the scenes tour, and book various interactive programs.
Quick Note – Staying safe in Atlanta
While Atlanta is generally a safe place for visitors and is much safer than many other large cities in the US, gang-related violence can still be a problem in some areas. Knowing which neighbourhoods in Atlanta to avoid is important, although dicier areas often have little of interest for tourists in any case. In brief, midtown and the east side are among the safest parts of the city, while places southwest of the I-20 and I-85 interchange are best avoided. Don't walk around downtown alone at night. Vehicle crimes are somewhat common in Atlanta. Always lock your car, even if just for a second, and don't leave valuables inside the vehicle. Park in areas that are busy and well lit.
Be vigilant on public transport, especially if travelling at night. Bag snatching, pickpocketing, and mugging are fairly common in Atlanta. Don't carry large amounts of money and hide your money, valuables, or important documents with you, make sure your bags are secure and be aware of your surroundings. Such property thefts often occur on public transport, in busy tourist areas, and in stores. Hide your money and don't try to fight back with robbers. Apply basic safety precautions and you will be fine.
Regarding natural hazards, pay attention to any tornado warnings and seek suitable shelter if a tornado hits. Be aware of common scams, including credit card scams, free Wi-Fi hotspots (designed by hackers to steal personal information), and cars being clamped in carparks with a demand for a hefty fee to unclamp the vehicle.
Do you need Travel Insurance for your trip? I have been using World Nomads for some time now and made a few claims over the years. They're easy to use, professional and relatively affordable. They may also let you buy or extend a policy once you've started your trip and are already abroad which is super handy.
If there's one insurance company I trust, it's World Nomads. To find out why I use World Nomads, check out my World Nomads Insurance review.
#8 – Georgia State Capitol
A great place to see in Atlanta if you love architecture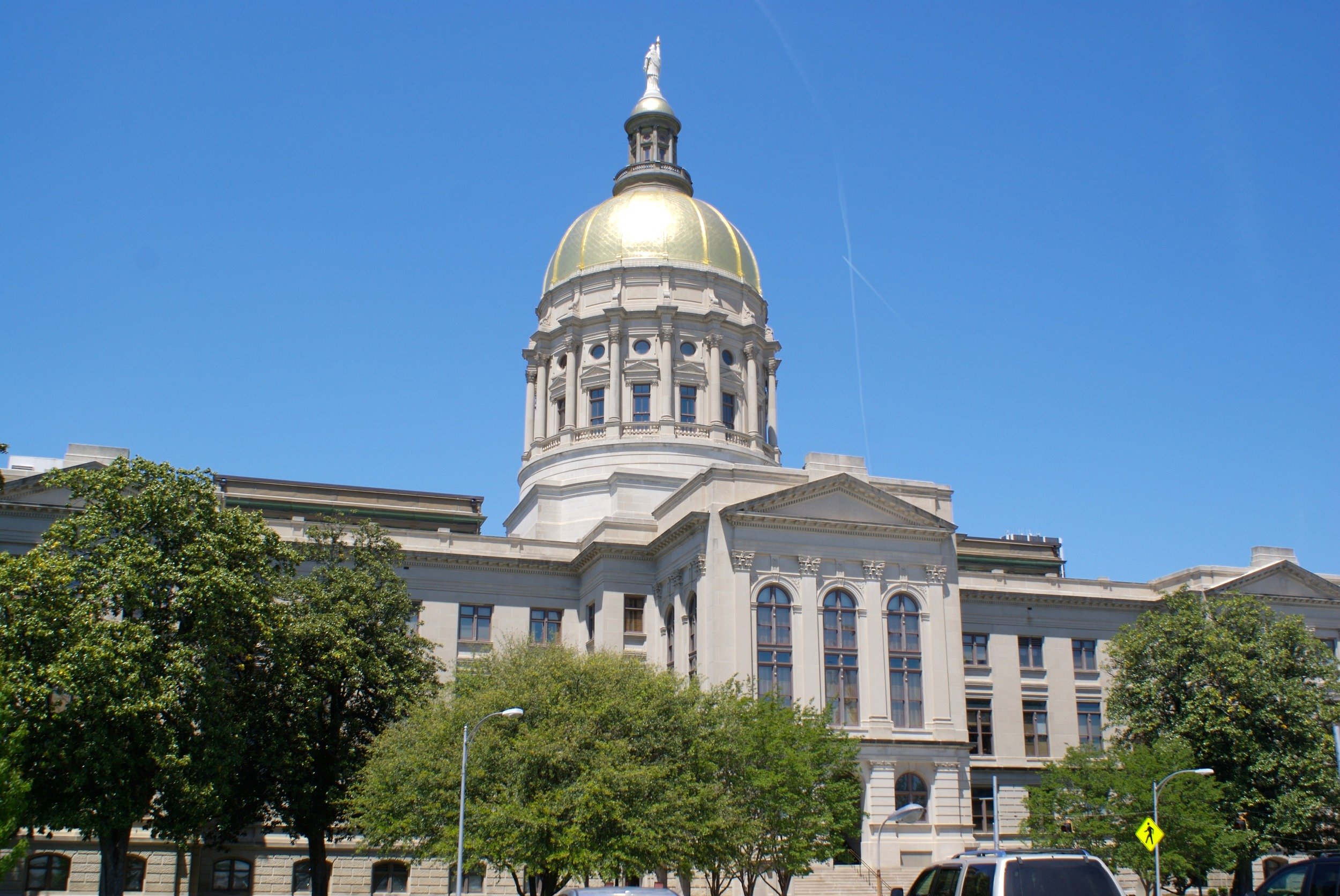 Free tours and museum
Beautiful architecture
Home of the local government
Discover natural and cultural history of Georgia
Why it's awesome: A National Historic Landmark, the handsome Georgia State Capitol is an Atlanta must see. Occupying the site of Atlanta's first city hall, the capitol houses the main departments of the state's government. Dating back to the late 1880s and modelled on the US Capitol in Washington DC, the building is in an attractive Neoclassical style and has many ornamental touches.
Outside, there's a four-level portico, grand Corinthian columns, a stone pediment with the state's coat of arms engraved into it, statues, and a magnificent dome. Inside, the décor and architecture reflect the style of the late 19th century, with gleaming marble flooring, sweeping staircases, and beautiful oak wood panelling. One of the major historic landmarks in Atlanta, the Georgia State Capitol is also a top attraction for budget travellers—there is no entrance cost for the museum and there are also free tours of the facility.
What to do there: Admire the impressive building from the outside and look on top of the dome to see the statue of Miss Freedom that stands proudly overlooking the surrounding area. You can see various other statues and monuments throughout the site too, including a bronze sculpture of Martin Luther King Jnr., a replica of the Statue of Liberty, the Flame of Freedom, the Vietnam War Memorial, and statues of prominent local political figures such as Jimmy Carter, Joseph E. Brown, Herman Talmadge, and John Brown Gordon.
Visit the museum to see collections related to Georgia's cultural and natural history. Take a self-guided tour of the building to learn more about local politics, democracy, history, and the building itself. Alternatively, groups of ten or more people can book a free guided tour.
#9 – Stone Mountain Park
One of the nicer places in Atlanta to sightsee!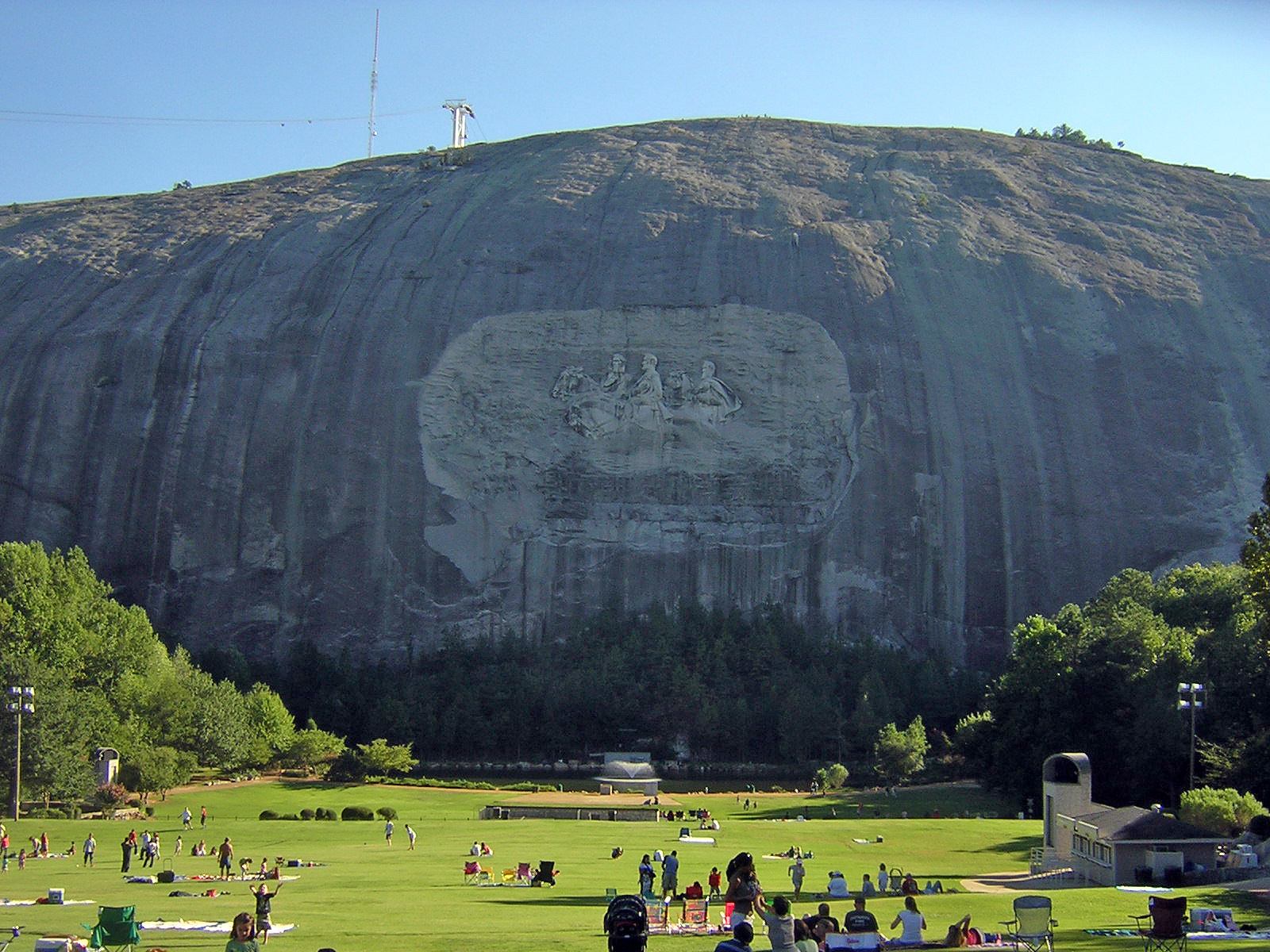 Large domed rock with cool geology
Terrific views and nature
Diverse activities for the entire family
One of the world's biggest rock carvings
Why it's awesome: Standing at almost 515 metres (1,690 feet) tall, Stone Mountain is a gigantic quartz dome that features one of the world's biggest bas-relief carvings. The area surrounding the rock is known for its rich geology, diverse (and controversial) history, and diverse activities that are suitable for the whole family. The mineral-rich dome was created some 300-350 million years ago as a result of magma swelling underneath the Earth's surface.
The top has rock pools and offers great views, while there are wildlife-rich woods on the slopes. Once a sacred site for the Ku Klux Clan, today the area has various natural and man-made attractions and is a popular spot for visitors.
What to do there: Stand atop the dome to admire the stretching views and peer into the rainwater-filled rock pools during the rainy season to see the many small shrimp that breed there. Follow nature trails through the woods, where wildflowers add plenty of colours to the terrain. See the huge and controversial Confederate Memorial carved into the side of the domed rock, with gigantic figures of three Civil War-era Confederate Generals along with their trusty steeds.
Looking for thrilling fun? Have a go at the Sky Hike rope adventure. Travel to the top of the mountain on the Skyride cable car, let kids have fun at Geyser Towers, the farm, and the Dinotorium, discover historic buildings from all around Georgia at Historic Square, ride the scenic railroad, and stroll through the recreated 1870s southern town at Crossroads, complete with more modern activities like mini golf, a 4D cinema, boat rides, and craft demonstrations. A summertime Atlanta must see, watch the evening laser and firework show for a great interpretation of the Deep South.
#10 – Millennium Gate
One of the most underrated places to see in Atlanta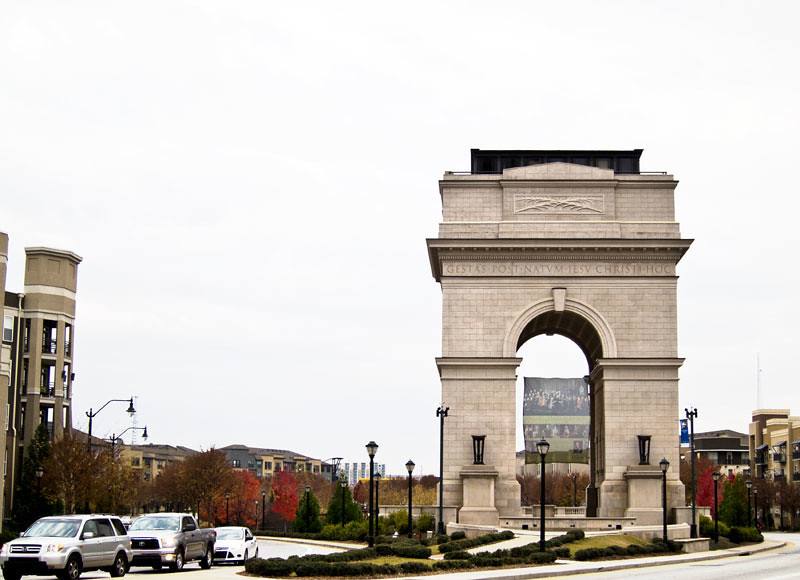 Low-key and lesser-visited attraction
Interesting museum
Striking architecture
Inspiring display related to philanthropy
Why it's awesome: Despite being one of the major landmarks in Atlanta, the Millennium Gate doesn't feature in local destination recommendations and lists of what to do in Atlanta as much as it perhaps should. Designed after the Arch of Titus, a monumental archway in Rome constructed around the 1st century AD, Atlanta's Millennium Gate honours peaceful accomplishments and has a focus on the people and events from Georgia. Complete with a Latin inscription, the impressive triumphal arch was created in the late 2000s. It houses a museum with various interesting displays and exhibits.
What to do there: Snap pictures of the magnificent archway from the outside, taking time to appreciate the finer details, before visiting the Millennium Gate Museum. With a combination of high-tech interactive displays alongside more traditional exhibitions, it's sure to pique your interest. The museum seeks to showcase Georgia's history, heritage, culture, and art. Step into the three period rooms for a journey back in time. One room replicates the 18th-century colonial-era office of Lyman Hall, one of the men who signed the USA's Declaration of Independence.
Another shows what the office of Thomas K. Glenn (Coca-Cola tycoon) looked like in the 19th century, and the other is of a drawing room from the 20th century. Wander along the Tocqueville Corridor to learn more about philanthropic ventures in the USA, discover more about the past of Atlantic Station in the Glenn Gallery, and travel through the ages in the Georgia Pioneer Gallery and 19th-, 20th-, and 21st-Century Galleries.
#11 – Oakland Cemetery
A nice quiet place to see in Atlanta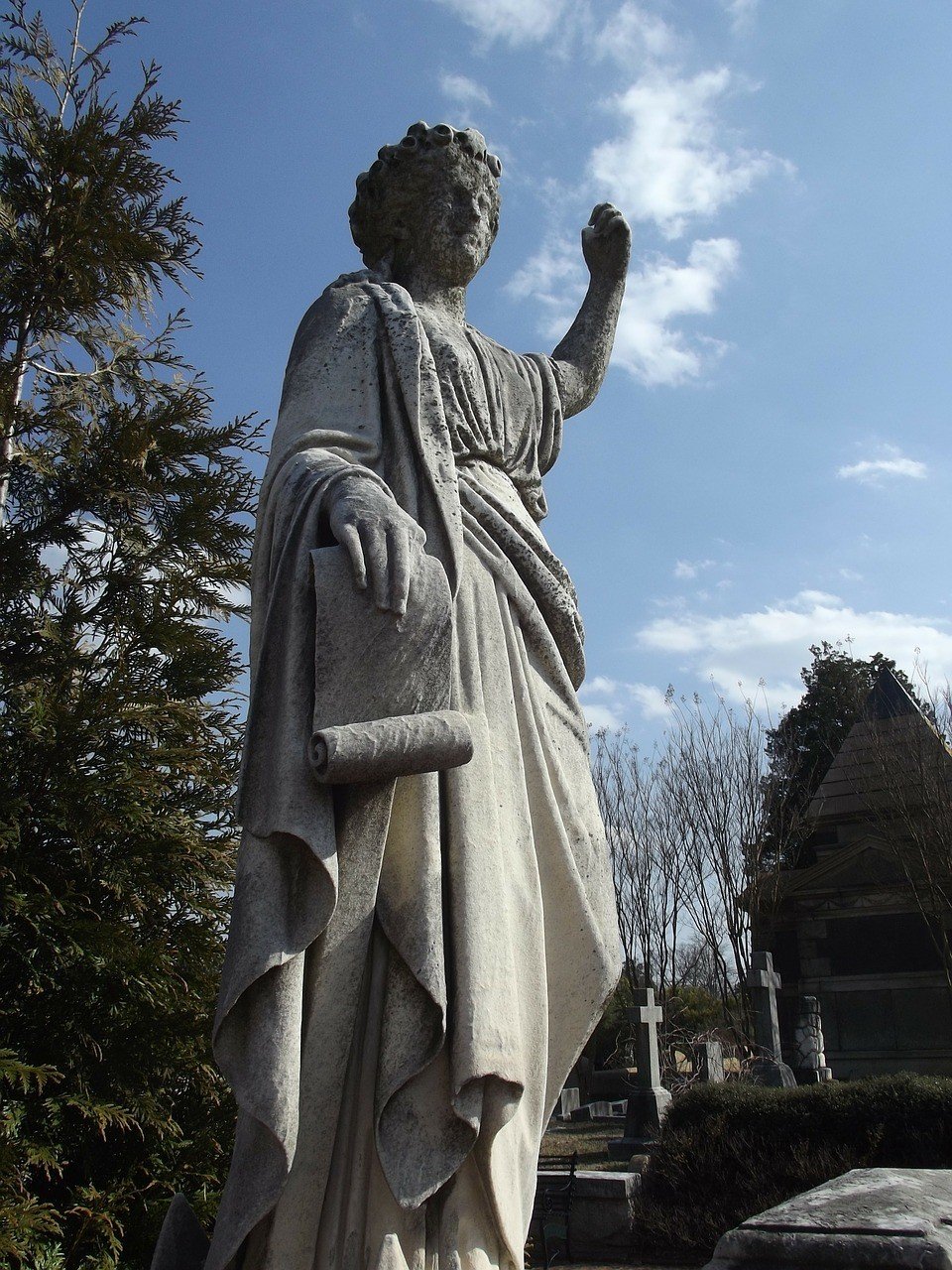 Strong sense of history
Eye-catching funerary architecture
Tranquil and peaceful air
Filled with nature
Why it's awesome: The Victorian-style Oakland Cemetery was founded in 1850 (originally known as Atlanta Cemetery) and takes its present name from the large number of oak trees that used to grow in the surroundings. One of the biggest garden cemeteries in Atlanta, it is also one of the most historical pieces of land in the city; Civil War battles were fought there in times long passed.
Split into different sections, the large burial ground is the final resting place of a number of famous people, including a number of late city mayors and governors, Confederate leaders, Margaret Mitchell Marsh (writer), Bobby Jones (pro golfer), Orelia Key Bell (poet), Franklin Miller Garret (historian), and Andrew Steiner (Holocaust survivor). Peaceful gardens surround glorious monuments and mausoleums, and it's a pleasant place to take a stroll and soak up the ambience.
What to do there: Admire the rich art, architecture, religious representations, and symbolism around the expansive burial ground. Explore the different sections of the cemetery, including the oldest original area with its arched gates, brick pathway, grand statues, the Egyptian Revival Kontz Memorial, the Neoclassical Neal Monument, and a small section reserved for the burial of Jews.
See more Hebrew inscriptions in the new Jewish section along with gravestones that reflect Jewish-American heritage. Reflect upon social changes following segregation in the black section. You'll probably notice that many graves are without markers—this is due to the fact that many were made from wood and have decayed and disappeared over the years. Pay your respects in Potter's Field, a part of the cemetery reserved for people who don't have the funds to purchase a plot in the main burial area.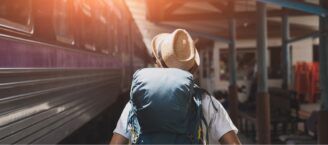 Unlock the The Broke Backpacker's GREATEST Travel Secrets
Sign up for The Broke Backpacker Newsletter to receive weekly tips on how to travel on a budget + a FREE copy of The Backpacker Bible!
Get insured for your trip to Atlanta!
Remember, when you are traveling you may need insurance! World Nomads are our go-to Travel Insurer; we have used them ourselves for years now.
Getting an estimate from World Nomads is simple – just click the button or image below, fill out the necessary info, and you're on your way!

More awesome places to visit in Atlanta
The fabulous attraction park of Six Flags Over Georgia is one of the most fun places to check out in Atlanta, with various rides and shows to entertain and thrill old and young alike. Take a wander around the buzzing hippie and boho area of Little Five Points, and discover one of the most unusual things to do in Atlanta when you descend into the basement of Star Bar to find an underground shrine to Elvis Presley! See the unusual 54 Columns sculpture, travel back in time at the Atlanta History Center, and admire art at the High Museum of Art, the Museum of Contemporary Art of Georgia, the Hammond House Museum, the Michael C. Carlos Museum, and others.
Experience the rush of driving some of the world's sleekest supercars at the Porsche Experience Center, catch an exciting baseball game at Suntrust Park, and enter the world of broadcasting the CNN Center. Spot wildlife and follow the quirky Doll's Head Trail in Constitution Lakes Park. Soak up the scenic vistas from the top of the 20-storey-tall SkyView Atlanta Ferris wheel, explore the large urban park of Centennial Olympic Park, and book tickets to see a show at the Fox Theatre.
Make the most out of your trip with these best places to visit in Atlanta.
---
Find out how YOU can support the site.
We work hard to put out the best backpacker resources on the web for free! It's all about helping out our tribe of awesome backpacker readers (that's you!). Please visit the link to find out how you can help keep the site going 🙂
For the sake of transparency, some of the links in our content are affiliate links. This means that if you book your accommodation, buy a piece of gear, or sort your insurance through our link, we earn a small commission at no extra cost to you. We only link to stuff that members of the Broke Backpacker team has actually used and never endorse products or services that are not up to scratch. Thanks for your support!