Cleveland in Ohio sits on the shoreline of the mighty lake Erie and formed part of the former, American "rust belt" of industrial, worker cities. Whilst the steel mills themselves are long gone, the city still wears its industrial past with pride. Look around the city and you will still find old rail-tracks and dis-used cranes dotted around the city. What were once warehouses and now repurposed as cool apartments, trendy bars and chic boutiques.
Because of it's somewhat sober reputation as a manufacturing city, it isn't exactly a place that packs the tourists in. However, this is changing and word of the cities reforging is now getting out. Scratch of the old rust and you'll soon see that there are enough things to do in Cleveland to keep you busy for at least a weekend visit.
And that's exactly why we have created this guide to the best unique things to do in Cleveland. Staying in this genuinely cool and compact city doesn't mean hovering around Downtown the whole time you're there cos we'll also show you the off the beaten track things to do, and some great day trips.
Let's see what those are…

Unlock Our GREATEST Travel Secrets!
Sign up for our newsletter and get the best travel tips delivered right to your inbox.
Top Things to Do in Cleveland
Let's start with the obvious. Whilst Cleveland doesn't have a Disneyland or a Sunset Boulevard, there is still a bit of a tourist trail here and enough to classic sites to see for at least a day's worth of exploring.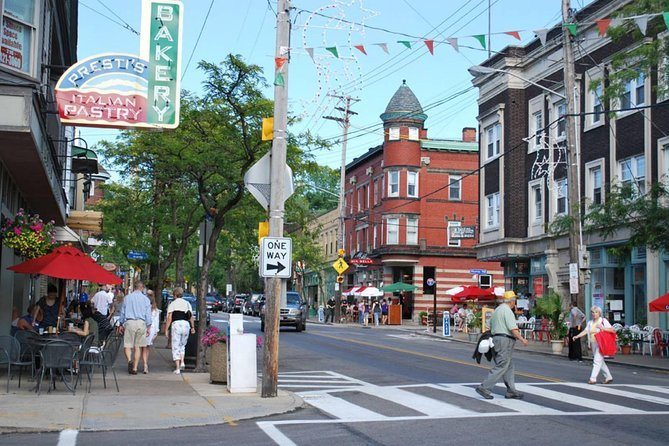 Cleveland, like many US cities, is packed full of cultural sights. So the first thing you should do to get a feel for the place is just to stroll around its centre, lapping up the monuments and taking in the history of it all.
Simply walking around is a good way to get to grips with the city is a great thing to do in Cleveland. There's the University Circle area and all its grand buildings and the Wade Oval with its various museums. Then there is the Uptown area – complete with Cleveland Institute of Art – and the Severance Hall (home of the Cleveland Orchestra). The city centre is very walkable and there are a few great walking tours you can join led by locals who can tell you about the cities past, present and place in the world.
2. Get creative inside the Museum of Contemporary Art Cleveland
For one of the top things to do in Cleveland city centre, make a beeline for the Museum of Contemporary Art Cleveland. The moCa, as it's known (not to be confused with mocha coffee!), is a building straight outta the 1960s – you won't be able to miss this icon of a venue.
It's featured exhibits from such artists as Andy Warhol, Roy Lichtenstein and Claes Oldenburg, amongst others. This is a must-see for any fan of art who finds themselves in the city – and, best of all, it's open for anybody to attend, costing no money at all to enter. It might become your favourite free thing to do in Cleveland.
FIRST TIME IN CLEVELAND
Ohio City
No, this isn't a different city: Ohio City is a neighbourhood southwest of Downtown and is the best place to stay in Cleveland. This is safe, trendy neighbourhood where you'll find a whole load of restaurants, bars and other day-and-night happenings – like the West Side Market, for example – to make for a truly comprehensive stay in this lakeside urban sprawl.
Places to visit:
Hit up Bop Stop – an Ohio City jazz club which is always a fun place to hang out with a few drinks at night
You should visit Ohio City Farm, with lots of fresh produce on sale, to see an interesting, local slice of life
Check out some contemporary art at the very cool Transformer Station, set inside a 1920s railroad substation
3. Enjoy nature at Lake Erie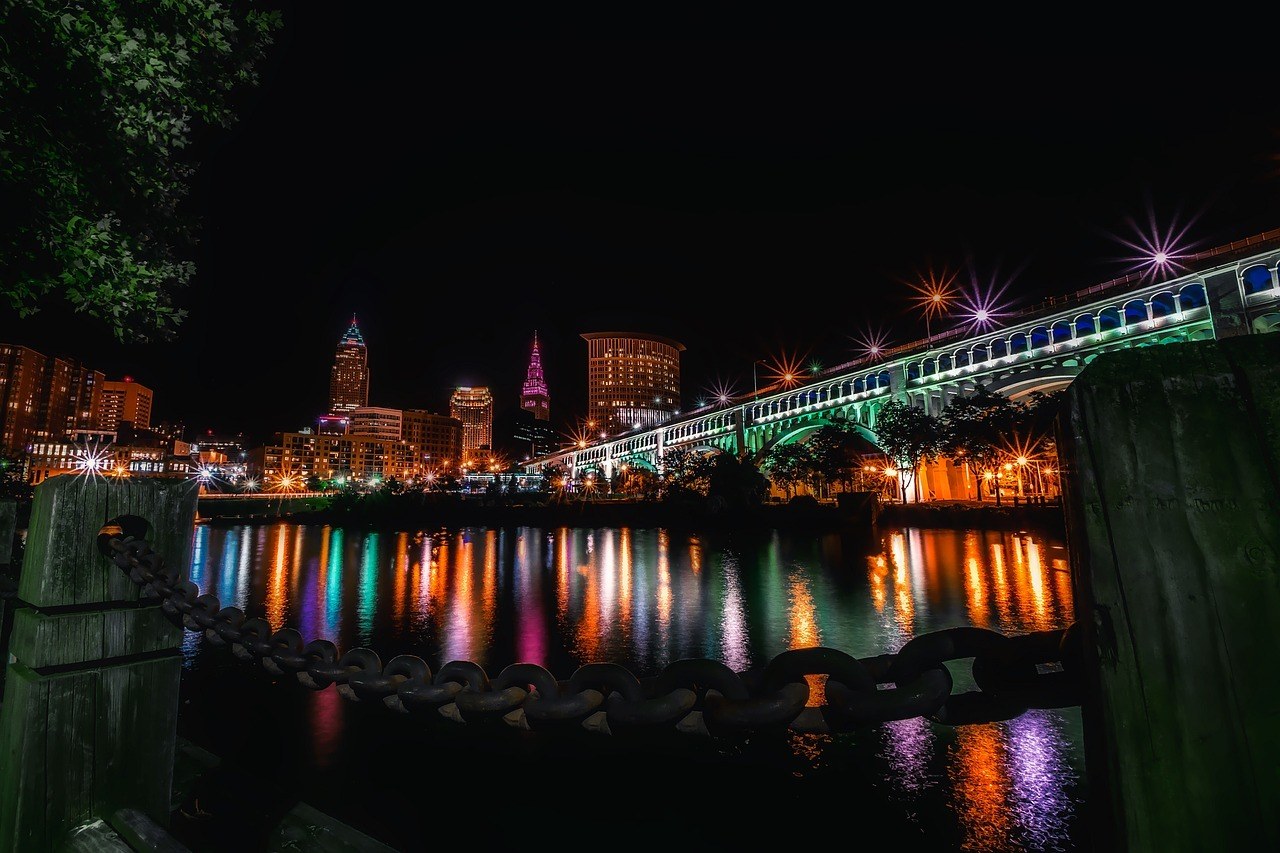 Lake Erie is one of the Five Great Lakes of North America and Cleveland is bang on the shoreline. If you want to get onto the lake then there are boat cruises as well as fishing trips.
If you don't want to get onto a boat then head to Cleveland Lakefront Nature Preserve: 88 acres of prime birdwatching real estate and trails to lose yourself on. Visit on a crisp autumn day, a warm sunny afternoon in spring, or even in depths of winter. It's going to be beautiful whenever you go.
Every city has a history. They are all fascinating it is just that some get more famous than others. Get down here and learn about Clevelands foundation, it rise as an industrial powerhouse and its decline following the decimation of American Industry. Run by the 150-year-old Western Reserve Historical Society, the Cleveland History Center is the place to go to hone in on the city's backstory. You'll get to hear and learn about all that is odd and magnificent about Cleveland.
Not just one for history buffs, this has an array of interesting artefacts – from maps and clothes to wilder things like an old carousel – to nose around. If nothing else, this is a great thing to do in Cleveland when it rains, being indoors and all. One particular reason to visit is the vintage DeLorean automobile they have here – once upon a time these futuristic yet dated, ugly yet beautiful cars, were made in the city.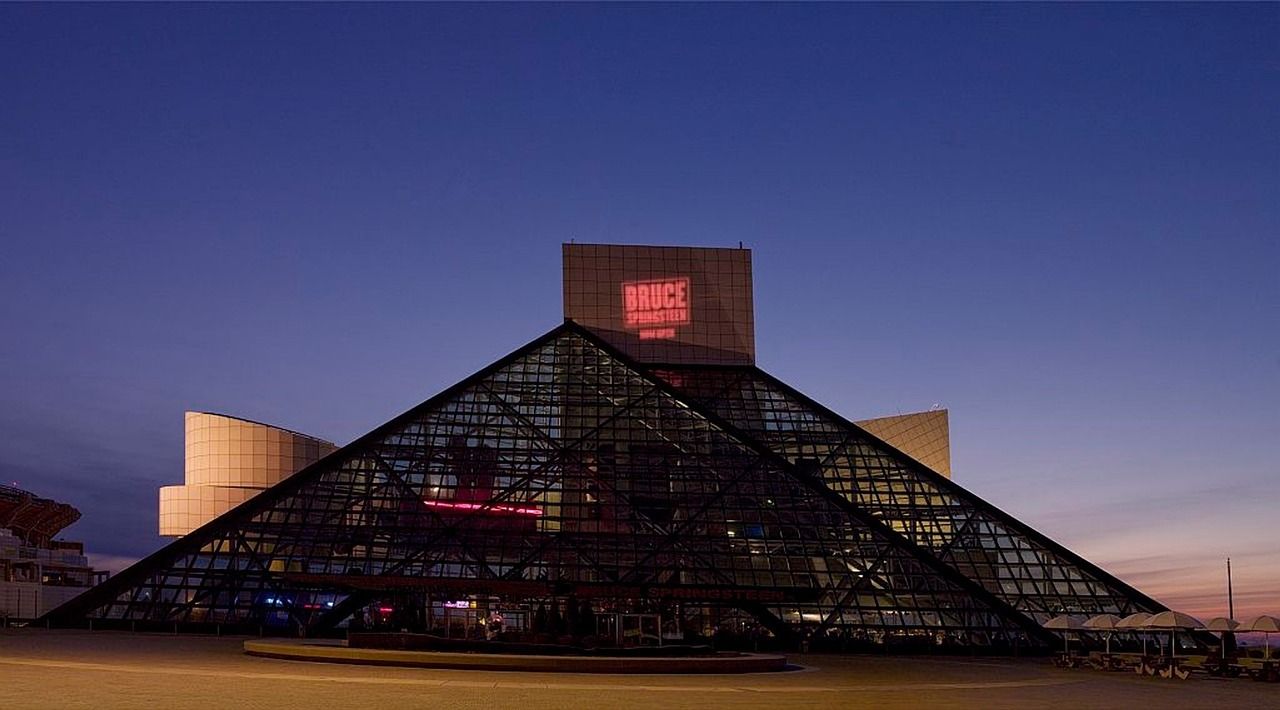 OK so I bet you're wondering why the hell is the rock n' roll hall of fame in Cleveland right? Not Los Angeles, or New York or Liverpool but Cleveland. Well the city successfully lobbied for it after asserting that Cleveland DJ Alan Freed coined the term. Freed was a massive and influential promoter of the new music back in the 50's and the Hall now sits where his theatre was situated.
Set inside a glass pyramid (like the Louvre, sort of) along the banks of Lake Erie, pay a visit and learn all about rock legends from Jimi Hendrix to The Who and The Beatles, and even get to look at stuff like handwritten lyrics. One of the coolest things to do in Cleveland, for sure. It's even better when somebody is been inducted as the great and good (or grey and old…) of the rock world turn up to play and schmooze.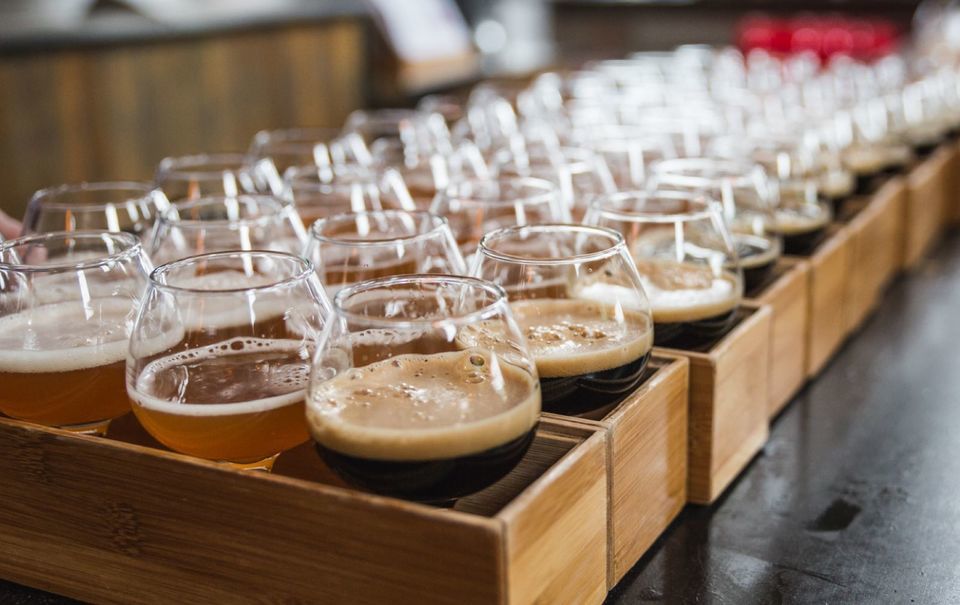 So we know that Cleveland is the home of rock n roll and we also know that it was once a city of steel mills which is seriously thirsty work. So you bet that it's got good beer!
The beauty of a city filled with disused warehouses is that they are great for converting into micro-breweries. So for those of you who like a taste or more of the hoppy stuff, you can hit up some of the city's best breweries for tasting sessions and lessons in how the beer is made (but mainly for tasting).
For one of the more non-touristy things to do in Cleveland, we think you should go to Great Lakes Brewing, Brick and Barrel, and/or Platform Beer – any of which would be a great choice. For those who are hungry as well as thirsty, Collision Beer Brewing Co serves up food alongside their beer. A good way to spend your time.
Small Pack Problems? 😉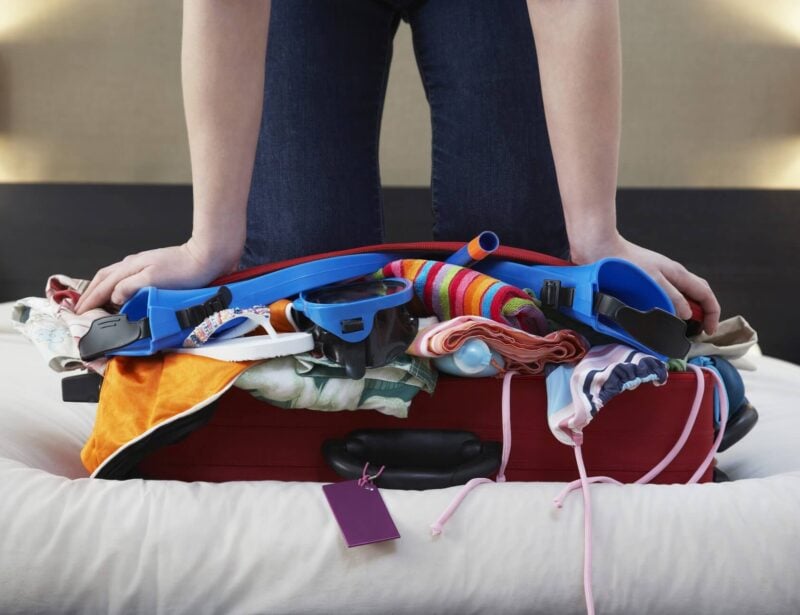 Wanna know how to pack like a pro? Well for a start you need the right gear….
These are packing cubes for the globetrotters and compression sacks for the real adventurers – these babies are a traveller's best kept secret. They organise yo' packing and minimise volume too so you can pack MORE.
Or, y'know… you can stick to just chucking it all in your backpack…
Get Yours Here
Read Our Review
Unusual Things to Do in Cleveland
Ok so that's the obvious site(s) out the way. But what else does Cleveland have going on? Well let's run through the pick of the unusual things to do in Cleveland.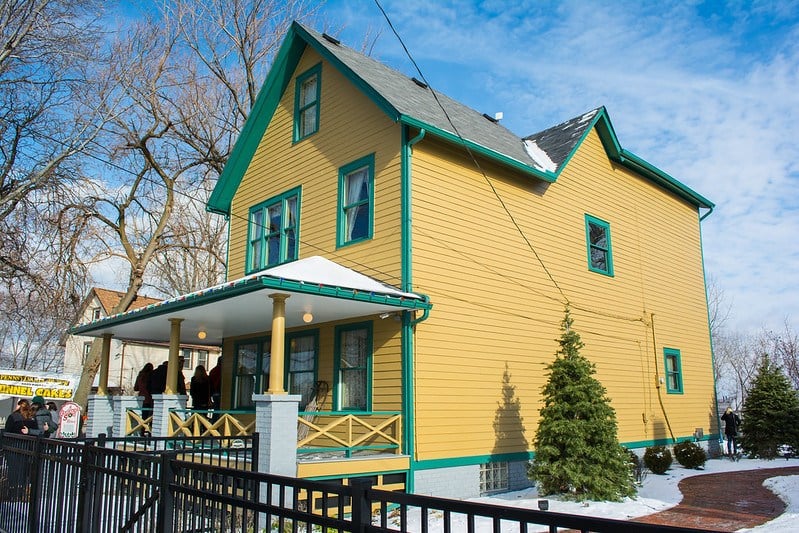 What is the Christmas Story House? Is it the manger where Jesus was born? No that's in Bethlehem. Well is it Santa's house? No that's in the North Pole. The Christmas Story House that you can visit in Cleveland, is simply the house that features in the 1983 film A Christmas Story. Open to the public, year-round, the house has remained exactly as it appeared in the film – inside and out.
Even if you're not a fan of the film, or have never even heard of it, this 19th century Victorian house is still worth a visit for the picturesque vibes of the home itself. Remember the leg lamp from the film? It's still in the window; and you can buy one in the gift shop, too, if you like. Definitely one of the more unusual things to do in Cleveland. Fun fact: the owner (a fan of the film) bought the house on eBay!
8. Be a pinball wizard at Superelectric Pinball Parlor
The Superelectric Pinball Parlor definitely constitutes one of the more unique things to do in Cleveland, simply because, well, when do you ever see actual pinball parlors in the world anymore? Pretty much nowhere.
This homage to the old school pre-cursor to the videogame arcade features a collection of pinball machines ranging from the 1950s all the way to the modern-day. And there's even a restaurant on site so you can make a night of it. Tip: check out their website before you go so you know what's on because they've got a load of themed nights on their schedule (hint – there is pinball themed night).
9. See a show at Playhouse Square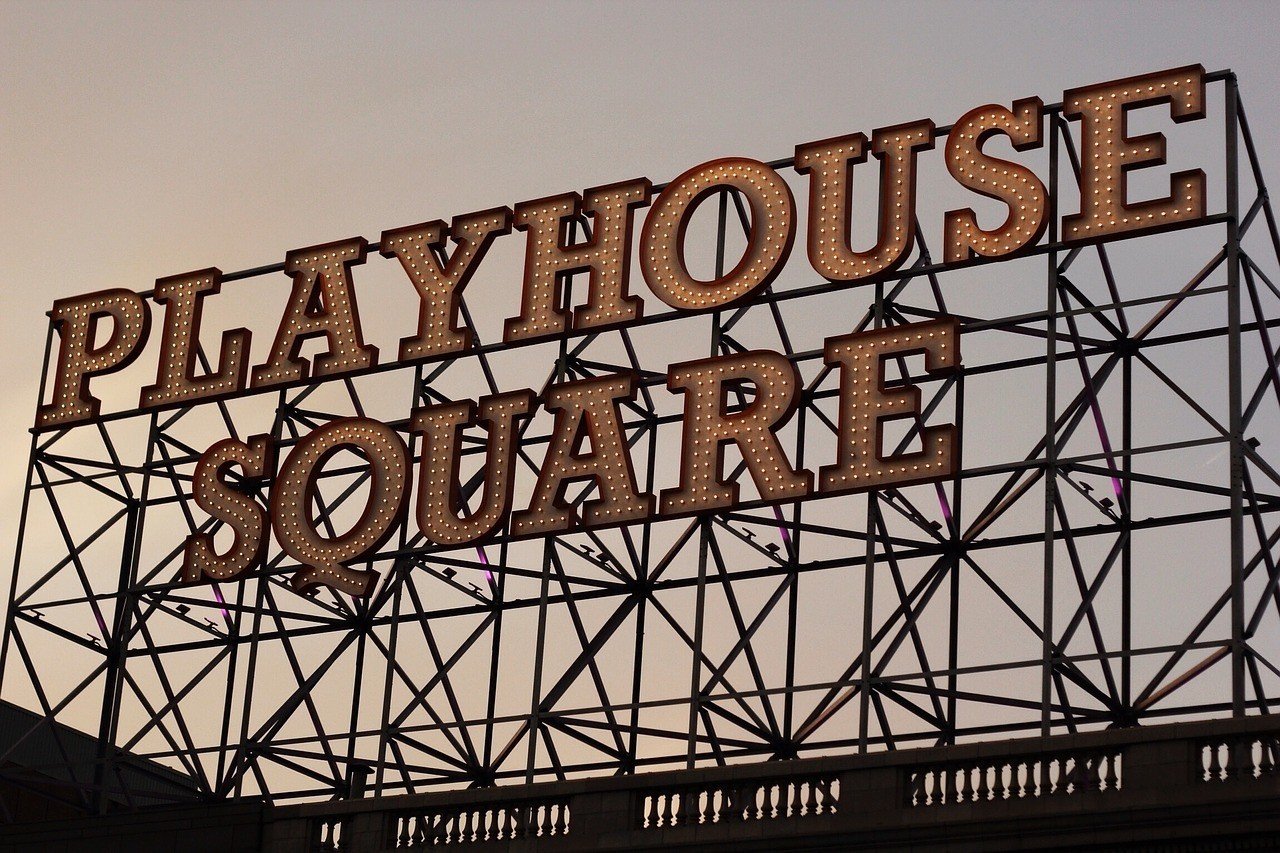 You'll know you're in Playhouse Square because you'll see a huge, dangling chandelier hanging over the street. Set in the middle of Downtown, this little area is actually the largest performing arts centre in the States (outside of New York City, that is). There's a ton of theatres here where you can have your pick of shows for the night.
Certainly one of the more non-touristy things to do in Cleveland, there are plenty of places to see Broadway-style shows, places to eat, places to drink, and generally enjoy the theatrical, bustling atmosphere of this area. We're into it.
10. Try To Escape From The Escape Game!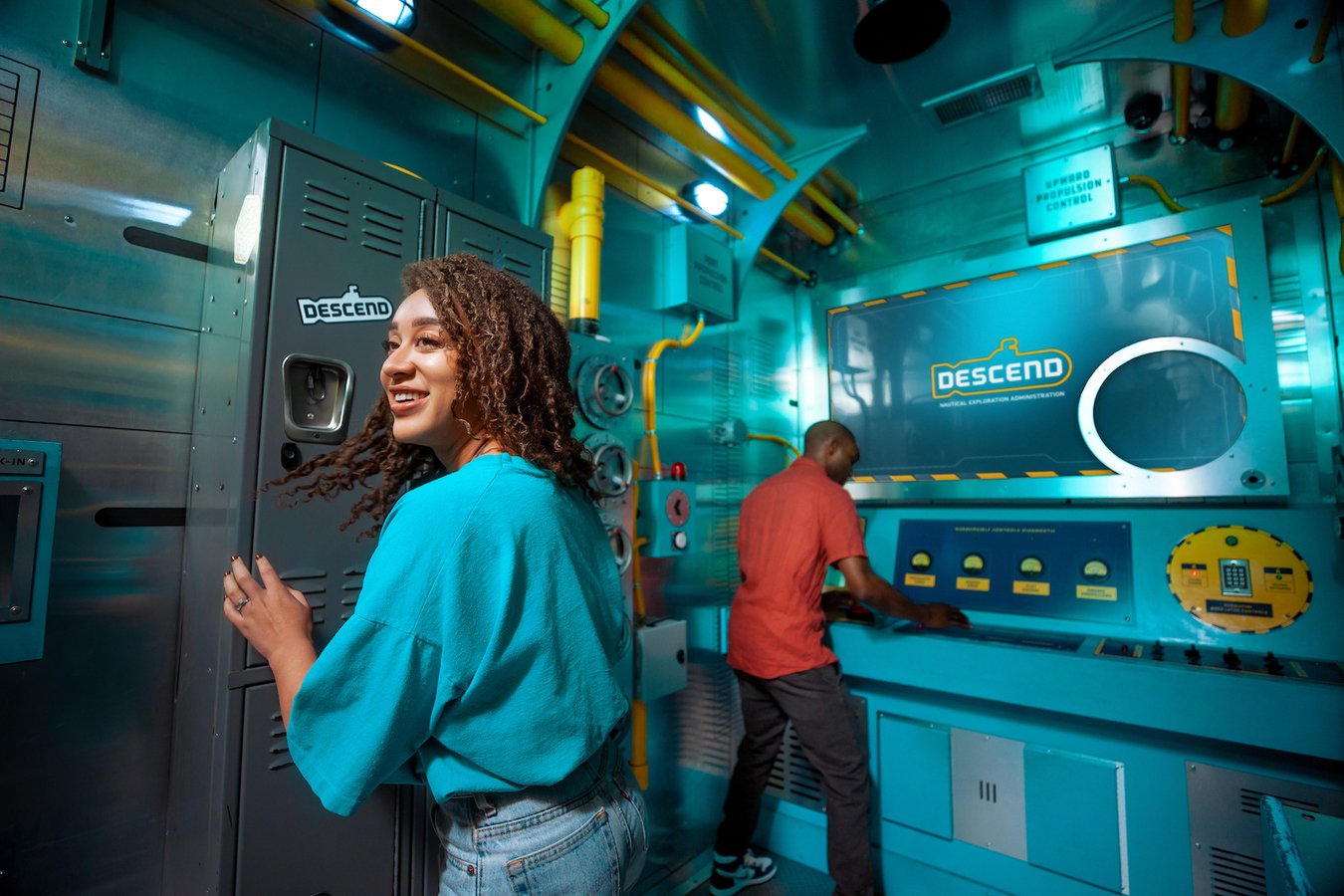 If you are after something challenging, immersive but totally then then the Escape Game Cleveland may be just what you are looking for. The Escape Game features a variety of different rooms which participants (that's you and your crew) must try to escape from by working as a team, solving clues and completing puzzles.
All games are designed to be suitable for everybody, from first-time players to experienced escapologists. No matter which one you decide to play, you're sure to have an absolute blast!
Safety in Cleveland
Cleveland is actually a pretty safe city to visit – it's mostly safe to walk around wherever you want and shouldn't cause too much trouble to any visitors.
Note that after dark Midtown after dark, and even Downtown get empty and can be sketchy once the trains stop running. There is a sizeable homeless population in Cleveland, but you shouldn't worry aggression all too much.
As you would do in any city in the world, just be careful of your belongings and be mindful of your surroundings as you walk around. Read our tips for traveling safely before you fly and always get travel insurance. Check out our roundup of the best travel insurance.
Travel with peace of mind. Travel WITH a security belt.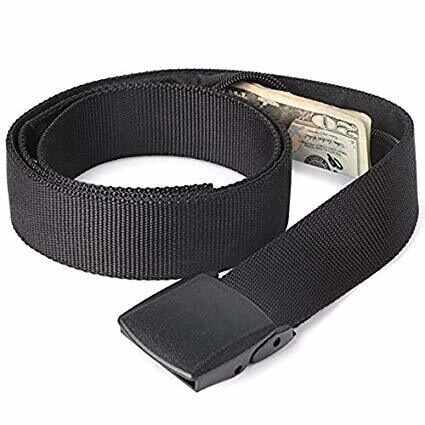 Stash your cash safely with this money belt. It will keep your valuables safely concealed, no matter where you go.
It looks exactly like a normal belt except for a SECRET interior pocket perfectly designed to hide a wad of cash, a passport photocopy or anything else you may wish to hide. Never get caught with your pants down again! (Unless you want to…)
Hide Yo' Money!
Things to Do in Cleveland at Night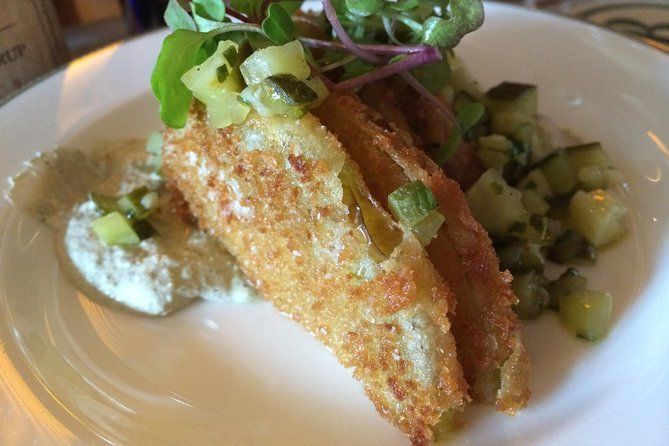 Like many other US cities, Cleveland has its own Little Italy. What was once the enclave of Italian immigrants who came to work in the mills is now packed full with pizza joints, old school cafes, brilliant bakeries and traditional trattorias. The whole district is daubed with murals telling the stories of various Italian immigrants to the area.
Established in the late 19th century by immigrants from the Abruzzi region of southern Italy, exploring Little Italy on a food tour is definitely a top thing to do in Cleveland at night. For example, Guarino's is a great nightspot for classic Italian pasta. Fun fact: there used to be a "Big Italy" established by Sicilian immigrants, but it fell into decline following WWII. Today, the only "Big Italy" is Italy.
12. Party the night away at The Flats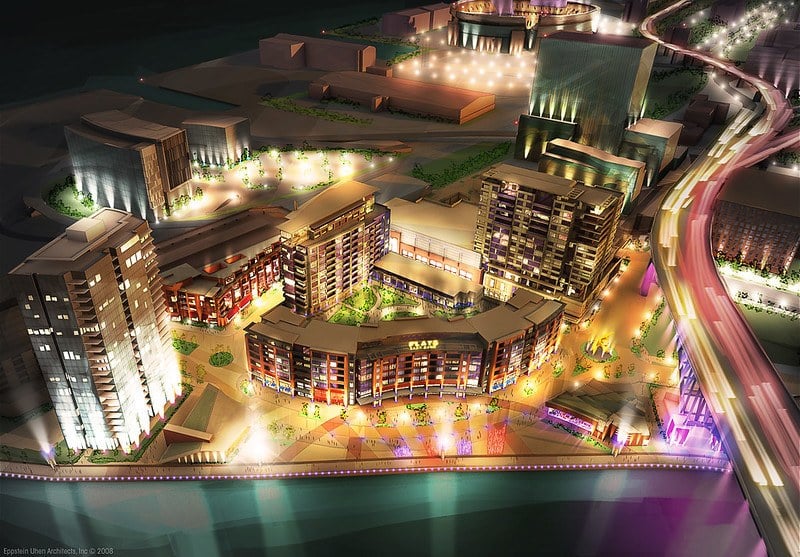 So you want a party? Then heading to The Flats might just be the best thing to do in Cleveland at night for you. Located along the Cuyahoga River, this neighbourhood is a mix of industrial and entertainment areas and is, as you might imagine, the best place to let loose in the city.
Redeveloped and fittingly gentrified, The Flats has come back to life (or rather, has always been alive) with a mix of live music venues, bars and restaurants, all set along the waterfront. The best places here include Harbor Inn – a proper dive bar – Hive Bar Social, with some great drinks on offer, and Alley Cat Oyster Bar serves up seafood along the riverfront.
Where to Stay in Cleveland
The Cleveland Hostel is a bit of a cool enclave. Staying here means big communal lounges, large private rooms, and sizeable dorms. There's a ton of places to hang out, meet fellow travelers, and cook yourself up a meal in the shared kitchen. The best thing about this cool Cleveland accommodation (apart from its location) has got to be its awesome rooftop terrace – complete with views of the city, of course.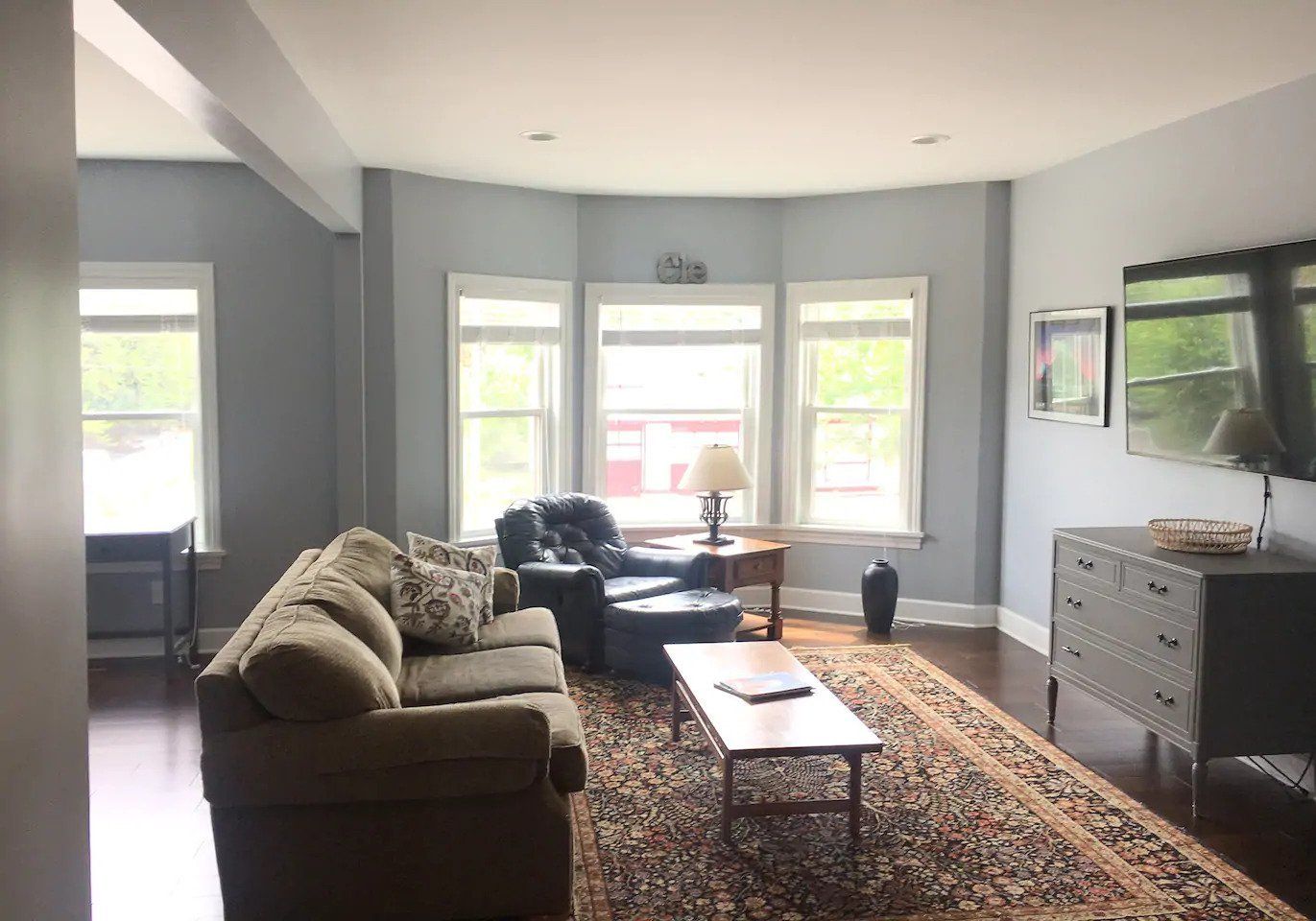 Just as the name advertises, this top Airbnb in Cleveland really is spacious. On top of that, staying here means you'll be surrounded by bars and restaurants (yes, the location is killer). This newly renovated crash pad comes with free parking and is always going to be sparklingly clean and cosy for your trip to Cleveland. There's just 1 bedroom, but this place can sleep up to 4 (there's a sofa bed).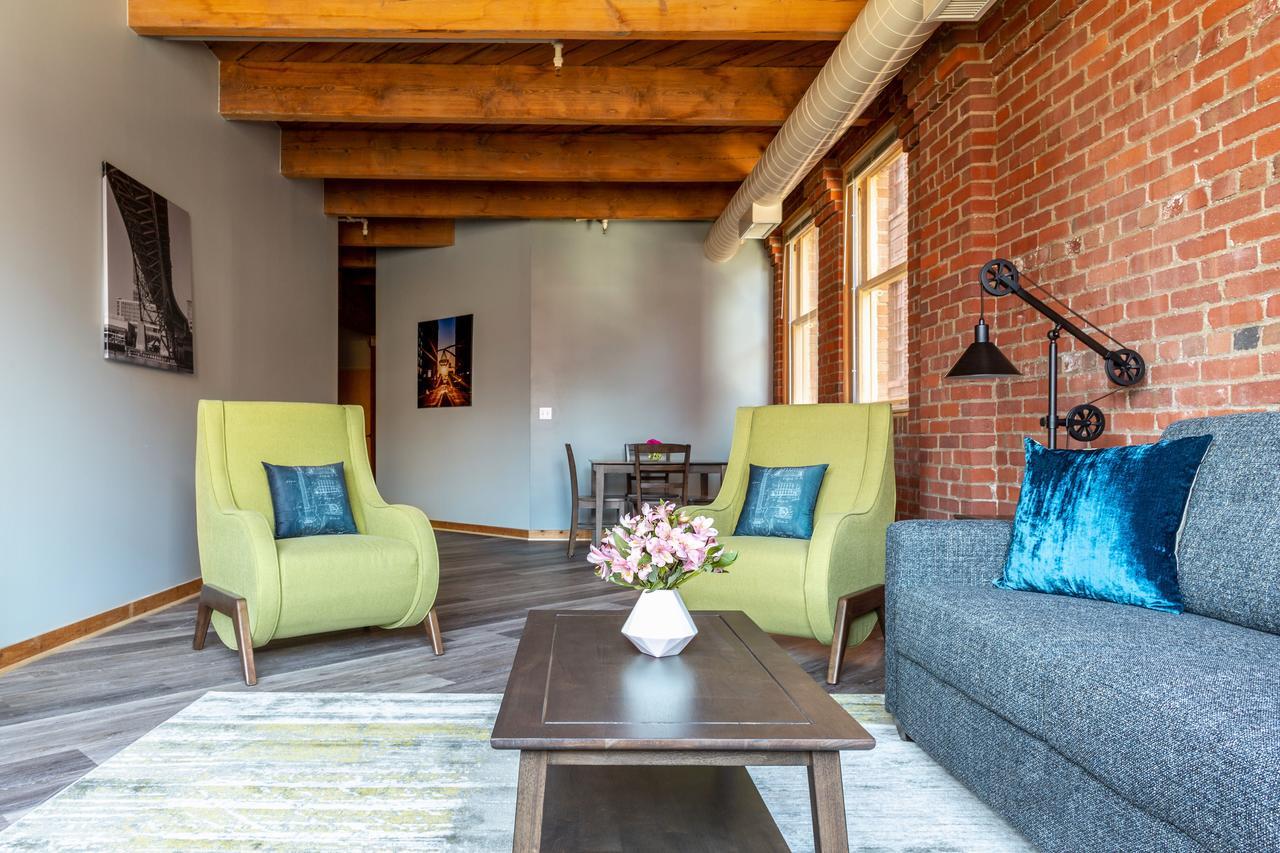 With one foot in Downtown and the other just stone's throw from The Flats and Ohio City, Stay Alfred at Bridgeview offers up hip lodgings with an ace location for an altogether great hotel option in Cleveland. Choose from different sized apartments to stay in (complete with kitchens and lounges) for the independent traveller's dream. A good place if you're in town for more than a weekend.
Romantic Things to Do in Cleveland
Ok so Cleveland is not exactly up there with Paris, Rome or the Bahamas in terms of romantic getaways. But even steel workers gotta make some time for love! Peer beneath the surface and there are enough romantic things to do in Cleveland for 50 first dates!
12. See a world class orchestra at Severance Hall
Severance Hall is a stunner of a music hall that opened in 1931. The interiors here are beautifully ornate, gleaming and Art Deco. Any couple who likes to be wowed by design should definitely put this on their list of romantic things to do in Cleveland, particularly because you'll actually get to hear music here – not just stare at walls.
Which is cool because the Cleveland Orchestra, founded in 1918, is pretty famous. They've actually been named as one of the greatest orchestras in the world – but don't just take our word for it, book tickets to a classical performance and see (or hear) for yourselves!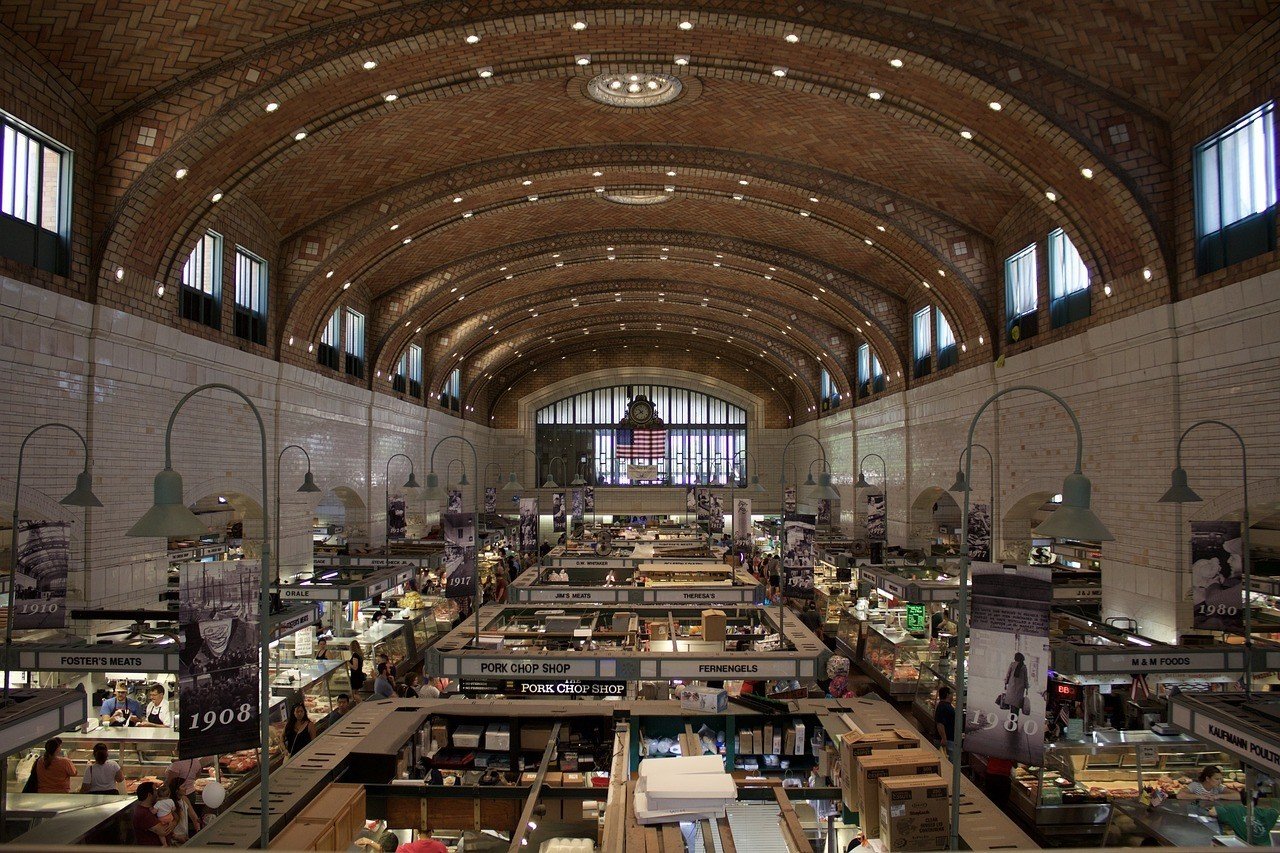 The historic West Side Market is the place to go if you're looking for cool things to do in Cleveland and you both happen to big fans of food. We mean, who isn't? But this market is worth checking out: there's a whole lot of different things on offer here.
There's fresh produce in the form of fruit, vegetables, cheeses, breads, meats, and pastries. In fact, though there are plenty of food vendors around here where you can score a meal. What I would do is get some ingredients together – a bit of cheese, some bread, grapes, wine (for example) – and head for a romantic picnic in one of Clevelands green parks or abandoned warehouses… Tip: it's not open Tuesdays or Thursdays.
Best Free Things to Do in Cleveland
Are you in Cleveland on a budget? Or did you spend all of your money sampling the craft beer? (been there) Well worry not because we will show the best free things to do in Cleveland.
14. Enjoy the nature at Edgewater Beach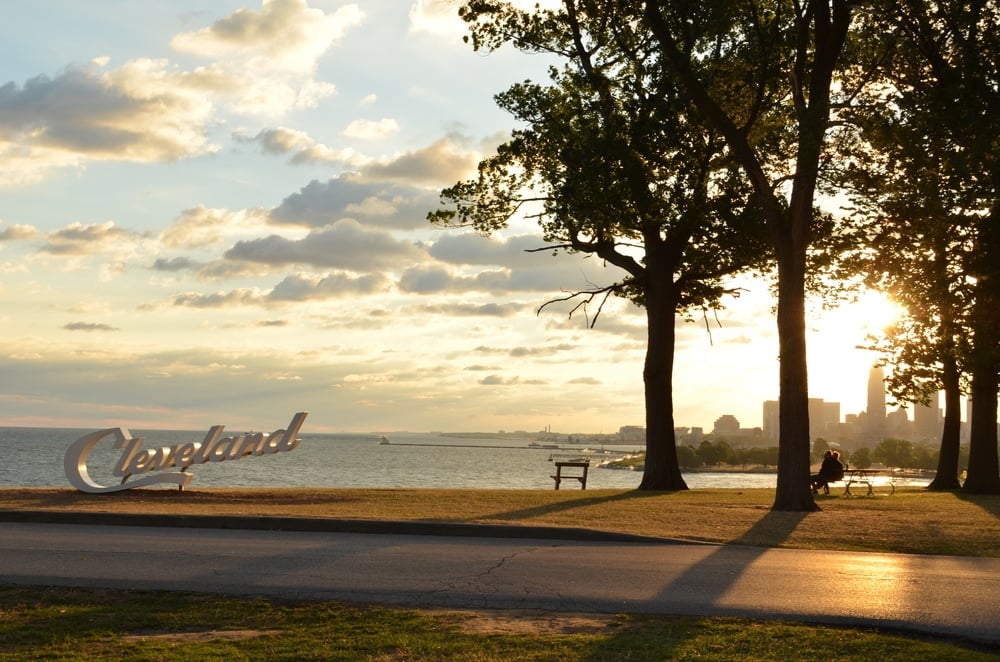 Being the lakeside city that it is, one of the best things to do in Cleveland is summer would be to head to the beach. We're talking Edgewater Beach, in similarly named Edgewater Park, along the banks of Lake Erie.
A 2,400 foot long stretch of sand, with plenty of space to park yourself and for swimming, here is where you can spend the day playing some beach volleyball, splashing around in the water, or simply kicking back. You can hire a cabana if you want, or buy an ice cream, but if you're on a budget, you could just enjoy the fact that this place is totally free of charge.
Is This the Best Daypack EVER???
15. See the grandeur of Cleveland Arcade
If you thought shopping malls were the pinnacle of commercialism and shopping heaven (or hell, depending on how you look at it), then you're obviously forgetting to think about the thing that came first: arcades. And, whaddya know, Cleveland has a pretty awesome one.
Dubbed "Cleveland's Crystal Palace" this ornate shrine to shopping and other indoor luxuries dates back to 1890 and was funded by none other than John D. Rockefeller. Cleveland Arcade is still a charming place to this day and is well-loved by Clevelanders; it's rare to find places like this in the US. One of our favourite free things to do in Cleveland is simply spending time here wandering being wowed.
Books to Read in Cleveland
To Have and To Have Not – A family man gets involved with the drug smuggling business in the Key West and ends up in a strange affair. Written by the great Ernest Hemingway.
The Great Gatsby – Fitzgerald's best book. Concerns the enigmatic and wealthy Jay Gatsby, his adventures, and his obsession with a woman.
Gone with the Wind – An American classic and an epic about the Civil War and its consequences as told from the perspectives of two Southern lovers.

Our GREATEST Travel Secrets…
Pop your email here & get the original Broke Backpacker Bible for FREE.
Best Things to Do in Cleveland with Kids
If you are brining your kids to Cleveland (or if you abducted somebody else's) then we have you covered. Read on to learn what to do in Cleveland with replacements, erm, I mean children.
Located on the banks of Lake Erie, Cedar Point is an old school amusement park, but by old school, we mean the 1870s. Ah, the '70s – what time to be alive. It's actually the second oldest amusement park in the United States of America and even features some original attractions – not from the Victorian era, though.
There's the 1964 Blue Streak rollercoaster, the Cedar Creek Mine Ride from 1969, and the Corkscrew, which dates back to 1976. For more modern offerings, hit up Steel Vengeance (2018). Basically, this park is where it's at for adrenaline-pumping fun, and is definitely one of the best things to do in Cleveland with kids. Don't worry if you've got younger children: there's plenty of things for younger kids, too.
17. Get geeky at the Great Lakes Science Center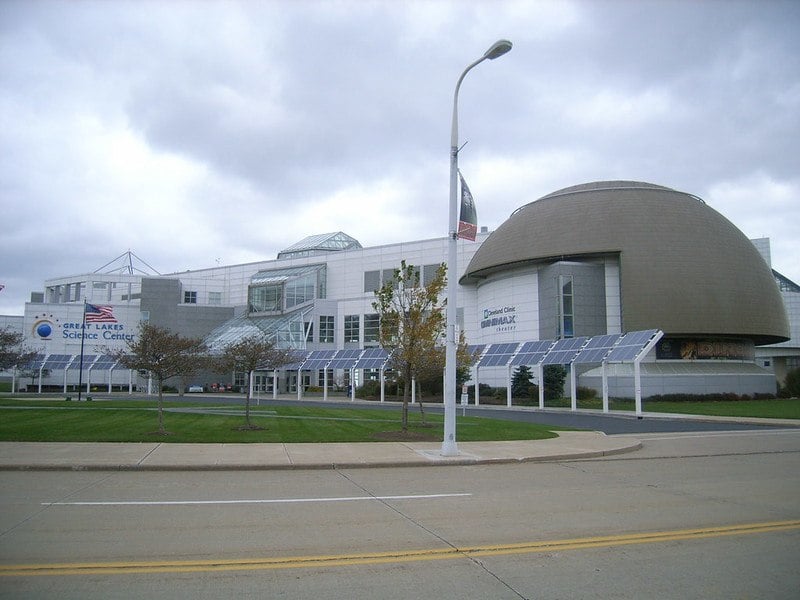 The Great Lakes Science Center is, as the suggests, a monument to science, but also engineering, technology and maths. Sound too much like school? Never fear: it's not. It's actually fun. Set inside a freighter from 1925 (an amazing bit of repurposing), this science centre is pretty much fun for all the family.
A community-minded place, there's even a NASA centre here, where your little ones can learn all about space and the Solar System. There's just so much going on here that you should go and see it all for yourselves; a great thing to do with kids in Cleveland (especially when it rains, because it's all inside).
Day Trips from Cleveland
Whilst Cleveland itself is kind of an industrial place, there are a lot of day trips from Cleveland for those looking to get out and get active. If you have some extra time, try and fit one in.
Hike the trails of Hocking Hills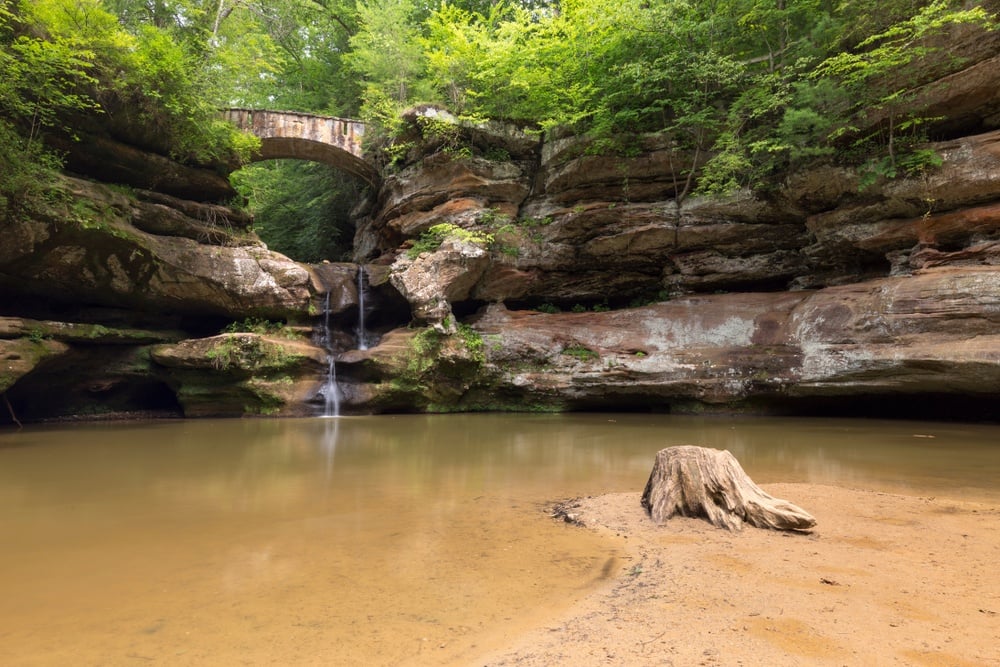 Feel like getting away from it all? Like leaving the lakeside skyscrapers and blocky tenement blocks and see a more natural side to Cleveland? Great – then you'll probably enjoy taking a trip to Hocking Hills State Park. You'll have to get up early to see to it, being a 3 hour drive from the city, but here you'll find some very easy to access nature.
Get on your best hiking shoes, pack a picnic and a good supply of water, and hit the trails. You'll get to see a whole bunch of natural wonders in Hocking Hills, with some pretty cool caves (like Old Man's Cave and Ash Cave) as well as some pretty spectacular waterfalls, like Cedar Falls. A great outdoors-y thing to do in Cleveland; you could even stay overnight in a cabin if you really wanted to.
Chill out in Marblehead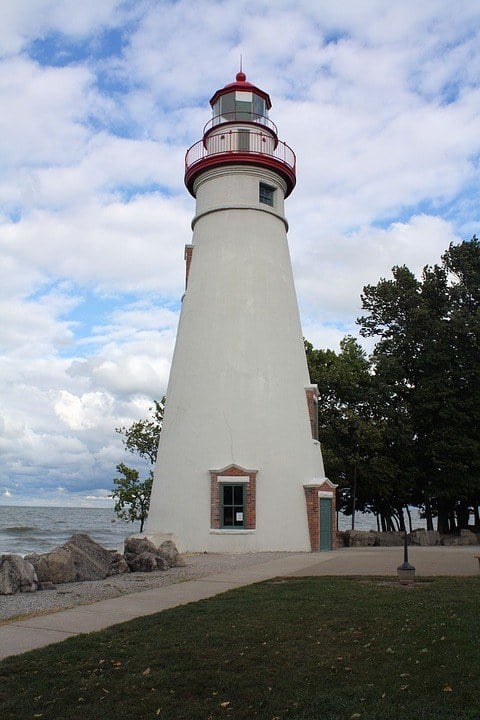 Just an hour and a half away by car, visiting Marblehead makes for one of the simplest, and best, day trips from Cleveland. Located on Marblehead Peninsula (dividing Lake Erie from Sandusky Bay), this lakeside town is all about life by the water's edge. Think beaches, laid back eateries, and a slow pace of life that's augmented by a few charming little sights to see, like a historic lighthouse, for example.
Marblehead is known as "Vacation Land" – come summer this place is where you'll find a lot of people from the region chilling out by the lake and enjoying the bars with locals (there's a population of less than 1,000 people living here). This is the place to come if you want an antidote to city life and sightseeing in the urban sprawl, a good breath of fresh air that you might want to spend even more time in!
Save $$$ • Save the Planet • Save Your Stomach!
Drink water from ANYWHERE. The Grayl Geopress is the worlds leading filtered water bottle protecting you from all manner of waterborne nasties.
Single-use plastic bottles are a MASSIVE threat to marine life. Be a part of the solution and travel with a filter water bottle. Save money and the environment!
We've tested the Geopress rigorously from the icy heights of Pakistan to the tropical jungles of Bali, and can confirm: it's the best water bottle you'll ever buy!
View on REI
Read the Review
3 Day Cleveland Itinerary
We've now ran you through the best things to do in Cleveland. But we're not finished there! Because we love you so much dear reader and want to make sure you maximize your Cleveland visit, we've even gone and compiled an itinerary for you!
Day 1 – Cool Cleveland
Start off your day in Ohio City with a bagel and something hot to drink at The Grocery OHC. After you feel like you've breakfasted enough, make the 10-minute drive or take the number 22 bus (25 minutes) all the way to the Rock and Roll Hall of Fame. Learn all about some of the world's biggest rockstars, get to know some of the stories behind the legends and see some rare rock and artifacts.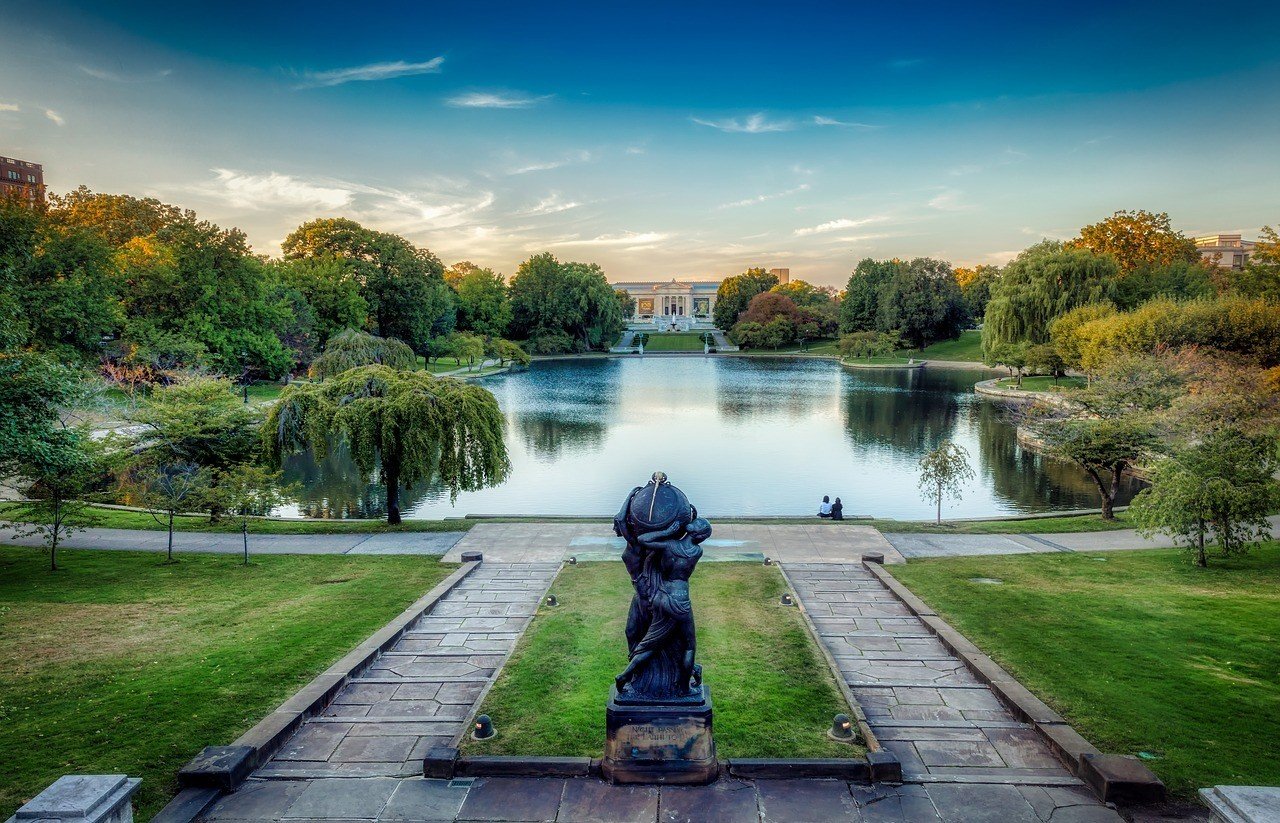 After all the fun of learning about the rock gods of our age, head over to West Side Market – just a 6-minute drive or a 10-minute journey on the number 79 bus. Once you're at the historic market hall you'll be free to peruse to your heart's content; buy some stuff if you feel like it, but we reckon this is a good lunch spot. Try Boaz for Mediterranean fare or West Side Market Cafe for tasty cafe grub.
Then you're going to head to the Museum of Contemporary Art Cleveland, which is a 25-minute ride on Red Line train. Spend some time getting to grips with the creative cool of this city for an afternoon of intellectual artistry. By the time evening rolls around, head back to Ohio City. Hit up Superelectric Pinball Parlor for a few games, then end up at The Flats for nightlife and drinking.
Day 2 – Cultural Cleveland
Begin your day soaking up the culture of Cleveland in Little Italy. Soak up the history of this immigrant enclave, with multiple museums, art galleries and – of course – eateries. Start small with a cappuccino and a cornetto and then eat a heavier (and very delicious) meal of pasta at the old school La Dolce Vita. There are so many cute, old fashioned places to eat around here that you can't really go wrong.
Suitably full, make your way to the glittering Cleveland Arcade. Take a Red Line train from Little Italy for 30 minutes and you'll be on the doorstep of this hallowed ground of capitalism. Do some shopping in the decidedly Victorian glamour of this place – or more likely, window shopping – snap some pics, enjoy. Then, as the sun begins to go down, it's time to plan your evening entertainment.
We would recommend seeing a show around Playhouse Square. There's so much on pretty much all the time here, so you won't be stuck for something to enjoy. Afterwards, for dinner and drinks, you'll want to head somewhere like District. For something a bit more raucous, make a beeline for Hofbrauhaus Cleveland – an actual beerhall with suitably Germanic cuisine on offer, too.
Day 3 – Classic Cleveland
From Ohio City – where we recommend you should be basing yourself in Cleveland – it's a 20-minute ride on the number 81 bus all the way to A Christmas Story House. Enjoy seeing a location from an '80s movie classic preserved for all eternity (inside and out), check out the quirky gift shop on the way out, and then after that a classic past-time: visiting the Lake Erie shoreline.
There are a few spots to choose from along the lake, but Edgewater Beach is a good option. It's a 12-minute drive from the Christmas Story House or a simple matter of hopping on the number 81 for 40 minutes or so. You'll arrive at the beach in good time to enjoy an afternoon here; depending on the weather, a picnic is in order, or get yourself something to eat at Edgewater Beach House.
Round up your day by using your own wheels, grabbing a taxi, or maybe an Uber or something, and cruising along the coast to Sandusky where you'll find Cedar Point. This classic amusement park is not only a place for riding on rollercoasters, but there's plenty of fun to be had here at night, too with both eating and drinking options available at the park.
Don't forget your travel insurance for Cleveland
ALWAYS sort out your backpacker insurance before your trip. There's plenty to choose from in that department, but a good place to start is Safety Wing.
They offer month-to-month payments, no lock-in contracts, and require absolutely no itineraries: that's the exact kind of insurance long-term travellers and digital nomads need.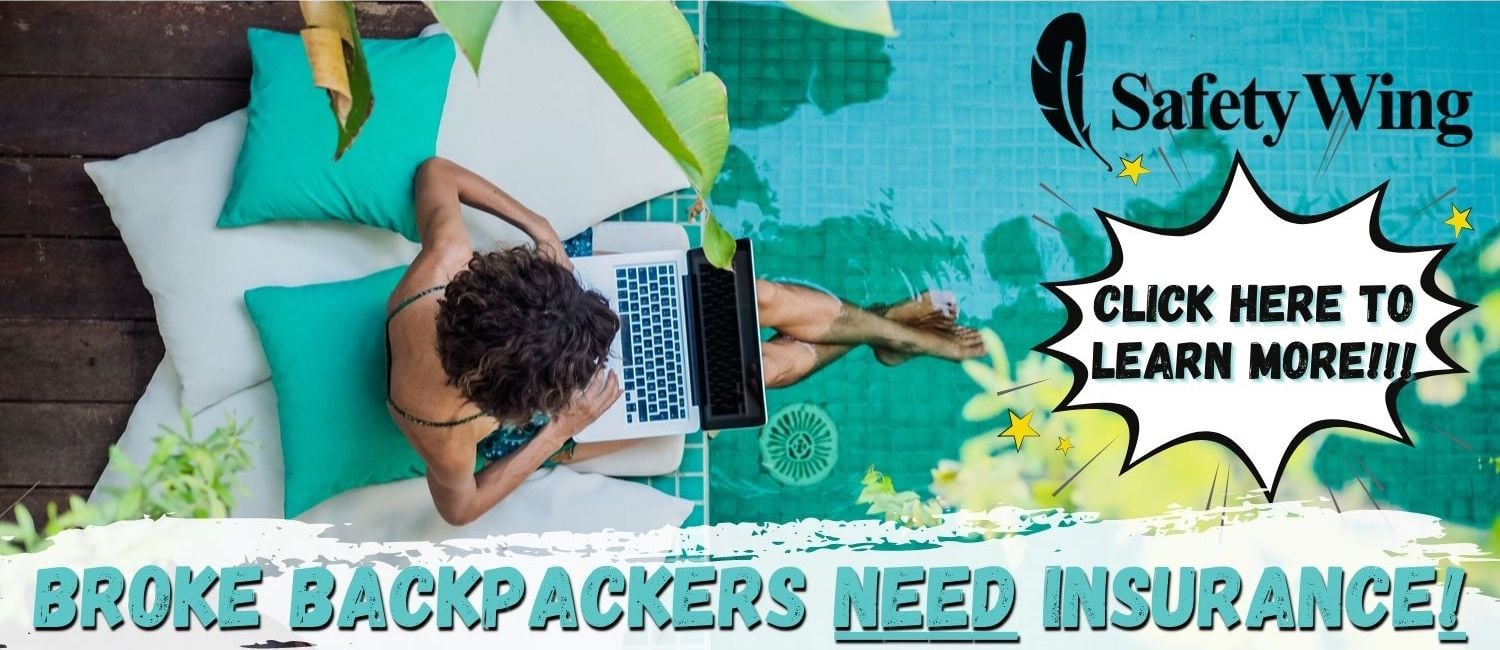 SafetyWing is cheap, easy, and admin-free: just sign up lickety-split so you can get back to it!
Click the button below to learn more about SafetyWing's setup or read our insider review for the full tasty scoop.
FAQ on Things to Do in Cleveland
Here are some quick answers to common questions about what to do and see in Cleveland.
Conclusion
Not your run of the mill tourist destination, mill town of Cleveland is actually a lot cooler than it may be given credit for. It's got the usual attractions you'd expect of a city – a little Italy, art museum, a/THE Rock and Roll Hall of Fame but just underneath the surface there's more than meets the eye.
Whether you're visiting Cleveland as a couple and you wanted to find a bit of romance, or if you're on a something of a shoestring budget and wanted to find something cheap (or free) to do in Cleveland, our handy guide has a bit of something for everyone.
---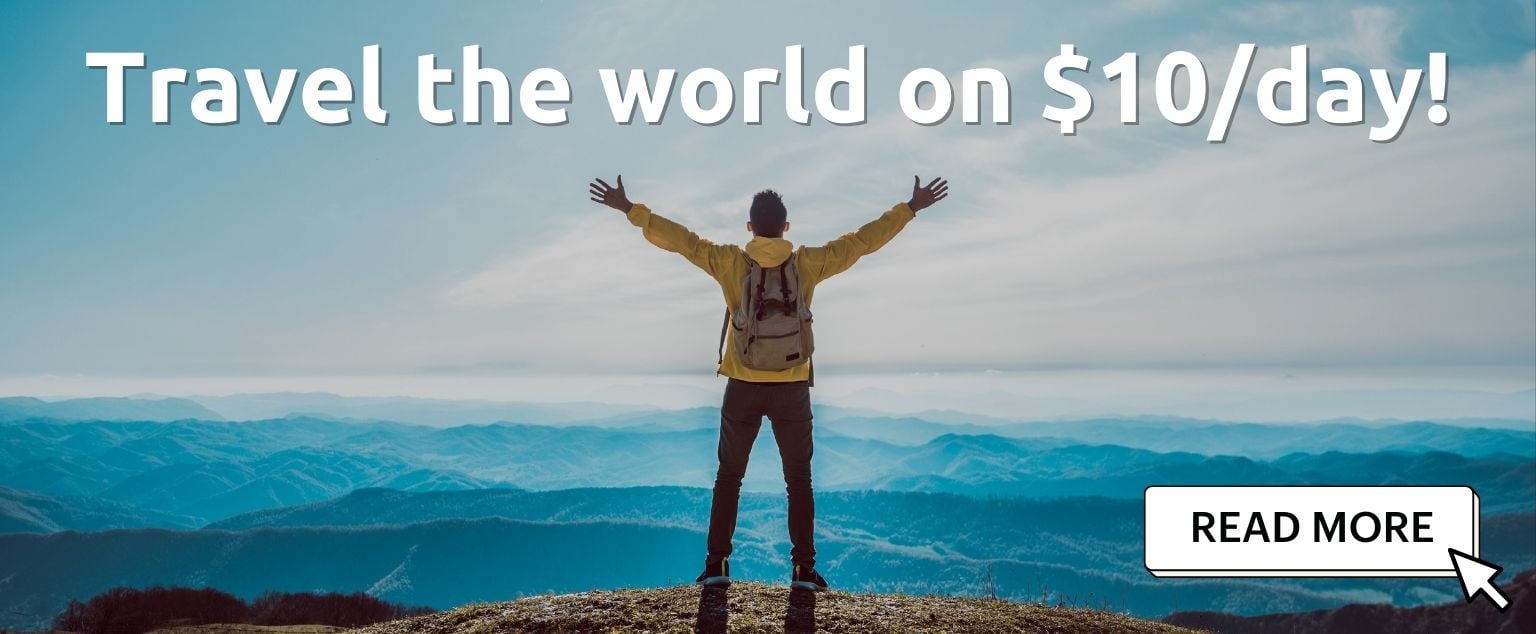 And for transparency's sake, please know that some of the links in our content are affiliate links. That means that if you book your accommodation, buy your gear, or sort your insurance through our link, we earn a small commission (at no extra cost to you). That said, we only link to the gear we trust and never recommend services we don't believe are up to scratch. Again, thank you!