Omaha is a delightful Nebraskan city that sits along the Missouri River, known as one of the friendliest places in the world.
It's brimming with small-town charm and hospitality, and even though it may be on the smaller side, there are a plethora of unmissable things to do in Omaha!
Omaha has a rich history, so expect ample museums and historical landmarks dotted throughout the city. Surrounded by lush parks, and affordable shopping opportunities – not to mention the scenic nature and hiking trails, you'll never run out of attractions in Omaha to visit.
Now, with such an abundance of amazing attractions, it's quite easy to feel overwhelmed, especially if you're a first-time visitor to the city. For this reason, I've put together a list of the absolute best things to do in Omaha to suit every budget and travel style.

Unlock Our GREATEST Travel Secrets!
Sign up for our newsletter and get the best travel tips delivered right to your inbox.
The Top Things to Do in Omaha
Landed in Omaha and not quite sure how to kick off your stay? Don't worry, I've got your back! These are five of the coolest attractions in Omaha that you may wish to add to your itinerary.
1. Take an Omaha Brewery Tour
Let's start with the most Omahan activity ever, shall we? Now, it won't take you long to realize that Omaha has quite a prominent beer scene, with plenty of craft breweries dotted all over the city.
In fact, beer aficionados may wish to check out Omaha Beer Week, a super-anticipated event that usually takes place in July.
Alternatively, you can sign up for the official Omaha Craft Brew Penny Pack which provides coupons good at 13 breweries.
This includes a 'Buy One, Get One For A Penny' coupon at the traditional Lucky Bucket Brewery. While this brewery offers regular tasting sessions, tours are only available on the first Saturday of each month so I would really recommend that you book in advance!
Entrance fee: $3 for tours
Hours: 3 p.m. to 10 p.m., (Monday through Friday), 11 a.m. to 10 p.m. (Saturday)
Address: Lucky Bucket Brewing Co, 11941 Centennial Rd, La Vista, NE 68128, USA
Do you want to be near the absolute best attractions in Omaha? Of course, you do!
Well, check out this historic loft out that puts you smack bang in the historic Haymarket District, just minutes from the vibrant downtown area and the Council Bluffs. Nearby, you'll also find Ameritrade Park, the Joslyn Art Museum, and the Orpheum Theatre.
With ample space for four guests, this charming loft boasts Art Deco furnishing and a queen-sized bed in the bedroom. There's a second bed in the living area.
Expect bright, airy spaces as well as a well-outfitted kitchen where you can cut back on costs by preparing your own meals instead of eating out.
Entrance fee: $83/night
Hours: Check-in after 5 p.m., Checkout at 11 a.m.
Address: The Haymarket District, Omaha, NE, 68102, USA
There are plenty – and I do mean plenty – of incredible trails all over Omaha, so don't be afraid to go exploring!
Aptly called the Paths of Discovery, Omaha's trail system connects over 85 miles of biking and hiking trails. In my opinion, there's no better way to properly soak up the city's unique scenery than to mosey around the trails.
If you would like to go uphill or explore steeper terrain, you can also consider renting an electric bike to take some of the load off – something that's bound to help less-experienced bikers! And if you've never used an electric bike before, fret not: you'll be provided with fully charged batteries, helmets, and a quick training session on how to use them.
Entrance fee: $50
Hours: Dependent on tour
Address: 14440 F St, Omaha, NE 68137, USA
4. Wander the Old Market
If you're backpacking the USA on a budget and you're looking for free things to do in Omaha, you really can't go wrong with a visit to the vibrant Old Market area!
Because it's a massive tourist draw, the Old Market can get pretty jammed in peak season so try to plan your visit earlier during the day.
As the name suggests, this place is an absolute mecca for shopping, with boutiques and flea markets galore! But more than that, the Old Market district also houses an abundance of art galleries, obscure shops, and restaurants.
Whether you want to relax on a stone bench and sip on an ice-cold beer while enjoying live music from street performers or go bar hopping after dark, this neighborhood certainly has you covered!
Entrance fee: Free
Hours: N/A
Address: The Old Market, Omaha, NE 68102, USA
5. Stroll the Lauritzen Gardens
Leave the hustle and bustle of the city behind as you step into this hidden gem nestled in South Omaha.
Encompassing over 100 acres of gorgeous displays, the Lauritzen Gardens also houses the Marjorie K. Daugherty Conservatory. This glassed structure boasts two climates, complete with a tropical house, exotic flowers, palm trees, a Victorian garden, and even a ten-foot waterfall.
If you're traveling with children, they'll no doubt appreciate the kids' garden and model railroad. You'll also find other themed gardens, including the Founder's Garden, Garden in the Glen, and (my favorite), the Garden of Memories which is one of Lauritzen's most soothing areas.
After your visit, you can always treat yourself to a meal at the on-site café.
Entrance fee: $15 (adults), $9 (children 3-12), free for members
Hours: 9 a.m. to 5 p.m. (Wednesday to Sunday), 9 a.m. to 8 p.m. (Monday and Tuesday)
Address: 100 Bancroft St, Omaha, NE 68108, USA
6. Potter Around at The Durham Museum
The Durham Museum is often said to be one of the best things to do in Omaha- and for good reason!
Not only does this place offer an array of exhibits dedicated to preserving Western history, but its collection of beautifully restored train cars is bound to delight kids and adults alike.
One of the museum's most popular exhibits is no doubt the Byron Reed Collection which contains medals, coins, documents, and various other items of historical importance.
Perfect for travelers who'd like to learn more about pivotal moments in time, the Durham Museum also houses a vintage Soda Fountain/Candy Shop – and yes, it's fully functional so feel free to order yourself a good ol' fashioned malt!
Entrance fee: $13 (adults), $10 (seniors 62+ and military), $7 (children 3-12)
Hours: 10 a.m. to 4 p.m. (Monday to Saturday), 12 p.m. to 4 p.m. (Sunday), 10 a.m. to 8 p.m. (Tuesday)
Address: 801 S 10th St, Omaha, NE 68108, USA
Small Pack Problems? 😉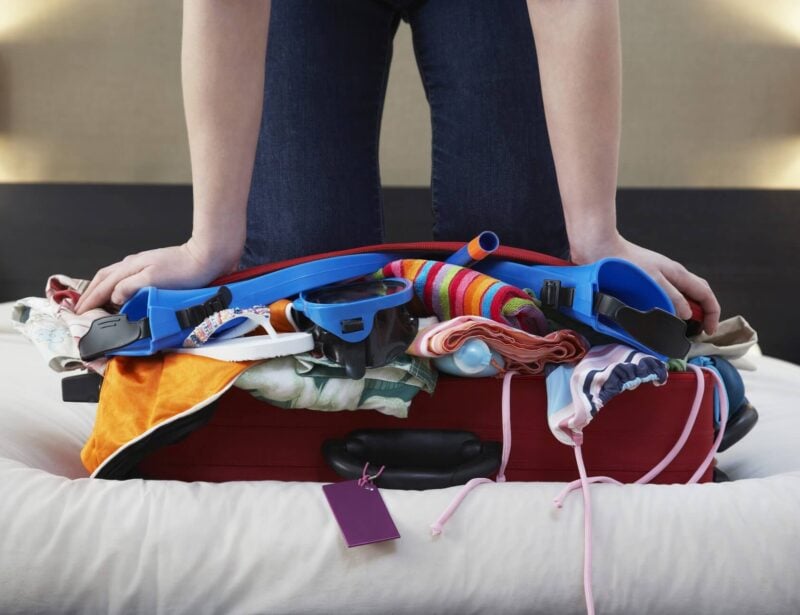 My missus travels with all her clothes in ziplock bags: don't be like my missus. UP YOUR PACKING GAME!
Packing cubes for the globetrotters and compression sacks for the real adventurers – these babies are a traveller's best kept secret. They organise yo' packing and minimise its volume too so you can pack MORE.
Or, y'know… you can stick to ziplock bags.
View Our Fave Cubes
Or Check Out the Sacks!
7. Watch the Sunset from the Bob Kerrey Pedestrian Bridge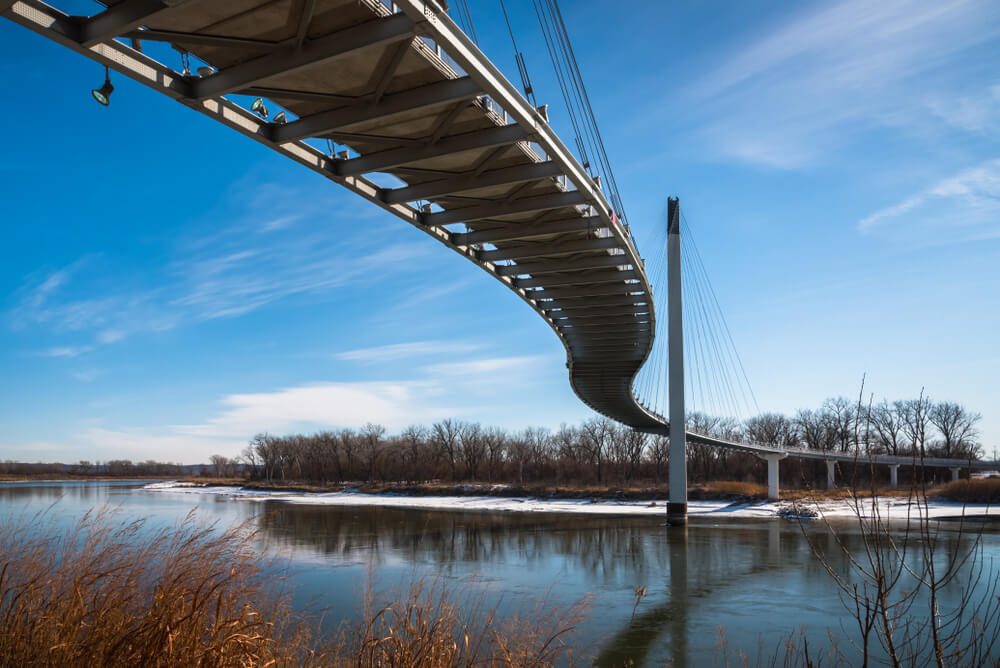 Another hidden gem in Omaha, the Bob Kerrey Pedestrian Bridge literally has something for just about every type of traveler: whether you want to bike across this 3,000 ft pathway, wind down by the interactive water fountain, or simply watch the sunset, you'll definitely find something to keep you entertained!
One of the best things about this bridge is that it easily connects various outdoor trails, so it's quite the hotspot for hikers and bikers.
If you're visiting in May or June, try to head down there on a Friday afternoon where you'll be treated to a free outdoor concert in an amphitheater-shaped meadow. Be sure to bring along some blankets and snacks to munch on while enjoying the live music.
Entrance fee: Free
Hours: Open 24 hours
Address: 705 Riverfront Dr, Omaha, NE 68102, USA
If you're just passing through the city or simply want to cover more ground in less time, this activity's for you!
Not only does this activity take you through some of the most coveted attractions in Omaha, but you'll also be privy to a self-guided scavenger hunt across the city – perfect for spending quality time with the family.
More importantly, you'll get to explore the streets at your own pace.
In addition to popular landmarks like the Joslyn Art Museum, the Heartland of America Park, and the Old Market, you'll also be able to tour Omaha's many hidden gems and treasures.
Be sure to wear comfy shoes since there's quite a bit of walking involved.
Entrance fee: $12.31
Hours: Various time slots available from 7 a.m. to 10 p.m., Monday to Sunday
Address: 1100 Jackson St, Omaha, NE 68102, USA
9. Take the Kids to the Omaha Children's Museum
Traveling with the kids and wondering how to keep them entertained? Why don't you treat them to a memorable afternoon at the Omaha Children's Museum?
Located in the bubbly downtown area, this non-profit exploration and learning space promises endless hours of fun! Kids will no doubt be thrilled by engaging collections like the 'Charlie Campbell Science Center' and 'Imagination Playground.'
And no – it's not just about the children either. Parents will also relish in events like 'Meet a Nasa Aerospace Engineer', or community days filled with scrumptious goodies, henna art, and various types of activities.
Keep your eyes peeled for rotating themed exhibits centered around geography and astronomy.
Entrance fee: $15 (adults and kids 2-15), $14 (seniors 60+), free for members
Hours: 9 a.m. to 4 p.m. (Tuesday to Friday), 9 a.m. to 5 p.m. (Saturday and Sunday)
Address: 500 S 20th St, Omaha, NE 68102, USA
10. Attend Jazz on the Green
One of the best free things to do in Omaha, Jazz on the Green is an annual event that's held from early July to mid-August.
This beloved Omahan tradition sees performers from all over Nebraska gather in Turner Park for an outdoor concert.
While there are plenty of food stalls offering snacks and local delicacies, you can always bring your own food and drinks. Beer and wine are allowed but be sure to leave the hard liquor at home.
Those sultry jazz blues combined with the sunset make for a gorgeous setting, so you may wish to bring your significant other along for a romantic evening.
Oh, and did I mention that this event is also pet friendly?
Entrance fee: Free
Hours: 5 p.m. to 7.30 p.m.
Address: 3102 Dodge St. Turner Park, Omaha, NE 68131, USA
Is This the Best Daypack EVER???
11. Take a Retro Ride Down the Missouri River
Okay, you just can't leave Omaha without taking at least one River City Star Riverboat cruise down the Missouri River! I mean, this is practically a rite of passage for tourists.
Brimming with retro charm, this cruise sets you up for a unique experience punctuated by scenic sights and peaceful waters. With live entertainment, the River City Start Riverboat offers various packages, including Dinner, Happy Hour, Concert, and Sight-Seeing cruises.
The only bummer is that there's literally only one riverboat in Omaha, so it gets filled up quickly in peak season. After all, the boat can only accommodate 145 passengers per cruise. If visiting in spring or summer, I would recommend that you get your tickets in advance.
Entrance fee: Dependent on cruise
Hours: 4 p.m. to 10 p.m. (Thursday), 4 p.m. to 11 p.m. (Friday), 12 p.m. to 11 p.m. (Saturday), 12 p.m. to 6 p.m. (Sunday)
Address: 151 Freedom Park Rd, Omaha, NE 68102, United States
12. Visit the Malcolm X Memorial
While virtually everyone has heard of Malcolm X, few people know that the civil rights activist was actually born right there in the city.
As such, visitors looking for unique things to do in Omaha can head over to the Malcolm X Memorial. While his childhood home was torn down a long time ago, you can still check out the historical marker and the Visitor's Center.
The Visitor's Center is only open on Saturdays. If it looks like no one's around, just ring the bell and one of the volunteer staffers will let you in.
Part of the National Park Service's We Shall Overcome program, the Malcolm X Memorial is also listed on the National Register of Historic Places.
Entrance fee: Free
Hours: Visitor's Center open from 10 a.m. to 6 p.m. on Saturdays, Memorial open 24 hours
Address: 3448 Evans St, Omaha, NE 68111, USA
Unleash your inner explorer as you embark on a 2-hour road trip to the charming city of Des Moines!
As the capital city of Iowa, Des Moines is an absolute hub of fun activities. While it does have the hustle and bustle of a big city, Des Moines still has a super charming, small-town feel.
Spend a day exploring landmarks like the gold-domed Capitol building, stroll through the quaint East Village or take unique selfies at the Pappajohn Sculpture Park.
While you're in Des Moines, why not take a tour of the best craft breweries in the area? Iowa's beer scene may not be as well-known as Nebraska's, but if you ask me, it's still worth the experience!
Entrance fee: $108
Hours: 11.30 a.m. to 4.30 p.m.
Address: Science Center, 101 SW 4th St, Des Moines, IA 50309, USA
14. Indulge in Country-Style Livin' at the Berry & Pumpkin Ranch
No trip to Nebraska would be complete without a quintessential countryside experience- and the Bellevue Berry & Pumpkin Ranch provides exactly that!
Perfect for travelers looking for outdoor things to do in Omaha, this ranch caters to guests of all ages. Parents traveling with kids will be glad to learn that there's a vintage children's play area where the little ones can experience what playgrounds were like a century ago.
Tree houses and hayrides through the woods are also available.
Depending on when you're visiting, you can also pick your own berries or harvest your own pumpkins.
The ranch regularly hosts festivals such as the Midwest Pirate Fest and the Renaissance Festival of Nebraska.
Entrance fee: $10/person on weekdays, $15/person on Saturday
Hours: 9 a.m. to 2 p.m. (Saturday), 5.30 p.m. to 9.30 p.m. (Thursday)
Address: 11001 S 48th St, Papillion, NE 68133, USA
Travel with peace of mind. Travel WITH a security belt.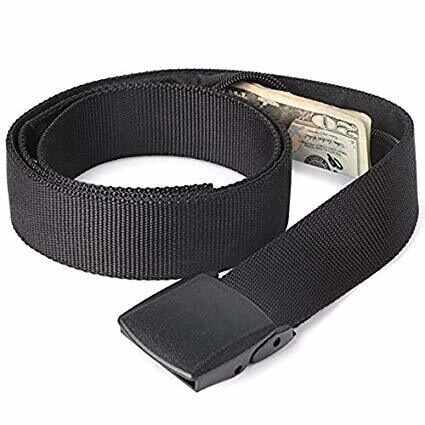 Get your cash stashed with this awesome Pacsafe money belt. It will keep your valuables safe no matter where you go.
It looks exactly like a normal belt except for a SECRET interior pocket perfectly designed to hide a wad of cash or a passport copy. Never get caught with your pants down again! (Unless you want to.)
Hide Yo' Money!
15. Snap Selfies with Joslyn Castle
Get ready to be awed by one of the most iconic landmarks in Omaha!
Also known as 'Lyndhurst', this spectacular stone mansion is found in the city's Gold Coast Historic District. Its Scottish Baronial style not only serves as the ideal backdrop for those IG pictures, but it's also laden with history.
This 110-year-old mansion radiates opulence, with chiseled stone and stained glass. Inside, you'll also be able to tour the library, music room, and even a gold drawing room.
Be sure to allocate yourself enough time to stroll around the expansive gardens offering a lily pond, a greenhouse, and a palm house. Plenty of beautiful picnic areas are available so you can always pack a snack to enjoy after your visit.
Entrance fee: $10 (adults), $8 (military, students, and seniors 60 years or older)
Hours: 9 a.m. to 4.30 p.m. (weekdays), 1 p.m. to 4 p.m. (Sunday), closed on Saturday
Address: 3902 Davenport St, Omaha, NE 68131, USA
16. Tantalize Your Tastebuds at the Dundee Neighborhood
Here's one activity that ticks all the boxes – especially if you're looking for things to do at night in Omaha!
A super cool culinary excursion for foodies of every budget, this neighborhood is easily one of Omaha's liveliest areas. Discover the city's eclectic flavors through an assortment of burgers, pasta, pizza, and succulent cuts of meats.
A word of advice? As tempting as it'll be to head into the first eatery that tickles your fancy, you may wish to take a moment to saunter down the streets and soak everything up before deciding where to start.
Cap off your culinary experience with a stop by e-Creamery Ice Cream and Gelato which is apparently one of Oprah's favorite desert places!
Entrance fee: Free
Hours: N/A
Address: Dundee-Happy Hollow Historic District, Omaha, NE, USA
Located smack dab in the middle of Continental U.S, Kansas City is often said to be the gateway to authentic Western fare and cowboy country.
Best of all, Kansas City lies just a 2-hour drive from Omaha, so gear up for a fun road trip with your loved ones.
In fact, while you're over there, I would really recommend a visit to Kansas City's Strawberry Hill neighborhood, a picturesque area known for river views, murals, and Victorian-style buildings. Yup, there's plenty of fodder for the 'gram!
This tour even includes a little bit of history, with stops at sites like the Lewis & Clark Historic Park. You'll also have ample time to explore the downtown Kansas City area.
Entrance fee: $39
Hours: 8.30 a.m. to 11.30 a.m.
Address: 548 Central Ave, Kansas City, KS 66101, USA
18. Check Out Freedom Park Navy Museum
Travelers looking for things to do in Omaha on a budget will no doubt appreciate a visit to the Freedom Park Navy Museum, located by the banks of the Missouri River.
This outdoor park and museum displays quite an impressive collection of vessels, including the USS Marlin submarine and the USS Hazard Minesweeper.
There's also a group of volunteer staffers who'll take you through the collections while sharing interesting trivia and historical info about the vessels on display. While this is definitely a cool place to visit, it's only open for a few hours on Saturday so be sure to plan your visit accordingly if you don't want to face the crowds.
Entrance fee: Free
Hours: 10 a.m. to 3 p.m., Saturday only
Address: 2497 Freedom Park Rd, Omaha, NE 68110, USA
19. Glimpse Into the Past at Florence Mill
Omaha may have plenty of ultra-modern developments under its belt, but one of its most popular attractions is actually over 170 years old!
Also known as the Weber Mill, Florence Mill is another landmark that's on the National Register of Historic Places. What makes this mill special is that while it was built in the 1800s, it actually operated until the mid-20th century.
Additionally, this historic site was once inhabited by European settlers even before Nebraska ever existed. No wonder it's one of the most fiercely protected landmarks in Omaha!
Now reconverted into the Winter Quarters Mill Museum, the mill showcases various agricultural and pioneer-era artifacts. From June through September, you'll also be able to attend the Florence Mill Farmers Market.
Entrance fee: $2 (adults), $1 (children)
Hours: 1 p.m. to 5 p.m. (Wednesday to Saturday), 10 a.m. to 3 p.m. (Sunday)
Address: 9102 N 30th St, Omaha, NE 68112, USA
20. Be Awed by Larger-Than-Life Pioneers
Wondering what to do in Omaha on a gorgeous summer's day? Well, you can always check out the Spirit of Nebraska's Wilderness and Pioneer Courage Park, a unique outdoor art installation found in the downtown area.
Hailed as one of the largest sculpture parks in the world, this site shows bronze and stainless-steel pioneers trekking through various types of terrains. The collection also includes a wagon train and animal-shaped sculptures like geese and bison.
The procession of pioneers spans over five blocks to end at the First National Tower. Visitors are encouraged to interact and walk alongside the massive statues, most of which measure 1.25 times taller than life-size.
This attraction is entirely free, making it a great choice for budget travelers!
Entrance fee: Free
Hours: Open 24 hours
Address: 101 S 16th St, Omaha, NE 68102, USA
Where to Stay in Omaha
Nothing beats having a clean, comfy place to retreat to after an exciting day of sightseeing! The cool thing is that Omaha has plenty of awesome offerings when it comes to accommodation.
The city doesn't have any hostels, but backpackers and budget travelers may wish to consider more affordable options like motels or Airbnbs, or even stay among nature at a Nebraskan glamping site. If you're able to splurge a little, you can even opt for a luxurious hotel room.
Here are some of my recommendations for where to stay.
An excellent choice for travelers who want to be near the city center, Townhouse Inn & Suites Omaha offers well-appointed rooms that sleep two. Queen Rooms add an extra bed for two more guests.
All rooms offer ironing facilities, sofa, refrigerator, microwave, and toaster – perfect for when you don't want to eat out!
With a 24-hour front desk, this motel boasts proximity to plenty of exciting attractions like The Durham Museum, the Old Market, and Zorinsky Lake Park.
Okay, you'd be hard-pressed to find a more strategically located Airbnb than this little gem right here!
This Midtown Condo lies close to some of the best things to do in Omaha: The Capital District, the Old Market, and Dundee all lie just a quick drive away.
All the comforts of home beckon in this bright and cozy Airbnb. There's even a well-equipped kitchen where you can put a quick meal together. As the day winds down, wind down with a nightcap in the living room before retreating to the bedroom where you'll find a queen-sized bed for two.
A luxurious, four-star hotel with a concierge, on-site restaurant, and pool? Yes, please!
If you're not watching those purse strings, this is one downtown hotel that I can absolutely recommend. King rooms can comfortably accommodate solo travelers or couples, while Queen rooms can sleep up to 4 guests.
Other on-site amenities include a business center, free airport shuttles, and a vending machine for those midnight snacks! Nearby, you can explore the Durham Museum, the Bemis Center for Contemporary Arts, and Fun-Plex Waterpark & Rides.
Some Additional Tips for Visiting Omaha
I'm sure by now you must have realized there's tons of remarkable attractions in Omaha to keep you busy! Before you set out to explore them, be sure to check out these handy travel tips that'll enhance your stay in the city.
Take Advantage of Free Airport Shuttles. One of the (many) great things about Omaha is that most downtown hotels offer complimentary shuttles to the airport which is found around 3 miles away.
Use the metro. Omaha's Metro covers 28 routes throughout the downtown area and is super affordable at around $1.25 per ride.
Bundle Up Properly in the Winter. First-time visitors tend to underestimate exactly how cold Omaha gets in the winter! Make sure to pack a jumper.
Give Back Through TAGG. You'll most likely see plenty of businesses with TAGG signs on their display windows. This means that when you buy from a local business, after you scan your receipt the business will donate a percentage of your payment to your cause of choice.
Indulge in Ice Cream. Omahans love their ice cream- even in winter! Ice cream's practically a staple in the city so don't be afraid to indulge.
Don't forget your travel insurance for Omaha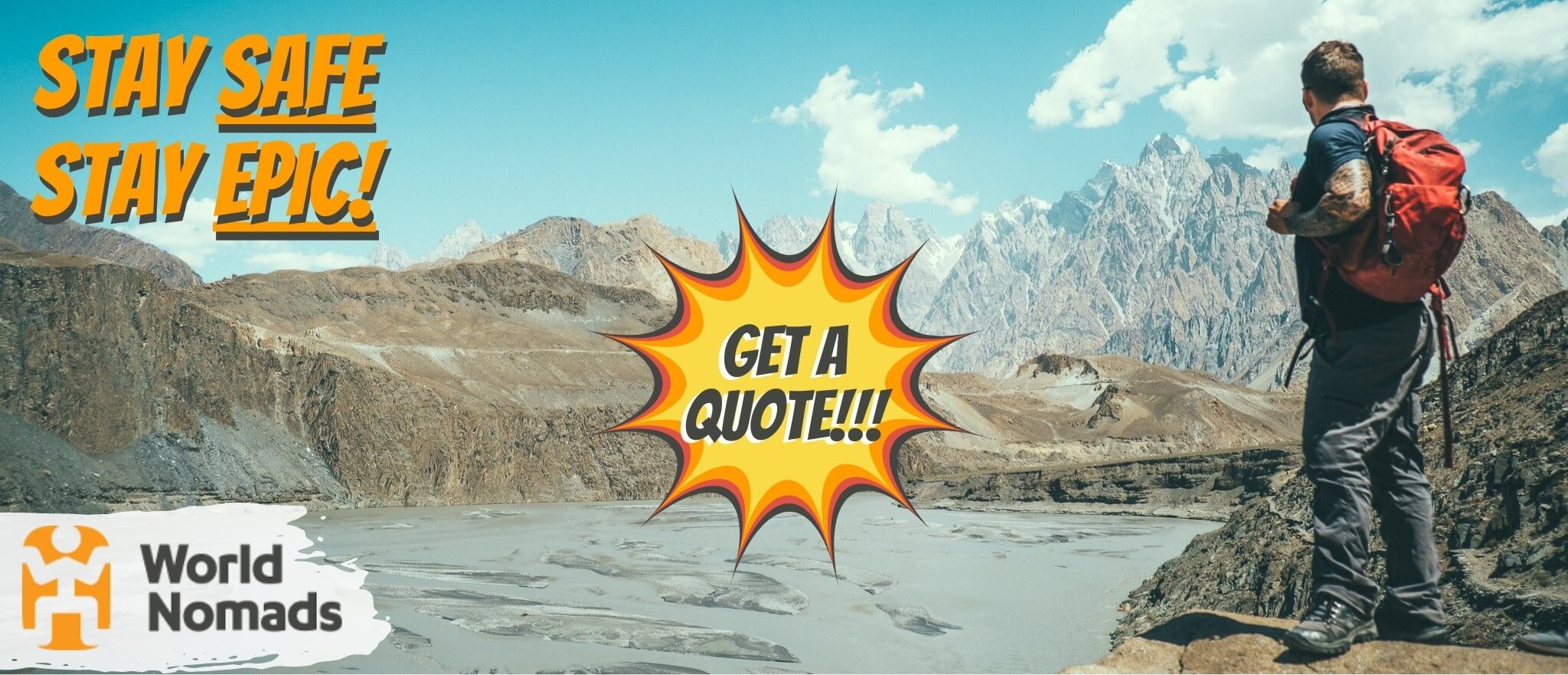 World Nomads' mission is to support and encourage travellers to explore their boundaries. They offer simple & flexible travel insurance, and safety advice to help you travel confidently.
They've been doing it since 2002 – protecting, connecting, and inspiring independent travellers just like you.
Get a quote below or read our in-depth review!
World Nomads provides travel insurance for travelers in over 100 countries. As an affiliate, we receive a fee when you get a quote from World Nomads using this link. We do not represent World Nomads. This is information only and not a recommendation to buy travel insurance.
Final Thoughts on Things to Do in Omaha
An excellent food scene, exceptionally friendly locals, and affordable prices – what's there not to like about Omaha?
In fact, when it gets down to it, Omaha is one of those places that you'll want to go back to over and over again. The city's eclectic medley of attractions means that you'll most likely have a different experience each time.
So, whether you're just backpacking through the area or planning a longer stay, I hope that this list of things to do in Omaha will help you plan one of the best vacations in Nebraska.
---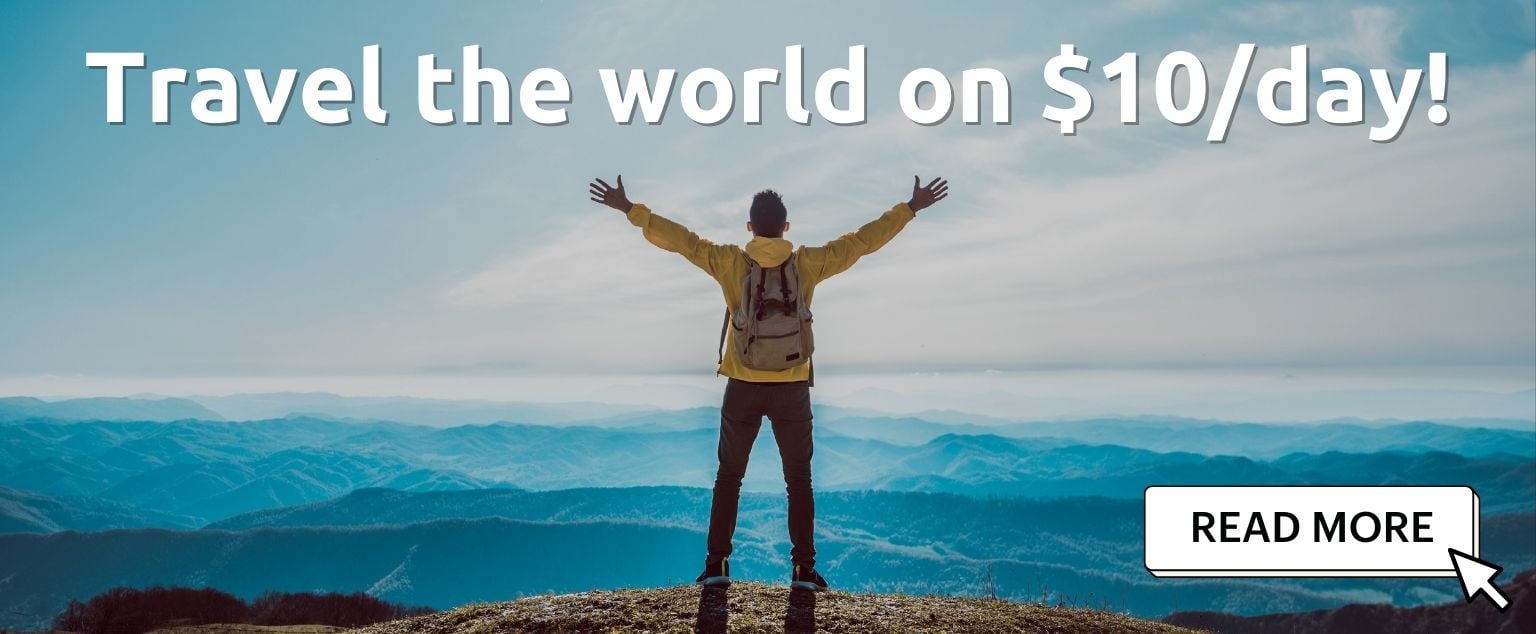 And for transparency's sake, please know that some of the links in our content are affiliate links. That means that if you book your accommodation, buy your gear, or sort your insurance through our link, we earn a small commission (at no extra cost to you). That said, we only link to the gear we trust and never recommend services we don't believe are up to scratch. Again, thank you!