Are you planning to head to Nebraska for your next adventure? Get prepared to be enthralled by the natural wonders of the cornhusker state.
Nebraska's beauty is unlike others. The wilderness of Nebraska is often accused of being plain and boring, but what most travellers don't know is that there are a plethora of hidden gems to explore here.
Hiding in plain sight are fossil beds, natural rock formations, caves, waterfalls, rivers, forests, and majestic wildlife. This highly underestimated state, in every way, is an outdoor explorer's dream destination. This is why glamping in Nebraska is one of the best ways to enjoy the great outdoors and all that nature.
If you're unfamiliar with glamping, it's essentially glamourous camping – a way to experience the outdoors but without scrimping out on luxuries, but more on that later.
If you're not sure where to start when it comes to finding a glamping spot, don't worry, I'm here to help. Explorers come in all forms, whether you're travelling solo, with a family, a couple or friends, this list of the best glamping Nebraska experiences will help you find the best accommodation for your trip.
In a Hurry? Here's The Top Glamping Nebraska Sites for One Night
FIRST TIME IN NEBRASKA
Dancing Crane Yurt
Dancing Crane Yurt is one gem of a find. There is hardly any comfort or luxury that you won't find inside. And to top it all off, the yurt offers an unmatched and uninterrupted view of the cranes returning to their roost by the end of every day. Talk about great value for money.
NEARBY ATTRACTIONS:
Kearney
Audubon Rowe Crane Sanctuary
Platte River
Is this amazing Nebraska Glamping Site booked for your dates? We've got your back with our other favorite properties below!

Unlock Our GREATEST Travel Secrets!
Sign up for our newsletter and get the best travel tips delivered right to your inbox.
What Is Glamping?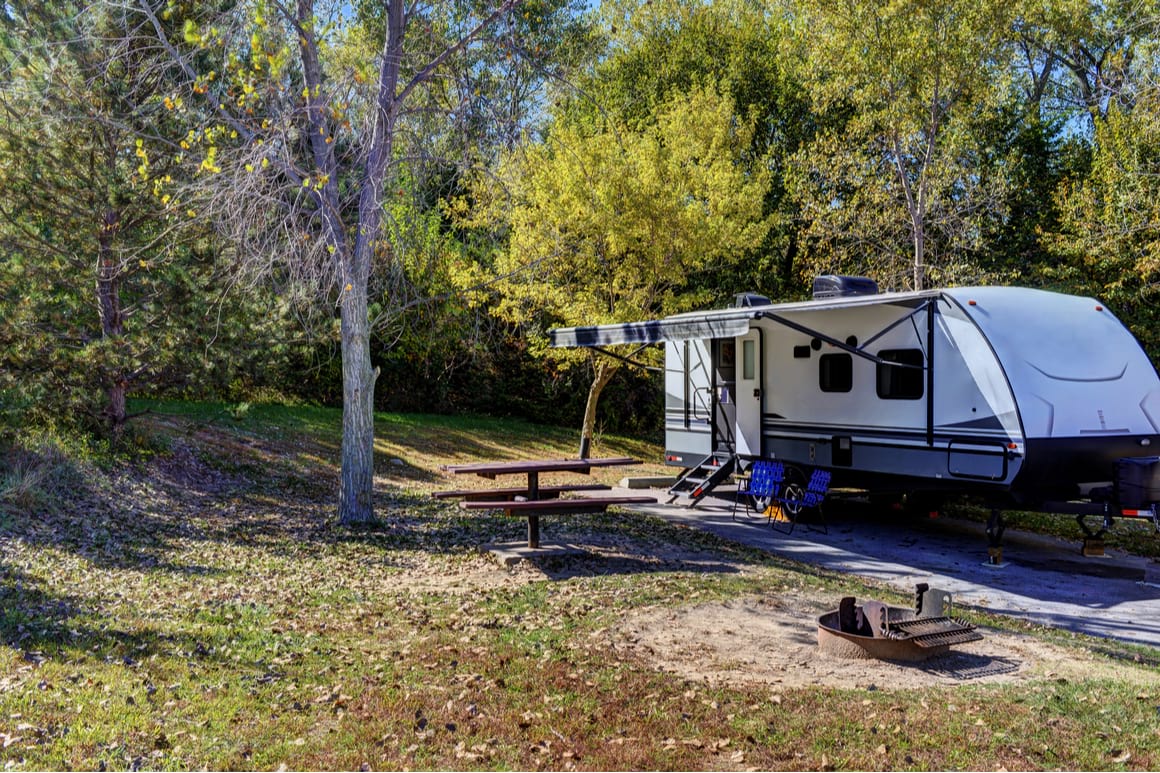 If you're new to the whole idea of glamping, here's the 101 for you. Glamping is the way forward for people who could never quite brave camping, but have always wanted to try it. It's a way for you to take a step out of your home and step right onto the grass, facing the mountains, and seeing a herd of sheep or a flock of cranes right out front.
The downside to camping is that it involves roughing it up and letting go of your creature comforts. Which is to say, it isn't for everyone, and it certainly isn't for parents travelling with kids or for a group who just want a vacation from working hard all year long.
That's where glamping comes in.
It has all the best aspects of camping, minus the inconveniences. You get to sleep in a camp or a yurt, but with every luxury you're used to at home. You finally get your chance to experience nature uninterrupted, in the middle of nowhere too, but at the same time, don't have to worry about pitching a tent, hooking up your RVs, and learning to light fires.
Instead, you get a cozy accommodation right in the heart of the wilderness. And best of all, you get to experience luxury amenities like WiFi, hot showers, cosy living spaces and comfy mattresses, all while enjoying nature.
OVERALL BEST VALUE GLAMPING SITE IN NEBRASKA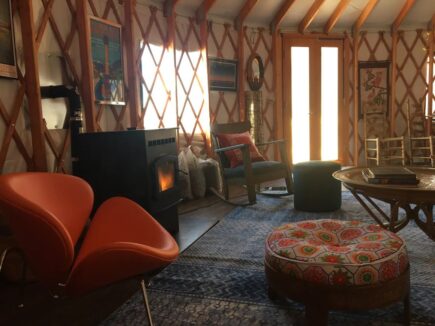 OVERALL BEST VALUE GLAMPING SITE IN NEBRASKA
Dancing Crane Yurt
> $$
> 3 Guests
> Fully-outfitted kitchen
> Located near the Audubon Rowe Crane Sanctuary
BEST BUDGET GLAMPING SITE IN NEBRASKA
BEST BUDGET GLAMPING SITE IN NEBRASKA
Cozy Oaks Glamping
> $
> 2 Guests
> Outdoor dining area
> Located on a vineyard
THE ABSOLUTE CHEAPEST GLAMPING SITE IN NEBRASKA
THE ABSOLUTE CHEAPEST GLAMPING SITE IN NEBRASKA
Alfalfa Field Glamping
> $
> 2 Guests
> Towels and bedsheets
> Situated on Alfalfa Field
BEST GLAMPING SITE FOR COUPLES
BEST GLAMPING SITE FOR COUPLES
Glamping by Lake Cunningham
> $$
> 2 Guests
> BBQ Grill
> Waterfront site
OVER-THE-TOP LUXURY GLAMPING SITE
OVER-THE-TOP LUXURY GLAMPING SITE
Luxury Tour Bus at Lake Manawa
> $$$$
> 4 Guests
> Jet skis and boats
> Lakeside RV
BEST GLAMPING SITE FOR FAMILIES VISITING NEBRASKA
BEST GLAMPING SITE FOR FAMILIES VISITING NEBRASKA
Camper Glamping
> $$
> 6 Guests
> Bathtub
> Moveable Camper to your choice of campground
BEST GLAMPING SITE FOR VIEWS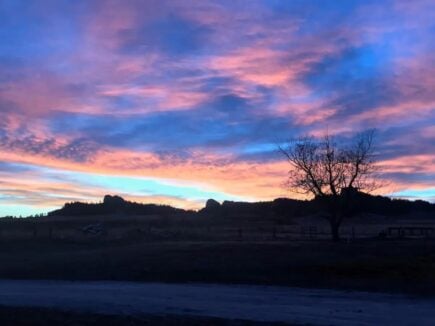 BEST GLAMPING SITE FOR VIEWS
Memory Lane Camper
> $
> 4 Guests
> 42? TV with Amazon Prime Video, Apple TV, Roku
> Mountain view
15 Most Stunning Glamping Nebraska Sites
There are many glamping in Nebraska, which can make it slightly harder to narrow it down. With my top picks, you'd find exactly what you're looking for in a heart beat.
Overall Best Value Nebraska Glamping Site – Dancing Crane Yurt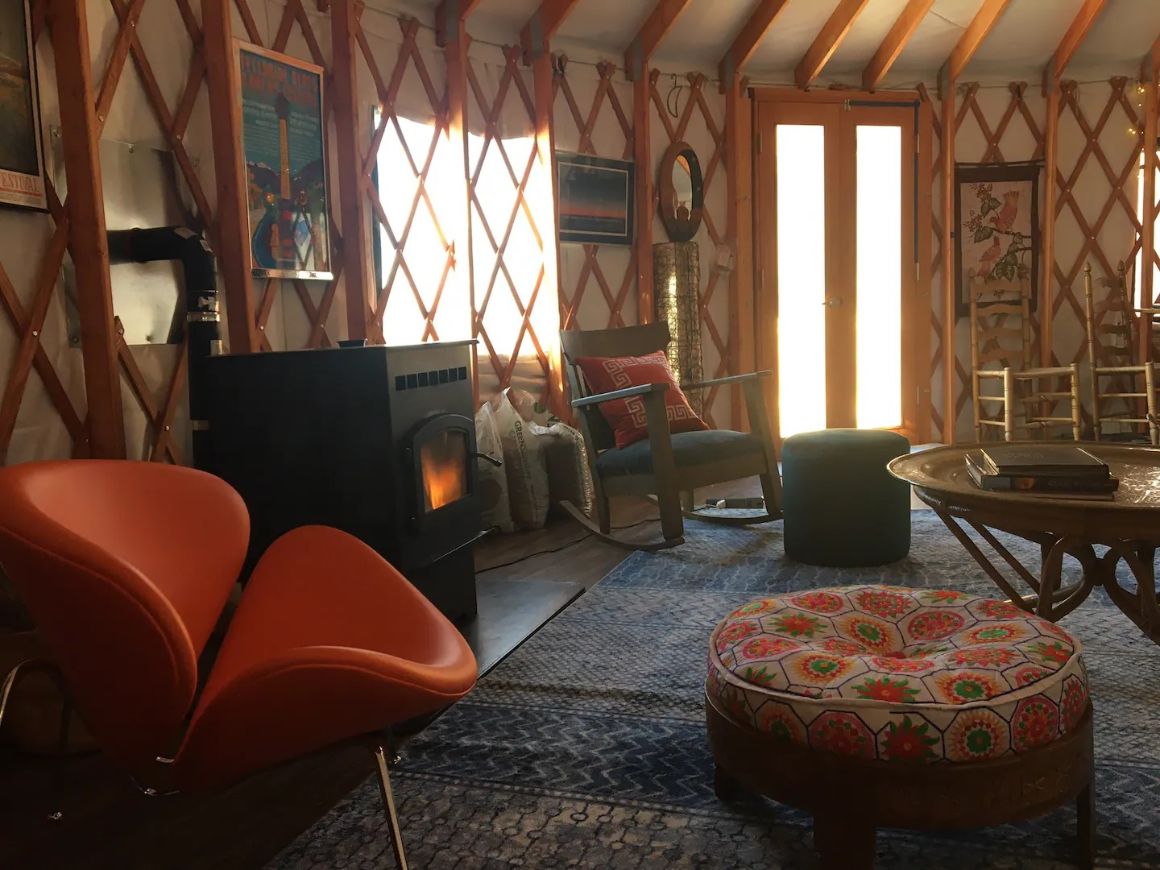 $$
3 Guests
Fully-outfitted kitchen
Located near the Audubon Rowe Crane Sanctuary
You wouldn't believe your eyes when you catch sight of the yurt, you'd be getting at such an affordable rate. The yurt has everything you'd need to have the cosiest vacation in Nebraska.
Located 20 minutes from Kearney, half a mile from Platte River, and just a mile from Audubon Rowe Crane Sanctuary, this is a perfect accommodation for a small family, a couple, or a bunch of friends super enthusiastic about photography.
The yurt comes with a small kitchenette, a private bathroom, a full-sized shower, a queen bed, a sofa bed, an air mattress, and a hammock. The yurt has a very cozy living area with a rocking chair, fireplace, thick rugs, etc.
You also get a private deck from which you can capture all the best angles or make use of the charcoal grill for some heavenly meals. For fun, head over to the river with your lawn chairs and enjoy the serenity and bright stars. Or head over to the Windmill State Park not too far away, for fishing, bicycling, or swimming.
Best Budget Nebraska Glamping Site – Cozy Oaks Glamping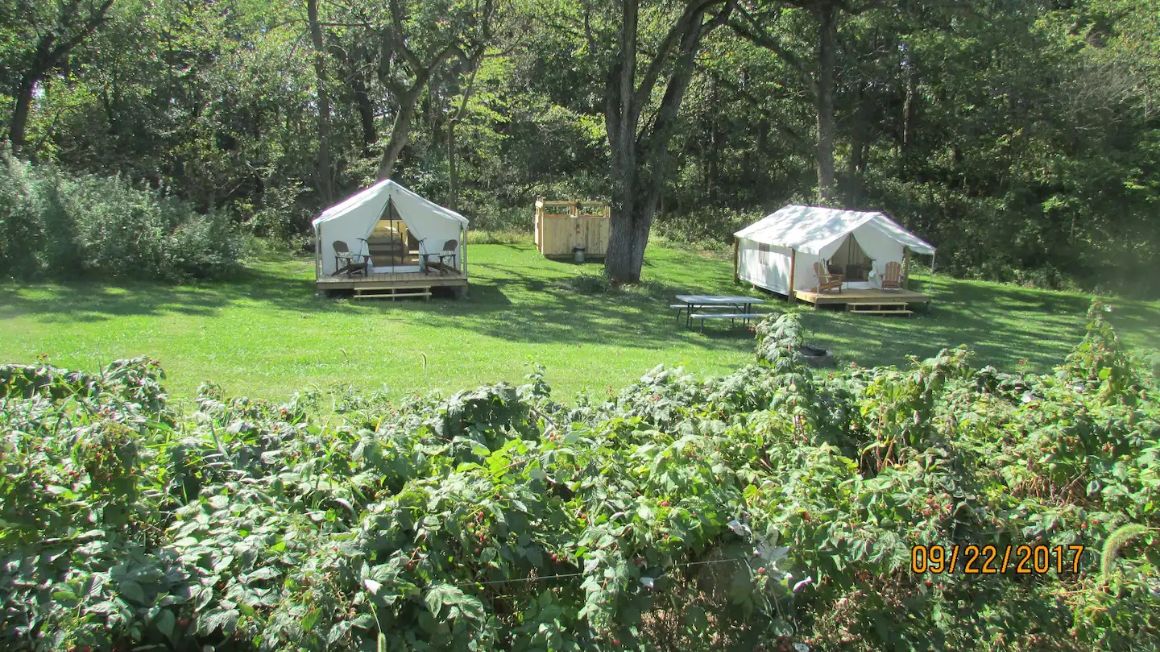 $
2 Guests
Outdoor dining area
Located on a vineyard
If you want that classic tent experience, but also full-on glam, the budget-friendly Cozy Oaks is just for you. Located on 11-acres of the private vineyard in Plattsmouth, the beauty of the site is unmatched.
For as far as your eyes can see, it's just green and you get absolute seclusion and serenity in this little piece of heaven with only the sound of owls, cull frogs, and coyotes breaking the silence. If you're looking for a quiet place to stay near Omaha, this would be it.
The tent is more like a Nebraskan cabin, since it's placed on a raised deck and you get your little patio with camping chairs. The décor inside the tent has an antique theme, with iron-wrought mirrors, a king-sized bed, mirror, coffee machine, dining table, chair, etc. In extreme summers, you can even ask the host for a portable air conditioner. In this budget option, you also get a compost toilet with hot water and shower facilities.
You can either chill in the tent, or you can take nice and peaceful walks around the pond, garden, and vineyard. You can also pay for all the meals to be served in your tent. Meals are mostly homemade and served with fruits fresh from the garden.
The Absolute Cheapest Nebraska Glamping Site – Alfalfa Field Glamping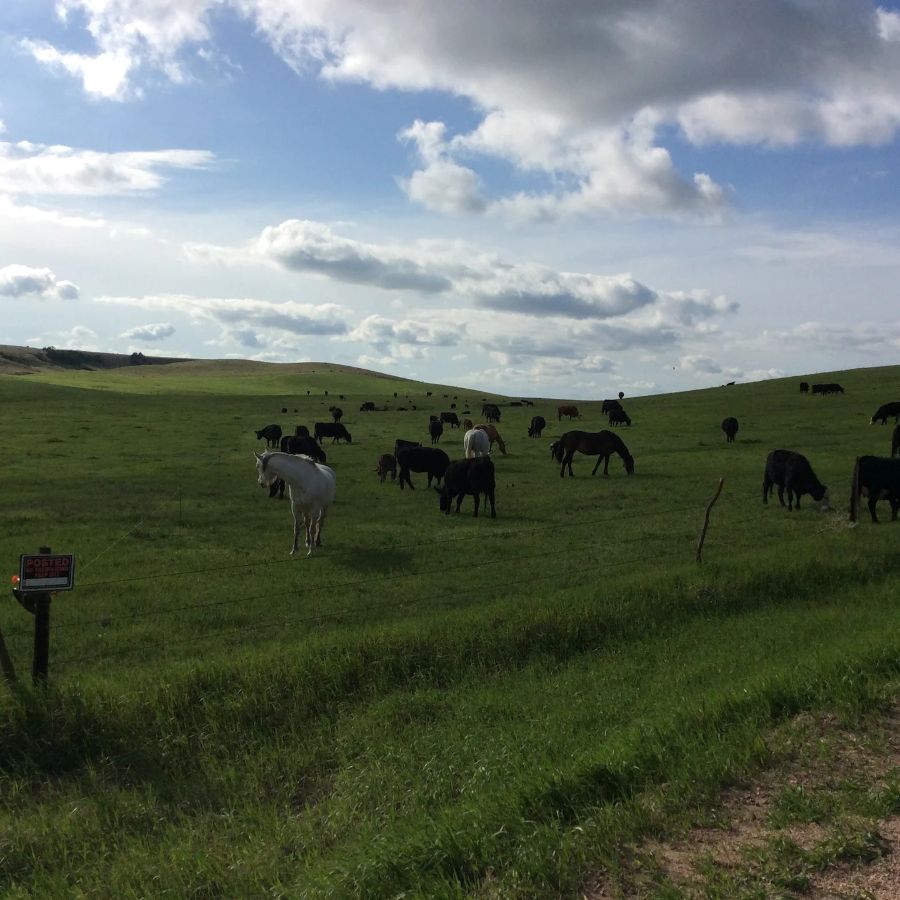 $
2 Guests
Towels and bedsheets
Situated on Alfalfa Field
Nebraska indeed is one the most budget-friendly glamping destinations, and this glamping site in Gothenburg proves it, as one of the absolute cheapest accommodations for 2 – perfect for those backpacking the USA.
Don't be fooled though, just because it is the cheapest doesn't mean your glamping experience is going to be mediocre. If you wish to lean more towards authentic camping but just want to eradicate the idea of sleeping on hard ground, here's your chance.
The Ford Aerostar is going to be your bed right on the breathtakingly beautiful Alfalfa Field, where you can build a fire, sit outside on the lawn chairs, and capture the mesmerizing sight of Nebraska's prairie sunsets and sunrises.
The secluded sights allow all the serenity and peace you look for in a camping vacation. For fun, just observe your surroundings and enjoy the sight of wild horses and cows grazing and the sound of nature at nighttime.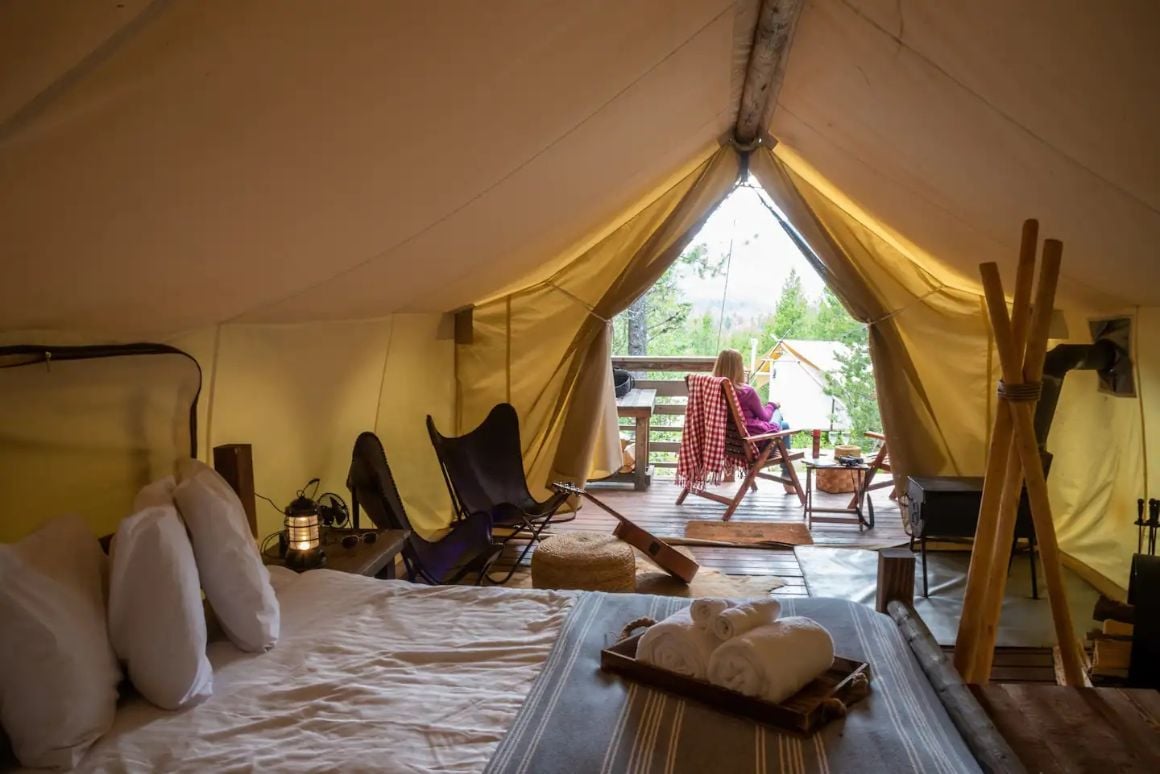 $$
2 Guests
BBQ Grill
Waterfront site
Perfect for a couple's retreat, this fully-furnished glamping site next to the 390-acres of Lake Cunningham is as romantic as it can get. The Safari Tent is adorned and decorated luxuriously with rugs, lamps, and wooden furniture to add to the charm.
The tent features a beautiful queen bed, a cozy sitting area, a kitchen, and numerous electric outlets to keep your phones charged and help you stay connected with the world.
Alongside the tent, the backyard is all yours with a fire pit, picnic table, string lights, and an alfresco dining area facing the lake. You also get access to a modern bathhouse. You can stay grounded and spend your days in the tent and enjoy the quiet rush of the lake, or you can take to exploring the beautiful surroundings and the 1050-acres of the park in north-central Omaha.
Is This the Best Backpack EVER???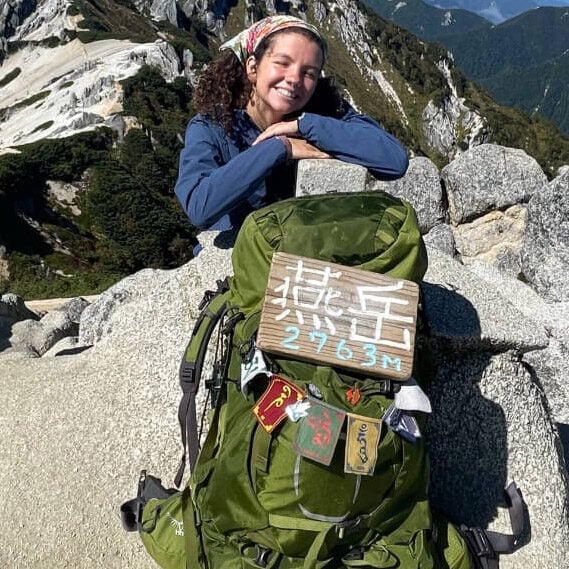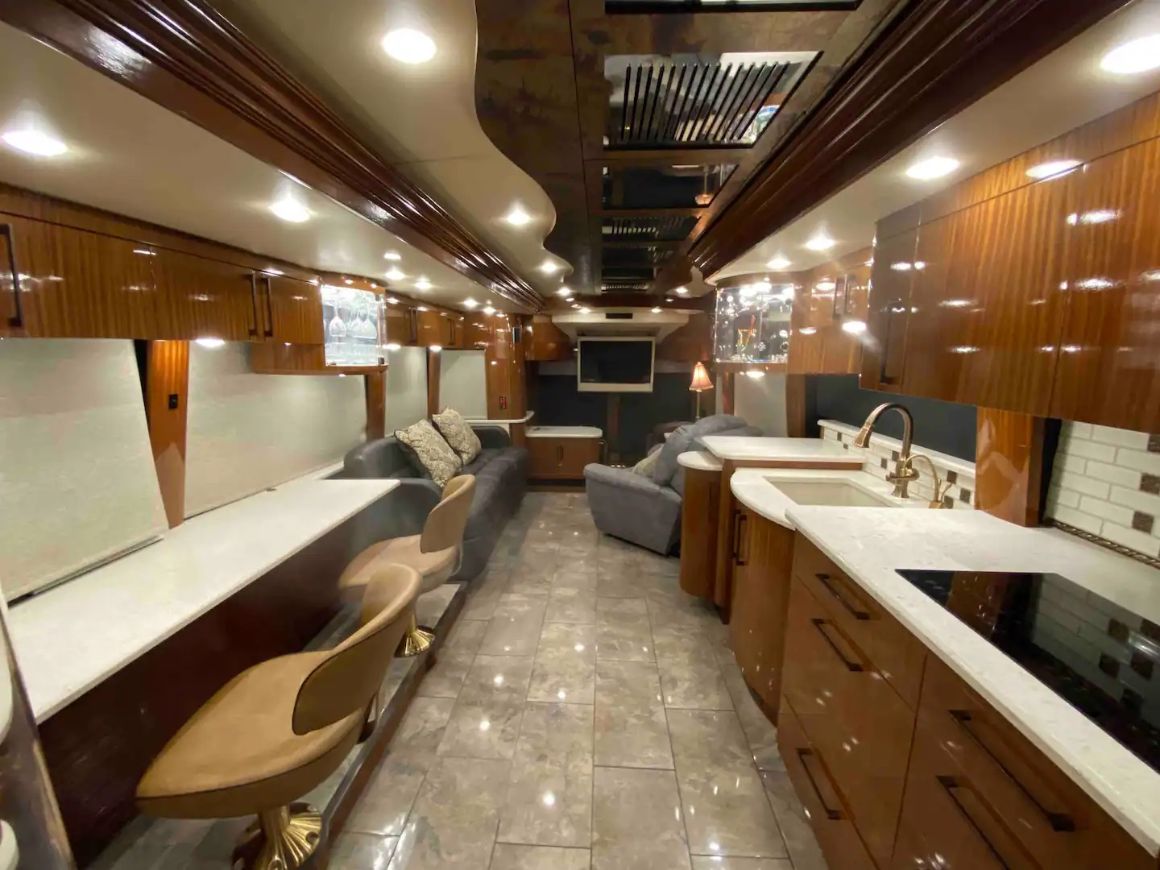 $$$$
4 Guests
Jet skis and boats
Lakeside RV
Nebraska is especially known for its budget-friendly glamping opportunities, so if you wish to hit it out of the ballpark, you'll have to do something outside the box, such as choosing this extremely luxurious RV sitting just a few minutes from Lake Manawa on the Iowa border.
This extravagant RV bus is perfect for a group of people looking to have a fun-filled summer by the lake. Jet skis and boats are readily available to make sure you have everything needed to make the most of your stay here. The RV itself features a master bedroom, a pull-out couch, and a reclining sleeper to accommodate a group of 4.
There's a full bathroom in the RV, a laundry room, a fully-outfitted kitchen with a dishwasher, microwave, and a big refrigerator amongst many other things. There are two TVs in the RV and the deluxe interior is entirely customized using a combination of wood imported from Africa and high-end tiles.
Best Nebraska Glamping Site for Families – Camper Glamping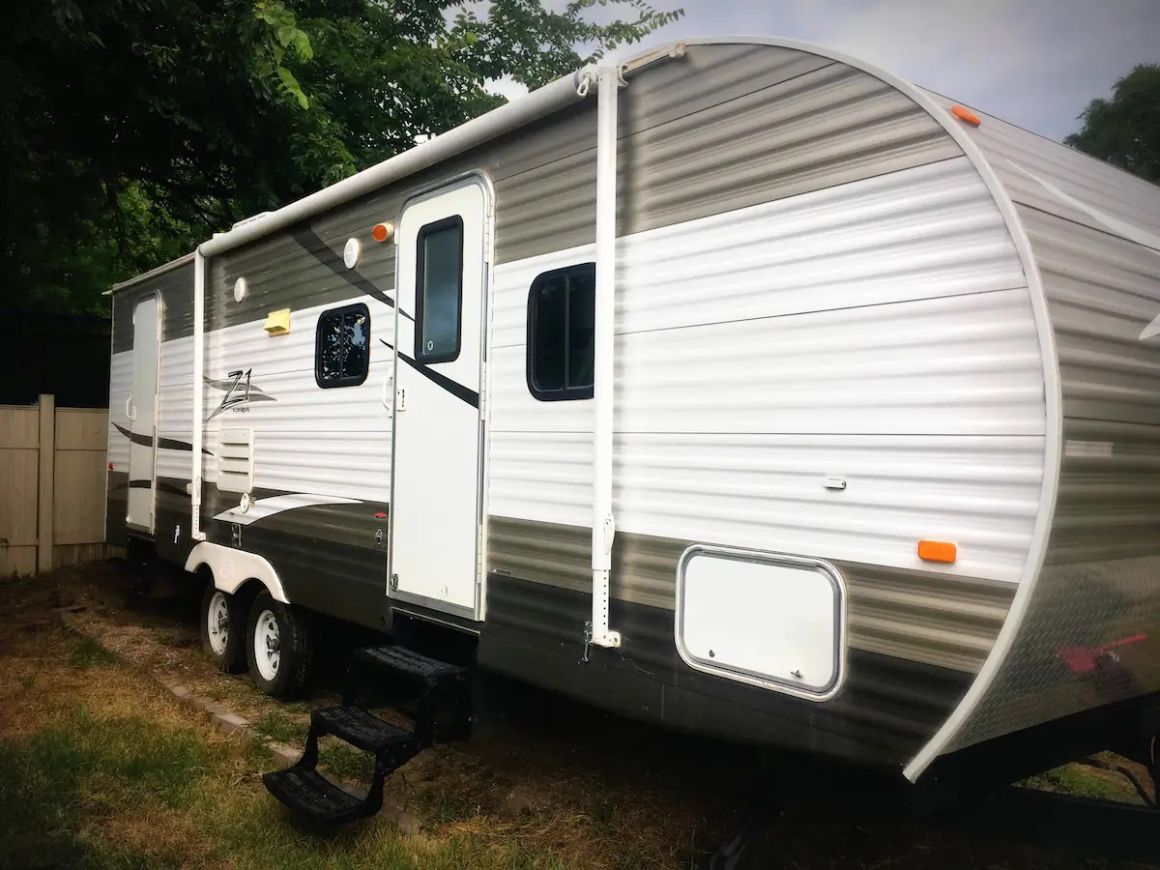 $$
6 Guests
Bathtub
Moveable Camper to your choice of campground
If you want to offer your kids an experience they'd remember for a long time and wish to bring them close to nature, then this camper in Saint Paul Nebraska is going to bring your dreams to reality. Located on one of the four campgrounds owned by the host, this camper can be moved around based on whatever spot you and the kids are drawn to.
The camper features room-darkening shades to help you put the toddlers and baby to sleep, since pets are also part of the family, they are also allowed to accompany you on this family vacation. One queen bed, 1 sofa bed, 1 bunk bed, and 1 small double bed provide plenty of sleeping space for everyone.
Best Glamping Nebraska Site for Views – Memory Lane Camper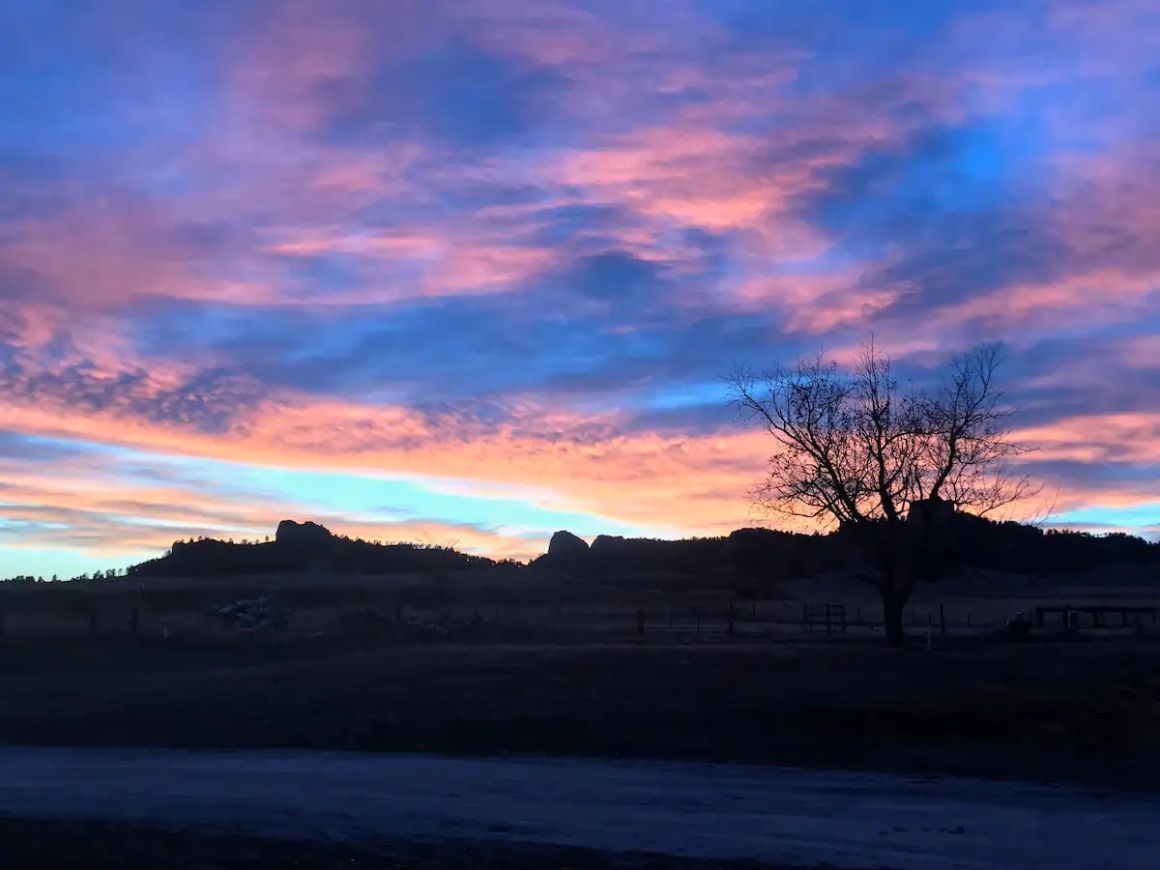 $
4 Guests
42″ TV with Amazon Prime Video, Apple TV, Roku
Mountain view
Situated on 40-acres of the camping area in Crawford, this glammed-up RV provides the most breathtaking views to its guests. Facing the mountains, sunrises, and sunsets in this RV is something you'd look forward to every day.
Best suited for families or friends, the RV is a short distance from Robinson State Park and provides plenty of opportunities to hike and explore the surrounding area. The atmosphere around the RV is serene and peaceful and feels like you're on an off-the-beaten-path. At the same time, you can simply walk to the closest town for a short shopping spree.
The RV features one bedroom with a queen-sized bed and two couches, a cozy living room, and a washroom. For indoor entertainment, the RV provides an HD TV with numerous subscriptions, books, as well as board games. WiFi and pocket WiFi is also available. No matter which part of the year you decide to visit, the RV has both a cooling and heating system. There's also an indoor fireplace for cozy winters.
Best Nebraska Glamping Site for Backpackers – When Pigs Fly
$
2 Guests
Air conditioning and heating
On a ranch
This glamping camper couldn't be more perfect for animal-loving individuals backpacking through Omaha. While the camper comes with a cheap price tag, it provides everything of comfort and more to the guests.
Located on a 26-acre Animal Therapy and Rescue Ranch, the camper provides a perfect opportunity for the backpackers to interact with volunteers, and spend time with the animals such as cows, camels, tortoises, etc. Or you can just sit outside your camper and enjoy it all from your private camp area.
In the camper, you will find a queen-sized bed, AC and infrared heater, WiFi, TV, microwave, coffee maker, etc.
In the camp area, which you have all to yourself, is the BBQ grill, refrigerator, and a portable bathroom. And the best part? The camper is located only 5-minutes from downtown Omaha, so you can enjoy the peace of the ranch and still explore the best things to do in the largest city of Nebraska.
Best Nebraska Glamping Site for a Group of Friends – Vintage Camper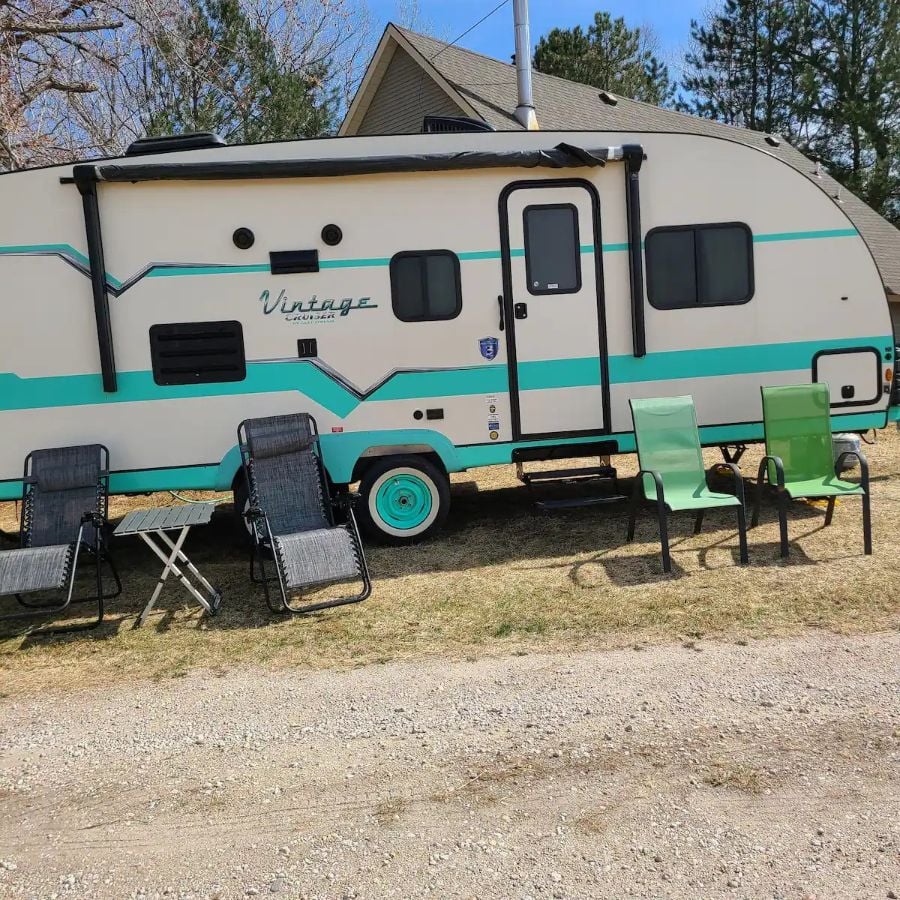 $$
4 Guests
Fully outfitted kitchen
Vintage camper by the Dancing Crane
Located at the Dancing Crane Writers Center in rural Gibbon, this camper is so fully decked with amenities that you don't need to worry about your camping packing list!
You name it, and this camper has it, which is very suitable for a long stay with your friends. In addition to a fully-equipped kitchen, this glamping accommodation comes with a dining table, a bathroom with toiletries, a clothing store, and numerous entertainment options including TV, books, and board games. The camper is also child-friendly in case a friend is bringing their kid along.
While there are tons of entertainment options inside the vintage cruiser camper, the real highlight of your stay will be the sight of the crane returning to its roost every night. Since the camper is located right under the flyway, all you have to do is peek out and there's a sight to behold.
Romantic Nebraska Glamping Site for Couples – Lazy Oaks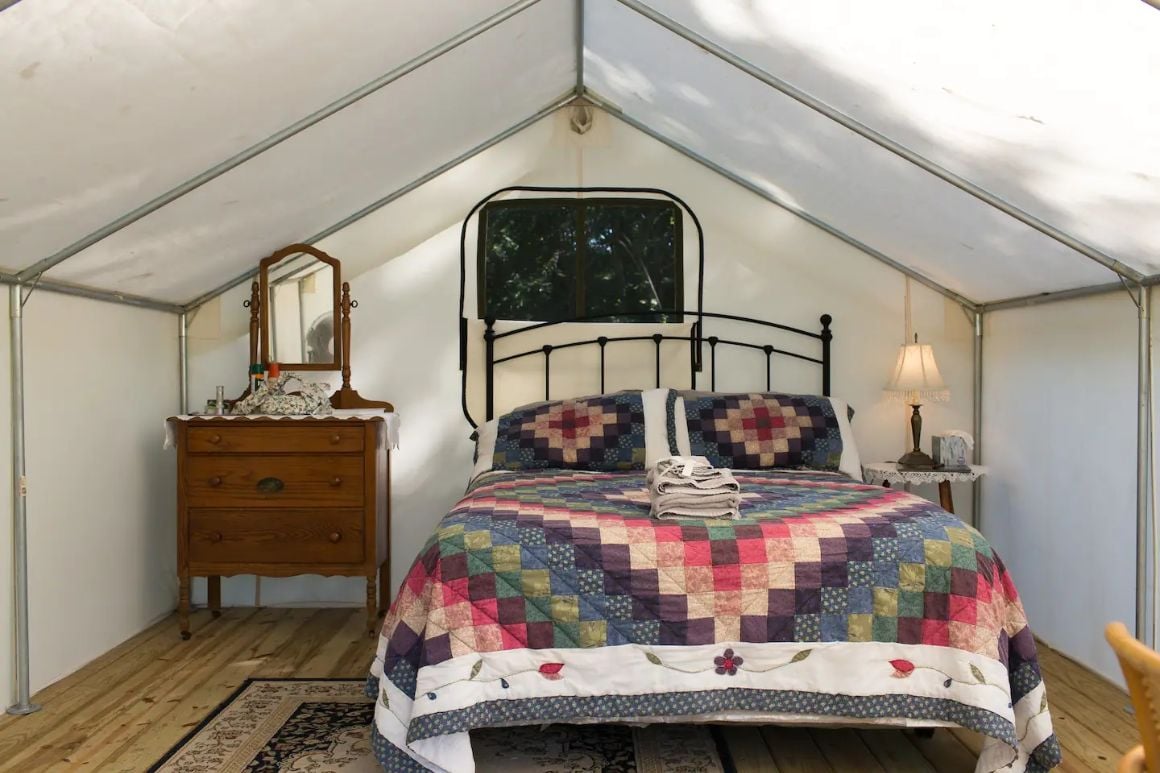 $
2 Guests
Meals served in the tent
Located on a vineyard
Nebraska comes through with another beautiful glamping site for couples, in Plattsmouth. This glamping tent is pitched on a lovely vineyard that will make you want to stay here, forever. And to spoil you, even more, you can also place an order for a small or a full breakfast and foil dinner and it will be served to you hot and your tent.
While the surrounding of this camp is just nature, greenery, woods, and beautiful animals, the inside décor is just as pretty. The iron wrought queen-sized bed is super comfy, the wooden dresser, mirror, and thick rug make it look like a room belonging to one of Jane Austen's characters with a good fortune.
The accommodation also offers freshwater, a coffee maker, cups, coffee, sugar, sweetener, creamer, and spoons. For those chilly winter nights, you can turn on the heater and blast the fan on summer days. The restroom facilities are outside with this unit. It contains the composting toilet on one side and the hot shower on the other. Oh, and you might get some animal visitors during your stay.
Glamping Nebraska Site with an Epic Location – Glamping with the Goats
$
4 Guests
Outdoor furniture
Park View
Animal lovers who feel their souls brighten up in the proximity of innocent rescued animals, this glamping situation is your dream vacation. This quirky and cute glamping accommodation called Trixie the Camper is located on the meadows of Shepherd's Rest Goat and Sheep Rescue and has all the basic amenities to call it home away from home. It features a range, full wet bath, kitchen sink, and two beds.
You can have the ultimate laidback time here by spending your days playing with the rescues and come nightfall, you can start the fire, sit outside, and just enjoy the beautiful and happy family environment. And if you wish to move around, there are 13-acres of woodland and walking paths adjacent to the meadows for your exploration, and all the top things to do in Lincoln are only a 30-minute drive away.
$$
2 Guests
Air conditioner
On a tree
When you only have a weekend to unwind, you have to make sure that it is nothing short of epic. And this glamping site in South Sioux City is the epitome of it. This grownup treehouse offers a full glamping experience with its outdoor shower, fire pit, queen-sized bed, living space, indoor toilet, and BBQ grill.
Perched 18-feet in the air, surrounded by 5-acres of detailed landscape, this treehouse offers you the view of the most beautiful Nebraska sunsets and sunrises, and a chance to disconnect from everything and reconnect with nature. While secluded, the treehouse is a few minutes from downtown Sioux City, Hard Rock Hotel & Casino, and Ponca State Park.
The interior of the treehouse is similar to a cozy and charming cottage and has two decks for good views and good times with squirrels, coffee, and snacks. There's a coffee shop on the property with some freshly brewed coffee and freshly baked delicacies.
$$
4 Guests
Hot water
Right across Lake Maloney
This glamping site in Nebraska makes for two couples travelling together. It's easy on the pockets, offers breathtaking sceneries, and offers all the comforts of a home. With all of this, you can have a glamping trip every weekend in Nebraska.
The camper sits right on the edge of Lake Maloney, providing breathtaking views of the sunsets and sunrise. With room to sleep 4, the camper is best suited for a group of friends, small family, or solo travellers just wanting to have a healing weekend far from the chaos.
The camper features a small but well-equipped kitchen with a microwave and a mini-fridge, a living space with a TV, a full bathroom, central air conditioning, central heating, and hot water. The bedroom has a queen bed, a sofa bed, and a bunk bed.
Best Nebraska Glamping Site for Solo Travelers – City Glamping
$$
2 Guests
Sound system
Luxurious camper
This one is for all the solo travelers, couples, and single parents just wanting a little break with their little one in tow.
Since the camper is parked on private property in the heart of Bellevue, Nebraska, it will allow the first-time solo travelers to feel safe and the proximity to all the shops. Yet the biggest highlight of this luxurious city camper is the unbelievably affordable price tag, allowing everyone to taste luxury without robbing the bank.
The camper is within walking distance from numerous historical sites in the city including the popular church, the log cabin, etc. The camper itself has two sliding doors and is super spacious and cozy.
It features a full bathroom with all the toiletries including a special one for babies, a fully-decked bedroom with all the essentials, storage, and darkening shades. For entertainment, you have a 32-inch HDTV, a sound system, and several books and reading material.
Best Glamping Site for Honeymooners – Lakeside Glamping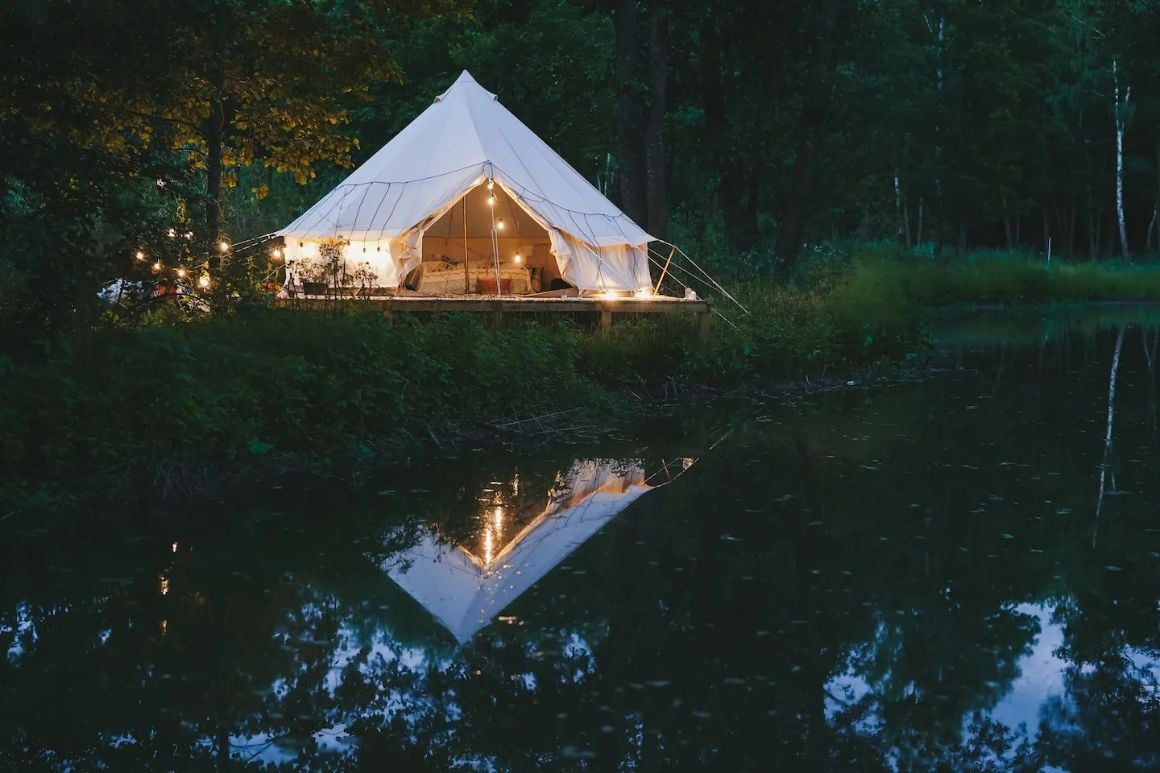 $$
2 Guests
Indoor fireplace
Waterfront
Lakeside camp surrounded by long grass and tall trees, string lights illuminating in the darkness, and a rich cozy interior? Honeymooners, you have found your haven! The best part is that this dreamy glamping site doesn't even cost that much. The camp features a queen bed for two, electric outlets, a coffee maker, a mini-fridge, and much more.
Outside the tent, you have a firepit for those romantic nights under the stars, outdoor chairs, a BBQ grill, and a picnic table to have all your meals with a view. A shared bathhouse is just a short walk from the tent too. This is just the place to go when you want to disconnect from all the worldly things and spend some unforgettable days with the love of your life.
Don't Forget Your Nebraska Travel Insurance
ALWAYS sort out your backpacker insurance before your trip. There's plenty to choose from in that department, but a good place to start is Safety Wing.
They offer month-to-month payments, no lock-in contracts, and require absolutely no itineraries: that's the exact kind of insurance long-term travellers and digital nomads need.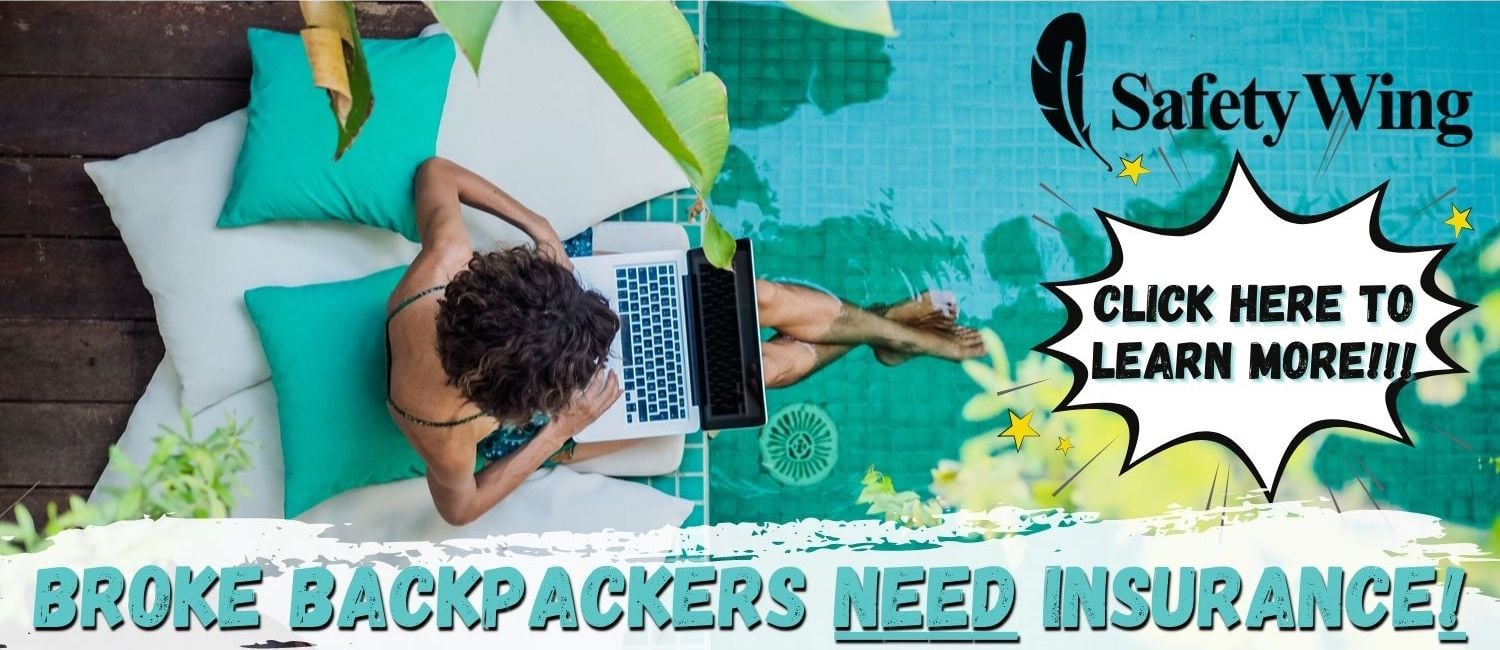 SafetyWing is cheap, easy, and admin-free: just sign up lickety-split so you can get back to it!
Click the button below to learn more about SafetyWing's setup or read our insider review for the full tasty scoop.
Final Thoughts on Glamping Nebraska
You might be excited about visiting Nebraska before, but your anticipation must be hitting the roof, now knowing what awaits you in the breathtaking countryside and wilderness of Nebraska.
I assure you, glamping in any of the aforementioned sites will be an experience you'd be remembering for life. Nebraska is just the place to go glamping when you just want to relax, far from the crowd and chaos of metropolitan life and super close to nature. If there's anything that revives the soul and helps you unwind, it's the experience of glamping Nebraska.
If this is your first time in the country, consider securing more than just your accommodation, and go for travel insurance. Peace of mind makes for the best travel experience.
---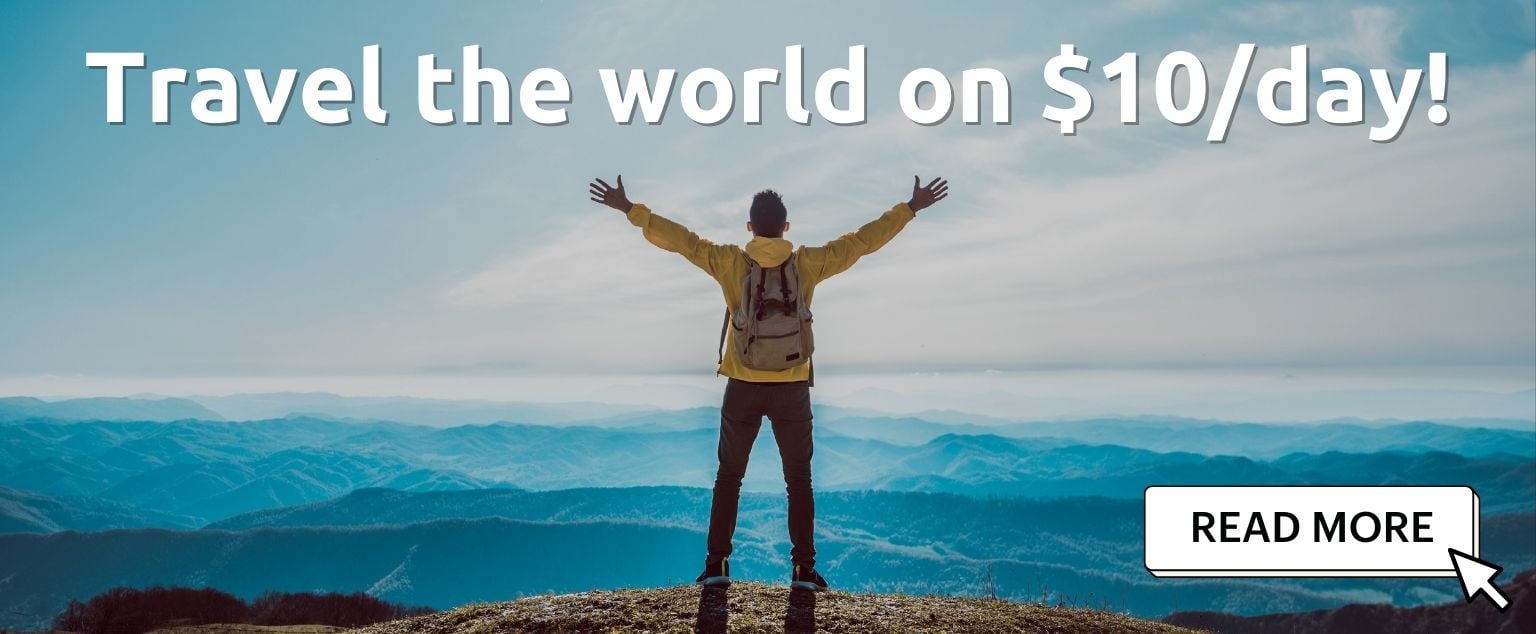 And for transparency's sake, please know that some of the links in our content are affiliate links. That means that if you book your accommodation, buy your gear, or sort your insurance through our link, we earn a small commission (at no extra cost to you). That said, we only link to the gear we trust and never recommend services we don't believe are up to scratch. Again, thank you!