Palm Springs is one of the most popular warm-weather destinations in the United States, but this desert city in Southern California is known for more than its spectacular weather. It boasts world-class golf courses, top resorts, hot springs, an abundance of outdoor activities, and plenty more.
The city might be fairly small with a permanent population of only 44,000 people but the number of things to do and see are endless both in the city and in the surrounding area.
Since there are so many things to do in Palm Springs, we understand how much easier it is to have a guide in front of you detailing the best attractions in the city. Below, you'll find the top highlights in Palm Springs.

Unlock Our GREATEST Travel Secrets!
Sign up for our newsletter and get the best travel tips delivered right to your inbox.
The Top 5 Things to Do in Palm Springs
The table below lists some of the top things to do in Palm Springs. These are the most popular, tried and true attractions that have stood the test of time again and again. In other words, these attractions are not to be missed!
Later in the article, we'll discuss these attractions and activities in more detail.
Best Thing to Do for Families in Palm Springs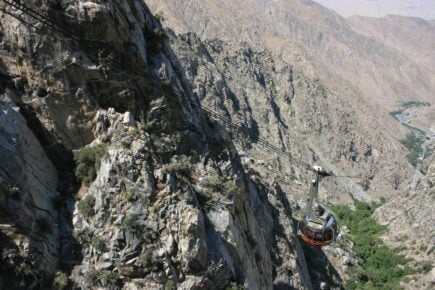 Best Thing to Do for Families in Palm Springs
Take a Trip on the Palm Springs Aerial Tramway
Hop aboard the Palm Springs Aerial Tramway and climb 8,516 feet up the cliffs of Chino Canyon on the biggest rotating tramcar in the world.
Best Thing to do in Palm Springs at Night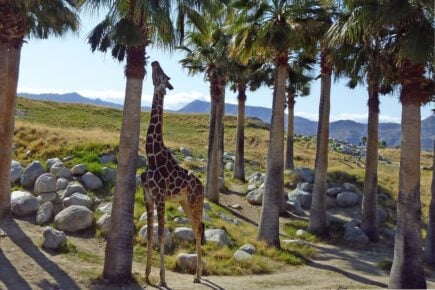 Best Thing to do in Palm Springs at Night
Experience the Desert Under the Stars with Starry Safari
Embark on an overnight adventure under the stars and see the desert come alive at the Living Desert Zoo and Gardens.
Top Fun Things to Do in Palm Springs
Top Fun Things to Do in Palm Springs
Embark on a Legends and Icons Tour
See lavish Palm Springs hideaways of some of Hollywood's celebrities on this 1.5-hour tour that is one of the best things to do in Palm Springs.
Most Unique Thing to Do in Palm Springs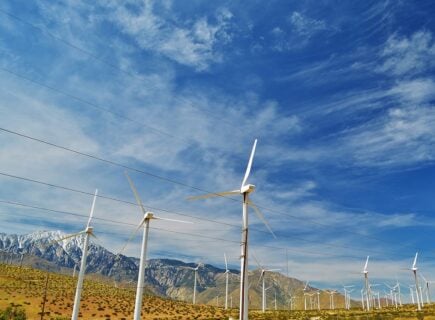 Most Unique Thing to Do in Palm Springs
Take a Self-guided Windmill Tour
Explore the country's first commercial wind farm and learn about wind turbines and renewable energy.
Best Outdoor Adventure in Palm Springs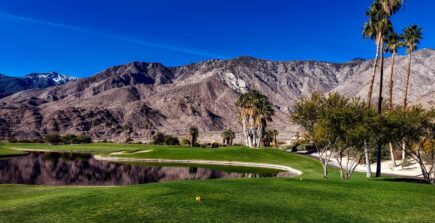 Best Outdoor Adventure in Palm Springs
Indulge in Nature and History with a Tour of Indian Canyons
Explore Indian Canyons while hearing about the history of the Cahuilla Indians who once lived there and see stunning natural features.
1. Take a Trip on the Palm Springs Aerial Tramway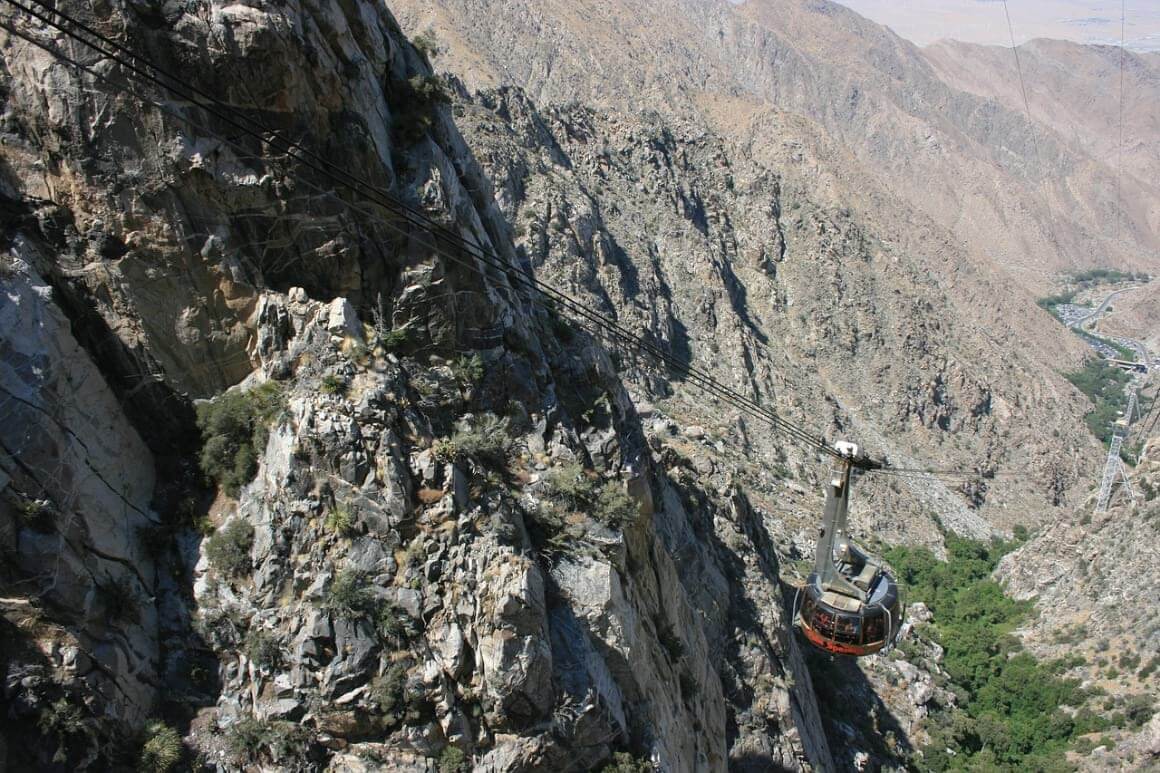 The Palm Springs Aerial Tramway is one of the unmissable things to do in Palm Springs. It's the biggest rotating tramcar in the world and you can take a ten-minute ride up the sides of the Chino Canyon Cliffs to reach Mountain Station: an elevation of 8,516 feet.
Along the way, you'll enjoy stunning views and at the top, you can explore Mt. San Jacinto State Park and Wilderness Area. Do some hiking in this pristine nature area, dine in one of the two restaurants and visit the natural history museum on-site before you make the journey back down the mountain.
Entrance: $49 per group up to 5
Hours: Thursday – Monday (First Tram up 8:00am), (Last Tram up at 6:00pm) (Last Tram down at 8:00pm) Tuesday and Wednesday – CLOSED
Address: One Tram Way, Palm Springs, CA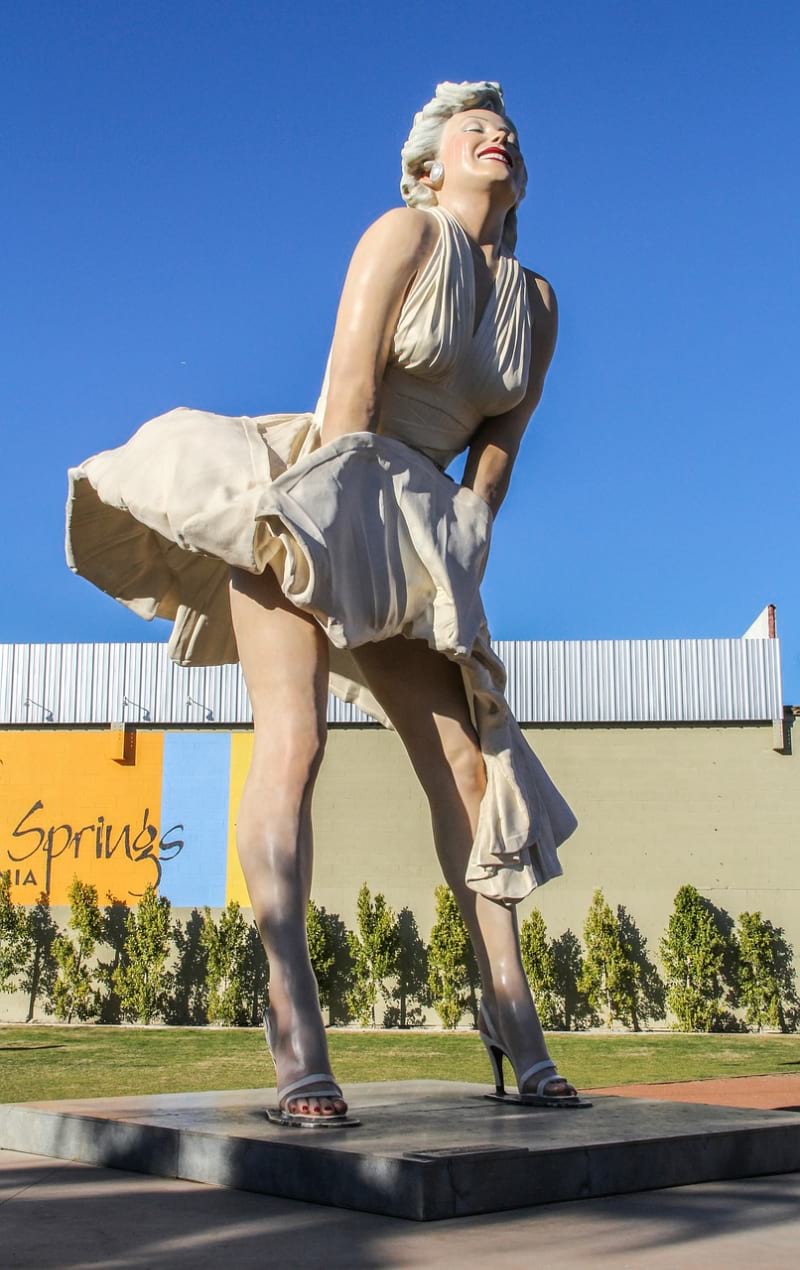 The historic neighborhoods around Palm Springs have long been sought out as peaceful hideaways for rich and famous Hollywood icons. During a tour of these neighborhoods, you'll see dozens of homes that once belonged to stars such as Frank Sinatra and Marilyn Monroe.
During this tour that takes about 1.5 hours, you'll also see current homes of celebrities, some of the city's most popular landmarks and visit the Rat Pack Hideaway. A well-informed tour guide will provide the narration as you make your way through the city.
Entrance: $99 per person
Hours: 1.5-hour tour
Address: 275 S Indian Canyon Dr, Palm Springs, CA
Palm Springs is home to the first commercial wind farm in the country and with a self-guided tour, you can see it for yourself and learn all about wind turbines and renewable wind energy.
The tour takes about an hour and is one of the most unusual things to do in Palm Springs. You'll use video and audio to guide you through ten stops, including a display yard featuring wind turbines that are currently not in operation, a working wind turbine, a solar plant, and a non-operational gas plant.
The entire tour can be done from the comfort of your own vehicle with opportunities to get out and take some unique photos.
Entrance: $49 per group up to 5
Hours: 1.5 Hours Duration
Address: 62950 20th Ave, Palm Springs, CA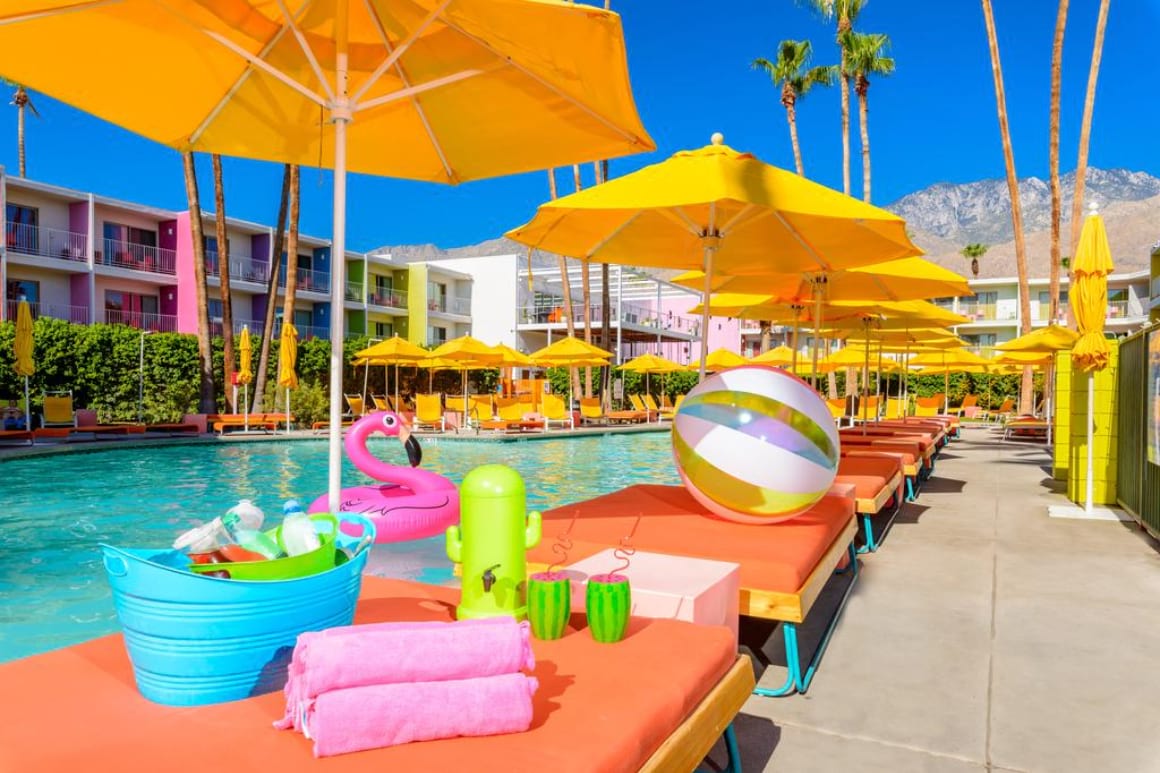 Palm Springs is known for its epic pool party scene and The Saguaro Palm Springs is where visitors go if they're looking to let loose and party late into the night with the help of an on-site Tequila bar and weekend DJ's.
This colorful and lively property also features two hot tubs, a 24-hour gym, a restaurant and a spa. Many of the best things to do in Palm Springs, including golf courses, theaters and museums, are with five miles of the hotel. Even the rooms have a colorful, festive vibe!
5. Enjoy a Night on the Town at Bootlegger Tiki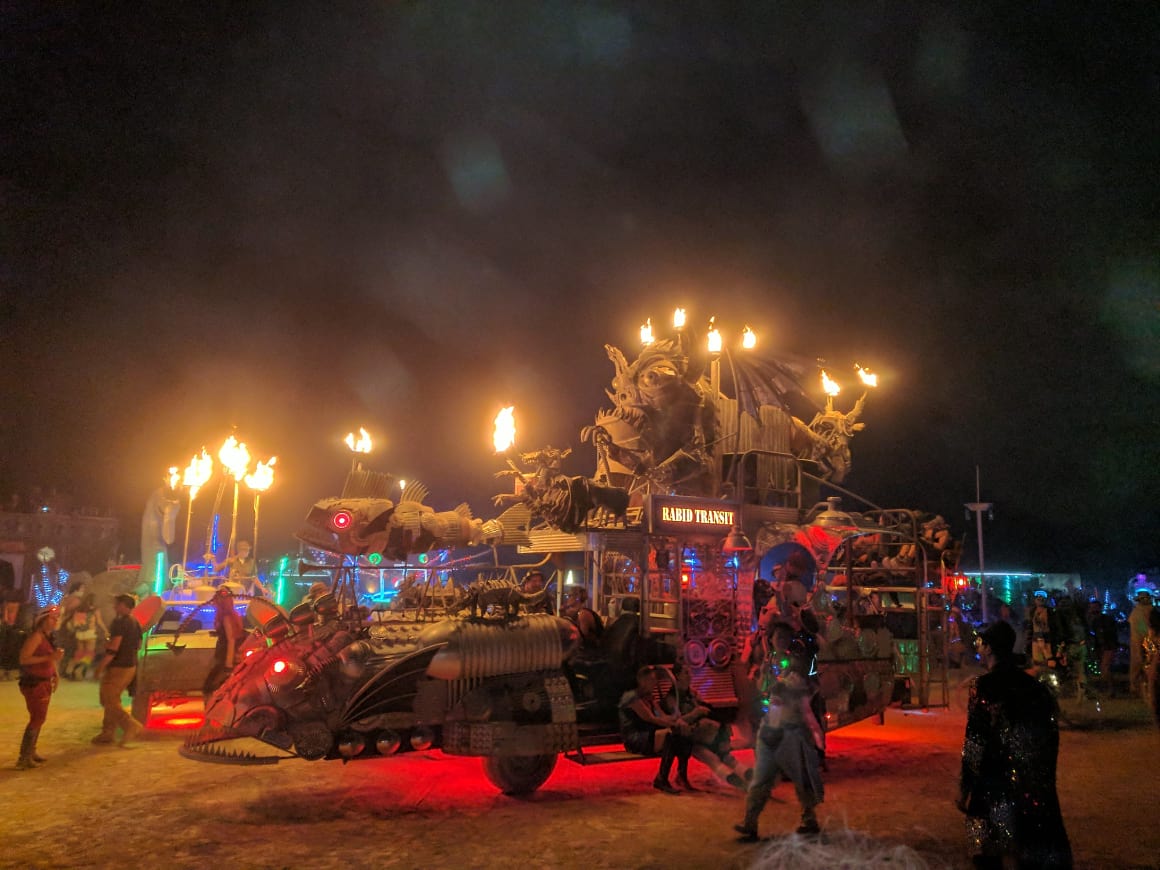 If you're looking for a hip thing to do in Palm Springs, at Bootlegger Tiki, rum cocktails and fun are the main items on the menu!
This lively bar is known for its handcrafted Tiki cocktails served in a historic space with an intriguing story attached to it. A wide variety of tasty concoctions, mostly made with rum and fresh fruit, are available and Tiki Tacos are served to go with your beverages.
Enjoy good times on the outdoor patio that is adorned with Tiki torches for a more festive, tropical ambiance.
6. Catch a Live Show at the Desert Ensemble Theater Company
Live entertainment is in no shortage in Palm Springs and you can catch some of the best performances at the Desert Ensemble Theater Company.
The best thing about watching a show at this award-winning venue is you'll be witnessing seasoned actors alongside up-and-coming high school students who are making their debut in the world of theater. Cheer them along as they learn the ropes and be entertained by ground-breaking theatrical productions.
The theater hosts a variety of plays throughout the year with themes related to current worldly events, dramas and comedies, and enjoying a show here is one of the best things to do in Palm Springs.
Small Pack Problems? 😉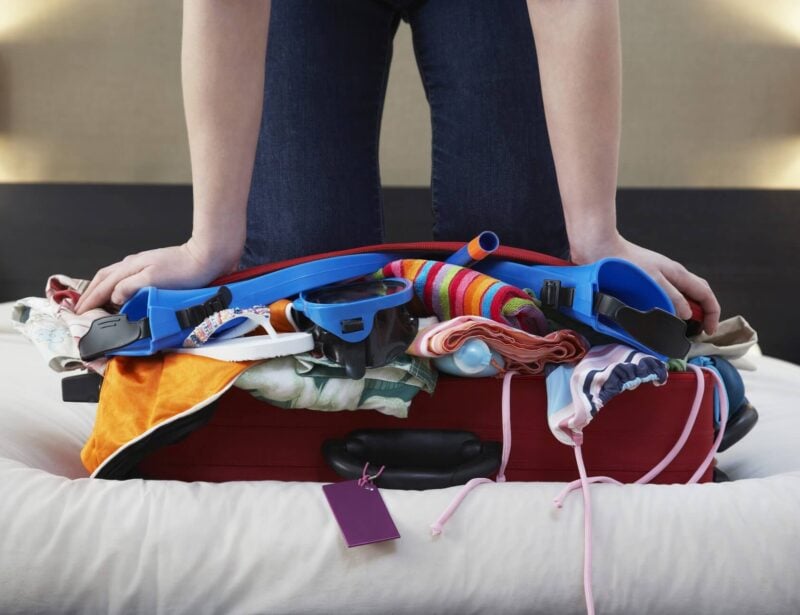 My missus travels with all her clothes in ziplock bags: don't be like my missus. UP YOUR PACKING GAME!
Packing cubes for the globetrotters and compression sacks for the real adventurers – these babies are a traveller's best kept secret. They organise yo' packing and minimise its volume too so you can pack MORE.
Or, y'know… you can stick to ziplock bags.
View Our Fave Cubes
Or Check Out the Sacks!
7. Take to the Skies in a Hot Air Balloon
The landscape around Palm Springs is stunning and it's even more stunning from above.
The best way to get up there is with a hot air balloon tour. Soar through the skies without the sound of a loud engine taking away from this unique experience. See the desert landscape with its beautiful natural features and the area's many landmarks from a different angle.
There are several tour companies in the area offering safe and fun hot air ballooning experiences ranging from sunset tours to sunrise tours. By far, this is one of the most adventurous things to do in Palm Springs.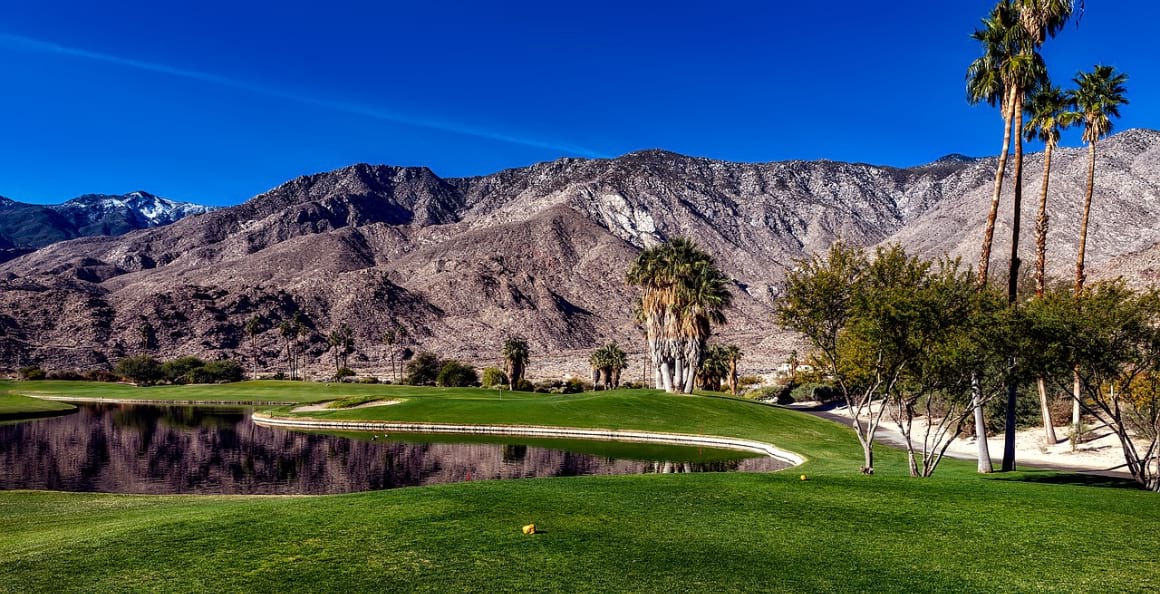 Indian Canyons is a popular outdoor destination that provides visitors with some of the best outdoor things to do in Palm Springs. This is where you can get the best of both worlds by indulging in both nature and history.
During this three-hour tour, you'll explore the place that the Agua Caliente Band of Cahuilla Indians once called home and learn about their history and culture. You'll also take a guided hike on a short trail and as you explore the area, you'll see hundreds of plants, unique rock features, a water cave and stunning views.
At the end of the tour, you can visit the Indian Trading Post where you'll find a wide variety of souvenirs and art.
9. Experience the Desert Under the Stars with Starry Safari
The Living Desert Zoo and Gardens is one of the most popular things to do in Palm Springs by day but it's a top attraction at night too.
The facility hosts a nightly Starry Safari where you can embark on a one-of-a-kind nighttime adventure to witness the desert come alive at night.
During one of these safaris, you'll get up close and personal with desert animals, take a guided hike through the park and hear fascinating stories while sitting around a campfire.
Late into the night, you'll drift to sleep to the natural sounds of the desert in your cozy tent under the starry sky. A continental breakfast is served in the morning.
10. Go on a Biking Adventure Around Palm Springs
The weather in Palm Springs is perfect for biking all year round and it's a great way to stay fit outdoors while exploring the city.
There are many different routes to take in and around the city. If you just want to take a leisurely ride to explore the downtown area and surrounding neighborhoods, this is one of the most popular things to do in Palm Springs.
If you're seeking something more adventurous, head to the outskirts of the city and try your skills on one of the more advanced biking trails: including the Bump and Grind Trail, Palm Canyon Epic Trail, and the Goat Trails.
Several companies in the city rent a variety of traditional bikes and electric bikes, including Bike Palm Springs, Big Wheel Tours, and Old Town Peddler.
11. Feast on Fine Food at La Quinta Cliffhouse Grill & Bar
Traditional American dishes take on a whole new spin at La Quinta Cliffhouse & Bar. You may be familiar with many of their offerings, including braised boneless beef short ribs, seafood specialties, and pasta dishes, but you've never tasted them like this before!
A wide variety of gluten-free items are also served and an extensive wine and cocktail list are available.
This local favorite is perfectly positioned alongside a cliff and you can dine outdoors on the cliffside patio or inside the stylish dining room and bar.
12. Get Pampered at Body Sense Spa
If you find yourself needing a break from all the excitement of touring Palm Springs, Body Sense Spa has just what you need to get you back on track.
This establishment is the oldest spa in Palm Springs and booking a spa day is one of the best things to do in Palm Springs on a rainy day.
With more than 30 years serving the public, you are sure to receive an ultimate relaxing and rejuvenating experience. Body wraps, body scrubs, Swedish massages, facials and hot stone massages are some of the services offered and a wide variety of packages are available.
Entrance: Book Appointments in Advance
Hours: Monday to Wedenesday and Friday to Saturday: 10:00 a.m. – 6:00 p.m, Thursday: 11:30 a.m. – 3:30 p.m., Sunday: 10:00 a.m. – 6:00 p.m.
Address: 1001 S Palm Canyon Dr #101, Palm Springs, CA
13. Attend a Stargazing Party
The desert around Palm Springs is renowned for being a top stargazing location due to an abundance of clear skies and a lack of light pollution but if you're not up to venturing into the desert at night, there's an alternative way to view the night sky.
A trip to The Rancho Mirage Observatory is one of the most unique things to do in Palm Springs. This state-of-the-art research center is dedicated to observing the night skies.
The center is open to the public and on certain nights, it hosts stargazing parties where you'll join an astronomer and knowledgeable guides who'll share information about the constellations and tell intriguing stories.
14. Ruddy's General Store Museum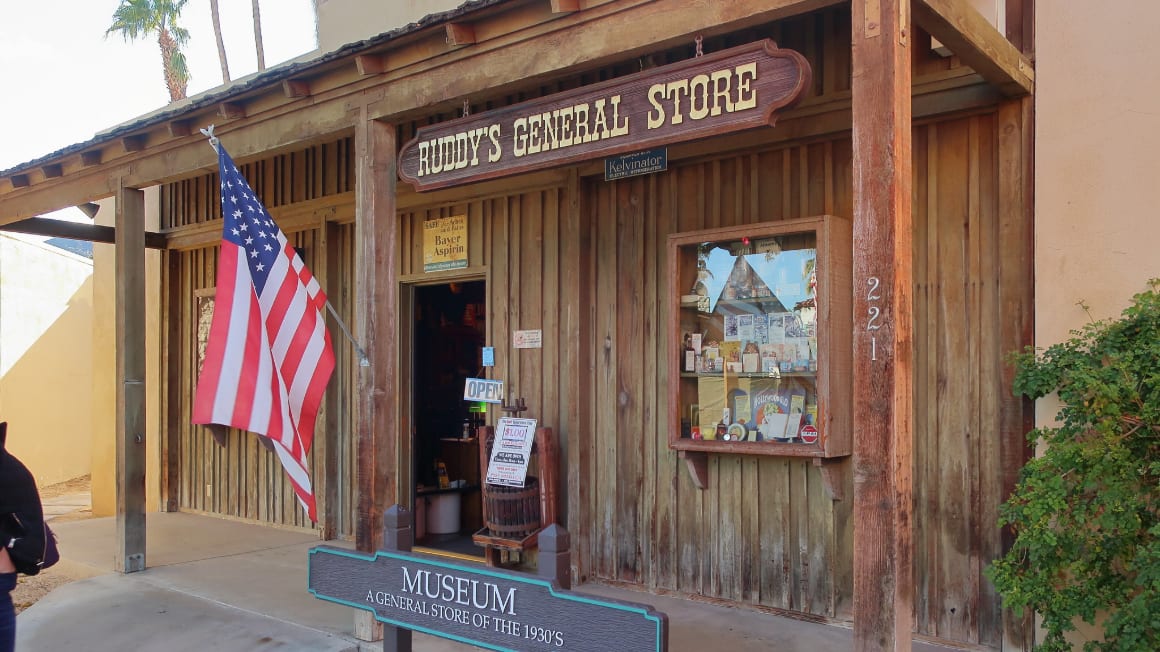 Downtown Palm Springs wasn't always as crowded and bustling as it is today; but there's a place right in the middle of it all where you can escape the modern world, and take a trip back in time to when things were slower and simpler.
When you step into Ruddy's General Store, you're taken back to the 1930s. Inside is a huge collection of groceries, medicine and Americana dating back to those simpler times.
The museum is the labor of love of Jim Ruddy who spent years collecting the nostalgic items to display for everyone to enjoy, and is one of the best things to do in Downtown Palm Springs.
Is This the Best Daypack EVER???
15. Admire Beautiful Art at the Palm Springs Art Museum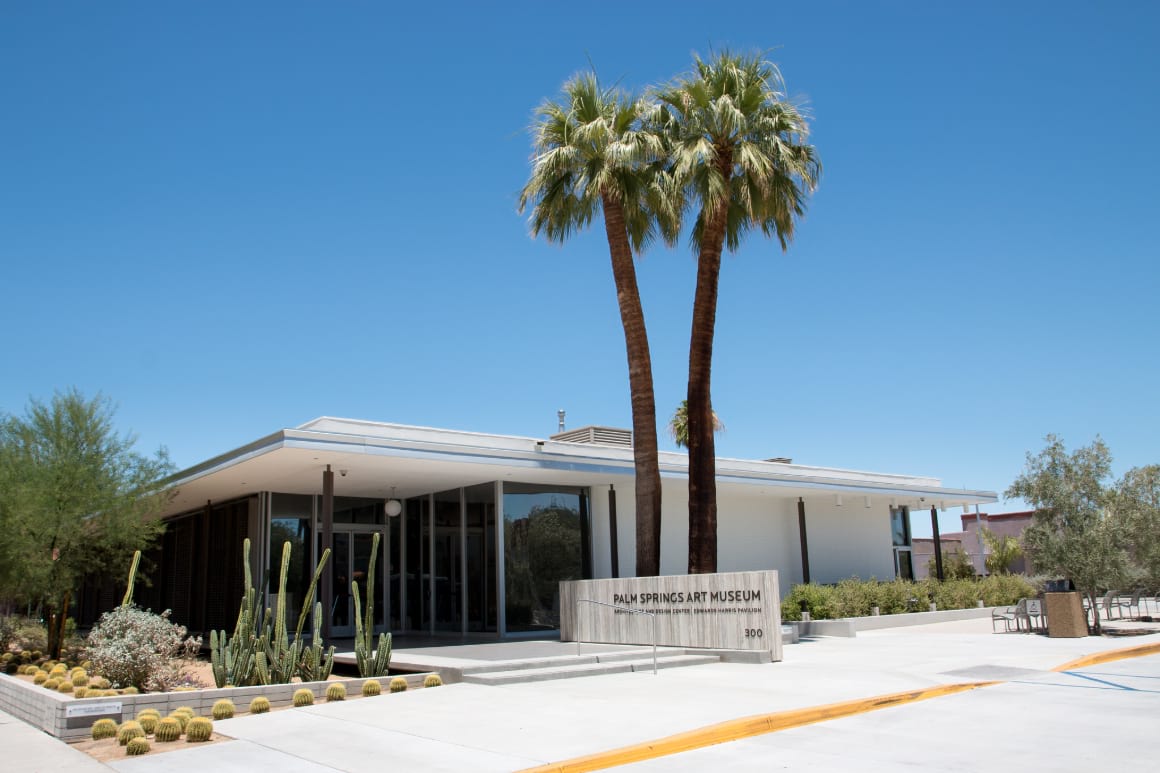 Whether you're an art lover or not, you'll appreciate the diverse selection of works on display at the Palm Springs Art Museum. If you're looking for artsy things to do in Palm Springs, this is one you shouldn't miss. The permanent collection alone has more than 12,000 works, many of which are by local artists.
The collection features both traditional and modern pieces from around the country. Some works are abstract while others are more straightforward. All are inspiring.
Throughout the year, a variety of temporary exhibits are also hosted at the museum and a visit to the Persimmon Bistro & Wine Bar provides the perfect ending to your visit.
16. Explore Joshua Tree National Park
If you're looking for the perfect road trip destination without having to travel too far away from Palm Springs, Joshua Tree National Park is one of the best day trips from Palm Springs and it's only about an hour away.
This expansive protected area is where you can experience the two contrasting desert landscapes of the Mojave Desert and the Colorado Desert.
As you explore this wilderness area, you'll see a wide variety of unique plants and animals, stunning rock formations and, of course, Joshua Trees. Indian Cove Nature Trail, Arch Rock Trail and the Cholla Cactus Garden are some of the more popular attractions in the park.
Rock climbing is popular at Echo Cove and the sunsets are out of this world at Keys View. However, if it's just peace and quiet you seek, this is the place to head to!
17. See and Touch Genuine War Aircraft at the Palm Springs Air Museum
Get up close and personal with aircraft that were flown in major combat missions. The Palm Springs Air Museum has one of the world's biggest and best collections of aircraft that were used in the WWII, Korea and Vietnam conflicts. Many of the 59 aircraft on display are still flyable.
Learn about the role these aircraft and their crews played from knowledgeable docents, many of whom are veterans of those wars. During your visit, you'll also see exhibits filled with artifacts and artworks.
18. Check Out the Palm Springs Walk of Stars
For almost a century, celebrities have been coming to Palm Springs to escape the limelight and relax in the desert. It all started with a few stars, such as William Powell and Rudolf Valentino, and soon after, many others followed including: Shirley Temple, Frank Sinatra, Ginger Rogers, Elizabeth Taylor, Sonny Bono and Elvis Presley.
These famous part-time residents of Palm Springs are honored at the Palm Springs Walk of Stars which is situated in the downtown district. There are more than 400 names engraved in the Golden Palm Stars that are set in the sidewalks of several streets.
19. Visit Cabot's Pueblo Museum
Cabot Yerxa was an intriguing man with a penchant for world travel, art and native American culture. He first arrived in Palm Springs in 1913 and began building this amazing home that is now considered an architectural wonder, an important historical fixture in the area and one of the most unique things to do in Palm Springs.
The home was built by hand with materials that were collected from around the region and today, its 35 rooms are filled with artifacts, beautiful Native American artworks, and souvenirs from around the world.
20. Learn About Desert Plants at the Moorten Botanical Garden and Cactarium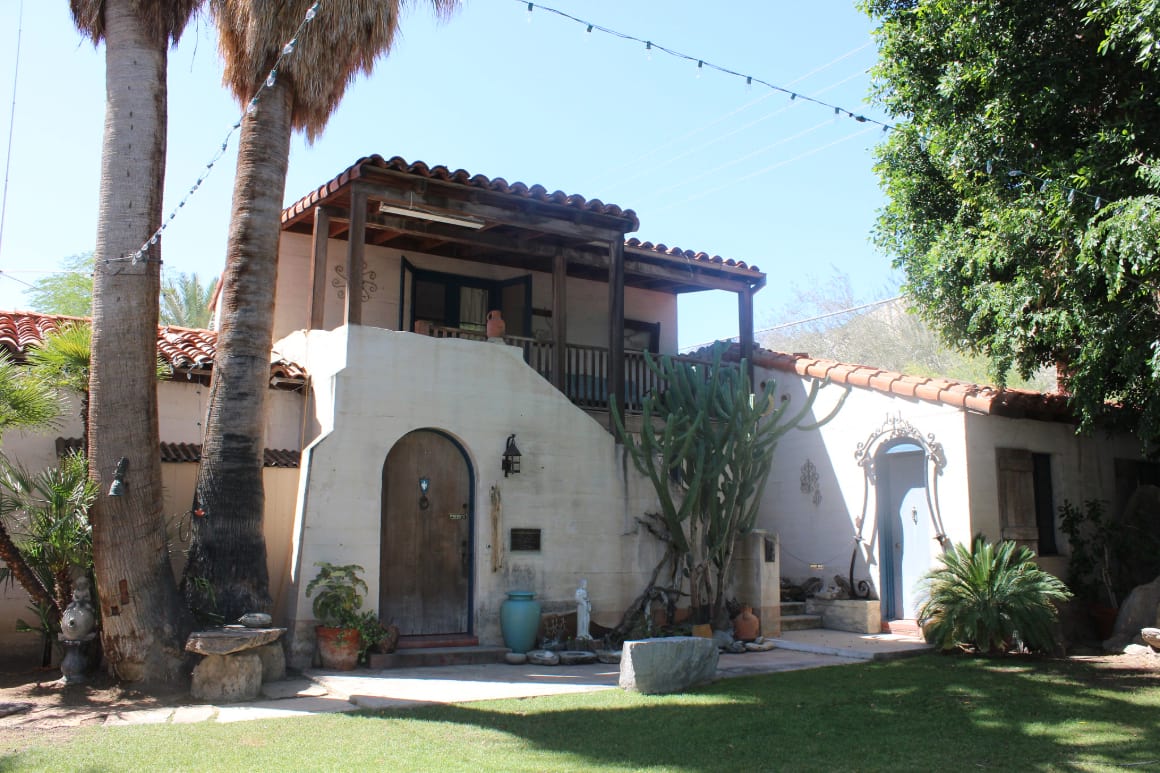 You've likely visited many botanical gardens in your travels but the Moorten Botanical Garden is unique in that it houses desert plants. The one-acre property is a family legacy having first opened in 1938.
As you walk along the beautiful trail, you'll see over 3,000 desert plant species including cacti, succulents and many others. The plants are classified by region, with some being native to the Southwestern United States, Mexico, and South America. Crystals, fossils, and old mining remnants are also on display along with the plants.
21. Hike to Tahquitz Canyon Waterfall
A fairly easy two-mile hike is all it takes to reach one of Palm Springs most stunning natural attractions. Tahquitz Canyon Waterfall is 60 feet high and has a surprisingly large amount of water for a desert waterfall.
Start your hike at the visitor center where you'll learn about the canyon and the Agua Caliente Band of Cahuilla Indians Reservation that encompasses the area. Along the trail, you'll see beautiful wildflowers, rock art, and perhaps even some wildlife. Guided tours are available throughout the day.
Where to Stay in Palm Springs
Finding a great place to spend the night in Palm Springs is a breeze with so many unique accommodations to suit every budget and every taste. If you want to enjoy the beaches in Palm Springs, then you might want to consider a place to stay in West Palm Beach. There are attractions all over the city, so it's best to think about what you want to see and find a cool place to stay in a nearby neighbourhood.
Whether you prefer to stay in a bustling resort, a flashy villa, a basic hotel or a backpacking hostel, here are some of the best places to stay in Palm Springs.
Crashpod Hostel is a highly-rated hostel located only 11 miles away from Palm Springs in Desert Hot Springs. This laid-back hostel features laundry facilities, free Wi-Fi, and a complimentary breakfast.
Many of the best things to do in Palm Springs, including the Palm Springs Aerial Tram, are only minutes away. Relax after a long day in the outdoor lounge.
This private and centrally-located casita with en-suite bathroom and Wi-Fi provides a relaxing escape only minutes from downtown.
Prepare a quick breakfast with the in-room coffeemaker and stocked mini-fridge, before exiting the French doors onto your private patio, complete with a beautiful swimming pool and hot tub.
This is certainly one of the best vacation rentals in Palm Springs for its amenities.
Not only is this one of the best-rated hotels in the city – it also hosts one of the most well-known pool parties! This makes it an excellent choice for younger visitors looking to hit the Palm Springs party scene.
It comes with a tiki-themed pool.
Don't forget your travel insurance for Palm Springs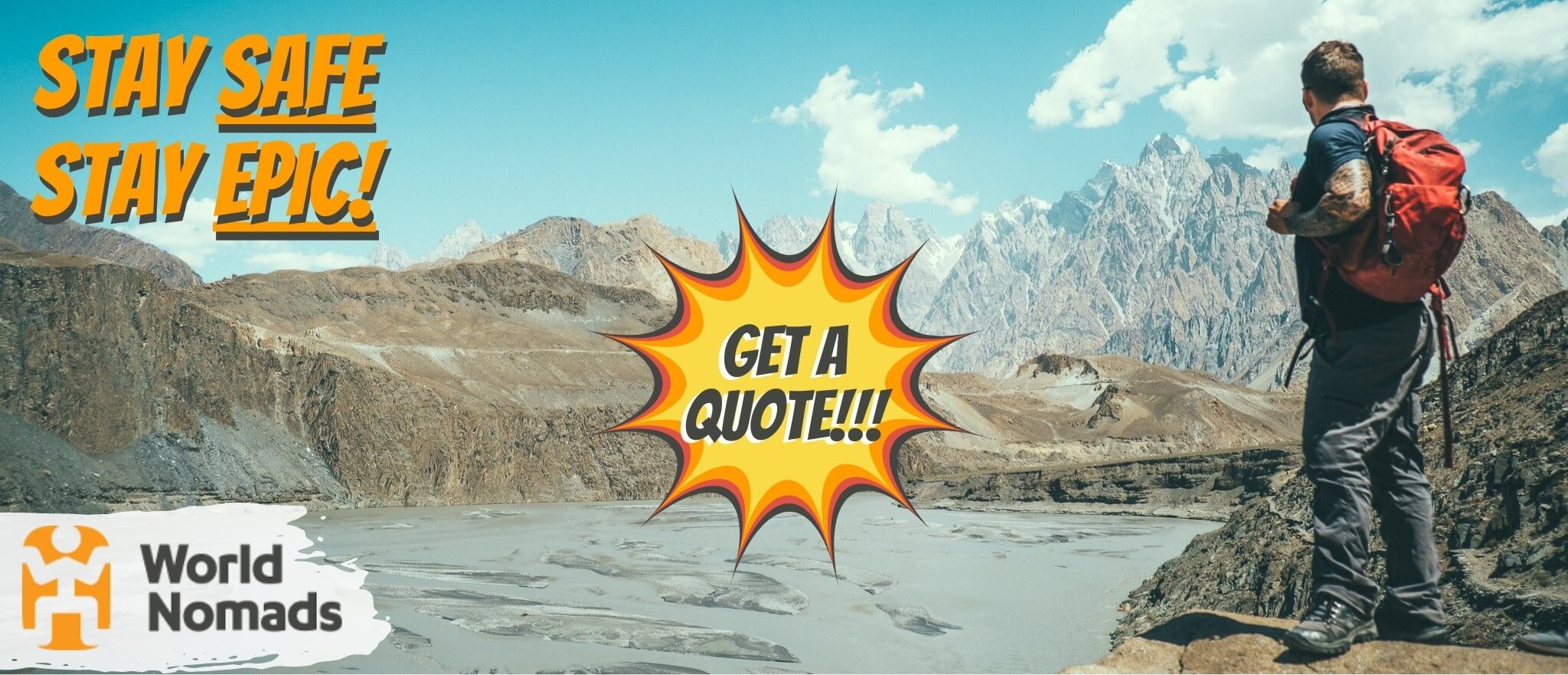 World Nomads' mission is to support and encourage travellers to explore their boundaries. They offer simple & flexible travel insurance, and safety advice to help you travel confidently.
They've been doing it since 2002 – protecting, connecting, and inspiring independent travellers just like you.
Get a quote below or read our in-depth review!
World Nomads provides travel insurance for travelers in over 100 countries. As an affiliate, we receive a fee when you get a quote from World Nomads using this link. We do not represent World Nomads. This is information only and not a recommendation to buy travel insurance.
FAQ on Things to Do in Palm Springs
Here are some quick answers to common questions about what to do and see in Palm Springs.
Some Additional Tips for Visiting Palm Springs
Palm Springs features a desert climate that is very dry with hot days and chilly nights. Make sure to have plenty of water on hand at all times and dress accordingly.
Invest in travel insurance! You never know what may happen on the road.
While it's likely something you don't like to think about, accidents happen on the road. Be prepared and covered with a comprehensive travel insurance policy.
The most expensive part of any trip is the flight but it's possible to find deals and fly to Palm Springs for a fraction of the price.
Bring a good water bottle with you and avoid buying single-use plastic ones!
In case of emergencies, the number to dial in Palm Springs and all areas of California is 911.
Find cheap flights. Every once in a while, a killer deal pops up.
120 Volt, 60-hertz is the charge used for electronics in the United States so make sure to invest in an adapter if you're traveling from a country that uses another system.
---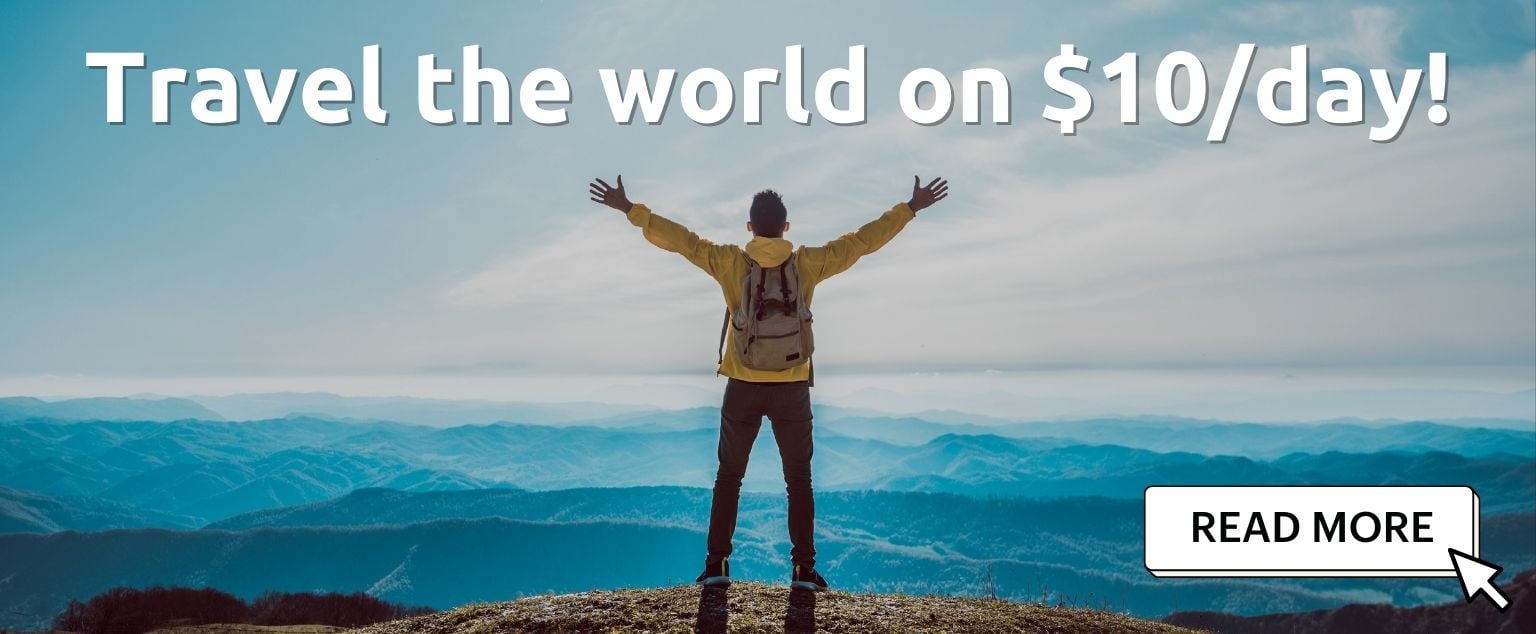 And for transparency's sake, please know that some of the links in our content are affiliate links. That means that if you book your accommodation, buy your gear, or sort your insurance through our link, we earn a small commission (at no extra cost to you). That said, we only link to the gear we trust and never recommend services we don't believe are up to scratch. Again, thank you!