The Smoky Mountain National Park is one of the USA's most visited national parks, and it's known for its diversity of wildlife and natural beauty. We highly recommend jumping on the bandwagon and taking a trip over there to see what the hype is all about! You won't leave disappointed (scout's honour).
If you're looking to disconnect or are just an outdoorsy kind of person, this is your dream destination! There are over 850 miles of trails, spectacular waterfalls, and, it's not uncommon to spot a cute, white-tailed deer or even a black bear!
This is a great family destination too. You can have scenic forest picnics or splash around in the river, as well as visiting attractions like Dollywood, the Gatlinburg Skylift Park and of course, the surrounding mountains.
Smoky Mountain VRBOs are off-the-charts! These vacation rentals are both secluded and close to civilisation at the same time. Plus they have all the modern-day necessities you could need for a stress-free stay. Keep reading to find our top Smoky Mountain vacation rentals!
Quick Answer: These are the Top 5 VRBOs in the Smoky Mountains
Overall Best Value VRBO in Smoky Mountains
Overall Best Value VRBO in Smoky Mountains
Cosy Log Cabin
> $
> 2 Guests
> Hot tub
> Jetted bathtub
Best Budget VRBO in Smoky Mountains
Best Budget VRBO in Smoky Mountains
Cabin-like Studio
> $
> 2 Guests
> Washer and dryer on site
> Cabin-like interior!
Best VRBO for Couples in Smoky Mountains
Best VRBO for Couples in Smoky Mountains
Secluded Log Cabin with View
> $$
> 2 Guests
> Jetted bathtub
> Shabby-chic decor
Best VRBO for Families in Smoky Mountains
Best VRBO for Families in Smoky Mountains
Luxurious Mountain View Cabin
> $$
> 6 Guests
> Sony Sound Bar and smart TVs
> Shuffleboard and card table
Over-the-Top Luxury VRBO in Smoky Mountains
Over-the-Top Luxury VRBO in Smoky Mountains
Mountain View Lodge
> $$$$
> 86 Guests
> 25 seater movie theatre
> 1100 square feet recreation room

Unlock Our GREATEST Travel Secrets!
Sign up for our newsletter and get the best travel tips delivered right to your inbox.
What to Expect from VRBOs in The Smoky Mountains
So we've convinced you that a trip to The Great Smoky Mountains National Park is where it's at when you're backpacking around the USA! But you're umming and ahhing over whether you're really up for a couple of days of roughing it in the wilderness.
Let's face it, we can't all be Bear Grills. Well, worry no more. VRBOs in The Smoky Mountains are comfortable, stylish, and kitted out with modern amenities – there'll be no campfire cooking needed here (unless you want to, of course). These vacation rentals are swish as!
The most popular rentals available are cabins, houses, and chalets. Most properties, no matter what "type", fully embrace the mountain lifestyle with wooden furnishings, fireplaces, and of course, plaid. Expect a whole 'lotta plaid!
These VRBOs have a super cosy feel, whether big or small and tend to be secluded – or at least they feel that way! The larger vacation rentals can have a more "polished feel" to them while still maintaining that Smoky Mountain charm. Oh, and get ready for a lot of hot tubs and great views!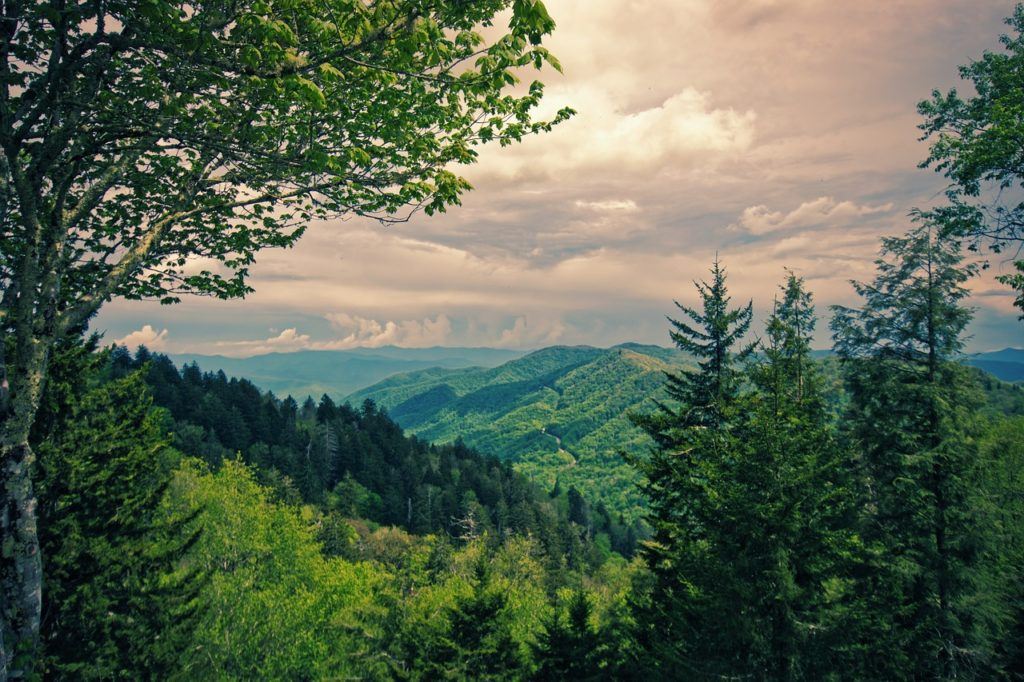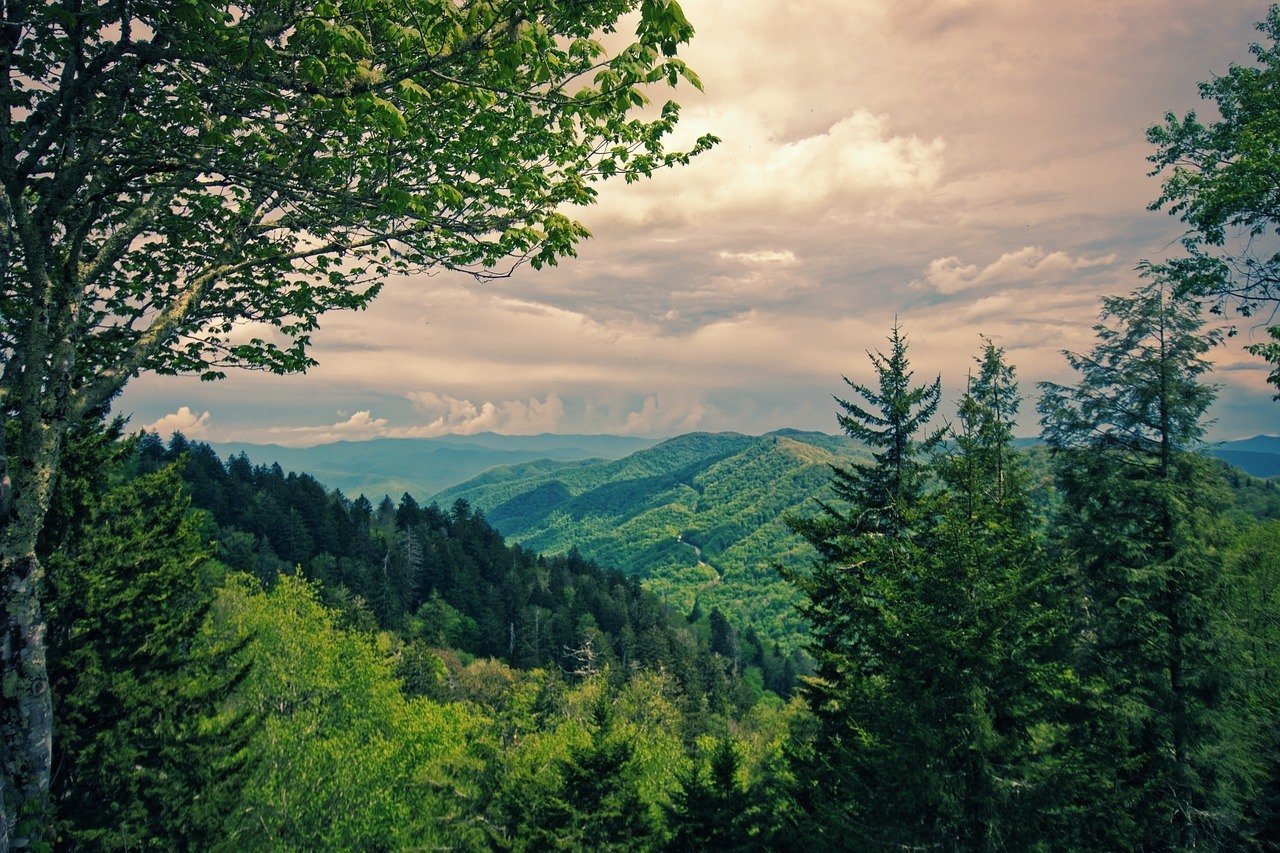 Cabins
Cabin rentals in The Great Smoky Mountains National Park range in size, so you'll have no trouble finding your quaint two-person cabins for couples or larger cabins for groups and families. You will find them scattered around, but generally, they are within a close distance of places like Gatlinburg as well as the surrounding mountains. Cabins are usually wooden and have beautiful open decks at the front which most likely face some spectacular mountain or forest views.
Since hot tubs are a hot commodity in these parts, you'll most likely find one tucked away somewhere, and occasionally cabin rentals even have bathtubs too! Some super cosy cabins have kitchenettes, but most of the time you will have a fully equipped kitchen.
We love the intimate feel of cabin rentals and will happily daydream about being snuggled on a sofa in front of an open fire.
Houses
One of the best types of rental for a family vacation, the Great Smoky Mountains National Park houses tend to be a little more modern yet still have that remote, cabin feel. If you're planning on doing a lot of cooking at home they are ideal as they always come with a fully equipped kitchen and dining table, especially if you're looking for where to stay in Pigeon Forge.
Houses are found closer to, or inside the towns themselves, with a few townhouses in Downton Gatlinburg. If you want to experience the mountains and wilderness but are more comfortable doing so in a more urban setting, then these are the way to go. Don't fret though, as you can still find options with hot tubs and beautiful outdoor decks.
Chalets
Chalets are a fantastic option for your Smoky Mountain vacation. If you're looking for a bit of luxury they are perfect! They are very similar to cabins but tend to be a little larger, so they are great for groups or families. However, the term "chalet" is used loosely. So as well as the large, lodge-type properties that come to mind, expect anything from A-frames to tree-houses too!
These properties have what you'd expect from a comfortable rental – such as a kitchen, a dining area, a living area, and modern bathrooms. Of course, don't be surprised to see a hot tub and outdoor deck included as well. You'll find chalets in a similar setting to cabins.
Why Stay in a VRBO?
Right, so I've told you all about the awesome VRBOs in The Smoky Mountains, but I haven't quite got around to telling you just why you should be staying in one. Here it goes:
Local Experience: When you stay in a VRBO, you have a local host who is ready to share top tips to make your vacation unforgettable like which trail is the best or where to get the best food in the nearby town!
Unique Properties: VRBOs are unique and obviously have way more character and personality than a hotel – there's no competition really.
Affordability: Not only are VRBOs quality rentals, but they are also super affordable compared to other accommodation options (see last note about the competition).
Safety: Both hosts and guests are vetted out by VRBO. Plus, there's 24/7 customer support in the unlikely event there's a problem.
The 20 Top VRBOs in The Smoky Mountains National Park
Get ready for a trip of a lifetime to The Great Smoky Mountains National Park, because we have found 20 amazing properties that will have you booking your ticket before you can finish saying "I hate camping".
Check them out and you'll be sure to find your perfect vacation rental!
Overall Best Value VRBO in The Smoky Mountains | Cosy Log Cabin
This wonderful log cabin is conveniently located in between the towns of Gatlinburg and Pigeon Forge. Both of which are only a short drive away! There is a full kitchen, dining table, and snug living area with a fireplace – just perfect for those cold winter nights. It's got all the modern amenities you need whilst retaining its charm. Spend your afternoons and evenings sitting on the outdoor deck or in the hot tub, admiring the epic mountain views for this awesome vacation rental. Some things to do close to this lovely cabin rental are visiting Dollywood, the Gatlinburg Skylift Park and the Wild Bear Falls Indoor Water Park.
Best Budget VRBO in The Smoky Mountains | Cabin-like Studio
$
Washer and dryer on site
2 Guests
Cabin-like interior!
No one comes to the Smoky Mountains National Park to stay in a modern studio. They come for the quaint cabins and outdoor spaces. Luckily for you, this Smoky Mountain VRBO is a combination of the two. We love the well-thought-out design, modern kitchenette, modern bathroom and all the amenities you'll ever need at this vacation rental. The thing that makes this studio really special though is the interior wood panelling, giving it a total cabin feel! The apartment complex feels extremely secluded but is actually really close to downtown Pigeon Forge. An amazing find for our budget travellers!
1-2 Guests
Outdoor deck with seating
Get ready, because we've found you the most amazing A-frame chalet for solo travellers. This quaint little rental has a lovely location surrounded by woodland, but it's also just a short drive into downtown Pigeon Forge. You'll find all the Smoky Mountain rental must-haves including an indoor fireplace, hot tub, and wooden deck.
If you're looking for a peaceful place to relax, then this is definitely the rental for you. Those of you who work from home or just like staying connected, you're in luck, as this place comes with high-speed Wi-Fi!
Is This the Best Travel Pack EVER???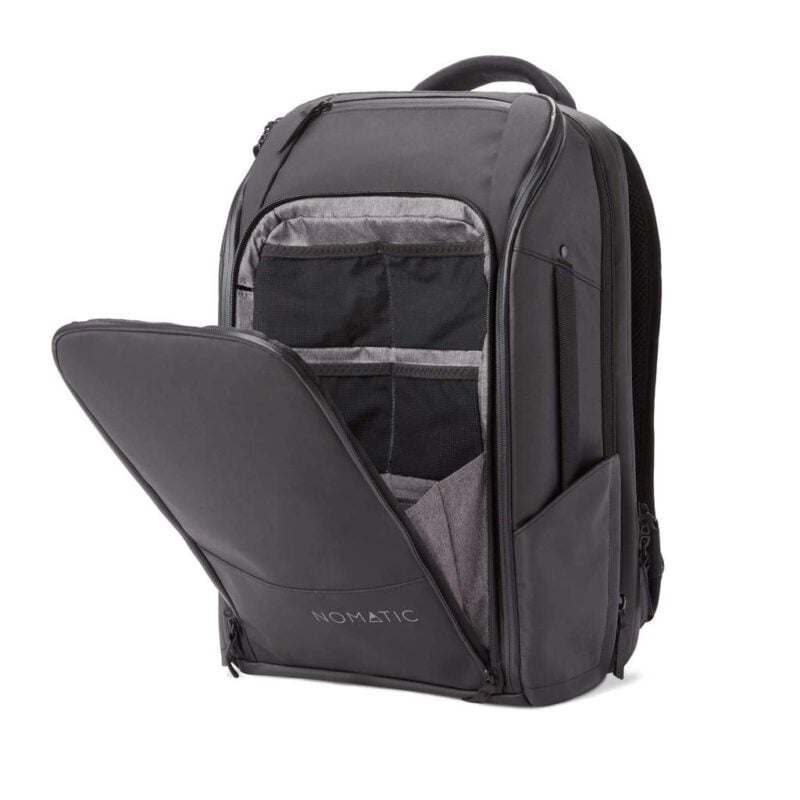 2 Guests
Shabby-chic decor
This incredibly romantic log cabin is the perfect place to stay in Gatlinburg, but it's still wonderfully secluded and private. Nestled in the forest with mountain views, the interior of this vacation rental is cosy with large windows that let in lots of natural light. We like the shabby-chic vibe, spacious kitchen, and comfortable couches. Most of all, however, we like the jetted bathtub in the bedroom. It's just stepping away from the king-sized bed. If one tub isn't enough for you, then fear not, because there's a hot tub outside on the wooden deck too!
$$
Sony Sound Bar and smart TVs
6 Guests
Shuffleboard and card table
Remember that time you forgot your kid's birthday? Well, all will be forgiven once you show them this awesome cabin with large windows you booked for your next family vacation!
This one will score you some serious brownie points. The cabin has a large living area with an amazing fireplace that opens onto a deck with spectacular mountain views. There are two smart TVs for family movie nights plus board games, shuffleboard, and a dedicated playing card table for the compulsory UNO night. This place is close to the mountain town of Gatlinburg, only three minutes from a large grocery store, and five minutes from restaurants as well as the kooky Salt and Pepper shaker museum!!
Over-the-Top Luxury Smoky Mountains VRBO | Mountain View Lodge
$$$$
25 seater movie theatre
86 Guests
1100 square feet recreation room
Wow. Just wow. This lodge is to die for! If I won the lottery I'd be buying this bad boy as my Smoky Mountain National Park vacation home.
Stay here for the best family Christmas you could possibly imagine or a friend-cation for the books! Luxury oozes from every room – from the beautiful wood and leather furnishings to the two-story feature window in the main living area. The movie theatre seats a whopping 25 people and has authentic tiered seating. I mean c'mon! There's a huge recreation room too with floor-to-ceiling windows, a full-sized pool table, fireplace, bar, a 60-game arcade and an outdoor picnic table! There are 15 bedrooms, so even in a massive group, you'll all have a king-size bed and your own bathrooms!
This incredible A-frame is exactly what you picture when someone suggests a mountain retreat. Good for a small group of friends but also ideal for couples, the modern and contemporary interior brings A-frames out of the '60s and into the 21st century with some serious style. The canopy bed in the master bedroom is a winner in our eyes, and the outdoor hot tub is surrounded by forest. We cannot get enough. The A-frame is in Chalet Village, so you'll have the added bonus of access to the resort pool and fitness equipment!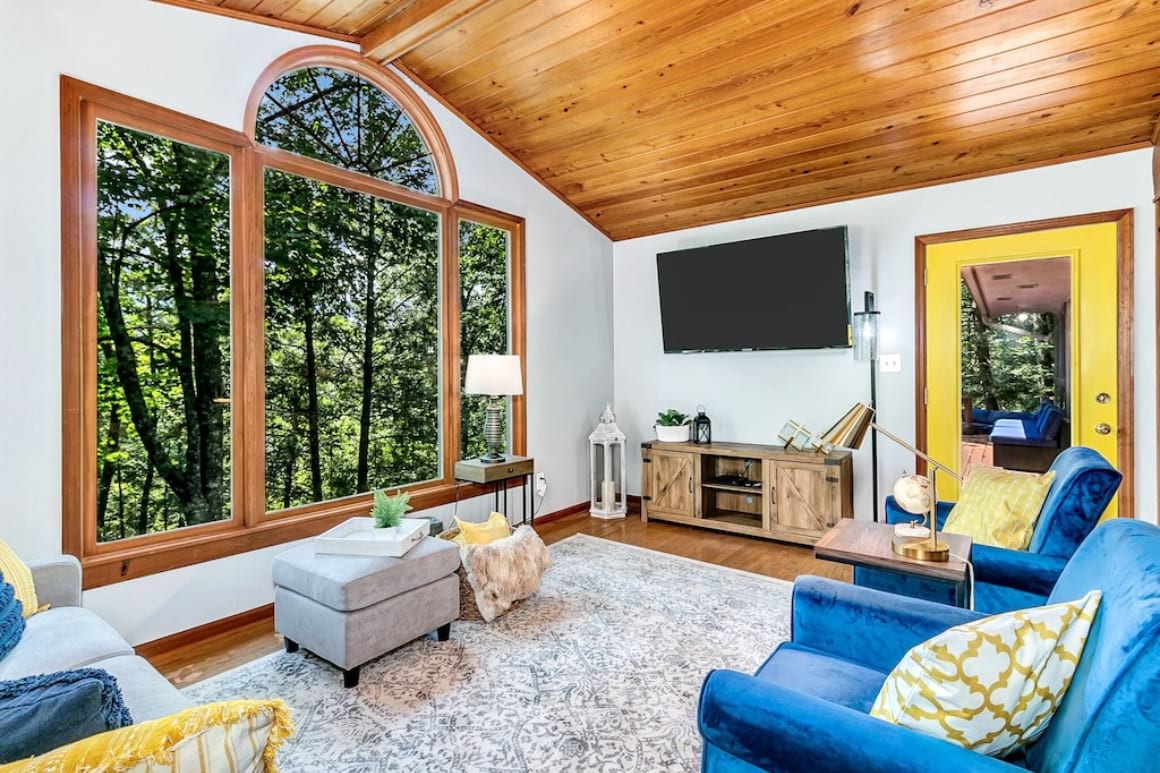 9 Guests
Living room feature windows
If you're feeling a little tired of wall-to-wall wood panelling, then boy, have we found you the perfect Smoky Mountain VRBO. This modern home in Gatlinburg is close to downtown where you'll find restaurants, shops, and stores. The house has a beautiful, living room feature window that looks onto the forest outside. We like the use of colour in the living room, and of course, we are digging the hot tub and outdoor deck! Stay here with the fam or with a group of friends.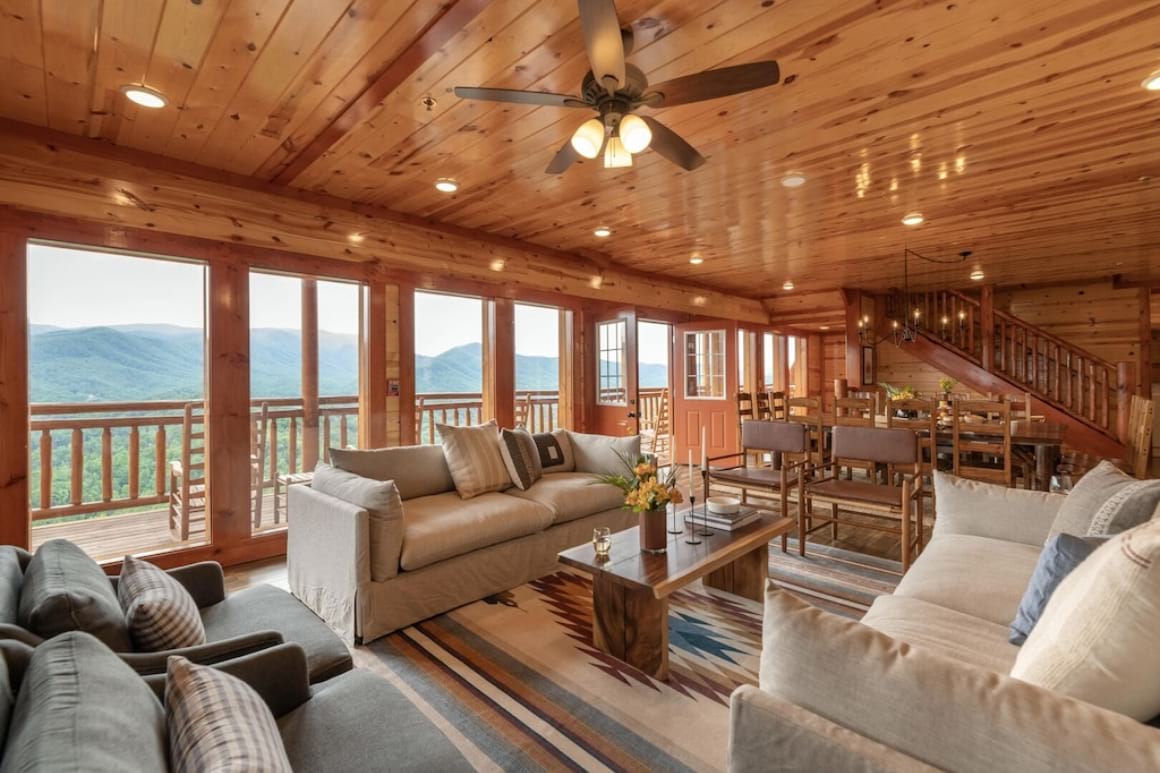 28 Guests
Al-fresco dining
This cabin is what dreams are made of. Alright, maybe not, but it is super cool. It's huge, so it's definitely the place to go for a massive family reunion! There's an indoor pool, two hot tubs, and a gourmet kitchen kitted out to feed a small army. The outdoor living area has a fantastic boho vibe which isn't too common in these parts and honestly a breath of fresh air. The 20-seater al-fresco dining table is a winner in our books, not to mention the home theatre that comes with reclining couches and all!
Best House for a Weekend in The Smoky Mountains | Quiet House with Hot Tub
$$
Smart TVs and high-speed W-Fi
6 Guests
Vintage claw-foot bathtub
Planning a weekend away in The Smoky Mountains National Park and looking for the ultimate place to stay? We got you. This amazing house in the Gatlinburg area feels incredibly secluded but is only a short drive away from downtown. We adore the stylish and romantic touches that give us cabin feels but with a slightly updated vibe. Don't worry, this house has tonnes of vintage charm too! From the wood-burning stove, claw-foot bathtub, and antique furniture. You and your friends will be scrambling to soak in the hot tub or to sit around the fire pit gorging on s'mores. Best. Weekend. Ever!
20 Guests
Games, games, games!
Okay, definitely one of the best Smoky Mountain VRBOs without a doubt. This cabin has modern architecture, high ceilings, mezzanine floors, and huge windows. There is an indoor pool with a waterfall (yes, you read that right), an outdoor hot tub, and a beautiful fire pit on the outdoor deck. It feels like an adult playhouse with a pool table, ping pong table, professional golf simulator – just in case you feel the need to work on your swing and a home theatre with a huge couch! 10/10 or what?
This Smoky Mountain VRBO in Gatlinburg is right in the middle of all the action. It's just a few steps away from the town's main strip which has restaurants, bars, museums, and more! The townhouse serves as the ultimate base for your Smoky Mountain adventures and is fully equipped with everything you could need. The stylish, modern yet rustic interior makes it stand out from the crowd. A great place to stay for families or groups of friends, the bright and spacious interior will not disappoint. The spiral staircase is pretty cool too!
Best VRBO in The Smoky Mountains for a Group of Friends | Mountain View House
$$
Video games and board games
This incredible property has amazing views best admired from not one but three outdoor decks! A short drive away from Pigeon Forge, the whole gang will love this place and its stylish furnishings, pool table, and hot tub. We certainly love the cosy living/dining/kitchen situation which means quality time is definitely on the agenda for this fun-filled vacation!
Stunning Cabin for Honeymooners in The Smoky Mountains | Peaceful Cabin with Hot Tub
2 Guests
Heart-shaped bathtub
It really doesn't get any more romantic than this peaceful cabin in the Gatlinburg area. The thing that will really set the tone for an unforgettable honeymoon has got to be the heart-shaped bathtub in the bedroom with, wait for it, a fireplace in front! You and your new hubby, wifey, or person, can actually take a bath in front of a fireplace (talk about off-the-charts romance). Just add some bubble bath and a bottle of champagne into the mix and you're onto a winner! There are great restaurants just minutes away, but if you and your boo wanna hide away from the world, this cabin has everything you need.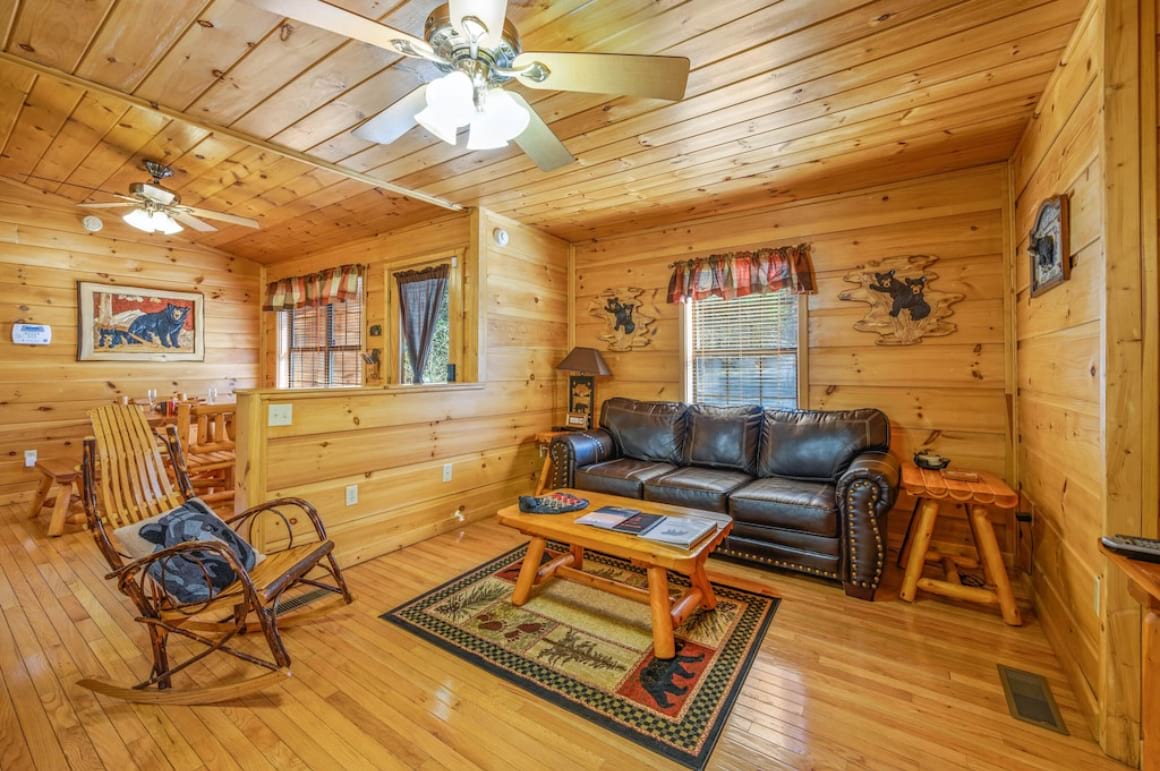 We have found the best VRBO in The Smoky Mountains for your short-term rental. This place gives off those "classic cabin" vibes that we all adore about staying somewhere like The Smokies. It has all the necessities you will need for a comfortable and long vacation, like high-speed internet, a fully equipped kitchen, and a hot tub! Okay, okay, not really a necessity… or is it?
Best of all, it is ridiculously central in Pigeon Forge, so you are super close to the grocery store, and just civilization in general. A must in these kinds of places, so you don't go all "here's Johnny!" on us.
8 Guests
Feature windows throughout
The views in this chalet are million-dollar, that's for sure. However, what makes this the VRBO in The Smoky Mountains with the best view is that there are spectacular views from every room, probably the bathroom too!
There is a sauna and hot tub so you just know you'll leave feeling super recharged and relaxed. The open decks are the perfect place for a morning cup of coffee. Stay here with friends and family, and make the short trip to Gatlinburg for a grocery shop, and restaurants, and to visit some attractions!
$$$$
Next level arcade room
Yes to a sunken hot tub, double yes to a sunken hot tub with a killer view! In case you didn't get it, we absolutely love this cabin and its hot tub!
The place has large, modern windows that face the spectacular mountain view and let in loads of natural light. The interior has that cabin feel but with a modern kitchen and bathrooms. Not only is there a pool table, but there's a room full of arcade games too! The whole family would go nuts for this one. Plus, it's just a short drive into the centre of Gatlinburg. Definitely one of the best Smoky Mountain VRBOs!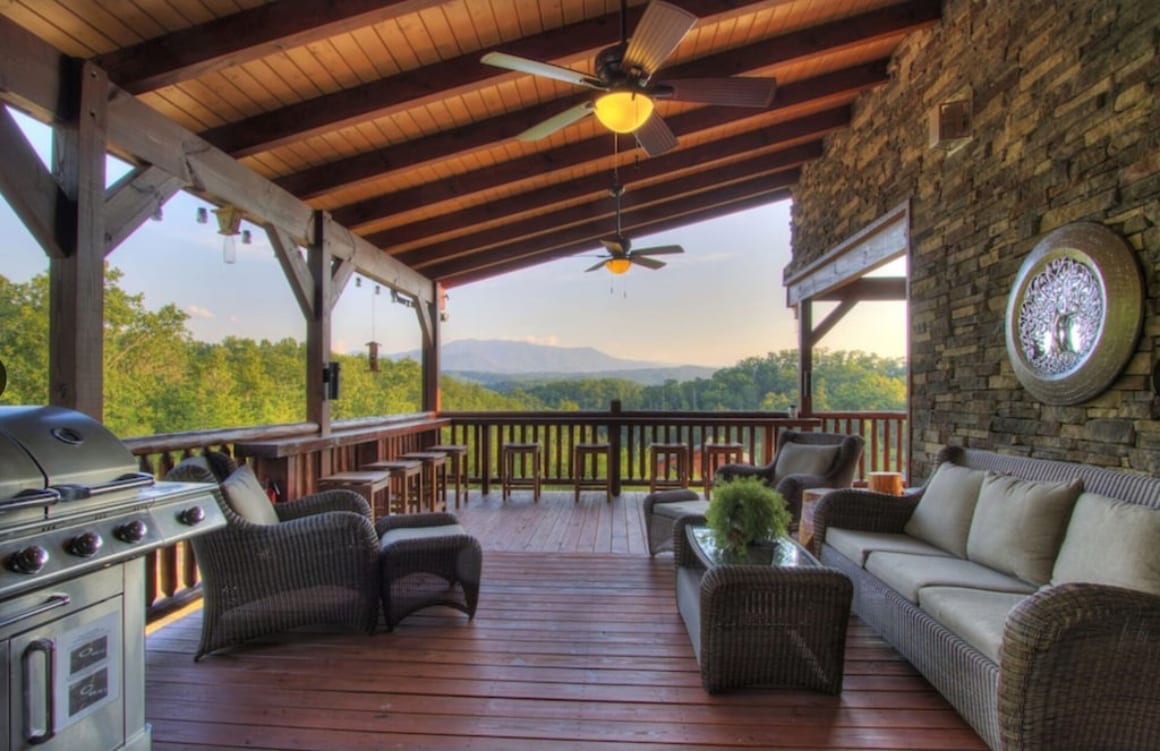 16 Guests
Huge deck with hot tub
Why is this the best VRBO in The Smoky Mountains for a party? Well, for starters, the huge, covered, outdoor deck is just insane. It is complete with a grill, lounge seating, and a hot tub. Definitely the scene of a great party. The fact that you'll be looking at the most amazing forest and mountain view is just the cherry on top!
There is even a game room complete with a pool table, a foosball table, and a wet bar to hold the booze. If you wanna take the party outside, head to the stylish fire pit in the garden, complete with surround seating.
Super Accessible Cabin in The Smoky Mountains | Creekside Cabin
6 Guests
Outdoor deck overlooking a creek
This wonderful cabin sits right next to a little creek and is just a short drive away from Pigeon Forge. Great for a family or group, it has a ramp leading up to the front door, plus a ground-floor bedroom for accessibility. There's also a lovely loft bedroom up a spiral staircase. We love the outdoor deck which overlooks the garden and creek, plus the comfortable seating too. The inside is your classic cabin with comfy sofas, wooden furniture, and woodland-style decor.
Most Unique VRBO in The Smoky Mountains | Luxury Treehouse
2 Guests
It's a treehouse!
If you're on the hunt for the most unique VRBO in The Smoky Mountains, then you have absolutely found what you're looking for. This place is a bonafide treehouse – as in, actual trees are growing right through it. Perfect for a romantic getaway or solo writer's retreat, you will enjoy the seclusion of the forest from a comfortable and modern interior. Yes, there is Wi-Fi, and yes there is a modern toilet and shower (phew). Best of all, there's a walkway and deck in the canopy plus a hot tub! It doesn't get much better than this!
Don't Forget Your Smoky Mountains Travel Insurance
Before you set off on an epic trip around the Smoky Mountains, sort yo self out and get some decent travel insurance. Even if you're super boring, you just never know what might happen!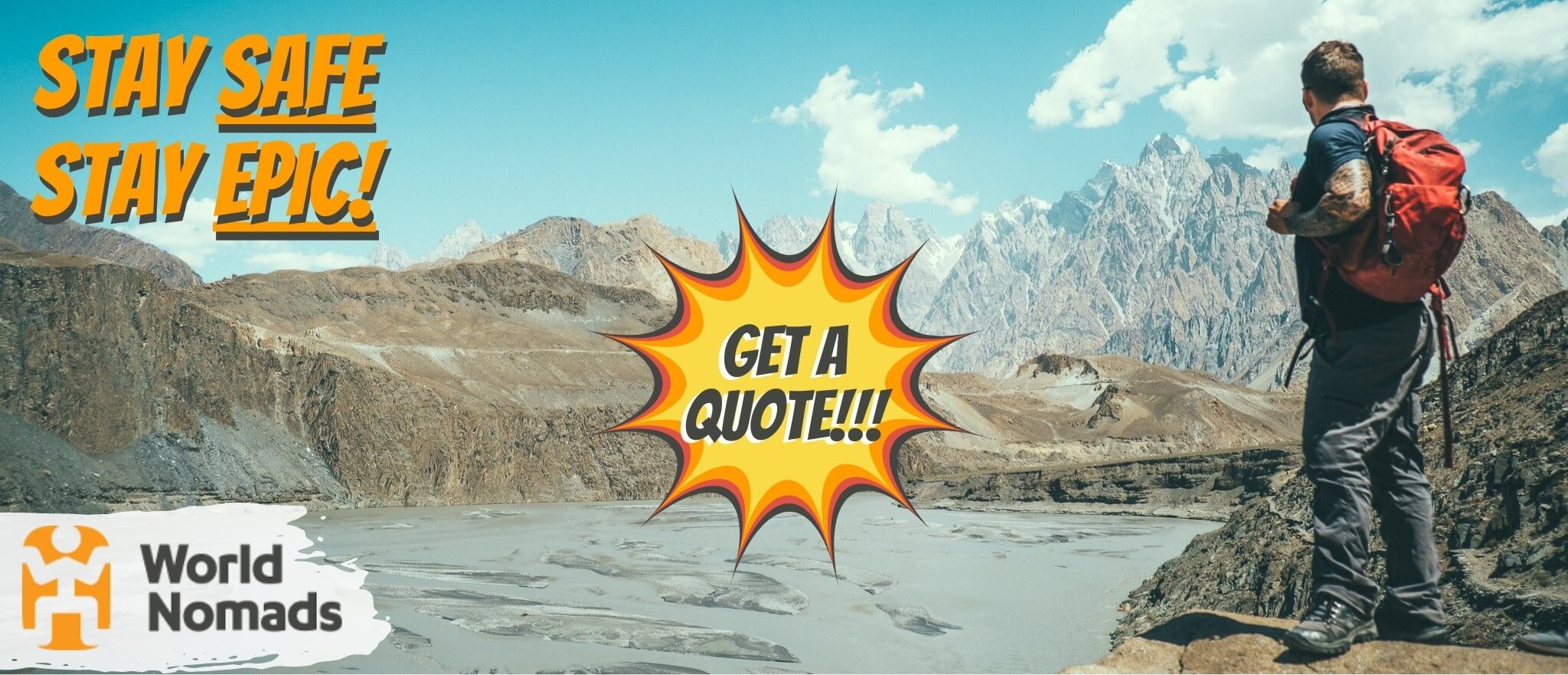 World Nomads' mission is to support and encourage travellers to explore their boundaries. They offer simple & flexible travel insurance, and safety advice to help you travel confidently.
They've been doing it since 2002 – protecting, connecting, and inspiring independent travellers just like you.
Get a quote below or read our in-depth review!
World Nomads provides travel insurance for travelers in over 100 countries. As an affiliate, we receive a fee when you get a quote from World Nomads using this link. We do not represent World Nomads. This is information only and not a recommendation to buy travel insurance.
Final Thoughts on Smoky Mountains VRBOs
It's a yes from us. VRBOs in The Smoky Mountains are 11/10! We dig that every single rental gives off a "weekend in the mountain" vibe whether you're staying in a cabin, chalet, house, or even studio (how cute was that budget VRBO?). What's more, you get real value, either in the form of a hot tub, amazing view, or included extras – can we talk about all the games and home theatres?
The real icing on the cake though is that wherever you stay, Smoky Mountain VRBOs have easy access to both The Great Smoky Mountains National Park and the nearby towns! Just remember that no matter how much of a Bear Grills type you fancy yourself when you are planning a trip, considering travel insurance is always a smart move, especially when going overseas.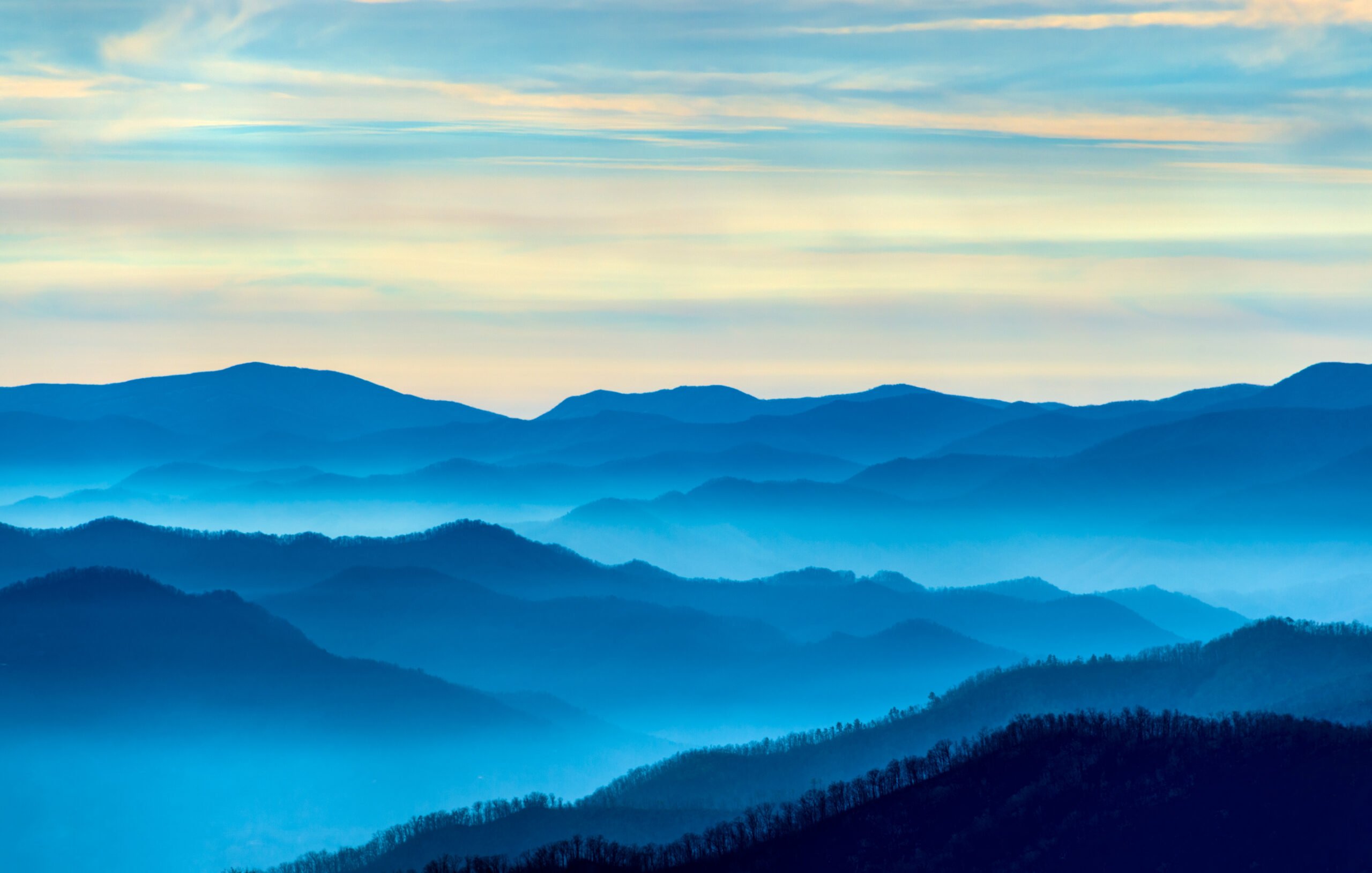 ---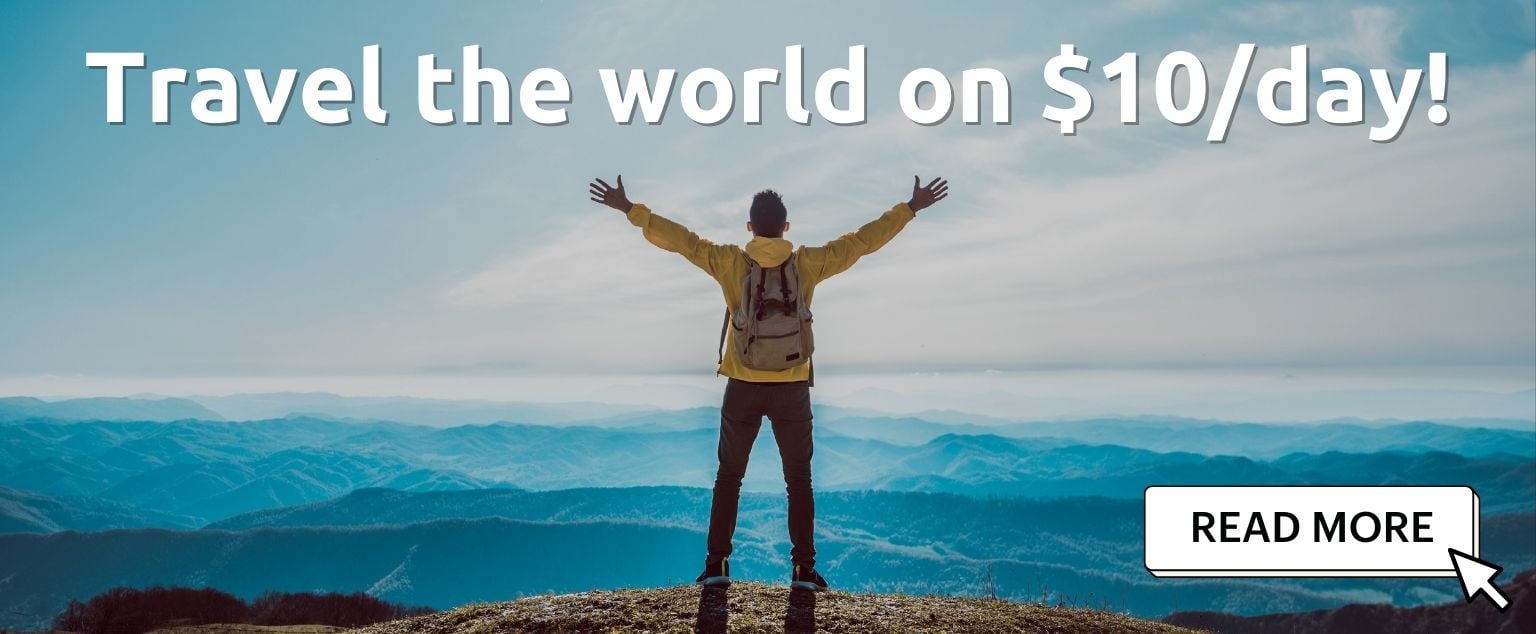 And for transparency's sake, please know that some of the links in our content are affiliate links. That means that if you book your accommodation, buy your gear, or sort your insurance through our link, we earn a small commission (at no extra cost to you). That said, we only link to the gear we trust and never recommend services we don't believe are up to scratch. Again, thank you!