Well, it's no secret that water is essential for life, a point which is often strongly emphasized at one point or another in a traveler's career! You don't have to be in the desert to be at a loss for how to get good drinking water-you might be camped out by an entire lake, but worried about how clean or safe the water is for drinking.
Whether you're just going on long weekend hikes or multi-month international trips, a portable water filter falls on the list of essential items for many travelers.
As we all know, the planet has a plastic problem. A BIG plastic problem. Portable water filters and purifiers help backpackers eliminate the need to purchase single use plastic bottles day after day. Plus, who goes hiking with an unopened bottle of Evian anyway?
These days I never travel without my water purifier bottle; it is an invaluable tool of the backpacking trade – because we all need to drink and we don't want to pollute the earth or ourselves in the process.
We've tested all of the top backpacking water filters on the market right now. Read on to learn which water filters made the cut and which ones you should 100% steer clear of.
Quick Answer: Best Backpacking Water Filters
OVERALL BEST BACKPACKING WATER FILTER
BEST LIGHTWEIGHT BACKPACKING WATER FILTER
BEST WATER FILTER FOR INTERNATIONAL BACKPACKING
BEST BUDGET BACKPACKING WATER FILTER
BEST WATER FILTER FOR THRU-HIKERS
BEST LIGHTWEIGHT WATER FILTER BOTTLE FOR BACKPACKING
BEST WATER FILTER FOR TRAIL RUNNERS
BEST BACKPACKING WATER FILTER FOR BASE CAMP (COUPLES)
BEST BACKPACKING WATER FILTER FOR BASE CAMP (BIG GROUPS)
The Best Backpacking Water Filters
With a market flooded with options for water filters, selecting the right one can be a bit daunting. It takes years of trial and error to find the right outdoor tool for the job. This list is based on the collective experience of The Broke Backpacker team over the last few years.
Since we did all the heavy lifting (or filtering I guess in this case), you can easily glean what you need to know to make your next water filter purchase. If you're looking for the best water filter for hiking, or maybe the best ultralight water filter, we've got you covered!
Right, let's get a look at the best water filters for backpacking.
Enjoy…
Ladies & Gents, It's Time to Step Your GEAR Game Up. 😉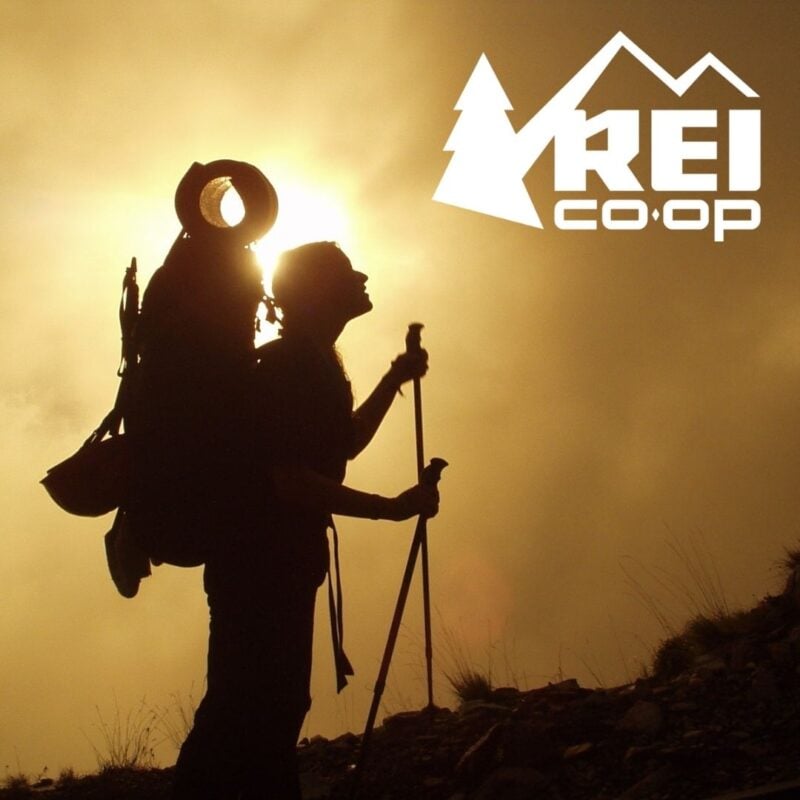 REI is one of America's biggest and most-loved outdoor gear retailers.
Now, for just $30, get a lifetime membership that entitles you to 10% OFF on most items, access to their trade-in scheme and discount rentals.
Join REI Today!
Overall Best Backpacking Water Filter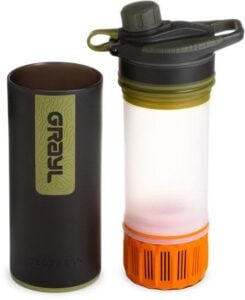 Our pick for overall best backpacking water filter is the Grayl Geopress Water Purifier Bottle
Specs
Capacity-24 fl oz
Filter type-bottle press
Removes-protozoa, bacteria, viruses
Weight-15.9 ounces
We've already touched on what makes bottle filters so convenient-as a backpacker or traveler as you already have a limited amount of space in your pack, so why take up any more space than necessary? Filter bottles like the Grayl Geopress fit the task perfectly.
Unlike the standard water filter, the Grayl Geopress also acts as a purifier. It takes out most of the nastiness in your water like waterborne pathogens (roativirus, E. coli, cholera, and giardiasis to name a few) as well as heavy metals and microplastics.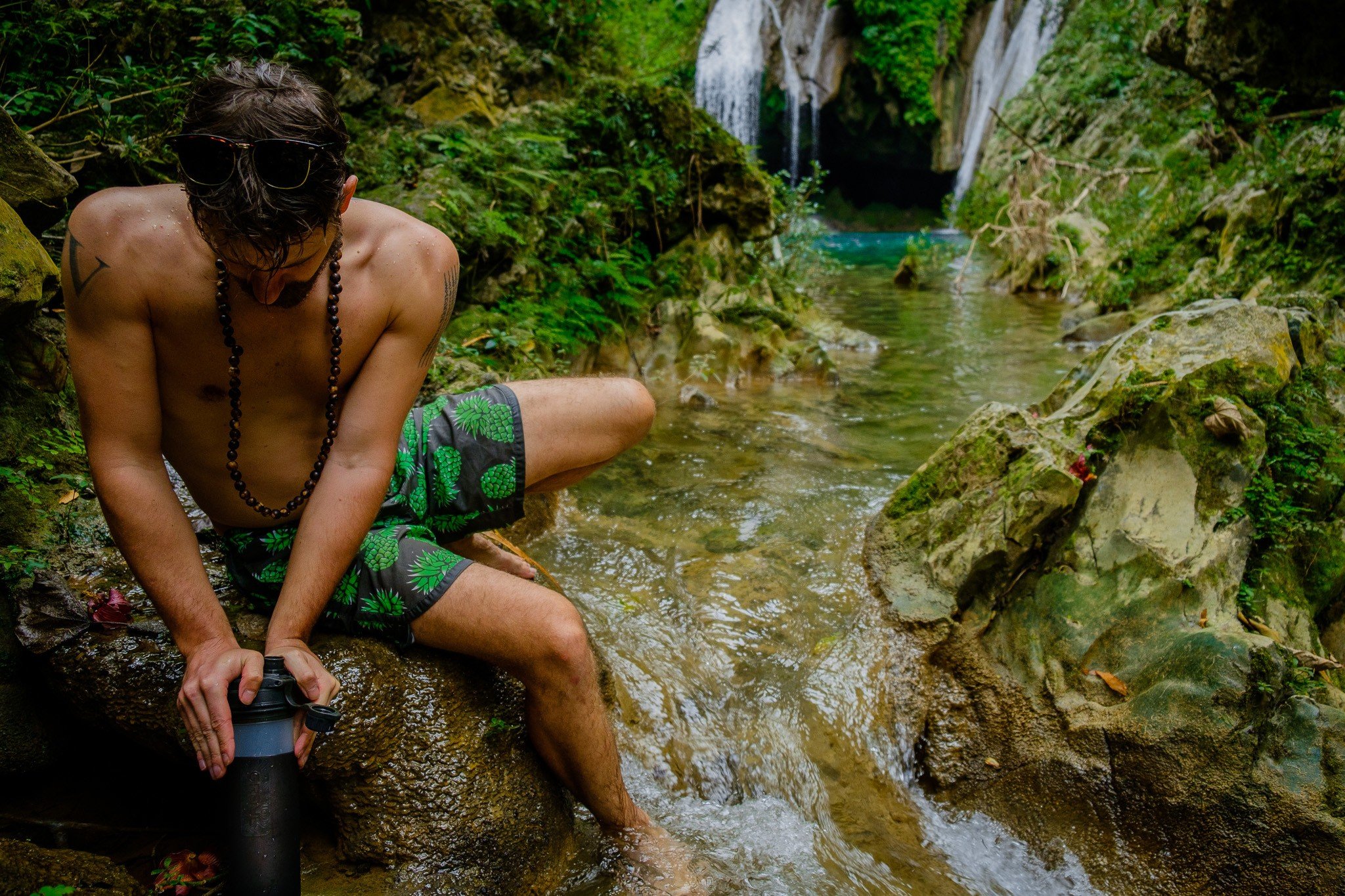 Another huge bonus to the Grayl Geopress is that the filtration system also removes unpleasant odors and flavors. Sure, water might be safe, but it's certainly unpleasant to drink when there are overwhelming metallic or sulphuric flavors!
The Geopress is a must-have piece of kit and a indispensable travel accessory for anybody even remotely interested in backpacking, international travel or survival hobbies.
Our team are massive fans of the Grayl Geopress and they rated it as their best backcountry water filter system. The Grayl is a bottle that our team feel they can put their complete faith in when it comes to drinking pretty much any water they could find. In fact, they've done just that and they've never gotten ill!
Check out our full Grayl Geopress review for more info.
Pros
Super fast
Replaceable cartridge
BPA free
Withstands hard falls
Cons
Limited carrying quantity
Best Lightweight Backpacking Water Filter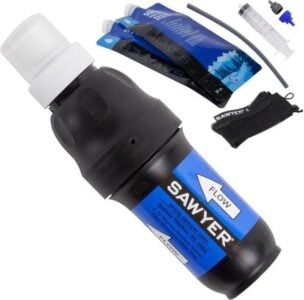 Sawyer Squeeze Water Filter is our top pick for the best lightweight backpacking water filter
Specs
Filter medium-hollow fiber membrane
Filter type-squeeze, gravity
Removes-protozoa, bacteria
Weight-3 ounces
Highly transportable and easy to carry, Sawyer has a great reputation for good filtration systems. Although it doesn't protect against viruses, the filter will take out bacteria and protozoa such as E. coli, giardia, and salmonella.
To use the Sawyer, you simply fill up the pouch, attach the filtration to the top, and squeeze out clean, filtered water. The filtration device also fits on top of most standard water bottles, and you can use the filter as a sort of straw to shorten the process.
If you'll be in one spot for a while, you can also attach the gravity tubing so you can relax and let the filter do its work while you're relaxing after a day of hiking. For drinking on the go, you can also use the filter inline on a hydration pack so you can fill up and keep moving.
To clean the filter, the Sawyer comes with a syringe to back-flush the filter. However, over time the filtration process will continue to get slower with more use.
Our team loved the Sawyer when it came to a lightweight system. They reflected to us that despite the complex-looking set-up compared to some of the other options, once you get the hang of it it's actually pretty easy to use. What they really did love however was just how small and lightweight it was and that it fits inside a tiny mesh bag that they could just throw into their backpacks.
Pros
Versatile function
Easily transportable
Fits on water bottles
Cons
Slows with time
Doesn't remove viruses
Sometimes bad taste remains
Best Water Filter for International Backpacking
Grayl Geopress Water Purifier Bottle is making our list for the second time for the best water filter for international backpacking
Specs
Capacity-24 fl oz
Filter type-bottle press
Removes-protozoa, bacteria, viruses
Weight-15.9 ounces
Nope, it's not a mistake that we included the Grayl Geopress twice for the best backpacking water filters! The make and function is just that good and none of the other water filters are quite on par with the Grayl design.
The Grayl Geopress is effective on all 7 continents, so no matter where your travels may take you, you can count on the Grayl to provide clean water. If you don't trust the tap water at your hostel or you're out camping by a mountain stream, just fill up the bottle and let the filter do its job.
Nothing upsets traveling like getting sick. To help eliminate the chances of getting infected, a lot of international backpackers get in the habit of filtering all their water before drinking. Having a convenient water bottle with you makes this process quicker and easier on the road.
Ok, so here we are again! As we said before, our team loved this filter that much we added it twice, but thankfully it wasn't hard for our team to come up with even more positive feedback. One of the other things the team loved was just how easy and convenient the bottle was to use. You literally just fill it with water, press and go!
Pros
Super fast
Replaceable cartridge
BPA free
Withstands hard falls
Cons
Limited carrying quantity
Best Budget Backpacking Water Filter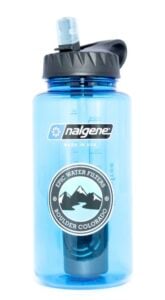 The Epic Nalgene OG is the best budget filter bottle on our list.
Specs
Removes up to 99.99% of all tap water contaminants
Filter type – bottle with straw
Produces up to 75 gallons (285 liters) of clean water
32 oz. capacity
We have all probably owned a Nalgene at some point. This Epic Nalgene OG filter bottle by Epic Walter Filters takes the same classic bottle we all enjoy up a few notches by adding the cleverly designed water filter element. Practical, easy to use, and very importantly – this bottle won't break the bank either.
The Epic Nalgene OG uses their patented Everyday Filter system – and as the name implies – it is intended for everyday use. Like any filter bottle, the filter does not have an endless life span and the filter will need to be replaced after roughly 75 gallons. Speaking from experience – I typically end up filtering 3-4 liters of water per day when I am traveling or backpacking so one filter can get me through almost two months on the road or in the mountains.
These days we also need to think about all of the little ways we can reduce our plastic footprint and having an Epic Nalgene OG in your backpack will cut down the need to buy plastic bottles – which is HUGE first step in changing our relationship with single-use plastic!
Our team were really impressed with this filter for the money and they not only felt it worked a treat but the main thing they recalled was just how durable it was. In fact, for them, this was super important because when it came to sustainability the longevity of their water bottles was a priority.
For the best budget option on this list – The Epic Water Filters Epic Nalgene OG is a truly excellent product!
Pros
100% recyclable, 100% BPA-free
Budget friendly
Great for backpacking and everyday use
Higher volume water capacity than other filter bottles.
Cons
Temperature range is not as wide as other bottles (38 – 85 F/ 4/30 C)
It is not a purifier
Best Water Filter for Thru-Hikers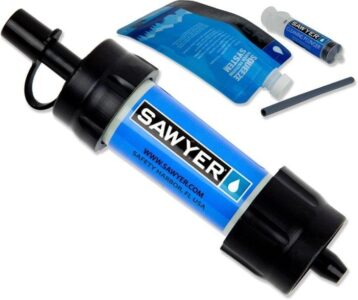 Top pick for the best water filter for thru-hikers is the Sawyer Mini Water Filter
Specs
Filter medium-hollow fiber membrane
Filter type-squeeze, straw
Removes-protozoa, bacteria
Weight-2 ounces
Thru hiking is a fun, but arduous task. You seriously don't want to be carrying any extra weight with you, and yet there is no denying the need for water. Enter, the Sawyer Mini, a compact and reliable filter system for backpackers.
The Sawyer Mini uses the same technology as the first Sawyer Filter system, except in miniature. You can use the filter as a squeeze system to filter water for later, or as a straw by attaching it to the top of most standard sized water bottles.
If you want even more versatility, you can also purchase separate adaptors to fit on different bottle sizes and hoses to use it as an inline filter with a hydration pack.
The one drag with the Sawyer mini is that the longer you use it, the slower the filter process becomes. It does come with a syringe to back flush the dirt and sediment out of the filter, but time will still take its toll. Thankfully, this is also one of the best cheap backpacking filters, so if you really like the model it's not too much to replace.
Our team love anything that will cut down on the weight of their packs and the mini Sawyer, therefore, was a real hit. For those looking for a lightweight and versatile system, this worked perfectly. They loved that it could be attached to anything from their standard water bottle to a bladder setup.
Pros
Versatile function
Very lightweight
Fits on water bottles
Cons
Slows with time
Doesn't remove viruses
Doesn't remove taste or smell
Best Lightweight Water Filter Bottle for Backpacking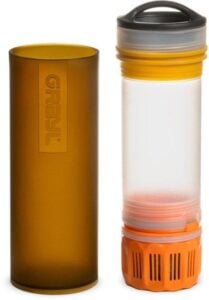 Grayl Ultralight Compact Purifier Bottle is our top pick for the best lightweight water filter bottle for backpacking
Specs
Capacity-16 fl oz
Filter type-bottle press
Removes-protozoa, bacteria, viruses
Weight-10.9 ounces
If the Grayl Geopress is just a bit too big for your backpacking ventures, you're in luck because a lighter, compact version of the same product is also available! At 16 oz instead of 24 oz, the ultralight version takes up less space in a backpack and is easier to loop on a carabiner for easy access.
This one will also fit into most standard sized cup holders, so it's a nifty piece of gear to have when you're on the road. It still does the same work as the Grayl Geopress and effectively takes out nearly all bacteria, viruses, and protozoa in the water.
Thanks to the convenient size, this bottle will also help to greatly reduce your plastic use since you won't have to rely on buying bottled water.
Downsides are basically the same as the Grayl Geopress; after a while, the filter cartridge will need to be replaced, but thankfully it's not expensive to do so.
As we mentioned, twice above, the team are really fond of the Grayl Geopress and the confidence it gives them. The only real complaints we got were about the size and weight of the original model. So cue the compact version! Our team felt that despite the smaller size of the compact Geopress it still worked just as well and for situations where a refill is easy to come by, the perfect option.
Pros
Easily transportable
Lightweight
Protects against viruses
Cons
Small capacity
Needs replacement with time
Best Water Filter for Trail Runners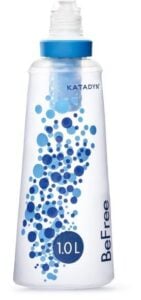 Katadyn BeFree Collapsible Water Filter Bottle is our pick for the best water filter for trail runners
Specs
Capacity-1 liter
Filter type-bottle
Removes-protozoa, bacteria
Weight-2.3 ounces
No one wants to carry a clunky water bottle with them while trail running, but it's also a bad idea to not bring water with you. Some people have opted for hydration packs, but Katadyn has come up with another ingenious solution if you're concerned about the quality of water during your run.
The 1 liter flask is lightweight and collapsible, so as you drink more water you can continue to roll up the bottle so it takes up less room. It also has a wide-mouth opening, so you can fill it from faucets, lakes, streams, or rivers with equal ease.
This filter is designed to protect against protozoa and bacteria, but doesn't have the capacity for viruses. Depending on where you'll be running, this will be sufficient for many locations, but if you want additional protection, you might want to pick another filter.
It's also easy to clean the filtration mechanism by rinsing it out in clean water to remove any debris, but over time it will need to be replaced. The other downside is that there isn't a convenient way to attach the bottle to a pack; if you're running and plan on carrying it in your hand, this won't be an issue, otherwise, you'll need to get creative with where to store it.
As we've said before, our team are big fans of anything that can reduce the weight of their packs and for that reason, they loved this collapsable bottle. The team felt it offered a good option for those who may only occasionally be needing a filter bottle to throw in their packs for when the situation arises.
Pros
Compact
Quick filter system
BPA free
Cons
Cracks easily
No attachment mechanism
Doesn't protect against viruses

Do You Want to Travel FOREVER??
Pop your email in below to get a FREE copy of 'How to Travel the World on $10 a Day!'.
Best Backpacking Water Filter for Base Camp (Couples)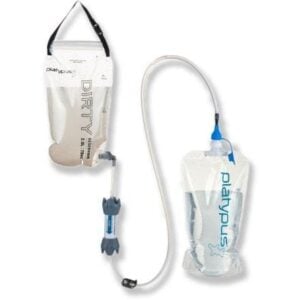 Top pick for the best backpacking water filter for base camp (couples) is the Platypus GravityWorks Water Filter System Kit
Specs
Capacity-4 liter
Filter type-gravity
Removes-protozoa, bacteria
Weight-11.5 ounces
For extended trips or times when you'll be setting up camp for at least a night, a gravity filter is an excellent way to get clean water without needing to put in much effort yourself. Just set up the filtration system, and let gravity do the work for you.
The Platypus GravityWorks filter has a 4 liter capacity, which is a good size for couples. Once you fill up the 4-liter dirty reservoir bag, set up the filter hose and your clean water will drip into the clean Platy bottle.
If you bring along extra bottles, you can filter more water ahead of time so you have clean drinking water throughout the day until you can get to your next campsite.
It's also very lightweight and doesn't take up much room in your pack once stowed away. When the filtration becomes noticeably slower, you can clean out the filter by backflushing it with water before putting it back to use.
In terms of gravity filters, the Platypus also has a very fast output rate, and it only takes about 2.5 minutes for it to filter 4 liters of water. However, the filter is only equipped to deal with bacteria and protozoa, so if viruses are a concern you might want to look for a different filter.
Our team are big campers and they were really fond of this filter bag for setting up their basecamp. They feel this system works perfectly when they wanted to take along a larger amount of water for a long hike when supply along the trail is known to be difficult. It's ok taking a Geopress but without water along the way, there's nothing to filter!
Pros
Lightweight
No "moving parts"
Dirty and clean water bags
Cons
Tricky backflush technique
Breaks if too cold
Difficult to fill from shallow water sources
Best Backpacking Water Filter for Base Camp (Big Groups)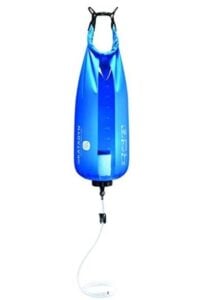 Katadyn Base Camp Pro 10L Water Filter is our top pick for the best backpacking water filter for base camp (big groups)
Specs
Capacity-10 liter
Filter type-gravity
Removes-protozoa, bacteria
Weight-13  ounces
Instead of having everyone in your group carry their own small filters, having a large gravity filter can save a lot of time and effort in the long run. The Katadyn 10 liter is perfect for groups, and with a filtration rate of approximately 2 liters per minute, everyone will have clean water quickly.
We're definitely fans of this filter since our groups taking part in the Epic Backpack Tours in Pakistan used this filter with great success. There's something incredibly reassuring about going out for the day and knowing you'll have clean water as soon as you get back to camp!
The dry-bag style design is easy and effective to use, but you'll want to bring a smaller bottle to use to fill the large bag. You can connect the hose to personal hydration bladders, or set up a large water jug to collect the water for distribution.
Another cool add-on you can purchase separately is a Shower Adaptor which can be attached to the large filter bag. This way not only can you get clean drinking water thanks to gravity, but also a clean shower after a long day on the trail!
The team were really impressed by the massive capacity of this bag and just how much it allowed them to filter in such a short amount of time. It meant they could be reassured they'd have enough water for a long and hot hike as well as knowing they can rehydrate once they were back at camp too. They also said the shower attachment worked really well too.
Pros
Large capacity
Fast filtration rate
Sediment trap before filter
Cons
Needs regular cleaning
Doesn't protect against viruses
Best of the Rest Backpacking Water Filters
If you're still questioning which filter is best for you, here are a few other good options to consider. Depending on your own personal camping style and needs, you may find one of these fits your situation perfectly!
Specs
Filter medium-pleated glass fiber and ceramic
Filter type-pump
Removes-protozoa, bacteria
Weight-1 pound 2 ounces
Pumps are one of the oldest forms of water filters, and some people still prefer this method above the newer varieties. Katadyn has a good reputation for reliable water filters, and the Vario certainly stays in the competition for best water filters.
The thing we love most about this pump is that it has two function modes: fast-flow and longer life. One of the annoying things about pumps is that they take a while to filter water, but thanks to the "fast mode" choice, you can get the job done in much shorter time. However, if you want to extend the life of your pump, opt for the slower mode.
You can also attach the filtration unit to bottles with a 63mm wide-mouth; if you don't already have a bottle this size, you'll need to buy one, but it is a nifty feature nonetheless.
If you begin to notice the taste of the water becoming poorer or the build-up of sediment in the filter, it's probably time to change it. To keep the filter functioning for longer, the Vario comes with a lubricant and cleaning pad.
These pumps might be a little on the heavier side but our team used it on a car camping trip around Australia and were never let down.
Pros
2 function modes
Solo or group backpacking
Attaches to some water bottles
Cons
Heavy
Filter needs to be replaced
Slows with time
Specs
Filter medium-hollow fibers
Filter type-pump
Removes-protozoa, bacteria
Weight-7.8 ounces
There are a few key features to MSR's compact pump filter that make it such a great water filtration system. First, it's much lighter than most pump filters, which is a huge bonus for backpackers and solo travelers.
The second thing is that the HyperFlow is equipped with a Quick-Connect bottle cap, which fits directly on most Nalgene and MSR hydration bottles (anything with 63mm opening). This way you can filter directly into your favorite bottle and keep the process quicker.
Another cool feature of the HyperFlow is a little pre-filter which is attached to the hose and floats near the surface of the water. This helps immensely to eliminate taking in extra sediment and contaminants which can clog the filter up much faster.
To keep it functioning properly, you will need to clean and backflush the filter regularly, and generally speaking the longer you use it the slower the filter becomes. Due to the prefilter, it's also difficult to use the HyperFlow in deeper water or windy conditions when it's difficult to keep the device stable.
Our team were pretty impressed by how easy this filter was to use despite all the different elements. The addition of the HyperFlow to this filter made it a real stand-out option for those travelling in areas with heavily soiled water their usual bottles struggle to handle.
Pros
Lightweight pump
Attaches directly to some bottles
Pre-filter
Cons
Slows over time
Needs regular cleaning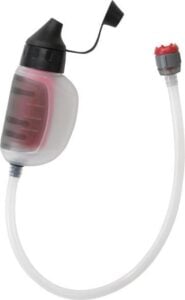 Specs
Filter medium-advanced hollow fibers
Filter type-squeeze
Removes-protozoa, bacteria
Weight-5.2 ounces
Pocket-sized really means just that-this tiny little water filter will comfortably fit into your pocket, making it super easy to take with you wherever you go. It's also quite fast even for its size and can pump about a liter of water per minute.
The simplicity of the TrailShot is what makes it so great; simply place the hose into your water source and begin pumping either into your water bottle or directly into your mouth!
It is recommended to clean the filter after each use to improve the life span, which is a bit of a drag when you're on the trail. However, since it has way fewer parts than many filters, it's easier to keep track of and clean quickly.
The other big plus side is that this squeeze filter doesn't require a bag attachment to collect water from the source. There's nothing more annoying than having a working filter but a ripped water bag, and with the TrailShot you can leave behind worrying about bags altogether.
Our team love that this filter is both super small and lightweight and also mega quick and easy to use. It ticks all the boxes for a lightweight backpacker wanting something they can shove in their day packs and take with the anywhere and everywhere, just in case!
Pros
Super small
Filter directly from water source
Quick and easy
Cons
Doesn't protect against viruses
Clogs with time
Needs lots of cleaning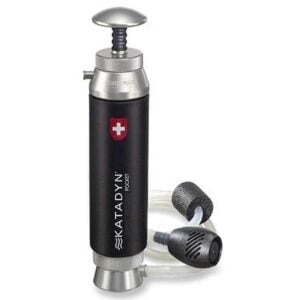 Specs
Filter medium-ceramic micro-strainer
Filter type-pump
Removes-protozoa, bacteria
Weight-1 pound 3 ounces
Okay, in comparison with our other options on the list, the Katadyn Pocket Water Filter is out of the ballpark in terms of price. However, if you're looking for something that lasts a lifetime (and they mean lifetime), you might want to consider this Katadyn model.
Even with all the new technology being used to develop great water filters, it's never a bad idea to consider a good-old reliable pump filter. The ceramic micro-strainer in the Katadyn will dutifully do its job to take out any protozoa and bacteria in the water.
Just because it's supposed to last a lifetime doesn't mean you're off the hook in terms of cleaning and maintenance. The filter comes with two abrasive pads which you can use to clean out any sediment and residue from the ceramic filter.
However, it's easy to clean the filter even when you're on the road and the ceramic is silver-impregnated which means that bacteria won't start growing inside of it. As long as you keep the sediment clear, the Katadyn will continue to work just fine.
Our team love how bulletproof this filter felt with everyday heavy-duty use. Others on this list can be accused of being a little flimsy and just for occasional filtering needs, but this bad boy is in it for the long haul!
Pros
Long-lasting
Easily cleaned
Simple function
Cons
Expensive
Heavy
Longer time needed to pump
Backpacking Water Filters to Avoid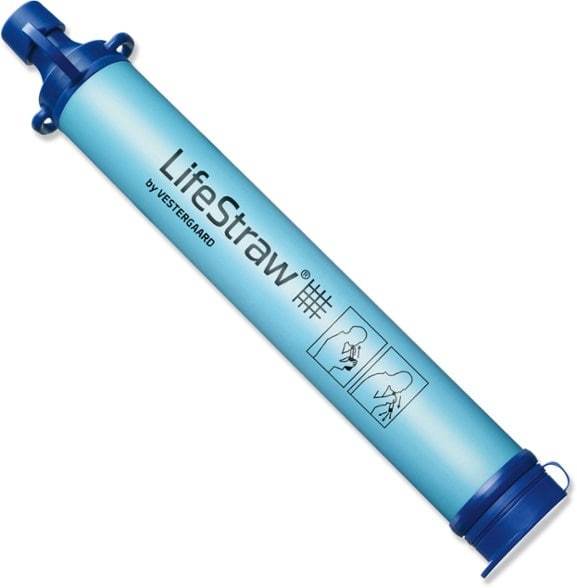 Okay, we've gone through a bunch of great options for water filters, but we had to give you a heads up on one that's best avoided. Sure, the idea behind the LifeStraw filter is great, but it just doesn't do what the company has claimed it can do.
For starters, LifeStraw has done some false advertising about their product by claiming (or having influencers claim) that this is a water purifier. In fact, the LifeStraw is just a basic filter and will not protect you against viruses.
The second thing is that there have been way too many reports of this thing failing after one or two uses. You're supposed to blow through the straw after drinking to keep it clean, but this really doesn't do anything to help with the performance.
So, even though the idea of drinking out of a filter straw is great and practical, LifeStraw needs to go back to the drawing board for this one and come up with a better design before we can consider it for our list of best water filters.
Point being: fuck LifeStraw.
If you want a water purifier, you can not really consider LifeStraw as a viable option.
Take your chances with the buttons below.
The best present of all… is CONVENIENCE!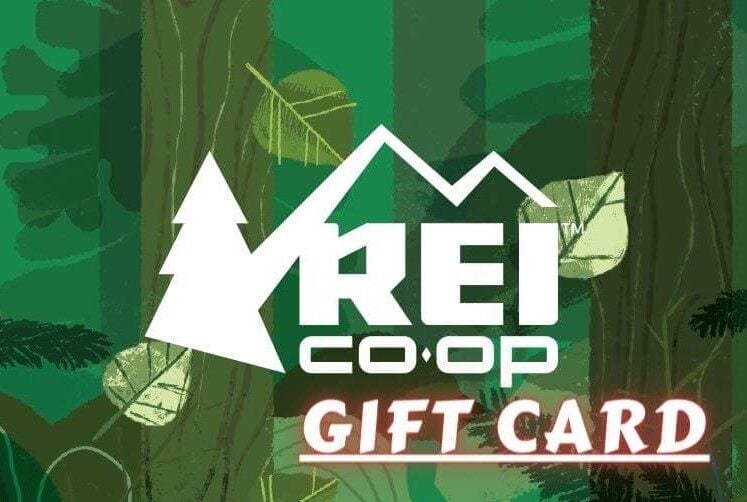 Now, you could spend a fat chunk of $$$ on the WRONG present for someone. Wrong size hiking boots, wrong fit backpack, wrong shape sleeping bag… As any adventurer will tell you, gear is a personal choice.
So give the adventurer in your life the gift of convenience: buy them an REI Co-op gift card! REI is The Broke Backpacker's retailer of choice for ALL things outdoors, and an REI gift card is the perfect present you can buy from them. And then you won't have to keep the receipt. 😉
Buy on REI!
Best backpacking water filters

| Name | Capacity | Weight | Type | Price |
| --- | --- | --- | --- | --- |
| Grayl Geopress Water Purifier Bottle | 0.71 L | 15.9 ounces | Bottle press | $89.95 |
| Sawyer Squeeze Water Filter | Not Available | 3 ounces | Squeeze, gravity | $36.95 |
| Epic Water Filters Epic Nalgene OG | 0.95 L | Not Available | Bottle with straw | $38.95 |
| Sawyer Mini Water Filter | 0.5 L | 2 ounces | Squeeze, straw | $21.95 |
| Grayl Ultralight Compact Purifier Bottle | 0.47 L | 10.9 ounces | Bottle press | $69.95 |
| Katadyn BeFree Collapsible Water Filter Bottle | 1 L | 2.3 ounces | Bottle | $44.95 |
| Platypus GravityWorks Water Filter System Kit | 4 L | 11.5 ounces | Gravity | $134.95 |
| Katadyn Base Camp Pro 10L Water Filter | 10 L | 13 ounces | Gravity | $99.95 |
| Katadyn Vario Water Filter | Not Available | 1 pound 2 ounces | Pump | $94.95 |
| MSR HyperFlow Water Filter | Not Available | 7.8 ounces | Pump | $119.95 |
| MSR TrailShot Pocket-Sized Water Filter | Not Available | 5.2 ounces | Squeeze | $49.95 |
| Katadyn Pocket Water Filter | Not Available | 1 pound 3 ounces | Pump | $369.95 |
| LifeStraw Water Filter | Not Available | 2 ounces | Straw | $19.95 |
How to Choose the Best Backpacking Water Filter
There's a lot to take into account when picking out your backpacking water filter. Here, we've broken down some of the key considerations and what factors you should consider before making a purchase.
Types of Water Filters
There are a lot of different water filtration systems on the market now, and a lot of debate between travelers about which ones are the best. At the end of the day, most of it comes down to your personal style and in what context you plan on using the filter to determine which is best for you.
Maybe you've already done a fair amount of shopping around already, or perhaps you're at the beginning of your search for the best water filter. Either way, we've broken down the categories most water filters fall into to give you a better sense about what to look for.
Gravity Filters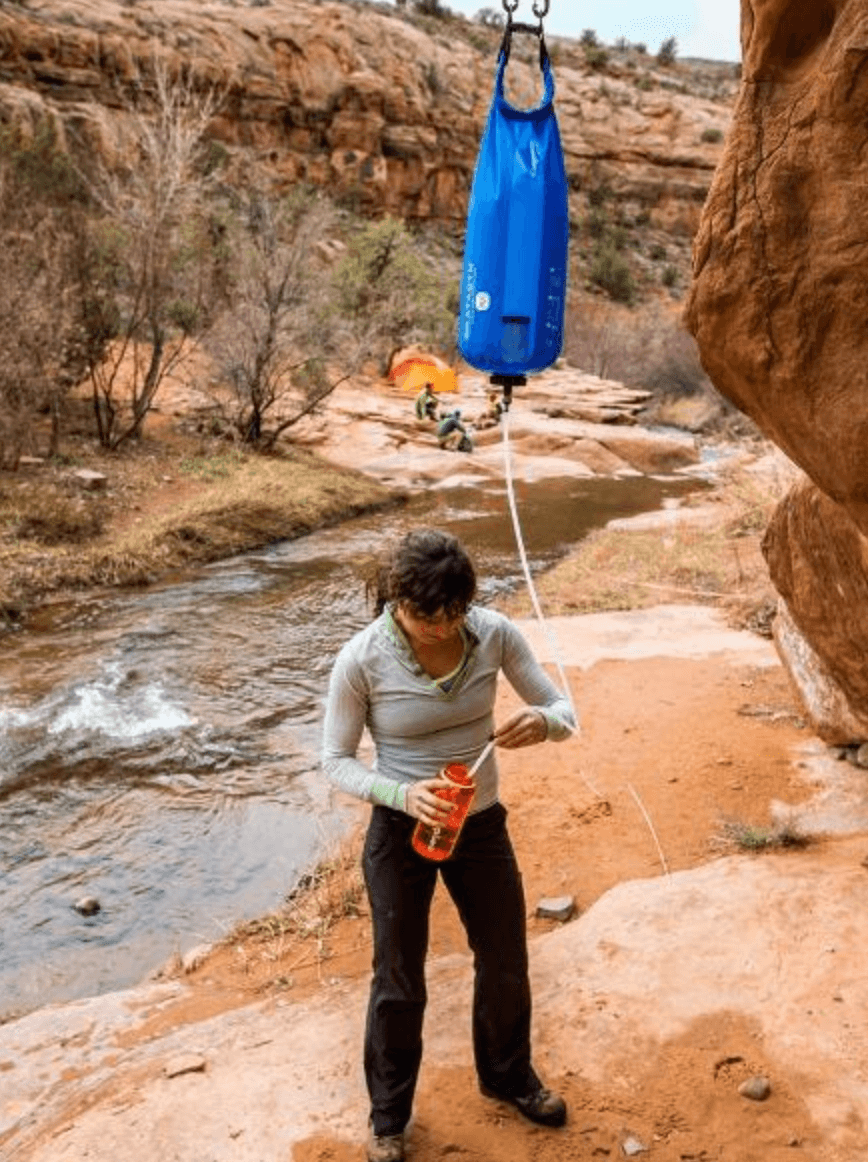 Gravity filters do all the muscle work for you by simply using gravity to pull the water down through the filtration system. These are perfect for people who know they'll be hanging out at one spot for a while, like a campsite or cabin.
Once you fill the water bag with the contaminated water, you can simply let the system do its work. However, filtration takes a long time, so if you're in a rush to get a drink, it's better to find a different system.
The other consideration to take into account is that, in order to be successful, a gravity filter needs to have a suitable place to set it up. Depending on where you plan on camping, it would be annoying to get a great water filter only to discover that it's impossible to use simply because there's nowhere to properly hang it.
Purifier/Filter Pumps
Besides chemical purifiers, these styles of water purifier have been on the market the longest, and have a good reputation of dependability. Of course, the effectiveness does depend on the model and style, but thanks to modern technology, filters have gotten smaller and more efficient.
Pumps clean water by forcing the contaminated water through a filtration system. However, pumping water means manual labor, and while it's usually not too difficult, it can be a drag to do after a long day on the road.
Water filter pumps will allow you to obtain water from very shallow sources, and filter exactly the amount of water required. They sometimes require a bit of cleaning but are generally very long-lasting in design.
Bottle Filters-For many backpackers and travelers, bottle filters have become the preferred method for filtration thanks to their compact size and ease of use. Just as the name suggests, bottle filters are water bottles and water filters combined in one.
You fill up the bottle, then let the device do its work. Depending on the model, some filter sort of like a coffee press while others have a sort of filter straw built into them.
The upside is that you don't need extra space in your pack for both a filter and a bottle. Downsides are that you have a limited amount of water in the bottle and the filter needs regular cleaning or replacement.
Squeeze Filters
Generally quite a bit cheaper and very transportable, squeeze filters usually attach to the top of a water bottle or water bag. You can either drink directly from the filter, or squeeze the water into another container.
If you're using the squeeze filter sort of like a straw screwed on to the top of a bottle, these filters are super convenient. However, if you want to filter large amounts of water, squeezing all that water can be tedious.
The filters usually need to be replaced after a certain number of uses, or when it becomes difficult to squeeze water through the system.
Filter Straws
This is an offshoot of the squeeze/pump method, except instead of pushing water out to purify it, the water passes through the filtration system when you suck up water to drink.
Straws are super handy because it eliminates the "in between" stage of filter before drinking. Plus, you can stick the straw directly into a stream of water or your own glass or water bottle.
However, you won't be able to carry any pre-filtered water with you and typically the filters aren't replaceable meaning that these models have a much shorter lifespan.
Size
Picking what size of water filter you get has two factors: how much gear you want to lug around and how many people you're traveling with.
Everyone has a different comfort level for how much they carry with them. If you're wanting a water filter for day trips or weekend hikes, something small and easily portable is more up your alley.
When you're traveling with more people, it's better to consider getting a large gravity filter or pump filter which is designed to last a long time and supply water to multiple people. Of course, another option is for everyone to bring their own personal filter if you each have a specific preference.
As materials improve, the weight of water filters has also gone down. The heaviest filters are definitely pump style filters, but the best pump filters are also designed to last a lifetime, so the extra weight might be worth it in the long run.
Water Filtering Capacity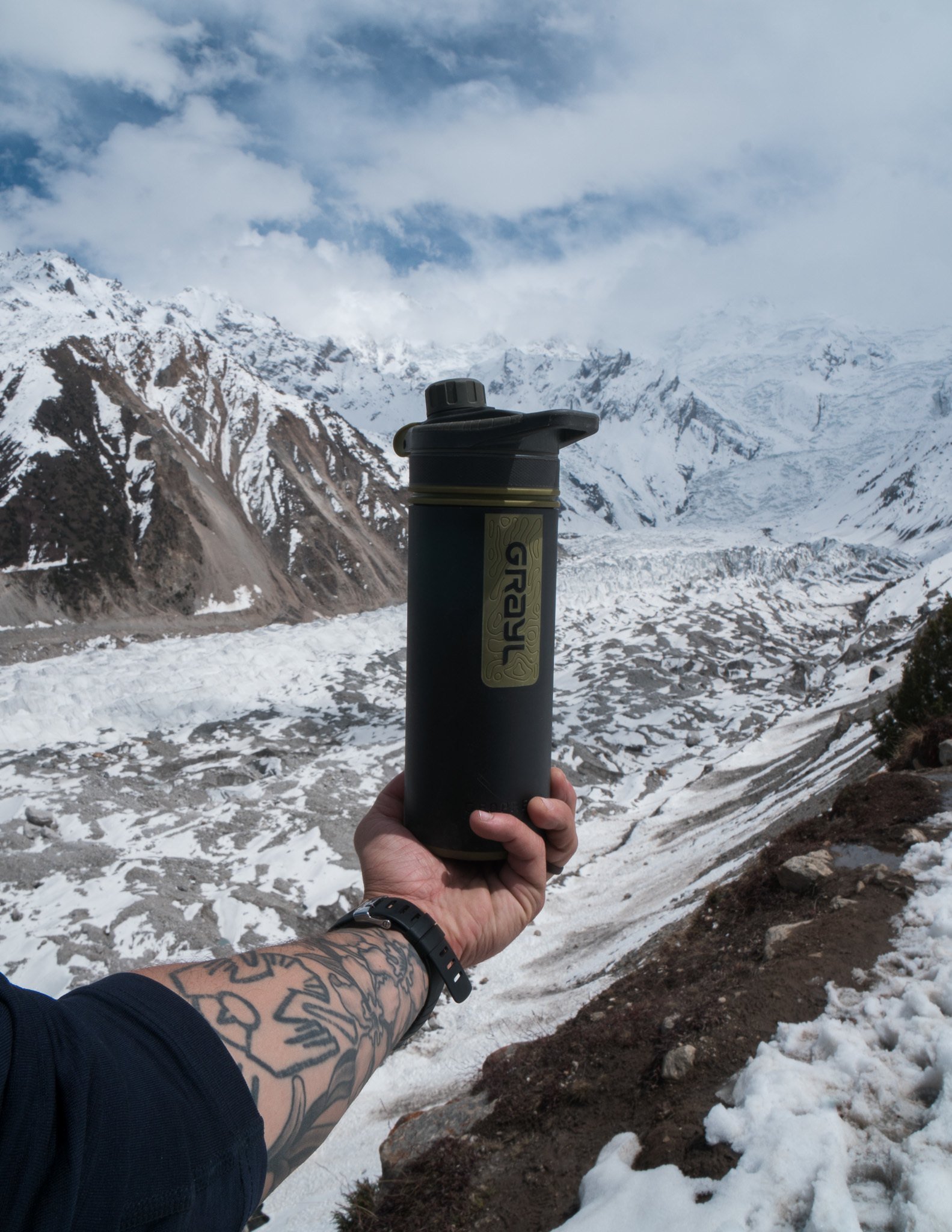 The filtration capacity of your water filter is the amount of water it is able to filter in a given amount of time. It pretty much goes without saying that faster is almost always better-no one wants to be kept waiting for a drink when really thirsty!
With any type of filter, you'll need to plan ahead a little about where and when you'll get your water. If you're staying in one place like a campsite or hotel room, a lot of travelers like to filter water ahead of time so that they have clean water to use whenever they need.
The filtration capacity is one of the only downsides to water bottle filters like the Grayl Geopress. Unless you decide to carry a separate bottle or hydration pack with you, you're going to be limited to the size of the bottle for how much water you can filter.
All water filters get slower with time and use; sediment is bound to build up and the filtration mechanism becomes slightly less effective. All of the best water filter devices have some method for cleaning them, but in many cases, you will probably have to replace certain parts down the road in order to maintain proper performance.
Filtering vs. Purifying
The words "filter" and "purifier" get thrown around a lot, and the difference isn't always totally clear. However, it's important to make the distinction so that you know what sort of water filter to look for and to identify false advertising.
In the most simplest terms, filters remove bacteria and protozoa, but not viruses. Purifiers go the extra step and also take out the viruses present in the water.
Many travelers decide that having a filter is enough of a safety measure. However, as more and more affordable and easy-to-use purifiers are coming on the market, it might be worth investing in one of them.
Bacteria include things like salmonella and E.coli, which water filters will take care of. However, if you also want to protect yourself from viruses like rotavirus, norovirus, and Hepatitis A, then you'll want to get a water purifier like the Grayl Geopress.
Since the Grayl Geopress has the "okay" for all 7 continents and takes care of bacteria, protozoa, heavy metals, vnd viruses, you can check off everything from cholera to dysentery on the list of things you're protected against.
Getting sick is one of the worst things that can happen when backpacking, and always puts a big stop to your plans. Some illness is unavoidable, but when you have the opportunity to protect yourself from so many diseases with a simple water purifying mechanism like the Grayl Geopress, it's definitely worth your investment.
Thru Hiking with a Water Filter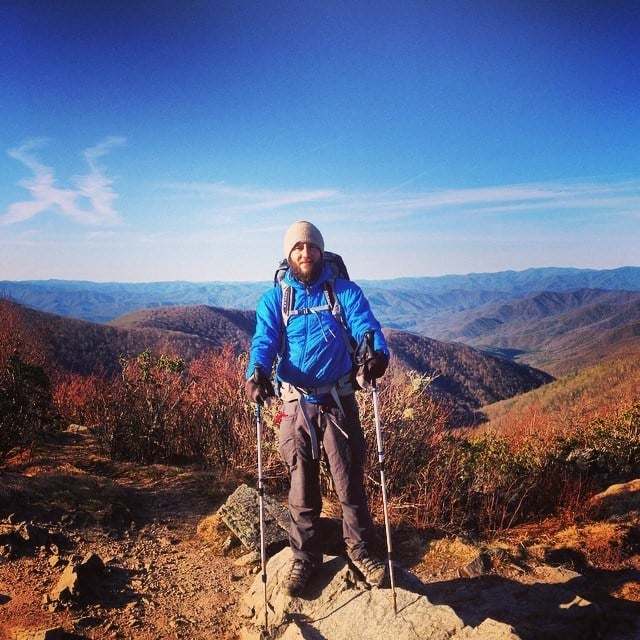 Thru hiking (or through hiking) has become an increasingly popular activity, and numerous routes have opened up all over the world. Whether your thru hike is just a weekend or you're planning a month long trek, water filters are definitely essential equipment. Back in 2015, I used a Sawyer mini… and to be honest after week two, I got REALLY tired of using it. It was just so damn slow.
Any thru-hike you embark on is going to have the whole gauntlet of different types of water sources. Are there regular sources of running water? Will you be hiking close to lakes? Is the water in the area known to be dirtier or will you be filtering clear mountain streams?
Sometimes hydration packs and water bags can be difficult to fill in shallow water, in which case water pumps with hoses you can dip straight into a water source are better. Having a water bottle with you on a thru hike is always nice, which is another reason why water filter bottles like the Grayl Geopress are good options. I wish I had a Geopress on the AT.
For most thru-hikers though, the optimal water filter will be the lightest option. Go spend a few months hiking everyday and you will know what I am talking about.
Chemical Water Filtration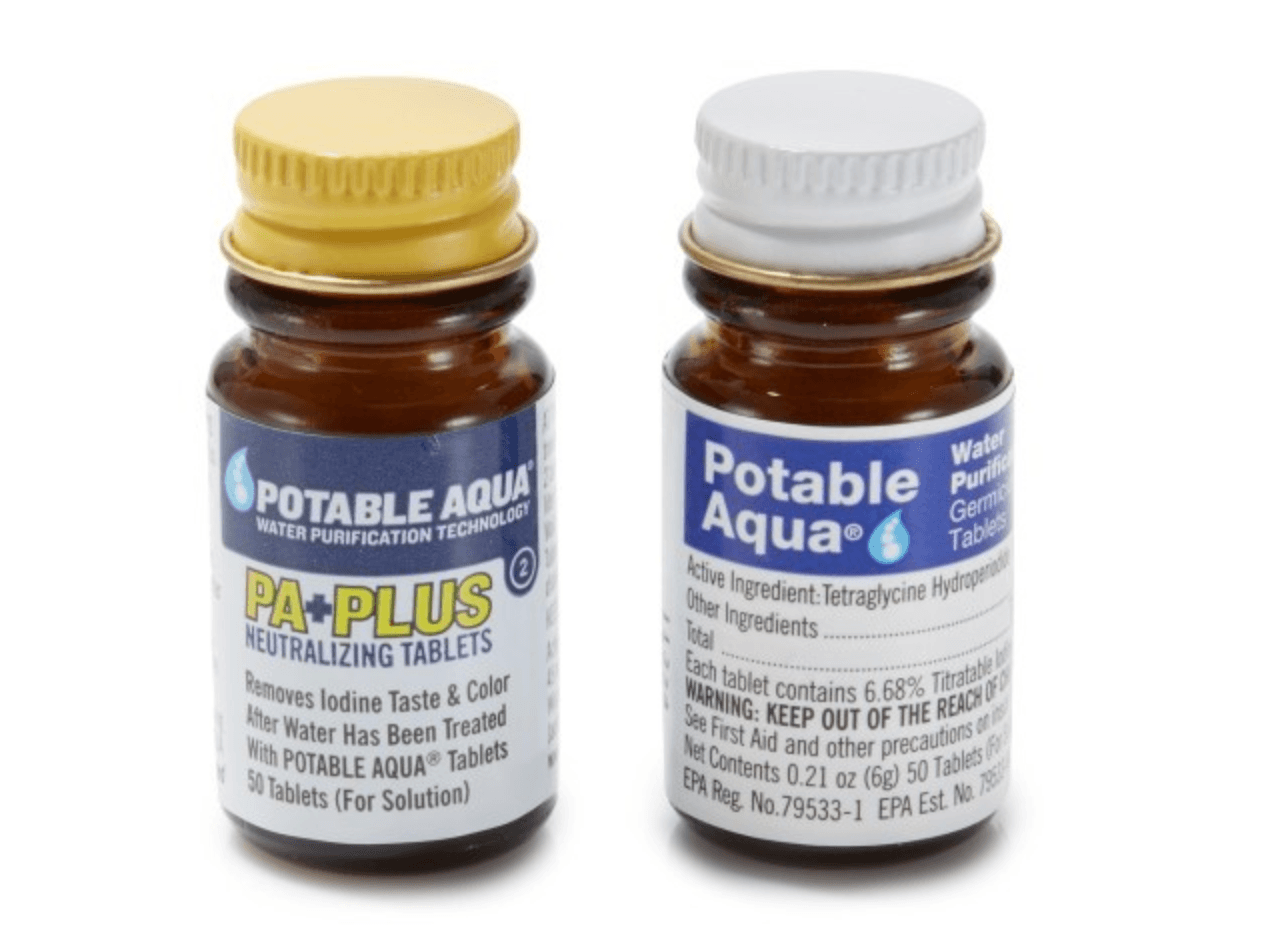 It's worth touching on chemical filtration since these are the oldest (and some would argue most reliable) types of water purification. This filtration technique involves adding droplets of a chemical solution to your water, then waiting the proper amount of time before drinking.
There are several big benefits to chemical filtration. First, you can buy a bottle of chemical filtration solution for a very low price, which then has the capacity to clean large quantities of water.
Second, because of the small size, chemical filter solutions are super easy to bring with. Many travelers bring along a bottle just as a back-up to be on the safe side. In the event your filtration bottle falls over a cliff or the hose to your hydration pack breaks, a simple chemical solution can be a lifesaver.
However, there are also several big downsides to chemical filtration solutions. Anyone who has tried it can tell you that these don't taste good. Some people are more bothered by the taste than others, so if you're super sensitive to taste you might want to test it out before you're stuck on the trail.
If you have certain medical conditions or are taking specific medications, sometimes there can be negative interactions with chemical water filters. If this is a concern for you, it's a good idea to do a bit of background research before buying a filter to take with you.
How We Tested To Find The Best Backpacking Water Filters
Testing to find the best water purifier for backpacking is hardly rocket science right? Well, kinda, it is pretty darn sciency if we're honest. At the same time, we're not exactly lab rats, so we applied a certain set of metrics to determine the best backpacking filter on the market.
Weight
For the backpacker, weight is everything and getting the lightest possible gear makes such a difference. Every gram counts and it all adds up! No one wants to cart around a heavy pack and as such, we awarded extra points to those filtration devices that keep things as might as possible.
Functionality
The whole point in taking a water filtration device on your trip is to protect yourself from all the nasties out there hiding in various water sources. When it came to selecting the best water filtration system for backpacking, the one that does the job required for your particular trip is the best. Whether that is to filter out certain bacteria, or viruses or just to purify the water, we assess the clarifying power of each filter.
Cleanability
Even the best backpacking water purifier gets seriously grimey over time and it's supposed to as it gets rid of all of the nasties in the water. However, with reusable systems, you want to be able to clean them quickly and easily. Equally, if a filter needs replacing then we awarded added points for availability and ease of use.
FAQ about the Best Backpacking Water Filters
Still have some questions about the best water purifier for backpacking? No problem! We've listed and answered the most commonly asked questions below. Here's what people usually want to know:

Our GREATEST Travel Secrets…
Pop your email here & get the original Broke Backpacker Bible for FREE.
Final Thoughts on the Best Water Filters
With so many cool and highly effective water filters available, it's up to each traveler and backpacker to decide which one works best for them.
Hopefully, now that you've read through our selections and research process for selecting the best water filter, you have a better idea about your options. When you're out on the trails or hopping around from hostel to hostel overseas, it's always good to have a reliable source of clean water!
You should know by now that we are all about the Grayl Geopress. As mentioned, our entire team has been using them across 6 continents for the last year and we have nothing but good experiences to report.
Do you agree with our choice of top-rated backpacking water filters? What would you have picked?
Don't just see the river. Drink the river.
Good luck guys.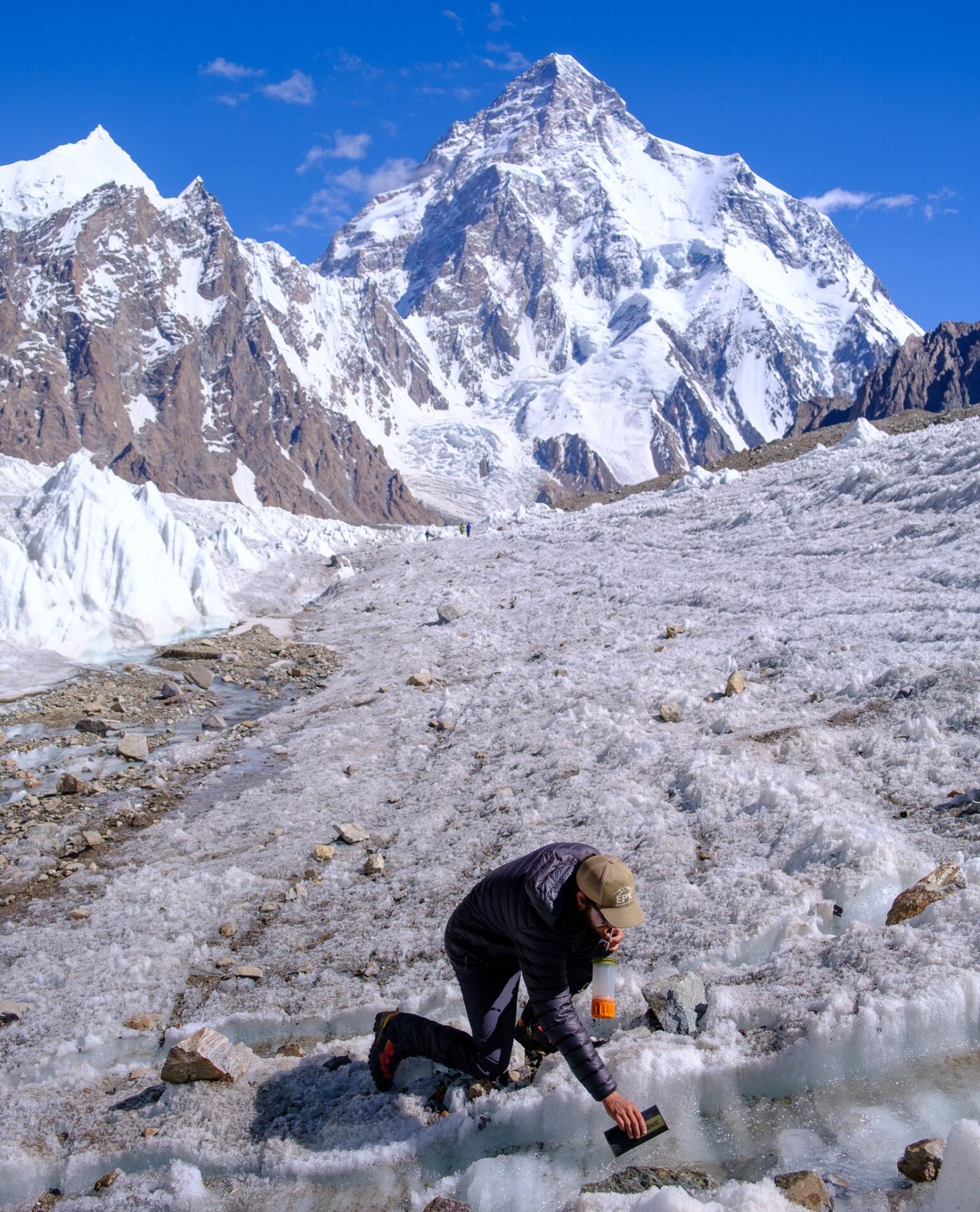 ---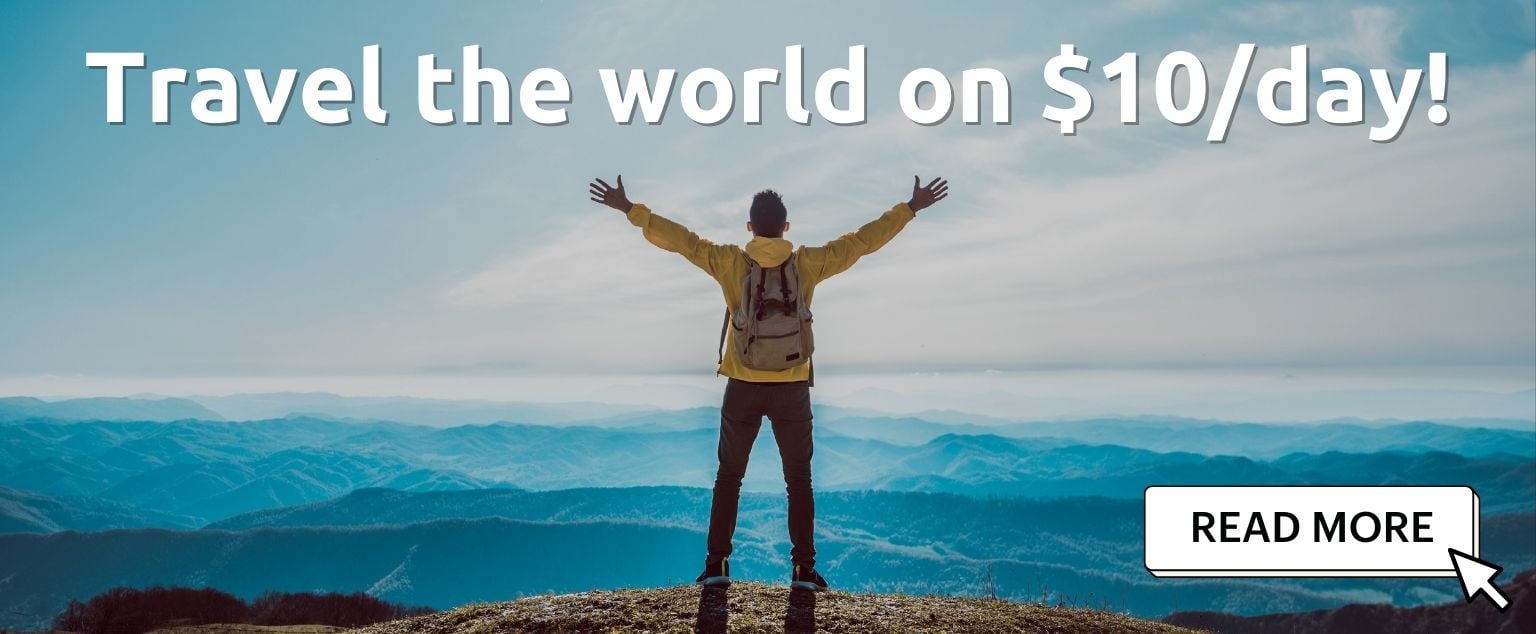 And for transparency's sake, please know that some of the links in our content are affiliate links. That means that if you book your accommodation, buy your gear, or sort your insurance through our link, we earn a small commission (at no extra cost to you). That said, we only link to the gear we trust and never recommend services we don't believe are up to scratch. Again, thank you!