If you're looking to get out of the city and into the United Kingdom's great outdoors, I recommend heading to the North West of England – more specifically the Lake District National Park! It's the most popular national parks in the UK and it attracts more than 15 million people each year. 
And that's no surprise – this UNESCO World Heritage Site has attractions to suit any kind of traveler, from hikers to sailers, to culture vultures – whatever you want from a holiday you can find it here… provided you get good weather that is. 
If the great outdoors isn't for you, picture yourself wandering around quaint little towns where you can spend the afternoon wandering through markets and tea shops.
But as the national park becomes more popular, more and more accommodation options become available. And with too much choice, it can be hard picking a place.
One of the most popular types of accommodation in the Lake District is a cabin. It'll allow you to properly connect with nature and have an unforgettable experience in one of the UK's favourite national parks!
To make life easy for you, I have prepared my top 15 best cabins in the Lake District. I've taken into account a range of different travel styles, locations (the national park is pretty big) and of course, your budget!
So when you're ready, let's get started.
In a Hurry? Here's Where to Stay in Lake District for One Night
FIRST TIME IN LAKE DISTRICT
Oakland Hut, heart of Windermere
The top cabin in Lake District is situated in Windermere Village, just a stone's throw from the lake! It's got a gorgeous outdoor space, a kitchen, and the views from here are simply unbeatable!
NEARBY ATTRACTIONS:
The World of Beatrix Potter
Brockhole – Lake District Visitor Centre
National Trust Wray Castle
Is this amazing Lake District Cabins booked for your dates? We've got your back with our other favorite properties below!
Staying in a Cabin in Lake District
You can get some truly awesome Lake District log cabins and luxury lodges. Whether you want to be on the shores of Britain's largest lake, Lake Winderemere, or be in a quiet, hidden away place with awesome views, or even just a pod-style cabin with your friends on a budget deal, there's a cabin in Lake District for you.
Cabins in the Lake District range from luxury lodges with hot tubs to small romantic log cabins or even a rustic log cabin for a small family to have a glamping experience.
Hotels and hostels in Lake District are cool, yes, but cabins offer you a much more pleasant connection with nature – you can open your back door into the woods or onto the lakeshore.
They're also an awesome place to come back to after a long hike in the hills. A roaring fire and cozy surroundings are the perfect antidote to a long day of hiking – and well deserved after conquering one of the fells or hills here!
What to look for in a Lake District Cabin
The amenities in cabins here vary depending on where you're staying and what you want. It's important to check that bedding and towels are included – these are not always a given for smaller cabins. Wi-Fi seems like a nice idea, but sometimes it's nice to disconnect from the world with your cabin. It really is up to you!
As you can see from my list, I've taken a deep dive into Airbnb. They offer a wide range of cabins in all Lake District regions and have some pretty unique choices. However, you can also try booking.com and Homeaway.com to find more cool cabins in the Lake District!
OVERALL BEST CABIN IN LAKE DISTRICT
OVERALL BEST CABIN IN LAKE DISTRICT
Oakland Hut, heart of Windermere
> $$
> 2 Guests
> Kitchen area
> Tranquil country views
BEST BUDGET CABIN IN LAKE DISTRICT
BEST BUDGET CABIN IN LAKE DISTRICT
Pod Cottage, Howe Farm, Coniston
> $
> 2 Guests
> Private seating area
> Secure bike storage
BEST CABIN IN LAKE DISTRICT FOR COUPLES
BEST CABIN IN LAKE DISTRICT FOR COUPLES
Shepherd's Hut near Windermere
> $$
> 2 Guests
> King bed
> Private garden with stunning views
BEST CABIN FOR A GROUP OF FRIENDS
BEST CABIN FOR A GROUP OF FRIENDS
Pet-friendly woodland log cabin
> $$$$
> 6 Guests
> Functional kitchen
> Wood-burning stove
OVER-THE-TOP LUXURY CABIN
OVER-THE-TOP LUXURY CABIN
Lodge on the Lake
> $$$$$
> 6 Guests
> Fully equipped kitchen
> Incredible lake views
BEST CABIN FOR FAMILIES VISITING LAKE DISTRICT
BEST CABIN FOR FAMILIES VISITING LAKE DISTRICT
Forest Pines Lodge
> $$$$
> 6 Guests
> Awesome location
> Outdoor patio
BEST CABIN FOR BACKPACKERS
BEST CABIN FOR BACKPACKERS
The Den Scandinavian BBQ Cabin
> $
> 2 Guests
> BBQ Pit
> Bedding and heated blanket
Top 10 Cabins in Lake District
So, with all of my travel advice out of the way, it's time to get started on my list of the best cabins in the Lake District! Strap yourself in, you're going to be taking an awesome tour around this part of the world to find the ultimate place to stay in the Lake District!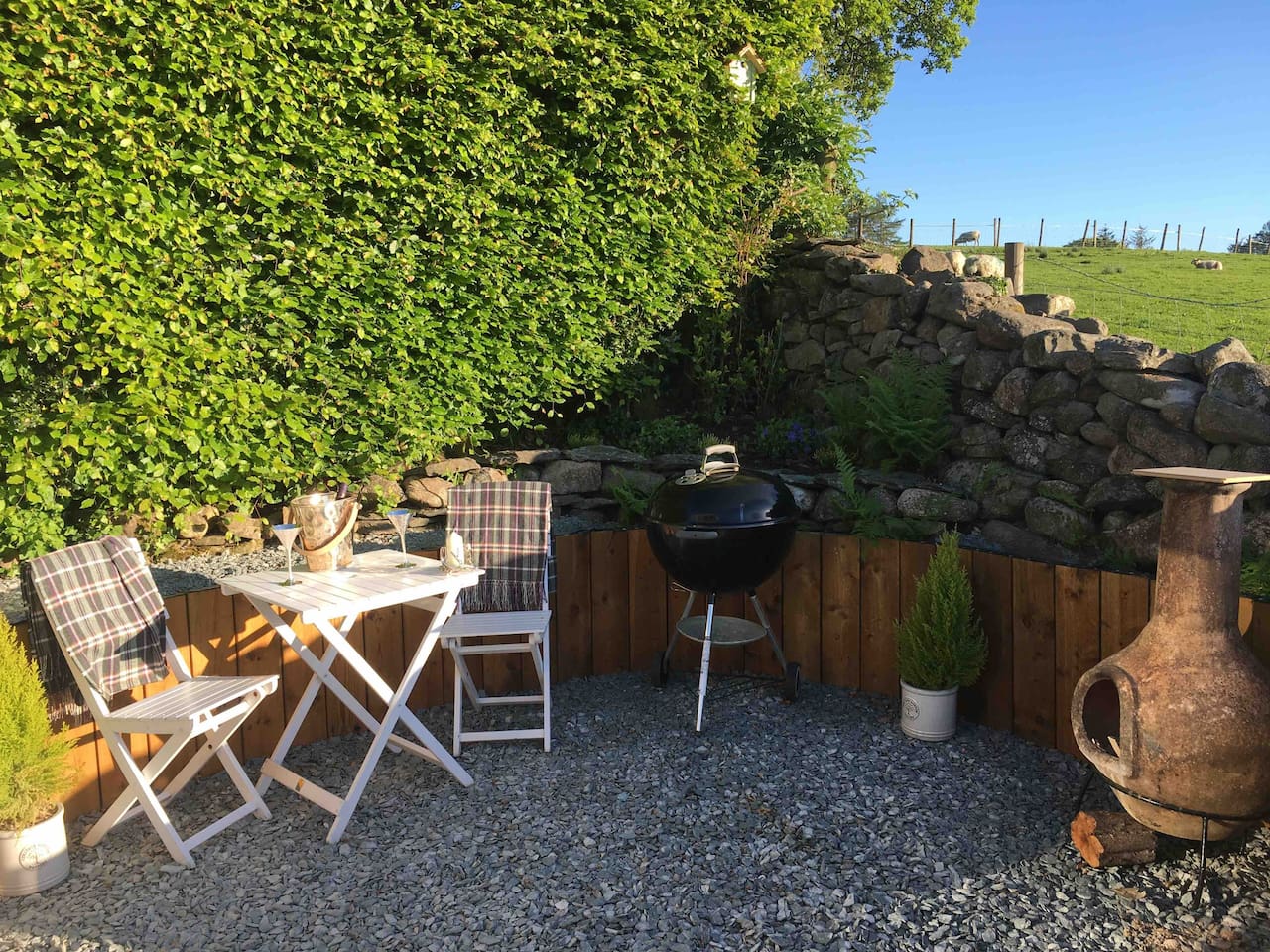 Kitchen area
Tranquil country views
Let's kick off my list with the best overall cabin in the Lake District. Do you want to make the most of your visit while saving your money to spend on country pub lunches and pints? You bet you do!
This small hut is modern and it's right next to the host family's home, so they're on hand to help with finding your way through the Lakes. You can enjoy the views from the picture window, but if the weather's good, head out to the luxurious outdoor space. There's a chiminea that'll keep you warm on the coldest nights as you lie back and count the stars!
Best of all is its location, which is right by the largest lake in the UK, Lake Windermere. This is the ideal base to explore the entire Lake District national park for a weekend.
What is the One Item Every Traveller NEEDS???
There is one item every traveller NEEDS. Some travellers don't even know they need it, but those travellers need it more than anyone.
What is this forgotten essential of the backpacker-life? SPOILERS! Guess you'll just have to click the button to find out. 😉
Find Out What It Is!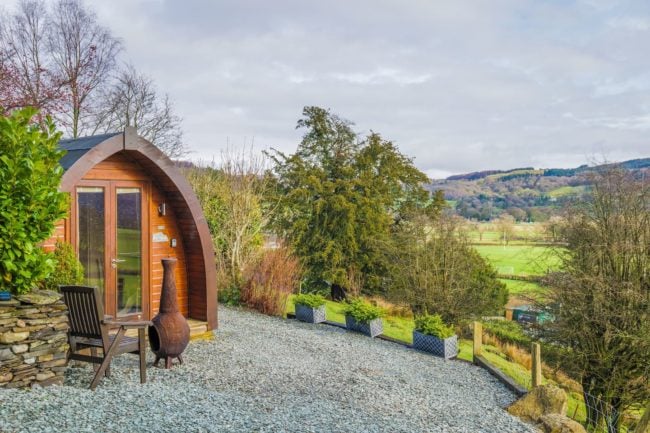 Private seating area
Secure bike storage
Looking for the best cabin in Lake District on a budget? I might just have found it for you! This cute log cabin, based at Howe Farm near Coniston means that you don't have to compromise on privacy and convenience despite spending less cash on your stay.
The pod may look a little pokey from the outside, but once you get inside you'll have plenty of space to move around, with modern amenities and full heating for fall and winter stays. On a tranquil summer evening, head outside to the private seating area, where you can watch the sunset with a few beers, and stay out till the sky is full of stars.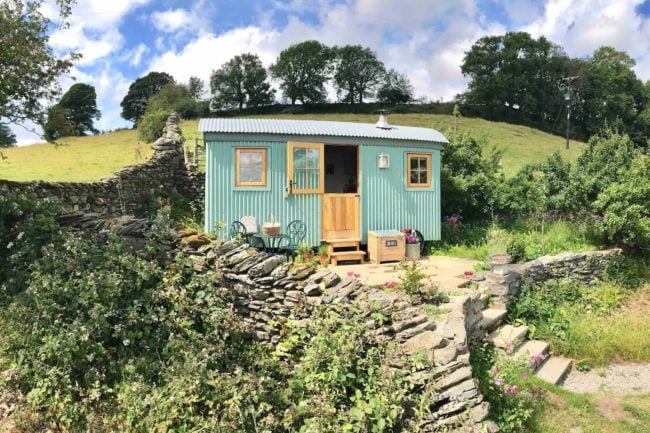 King bed
Private garden with stunning views
Staying with the other half? Well, you're already winning by planning a trip to sweep them off their feet with – now all you need is a romantic Airbnb, and this one definitely fits the bill.
This shepherd's hut is far enough away from the busy crowds but close enough to the central town of Windermere that you've picked a real winner on location! It's not just the location that's great about this place – the views from the private garden are sure to take your breath away! When you call it a night, there's a king bed – what more could you want?!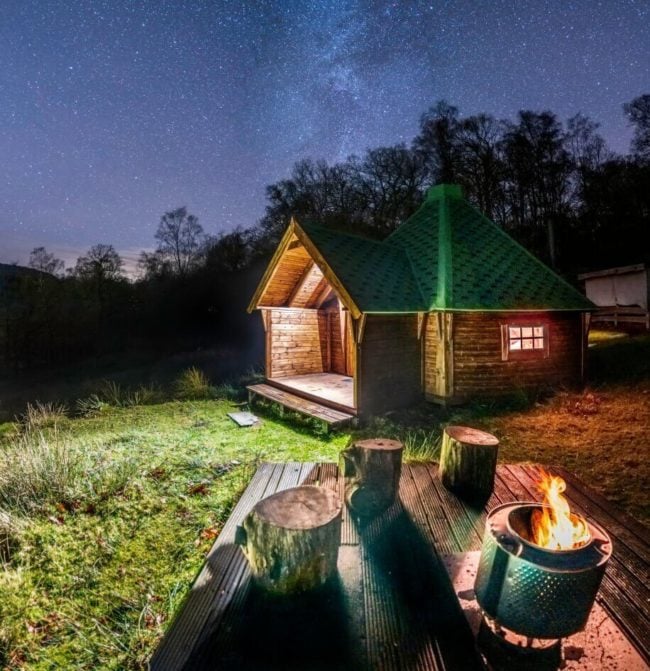 Functional kitchen
Wood-burning stove
This awesome Lake District cabin is perfect for groups of friends – both human and furry because it's also pet friendly. It's in Rydal, so you've got almost complete seclusion, but you do still have the town of Ambleside in walking distance. There, you'll find pubs, restaurants, cafes, and lots more to stock up on supplies and keep your group occupied.
This cabin, which looks a little like Hagrid's Hut if you squint, accommodates up to six guests, so it's a great place for a gathering. Cook something in the small kitchen, and keep warm with the wood-burning stove or pitch a campfire outside. There's solar power in the cabin, so you can keep your phones and speakers charged up for a little music in the evening!
An Eco-Friendly Traveller NEEDS an Eco-Friendly Backpack!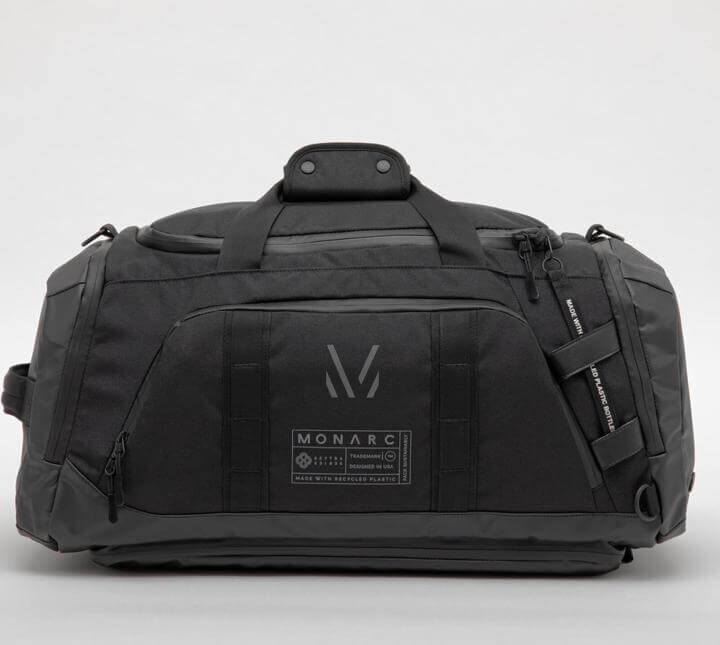 50 recycled plastic bottles – that's what goes into every Monarc Settra: the world's MOST SUSTAINABLE backpack.
Whether you're rocking duffel mode or backpack mode, if you're a traveller that gives a flying hoot about their environmental impact, then there's only one backpack you should consider – the plastic-negative Monarc Settra.
Learn More Now!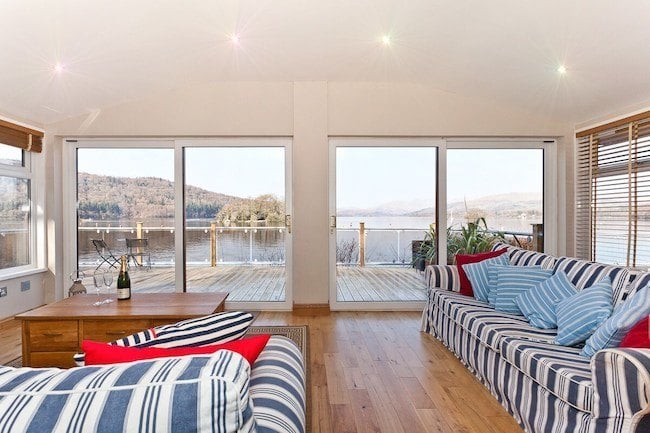 Fully equipped kitchen
Incredible lake views
Set inside a 5 star holiday park, you're sure to have all your wildest dreams come true when you stay at Lodge on the Lake. Your enormous private decking area extends right out onto the lake and has incredible views of that and the mountains behind it!
If the weather's a little too chilly, you can still enjoy these awesome views from the open plan living area. When it comes to food, you can use the fully equipped kitchen to make something delicious for you and up to five of your nearest and dearest that this incredible Lake District cabin can accommodate.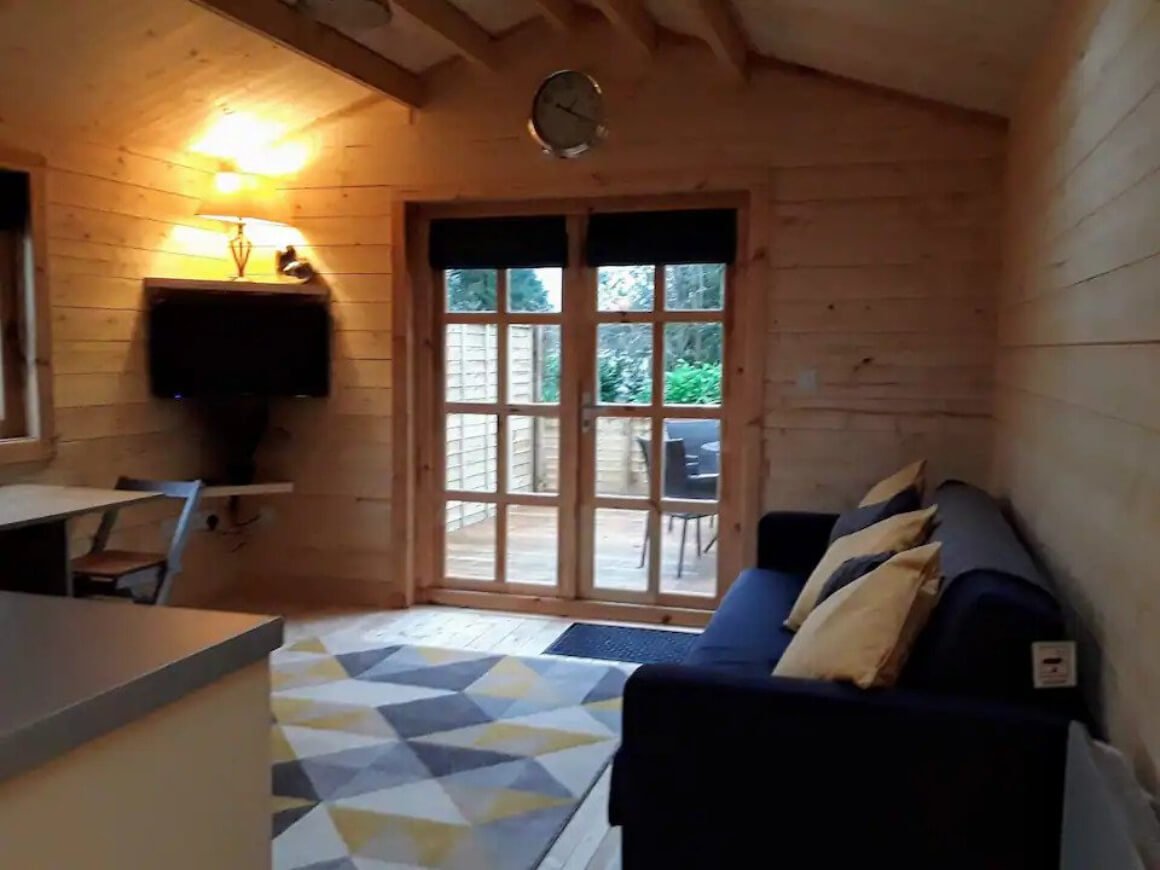 Awesome location
Free wifi
Nestled in the historic market town of Kendal, this unique and cosy cottage offers a unique stay in the heart of the Lake District national park. This luxury cottage gives you the perfect balance of seclusion and privacy with the convenience of restaurants and pubs in the village.
It's not big – but that's the point. This is a place to savor being alone with your family and is the perfect place to get away with two kids. There is a double bed and a sofa bed for the little ones. Although it's small, it maximizes space pretty well, and you'll also find a well-stocked kitchen, and fully fitted bathroom with shower, vanity unit and heated towel rail. And there's private parking too. Perfect for those on a road trip in the Lake District. There's also free wifi, a bonus in this UNESCO heritage site town.
BBQ Pit
Bedding and heated blanket
Backpackers in Lake District don't have to stick to hostels to keep their prices down. In such an expensive area, it makes sense to look for budget accommodation and that's exactly what you'll get at the this Scandi-inspired cabin.
It's just a hop, skip, and a jump from both Windermere and Kendal, so it won't be hard to meet people in the nearby towns. While you're there, pick something up from the supermarket, because the standout feature in this cabin is the indoor BBQ.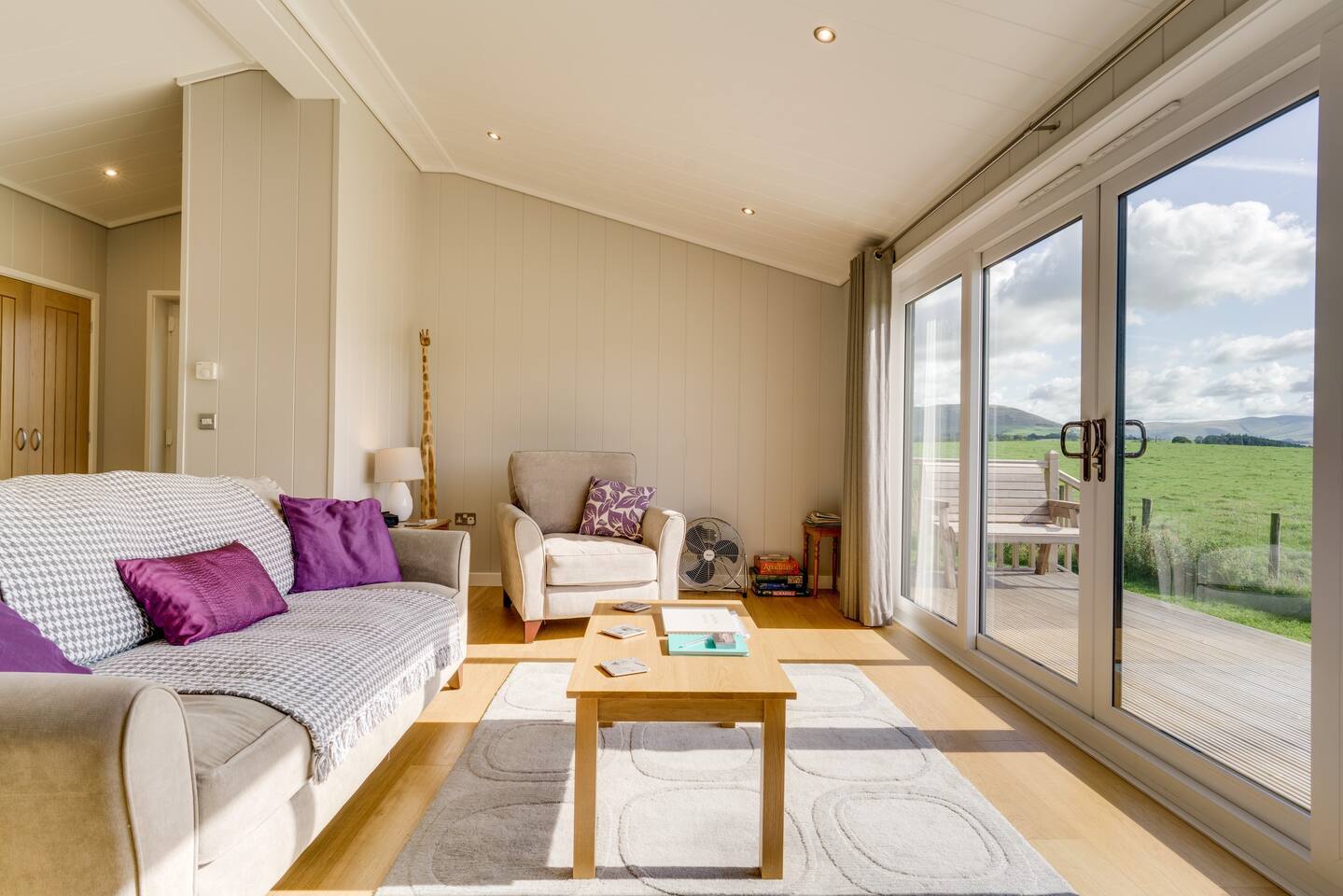 Outdoor decking area
Idyllic views
The clue is in the title really! We're heading to the North Lakes for my best Lake District cabin with views.
Cockermouth is a bit of a hike from Windermere, but you do have the largest town in the Lakes nearby, Keswick, and loads of cool places to visit like Buttermere and the Whinlatter Forest. All of that is nice, but nothing can really match up to the picturesque views you'll get from your private decking area – try and spot Skiddaw and Bassenthwaite Lake! Since there's room for two here, this would be a great spot for a couple!
When you're on your honeymoon, you want somewhere truly special to stay. For this one, I've gone the extra mile and found a traditional cottage in the Lake District for you and your new spouse to make the most of! There's a king-size bed so you can make the most of lots of time in that… just sleeping of course!
There's also a huge corner bath which definitely has enough space for two! Add in an open fire and I really don't know what more you could want from this place!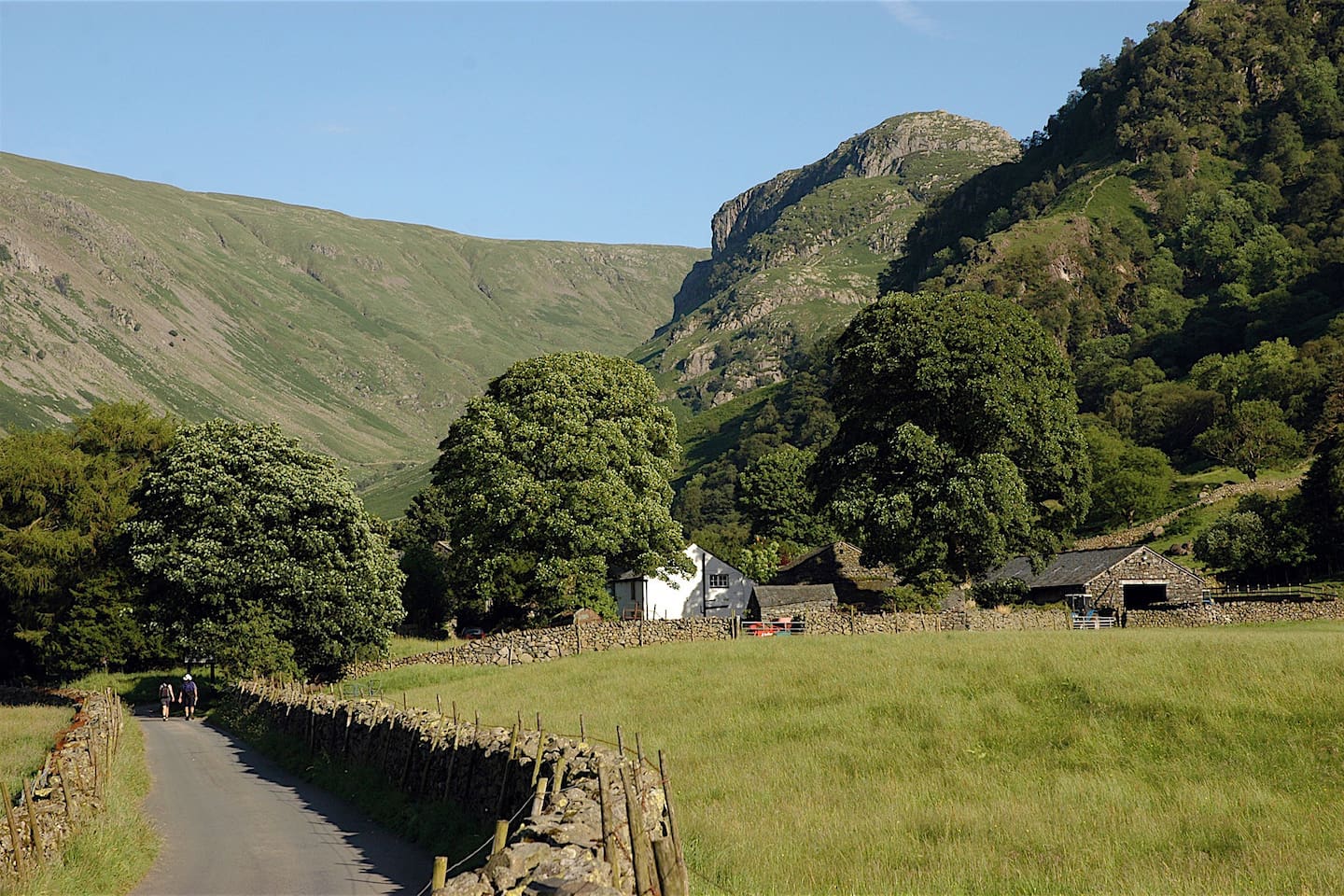 Free parking
In a wooden train carriage!
It may not seem the most traditional cabin at first glance, but this unique cabin in Lake District is a piece of local history!
A converted train carriage, it was converted after being sold off from Keswick Train Station. You've got a wooden stove indoors, and your very own dry-stone walled toilet outside. This is the perfect place for a genuine escape – there's no mobile phone signal here or Wi-Fi, so you can reconnect with nature. If you really need to make a call, signal isn't too far away, and there's a pub close by too.
Well equipped kitchenette
Smart TV with free wifi
Okay, so if my budget option was still too expensive for you… I'm sorry. But I've managed to go even one better! This camping pod is the absolute cheapest cabin in Lake District. And the fact that you can share it with 3 of your nearest and dearest just drives that cost down even further!
It's between the towns of Cockermouth and Keswick, so the location isn't bad. You get a lot of bang for your buck when it comes to facilities too – with a kitchenette, smart TV, and internet access all provided!
Amazing Luxury Cabin in Lake District – Blackberry Landing
Handcrafted Cabin
Panoramic views of rural Cumbria
This handcrafted Lake District cabin may be a small space, but it delivers big on luxury! It can fit up to four guests, but the single beds are quite small.
So, it's perfect for a family who don't mind splashing out a bit extra for a memorable experience! The panoramic views of rural Cumbria can match any of the previous cabins on my list, while the indoor fire place is guaranteed to warm you when you return from a walk in the hills!
More of the Best Cabins in Lake District
In the ??historical market town of Cockermouth
Pet friendly
Nestled in the historic market town of Cockermouth, this unique shepherd's hut offers a unique stay in the north of the Lake District national park. This shepherd's hut gives you the perfect balance of seclusion and privacy with the convenience of restaurants and shops in the village nearby.
It's not big – but that's the point. This is a place to savour being alone with a partner and is the perfect romantic getaway. There is a double bed after all! Although it's small, it maximises space pretty well, and you'll also find a fully equipped kitchen, a wall-mounted TV… And would you believe there's an outdoor firepit too?! Perfect for those wanting a very relaxing stay. If you want to bring your fur babies, pets are welcome too.
Private garden
Well behaved dogs allowed
Last but not least on my list of the best Lake District cabins is another awesome shepherd's hut. If you're struggling to choose between this and the one above, one of the key decision-makers might be that here you can bring your dog… as long as it's well behaved!
Make use of the private garden and relax to the sound of birds and feeling of fresh air on your face. In the evening, start up the fire pit, or get cosy and warm inside in front of the log burner. All of that, and you've got a bunch of lovely walks on your doorstep too. Don't say I don't spoil you!
Check out these other great resources
We have loads more information to help you plan your trip.
FAQ about Cabins in Lake District
Here's what people usually ask me when they look for vacation homes in Lake District.
Don't Forget Your Lake District Travel Insurance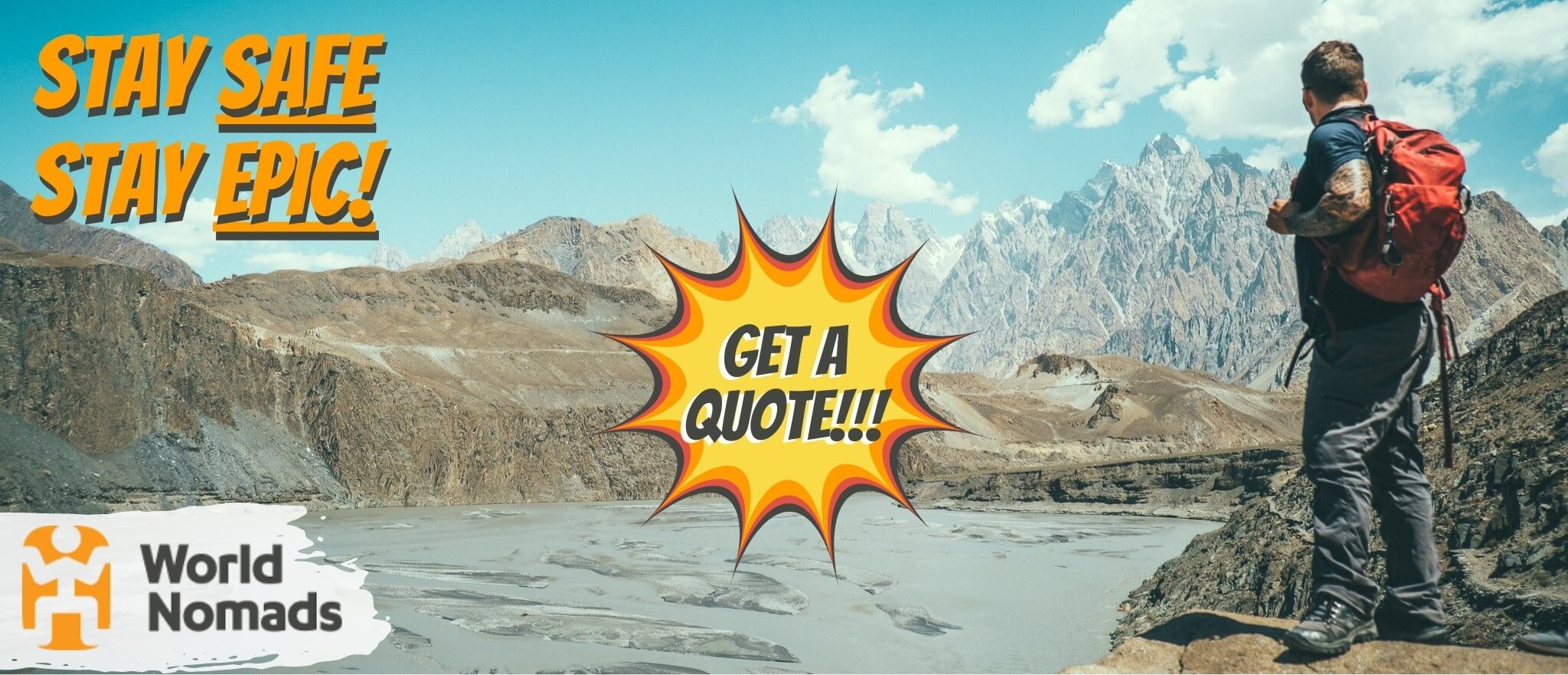 It's good to get lost sometimes, but it's also good not to get too lost. There are people that want you home in one piece.
There's one travel insurance provider The Broke Backpacker trusts for all his wildest shenanigans… World Nomads!
Click the button below to get a quote on your insurance or read our in-depth review of World Nomads' coverage. And then… let the shenanigans begin. 😉
Final Thoughts on Lake District Cabins
So, that concludes my list of the best cabins in the Lake District National Park. I'm sure you'll agree that there's an awful lot to choose from!
Whether you're travelling with your other half and fancy something unique like a train carriage or a shepherd's hut, or whether you're just hunting for the best cabin in Lake District on a budget, I've got you covered!
And if you're still having trouble deciding on where to stay, don't worry… Just go for my overall top cabin in Lake District: Oakland Hut, heart of Windermere. It's got an awesome location, provides great value for money, and it's just an all-round lovely place to be!
If you're travelling on a tight budget, and the cabins still seem a bit too expensive, check out the awesome hostels in Lake District too. They offer just as much value for your money, and your bank account won't suffer as much! 
Now that I've helped you plan your vacation to the UK and you're able to make the most of your time in one of the country's prettiest areas, all that's left is for me to wish you an incredible and safe trip to Lake District. Did I miss anything? Let me know. in the comments.
To keep you and your belongings safe, make sure you take out a travel insurance policy with world nomads!
---
Thanks for reading – that was fun! 😀
We bring you epic FREE content!
Find out how YOU can help support us.
We're a big site with a big team and this job isn't always easy. But we do it because we love it – we love providing epic and free content. We love the knowledge that our content keeps you adventuring. We don't ask for money, but if you'd like to find out how you can help the site in more organic ways, click the button below.
Thank you for your support 🙂
---
Bye for now, but not forever!
If you want MORE top-tier Broke Backpacker content like this, then sign up for our weekly newsletter below to get the latest and greatest!
And for transparency's sake, please know that some of the links in our content are affiliate links. That means that if you book your accommodation, buy your gear, or sort your insurance through our link, we earn a small commission (at no extra cost to you). That said, we only link to the gear we trust and never recommend services we don't believe are up to scratch. Again, thank you!