Also known as Lakeland, the Lake District in Cumbria, UK is a well-known tourist destination thanks to its mountains, lakes, and forests. Its associations with renowned names such as William Wordsworth, John Ruskin, and Beatrix Potter have attracted all kinds of visitors from around the globe.
The Lake District is the perfect destination for those who would like to get away from the hustle and bustle of the city, bask in nature, and revitalize themselves in its charm and energy. The beauty of the Lake District beckons travelers like a siren song, and you might just find it hard to leave once you set foot there.
Fortunately, it doesn't matter if you have plenty of cash to spend or need to tighten the purse strings – there are plenty of Lake District Airbnbs to suit every need.
Quick Answer: These are the Top 5 Airbnbs in Lake District
Overall Best Value Airbnb in Lake District
Overall Best Value Airbnb in Lake District
Bungalow in Solway Coast Near Attractions and Bars
> $
> 2 Guests
> Near bars and restaurants
> Beautiful garden
Best Budget Airbnb in Lake District
Best Budget Airbnb in Lake District
Private Room in the Town Center Near Everything
> $
> 2 Guests
> Continental breakfast
> Free parking
Best Airbnb for Couples in Lake District
Best Airbnb for Couples in Lake District
Barn Conversion in the Beautiful Rusland Valley
> $
> 2 Guests
> Near Windermere
> Access to cycling
Best Airbnb for Families in Lake District
Best Airbnb for Families in Lake District
Residential Home in a Private Country Estate
> $$$
> 6 Guests
> Shared estate grounds
> Indoor heated pool
Over-the-Top Luxury Airbnb in Lake District
Over-the-Top Luxury Airbnb in Lake District
Family Retreat Located Just Outside Windermere
> $$$$
> 6 Guests
> Nearby shops and restaurants
> Barrel sauna

Unlock Our GREATEST Travel Secrets!
Sign up for our newsletter and get the best travel tips delivered right to your inbox.
What to Expect from Airbnbs in the Lake District
The Lake District is such a beautiful place that wherever you stay you're guaranteed to be surrounded by picturesque views that look like they came straight off a postcard.
There are a plethora of rentals in the Lake District which is kind of a double-edged sword. On the one hand, you have plenty of options, but on the other you can get confused about which one to choose because of the endless choices.
This only highlights the importance of knowing what to expect when looking for Lake District Airbnbs.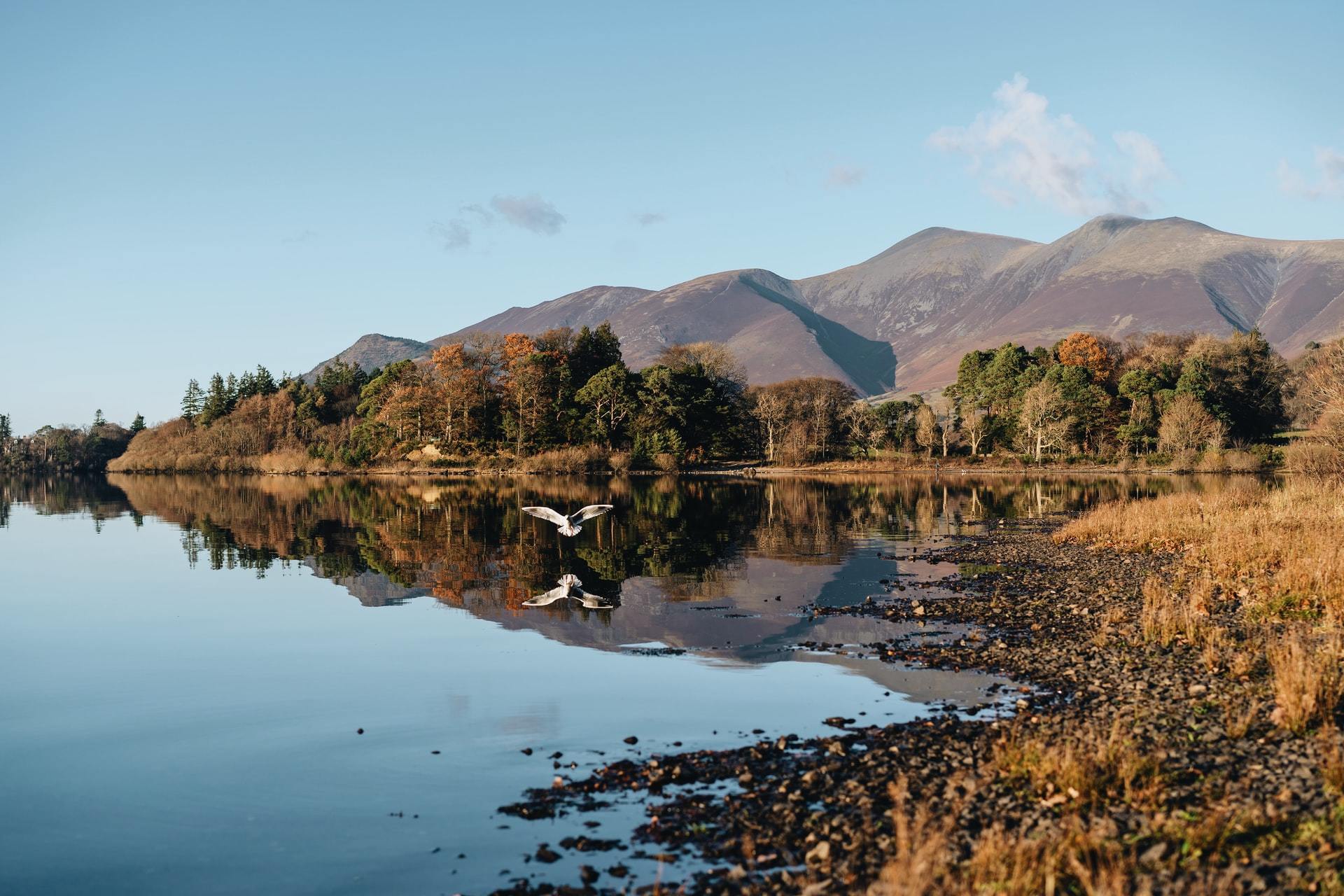 Private Rooms
There are loads of private rooms all over the Lake District. Some are centrally located smack, bang in the middle of bars, pubs, restaurants, and shopping centers, while others are in proximity to the most beautiful lakes and mountains.
If you can't afford to go over budget, private rooms are the best choice. Most come with private bathrooms, but if you want cheaper ones, you can opt for those with shared bathrooms. There are filters available that make the search so much easier.
Private rooms will have shared areas where you can mingle with other guests, prepare tasty snacks and lounge in comfort. Think like a hostel, but without the bunk beds and loud roommates.
Apartments or Condos
Don't want to share with other people? The Lake District has a selection of apartments and condos. Some are simple with basic amenities, but others at higher prices come with opulent extras which will make your stay more comfortable and even luxurious.
They may cost more than private rooms, but you'll be guaranteed privacy with the entire space to yourself. You may also get lucky with spectacular views and perhaps, even a hot tub or pool.
Cottages
Full of character and personality, cottages are to be admired and enjoyed. Cottages in the Lake District come in all shapes and sizes with some able to accommodate as many as a dozen people. Unique and most of the time historical, you can bask in the height of luxury with lots of extra amenities.
Think of lush fluffy bedding and pillows, heated swimming pools, and terraces with unrivaled views of the charming surroundings. These might be the most expensive places to stay in the Lake District, but it's money well spent if you want to be spoiled.
Why Stay in an Airbnb
A stay in an Airbnb promises comfort, relaxation and many happy memories. There are so many reasons why you should consider an Airbnb for your Lake District stay.
Safety: Hosts and guests on the platform have been vetted, and customer support is available to everyone 24/7 for your peace of mind.
Affordability: You can often find exceptional Lake District rentals at prices much cheaper compared to your run-of-the-mill hotels.
Unique Properties: Uniqueness is the name of the game when it comes to Airbnb. You'll have a plethora of choices compared to hotels.
Local Experience: Make your vacation more meaningful by signing up for tours and activities hosted by locals who know the place by heart.
Privacy: Regardless of whether you desire an entire home all to yourself or just a room, there are plenty of accommodations you can filter for privacy.
The Top 15 Airbnbs in the Lake District
We've dabbled in what kind of Airbnbs you will find in the Lake District. Now here are all our favorite places to stay!
$
Near bars and restaurants
This tastefully designed bungalow is perfect for those who want to relax and hit the snooze button on work. Located in the Lake District National Park, guests will be treated to a multitude of activities and astounding views which they won't find elsewhere.
The property features free parking, a fully-equipped kitchen, and a private entrance. It is also nearby Solway Coast and enjoys being right next to restaurants and bars where guests can sample local dishes, as well as the many attractions nearby.
Places to see:
Derwentwater
Lake Windermere
Farm house at Hill Top
Catbells High Ridge Hike
2 Guests
Access to cycling
How would you like to stay in a lovely and romantic retreat that is in the Lake District National Park?
If you're an active couple that loves outdoor activities, you'll be happy to know that this property gives you easy access to cycling and walking all whilst being among a profusion of wildlife. You'll likely cross paths with a squirrel, or two.
The converted barn features a private entrance and French doors that open to a private patio space. Guests can have their morning coffee with the pleasant sounds of the nearby countryside in the background.
$
Hiking and cycling paths
This stylish private room is part of a barn conversion with a modern en-suite bathroom. It is the perfect base to explore the Lake District.
Solo travelers will love all the outdoor activities that await such as hiking, paddle boarding, and cycling. There's no reason to be bored in this area of the Lake District, because there's just so much to do. There are mountain bikes for hire at just £25 per day for those who would like to go cycling. The host will be more than happy to provide a helmet and all the necessary extras for peace of mind.
Is This the Best Travel Pack EVER???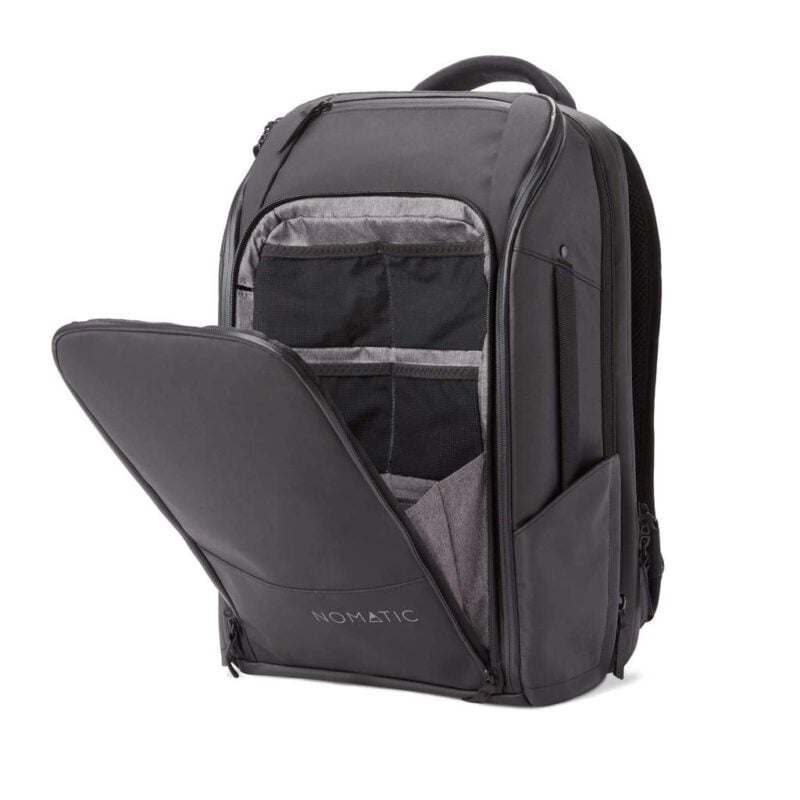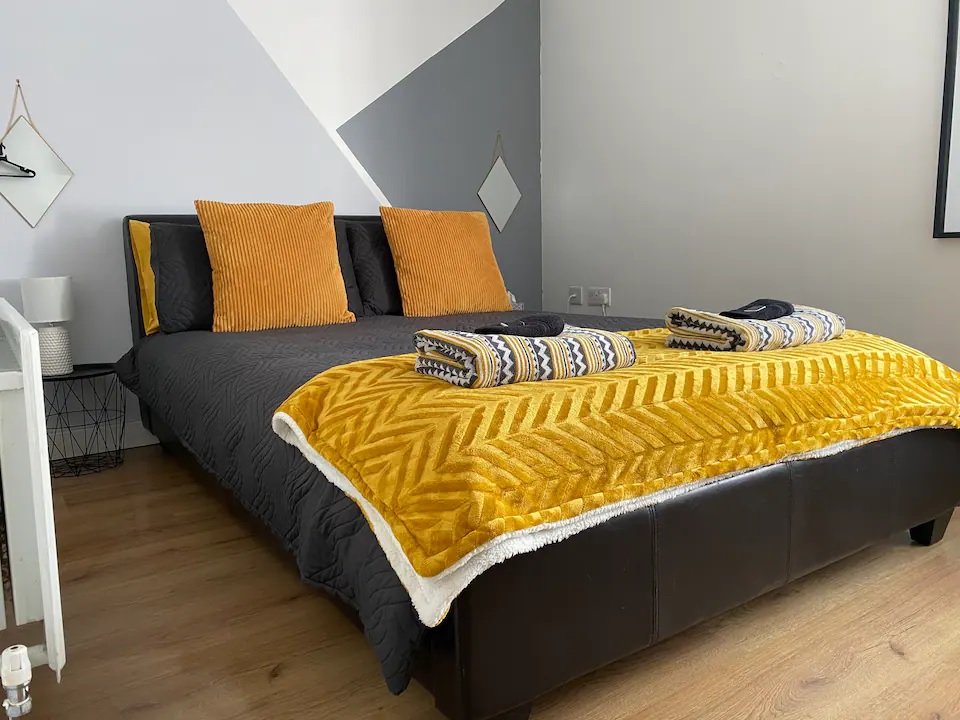 Sticking to a strict budget when traveling can feel like an uphill battle. But that doesn't mean you can't enjoy the magnificent outdoors and have a comfortable place to come home to at night.
This property is located centrally so getting around is easy, and it comes with an en-suite bathroom too. Additionally, there's also free continental breakfast along with orange juice included in the price, so that's further savings for you! That's an excellent deal right there!
6 Guests
Indoor heated pool
This residential home located in an expansive country estate is the best Airbnb in the Lake District for families.
The property is perfect for kids, with various amenities such as the shared children's play area, indoor heated swimming pool, and table tennis room. There is also a gym on site for those who would like to keep up with their fitness regimen while away from home. However, we doubt you'll be able to get much workout indoors when the woodlands, meadows, and forests are waiting for you outside.
$$$$
Nearby shops and restaurants
This quiet and beautiful home is ideal for families and groups in the Lake District. You can soak in the amazing surroundings, culture, and history in a luxurious and decadent abode. Located just outside Windermere Town, this property is within walking distance of bars, cafés, and excellent shopping choices so you're never far away but still enjoy a quiet retreat.
One of the most magnificent surprises you can find on the property is the barrel sauna located in the garden. Don't be afraid to take a dip, you'll be happy you did.
$$$
Shared gym, pool, and sauna
2 Guests
Breathtaking landscape
This gorgeous property will take your breath away. Perched above Ambleside, it offers guests a breathtaking landscape that looks like it came right out of a dream. It boasts spacious sitting areas, a well-equipped kitchen, as well as access to the shared pool, gym, and sauna, and steam room. There are plenty of on-site leisure activities to choose from so there's never a boring day during your stay. Of course, you must also head to the nearby shops and restaurants to rub elbows with the locals.
There is no shortage of beautiful Airbnbs in the Lake District. We had a difficult time narrowing down the choices for you. But this property named Beckmead House is one-of-a-kind. It's where guests can live their English countryside dreams. From the exterior to the plush and luxurious interiors, you'll be greeted by nothing but beauty. The property comes with a well-equipped kitchen where you can pretend to be a chef and whip up a meal for everyone. There's also a private yard area at the back where everyone can enjoy a light breakfast alfresco.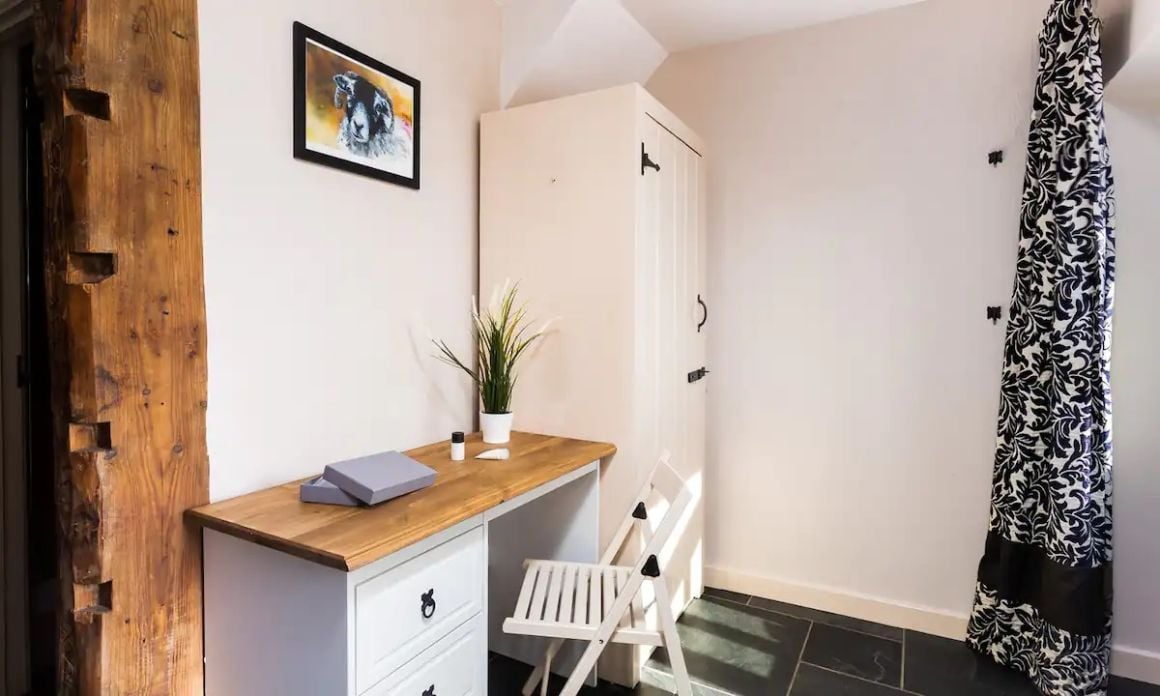 $
Short walk to the town center
You probably think the words "perfect view" and "marvelous vistas" are overused by now, but we just can't help ourselves. The Lake District is a picture-perfect place, and the location of this accommodation isn't any different. It boasts lovely views from its windows, and the enticing long walks it promises might just tempt you away from your work. The property is close to the must-see Standing Stones at Castlerigg, and there is easy access to a bus that can take guests all over the lakes.
$
Traditional but contemporary
Located centrally in Keswick, this traditional yet contemporary Lakeland stone cottage comes with all the amenities you need for a honeymoon you'll never forget. There is an amazing Jacuzzi, and relaxing bath to lounge after a day spent exploring the nearby areas. The property is only a two-minute walk from the market square, so it's convenient and easy to shop for whatever you may need during your stay. The cottage is accessed through a shared yard, and a parking permit is provided for those who stay long-term.
$
Perfect base for exploration
This fabulous cottage is the best Airbnb in the Lake District for those who are planning an extended stay. It has retained many of its original features, such as oak beams and log burners for that authentic log cabin feel. The property is located in a quiet village surrounded by gorgeous mountain and lake views, but is still close enough to Cockermouth market town which has plenty of cafés, shops, groceries, and restaurants.
There is a small seating area in front of the cottage and a sheltered patio at the back with seating. We doubt you'll be spending much time with them as there are so many activities to try out.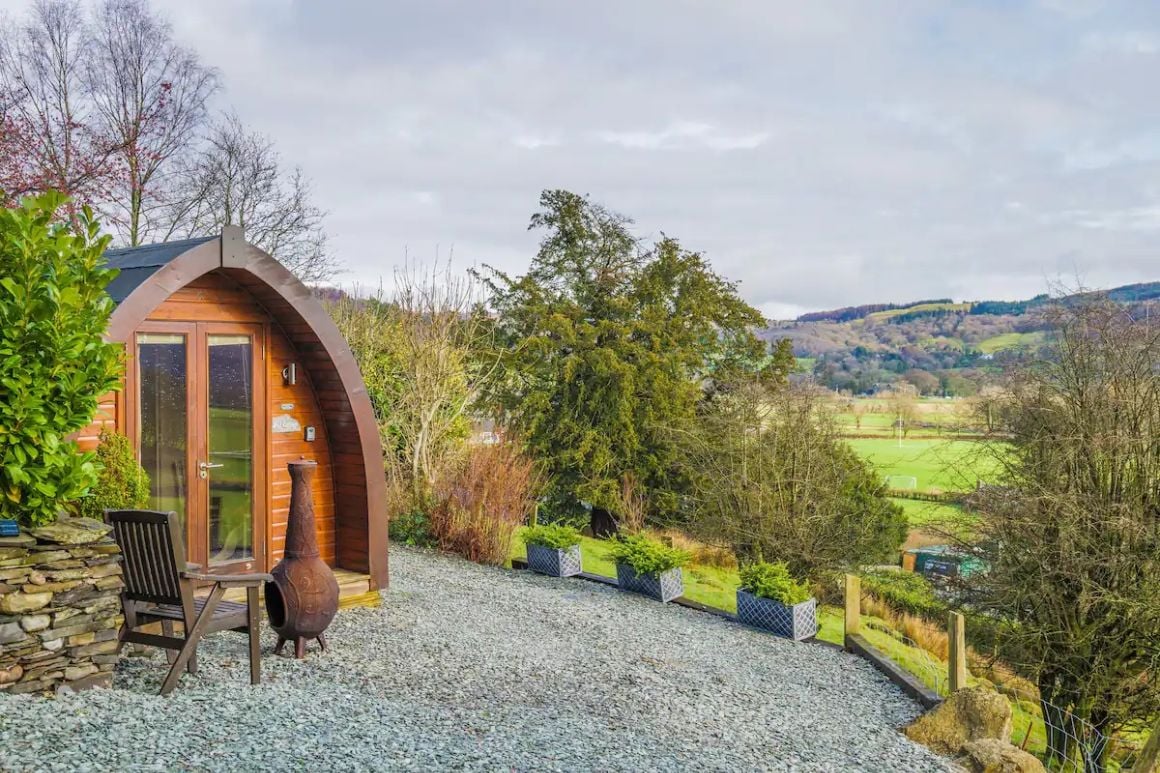 This pod cottage looks like it belongs in a fairytale. Looking at it makes us expect hobbits to come out of the door and greet us.
Overlooking Coniston Lake, it offers phenomenal vistas of the surroundings and is only a five-minute walk from the village and various amenities. This fully-heated pod is the perfect accommodation for those who want to get away from town but still be close by. Those who are driving will be happy to know that there's private parking available next to the pod.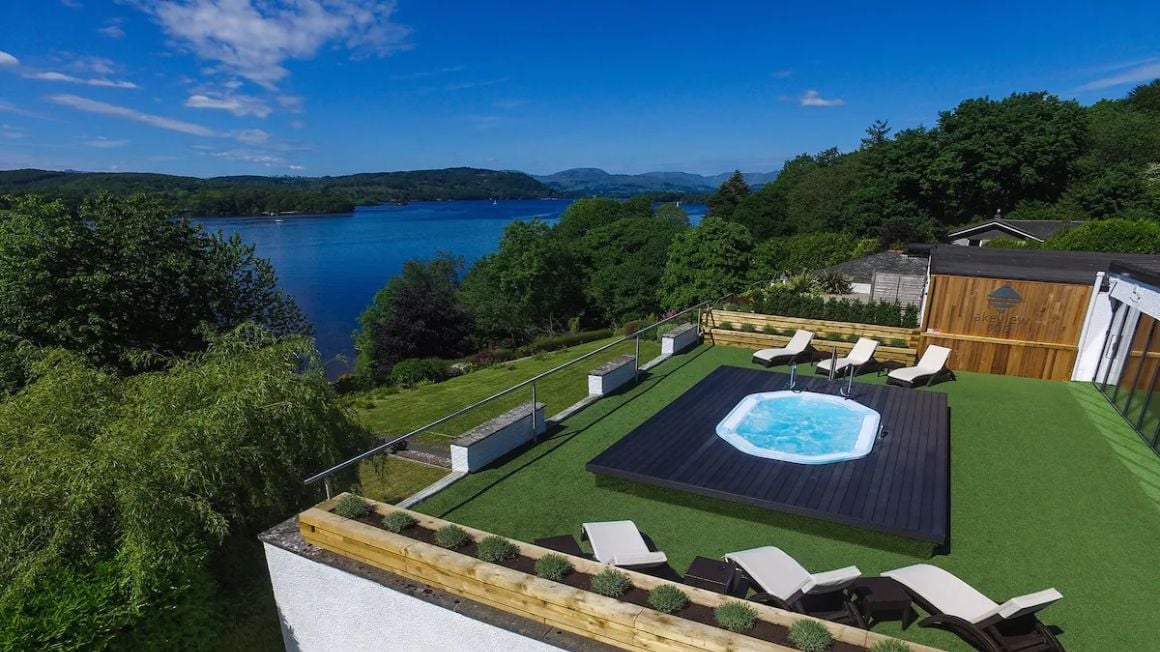 $$$
Unrivaled views of Windermere
This is our favorite Airbnb in the Lake District for a group of friends.
Located in the lakeside village of Bowness, the property is within a walking distance of tea rooms, restaurants, and boutiques. The BBQ and terrace are great for summer evenings, but there are other amenities that make the cottage a delight throughout the year such as the hot tub with postcard-perfect views.
There are plenty of activities in the surrounding areas such as boat hire, lake cruises, and golf. although, we don't see how guests could leave this gorgeous place once they step into its threshold.
We'll be the first to tell you that just a weekend in the Lake District is not enough. But, if it's all the time you have, you need to make the most of it by making sure you have the best home base.
Rustic and romantic, yet equipped with modern amenities such as super-fast Internet, Smart TV, and well-equipped kitchen, guests have everything they need for a comfortable stay. We especially love the Japanese Ofuro bathtub on the property, and we're sure you will too.
4 Guests
Private balcony with scenic views
This second-story apartment is right in the heart of Windermere, close to pubs and all the nice restaurants in the area. You can party and stay out all night with a private home to return to. Nobody will be there to judge you if you have too much to drink and end up hugging the toilet in the private bathroom.
The property features a beautiful balcony where guests can enjoy their morning coffee and do some people-watching to cure their headache.
Top 5 Airbnb Experiences in the Lake District
If there's one thing that makes a vacation better it's indulging in activities. Especially ones that will give you an in-depth knowledge of your destination, while giving you enjoyment at the same time. That is exactly what Airbnb Experiences provides.
No, you don't have to register again and confirm your account. You can see all the Experiences available at your destination on the same Airbnb platform that you book your accommodations. Nice, right?
Well, don't just take our word for it. We have compiled below the top five and most worthwhile Airbnb Experiences you can join when in the Lake District.
$42/person
3 hours
Up to 8 people
This bike ride is an excellent way to discover the beauty of the Lake District. The experience can easily be tailored to fit your skills and fitness level, so it can be as short as three hours or as long as six to seven hours.
Guests can bring their own bikes. But those who don't will be provided with high-quality mountain bikes and helmets at an additional fee. The meeting point will be at the town of Ambleside. Warm-up for the bike ride ahead, get to know other people in the group, and of course, cycle through the beautiful countryside.
$49/person
5 hours
Up to 10 people
Experience the Lake District from a completely different perspective by discovering its natural beauty during twilight. This night hike starts in Thirlmere and ends at the summit of one of the Lake District's mountains.
Participants will cover a total distance of 10km and are scheduled to summit the mountain at midnight.
Although the paths are in good condition, guests joining this hike are advised that the climb is relatively steep and requires good physical condition. The fee includes equipment as well as a mean cup of hot chocolate to keep you warm.
$56/person
90 mins
Up to 6 people
If you think that alpacas are just the most adorable and fluffiest creatures on Earth, this Airbnb Experience is for you. Organized by the aptly named Alpacaly Ever After, guests can get up close and personal with alpacas.
Participants need to make their way through whimsical Whinlatter Forest and meet at the visitor center. After a safety briefing, guests will be introduced to the alpacas that will become their walking buddies through the forest.
Guests will not only enjoy the company of the lovely animals but also learn a thing or two about them. There are a few magnificent stops at different viewpoints that provide the best backdrops for Instagram-worthy pictures. You'll surely have a fine time with this activity.
$70/person
3 hours
Up to 6 people
Love the water and looking for a new watersport to learn? Why not try your hand at canoeing? If water makes you happy, this will make you ecstatic, because you'll have extraordinary mountain and lake vistas.
Participants will be exploring the tranquil waters of Thirlmere with an experienced guide. Beginners will go through the basics of canoeing first while those with canoeing experience will develop their skills and knowledge during the lesson.
Guests might get lucky and spot some of the local wildlife which they are welcome to take pictures of. The fee includes equipment such as paddles, boats, and buoyancy aids.
$125/person
5.5 hours
Up to 2 people
There's no better place to take photos or learn photography than in the Lake District. Why? Because everywhere you look, you'll be surrounded by beauty. It's a challenge to take a bad picture and after this workshop, you'll be clicking away like a pro.
Aimed at beginners, this is only for a group of up to two to ensure an intimate and personal experience. Conducted by an award-winning landscape photographer from Cumbria, not only will participants learn the fundamentals of taking landscape photos, but they will also be treated to some of the best homemade cakes. Landscape photography and food? It doesn't get better than that.
Some of the most important things participants will learn are texture, color, shape, mood, lighting, depth, shutter speed, and feel. They will be taught how to put these elements together to produce a captivating photo of nature. The fee includes also includes drinks, and transportation.
Don't Forget Your Lake District Travel Insurance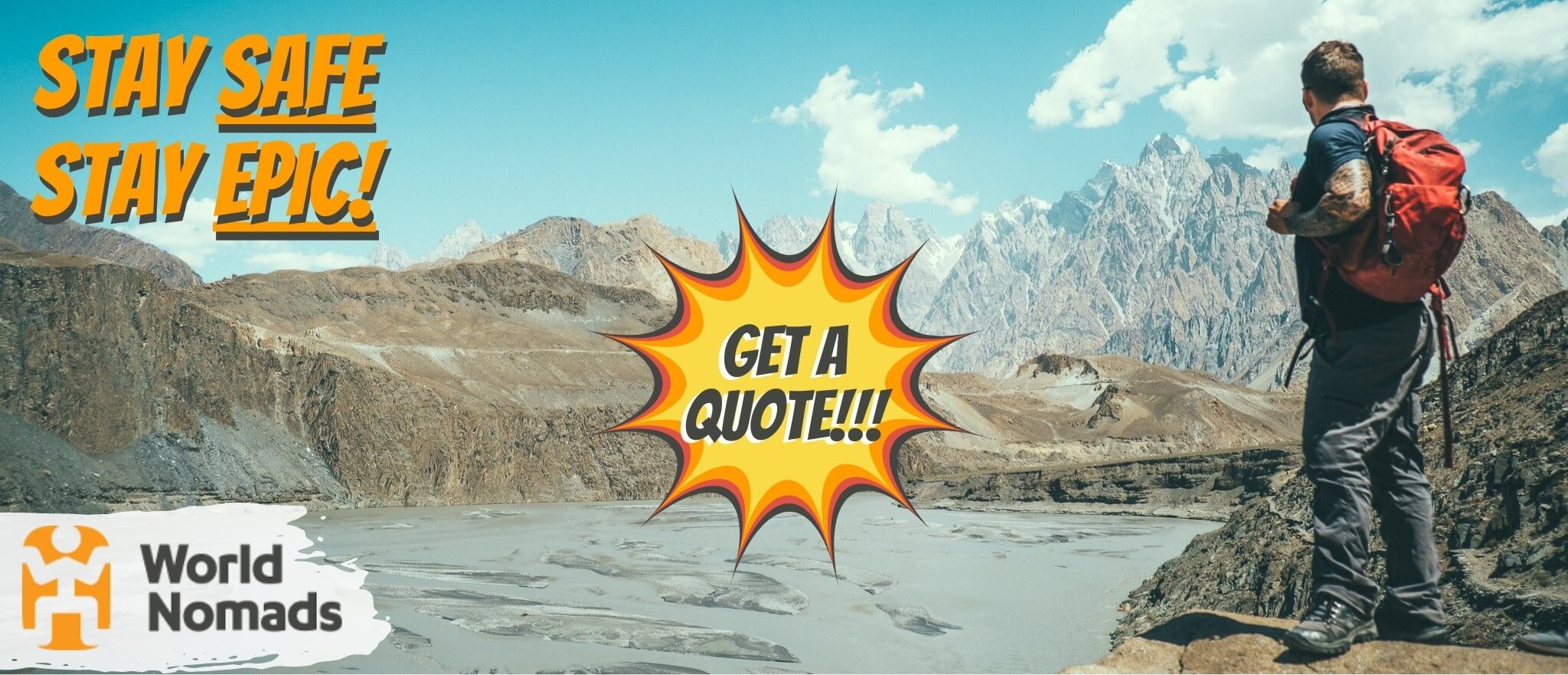 World Nomads' mission is to support and encourage travellers to explore their boundaries. They offer simple & flexible travel insurance, and safety advice to help you travel confidently.
They've been doing it since 2002 – protecting, connecting, and inspiring independent travellers just like you.
Get a quote below or read our in-depth review!
World Nomads provides travel insurance for travelers in over 100 countries. As an affiliate, we receive a fee when you get a quote from World Nomads using this link. We do not represent World Nomads. This is information only and not a recommendation to buy travel insurance.
Final Thoughts on Renting an Airbnb in the Lake District
Majestic sceneries that seem so surreal at first glance you'll think they were the creation of artists. That's what the Lake District is known for. If this doesn't want to make you pack your bags and go, then we don't know what will. This has been said about many places all over the world, but the Lake District deserves a spot on your bucket list.
Whether you decide to stay for only a few days or you see yourself spending a long time in the Lake District, there will always be a suitable Airbnb for you. Don't forget to look through the Airbnb Experiences in the area too. Trust us, you'll be happy you did.
---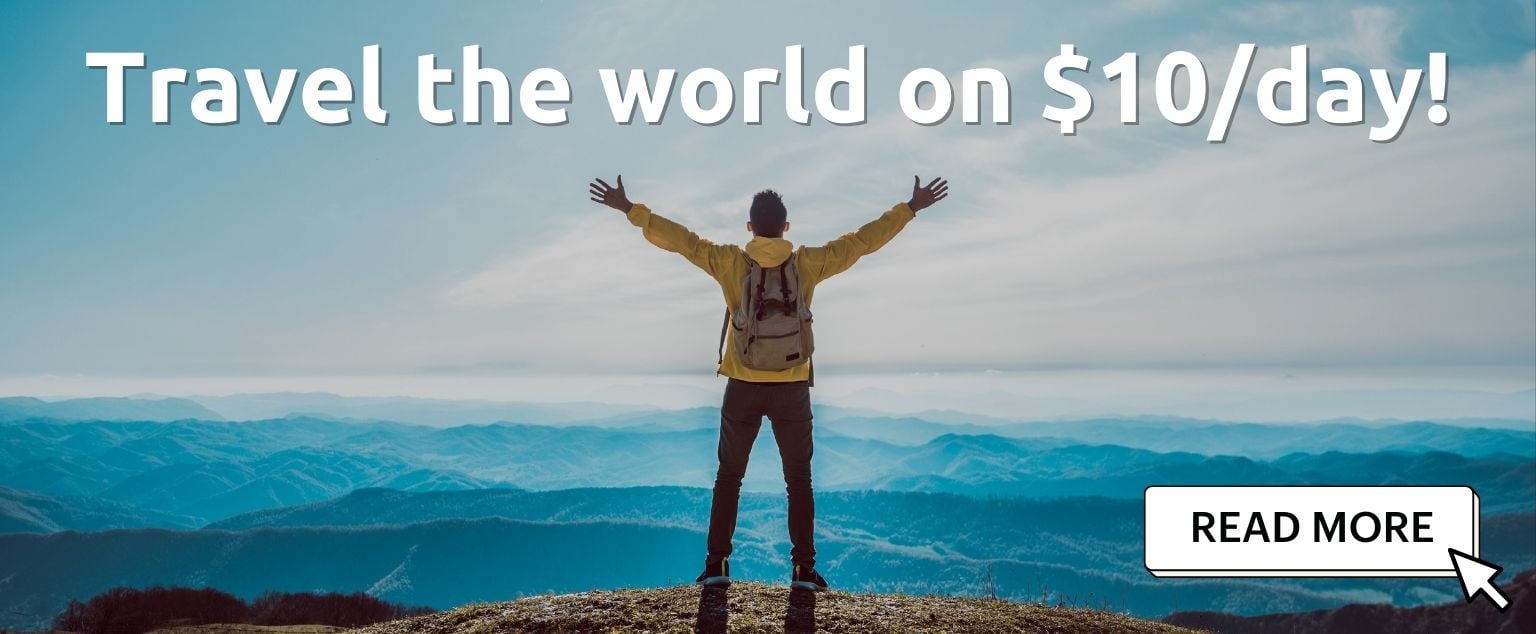 And for transparency's sake, please know that some of the links in our content are affiliate links. That means that if you book your accommodation, buy your gear, or sort your insurance through our link, we earn a small commission (at no extra cost to you). That said, we only link to the gear we trust and never recommend services we don't believe are up to scratch. Again, thank you!