Do you like water?! No way, me too, I drink it everyday! Do you love to spend time outside? Ditto! Well my friend is this THE post for you! Welcome to the ultimate round-up of the best hydration packs to help you quench your thirst across vast distances and stay hydrated on your travels.
When you are shopping for a hydration pack  you need to consider your objective and intended activity. Will you be hiking, cycling, or running with your pack? How long do you plan to spend out on the trails?
Depending on your intended use, it's important to look out for fit, capacity, and any other extra features on the bladder, like a valve on/off switch.
Hydration Pack Ready Backpacks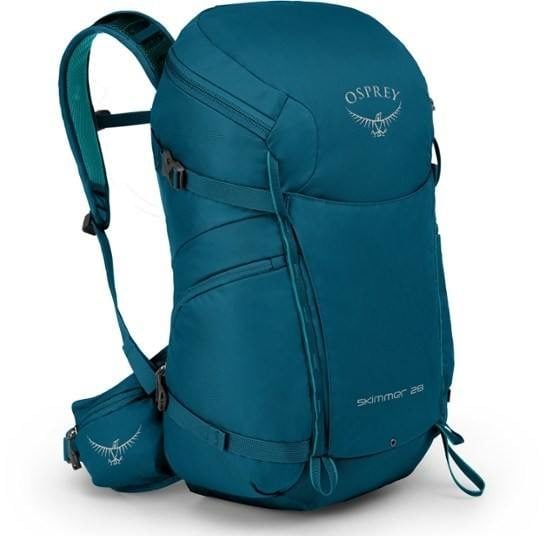 Obviously, to be called a hydration pack, your backpack must accommodate a hydration reservoir.
Although most modern hiking backpacks and day packs are designed with a water bladder sleeve and a small hole to feed the tube through your pack, many packs sell hydration bladders separately.
For this guide, I will be limiting my evaluations to packs sold with a hydration bladder versus those sold without one.
Quick Answer: What Hydration Pack should I Buy?
How to Choose the Best Hydration Pack
There are a few things to consider before you purchase a hydration pack. I've highlighted the most important things to look for in this section!
Types of Hydration Packs
Firstly, consider your intention. Do you plan to run, cycle, or hike with your hydration reservoir?
Hiking hydration pack: These are the standard packs for hiking, travel, and casual outings. They range in size and capacity, so consider your backpack size as well as how long you plan to hike. Learn more about choosing the best day packs and the best hiking backpacks in our guides!
Cycling hydration pack: These packs are designed for mountain biking or road cycling. They are typically compact and low-profile so they can sit on your back comfortably without creating resistance.
Running hydration pack: These packs need to be as small and low-profile as possible so they sit on your back without bouncing up and down as you run. Most running vests and packs do not have a hip belt. Hydration reservoirs are especially nice when you are running, s you can sip from the tube as you go. You also do not have to carry a clunkier water bottle.
Snowsport hydration pack: These packs are designed for winter sports to keep your water from freezing. Features include insulation and a bit valve.
Hydration Pack Capacity
Keep in mind the hydration bladder goes by many names: from water bladder to the reservoir. Still, the objective of the hydration pack is the same: to transport large quantities of water and make drinking convenient.
Hydration packs range from less than 5 liters to over 50 liters. Most hiking backpacks (from day packs to 80 liters+ have a sleeve too). Figure out how much water you will really need to (and want to) carry at once.
Hiking through a desert with no water supply versus a casual day hike will obviously require a different amount of water.
You should also consider your gear capacity since a full bladder can take up quite a bit of space in your pack. Will a full hydration pack allow you to carry a jacket and snacks?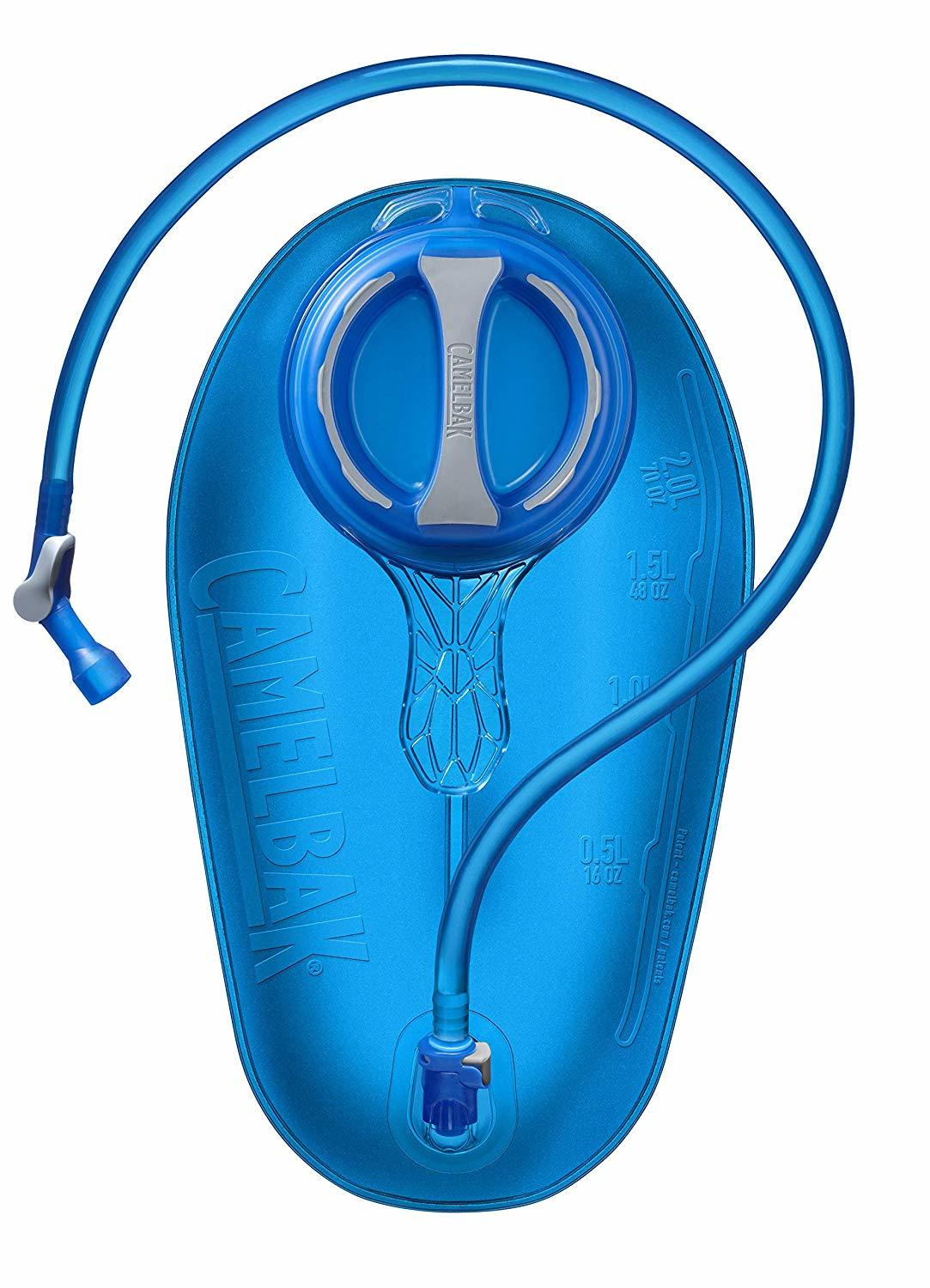 Most running and cycling hydration packs are on the smaller side. Small packs at 5 liters or less are perfect for running because they are compact and low profile. Mountain biking and long trail runs may require a 6-10 liter pack so you can also bring an extra layer and snacks.
11 – 30-liter hydration packs are great for day hiking. These have enough room for all the extras.
Overnight adventures generally require at least 36-liters and upwards. For this guide, I'll also be focusing on packs designed for day hikes and excursions versus long multi-day treks. Anyone searching for a thru-hike backpack should refer to our best hiking backpacks guide instead.
Hydration Packs Fit
Fitting to a hydration pack is similar to that of a hiking backpack. You should fit for waist size, torso-length, and body type.
Torso lengthens are available in multiple sizes, from extra small to large. Larger packs often have an adjustable suspension system to fit your torso. These are best to try on in-store.
Like torso sizes, waist sizes range from extra small to large. Your waist size will determine your hip belt, which does not always match the torso! Often times, companies or stores like REI will allow you to switch out a hip belt.
Women-Specific Hydration Packs
These packs have hip belts and shoulder straps that are contoured with the female shape in mind. Torso dimensions are generally shorter. The actual backpack's capacity is also generally a bit less than the men's version (i.e. men's version is 44-liters and women's version is 40-liters).
Hydration Pack Features
Bite Valve Shutoff: Some bit valves twist to open and close or have a switch. Often, like with Camelbak products you need to buy the bite valve separately. It's worth it, in my opinion!
Clips: Many hydration packs include a clip on a shoulder strap to keep your tube positioned for easy access.
Wide-mouth opening: Wide-mouth openings on the bladder are there to allow you to fit a hand inside the reservoir for easy cleaning. They can be a bit messier to close though.
Cold weather add-ons: They can be handy for snow sports, but they can also add bulk and weight.
Rain cover: A rain cover is a nice add-on to any backpack! You never know what type of weather you will encounter on the trails.

Do You Want to Travel FOREVER??
Pop your email in below to get a FREE copy of 'How to Travel the World on $10 a Day!'.
Best Hydration Packs – Osprey Skarab and Skimmer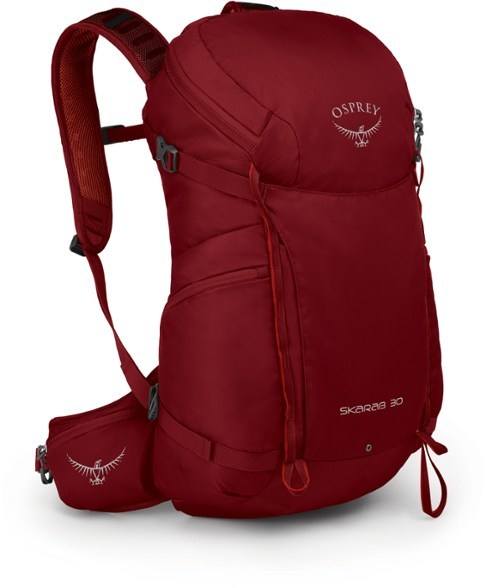 The Osprey Skarab is designed for men while the slightly smaller women's version, the Osprey Skimmer, is specifically designed for women.
Both versions of these Osprey Hydration packs come in multiple sizes as well as include an Osprey hydration bladder. The 2.5 Hydraulics reservoir is easy to fill and drink from thanks to the convenient drinking hose.
The Skarab 18 is the perfect size for a day hike because it can fit your water bladder, valuables, extra layers, and lunch.
That being said, Osprey makes a larger size of this version, which can be preferable if you will be tackling a difficult hike, and need to carry more layers, water, ax picks, etc.
The Skarab 30 is big enough for an overnight hiking trip. It can comfortably fit some food, water, a first aid kit, book, and clothes.
Some of the series' best features include a wide-mouth bucket-style main compartment, front shove-it pocket for quick storage (great for a jacket), dual-zippered large side-panel pockets, and hip belt pockets.
Each pack also has dual upper and lower side compression straps, ice ax loops, trekking pole loops, and daisy chain attachment points. All of these features make this pack extremely versatile for various terrain, weather, and hiking distances.
Check out our post on the best hiking backpacks as well! They all have specific spot for a hydration reservoir, although their purchase does not include one.
+Pros
Extremely comfortable and breathable
Durable
Meant for various types of hikes
-Cons
No integrated rain cover
30 Liters may be an awkward size for some
Is the Skarab Osprey Hydration Pack for me?
When you're in it for the summit, having a versatile and comfortable to carry hiking pack is key. The men's Osprey Skarab 30 hydration pack has the storage space and practical touches for all-day hikes and can also work for overnight ones. This bag is comfortable, versatile, and durable. What more could you want?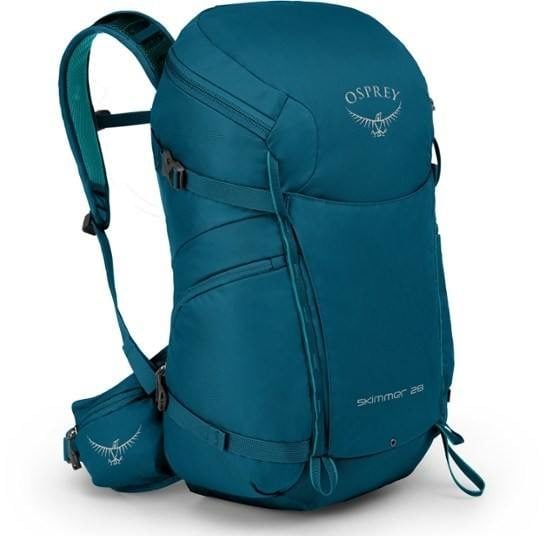 The main difference between the men and women versions of the Skarab and Skimmer is the gender-specific fit. Women-specific hiking backpacks have differently shaped hip belts and sternum straps, and often a slightly smaller torso length. In this case, the backpack's actual capacity is a tad smaller too, most likely to shorten the torso length.
As mentioned above, the Skimmer 28 comes with a 2.5-liter Osprey hydration bladder. It also includes an adjustable sternum strap with a magnetic bite-valve attachment to easily access your water.
This Osprey hydration pack is top-loading backpack has a wide-mouth main compartment so it's easy to pack and unpack. There are quite a few attachment points: daisy-chain straps, dual lower trekking pole attachment loops, and ice ax loops.
This backpack has plenty of pockets, including the front shove-it pocket and zippered slash pocket. This pack extremely versatile for various terrain, weather, and hiking distances. While meant for day hikes, you can make it work for an overnight hike too.
If you do not want a 28-liter pack, the Skimmer 16 is the perfect size for a smaller day hike. It will fit your water bladder, valuables, extra layers, and lunch.
+Pros
Extremely comfortable and breathable
Durable
Meant for various types of hikes
-Cons
No integrated rain cover
28 Liters may be an awkward in-between size for some
Is the Osprey Skimmer Hydration Pack for me?
This hiking pack is perfect and practical. Stay happy and stay hydrated on the trail with the women's Osprey Skimmer 28 hydration pack. It comfortably carries a day's worth of water and supplies, no matter where you're going.
Osprey – Best Men's Hydration Pack
The CamelBak Fourteener Hydration Pack is one of the best camel packs, specifically created with men in mind.
The hydration pack is separate from the gear compartment, allowing for a more comfortable fit. It can hold up to three liters of water. The water bladder's tube is held secure with a magnetic strap so you can access the Camelbak mouthpiece on-the-go.
Other great features include its air support back panel for maximized ventilation, overflow pocket to quickly stash an extra layer and trekking pole carry.
The pack lives up to its name, "Fourteener." It's perfect for those difficult day hikes and 14,000-foot peaks because it's rugged, comfortable to carry, and you can fit plenty of layers, a lunch, camera, small valuables, and a 3-liter hydration reservoir.
+Pros
Extremely comfortable
Perfect for difficult hikes
Fits a 3 liter Camelbak reservoir
-Cons
Too large for most women
reservoir tube could be longer
Is the Camelbak Fourteener Hydration Pack for me?
This Camel backpack is comfortable, breathable, and durable. Most men report back that it sits on their frame well without bouncing on impact.
Best Women's Hydration Pack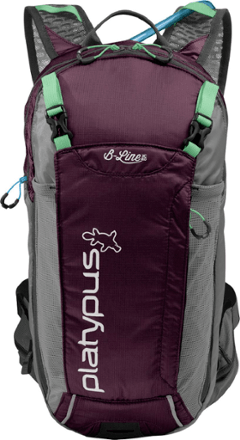 The women-specific Platypus hydration pack has an optimally sized back panel, and comfortable hip belt and shoulder straps designed for the female form. I love that this hydration pack has ventilation channels and moisture-wicking mesh for comfort and breathability.
At 8-liters, it's great for a light day hike, the perfect size for a water reservoir, a few essentials, snacks, and a light jacket. The backpack itself has 2 zippered pockets on the hip belt and a few zip pockets on the bag itself.
This REI platypus pack INCLUDES a 3-liter Big Zip LP reservoir bladder with a wide-mouth opening and quick-disconnect drinking hose. The reservoir suspension hooks stay secure if you are running or riding.
Some other unique features include a front stash pocket to carry a helmet, and reflective hits in case you are hiking or riding in the dark.
We're reviewing the 8-liter Platypus hydration pack, but there are larger versions if you are purchasing this pack for hiking versus running or biking.
+Pros
Extremely comfortable
Versatile – for running or riding
Fits a 3-liter water bladder
-Cons
Small; only for bare essentials
Bladder pocket is a bit tight
Is the Platypus Hydration Pack for me?
This women-specific hydration pack has all the bells and whistles that make a great day pack for hiking and biking. It's even a good running water pack! If you want a light pack that can do it all, then this is a great choice!
Best Hiking Hydration Pack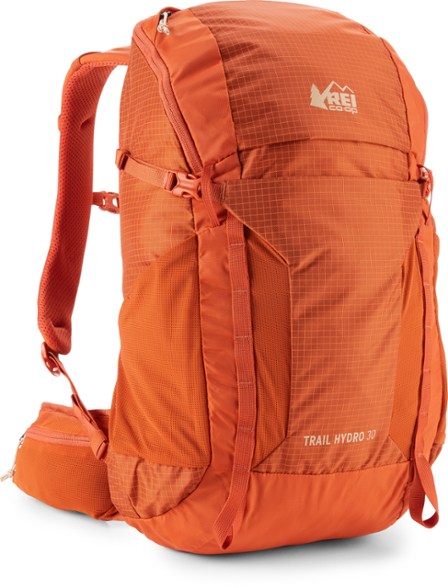 I'll level, hiking with a reservoir on your back isn't always going to be exactly "comfortable" as all that water gets pretty heavy. Still, this hiking hydration pack by REI is a very comfortable option.
It's got shoulder straps, a sternum strap and a hip belt all of which will help you bear the 3 litre (and 3kg) reservoir.
In terms of storage, there is plenty of space for your gear in the main compartment and then six additional pockets. There is also a number of attachment points for trekking poles and other bits of gear.
Is The REI Trail Hyrdo For Me?
It's a good sized pack that is still comfortable enough to carry onto hikes. It's also very well priced. Just don't expect it to last forever.
Best Hydration Pack for Running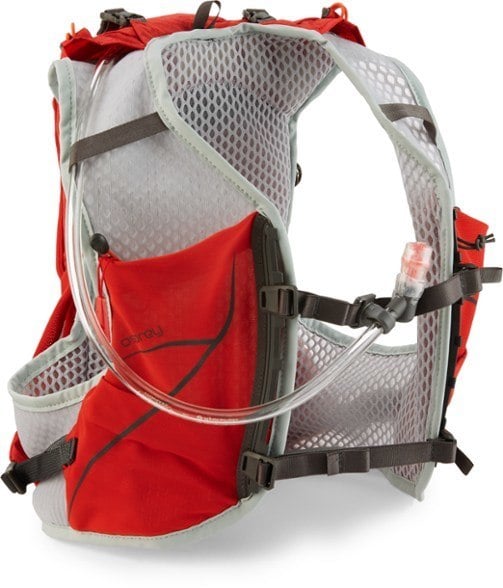 The Osprey Duro 6 vest is one of the best running hydration packs on the market. This running water vest can carry 1.5 liters of water without bouncing around on your back. The sternum magnet makes the tube easy to access on the move.
Dual zippered panel access to the main compartment lets you easily grab essentials. You can now store your phone, snacks, and water on those long runs. The vest also has front panel stretch mesh compression pocket and vertical zipper stash pocket.
The Duro is one of the best trail running hydration packs. It's perfect if you are training for endurance events i.e. you're trying to hike or run a marathon in a day. You can easily fit an extra layer if you're going to be starting in the early AM or finishing your hike as the day gets cooler.
That said, the pack is super light and hardly noticeable when you are running, pair it with the Altra Lone Peak shoes and there's no catching you!
+Pros
Extremely light
Vest made for trail running
Doesn't shift or flop at all
-Cons
Small; only for bare essentials and 1.5 liters
Pricey for a 6-liter pack
Is the Duro 6 Hydration Pack for me?
This is the best hydration backpack for running. It has a low profile and is comfortable, but still allows you to pack an extra layer, snacks, and 1.5 liters of water.
The best present of all… is CONVENIENCE!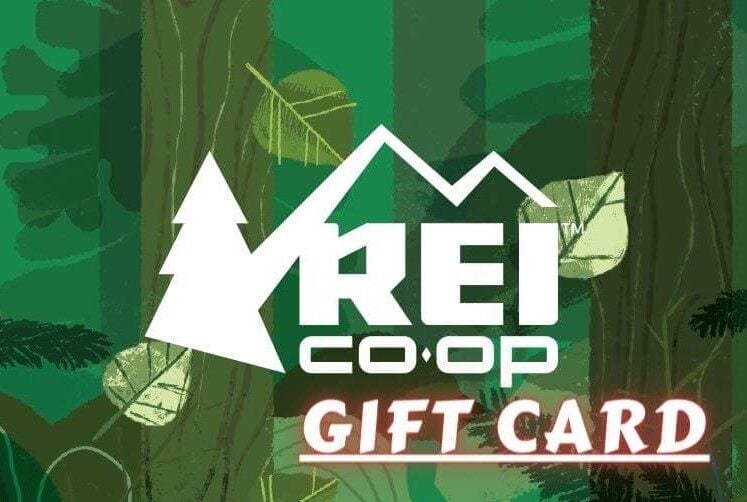 Now, you could spend a fat chunk of $$$ on the WRONG present for someone. Wrong size hiking boots, wrong fit backpack, wrong shape sleeping bag… As any adventurer will tell you, gear is a personal choice.
So give the adventurer in your life the gift of convenience: buy them an REI Co-op gift card! REI is The Broke Backpacker's retailer of choice for ALL things outdoors, and an REI gift card is the perfect present you can buy from them. And then you won't have to keep the receipt. 😉
Buy on REI!
Best Hydration Pack For Mountain Biking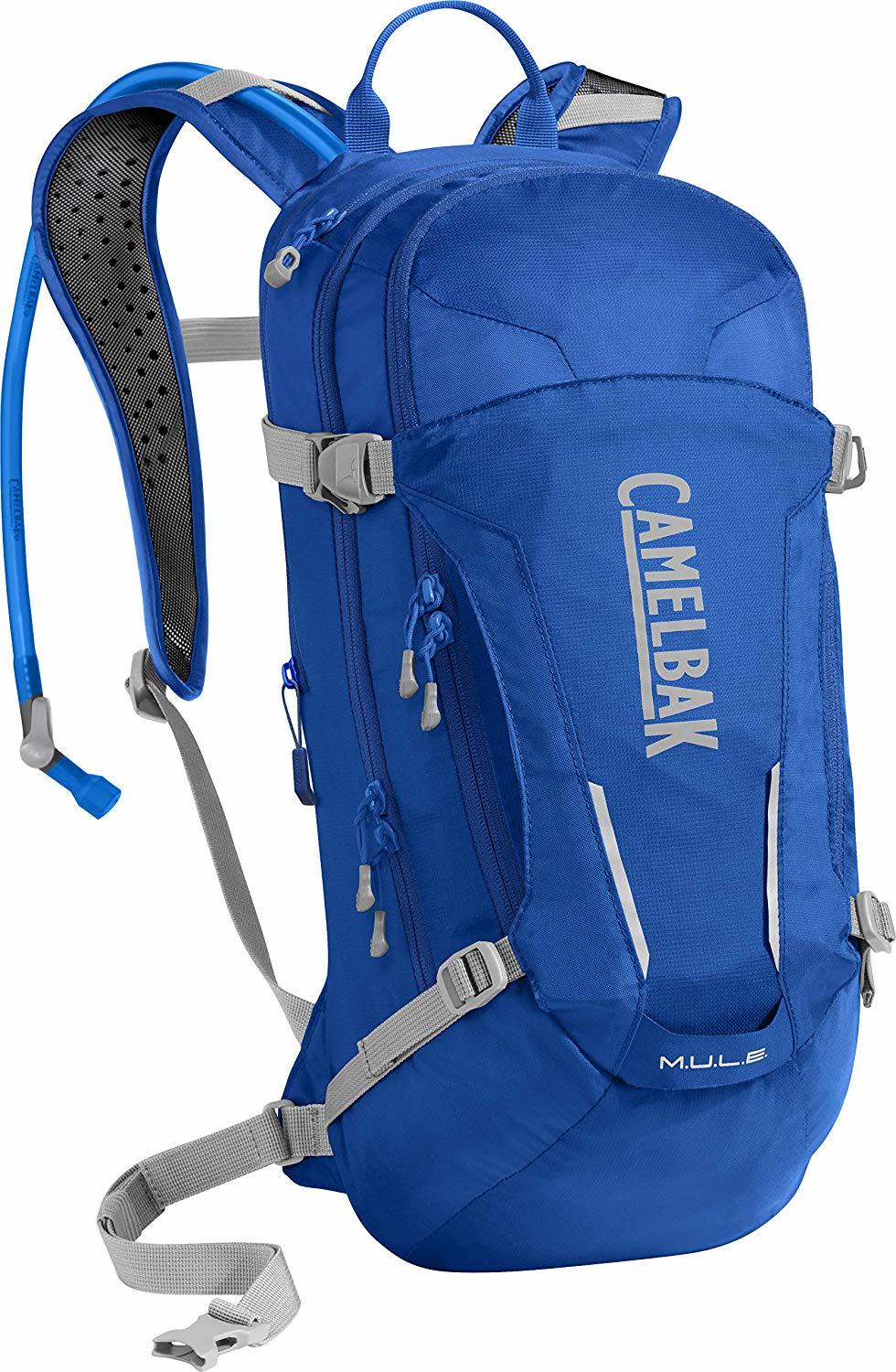 The CamelBak M.U.L.E was initially designed for mountain bikers, and it's one of the best hydration cycling backpacks, but it is versatile enough to use for other activities because it can fit up to 3 liters of water and carry your essentials. It includes a tool compartment and air ventilator design for ultimate breathability.
One of my favorite parts about this pack is the new Camelback bladder design. The tube has an easier on/off lever, and the bladder is built with a Crux reservoir, allowing you to take in much more water with each sip than with a traditional hose system. The latest model also includes a magnetic tube strap so you can drink from the bladder hands-free.
+Pros
Very Comfortable
Versatile
Great water bladder
-Cons
Some reviewers report difficulty screwing bladder lid
Color fades faster than we'd like
Is the Camelbak M.U.L.E Hydration Pack for me?
This is our pick for the best cycling and mountain biking hydration pack, but it is also an all-around great hydration pack that rivals our favorite hydration packs above. Get this pack if you need a pack primarily for biking, but want one that can do it all.
Most Lightweight Hydration Pack
If your primary goal is to buy the lightest hydration pack possible, then then this Mubasel hydration pack is perfect for you. It is designed with minimalism in mind. It focuses primarily on hydration, weighing only .5 pounds!
Although it's a no-frills type of bag, it still comes with some nice features, like small compartments for your items, and a waterproof nylon shell.
The pack also fully opens up when unzipped, making it much easier to clean than other models. Best of all, it's the cheapest hydration pack we've reviewed. Sometimes you can find this hydration pack for around $30!
We were pleasantly surprised by the quality of the backpack. The water bladder, however, had to be replaced. Overall, this pack is durable and lightweight, but replace the bladder.
+Pros
Extremely light
Plenty of available colors
Affordable
-Cons
Straps aren't as comfortable as other packs' straps on this list
Bladder sucks. Worth investing in another one.
Is the Musabel Hydration Pack for me?
If you want an affordable, no-frills pack that is so light it feels like it's barely there, then Musabel is the pack for you. Don't be fooled by the price either; this pack is highly recommended! The only thing we have a problem with is the bladder. It seems to be cheap plastic and not something you want your water heating up in. It is worth investing in a separate reservoir.
Best Hydration Pack for Cycling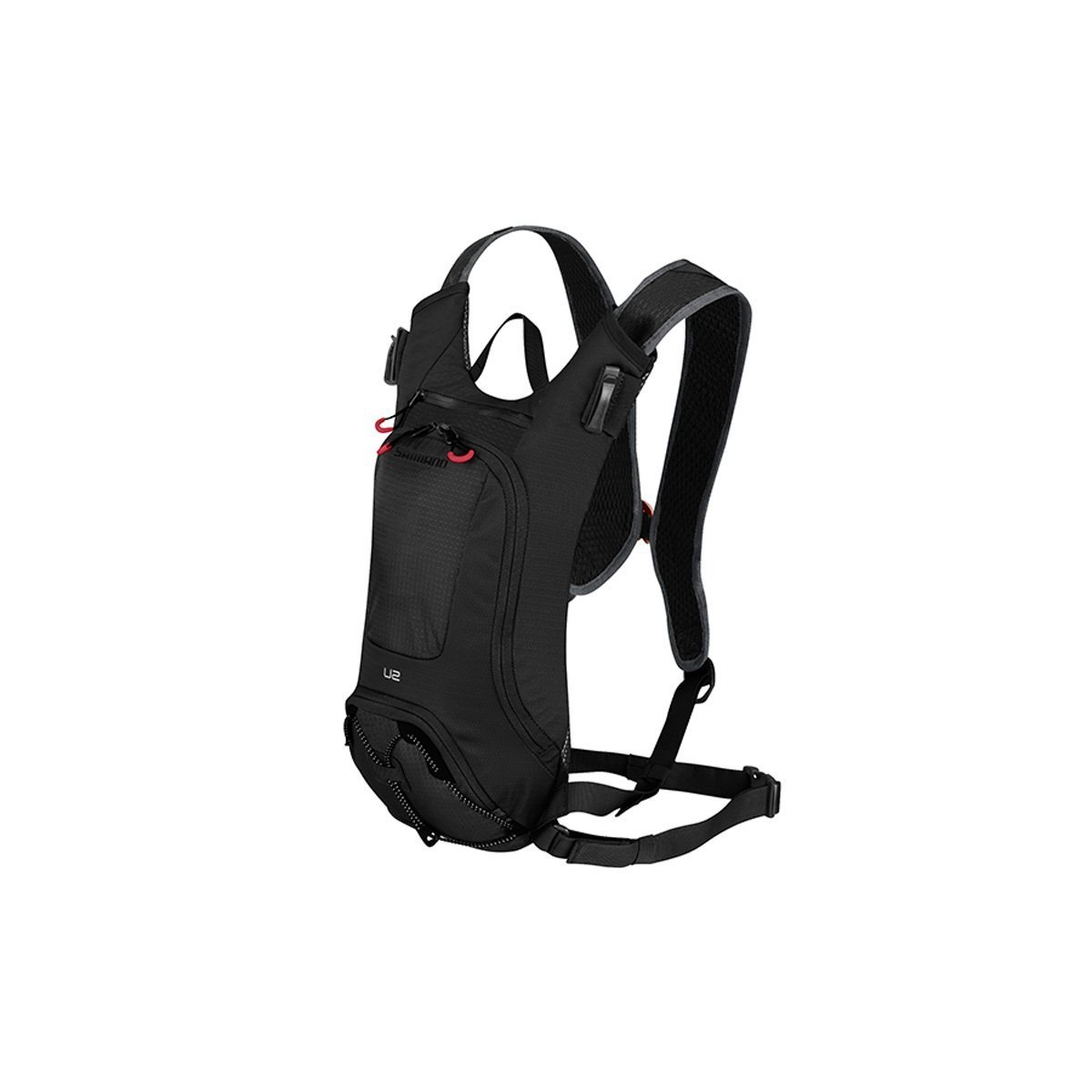 As you head out for a day of cycling, the last thing you want to do is carry a heavy hydration pack. You want a cycling pack that is low-profile and lightweight. 
Many cycling hydration packs feature a breathable mesh material to promote ventilation. Many cycling-oriented hydration packs feature convenient exterior helmet storage options. Some also have places to store other tools.
While Osprey and Camelbak make pretty awesome cycling hydration packs, we love the Shimano Unzen 2 because you can zip down the trails, barely noticing this pack is on your back. It was specifically designed for fast-paced and shorter bike rides. It's also a high-quality yet affordable cycling hydration pack.
Features include a 2-liter/68-ounce capacity and a secure helmet holder, and a light attachment loop in the back.
+Pros
Extremely light
2-liter bladder capacity
Affordable
-Cons
Small; only for bare essentials and 1.5 liters
The nozzle can be tricky to figure out initially
Is the Shimano Unzen 2 Hydration Pack for me?
This is our pick for the best hydration backpack for cycling shorter distances. Its Camelbak quality for a more reasonable price.
Best Hydration Pack For Mountain Biking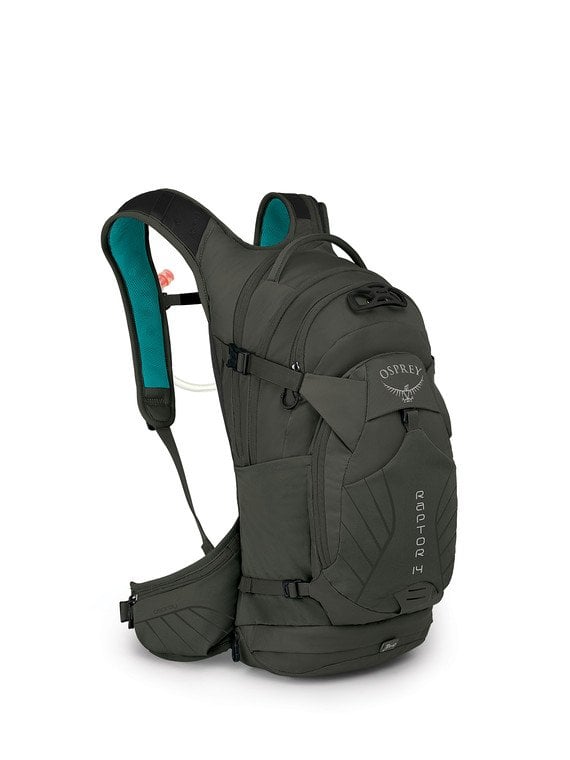 I recently found out that Velociraptors were actually the size of chickens – small but very effective like this wonderful little sports ready hydration pack by Osprey.
So, whilst the Shimano Unzen above is great for road biking and short(ish) distance cycling sprints but the Raptor by Osprey is more suited for mountain biking, cycling camping or even bike packing thanks to its greater storage capacities.
The Osprey Raptor 10 Bike Hydration Backpack is a high-quality pack with several convenient features that comes at very sensible price point. The men's 10-liter pack measures 9" x 9" x 19", weighs 1.59 pounds, and includes a 2.5-liter reservoir – the women's version is the Raven that is obviously a bit smaller and pinker.
+Pros
Light
Good storage
Robust guarantee
-Cons
3l can feel heavy on a bike
Not big enough for big hikes
Is The Osprey Raptor For Me?
Osprey do aim this pack at cyclers and skiers but of course you can also use it for hiking. Osprey make great packs that come with a bloody good guarantee.
This 12-liter insulated hydration pack is perfect for fresh powder days! The drinking tube is insulated so you can still sip when temperatures are below freezing.
It has an expansion panel to add 6 liters of additional storage space capacity. It's the perfect size to carry an extra pair of gloves, your wallet, phone, snacks, and keys. It also has ski loops so you can attach your skies and helmet!
It's low profile so you don't have to take it off to get on a chairlift.
While a bit on the pricey side, this pack is well worth the investment if you plan to use if for snow-sports so that your water is less likely to freeze. Yes, it might still freeze in very cold temperatures, but it won't freeze like other packs on this review.
Overall, it's extremely well designed and perfect for a day on the slopes. Expect nothing less from a Camelbak water backpack.
+Pros
Insulated drinking tube
Large hydration capacity
Snowboard and helmet attachments
-Cons
A bit pricey
Heavier due to insulation
Is the Camelbak Powder Hound Hydration Pack for me?
This is the BEST hydration pack for skiing and boarding. If you need an insulated pack for snowsport, then look no further. We rate this a 5/5 for the helmet and ski attachment points and compression straps. That said, this pack is overkill if you do not plan to use it in the snow.
FAQ about the Best Hydration Pack
Still have some questions? No problem! We've listed and answered the most commonly asked questions below. Here's what people usually want to know:

Unlock the The Broke Backpacker's GREATEST Travel Secrets!
You pop your email here, and we promise to send you only travel content that's actually relevant — sounds like a pretty good deal to us!
Final Thoughts on the Best Hydration Packs
We've tested and reviewed the best packs for every occasion. Our conclusion? You cannot go wrong with the Osprey Skarab for Men or sister pack, Osprey Skimmer for Women. These are two of the best hydration packs. We also love the Camelbak Fourteener and Platypus Hydration Pack.
Read our review if you are looking for a pack for a specific sport, like skiing, running, or mountain biking!
All of our reviewed backpacks come with an included reservoir as well! Did we miss your favorite pack? Let us know in the comments!
---
Bye for now, but not forever!
If you want MORE top-tier Broke Backpacker content like this, then sign up for our weekly newsletter below to get the latest and greatest!
And for transparency's sake, please know that some of the links in our content are affiliate links. That means that if you book your accommodation, buy your gear, or sort your insurance through our link, we earn a small commission (at no extra cost to you). That said, we only link to the gear we trust and never recommend services we don't believe are up to scratch. Again, thank you!