The capital of Wales is an exciting place for a tourist as there's no end of things to do. You might even be surprised to know that this area has the highest concentration of castles in the United Kingdom. Yes, even more than Scotland! So, it's not surprising to know that Cardiff is absolutely dripping in history. It's not only history though, there is also great shopping, a number of cool cultural sites (that aren't castles), and plenty of places to chill out and relax.
In this post, we'll take a look at the best places to visit in Cardiff. Hopefully, you'll find the list helpful as you plan your trip to the Welsh capital. Perhaps you'll even feel like a local! First though, let's check out the best places to stay in Cardiff.
Best Places to Stay in Cardiff
Thinking about where to stay in Cardiff? That's understandable, it can be tricky finding a place to stay! After all, it's a capital city and it's pretty big. To help you out as much as we can, we've had a look at the coolest neighbourhoods in Cardiff. From that, we've found three places to stay, each suitable for a different budget and travel style. So, let's take a closer look at three of the best places to stay in Cardiff!
Thisfamily-run Cardiff hostel may be small, but that makes for a friendly and homely experience. Especially if you're searching for where to stay in Cardiff on a budget! There's free breakfast and Wi-Fi for you to enjoy. Another great thing if you pick the Riverhouse Hostel is the location. It's right in the centre of Cardiff, but the price certainly doesn't reflect that! This is a great place to meet fellow travellers and have a great time in the Welsh capital!
View on HostelWorld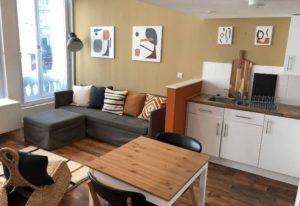 This very cute loft is a perfect home for your first stay in Cardiff. If you want to be close to the main area, well, you really can't be any more central than with this Airbnb. Attractions, entertainment and eating options are just around the corner. The loft is quirky and feels like home according to the previous guests.
View on Airbnb
When you look at the most central neighborhoods in Cardiff, you'll see that they can get pretty pricey. So, this ibis Cardiff Centre should be your first port of call if you are on a budget but don't want to sacrifice a cool area! This may not be an expensive place to stay, but there's still plenty to keep you happy. Rooms come with en-suite bathrooms and flat-screen TVs, and you can even bring a pet! Add an all you can eat breakfast for a reasonable price too!
View on Booking.com
If you're looking for the best places to stay in Cardiff with views of the city's bay, check out this cool option. The best luxury hotel in Cardiff is a five-star accommodation offering an on-site restaurant and an award-winning spa. Just make sure you don't spend too long getting treatments as you'll not have time to explore the best places to visit in Cardiff!
View on Booking.com
Need a place quick? Here's the best neighbourhood in Cardiff:
Best Area in Cardiff
City Centre
Cardiff City Centre is a reasonably sized area just south of Cardiff University and Cooper's Field. There are some small and narrow lanes to meander through, as well as wide-spaced avenues with all sorts of shopping and street performers to be found.
PLACES TO VISIT:
Visit the Museum of Cardiff, interactive and fun!

Head to Clwb Ifor Bach, the three-story nightclub, for after-hours amusement!

Catch a show at the (not so) New Theatre, from Victorian times.
These are the BEST Places to Visit in Cardiff!
#1 – Cardiff Castle
One of Cardiff's coolest historical sites!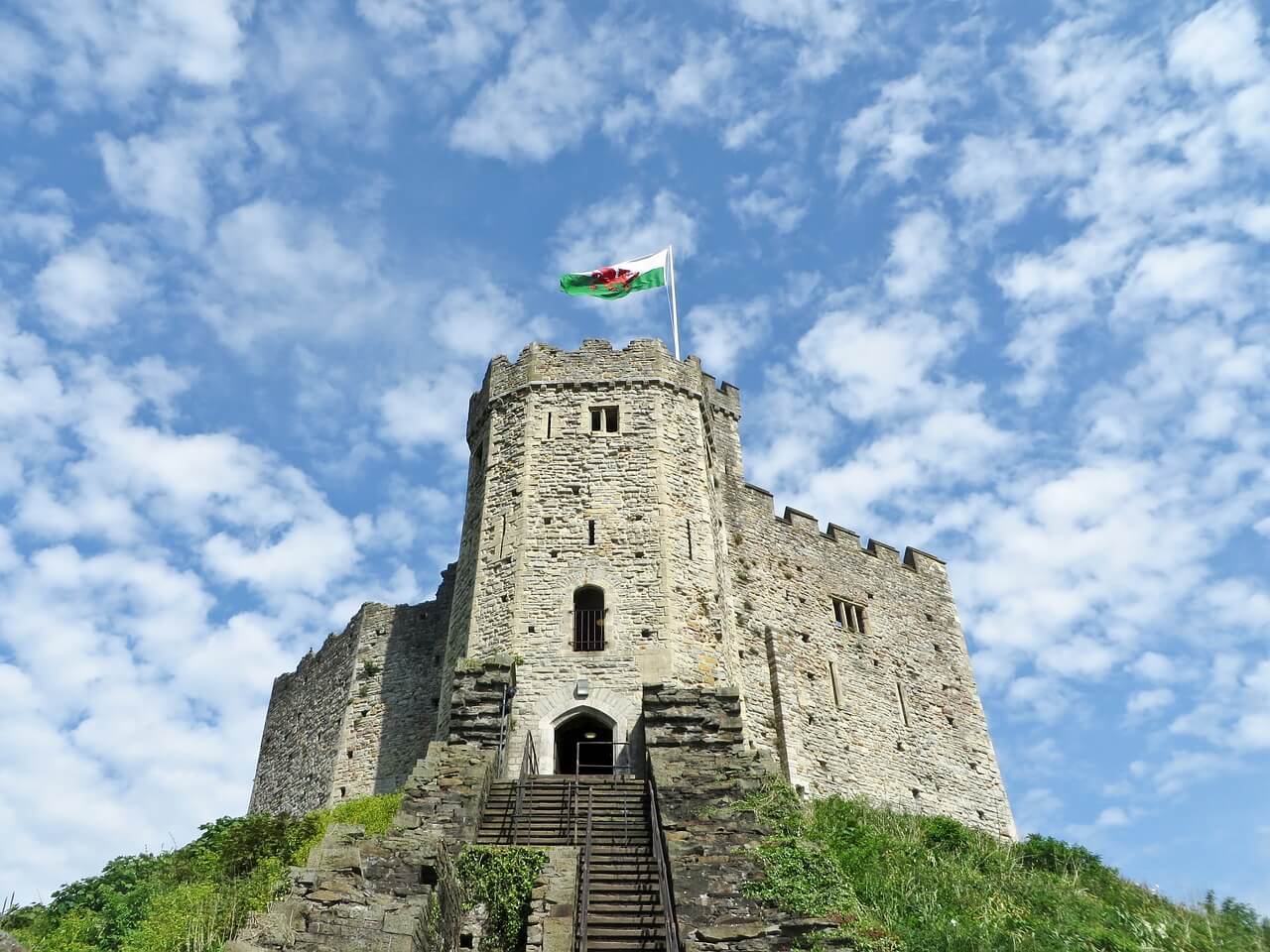 One of the most popular attractions in the whole of Wales
Don't miss the opulent Arab room
See the history of those who lived and worked here in the state apartments
Why it's awesome: Let's kick off with not only one of the most popular attractions in Cardiff but the whole of Wales! In a city that has the highest concentration of castles anywhere in the UK, this one is the undisputed daddy of them all. It's built on top of a Roman fortification which dates back 2,000 years, but the oldest sections of the best-preserved castle in town don't go back quite that far. However, they're still pretty impressive as they do go back to the 10th century!
What to do there: As this is one of the most popular places to visit in the country, it may be worth getting tickets to skip the line so that you don't spend half your day waiting in a queue! Once you get in, take in the fascinating displays in the State Apartments. Not only will they give you more info on the castle itself, but those who used to live and work here. Another highlight is the Arab Room! Inspired by the Moorish architecture of Spain and North Africa, this was added in the 1880s and is one of the glitziest rooms in the castle! On your way out, see the Victorian menagerie of the animal wall. If you get all this in, you've done justice to one of the most recognisable landmarks in Cardiff!
#2 – Wales Millennium Centre
A great place to visit in Cardiff at night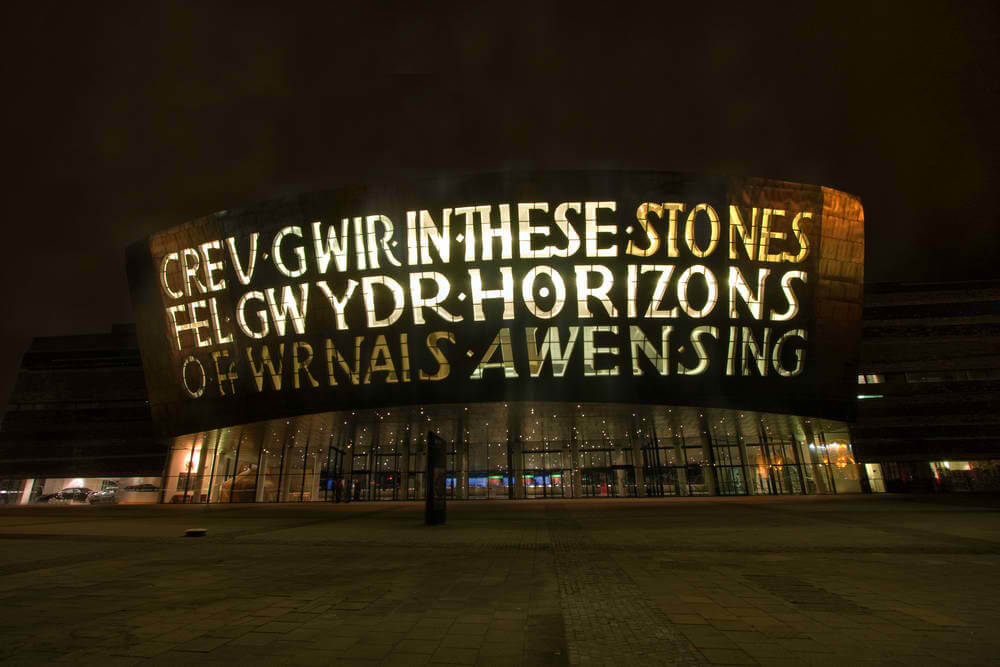 A Cardiff must-see if you're interested in arts and culture
One of the top-performing arts centres in the world
Check out the events calendar and treat yourself to a performance
Why it's awesome: Cardiff has a legendary nightlife, but it's not all about pubs, bars, and clubs. The Wales Millennium Centre is one of the top-performing arts centres in the world and should be on every culture vulture's Cardiff Itinerary. It's more than just a performing arts centre though. It's set across five acres of grounds which make for a lovely place to walk around during the day too. If you're visiting Cardiff, you really can't miss this place off your list of things to do!
What to do there: First of all, we'd recommend taking in a performance here. No matter what you're into, there'll probably be something for you! Opera, ballet, contemporary dance, and literary events are all on the menu. If your budget doesn't quite stretch to that, or you're only in Cardiff for the day, it's still worth a visit. As well as taking a walk in the expansive grounds, check out the activities on offer. There are guided tours, which will show you more of the incredible building and its architecture. If that's not for you, sign up to one of the workshops or educational talks that happen regularly!
#3 – National Museum Cardiff
A fascinating educational place to visit in Cardiff
Step back in time… all the way back to when dinosaurs roamed the Earth!
Learn all about the history of Wales
Check out the art gallery to see some original masterpieces
Why it's awesome: If you have any interest in the history of Wales, then the National Museum is a Cardiff must see! You'll find it right in the city centre, inside the beautifully constructed Civic Centre building. The National Museum has a huge variety of things to see across both permanent and temporary exhibitions. In the past, it has hosted Tim Peake's spacecraft, artwork by the famous Grayson Perry, and in October 2019 it will be the temporary home of Dippy the Diplodocus – a huge dinosaur skeleton!
What to do there: Learn as much as you can about the city (and country's) history. Explore Cardiff's past all the way to pre-historic times! There's lots here relating to archaeology over the years, and you'll even be able to visit a display on Bronze age weaponry. Don't worry though, no-one will be able to get their hands on it! The art gallery in this museum is another Cardiff must-see. The collection is pretty spectacular, and includes sculptures from Rodin, as well as paintings from the great impressionists such as Picasso and Monet! It's a journey through more than 500 years of exquisite art!
#4 – Cardiff Bay
An awesome place to visit in Cardiff for half a day
One of the most successful redevelopment projects in the whole of Europe
Plenty of things to do – especially if you're travelling with kids
Spot wildlife in a wetlands preserve
Why it's awesome: Cardiff Bay covers over 2,700 acres, and the former dockyard is one of the most successful redevelopment projects on the continent. It's where you'll find the Wales Millennium Centre, but there's a whole lot more to the area than that! Numerous parks are in this area, with lots of walking paths and trails going through it. There's even a wetlands centre too where you'll be able to spot local wildlife. Cardiff Bay is probably the best spot in town if you're travelling with kids though – as there's a lot to see with them!
What to do there: There are a couple of Cardiff must-sees in this area if you're with the family. Readers of all ages love the works of Roald Dahl, and the Norwegian writer spent much of his upbringing in Cardiff. Why not head to Roald Dahl's Plass (that's square in English) or to the historic Norwegian Church? For those who are more science-minded, Techniquest is a good place to stop off. It's chock full of interactive exhibits that will keep the kids entertained for hours! When you've tired yourself out exploring the bay, take your pick from the best places to eat in Cardiff – many of them are in the Bay!
#5 – Castell Coch
A fairytale Castle, also known as the Red Castle.
Spot the carvings of fairytale creatures
An opulent masterpiece from the High Victorian Area
Why it's awesome: No, we haven't spelt the name wrong in the title! It's Welsh! Castell Coch is much newer than Cardiff Castle, in fact it only dates back 200 years. Castell Coch is an example of what happens when a very rich man and an extremely talented architect collaborate. You'll spot the conical towers rising up above the Fforest Fawr, but that won't be preparation for the sheer amazingness of the interior! Castell Coch is one of the most recognisable landmarks in Cardiff, and you'll definitely not regret a visit here!
What to do there: Often voted by the Welsh public as the most popular building in the country, it might become your favourite spot too. Although the castle itself was only constructed in the 19th century, it's possible for you to trace the original 13th century castle that it was built on top of as you explore. Also, look out for carvings of fairy tale creatures and religious iconography that adorn the chambers. It's one of the best Cardiff vacation ideas as it'll show you a traditional Welsh settlement too. The castle is in a little town called Tongwynlais.
The Best Travel Backpack?!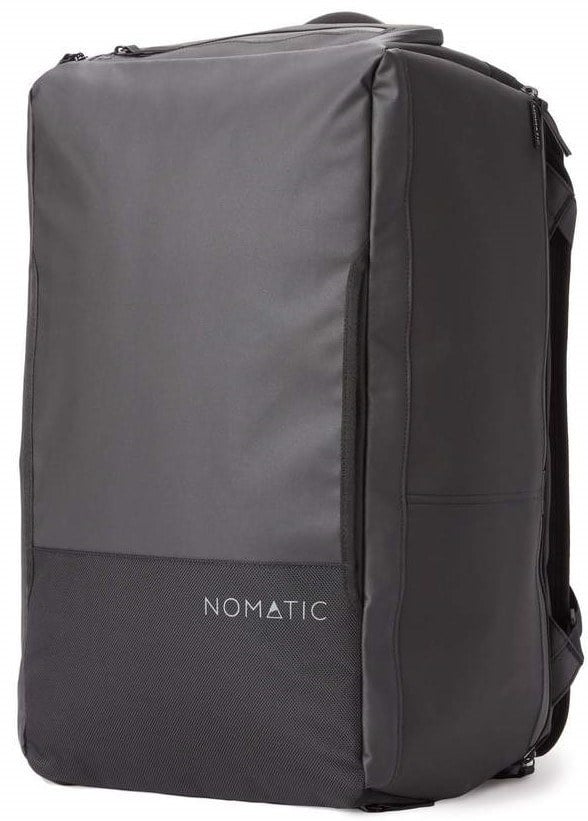 Pssssst! Not picked the perfect travel backpack yet? The Broke Backpacker team has tried out over thirty backpacks this year! Our favourite carry on backpack is the Nomatic Travel Bag.
Read our full review!
#6 – Bute Park
A beautiful outdoor place to visit in Cardiff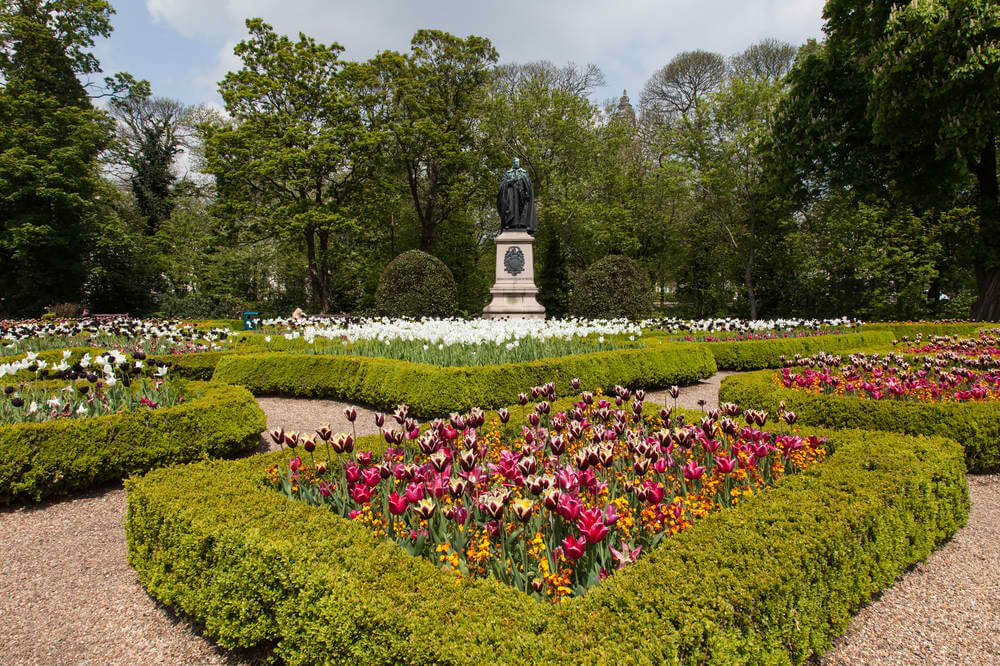 Follow the Bute Park Sculpture Trail
Ideal to combine a visit here with Cardiff Castle
One of the best places in Cardiff to relax and disconnect
Why it's awesome: If you want to escape the hustle and bustle of the city without actually leaving it… then this might just be the perfect place for you! One of the biggest and best-loved green spaces in Cardiff, Bute Park wasn't always there for the public to enjoy. In fact, it used to belong to Cardiff Castle and wasn't open to the public until the Marquess of Bute gifted it to the city in 1948. Nowadays, it's a favourite spot of locals and tourists alike to spend a few hours relaxing in the sunshine.
What to do there: Bute Park is a great place to relax and disconnect from busy city life. However, if that sounds a little too slow-paced for you, there's an alternative. Throughout the 130 acres of the park, you'll find the Bute Park Sculpture Trail. Unusual beetles, frogs, and benches are placed throughout the park, making for a fun treasure hunt. If you need a hand finding them, there's an interactive map on the park's website! However, if you'd just like to sit with a picnic or a book, who could blame you? It's lovely here, and a must for your Cardiff itinerary!
#7 – Cardiff International White Water
Easily one of the most fun places to check out in Cardiff
Man-made white-water rafting courses originally for the 2012 Olympics
Kayak, Canoe, and raft here
Take lessons at the Paddle School if you're a complete beginner!
Why it's awesome: Yet another cool attraction in Cardiff Bay? Surely not! Originally built for the 2012 Olympics, Cardiff International White Water is one of the coolest attractions in Cardiff, and a great alternative activity if you've maxed out on castles, museums, and galleries! It's open to any level, so if you're a serious river rafter looking for a thrill, or just a beginner hoping to take your first paddles in a kayak, everyone is welcome. Who'd have thought you could travel to Cardiff and do activities that are usually right out in national parks?!
What to do there: If you're looking for a huge variety of things to do in the same spot, this is the place for you. The 250 meter course can be adjusted to meet your needs. So, if you want to go on a relaxing family rafting trip with your nearest and dearest, that can be arranged. Likewise, if you want to go bombing down an aggressive Canadian river, that can be set up too! If you don't want to get in a boat, there are a load of other water sports activities here. Check out paddle boarding, canyoning, and even surfing!
Quick Note – Staying Safe in Cardiff
Cardiff has a spot among the 20 safest places to live in the UK, so we're off to a good start there. That said, you are still heading to a big city and country capital, so you should still be aware of your belongings and valuables. Nightlife in Cardiff is great, but try to avoid walking back to your accommodation alone, especially if it's in the early hours of the morning.
Don't forget to sort your travel insurance! We've put together a roundup of the best travel insurance for backpackers, or if you're low on time, get a quote from World Nomads now, our favourite travel insurance provider.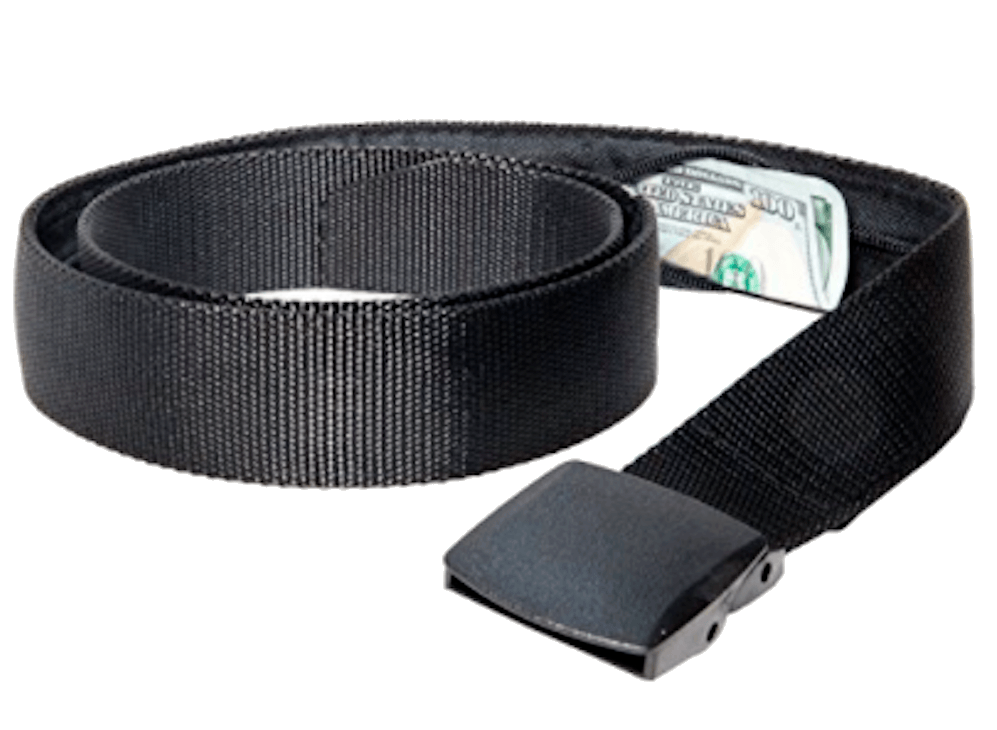 You should always have emergency cash hidden on you - pick up this awesome security belt with its hidden pocket before you travel, it's perfect for hiding money, a passport photocopy.
#8 – The Taff Trail
A nice quiet place to see in Cardiff
A great way to explore Cardiff by bicycle
A 55 mile walking and cycling trail all the way north to Brecon!
Follow along the pretty banks of the River Taff
Why it's awesome: The River Taff runs from the centre of Wales all the way to Cardiff. There are some really noteworthy points on its banks and taking the Taff Trail is the perfect way to see them. The trail starts (or ends, depending on which way you do it) at Cardiff Bay. It'll take you through Fforest Fawr too, where you can take some time away from the trail to explore the forest. It's also where you'll find one of the other best places to visit in Cardiff from our list: Castell Coch!
What to do there: Whether you want to walk, cycle or even horse ride on the Taff Trail, all those options are a possibility. Thanks to the increasing amount of bike rental services in Cardiff, that's one of the most popular ways to tackle the trail. It's good whether you're looking for a relaxed Sunday afternoon cycle ride, or you really want to push yourself! If the second one sounds like you, try cycling the 27ish miles to Merthyr Tydfil in under 3 hours. Although, why would you want to do it so quickly when there's so much to stop for?!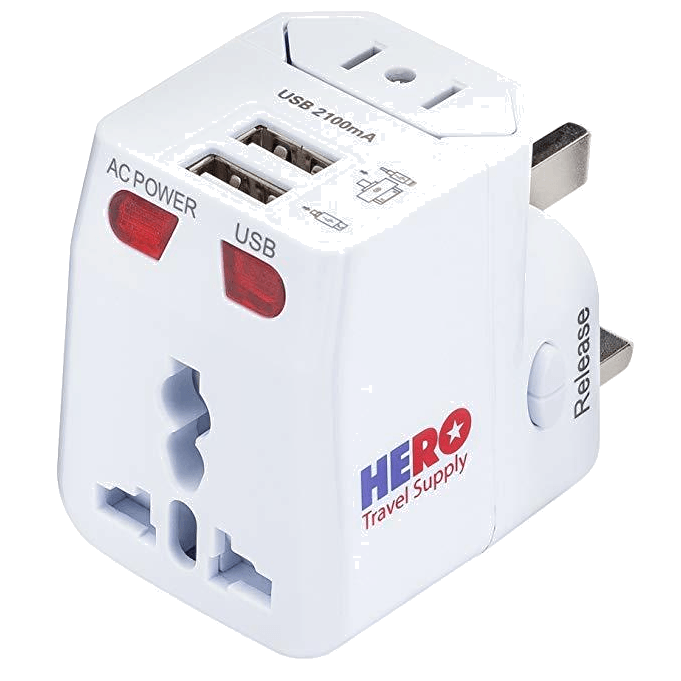 One of the best investments you can make is a
worldwide travel adapter
that will work anywhere! The one featured here is tough, reliable and a solid buy - Don't leave home without one.
GET IT HERE
#9 – The Principality Stadium
Hosts some of the biggest sporting events in Wales
A great music venue
Also known as the Millennium Stadium
Why it's awesome: The Welsh really love their sports, especially when it comes to rugby. So, get yourself immersed in Welsh culture with a visit to the Principality Stadium, one of the most raucous landmarks in Cardiff… especially on a match day! The stadium was built for the new Millennium. It's quite modern, and you can tell that from the state-of-the-art facilities and architecture. Did you know that when the New Wembley was under construction in London, this was where English FA Cup finals took place?
What to do there: Nothing is quite like experiencing the atmosphere of the Principality Stadium when you're visiting Cardiff. If you can't make it for rugby, at least try to take in a football match! Or perhaps even try and see one of your favourite artists – it hosts music gigs too! If all of those don't match your budget, or more likely it sells out quick, you can always take a tour of the stadium. They're well organised and you'll even get to see the national rugby team's changing rooms! A Cardiff must-do!
Looking for a place to stay near Principality Stadium? Check out these awesome bed and breakfasts in Cardiff, a few of which are right in the center of all the action!
#10 – The City of Arcades
A great place in Cardiff if you love to shop
Beautiful Victorian arcades all over the city centre
A shopper's paradise
Some of the best places to eat in Cardiff hidden away in these
Why it's awesome: If you search for the City of Arcades in Google Maps, you won't find anything. But we had to find a way to do justice to the incredible Victorian arcades that you'll find when you travel to Cardiff. Forget about modern shopping centres, and instead pay a visit to either Morgan Arcade, Castle Arcade, or Royal Arcade to pick up your Cardiff souvenirs!
What to do there: Shop till you drop! Cardiff's arcades are full to the brim of cool independent shops. If you're a music lover, don't miss going to Spillers off your Cardiff itinerary. It's the oldest record shop in the world, which you'll find in the Morgan Arcade. After all that shopping, check out the delis in Royal Arcade, which are some of the best places to eat in Cardiff. Or just chill out and people watch with a coffee. The arcades are one of the best places in Cardiff for shopping, eating, and relaxing!
Don't forget to pack a good book!
City Guide to Cardiff: Everything you need to know about the Welsh capital: This is our top recommendation for an awesome and inspiring read on this magical city.
Get insured for your trip to Cardiff!
Remember, when you are traveling you may need insurance! World Nomads are one of the best insurers on the market and we have used them ourselves for years now.
Getting an estimate from World Nomads is simple – just click the button or image below, fill out the necessary info, and you're on your way!

Final Thoughts
So, that concludes our list of the best places to stay in Cardiff. We hope that you've found our extensive list useful and informative and you have a better idea of how to plan your trip! You'll also have a good idea of where to stay in Cardiff, thanks to our quick list of the best places to stay.
In addition to the castles, hopefully, you'll see it's a cool place to enjoy museums, galleries, parks, and perhaps even take in some nightlife after dark. You certainly won't be bored here with all the places to put on your Cardiff itinerary. It really is a great place for a city break!
Hopefully, you'll not only have a better idea of the best places to visit in Cardiff but how to see the city like a local. You might even get to practice some Welsh! We hope you have an incredible trip.
Yay for transparency! Some of the links in this post are affiliate links. This means that if you book your accommodation through the site, The Broke Backpacker will earn a small commission at no extra cost to you. Your support helps me keep the site going.
---
Need More Inspiration?
Like this post? PIN ME!!!