Guangzhou is a port city that's an important entrance and exit in and out of China. That's why it's a great stop to make when you explore this huge country. The food is amazing, and you'll find an amazing array of great places to visit in Guangzhou, as well as a fascinating, unique culture that will make you eager to explore the rest of the country.
Traveling anywhere in China isn't always easy. Once you get outside of the major cities, you'll encounter a language barrier, and the culture is very different to what you'll find back home. These differences can make some people reluctant to travel to Guangzhou, but it shouldn't. The richness of the culture, the food, the unusual sites, they all makeup what's so exciting about exploring this amazing country. And to help you find those sites, we've created this list.
Need a place quick? Here's the best neighborhood in Guangzhou:
BEST AREA IN GUANGZHOU
Yuexiu
Yuexiu is the oldest part of the centre of Yuexiu and used to be the old walled city of Guangzhou back in the day. As Guangzhou is the largest city in the Guangdong Province
Places to visit:
Head to Yuexiu Park to look at the remains of the old city wall
Learn more about Chinese culture at the Guangzhou City Art Museum
Shop til you drop on Beijing Road
These are the BEST places to visit in Guangzhou!
This sparkling metropolis of fun and festivities is home to some amazing accommodation options as well as a light-up rainbow tower. Be sure to check out where to stay in Guangzhou and make sure you nab somewhere close to your favourite attractions.

Unlock Our GREATEST Travel Secrets!
Sign up for our newsletter and get the best travel tips delivered right to your inbox.
#1 – Canton Tower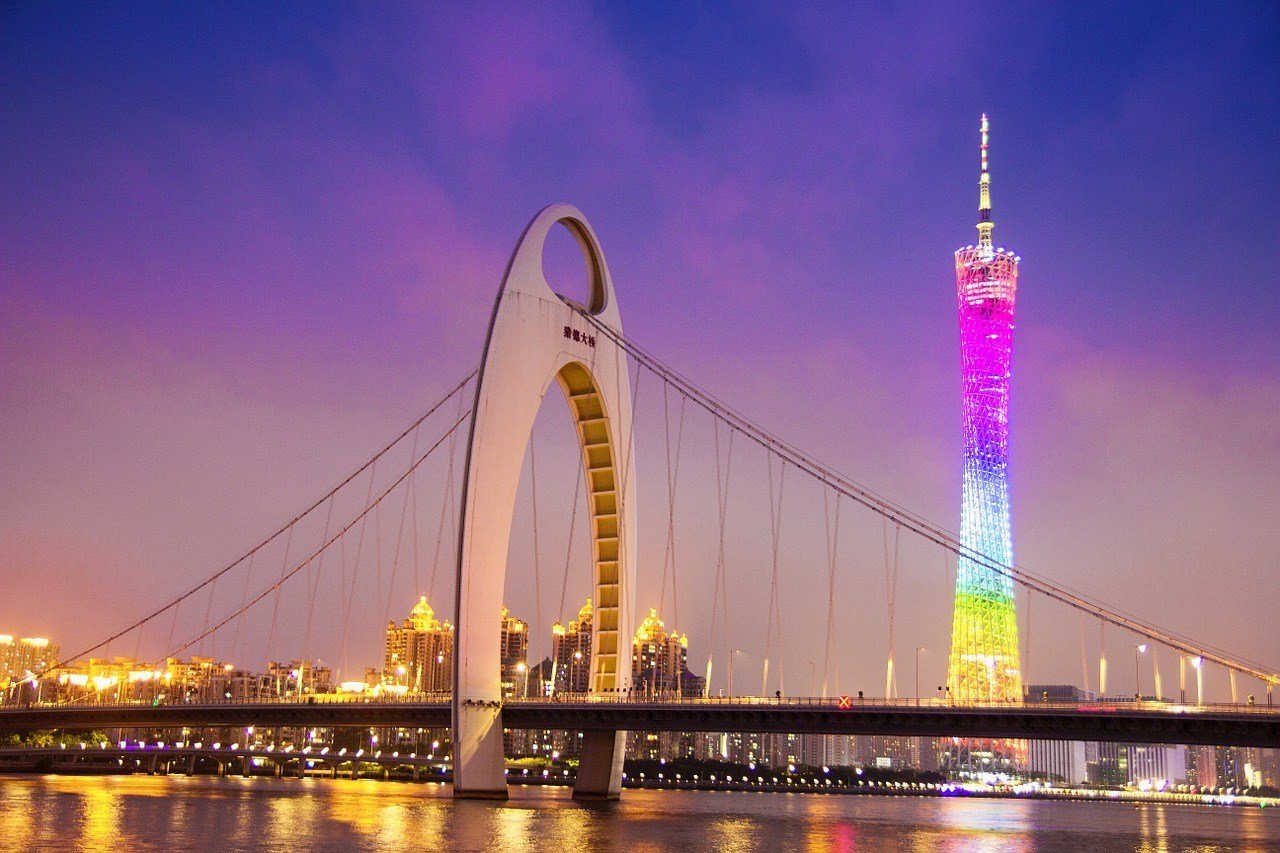 One of the best places to visit in the city for amazing views.
This tower is also home to some extreme challenges if you're looking for an adrenalin rush!
Why it's so awesome: This tower has become one of the most popular and visible landmarks in Guangzhou. It's 600 meters tall and from the top, you can get a bird's eye view of the entire city. There are also some attractions on the top floor that will excite even the most jaded adrenalin junkie and this is one attractions that should be on every Guangzhou itinerary!
What to do there: If you head over to this tower at sunset, then you'll be treated to the most amazing viewed around. But if you want to take advantage of the activities, it might be better to go during the day. The tower boasts the world's tallest horizontal sky wheel, a transparent spiral aerial ladder called the Spider Walk, and the Sky Drop. This is an attraction that will let you experience a 30-meter free fall from 485 meters up. This is the highest vertical free fall in the world, so it's a Guangzhou must-do for anyone with a really strong stomach!
#2 – The Ancestral Temple of the Chen Family – A great place to visit in Guangzhou if you are alone/traveling solo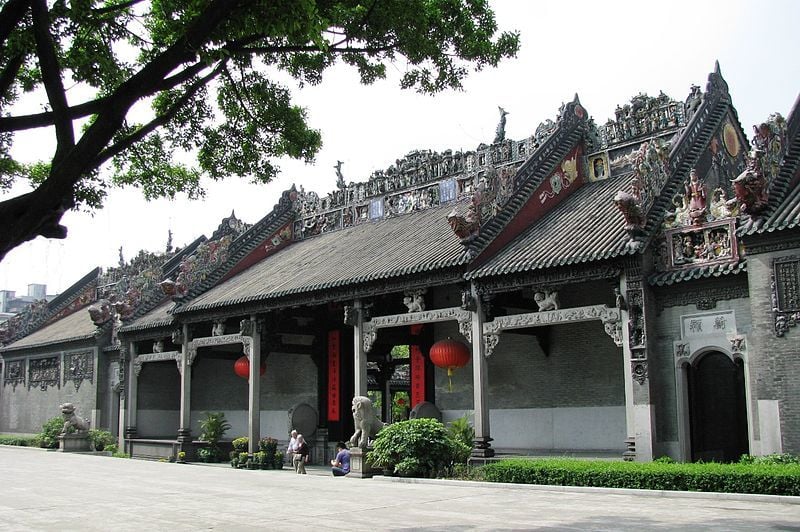 This is a Guangzhou must-do if you're interested in history.
The temple was built in 1888 and remains mostly intact today.
Why it's so awesome: This temple was built to provide accommodation for the students of the Chen family when they were preparing to take the imperial examination. Despite that, it's a beautiful, ornate building with enough delicate, intricate features to be something much more important and impressive! That's why it's one of the most interesting hotspots in Guangzhou for tourists.
What to do there: Take a couple of hours and just explore. The details on this building will amaze you, from the wooden, brick and stone carvings to the pottery sculptures. If you're an art lover, you'll also enjoy the colorful paintings, which are done in a range of Chinese styles.
#3 – Shamian Island – A great place to see in Guangzhou if you love architecture
This city has a long and varied history and nowhere is this clearer than on Shanmian Island.
This is the ideal spot for a short day trip from the city.
Why it's so awesome: You probably wouldn't expect to find an enclave of European architecture outside of the main cities in China. But when you travel to Guangzhou, you'll see how this port city has been influenced by trade with other parts of the world. It's filled with 150 buildings in a variety of European architectural styles including new baroque, neo-classical, and pseudo-Gothic styles.
What to do there: This is one of the best points of interest in Guangzhou if you just want to wander and relax. The scenery is great, combining the best aspects of China and Europe, and the atmosphere is relaxed. You'll also find a wide variety of cafes, restaurants and bars where you can try some food, have a drink, and just soak in the atmosphere.
#4 – White Cloud Mountain – A beautiful and scenic place to check out in Guangzhou
This is the preferred weekend spot for locals who want to exercise out in nature.
If you love to hike, you'll find lots of hiking trails and amazing views at this mountain area.
Why it's so awesome: This is the most famous mountain in the city of Guangzhou. It's also a preferred weekend trip for the locals. The biggest draws are the hikes and views. The mountain has more than 30 peaks, each of them with some spectacular views. There are also electrical cars if you get tired of walking and want an easier way to get up or down.
What to do there: If you enjoy hiking, take the trail up to Moxing Ridge. It offers spectacular views of the entire city, especially on days after rain when the white clouds cluster around the peak. There are 7 main scenic areas in total, all of them accessible by trail, and the area is particularly beautiful in the spring when there are blossoms everywhere.
#5 – Beijing Road – Cool place to see in Guangzhou with friends!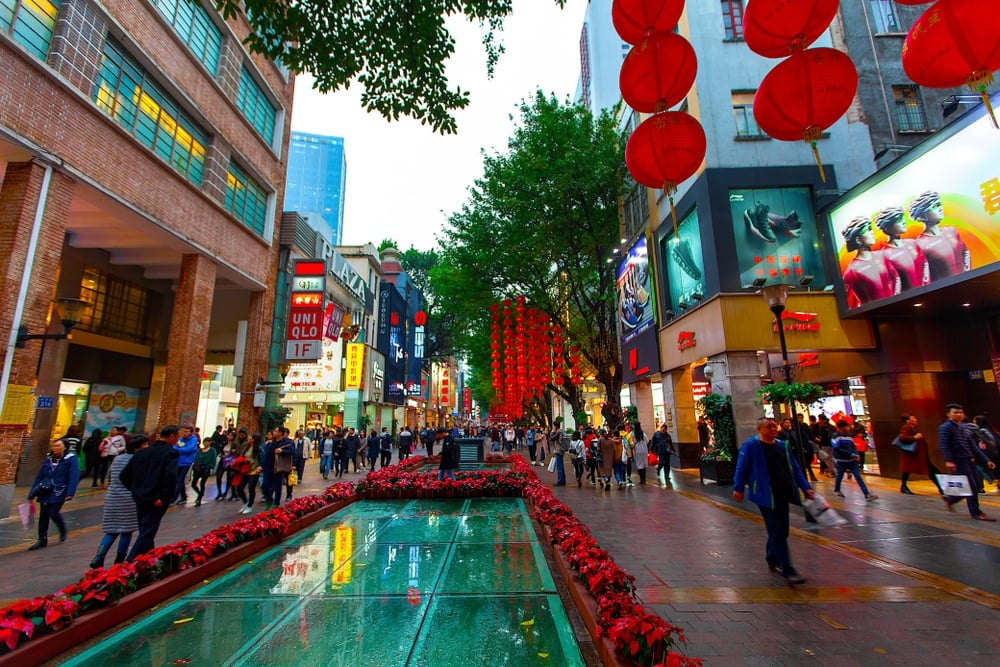 The best place to visit in Guangzhou if you have a little extra money and want to spend it!
This street is lined with designer brands and places to eat and drink when you get tired of shopping.
Why it's so awesome: People in China love designer brands and almost every city has its hotspot for high-end shopping. In Guangzhou, that shopping center is on Beijing Road. This road is designed for tourists, with lots of international brand clothes, souvenirs, and jewelry.
#6 – Yuexiu Park – One of the most incredible free places to go to in Guangzhou
Chinese cities tend to be crowded and polluted, so spend some time in this park if you want a breath of fresh air.
The park is filled with sculptures, lakes, mountains and trees, so it is the perfect place to relax.
Why it's so awesome: Chinese cities need parks to offset the busyness and the pollution, and Yuexiu Park is the largest in Guangzhou. The stunning natural surroundings foster a laid-back atmosphere that makes it the perfect place to relax. You can also wander and take in the historic sculptures or the museum on site.
What to do there: You can take a picnic and relax in the park, but make sure you explore it too. The park contains the Five Rams Sculpture, which is iconic and is the symbol of the city. There's also a museum and old city wall in the park. You'll have to pay a small fee if you decide to go to the museum, but it's a great open when you're visiting Guangzhou with kids.
#7 – Chimelong Tourist Resort – Awesome place to visit in Guangzhou with kids!
This tourist resort is the perfect place to take the kids and know that they'll be occupied all day!
The resort includes a series of theme parks including a water park and a huge amusement park.
Why it's so awesome: if you want to get all your theme park hours in one day, then spend that day at the Chimelong Tourist Resort. This is where all the themes parks live in Guangzhou. It includes Chimelong Paradise, a world-class amusement park, an International Circus with amazing night shows, and a water park. So, no matter what your kids are into, they'll have a great time, which is why this is one of the best places to visit in Guangzhou.
What to do there: Prepare for an active day in this tourist resort, put on your walking shoes, and gird your stomach. There's a huge range of things to do and see, so make sure you arrive early. Spend some time in the amusement park, and the water park and stay until night so you can see one of the circus performances.
#8 – Shangxiajiu Street – A great place in Guangzhou if you love to shop!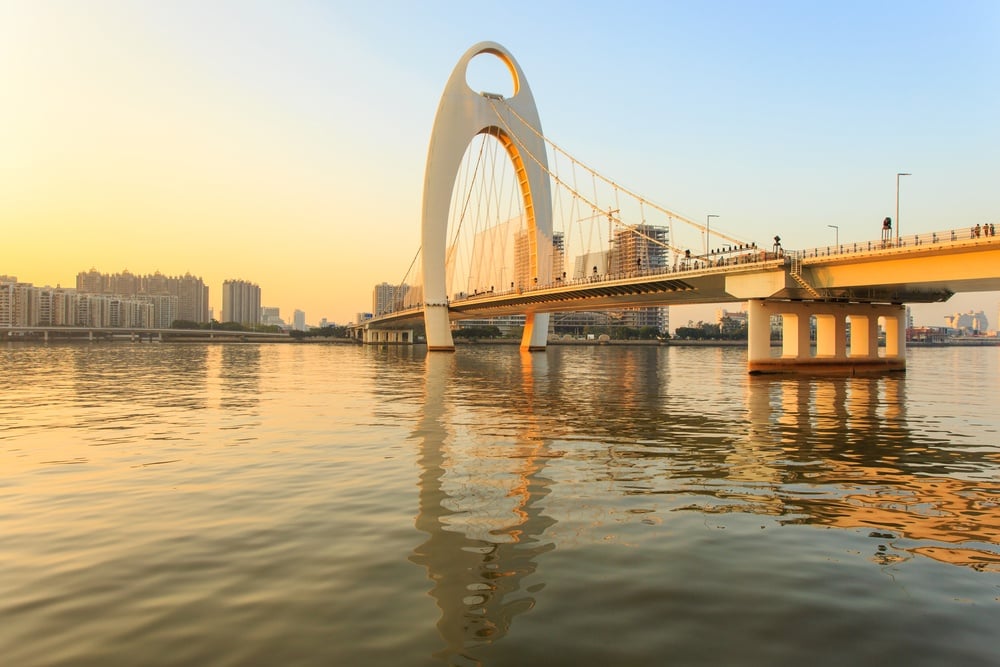 A huge shopping area where you'll see more locals than tourists.
The shops mostly sell domestic brands, and you'll find some great Korean, Japanese, and Chinese clothing and goods.
Bargaining is definitely recommended.
Why it's so awesome: This street is a little off the usual tourist trail, which is why it's one of the best hotspots in Guangzhou if you're looking to spend some money. It's popular with the locals, the prices are cheaper, and it's also extremely noisy, so be prepared to have your eardrums assaulted.
What to do there: This is a great area to pick up clothes and souvenirs. Make sure that you bargain to get the best price and don't worry about hurrying either. This shopping area is open until around 11.30 at night. It also covers about 10 streets in all, so make sure that you're wearing comfortable shoes. And when you're ready for a snack, there are lots of well-known Cantonese restaurants and street snacks ready for you to try.
#9 – Guangzhou Restaurant or Guangzhou Jiujia – A must-see for foodies!
One of the oldest and most famous dim sum restaurants in Guangzhou.
This restaurant is now a chain, but you should visit the city center location for a more authentic and classical experience.
Why it's so awesome: Chefs in Guangzhou cook up an amazing array of dumplings of all descriptions, flavors, and appearances. In fact, you probably can't travel to Guangzhou without eating dumplings. And if you're looking for a great place to get them, then this is one of the best places to eat in Guangzhou.
What to do there: They have an array of dumpling options to try, so make sure you're hungry and be brave. Some of the most popular options include the har gao shrimp dumplings and more classical dim sum like pork and shrimp or BBQ pork buns.
Is This the Best Daypack EVER???
#10 – Baima Clothing Wholesale Market – A perfect place to visit in Guangzhou if you are on a budget!
One of the most famous places in Guangzhou if you're looking for a bargain.
Be prepared to dig a little, as the shop may be more chaotic than you're used to.
And remember to bargain for the prices you want!
Why it's so awesome: The wholesale markets are some of the best and most popular attractions in Guangzhou. The Baima Clothing wholesale market is the largest, high-grade market in Guangzhou, with comfortable surroundings and standardized management. It contains floors of good quality men's and women's clothing at cheaper prices than you'll find anywhere else in the city.
What to do there: Different floors of this market contain clothes of different quality. On the first, fourth and fifth floors, the clothes are better quality and more expensive. ON the second and third, the price is a little lower because the offerings aren't as well-made. So, take a few hours and explore. You never know when you might discover a bargain!
#11 – Sun Yat-sen Memorial Hall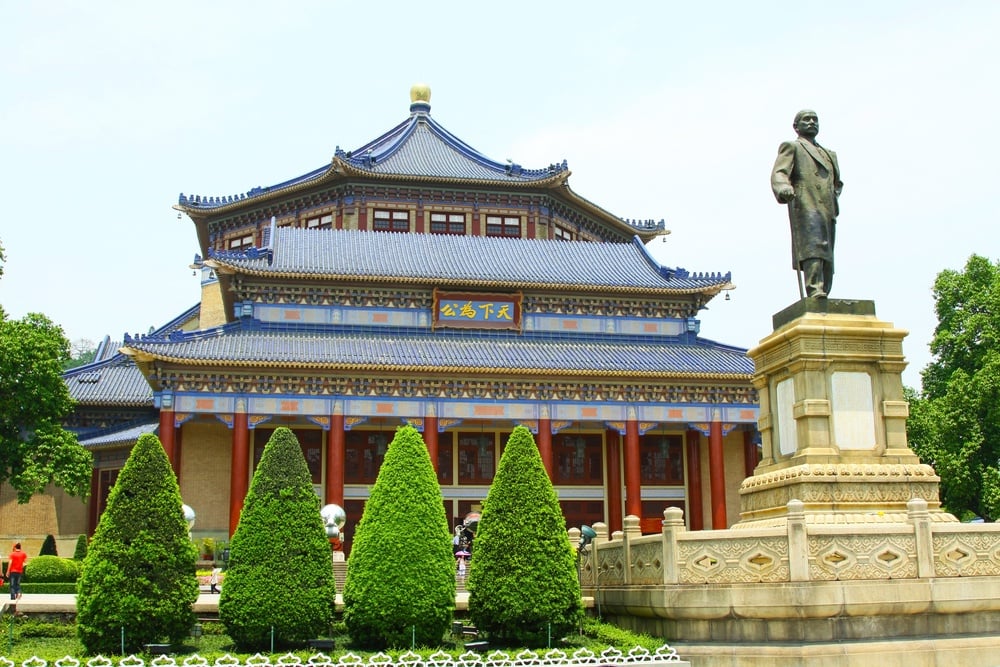 Built by the great revolutionary leader Sun Yat-sen, this hall carries a lot of historical significance.
If you're interested in Chinese history, then this hall must be on your Guangzhou itinerary.
Why it's so awesome: Sun Yat-sen was an extremely important man in Chinese history. He was a philosopher, politician, and the first president of the Republic of China. He is often called the 'Father of the Nation' because of his role in overthrowing the Qing Dynasty during the Xinhai Revolution. That's why, if you want to understand how China came to be as it is, then you need to learn more about his role in its development.
What to do there: Spend some time exploring this memorial hall, which was built in memory of Sun Yat-sen's contribution to China. The building itself is stunning and contains lots of traditional Chinese features, so make sure you take lots of photos. Inside the hall, have a look at the exhibits that explore Sun Yat-sen's life and his contribution to modern life in China.
#12 – Redtory – One of the more unique places to visit in Guangzhou!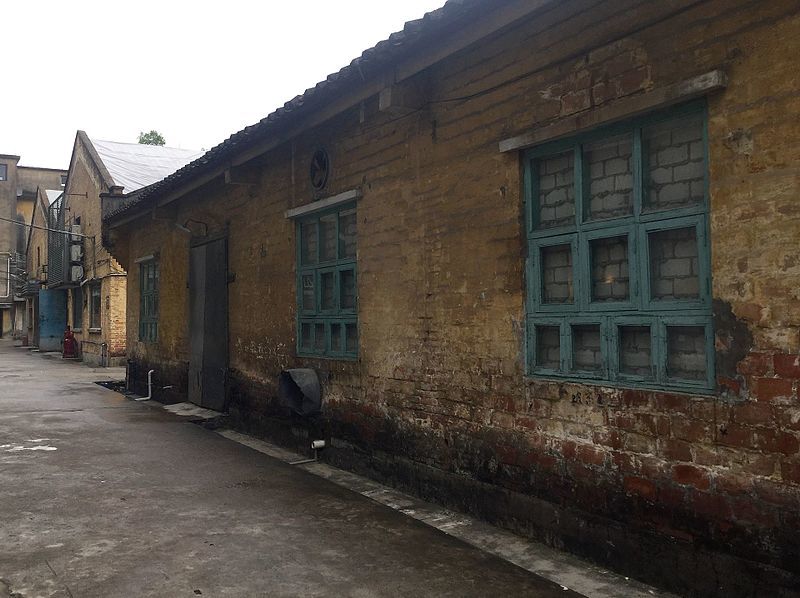 A unique area where factories have been turned into an artist's paradise.
This area is the confluence of the traditional way of life in China and everything that's new and diverse.
Why it's so awesome: Redtory is a unique area, which is why a visit there is one of the more unusual things to do in Guangzhou. The abandoned factories that stand in this area have been repurposed to contain art of every description. This includes not only creative spaces for artists but also galleries and areas where designers can create cutting-edge fashion. So, if you want to see the latest creative thinking, then this is one of the best places to visit in Guangzhou.
What to do there: There's a lot to explore in this area. Not only are there a variety of galleries to see, several cafes and restaurants have also sprung up around the streets. Take the time to explore the galleries and the work of the artist's within. And then head to nearby Pearl River for a picturesque stroll. And if you're hungry, walk down Yuancun Siheng Lu. The whole street is packed with Chinese street food stalls and reasonably priced snacks and restaurants.
Small Pack Problems? 😉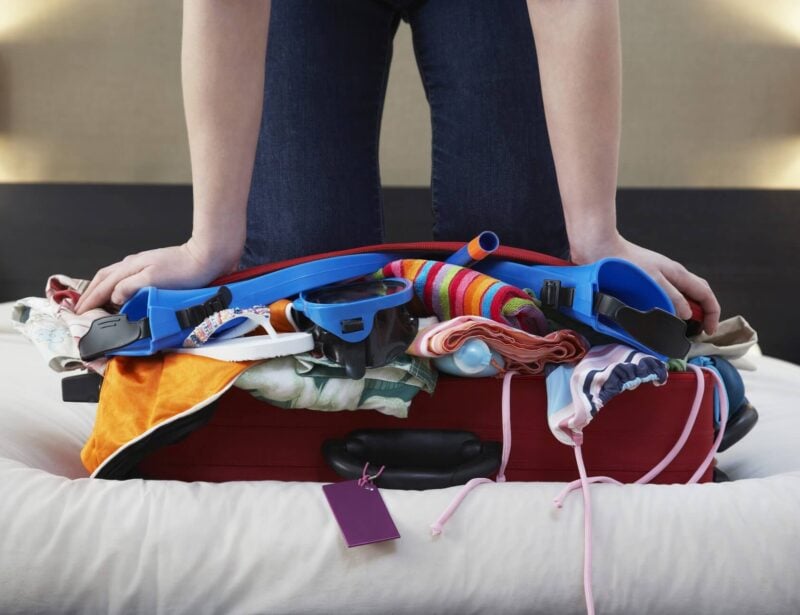 Wanna know how to pack like a pro? Well for a start you need the right gear….
These are packing cubes for the globetrotters and compression sacks for the real adventurers – these babies are a traveller's best kept secret. They organise yo' packing and minimise volume too so you can pack MORE.
Or, y'know… you can stick to just chucking it all in your backpack…
Get Yours Here
Read Our Review
#13 – Guangdong Museum – A fascinating educational place to visit in Guangzhou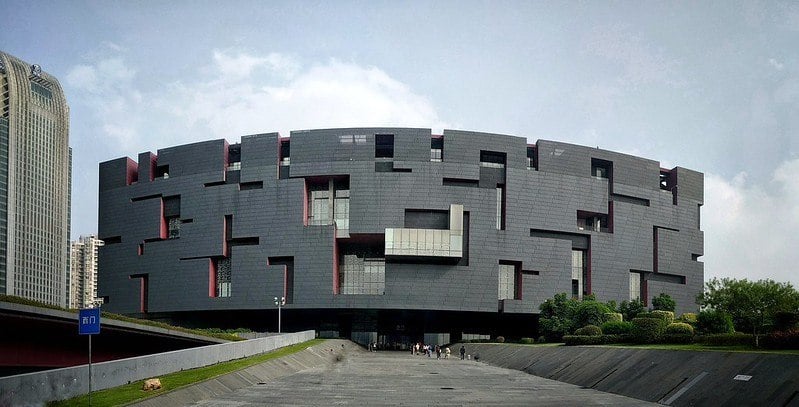 This is a relatively new building that will teach you all about the history and culture of the city.
This is a quiet and education place to spend some time when you explore Guangzhou.
Why it's so awesome: This museum contains a wide variety of exhibits that explore the history, art, and culture of Guangzhou. It's located next to Huacheng Square, so it's easy to locate, and it contains both permanent and temporary exhibits that are worth seeing.
What to do there: Take a couple of hours and learn about Guangzhou's history. Make sure that you see the main exhibits, the Guangdong History and Culture and the National Resource of Guangdong. But if you have the time, see what temporary exhibits are on offer as well.
#14 – The Pearl River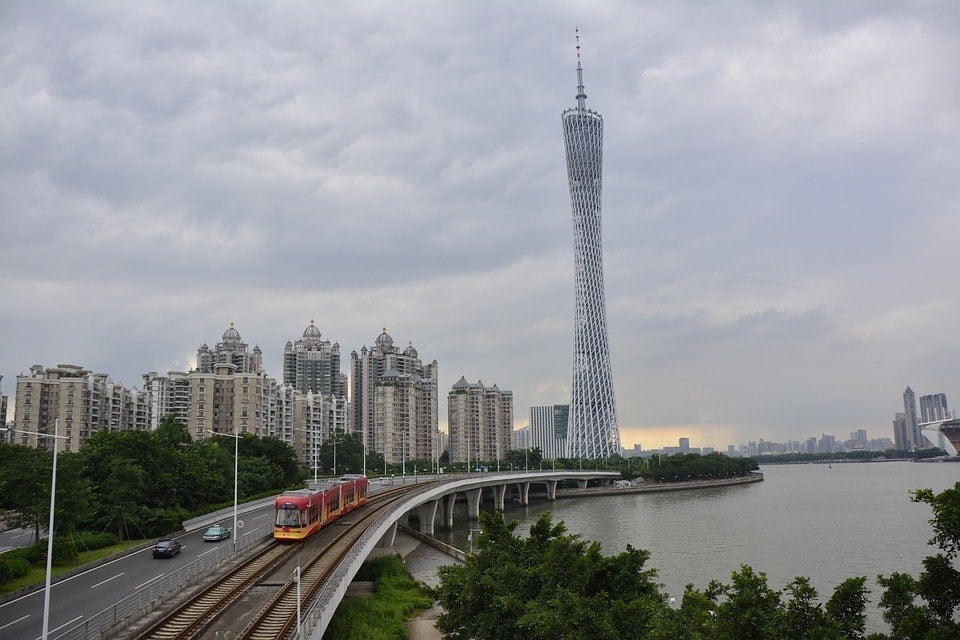 This river runs through the city and might not look so great by day, but by night it takes on a power of its own.
Why it's so awesome: Guangzhou is crisscrossed by rivers and canals and that offers some amazing activities for travelers. The Pearl River looks ordinary in the daytime, but at night it's one of the best places to visit in Guangzhou. From the river, you'll get the perfect view of the night city and its lights.
What to do there: When visiting Guangzhou, lots of people choose to cruise up the river at night. And there are good reasons for the popularity of this activity. The city looks stunning at night, and the lights make the dark sky shine. So, check out the night cruises and choose one that appeals to you. It will give you a whole new vantage point from which to view the city.
Get insured for your trip to Guangzhou!
ALWAYS sort out your backpacker insurance before your trip. There's plenty to choose from in that department, but a good place to start is Safety Wing.
They offer month-to-month payments, no lock-in contracts, and require absolutely no itineraries: that's the exact kind of insurance long-term travellers and digital nomads need.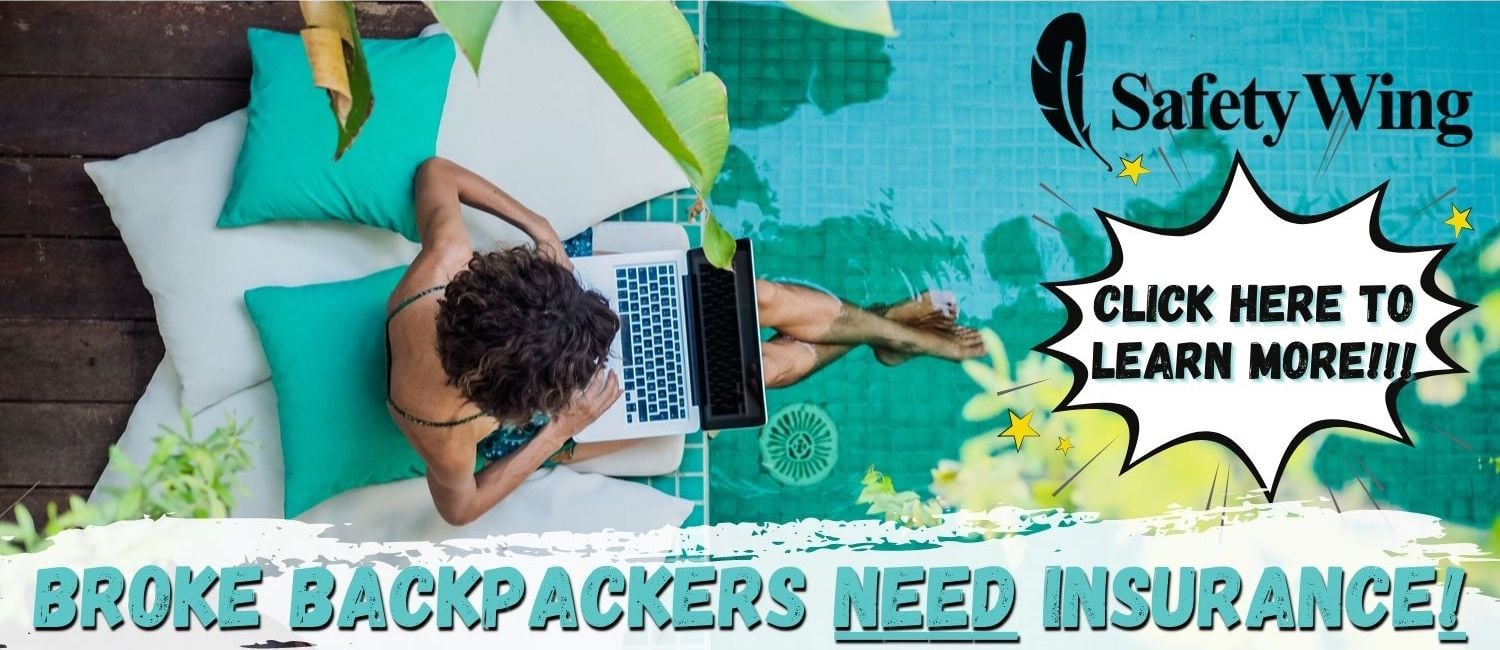 SafetyWing is cheap, easy, and admin-free: just sign up lickety-split so you can get back to it!
Click the button below to learn more about SafetyWing's setup or read our insider review for the full tasty scoop.
FAQ on the Best Places to Visit in Guangzhou
Find out what people want to know about the best places to visit in Guangzhou
Final Thoughts on the Coolest Places to Visit in Guangzhou
When you travel to Guangzhou, it will give you access to a country that's been a mystery to the western world for centuries. You'll find the best food you've ever eaten, a long and fascinating history, and sites that will keep you in beers at the pub for years to come. To help you make the most from your trip, take this list of the best places to visit in Guangzhou with you. It will help you find all the best things to see, do and eat, and help soothe your fears about traveling in this very different country.
---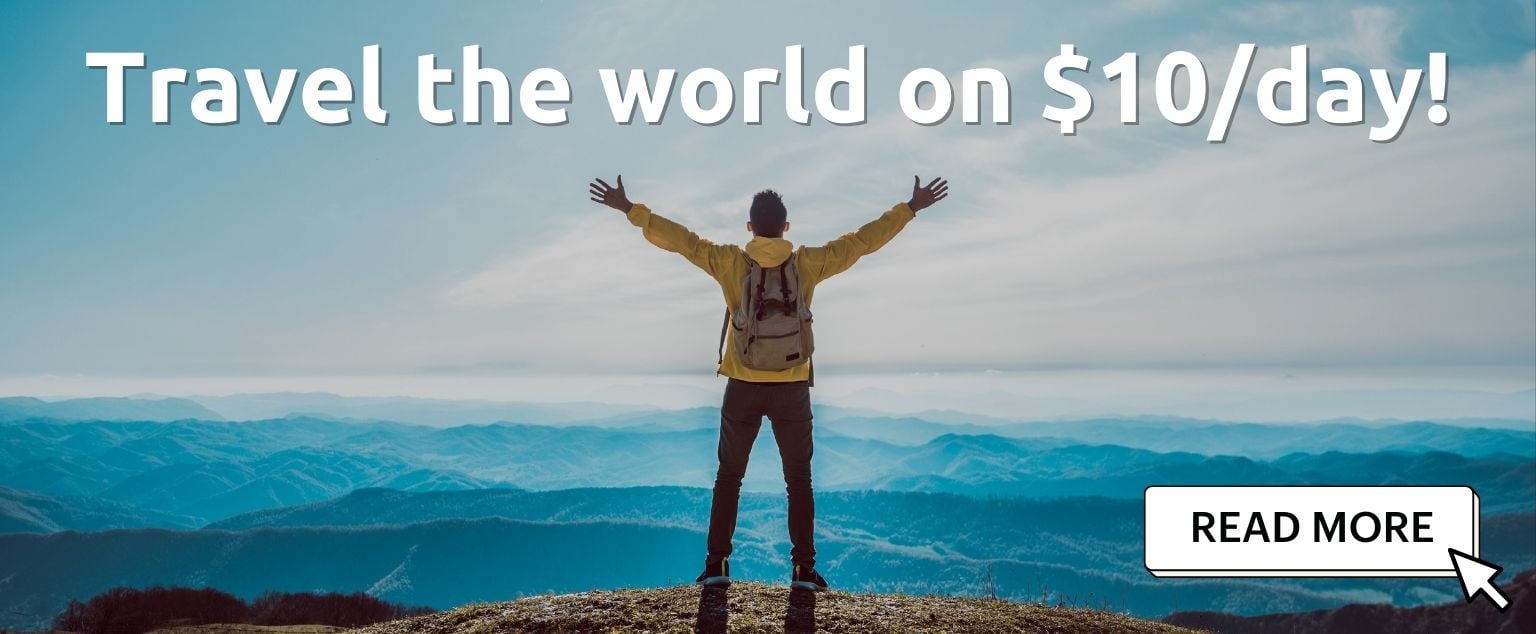 And for transparency's sake, please know that some of the links in our content are affiliate links. That means that if you book your accommodation, buy your gear, or sort your insurance through our link, we earn a small commission (at no extra cost to you). That said, we only link to the gear we trust and never recommend services we don't believe are up to scratch. Again, thank you!