If you're looking for an island paradise, then you'll want to visit Seychelles. These unspoilt islands in the Indian Ocean are some of the most beautiful in the world. Although the islands are popular with honeymooners, there so much more than just resorts and romance to Seychelles!
Think sweeping beaches with white sands and turquoise waters, unspoilt virgin rainforest, and incredible snorkelling and scuba diving. On top of that, there are a whole load of water sports too. And since these are some of the world's most abundant fishing grounds, the local seafood cuisine is second to none!
In this post, we'll take a look at the best places to visit in Seychelles. Hopefully, you'll find the list useful and helpful in planning your trip. With our list, you'll really be able to make the most of your trip from our Seychelles vacation ideas!
So, let's take a closer look.
Need a place quick? Here's the best neighbourhood in Seychelles:
BEST AREA IN SEYCHELLES
Victoria
Victoria is the capital and largest city in Seychelles. It is located on the island of Mahe and is our pick for where to stay if you're visiting Seychelles for the first time.
Places to visit:
See the Victoria Clocktower, a tiny replica of London's Big Ben
Take a relaxing stroll through the seaside Jardin Des Enfants
Take a cruise around the island and up to Pointe Conan
These are the BEST places to visit in Seychelles!
It seems like wherever you go in Seychelles, you'll think you just stepped into paradise. To help you make the most out of your stay, we've listed the absolute best places below. If you're only staying for a short time, make sure to come up with a Seychelles itinerary so you're not missing out on anything.

Unlock Our GREATEST Travel Secrets!
Sign up for our newsletter and get the best travel tips delivered right to your inbox.
#1 – La Digue Island – One of the most amazing places to go in Seychelles
The best place to get a taste of traditional island life
The 4th largest island in the archipelago
One of the best places in Seychelles for spotting the black paradise flycatcher
Why it's awesome: La Digue Island is one of the most popular islands in the archipelago, and if you don't stay here (we think that you probably should stay here) you absolutely have to visit! After all, it's probably one of the best places to visit in Seychelles to get a taste of island life. The most popular way of getting around the island is by oxcart or bicycle, and these make for some cool photo opportunities. La Digue has some stunning white sand beaches as well as a wealth of historical and cultural attractions. Truly one of the hotspots in Seychelles!
What to do there: If you want to get to know about the history of Seychelles, check out L'Union estate, which is an old vanilla and copra plantation. It's a fantastic example of colonial architecture and a guided tour is well worth a couple of hours of your time. If you'd prefer to check out natural attractions in Seychelles, there are several beaches on the island. However, the Veuve Nature Reserve is really quite special. It's one of the best places to see the black paradise flycatcher and intriguing and endangered tropical native bird!
#2 – Curieuse Island – Certainly one of the most exotic places to check out in Seychelles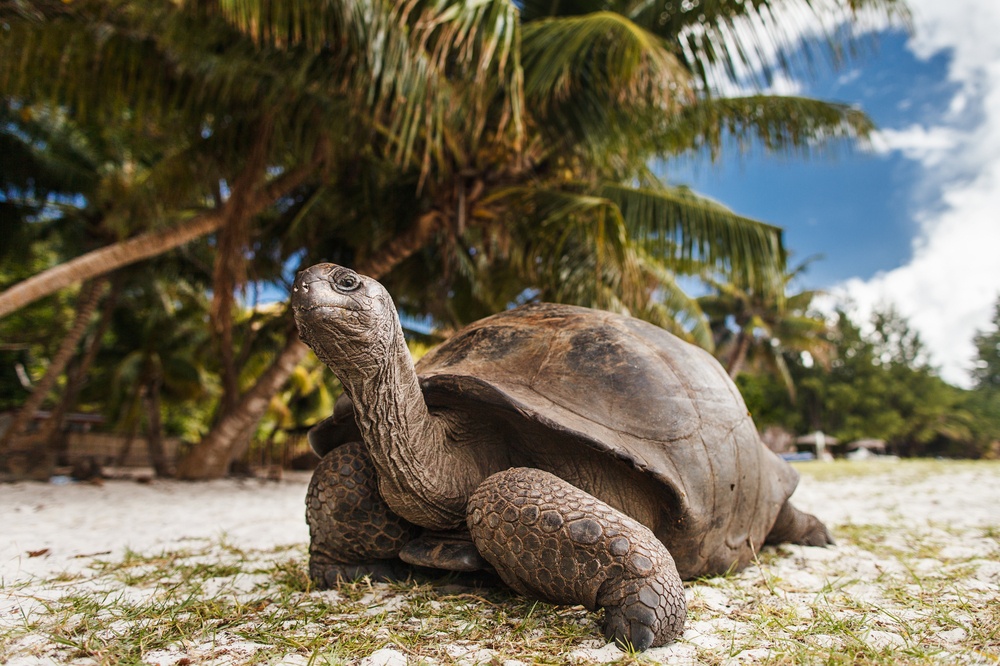 Come face to face with the island's most famous residents – giant tortoises!
Explore the island which was once a leper colony
Take a boat trip from Praslin Island to get here
Why it's awesome: One of the best spots to take a day trip in Seychelles, Curieuse Island is a really fabulous spot! Of course, you'll probably want to go to meet its most famous residents, the giant tortoises. There's a breeding programme here that enables them to roam around the white sands, just make sure you give them enough space! It's not just the tortoises that make this place interesting though, it was once a leper colony. So, there's a bit of history to the island too.
What to do there: One of the more unusual landmarks in Seychelles is the leprosarium on the south of the island. Explore this to get an idea of what it would have been like to live on this idea hundreds of years ago… Isolated from the entire world! One of the most interesting attractions on Seychelles is here too. The preserved national monument of the doctor's house! Of course, like many of the Seychelles islands, you can just head to a gorgeous white sand beach if you're stuck for things to do. Curieuse Island has them too!
#3 – Beau Vallon Beach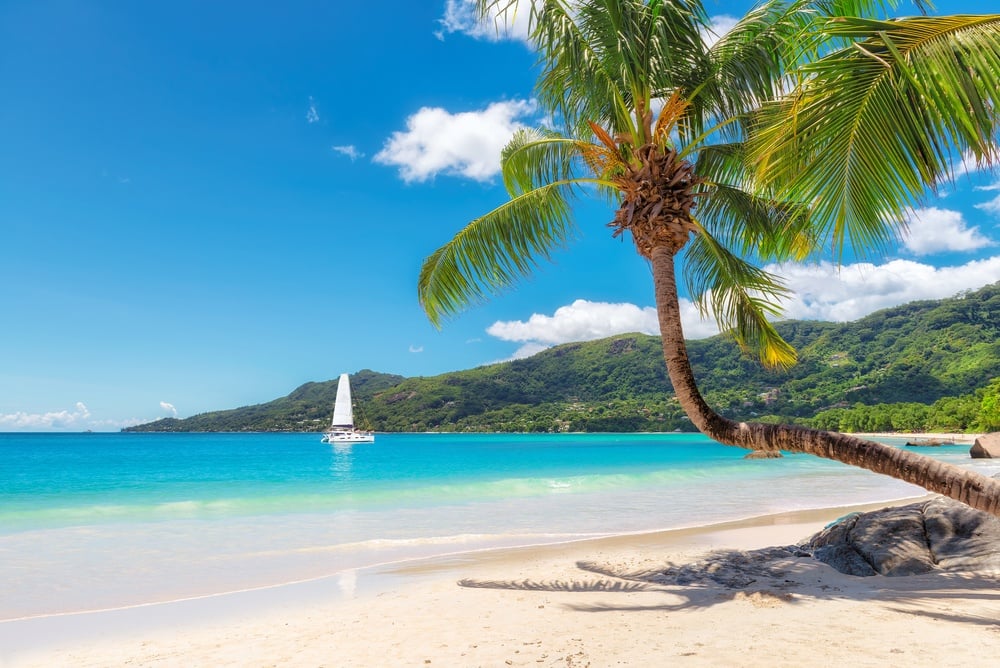 Look out to the distant shimmering Silhouette Island
Practise a wide range of water sports on offer
One of the most beautiful beaches on Mahé Island
Why it's awesome: Mahé is the main island in Seychelles, and chances are you'll end here at some point. So, obviously, you'll want to go to the island's best beach! Look no further than Beau Vallon. This stunning stretch of white sand is a favourite of locals and tourists alike, thanks to the calm turquoise waters which are great for swimming and water sports. If you're travelling with the family, this is a great spot. Lifeguards always patrol the beach, and if you're really lucky, a local might invite you to join their beach BBQ!
What to do there: Always wanted to go jet skiing or waterskiing? Now's your chance! Water sports are definitely what to do in Seychelles if you want to tick something off your bucket list. Prefer something more relaxed? Just sunbathe or paddle in the calm, warm waters, and look out to Silhoutte Island. If just seeing Silhouette Island from Beau Vallon Beach isn't enough, it is possible to take a day trip out to the Marine Park. It's about 30km off Mahé's west coast. Be careful, though, because as far as safety in Seychelles goes, the sea can be rough here.
#4 – Victoria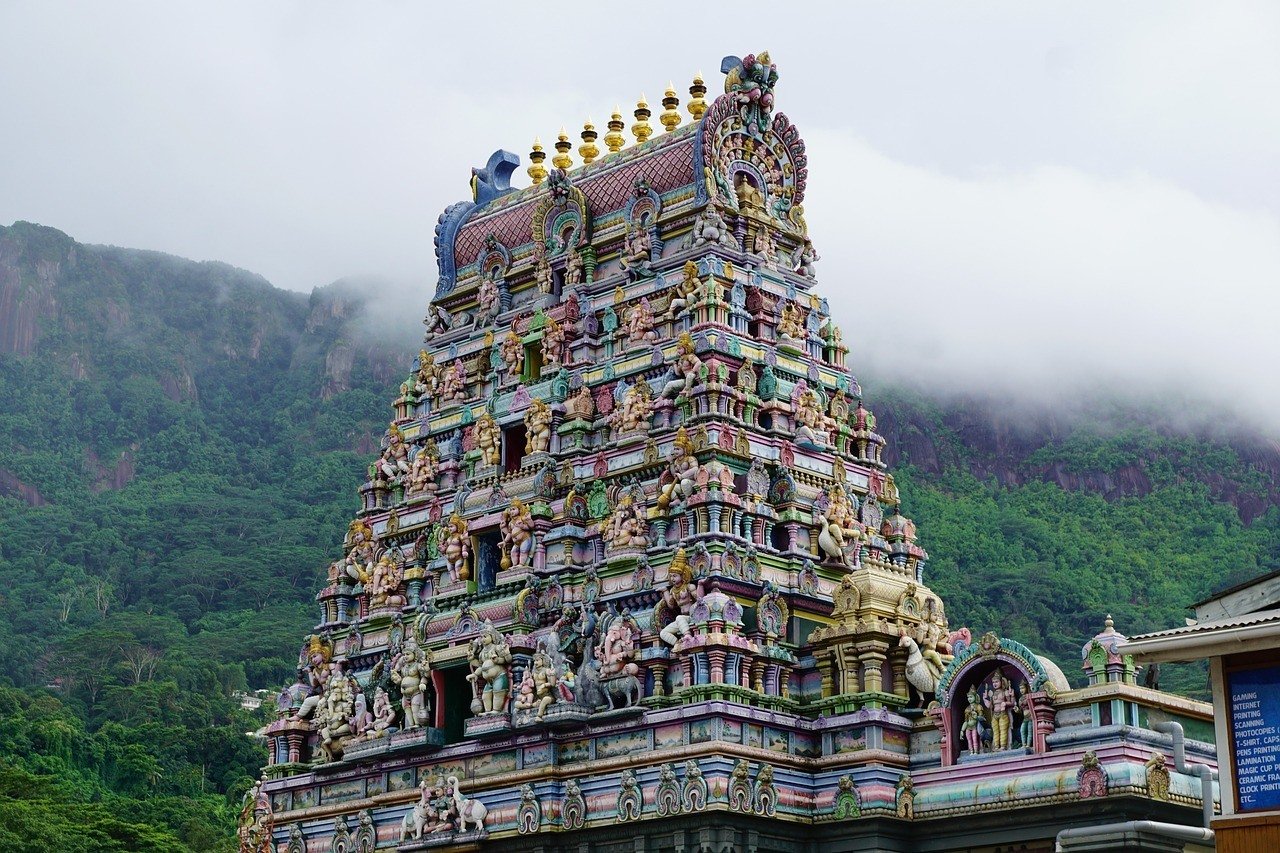 The capital city of Seychelles
The only seaport on the islands
Don't miss the Seychelles National Botanical Gardens – one of the most popular attractions here!
Why it's awesome: The only port in Seychelles is a small town, but it's still the islands' capital! It's known for its colonial buildings, although in recent years more modern developments have started to spring up. One of the more curious landmarks in Seychelles is Little Ben – a clock tower modelled on London's Big Ben. Although the French colonised the islands first, the British came later, and the capital is named after Queen Victoria.
What to do there: Besides the colonial buildings that surround Freedom Square, there's plenty to explore in Victoria. If you like shopping, head to the Sir Selwyn Clarke Market to pick up fresh food and souvenirs. To learn about the islands' flora and fauna, try the Natural History Museum. Whatever you do, don't miss the botanical gardens, one of the best-loved points of interest in Seychelles! As well as plants, you'll see flying foxes and tortoises. Also, Victoria is home to some of the best places to eat in Seychelles!
#5 – Morne Seychellois National Park – A beautiful and scenic place to check out in Seychelles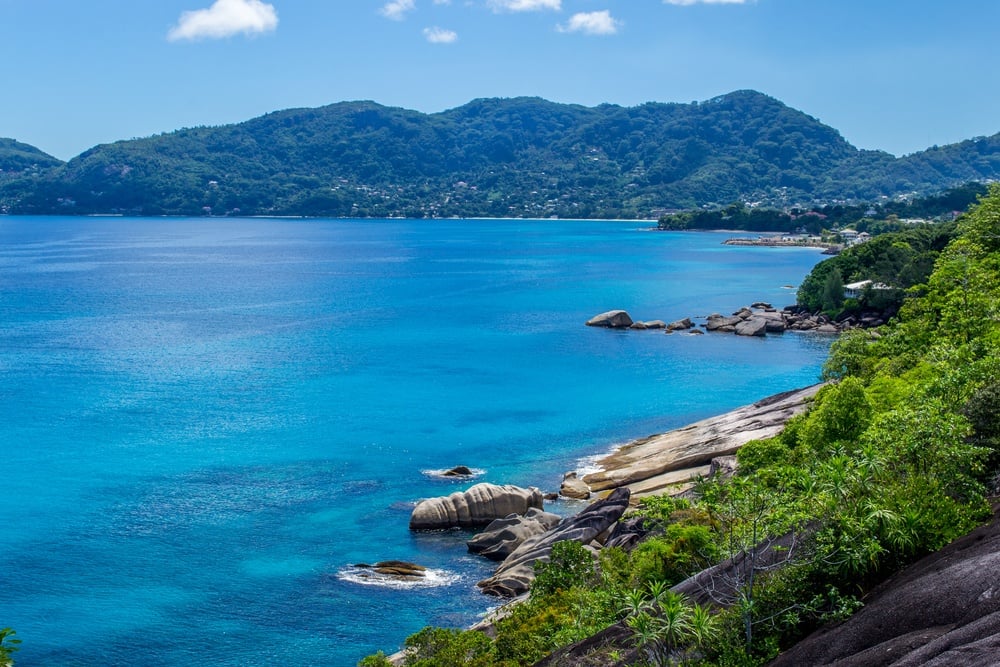 An area that covers more than a 5th of Mahé Island
One of the best places in Seychelles for hiking
Scale the highest mountain on the islands which overlook the capital of Victoria
Why it's awesome: You'll find it hard to miss Morne Seychellois National Park if you're staying on Mahé Island. That's because it covers more than 20% of the land! The park is named after the highest mountain on the islands, which towers above everything else at 903 metres. If you choose to hike to the top, you'll be rewarded with fantastic views of the island and the Indian Ocean. Depending on which trails you follow, you may even come across Anse Major – a beach you're likely to have completely to yourself!
What to do there: The National Park is one of the best places in Seychelles for hiking and discovering wildlife. You'll get to see some of the agricultural side of the islands too. Most trails will see you pass through the village of Danzil at some point, taking in tea plantations on the way. There are two marine parks you can access through the hiking trails too – Baie Ternay and Port Launay. These are both great spots to see the islands' flora and fauna!
#6 – Anse Intendance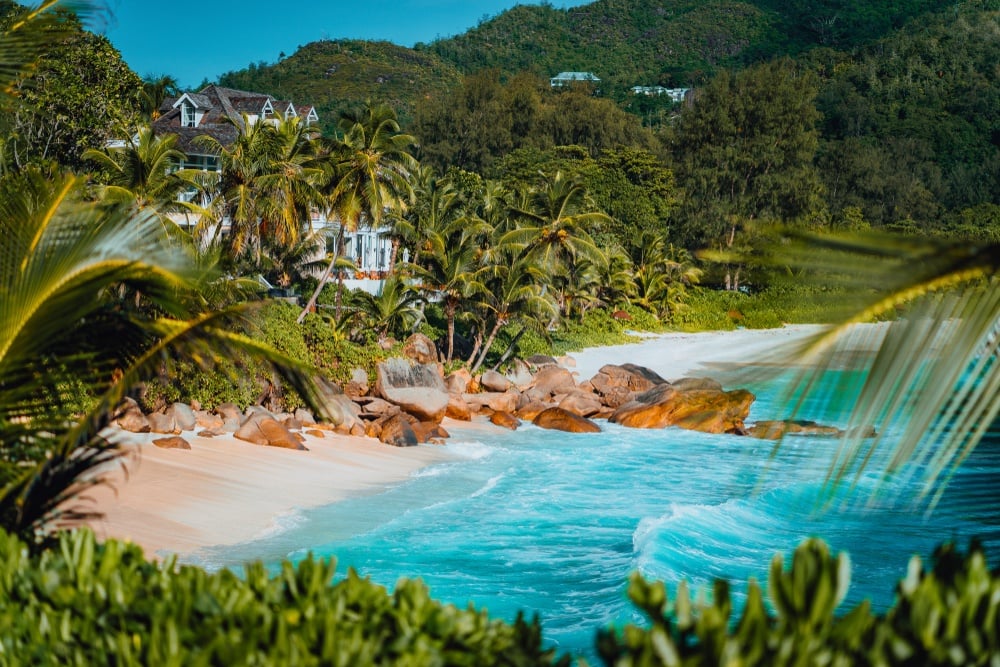 One of the best surfing hotspots in Seychelles
A secluded beach on the south coast of Mahé Island
Spot turtles nesting on the shore
Why it's awesome: Yes, we've already shown you one of the best beaches on Mahé Island. However, because there are so many that offer different experiences, we've just had to include this one too! Although you probably wouldn't want to swim here, the wild waves make this one of the top hotspots in Seychelles for surfing. It may not be a great place to try boarding if you're a beginner, but with some experience under your belt, you'll love the challenge!
What to do there: While it may be a great beach for surfers, you shouldn't be put off if that's not your thing. The palm-lined shores are a great place to catch some rays and enjoy a good book. Just make sure you have some sun protection with you! It's very picturesque, so make sure to get some shots for your Instagram. If you're here at the right time of year, you might even get to see turtles nesting. A truly unforgettable experience when you're visiting Seychelles!
#7 – Vallée de Mai – A very cool place in Seychelles to go for a day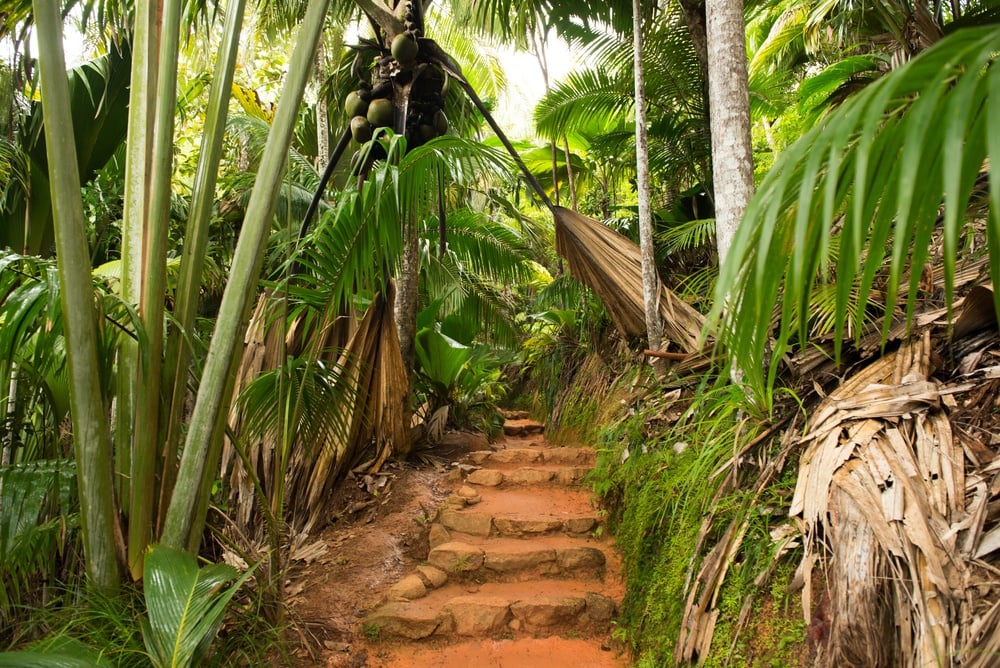 A UNESCO World Heritage site
Originally thought to be the real garden of Eden
One of the most beautiful natural attractions in Seychelles
Why it's awesome: Staying on the isle of Praslin? You can't miss the incredible Vallée de Mai. This prehistoric forest is so important that it's a UNESCO World Heritage site! The main reason is that it's one of the only places in the world where you can find the Giant Coco de Mer Fruit Palm, a type of tree that you'll only find when you explore Seychelles. Added to that, there are plenty more animals and plants to see!
What to do there: The fact that this place was thought to be the original Garden of Eden means it's pretty beautiful. So, bring a camera or your phone and make your friends and family back home really jealous! We'd recommend that you hire a guide to visit this stunning forest. There are lots of hiking trails that you'd be able to tackle on your own, but the guide will inform you about all the flora and fauna endemic to the archipelago. This truly is one of the most fascinating and famous places in Seychelles!
#8 – Takamaka Rum Distillery – Cool place to see in Seychelles with friends!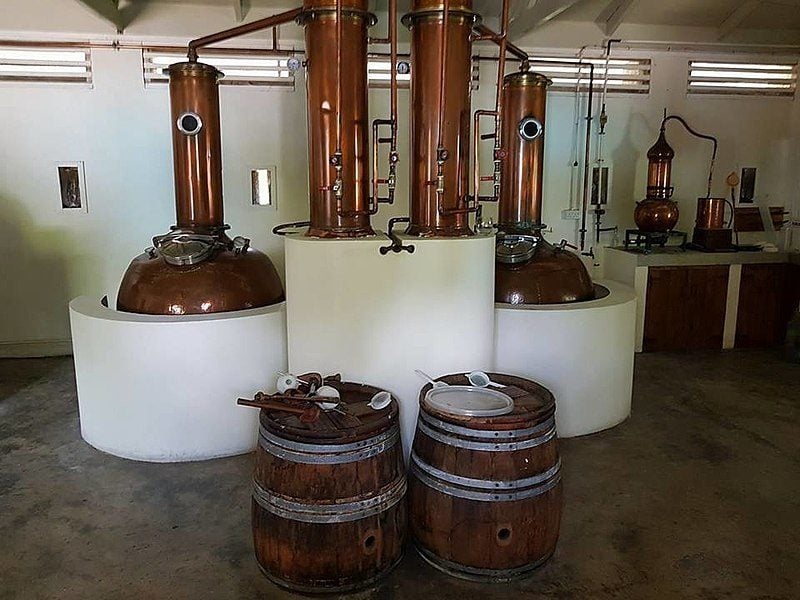 Explore an old plantation style house
Take a tour and do a rum tasting session
Head to the onsite restaurant – one of the best places to eat in Seychelles
Why it's awesome: When you think about sailors and island life, what's the drink that always accompanies those thoughts? It probably isn't vodka or whiskey! The islands have their own rum distillery, and you will definitely want to add that to your Seychelles itinerary. You'll find it on Mahé Island! The distillery is set in an old plantation house, and even if you're not interested in the alcohol side of things, you can enjoy very pretty views.
What to do there: If you take a tour of the distillery, then you'll get to enjoy a tasting too. After that, head on to the restaurant which is absolutely one of the best places to eat in Seychelles. Accompanying your meal, you'll be able to try some fabulous rum cocktails. Rum's not your thing? Don't worry, there are excellent mocktails too, and other spirit based cocktails. You could even just play it safe with a wine or beer!
#9 – Anse Lazio
Not only one of the most picturesque beaches in Seychelles but the entire world
Visit in the early morning or in the evening to avoid the crowds
The hike to this beach is well worth the effort!
Why it's awesome: We've talked about two of the best beaches on Mahé Island so far, but we've neglected Praslin a little bit! One of the main three islands for tourism, this certainly has its fair share of palm fronded beaches with white sands and azure waters. But this is the best one of the lot. In fact, we'd go as far to say this a Seychelles must see! You'll find Anse Lazio on the north shore of Praslin Island. It'll take a hike to get there, but it'll definitely be worth it!
What to do there: We'd definitely recommend visiting Anse Lazio in the early morning or the late afternoon. The only problem with such a beautiful beach is that everyone knows about it and wants to visit. So, it's often the midday sun when the tourists are here in their droves. Whenever you decide to visit, you certainly can't miss it off your Seychelles itinerary!
Is This the Best Daypack EVER???
#10 – Port Glaud Waterfall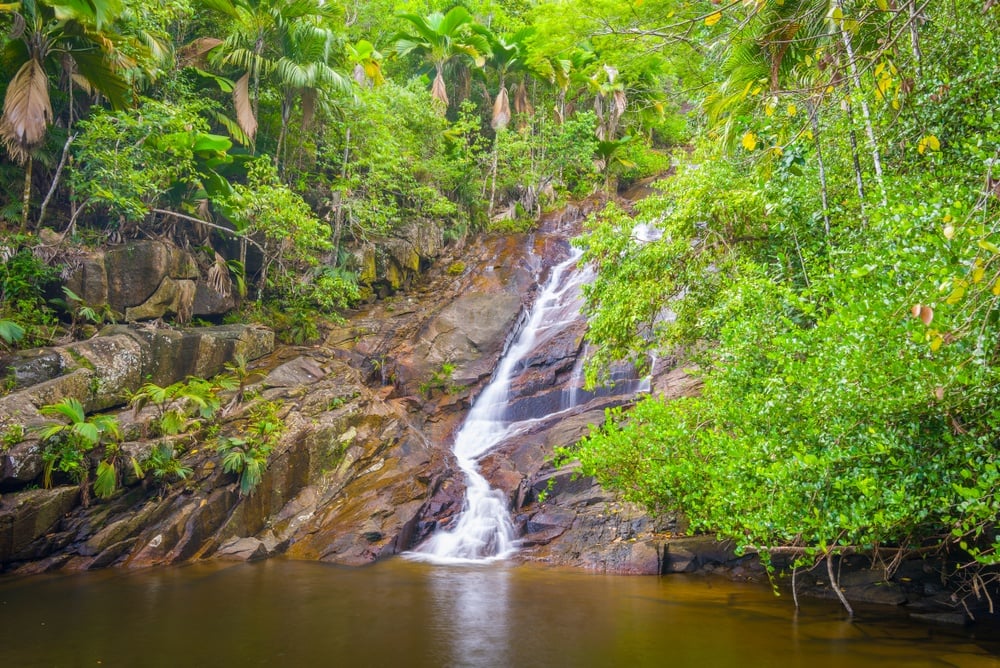 One of the best snorkelling hotspots in Seychelles
Take a guided walk up to the waterfall
Have a swim in the cool waters around the cascades
Why it's awesome: You have a couple of options for things to do when you visit Port Glaud Waterfall. Your first option is snorkelling, as this is one of the best hotspots in Seychelles for that. You'll see tropical fish in the azure waters! The other involves heading slightly inland to the Port Glaud Waterfall itself. You won't see it from the road, but a little bit of exploring is richly rewarded, whether it be for the stunning views or cooling off in the waters!
What to do there: It's probably a good idea to take a guided walk to the waterfall. The walk to the waterfall isn't difficult, but it's very easy to get lost. You do have to head through the jungle after all! Once you get there, have a lovely relaxing swim. The swimming spot is surrounded by large granite boulders which are great for sitting on and enjoying a picnic or taking photos if you don't want to get wet!
#11 – Marie Antoinette's Restaurant – A must-see for foodies in Seychelles!
One of the only restaurants left in the world that still serves bat
Try traditional Creole cooking with more conventional ingredients!
One of the best places to eat in Seychelles
Why it's awesome: If you want to have a real Seychelles culinary experience, then check out Marie Antoinette's Restaurant. Not only is it the oldest restaurant in the archipelago, but it's also definitely one of the best places to eat in Seychelles. You can order some really tasty Creole food here. It's a mixture of Indian, African, and French flavours and ideas – absolutely delicious! When you've finished your meal, head out into the garden and meet the local residents – more tortoises!
What to do there: So, there's one thing that Marie Antoinette's is famous for above all else. Yes, you can get dishes like red snapper and tuna steaks in a variety of sauces and spices. However, for the more adventurous among you, you can try a dish that's very very rare! Yes, Marie Antoinette's is one of the few remaining places in the world that serves curried fruit bat. Apparently, it tastes like chicken!
Get insured for your trip to Seychelles!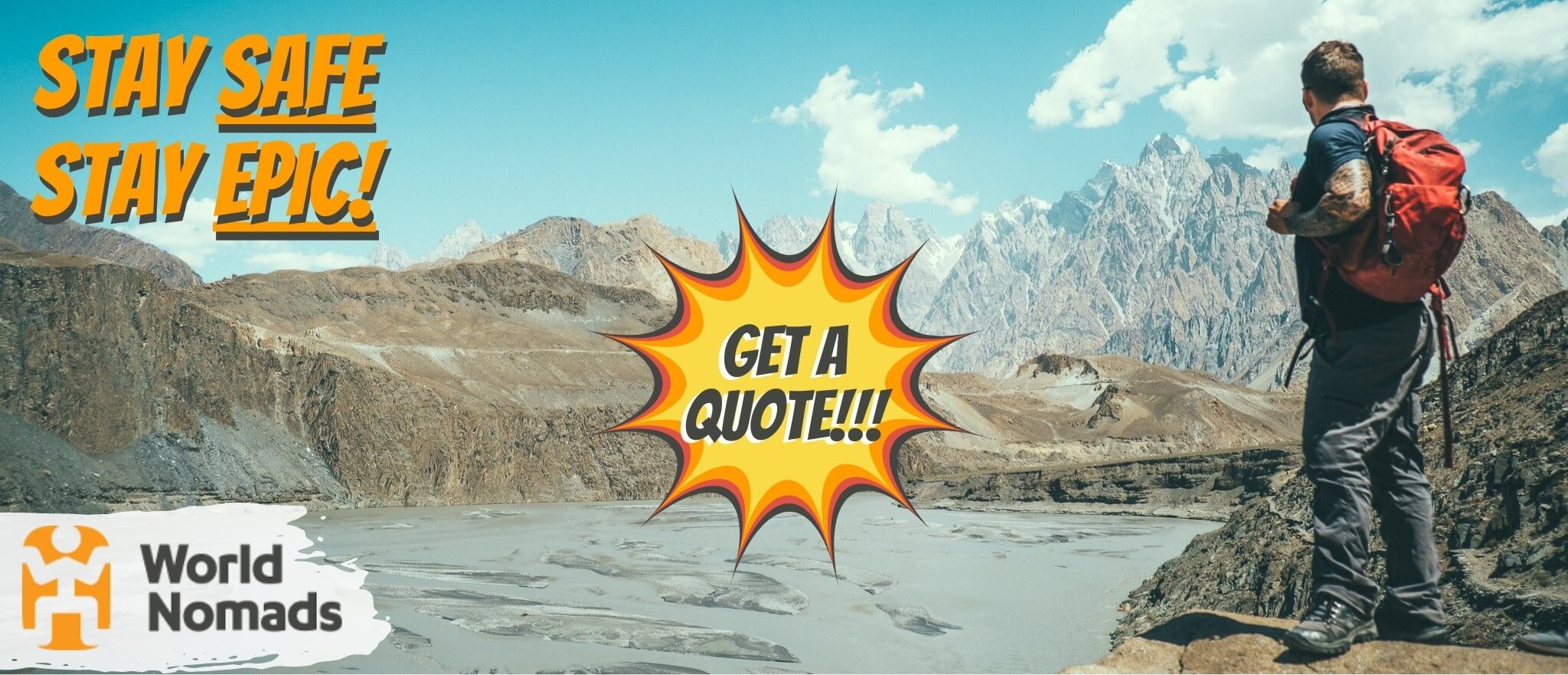 World Nomads' mission is to support and encourage travellers to explore their boundaries. They offer simple & flexible travel insurance, and safety advice to help you travel confidently.
They've been doing it since 2002 – protecting, connecting, and inspiring independent travellers just like you.
Get a quote below or read our in-depth review!
World Nomads provides travel insurance for travelers in over 100 countries. As an affiliate, we receive a fee when you get a quote from World Nomads using this link. We do not represent World Nomads. This is information only and not a recommendation to buy travel insurance.
FAQ on the Best Places to Visit in Seychelles
Find out what people want to know about the best places to visit in Seychelles
Final Thoughts
So, that concludes our list of the best places to visit in Seychelles. We hope you've found our list useful and informative, and you've already got a rough idea of what will make it onto your Seychelles itinerary! Remember, you don't have to be loved up or on a honeymoon to enjoy this island paradise.
Seychelles are the perfect place for an escape, especially if you enjoy the outdoors. You've got sun almost all year round, amazing beaches, opportunities for water sports, hiking, and so much more. There are so many Seychelles vacation ideas that you could easily spend weeks or even months here!
Now that you've read our list of the best places to visit in Seychelles, all that's left is for us to wish you a fantastic vacation. And don't forget to keep a copy of our extensive list at hand!
---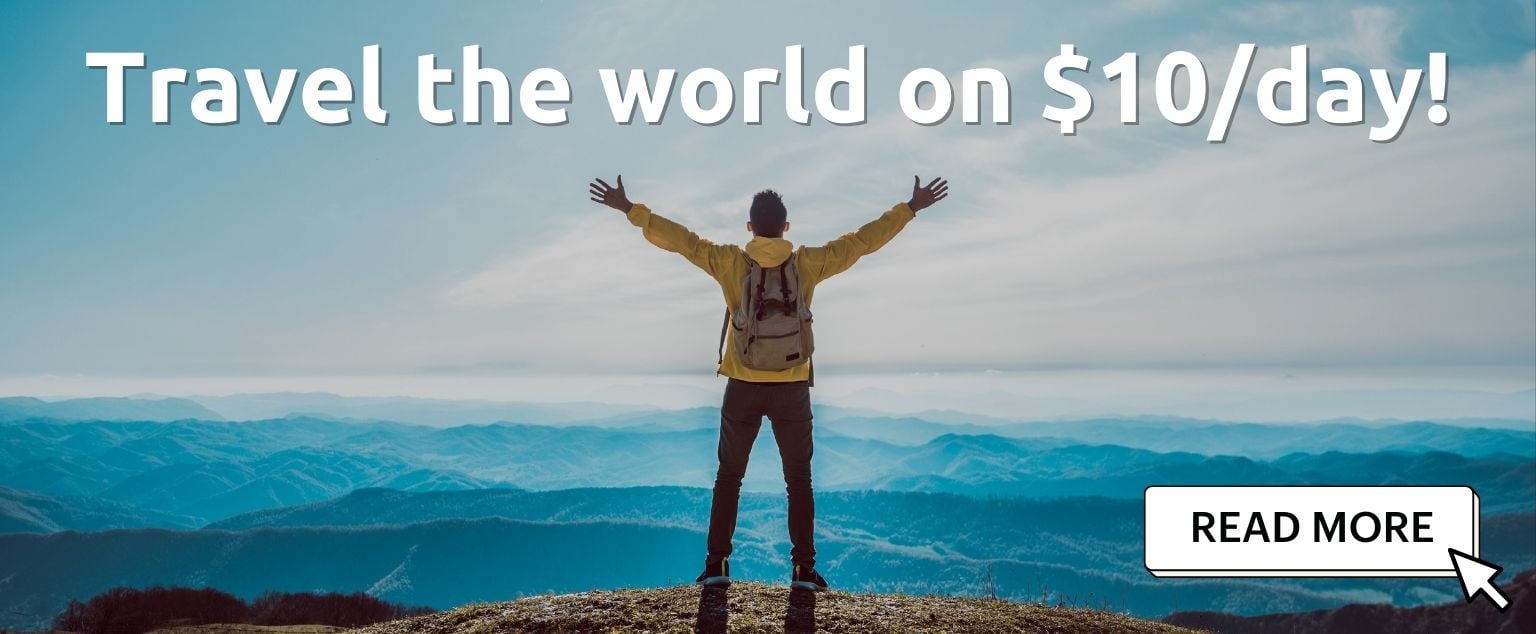 And for transparency's sake, please know that some of the links in our content are affiliate links. That means that if you book your accommodation, buy your gear, or sort your insurance through our link, we earn a small commission (at no extra cost to you). That said, we only link to the gear we trust and never recommend services we don't believe are up to scratch. Again, thank you!