The Seychelles are possibly the ultimate island holiday destination. Palm trees, white-sand beaches, warm turquoise waters, and giant tortoises await you on this idyllic group of 115 magical islands!
Located in the balmy Indian Ocean just off the east coast of Africa, the Seychelles are known for their timeless beauty and romantic tranquility.
The truth is, there is so much more to the Seychelles than the crystal clear waters and world-famous beaches that feature in all Seychelles pictures. Yep, there's also an atmosphere of utopian serenity and friendly locals, with emerald green rainforests rolling down to picturesque powdery beaches lined with coconuts.
If it's not already one of the exotic island destinations on your bucket list, this Seychelles itinerary may just convince you it should be!
If you are planning to visit Seychelles already, looking for a 2 day itinerary in Seychelles or even a 3 day itinerary in Seychelles, you've come to the right place!
Seychelles is blessed with a warm tropical climate all year round and is fortunate enough to be situated in a cyclone free zone, making it an ideal year-round destination.
There are, however, some months that make it a little more welcoming than others. The months between March and June boast the calmest waters for water-sports, with the hot weather just ideal for beach days and swimsuits.
Monsoon season hits the islands from about November to January, which is changing annually with global warming and rain is possible at any time of the year. Even in the dry season, you may get passing rain showers in the afternoon to cool you off after the midday heat.
The Seychelles Islands' location just south of the equator means that they don't experience the typical four seasons that are known in the northern and southern hemispheres. Rather, they have two main seasons, the "North West" and the "South East" – referring to the wind directions.
The North West runs from November through to March, which brings with it heat and humidity. It's also the wind that brings more rain, so you can expect a few more hasty showers.
The South East takes up the remainder of the year, with the driest part of the year occurring between June through to September. This is a stronger wind that typically brings more cool air to the islands and creates larger swells in the seas. This means the underwater visibility can be somewhat reduced and the waters can be choppy.
To give you a better idea on when to visit Seychelles, here is a monthly overview of the weather:
When planning a trip to Seychelles, there's a multitude of options. When it comes to accommodation in the Seychelles Islands, most places land somewhere between midrange through to luxury options.
Camping is illegal on the islands, and there are no hostel-type accommodation options. Your choices fall somewhere between bungalows and medium to high-end luxury resorts so visiting the Seychelles is not exactly cheap.
Seychelles is made up of multiple islands, so there are a few options in choosing where to stay when visiting the Seychelles.
Mahe is the best place to stay in Seychelles. It's the largest of the islands and is home to the largest congregation of people and tourist hubs. There are plenty of things to see and do on this island and it's the main island we will focus on in this Seychelles itinerary. The other islands are an easy boat ride away.
On Mahe, Victoria is the capital and largest city in Seychelles and is also the central hub of activity. For this Seychelles trip itinerary, it's the best place to stay in Seychelles, and is also perhaps the best place to stay when traveling with kids.
Five kilometers west of Victoria, on the northwest of the island, is where you'll find another highly recommended area; Beau Vallon. This is Mahe's second most popular destination and boasts incredible pristine beaches with crystal clear waters.
Praslin is the second largest island in Seychelles and is located 44 km northeast of Mahe. It's an easy ferry or boat ride away and offers multiple accommodation types.
Lastly, La Digue is the third largest of the inhabited Seychelles islands, which is found just east of Praslin and can also be accessed easily by boat or ferry.
This guest house on the main island of Mahe is a small tourism establishment with 5 rooms that are surrounded by lush green vegetation and is perfect for guests with ornithological interest.
This family-run guest house is the closest thing you'll get to a hostel on the island and offers guests a personal and informative stay, within walking distance from the popular Beau Vallon Beach.
Spacious house, fully furnished, 5-minute walk from town. There are two large air-conditioned bedrooms (1 double and 1 twin), 2 bathrooms, fully equipped kitchen with fridge and freezer. Washing machine and ironing available, large living and dining room, and a big sunny balcony. Breakfast and dinner can be provided for guests if preferred. You should request and pay for this service separately.
With spectacular Indian ocean views and incredible hillside scenery, this affordable luxury resort offers the utmost comfort and ideal location on Mahe island. You'll get to enjoy their stunning horizon pool, fitness center, beauty treatments, and delicious food at the restaurant! It's the perfect place to unwind with unparalleled views surrounding you.
Perfectly located less than 5 meters from one of the most famous beaches in Seychelles – Four Seasons offers luxury at its finest.
You'll have access to an incredible spa, fitness center, swimming pool, and a water sports pavilion. Each air-conditioned villa has a private pool and a patio with outstanding jungle and ocean views.
With Seychelles being comprised of multiple islands, it's important to know how to get to the Seychelles and how to travel around. There are many awesome places to visit in the Seychelles, so you'll want to come up with a rough plan of what to explore.
Visitors coming to explore these paradisiacal islands will fly into Seychelles International Airport, which is located on the east coast of Mahe. This makes Mahe the best option when traveling with kids or using Mahe as your base to explore the other islands.
On Mahe, you'll find taxis as well as buses to get around. The Seychelles Public Transport Corporation operates on both Mahe and Praslin, with bikes being the best mode of transport on the flat, small island of La Digue.
If you're planning to travel between islands, the Seychelles ferry services are both convenient and reliable. You can also opt for a small aircraft that offers inter-island transportation if you have a bigger budget for your trip.
For this Seychelles trip itinerary, we suggest that you either hire a car on Mahe island, where there are numerous car rental agencies to choose from. Alternatively, the bus will be your best bet when navigating the island. Buses run daily from 5:30 am to 8:30 pm, and are convenient and mostly hassle-free.
You can also purchase a SMART card for the buses for approximately $4 USD, which means you won't need to constantly carry small change with you. Again, if you're visiting Seychelles with the intention of utmost luxury, you're able to choose from a number of independently owned cabs.
Victoria | Copolia | Mission Lodge | Seychelles Tea Plantation | Beach
The first day of this 2 day itinerary in Seychelles will be spent exploring the best sights and attractions on the main island Mahe, as well as getting accustomed to the heavenly beaches and island lifestyle. Here's how to spend one day in Seychelles:
Day 1 / Stop 1 – Victoria
Why it's awesome: It's the smallest capital in the world and is full of colorful market stalls and fascinating culture
Cost: Free to explore!
Food nearby: Try some of the delicious local produce and fresh food from the market
Victoria is the smallest capital in the world and is a great way to start off your Seychelles itinerary. Come here and get to know the local flair of the island.
Take a bus into the center of the city and explore the Sir Selwyn Selwyn-Clarke Market, better known as the Victoria Market. It's full of color and friendly locals and is truly the heart of the capital.
Discover everything there is to know about this magnificent market and get a taste for the cultural norms and atmosphere on the island. The market carries a lot of cultural significance and makes up a major part of how the locals live – sourcing their fresh fish and produce ever since 1840!
You can expect a large dash of color, with a wide range of stalls containing all kinds of souvenirs like sarongs, local artwork, and essential oils to take home with you.
If you're after fresh fish – this is definitely the place to go! The smell can get quite overwhelming, but it's also possible to steer clear of the fresh fish stalls and just meander through the other market stalls.
Insider Tip: It's also a good idea to buy some drinks and snacks in Victoria before heading off through the Morne Seychelles National Park to enjoy along some of the stops on Sans-Souci Road before reaching the other side of the island.
Day 1 / Stop 2 – Copolia
Why it's awesome: Get a different perspective of the island and enjoy some outdoor activity
Cost: Free!
Food nearby: Take a bottle of water and some fresh fruit from the market
Copolia is a moderate hiking trail that leads you to the top of Mount Copolia to experience some of the best panoramic views of the island!
From Victoria, head towards Sans-Souci road towards the east coast of the island, and park near the Copolia Lodge – the trailhead is just across the road from the hotel, near the bus stop.
The 1.6km trail should take less than 2 hours and spills out onto the wide expanse of scenic granite mountaintop offering 360-degree views from the 500 m summit.
It's a great way to get active in your island vacation and get to witness the unique flora and fauna that are found in the intermediate altitudes of the Seychelles.
The forests and turquoise waters make the fairly strenuous hike to the top well worth it. This is not to mention the incredible panoramic views across the shades of blue waters and tiny islands, before gathering your breath for a hike back to the start.
Day 1 / Stop 3 – Mission Lodge
Why it's awesome: The fascinating site of a school for liberated African slaves on the islands
Cost: $2 USD for a guided tour!
Food nearby: There is no food for sale, but it's a great place for a picnic if you'd like to bring along some food from Victoria or the market
The Mission Lodge is the most famous vantage point in all of the Seychelles and offers the most spectacular sea and mountain views!
The school was originally built in the 19th century in order to care for slave children who had been dumped on the island after the abolition of slavery.
It's located close to the highest point you can reach on Mahe by Sans-Souci road and boasts some of the most spectacular views of central Mahe and the west coast. There are also some low lying ruins that are slowly overgrowing into their original forestry.
It's a great place just to stop for its historical significance and take some photos from the viewpoint that offers some of the best sights on the island! You could also bring along some snacks and drinks to have a picnic with one of the best views around.
Day 1 / Stop 4 – Seychelles Tea Plantation
Why it's awesome: The fascinating site of a school for liberated African slaves on the islands
Cost: $2 USD for a guided tour
Food nearby: None, but there are delicious fresh teas for sale
Established in 1962, the tea factory is responsible for growing and manufacturing tea in the Seychelles with splendid panoramic views of the western slopes of Mahe.
A 20-minute tour of the working tea factory in Seychelles takes you through the tea making process, from drying to packing.
In the cool mountain air of Morne Blanc, amidst the rolling terraces of tea plants, you're able to discover first-hand how tea is made on the island. Then you get to sample and purchase some of the famous fragrant SeyTé and Citronelle.
You'll also get the chance to sample the new six aromatic flavored teas! These include SeyTé Lemon Tea, SeyTé Mint Tea, SeyTé Strawberry Tea, SeyTé Vanilla Tea, SeyTé Black Tea, and SeyTé Cinnamon Tea. There is also the branded SeyTé "The Silver Tips" to give you the full overview of the teas made in Seychelles!
Day 1 / Stop 5 – Explore the West Beaches
Why it's awesome: Discover a number of beautiful beaches along the west coast
Cost: Free!
Food nearby: Creole Lunch at Del Place Restaurant
After a morning of exploring the sights and landmarks of the incredible Morne Seychelles National Park you will hav worked up quite the appetite. Just as well it's time for a delicious seafood lunch with a view at Del Place Restaurant before hitting the beach!
Next to Grand Anse Beach, you'll get to enjoy the simple pleasures of the Creole way of life as you dine on some mouthwatering Creole cuisine and delicious seafood dishes. All whilst looking over the aquamarine waters and golden shores of Seychelles western beaches.
Del Place restaurant offers an intimate atmosphere and a great local dining experience. Once this is done, spend the rest of the day lounging in the white sand of the idyllic beaches and swimming in the warm tropical waters.
Once you've satisfied your hunger, you can head straight down to Grand Anse Beach. Here you can make the most of the island lifestyle and spend the rest of the day relaxing, snorkeling and soaking up the sun before enjoying the magical sunset views.
If you feel like making the most of being on this side of the island, you could also do a bit of beach hopping, and get to experience the coves of magic along this side of the coast.
Some of the beaches we recommend seeing in 2 days in Seychelles besides Grand Anse are Port Launay and Baie Ternay, which offer incredible sunset views and stunning vistas of neighboring islands.
Seychelles National Botanical Gardens | Craft Village | Takamaka Rum Distillery | Jardin Du Roi Spice Garden | Beach
For your itinerary for Seychelles second day on Mahe island, we think you should explore the south of the island, which offers more world-class beaches and has many Seychelles attractions to explore!
Day 2 / Stop 1 – Seychelles National Botanical Gardens
Why it's awesome: It's one of Seychelles' oldest National Monuments!
Cost: Around $7 USD
Food nearby: Le Bistro or La Dolce Vita
The Seychelles National Botanical Gardens is one of Seychelle's oldest National Monuments located on the outskirts of Victoria in Mont Fleuri.
We recommend starting off your morning by exploring the wide collection of mature, exotic and endemic plants that are housed within five acres of beautifully maintained tropical gardens in Mahe.
The gardens are also home to a wide variety of spice and fruit trees that you won't get the chance to experience anywhere else. This is as well as some of the famous Coco de Mer palms with their larger than life seeds!
An additional attraction at the Botanical Gardens is the population of giant tortoises from Aldabra, some of which are over 150 years old! You'll get the chance to feed them for an extra cost, and get the perfect opportunity to snap some selfies with the biggest tortoise you'll ever see!
Keep your eyes on the taller trees to spot some fruit bat colonies feeding or roosting overhead, and make sure you don't miss out on the orchid house which holds an impressive collection of brightly colored orchids, including Seychelles' own native orchids!
Stop for brunch at either Le Bistro or La Dolce Vita to fuel you for the next few stops and day of Mahe adventure ahead! There is also a convenient cafe which offers welcome refreshment amidst rainforest scenery within the Botanical Gardens.
Day 2 / Stop 2 – Craft Village
Why it's awesome: It's a village where local craftspeople create all kinds of products for sale
Cost: Free to explore!
Food nearby: Coconut products at the Coco house
Located on Domaine de Val des Près, in Au Cap on the east coast of Mahé – the Seychelles Craft Village is definitely worth adding to your Seychelles itinerary when visiting this beautiful island!
The craft village is not just a place for buying souvenirs, but also a place that is dedicated to preserving and sharing Seychelles' culture, history and traditions.
You'll get to see the craftsmen at work and have the opportunity to interact and talk to them about their knowledge of traditional craft, cooking and Creole culture.
There are 12 craft huts at Domain de Val des Près, with all sorts of items being made and sold, including paintings from local artists, handmade jewelry and batik clothing. There is also a house built of coconut products where there are all kinds of coconut items for sale!
If you're looking for some nice souvenirs from the Seychelles – this is the best place to go to find them! Even better, the money will go straight into the hands of the local craftsmen and you'll be supporting their livelihood and trade.
Day 2 / Stop 3 – Takamaka Rum Distillery
Why it's awesome: Experience locally produced rum made with locally grown sugar cane!
Cost: Around $11 USD
Food nearby: Asian Fusion Restaurant & Lounge Bar
The word 'Takamaka' means "Made from the Seychelles". That's exactly what this rum is – one of the most popular Seychelles points of interest – made from the purest artesian waters and island-grown sugarcane, right through to the passion that's infused by its Creole culture.
You'll get to experience this first-hand as you tour the rum distillery. You can see exactly how the rum is made from their very own sugarcane and water collected from the Vallée de Mai, where the famous endemic Coco de Mer palm grows.
Tours are run twice daily, so make sure you find out what times these are running on the particular day. The tours include a tasting of all the varieties of rum as well as an informative tour of the rum-making process!
Day 2 / Stop 4 – Jardin Du Roi Spice Garden
Why it's awesome: A lush spice garden perched on the hills above Anse Royale
Cost: Around $9 USD
Food nearby: The Garden's cafe-restaurant
This lush spice garden is gloriously located above the hills of Anse Royale. It is one of the Seychelles landmarks with incredible views of the lush forests and down to the coast.
The gardens were inspired by a French spice entrepreneur to promote spice trading in the colonies. The garden offers visitors a day on a typical Seychelles plantation that grows spices and rare plants.
It's a haven for botanists and nature lovers! You're able to explore the planter's house which contains a small museum. There's also a self-guided walk around the 35-hectare orchard forest grounds to enjoy before heading to the cafe-restaurant for a nice meal with smashing views of the coast!
Insider Tip: Treat yourself to an à la carte meal served daily, or our special fixed menu "Plantation Lunch" available every Sunday. The drinks, ice creams and almost all of the food available are flavored with the plantation's own spices.
Day 2 / Stop 5 – Explore the South Beaches
Why it's awesome: Explore the stunning beaches in the south of the island where there are fewer people and you can have your own paradise to explore!
Cost: Free!
Food nearby: Surfers Cafe or Anchor Cafe
The further afield location means that the beaches are less frequented by tourists. That means you can live the dream of having your own private beach in paradise
Spend the afternoon beach-hopping or just choosing one beach to lounge about and enjoy the tropical waters and warm sunshine.
Some of the most magical beaches on this side of the island are Anse Bazarca, Anse Petit Police and Anse Grand Police. Just be careful when swimming in the ocean – if there are any warning signs as the currents can get strong and make swimming fairly dangerous.
When you get peckish after all the fun in the sun, some great restaurants to try out are either Surfer's Cafe or Anchor Cafe. Both offer laid-back beach vibes and scrumptious food!
A little further along the west coast road, you'll get to two more stunning beaches – Anse Soleil, and Petit Anse. The latter is now the location of the Seychelles Four Seasons but the beach is also open to non-guests in limited numbers.
The Four Seasons Resort is also the ideal location to have a sundowner while you watch the sunset, before heading back to the other side of the island!
Vallée de Mai | Anse Lazio | Curieuse Island | La Digue
If you're lucky enough to be planning a 3-day itinerary in Seychelles or more, there's so much to look forward to! We recommend expanding your horizons and doing a bit of island hopping to really experience all that Seychelles has to offer!
It's easy to take the morning ferry from Mahe, which takes about an hour, and leaves you the whole day to explore your destination!
Vallée de Mai
An incredible National Park and UNESCO World Heritage Site on Praslin island.
Experience a nature reserve filled with extremely rare coco de Mer palms
Get to hold the largest and heaviest nuts in the world!
From the ferry dock, we highly recommend grabbing a rental car and heading to Vallée de Mai. It is a national park and UNESCO World Heritage site, and the major tourist attractions on Praslin island.
This is where the giant Coco de Mer palm grows, one of Seychelle's most unique endemic plants. You'll also get to see how the largest and heaviest seeds in the world are produced, as well as experience the unique flora and fauna like orchids and black parrots.
Spend your morning exploring the palm forest filled with more than 1400 Coco de Mer palms. Be sure to take some amazing photos of all the weird and wonderful things that are native to this small island and its geographic isolation.
The National Park is known as the "heart of Praslin". It is often described as a "Garden of Eden" thanks to its secluded and mystical nature and unique plant and animal diversity originating from the supercontinent Gondwana.
You'll get the chance to see the oldest specimen of the tree which is around 300 years old, and stands at 27 m high! Marvel at its perfectly straight trunk and huge, fan-shaped leaves. Next, wander along the Glacis Noire Trail which takes around 2 hours to explore and takes you through the 18-hectare site, past a number of interesting plant species!
Anse Lazio
Often voted as the most beautiful beach in the world!
The perfect paradise location for swimming, snorkeling and sunbathing
Explore the massive granite formations and crystal clear waters
Whilst on Praslin Island, you can't miss out on exploring one of the most beautiful beaches in the whole world! Anse Lazio is an absolute paradise with the perfect mixture of pristine golden sand, aquamarine water and amazing scenery in every direction!
This breathtaking beach is located at the end of the road on the northwest coast of Praslin. Amidst the lush jungle surroundings, you'll find half a mile of perfect fine white sand and glassy water filled with colorful marine life.
Due to the beaches awe-striking beauty, it's also very popular amongst tourists. It's best to head here early in the morning before the crowds arrive, or late in the afternoon for the stunning sunset after the tour buses vacate the area.
There are lifeguards on the beach, so you are free to swim and snorkel as you please without too much concern. But the waves and currents on Anse Lazio can also be dangerous at certain times of the year so don't be too brazen if the seas are looking rough.
At the end of the beach, you'll find some small shops and a few restaurants if you'd like to enjoy some lunch or dinner with a view. There is also an interesting bar known as Honesty Bar, which operates without staff and faithfully relies on the honesty policy for payment! It overlooks a small cove, making it the perfect spot for a cold refreshing drink after a day of sand and sunshine!
Curieuse Island
Home to the Aldabra Giant Land Tortoise
The perfect place for fans of wildlife and bird lovers!
Renowned for its bare red earth intermingled with the unique Coco de Mer palms
Curieuse Island is a 3km² island, located northwest of Praslin island. It's the only other place you'll find the famous Coco de Mer palms and is home to a breeding program for the giant Aldabra tortoises.
These incredible animals grow to an excess of 600lb and up to 200 years in age! The tortoises roam freely on this small island, making it the perfect place to snap that once-in-a-lifetime selfie!
Curieuse is a bio-reserve that is managed by the marine parks and a great place to visit when touring Seychelles. Exploring this small island is an essential part of any trip to Seychelles, and as there are no hotels or restaurants on the small island. Food needs to be organized through a tour operator on the nearby island of Praslin.
Once on the island, you'll have time to explore the many unique things. These include the Coco de Mer, mangrove forests, Aldabra tortoises, takamaka trees, hawksbill and green sea turtle breeding ground.
The first thing you'll notice about Curieuse is the contrast between the green forest foliage and the red earth. After a 20-minute boat ride from Praslin, you'll arrive at the Baie Laraie harbor. Here you'll be welcomed by local giant hump-head parrotfish and giant tortoises relaxing around the park rangers offices.
You'll get the chance to feed these incredible gentle giants before exploring what the marine National Park has to offer. There's also a scenic trail that goes from the harbor to Anse St. Joseph on the other side of the island, with spectacular sights and birdlife along the way!
La Digue
The smallest of the three most popular islands in the Seychelles
Rent a bike and explore the laid-back flat island
Explore the fourth-largest and highly popular island in the Seychelles
La Digue is located to the east of Praslin and just a 20-minute boat ride away. This idyllic island with incredible tropical scenery offers visitors perfect photo opportunities and is a magical island to spend your time cycling around.
The natural compositions of granite, sand, and picture-perfect palm trees will make you want to stay for as long as possible! If you have the time in Seychelles, it's definitely worth booking yourself into one of the resorts or guest-houses to spend a few days really enjoying the laid-back island lifestyle.
La Digue is home to over 3000 people who live on its 10km² land. It's one of the favorite places to visit in Seychelles. The main sources of income on the island are fishing, agriculture, and tourism. There's no wonder it's such a popular tourist destination either!
Once you arrive on the island, you'll get to experience the incredible world-class beaches, and with the island being almost entirely surrounded by coral reef, it offers some of the best snorkeling you'll find in Seychelles!
On the eastern half of the island, there stands the 333-meter peak, known as the Nid d'Aigle (Eagle's Nest). The north-western part consists mostly of flat plains. It's perfect for a Seychelles walking tour as you're able to walk to most parts of the island within about an hour. It's also the perfect island destination to rent a bike and meander around the island experiencing all of its beautiful beaches and clear-water coves.
As with any travel destination, there are some safety precautions and health hazards that you should be aware of when planning your Seychelles travel. We're here to guide you on the best safety advice so you can rest assured that you have done everything in your power to make your 3 days in Seychelles vacation hassle-free!
The most dangerous natural hazard you'll come across on the islands is the sun. It's absolutely necessary to bring sun protection in the form of reef-friendly sunscreen and adequate clothing.
Another necessity to protect your health is insect repellant, as there are a few bugs that you won't want ruining your beach time!
There are also a few other aspects that you need to protect yourself from, or at least be aware of when traveling to the Seychelles. There can be some sketchy drug or alcohol-related behaviors that happen on the islands during a weekend in Seychelles, and crimes against tourists are not unheard of.
But don't worry, if you keep your wits about you, and don't go down any dark alleyways or swim on remote beaches at night, you'll be just fine. Most of the crimes are petty theft, so when you go out its best to just take what you need, and lock your hotel room to avoid losses through any break-ins.
Just remember, even problems exist in paradise! Basically, it's safe to visit Seychelles – as long as you don't create those opportunities for petty crime in the first place and don't do any stupid things that leave you in jeopardized situations.
Don't Forget Your Travel Insurance for Seychelles
World Nomads' mission is to support and encourage travellers to explore their boundaries. They offer simple & flexible travel insurance, and safety advice to help you travel confidently.
They've been doing it since 2002 – protecting, connecting, and inspiring independent travellers just like you.
Get a quote below or read our in-depth review!
World Nomads provides travel insurance for travelers in over 100 countries. As an affiliate, we receive a fee when you get a quote from World Nomads using this link. We do not represent World Nomads. This is information only and not a recommendation to buy travel insurance.
Still looking for more after your 3-day itinerary in Seychelles? With so much beauty surrounding these islands it's well worth taking a day or two (or more!) to explore the surrounding islands and wonders of the vast ocean. These are our favorite day trips from Seychelles:
Island Hopping
Island-hopping is a must-do experience in the Seychelles and there's no better way to do it than a full-day adventure! Hop on board at Praslin Island and head along the west coast towards Anse Kerlan Beach, Anse Georgette Beach and Lazio Beach – three of the most beautiful and scenic beaches in the Seychelles!
You'll get the chance to swim and sunbathe along the journey and enjoy a delicious island-style Creole BBQ picnic lunch along with cold beverages on Curieuse Island. After lunch, snorkel off of St. Pierre Island and enjoy a 1.7-kilometer nature walk on Curieuse Island.
Big Game Fishing
One of the main and most popular attractions in Seychelles is fishing. The success rate for big game fishing is generally high – making it an exciting and adventurous way to spend a day in the Seychelles!
You'll head out on a boat in the morning and spend the day catching tuna, sailfish, wahoo, bonito, dorado and more! The tour includes a light packed lunch and opportunities to swim around some of the nearby islands.
Baie Ternay Marine National Park
Discover some of the most beautiful landscapes of the Seychelles as you embark on a private boat tour around the north coast of Mahe. Marvel at the incredible scenery as you cruise through Baie Ternay Marine National Park and walk on the white sands of Anse Major, getting the chance to really relax in nature.
You'll visit the island of Therese and get the chance to go snorkeling in the clear waters and experience the variety of marine life, including rays, turtles and even some baby sharks!
Mahe Island Full-Day Tour
Choose to go on a full-day tour of Mahe island and experience all that the island has to offer with the guidance of a knowledgeable tour facilitator. Tours will generally take you through the vibrant Victoria Market, followed by a drive around town to admire the various monuments and hear about the unique history of each one.
You'll also get to see the fine craftwork produced by the locals and spend some time enjoying the stunning Beau Vallon Beach. The afternoon will take you to Mission Lodge, and along some of the most beautiful beaches that the south of the island has to offer! All followed by a trip to the Jardin du Roi spice garden and rum distillery for an unforgettable day on the island!
Praslin Fishing Tour
Starting early in the morning, the popular Praslin Fishing tour welcomes in the day with a beautiful sunrise as you head out on a fishing boat to really experience the sights of the island and the sounds of the waves!
The day will be spent out on the water experiencing the joy of fishing before heading back to Praslin by the afternoon with some souvenirs and perhaps some dinner!
Find out what people want to know when planning their Seychelles itinerary.
The Seychelles islands are the perfect place to go almost any time of the year for a sunshine-filled, tropical paradise vacation!
Boasting some of the world's most beautiful beaches, and incredible lush jungle scenery all around. There are incredible coral reefs that make it a snorkeler's dream, and the crystal-clear waters will lull you into a calm and serene state of island-mind.
With unique and fascinating flora and fauna, and so much more to discover on these small idyllic islands off the coast of East Africa, it's without a doubt one of the best island holiday destinations.
If you are going to visit the islands and wondering what to do in Seychelles, this itinerary for Seychelles will have everything covered that you need to know to plan your Seychelles travel for the ultimate tropical vacation!
---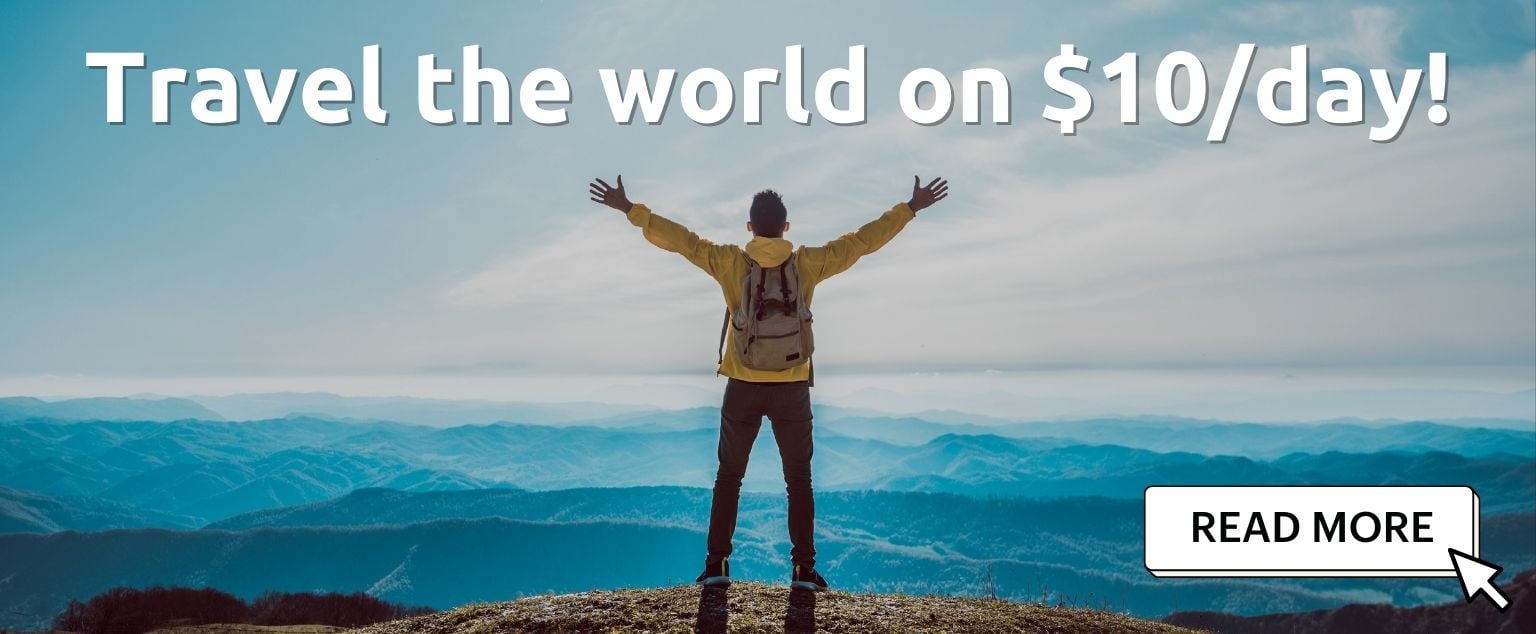 And for transparency's sake, please know that some of the links in our content are affiliate links. That means that if you book your accommodation, buy your gear, or sort your insurance through our link, we earn a small commission (at no extra cost to you). That said, we only link to the gear we trust and never recommend services we don't believe are up to scratch. Again, thank you!