Seychelles has a reputation for tropical resort getaways, languorous days on the beach, colourful coral reefs and plenty of rare nature and lush forests. It's not just a reputation though: it's 100% true.
What you don't hear much about is how sketchy this collection of islands can be. Though it might seem like a bit of a serene paradise, there's much more going on under the surface and the crime rate, of robberies, break-ins, and other petty crimes, is increasing.
That's not just in general, but against tourists too. We decided to look into this and create this epic insider's guide into staying safe in Seychelles. It may be paradise, but problems exist even in paradise.
In it, you'll find information from whether it's safe to drive in these islands, to whether or not it's safe to eat the local food, and even a few pointers for people who might think of living in Seychelles.
You may be a solo female traveller wondering if you'll be safe here, or you may simply be asking the question: "is the Seychelles safe for families?" Whatever it is, our Seychelles safety guide has got you covered!

Unlock Our GREATEST Travel Secrets!
Sign up for our newsletter and get the best travel tips delivered right to your inbox.
How Safe is Seychelles? (Our take)
Seychelles is an island nation that's pretty much a paradise of palm-fringed beaches. Cue visiting hordes of honeymooners, jet setting celebrities, as well as some independent travellers and East Africa backpackers.
That ain't to say there's no trouble in paradise. In fact, there is. Violent crime, although not common, happens. So does petty theft (more common).
The weather, and nature in general, isn't always so great. In fact, it can be pretty dangerous: strong winds, downpours, monsoon season, riptides – it's all here.
With one of the highest discrepancies between rich and poor in the world, it's expected crime takes place on the islands. But nobody seems to know exact numbers; it's dubious as to how trustworthy the "official" numbers would be, anyway.
Robberies and break-ins do happen, however. Opportunist theft occurs and is usually non-violent. Basically, it's safe to visit Seychelles – as long as you don't create those opportunities for petty crime in the first place.
There is no such thing as a perfect safety guide, and this article is no different. The question of "Is Seychelles Safe?" will ALWAYS have a different answer depending on the parties involved. But this article is written for savvy travellers from the perspective of savvy travellers.
The information present in this safety guide was accurate at the time of writing, however, the world is a changeable place, now more than ever. Between the pandemic, ever-worsening cultural division, and a click-hungry media, it can be hard to maintain what is truth and what is sensationalism.
Here, you will find safety knowledge and advice for travelling Seychelles. It won't be down to the wire cutting edge info on the most current events, but it is layered in the expertise of veteran travellers. If you use our guide, do your own research, and practise common sense, you will have a safe trip to Seychelles.
If you see any outdated information in this guide, we would really appreciate it if you could reach out in the comments below. We strive to provide the most relevant travel information on the web and always appreciate input from our readers (nicely, please!). Otherwise, thanks for your ear and stay safe!
It's a wild world out there. But it's pretty damn special too. 🙂
Is Seychelles Safe to Visit Right Now?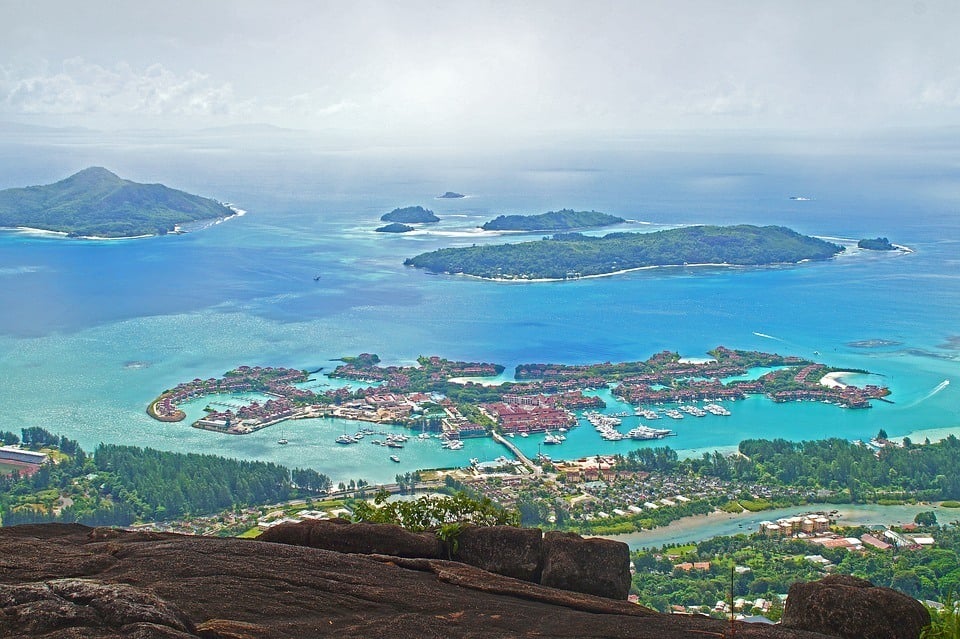 Seychelles' tourism has been on the rise since it got its international airport in the 1970s. The old P&O steamship on the way to India used to stop here, so it's always been a known destination – especially for those British colonials.
Tourism is by far one of the most important parts of the Seychelles economy, employing over 15% of the workforce on the islands and making up around 50% of its GDP.
But that's easily understood if you look at the incredible places in Seychelles – it's like stepping into paradise! So, of course, the Seychelles government is looking out for tourists, too.
In recent years Seychelles has undergone something of a change. Previously under the control of France-Albert René from 1977 to 2004, Seychelles is now moving in a more democratic direction.
There has been an increase in break-ins and robberies, specifically against expats and tourists. These range from bag-snatchings and car break-ins, to muggings – usually of tourists whilst walking late at night. Our verdict? Avoidable. (We have some great tips coming up for you regarding all that!)
Another interesting but pretty scary prospect is the presence of Somali pirates. Piracy has been known to take place within hundreds of miles of the island. Not greatly important but good to be aware of it if you're into your yachts or fishing.
Nature-wise now. Nasty insects, particularly mosquitoes; strong currents and unpredictable waves; the sun and getting overheated; monsoon season. It's got two monsoons, both the Southeast (May to September) and Northeast (November to March), which means practically all year round.
However, we'd say there's nothing pressing at the moment that'll keep you away; it's pretty much safe to visit Seychelles right now.
Safest Places in Seychelles
When choosing where you'll be staying in Seychelles, a bit of research and caution is essential. You don't want to end up in a sketchy area and ruin your trip. To help you out, we've listed the safest areas to visit in Seychelles below.
La Digue
La Digue is the third largest of Seychelles inhabited islands. It is located east of Praslin and can be easily accessed via the Inter-Island Ferry.
It's not only one of the safest, but also one of the coolest areas in Seychelles with its relaxed vibe and stunning beaches. Often ignored by travellers, La Digue is where you can enjoy all the perks of paradise without the hordes of tourists. However, those seem to have picked up about La Dingue's beauty, and visitor numbers are slowly increasing
Interested in getting back to nature? You've come to the right place. La Digue is covered in lush forests and verdant nature ripe for exploring. It has plenty of roads and trails which are perfect for hiking, trekking and riding a bike.
Praslin
Praslin is the second largest island in Seychelles. It is located 44 kilometres northeast of Mahe and is easily accessible by fast ferry.
Praslin is a divided island. On the one hand, it is famous for its stunning beaches, serene nature, and overall chilled out atmosphere, similar to La Digue. It attracts tourists and locals who are interested in a quiet, calm and secluded holiday location.
On the other hand, Praslin is one of Seychelle's top nightlife destinations. Although the nightlife here is decidedly tamer than other international locations, you'll still find a good variety of places to let your hair down. There are also quite a few budget accommodation options around, ideal for backpackers!
Mahe
Mahe is the largest island of Seychelles. It covers nearly 160 square kilometres and is home to the largest cities and tourist hubs. With plenty of things to see and do, Mahe is our pick for where to stay in Seychelles when you're travelling with kids, want to have a relaxing stay with plenty of shops and amenities nearby, or enjoy adventure and varieties of activities.
Outdoor enthusiasts will love making their base in Mahe. This island is great for hikers and trekkers as it's covered with hills and trails, mountains and more. From the shoreline to the sky, immerse yourself in nature by exploring exquisite Mahe.
Mahe is also where you'll find some of Seychelle's most stunning beaches. With golden sands and shining turquoise waters, you won't believe you aren't looking at a postcard as you stare out at the beautiful horizon!
Places to avoid in Seychelles
Luckily, most areas in Seychelles are pretty safe. Petty crime does exist, but if you follow our safety tips (you'll find them below) you should have a trouble-free trip. While there aren't any properly dangerous areas, there are a few spots where you need to be a bit more careful. We've listed them below.
Mahe at night – Be careful after dark, pretty much everywhere you are. Especially the areas of Beau Vallon and the backstreets of Victoria have a higher chance of crime.
Any remote areas and small side streets – it's almost a no-brainer to avoid these. Listen to your gut, if it sends you mixed or bad signals, there's probably a reason for that!
Yachts and the open sea – while the chances are slim, there have been reports of pirates. If possible, ask some local fishermen or even the police about pirate activities in the area before you head out.
It's important to know that Seychelles is a pretty safe place, but a bit of caution and research before you start your travels will go a long way. If you want to increase your safety during your stay, read on for our insider travel tips. Stick to those and you won't have a single issue in Seychelles.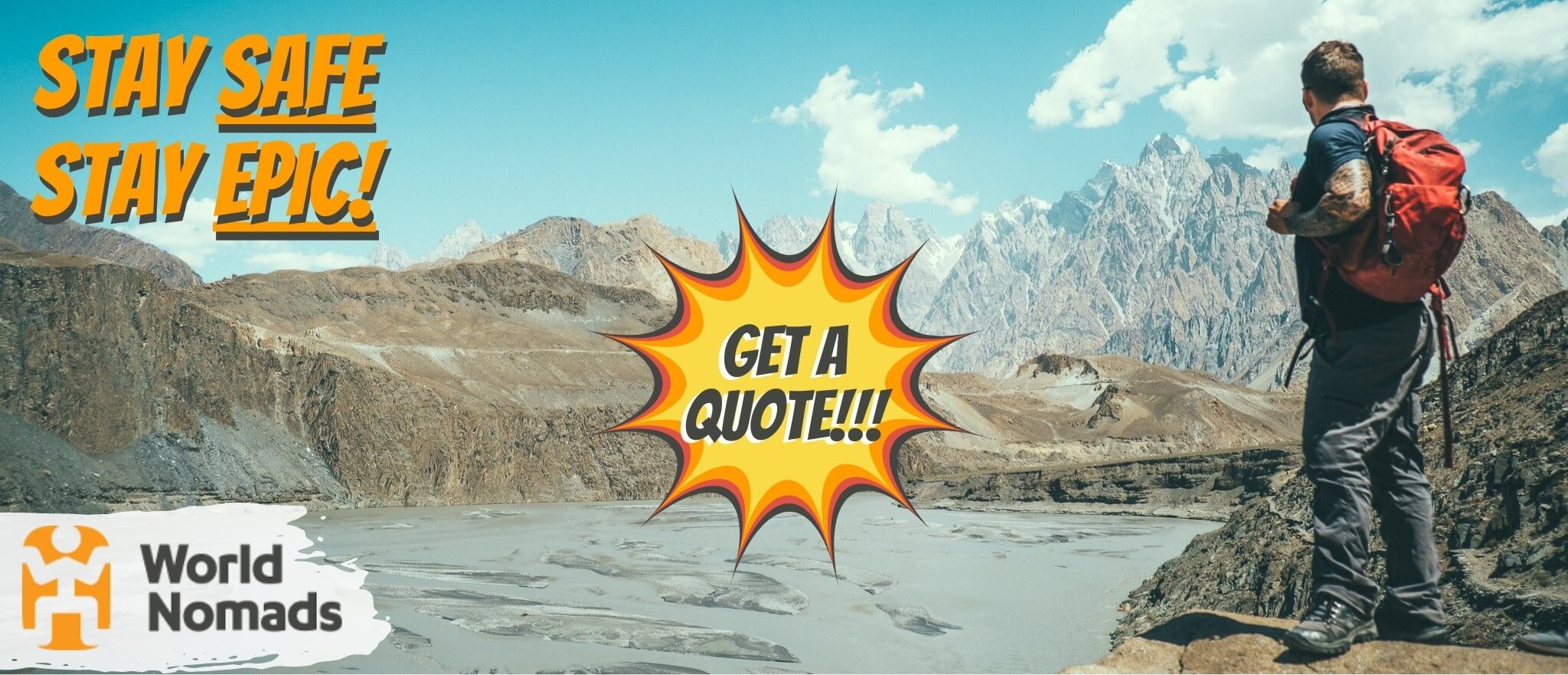 World Nomads' mission is to support and encourage travellers to explore their boundaries. They offer simple & flexible travel insurance, and safety advice to help you travel confidently.
They've been doing it since 2002 – protecting, connecting, and inspiring independent travellers just like you.
Get a quote below or read our in-depth review!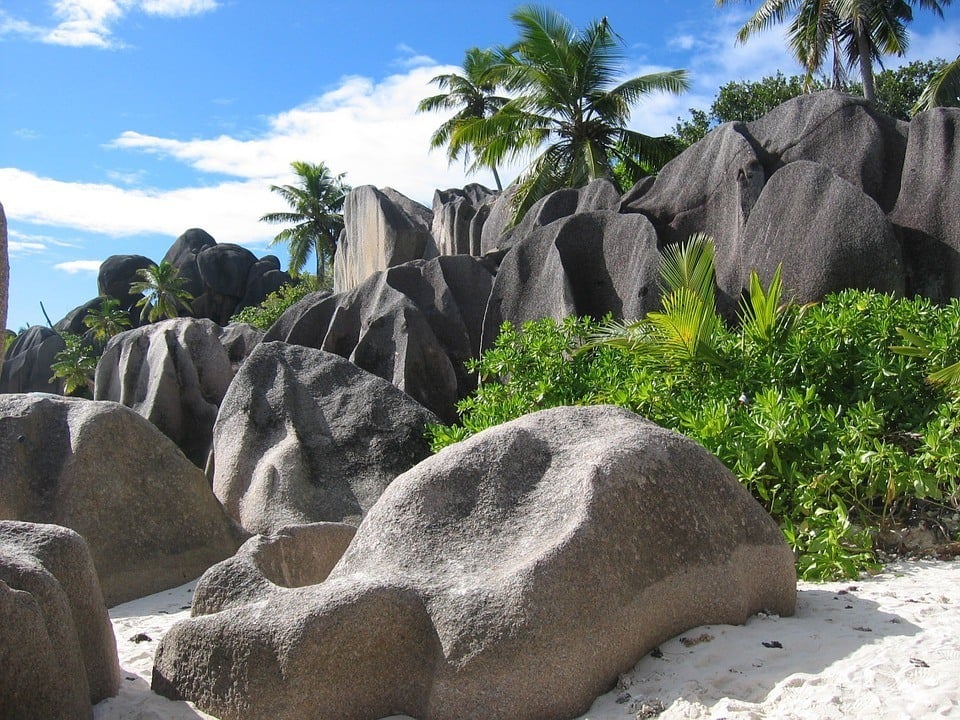 Seychelles is all about its beaches and clear waters – a sun, sea and sand getaway if there ever was one. That said, it's not a theme park – there are things to look out for here.
With the rise in petty crime against tourists, you really don't want to be an unsuspecting tourist here. We've compiled a few tips to help you travel smart on your trip to Seychelles.
Security 101 – lock hotel doors when you leave, close (and lock) windows, put valuables in safes. If you don't have one, consider purchasing a padlock.
Don't head out and about looking wealthy – you will just be a target, plus it wouldn't be very sensitive of you; many people here are very poor. If you have to bring your valuables with you, consider wearing a money belt.
Leave nothing on display in your hire car – and park it in a safe place. It goes without saying but roll the windows up, too.
Make sure accommodation is safe and secure – reviews will come in handy here. Especially with things like Airbnbs.
Carry a phone when you're out of your accommodation – in case of emergencies. Make sure it works, too.
Be vigilant in isolated areas – you'll be more likely to be targeted for robberies. Know where to be and where to stay in Seychelles.
Stay away from drugs – foreigners are subject to the same laws as citizens and the laws are very strict.
If you have a problem, go to a local police station – they will (probably) be able to help you.
Take care when swimming – the currents can be serious here. People have drowned.
Know what beaches are calm – some are safer during the Northeast monsoon, others during the Southeast. Research.
Lazio Beach can be treacherous – people get stuck between rocks during high tide.
Take note of signage on beaches – and ask locals if unsure. Even on popular Beau Vallon beach, the sea can be rough.
No signs or flags doesn't mean it's safe – and lifeguards aren't the norm. Best bet? Ask the staff at your accommodation for the safest beaches around.
Do not go swimming at night or alone, or went drunk – bad ideas.
Careful of your feet – it's easy to cut them on coral/rocks so get some reef shoes. They're not cool, but they do the job!
Going nude is not legal – sorry nudists (and those who don't want tan lines). It's just not done on the beaches here.
Take care and plan routes when hiking – take enough water with you and be prepared!
Protect against the sun – getting sunburnt, dehydrated, or heat stroke is not fun at all, trust us.
Protect against mosquitoes – use repellent, cover up at dusk, burn coils if you've got 'em. Anything that will help you keep them away.
Be aware of other insects – big spiders, sand fleas, roaches… There are a few creepy crawlies here that we're not 100% into.
So there you have it. Not only are there humans to be aware of in Seychelles, but mother nature, too! It's not exactly a warzone or an inhospitable place though – it's more that you need to be aware of the risks and avoid them.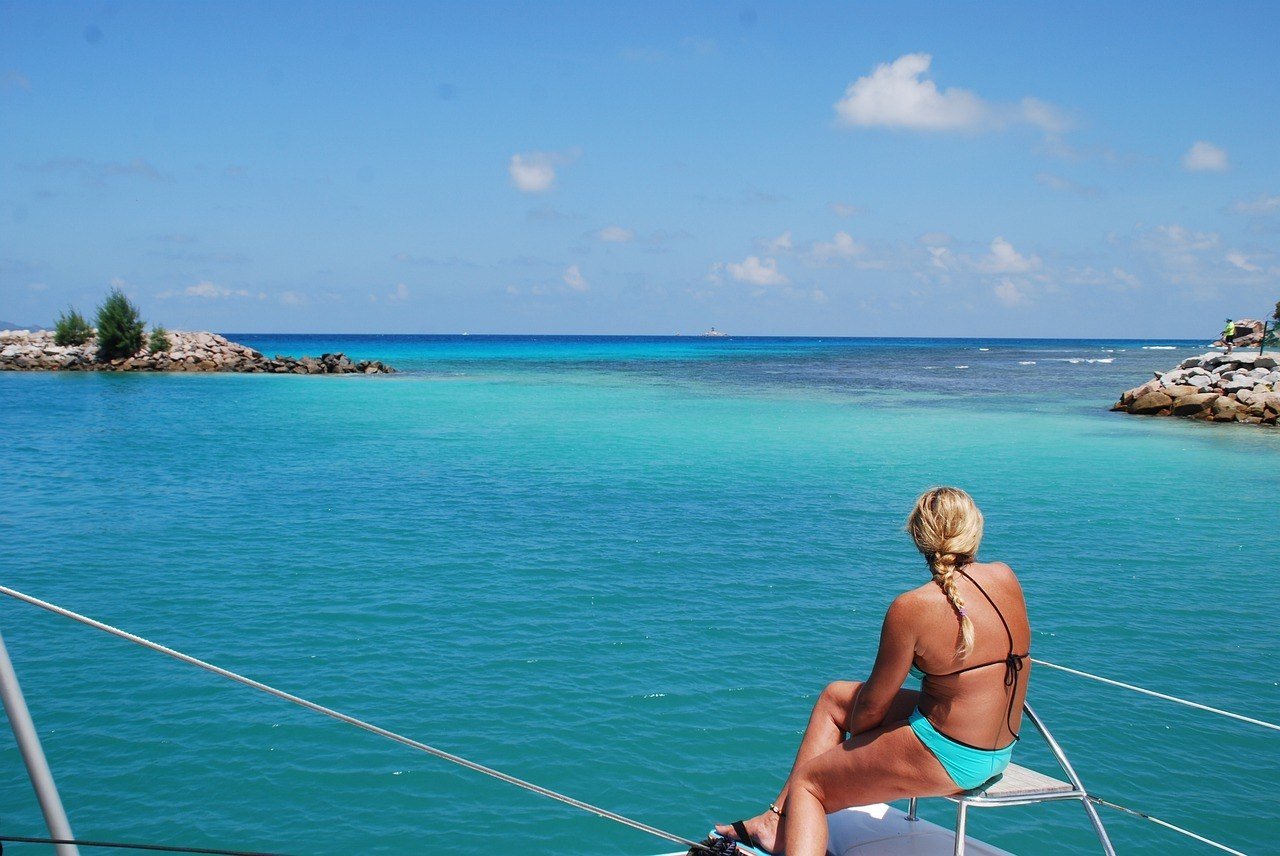 You're thinking of going to Seychelles alone? That's great, solo travel is awesome. It's a great way to challenge yourself and actually better yourself as a person. Not only that but it's a great excuse to be selfish and do what you want exactly when you want.
However, it's not always awesome. It can get boring being by yourself, you can start to feel isolated and get more than a little bit out of touch with reality. Not to worry, though. To keep you safe and sound, whilst having a great time, here are our best tips for solo travellers.
Don't be discouraged to travel solo here. You might be a bit worried because of Seychelles' reputation as a honeymoon spot and couples' retreat. There's actually a lot of excursions and stuff to do by yourself – and we promise, it won't be weird!
Consider renting an apartment/Airbnb. Even accommodations aren't all geared towards romantic getaways. Seychelles isn't exactly what we'd call cheap, but there are places you can rent an apartment or Airbnb which makes your stay a lot more affordable than an all-inclusive resort, for example.
Make sure the place you're staying is secure and well-reviewed. You should definitely do research on where you're about to book. Make sure you also read reviews online before booking.
Feel free to eat out. Just because you're out by yourself on the island, it doesn't mean you can't eat out. There are lots of restaurants where you can grab food, pretty cheaply might we add.
Get around by bus! When you're travelling solo, renting a car may be a little expensive, but getting around by bus is very viable. And you know what? People cycle around quite a lot, too, so rent a bicycle and pedal around.
Be aware of thieves. Being by yourself, you will be seen as more of an easy target by potential thieves. You are basically going to have to be on a higher alert than you would usually be at home.
Try to travel around during daylight hours – most if not all of the time. More crime happens after dark. Don't put yourself at risk.
Get a local sim card. You can pick these up at the airport, some shops or some hotels may even give you one in their welcome package. Make sure you've got a decent signal wherever you are, otherwise it's useless.
Keep in touch with people back home. Friends, family, whoever, just give 'em a call and get in touch every now and then to let them know what you're up to and where you are.
When it comes to solo travel in Seychelles, the most important thing – like travelling alone anywhere in the world – is to not put yourself in danger.
Is Seychelles safe for solo female travellers?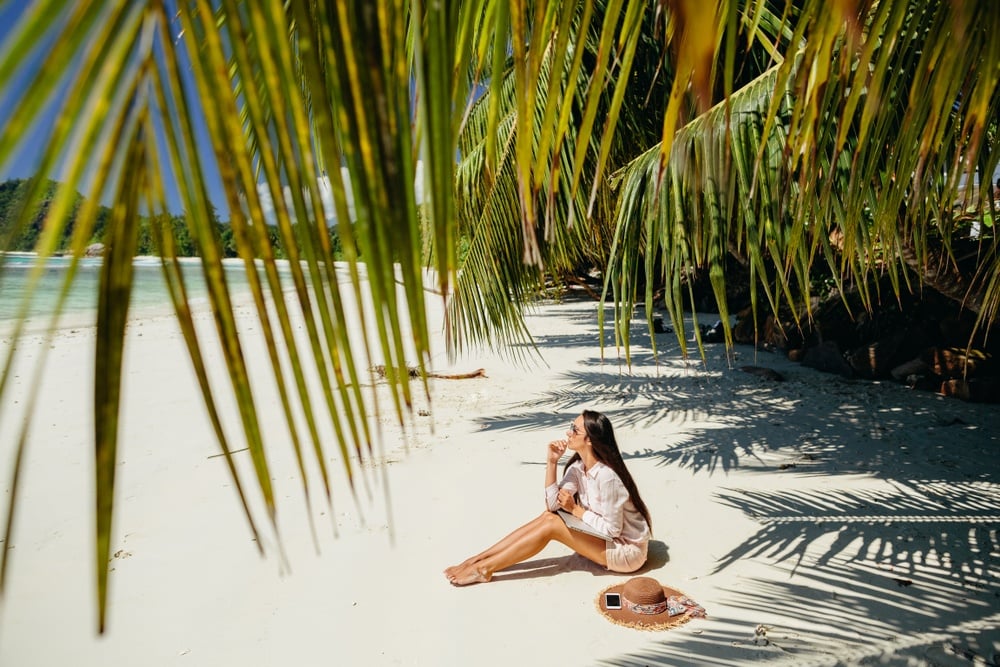 You might think Seychelles is going to be super expensive, and mainly for couples, not backpackers or solo travellers. But that doesn't have to be the case. In fact, we're going to say Seychelles and its paradise beaches are perfectly safe for you solo female travellers.
You don't need a boyfriend or a partner. You just need yourself and some common sense. Of course, the island – as we've said already – isn't always the paradise you'd like it to be, so here are some tips to help solo female travellers make their Seychelles trip go smoothly.
Use your common sense. Visiting isolated beaches and remote inland areas by yourself could be a little bit risky. To be honest, we would advise against it, it's just better to be safe than sorry.
Take public transport. The buses will be busy and you probably won't get a seat, but you'll get to have a real local experience using one the island's buses. Plus it's cheap!
Don't be afraid of resorts if you've got some money to spare. They're actually great and often feature perks like free paddleboards, snorkelling, day cruises and even live entertainment in the evenings. Going full resort is definitely not a cop-out when your safety and sanity are at stake.
Be conservative with what you wear. On beaches, that's another story, but we wouldn't say it's the best idea to be wandering around with a bikini on the outside of resorts. Have a sarong or something that you can throw on in case you feel the need to cover up further.
Don't get completely wasted. Knowing how to get back to wherever you're staying is another thing altogether.
Don't think that it's a "good idea" to take risks. It's good to push yourself out of your comfort zone but within limits. A spot of Yolo night swimming, for example, isn't clever.
Go on an excursion, get on a tour, do some diving, embark on a boat trip. It's a very decent way to meet some people and has some fun whilst you're in Seychelles. Plus you'll eliminate the safety factor of having to do that sort of stuff by yourself. Win-win!
Hire a guide if you feel like hiking. It's a great way to get to see some incredible views of the coastline from up high (seriously stunning). As with all things that involve hiring somebody, make sure they are reputable, well trusted, and well-reviewed.
Don't be afraid to ask for help. If you stumble across a situation that's making you feel unsafe or uncomfortable, the local people here are pretty friendly and will be happy to help you out. Plus a bit of interaction with real Seychellois people will be an experience in itself.
Keep in touch with people. Going off-grid isn't 100% a great idea. Let people know what you're up to, for your own sanity and their peace of mind. They'll most likely be worried about you!
Yes, Seychelles is a very beautiful place, but it can be a little bit dangerous too. So make sure to keep our tips for solo female travellers in mind when you make your way to this part of the world. Most of the time, it's going to be about not jeopardising your own safety.
We recommend getting in touch with some like-minded female travellers. Things like Facebook group Girls LOVE Travel are great places to meet other ladies who may even be in Seychelles the same time as you, or who can offer their own advice. We're all for it.
More on Safety in Seychelles
We've covered the main safety concerns already, but there are a few more things to know. Read on for more detailed information on how to have a safe trip to Seychelles.
Is Seychelles safe to travel for families?
Of course, Seychelles is safe for families!
Though you may think of Seychelles as an adults-only place with exclusive resorts and couples everywhere, and to some extent it is, there are plenty of family-friendly places to stay on the island.
Most of the time, you're going to be absolutely safe. Chances are you'll be staying in a resort, which is the safest thing you could do.
Most hotels offer babysitting services and kids' clubs. There's even stuff that's going to keep teenagers (just about) entertained.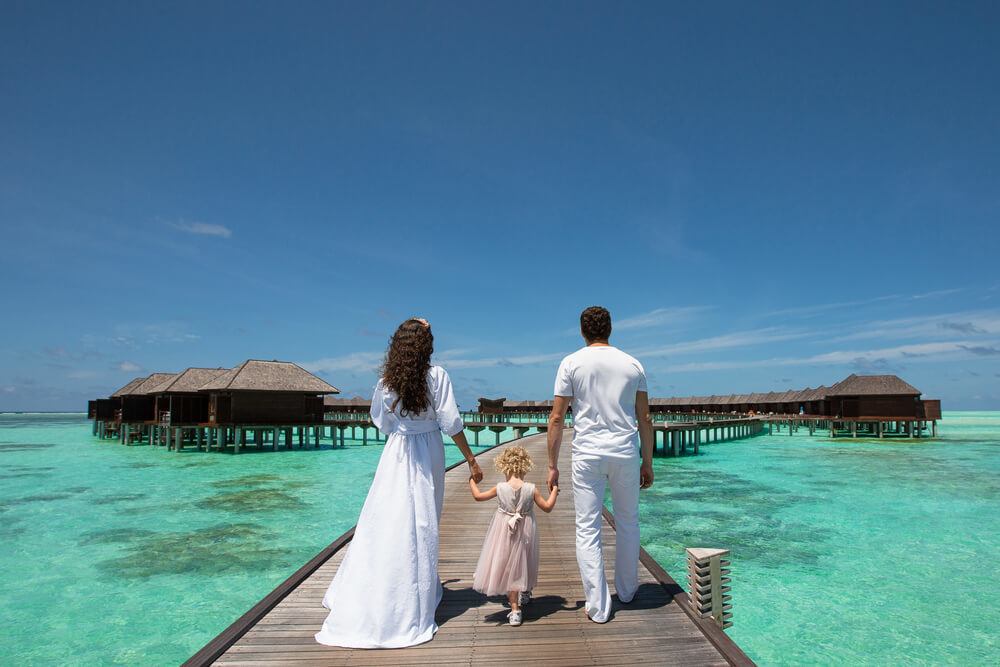 Finding food and products for babies, like nappies and medication, can be tricky outside the capital of Victoria, so pack enough supplies.
Probably the most unsafe thing about Seychelles, for a family visit anyway, is its beaches, notably the currents. These can be seriously strong and even confident swimmers will struggle, meaning they are extra dangerous for children. Keep an eye on your little ones at all times as lifeguards aren't exactly par for the course in Seychelles.
The sun and the heat can get to children and they can feel the effects worse than adults sometimes. So sunhats at the ready, plenty of sunscreens, drinking water, and make sure they're in the shade when the sun's at its hottest.
Also, mosquitoes can carry the chikungunya virus. Cover your children up at dusk from these nasty critters, use repellent with DEET in it, and burn coils in your room.
Other than that, you'll be completely fine in Seychelles. It's been a resort destination for couples and families for a long time now!
Is it safe to drive in Seychelles?
Driving in Seychelles is actually a very convenient way to get around. It's only available on the island of Mahé and Praslin, however.
Surprisingly, a lot of people choose to rent a car when they're in Seychelles to get around. It's not like driving in a busy city and it's fairly safe. However, there is obviously something to watch out for since it won't be the "normal" sort of driving that you're used to.
Speed limits are low (in general, 25 to 40mph) and there's not a lot of traffic, so there's not a lot to stress you out.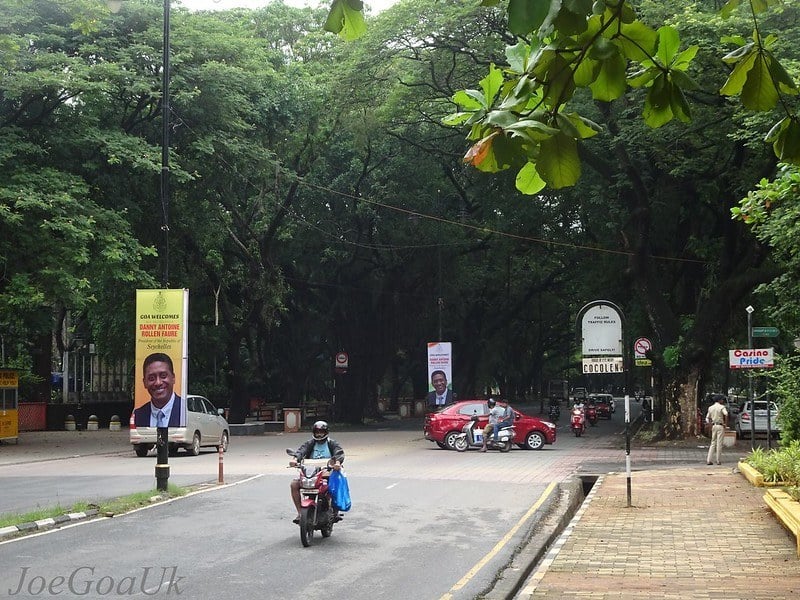 There is one big ring road that runs around Mahé, which is pretty good for practising; near Victoria, there's a dual-carriageway to get to grips with.
On Praslin, the roads are sealed for the most part and often easier to drive than their counterparts on the mountainous Mahé. There is one good mountain road on Praslin, which is pretty straightforward to drive on.
When it comes to actual car hire do know that a lot of the cars on offer aren't in great shape, so make sure you arm yourself with solid rental car insurance.
Locals will probably overtake you, so will buses. Stay calm and in control and let them do their thing, and don't do like them.
It's probably not worth driving after dark, so make sure you plan well enough so that you're back at your accommodation before the sun starts going down. And keep an eye on the weather, too: it can make some roads pretty scary.
That said, driving in Seychelles is pretty safe and tons of people do it. You won't be able to get to half the amazing beaches on the island without your own wheels.
Is Uber safe in Seychelles?
There isn't any Uber in Seychelles.
You'll have to rely on local taxis, which are a whole other story…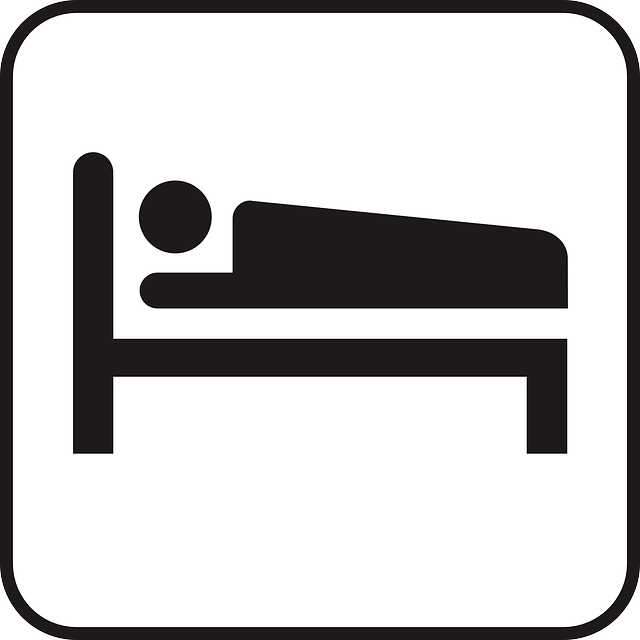 Sleep safe! Choose your hotel, hostel or Airbnb ahead of time so you're not last-minute booking a less-secure place.
Read our Neighborhood Guide for our favorite accommodations in Seychelles by area.
Are taxis safe in Seychelles?
Taxis are another option for exploring the islands aside from self-driving – especially if you don't drive, or you're not keen on driving.
There isn't one official taxi company in Seychelles. It's more of a collection of independent drivers and a few companies that are more geared towards tours. Taxis, however, are available only on the islands of Mahé, Praslin and La Digue.
They're convenient and taxi drivers are generally friendly, and most likely will be up for a chat. They'll probably be able to give you a bit of knowledge about the islands as they drive you around – if you ask, that is.
When it comes to hailing taxis, you'll most likely be able to do this only around Victoria – so if you stumble across a driver you like, take note of their phone number or take a business card. You might be able to use them at a later date for a tour or general transport.
Alternatively, you can have your accommodation call you a reputable tourist taxi with good reviews; no doubt they will have one to recommend you should use.
Taxis in Seychelles don't usually have meters. You'll have to agree on a fare before you set off on a journey. It's typically around 19 SCR (Seychellois rupees) for the first kilometre, then 6 SCR for each subsequent kilometre.
To sum up, taxis are generally safe in Seychelles. They're free from hassle and awkward negotiations – for the most part. If you do have to haggle, make sure you read our guide on how to haggle like a pro!
Is public transportation in Seychelles safe?
Public transport in Seychelles isn't non-existent, though it's also not very comprehensive, either.
On Mahé, there's a relatively extensive bus service. You can see where the bus is going because the destination is marked on the front of the bus.
Bus stops are easy to spot because they have a) signs and b) shelters and are c) marked on the road surface, too.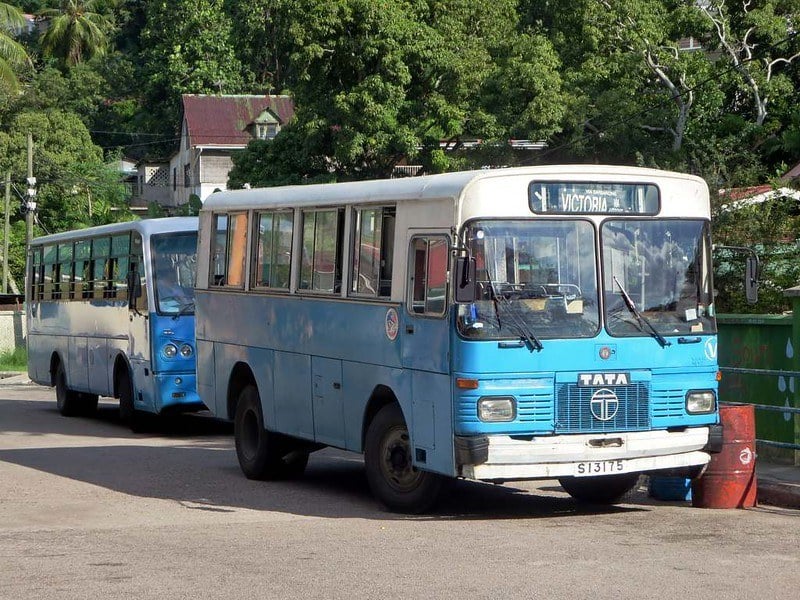 If you go to the capital of Victoria there's a bus terminus where you can pick up a timetable for bus routes around the island, which is a handy thing to have – take it from us.
Praslin also has a bus service, which runs from Anse Boudan to Mont Plaisir via other destinations include the airport. Buses run only every hour, from 6 AM to 6 PM, so make sure you don't miss your bus! It's a flat fare of 7 SCR.
Another way to get around in Seychelles, being a group of islands, is by boat. There are services between Mahé, Praslin and La Digue. They do, however, get pretty busy with tourists, so we'd advise booking as far ahead as possible.
The main thing to be aware of when it comes to boat safety in Seychelles is actually listening to the safety briefing at the start of the journey (if there is one), making sure the boat doesn't look overcrowded and wearing a lifejacket.
Other than that, the best way to get around is by bicycle. We'd especially recommend this on La Digue.
Is the food in Seychelles safe?
Being a mix of different cultures, the island nation of Seychelles boasts some pretty good food with a lot of different cultural influences. From French and English to Indian and Chinese, Seychellois Creole cuisine – as it is known – is an exciting mix of flavours.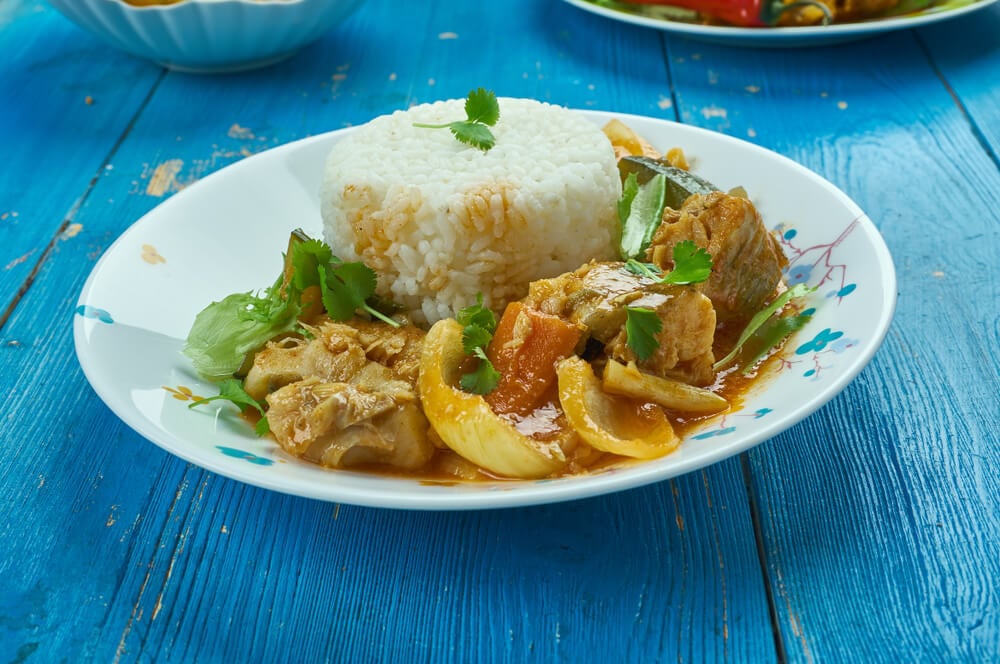 The unique fusion of culture has made the food pretty irresistible to travellers. You'll get to tuck into a variety of seafood dishes, tons of curries, and all manner of fresh fruits. To do that without upsetting your stomach, we've got some top tips for eating in Seychelles…
Make sure you don't go overboard in the first few days. There's a lot of flavourful, spicy food going on in this country, and overindulging in it as soon as you arrive is a good way to give yourself a bad stomach.
Don't be afraid to try non-local food. There's a ton of local restaurants that serve up Chinese, Indian and even Italian cuisine (to name a few). Don't be afraid to try them out and get to know the different cultures and people who make up the islands through your tastebuds!
Understand that if a local restaurant is busy, then it must be good. So only go to places that are crammed with locals.
You'll be missing out if you don't try the seafood here. It's honestly some of the freshest stuff on the planet. Tuna, red snapper, seabass… everything. Usually grilled. However, make sure it is fresh. If it tastes weird, stop eating! Food poisoning from seafood ain't nice.
Do not eat bats. It may be something of a local specialty, but fruit bats are thought to be the primary host for Ebola. We don't need to say anything else, so you can google "why shouldn't I eat bats" for further confirmation.
Only buy fruits and vegetables that haven't been peeled – especially if you're prone to a sensitive stomach on your travels. Being able to wash it, peel it and cook it yourself is a good way to ensure food hygiene – and cheap eats too.
Check out the local supermarket. There are corner shops and supermarkets in the islands' various little towns where you can buy things like banana chips and breadfruit chips.
Go to the Victoria Fruit Market if you're staying somewhere you can cook for yourself. It's a good spot for picking up all sorts of fruits and vegetables for cheap that'll sustain you.
Pick up a few samosas. These deep-fried Indian goodies are just what you need to keep you going if you're on a budget. Don't be afraid of them – they've been deep-fried in very hot oil!
There are widespread natural and very fresh natural ingredients going on in the food scene of Seychelles. From posh restaurants in and out of resorts, all the way to local eateries and very authentic food markets where you can pick up a bargain, it's all pretty dang tasty.
Can you drink the water in Seychelles?
The water in Seychelles is actually up to the standards set by the World Health Organisation.
Whilst, in theory, it's safe to drink the water in Seychelles, it's still pretty chlorinated- a lot of people drink bottled water instead.
You should also be especially careful after a big storm, as the water sources can become contaminated with dirt and all sorts of other germs and things you generally don't want in your drinking water.
However, if you want to be plastic-free, and we can only support your decision, you can also buy a refillable bottle and use your accommodation's water filter to refill it. We've compiled a list of best travel water bottles to help you decide which one to get if you decide to do so.
In rural areas, you should stick to filtered/boiled water – you can do this using the GRAYL GEOPRESS . Just safer.
Is Seychelles safe to live?
Living Seychelles seems like an absolute dream. Blue lagoons, tropical temperatures, great food, and good living. In theory, it couldn't get much better than that, right?
Of course, it's always a different story living somewhere than it is just visiting for a week or two. It's true Seychelles does offer a good quality of life, but there are a few things about this country that make it not exactly the safest place to live.
Burglaries are a real threat to people living in Seychelles – you'll have to have good locks on your doors and windows. It's a real part of living in Seychelles.
This and other sorts of theft are sorts of part and parcel of living in a country with such a vast economic divide between rich and poor. Sadly, it's not an unusual experience to be robbed if you live here. And what's more, being an expat you'll probably be more of a target of crime. Violent crime, however, is pretty low.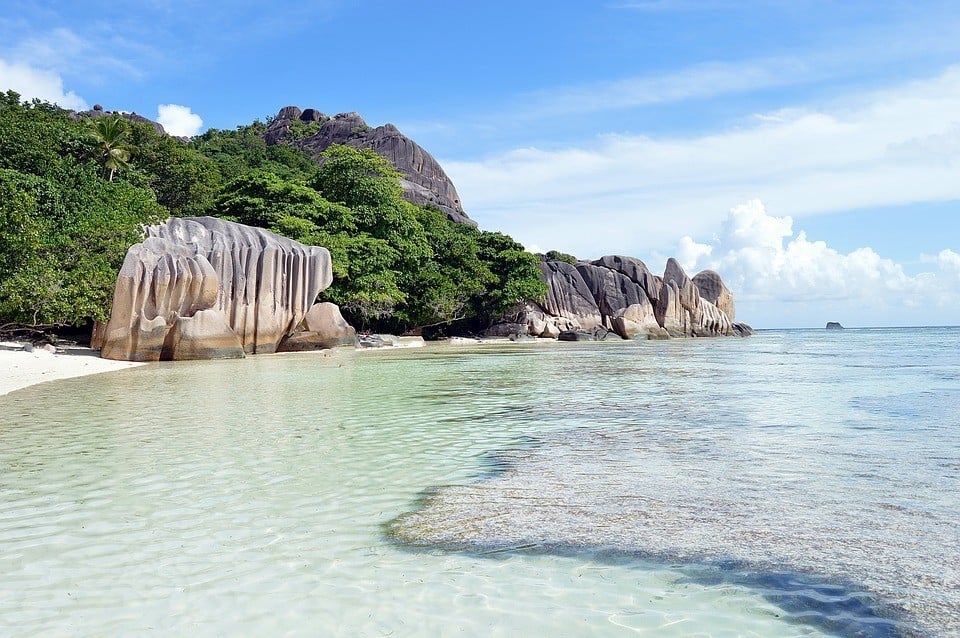 Things can also get pretty expensive, and the infrastructure isn't exactly something to write home about, either.
The smallest of the African countries, Seychelles is a bit of a magnet for expats – despite the potential for crime. There aren't, however, many things like expat meet-ups or clubs, unfortunately.
So whilst living in Seychelles might mean having round the clock access to paradise beaches, it's not all roses. It's got a problem with crime, of which you will be a direct target, and the expats don't even seem to want to hang around with each other. It could get a bit isolating.
To conclude: it's not very safe to live in Seychelles; if you have to go, however, we can think of worse places!
The Future of the SIM Card is HERE!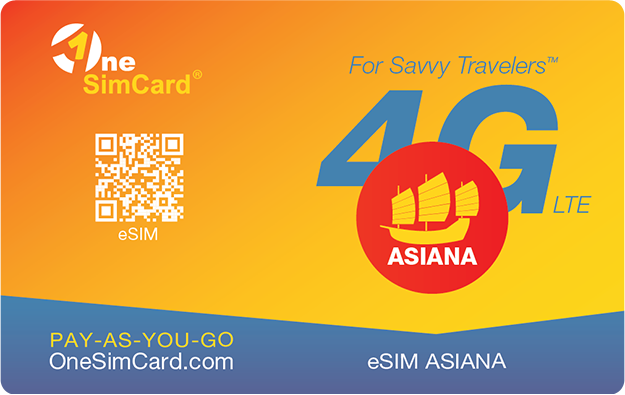 A new country, a new contract, a new piece of plastic – booooring. Instead, buy an eSIM!
An eSIM works just like an app: you buy it, you download it, and BOOM! You're connected. It's just that easy.
Is your phone eSIM ready? Read about how e-Sims work or click below to see one of the top eSIM providers on the market and ditch the plastic.
Buy an eSIM!
Is it safe to rent an Airbnb in Seychelles?
Renting an Airbnb in Seychelles is a great idea. And it's perfectly safe, as long as you read the reviews. Staying at an Airbnb during your trip will also open up new possibilities and options to experience the country. The local hosts are known to take great care of their guests and give the absolute best recommendations of what to do and what to see. Local knowledge always goes a long way, so be sure to reach out to your hosts if you're unsure about how to fill up your Seychelles itinerary!
On top of that, you'll stay safe with the reliable Airbnb booking system. Both hosts and guests can rate each other which creates a very respectful and trustworthy interaction.
Is Seychelles LGBTQ+ friendly?
Being one of the few African countries that banned discrimination against sexual orientation, Seychelles is a good travel destination for the LGBTQ+ community. Same-sex activities have been legalized in 2016, and the population is slowly becoming more accepting and open-minded.
That being said, there will still be people that will show dirty looks or even pull an unnecessary comment when you show public affection. While this is normally the worst that could happen, it's very hard to avoid unless you keep your relationship behind closed doors.
FAQ about Staying Safe in Seychelles
Here are some quick answers to common questions about safety in Seychelles.
So, is Seychelles safe?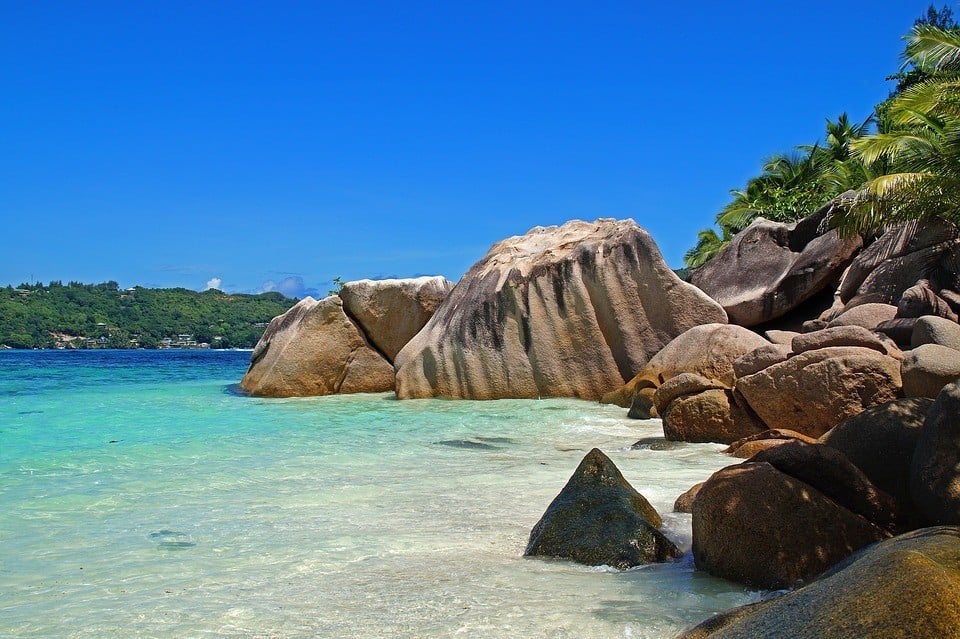 Yes, Seychelles are pretty safe, but we're not going to lie, it doesn't always seem like the ideal place for a beach destination.
With two monsoon seasons to start with, some dangerous currents, and even a fair bit of petty crime to be on the look-out for, this island nation might not be the safest place we've ever seen, that's for sure. As a tourist or expat, you're going to be more of a target.
Unfortunately, a bit of crime here and there is sort of how Seychelles goes about its daily life. Of course, it would be ideal if that wasn't the case, but at the moment there are underlying social issues that mean – obviously – people feel the need to resort to crime. That just makes sense, right? But for you, unless you're going into remote areas by yourself or staying alone somewhere, you'll be totally fine.
Independent travel is possible here, but for safety purposes staying by yourself somewhere weird like an Airbnb may not be the best option. The safest people here are those staying in resorts – and probably paying a lot for the privilege, too, so find some happy middle ground. As long as you don't put yourself at risk, you're likely to have a totally trouble-free time. Remember to keep hydrated though!
Disclaimer: Safety conditions change all over the world on a daily basis. We do our best to advise but this info may already be out of date. Do your own research. Enjoy your travels!
---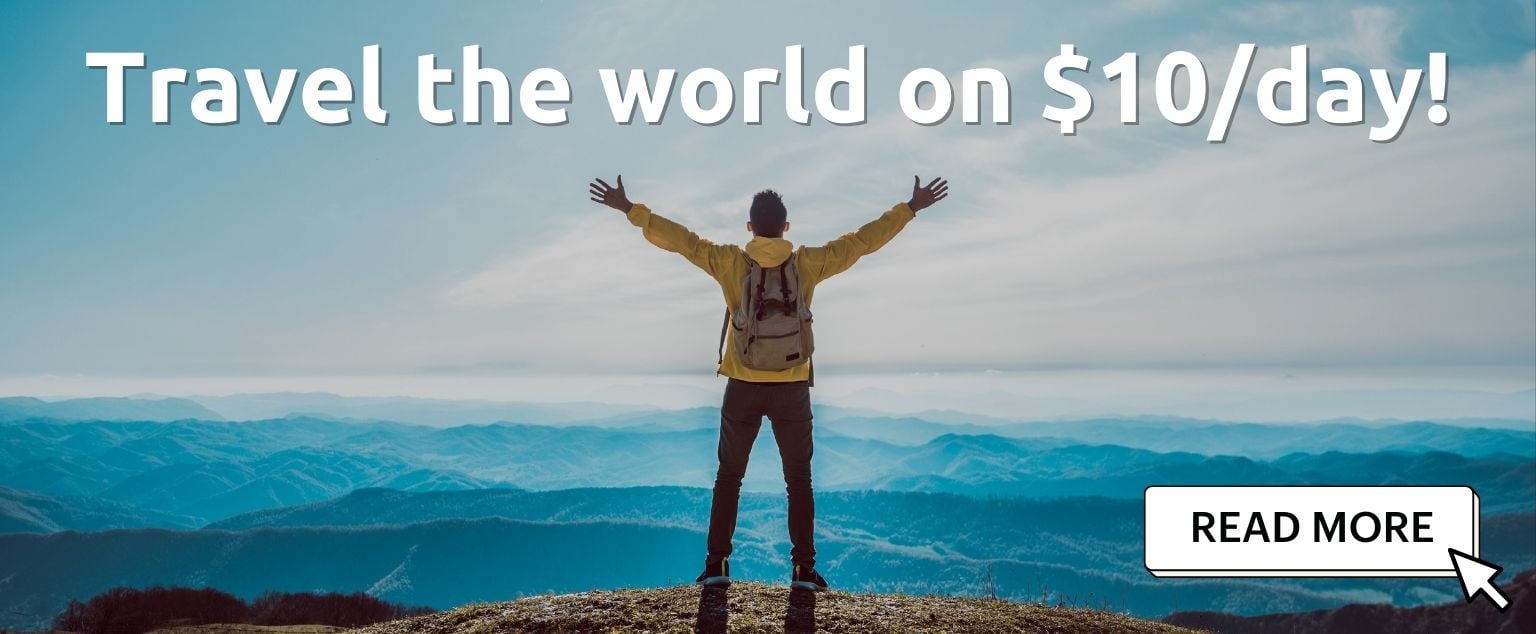 And for transparency's sake, please know that some of the links in our content are affiliate links. That means that if you book your accommodation, buy your gear, or sort your insurance through our link, we earn a small commission (at no extra cost to you). That said, we only link to the gear we trust and never recommend services we don't believe are up to scratch. Again, thank you!