It may not be the capital of New Zealand, but Auckland is the largest and most exciting city on the North Island. It's a great base to use for visiting the island's sublime beaches and spectacular volcanic features. It's an outdoor adventurer's paradise, too, with skiing and snowboarding in the winter and everything you can imagine the rest of the year!
It's hard to plan a road trip on the North Island because there's just so much to see. And with so many beautiful scenic drives, you'll have to know what's on each one to work out the best route for you.
This guide will help you plan your road trip from Auckland. Whether you want to spend a leisurely day at the beach, enjoy some extreme sports, or just take in the beautiful landscapes, we're here to help. Not only will we show you the best road trips from Auckland, but also some of the top places to stay. So, start up your engines and let's go!

Do You Want to Travel FOREVER??
Pop your email in below to get a FREE copy of 'How to Travel the World on $10 a Day!'.
Why Roadtrip from Auckland?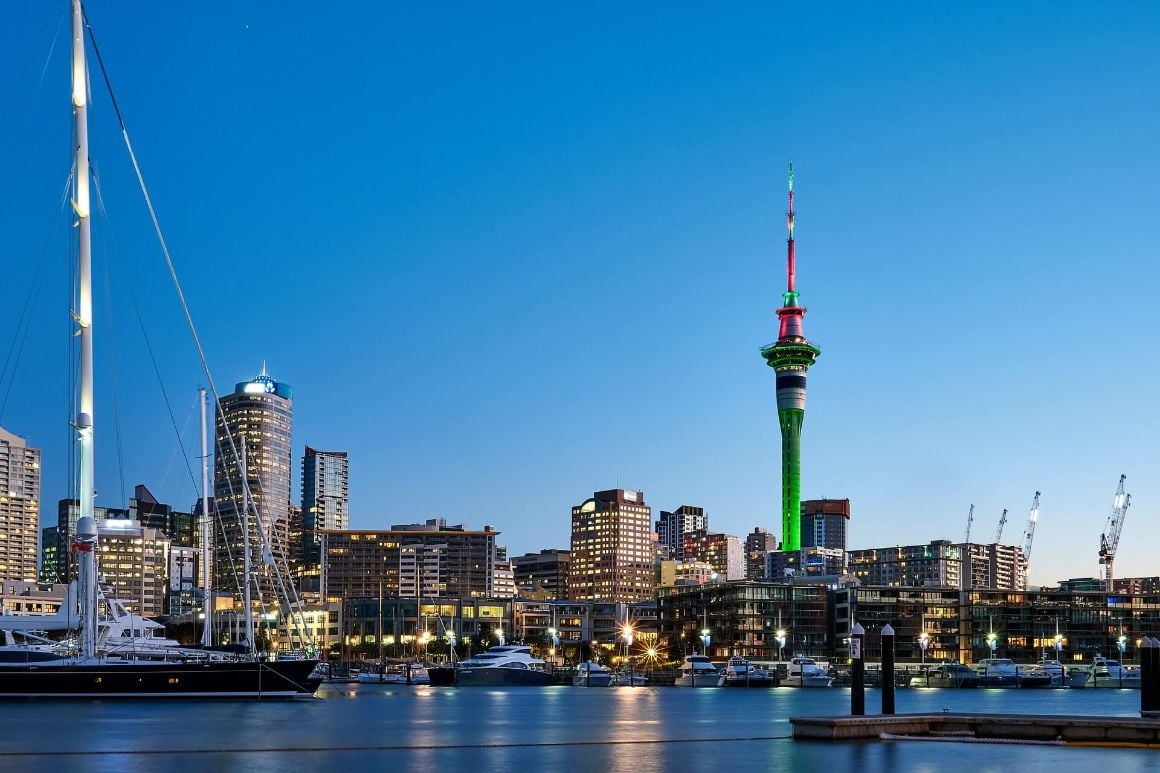 Road tripping is one of the best ways to see New Zealand. However, it can understandably be quite nerve-wracking to drive in a new country. Here are five of the top reasons to consider a North Island Road Trip.
Accessibility: It's easier to get deep into the island's forest parks and most remote beaches with your own car.
Outdoor Activities: While you can fly between cities in New Zealand, you don't want to miss out on natural spas, mountains, and lakes.
Flexibility: Renting a car or campervan gives you more time to stop off and stay longer if you really fall in love with a place, which is sure to happen at some point.
Wild Camping: You can wild camp pretty much anywhere in NZ (or park up your campervan). Renting a car means you can find your very own spot, and it's easy to transport your stuff, too.
Public Transport: New Zealand only has around five million inhabitants, so it neither has nor needs a mass public transport system. Therefore, the best way to see it is by road in your own vehicle!
You must be convinced that a road trip from Auckland is a good idea by now. So, let's get some of the boring admin out of the way before we tackle the best road trips on offer!
Driving in Auckland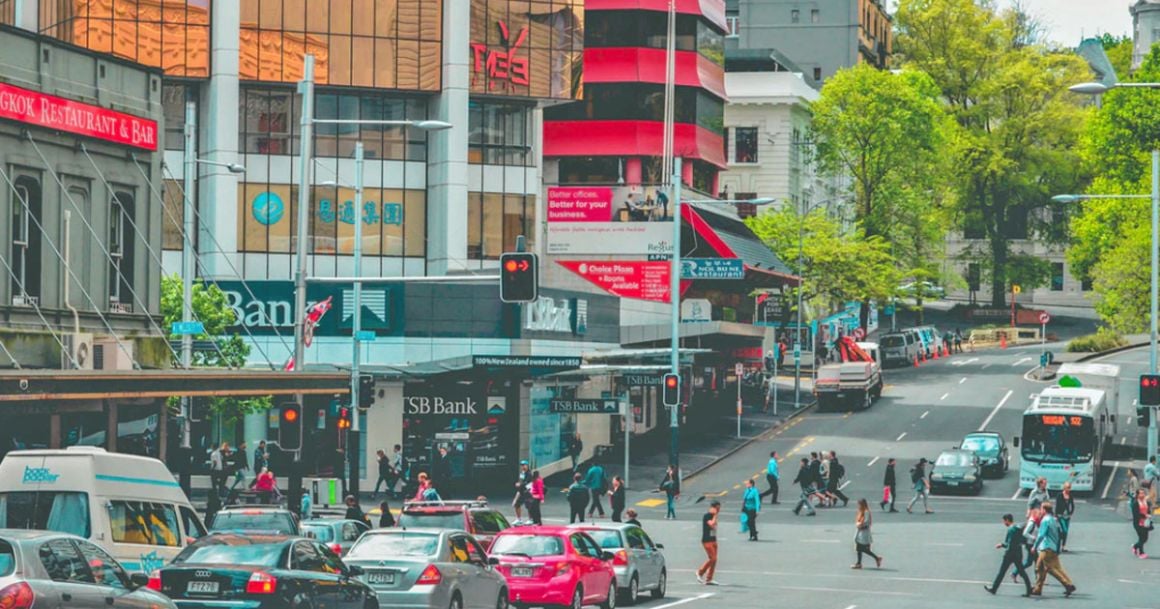 Driving in Auckland and New Zealand can be a bit of a frustrating experience. Drivers in NZ are often happy to flout the rules a little, with things like driving through red and amber lights, driving with bare feet or flip flops, and using phones while driving all worryingly common. Basically, the driving style here could do with some work.
Add in windy mountain roads and long travel times, and it's enough to put some drivers off completely! It shouldn't though – as many travellers road trip here each year with no problems at all.
It's straightforward to rent a car in New Zealand. Prices will start at around $30USD per day. Large rental companies are often reliable but, do be careful when it comes to extra charges – such as whether it is high season or low season. Drivers must be 21 and have had their licence for at least a year. You should also be aware of the following:
Age Surcharge: You will need to pay an age surcharge if you're under 25. It's likely to be anything from $15 USD per day.
Bond/Deposit: Some companies offer zero deposit as long as you have provided your debit card/credit card to cover the rental cost and optional extras. But make sure you read the contract!
Additional Driver Charge: Expect to pay between $5 – 25 USD for an additional driver per day in New Zealand.
Rental insurance is a must for your North Island road trip. Rather than paying a huge amount with your rental firm, get it from RentalCover.com before turning up at the rental office.
Don't have a car? Well, we're going to have to sort that out! Use rentalcars.com to find the best deals on the web and save heaps of cash!
Road Rules in Auckland
You must have a valid driver's licence either from your own country or international to drive in New Zealand. New Zealand drives on the left side of the road like the UK and Japan, but if you're from most EU countries or the United States, this might take a little getting used to.
Rules here aren't that different from anywhere else in the world. It's the drivers themselves that you have to watch out for. New Zealand drivers can be quite aggressive, especially in cities.
While you shouldn't speed, and it's no surprise that this is a rule, most drivers at some point have lost track of their speedometer. Don't do that here, as there are lots of hidden speed cameras and unmarked police cars that may leave you with a fine.
Road rules aren't all about driving, so there are a couple more things you should be aware of. It's illegal to park your car 'the wrong way'. This just means that the driver side door should not be next to the curb.
Also, pedestrian crossings are not always synced with traffic lights, so don't speed around a corner if you get a green arrow, there might be someone crossing. Yes, it sounds crazy because it is!
As far (north) as you can go
From: Auckland
To: Cape Reinga
Total Distance: 572km
Days: 3 – 4
Top Road Trips Stops: Whangarei, Paihia (the Bay of Islands), 90 Mile Beach, Cape Reinga
Our first North Island road trip will see you go as far north in New Zealand as it's possible to go. But not before you stop off at some epic on the northern coast.
Starting in Auckland, this one can be done in as little as 3 – 4 days, but spreading it out over a week will give you more chances to stop off and appreciate incredible places such as the Bay of Islands. You could even arrange a skydive if you're looking for some white-knuckle thrills!
Road Trip Highlights
AH Reed Memorial Park and Whangarei Falls
Scuba Diving at Poor Knights Island
Kayaking or hiking at Rainbow Falls
90 Mile Beach
Cape Reinga Lighthouse and Hiking Trails
Pssst! Need a cheap place to crash in Auckland before you start your road trip? Check out our guide on Where to Stay in Auckland!
Day 1: Auckland – Paihia (3.5 hours, without stops)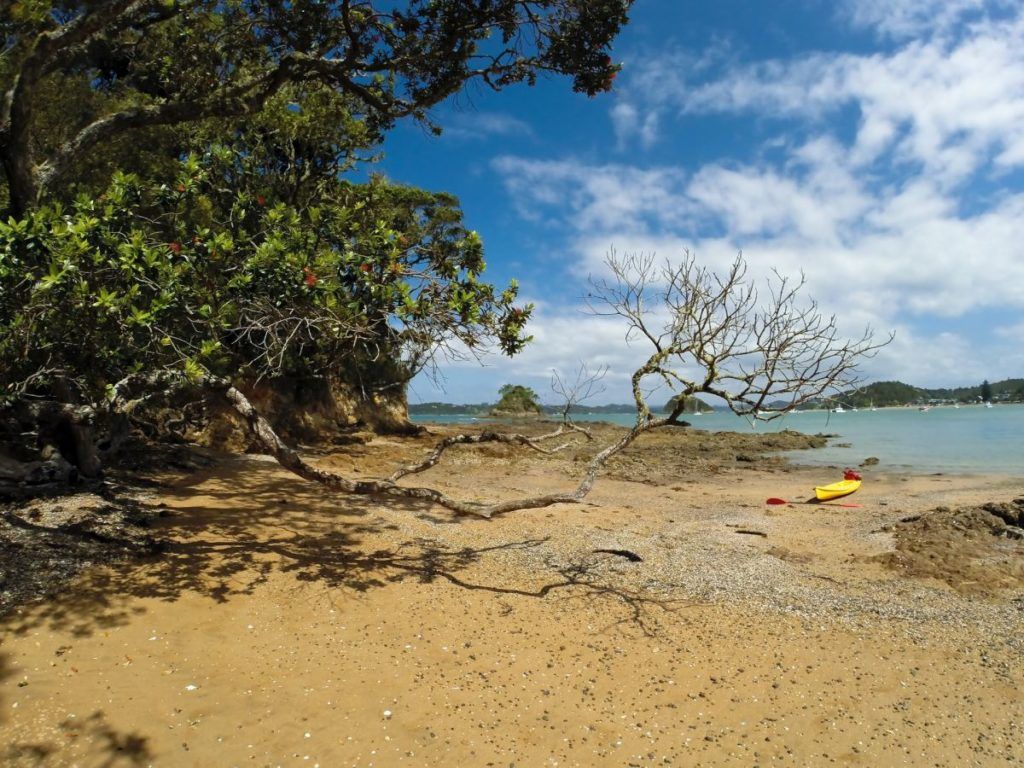 Leave Auckland and set your satnav north for Paihia. Driving directly, it will take you just over three hours to cover the 248km journey on State Highway One. However, there are some stops to make on the way there. Whangerei is just over two hours into your trip, and it's well worth spending a little time there.
Take a walk through the AH Reed Memorial Park and find a picnic table by the Whangarei Falls for some lunch. After you've had a rest here, it's on to Paihia, better known as the gateway to the Bay of Islands – but only after you've taken a detour to the public toilets at Kawakawa!
Best Things to Do: AH Reed Memorial Park and Whangarei Falls (Whangarei), Hundertwasser toilets (Kawakawa), Waitangi Treaty Grounds and Museum, Haruru Falls (Paihia).
Where to Eat: Fat Camel Cafe, Palate Wholesome Collective (Whangarei), Terra Restaurant, Darryl's Dinner Cruise (Paihia)
Where to Stay: Peppertree Lodge, Changing Tides BnB, Studio 10 – a place with a view
Day 2: Stay in Paihia and explore
The Bay of Islands is made up of almost 150 islands, so it seems silly to just spend an afternoon here and then leave. Your second day still has some driving, though. Head out from Paihia to Kerikeri and the Rainbow Falls (Waianiwaniwa).
There are several bushwalks and nature trails nearby, and it's a popular kayaking spot. Prefer to get out onto the marine reserve? Poor Knights Island is the best place to scuba dive; it's even got the seal of approval from the great Jacques Cousteau!
Best Things to Do: Scuba diving on Poor Knights Island, Hike/Kayak at Rainbow Falls, Eco-cruise in the Bay of Islands from Russell.
Where to Eat: MAHA Restaurant @Wharepuke (Kerikeri) TIPSY OYSTER, JFC, Glasshouse Kitchen and Ba (Paihia)
Day 3: Paihia to Cape Reinga via Ninety Mile Beach (3 hours)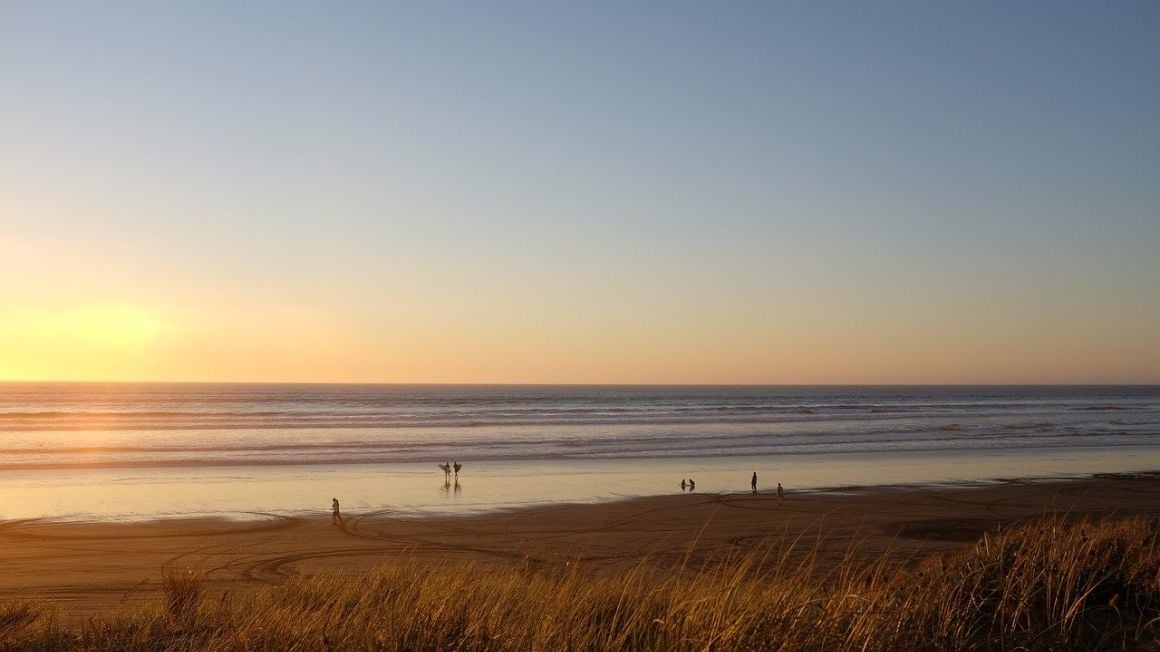 The final part of your road trip on North Island sees you bid a fond farewell to Paihia and the Bay of Islands and head north and west. Your first stop is 90-Mile Beach. Confusingly, it's only 55 miles long, but that still leaves lots of space for things to do.
It's possible to drive on the beach, though most rental companies won't allow it as it may damage the car, and there are some dangers. Just follow State Highway One to Cape Reinga. Visit the lighthouse and look out at where the Tasman Sea and the Pacific Ocean meet. You could also try a spot of sandboarding!
Best Things to Do: Horseriding/Sandboarding/fishing on 90-Mile Beach. Te Araroa, Te Paki Coastal Trails, Seaview Point (Cape Reinga)
Where to Eat: Wild Belle, Beachcomber Restaurant, Gecko Cafe. Houhoura Tavern – the most northern pub in New · Zealand.
Where to Stay: Pukenui Lodge Motel, Tekao Lodge, Waikorotangi, Houhoura Harbour Studio
Is This the Best Daypack EVER???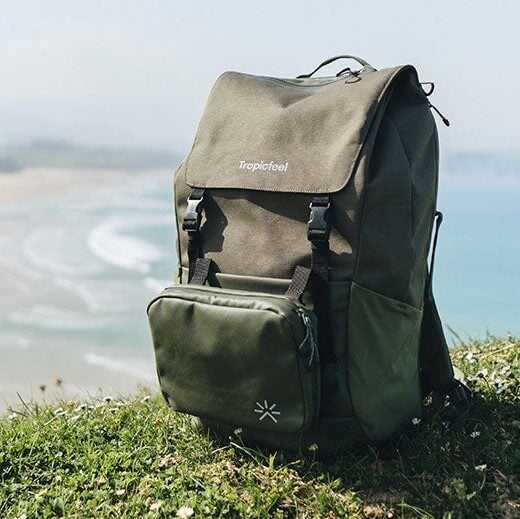 We've tested countlessday packs over the years, but the Tropicfeel Shell is something else. There are a lot of flashy backpacks on the market but not many come with a detachable wardrobe.
Weatherproof, eco-friendly, durable, feature-loaded, and comfy as fudge brownies: these are just some of the words people might use to describe the Tropicfeel Shell. But we just call it bloody beautiful.
Learn More • View on Tropicfeel
Small Pack Problems? 😉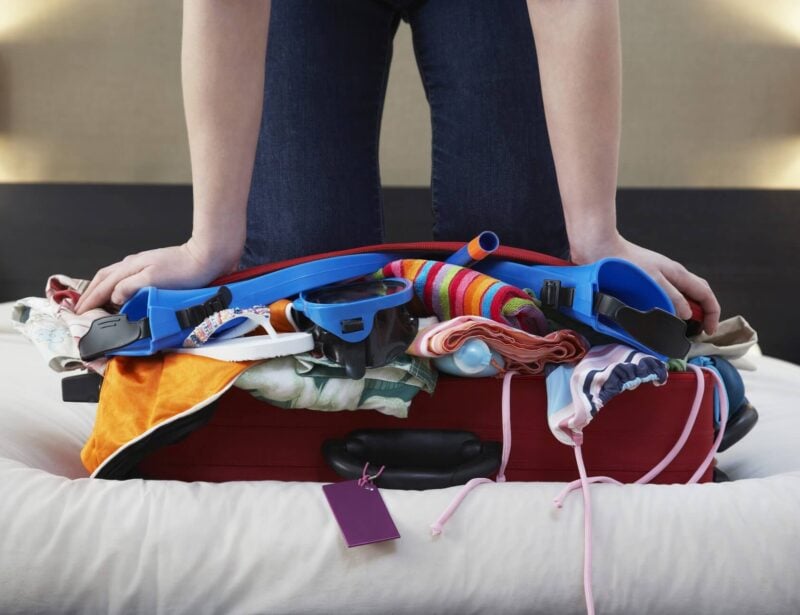 Wanna know how to pack like a pro? Well for a start you need the right gear….
These are packing cubes for the globetrotters and compression sacks for the real adventurers – these babies are a traveller's best kept secret. They organise yo' packing and minimise volume too so you can pack MORE.
Or, y'know… you can stick to just chucking it all in your backpack…
Get Yours Here
Read Our Review
Napier via the Coromandel Peninsula
From: Auckland
To: Napier
Total Distance: 703km
Days: 5 – 6
Top Road Trips Stops: Coromandel Peninsula, Tauranga, Gisborne
If you love beaches and epic views, you can't miss this road trip from Auckland, which skims along the coast on the Pacific Highway. Rather than taking the quickest route to Napier, you'll stop off on the beautiful Coromandel Peninsula and hike up the epic Mt Maunganui in Tauranga. End in Napier, where there are more than 100 wineries!
Road Trip Highlights
Hot Water Beach and Cathedral Cove
Mount Maunganui (Tauranga)
McLaren Falls Park and kayaking
Napier Vineyards
Day 1 and 2: Auckland to Thames and the Coromandel Peninsula (2.5 hours)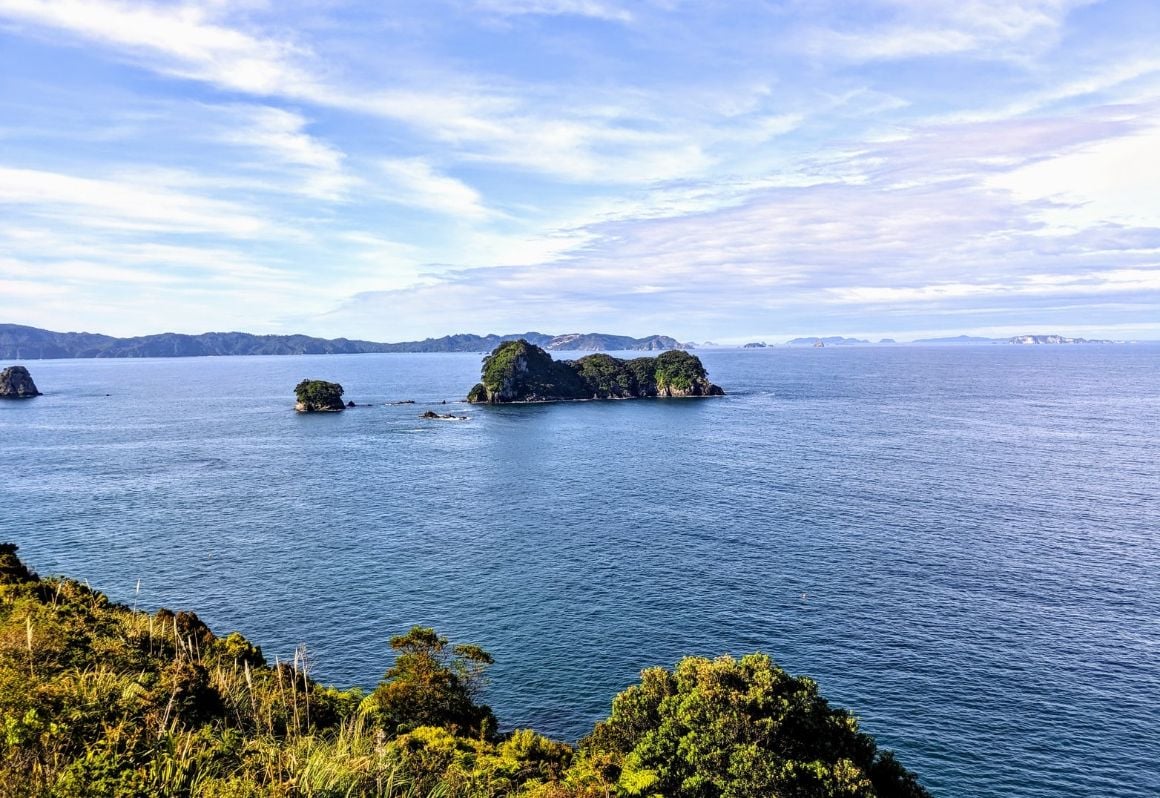 On your first day, you'll head south out of Auckland towards the town of Thames. Thames is the gateway to the Coromandel Peninsula, which is known for incredible beaches and a lot of hidden gems. After checking out the shops and cafes, get back in your car and head to two of the best beaches here.
Cathedral Cove looks like it's come straight out of a postcard, and you can dig your own heated pool in the sand at Hot Water Beach. There's enough here to spend two days (or longer) on the Coromandel Peninsula.
Day 3: Coromandel Peninsula to Tauranga (2.5 hours)
You'll continue to hug that stunning Pacific coastline for the next leg of your journey. State Highway 25 and State Highway 2 are what you'll need to take, and you could always break up your trip with a stop at Katikati Bird Gardens overlooking Shelly Bay.
Once you arrive in Tauranga, you'll notice Mount Maunganui – it's impossible to miss! Choose to hike straight away, or chill out for the afternoon then climb it the morning after for epic views out over the Bay of Plenty.
Best Things to Do: Katikati Bird Gardens. Hike on Mount Maunganui, kayak with glow worms near Lake McLaren, Explore McLaren Falls Park
Where to Eat: Tauranga Farmers' Market, Macau Bar Kitchen & Lounge, Harbourside
Day 4 and 5: Tauranga to Napier via Gisborne (6 hours)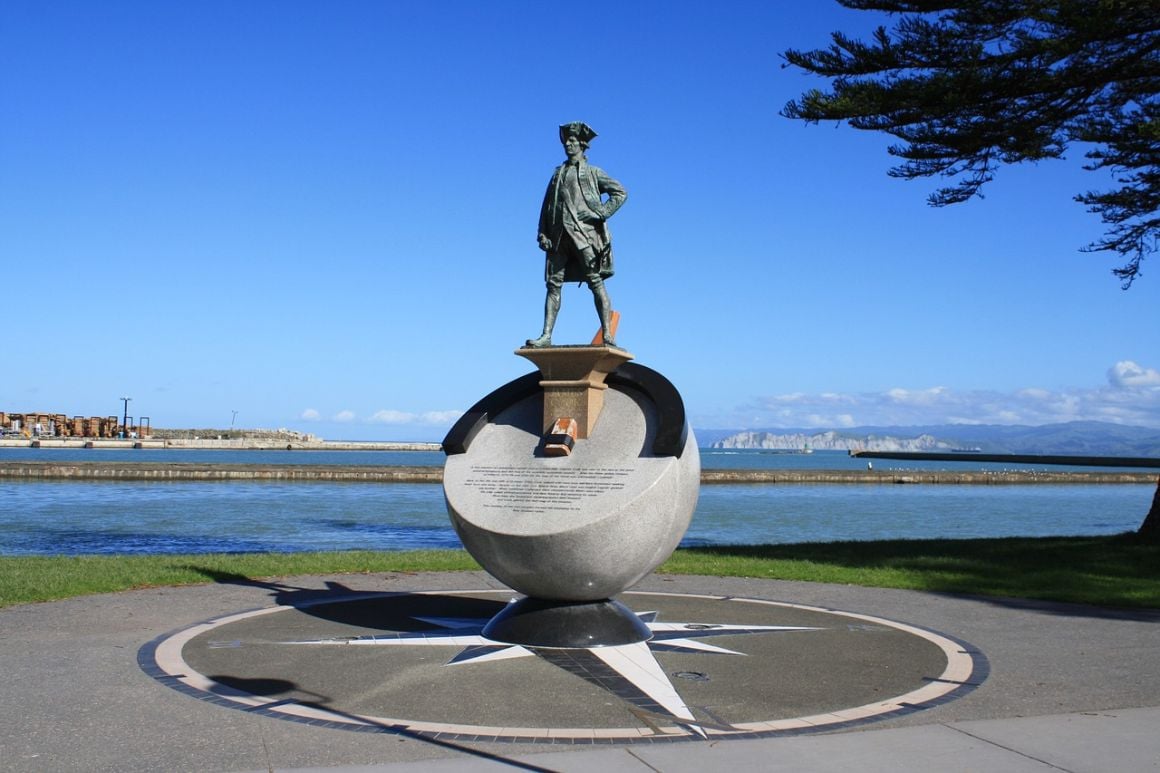 The last two days of your trip will see you continue on the Pacific Coast Highway and State Highway Two There are tolls on the Tauranga Eastern Link Toll Road, but it's only $2.10 if your car weighs less than 3.5 tonnes.
Spend a day at Gisborne checking out the Rere Falls and admiring the views from Titirangi hill. Then, it's onto your final stop of Napier. It's a good job you're stopping the car here as there are over 100 vineyards nearby! Learn more about the city with an art deco walking or vintage car tour.
Best Things to Do: Walk up Titirangi Hill, enjoy the Rere rock slide waterfall (Gisborne), Otarara Pa fortified Maori Village, Te Mata Peak, Napier Botanical Gardens
Where to Eat: Marina Restaurant & Bar, Crawford Road Kitchen (Gisborne), Bistronomy, Mission Estate Restaurant (Napier)
Where to Stay: Hinterland Retreat (Gisborne), Archies Bunker, 88 on the beach (Napier)
The Thermal Explorer Highway
From: Auckland
To: Wellington
Total Distance: 687km
Days: 4-5
Top Road Trips Stops: Hobbiton, Rotorua, Lake Taupo, Wellington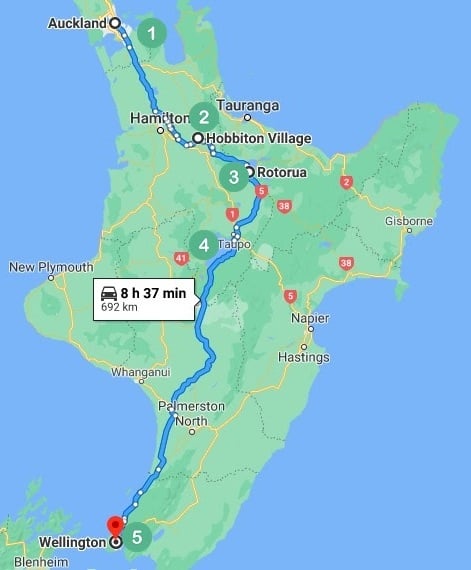 This road trip from Auckland is the best for Lord of the Rings fans. However, you'll be able to see more than just sites from the Peter Jackson films.
You'll also see some of the most impressive volcanic sites in New Zealand, including the jewel in the crown, Lake Taupo. Spend a couple of days here swimming, hiking, and riding jet boats before ending in NZ's capital – Wellington.
Road Trip Highlights
Day 1: Auckland to Rotorua (3 hours)
Leave Auckland and head south on State Highway one towards Rotorua. Before you get there, you'll be stopping off at Matamata. It might be more familiar to you as Hobbiton, the set from Lord of the Rings.
Spend a couple of hours seeing the houses where Frodo and Bilbo lived before enjoying a flagon of (non-alcoholic) beer at the Green Dragon in Bag End. Then, it's onto your destination for the night, Rotorua.
Days 2 to 4: Rotorua to Taupo (1 hour)
There's loads to do in Rotorua, so spend most of your second day here. One thing you certainly won't want to miss is the geothermal reserve Wai-O-Tapu. Just some of the things you're likely to see include geysers and colourful pools.
A cruise on Lake Rotorua could be an option, as could the Waimangu Volcanic Valley over a couple of days. Then, head onto Lake Taupo, one of the most popular destinations on North Island. Here, you can take a jetboat ride on the Waikato River or perhaps a more sedate cruise past the Maori Rock Carvings. Adrenaline seekers can bungee jump here!
Best Things to Do: Wai-O-Tapu Geothermal Reserve, Lake Rotorua, Waimnagu Volcanic Valley, Whakarewarewa Living Maori Village, Waikato River jet boat ride, Taupo Bungy.
Where to Eat: The Brantry Restaurant, Mole & Chicken Restaurant Cafe and Bar, The Bistro
Where to Stay: YHA Taupo – Finlay Jacks Backpackers, Taupo Debretts Spa Resort, The Retro Cabin
Day 5: Taupo to Wellington (5 hours)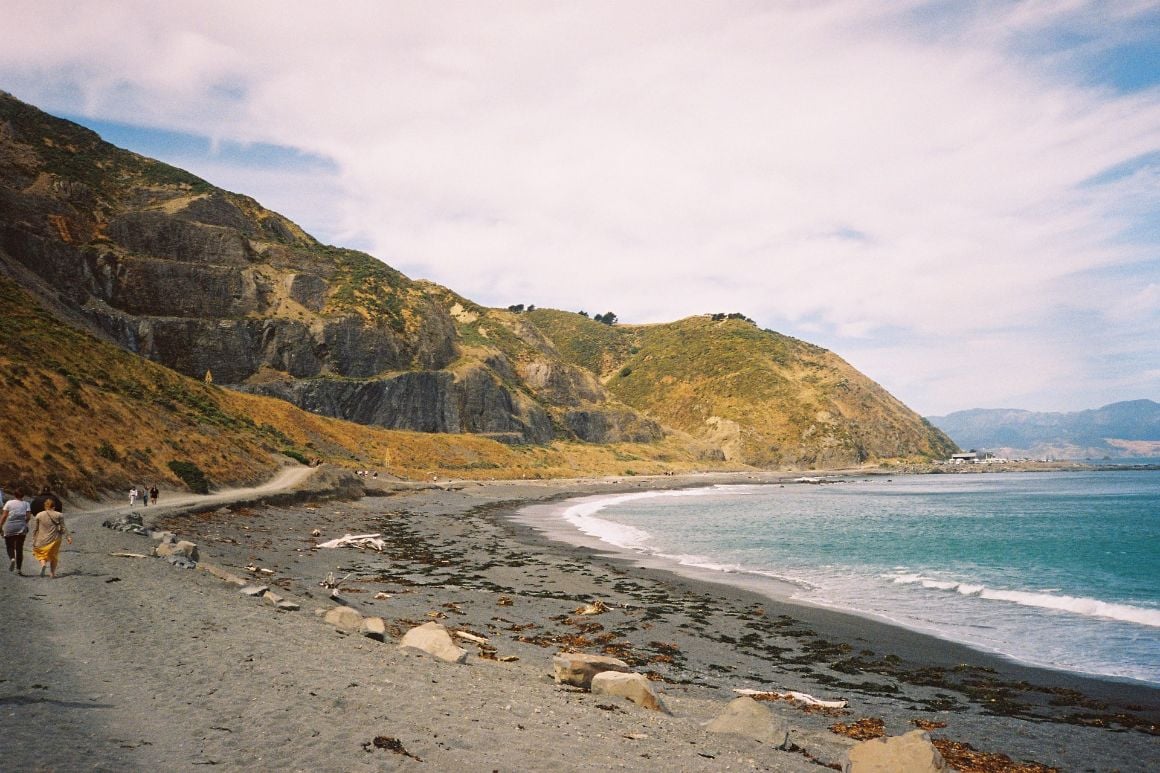 After a few intense days, you'll end by travelling from Taupo to Wellington, the capital of New Zealand. You'll carry on along State Highway One with few places of note to stop off – so just carry on to Wellington and soak up the scenery before hitting attractions like the Wellington Cable Car!
Now that your road trip is over, you have so many possibilities. It's up to you whether you drive back to Auckland, fly home, or continue over the Cook Strait onto the South Island!
Piha Beach and Back
From: Auckland
To: Auckland
Total Distance: 83km
Days: 1 – 2
Top Road Trips Stops: Piha Beach, Kitekite Falls.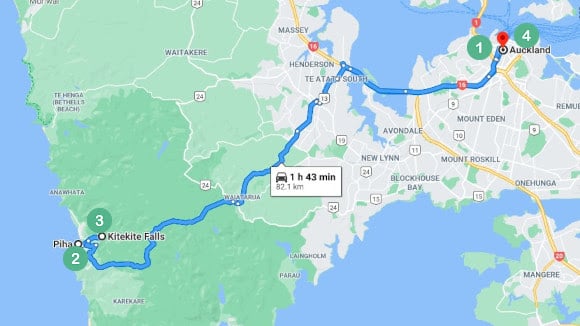 Not all road trips from Auckland have to be long and arduous multi-day trips. Here's one for drivers who are just finding their feet and are easing their way into exploring the North Island.
Auckland to Piha Beach is more of a day trip than a road trip, but there are lots of things to do once you park up. Whether you want to enjoy coastal hikes, surf, or check out inland waterfalls, you'll find that this easy day trip from Auckland is a lot of fun.
Road Trip Highlights
Piha Beach Surfing
Kitekite Falls
White's and Anawhata Beaches Coastal Cliff Walk
Day 1: Auckland to Piha Beach (45 minutes)
Your road trip from Auckland to Piha is a short one. Just 45km means you can easily do this in one day, but it's definitely worth staying overnight in Piha if you have time.
Pick your activity on arrival according to your travel style. A coastal cliff walk to White's and Anawhata Beaches will take four hours, while the Kite Kite Falls walk is under an hour (one way). From the same car park, you can also access the Piha Valley Track.
What To Pack for a Road Trip in Auckland
Make sure to pack right for New Zealand! On every adventure, there are six things to never go travelling without:
1. Security Belt with Hidden Pocket: I never hit the road without my security belt. This is a regular looking belt with a concealed pocket on the inside – you can hide up to twenty notes inside and wear it through airport scanners without it setting them off. This is hands down the best way to hide your cash.
2. Travel Water Bottle: Always travel with a water bottle – it'll save you money and reduce your plastic footprint on our planet. The Grayl geopress is a true behemoth amongst water bottles acting as a purifier AND temperature regulator – so you can enjoy a cold red bull, or a hot coffee, no matter where you are.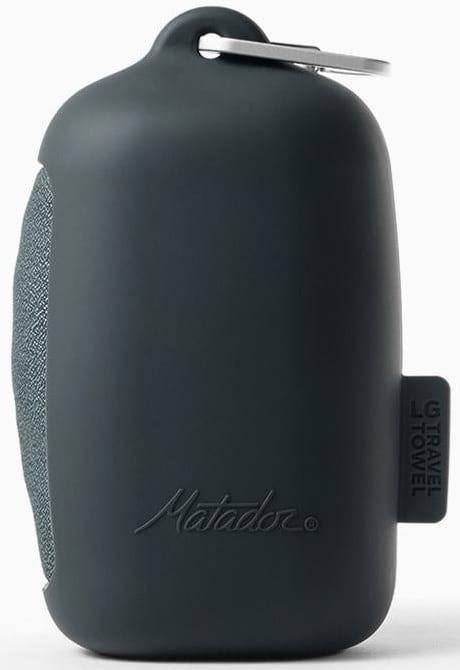 3. Microfibre Towel: It's always worth packing a proper towel. Hostel towels are scummy and take forever to dry. Microfibre towels dry quickly, are compact, lightweight and can be used as a blanket or yoga mat if need be.

4. Headtorch: Every backpacker should have a head torch! A decent head torch could save your life. If you want to explore caves, unlit temples, or simply find your way to the bathroom during a blackout, a headtorch is a must. Currently, I'm using the Petzl Actik Core rechargeable headlamp – an awesome piece of kit! Because it's USB chargeable I never have to buy earth polluting batteries.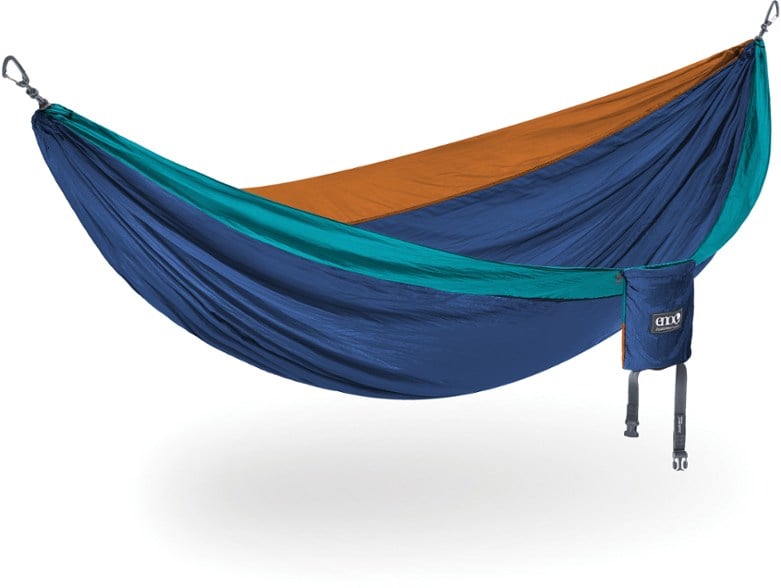 5. Hammock: Taking a tent backpacking is not always practical but hammocks are lightweight, cheap, strong, sexy (chicks dig hammocks) and allow you to pitch up for the night pretty much anywhere. Right now, I'm rocking a lovely parachute hammock – it's light, colourful and tough.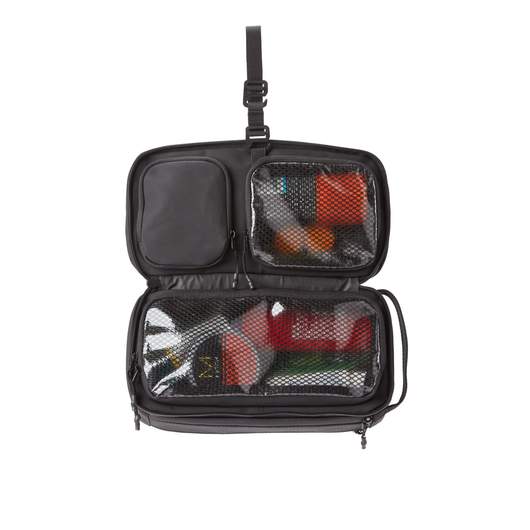 6. Toiletry Bag: I always travel with a hanging toiletry bag as it's a super-efficient way to organise your bathroom stuff. Well worth having, whether you are hanging it from a tree whilst camping, or a hook in a wall, it helps to have quick access to all your stuff.
Insurance in New Zealand/Auckland
Unlike many countries in Europe and the United States, it is not compulsory to have car insurance while driving in New Zealand. However, it is recommended – especially to foreign tourists.
The least you should hope to cover is third party insurance so that if you're the cause of an accident, you won't have to pay for damages to other vehicles involved. CDW and LDW are always included in New Zealand.
If this isn't enough for you, it may be better to get full protection, such as the package offered by RentalCars.com. That will at least give you complete peace of mind on your road trip from Auckland!
ALWAYS sort out your backpacker insurance before your trip. There's plenty to choose from in that department, but a good place to start is Safety Wing.
They offer month-to-month payments, no lock-in contracts, and require absolutely no itineraries: that's the exact kind of insurance long-term travellers and digital nomads need.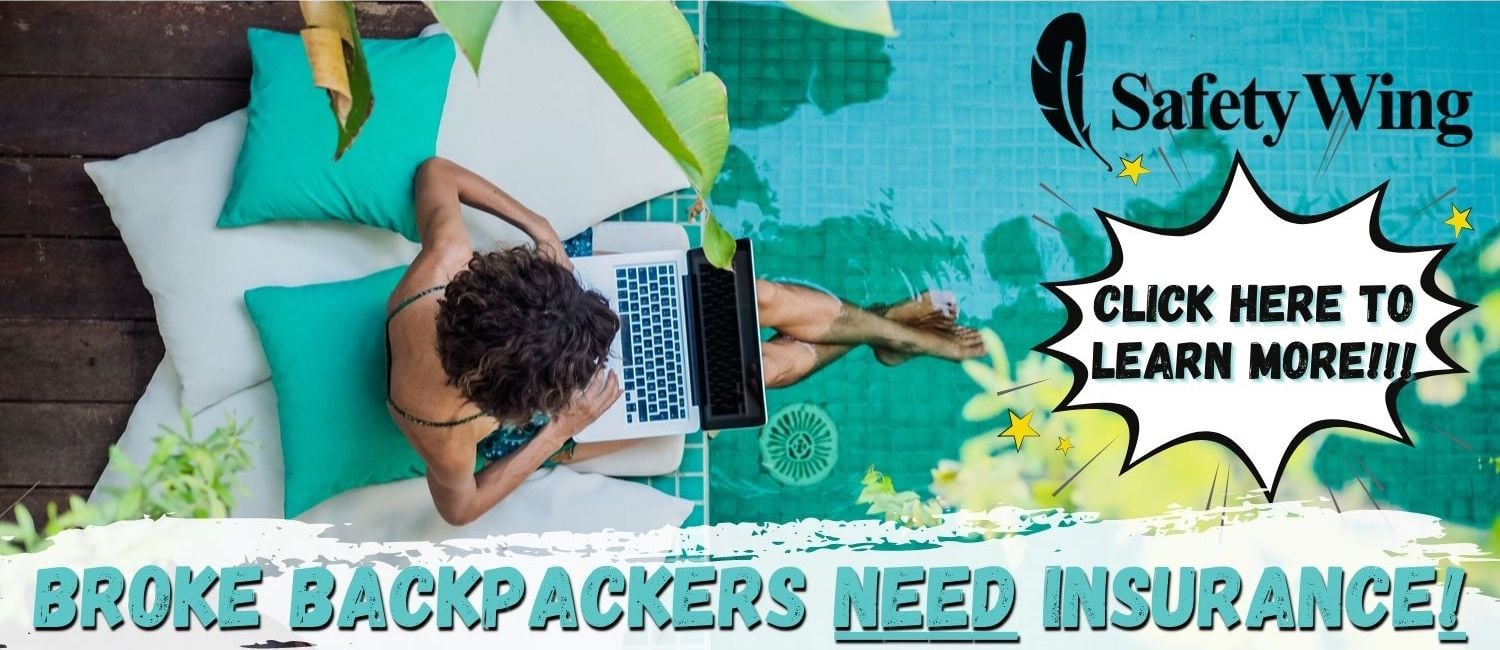 SafetyWing is cheap, easy, and admin-free: just sign up lickety-split so you can get back to it!
Click the button below to learn more about SafetyWing's setup or read our insider review for the full tasty scoop.
Final Thoughts on the Best Road Trips from Auckland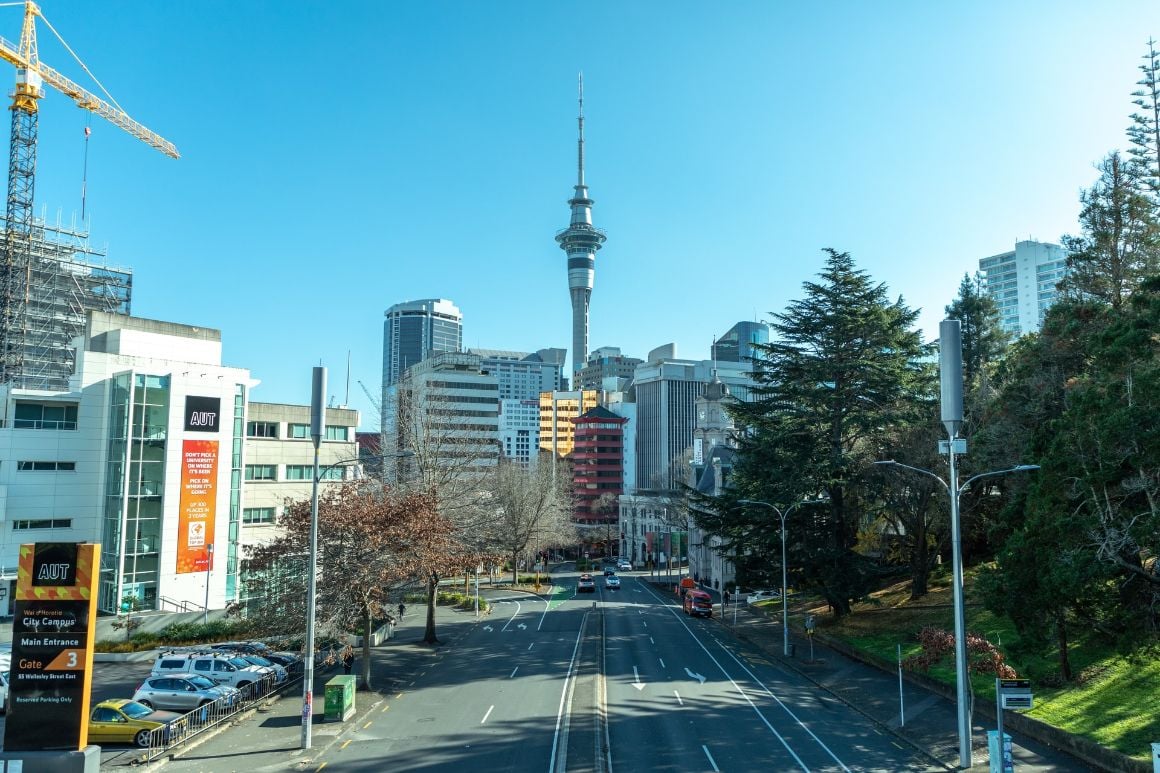 Now that we've helped you plan your road trip in the North Island, we imagine that you're filling up the car with fuel or checking up on the best rental deals. And we don't blame you!
Seeing the North Island (and pretty much any part of New Zealand) by car is a great way to get off the beaten track. You'll find it so much easier to get to those paradise beaches and deep into forests parks than you would do if relying on public transport. And if you choose a camper van, you can save money that would go on hotels and hostels when in Auckland!
Whichever of the four awesome road trips from Auckland we've shown you, we hope you have a wonderful trip to this beautiful country. Get ready to have your mind blown!
---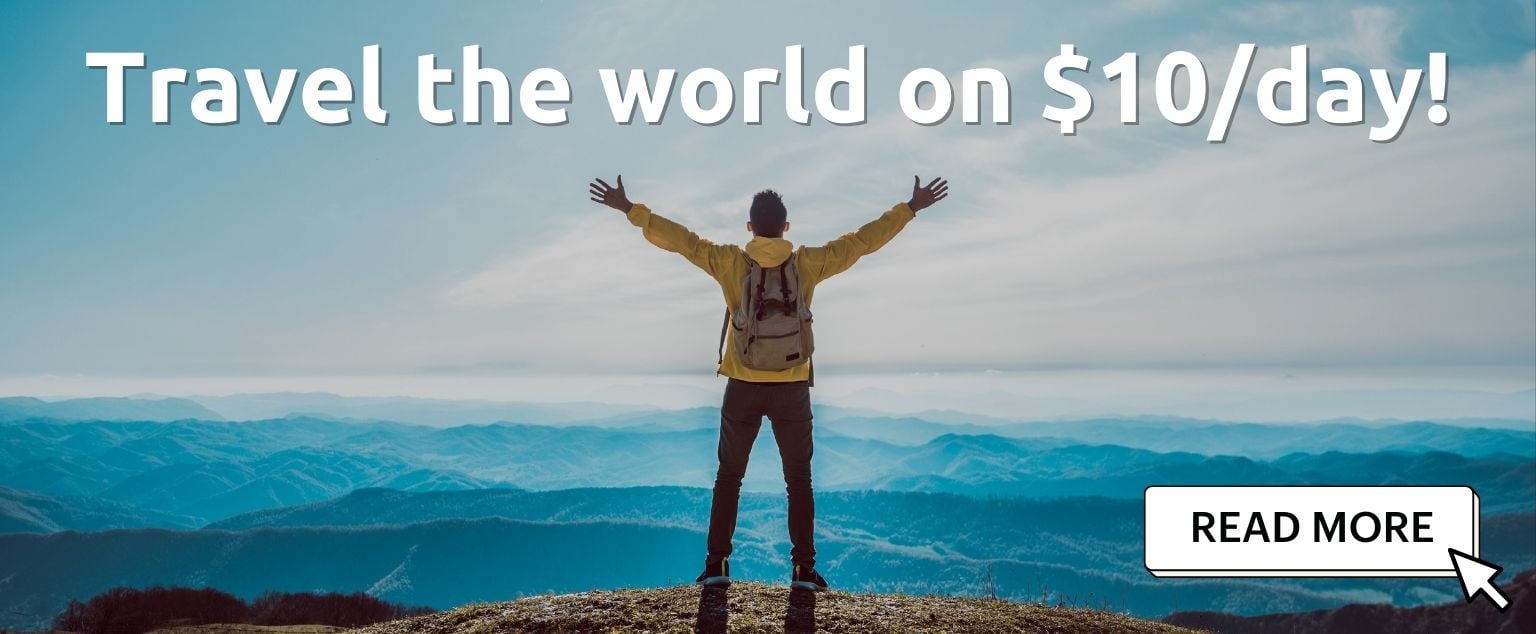 And for transparency's sake, please know that some of the links in our content are affiliate links. That means that if you book your accommodation, buy your gear, or sort your insurance through our link, we earn a small commission (at no extra cost to you). That said, we only link to the gear we trust and never recommend services we don't believe are up to scratch. Again, thank you!