Thinking of take your adventurous spirit to Alaska? You wouldn't be wrong to do so.
As one of the most unspoiled places in the world, Alaska is home to magnificent mountains and glaciers, vast meadows and an abundance of wildlife.
Because Alaska is so well known for its stunning landscapes and scenery, and with much of the state being uninhabited and untouched by human development, there's no better place for secluded getaway in nature.
When booking your accommodation, a hotel room just doesn't sound magical enough. What you really need, is an awesome cabin in Alaska. Lucky for you, remote cabins are scattered all across Alaska, whether you're looking for a place in complete wilderness or somewhere close to human civilisation.
But cabins are not dark and dreary and full of monsters like you see in movies. In fact, Alaska cabins are incredibly homely and warm with modern amenities.
So, if this all sounds good to you, read on to see the best cabins in Alaska for your next trip!
In a Hurry? Here's Where to Stay in Alaska for One Night
FIRST TIME IN ALASKA
Cosy Alaskan Log Cabin
This cosy log cabin will give you the perfect Alaskan getaway experience. This 'semi-dry' cabin with a full kitchen and outdoor grill is ideal to have a perfect cookout while on vacation. And your time out will be off the grid too – the place doesn't have Wi-Fi. With plenty of trails and wildlife-watching and roasting smores over a fire, you will have an amazing adventure you'll never forget!
NEARBY ATTRACTIONS:
Pioneer Park
Fountainhead Antique Auto Museum
Georgeson Botanical Garden
Is this amazing Alaska Cabin booked for your dates? We've got your back with our other favorite properties below!

Unlock Our GREATEST Travel Secrets!
Sign up for our newsletter and get the best travel tips delivered right to your inbox.
Staying in a Cabin in Alaska
Living in Alaska means living in the wilderness with basic amenities, and being close to nature. Since it is the largest and one of the least populated states in the country, Alaska has cabins as the ultimate mode of accommodation.
Cabins offer peace and seclusion. They're set away from the hustle-bustle of the city and provide a rustic and cosy experience, but don't worry, they are usually still kitted out with all your mod-cons that you're used to.
Whether you're looking to stay relatively close to the city but still have a tranquil getaway, or you want an idyllic remote wilderness experience, Alaska will have the ideal cabin for you.
Imagine soaking up the sun on a private deck, catching sight of a deer and having your breakfast over breath-taking views of the mountains. Stay in a cabin in Alaska and you'll experience some of the most magical moments in your life, lying under the stars, watching the northern lights and being surrounded by natural beauty.
What to Look for in a Cabin in Alaska
Staying in a cabin can be tricky if you're used to city life. While some cabins offer a 'glamping' experience or a truly off-the-grid place, others provide luxuries like hot tubs and gourmet kitchens. If you're looking for an authentic and unique experience, look out for cabins with a cosy fireplace or a fire pit outside.
Locals joke about the state having seasons varying from "almost-winter" to "winter" to "still-winter". So you should make sure that your cabin has the appropriate heating and a backup generator in case a snowstorm hits.
Most cabins are what they call "dry cabins", meaning they don't have running water or an indoor bathroom. Water is provided in storage for use in cooking and drinking, and the bathroom is usually in an 'outhouse'. You should be comfortable staying in such a setup when choosing a cabin and know how to be prepared for it.
Location matters a great deal as some cabins are wonderfully remote, located in the middle of nowhere and requiring a car to reach. If you are travelling on an Alaskan road trip, you might need to check if the property requires a 4×4 vehicle to get to it.
Searching for the perfect cabin to suit your party and needs should not be difficult, as websites like booking.com and Airbnb.com come up with loads of options. However, finding the perfect cabin does take a lot of searching, so if that sounds like too much work for you, read on to see my top picks for the most amazing cabins in Alaska.
OVERALL BEST VALUE CABIN
OVERALL BEST VALUE CABIN
Cosy Alaskan Log Cabin
> $$
> 4 Guests
> Full Kitchen
> Outdoor grill
BEST BUDGET CABIN
BEST BUDGET CABIN
Little Bear Cabin
> $
> 5 Guests
> Garden & Valley views
> Fire pit
BEST CABIN FOR SOLO TRAVELLER / BACKPACKER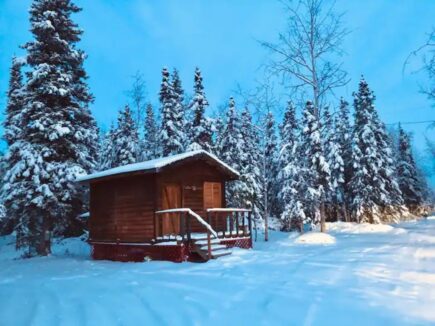 BEST CABIN FOR SOLO TRAVELLER / BACKPACKER
Clear Creek Hollow
> $
> 3 Guests
> Ski-in/Ski-out
> Kitchen
BEST CABIN FOR COUPLES
BEST CABIN FOR COUPLES
Cosy Summer Cabin for Two
> $$
> 2 Guests
> No Wi-Fi
> Kayak (outdoor)
BEST CABIN FOR A GROUP OF FRIENDS
BEST CABIN FOR A GROUP OF FRIENDS
Girdwood A-Frame Cabin
> $$
> 6 Guests
> Washer & Dryer
> Full kitchen
BEST CABIN FOR A FAMILY
BEST CABIN FOR A FAMILY
Coop Cabin
> $$
> 4 Guests
> Ski-in/Ski-out
> Wi-Fi & TV
BEST CABIN TO WATCH THE NORTHERN LIGHTS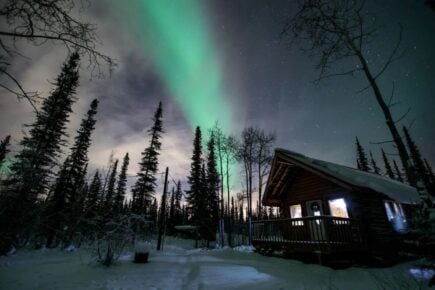 BEST CABIN TO WATCH THE NORTHERN LIGHTS
Amazing Aurora Show
> $$
> 4 Guests
> Wi-Fi
> Washer+Dryer
The 10 Most Amazing Cabins in Alaska
It is time to manifest your great Alaskan dream vacation. These amazing cabins in Alaska will be sure to be the perfect base for your next epic adventure.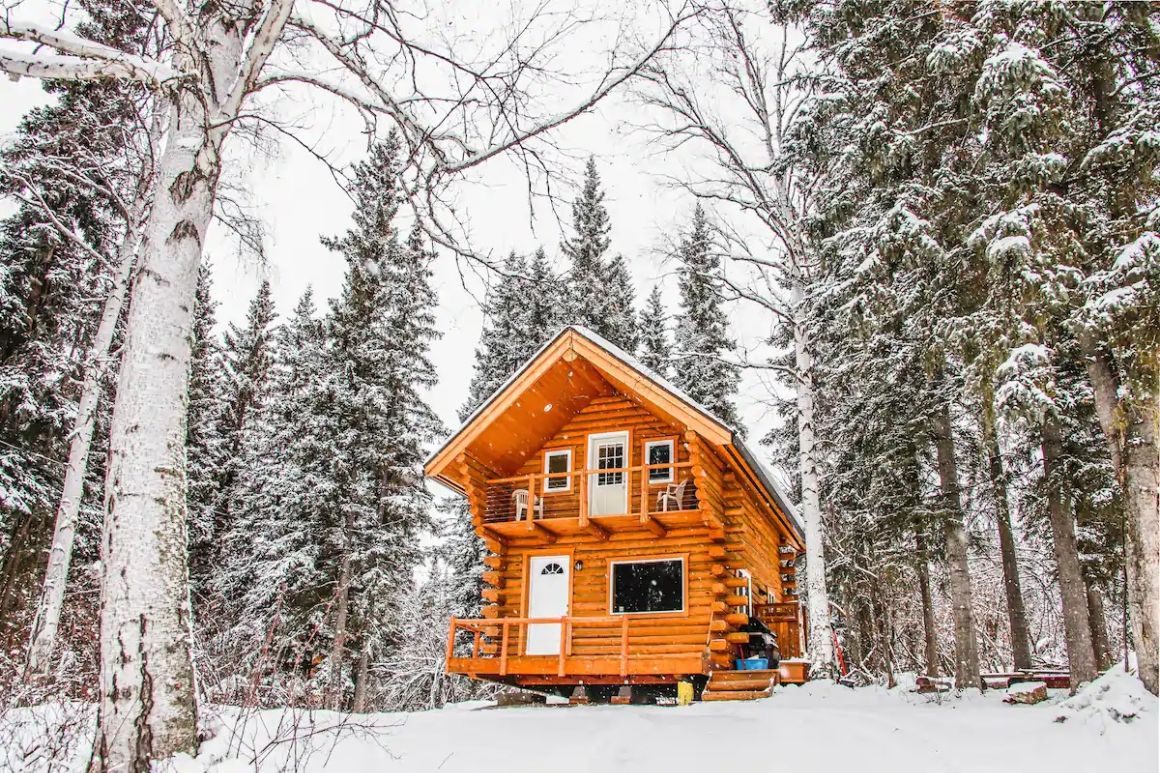 $$
4 Guests
Full Kitchen
Outdoor grill
Nestled at the edge of the woods, this spacious yet cosy cabin is the perfect spot to see your Alaskan dream getaway come true. It is located near Fairbanks, the centre of the "dry-cabin living" phenomenon, which means you have no running water or an indoor bathroom.
But this cabin is "semi-dry", going up a notch by providing running water in the kitchen, with the bathroom and shower outdoors.
This cabin is the ideal pit-stop for an adventure into the wilderness, with trails for hiking and plenty of opportunities for watching wildlife. Roast smores or hotdogs over the fire pit outside, or just relax inside and watch some DVDs on the TV. There's no Wi-Fi, but let's be honest, who would want to stay in when there's so much to outdoors!
$
5 Guests
Garden & Valley views
Fire pit
This cute cabin in Alaska is ideal for a small group travelling on a budget. Located on Caswell Creek near Anchorage, Little Bear Cabin offers a vacation you'll never forget. Experience nature and indulge in all the best things to do in Anchorage: from cross-country skiing, snow machining and ice fishing in winter, to biking, hiking and kayaking in summer, this place has it all!
Little Bear Cabin is good for up to five people. The cabin has a kitchenette area with a fridge and a gas stovetop. Since it is a dry cabin, freshwater is provided separately for cooking and drinking.
There is a fire pit outside, so you can roast smores as you catch sight of the Northern Lights if you're lucky! The cabin offers a truly off-the-grid stay in a natural setting to make some great memories.
$
3 Guests
Ski-in/Ski-out
Kitchen
Nature lovers and adventure seekers – this one-room dry cabin is a treat for all of you. Located in the small town of Anderson in beautiful Denali Alaska, this cabin is perfectly remote, with the entire Alaskan wilderness to explore.
Toasty warm and cosy, especially in winters, this little cabin is equipped with a super comfy bed with soft linens. You'll love the heated comfort!
As with most Alaskan dry cabins, there is an outhouse that serves as the bathroom and has hot water and all the essential toiletries. A full mini kitchen with appliances is provided so you can make your meals. But if you're not in the mood, you can drive up to a great bar and grill in town. This is the ideal place to stay in Denali, Alaska.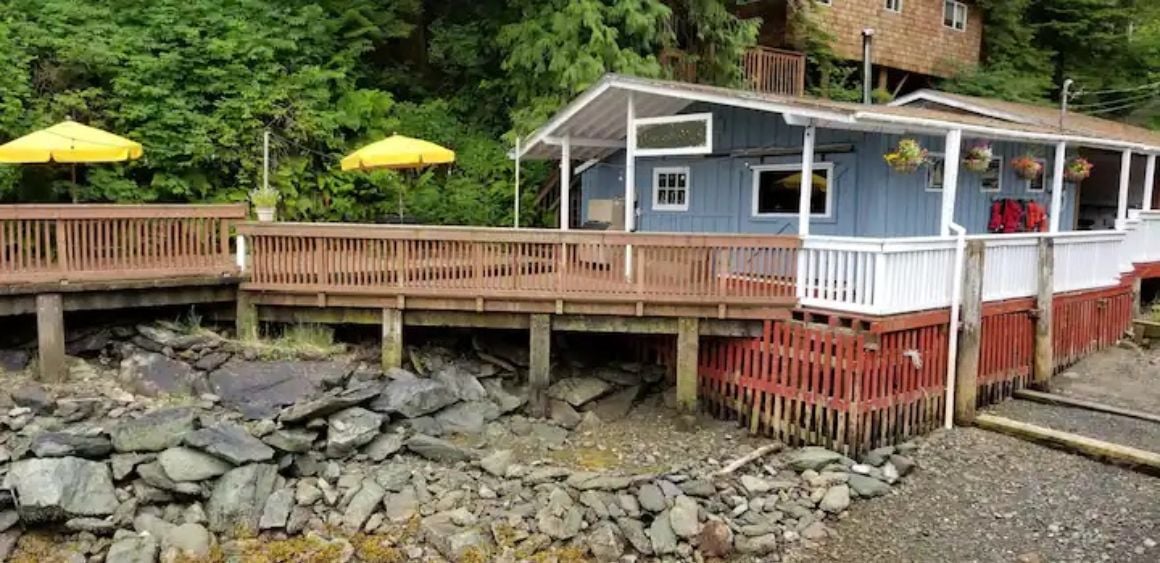 $$
2 Guests
No Wi-Fi
Kayak (outdoor)
Far enough off the beaten path yet close enough to town and amenities, this cute and cosy cabin is the perfect hideaway for a couples' retreat.
Located near the marina near Ketchikan Alaska, the cabin is in a quiet place with beautiful views where you can spend some quality time with your partner. There are plenty of hiking trails nearby, fishing, boating, wildlife-watching nearby and a great local bar to meet people!
The cabin itself is clean and cosy with a super comfy queen bed. There is a fully equipped kitchen so you can make meals. Cable TV and Wi-Fi are provided, but they're really not needed as there is plenty of outdoor recreation to go for. You can also get a kayak or skiff for boating and fishing.
Is This the Best Travel Pack EVER???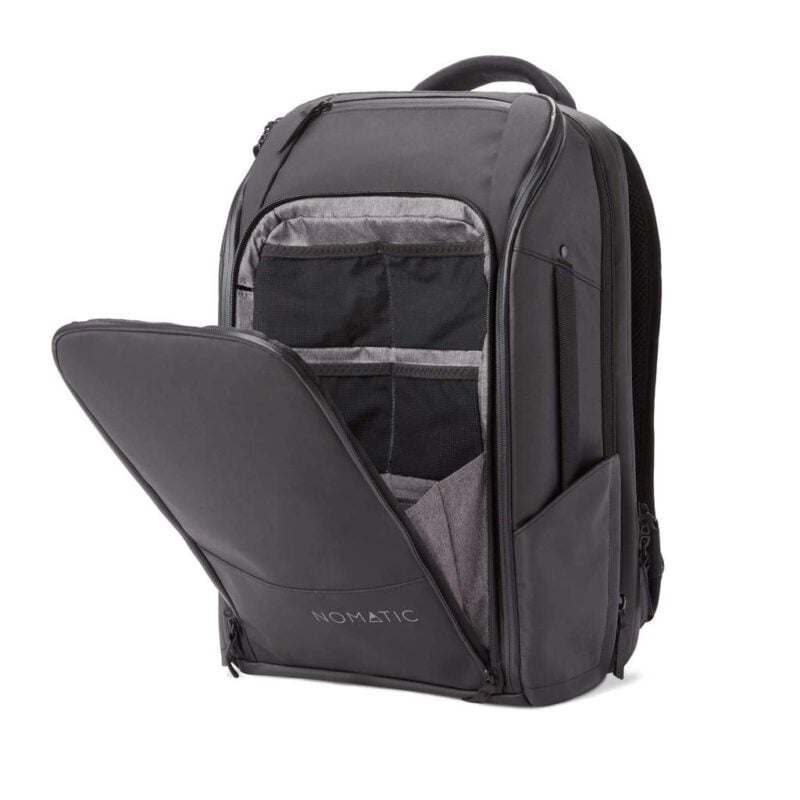 $$
6 Guests
Washer & Dryer
Full kitchen
Near the base of Alyeska Ski Resort in Girdwood is the ideal cabin for you and your group of friends. This modern and classic A-Frame cabin is in a quiet neighbourhood that is within easy walking distance of many attractions in Girdwood. Adventurers will love the location as the cabin also has easy access to the ski resort and many hiking trails.
The cabin has an open-floor layout, with a spacious living room and a full kitchen downstairs. You can easily make your meals here, as all the kitchen essentials are provided. And you can also do a cook-out outdoors with the BBQ grill!
Sleeping spaces upstairs account for up to 6 people, so there is ample space for your group. You'll have comfy full beds, a futon and an air mattress. Perfectly cosy and homey!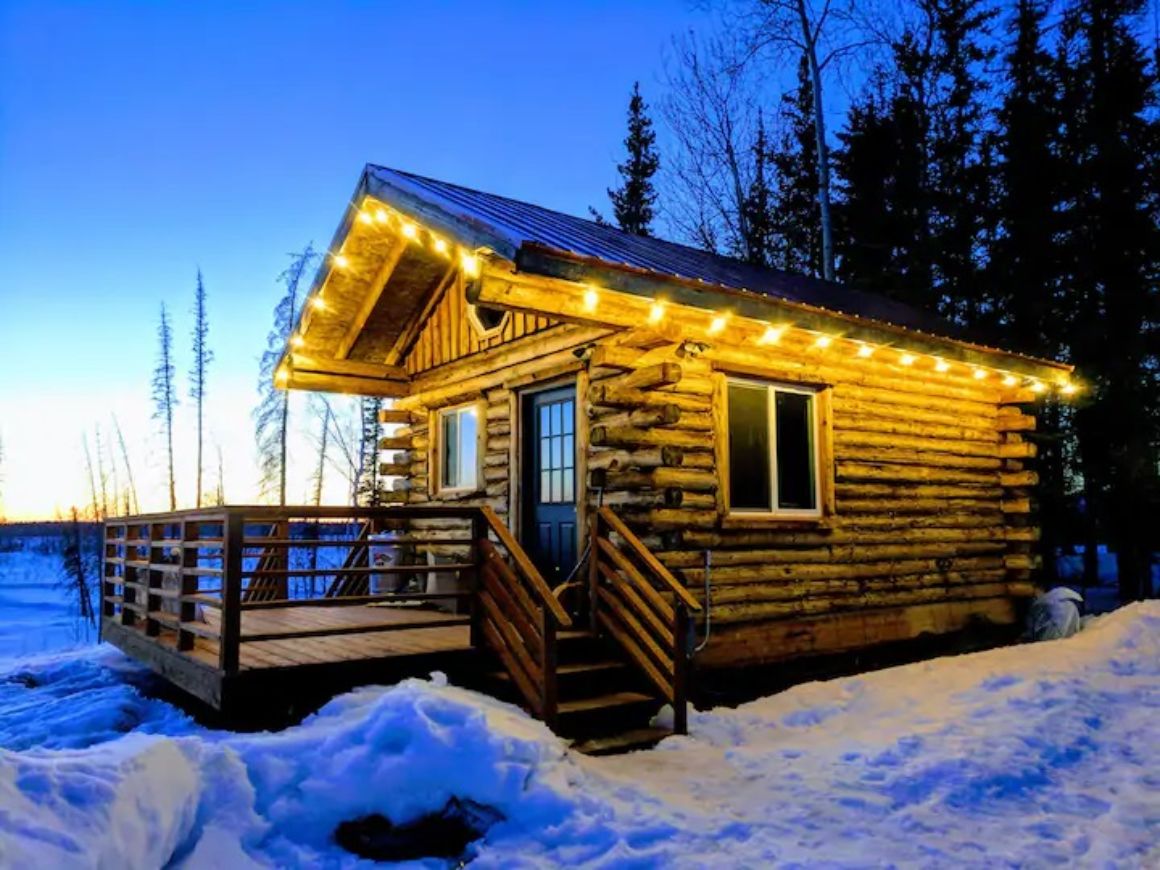 $$
4 Guests
Ski-in/Ski-out
Wi-Fi & TV
Right in the middle of 'nowhere' this remote cabin in the city of Nenana is surrounded by acres of open meadow. The fields are covered in wildflowers in summer and with snow in winter, so whichever season you travel, you'll have awesome scenery all around you.
Cosy up in this tiny cabin and enjoy the great views from the deck or from your bedroom window. Watch the famous Alaska Railroad pass by on the horizon, or catch sight of a moose or a deer or any of Alaska's wonderful wildlife outside.
The cabin is quintessential Alaskan, with rustic elegance but modern design and amenities. There is a full kitchen with a refrigerator, gas range and microwave. This one's a dry cabin, but with purified water provided for handwashing and cooking.
Best Cabin to Watch the Northern Lights – Amazing Aurora Show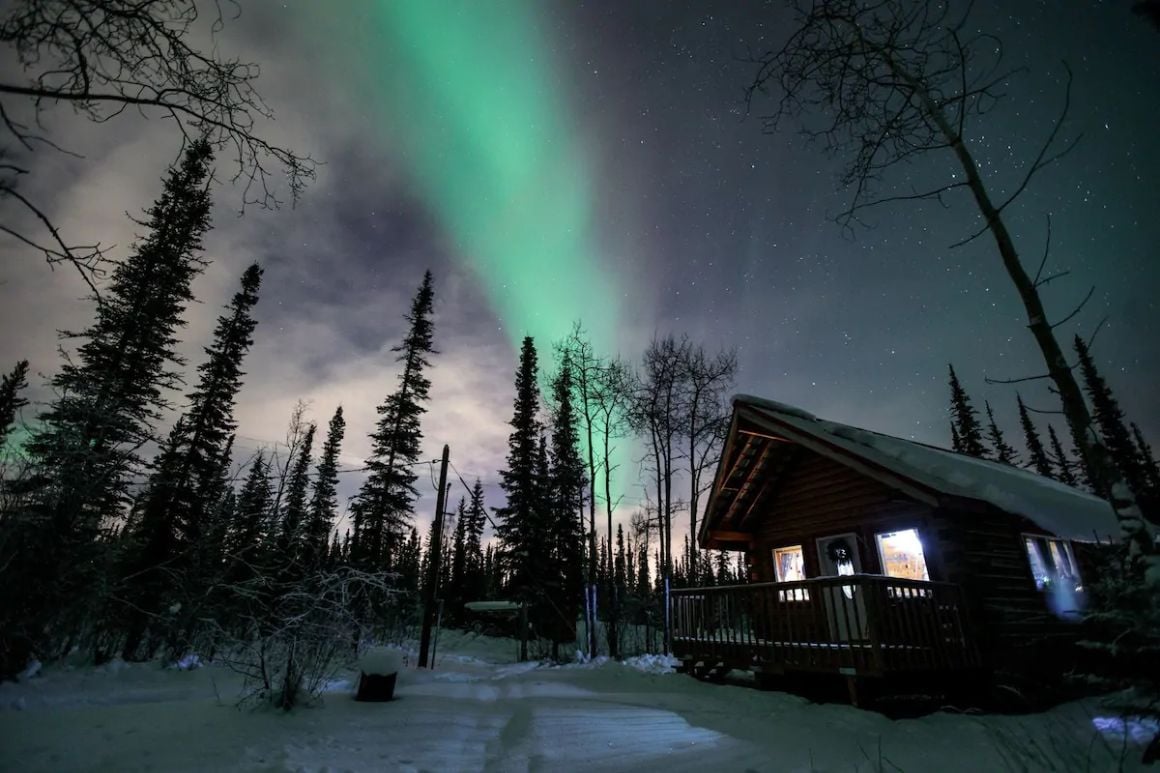 $$
4 Guests
Wi-Fi
Washer+Dryer
Watching a grand display of the Northern Lights is on the top of the travel bucket lists of many. And this adorable cabin in Alaska will get you to fulfil your dream!
Lying adjacent to the Tanana River, it is quite remote, yet about half an hour away from the town of Fairbanks. So while it is within city reach, it is far away enough from light pollution to see what you came for.
Sit on the front deck and have a hot chocolate as you watch the spectacular Northern Lights. Relax and have a nap in either the bedroom or the loft, or watch a movie in the living room with your family. You can make your own meals in the fully equipped kitchen too, as this cabin has everything!
Surrounded by the beautiful Chugach National Forest with the majestic Alaskan mountains rising right at your doorstep, this modern log cabin is the perfect romantic getaway. Stunning scenery and many activities in the Kenai peninsula will leave you spellbound, as the cabin is close to the seaside town of Seward and the charming town of Moose Pass.
This cabin has an interesting history in that it was originally constructed more than a century ago during Alaska's gold-mining boom.
Several renovations down the years and now the cabin is as modern as it can be. With quirky personal touches, the cabin houses a comfy loft bed, a full bathroom and other great amenities like Wi-Fi. There is a fully equipped kitchen where you can make your partner's favourite meals and have a great time!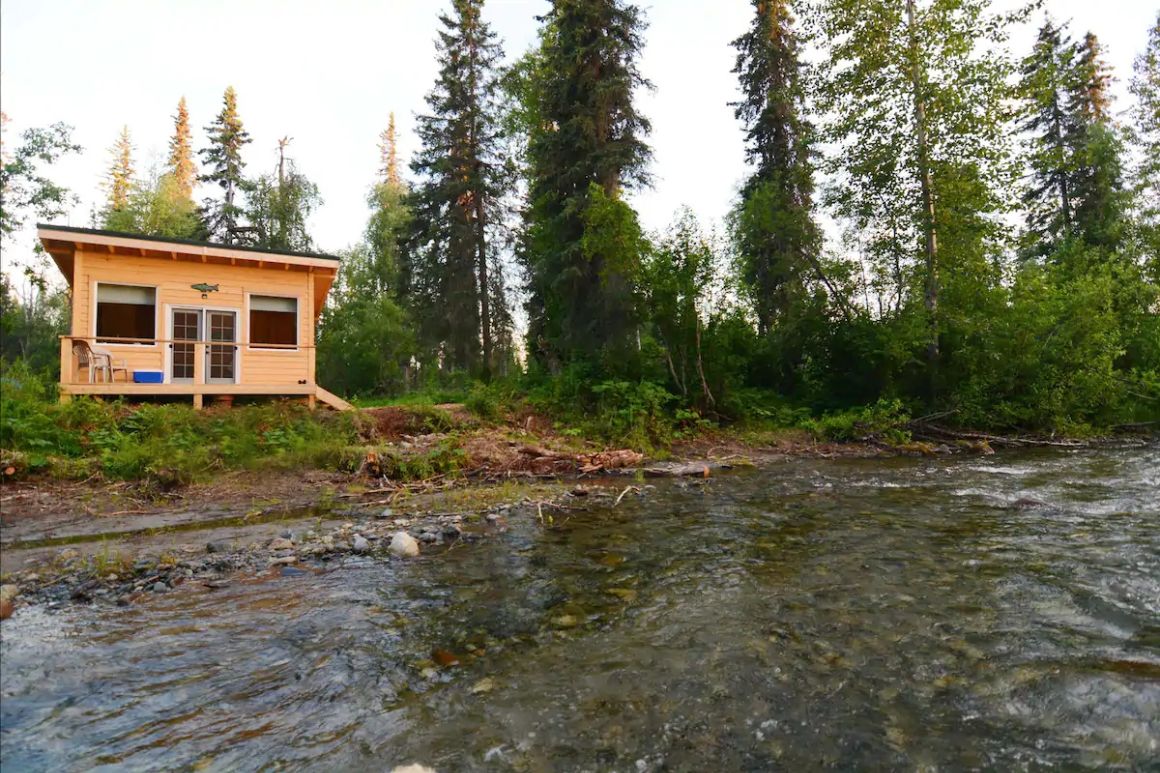 $$
3 Guests
River view
Sauna
If you think sitting on the deck of a rustic cabin by the creek is the perfect way to relax on a weekend, grab this cabin! Sitting next to a fast-flowing river stream, this cabin at Montana Creek is the ideal place for a very basic escape from the city – a true Alaskan weekend getaway.
This one-room studio cabin isn't much of a luxury and you'll be staying pretty off-the-grid. It's very basic – it doesn't have running water, Wi-Fi or even a proper kitchen, but it is warm and cosy.
After an afternoon of fishing and hiking, come back to the cabin to a wood-fired sauna to warm up comfortably. There is solar power to provide electricity and you should also have some cellular service. But you shouldn't worry about that. Just sit back and watch the salmon swim right past your front door.
$$$
8 Guests
Ski-in/Ski-out
Patio/balcony
Dish out some monies and take your friends or family to this beautiful luxury cabin in Talkeetna. Enjoy the best of both worlds when you stay at the Oakley Inn cabin.
Sitting on a trail system on a forested hillside, this large private home is everything you can dream of! With all major points of interest connected by trails and plenty of outdoor recreation such as cross-country skiing, ziplining, mountain biking, rafting and even gold-panning, this place is a slice of heaven for adventure lovers.
The cabin is decorated with pine, stone and antlers like any typical Alaskan home. It has comfy bedrooms with its essentials and well-stocked bathrooms. The cabin is child-friendly and has books, toys and HDTV. A fully equipped kitchen and outdoor dining and grill make the best of this cabin as you enjoy your time with your party.
Don't Forget Your Alaska Travel Insurance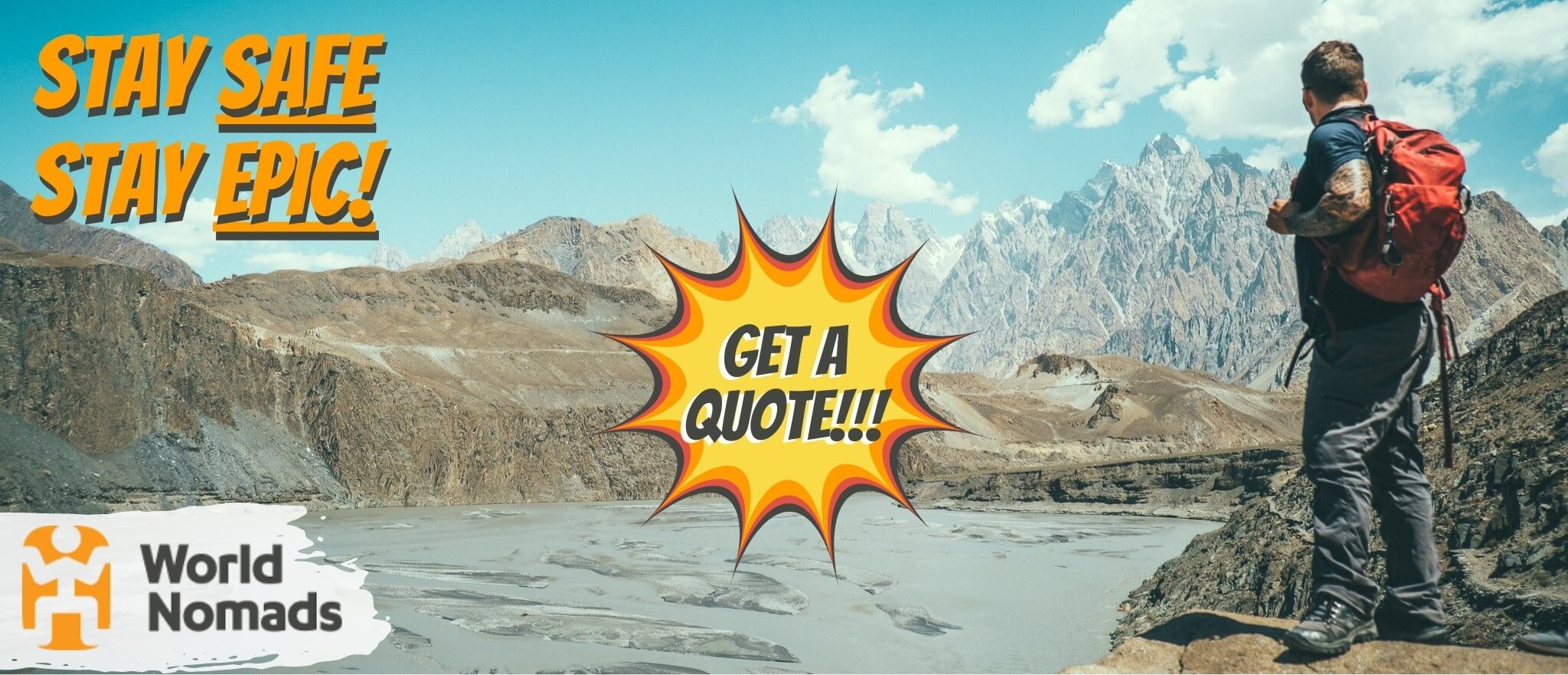 World Nomads' mission is to support and encourage travellers to explore their boundaries. They offer simple & flexible travel insurance, and safety advice to help you travel confidently.
They've been doing it since 2002 – protecting, connecting, and inspiring independent travellers just like you.
Get a quote below or read our in-depth review!
World Nomads provides travel insurance for travelers in over 100 countries. As an affiliate, we receive a fee when you get a quote from World Nomads using this link. We do not represent World Nomads. This is information only and not a recommendation to buy travel insurance.
Final Thoughts on Cabins in Alaska
So, have you made up your mind yet? Treat your tired and stressed self with the perfect getaway in Alaska. And to make it a more memorable vacation, rent a cabin!
Full of rustic charm, rugged, natural living and all the peace and serenity you can get, cabins in Alaska are a wonderful retreat.
Most of Alaska is wilderness with great wildlife and stunning scenery. The snow-capped mountains, beautiful lakes and national parks, and refreshing rivers, all will take your breath away. Imagine lying under the sky, watching the stars and the milky way, as clear as they can be, without any light pollution – where do I sign up?
And if you are travelling to Alaska, especially from abroad, you might want to consider taking out some travel insurance. A smart traveller is well-prepared for any unforeseen events and relieves any anxiety before any trip.
---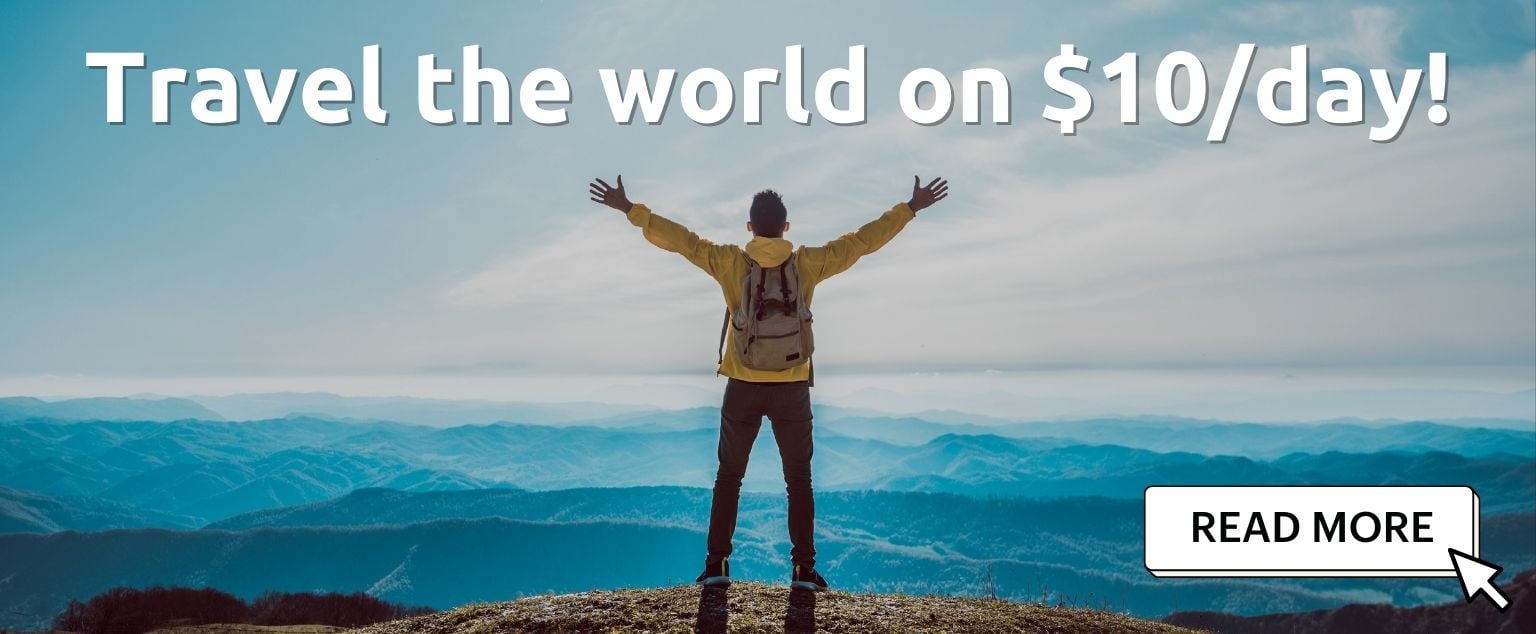 And for transparency's sake, please know that some of the links in our content are affiliate links. That means that if you book your accommodation, buy your gear, or sort your insurance through our link, we earn a small commission (at no extra cost to you). That said, we only link to the gear we trust and never recommend services we don't believe are up to scratch. Again, thank you!