If you're looking for a state with outstanding natural beauty, then you will love South Carolina! This incredible state has a ton of outdoor adventures awaiting you, from hiking through the wilderness and mountains of The Palmetto State to camping and fishing by the lakes of Table Rock State Park.
However, with all this nature to enjoy, regular accommodations will place you far away from these outdoor activities, and no matter how much you love the sight of the setting sun and the stars that come out in full force at night, you'll have to return to your four-walled hotel room with starless skies.
To truly enjoy the natural beauty of this state, you should look for unique accommodation like a cabin in South Carolina. These cabins allow you to become one with nature while providing you with all the comforts and luxuries of a modern home.
There are numerous reasons to add a cabin stay in South Carolina to your bucket list. But finding the best cabin is no easy task, which is why I have prepared a list of the top 10 cabins in South Carolina so you can get out there as soon as possible!
In a Hurry? Here's Where to Stay in South Carolina for One Night
FIRST TIME IN SOUTH CAROLINA
Boarhogs Place
Secluded, spacious, beautiful, riverside, and near tons of waterfalls, river rafting, and hiking trails, this cabin couldn't get any perfect. Did we mention that it doesn't cost you an arm and leg either? And what it does cost, it offers value for money.
NEARBY ATTRACTIONS:
Chattooga River
Oconee State Park
Chattooga Bell Farms
Is this amazing South Carolina Cabin booked for your dates? We've got your back with our other favorite properties below!

Unlock Our GREATEST Travel Secrets!
Sign up for our newsletter and get the best travel tips delivered right to your inbox.
Staying in a Cabin in South Carolina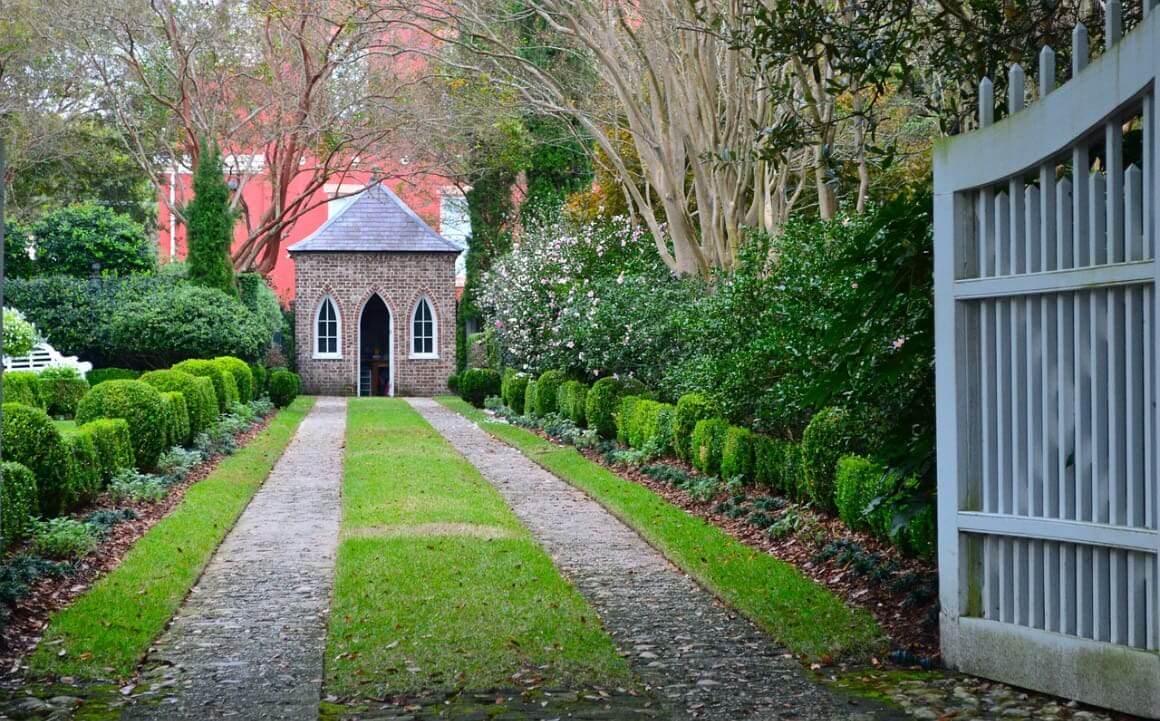 South Carolina is known for being one of the best Southeastern vacation destinations for lovers of nature and adventures. And what better way to experience nature than by staying in one of the state's wonderful cabins.
The cabins in South Carolina are designed to bring families and friends closer together. I'm talking about staying up late at night, playing board games, air hockey, and foosball. Better yet, you can also enjoy early morning boat rides and huge breakfasts on the deck with your loved ones!
Since that's what vacations are all about, most cabins in Carolina are built for outdoor experiences, but that isn't to say that the cabins themselves aren't cosy. They are just extensions of the world outside. Many have loft bedrooms, living spaces with fireplaces, and kitchens where you can easily cook your favourite meals while staying in the wilderness or far from the nearest restaurants.
What to Look For in a Cabin in South Carolina
The architectural geniuses in South Carolina are well aware of the natural beauty of the state, and how to design cabins that only magnify that beauty and let you absorb it all. Almost every single cabin in Carolina near a waterbody has a full deck and fire pit to enjoy the lake views from.
Alfresco dining areas are also available in luxurious and semi-luxurious cabins. Another common amenity in South Carolina's cabins is a fully outfitted kitchen, where you can cook with all the pots and pans provided, microwave, coffee machines, fridge, and even oven and baking sheets are found in many cabins.
More budget options will have a kitchenette and basic equipment, but remember that cabins are remote, so if this is the case, you'll need to plan meals accordingly and stock up.
Since cabins are remote, you should also check that the road is accessible by car and that you don't need a 4X4 vehicle. Almost all cabins will have parking, but some require a specially equipped vehicle to get to. You should make sure your car has snow chains in the winter!
Whatever kind of cabin you're looking for, you are sure to find it in South Carolina. I have included something for everyone in my list of cabins, but if you can't find what you need, you can browse through Vrbo's diversified list of cabins to find your match.
OVERALL BEST VALUE CABIN IN SOUTH CAROLINA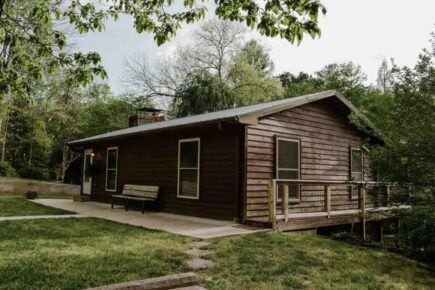 OVERALL BEST VALUE CABIN IN SOUTH CAROLINA
Boarhogs Place
> $$
> 4 Guests
> Private backyard with outdoor furniture
> Waterfront property
BEST BUDGET CABIN IN SOUTH CAROLINA
BEST BUDGET CABIN IN SOUTH CAROLINA
Loblolly Cabin
> $
> 2 Guests
> Private backyard
> Central location nearby several state parks
BEST CABIN FOR COUPLES
BEST CABIN FOR COUPLES
Lakefront Cabin
> $$
> 2 Guests
> Eco-friendly toiletries
> Access to resort
BEST CABIN FOR A GROUP OF FRIENDS
BEST CABIN FOR A GROUP OF FRIENDS
Log Haven Cabin
> $$
> 4 Guests
> HDTV with Amazon Prime Video, Netflix, Roku
> Located next to a stream-fed pond in the woods
OVER-THE-TOP LUXURY CABIN
OVER-THE-TOP LUXURY CABIN
Lakeside Cabin
> $$$$
> 10 Guests
> Fully outfitted kitchen
> Right next to Lake Keowee
BEST CABIN FOR FAMILIES VISITING SOUTH CAROLINA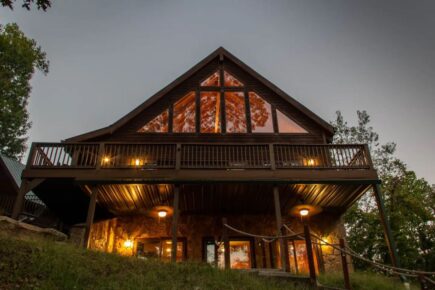 BEST CABIN FOR FAMILIES VISITING SOUTH CAROLINA
Lake Keowee Cabin
> $$
> 10 Guests
> Private hot tub
> Lakeside property with luxurious amenities
BEST CABIN FOR BACKPACKERS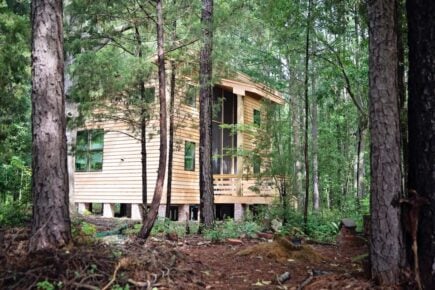 BEST CABIN FOR BACKPACKERS
Eco-Friendly Cabin
> $
> 2 Guests
> Hot water
> Located in an urban forest
The Top 10 Cabins in South Carolina
From hardwood forests to mountains, from lakes to the sea, South Carolina is rich in natural beauty, which makes it an ideal destination for all kinds of cabin getaways. So without further ado, here are my top cabins in South Carolina!
Overall Best Value Cabin in South Carolina – Secluded & Peaceful
$$
4 Guests
Private backyard with outdoor furniture
Waterfront property
I can guarantee that if you happen to stay in this cabin in South Carolina, you'll be pinching yourself. Located in a perfectly secluded area by the Chauga River, surrounded by trees, the Boarhogs Place is ideal for couples or those travelling on a budget – yes, that's you backpackers of the USA!
However, it also comes with a high chair, children's books, toys, and board games, making it well-suited for a small family, too. It has so many hiking trails, tunnels, waterfalls & river rafting expeditions nearby that anyone looking for a fun-filled vacation will find this cabin a blessing.
The cabin features two bedrooms, a fully-equipped kitchen, living space, and a full bath. The highlight of the cabin however is the porch and the well-maintained backyard. With the porch swings, fire pit, outdoor dining area, hammock, and BBQ grill, it's an absolute joy to sit and play outside for hours and enjoy some of the most peaceful moments there.
Best Budget Cabin in South Carolina – Cabin on 6 Acres
$
2 Guests
Private backyard
Central location nearby several state parks
For those looking to spend a good portion of their time in South Carolina and experience the thrill of the nature around them, this cabin is an excellent home base. And what's amazing is that it offers numerous amenities and a neat, well-furnished space at that price.
So, you can spend your days exploring your surroundings and have a comfy place to come back to. What's more, it even has an outdoor hot tub and a beautiful private backyard so as the night falls, you can admire the beauty of the Jocassee Gorges Wilderness Area in Sunset, South Carolina.
The cabin is only 30-minutes from numerous great hikes, lakes, and multiple state parks. With space for two, the cabin is well-suited for couples, friends, or a small family.
Best Cabin in South Carolina for Couples – Lakefront Cabin
$$
2 Guests
Eco-friendly toiletries
Access to resort
Lake Hartwell promises romance for even the most unromantic travellers. There's something about the warm and cosy cabin situated right next to the tranquil deep blue waters of the lake with the Blue Ridge mountains in the background – ahh, romantic! This is why this cabin is perfect for couples visiting South Carolina.
What adds to the love in the air is the outdoor hot tub that provides a dazzling view of the surroundings! You can spend your days in the rustic cosy cabin with tons of entertainment options, or you can head out to the private boat dock and make use of the kayaks specially provided for the guests.
There's also a picnic area and hammocks to enjoy the lake in all its glory. This little piece of paradise on South Carolina's state line makes for the best romantic getaway.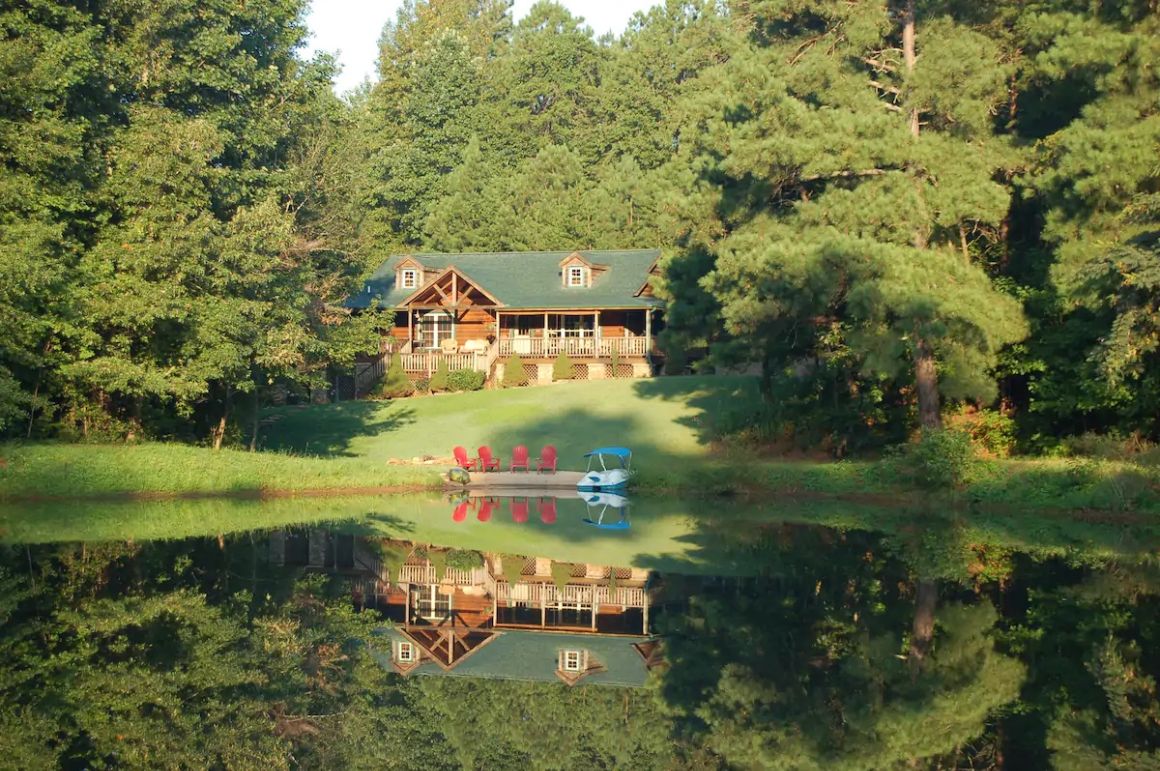 $$
4 Guests
HDTV with Amazon Prime Video, Netflix, Roku
Located next to a stream-fed pond in the woods
If your idea of a friend's getaway is a healthy dose of quiet and solitude, this cabin is it! Located in the beautiful rural Blue Ridge County, the rustic cabin is frequented by owls, Canadian geese, foxes, deer, and occasionally some friendly neighbourhood black bears.
You might want to spend all your days in this cabin, but those legs will need a little workout. This is why the well-maintained hiking and biking trails are a welcome sight. The peaceful cabin overlooks a stream-fed pond and is surrounded by pine and hardwood forest. You can lounge on the wrap-around porch and drink in the sight and sound of your surroundings, or you can set off on one of the many paths that lead to kayaks and paddle boats.
You won't be short of outdoor activities here, so make sure you pack for adventure!
Log Haven Cabin features an open-floor cabin with a fireplace in the living room, high-speed WiFi, a Smart TV with tons of streaming services, two bedrooms, ensuite bathrooms, and a lot more. The property is almost luxury, on a budget.
Is This the Best Travel Pack EVER???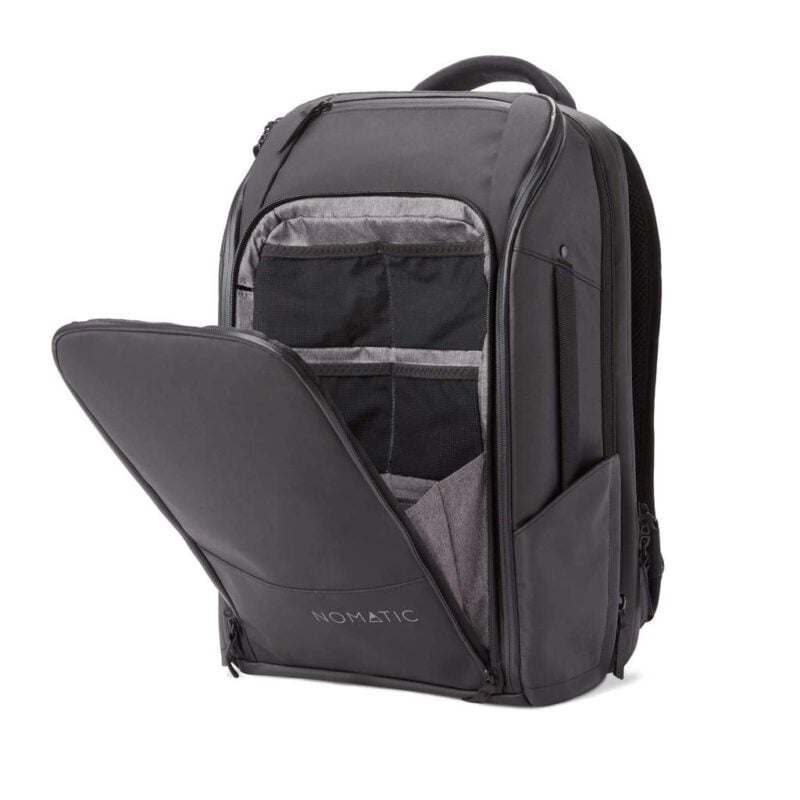 $$$
8 Guests
Exercise equipment and yoga mat
Great water views of the secluded cove
This Airbnb in South Carolina has all-time high reviews, this is the kind of cabin you can trust with your eyes closed. Also, because it is quite spectacular. The gorgeous cabin features three full bedrooms and two full bathrooms. It comes with lots of entertainment options, along with facilities for children and toddlers.
It's well-matched for a large group of friends and family seeking to spend lots of exclusive time on the beach with close access to Lake Murray.
Here, you can bring your boat or rent out the pontoon and spend endless hours floating on the lake. The marina and public boat ramp are just around the corner. The cabin features a deck and a sloping backyard, which provides spellbinding views of the secluded cove from the cabin.
Inside the cozy log cabin, there's a living area, kitchen, and dining area on the open plan of the first floor. There's also a TV and a movie screen for some bonding time with your friends and family. The loft on the second floor is more than just a sleeping space, it has an office area, a card table, hanging chairs, and a futon. It also has a walk-in closet!
$$$$
10 Guests
Fully outfitted kitchen
Right next to Lake Keowee
This luxurious cabin by the beautiful Lake Keowee is the perfect place to celebrate love, friendship, and family. The beautiful log cabin is massive with cavernous ceilings and huge glass walls giving a breathtaking view of the lake and the ardent beauty of Six Mile.
Based over two-storeys, the cabin has the most desirable amenities with both floors having their own living space and spacious decks sprawling all around the cabin, on both floors. The decks lead you right to the dock, with the beautiful lake at your access.
The cabin has four bedrooms, the last one on the open-air loft, with views to die for! Each bedroom has a theme, huge windows, and beds so comfy, that it's a struggle to leave them every morning. The cabin has everything you need and you can spend long vacations here cooking, doing laundry, and even working from your perch on the stone dining table facing the mesmerizing lake.
Best Cabin in South Carolina for Families – Lake Keowee Cabin
$$
10 Guests
Private hot tub
Lakeside property with luxurious amenities
The log cabin is fully decked out to host a big family in luxury without costing you a ridiculous amount of money. The cabin is cozy and spacious, with numerous amenities to keep you and your family entertained all day long. The cabin features cathedral ceilings that will leave you in awe.
It also boasts an open floor plan, with living space on the first floor to bring the family together. The second floor also has a living space with a wet bar, coffee maker, and a sink. A steep incline from the lake leads you right to the cabin through paved stairs. Then there's a tram from the deck to the dock where you can access the lake and launch your canoes and paddle boats.
The deck itself is huge with a covered porch where you can chill with the entire family. The yard has a fire pit too for late nights storytelling and perhaps spooking the kids a bit. And for some competitive games, head over to the garage where a ping pong table, air hockey, and a foosball table await you!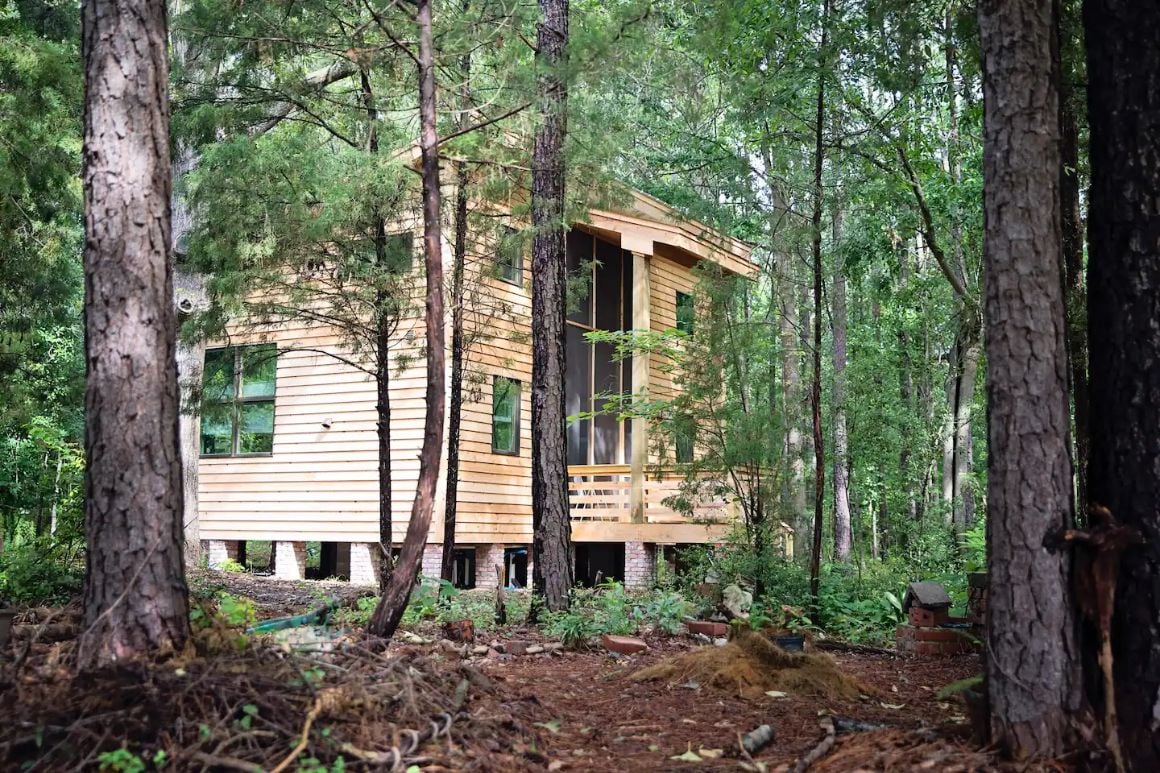 $
2 Guests
Hot water
Located in an urban forest
If you're looking for a cost-effective cabin that doesn't compromise on charm and appeal, then this tiny little cabin in the forest of Colombia is for you. And if you are trying to travel as environmentally friendly as possible, then you have hit the jackpot.
While the cabin is tiny, it has a spacious and airy feel to it, and it is designed to leave a low-carbon footprint. The first floor of the cabin boasts a queen-sized bed and a futon in the loft, making it suitable for three guests to stay.
While the cabin makes you feel secluded in a good way, it is situated in the heart of Columbia, with USC and major shopping centers just minutes away.
Most Traditional Cabin in South Carolina – Historic Log Cabin
$
6 Guests
Fully-equipped kitchen
Historic cabin from the early 19th century
Why hope for a time machine when you can travel back in time with this historic log cabin located on the shores of a 10-acres lake in Prosperity? If you are seeking to cut off from the chaos, the crowd, and the blaring horns, this secluded remote cabin overlooking the water and surrounded by 100 acres of forest is the place to be.
What makes this historic cabin even better is that the décor, the furniture, and everything else are just as symbolic of the 19th century as the architectural design of it. The cabin is a two-story log structure with two bedrooms, a living space with books, an old-school upholstered seat, a fireplace, and a fully-equipped kitchen.
The overall vibe of the cabin feels like someone left it in a rush in the 19th century and you are just returning to it. Outdoor recreational activities near the cabin include walking trails, fishing, swimming, canoeing, campfire, and looking at wildlife.
Most Beautiful Cabin in South Carolina – Blue Ridge Log Cabin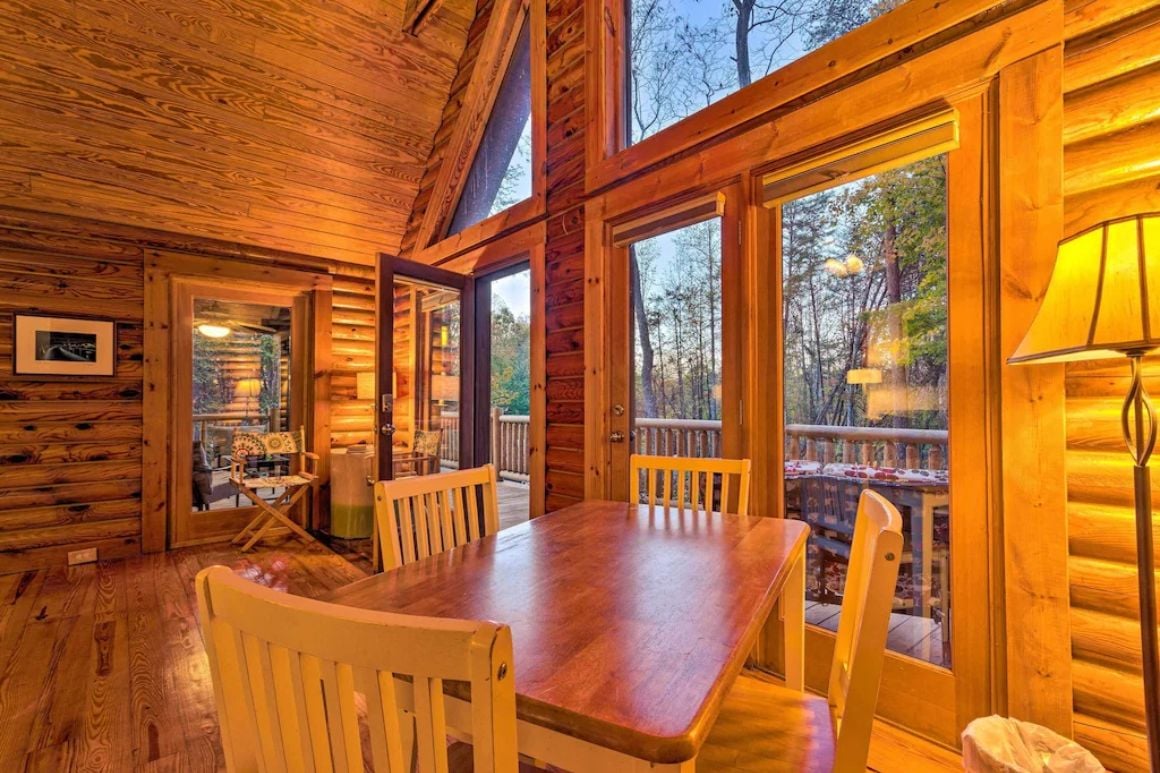 $$
6 Guests
Indoor fireplace
Nestled in the Blue Ridge Mountains
It almost feels as if the cabin and the views outside are competing against each other, comparing which one can hold the guest's attention for longer. The world outside this cabin is breathtakingly gorgeous, with the mountains standing guard all around, the soaring trees changing colours, and several creeks running nearby.
Then there's the cabin itself, which feels unreal in its beauty. The high ceilings, glass walls, modernistic-rustic décor, beautiful warm lights, paintings on the walls, thick carpets, and many more things make this cabin feel like a warm hug.
You might not want to, but we do urge you to step outside and enjoy the many biking and hiking trails nearby. Splash around in the Otter Creek Waterpark or head over to the Paris Mountain State Park. With all the amenities, this cabin is well-suited for families, couples, and a group of friends.
Don't Forget Your South Carolina Travel Insurance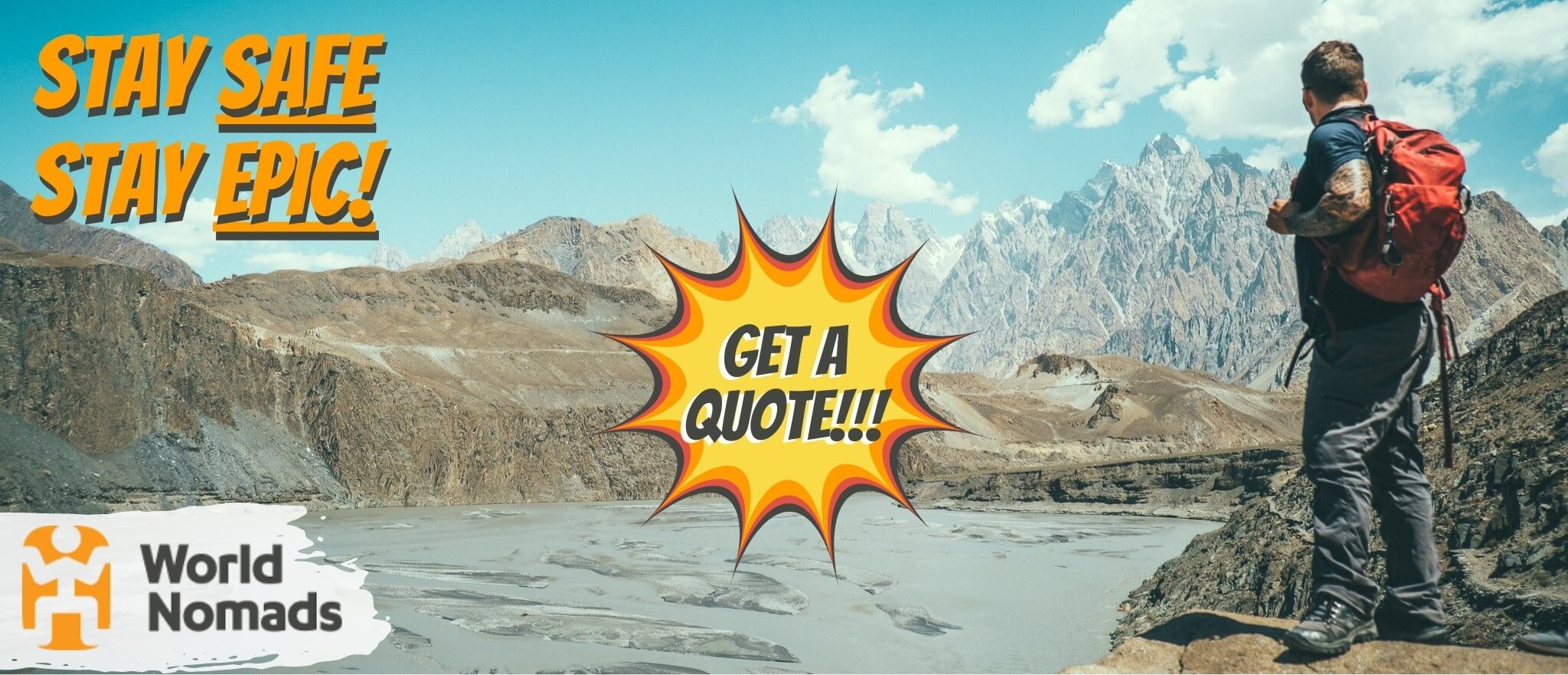 World Nomads' mission is to support and encourage travellers to explore their boundaries. They offer simple & flexible travel insurance, and safety advice to help you travel confidently.
They've been doing it since 2002 – protecting, connecting, and inspiring independent travellers just like you.
Get a quote below or read our in-depth review!
World Nomads provides travel insurance for travelers in over 100 countries. As an affiliate, we receive a fee when you get a quote from World Nomads using this link. We do not represent World Nomads. This is information only and not a recommendation to buy travel insurance.
Final Thoughts on South Carolina Cabins
This unique accommodation in South Carolina isn't just a place to stay but a destination in its own right. If you truly wish to experience the thrill of staying in the wilderness and enjoying everything nature has to offer, in the best possible way, then these cabins in South Carolina won't disappoint you.
Choosing a cabin can make or break your vacation plans. This is why this list is thoughtfully curated with only the best cabins in South Carolina. Whichever one you choose from our list; I promise you that your vacation will only get better.
If you are travelling to South Carolina from out of the country, you can make your vacations even better by considering travel insurance. Knowing that you are protected against all travel risks will only make this retreat more peaceful.
---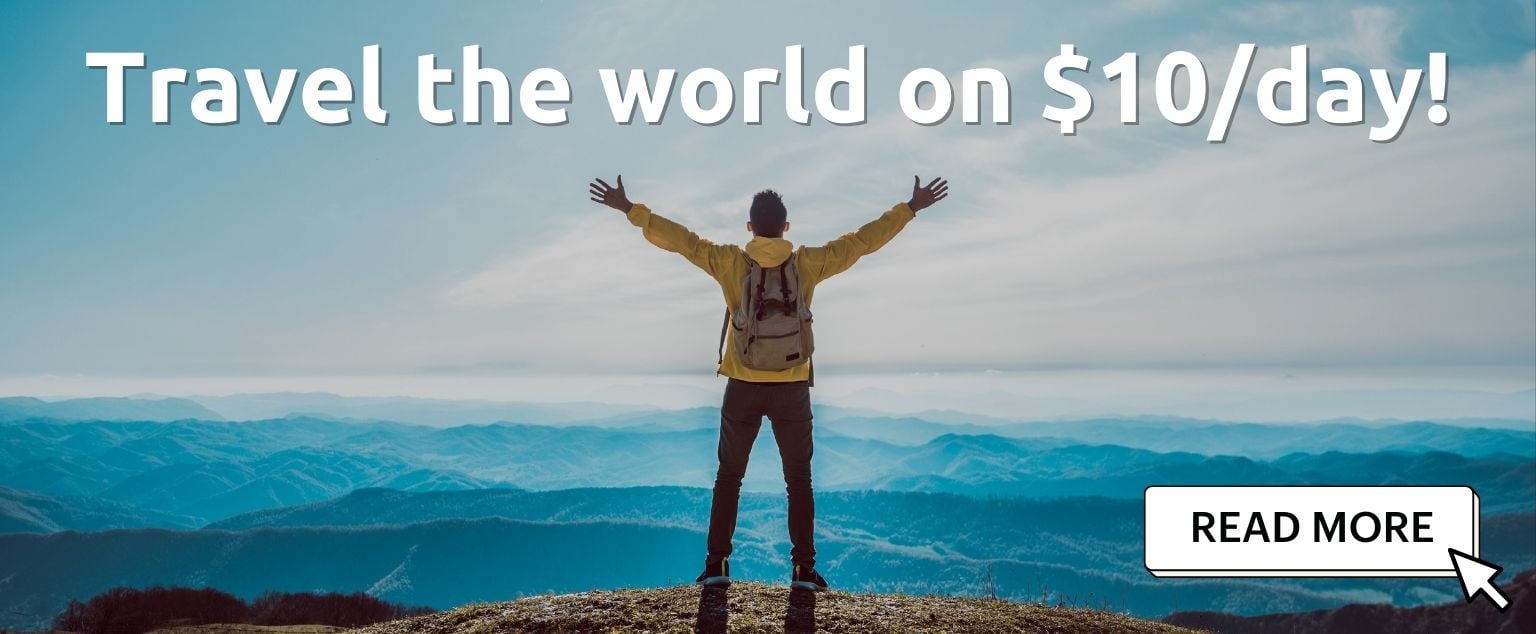 And for transparency's sake, please know that some of the links in our content are affiliate links. That means that if you book your accommodation, buy your gear, or sort your insurance through our link, we earn a small commission (at no extra cost to you). That said, we only link to the gear we trust and never recommend services we don't believe are up to scratch. Again, thank you!