South Carolina is famous for its Atlantic Coast, with hundreds of miles of pristine beaches, great surfing, and jamming oceanside bars – it is a beach bum's paradise.
Featuring some of the best, and most famous beaches in the country, the parade of white sand beaches is a major part of the state's economy. But there is so much more to South Carolina than sun and surf, which will be music to the ears of those that can't wait to explore the Palmetto State.
Although neighboring Georgia is famous for it's peaches, you could easily argue that South Carolina makes the best of them. As for the iconic "Blue Wall Preserve", the state has some seriously underrated nature.
The upstate mountain range boasts serious hiking from Caesar's Head to Table Rock, along with some casual tubing on flowing rivers.
Staying in accommodation rentals in South Carolina is one of the best ways to see the state on a budget. Airbnbs in South Carolina put you right in the heart of the action and make life easy. Spend your nights in the center of historic towns and cities, or along the coastline looking out at the ocean.
Read on to hear what makes them a great option, and stick around for the best Airbnbs in South Carolina.
Quick Answer: These are the Top 5 Airbnbs in South Carolina
Overall Best Value Airbnb in South Carolina
Overall Best Value Airbnb in South Carolina
Myrtle Beach Condo
> $$
> 2 Guests
> Amazing Views
> Beachfront
Best Budget Airbnb in South Carolina
Best Budget Airbnb in South Carolina
Oceanview Unit
> $
> 4 Guests
> Private Balcony
> Great Location
Best Airbnb for Couples in South Carolina
Best Airbnb for Couples in South Carolina
A Cabin on the Water
> $$
> 2 Guests
> Beautiful and Secluded
> A Boathouse
Best Airbnb for Families in South Carolina
Best Airbnb for Families in South Carolina
Large Family Home
> $$$
> 7 Guests
> Beachfront Parking
> Golf Cart Included
Over-the-Top Luxury Airbnb in South Carolina
Over-the-Top Luxury Airbnb in South Carolina
Incredible Beach House
> $$$$
> 12 Guests
> Ocean Views
> Home Theater

Unlock Our GREATEST Travel Secrets!
Sign up for our newsletter and get the best travel tips delivered right to your inbox.
What to Expect from Airbnbs in South Carolina
Airbnbs in South Carolina are an ideal option for those wanting to explore every part of the state – particularly for budget travelers and family vacationers, Airbnb can help you stick to your budget.
Backpackers can get out of the hostel scene, and have personal rooms with private access. All the while being either in, or on the fringes of everything you must see in South Carolina.
Families will love having entire properties all to themselves. Instead of trading location for more space, the best Airbnbs in South Carolina for families are still right on the beach or in downtown.
A lot of South Carolina is seasonal, which means at certain times of the year, especially fall, you can find a great rate. That gives you more money to spend doing the things you love while exploring the Palmetto State.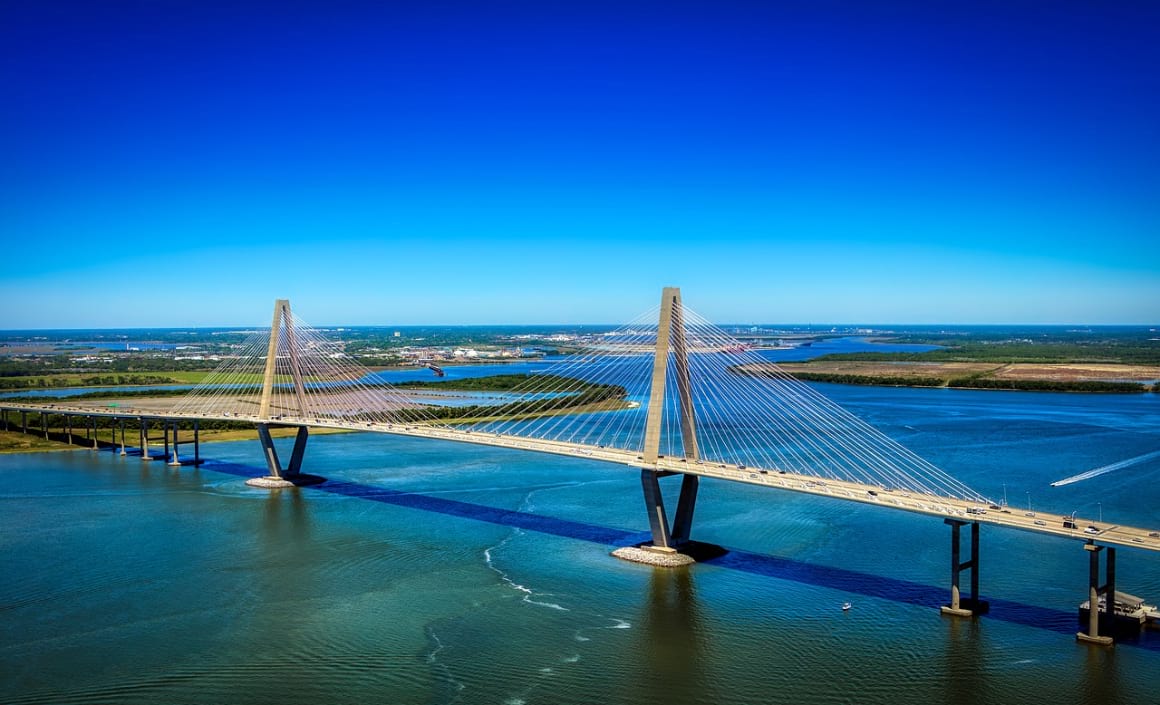 Cottages
Staying at a cottage during your trip to South Carolina is not only relaxed, but the perfect base for your activities. Cottages are ideal for larger groups, especially families who need extra space.
You'll have access to multiple bedrooms and bathrooms, along with living spaces that were designed with kids in mind. Cottages come with fully equipped kitchens, so no more messing with kitchenettes or resorting to take out each night.
Great Airbnb hosts understand their market, and since cottages attract big groups, you'll see the appropriate amenities. Some have board games, outdoor patios, hot tubs and space specifically for the young ones.
Cottages are located all through the state of South Carolina, and they are one of the more popular types of homes you'll find. They're particularly handy when staying in busier places like Charleston and Savannah to unwind after a long day.
Guesthouses
Guesthouses have become increasingly popular on the Airbnb platform. They benefit both the host, through making use of empty space, and the guest who will have nice accommodation close to the action.
Guesthouses can be particularly helpful for budget and solo travelers. As it is just a separate section to an overall home, prices tend to be lower. And, being in the residential part of town, you will often be within walking distance of restaurants, parks and landmarks.
This type of accommodation can provide a surprising level of privacy. Guesthouses often have contactless check-in, and the room will have it's own entrance.
You will be able to find guesthouses in majorly populated areas, especially in Greenville, Columbia and of course, Charleston.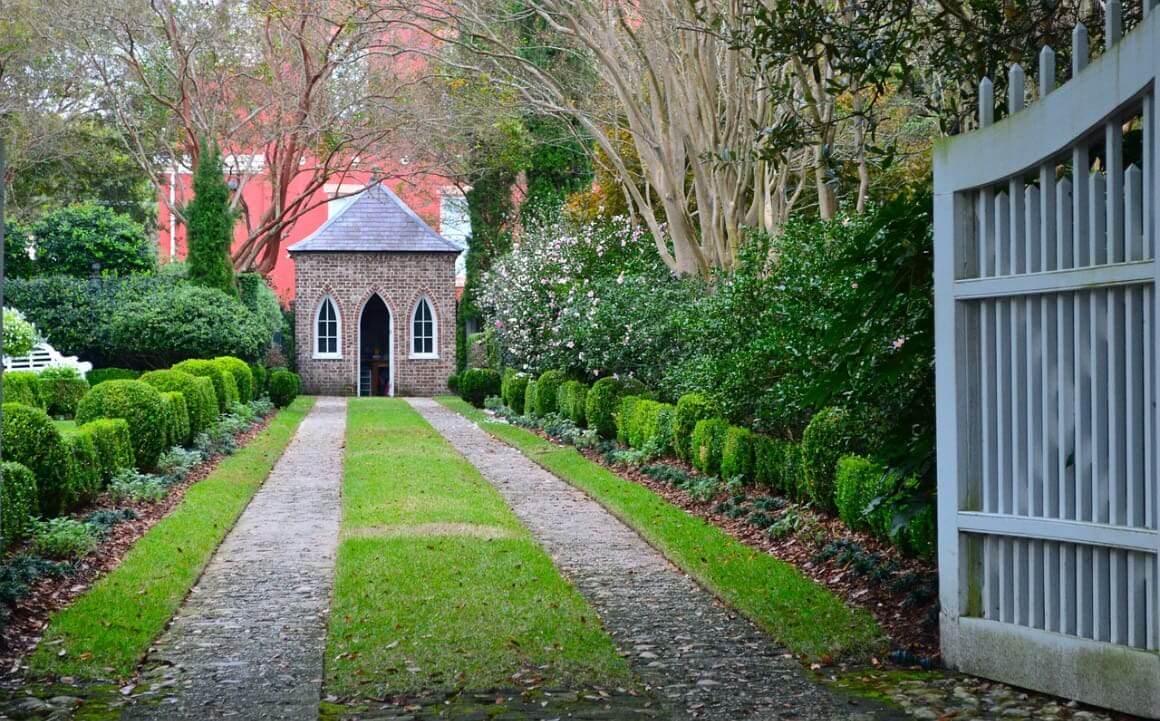 Condos
Condos are one of the best ways to see the coolest parts of South Carolina, while staying on the coast. Condominium complexes line the beaches of South Carolina giving you an abundance of options for any budget.
Do you go for the penthouse suite with exceptional ocean views? Or, do you settle for the basic studio, knowing the beach is 10 steps away and the complex has its own pool?
These are just some of the many questions to ask, as you pick between the littany of condos in South Carolina. While it is possible to get fully furnished kitchens, the majority come with pretty decent kitchenettes. As for the complex, you will often find BBQ areas and plenty of onsite or nearby restaurants.
Why Stay in an Airbnb?
Not yet sold? Here are some more reasons to stay in an Airbnb.
Local Experience: Stay in local places, eat at little-known restaurants and uncover beautiful neighborhoods. You can ask your host for tips and tricks.
Privacy: Take advantage of contactless check-in, private access and your own rooms. Say goodbye to loud snorers in packed hostels.
Affordability: Split the cost between friends and have an entire house for yourself. Also perfect for family vacations on a budget.
Staying Long-Term: Stick around for the long haul, and enjoy weekly and monthly discounts.
Airbnb Experiences: Learn more about South Carolina by joining locally run activities. Our top picks are listed below.
The Top 15 Airbnbs in South Carolina
So now that you know more about what you will find, it's time to begin the search. To help, here are the best Airbnbs in South Carolina!
Overall Best Value Airbnb in South Carolina | Myrtle Beach Condo
Vacation at Myrtle beach in style at this Airbnb in South Carolina. Perched high up above the beach itself, you will have incredible daily views of the Atlantic Ocean.
Under the warm South Carolina sun, take in the rays from the comfort of your large sundeck, which is just smaller than the entire condo.
The patio has a custom daybed for relaxing with a book in hand, or you can lounge on the wrap around patio couch. Let's also not forget about the ottoman chair swing either!
When you venture out, make sure to check out all the best things to do in the area!
Best Budget Airbnb in South Carolina | Oceanview Unit
This complex has its own indoor and outdoor pools, a lazy river, arcade room and a gym. As for the beach, it is simply a matter of steps away.
The condo has basic appliances well suited for breakfasts, lunch and midnight snacks.
If you want to explore beyond the sandy shores, you are within walking distance of many major attractions and restaurants, including the Market Common and Myrtle Beach Skywheel.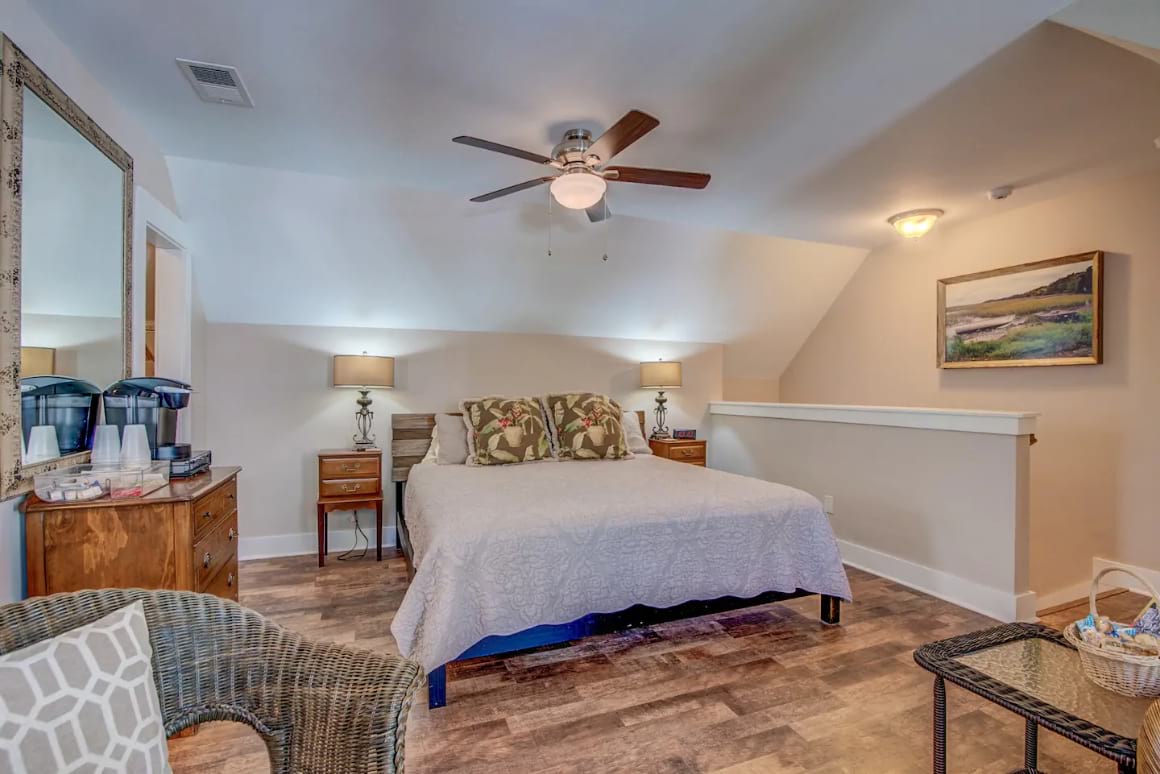 $
Near Downtown Charleston
2 Guests
Private Room & Entrance
Tired of the same old dorm rooms, and running into backpackers you met at previous hostels? It's time you treated yourself to this Airbnb in South Carolina.
The loft apartment is completely separated from the main house, so you can enjoy the spacious suite in total privacy. Each night kick back and enjoy your own space, TV and king-sized bed.
Located close by to the Riverland Terrace neighborhood, there are restaurants, bars and theaters, all within walking distance. The Intracoastal Waterway is right across the street, and is a lovely spot to catch a sunset. And, the arts and culture hub of Charleston is a mere 15 minutes away.
Don't miss out on any of the best things to do in Charleston with our weekend itinerary!
Is This the Best Travel Pack EVER???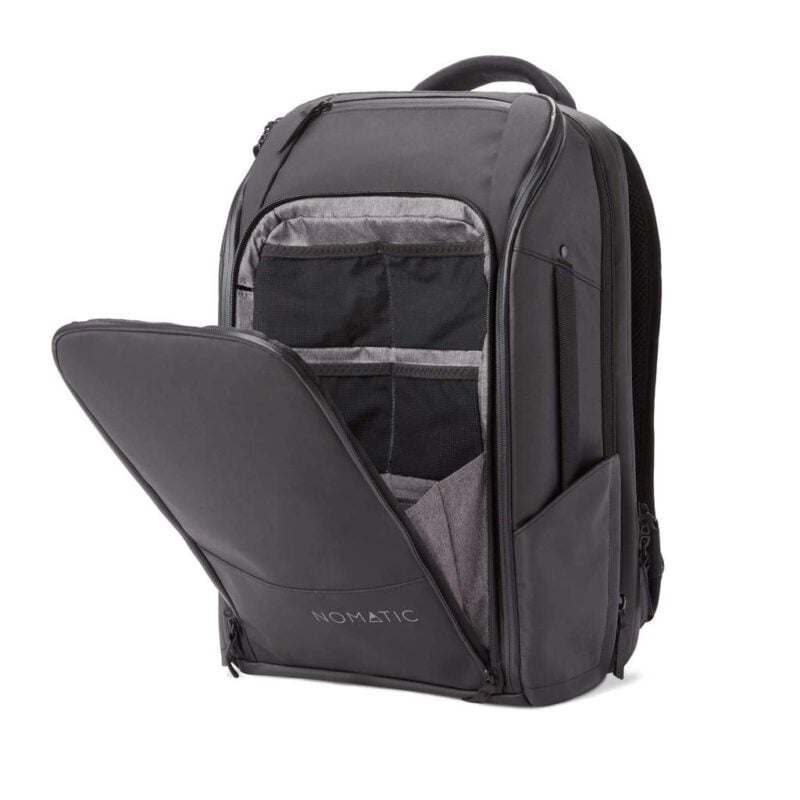 Wake up with your loved one each morning, with stunning lake views. This Airbnb in South Carolina, is floating above the lake itself.
With quiet, still waters and wildlife roaming it's natural habitat, this is the perfect place to unwind and be with your partner.
Take advantage of the provided kayaks to explore the lake in its entirety, before returning and basking in the warmth of the fire pit.
When you want to get out and about, the property is just minutes from downtown Greenville, Paris Mountain and Furman. Although the boathouse has it's own full-kitchen, date night in town will be hard to pass up.
Best Airbnb in South Carolina for Families | Large Family Home
7 Guests
Golf Cart Included
Go on a family vacation without having to give up the luxuries you enjoy back home. At this Airbnb in South Carolina, you have all the comforts of home on-hand.
There is a full kitchen, center island cook top stove, and spacious dining areas, a wraparound deck and outside grill. With multiple bedrooms, including bunk-bed rooms, the kids won't be getting in each others way. Leaving you with more time to kick back and relax.
On beach days, don't worry about trying to find a parking spot. Jump in the golf cart and two minutes later arrive at the beach where you will find your own private parking spot.
There is no better way to experience the Isle of Palms than by staying at this incredible Airbnb in South Carolina. With five bedrooms, including two master suites, you and eleven others can have the vacation of a lifetime.
Spend each evening taking in the picturesque ocean views from the comfort of your own rooftop terrace. Dive into the private pool or relax in the hot tub.
This luxurious beach home was professionally decorated, and is in the best location to enjoy the Isle of Palms. You will never want to leave.
Gather your family and friends for a game of beach volleyball on the sand court, or head to the media room for a movie night, complete with stadium seating, beverage centers, and surround sound.
5 Guests
Screened-in Porch
Come and stay at this beautiful historic cottage on the edge of Lake Murray. This Airbnb in South Carolina was originally built in 1920 and restored in the 1990s.
The cottage has many stories to tell, including once being attached to a mule barn. Now, it is in pristine condition and ready for your getaway.
Enjoy spacious lawns that envelope the property, relax under the overgrown trees, walk down to Lake Murray or head to Harbison and Columbia for restaurants and activities.
The cottage's interior is well appointed. It's light and airy layout is easy on the eyes and will make you feel right at home.
Airbnbs in South Carolina have given locals the opportunity to turn unused space into beautiful accommodations. This is one such example, and in a beautiful location to boot!
As you enter, you will be taken in by the gorgeous open plan layout and the light timber colors. The spacious loft has two double beds and a single, so you'll have the option of bringing friends along on the adventure.
When you aren't out exploring nearby towns and beaches such as Middleton Place, Summerville and Charleston, you can be relaxing on the swinging daybed.
The equipped kitchen is great for cooking group meals, while board games await for post dinner festivities.
Best Condo on Airbnb in South Carolina | The Penthouse Life
This corner condo has the luxury of having 2 balconies, ocean view and a lovely long range vista of the South Carolina coastline along with city sights.
The exact location is in Monterey Bay, which is the quieter end of this famous coastline. The beach won't be as crazy, and the surrounding bar scene is more relaxed.
The condo complex brings even more fun with its multiple pools, lazy rivers, hot tubs and even a rooftop pool. As for the very active ones, you'll find corn hole and ping pong tables.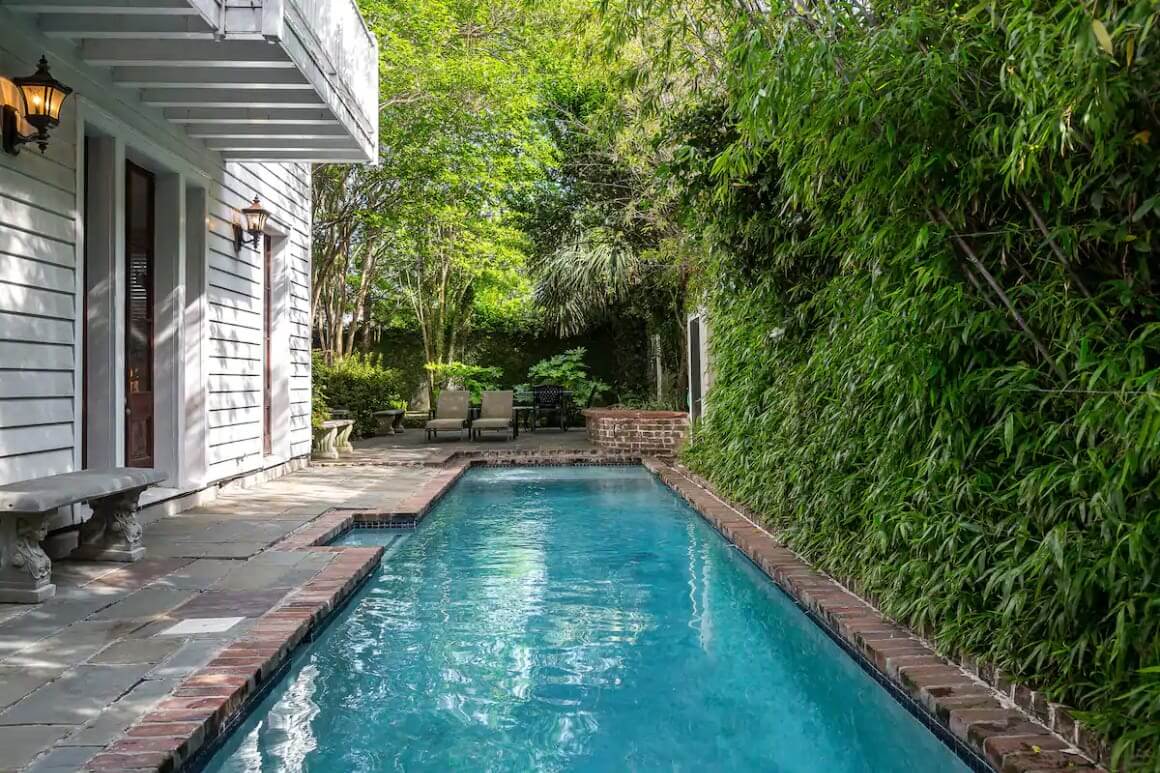 Head to Charleston and have a gorgeous, shared, heated salt water pool to come home to each evening.
At this Airbnb you will be just one block away from Upper King Street, which is the center of Charleston's vibrant restaurant and nightlife scene.
You can soak in the city's famous hospitality before returning home for a drink by the pool.
The suite is calm and peaceful, tucked away in a beautiful but quiet neighborhood. As for the entrance, it is private and separate so it feels much like your own space.
The kitchenette is well stocked for any sort of meal, but with such mouthwatering cuisine down the road you might not have much use for it.
Best Airbnb in South Carolina near Nightlife | Downtown Loft Suite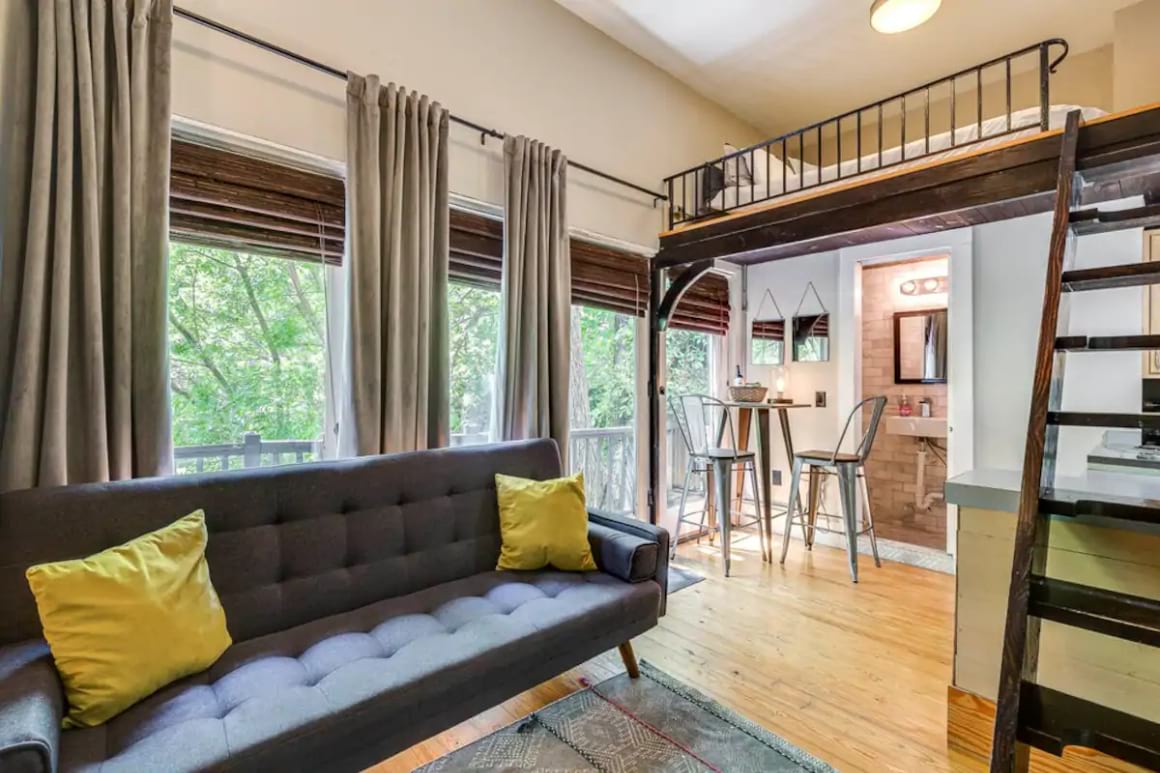 Enjoy the best of Charleston's nightlife without having to venture far from home, thanks to this excellently located loft.
A couple of minutes walk is all that stands between you and the city's best bars and clubs. Perfect for a group of friends looking to have a fun city escape.
Don't worry about catching a cab or an Uber, spend that extra time having a few pre-game drinks on your private patio.
For dinner head down the road to start your night off with a bang at Stars Rooftop, before exploring the streets of downtown.
Best Airbnb for a Weekend in South Carolina | Savannah River Cottage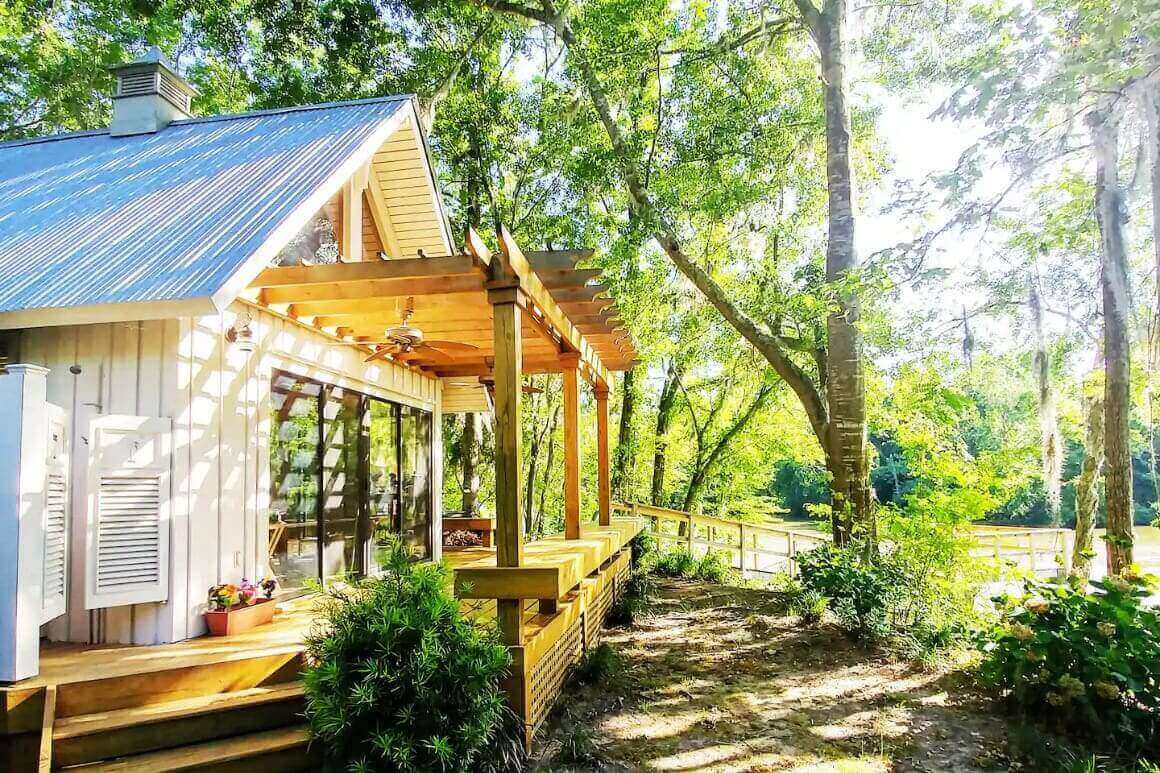 When you go away for the weekend, you want to check out and forget about the world for 48 hours, you don't want to have to spend time setting things up so you can relax. That is what makes this Airbnb so great. Simply rock up and begin your weekend retreat.
You can soak in the pristine Savannah River views on your very own three acre property. Hang out on the expansive decks, with a book in hand and take a moment to be completely at peace.
The home has its own breakfast items to enjoy in the morning, and you can wake up with a morning stroll wandering the nature preserves.
For adventures beyond the cottage, head straight to Savannah and Hilton Head.
Stunning Airbnb for Honeymooners in South Carolina | Costa Rican Tiny House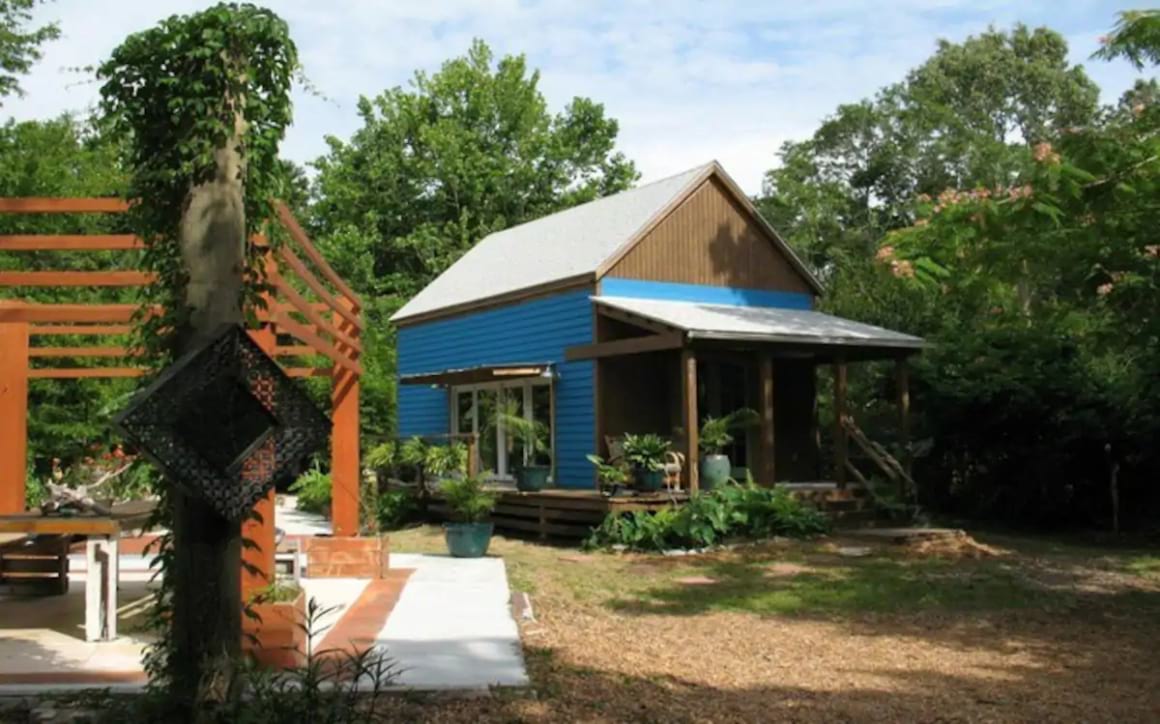 Spend your first few days as newlyweds on this beautiful property in a Costa Rican inspired tiny home. You can bask in the tranquility that floats through the air.
Enter the property, and immediately feel like you are far away from South Carolina. Envision the tropics as you wander along bamboo pathways by banana trees and bright hostas.
Relax with your loved one on the outdoor patio, perfect for shutting off from the world and being together. Just down the road you will find the Angel Oak Tree, Folly Beach, Kiawah Island Beach and downtown Charleston.
When you aren't living it up there, be in harmony with the world at this Airbnb.
Best Airbnb in South Carolina for a Group of Friends | A 53′ Motor Yacht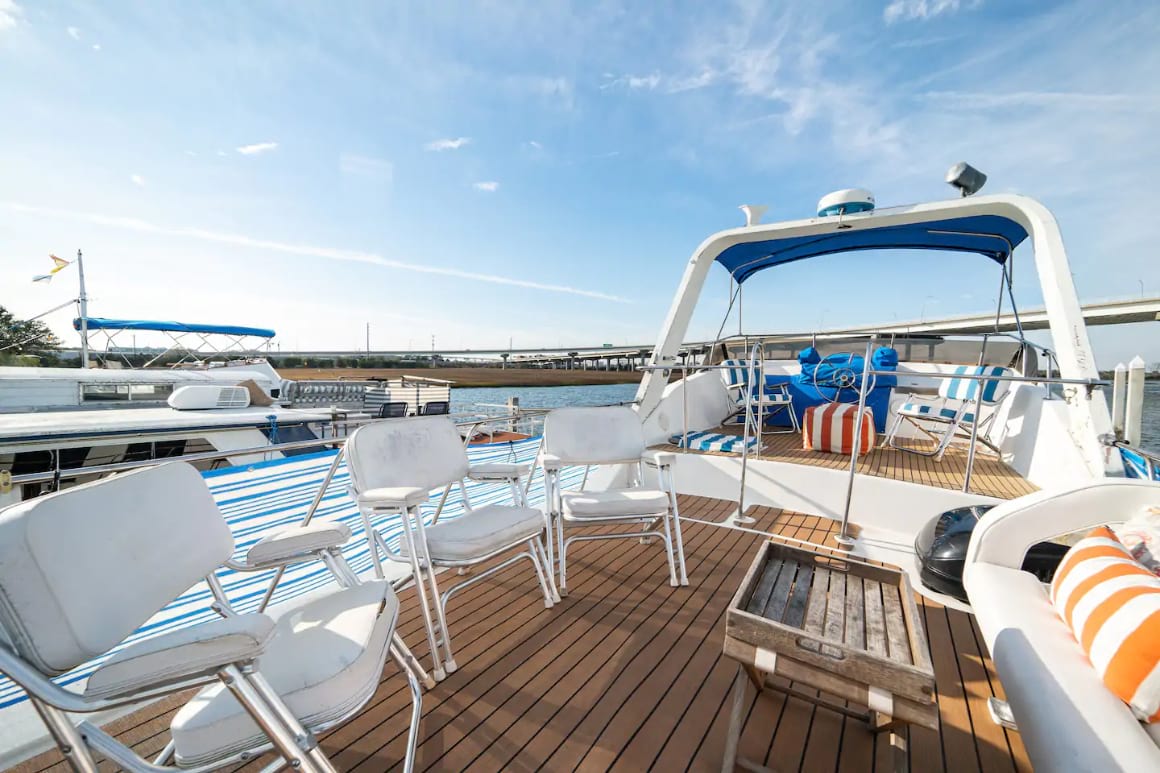 6 Guests
Live-Aboard Design
Have a memorable weekend away with your friends by jumping aboard Mascato, your own motor yacht for the night!
Recently refitted to suit a live aboard lifestyle, this Airbnb has an open layout perfect for hanging with large groups.
Make up a cocktail and head to the roomy top deck. From your lounge chairs take in the views of the Charleston skyline. You may even get lucky enough to spot a dolphin!
Hop off the boat and be within downtown Charleston, only a short distance to the historic district. Take a cheap Uber, or grab one of the bikes for a cruisey ride through the city.
Most Unique Airbnb in South Carolina | MackRail Cabin Car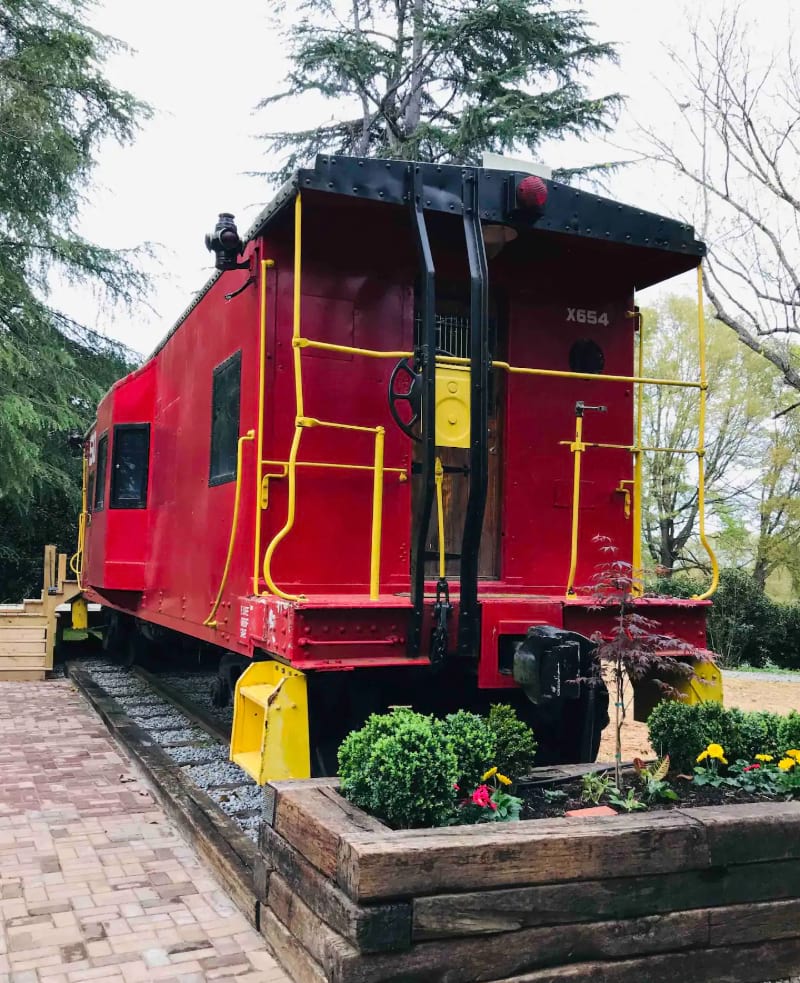 4 Guests
Historic Homestead
Ready to enjoy a different kind of vacation? Well now you have a chance to spend the night in a caboose at one of the best Airbnbs in South Carolina.
Have a romantic stay with your partner, or hang out with a couple of friends and pretend you're on the Orient Express. This cabin in South Carolina is decked out with a queen size bed and two single bunks, plus a seating area overlooking the green gardens.
The train is located on a historic homestead where you can have a full Southern breakfast each morning. While the cabin is secluded, you are still close to Spartanburg for shops, arts, entertainment and restaurants.
Top 5 Airbnb Experiences in South Carolina
One of the most interesting ways to peel back the curtain and discover South Carolina, is by participating in one of many Airbnb Experiences. These experiences are curated and run by passionate locals who are excited to show off the places they live.
Through the eyes of the residents, you can learn the history of South Carolina, hike through picturesque hills or sail the harbors at sunset. All the while, you will be seeing SC in a way that wouldn't have been possible by yourself.
Another side to Airbnb Experiences, are the classes. These can range from painting, to ring making and cooking, all arranged by South Carolinians who have a unique set of skills to teach.
With all that being said, here are our favorite Airbnb Experiences in South Carolina.
$100 p/p
90 Minutes
Up to 6 People
Water Included
Head out along one of South Carolina's most scenic rivers to explore the salt marshes around Folly Beach.
Cruise by Morris Island, an uninhabited barrier island where you will stop for a swim and to hunt for shells. From there, you will see the historic Morris Island Lighthouse.
Along the tour you'll no doubt see a variety of local wildlife, hopefully including the Atlantic Bottlenose Dolphin.
If you are a photography buff, you'll love the never ending views on the river, especially as the sunset begins! Bring along a couple of beverages to enjoy the show.
$95 p/p
2.5 Hours
Up to 6 People
Water Included
Jump aboard your yacht for the evening and begin exploring the scenic Charleston Harbor. Raise the sails and kill the engine as the wind powers you along.
Along with friends and family, bring along some drinks and feel the relaxing sensation that only comes from sailing.
If you want to get involved with the navigation, your captain will be happy to hand over the helm and teach you some tricks.
Make your way to various landmarks like the Batter, USS Yorktown, Castle Pinckney, Fort Sumter and the famous Ravenel Bridge.
But all things stop as you sit on the top deck and soak in the South Carolina sunset.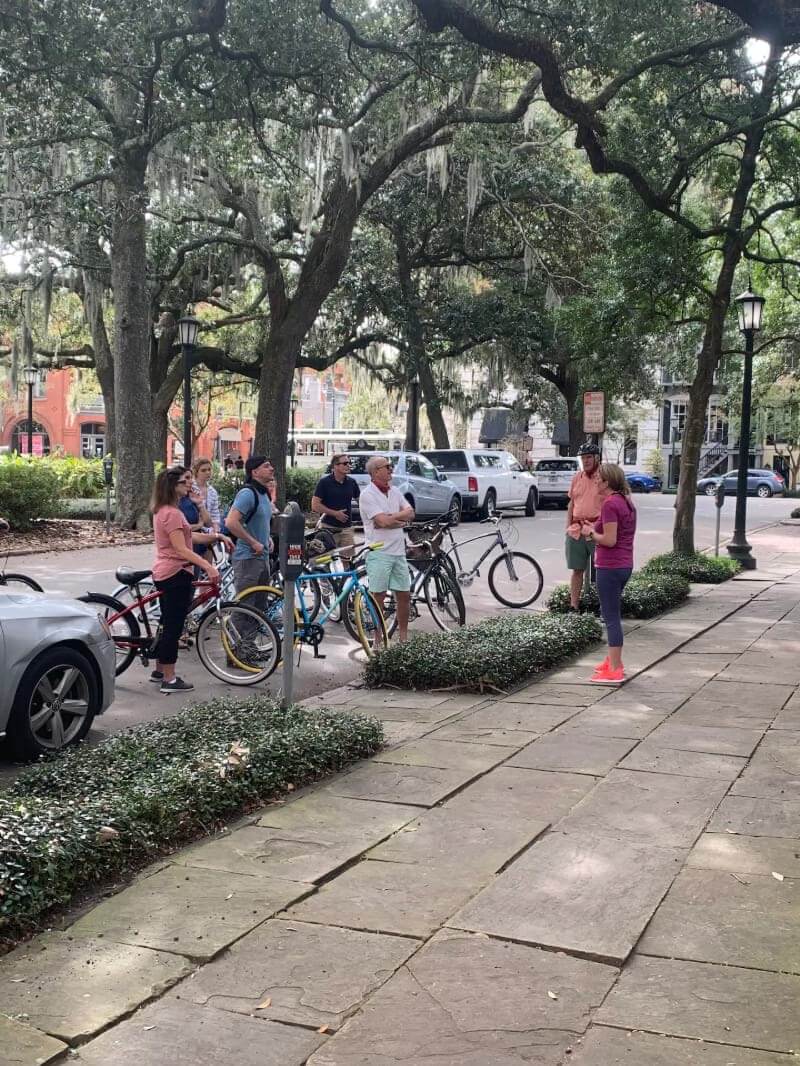 $25 p/p
90 Minutes
Up to 6 People
Transport Included
On your historical bike tour of Savannah you will receive a unique and comprehensive insight into this historic town. Riding around on your bike you will cover much of the old town, and visit many popular sites.
Your experienced tour guide will help you travel back in time to the mid 1800s and early 1900s, to learn about the town's early days.
At each stop you will learn specific stories about the landmark, and maybe a few local secrets. Your guide will also make recommendations for restaurants and places to hang out during your stay.
You'll even have to option of keeping the bikes for a while post tour, so you can continue your exploration.
$150 p/p
4 Hours
Up to 10 People
Food & Drinks Included
Led by acclaimed Charleston chef, Forrest Park, have a unique food tour experience that will take you around the city. Uncover Charleston's culinary gems and hidden history.
As the only certified chef and tour guide, there is no person better suited to taking you on this tour than Chef Park. He tells the 400 year story of Charleston in an entertaining 90 minute walking tour.
All the while, learn the history that helped shape this city into one of the world's top food destinations. Finish the tour at Bistro A Vin, where your chef/guide shows how to prepare his own recipes. Enjoy a lunch and wine pairing before taking the recipes home with you!
$28 p/p
2 Hours
Up to 10 People
Cocktails Included
Go on a pub crawl with a twist in Savannah! Drink your drinks but also dive into a tour that focuses on true crime.
Walk through Savannah at twilight and discover the city's murderous, scandalous and fascinating history. With serial killers, unsolved cases and passionate crimes, there is much to discuss.
Sip on your cocktails as you walk, and learn the crazy past inbetween each of the four bars you visit.
Don't Forget Your South Carolina Travel Insurance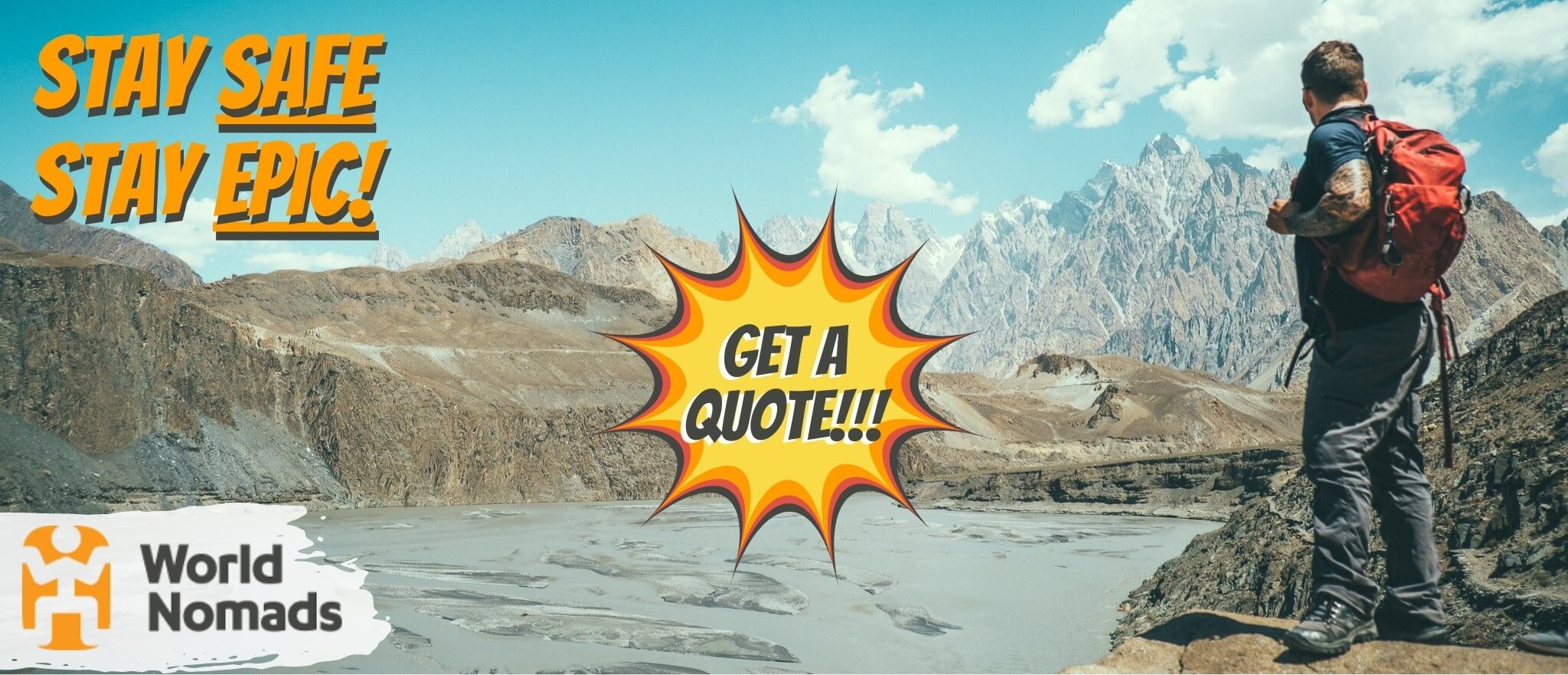 World Nomads' mission is to support and encourage travellers to explore their boundaries. They offer simple & flexible travel insurance, and safety advice to help you travel confidently.
They've been doing it since 2002 – protecting, connecting, and inspiring independent travellers just like you.
Get a quote below or read our in-depth review!
World Nomads provides travel insurance for travelers in over 100 countries. As an affiliate, we receive a fee when you get a quote from World Nomads using this link. We do not represent World Nomads. This is information only and not a recommendation to buy travel insurance.
Final Thoughts on South Carolina Airbnbs
Exploring South Carolina is a rewarding venture in itself. With historic cities, beautiful countryside and sparkling beaches you can't go wrong. But, the best Airbnbs in South Carolina, elevate your adventure. The place you rest each night won't be so humdrum.
Enjoy romantic escapes to beautiful homes, or be right on the beach without having to empty the bank account. Give the kids space to run and be free, all the while giving mom a minute's breather.
Airbnbs in South Carolina present an inherent ease to your journey, with contactless check-in and living spaces that were designed for people to use, seemingly unlike a hotel.
So go forth and explore this wonderful state, and fall in love with your home away from home.
Before the trip to South Carolina, consider picking up some travel insurance.
---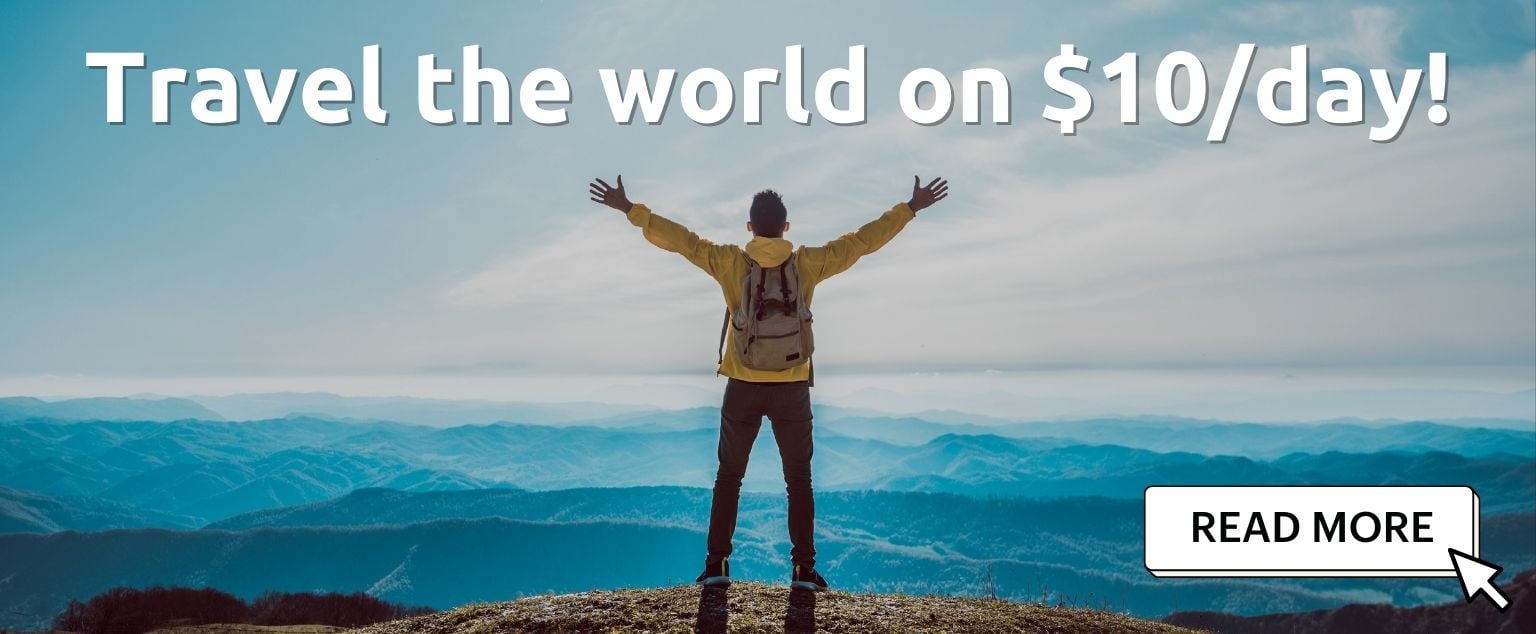 And for transparency's sake, please know that some of the links in our content are affiliate links. That means that if you book your accommodation, buy your gear, or sort your insurance through our link, we earn a small commission (at no extra cost to you). That said, we only link to the gear we trust and never recommend services we don't believe are up to scratch. Again, thank you!