Are you dreaming of getting snowed in while staying inside a warm and cozy cabin in the wild? Or are you thinking of running away from your hectic life of the city and setting camp in the foot of some mountains? In that case, make sure to head to Vermont for a rural adventure in the wilderness.
Vermont is one of the most picturesque states in New England. It is well-known for its stunning fall foliage and scenery, and is a number one destination for winter sports and recreation. It is also an ideal summer retreat, revealing an abundance of incredible hiking and mountain biking trails and lakes to swim in.
There is no doubt that Vermont is a haven for adventure lovers.
With incredible all-season scenery, staying in a hotel is not going to add any magic to your vacation. That's why staying in a cabin in Vermont is such a good idea – not only are you staying in a building that matches your surroundings, but you've got all the homely comforts you won't get in a hotel.
A log cabin with a crackling fireplace is synonymous of a Vermont cabin. If that sounds ideal to you, read on to see the best cabins in Vermont!
In a Hurry? Here's Where to Stay in Vermont for One Night
FIRST TIME IN VERMONT
Sugarhouse Cabin
First timers in Vermont should book this cabin in Elmore, Stowe right away. Surrounded by beautiful meadows, a blueberry farm, and lots of quiet and calm, this cabin's location is perfect. Add to this plenty of outdoor recreation such as hiking, biking, and skiing nearby and affordable prices, and you have your perfect escape in Vermont. Equipped with a kitchen, Wi-Fi, and other amenities, this cabin is really a gem with great value.
NEARBY ATTRACTIONS:
Oxbow Park, Morrisville
Stowe Mountain Resort
Craftsbury Outdoor Center
Is this amazing Vermont Cabin booked for your dates? We've got your back with our other favorite properties below!

Unlock Our GREATEST Travel Secrets!
Sign up for our newsletter and get the best travel tips delivered right to your inbox.
Staying in a Cabin in Vermont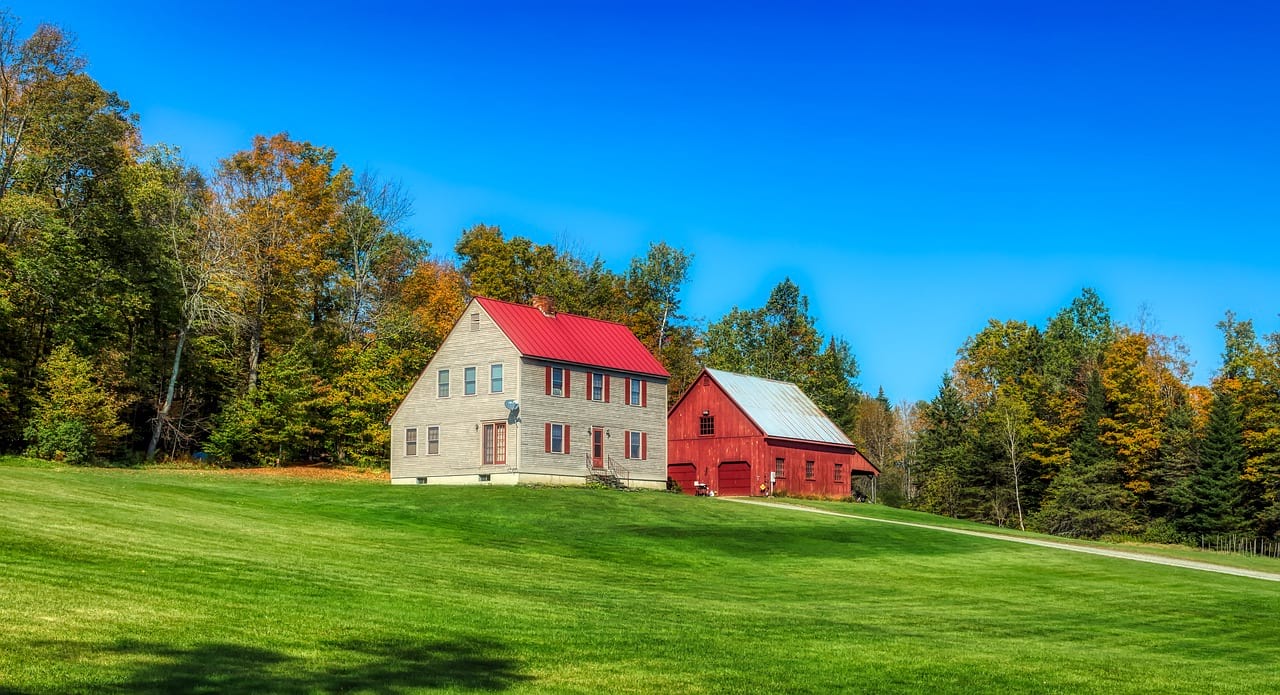 While there are many types of accommodations to choose from if you're visiting Vermont, no accommodation can match up to a cabin. Vermont is a gorgeous place to visit and for many good reasons. Imagine waking up to a beautiful sunrise over the mountains and watching spectacular landscapes right from your front door. What a cool experience that would be!
From beautiful lakeside cabins to rustic wooden log cabins with mountain views, you have something for every landscape. And it doesn't matter if you're travelling with friends, or family, or with a partner or even solo, you'll have the perfect cabin to suit your needs. Most of the cabins are located near popular trails so you're never too far from all the adventure awaiting you.
What to Look for in a Cabin
Location and amenities are important to consider when searching for a cabin in Vermont. You definitely want to choose a secluded and private cabin if you want a rural retreat, or if you don't want to be cut off, choose somewhere near enough to town so you can still feel some homey comforts. Whichever you prefer, you will have access to some of the most spectacular landscapes at your front door.
Cabins in Vermont offer a number of sought-after amenities, such as hot tubs, fireplaces, outdoor patios, BBQ grills, and fire pits with river or mountain and valley views. However, Wi-Fi service is kind of 'frowned upon' as in, not offered, mainly because the whole idea is to have some off-the-grid living experience. You might also find the cell service to be patchy in some areas, so if you still want to remain connected to the outside world, you should check if Wi-Fi is offered and what former guests say about the cell service.
You should also check accessibility. While all cabins are connected to the road and offer parking, great for those on a New England road trip, not all roads are accessible by standard vehicles. If you're choosing a mountain retreat, it might be the case that you need a 4×4 vehicle to access the cabin.
The ideal place to start your search for the perfect cabin is by looking through Airbnbs in Vermont or searching on Booking.com. These websites allow you to put the right filters in place and provide a great range of cabins to choose from. But it takes time to separate the wheat from the chaff, so worry not! I've listed the coziest and fun cabins for your stay in Vermont below.
CABIN FOR OVERALL BEST VALUE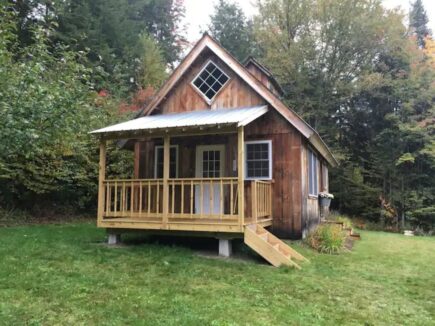 CABIN FOR OVERALL BEST VALUE
Sugarhouse Cabin
> $$
> 4 Guests
> Wi-Fi
> Full Kitchen
BEST BUDGET CABIN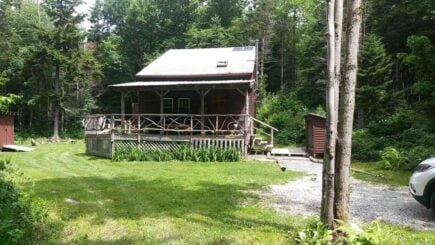 BEST BUDGET CABIN
Off the Grid Comfort
> $
> 4 Guests
> Full Kitchen
> Fire pit
BEST CABIN FOR SOLO TRAVELLERS / BACKPACKERS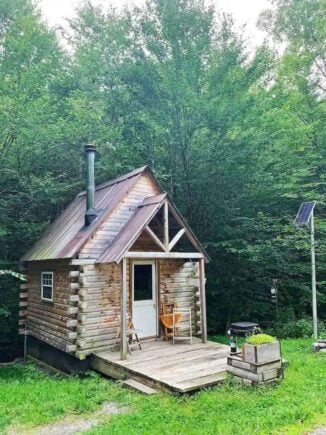 BEST CABIN FOR SOLO TRAVELLERS / BACKPACKERS
Cozy Log Cabin
> $
> 3 Guests
> Full kitchen
> Cellular coverage
BEST CABIN FOR A COUPLE
BEST CABIN FOR A COUPLE
Cabot Cabin
> $$
> 2 Guests
> TV with streaming services
> Full kitchen
BEST CABIN FOR A ROMANTIC GETAWAY
BEST CABIN FOR A ROMANTIC GETAWAY
Lovely Tree house in the Woods
> $$$
> 2 Guests
> River view
> Kitchenette
BEST CABIN FOR A FAMILY
BEST CABIN FOR A FAMILY
Lavish Private Cabin in the Mountains
> $$$
> 4 Guests
> Wi-Fi
> Hot Tub
BEST CABIN FOR A GROUP OF FRIENDS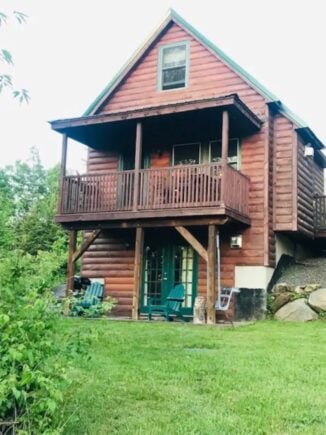 BEST CABIN FOR A GROUP OF FRIENDS
Log Cabin Home in East Burke
> $$
> 6 Guests
> Mountain and valley views
> Washer/dryer
The 12 BEST Cabins In Vermont
Now you know what to expect from a cabin in Vermont, it's time to take a look at the best ones. Looking for a getaway near home or just visiting the gorgeous mountain state? You'll want to stay in one of these incredible cabins in Vermont!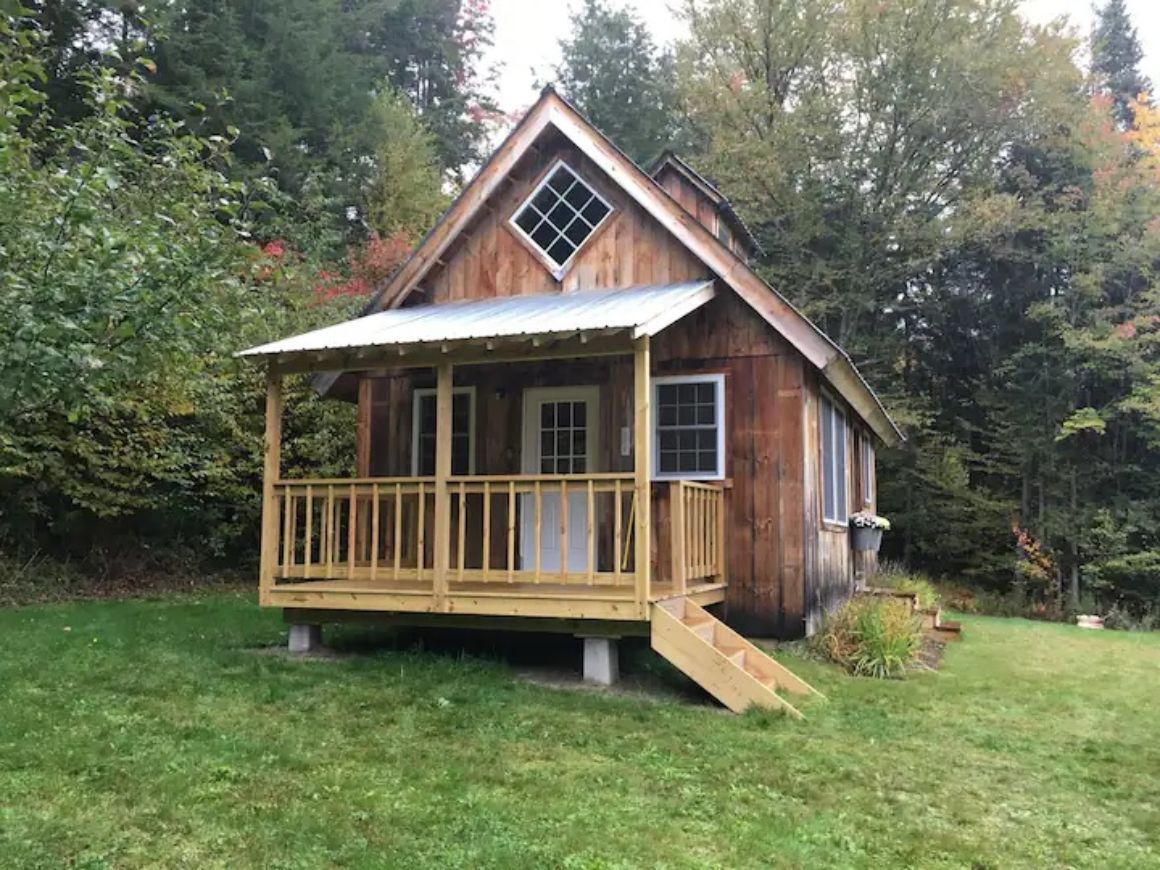 $$
4 Guests
No Wi-Fi
Full Kitchen
True to its meaning, this "cabin in the woods" is exactly that – a cabin in the woods, surrounded by quiet, calm, and seclusion. It is centrally located to plenty of outdoor recreation such as hiking, biking, walking, and even skiing, and snowshoeing. With a general store and grocery store nearby and just half an hour's drive to Stowe, this cabin is a gem with great value.
So enjoy your time out of the city in this wonderfully remote cabin that has all the modern amenities, except WiFi, so you can really enjoy your time in the wilderness.
The cabin is surrounded by beautiful meadows and a blueberry farm and has plenty of outdoor space with a fire pit so you can roast marshmallows under the starry sky. The cabin has comfy beds, a full kitchen, and is child-friendly.
$
4 Guests
Full Kitchen
Fire pit
Off-the-grid budget accommodations don't come any better than this cabin. Perfectly located just 15 min from Readsboro, this classic cabin still gives you the feeling of being in the middle of nowhere.
With no electricity or Wi-Fi, you can be sure to have the most peaceful (and screen-less!) time of your life here. The serenity, the surroundings, and the secluded location – the place is like stepping back in time!
This rustic mountain cabin keeps taste and comfort in mind. You'll have a double bed, bunk beds, and a futon couch for your party, but don't forget to bring your own linens. There is a full kitchen and indoor fireplace. The outdoor amenities are on point: there is a portable toilet and hot shower, and an outdoor dining space with a fire pit and grill – perfect for hosting a great BBQ party!
Best Cabin in Vermont for Backpackers – Cozy Log Cabin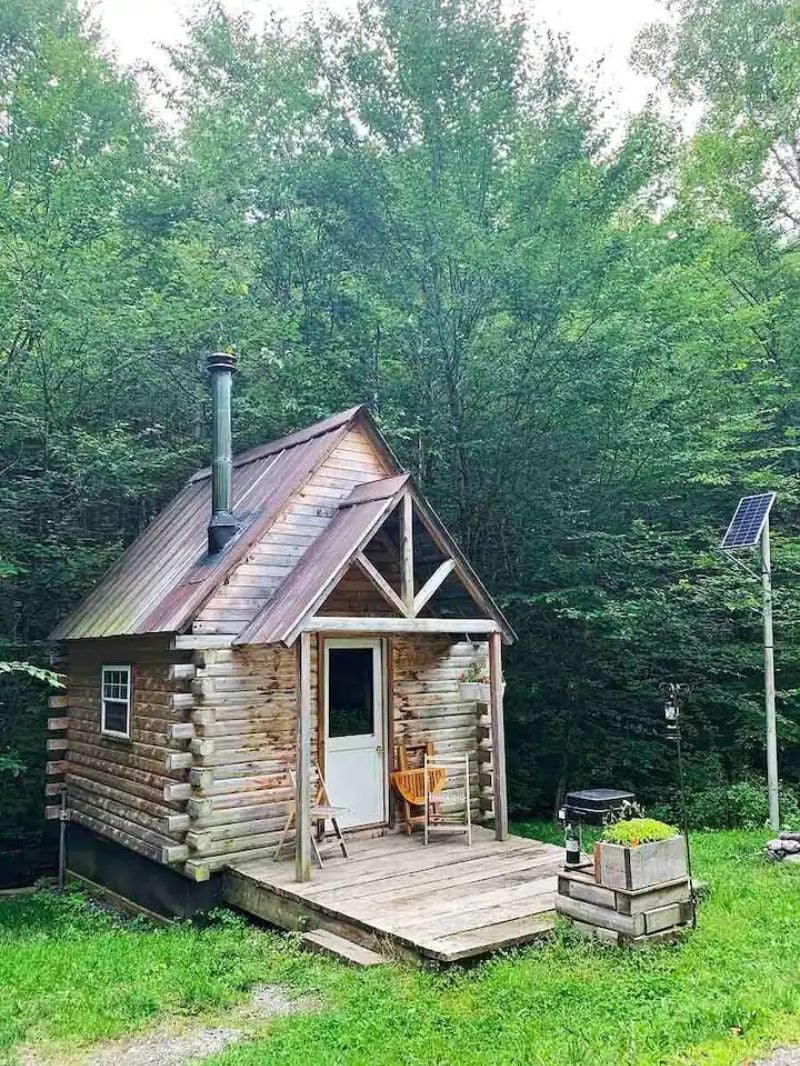 $
3 Guests
Full kitchen
Cellular coverage
Solo travelers, backpackers of the USA, and adventure seekers will love this cozy log cabin in Cambridge, Vermont. This one's a special retreat just half an hour away from Stowe and ideal for a quick escape full of outdoor recreation.
The area is surrounded by woods with hiking trails, horseback riding trails, canoe/kayak rentals, and there's even a private waterfall just minutes from the cabin.
Budget-friendly and with good basic amenities, the cabin is like camping in a hotel. Although small in size, it has comfy beds (brings your own linens!), a wood stove, solar electricity, and a full kitchen with a fridge. Ask them for the hot water shower and bring your towels!
Best Cabin in Vermont For Couples – Cabot Cabin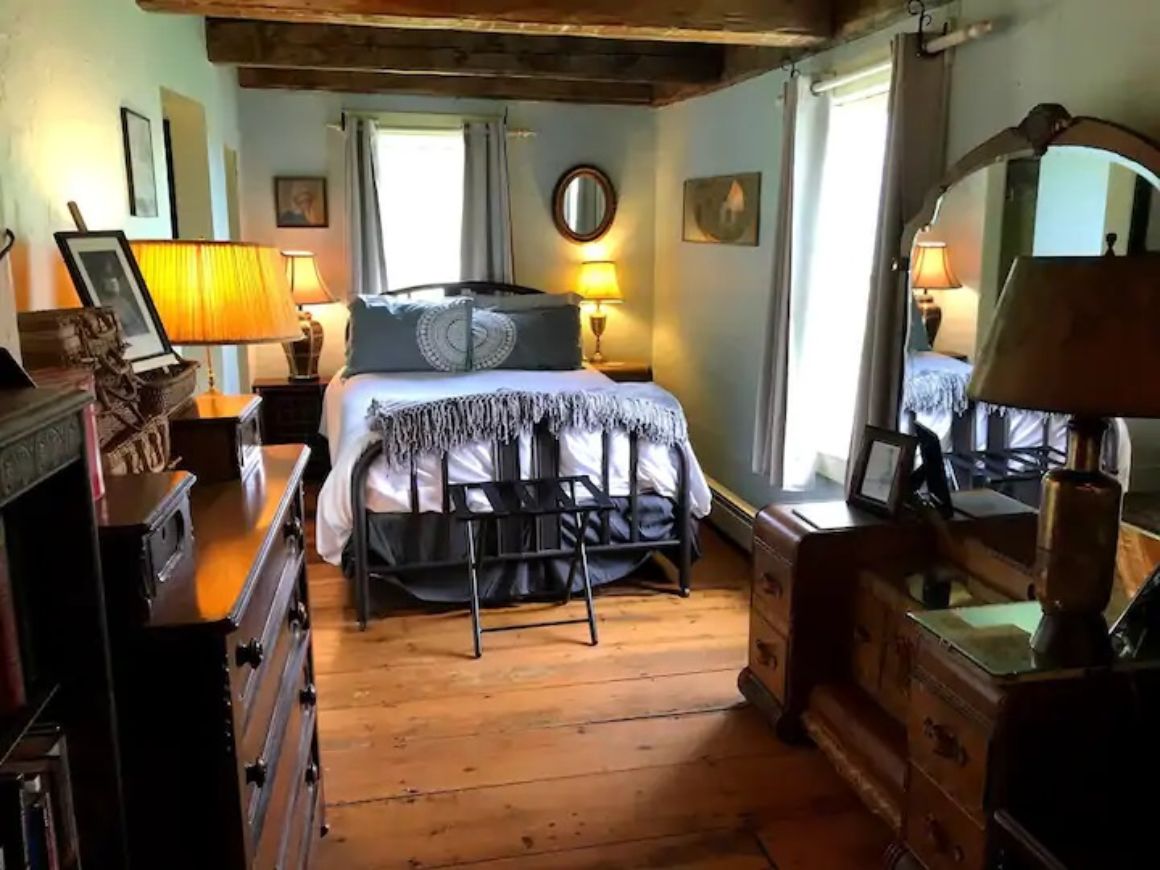 $$
2 Guests
TV with streaming services
Full kitchen
If you're in for some rustic vacationing with your partner, head on to this cabin in Cabot Vermont. Sitting on a dirt road not far from the main road and Cabot Village, this charming cabin is a cozy pick for couples. There are trails for biking, hiking, and walking nearby, as well as restaurants and pubs within a few minutes of driving.
The cabin itself is a charmer. There is a nice bedroom, a streaming TV with a DVD player, and Wi-Fi. You'll have a full kitchen and outdoor spaces for dining and BBQ grill. When you're back home after a day of wandering, you can jump into bed or sit on the porch and relax.
No need to book a bed and breakfast in Vermont, this cabin has everything you need!
Is This the Best Travel Pack EVER???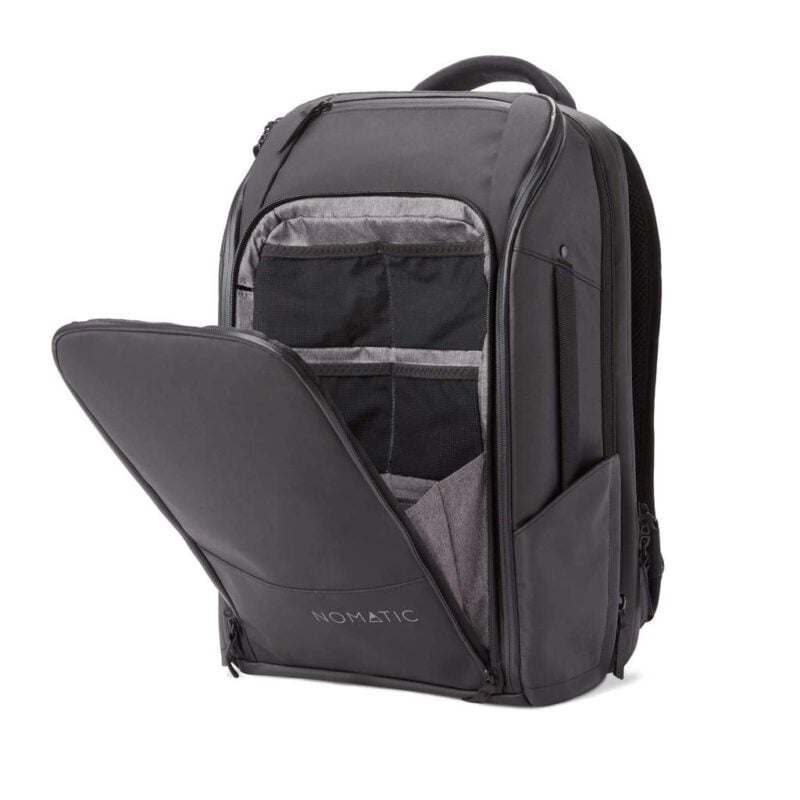 $$$
2 Guests
River view
Kitchenette
Go on the perfect romantic escape in Vermont and stay at this warm and cozy tree house cabin. Hidden in the woods of Hardwick, this cabin is furnished like a modern home and yet has a rustic vibe. Let the stresses of life wash away as you spend some special alone time with your partner, listening to the sounds of the river outside.
This cabin has almost all of the amenities you'd expect from a typical cabin. There's an indoor fireplace, an equipped kitchenette to make simple meals, a comfy loft bed, and a basic composting toilet.
Outside the cabin, you have a hammock, a seating & campfire area, a BBQ grill, and a porch overlooking the river. From your cabin, you can walk through the woods or just sit by the river. It looks like the perfect place to spend an autumn weekend too as Vermont in the fall is absolutely stunning.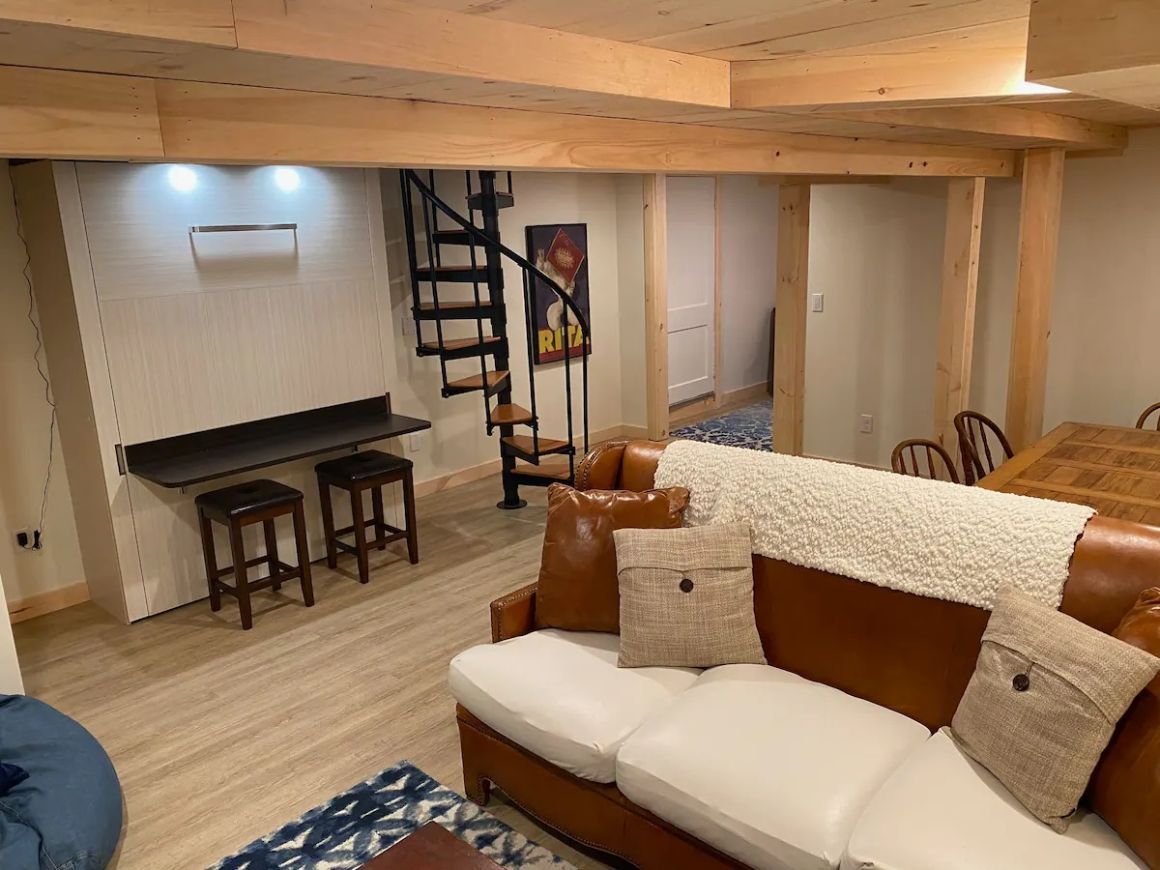 Whimsical charm with wooden tables and timber throughout, makes this cabin feel like quintessential Vermont.
With dim lighting, this cabin makes for a very welcoming and natural vibe for you and your family. Located between two ski villages and minutes from Echo Lake, Woodward Reservoir, and Buttermilk Falls, this cabin could not be more than the perfect hideaway. Plenty of outdoor recreation awaits you at this cabin!
This cabin has a nice farmhouse-style full kitchen, dining room, a comfortable living room with couches and TV, and a cool basement area with an open living room and more amenities. With comfy beds and a fully stocked bathroom inside, and a hot tub, grill, and fire pit outside, it is just like your home away from home.
Best Cabin in Vermont for Groups – Log Cabin Getaway
$$
4 Guests
Garden and mountain views
Wi-Fi
Sitting quietly between the Green Mountains and the Champlain Valley, this rustic cabin should be your pick if you want a more budget-friendly escape with your family.
Surrounded by a forest with walking trails, beaver dams, and wildlife, this cabin gives a truly outdoorsy experience. Its location also provides easy access to the nearby town's restaurants, shops, and markets.
Enjoy your stay within the warm wooden interiors of this cabin. Relax on the comfy beds and make sure you're comfortable in whichever season, with fireplace heating in winter and air-conditioning in summer.
The cabin has a full working kitchen, should you want to make your meals and a picnic table and grill outside for the perfect BBQ night. There's no TV, but then who wants to watch a screen while vacationing out in the woods?
$$
6 Guests
Mountain and valley views
Washer/dryer
This well-equipped cabin has everything you and your friends will need for the perfect stay in Vermont. Located on a private and quiet land in East Burke, this adorable cabin is like a "faux log home". With great amenities and even great views of the mountains and the valley, this one's a winning pick.
With three floors of living space and a deck overlooking some stunning sunset views, this cabin guarantees a splendid vacation.
Classic Vermont charm exudes from the inside as you relax in the warmth of the indoor fireplaces or on the comfy beds in the sleeping spaces. The kitchen is fully equipped and you have access to a washer and dryer in the basement.
Best Cabin for a Weekend Getaway – Quaint Log Cabin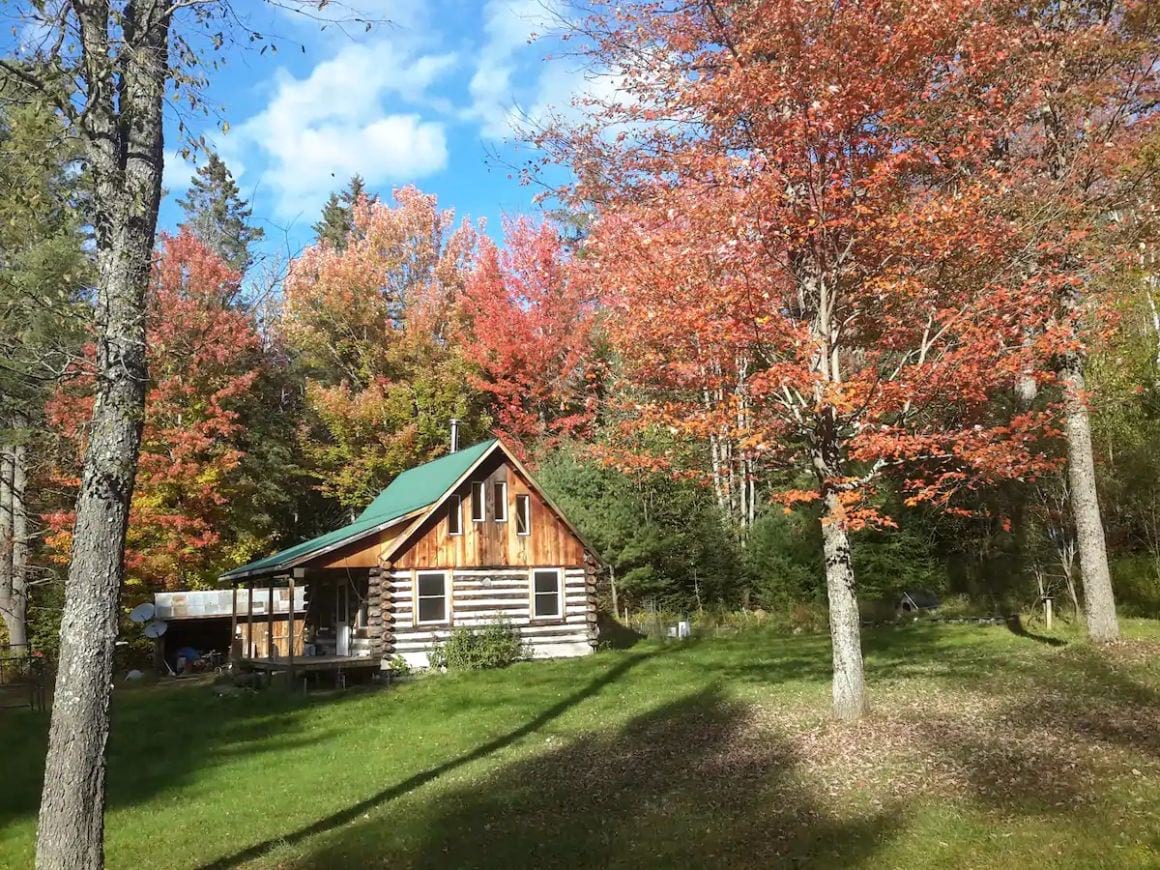 $$
4 Guests
Child-friendly
No Wi-Fi
Promising a truly natural outdoor experience in Vermont, this quaint log cabin in Burke is perfect for a weekend getaway with your family or friends. Located in a secluded spot, with the Kingdom Trail network right across the road, this cabin is a breath of fresh air.
As with most cabins in secluded areas, this one also comes with some basic amenities. While there is no Wi-Fi access (again, who would want Wi-Fi on a vacation?) the place does offer some cellular service and a smart TV with a DVD player to watch movies.
The cabin has a full kitchen and outdoor space where you can have a BBQ or roast some smores!
$$
4 Guests
Mountain View
Bathtub
Now, what can I say about this cabin? Only that it is a beautiful and unique private treat on the edge of the Green Mountain Forest.
Offering tranquility and easy access to outdoor places such as the Battenkill, the Green Mountain Forest, and Mount Equinox, this cozy cabin is a gem. It is also only half an hour away from Manchester with great shopping and dining options.
Relax in this cabin as you take in the stunning views of the area. The cabin is unique in that it is circular – a "silo house" – with the living room, dining area, and kitchen in an open floor plan.
Jump in on the comfy beds upstairs or just lounge on the sofa bed in the living room. The cabin has a full bathroom with a bathtub and essentials and a washer and dryer for use. A full kitchen is available to make meals and it even has Wi-Fi and TV!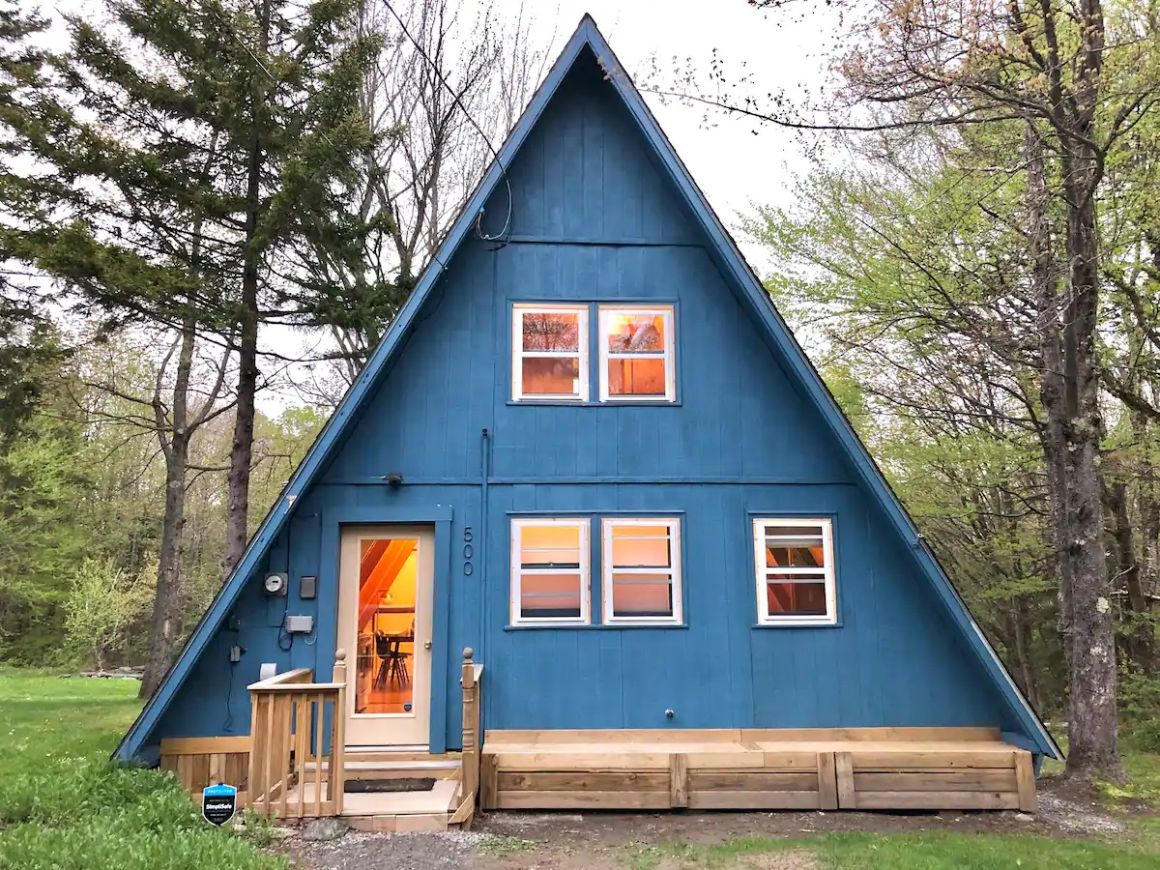 $$$
4 Guests
Air-conditioning and heating
Outdoor grill and dining
Downright stunning with its bright blue walls and its charming interiors, this alpine A-frame is a cabin in Wilmington you'd want to splurge on. A lovely lake, state parks with plenty of hiking, skiing, and other outdoor recreation are nearby.
This cabin is equipped with everything you can imagine to have for a luxury getaway. It has a full farmhouse-inspired kitchen, a wood-burning fireplace, a fully stocked bathroom, and a comfy bedroom. The interiors are tastefully done and boast of being sanitized and clean.
For an awesome experience, have a BBQ outside, where you have a nice dining space and fire pit against a beautiful woods backdrop. Or you can have a meal under the stars at night!
$$$$
2 Guests
Indoor fireplace
Wi-Fi
If you want to splurge a bit on your next vacation, you will surely love to stay at this cute tiny home cabin! Nestled in the hillside of a farm in Townshend, the Solar Cabin is stylish and squeaky clean.
Welcoming you with warmed-up interiors, this cabin is placed in a beautiful location in the middle of some Vermont wilderness. Enjoy the views of the tranquil surroundings from the large windows as you relax on the sofa by the fireplace.
With light, airy, and modern interiors this cabin has all that you need for a luxury vacation. The king-size loft bed is super comfy for a good night's sleep. The kitchen is elegant and has all the essentials to make a nice meal. This cabin is the perfect respite from life.
Don't Forget Your Vermont Travel Insurance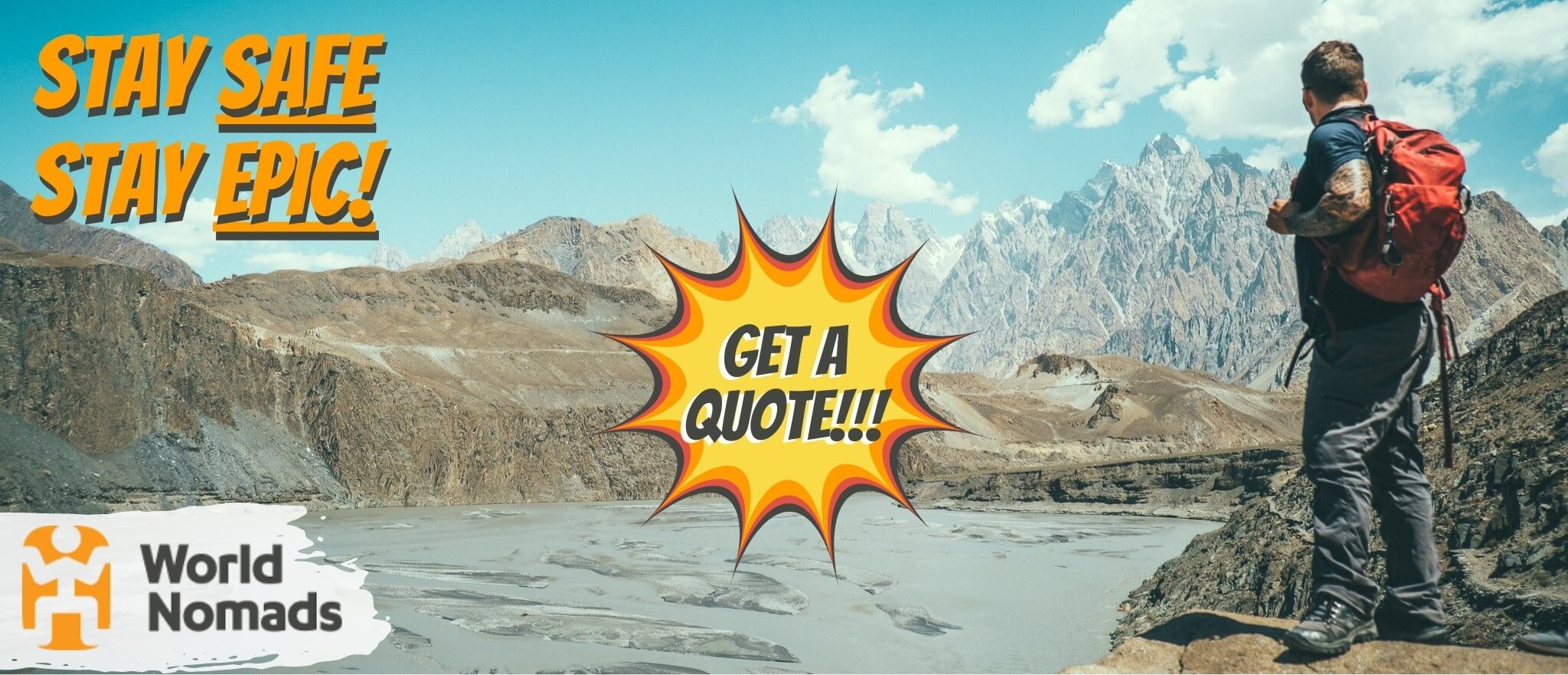 World Nomads' mission is to support and encourage travellers to explore their boundaries. They offer simple & flexible travel insurance, and safety advice to help you travel confidently.
They've been doing it since 2002 – protecting, connecting, and inspiring independent travellers just like you.
Get a quote below or read our in-depth review!
World Nomads provides travel insurance for travelers in over 100 countries. As an affiliate, we receive a fee when you get a quote from World Nomads using this link. We do not represent World Nomads. This is information only and not a recommendation to buy travel insurance.
Final Thoughts on Cabins in Vermont
From wooden log cabins to elegant tiny homes to luxury cabins, Vermont has some of the coziest places to stay for everyone. Cabins add that rustic and raw charm to your adventures in the state.
With plenty of outdoor recreation opportunities and places nearby, these cabins are awesome places to stay in for a magical Vermont experience.
Most of these cabins have great features and amenities you can enjoy with your party, the most basic ones being a fireplace, full kitchens, outdoor grills, and dining and private decks where you can relax and have some hot coffee.
And might I remind you, if you're travelling internationally, it is always safe and wise to take travel insurance. It helps keep you safe on your travels in case of any unforeseen events and makes you a smart traveler too!
---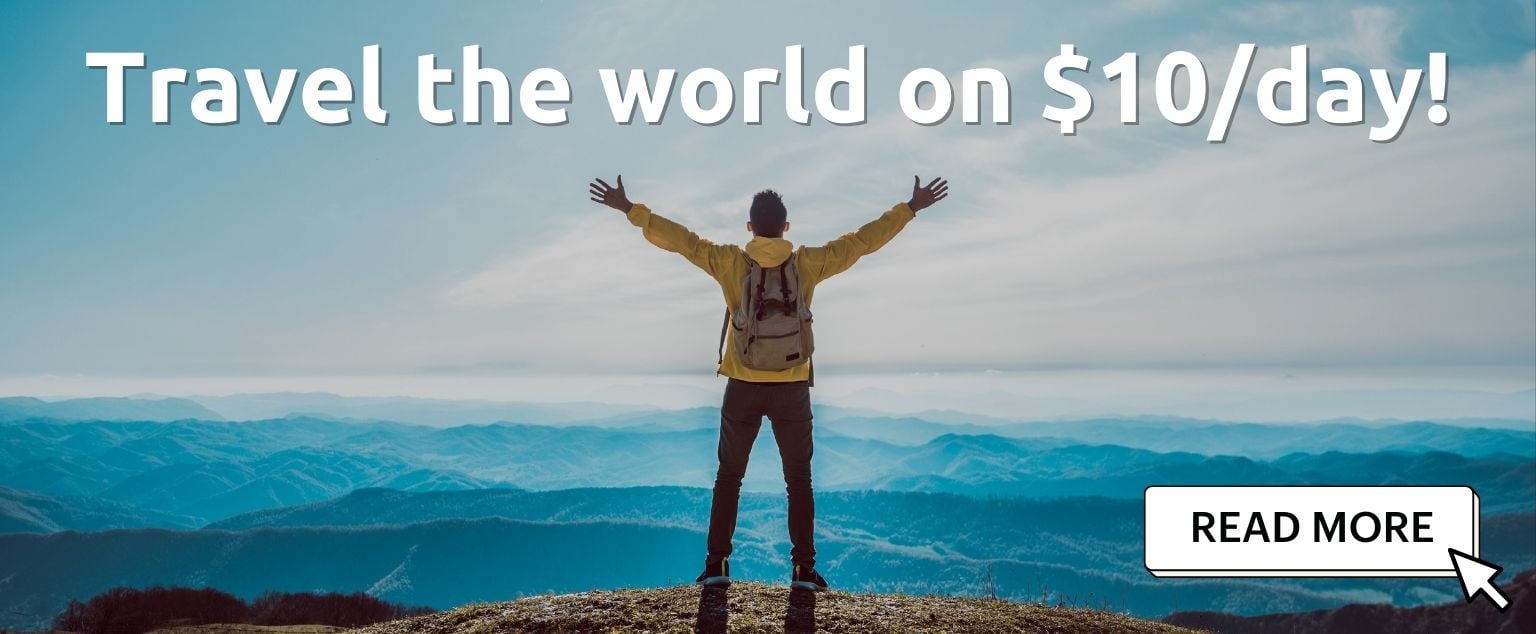 And for transparency's sake, please know that some of the links in our content are affiliate links. That means that if you book your accommodation, buy your gear, or sort your insurance through our link, we earn a small commission (at no extra cost to you). That said, we only link to the gear we trust and never recommend services we don't believe are up to scratch. Again, thank you!