Vermont may be one of the smallest states, both in size and population in America, but that doesn't stop it from being one of the best.
With amazing scenery stemming from both the Green and Appalachian Mountains, you will instantly fall in love with Vermont. As you wind through the hills and valleys, the views will be mesmerizing. The sweeping roads alongside rushing rivers will live on in your memory.
Gorgeous small towns hold fascinating history and maintain so much of their original style. Discover delightful bakeries, traditional Vermont maple syrup, cute breakfast hangouts, and warm evening bars.
Vermont experiences all four seasons in the best way possible, with multiple ski resorts, springs spent roaming the farmers' markets, summers by the lake, and watching the leaves slowly change.
A great way to see the Green Mountain State is to stay at one of the many rentals in Vermont. Have an authentic experience in classic towns or be out in the middle of nowhere, in a place no hotel would go. Airbnbs in Vermont will give you that opportunity.
Read on to find out what makes these Airbnbs the best. But, before we get stuck into the best Airbnbs in Vermont, there are a few things think about.
Quick Answer: These are the Top 5 Airbnbs in Vermont
Overall Best Value Airbnb in Vermont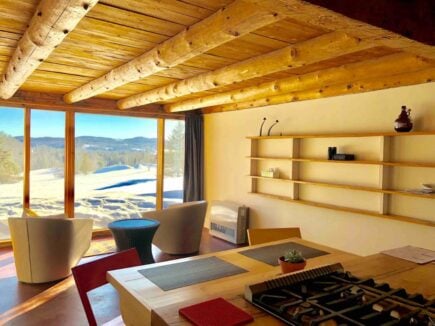 Overall Best Value Airbnb in Vermont
Rustic Retreat
> $$
> 2 Guests
> Great location
> On ski trail
Best Budget Airbnb in Vermont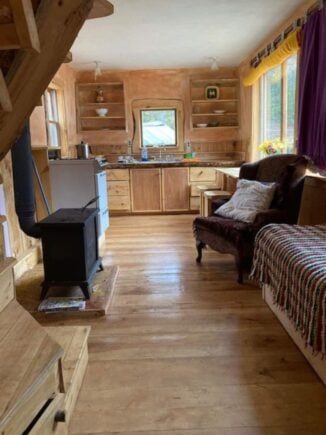 Best Budget Airbnb in Vermont
Sun Ray Tiny House
> $
> 3 Guests
> Maple Sugar Farm
> Off-grid
Best Airbnb for Couples in Vermont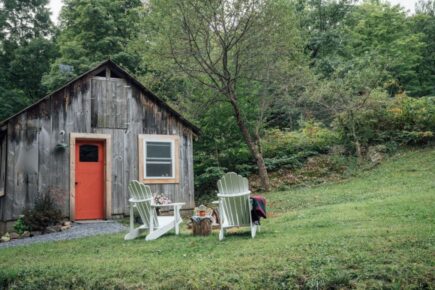 Best Airbnb for Couples in Vermont
Cozy Vermont Barn
> $$
> 2 Guests
> Converted barn
> 40-acre property
Best Airbnb for Families in Vermont
Best Airbnb for Families in Vermont
Mt Killington Home
> $$$
> 8 Guests
> Foosball and ping pong
> Hot tub
Over-the-Top Luxury Airbnb in Vermont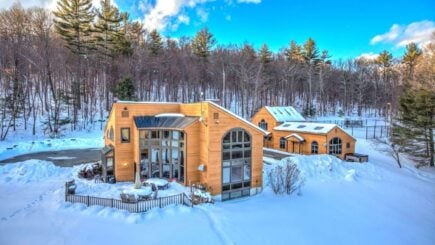 Over-the-Top Luxury Airbnb in Vermont
Private Estate
> $$$$
> 16 Guests
> Game house
> 100 acres

Unlock Our GREATEST Travel Secrets!
Sign up for our newsletter and get the best travel tips delivered right to your inbox.
What to Expect from Airbnbs in Vermont
Instead of looking up what cheap hotels or hostels are located in your destination, try something different. Airbnbs allow you to get creative with your adventure.
If you're set on a trip to Burlington or Montpelier, check out Airbnb! With a homely feeling in some of the coolest neighborhoods, these Airbnb homes are a great place to come home to each evening. But, if you want to get out into nature or go somewhere random, Airbnb can also cater to you.
Vermont is a perfect place to try something new, so trade the dorm room for a cabin in the woods or a cottage by the lake. Walk away with memories of the home that made your trip even better.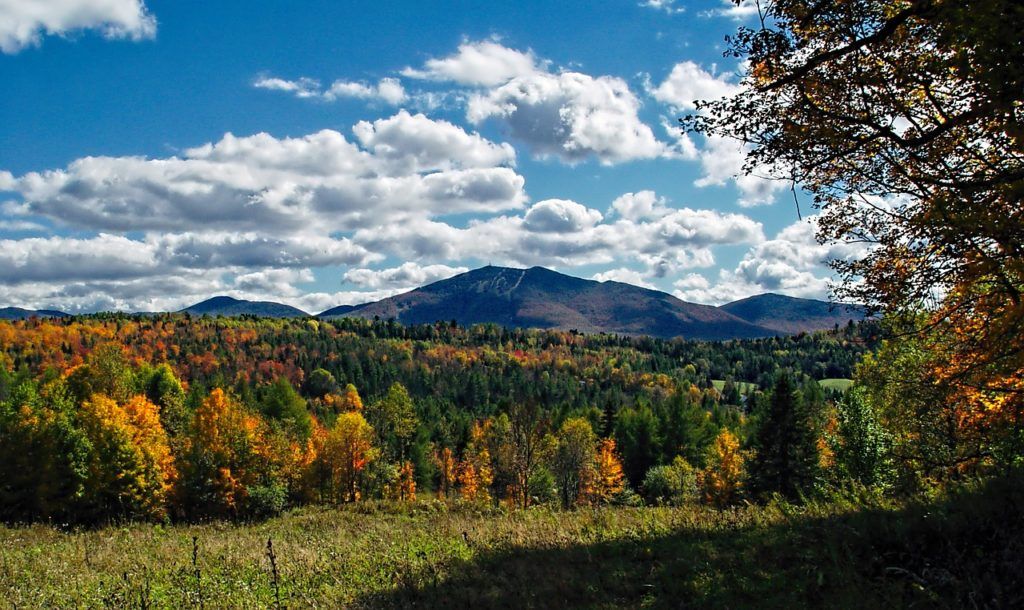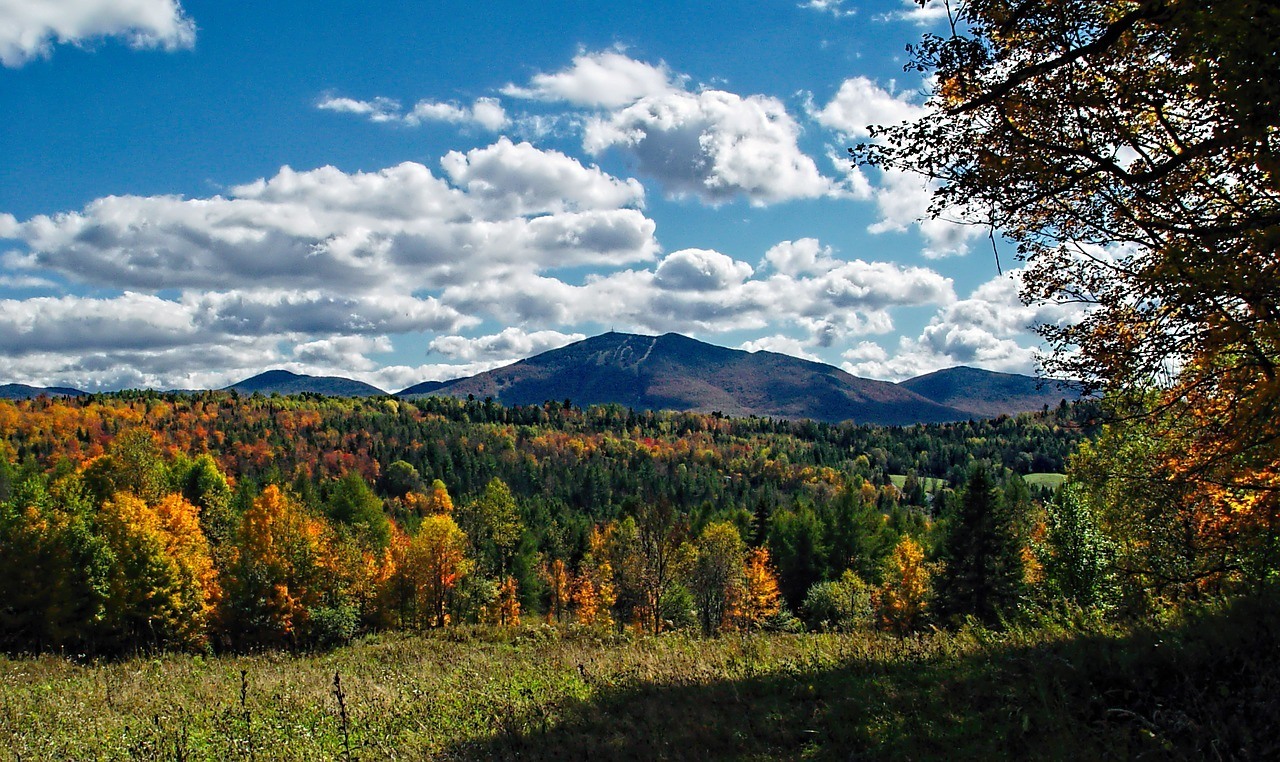 Cottage
For those traveling with family or a group of friends, a trip to a cottage will make for a great vacation.
You can find cottages near all the major towns, but some of the more spectacular ones are alongside lakes and rivers. Have the best of both worlds with full amenities and gorgeous nature in all directions. You will also be close to shops, and other facilities for when they are needed.
Cottages are very kid-friendly, you'll find bunks, board games, and plenty of yard space to run around in. Meanwhile, you will be able to switch off and get some much-needed peace.
Condo
When traveling through Vermont, a condo is a great option if you are looking to be on, or close to, a popular mountain resort. Particularly in the winter seasons, one of the best ways to save on ski accommodation is to grab yourself a condo Airbnb. You will be just minutes from the lifts, and perhaps even have ski-in/ski-out capacity.
Enjoy all the perks of staying in a residential building, such as shared amenities which often include pools, hot tubs, and BBQ areas. Plus, you can enjoy the evening views from the condo balcony.
Condos are excellent for couples, friends, and smaller families who are set on visiting a certain popular vacation destination.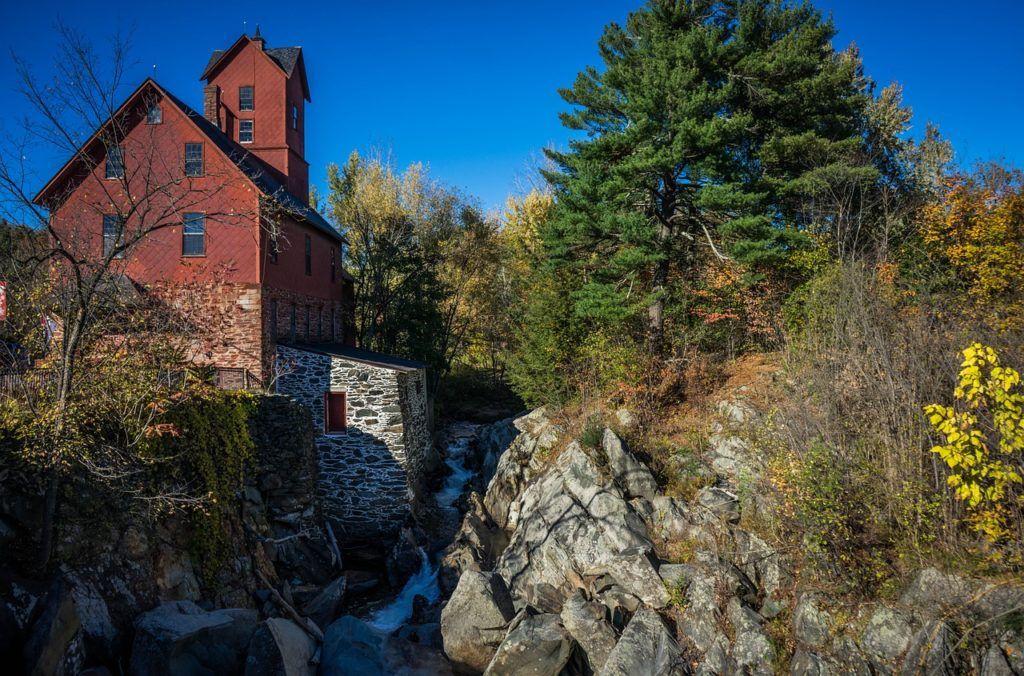 Cabin
The idea of being able to retreat to a cabin in the woods is something I know I'd cherish. Thanks to Airbnb in Vermont, you'll be able to do the same thing.
With 75% of the state covered in forests, there is an abundance of beauty to explore. Thus, there are numerous cabin Airbnbs all throughout Vermont.
Get out of the city, away from the crowds, far from the noise, and disconnect at your very own cabin in Vermont.
You will find one for every budget. From a bare-bones structure with wood heating to a luxury 10-bed log home, their size and beauty know no bounds.
Don't miss out on the chance to live among the Vermont nature, fall asleep to the sounds of rustling leaves, and wake to the sun creeping through the canopy.
Why Stay in an Airbnb?
If you haven't yet seen the light, here are some more reasons to stay in an Airbnb.
Local experience: Discover what your host loves about their town/region, and see Vermont from a different perspective..
Unique properties: Tired of the same old? Head to a yurt, treehouse, or a boat in the marina.
Staying long-term: Can't bring yourself to leave Vermont? Some Airbnbs come with weekly and monthly discounts!
Last-minute bookings: If you don't yet have a place to stay, Airbnb will sort you out ASAP!
Airbnb Experiences: Try local Airbnb Experiences. The best in Vermont are listed below.
The 15 Top Airbnbs in Vermont
Now that you now what to expect from your stay, here are the best Airbnbs in Vermont.
Overall Best Value Airbnb in Vermont | Rustic Retreat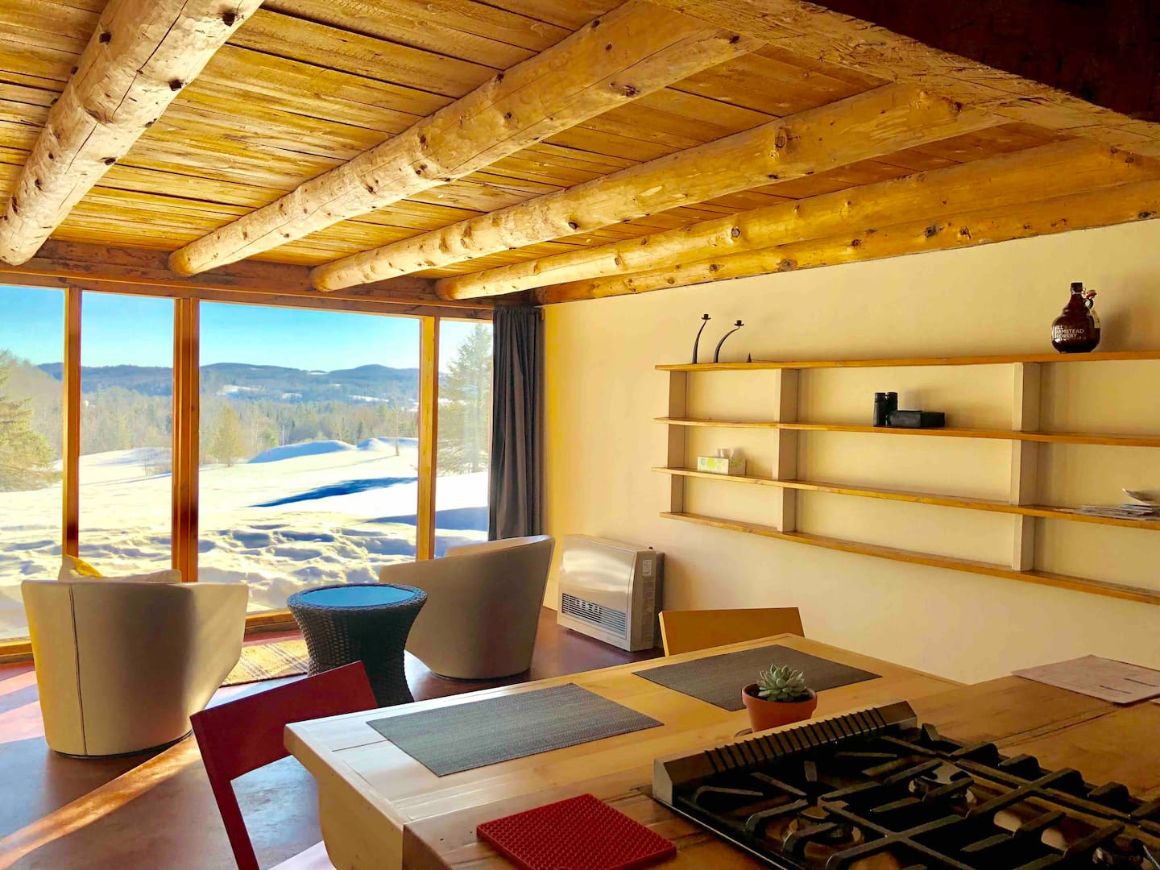 Come and enjoy nature at this stunning Airbnb in Vermont. Featuring a wall of huge windows, this home generates passive solar energy all on its own.
Shut off your phone, unwind, and de-stress with wonderful views out to the fields and mountains beyond.
Take a few steps out the front door and be connected to the local cross-country ski trail along with a bike trail system in the warmer months. When you aren't getting cosy in this beautiful home, you can visit many local restaurants, breweries, and galleries showcasing local artists.
For more adventures, Stowe is a nice 45-minute drive away along scenic country roads.
3 Places to Visit: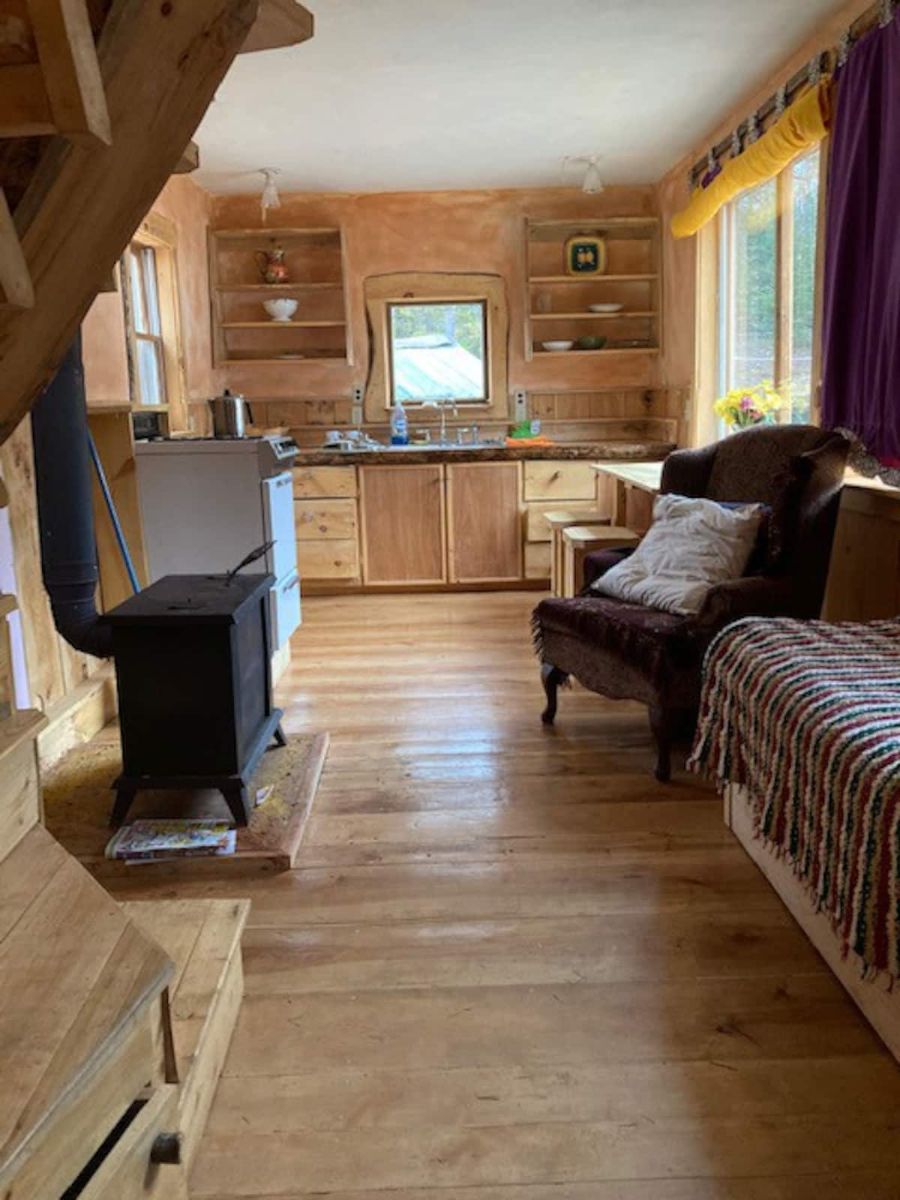 If you are up for a bare-bones experience in a remote setting, this budget Airbnb in Vermont will be your jam.
Stay up on a hill, away from the world. Take in the fresh air every day, and roam the surrounding forests.
If you are arriving in the months of March and April, you will get a first-hand experience of what maple sugaring is all about on the farm.
Spend your afternoons down by Walcott Pond where you can find turtles, fish, wildlife, and loons which can be heard from the house.
When the day is almost done, pack a to-go dinner and walk to the top of the hill to watch the sun go down.
Come and experience life in the heart of Burlington, one of Vermont's most happening cities.
Enjoy your own private room, complete with a queen bed, work desk, and full closet. Perfect for solo travelers who are moving about New England, you will have plenty of room to unpack and chill.
The other bedrooms in the home are occupied by other travelers. The shared living space can be a hub of interesting conversations with people from around the world.
The second you step out the front door, you will be in downtown Burlington. As the home of the University of Vermont, Burlington has plenty to see and do.
I recommend solo travelers take a look at our safety guide for extra traveling tips.
Is This the Best Backpack EVER???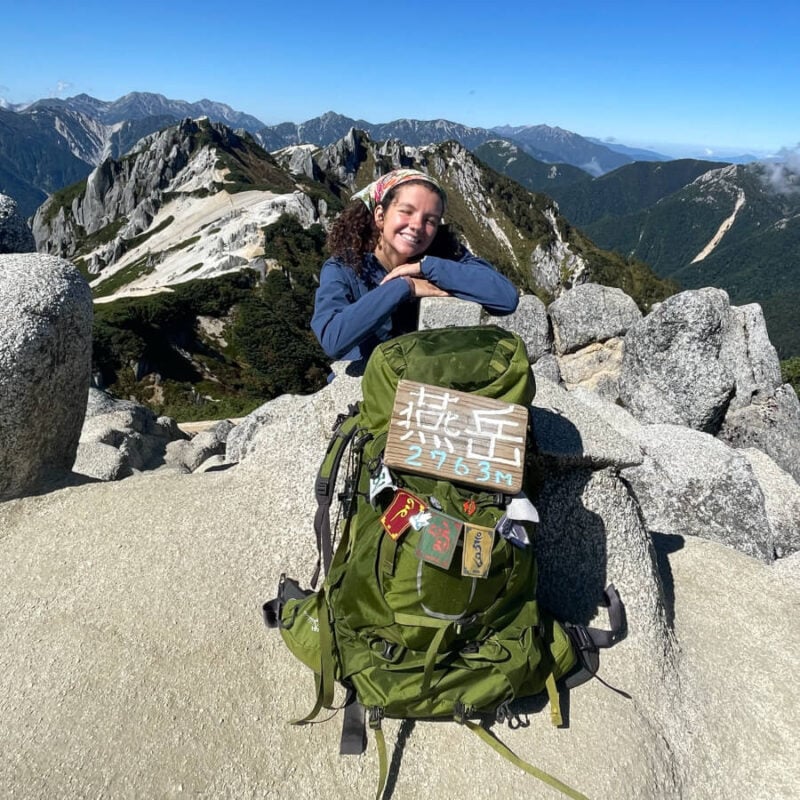 Most Romantic Airbnb for Couples | Cozy Vermont Barn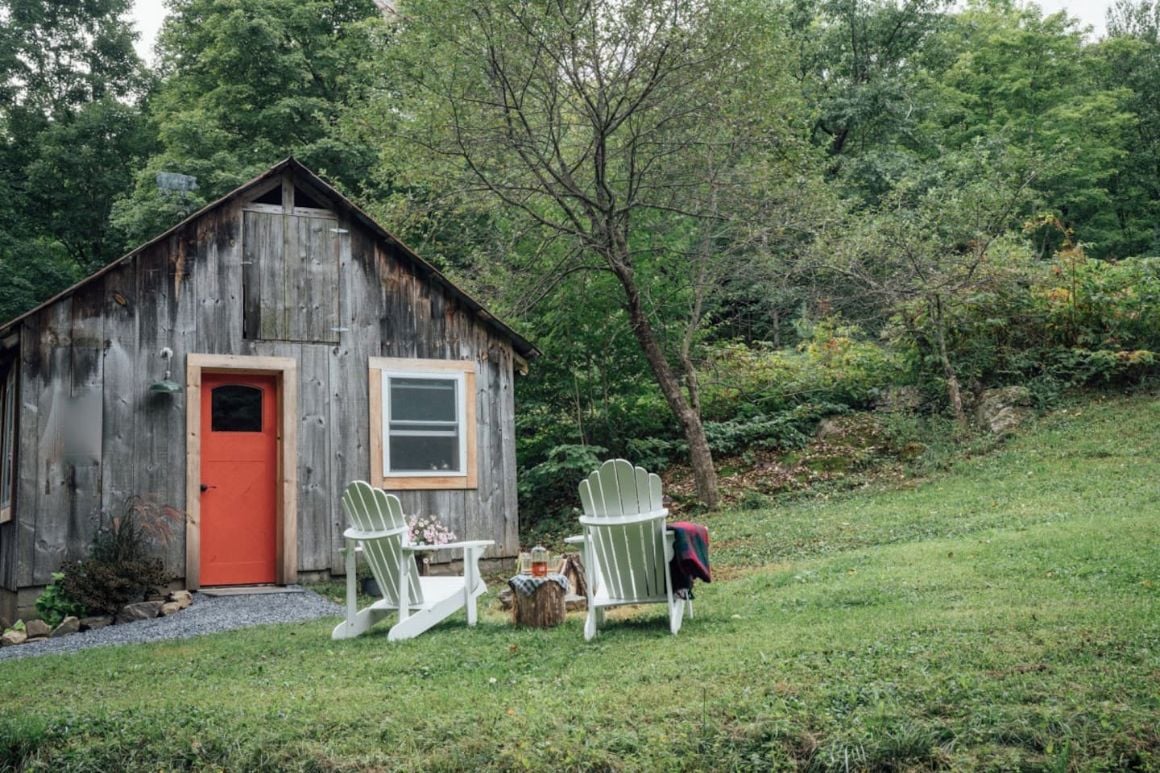 Pack your bags and drive with your loved one to the Barn at Grousewood Forest where you will discover your own private 40-acre property. The Barn is the perfect romantic getaway for couples.
Say goodbye to distractions, work emails and stress, and simply focus on spending time together.
There are a lot of places that you can visit during the day – Vermont has an insane number of breweries, plus, one of the largest cideries in the States.
Around the barn you will find great hiking trails to explore your woods. Spot deer, owls, porcupines, and wild turkeys.
When the sun goes down, you can set up the campfire and relax.
Best Airbnb in Vermont for Families | Mt Killington Home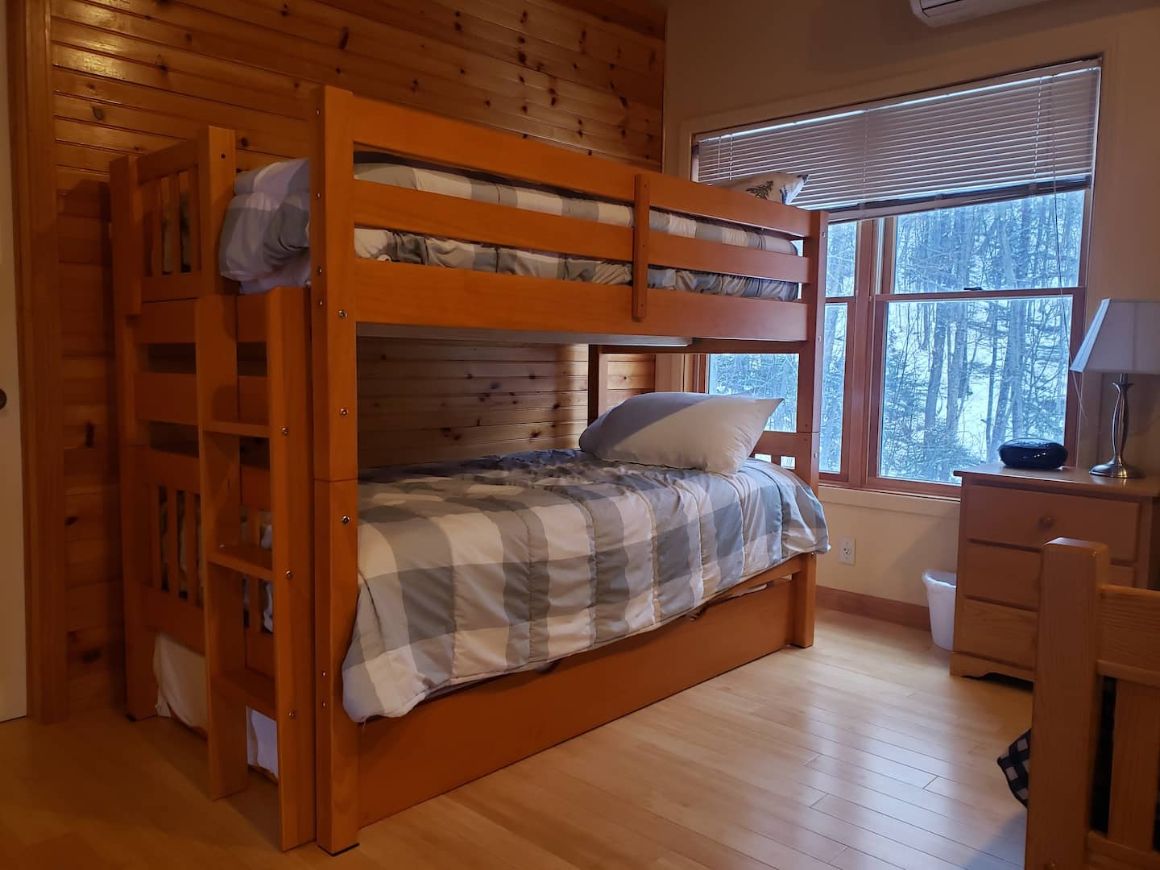 $$$
Foosball and ping pong
With over 3,000 square feet of space over three levels, the family can spread out at this Airbnb in Vermont.
Whether its the winter season and you want to go skiing, or you are looking into a summer vacation, this is the cabin for you.
The home has its own indoor fireplace and a hot tub that can fit five people. The basement will be the perfect place for the kids to hang out, playing foosball or table tennis.
You will be close to many nearby shops and restaurants, along with being a minutes drive to the ski resort and K1 Base.
Over-the-Top Luxury Airbnb | Private Estate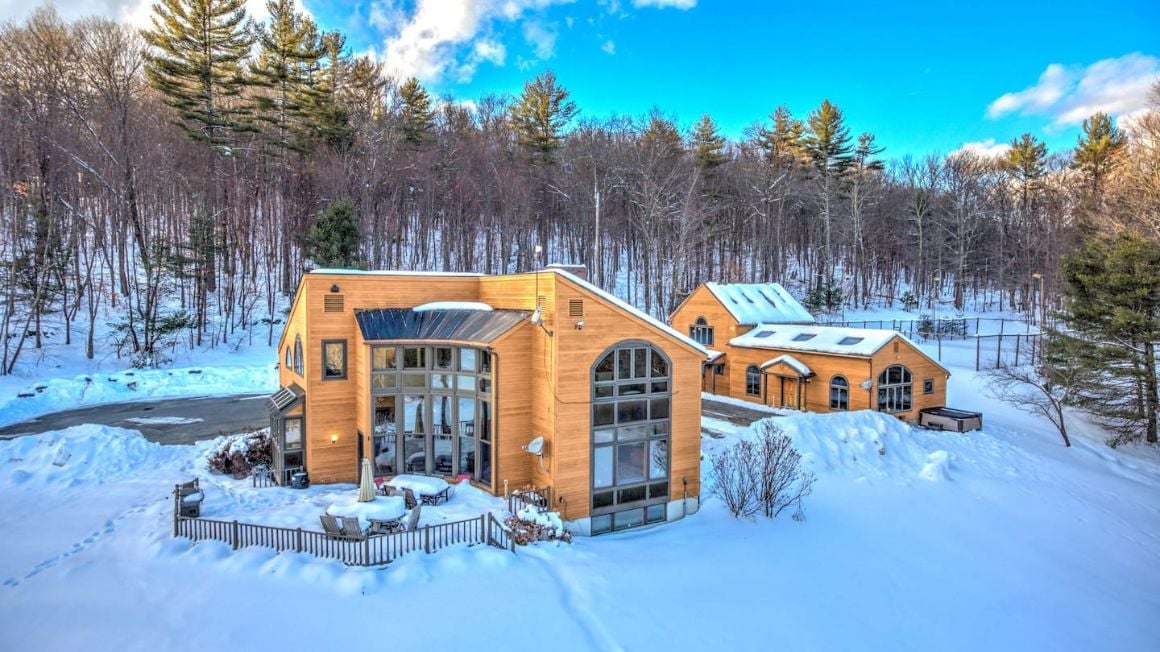 Take your pick of one of seven amazing bedrooms at this glorious Airbnb in Vermont. Cook up a breakfast feast, and admire the views through the massive windows that flank the home.
The separate guest house is essentially a full-time game house with a wet bar, ping pong table, foosball, pool table, poker, and a sauna. If that's not enough, grab a racket and head to the tennis court or dive into the swimming pool!
The home comes with several miles of private hiking trails, great for getting out and not having to see another soul.
For adventures further afield, you are under an hour from two ski resorts while being situated in one of Vermont's most beautiful small towns.
Wake up to the soothing sounds of a waterfall at this cottage Airbnb in Vermont.
At any time of year, this cottage is truly spectacular. In the spring and summer, be surrounded by dense green and lovely swimming holes. Fall brings an incredible change of color that lights up the landscape. Meanwhile winter, of course, turns the cottage into a wonderland.
The uplifting views will greet you every time you step out onto the patio. After a day exploring you can rest your weary legs in the Japanese Cedar Hot Tub.
For skiing, the Jay Peak Resort is under ten minutes away. Hiking and even some fun nightlife is also close by.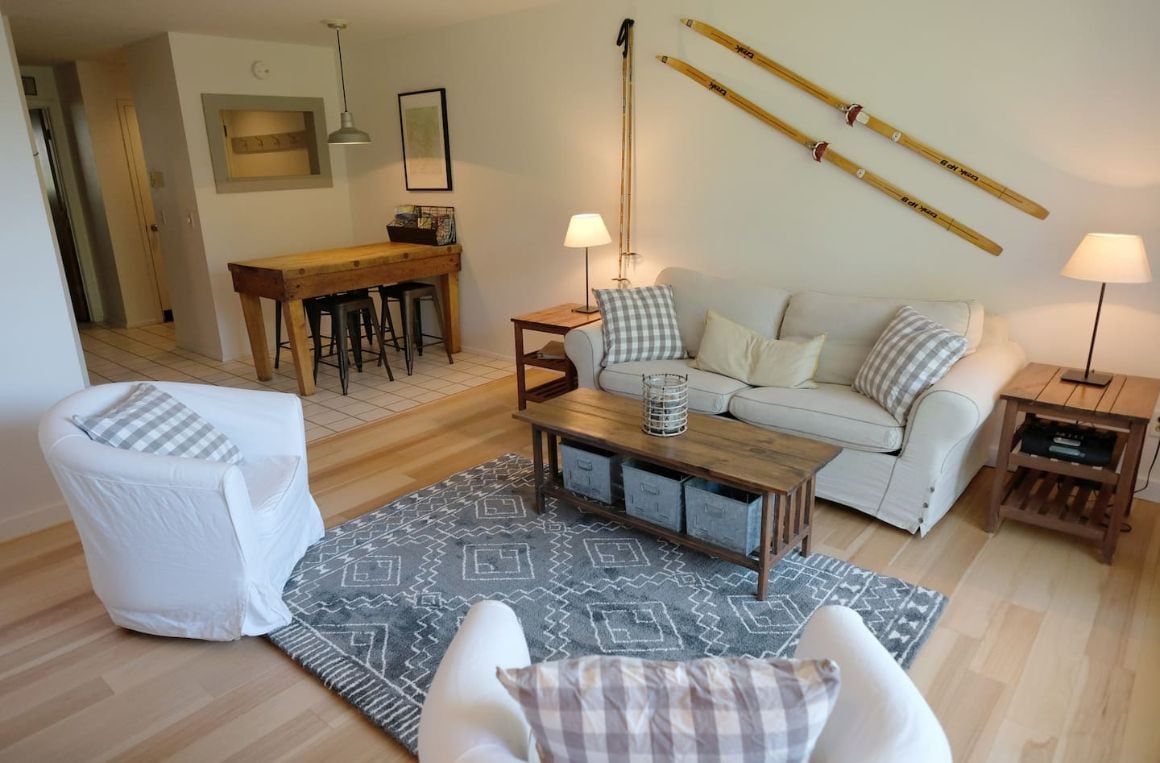 For a condo in a sweet location for hiking in summer and skiing in winter, check out this Airbnb in Vermont.
The sunlit condo is located in Sugarbush Village, a mere five minutes' walk to the resort.
It has a view out towards the hills that are bustling with activity come the winter months.
The village has a variety of restaurants and bars to keep you entertained throughout your stay, while the complex itself has an outdoor pool, hot tub, tennis courts, and even a bouncy house.
At the right time of year, you can ski in and ski out. Alternatively, go ziplining and mountain biking across the mountains.
Best Cabin on Airbnb in Vermont | The Funky Cabin
8 Guests
Waterfall and river
Grab your pals, or the family, and head to this unique cabin in the Green Mountains.
Nestled deep in the woods, you will be able to see the waterfall and river run by the windows which cover an entire wall. The spacious open floor plan is perfect for large groups to gather together, while the property itself is big enough that everyone can find a private spot when need be.
Chill outside of the patio and read your book with sounds of rushing water. Or, chill under the inside nook at night to try and spot shooting stars.
A national forest is right up the road, and for skiing and the mountains, you are just a half hour drive.
A private apartment ,sectioned off from the main house, has one of the best Jacuzzis on Airbnb in Vermont. Any time of the day, turn on the jets, jump in, and simply watch the day float by as your stare out into the distance.
It could take a whole week to see the full view, but it really heats up as the sun goes down. Watch the Vermont sky turn orange and purple from the comfort of the Jacuzzi.
As for the interior, this well-appointed apartment makes the most of the views, and has a rustic charm will make you feel right at home.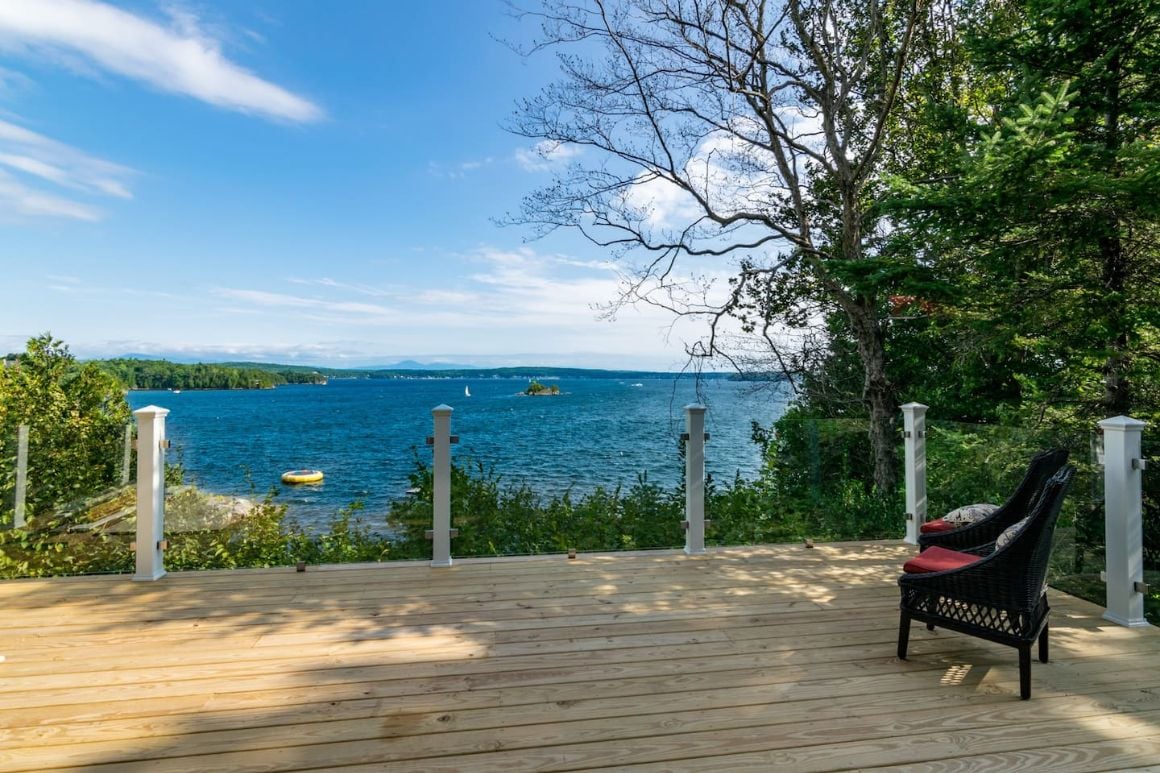 Speaking of amazing views at Airbnbs in Vermont, check out this lakefront bungalow. Wowza!
This brand-new lake home features two bedrooms, one which has an en suite. The open plan kitchen and living space provides the perfect chance for an Airbnb double date.
Start your day with a coffee on the deck and peer out as far as you can across the water. Jump in one of the two complimentary kayaks and see just how much of it you can explore.
It's not all about the lake though – the apartment is only 20 minutes from Burlington for restaurants and bars. If you want a longer drive, Montreal awaits!
Of our selection of properties this is the best Airbnb in Vermont for a weekend getaway. Perfectly located to explore the state.
The airtight construction allows this cottage to have superior insulation which will keep you cooler in summer and warmer in winter.
Sit around the welcoming patio and decide just where you want to go for the day. There are six breweries and cideries within 40 minutes. Meanwhile, towns, water parks, state parks, and resorts are also nearby. And let's not forget Ben & Jerry's..
There is so much to see that you are guaranteed an awesome weekend.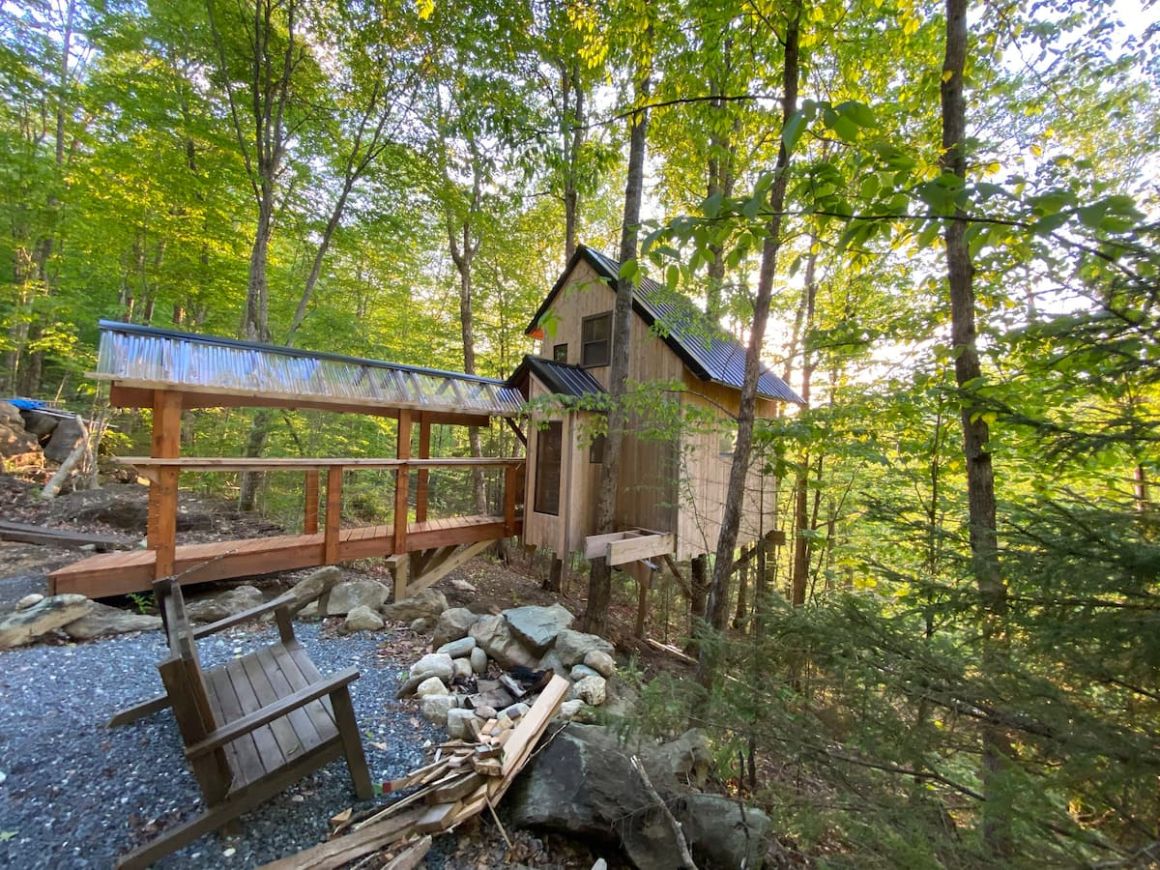 $$$
Green Mountain Natonal Forest
Now that the wedding has come and gone, it is time to say goodbye to the rest of the world and focus on the spouse. This treehouse is the perfect spot for a memorable honeymoon.
From the second you arrive and walk across the bridge to the entrance, there's a sense that you're beginning an unforgettable experience.
With incredible views out to each corner of the Green Mountains National Forest, you will have peace and quiet at last. At night, you will see the stars glisten through the trees and the fairy lights will paint the home. And, in the morning, just the sounds of birds will wake you.
Best Airbnb in Vermont for a Group of Friends | A Vintage Barn
Built way back in the 1930s as a dairy barn, this home has been renovated into a unique and wonderful Airbnb. With a lot of heart and love, you can now stay at this vintage barn and have a great experience with friends.
Enjoy the endless mountain views from the warmth of your hot tub. Or, swim laps in the pool under the brisk country air. At night, gather in the living room, light up the fireplace, and bring out your favorite board games.
Located in the tiny village on Pownal, you are close to river boating, outlet shopping, cultural events, and agritourism.
So, grab your friends for a weekend in the country.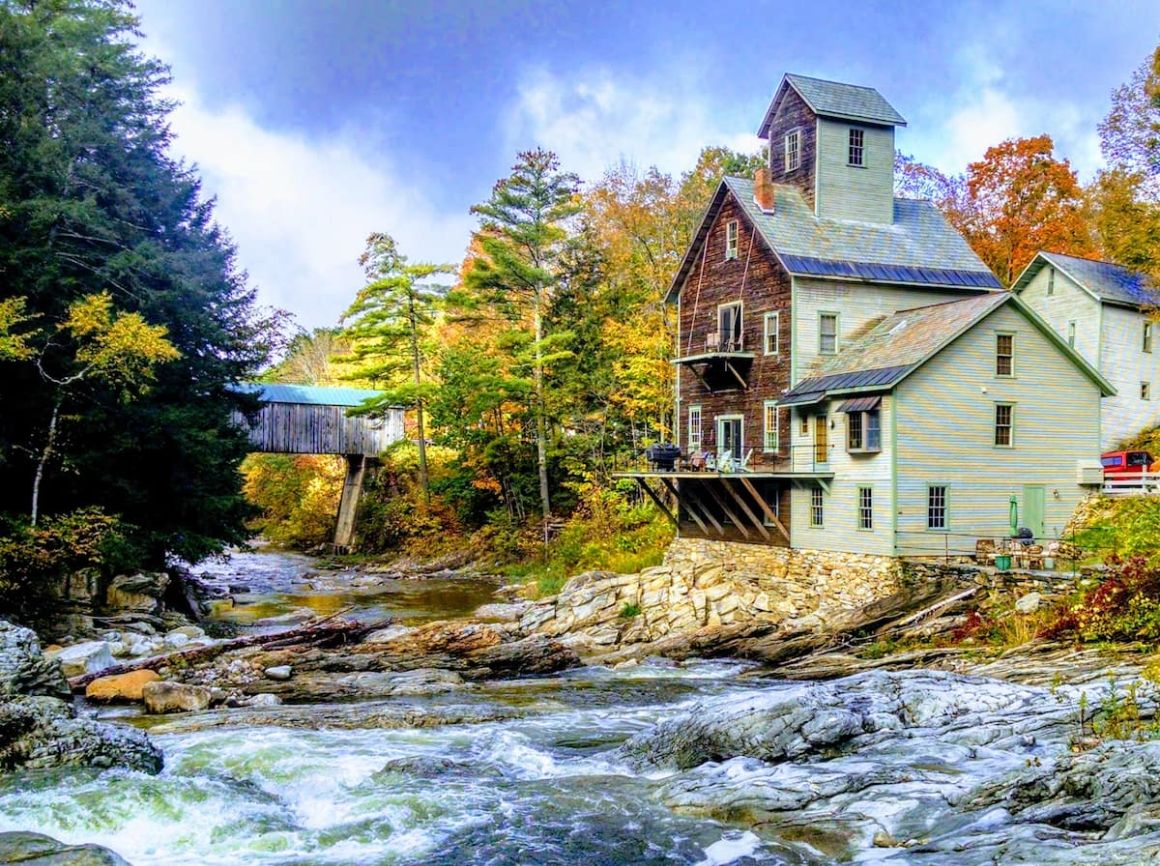 Now America's only original grist mill and covered bridge, Kingsley Grist Mill is a romantic getaway like no other.
The home has its own private beach on the Mill River, with tethered ropes so you can relax on the river donuts. Walk down to your two private decks, and look out over the secluded waterfall.
This home is a national historic site and is exclusive to Airbnb. The interior maintains much of its original construction which is as remarkable as it is beautiful.
Explore all of the home's four stories, including two cantilevered river decks once featured in Architectural Digest.
Come witness a part of history at this truly unique grist mill.
Top 5 Airbnb Experiences in Vermont
What exactly is an Airbnb Experience? Well, they cover a pretty broad spectrum of activities led by the locals who call Vermont home.
They can range from walking tours through downtown, winery and food tours, adventure hikes, and kayaking to a variety of classes.
But most importantly, they are created by people who have a passion for their home and craft. These experiences will elevate your journey, giving you a unique story to tell, or a new perspective on the places you see.
$99 p/p
3 Hours
Up to 10 people
Food and equipment
Guided Vermont ice fishing is one of the best Airbnb Experiences you can do in the state.
Head to the lake and immediately get in on the action. Your guide will bring all the gear you need to stay comfortable on those cold days.
Check out the upgraded chanty, a camp on ice, and hear about what it takes to fish on ice. Learn to jig bait, drill the ice, and begin setting traps all in the hope of landing the prized fish.
There are some big boys swimming beneath the surface, do you have what it takes to land a trophy?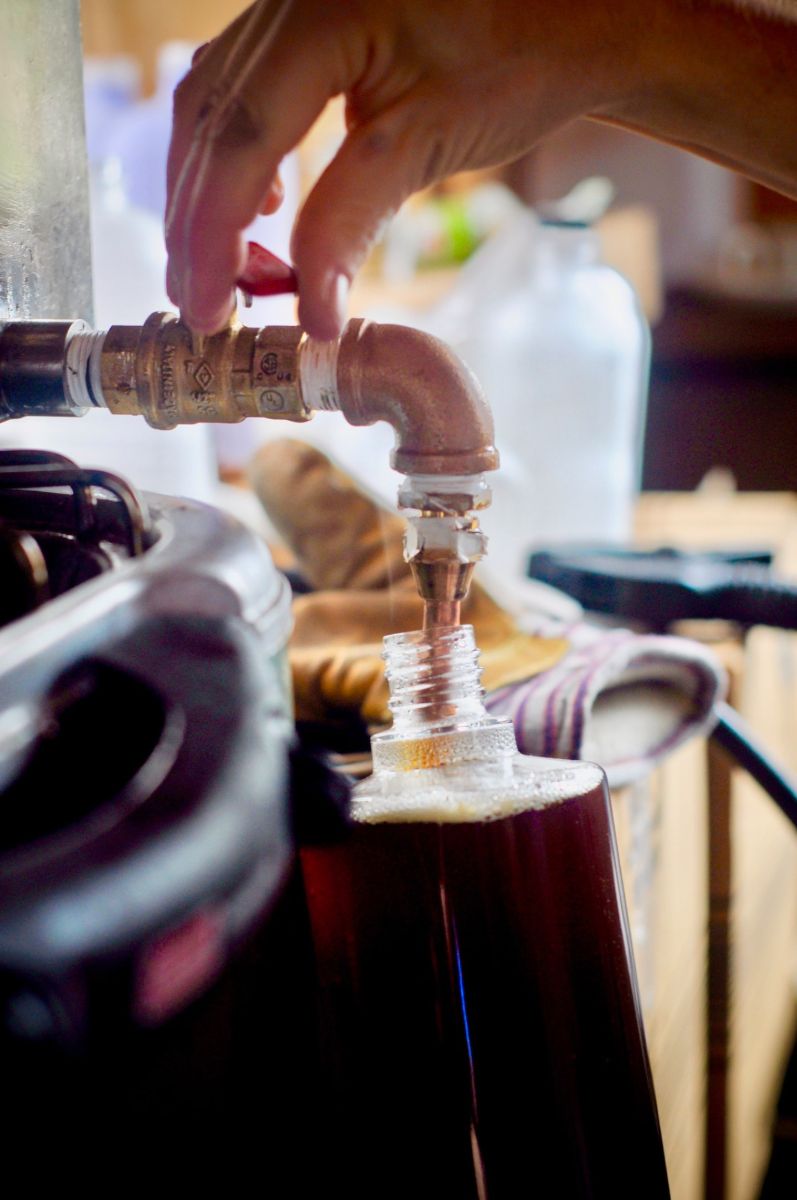 $45 p/p
90 Minutes
Up to 6 people
With your own private group of up to six people, you can learn the art of making maple syrup from sap.
Your expert guide will lead you through a tasting of the current year's syrup and explain how to grade them. Later, try some sugar on snow that promises to be unforgettable.
Maple sap runs only when the days are above 38, but the nights drop below frozen. Experience the different steps of making maple syrup – from the tree lines that run to the building, to the evaporator that boils the sap.
Come and experience the maple syrup process, and enjoy a Vermont tradition.
$79
5 Hours
Up to 10 people
Food and equipment
In order to explore some of the most pristine parts of Vermont, you have to get on the Connecticut River. On your river journey, you will have guides, canoes, or kayaks and all your safety gear ready to go.
Grab your shore snack and get ready for an adventurous day on the water. With help, you will learn to navigate the three or four basic, and short class one rapids.
But for the most part, the river is very calm which makes this a great activity for the majority of skill levels.
Soak in the riverside views as you paddle along and keep an eye out for wildlife. It is common to spot kingfishers, deer, moose, and bald eagles.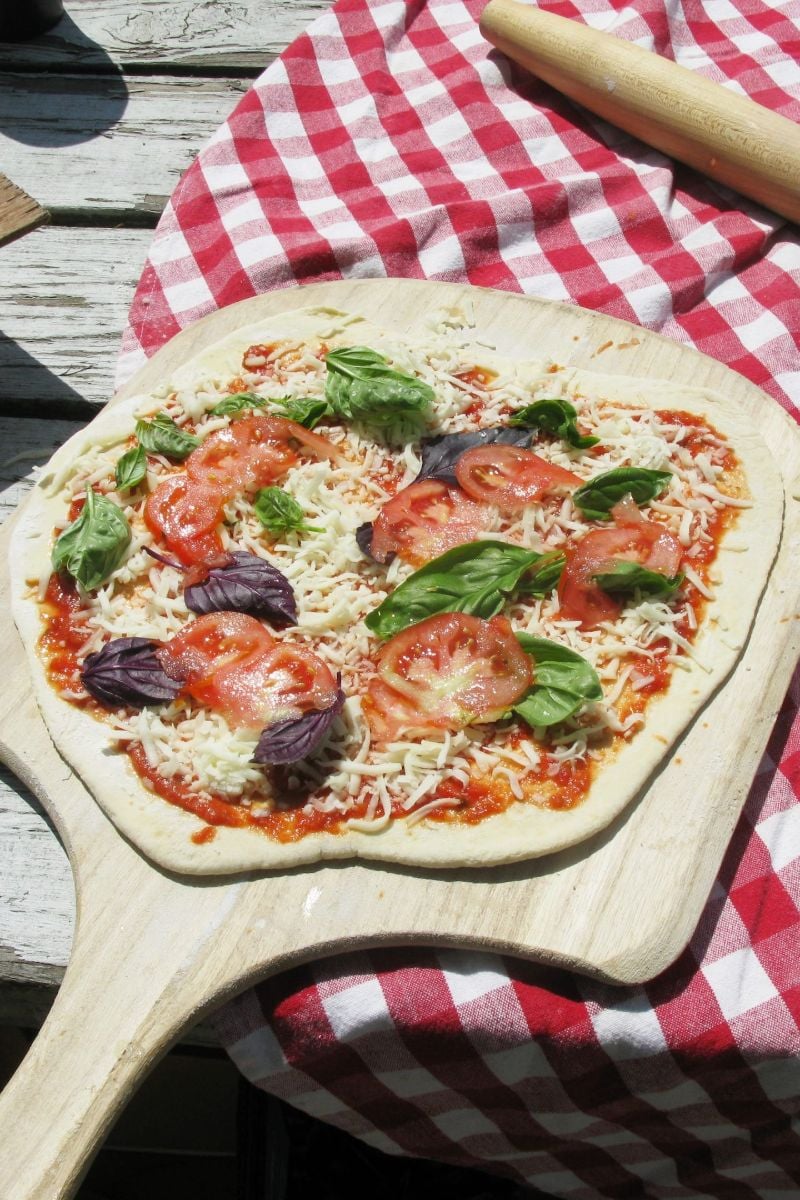 $45 p/p
2 Hours
Up to 10 people
Lunch sorted
Instead of wandering down to your local pizza chain, head to West Townshend and make your own.
Tap into the knowledge of your friendly host and make the best wood fired pizza of your life.
From start to finish, you will follow every step a pro would do. Including learning to make the dough, roll it, and add the sauce and cheese.
All before cooking your creation in the community cob oven.
As you wait, you will hear about wood fire oven construction, what wood burns best, and how to light it well.
Soon the smells will become mouthwatering, and it will be time to eat. Yum!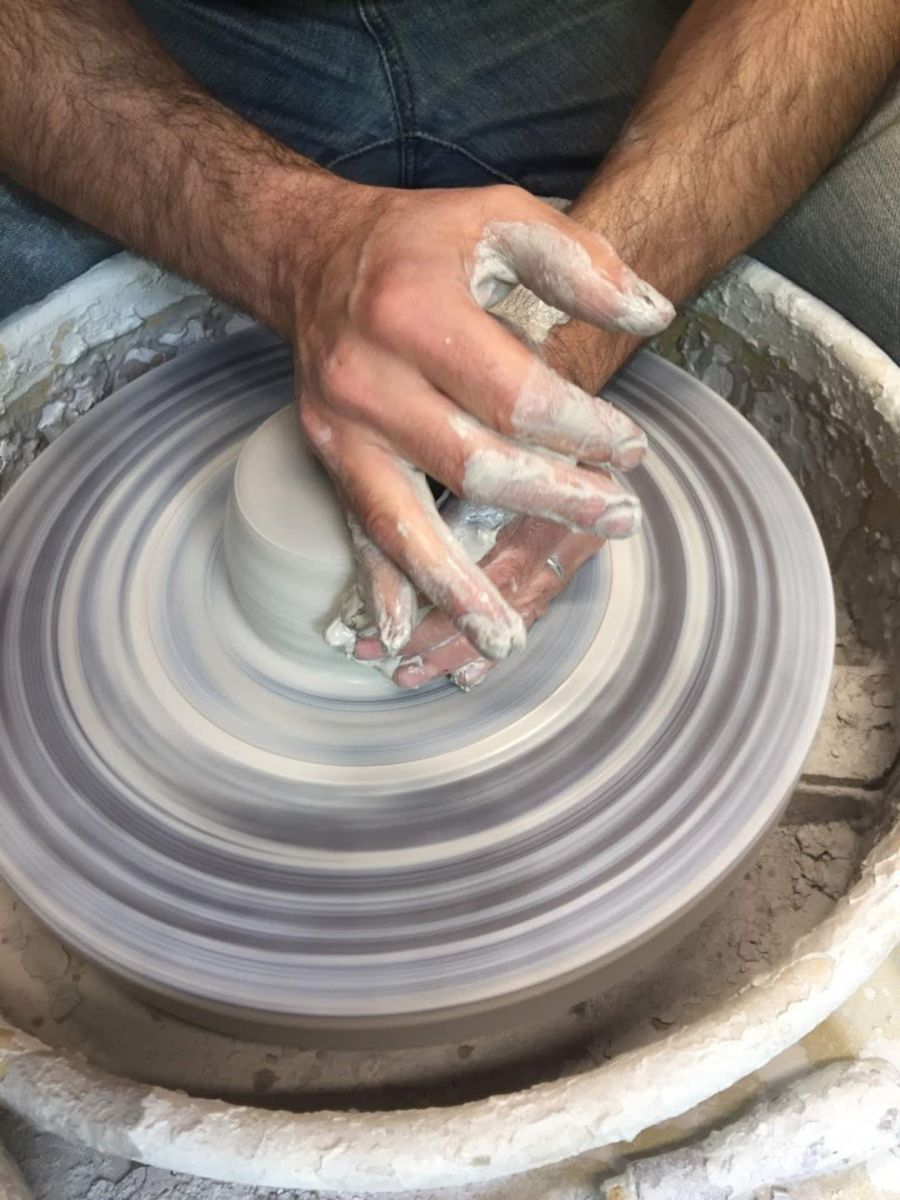 $90 p/p
90 Minutes
Up to 4 people
Be creative
Work side by side with a Master Potter, and learn the right techniques for throwing pots on the potters wheel.
Over the course of your Airbnb Experience, you will go from a simple ball of clay to your own cup or bowl!
Discover how to center the clay, and challenge yourself to learn a new skill. Don't give up, even when it gets messy.
At the end of the day, walk away with your own handmade momento. Hopefully, the next morning's coffee can be sipped from your very own mug.
Don't Forget Your Vermont Travel Insurance
ALWAYS sort out your backpacker insurance before your trip. There's plenty to choose from in that department, but a good place to start is Safety Wing.
They offer month-to-month payments, no lock-in contracts, and require absolutely no itineraries: that's the exact kind of insurance long-term travellers and digital nomads need.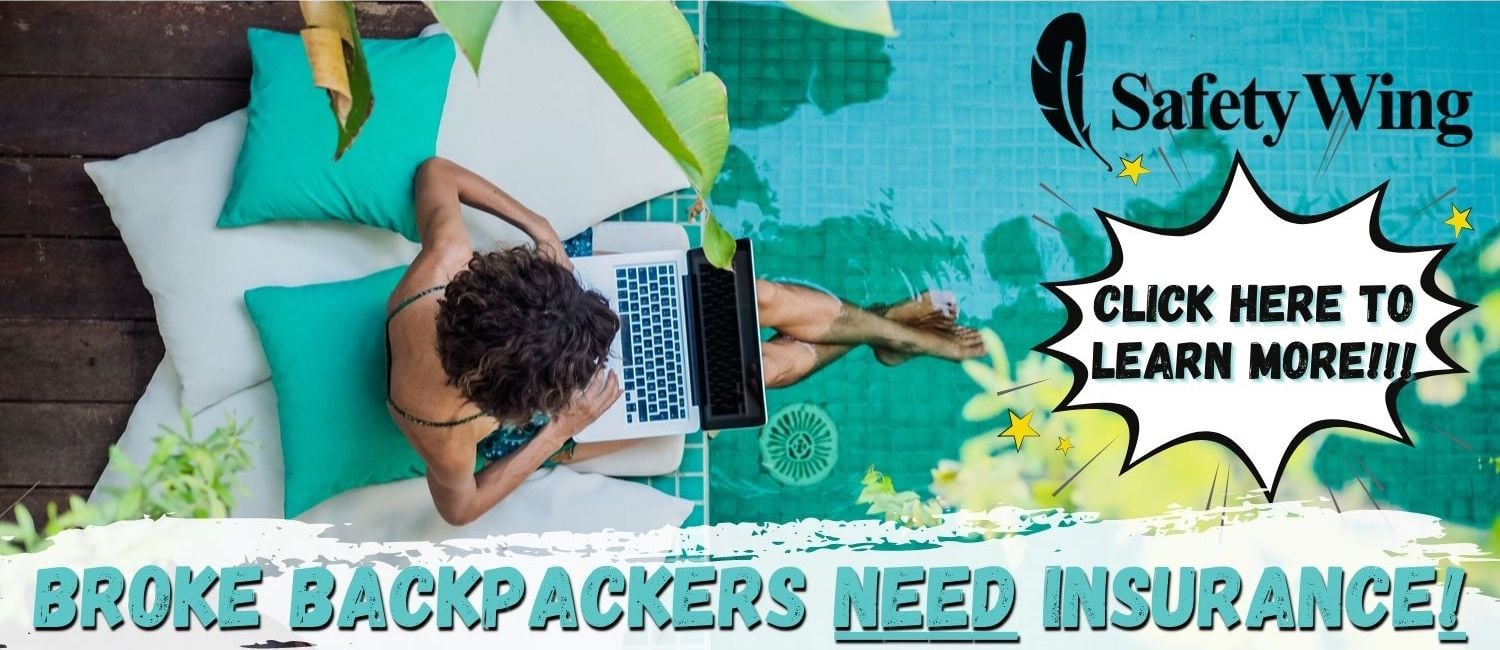 SafetyWing is cheap, easy, and admin-free: just sign up lickety-split so you can get back to it!
Click the button below to learn more about SafetyWing's setup or read our insider review for the full tasty scoop.
Final Thoughts on Vermont Airbnbs
So there you have it, folks – the best Airbnbs in Vermont. The Green Mountain State sure is home to some beautiful properties.
You can get away from the crowds and discover Vermont all by yourself. Ditch the guide book and stay somewhere memorable.
Families will love having the extra space to move and breath, so you no longer have to worry about tiny kitchenettes. Couples will find romantic retreats, cozy, candlelit towns, or remote retreats into the forest. Forget about the world and simply be together.
Now you know more about what makes an Airbnb in Vermont tick, consider getting some travel insurance before your adventure.
---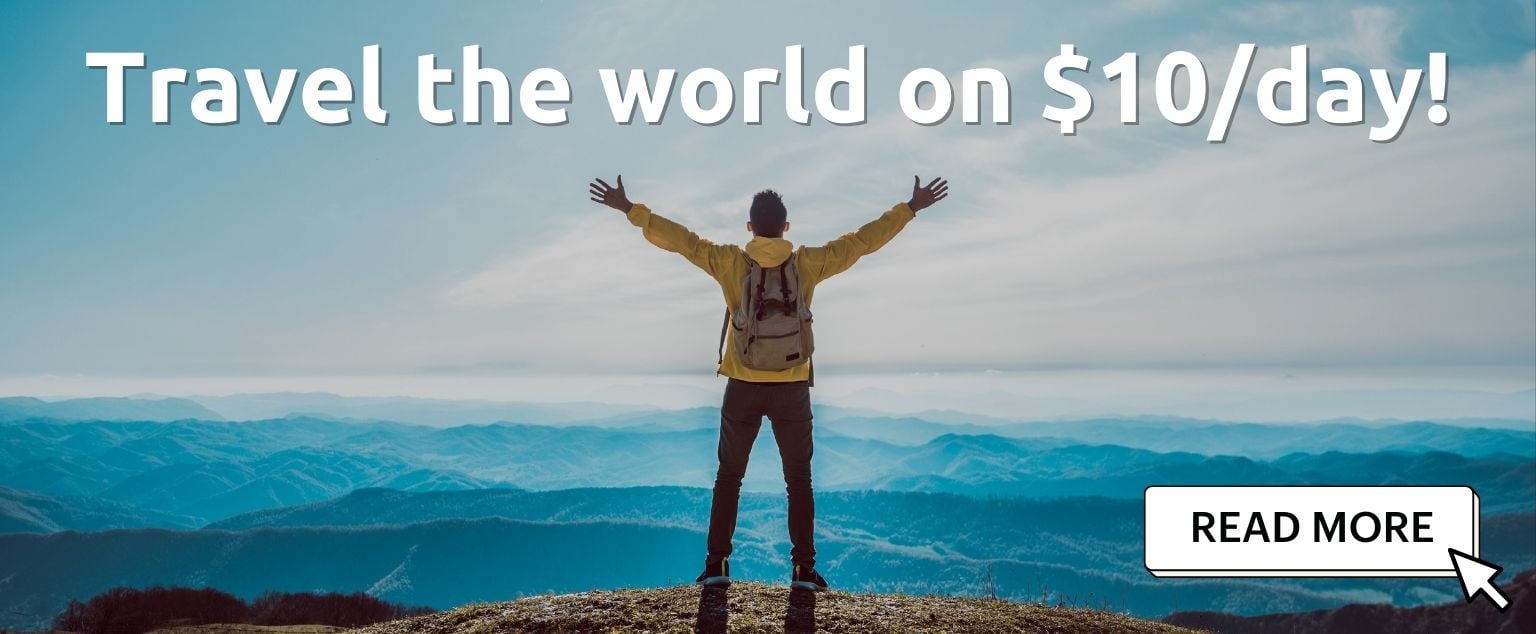 And for transparency's sake, please know that some of the links in our content are affiliate links. That means that if you book your accommodation, buy your gear, or sort your insurance through our link, we earn a small commission (at no extra cost to you). That said, we only link to the gear we trust and never recommend services we don't believe are up to scratch. Again, thank you!