Michigan is a state for outdoorsy people. No matter which of the four seasons you visit, you'll find a ton of incredible outdoor adventures await.
What truly draws travelers to Michigan are the four great lakes, thousands of miles of coastlines, and millions of acres of wilderness. What better way to experience all this nature than to camp right in the middle of it. Or better yet, glamp!
Glamping in Michigan is equivalent to a wellness retreat, you can enjoy all the adventures and explorations you would normally do when camping, but come home to an accommodation that allows you to unwind and relax.
As far as the 'where' and 'how' is concerned, don't worry, I got you covered. This guide to the best places for glamping Michigan has a diverse range of experiences, suitable for all different kinds of travelers.
So when you're ready, let's get started…
In a Hurry? Here's Where to Stay in Michigan for One Night
FIRST TIME IN MICHIGAN
Eco-Friendly Vintage Airstream
Who doesn't love the beach, the comforts of home, the very happening downtown nearby, peace all around, and knowing that you are being a responsible world citizen by reducing your carbon footprints? Oh, and you get to enjoy all that at a budget-friendly rate. Talk about the best value for money in Michigan.
Places to visit:
Lake Charlevoix
Downtown Charlevoix
Boyne City Bike Trail
Is this amazing Michigan Glamping Site booked for your dates? We've got your back with our other favorite properties below!

Unlock Our GREATEST Travel Secrets!
Sign up for our newsletter and get the best travel tips delivered right to your inbox.
What is Glamping?
Is glamping a new territory for you? Don't worry, because I'm here to tell you exactly what to expect during your glamping Michigan trip so that you can choose only the best experience for you.
Glamping is a combination of two words: glamourous + camping = glamping. This means you get to enjoy all the best features of camping in Michigan minus the inconveniences. You can live in the heart of nature, next to rivers, mountains, or amid a forest, but without having to sleep in filth and dirt.
Unlike camping, you don't have to sleep on hard floors or lug around your sleeping bag and tent across states and countries. Another reason why glamping is such an awesome idea is that you don't have to lug food around with you, as most glamping sites have a kitchen in the accommodation. You don't have to settle for cabins in Michigan to get a self-catering service!
It's also common for glamping sites to have WiFi, comfy beds, and bathrooms with hot running water…basically like a home away from home, but with all the fresh air of a camping experience. There are no limits to the luxuries of glamping. Depending on your budget, you can have whatever amenity you want.
Sounds great, right?
Overall Best Value Glamping Site in Michigan
Overall Best Value Glamping Site in Michigan
Eco-Friendly Vintage Airstream
> $$
> 2 Guests
> Books and reading material
> Beach access
Best Budget Glamping Site in Michigan
Best Budget Glamping Site in Michigan
Rustic Glamping in Arrowhill Farm
> $
> 2 Guests
> Firepit
> Working farm
Best Glamping Site for Couples
Best Glamping Site for Couples
Starry Glamping Site
> $$
> 2 Guests
> A peak window for stargazing
> Riverfront
Best Glamping Site for a Group of Friends
Best Glamping Site for a Group of Friends
The Outpost Tent
> $$
> 4 Guests
> Outdoor shower
> Total privacy
Over-the-Top Luxury Glamping Site
Over-the-Top Luxury Glamping Site
Off the Map Safari Tents
> $$$$
> 16 Guests
> Indoor fireplace
> Luxury safari tents
Best Glamping Site for Families Visiting Michigan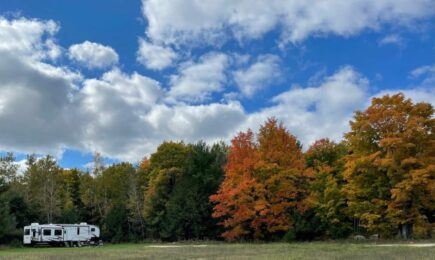 Best Glamping Site for Families Visiting Michigan
Hebron Harvest Farm Glamping
> $$
> 8 Guests
> Fully outfitted kitchen
> Minutes from the historic Mackinaw City
Best Glamping Site for Backpackers
Best Glamping Site for Backpackers
Sleeping Bear Glamping
> $
> 2 Guests
> Firepit
> On the edge of Sleeping Bear Dunes National Lakeshore
15 Best Sites for Glamping Michigan
If this is all sounding good to you, you're about to have your mind blown. These glamping sites in Michigan offer swoon-worthy locations and accommodations with all the comforts of home.
So without further adu, here's my list of the best Michigan glamping sites!
$$
2 Guests
Books and reading material
Beach access
This vintage airstream located in Charlevoix provides the best of all worlds and checks several boxes for all types of travelers.
First and foremost, it is eco-friendly and fully equipped with all the comforts you'd find in your home. It's also just a three-minute walk from the public beach on Lake Charlevoix, the Argonne Supper Club, and the head of Boyne City bike trail.
With a queen bed for two, twin bunk beds, and several children-friendly amenities, this airstream is best suited for a small family with kids, small groups of friends, couples, and solo travelers.
While this sustainable glamping unit comes with solar lights and composting toilet, don't think it would meddle with your comforts. You'd still be getting endless hot water in the teak shower. There are no limits to the activities you can partake in while staying here.
$
2 Guests
Firepit
Working farm
This rustic glamping site in Michigan is on a small working farm is truly a place of dreams, even more so if animals hold a special place in your heart. Surrounded by 40-acres of private wooded lands, the glamping site offers lots of activities for its guests. You can spend your days on the property, sitting outside, lighting up the fire, and enjoying the company of the farm animals.
Since this is Michigan, you can't have a glamping experience without a beach nearby, and true to its form, the Lake Michigan beach is just nine miles away, and 20-25 minutes of the drive will take you to Silver Lake.
The bell tent itself is cozy with twin beds, a table, and solar lights. The budget-friendly glamping unit is best suited for those who wish to have an authentic camping experience, and still have all the comforts at a safe distance.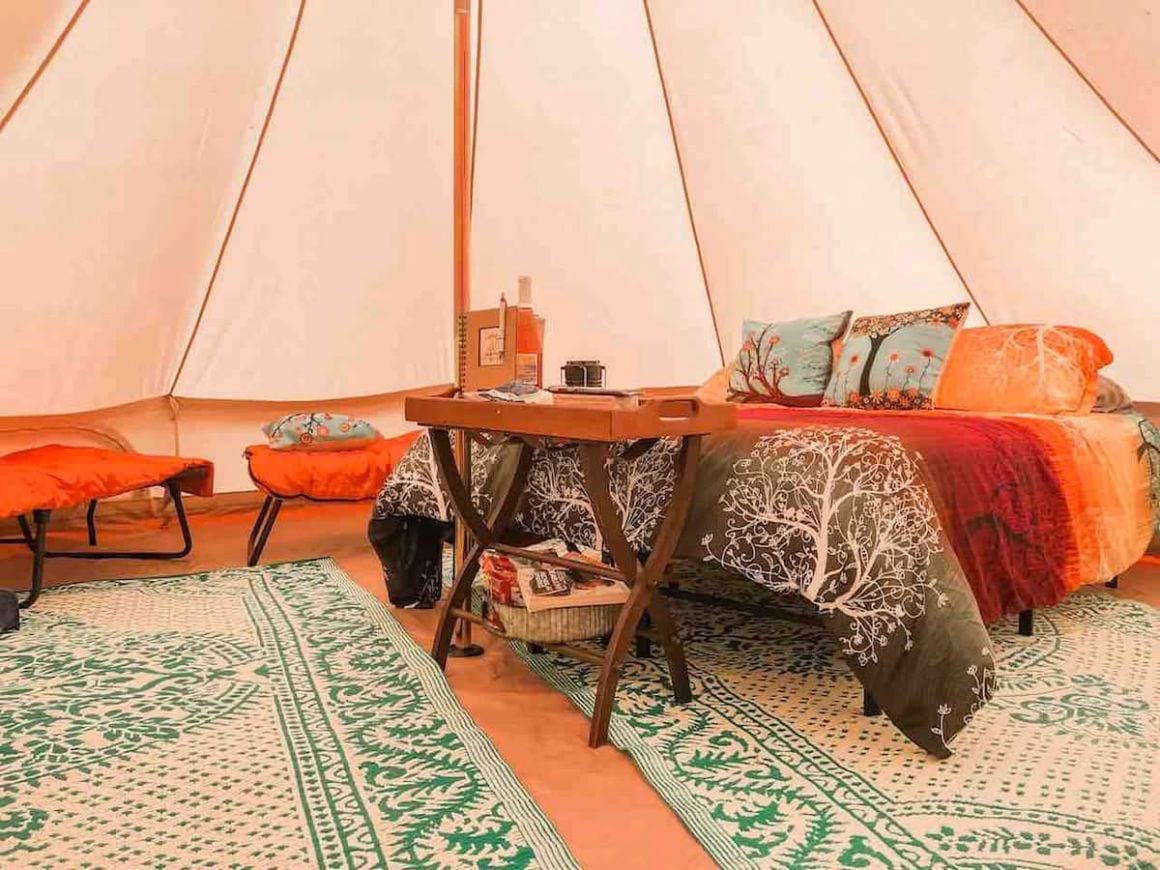 $$
2 Guests
A peak window for stargazing
Riverfront
Is there anything more romantic than lying down in your cozy bed in a tent, listening to the gentle river, and looking up to see a sky full of stars? I think not! Located in northern Michigan, this little heaven comes with a double-sized bed, fitted with warm bedding for cold nights.
You also get access to a common bathroom and a kitchenette with all the basic paraphernalia to help you cook a delicious meal and enjoy your morning coffees, freshly brewed. For fun, you can lounge around in your hammock, enjoy the beautiful sunsets on the river, and go canoeing, kayaking, fishing, snowmobiling, or snowshoeing, depending on the season.
This little camp offers a full glamping experience and unforgettable times with your significant other!
Best Glamping in Michigan for a Group of Friends – The Outpost Tent
$$
4 Guests
Outdoor shower
Total privacy
Nestled within the five acres of a very beautiful private property, this Outpost bell tent is a perfect unique Airbnb in Michigan to spend some days soaking up nature. You can hang out with your best buddies, and just enjoy days of doing nothing but exploring the nature and local cultures around you.
While secluded and completely private, the tent is still only a few minutes from some of the best attractions, such as Lake Michigan which is just four minutes away. Another short walk will take you to Downtown Sawyer where you can head over to the brewery, grocery stores, cafés, and other unique shops. Or you can head over for nights of fun and frivolities.
But you can only do that if you manage to pull yourself out of this cozy tent, which consists of a queen-sized bed outfitted with memory foam. Two more friends can join you with their sleeping beds. The soft rugs, the fire pit outside chairs, and utmost privacy just make glamping with your friends an overall cool experience.
Is This the Best Travel Pack EVER???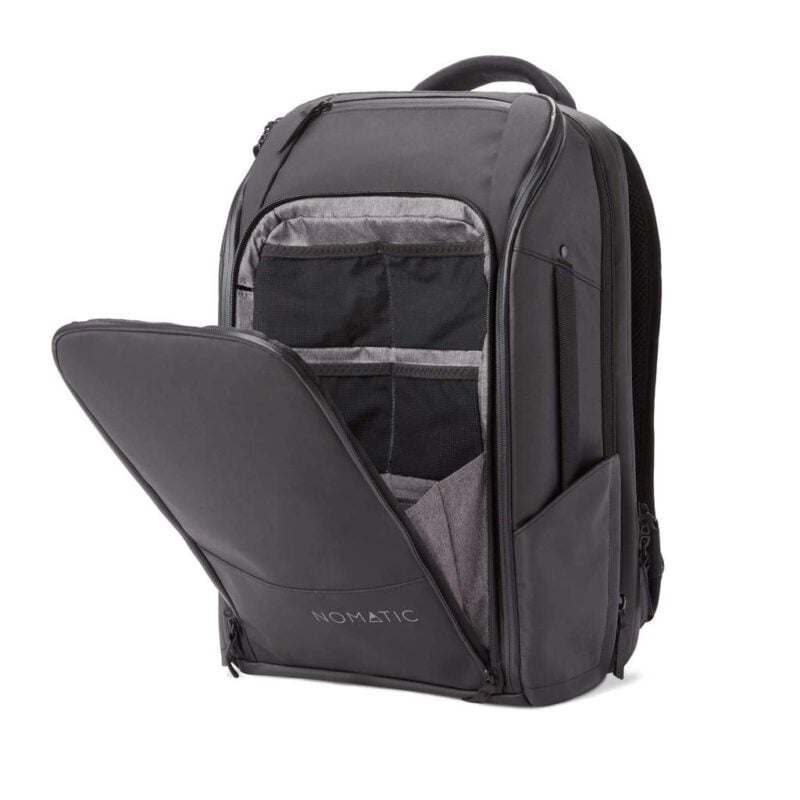 $$$$
16 Guests
Indoor fireplace
Luxury safari tents
Are you planning an exuberant glamping expedition with a large group, where you wish to spend some quality time together, but still want a bit of individual privacy? When it comes down to a luxurious glamping trip, this beautiful site in South Haven never disappoints.
Surrounded by trees that change colors, fields of green ahead, and carefully paved paths, this glamping site comes with 16 safari tents, each of them placed at a short distance from the other. The tents are furnished like a hotel room with the comfiest double bed, a chair, a small table, plants, side tables, and thick rugs.
And then there's a communal fire pit with lavish wooden chairs to end every day under the stars, singing songs, sharing stories, and eating your favorite snacks.
Best Glamping Site in Michigan For Families – Hebron Harvest Farm
$$
8 Guests
Fully outfitted kitchen
Minutes from the historic Mackinaw City
This is a state-of-the-art RV rental in Michigan with every possible modern amenity at your disposal is the perfect way to enjoy glamping with family. With every creature's comfort at your fingertips, parents will have no trouble enjoying this vacation with the kids in tow.
The glamping site isn't just luxurious and modern, it is also surrounded by some of the beautiful sights of Northern Michigan. Since the glamping site is located on a farm, you and your kids will get to spend some great time with the pigs, cows, lambs, and various kinds of birds on the farm.
For some fulfilled days, drive a short distance to the famous historic Mackinaw City or head over to one of the many inland waterways. Exploring Mackinac Island is a great option from here as The Mackinac Island Ferries aren't too far either.
The interior of the RV is just deluxe with two bedrooms and one big loft for the older kids. The host also provides a travel crib and board games for the little guests. The outdoor area has lots of amenities too for your enjoyment.
$
2 Guests
Firepit
On the edge of Sleeping Bear Dunes National Lakeshore
This glamping site in Michigan is nestled on the very edge of Sleeping Bear National Lake Shore, allowing backpackers to have a chance at a comfortable stay with beautiful views, even on a low budget. The vintage 59 Shasta might be small, but it has everything a backpacker needs for a cozy stay.
It is clean and has a queen-size bed, a table, a countertop, cabinets for storage, and a coffee pot with coffee pods. Chilly nights aren't a problem either with a heater provided by the hosts. And since most backpackers in the USA travel on a budget and prefer to make their food, the covered outdoor kitchen is appreciated too.
The outdoor area has a fire pit, chairs, grill, and other things too to give you that authentic camping experience. The volleyball net, horseshoes, and Lake Michigan right down the road give you plenty to enjoy some outdoor fun.
Best Glamping in Michigan for a Weekend – Cute Bell Tent
$$
3 Guests
Beach essentials
Lakefront
When all you have is a weekend to unwind, you have to make sure your glamping site offers both, Zen-like surroundings to relax and recharge, and lots of fun outdoor activities for good memories. This Bell Tent in Grant offers both with a sprinkle of deluxe amenities so that over the weekend, you let go of all the responsibilities and get to live like a child again.
Here, you are surrounded by nature trails, a vineyard, gardens, a stocked fishing pond, hammocks, a private beach deck, and more. For indoor activities, there's a game room, lounge area with a TV, and lots of comfy nooks to read.
The more daring adventurers can go swimming, canoeing, and kayaking either in the lake out front, or take advantage of the pick and drop services to the Muskegon River. The bell tents themselves are super clean and comfy with a double bed and a single bed to sleep 3.
$
4 Guests
Hot water
33-foot 1993 Airstream
When you want something out of the ordinary to make a lasting impact on your memory, this is it. It's also an extraordinary site in Michigan for glamping experiences during the winters.
Parked on an organic farm, just a short walk from Sleeping Bear Dunes National Lakeshore, this airstream allows you a cozy and warm glamping opportunity in a winter wonderland. The firepit, frost-free water spigot, and gas furnace will make sure you stay warm and toasty. On especially cold nights, you can even get access to the sauna and a hot shower for a small fee.
The airstream has a full kitchen to prepare some winter comfort food, two single beds, a pull-out couch, and various other furnishings to keep you comfortable for the duration of your stay.
Glamping Michigan with an Epic Location – Sand Beach Glamping
$$
6 Guests
Private hot tub
On Lake Michigan
If you have always fantasized about camping right on the beach, sand and all, here's your chance. Only this camping will come with a 30ft bunkhouse RV to offer a good sleep and amenities to make your stay utterly comfortable. The RV is parked right on Lake Michigan so you can fish all day long, have bonfires at night, and do lots of swimming and kayaking in between.
The bunkhouse has five bunk beds with linens, beddings, pillows, and towels all provided. The RV also has a small kitchen with a stove, coffee maker, microwave, and basic utensils to cook gourmet food. Speaking of, a firepit, BBQ grill, and outdoor dining area are also provided by the hosts so you can cook and dine with a view.
In this epic location, you also get access to hot water and a hot water tub when things get a little chilly around here, and an air conditioner for days when it gets hot.
Glamping Michigan Site with an Epic Location – Stream Side Camper
$
4 Guests
Central air conditioning
On a creek property
As far as locations go, this vintage camper is found in an epic one near Baldwin, Michigan. Parked on a beautiful creek property, surrounded by 19-acres of wooded land, the nature and the lush greenery of this glamping site are not unlike the Shire.
This glamping site is best suited for anglers, hunters, as well as families and couples looking for privacy and beauty around them. With a queen bed and a sofa bed, the camper easily accommodates 4 guests, and you can also bring a pet for an additional fee. The camper also has a kitchenette, a small living room, lots of cabinets for storage, and thick rugs.
The stream is right out front where you can enjoy fishing or you can sit around the fire pit and enjoy the serenity around you.
Best Honeymoon Site for Glamping Michigan – Country Dome Home
$$$
2 Guests
Full kitchen
Facing an orchard
This site is heavy on the glamping and has views that will take your breath away. With a lush green forest surrounding it, and a beautiful orchard right our front, this glamping site is best suited for couples on a romantic vacation.
The dome tent makes sure that you feel the presence of nature all around you, and with hundreds of different kinds of birds living in the trees, the chirping that you will wake up to is indescribable. As for the views, nothing beats the scenery offered by midwestern farmland.
This off-the-grid site brings you super close to nature, but also offers you close access to Lake Michigan, Saugatuck, and Douglass. The dome has the coziest furnishings with double beds, comfy chairs facing the window, a fireplace, books to read, and much more.
$$
4 Guests
hammocks
Located on a Horse Farm
This vintage 1964 Fan coach is hands down, one of the prettiest sites for glamping Michigan. With lush green nature all around and plenty of farm animals to befriend, this glamping site is best suited for solo travelers, families, friends, and couples with a love for all things vintage, vibrant, and beautiful.
The double bed, loft bed, and unfolding banquette offer plenty of space to sleep 4 to 5 guests. While vintage, the coach has all the modern amenities to make you feel entirely at home.
For some exciting outdoor fun, the site is located outside Traverse City, which offers miles of hiking, equestrian, and biking trails.
Then there's Lake Dubonnet, which is perfect for fishing, canoeing, and kayaking. If you are here for a long stay, then the beautiful quaint towns of Leland, Glen Arbor, Interlochen, Empire, and Suttons Bay are all nearby, giving you plenty of reasons to drive and explore every day.
Pet-Friendly Glamping Site in Michigan – 1990 Scamp Camper
$
4 Guests
Pets allowed
Location of your choice
This has to be one of the cutest glamping accommodations in Michigan, however, there's a lot to it than just pretty looks. With thoughtful touches throughout, the guests rave about the comfiness of this accommodation. With a table that turns into a bed and couches which can be shifted into bunk beds, this accommodation is best suited for small families looking for a chance to bond on this vacation.
This glamping opportunity is slightly different from the others because the hosts allow you to pick your favorite glamping site in Transverse City and beyond, and they'd move the camper for you.
This means, you can pick any campground and any spot you like, whether in the woods or lakefront, and the hosts will bring the camper to you.
Best Glamping Site in Michigan for Long-Term Travelers – Havenswood Yurt
$
4 Guests
Outdoor furniture
Portage Lake nearby
The Havenswood Yurt provides an opportunity for all travelers to plan a long-term vacation in Michigan, without getting bankrupt or compromising on the class and quality of the accommodation.
Nestled deep in the woods along with a rustic outhouse, the yurt is only 1.5 miles from a beautiful public beach, and surrounded by thousands of miles of trails. There's even a detailed map available so that long-term guests can spend their time exploring every part of the woods.
With plenty of nature to enjoy and activities to partake in, the yurt has lots of outdoor settings for camping enthusiasts. There is a deck to lounge on and enjoy the sounds of birds and animal sightings. A fire pit, grilling grate, and a picnic table are also found outside. The inside of the yurt is cozy and comfortable with twin-size bunk beds and a full-size futon to accommodate four adults.
Don't Forget Your Michigan Travel Insurance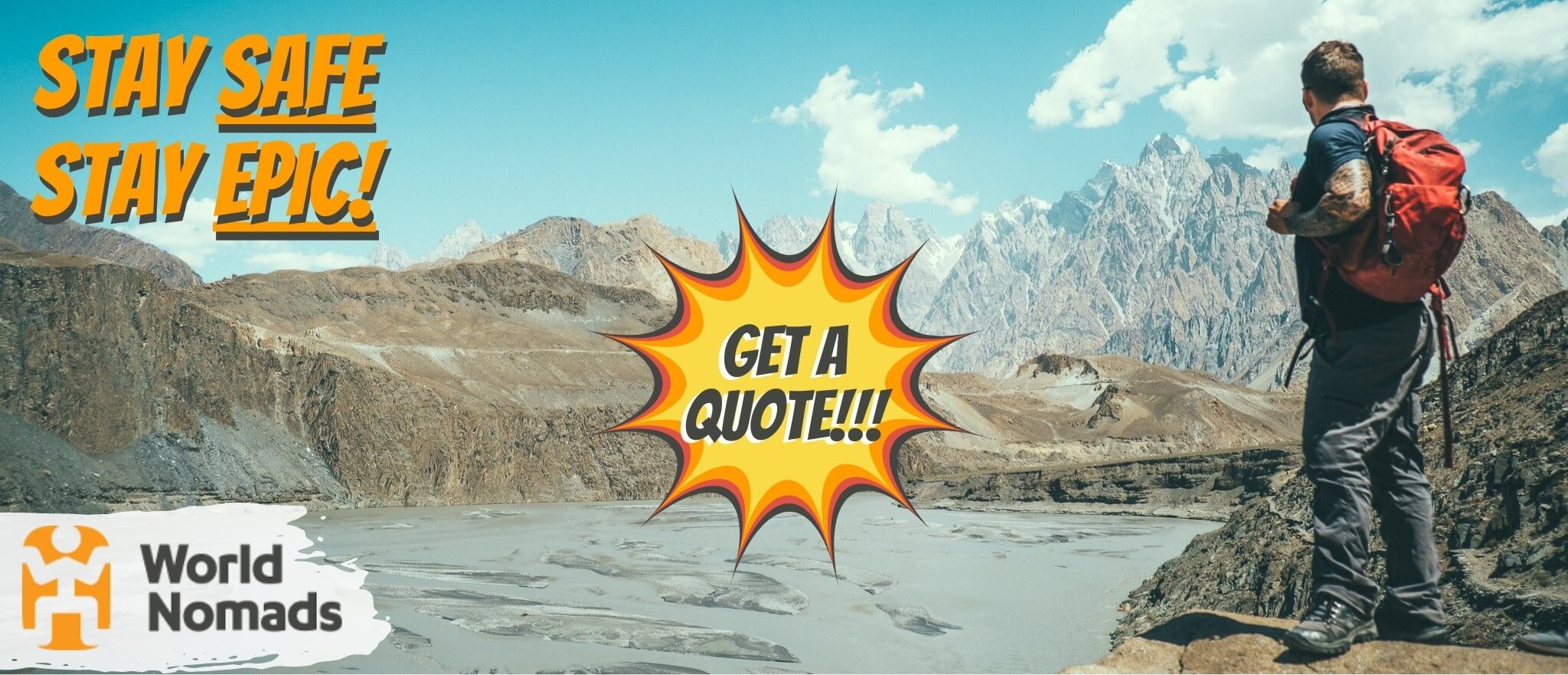 World Nomads' mission is to support and encourage travellers to explore their boundaries. They offer simple & flexible travel insurance, and safety advice to help you travel confidently.
They've been doing it since 2002 – protecting, connecting, and inspiring independent travellers just like you.
Get a quote below or read our in-depth review!
World Nomads provides travel insurance for travelers in over 100 countries. As an affiliate, we receive a fee when you get a quote from World Nomads using this link. We do not represent World Nomads. This is information only and not a recommendation to buy travel insurance.
Final Thoughts on Glamping Michigan
Michigan is home to some of the most vibrant nature and stunning sights. Unfortunately, many travelers miss out on that one-on-one connection with nature, because camping isn't everyone's cup of tea.
With these best Michigan glamping sites, you can finally catch those breathtaking sunsets over Lake Superior, you can enjoy hiking, biking, and fishing, to your heart's content, but without roughing it up.
At the end of the day, you still get to sleep on the comfiest beds, take a hot shower, and have hot and delicious food. Whether you are traveling solo, with the love of your life, with friends, or with an entire extended family, these glamping sites in Michigan will allow you comfort and beauty at the same time.
If you're travelling to Michigan as a foreigner, consider travel insurance to secure your investments against all travel risks, so that nothing ruins your vacations.
---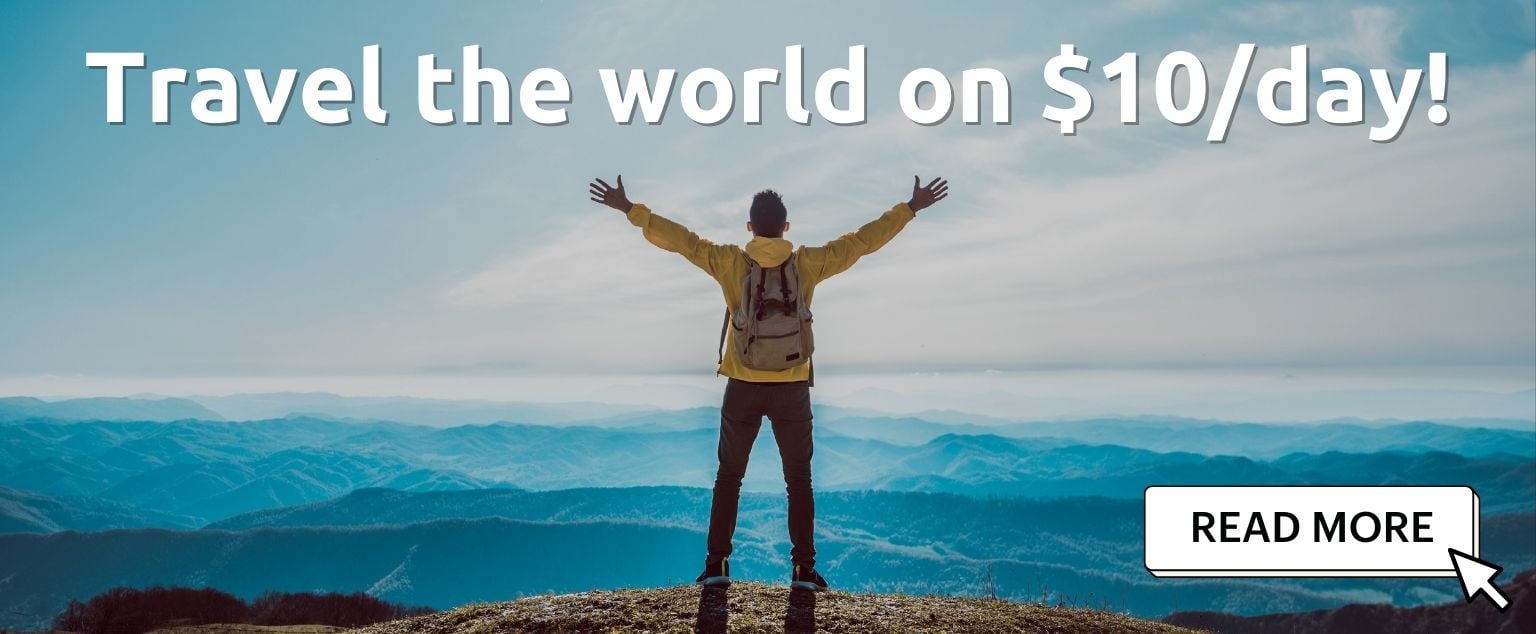 And for transparency's sake, please know that some of the links in our content are affiliate links. That means that if you book your accommodation, buy your gear, or sort your insurance through our link, we earn a small commission (at no extra cost to you). That said, we only link to the gear we trust and never recommend services we don't believe are up to scratch. Again, thank you!