Feel like a camping vacay? Well, there's no need for a long road-trip somewhere if you're in Michigan. Just stay right there and explore all this state has to offer.
In case you didn't know, there's a lot of natural beauty here. You may have been to the beach before, but staying in a tent next to it is all sorts of awesome. Beaches aside, there are countless acres of forests to discover, too.
Camping is a whole other experience, and in Michigan, it's great.
But if you're new to it all, never fear. Our neat guide to camping in Michigan is here to help you navigate nights spent under canvas in the Great Lake State.

Do You Want to Travel FOREVER??
Pop your email in below to get a FREE copy of 'How to Travel the World on $10 a Day!'.
Why Camp in Michigan?
With a name that means "Large Water," Michigan is really where it's at for a Great Lakes getaway.
To be fair, the name suits. It's got two peninsulas – Upper and Lower – jutting into Lake Huron and Michigan for a super long coastline. Inland you'll find lakes, ponds, and campers in for a very watery time.
It's the 11th largest state, just slightly bigger than the whole of the United Kingdom. That makes it pretty massive, we'd say. And with all that room, there's more than enough space to find a getaway in nature.
There are more than 1,000 campgrounds across the state. There's a wide variety – from rustic to super modern – of places where you can pitch your tent, hire out cabins, or bring your RV.
Particularly, camping in Michigan puts you at a great vantage point to explore its numerous state parks and national forests. Being here means hikes among the trees, searching for waterfalls, and chilling lakeside on miles of beaches (of course).

Sort out your rental before you arrive to get the best price. Rentalcars.com simplifies the process at a lower cost and can match you with the right vehicle for your adventure.
Primitive Camping in Michigan
Michigan has countless campgrounds. These range from sites where you can sleep under the canopy of ancient trees, to places where you can even get Wi-Fi.
If you're looking for a decidedly more rustic, off-the-beaten-track adventure – and camping isn't camping if there's a working toilet – never fear. There are opportunities for purely primitive camping in this vast state.
Referred to as "dispersed camping" by the Michigan government, it is totally legal in Michigan. But you do need to know the rules, of course:
Primitive camping in Michigan is permitted in state forest land.
But it is only allowed, and free-of-charge, if where you pitch up is more than a mile from an official state forest campground. Here's a handy map.
Make sure your spot is not near a sign that says "No Camping." A no-brainer, you might think, but honestly, you'd be surprised at the mistakes people make…
Even if you're primitive camping, you must fill in and display a camp registration card. This can be found in PDF form here.
And make sure you follow all the general rules for Maryland's Park and Recreation Areas. (If you really want to read them all, check 'em out).
As you can see, as long as you follow the rules, it's fine to camp where you want – in a state forest.
There is another option, however, which the Michigan government calls "rustic hike-in camping." It's pretty much primitive camping, but with basic amenities and only to be found in state parks.
You'll find these particular options at specific campsites, including Bewabic State Park, Tahquamenon Falls State Park, and Wilderness State Park. These sites have access to potable drinking water and "primitive toilet facilities."
Actual primitive camping is allowed at two state locations – Craig Lake Backcountry Camping and Porkies Backcountry Camping. These have no facilities, can only be reached on foot or by boat, and are nowhere near roads or urban areas. The ultimate retreat.
But if the idea of staying somewhere without electric hook-ups isn't for you, no sweat. Here are some campgrounds in Michigan with slightly more amenities…
2000+ Sites, Unlimited Access, 1 Year of Use – All. Absolutely. FREE!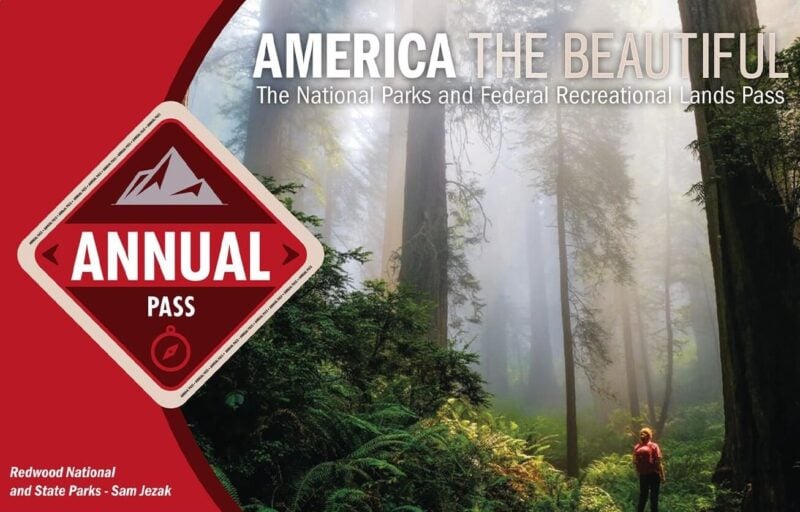 The USA is blisteringly beautiful. It's also blisteringly expensive! Visiting two national parks in day can run you $70+ in entry fees.
Orrrr… you kick those entry fees to the curb, buy an annual 'America the Beautiful Pass' for $79.99, and get unlimited access to ALL 2000+ federally managed sites in the States totally FREE!
You do the math. 😉
Buy the Pass!
10 Best Campsites in Michigan
Unlike the primitive options in Maryland, you can reserve a spot at one of Maryland's many, many campgrounds online – just head on over to parkreservations.maryland.gov. You can book up to a year (yes – exactly 365 days) in advance of whatever date you plan to arrive. Score!
So, without further ado, let's have a look-see at the very best campsites Maryland has to offer. Whether you're travelling as a couple, with a group of friends (road trip!), or taking your family along for the ride – or vice versa – there's no doubt you'll find something awesome on this handy list!
1) Beechwood Campsite – Ludington State Park
Ludington State Park boasts sandy beaches, a landmark lighthouse, forests, marshes and wetlands. Located between Lake Michigan and Hamlin Lake, camping here means lapping it all up on its sandy shorelines and exploring miles of hiking trails (with wildlife viewing posts to boot).
Beechwood Campsite is one of the best options in the park. Although it's popular, you shouldn't be disappointed if you plan ahead and book a spot. This site has great access to both lakes, which means swimming (obviously). Hamlin even has a boat launch, so you can always bring along a dinghy if you've got one!
Amenities: Chemical toilets, cold water showers, and drinking water.
Campsite fee: From $30 per campsite per night.
2) Sleepy Hollow Campground – Sleepy Hollow State Park, Laingsburg
Don't worry about the spooky name; this campground has nothing to do with ghost stories (unless you choose to tell them). With woodlands, wide grassy fields and numerous trails to hit up, this serene 2,600-acre park is a nature-lover's dream.
Located 20 miles from Lansing, and therefore easily accessible, it's an easygoing escape into the great outdoors. It's also great for wildlife-spotting, swimming and horseback riding. Camping here is straightforward. Though it's fairly small, it's clean and well looked after.
Amenities: Drinking water, Electric 30/20/15 Amp, Restrooms, Showers, Pets allowed
Campsite fee: From $25 per campsite per night.
3) Lower Falls Campground – Tahquamenon Falls State Park
This campground is set in the beautiful Tahquamenon Falls State Park, the second-largest park in Michigan. Think unspoiled woodlands, rushing rivers, and the epic waterfall itself (the main attraction, of course).
There are miles and miles of trails to explore the park, most of which loop around the falls. Bring a canoe if you've got one, your fishing gear, or even your binoculars – wildlife viewing is primo.
There's the Lower Falls or River Mouth Campground to choose from; we'd go for Lower Falls, though. It's got tons of vantage points to set up within sight of the falls. Despite its popularity, it remains pretty quiet and has a friendly, respectful vibe.
Amenities: Restrooms, Potable water, Picnic table, Campfires allowed
Campsite fee: From $15 per campsite per night.
4) Grand Haven Campground – Grand Haven State Park
If the beach is your thing, head to Grand Haven State Park. Set along the shores of Lake Michigan, the area comprises 48 acres of pure, undisturbed beach. A literal dream.
There's even a boardwalk here that you can stroll along to reach restaurants and shops, so it's not exactly a wild experience.
Staying at the super clean Grand Haven Campground does mean waking up to waves lapping the shore. Plus, it has a low-key, family-friendly atmosphere. Note that there's a "no alcohol" policy here, so it's more picnics and s'mores than beers round the fire at night. And we're down with that, too.
Amenities: Campfires allowed, Toilet available, Pets allowed, Potable water available, Showers available, Picnic table available
Campsite fee: From $20 per campsite per night.
5) Moosehead Lake Campground – Ottawa National Forest
Clocking in at almost a million acres in area, the sprawling Ottawa National Forest is situated in the Upper Peninsula region. The sheer size of it makes this one a proper wilderness, with seemingly endless trails winding through woodlands, lakes, and waterfalls.
Moosehead Lake Campground is a special spot to immerse yourself in all this nature. Made up of 13 connected campsites, it's shaded and secluded and makes for a rustic kind of experience. It's not primitive camping, but it's remote-feeling enough to feel like a true natural getaway.
It's some of the best camping in Michigan – and you might just be lucky enough to get this place all to yourself when you're there.
Amenities: Tent pad, accessible wood table, fire ring, vault toilets, drinking water
Campsite fee: From $15 per campsite per night.
6) McKinley Horse Trail Campground – Huron-Manistee National Forests
Two forests nestled between Lake Michigan and Lake Huron make up the Huron-Manistee National Forests. Their combined area comprises thousands of acres dotted with wetlands, and crisscrossed by walkways. While it's perfect for hiking and horseback riding, you can also pan for gold here and hunt for geodes.
If you're big into horse riding, check out the 240-mile shore-to-shore horse trail.
McKinley Horse Trail Campground is a little-known site tucked among the trees of a red pine plantation. It's a serene, secluded spot – the sort of place where it's not rare to be the only campers for days. There's plenty of space, the natural surroundings are stunning, and it's free!
Amenities: Campfires allowed, Toilet available, Pets allowed, Water (non-potable)
Campsite fee: Free per campsite per night.
Is This the Best Backpack EVER???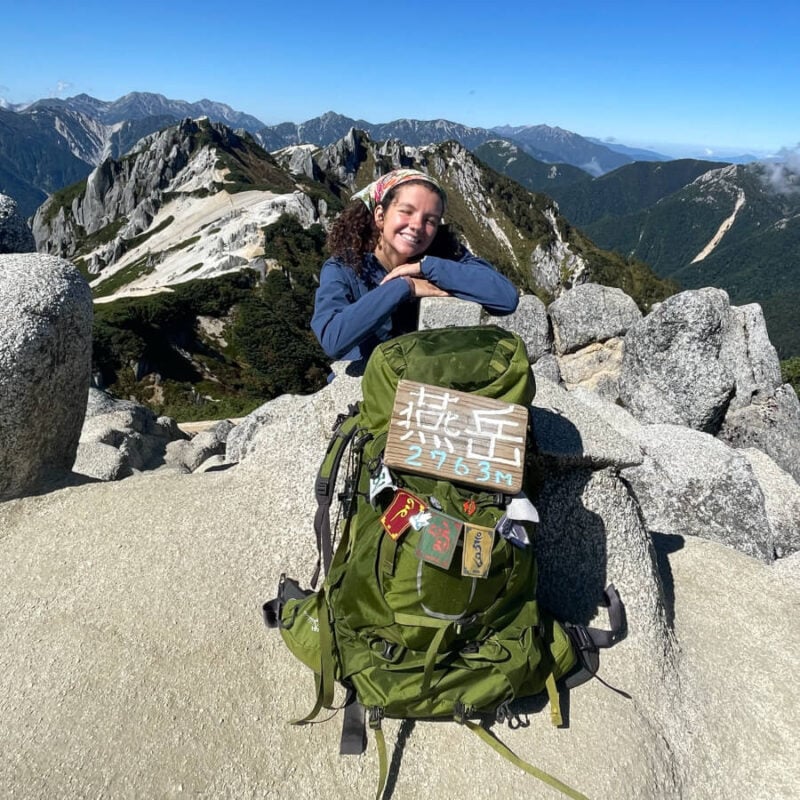 7) Little Bass Lake Campground – Hiawatha National Forest
The Hiawatha National Forest is all about the scenery. So if that's your jam, note this one down for sure. Located in the wilds of Michigan's Upper Peninsula, the forest boasts incredible shorelines along Lake Superior, Huron and Michigan. Three out of five Great Lakes ain't bad!
And if you're into leaf peeping, come in fall – the colors are magnificent.
Staying at Little Bass Lake Campground and set alongside the eponymous lake itself, is like the antidote to urban living. It's quiet and (usually) uncrowded, but one of the best things about this Michigan campsite is how densely wooded it is, meaning it always feels private and secluded.
Amenities: Toilet available, Pets allowed, Potable water available
Campsite fee: From $8 per campsite per night. Walk-ins are not allowed, may be reserved for up to 14 days
8) Muskegon-Lake Michigan Campground – Muskegon State Park
If the beach at Grand Haven was a bit too tame for you, then the wild sandy coastline at Muskegon State Park will be better suited to what you're looking for. Weighing in at 1,200 acres, the park boasts two miles of beach on Lake Michigan and another mile on Lake Muskegon.
Though there are two campgrounds to choose between, Muskegon-Lake Michigan Campground is the best place to base yourself. It's a large, modern campsite with options to rent a yurt or stay in cabins. Even camping in winter is great here – even greater is the winter sports complex featuring cross-country ski trails.
Otherwise, you'll be surrounded by forested trails, sandy dunes, and easy access to the water. Make sure to bring your swimsuit – you'll have dreamy days spent at the water's edge.
Amenities: Campfires allowed, Toilet available, Pets allowed, Potable water, Picnic tables
Campsite fee: From $18 per campsite per night.
9) Fort Wilkins Campground – Fort Wilkins State Park
Much of the camping in Michigan means pure nature, but Fort Wilkins State Park adds a dash of history into the mix. Here you'll find a restored 1844 military outpost – none other than Fort Wilkins itself. There's also a lighthouse that was built in 1866.
And even though it's a historic place, Fort Wilkins Campground is modern. Like, seriously modern. We're talking wi-fi, top-notch facilities, and all with the history of the fort and lighthouse practically on the doorstep.
Set on a strip of land between Lake Superior and Lake Fanny Hooe (real name), the campground is also great for watery pursuits like fishing, boating and swimming.
Amenities: Campfires allowed,Toilet available, Pets allowed, Potable water available, Picnic table available
Campsite fee: From $17 per campsite per night.
10) Traverse City Campground – Traverse City State Park
Traverse City is a great spot to camp in Michigan. In fact if you don't want to hike into the middle of nowhere lugging everything you'll need to survive, it's a great option.
Suitably, the well-maintained Traverse City Campground is close to wineries, casinos, and even hosts the National Cherry Festival. Spending time here is easygoing, with modern amenities (and even the city) never too far away.
As "urban" as it is, the campsite still feels 100% natural, surrounded by tall trees and with access to a beach.
Amenities: Campfires allowed, Toilet available, Pets allowed, Potable water available, Picnic table available
Campsite fee: From $33 per campsite per night.
Save $$$ • Save the Planet • Save Your Stomach!
Drink water from ANYWHERE. The Grayl Geopress is the worlds leading filtered water bottle protecting you from all manner of waterborne nasties.
Single-use plastic bottles are a MASSIVE threat to marine life. Be a part of the solution and travel with a filter water bottle. Save money and the environment!
We've tested the Geopress rigorously from the icy heights of Pakistan to the tropical jungles of Bali, and can confirm: it's the best water bottle you'll ever buy!
View on REI
Read the Review
The Best Glamping Sites in Michigan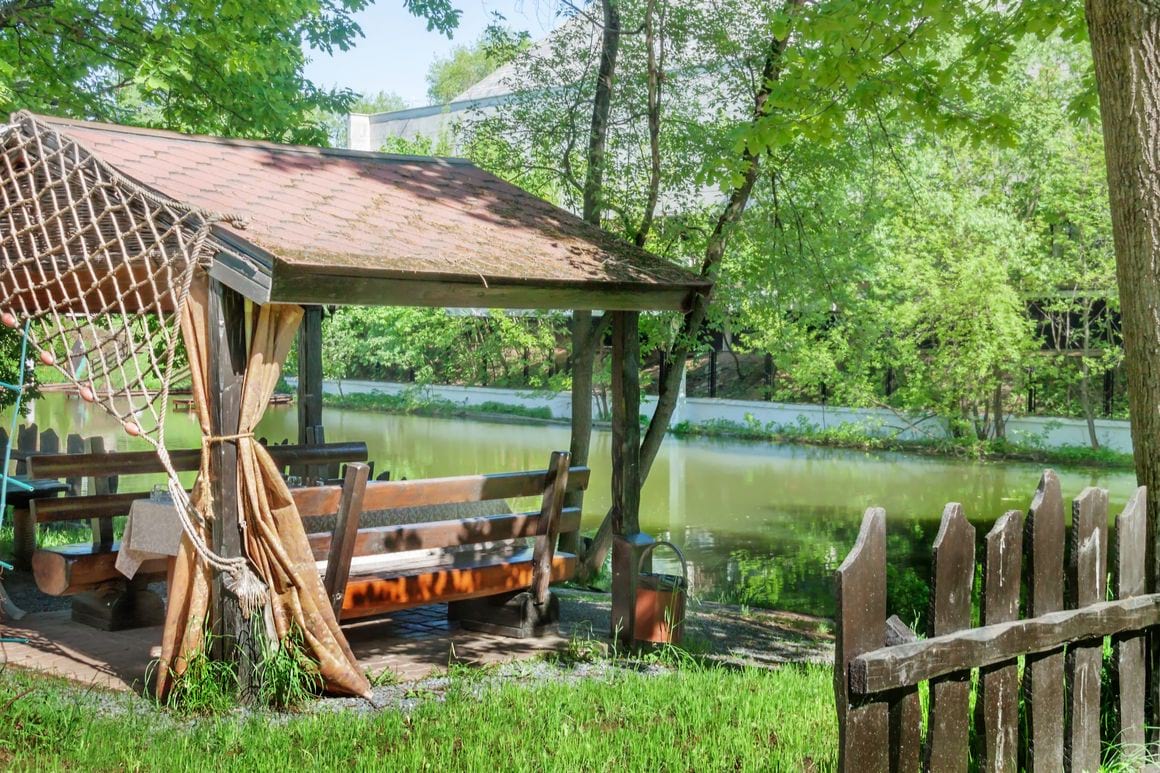 If you're definitely down to camp in Michigan but you're not so sure about roughing it, there's a simple solution. Glamping!
Don't know what glamping is? It means glamorous camping, and can be anything from having a tent pre-made for you, to basically just staying in a plush Insta-ready cabin with all the modern amenities you need.
You'll still be close to nature, but not that close. A safe option, if you like.
When it comes to glamping in Michigan, there are a whole ton of places to choose from. Just take a look below…
This awesome VRBO in Michigan is located on the shores of Cedar Lake and provides great accommodation in Traverse City. Staying here is the perfect getaway for those who want more than a few home comforts; the lodge-style home is great for families or a group of friends.
In its wood-clad surroundings, here you can live out your cabin stay fantasies, spending nights around the fire or playing a few rounds of pool in the games room (yep, it's got one of those). As well as a wrap-around balcony, the cabin features a pontoon and boat to use. Perfecto.
2) Beachside Chalet – Big Traverse Bay on Lake Superior
Glamping in Michigan doesn't get much more home-away-from-home than this chalet. It's virtually on the water's edge and offers 180-degree views of Lake Superior. Enjoy this vista from the huge deck, great for morning coffee and evening drinks under the stars alike.
And it's great all year round. Winter means staying warm and cosy inside – it's got central heating, a wood-burning stove in the kitchen, and even a wood-burning sauna. Summer, well, it's obvious: the chalet comes with kayaks, bikes, and is right on the beach. Plus, it's dog-friendly!
Small Pack Problems? 😉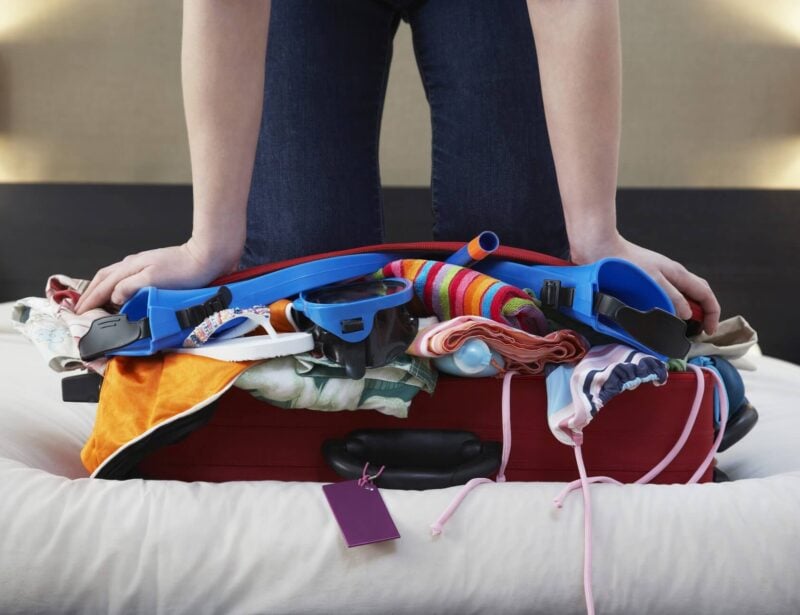 Wanna know how to pack like a pro? Well for a start you need the right gear….
These are packing cubes for the globetrotters and compression sacks for the real adventurers – these babies are a traveller's best kept secret. They organise yo' packing and minimise volume too so you can pack MORE.
Or, y'know… you can stick to just chucking it all in your backpack…
Get Yours Here
Read Our Review
A treehouse: a classic glamping option, and a childhood dream of basically everyone. This Airbnb in Michigan means you'll get to live out that dream, staying in a polished, cosy cabin situated in a tree. It has a deck among the branches, perfect for a dinner with lake views.
Located just 15 minutes from Lake Michigan itself, here you can have your own slice of seclusion. And no matter what time of year you come to stay, there's no way you'll be disappointed. A weekend of rain? Cosy up inside. Hot summer? Cool off in the outdoor shower. It's all good.
Tiny houses are all rage right now, and with this very cool option it's easy to see why. Super cute and full of character, this place is situated in the woods near Charlevoix. And with Lake Michigan a stone's throw away, you're close to town and surrounded by nature.
For glamping in Michigan, this is one sweet escape. There's a record player with vinyls, a kitchen stocked with s'mores, and an outdoor fire – plus hiking trails leading from the property itself. Other than that, all the little touches and attention to detail going on here make this a special space to stay.
Set inside an 80-year-old chicken coop, this is one unique place to stay in Michigan. Don't worry; it's been spruced up and is all about vintage vibes. There's a big comfortable bed that opens up with sliding doors onto the spacious veranda and garden, complete with chairs and firepit.
This place is located on Dowagiac Creek, with a switchback path leading down to the water. It feels like a private oasis and makes for a great place to enjoy nature and glimpse wildlife. Otherwise, it's clean and cosy, and the hosts even serve up a mean breakfast each morning (score!).
DON'T DIE OUT THERE! …Please 🙂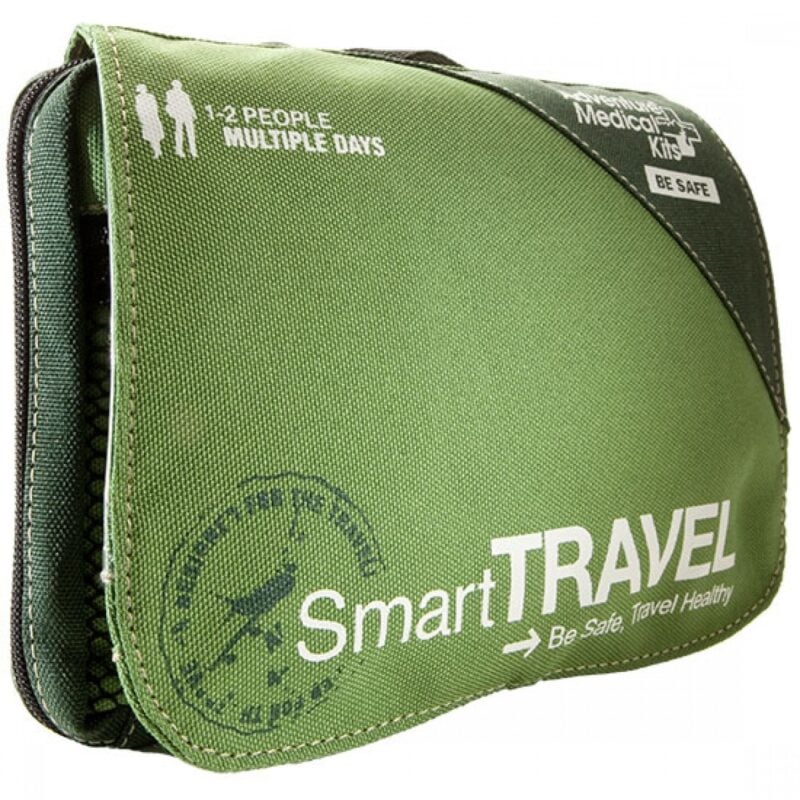 Things go wrong on the road ALL THE TIME. Be prepared for what life throws at you.
Buy an AMK Travel Medical Kit before you head out on your next adventure – don't be daft!
Buy on REI
Camping Packing List for Michigan
So, you've got a whole load of different campsites to choose from. Maybe you've noted a couple down for future reference. Now, it's time to think about packing. For some people, that's a dream of organisation. For others, it's pretty much the worst thing ever.
Whatever category you fall into, we've got your back.
Michigan can be a mixed bag of landscapes, and is different depending on the season. One moment you're literally having a war with mosquitoes near wetlands, the next you're searching for shade on a beach. And in winter, Michigan can be literally freezing.
If you don't pack the right stuff, there is the potential for any camping trip to be more like Naked and Afraid than a great outdoors getaway. That's where we come in.
To help you choose what's best for camping in Michigan, here's a packing list. It's got essentials, it's got gear that can be easily overlooked, it's got everything you need for an awesome time. Check it out…
If you're planning on spending some time out in nature under canvas, then you are going to need to know what to bring along with you. Camping in Michigan means you will be spending a whole lot of time in the great outdoors, surrounded by nature and (probably) nowhere near any stores.
To make sure you don't forget any of the essential camping equipment for your trip, here's a list of things you should totally not forget to bring with you. If you haven't got them yet, don't worry; just make sure to buy them before you head off on your trip!
A waterproof tent – Yes, a camping basic that is very much needed. Your tent will be an investment that will accompany you on many vacations.
Sturdy shoes – Don't forget to bring along a solid pair of shoes for hiking and for keeping your feet dry in adverse weather
Sleeping bag – Get yourself a snugly sleeping bag with the right tog for the season and enjoy a cozy night's sleep.
Thermals – Even in summer, things can get chilly in the middle of the night next to a lake. A good set of thermals will totally come in handy for autumn camping, too
Microfiber towel – Dry yourself off after swimming in a lake with a microfiber towel – they're super fast drying and pack down to a compact size.
Filter bottle – Not all campsites have access to potable water, and if you're out on a trail, you will need something to drink. A water bottle with a filter will mean you never go thirsty.
Michigan is home to numerous lakes and waterways. Many of the state's thousands of campsites are located within easy reach of beaches, some are even literally on a beach themselves.
You might not think about it when you're packing up for your trip, but you're totally going to need to bring along your beach essentials. Here's a handy tick list so you don't find yourself swimming in your underwear.
Swimsuit – Yes, bring it: you are going to need it. The lakes in Michigan are beautiful, and you'll regret it if you don't treat yourself to a refreshing swim while you're there
Sandals/ flip-flops – Keep your feet safe and secure in a pair of beach shoes and you won't have to do that awkward shuffle over rocks or burn your feet on scorching sand.
Beach blanket – You'll be thankful you remembered to pack a beach blanket when you're laid out chilling on the beach without a care in the world.
Beach bag/day pack – Keep your packing light and take a day pack that will double up as a beach bag
Sunshade  – You don't want to bake yourself to a crisp all day; bring along a compact sunshade to keep cool and not sunburnt.
Going camping without the essential toiletries is a roulette wheel we'd never want to spin. It's just not good. And since many of the campsites in Michigan have very decent shower facilities, you'll want to make the most of them with some bare essentials. Here they are…
Toilet paper – Whether you're out hiking, at a rustic campsite, or just primitive camping, toilet paper is a must.
Sunscreen – Look after your skin! Even if it's not super warm, being in the sun all day can be dangerous.
DEET repellent – You'll definitely want some. Spray this and keep mosquitoes at bay (especially around sunset).
Camping Tips for Michigan
There's a whole lot of information that we've covered already about camping in Michigan – but don't set off just yet. There are just a couple more things you need to know, to make sure to keep safe and have the best camping trip…
Follow the rules – It's not cool to just rock up and ignore the rules and regulations of a campsite. Make sure you stick to what's allowed on the site, and be mindful of other people sharing the site with you.
Keep an eye on the weather – Check that weather forecast before going camping. Some campsites can get flooded when it rains heavily, and strong winds might mean bringing along extra gear. Consider checking with the campsite beforehand to see if they have any advice.
Call ahead and book at popular sites – There are some pretty popular campsites in Michigan, and some of them can get booked up in advance.
Follow the guidelines for primitive camping – Knowing where you can and can't camp will make sure you have a fun adventure.
Don't go hiking or swimming along – Solo trips are all cool, but you should be careful about heading out into remote areas or onto lakes alone. Take a buddy along for the fun.
Check before you bring along beers – Possession of alcohol is limited or even prohibited in some state parks.
Don't bring your firewood with you – The firewood policies in Michigan are strict in order to protect the trees. You should only purchase heat-certified firewood that is sold in parks; this can also be picked up at local stores and roadside stands.
ALWAYS sort out your backpacker insurance before your trip. There's plenty to choose from in that department, but a good place to start is Safety Wing.
They offer month-to-month payments, no lock-in contracts, and require absolutely no itineraries: that's the exact kind of insurance long-term travellers and digital nomads need.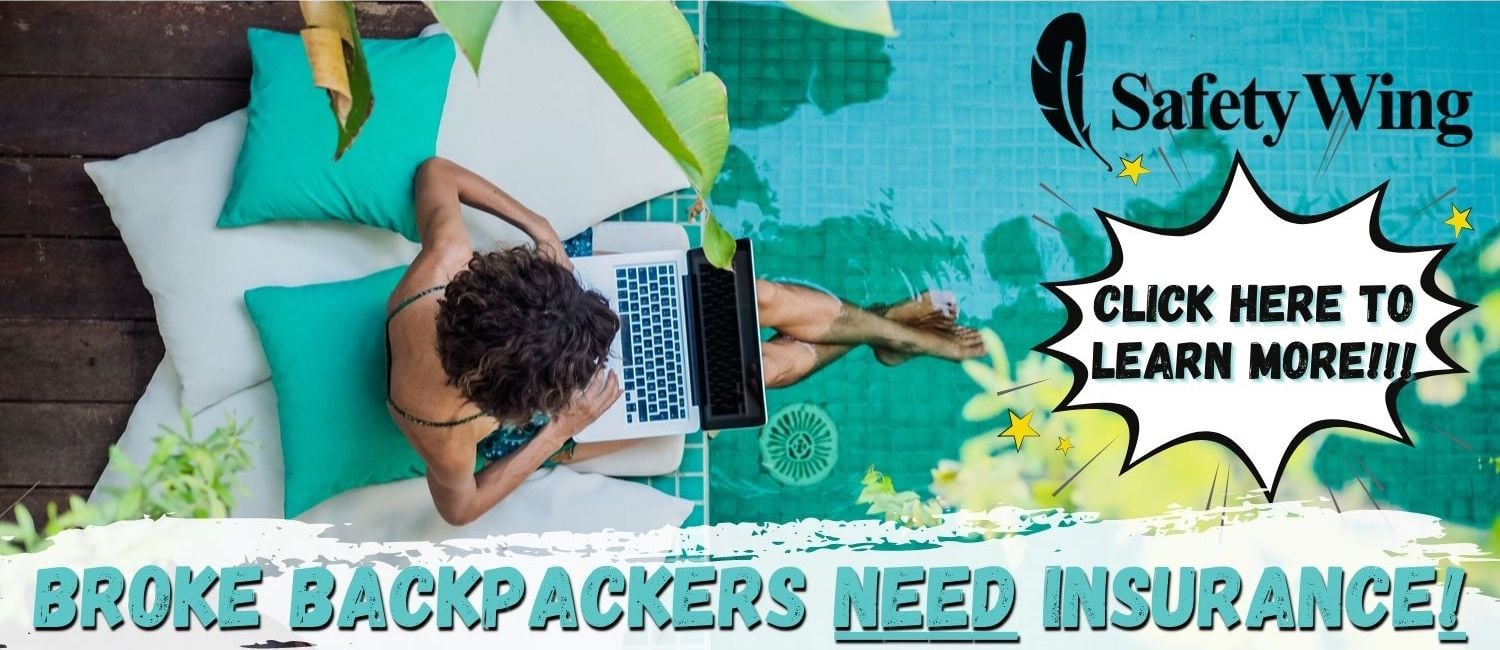 SafetyWing is cheap, easy, and admin-free: just sign up lickety-split so you can get back to it!
Click the button below to learn more about SafetyWing's setup or read our insider review for the full tasty scoop.
Final Thoughts on Camping in Michigan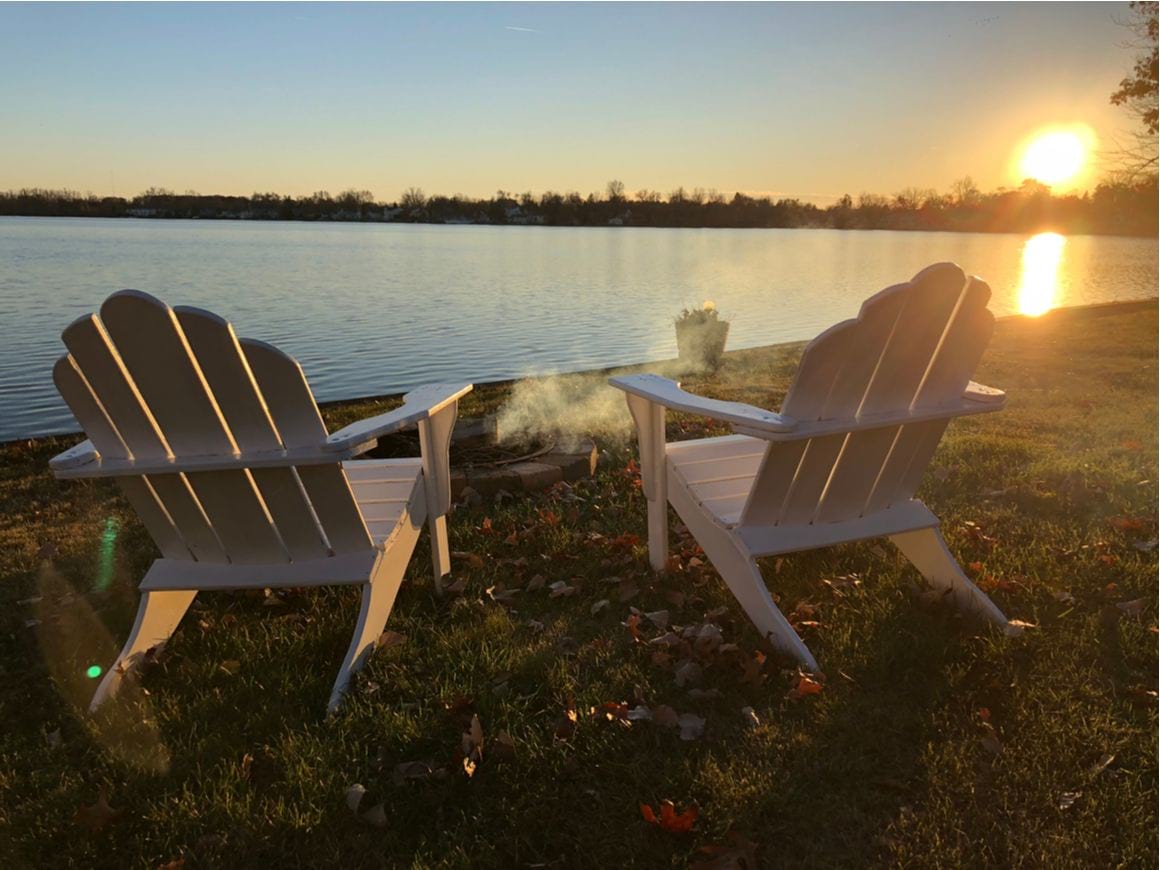 By now, you should be ready and raring to head out on a trip to one of Michigan's many campsites.
Follow our guide, and you should have no trouble having an amazing time. Michigan is a wonder: there are the lakes and their miles of coastline, places to chill beachside, state forests laced with trails, and tons of wildlife.
And with so many campsites to choose from – some super modern, others bare-bones rustic – there's no way you won't find somewhere that totally suits you.
So what are you waiting for? Make your plans and head out to one of Michigan's awesome campsites for a weekend (or longer) of great outdoors awesomeness. It's honestly going to be all sorts of fun!
---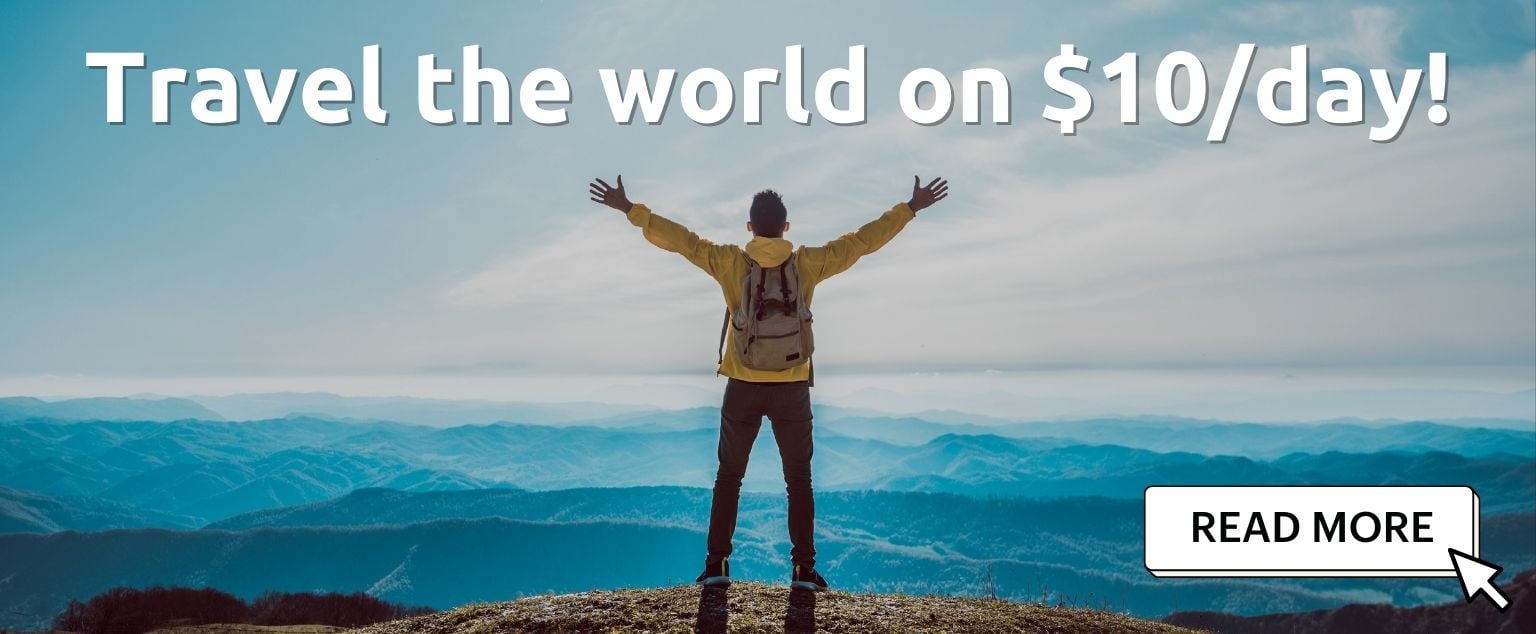 And for transparency's sake, please know that some of the links in our content are affiliate links. That means that if you book your accommodation, buy your gear, or sort your insurance through our link, we earn a small commission (at no extra cost to you). That said, we only link to the gear we trust and never recommend services we don't believe are up to scratch. Again, thank you!