You've probably heard of Madagascar from the Disney Pixar film. Maybe you fancy a visit? Go for it, the giant island is beautiful, diverse and just perfect for adventures.
The natural world of Madagascar is absolutely fascinating. With millions of years of isolation from the African continent, animal species have evolved at developed uniquely, giving the island a well-known lineup of the most famous endemic fauna in the entire world: e.g. lemurs.
However, Madagascar can be a challenge to visit. There is crime,  cultural differences, a challenging political climate and a bunch of other potentially dangerous things makes the island actually fairly difficult to travel around.
So is Madagascar safe to visit? That's the question we are going to be answering with our epic guide to staying safe in Madagascar. We will be covering just about everything from the safety of taxis to some in-depth stats about the country to make sure you know all there is to know.

Unlock Our GREATEST Travel Secrets!
Sign up for our newsletter and get the best travel tips delivered right to your inbox.
How Safe is Madagascar? (Our take)
Madagascar has a lot going for it. There is a ton of potential on this island, with both incredible beaches and biodiversity to attract visitors.
Cut off from the African continent for 165 million years, the island's native species attract – rightly so – a lot of outside interest. Everything from the aye-ayes to the red-bellied lemur is fascinating in Madagascar, which is why a lot of travellers want to take a trip here.
Whilst most people who do visit have a trouble-free trip, Madagascar isn't as safe as the Disney film would have you think. It isn't a dream paradise – in fact, many people would recommend that you only travel the island with an organised tour company or hire a guide to take you around.
Side note: When I visited in 2017, I had long term residents (my girlfriend and her family) to act as guides.
Even the National Tourism Office of the country advises foreign tourists that they should use a professional tour operator. Yep, backpacking Madagascar independently can be dodgy.
Crime, such as robbery and theft, are sadly rife in Madagascar. There has even been an increase in the number of kidnappings, targeting wealthy visitors to the country.
There was a coup in 2009, which led to much political instability. To this day the country is still not stable. In fact, it led Madagascar to be named "the poorest country in the world not in conflict" (according to the World Bank).
Let's dive in to see what's actually going on in this country…
There is no such thing as a perfect safety guide, and this article is no different. The question of "Is Madagascar Safe?" will ALWAYS have a different answer depending on the parties involved. But this article is written for savvy travellers from the perspective of savvy travellers.
The information present in this safety guide was accurate at the time of writing, however, the world is a changeable place, now more than ever. Between the pandemic, ever-worsening cultural division, and a click-hungry media, it can be hard to maintain what is truth and what is sensationalism.
Here, you will find safety knowledge and advice for travelling Madagascar. It won't be down to the wire cutting edge info on the most current events, but it is layered in the expertise of veteran travellers. If you use our guide, do your own research, and practise common sense, you will have a safe trip to Madagascar.
If you see any outdated information in this guide, we would really appreciate it if you could reach out in the comments below. We strive to provide the most relevant travel information on the web and always appreciate input from our readers (nicely, please!). Otherwise, thanks for your ear and stay safe!
It's a wild world out there. But it's pretty damn special too. 🙂
Is Madagascar Safe to Visit Right Now?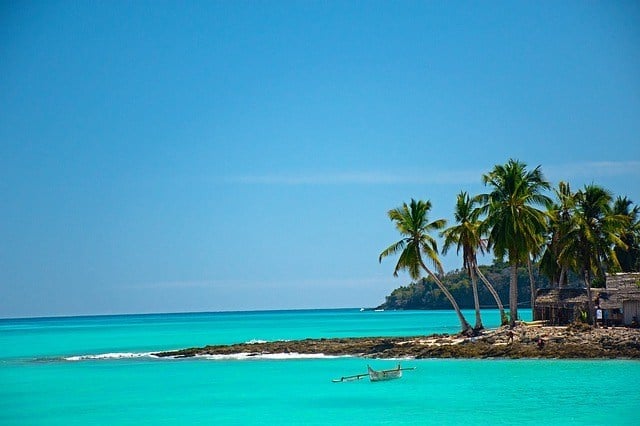 To be honest, currently, there are some parts of Madagascar that are perhaps not safe to travel to.
For example, 70% of Madagascans live below the poverty line. That means that the majority of the 22 million people who live across the 87,040 square kilometres of this island are living impoverished life.
Tourism, therefore, is very important to the country. It's seen as a way to help reduce poverty and help economic growth, which makes sense.
Politically, the country is looking much more stable nowadays. There are still a few demonstrations every once in a while, but as long as you stay out of it, they won't affect you at all.
In the north of Madagascar, there have been incidents that have targeted foreigners. In Nosy Be and Antsohihy, for example, robberies occurring in broad daylight have occurred on beaches. On the private island of Tsarabanjana, incidents involving tourists have been reported recently in crowded areas and at night.
Because of violent incidents in the area north of Fort Dauphin, as well as along the west coast between Belo Sur Tsiribihina and Toliara, as well as around the township of Betroka, there are armed forces involved in the area. It's not recommended that tourists travel through this region independently.
In the "Southern Triangle" region the roads are not in very good condition and travelling at night is not advised. Attacks and violence have been reported in the southern and northern parts of Toliara, so it's best to steer clear.
With all those things in mind, it's fair to say that Madagascar CAN be safe to travel to right now, but you'll have to be properly prepared.
Safest Tours in Madagascar
Normally we'd be telling you about the safest places to visit in the country, but this one is a special case. Instead of focusing on one area, we're going to present the top guided tours around Madagascar. It's the safest and most rewarding way to see the country, so don't hesitate to book!
If you want to get a well-rounded experience of Madagascar, this itinerary from Gadventures does precisely that. You'll encounter lemurs, wild landscapes (including the giant baobab trees), village culture, beautiful beaches – the whole works. The trip offers a fairly equal share of hiking and downtime. You can choose to add activities such as thermal springs and massages, and the final two days include time to lounge on the beach.
Trip Details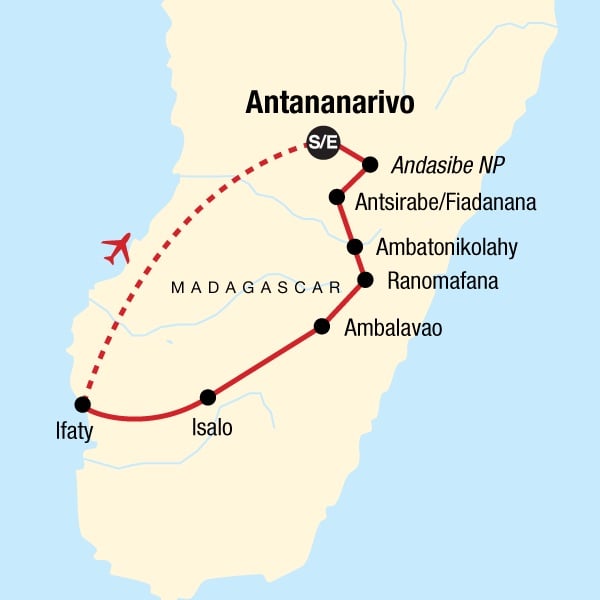 Number of days: 8 days
Price: Pending new season prices
Group Size: 16 max
Accommodation type: Simple hotels (5 nights) and basic bungalows (2 nights)
How many meals included: 7 breakfasts, 1 lunch, 3 dinners
The shortest trip we've found also takes you far off the beaten path when comparing other trips to Madagascar. Beginning in the far northern port city of Antsiranana (Diego Suarez) you'll make your way south via the balmy Amber Mountains National Park. As you carve your way through the humid jungle, you'll spot lemurs, native birdlife and reptiles, and cascading waterfalls. Plus, you'll get that adrenaline kick you were looking for when you explore the limestone forest of 'tsingy' rocks.
Trip Details
Number of days: 8 days
Price: Pending new season prices
Group Size: 16 max
Accommodation type: Simple hotels (5 nights) and basic bungalows (2 nights)
How many meals included: 7 breakfasts, 1 lunch, 3 dinners
Are you the kind of traveller who can't leave a place until you've explored every single corner? This is the trip for you.
Starting and concluding in Antananarivo, you'll weave your way through remote rainforests, pristine beaches, winding rivers, and unique towns with a culture all their own. Note that this trip involves some camping and river cruises that are pretty rudimentary; it's not a luxurious tour, but it is authentic.
Trip Details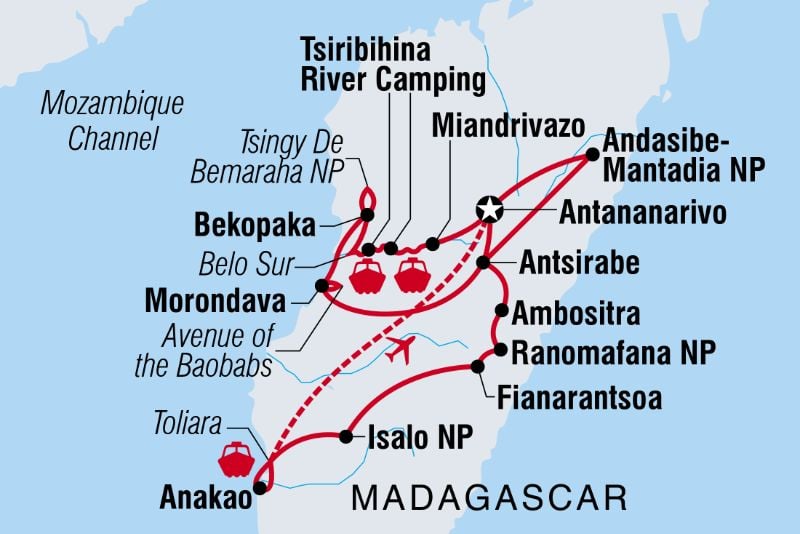 Number of days: 24 days
Price: $4,735 USD
Group Size: 12 max
Accommodation type: Hotels, lodges, camping, eco-lodges, simple guesthouses
How many meals included: 21 breakfasts, 5 lunches, 4 dinners
Madagascar Travel Insurance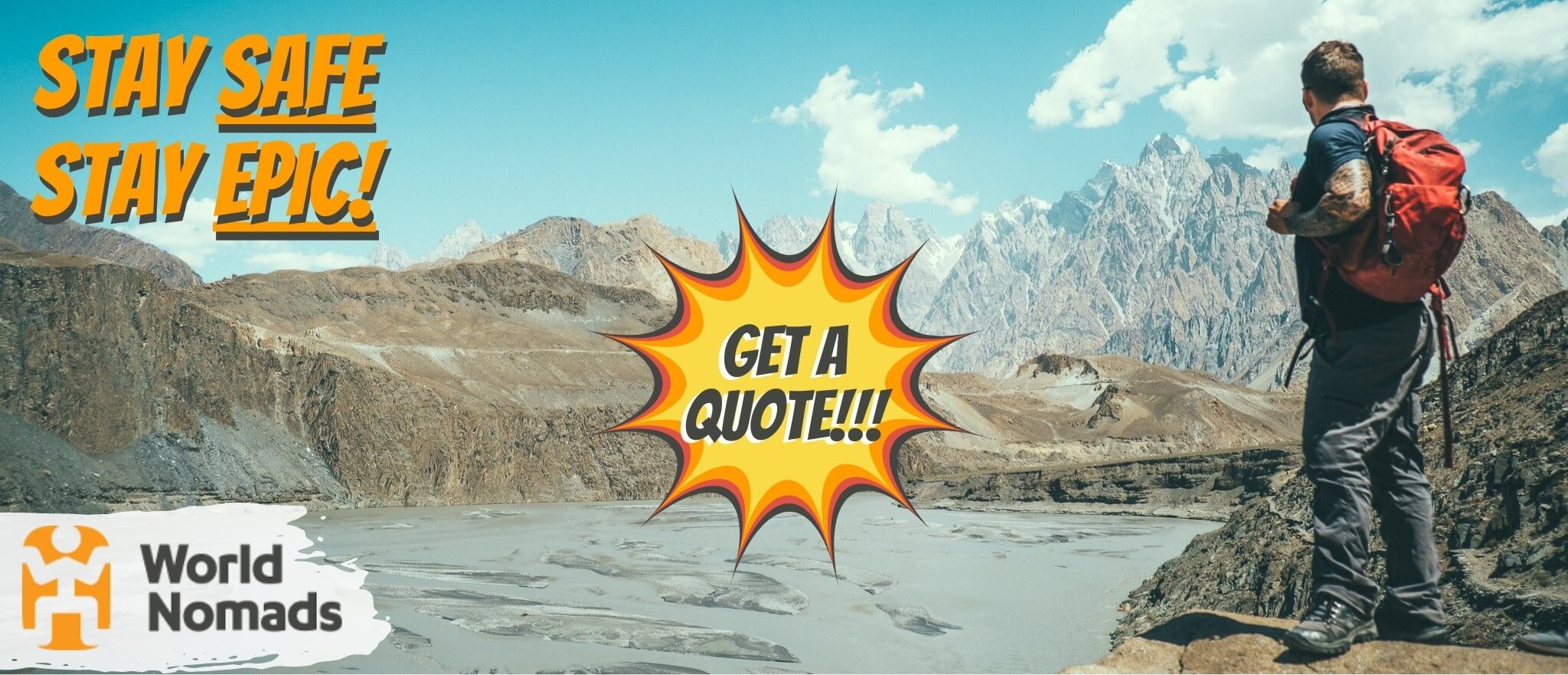 World Nomads' mission is to support and encourage travellers to explore their boundaries. They offer simple & flexible travel insurance, and safety advice to help you travel confidently.
They've been doing it since 2002 – protecting, connecting, and inspiring independent travellers just like you.
Get a quote below or read our in-depth review!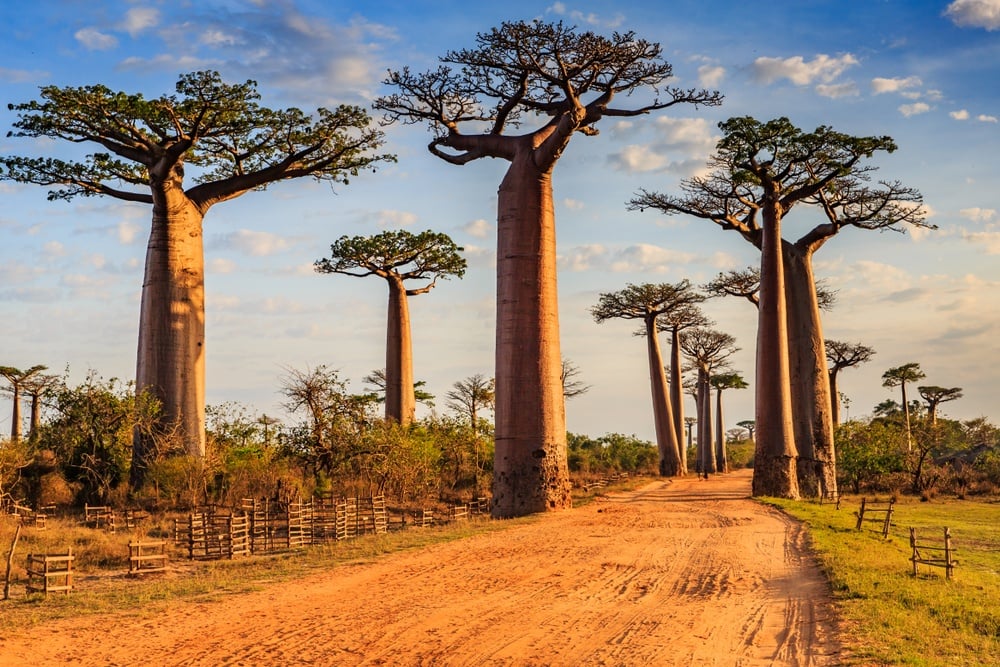 Madagascar could seem like a dream destination. But as you might have been able to tell already, there is actually a lot to look out for if you are thinking of travelling to this country.
Whilst seeing the country with a guide or on a tour is recommended, this doesn't make you immune from danger – which is why we have compiled this list of the best safety tips for travelling to Madagascar to help you out.
Learn Some French – Nobody in Madagascar speaks English. The official languages are Malagasy and French. Knowing how to communicate in one of them will make your trip a lot easier and safer.
Be vigilant – robberies, street crime and theft occur frequently, especially urban areas, beaches and nature reserves
Take extra care when travelling in a vehicle – car jacking and theft from cars is on the rise
Watch your belongings in crowded areas – these sorts of places are hotbeds for petty thieves
Do not walk around looking wealthy – cameras, jewellery, laptops, phones, designer clothes… Just don't. You'll make yourself a walking target
Don't walk around by yourself after dark – the crime rate significantly increases after dark, especially in town centres and on beaches
Keep copies of important travel documents in a safe place – you don't want these going missing; use a hotel safe
Carry your passport with you – but make sure to keep it very concealed and very secure
Be polite to the police – it's important to show respect; don't antagonise them
Ask police for ID – reports of fake police have been known, so if they want to talk to you ask them to show you their ID
Don't resist if someone tries to rob you – consider taking a throwdown wallet so you can get away with losing a small amount of money. Whatever you do, don't resist
Be culturally aware – in Madagascar, there are taboos known as "fady"; these vary across the country and are related to food, clothing and sometimes related to foreigners in general. You should respect the local fady and ask locals for advice
Be respectful to heads of villages – such as the Fokontany and the Ray aman-dreny. Not doing so will cause great offence
Stay away from drugs – any sort of use or possession is a big, big deal
Be careful what you take out the country – everything from pepper to jewellery; read up on quantities you're allowed to take back home with you
Be aware that plague still exists here – 500 cases are reported annually and they mainly occur in the rainy season
Pay attention to the weather – monitor the progress of storms on weather website platforms.
Don't take photos without permission – especially of a person or a tomb; this can be very offensive
Always have small cash on you – this is a cash based society and cards will not be widely accepted, if at all. Carry it around in a safe money belt
Keep a low profile – as a foreign tourist you are much more likely to be a target, so dressing obviously, talking loudly, anything like that, is not a good idea
Research tour companies well – not all of them are going to have your best interests in mind
There is a lot about Madagascar that you have to watch out for. Though it is probably best tackled with a tour, it is possible to travel Madagascar by yourself; it will just mean that you pay extra care to your surroundings and to what accommodation you stay at, for example. Keep our tips in mind!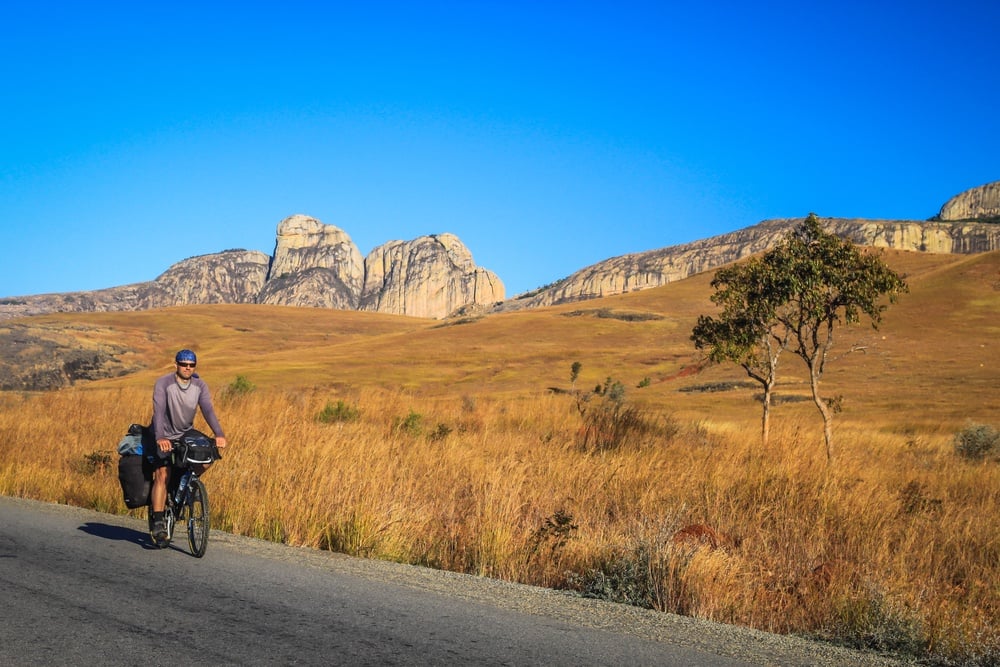 Travelling solo anywhere in the world can be a blast. You get to do what you want, when you want, and you get to challenge yourself – and grow as a person.
Madagascar is definitely adventurous. However, the infrastructure isn't so developed and there are a lot of challenges you'll face along the way. You'll have to be open-minded, and cautious, with how you travel, so to help you do so here are a few tips for travelling solo here…
A good place to meet other travellers is in the vibrant bars and other hangouts in Nosy Be, Nosy Borha and there's a travel community in Taomasina and Tulear, too. Surfers will enjoy the socialising in Antsiranana and Taolagnaro.
Hit up tourist offices – these places are not your enemy and are, in fact, very helpful. You can get maps, advice and ask questions about where is safe to explore in these areas.
Join in a group activity. This can be something like a scuba diving excursion or heading out on a boat. These sorts of things are a good opportunity to not only see more of the country but also to meet a whole load of other travellers.
You probably may not be expecting this anyway, but don't come to Madagascar expecting any sort of particular "backpacking scene." This simply doesn't exist here – yet, anyway.
Choose your accommodation wisely. There is a very, very small handful of hostels on this large island nation, so make sure that you book yourself into the right place that will suit you will help your trip go more smoothly.
Ask at your accommodation for local advice on where you should go, what you should do, and where you should avoid. The local people will know where foreigners will be accepted, and where is safe (or not), and will be very worthwhile to your time in Madagascar.
Travel lightly. Trust us, bumbling around with a load of backpacks and gadgets when you're by yourself isn't just not fun, but it will also leave you at risk of becoming a target of crime.
Try not to stand out and attempt to blend in with what you're wearing. Typical hiking gear or backpacking clothing is not the sort of thing that will help you do this, so take note of what locals are wearing and try your best to follow suit.
Don't drink too much. It's fun to have a few, of course, but being completely wasted impairs your judgement.
Keep emergency numbers in your phone saved with a symbol (such as "&" in front of the contact name) so you don't have to scroll your contacts to find them. Also, you should note these down on a piece of paper and keep it with you because, you know, phones can run out of battery.
On that note, you should consider investing in a spare battery pack so that your phone always has a backup supply of energy. Always keep your phone charged, too – just in case.
Don't wing it. Though other places in the world allow you to be free and easy with how you travel around (Southeast Asia, for example), but Madagascar requires planning and generally sticking to your itinerary as faithfully as you can.
Remove yourself from any type of vulnerable situation. If you suddenly realise that you may be at risk, or if a situation is just getting a bit awkward and uncomfortable, don't feel like you have to stick around out of politeness.
Don't go off grid! It's not safe. You may be doing something for you, and you alone, by travelling around Madagascar, but keeping in touch with friends and family back home – letting them know your itinerary whilst you're at it – is the best way to go.
Is Madagascar safe for solo female travellers?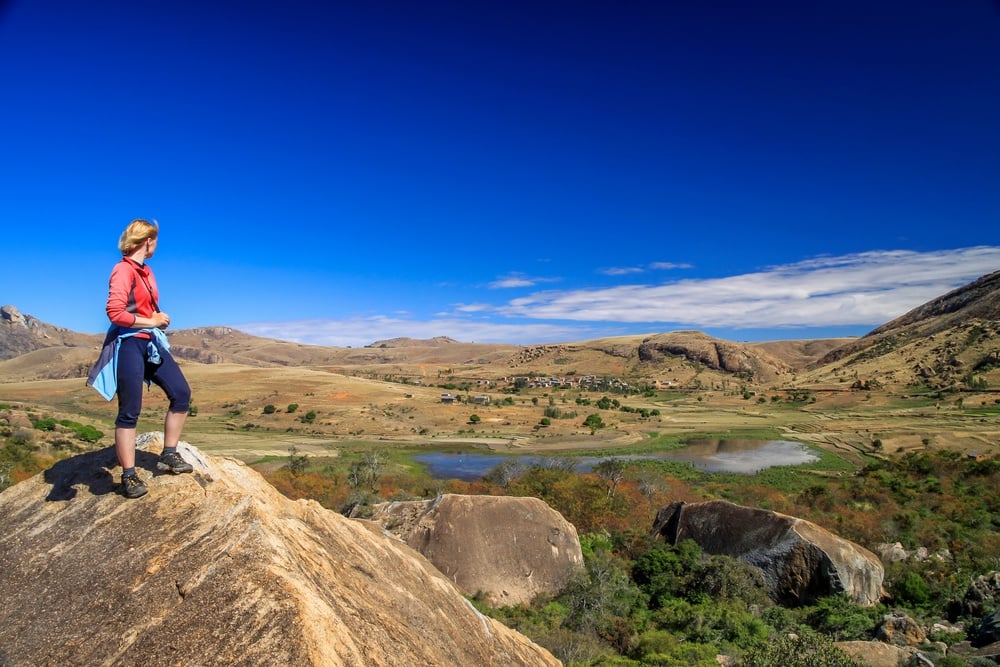 Madagascar is definitely a country of contrasts. The intense nature, rich history, poverty, culture and endangered wildlife all make for a pretty intoxicating cocktail that would attract any adventurous traveller. We can see why a solo female traveller would want to come here.
However, it definitely is not a trip that is going to be in any way normal. Whilst it can be safe for solo female travellers in Madagascar, you have to understand local customs, have some knowledge of the country and know a few insider tips on how to stay safe.
Locals will be curious about you – no doubt about it. You shouldn't necessarily expect to be hassled or feel threatened, but it may be overwhelming.
There won't be a lot of other solo female backpackers that you can rub shoulders within Madagascar. As long as you know that, and you're fine with that, then that's the first step to being at least half ready for this island nation.
That said, if you have the money, then it might be worthwhile booking yourself onto a tour for your entire trip of Madagascar. These do exist and it is not a cop out. This is, in fact, the most normal way to get around Madagascar.
Finding the right guide is important – especially if you're by yourself and you're a woman. There are a lot of guides to choose from in Madagascar, many of them friendly people who really know their stuff. Get online, ask questions, and get recommendations; this will really help you.
Get connected with other female travellers who have been there before you, or with people who live there – expats or Madagascan people alike. In the world of the internet, there are countless groups and sites dedicated to just this. Hit up places like Host A Sister or Girls Love Travel, or find another group you like, and then start making your connections. It will help open up the country.
Be kind to yourself. Just because you've saved up all this money and you're making this big effort to explore Madagascar, it may not always be as awesome as you were hoping. That's fine.
Err on the side of modesty when it comes to how you dress. This is helpful for wherever you travel in the world really, but in Madagascar, it's going to help you stick out less as a tourist – and therefore, potentially, as a target.
Don't disclose all the information about yourself to a stranger. If someone's making you feel uncomfortable with their line of questioning, just tell some white lies, or remove yourself from the situation.
As we mentioned, people will be curious about you and your travels in Madagascar – that includes men. If someone approaches you and tries to make an advance, a firm no should be enough to ward them off. Men in Madagascar are usually quite respectful of women.
It may not be the most ideal destination for a solo traveller – let alone a woman by herself – but that doesn't mean that it isn't doable. Tours offer up a fantastic way to see the country and mean you get to connect with locals and see the sights safely and with fewer risks.
More on Safety in Madagascar
We've covered the main safety concerns already, but there are a few more things to know. Read on for more detailed information on how to have a safe trip to Madagascar.
Is Madagascar safe to travel for families?
You may think that visiting Madagascar would be like going to the best natural zoo ever. But it's actually not very easy with children.
You've got to take into consideration a few things: it gets super hot, the accommodation can be pretty basic, the roads are not in very good condition, wildlife, like scary bugs and feral dogs, isn't always amazing.
This is definitely a destination for adventurous families and not ones with young children, either.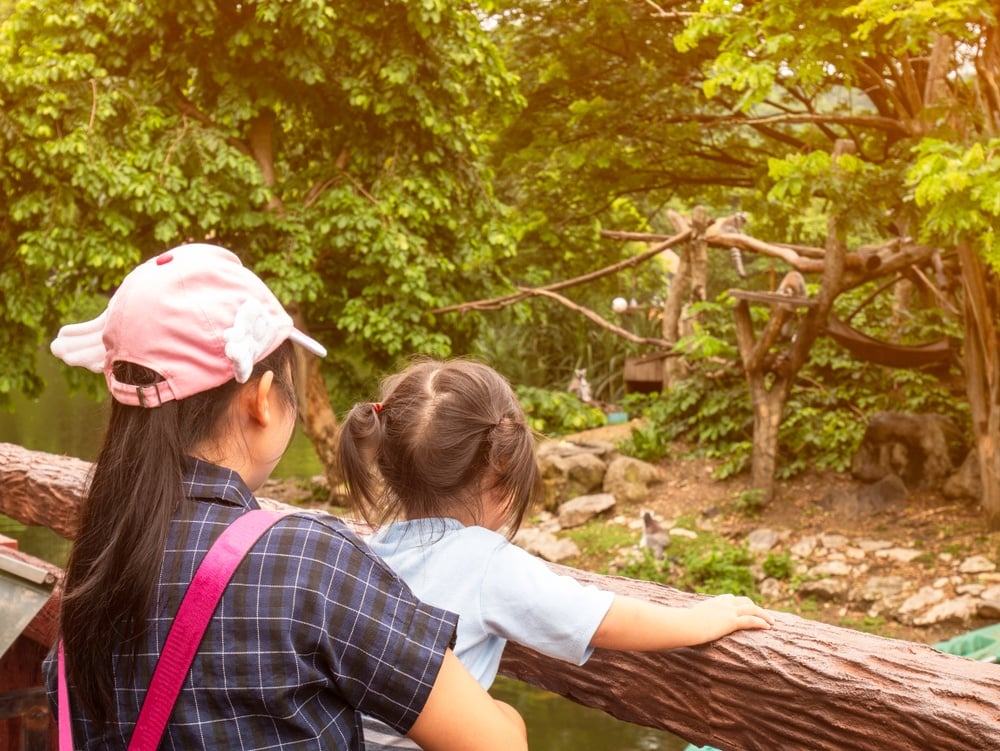 Not a lot of tour companies will even accept children under 8 years of age because of the conditions of the country. It is definitely worth going through the pros and cons of visiting Madagascar before deciding to book a trip.
When it comes to things to do, of course, you could go on adventures to try and find those lemurs. There's also kayaking, kitesurfing, camping and even visiting community and conservation projects throughout the country, which could be a real education experience.
It's important, however, to really consider the safety of your children on a trip to Madagascar. You will need to get professional advice – i.e. from a tour company – before going there. Much of the country is very poor, underdeveloped and there are issues with things like disease. We strongly advise visiting your Doctor a few months before your trip to talk about vaccinations.
Infectious diseases include cholera, tuberculosis, bubonic plague and hepatitis; outbreaks of any of these diseases can and do occur without warning. It's important that you read up on the state of things, in terms of epidemics, before planning to go on a vacation to Madagascar.
A good time to visit Madagascar with children would be May or June; the island experiences generally cooler temperatures at this time of year.
Basically, we wouldn't say that Madagascar is especially safe for families to visit. For those who are really interested in nature and wildlife, it can be done, but it just takes a bit of planning.
Is it safe to drive in Madagascar?
Driving in Madagascar is pretty treacherous. In some areas, the road conditions of Madagascar are pretty good, but in other places, they're awful.
If you do decide to rent a car we would recommend that you only drive during the day. There are a high amount of carjackings and other crimes related to vehicles that occur after dark.
Only 20% of the approximately 50,000 kilometres of road are sealed. Think huge potholes, impassable mountainous byways, hairpin bends and roads washed away by floods or landslips left in-situ.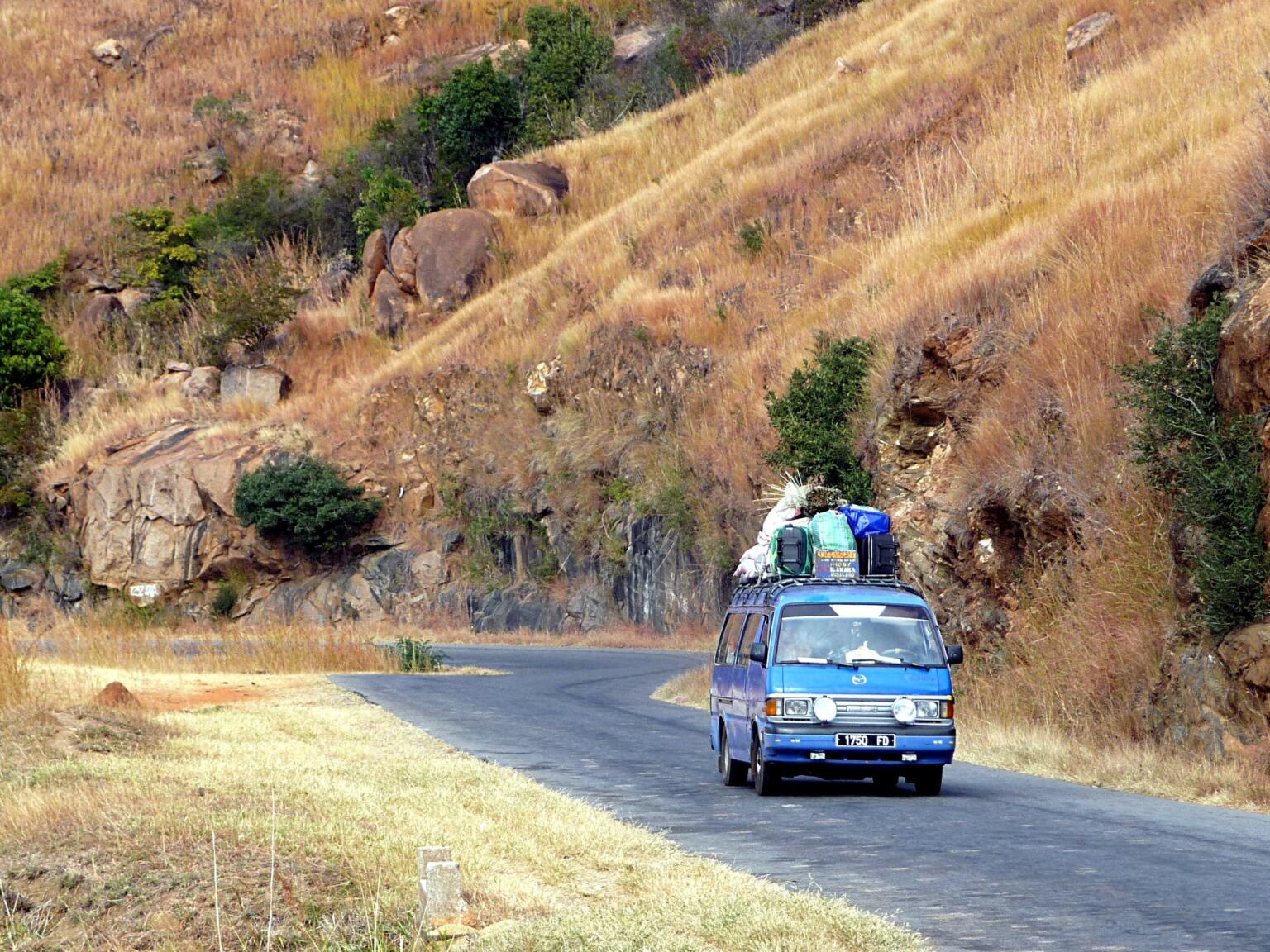 If you really, really do want to drive yourself, then you have to be over 23 years of age and have an international driving license. However, you should be very experienced. We can't stress this enough.
Note that fuel shortages are common. You will need to take a jerry can full of petrol along with you, fill up at every opportunity, and take a spare tire with you.
To hire a car with a driver (often mandatory), make sure you ask for recommendations at your hotel or accommodation.
When you hire a driver, the car comes with them. Pay careful attention to the vehicle as well as the driver; see how well the driver looks after it. If it looks good, it looks like it's taken care of, then it's probably a good option.
Basically, driving is not safe in Madagascar. Hire a driver, a good one who's reputable, comes highly recommended and who knows what they're doing, if you really want to get around by car.
Is Uber safe in Madagascar?
You might have seen this coming if you've read everything thus far, but Madagascar doesn't have Uber.
Are taxis safe in Madagascar?
Taxis in Madagascar might be how you expect them to be – varied. There are two main types: city taxis (which operate in cities and towns, obviously) and bush taxis, known as taxi-brousse.
Almost all cities in the country have taxis that regularly work as part of the transport system. They used to indistinguishable from normal cars, but nowadays efforts have been made to make them look more taxi-like; for example, in Diego Suarez and Antsiranana they are painted yellow, whilst in Antananarivo they are beige.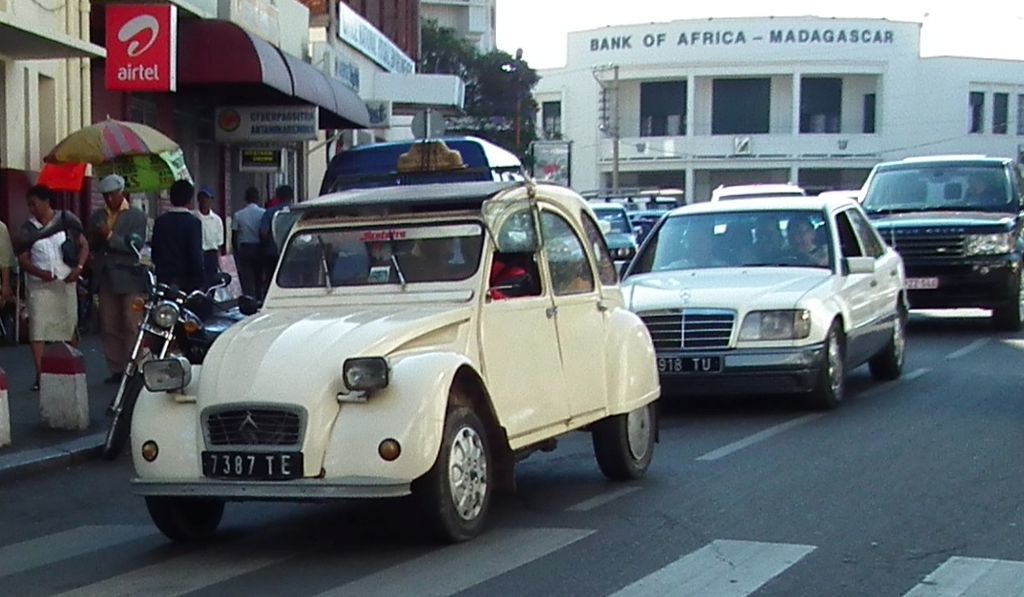 This kind of practice is slowly developing in the cities, making taxis in Madagascar a little more safe – but not all the time.
It's not common to call up for a taxi. In fact, most taxis don't have a phone number. To hail one down, you need to stand on the street and wave your arm. Usually, taxis are around 24/7, but there aren't too many which operate at night time.
They operate by neighbourhood and not on an address or street name system.
As with many taxi systems around the world, you should make sure you have cash, and small notes at that, when you come to pay your taxi driver. Uniquely, in Madagascar they have to watch out for robbers as much as you do; having all that cash on them tempts thieves, so often there are partners in the car who act as security for the driver.
Be warned that inflated "tourist prices" will be charged to you, but usually, taxi prices are pretty affordable, hovering around USD $3, but can go up depending on the time of night, the traffic and peak hours. Also, note that fares are negotiable, so you can haggle – just make sure you set, and agree on, a price before you get in.
Don't be surprised if other passengers get in: shared taxis are common in Madagascar. You can ask politely to not have this happen if you want, but this will cost you more money.
Is public transportation in Madagascar safe?
Much like the taxis, public transportation in Madagascar is… an experience.
There is a variety of things to use. The bush taxi/taxi-brousse we mentioned earlier isn't just a taxi service, it forms the skeleton of much public transport around the island nation. It works much like a bus.
In fact, many of the drivers and the vehicles are employed transport companies called Cooperatives. They go all over the place in a system that is actually surprisingly well organised, regardless of how archaic the vehicles may look.
However, even though they are very cheap and easy to come by, they are often very uncomfortable, slow and are driven quite erratically. This leads to them being sometimes not so safe.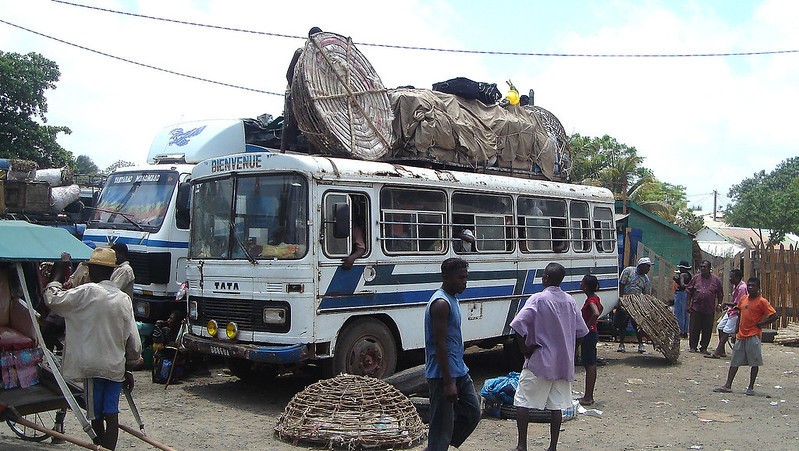 A good tip: you can actually book more than one seat (good for tall people) and actually choose the seat you want to sit on.
It's the kind of thing where the vehicles leave when they're full; the luggage goes on the roof, and it could take much longer, or quicker than you thought to get where you wanted to go – usually longer.
You shouldn't travel at night time, which is when it's much riskier. Even the taxi-brousses have to go around in convoys, too.
There is a train line that runs between Fianarantsoa and Manakara. You can get a 1st class ticket for this journey (must be reserved in advance); it takes 12 hours and is a cool way to see the landscape – especially if you're a train fan.
Boats and river ferries in Madagascar operate somewhat irregularly throughout the country. However, you should watch out for these because they tend to be overcrowded, poorly maintained and by a crew with a lack of training.
In general, the best thing to do in Madagascar is probably to get your own driver. Public transport exists, but it's not all that, and it's not always safe. Alternatively, a tour will be able to take you around hassle-free.
Bum bags aren't just for Adidas lads and super dads!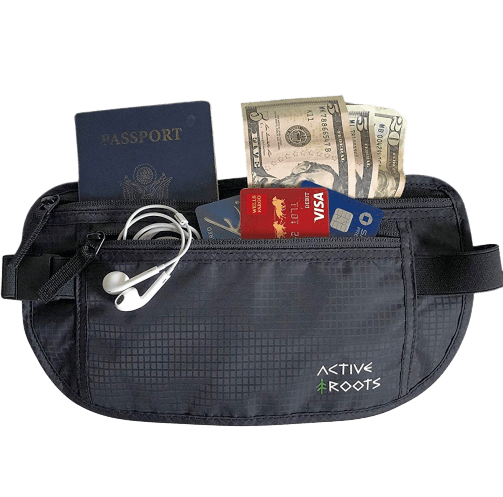 Seriously, once you enter the travel belt life, you never go back. You can NEVER overstate just how useful having all your most important valuables right around your waist is.
A full-sized travel belt stays tucked under your shirt and keeps your valuables – documents, passport cash, headphones, lip balm, illicit goodies 😉 – organised and on-hand for moment's notice.
Hide Yo' Money!
Is the food in Madagascar safe?
We're going to go out on a limb here and say that you probably don't know much about Madagascan or Malagasy cuisine. It's a real cocktail of culinary traditions, from the earliest Bornean influences and Arab twists on cooking, to French gastronomy later on.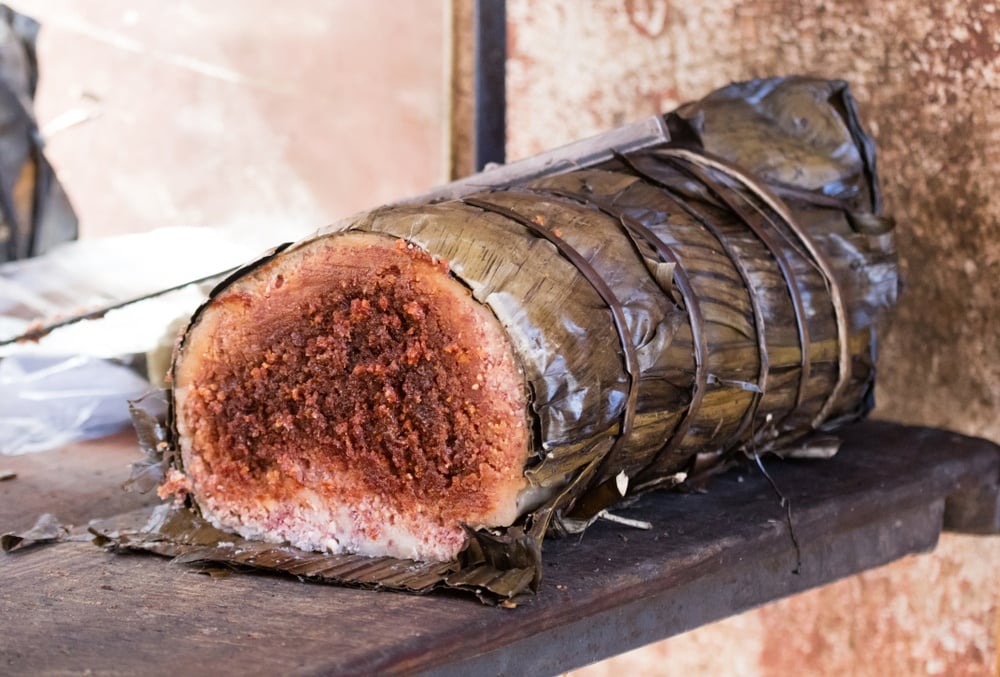 Whilst there are a surprising amount of places to eat food – from local eateries called hotelis and street food, to restaurants and homestays – it's not always easy to judge how safe it is to eat there. With that in mind, we've got some safety tips when it comes to Malagasy food.
Be careful of dietary changes. Go easy on local food and don't try everything all at one time straight away.
We definitely recommend that you should wash your hands before you eat. This may seem like a simple thing to do, but you could easily forget to do so.
Only eat things that you can cook and peel yourself. Eating things from market stalls that have already been peeled are a good way to upset your stomach.
When choosing to eat from street vendors, be selective. Make sure that the place looks clean, that some level of hygiene standards are being practised by the vendor, and that you can see food being cooked at a high heat in front of you.
Be careful of dirty crockery and cutlery. A common way to get ill in Madagascar is by eating with plates or cutlery that hasn't been washed properly or has been washed with contaminated water. Use a sanitising wipe if you're unsure on the sanitary conditions of the establishment in which you've found yourself.
As a good rule of thumb, you should choose to only go to places that are busy with locals and have a high turnover of customers. This means a hot grill, fresh food being cooked up freshly; missing the lunchtime rush could mean that you end up with something that didn't sell a few hours ago and has been sitting around for a while.
Whilst it can be a hit or miss, eating the food in Madagascar is – like many other things in this island country – quite the experience. Don't let it pass you by!
Make sure you pack plenty of medicines from home.
Can you drink the water in Madagascar?
The tap-water in Madagascar is not safe to drink. You shouldn't be drinking it anywhere in the country – even at top hotels.
Avoid ice in drinks as well, as this won't be safe to drink and will make you ill.
Bottled water is readily available throughout the country, but a good idea is to bring along some water purification tablets and your own refillable water bottle to save from leaving behind too much plastic waste.
Is Madagascar safe to live?
The Indian Ocean island nation may not be the top expat destination on the list, but it's definitely a consideration if you're wild about nature.
With all the diverse nature and landscapes, as well as a vibrant culture, it's definitely an interesting place to base yourself for a while. If you speak French, your life will be a lot easier here, as that will help you connect with locals, read important information and get around.
In terms of safety, there are obviously issues around the country related to crime – particularly with pickpockets – but this will vary depending on where you choose to live.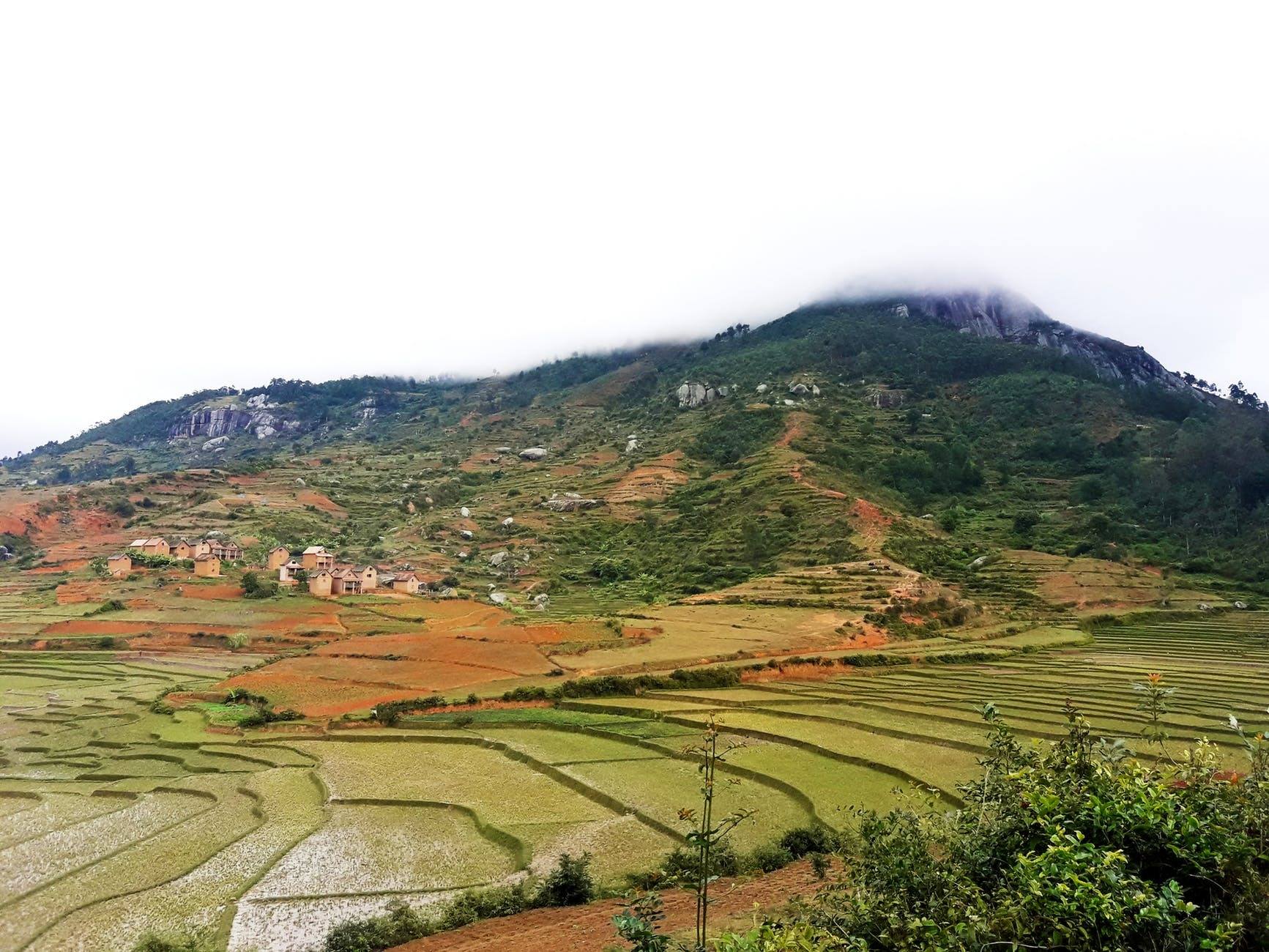 The best place to live in Madagascar would be in a smaller city: this way you have access to all the amenities of a city but without the crime of the capital.
Choosing to base yourself in the capital, on the other hand, means power outages and traffic jams, but more options when it comes to eateries and accommodation.
Speaking of which, it's not legal for foreigners to own land, so that will affect how you choose to live. Many houses are small and normally, families live in one single room. There are apartments, however, which are a little more classy. Do your research to find good places to live and base yourself when in the country.
Once you've found yourself here, you'll find things affordable: everything from public transportation to things like rice will mean you'll basically be able to live quite cheaply.
You'll have to get used to a completely different lifestyle: watching out for crime, shopping at markets and not having good public transport readily available.
Madagascar is not the paradise it is painted out to be.
To conclude, we would recommend that you head online and talk to expats, get involved with NGOs, dig deep and talk to as many people as possible about how it is to live in Madagascar. It may change your mind, it may make you more determined to go there than ever, but either way, it'll give you more of a solid grounding.
The Future of the SIM Card is HERE!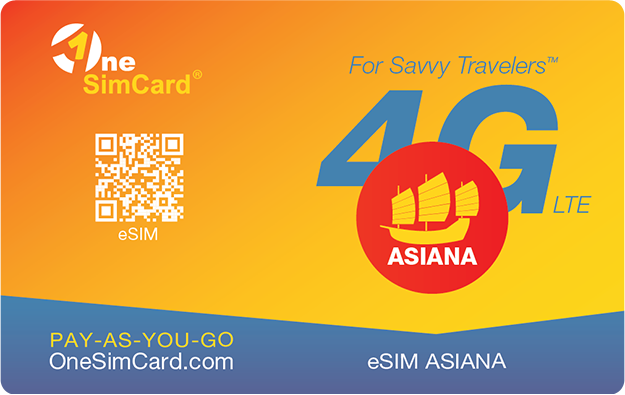 A new country, a new contract, a new piece of plastic – booooring. Instead, buy an eSIM!
An eSIM works just like an app: you buy it, you download it, and BOOM! You're connected. It's just that easy.
Is your phone eSIM ready? Read about how e-Sims work or click below to see one of the top eSIM providers on the market and ditch the plastic.
Buy an eSIM!
Is it safe to rent an Airbnb in Madagascar?
While there might not be as many homes as we'd like to see, renting an Airbnb in Madagascar is a great idea. And it's perfectly safe, as long as you read the reviews. Staying at an Airbnb during your trip will also open up new possibilities and options to experience the country.
The local hosts are known to take great care of their guests and give the absolute best recommendations of what to do and what to see. Local knowledge always goes a long way, so be sure to reach out to your hosts if you're unsure about how to fill up your Madagascar itinerary!
On top of that, you'll stay safe with the reliable Airbnb booking system. Both hosts and guests can rate each other which creates a very respectful and trustworthy interaction.
Is Madagascar LGBTQ+ friendly? 
While homosexuality is legal in Madagascar, we wouldn't necessarily say it's super safe for LGBTQ+ travellers. Public affection, no matter what kind of relationship, is a no-go.
So unless you and your partner are okay with keeping the affection behind closed doors, you will have to face quite a bit of discrimination. While the younger generation is generally more open-minded, most of the country is still stuck in a conservative and closed-minded mindset.
FAQ about Staying Safe in Madagascar
Here are some quick answers to common questions about safety in Madagascar.
So, is Madagascar Safe?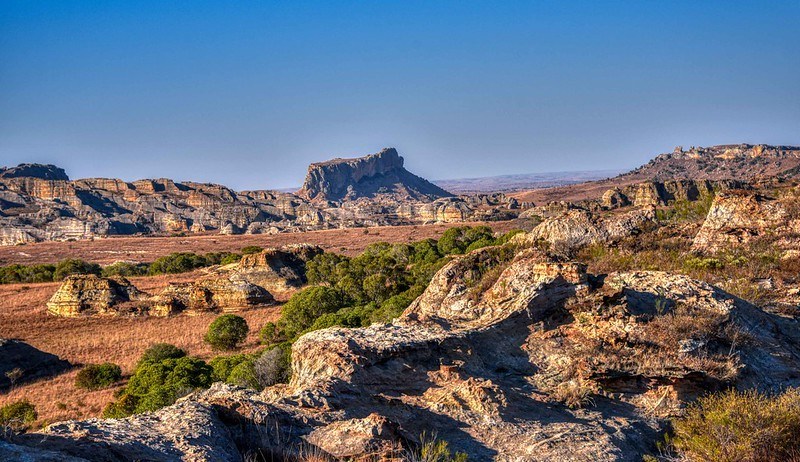 This is. a hard one. It CAN definitely be safe, but visiting Madagascar requires a lot of research and preparation.
To be called "the poorest country in the world not in conflict" is a pretty big statement. Even though Madagascar has such a wealth of biodiversity and some of the coolest endemic animals on Earth, as well as some interesting history to explore and even a load of amazing beaches to discover, it's still a developing country that will certainly be a challenge to almost any visitor. It will also be very rewarding.
Madagascar is not easy to travel around. It isn't always safe. You won't always be able to meet up with fellow travellers if you plan on doing it independently. There are a lot of reasons why we definitely wouldn't recommend travelling independently by yourself around Madagascar, one of which is simply getting around easily; tours just offer you a much easier way to see the country – and with a guide, too.
Then again, if you are a veteran backpacker and has been to many places before and you yearn for adventure and truly untouched, off the beaten track destinations, getting to meet interesting local people and seeing some diverse stretches of landscape – from deserts to rainforests – then you'll love exploring Madagascar. You'll have to research, stay alert, read up on customs and culture, and research some more.
---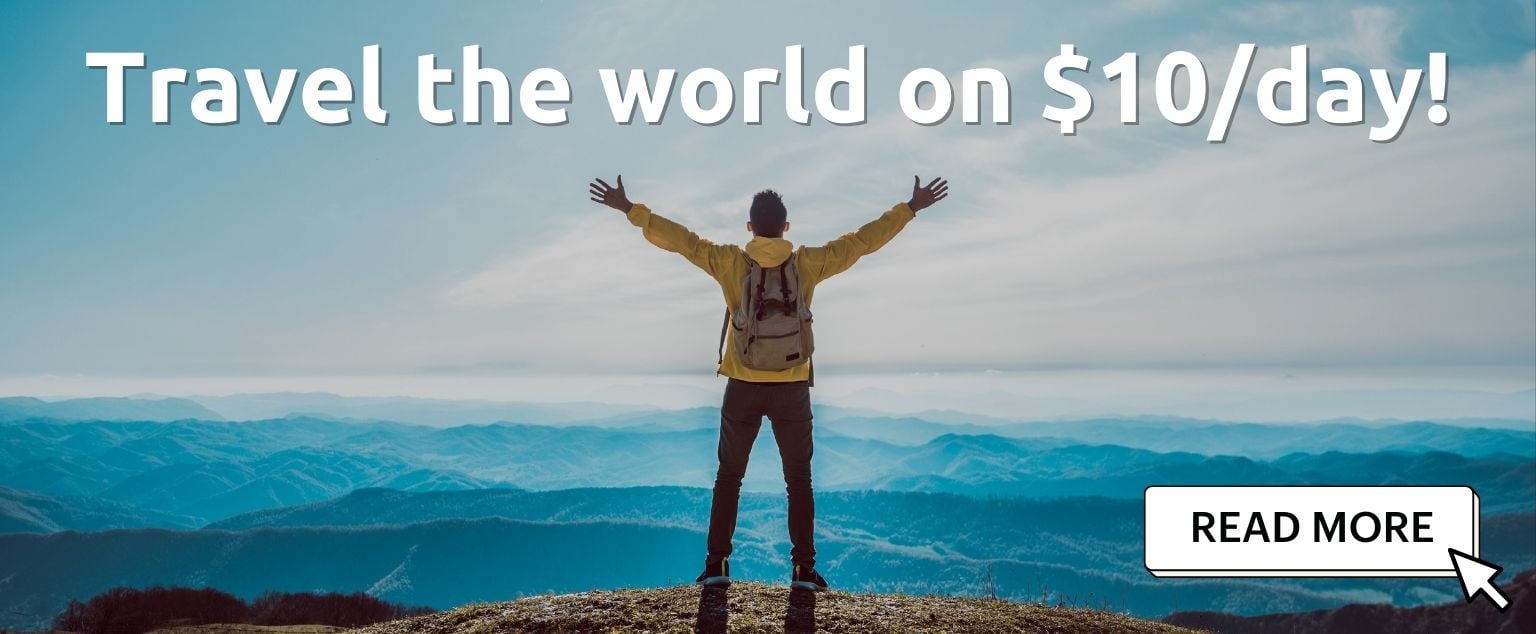 And for transparency's sake, please know that some of the links in our content are affiliate links. That means that if you book your accommodation, buy your gear, or sort your insurance through our link, we earn a small commission (at no extra cost to you). That said, we only link to the gear we trust and never recommend services we don't believe are up to scratch. Again, thank you!